How To Create Awesome Content For Your Saas Business
January 22, 2019 | Sean Foo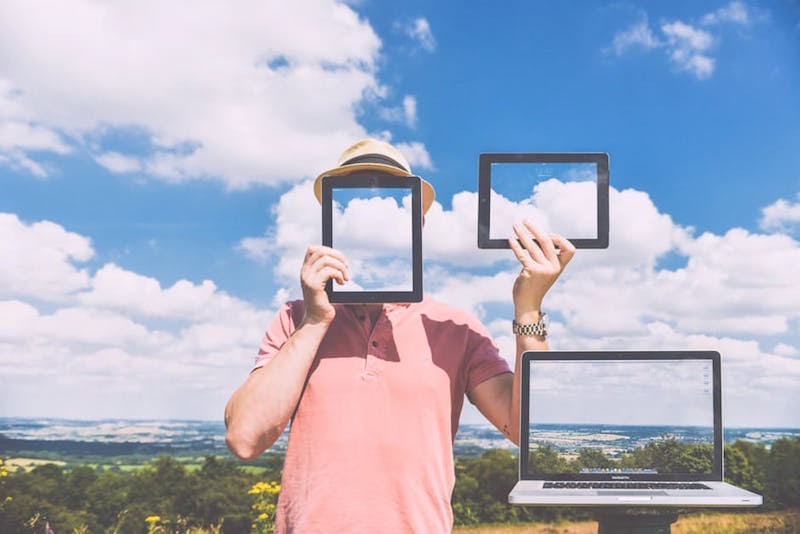 Driving inbound leads to your software-as-a-service (SaaS) business should be a priority for any founder or marketing team, considering these are higher quality qualified leads that are much easier to become paying customers.
You get fewer sales headaches and increased revenues. Who wouldn't want that!
At the heart of inbound marketing is creating incredible content that not only adds value to your reader but also showcases your business as a fountain of knowledge and an expert in your field.
This guide aims to help you create SaaS content that connects with your reader and adds value to their lives.
It's time for your service to be seen as the premier solution.
Let's leave the head-scratching for your competitors and direct the readers' applause to you.
What Is The Goal Of Your Content
All great content stems from outlining the ultimate goal for the set of content you seek to create. The desire to create quality content around your industry, product and customer challenges isn't enough.
Here are some 3 critical questions you can ask yourself before you start the content creation process:
– Am I trying to generate qualified leads with the content or gain likes and shares on my social media page?
– Which stage is my prospect at? Are they still discovering the product or are they just one step away from making payment?
– What medium or channel am I developing content for? A video sales letter on my website? An industry article for Forbes magazine?
 
Understanding and answering each of these 3 questions sheds more light on your content creation process and increases the odds of your content being well received and effective.
Content that is geared to generate leads is likely to be longer-form and more detailed than content that is meant to grab attention and get a micro-commitment such as a like or a share.
Audit Your Current Sales & Marketing Process. 
Taking stock of your current sales and marketing processes is key.
Start from the beginning and trace the entire customer journey to discover where are the points you can insert compelling content into the process.
A typical SaaS sales and marketing elements where you can start content marketing could include:
– A landing page for email collection
– A Facebook page linking to your website blog
– Your website blog
– Email autoresponder sequence
 
These are great points in your sales processes that you can directly control and start to experiment with different types of content.
Sure it is definitely great to create an industry piece (and you should!) that gets published in Business Insider, TechCrunch, Tech In Asia.
However, entering those publications is also dependent on the strength of your PR team and should be a supplement to your business and not the only channels to showcase your kick-ass content!
The 3 Types Of Content You Can Create To Build Authority.
The main purpose of Saas content marketing is to establish that not only are you experts in your current field but you truly understand your prospect and have the answers they seek.
That does not mean to pitch them your product and convince them to buy, that is the job of sales copywriting. Content marketing is adding value to their lives by either:
1. Empowering them by solving a problem they currently have.
2. Entertaining them with content angled to trending topics or never before seen demonstrations.
3. Educating them about the technology and the industry your solution is in.
Now you might be wondering, let me do all three! Sure you can, if you have a full content production team behind you that includes designers, copywriters, videographers, audio-crew etc.
But let's take a closer look at which content might be the best for you.
As a SaaS product, it is likely your solution isn't something as fancy as the latest virtual reality technology or a skateboard that hovers over water, creating content to entertain your reader won't really cut it.
Educating them about the technology and the industry your solution helps works if your content is more for brand awareness.
You can include interview features, case studies and challenges your industry faces with regards to the problem your product is trying to solve. But this should be done only once your CORE content is done.
And what I mean by core content is content that empowers and educate your reader by solving problems they currently have.
Big SaaS companies like SAP to startups like HeadReach creates in-depth content that helps their prospects directly understand and solve a current problem or pain point in their life.
The content itself is a stand-alone piece that solves the problem highlighted without the need of the product itself.
SAP Uses Content In Their Blog To Help Small Businesses Solve Daily Productivity Challenges.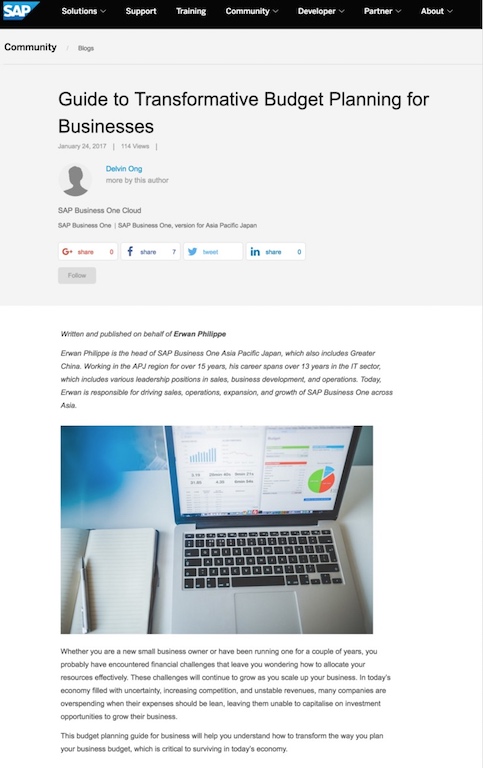 One of SAP's SaaS product is the SAP Business One which is a suite of ERP tools that including accounting and business management solutions.
One key solution their product provides is the tool to increase productivity for small businesses when they are doing their monthly budgeting for their businesses for day to day operations.
Most small business owners face the problem of not even understanding the basics of budgeting and the importance to accurately doing up a budget.
To help educate and empower their readers, SAP created a long-form article (beyond 1,500 words) that touches on all the critical points that a business owner needs to know to create a budget for their small business.
Basically, a reader can come in with zero knowledge of budgeting, and after reading the article, they will fully understand how to start budgeting for their business…
Months down the road, when they are looking for a software, they will remember who taught them budgeting…hey it was SAP…and just that alone could lead to a big purchase down the line.
HeadReach Uses Content In Their Email Marketing To Help Business Owners Succeed in Prospecting and Business Development.
HeadReach is a Saas product that helps users find and generate leads for outbound marketing, I use it myself when I want to connect with decision makers from time to time.
Once you sign up for a trial account, the team at HeadReach drops nuggets of knowledge once every few days to educate users on key pain points and challenges they might be facing.
This email content touches on the correct approach to reach out to decision makers without getting ignored.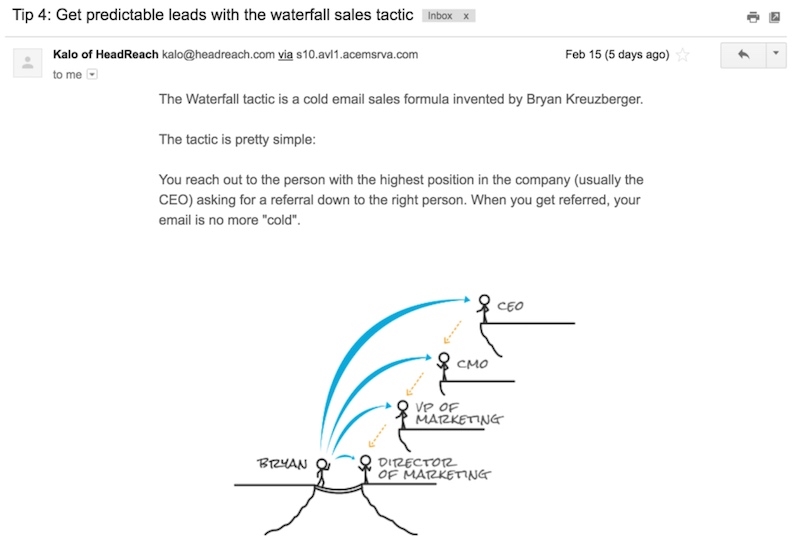 HubSpot Creates Online Training Videos To Help Solve Specific Problems For Digital Marketers
Hubspot is a company that develops a variety of tools and software for inbound marketing and sales.
They have taken Saas content marketing and creation to the next level by creating full free video courses that teach their prospects everything from getting SEO keywords all the way to optimising their websites for conversions.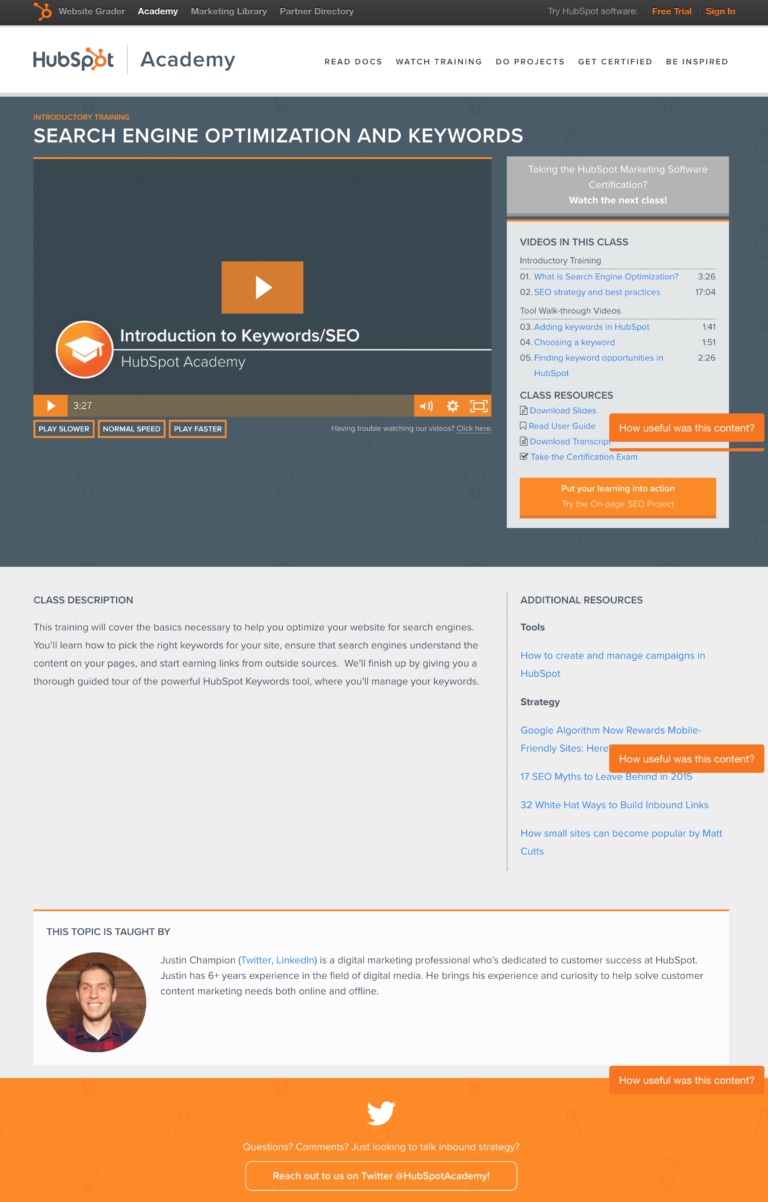 Creating video training courses on Youtube can be a great start to building your content resources if you decide to go the video route.
What Does All These Great Saas Content Have In Common?
Whether you decide on creating content for an article in Entrepreneur Magazine, a video training series or email autoresponder series…
You need to ensure your content is a valuable gem that is a stand-alone resource that accomplishes its objective WITHOUT the need for the reader to purchase your product.
Sounds counter-intuitive?
Definitely not. The aim of Saas content marketing is to frame you and your business as an authority, as a fountain of knowledge, as a resource hub for people to gather to solve their problems and challenges.
And when you do this long enough, your business and brand will stand head and shoulders above your competitor that only focus on taking, taking and taking but not giving.
For a winning solution, leave the selling part to sales copywriting and focus on content marketing to educate and empower your reader.
3 Proven Steps To Creating Saas Content Showing Your Reader That You Care (and know your stuff)
A proven formula for creating Saas content, especially those that seek to educate and inform your reader is the C.S.R formula.
It's a simple but yet powerful formula that you can essentially use for SaaS content whether you are creating a long-form article or distributing the content through email marketing.
What does C.S.R stand for then?
Challenge. Solution. Resolution.
Challenge.
Nothing works better than to start off your topic than show why it is so important.
Most readers today (myself included) have an attention the span of a house-fly and either showing a direct benefit or highlighting its importance is a must to capture their attention.
Choose a challenge your prospect is normally facing every day and knows that he has a problem with.
It can be a very specific problem such as '25 ways your current backlinking strategy is harming your entire SEO strategy'.
or it can be something general like '10 ways you might be sabotaging your networking efforts in the first 10 seconds!'
Now once you capture their attention, the main chunk of this section is simply to elaborate how important solving this challenge is for them or their business.
You can do so by:
– Highlighting statistics and figures showing the impact of the problem
– Talking about a business that faced the same challenge and the results of ignoring it
– The benefits they might be missing out if they don't solve it
The possibilities are endless here.
Solution
Can you recall the last time you asked friends for advice?
The first guy probably gave you a vague answer that seemed general and while it may make you feel better, it doesn't solve the problem.
Now the next friend listens to your problem and gives you clear steps you can take to get out of your problem. He gives you actionable advice. Advice that you can immediately implement and solve your problem.
Now, which of this advice is more valuable?
Without a doubt, it is the one you can immediately use to help your situation.
And guess what! The next time you need advice you go to that same friend!
And when that friend eventually tells you he needs help or *ahem* wants to sell something, chances are…you will help him and buy from him.
And this is the key when you are crafting the solution for your content.
Be generous and be detailed. Let your reader immediately implement your advice the moment he finished the article.
There is no need to fear that you might be 'giving away the farm' to your reader. Always give quality actionable advice.
Because if you don't, others will.
Resolution.
This section is where you close off the content with a nice reminder of why you even wrote this article in the first place.
A great way to end the article is to remind the reader of the awesome benefits if they take action.
You could also:
– Link to another article you created that you feel is relevant or important for them.
– End off with a quick story about your own personal journey through that challenge.
– Show a quick case study of a before and after comparison.
 
Or you can also end off an article my favourite way, by giving practical examples of how people are currently implementing them in their business.
Like the three examples I am about to show you:
1. Yesware (An Email Productivity SaaS) Provides Growth Hacks Their Readers Can Immediately Use.
"The Best Email Subject Lines (+ Ones We're All Sick And Tired Of)"
Yesware utilises the power of their blog and turned it into a resource centre.
This article aims to help their prospects and customers to solve one of the biggest challenges all email marketers face: Email Subject lines.
2. OkCupid (Yes a dating app is considered Saas) Creates Content That Really Connects.
"An Alternative Guide To Valentines Day"
Not all great Saas content has to be long-form.
In this great snappy post, OkCupid provides couples in non-traditional relationships bite size actionable advice they can immediately use.
3. Microsoft Empowers Businesses With A Roadmap To Get Started
The internet of things is a complex field that if implemented correctly can bring a user huge ROI and productivity benefits.
"Improve ROI by building your IoT solution in phases"
In this long-form blog article, Microsoft guides the user with detailed actionable steps to maximize their investment.
Final Thoughts
Creating content is a definite priority for your Saas business, but making it a quality gem that educates and empowers your reader is an aspect that can't be ignored.
Sure, if your Saas product is 'sexy' enough, you can create cool videos to showcase it.
But when all else fails, you can rely on the C.S.R formula to create awesome Saas content that brands your business as an industry authority.