21 Best Free Vectors & Illustrations Sites For Your Website & Blog Posts
October 26, 2021 | Sean Foo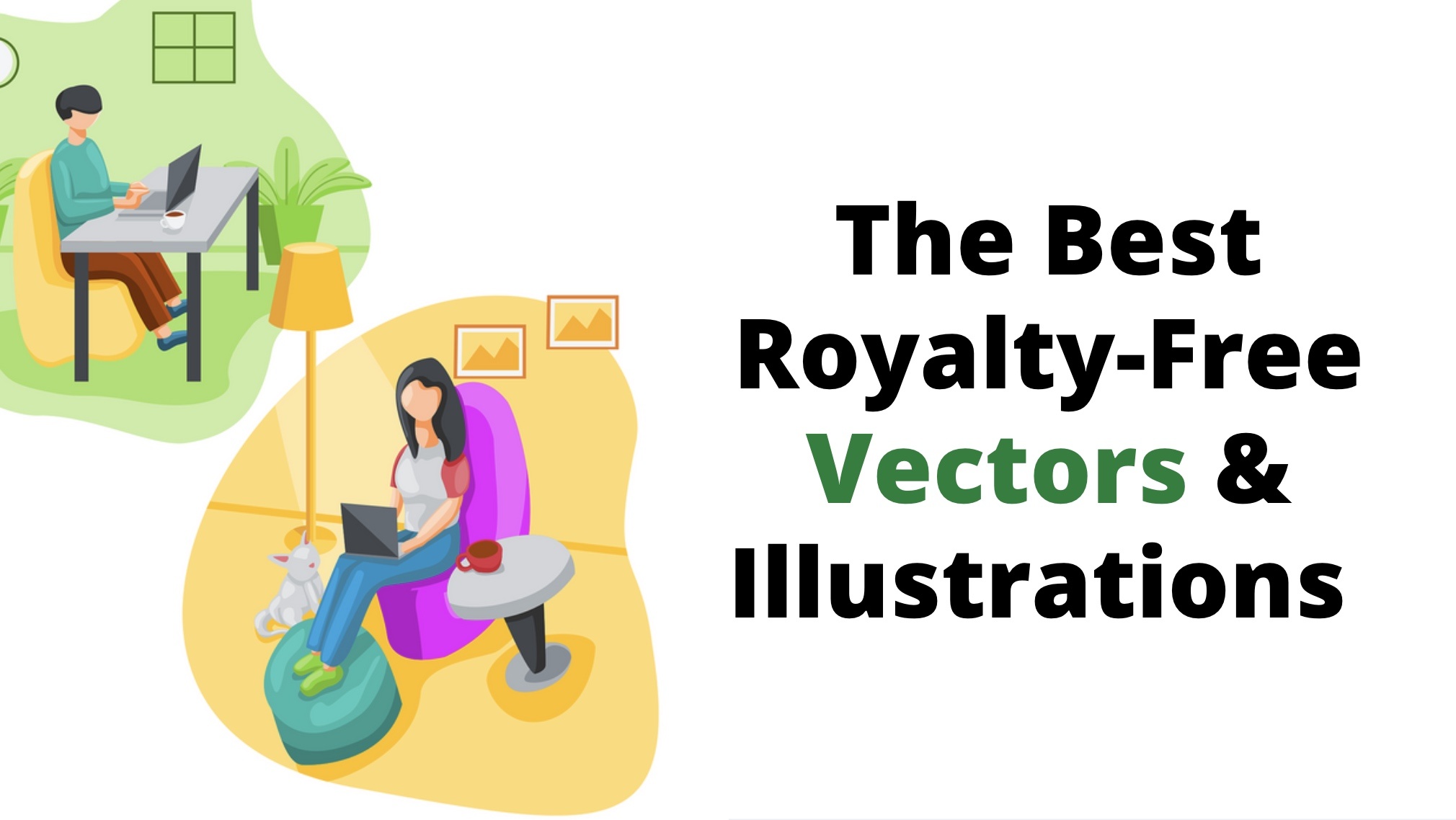 Visual illustration is the emotional bridge between functionality and the human experience.
When used strategically, visuals can succinctly articulate the key ideas of your blog content and break down complex concepts with a twist of creative expression.
Research has shown that we retain up to 65% of the message three days later when pieces of information are complemented with images. 
Not only does the use of illustrations help to increase readers' retention rates, but it certainly does wonders to the overall aesthetics of your blog!
However, bloggers often face copyright issues when it comes to image & illustration selection.
Thankfully, we've curated a list of the 21 best free vectors & illustrations sites for your usage.
It's time to start weaving these vector art and illustrations into the contents of your blog to enhance readers' reading experiences!
The 21 Best Sites For Free Royalty-Free Vectors & Illustrations
Home to many creative professional designers, Pixabay offers a myriad of copyright-free images, vector art, videos, and music.
It features over 2.3 million images, vectors & illustrations and is perfect for professional bloggers and marketers looking to spice up the aesthetics of their blogs! 
From contemporary vectors and illustrations to your standard artsy graphics, there is something for everyone here.
Pixabay even has a blog page to give you insights and tips on how you can better tie your selected images into the contents of your blog.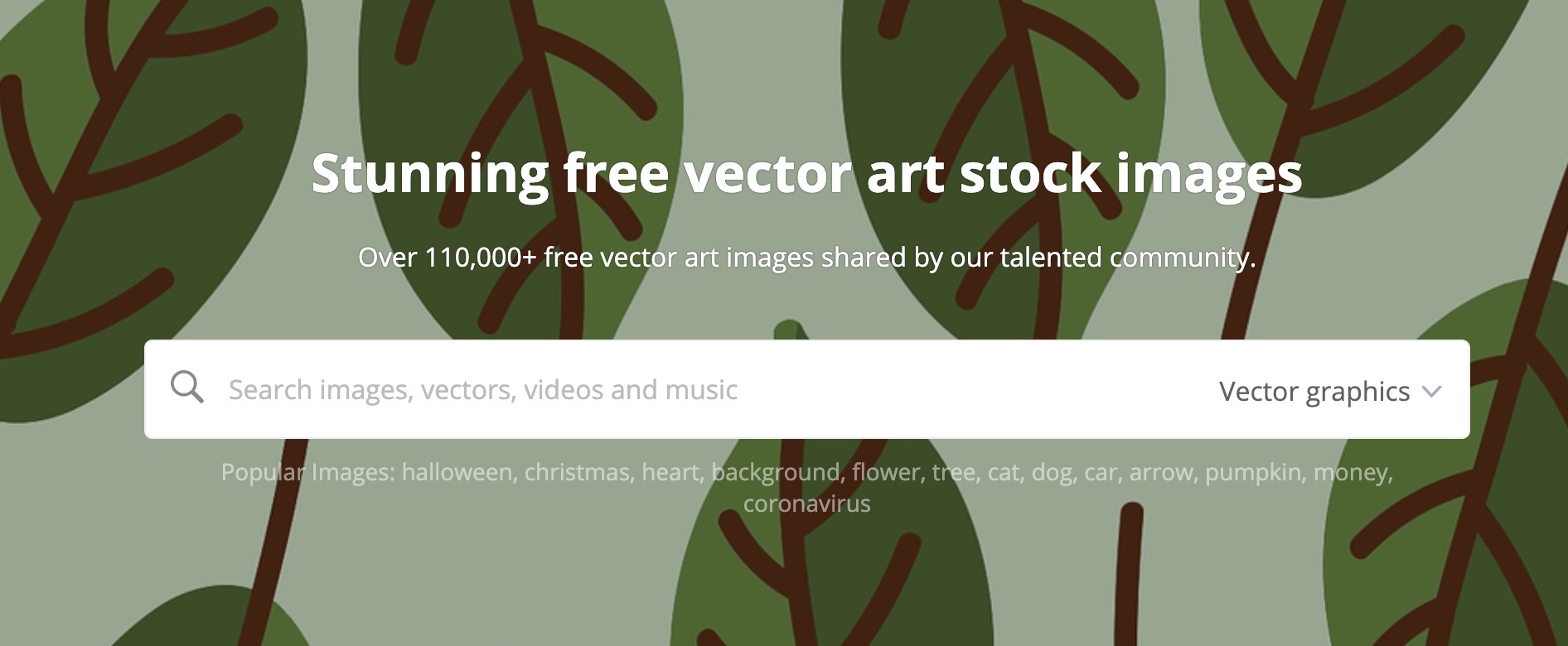 Tired of poor-quality stock images with low-resolution displays? VectorStock here to save the day!
As it prides itself to be the World's Premier Vector-only Image Marketplace, all its vector graphics can be resized without any loss of quality, perfect for printing and high-resolution display. With over 26 million vector images, VectorStock specializes in logo illustration as well.
This is great for companies looking to enhance their logo design. For simply 69 cents per image, you'll have access to its premium vector illustrations. 
But if you are on a budget, fret not! They do have a big library of almost a million free vector illustrations for your usage!

Flaticon is a vibrant and lively community of talented creatives. 
Flatiron has one of the largest databases of around 5 million free vector icons available, of which more than half are customizable to your preference. 
These vectors come in over 64 formats such as PNG, SVG, and more, making downloads hassle-free. 
Need a template to boost your PowerPoint presentations? Its feature, Slidesgo, is here to help you with it. 
Lacking inspiration?
Another feature, Storyset, provides customizable illustrations for your blog's landing page and schoolwork. 
Whatever it is, Flatiron has got you covered for your next project!

The Noun Project is another vector site that specializes in icon designs boasting the most comprehensive collection available in the world.
Its creator believes that icons and symbols are powerful tools that can transcend language barriers and articulate abstract ideas ever more so effectively. 
Paid members can use these vectors without credit or attribution and are entitled to color selection benefits. 
The site is user-friendly as users can directly drag and drop icons into the software they use, such as Photoshop, Google Docs, and PowerPoint, etc.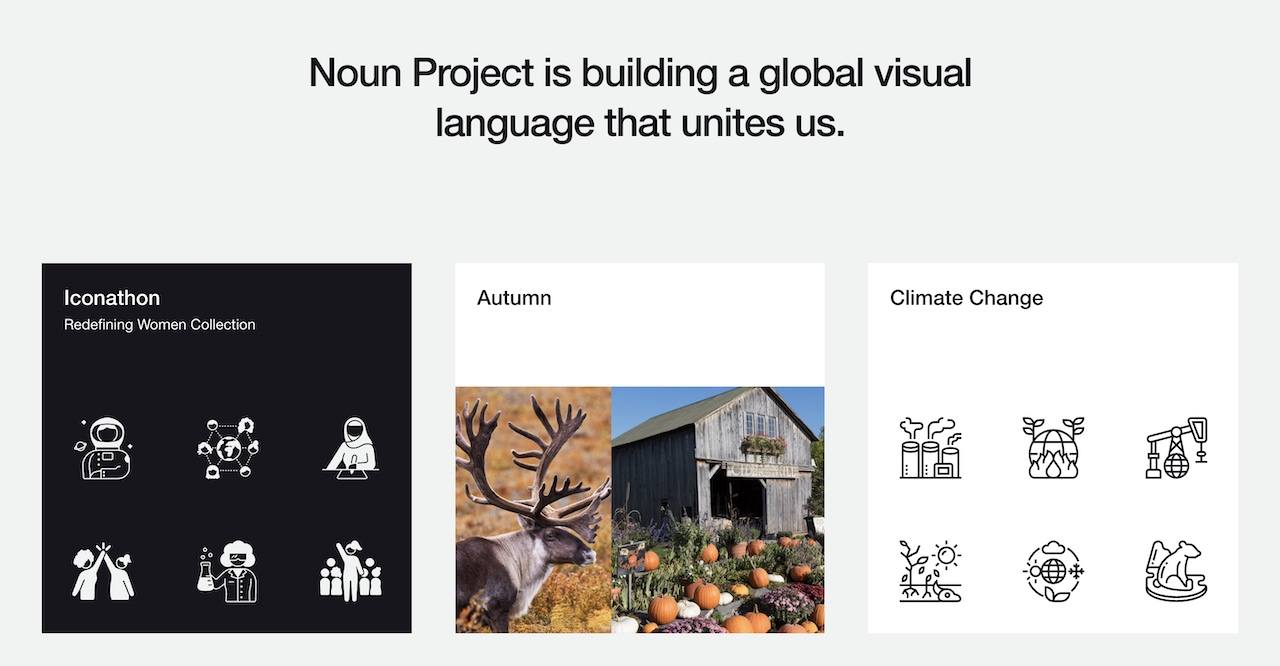 With Freepik, you'll have access to a world of free vectors, stock photos, and PSD files right at your fingertips!
With hundreds of vectors and photos added daily, you'll always have new and refreshing illustrations to select from. 
Freepik is for everyone, be it for commercial or personal usage. With just a modest fee, you'll have access to its array of premium vectors, and they can be downloaded in AI, EPS, or SVG format. 
Alternatively, there are many other free vectors available on the site to choose from, including Terrazzo patterned backgrounds, monochrome designs, and 3D animations.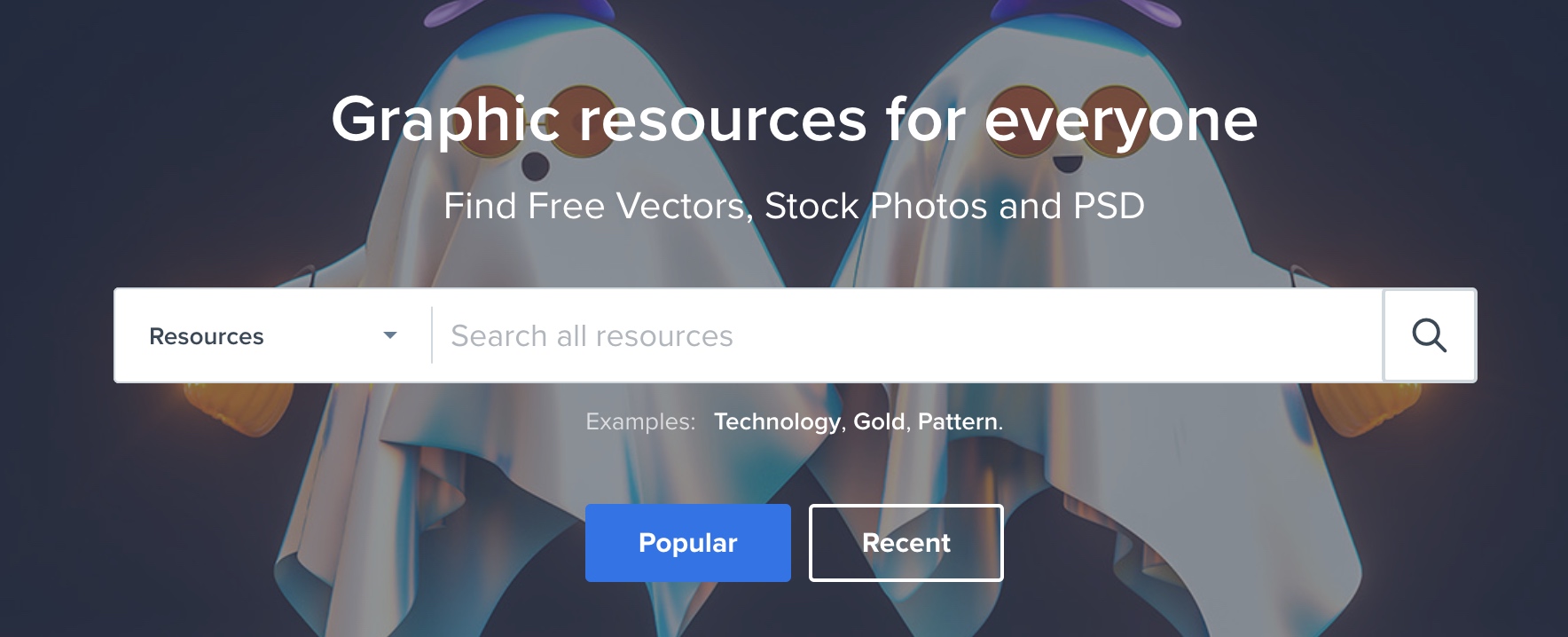 Free Vector provides an extensive collection of vector graphics done by talented creative professionals from all over the world. 
It also has approximately 900,000 page views and 250,000 visitors a month. Vectors are categorized under 50 over themes, such as Travel, Nature, Lifestyle, and more. 
This makes toggling on the site a whole lot easier!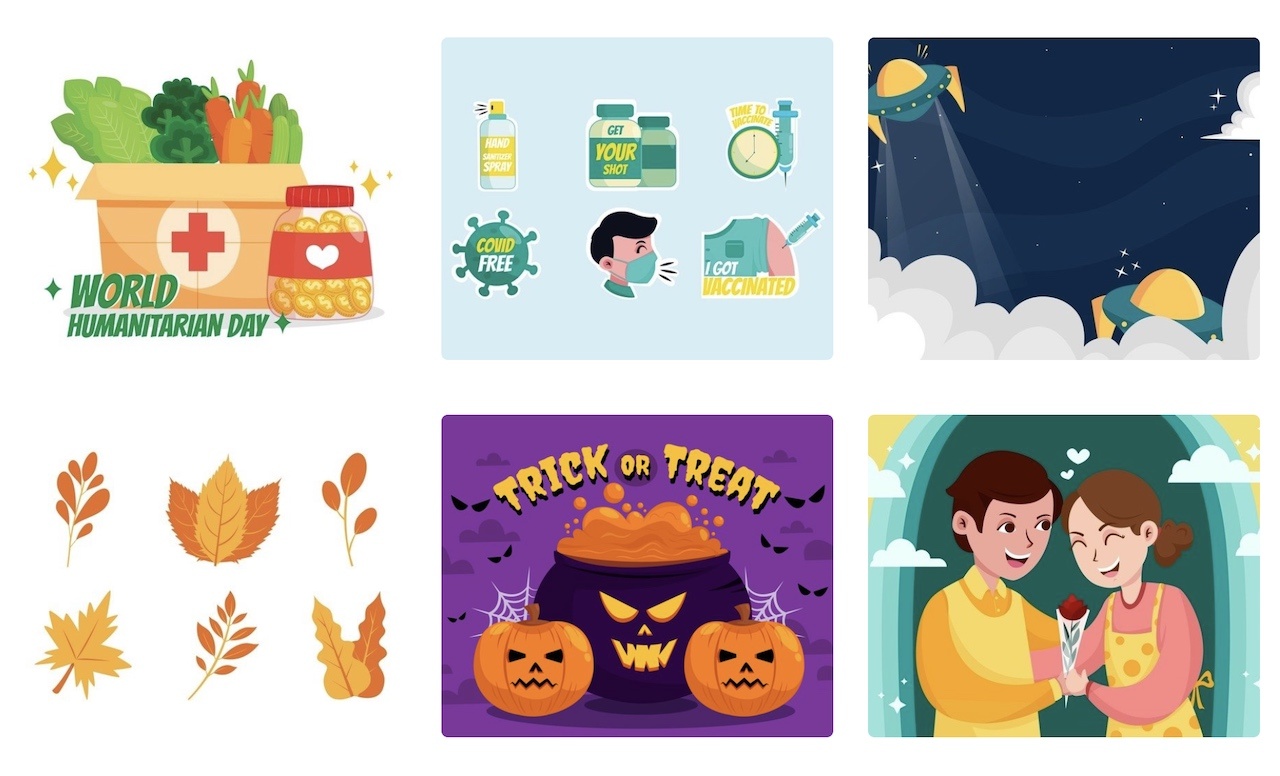 Vector 4 Free is the perfect avenue for people who are looking to spice up their holiday greeting cards & themed posts.
From Valentine's Day-themed to Christmas-themed cards, there's something for every occasion you're celebrating!
However, do be cautioned that each artist might have different terms of use so be sure to read the fine print before using it commercially. 
With vectors that come in every style, mode, and format, you will be spoilt for choices!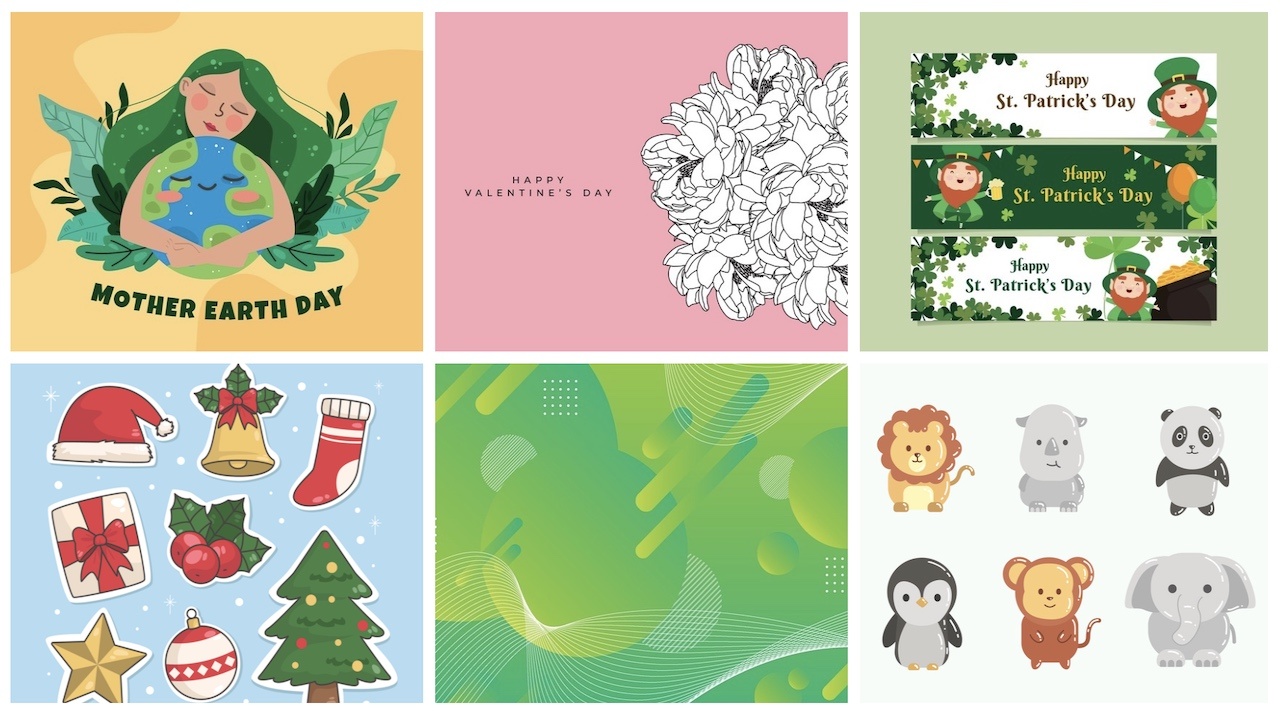 Vecteezy's collection boasts 650,000+ handpicked, contemporary vector files with thousands added weekly. 
Known for its simple licensing where all its resources are fully guaranteed for commercial and personal uses, you can rest assured knowing that there won't be any copyright issues.
This makes it suitable for professional bloggers and companies looking to enhance their business blogs.
On top of that, there are options for users with varying budgets. The premium plan entitles you to a variety of benefits, including unlimited vector downloads and no attribution required.
Alternatively, there is also a free plan option if you're only intending to try it out.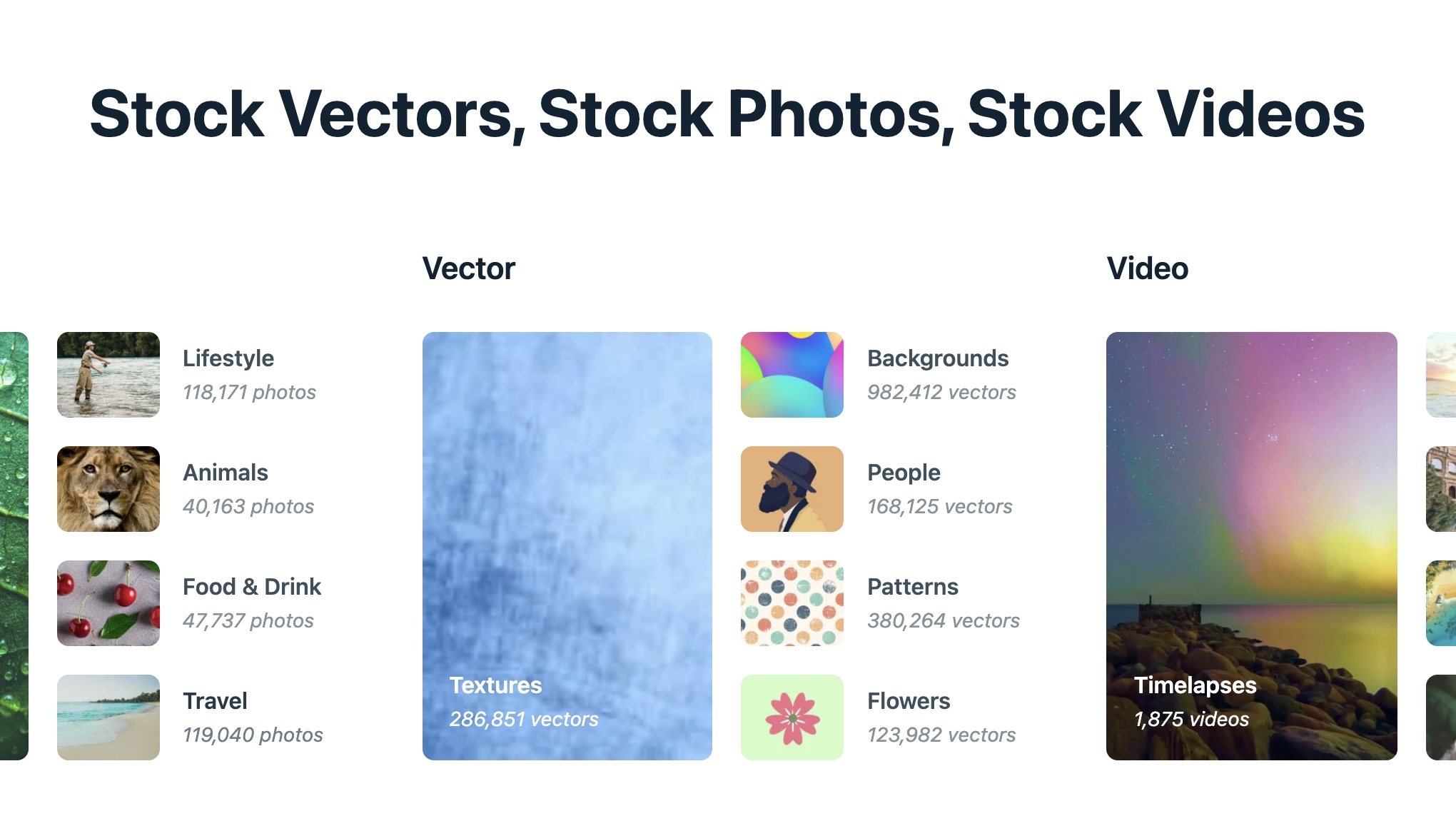 Vector Me serves as a powerful vector search engine to fulfill your blog's illustration needs. 
With over 79,000 vectors to choose from, you can download them in AI, SVG, EPS, and CDR formats, hassle-free.

Vector Portal provides free vectors with Creative Commons Attribution license (CC-BY) which designers can use in commercial projects. 
They are done by creative artists who want to showcase their digital artworks.
It even comes with its blog page showcasing tutorials on how to create and customize your vectors. You can simply filter your search based on the myriad of categories provided to you.

Storyset's selling point lies in its customizable illustrations, enabling you to curate and modify characters accordingly to best complement your next project. 
There's also a special 3D animation feature that helps to bring your design to life. Start Wow-ing your colleagues and teachers in your next PowerPoint presentation with Storyset!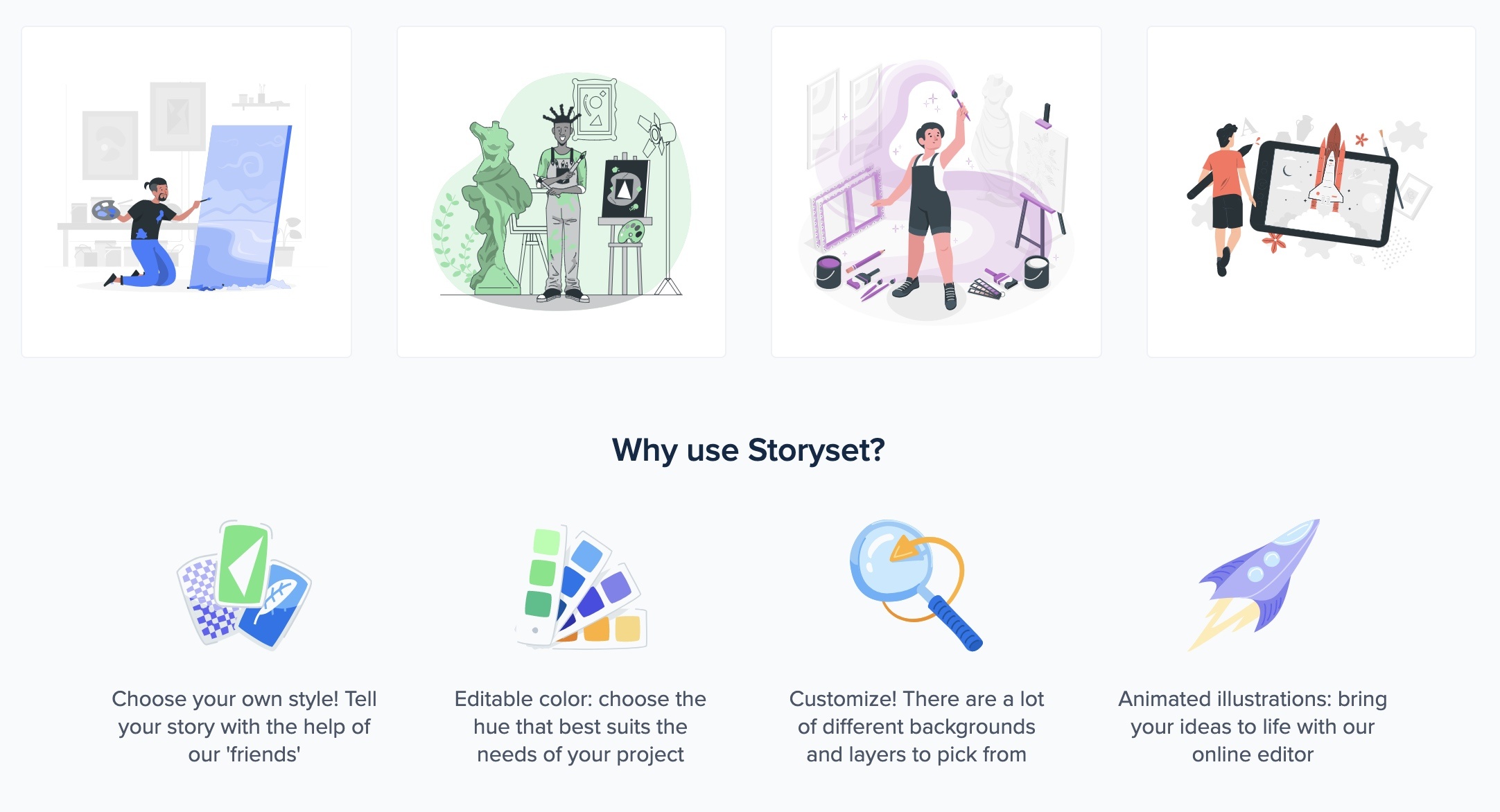 Creating your illustrations can be time-consuming. However, with Drawkit, you can request and vote on what illustrations you would like to be created next! 
Its illustrations are updated weekly, perfect in providing refreshing graphics for professional bloggers who need to consistently put out new content. 
While most categories of illustrations are free, you can also pay premium pricing to unlock a wider spectrum of categories. Categories include interesting themes like Black Lives Matter and LGBT+ related illustrations.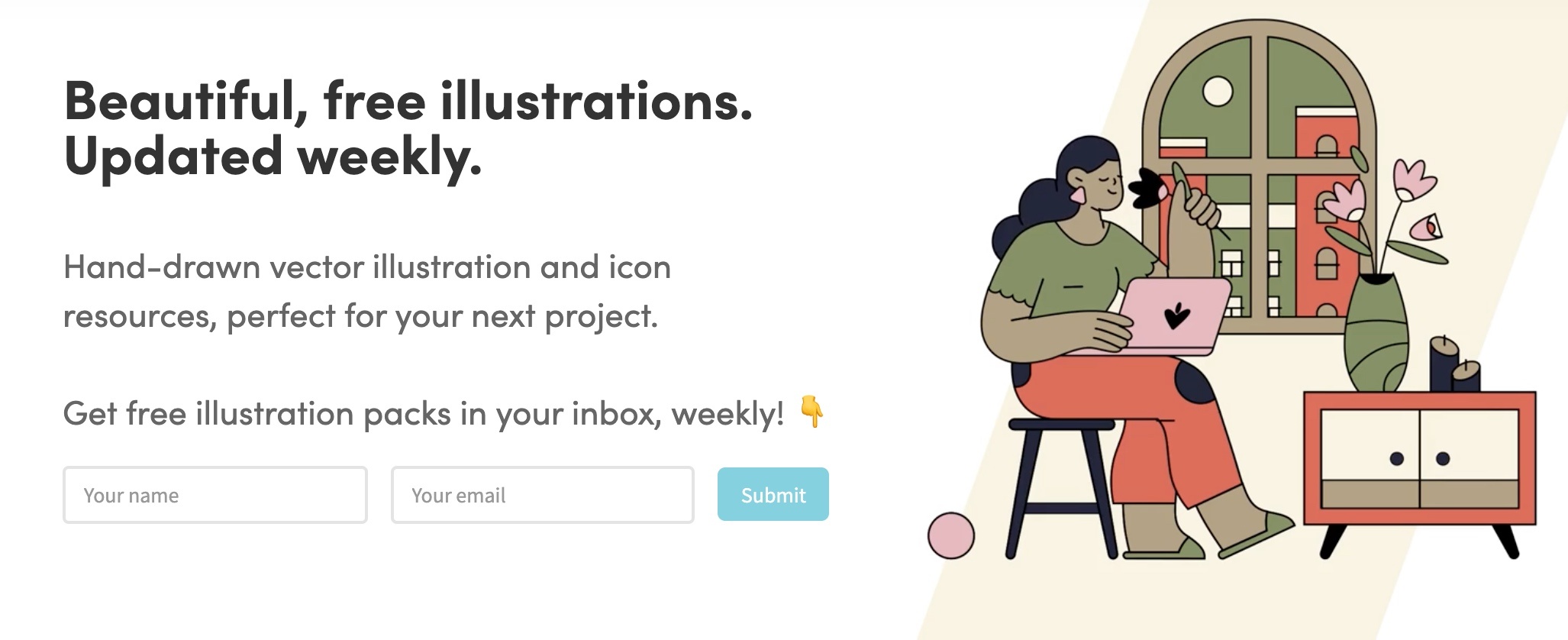 Open Peeps is by far the most interactive and customizable illustration site where users are quite literally allowed to mix and match various elements to create their ideal human characters. 
For example, you can combine clothing and hairstyles to add flair, change emotion with different facial expressions, and lastly, set the scene with different poses—including standing and sitting. 
The best part is that it is free for commercial and personal use under CC0 License. Be sure to bookmark this for later use!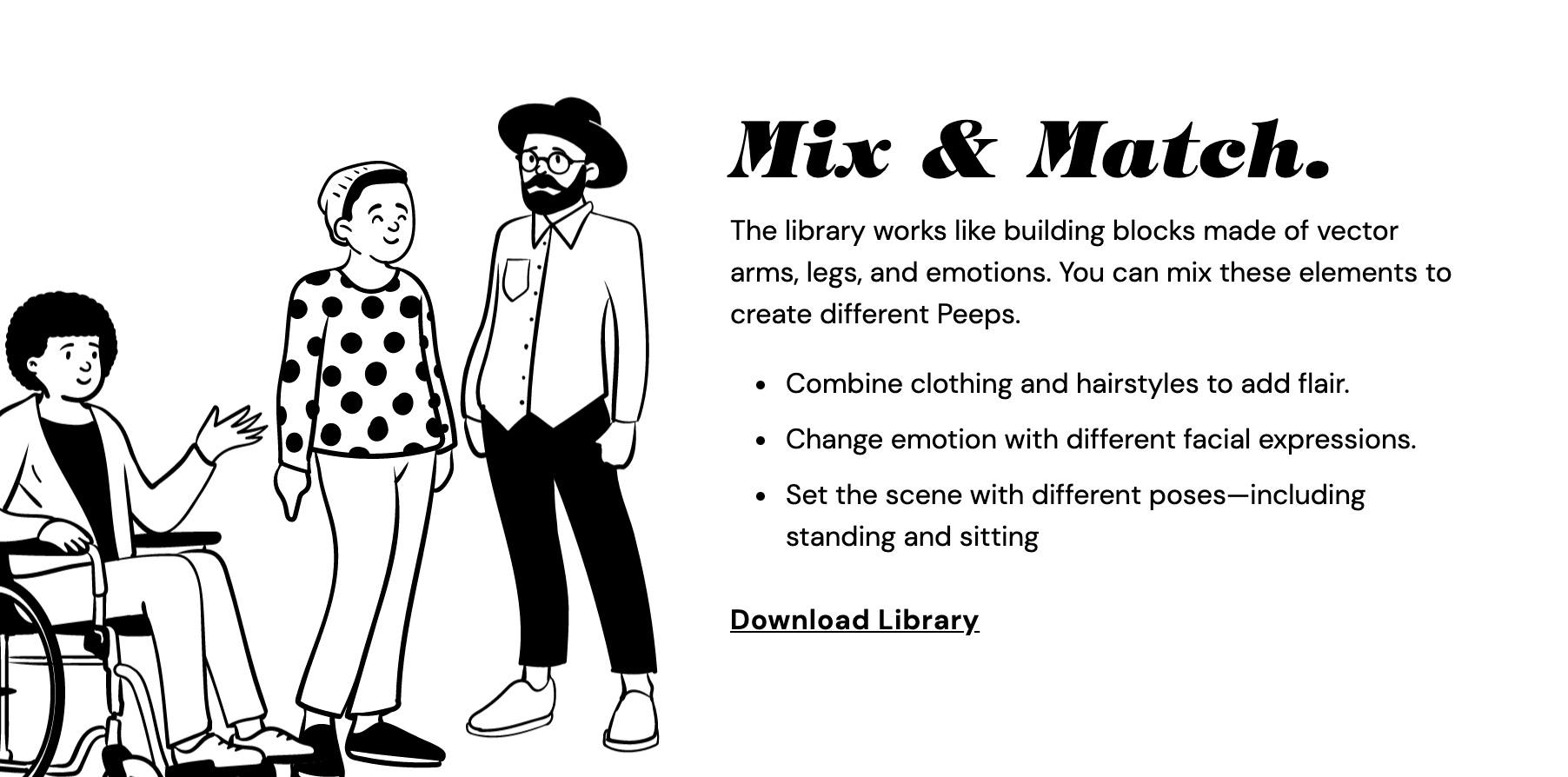 Undraw has a simple goal of allowing designers to contribute to the open-source community.
It provides users with beautiful illustrations that you can use completely free without attribution.
Undraw even comes with its color selection tool that allows you to select your own trademark colors. It also has an insightful blog on open-source design and usability, which users can take inspiration from.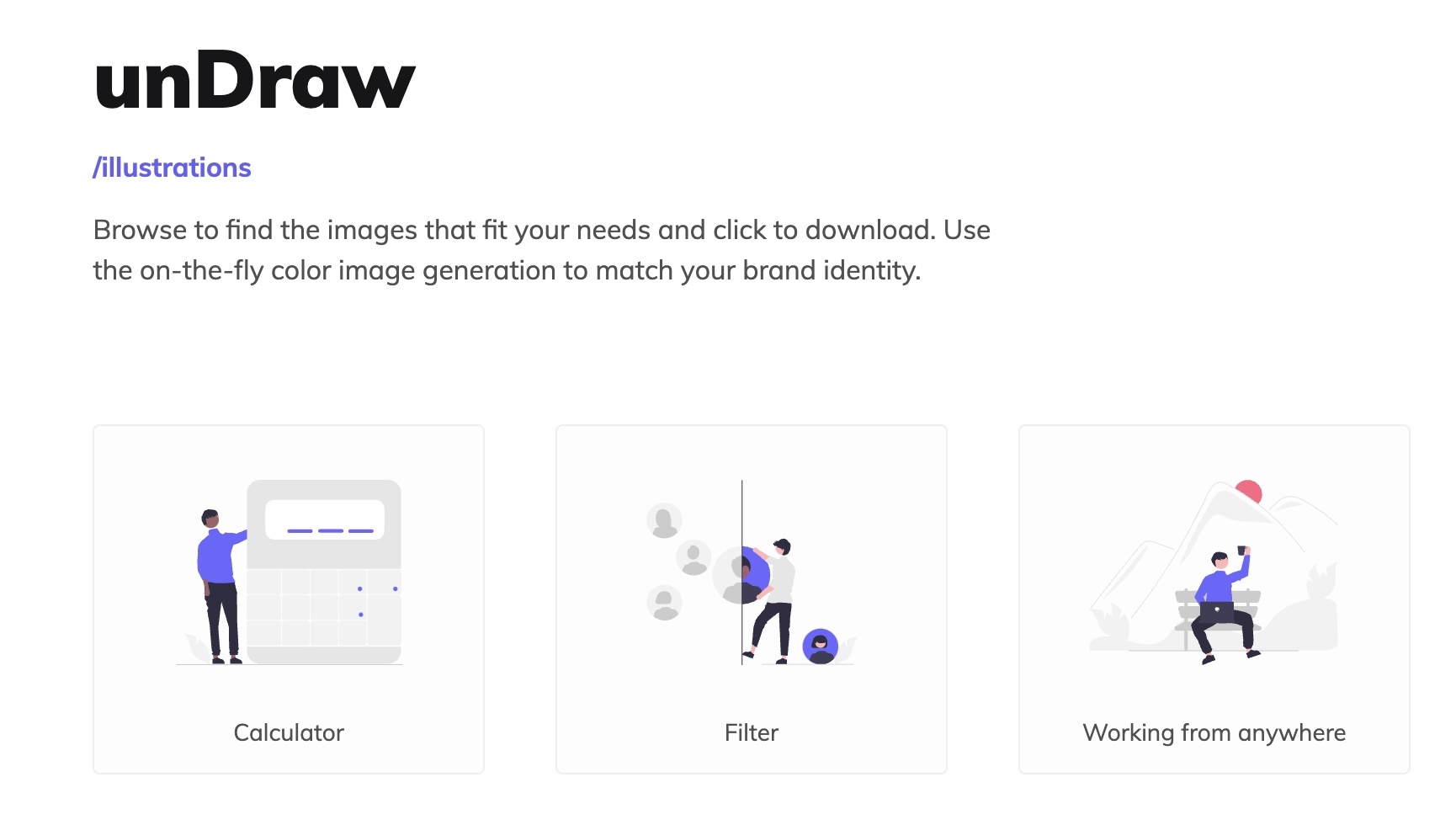 Hiring an illustrator for your blog can be costly. Open Doodles provides a collection of free illustrations that embraces the idea of Open Design.
The creator of Open Doodles believes that openly sharing our work invites people to collaborate and learn together.
Users are allowed to replicate or remix any of the images for any purpose without restriction under the CC0 License, perfect for commercial and personal uses.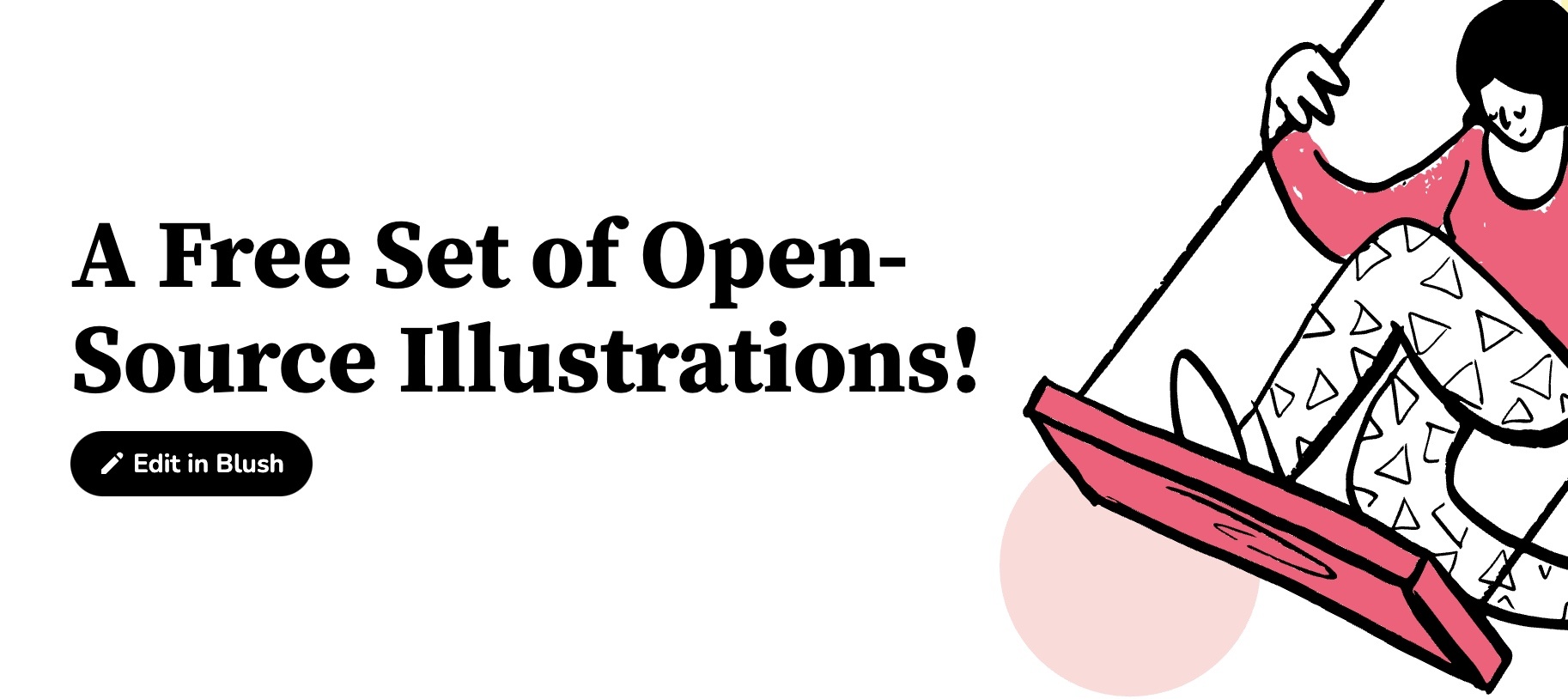 Ouch aims to provide creators who are unable to draw access creative illustrations for their projects.
This is the one-stop solution for all your illustration needs. There's plenty of cool features to explore such as Background Remover and AI Anonymizer to help you edit and polish up your pictures and illustrations. 
There's also a myriad of holiday and festive themed illustrations available, perfect if you are looking to spice up your greeting cards.
Ouch allows you to download free PNG and SVG formatted illustrations by top artists to enhance your blog articles. Ouch is exceptionally beneficial for teachers and students involved in established open-source projects as they can receive icons for free.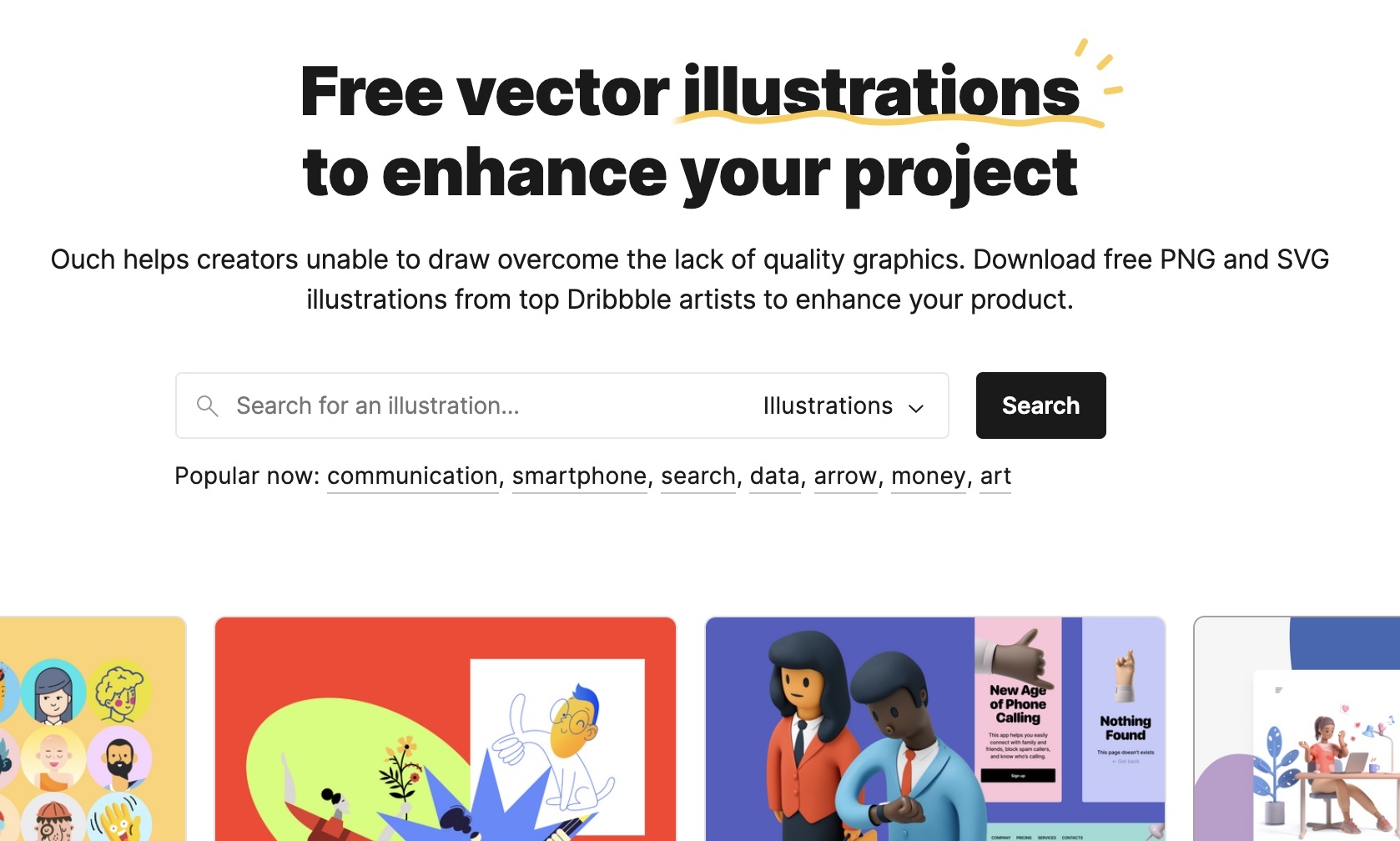 ManyPixels is excellent for a variety of projects that include landing pages, blog posts, newsletters, social media graphics, and more. 
It is highly tailored to suit small businesses, agencies, and marketing teams, given the 2000+ royalty-free illustrations and templates provided. 
It also has a blog that shares splendid ideas, tips, and trends on graphic design. 
ManyPixels has fuelled multiple established brands with their design needs, including Decathlon, Sleek, and Carousell. It is equipped with some of the most talented illustrators to help bring your design vision to life.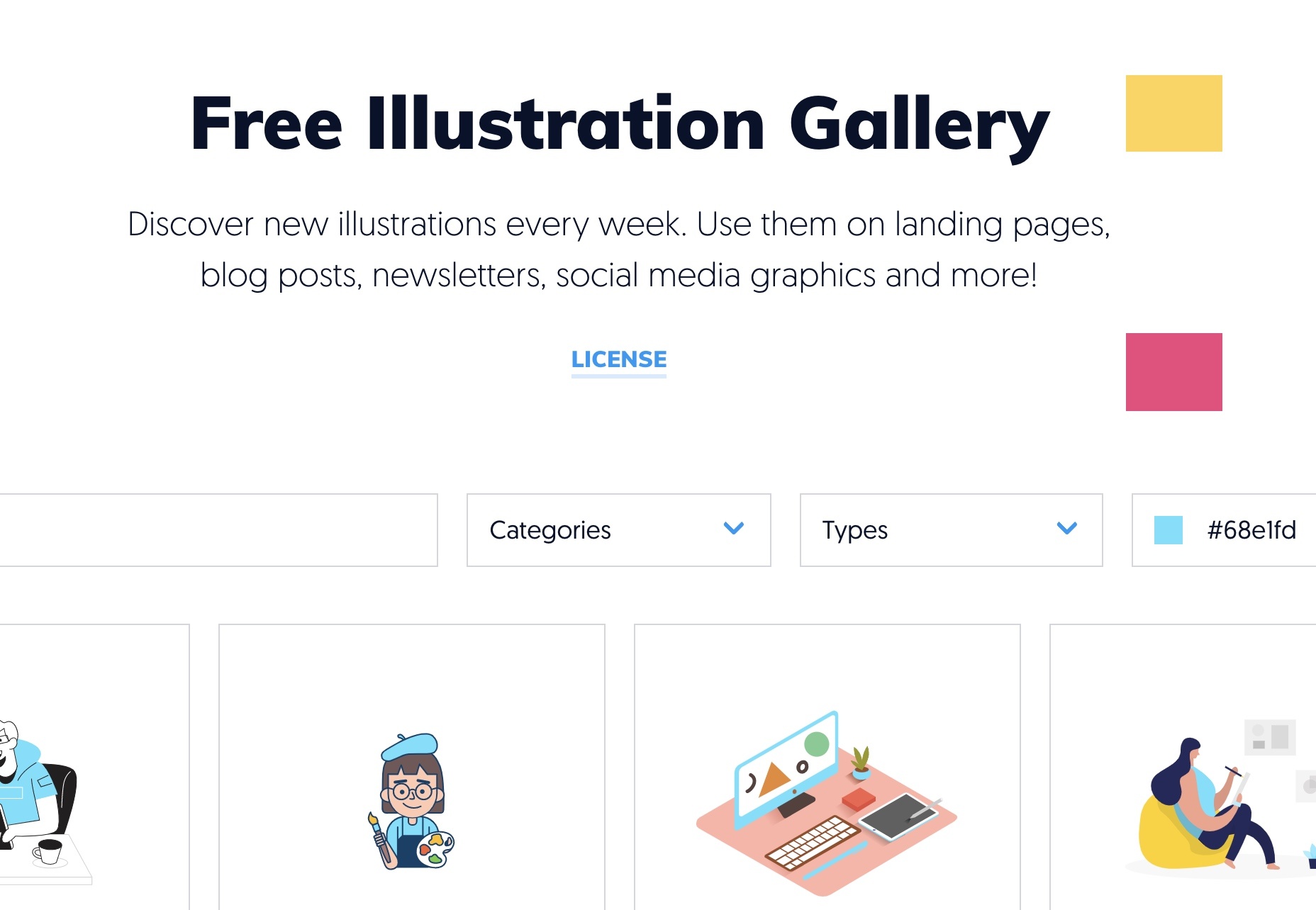 Glaze serves to provide users with a collection of free illustrations from a broad spectrum of categories, ranging from technology to animals to travel. 
However, under the free version, all images require attribution. 
For a one-time premium fee, users can download the full-size PNG and AI files and skip attribution. 
This is great for content creators who are looking to complement their texts with simple illustrations that are not too over-the-top.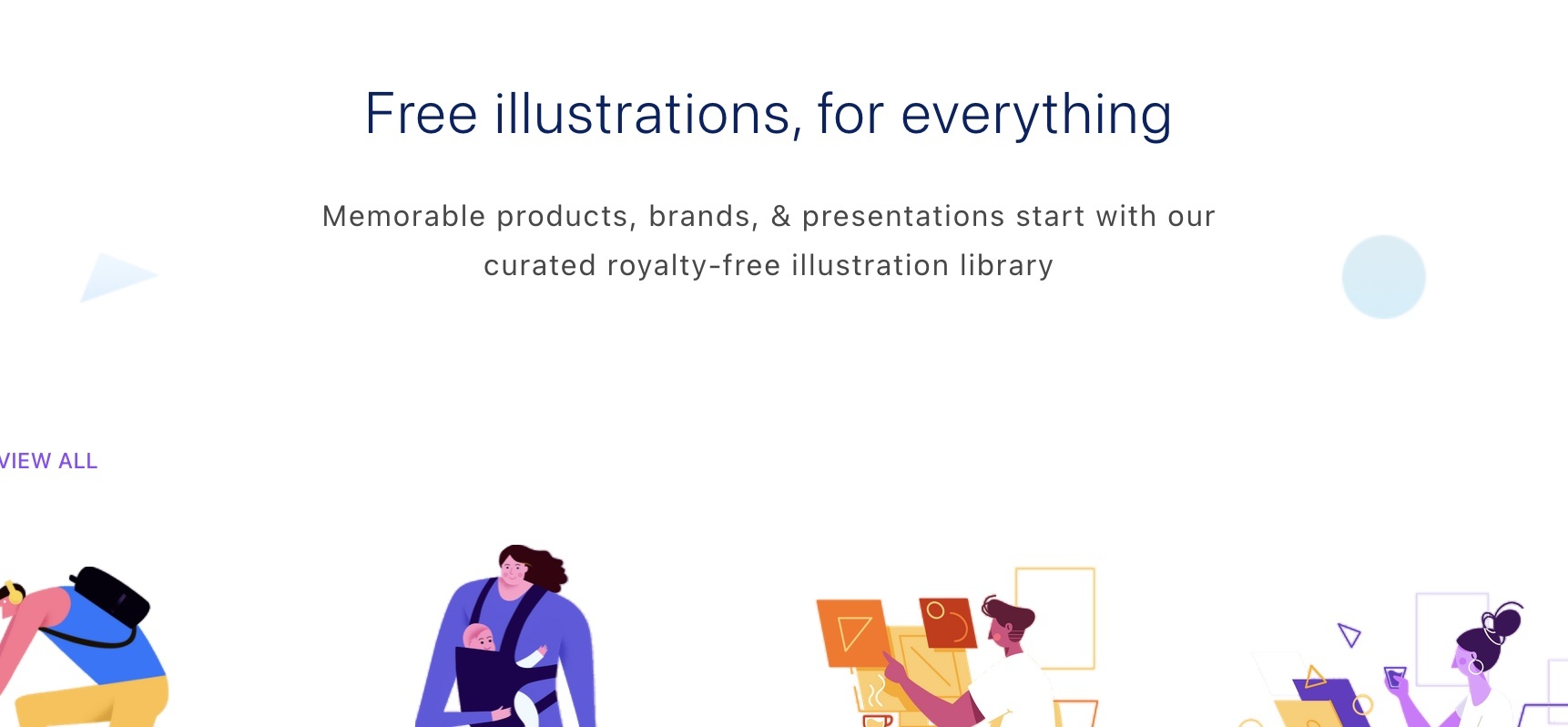 Absurd's main selling point lies in its surreal illustration style. 
If you're a fan of the late painter Salvador Dali, this is the perfect illustration site for your acquired taste. 
Filled with only black and white, radically distorted illustrations, these visuals ironically create a heightened sense of expressiveness.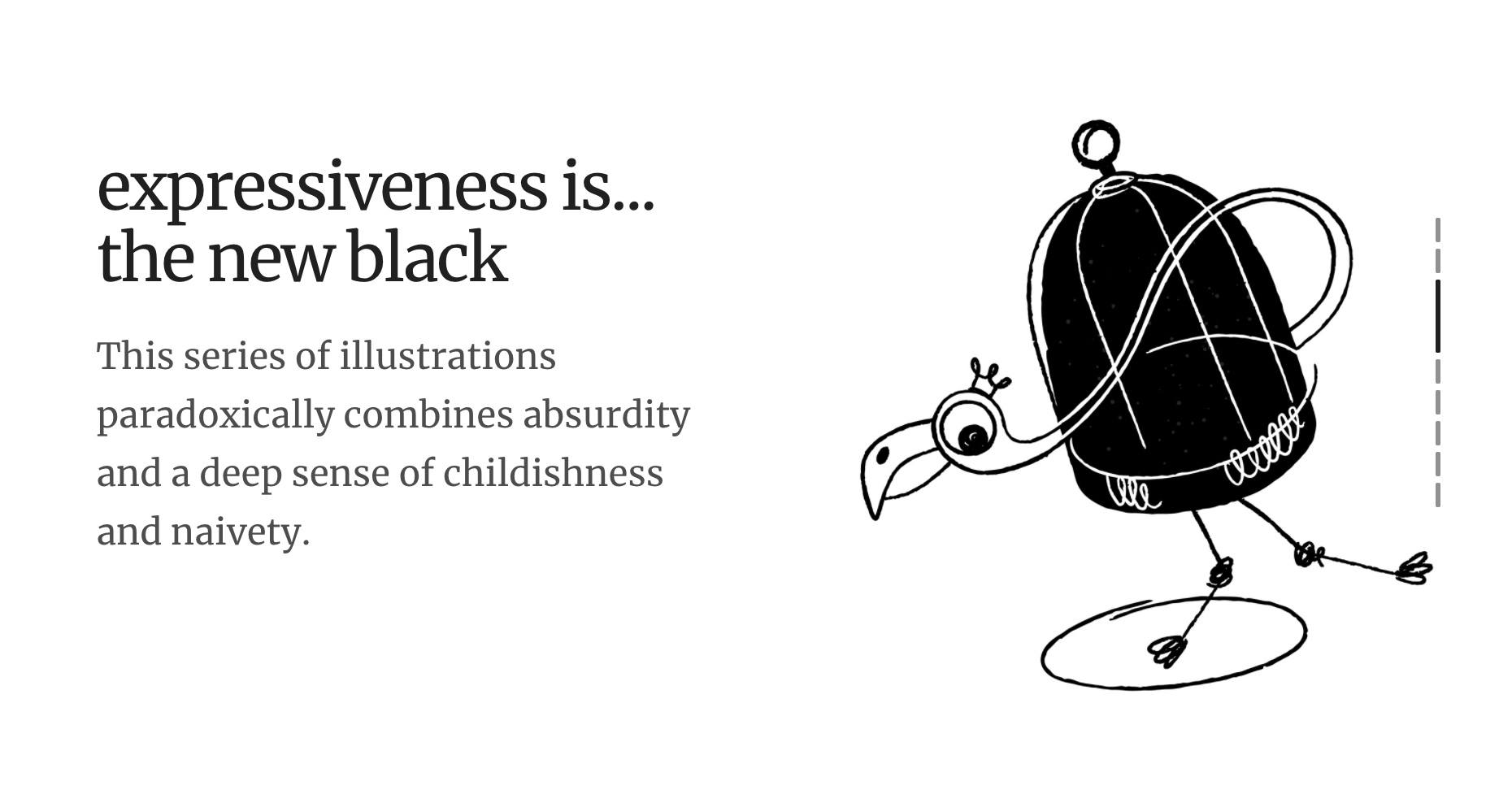 Illustrations provide colorful modern flat style illustrations from the personal creative works of Vijay Verma. 
Fun fact, it even has a health & covid-themed illustration pack! 
Users can download them in AI, SVG, PNG, and EPS formats. Illustrations are completely free for commercial and personal usage.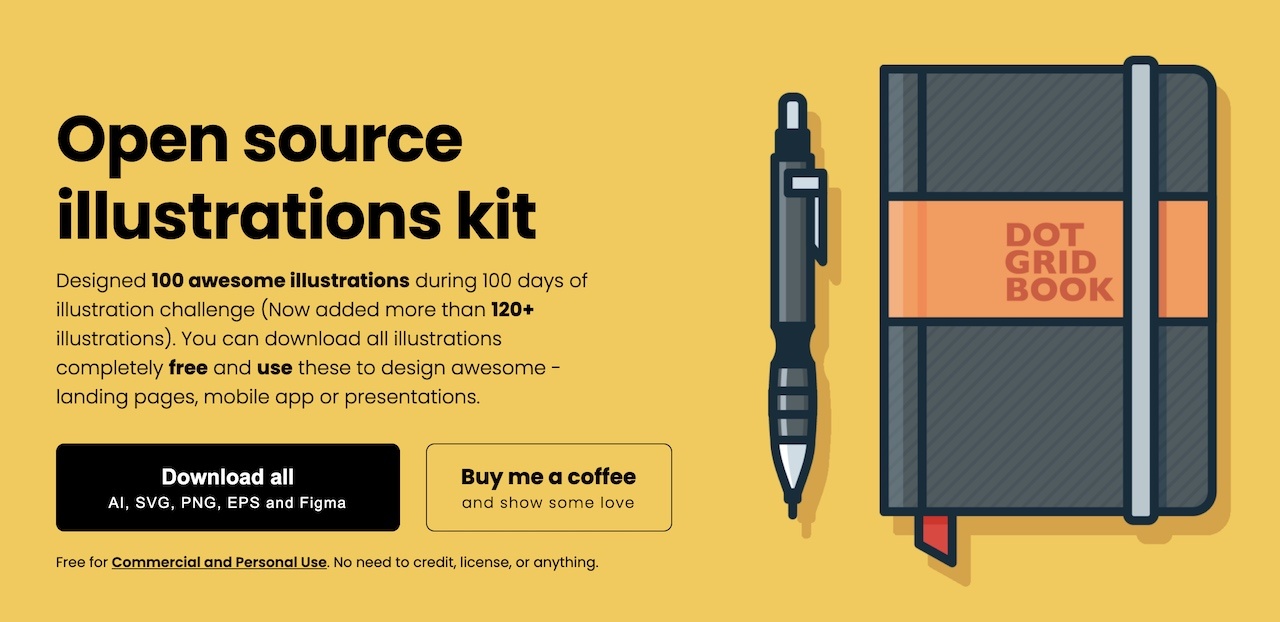 Iconscout prides itself to be the world's largest design ecosystem and is best known for its scalable and lightweight Lottie animations. 
These animations are comparable to GIFs, but are 600% smaller, 10 times faster, and do not pixelate. 
These come-alive animations aim to transform your blog into a fun and interactive one. 
Iconscout also provides your regular vector icons, illustration, and 3D assets. Both free and premium subscriptions are available too. There is something for everyone!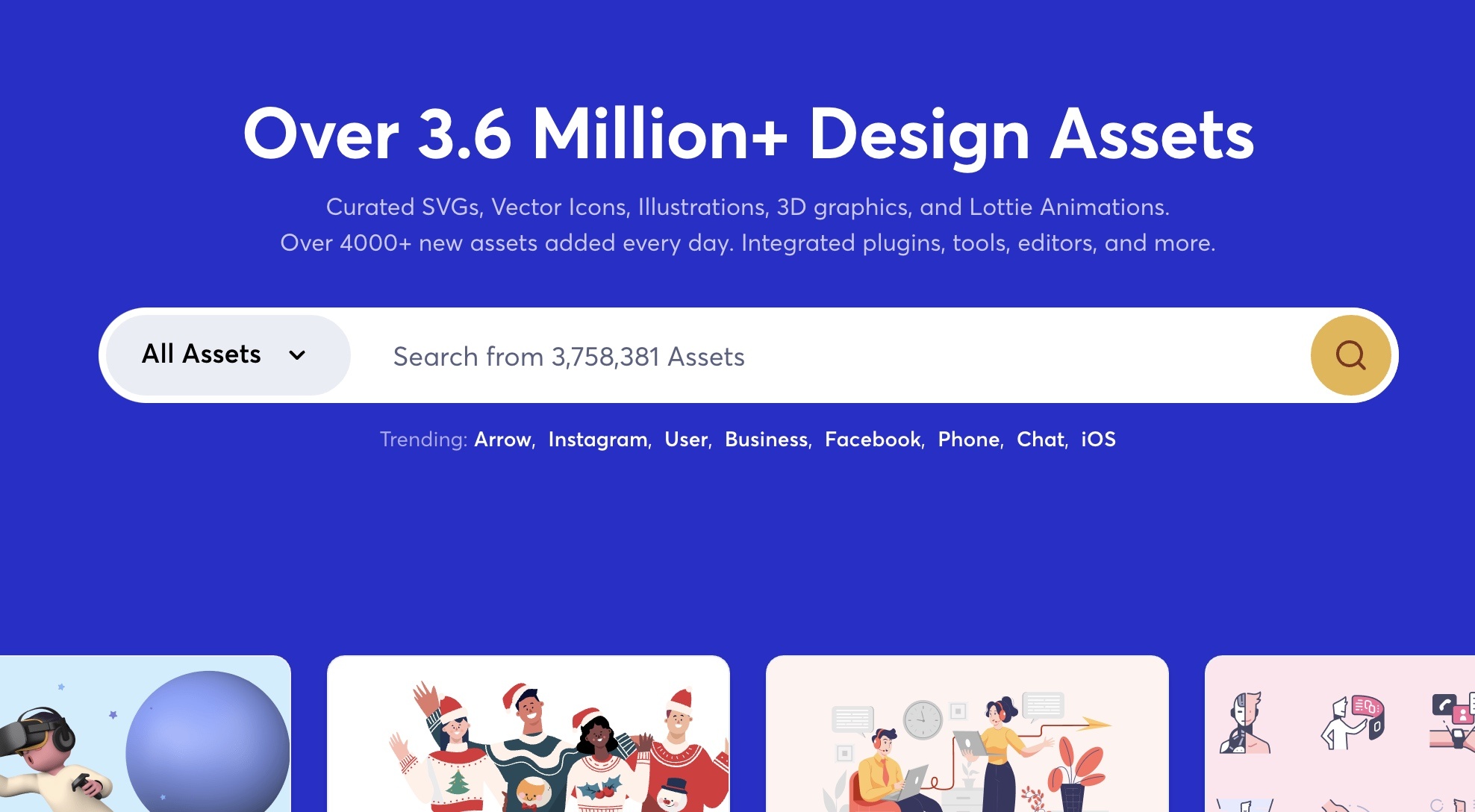 Wow Your Audience With Incredible Illustrations & Visuals
Whether you are writing blog posts or crafting a product page, visuals are crucial in conveying emotions and information to your readers.
With the right vectors and illustrations, you'll be able to better capture your audience's attention while making your posts truly come alive!
Be sure to learn how to effectively use illustrations in your blog posts here.
And if you prefer stock images, here are two resources just for you:
Have another free royalty-free image site I should check out? 
Drop me a message at sean@speechsilver.com or leave a comment below!