Using Images In Your Blog Posts: 15 Best Practices For Better Engagement
May 15, 2021 | Sean Foo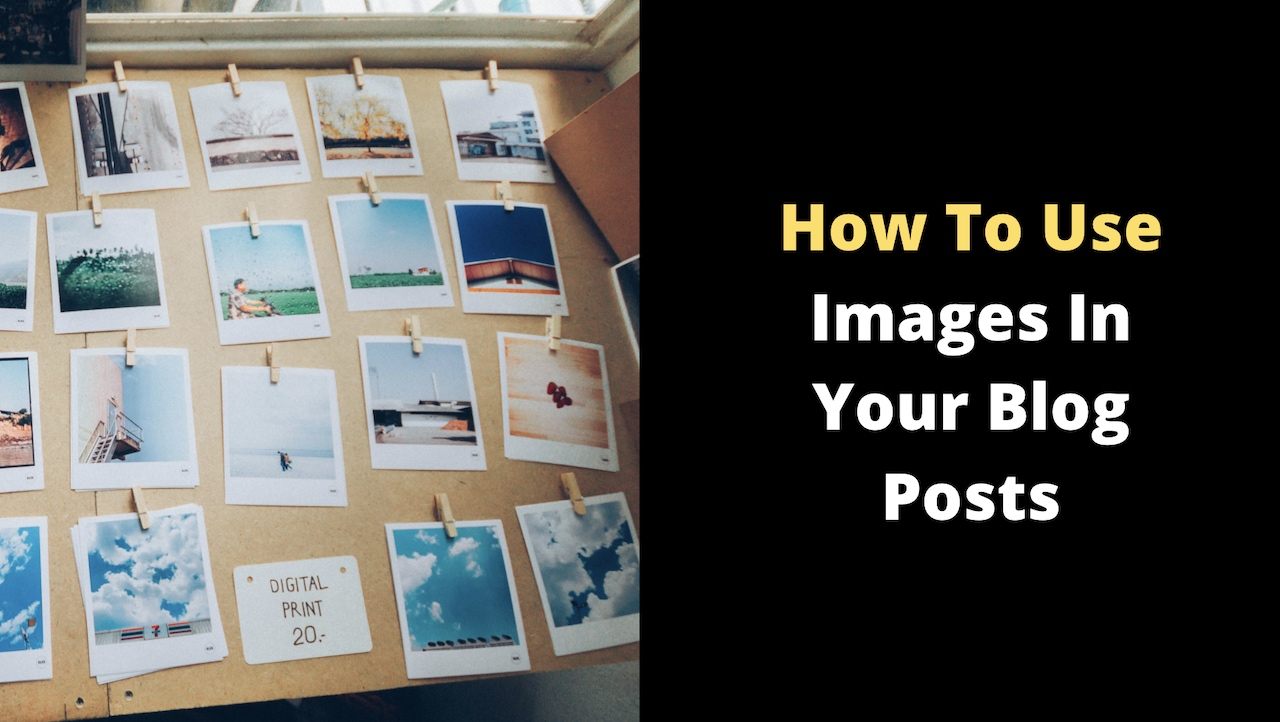 How do your blog posts look like? Do they contain walls of text with only the token picture thrown in?
If you nodded along, chances are you believe that blogging is purely about delivering quality text-based content – which isn't wrong.
Words do matter. A lot.
However, did you know that people remember 80% of what they see and only 20% of what they read? In fact, blog articles with images received 94% more views as compared to those with no visuals.
But besides simply engaging your readers better, images provide a whole host of benefits from increased social shares to enhanced SEO – all great for attracting new readers and visitors to your content.
If you don't already include pictures in your blog posts, there's no better time to start than now. After all, a picture's worth a thousand words!
Here's our list of 15 best practices and ways to incorporate pictures into each of your blog posts to take your reader engagement to the next level.
15 Best Practices When Utilizing Images & Pictures In Your Blog Posts
1. Include A Customized Blog Cover Image
Upon landing on your blog, one of the first images that the viewer sees would be your blog cover image, along with your blog thumbnail and social shares. 
As first impressions are important, it is crucial to capture your viewers at this point and make your thumbnail stand out enough for your visitor to click. 
When creating your customized blog cover image, remember that your goal is to not only attract readers and capture attention but to also add context and remind readers of your post's purpose.
When done well, these customized blog cover images can also double up as great social assets that can be used on platforms such as Facebook, Pinterest, and LinkedIn.
To effectively create your blog cover images, you can tap into online software tools such as Canva and Crello to get started (it's exactly what we use for all of our blog posts' cover images – it doesn't have to be fancy!)
Check out this cover image that took me less than 90 seconds to make.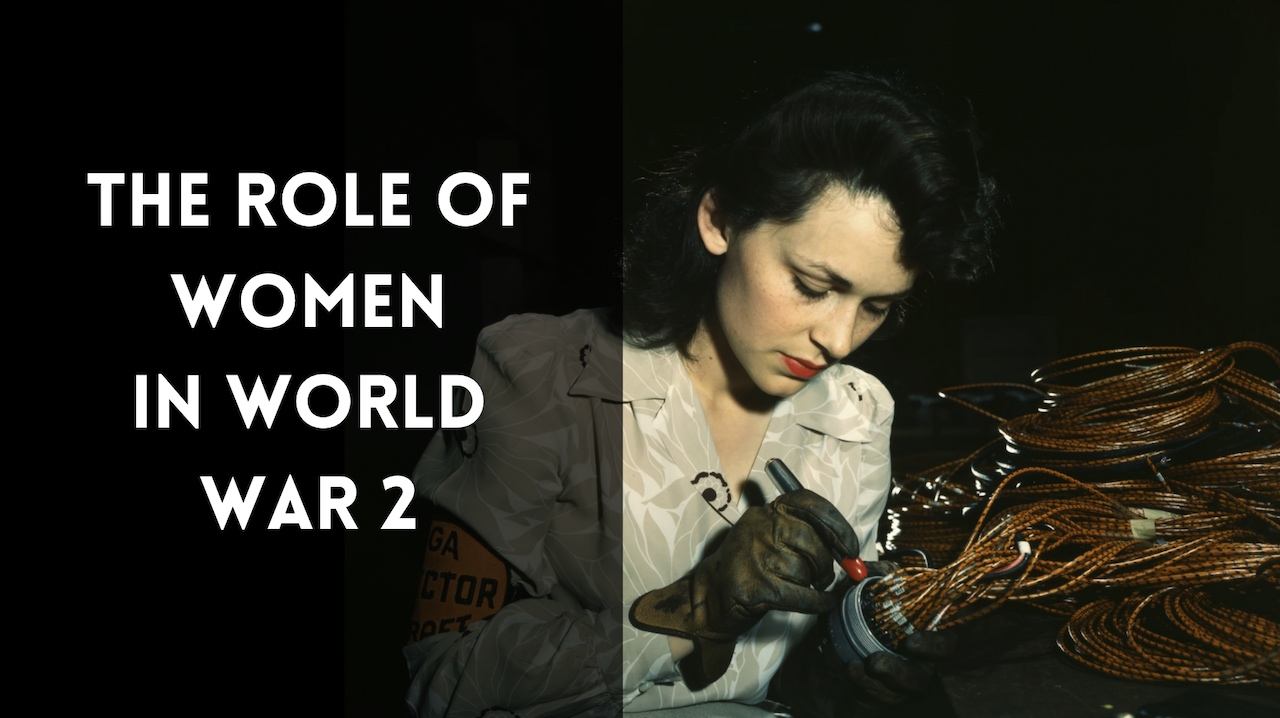 The key here is to include the title or abbreviated headline into the cover image so that your reader gains immediate clarity about what your blog post is about.
2. Utilise Diagrams & Illustrations To Explain A Concept Or Process
If you have to break down complex concepts or processes, diagrams and illustrations can do wonders for you.
They are easier to digest as compared to chunks of descriptive text since they are a creative representation of content and help readers quickly connect to an idea.
Plus, it is also easier to visualize and understand data that is presented in a diagram rather than words. After all, 90% of information transmitted to the brain is visual.
OmniGraffle is a good software to make flowcharts or you can also use Canva to make simple diagrams – I kinda use it to illustrate many concepts and ideas in my post.
If you need to create pie charts, you can head to imgflip to make one from scratch.
Take this illustration I made for my blog post on customer personas – to explain the concept of a 'sales funnel' in text would probably take me three to four pages worth of content that will bore my reader to read and frustrate me to write.
But with an illustration, I can convey hundreds of words with just 10 minutes of work on Canva!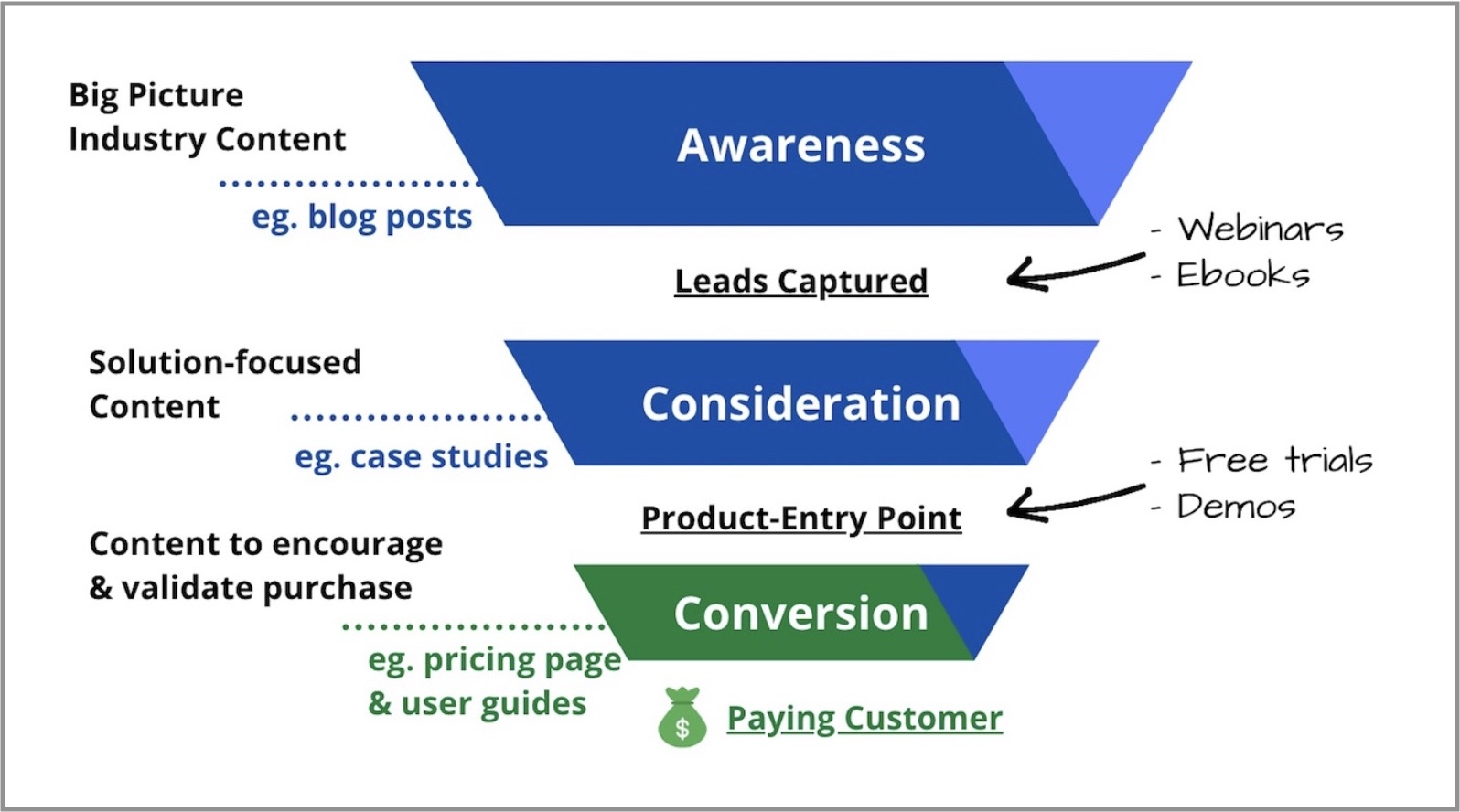 Have a bigger budget that you want to experiment with?
If you'd like to present a concept or process in a more unique manner, hiring a professional or freelance illustrator is probably your best bet.
When you consistently feature illustrations done in a specific style, it can also become a part of your brand identity – so do take note!
3. Use Clear & Sharp Images
While images are important in general, image quality plays a part in creating a good impression on your readers too.
If you choose clear and sharp images, your posts would be more visually appealing and compel readers to stay.
However, if the images are blurry and aren't pleasing to the eye, readers might not want to engage with your content as much – it just contributes to a poor reading experience. 
It's better not to use no image than a blurry image.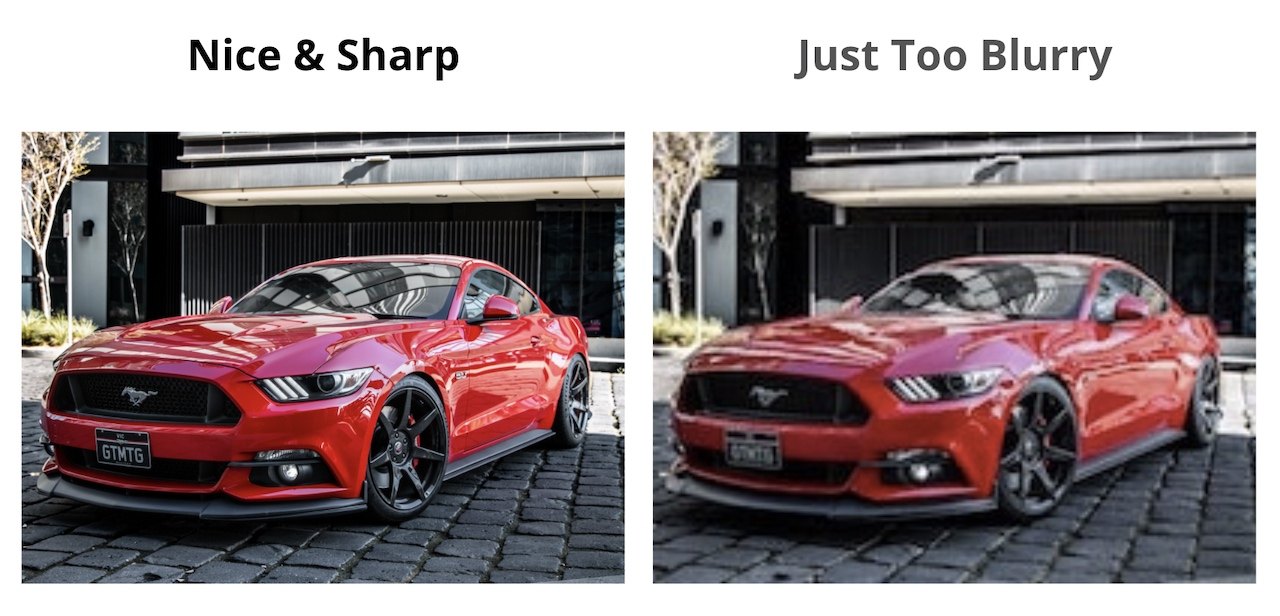 4. Incorporate Screenshots When You Are Highlighting Examples
Screenshots can be particularly useful when it comes to presenting examples. After all, there's no better visual representation than the source.
This is extra helpful especially during the times you require a visual aid to showcase a specific layout or point from a particular website, video, or image.
If you're using a MacBook, press command + shift +3 to capture the full screen or command + shift + 4 to take a partial screenshot based on your unique dimensions.
Alternatively, Chrome extensions such as Awesome Screenshot can also help you to take a screenshot of the entire webpage.
Need to add annotations to highlight key parts of your screenshot? Then be sure to give Markup Hero or Good Annotations a try.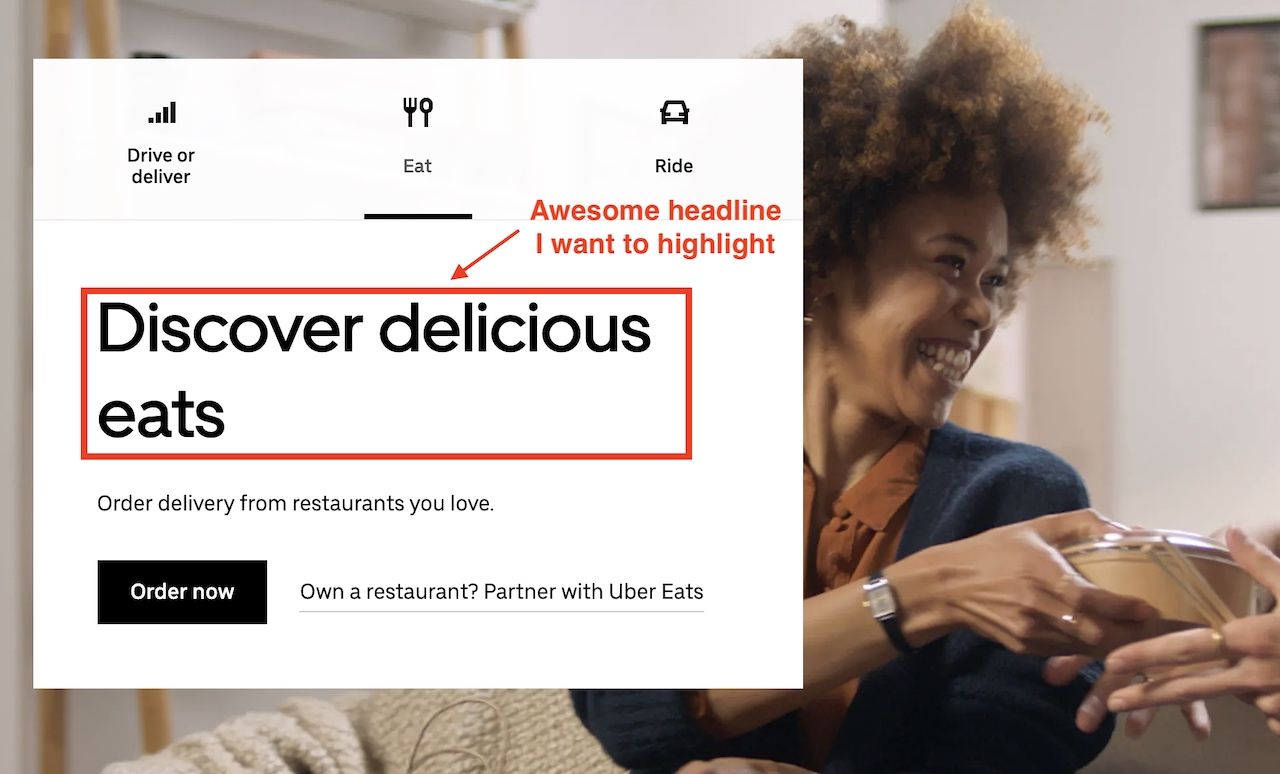 5. Use Infographics To Summarize Your Blog Post
Did you know that infographics are 30 times more likely to be read than a full article? 
Infographics are powerful because they can be standalone pieces or basically be the TL;DR version of your blog post.
Your information will be generally better understood when in the form of an infographic, after all, 65% of your readers are visual learners!
As your infographic is designed to condense data, it helps to do enough research to gather the necessary information and stats to make it shine and really add value to your audience.
Plus original research makes for an infographic that is unique and highly shareable both socially and via backlinking.
GoldSilver created an incredibly informative infographic to summarize a blog post. 
Not only will readers be more apt to dive deeper into the topic, but this by itself is also a useful resource that can be shared on a multitude of platforms such as Facebook or Pinterest.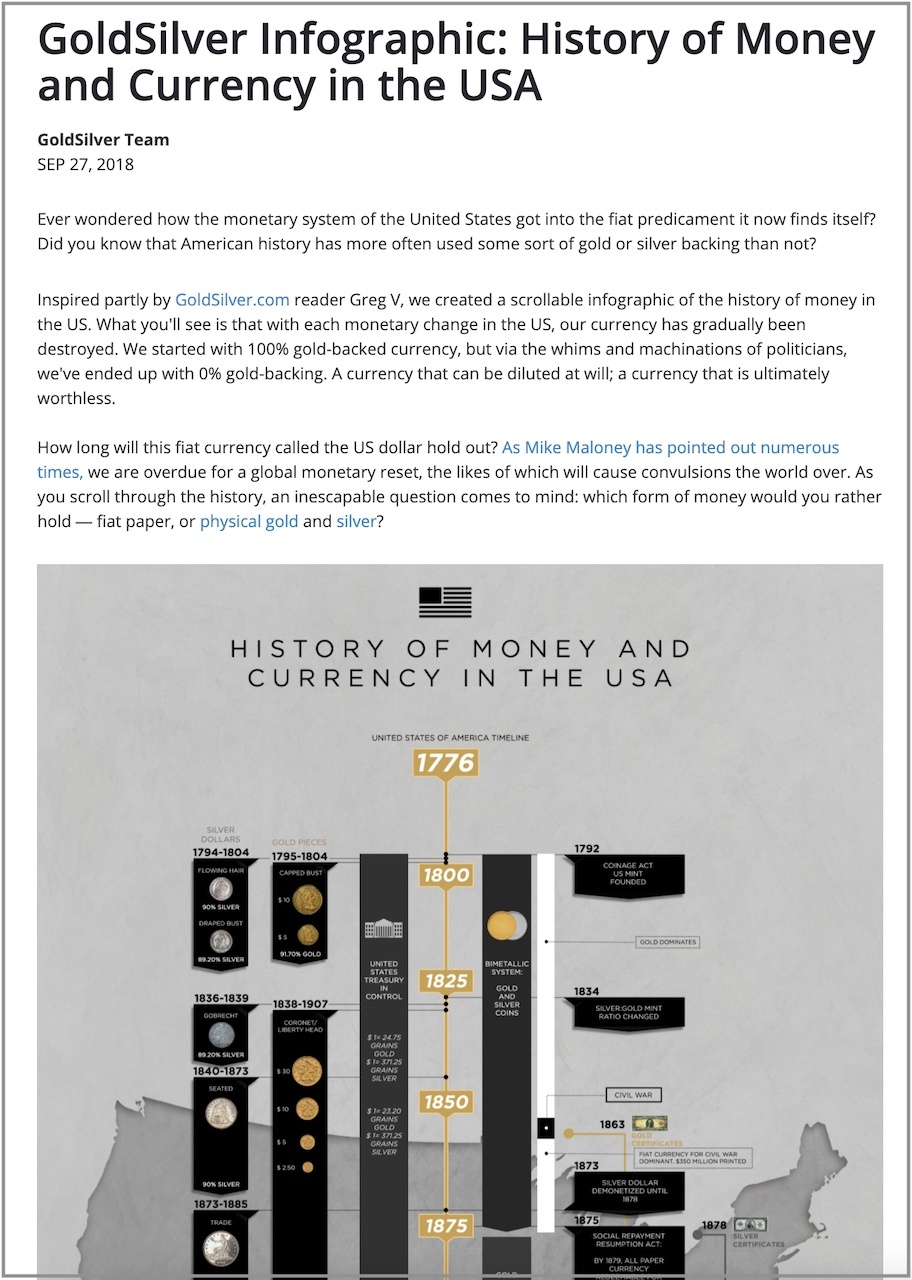 6. Use Original Photos That You Personally Shot 
While shooting your own photos can take extra effort, it also gives you the chance to flex your photography skills (if taking photos is your thing, of course!)
The best part about using original photos is that your pictures would be 100% unique and you can rest assured knowing that no other blog would have the same pictures as you.
This could help your blog to stand out from the rest that uses similar photos from stock image websites.
This picture of monkeys invading a nature park I took is an example of an awesome photo that is authentic – and guess what, I snapped it from my phone!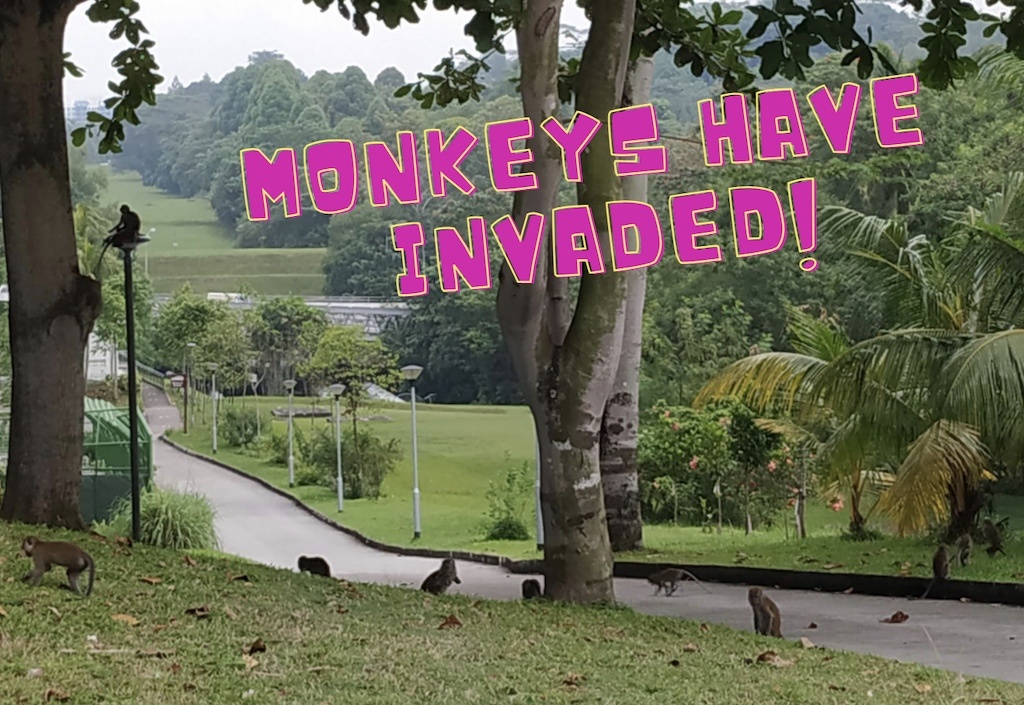 7. Turn Notable Quotes & Stats Into Images
Instead of purely relying on pictorial images, why not create pictures with words?
If you have a unique quote or standout phrase, it could help to turn it into a visual image.
Apart from making it super eye-catching and drawing attention to it, readers might even share this quote image on social media if they like it enough.
This is a common strategy that many bloggers (including myself) use to spice up the reading experience and bring attention to an important quote that captures the essence of what I am trying to convey.
This quick quote I created is a visual treat that broke up long chunks of text while still adding value to what the section is talking about – it effectively summarized the essence of the idea.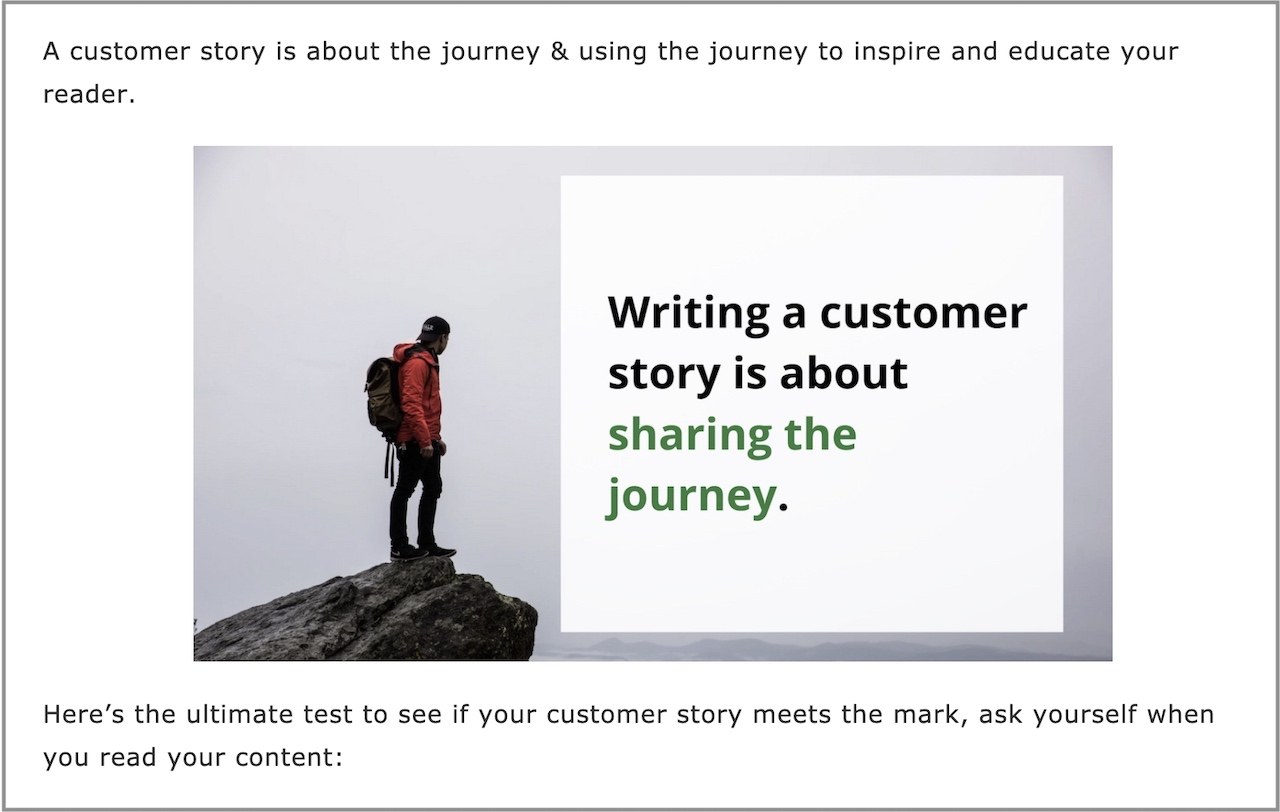 But this doesn't always have to be specifically a quote from yourself. It can be from a customer, an industry influencer or to highlight specific statistics that your reader needs to know.
This is what exactly Slack does in their blog post to bring attention to a key stat they want to showcase.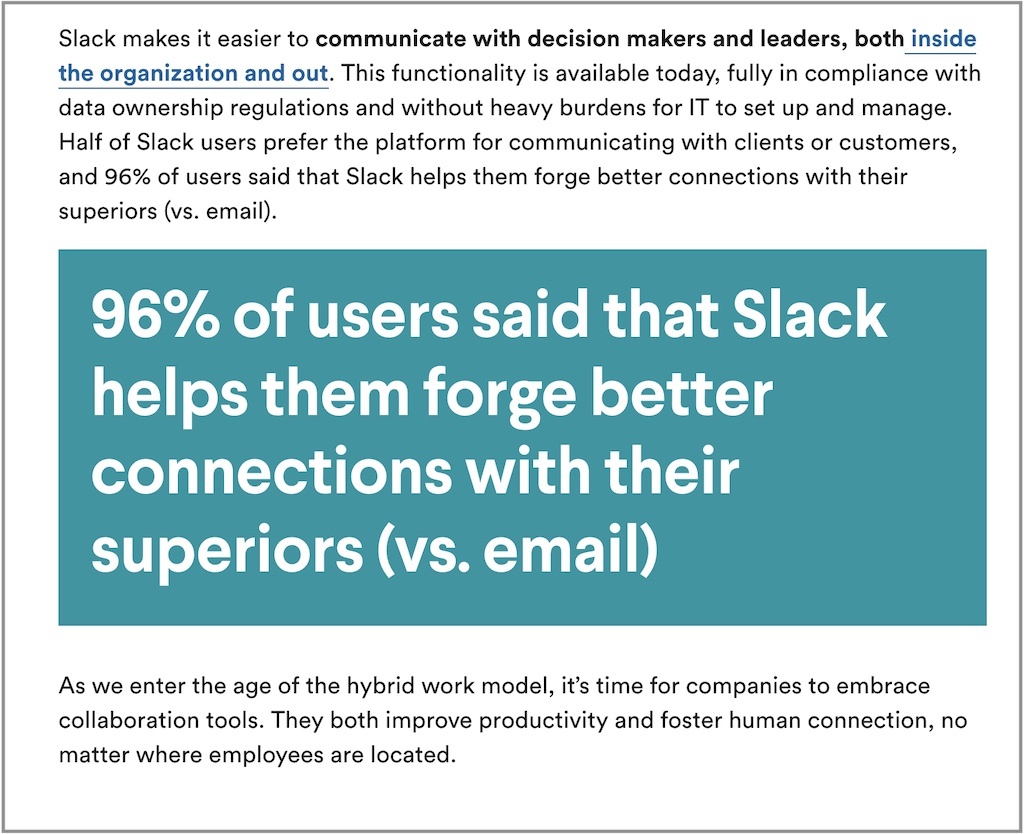 8. Always Optimize Your Images For SEO
While images are useful and add value to your readers, you'll also need to take steps to ensure they are SEO-friendly.
One of the biggest drawbacks of images is their potential file size. If it is too big, it can slow down your website and affect your Google search performance – speed is an essential ranking factor.
To optimize your picture size without doing it manually, you can use tools like Kraken which will help to condense your images without any noticeable quality loss.
But we are not done yet – you'll want to fill in your image alt tags to help tell Google what this image is about.
If you are using WordPress, you can do this easily through your media library or through the blog post image editor itself.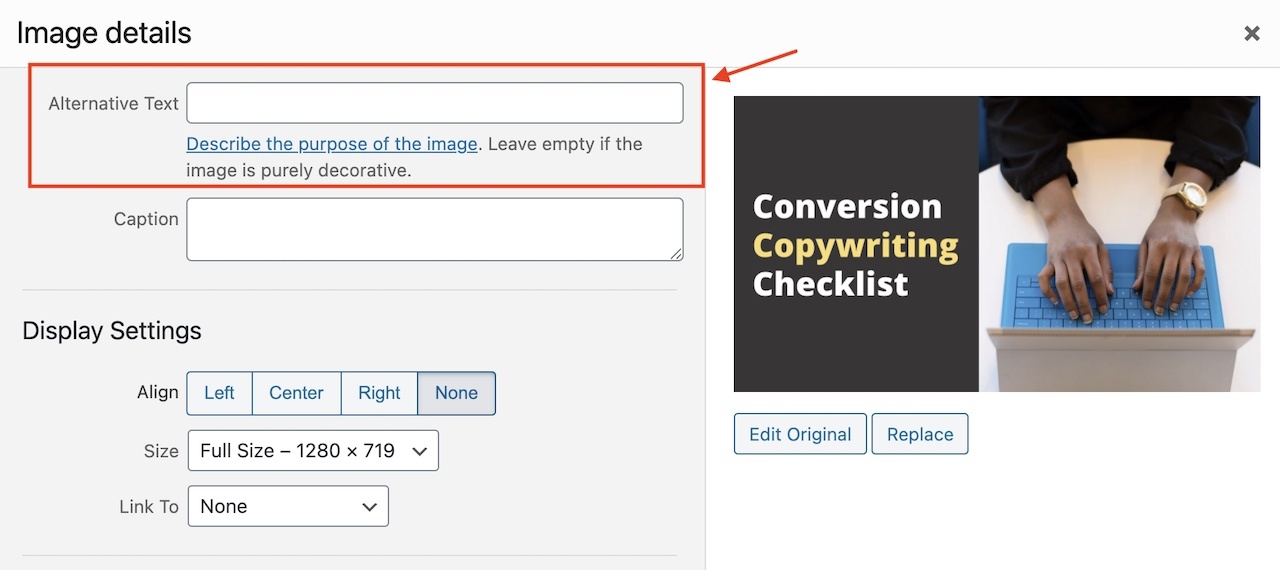 This will allow you to potentially get more traffic as your images would be optimized for search engines and can be found via Google's image search.
In fact, it is rumored that over 10% of search traffic comes from Google images – that's a significant amount that shouldn't be ignored!
9. Use Images To Break Up Big Sections
Research has shown that the average human attention span is now 8 seconds, which is 1 second shorter than that of a goldfish – that's how bad the situation is when it comes to holding your readers' attention!
The last thing you want to do is to make it difficult for your readers to read through your post if everything looks like a wall of text with paragraphs after paragraphs.
Images can be a nice break and also help you to separate and organize your blog post's sections better.
The comparison below should be obvious which is easier to read!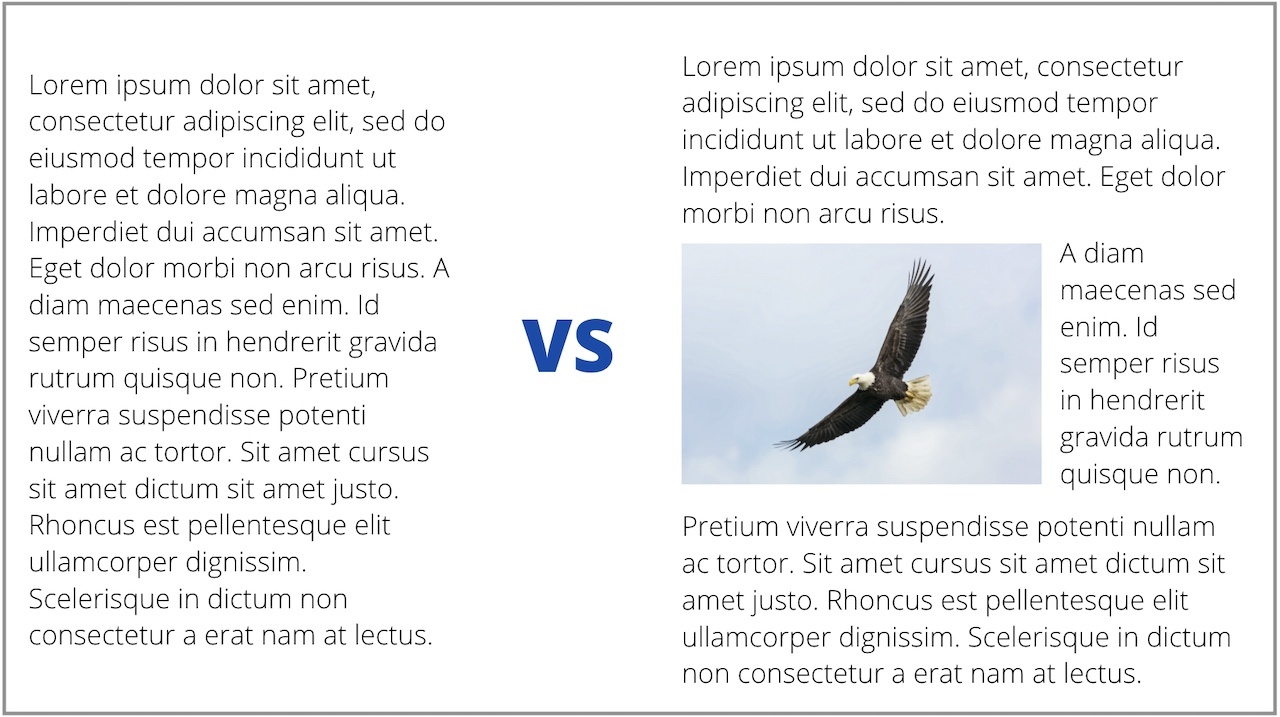 10. Be Brave & Use Animated GIFS (Especially Memes)
GIFs and memes are great at capturing attention, especially when they are funny and relatable. 
There's a reason why so many go viral and circulated around social media – and it's time to harness that same power for your blog post too!
As many memes and GIFs are ready-made, you don't have to make yours from scratch. The context of popular ones would also be understood more easily by readers.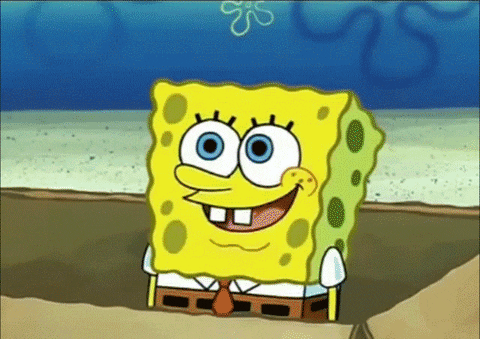 However, if you're feeling like some DIY, create your own memes at imgflip by simply uploading your own photos and typing in the text. For more customized GIFs, ezGIF is a good tool to use.
If you are using WordPress, here's a guide to correctly incorporate gifs into your posts – it's not as straightforward as it seems.
11. Use Custom & Quirky Drawings To Capture Attention
For blog posts that might not be as visual in nature, it could be difficult to find photos to represent your ideas. 
Utilizing drawings and illustrations can help you to do the talking.
Apart from helping you to showcase ideas in a unique way, these drawings can be done in an eye-catching manner and potentially attract readers to your blog.
It breathes life into your blog post and can even be a signature style for your brand when it comes to content creation.
MailChimp creates their own quirky illustrations and drawings for their blog posts. Not only do they showcase the idea of their topic, it is memorable and shows the creativity of the brand as a whole.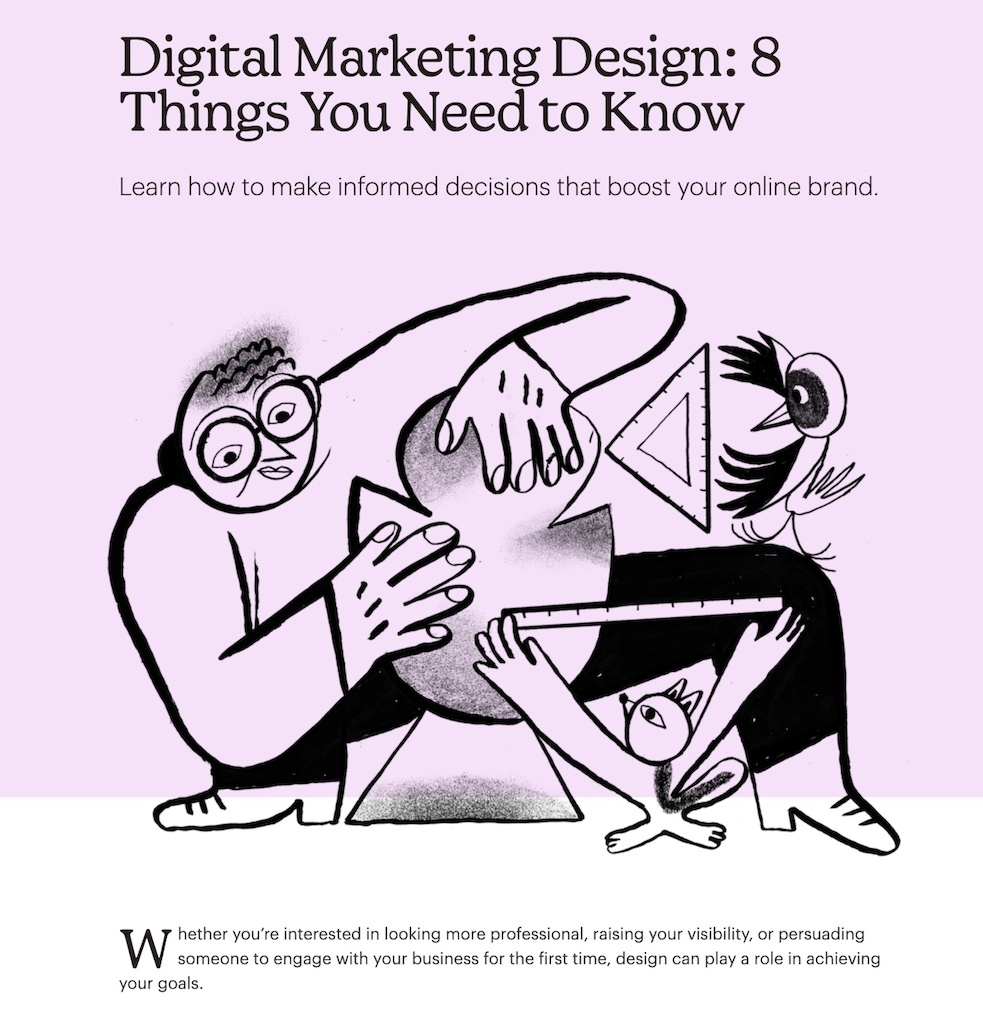 12. Humanize Your Content By Using Images Of People
Photos of people add a more personal touch to your content, especially if the topics are relatable.
It has been found that images of people have a positive impact on the visitor's first impression of trustworthiness. Apart from that, photos that focus on faces help establish a stronger emotional connection.
By adding faces and people to your posts, you will make your posts more human and connect better with your readers.
Close's blog does a good job of using human faces for almost all of their blog post thumbnails, humanizing their content so that readers can better relate.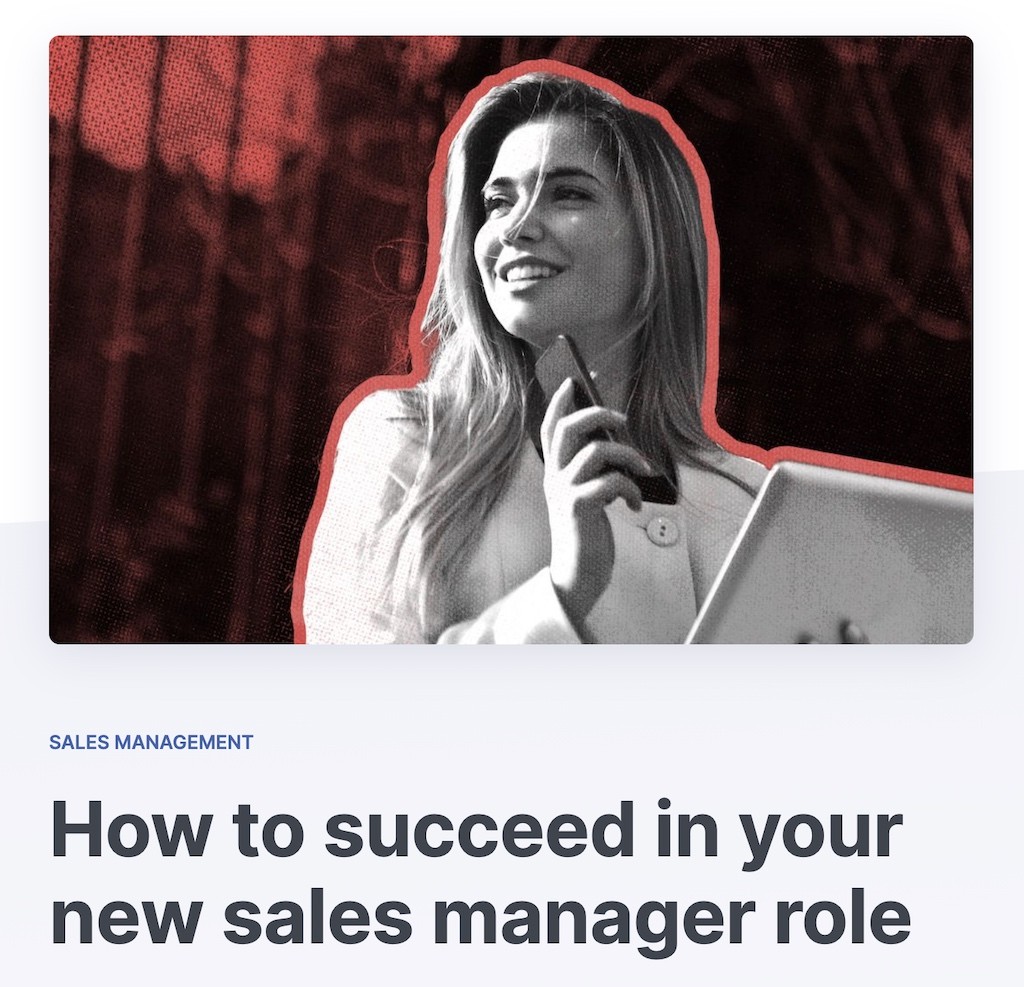 13. Opt For Landscape Pictures vs Portrait Images For Better Scan-ability 
As portrait images tend to be longer, your reader would have to scroll past it to get to the text and this could feel like a bit of a hassle.
Make the user experience smoother by choosing landscape pictures instead. 
This would not only make the content more easily consumed by your readers, making your narrative flow better visually.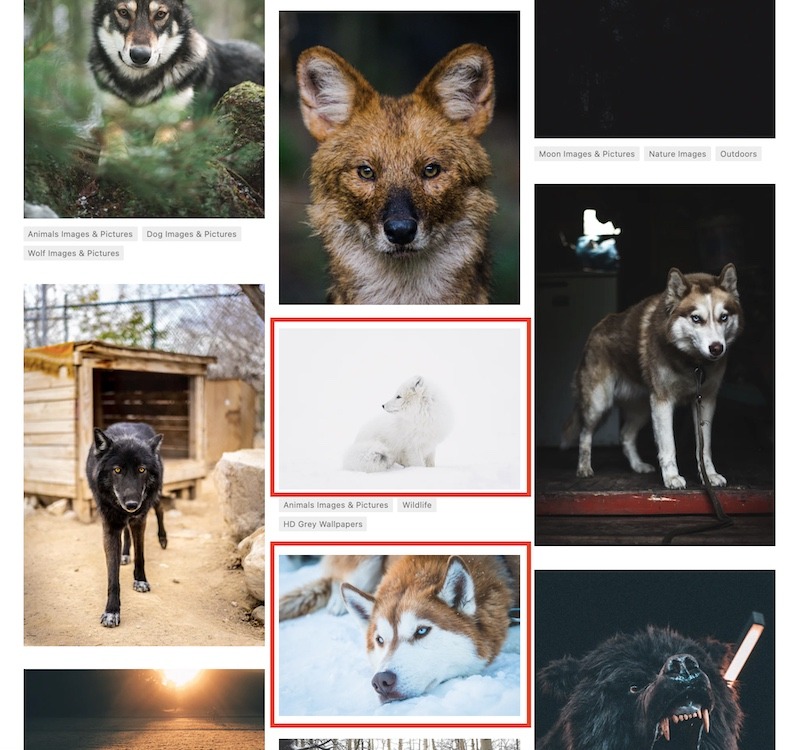 14. Pick Stock Images That Align With Your Brand Or Blog Theme
Contrary to what many bloggers or content marketers might think, using stock images isn't unprofessional or lazy. In fact, the sheer variety (both paid and free) allows you to find pictures that will suit your needs.
However, be sure to put in the effort and time to find one that aligns with your overall brand, theme, and feel.
If most of your images are abstract illustrations, stick with that. If you prefer actual real-world pictures, use those.
As stock image sites allow you to filter based on user, theme, and other categories, you would be able to find images of a similar style or even collections of images by a specific user. 
This will help you maintain consistency in the look and feel of the images and choose those that best represent your brand.
For their blog posts targeting construction companies, Monday uses real-world stock images of the construction industry and overlays each picture with their product dashboard pictures to make it unique and relevant.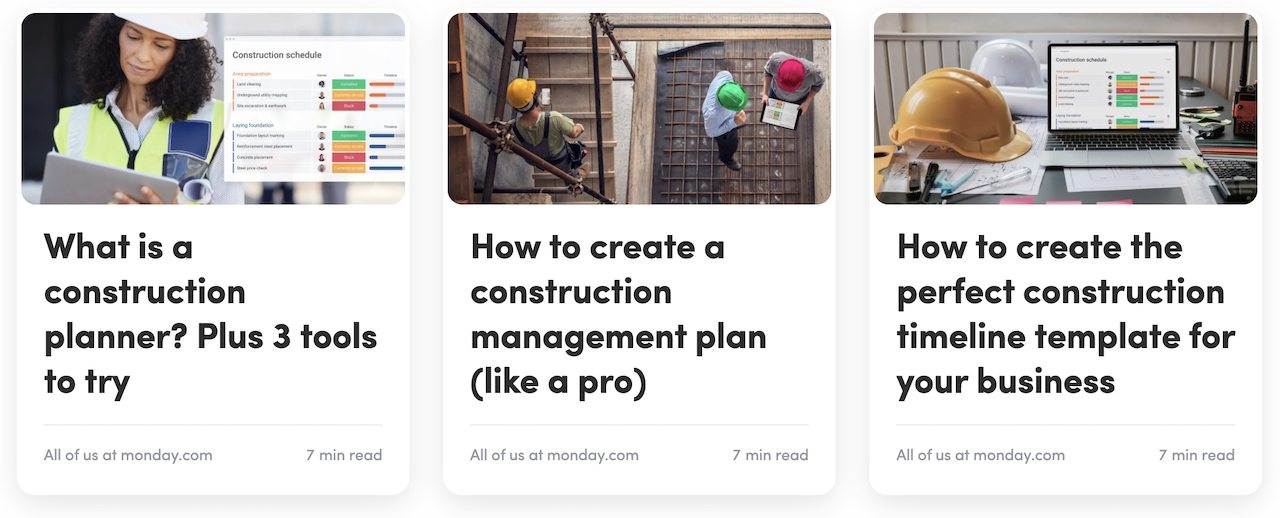 15. Use Banners For Your Call-To-Actions
It can be easy to miss call-to-actions especially if they get lost in a sea of text – sometimes, just a hyperlink isn't enough.
So why not skip the usual call-to-action text link and replace it with an eye-catching banner instead?
Well-designed banners can capture attention and potentially get you more clicks or lead your readers to take action. 
That means you wouldn't have to worry about people missing it and losing out on precious conversions!
iSwitch, a utility company, uses CTA banners at the end of key blog posts to maximize the chances of conversions from their readers.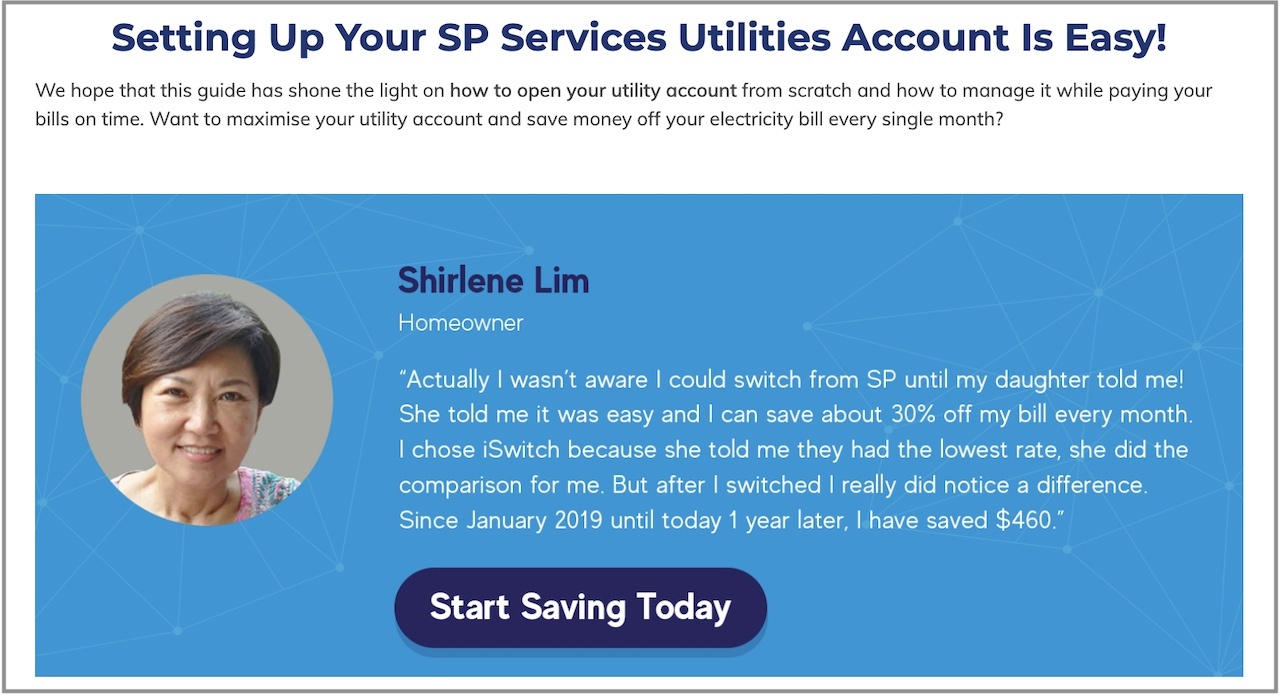 Where To Get The Best Images & Pictures For Your Blog Posts
If you're wondering where to begin searching for images for your blog posts, look no further than our little list below!
1. Free Stock Image Sites

 
Whether you're on a budget or don't have the funds for visuals, you can always tap into free stock image sites. 
Check out our top picks of free stock image sites and explore your options!
2. Paid Premium Image Sites

 
If you're looking to gain access to a wider range of photos or get more uncommon images, then paid premium image sites would be better for you.
With many options out there, you'll be able to find a site that best caters to your specific image needs.
3. Freelancer Platforms
For something more unique and customized, it could be a good idea to hire freelancers from Designcrowd, 99Designs, Upwork, or Fiverr.
Apart from being able to give very specific directions for them to work with, these freelancers can also play a part in building your brand with their style.
Ready To Take Your Blog Posts To The Next Level With Images?
Images are important when it comes to helping people connect with your content. Thus, it is crucial to explore and get started!
If you're on a budget, it helps to experiment with free stock photos and DIY diagrams.
Once you get a better sense of what works best for your blog, you can then hire a team of designers to supercharge your images and illustrations or opt for a paid stock photo plan.
Already an expert in using images but want to write better blog posts?
Here's our guide on how to outline your blog post to get a headstart in crafting your best content.