Images In Blog Posts: 11 Reasons & Benefits To Add Them In Every Article
March 14, 2021 | Sean Foo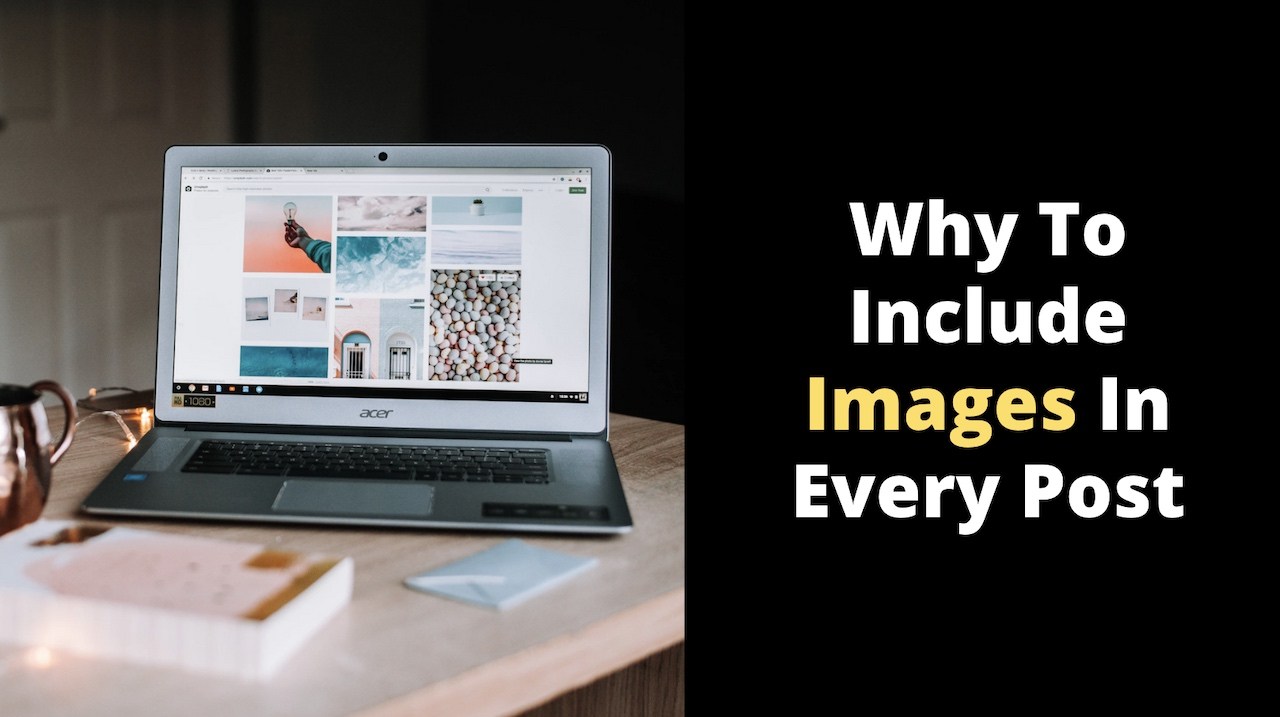 Having a business blog is an excellent way to drive traffic to your website, generate potential leads, and keep your audiences updated on your brand. 
But blogging goes beyond just creating informative and carefully-crafted articles.
More often than not, words alone aren't enough to fully describe an idea or narrative in a reader's mind—that is where pictures come in. 
Research has proven that visuals increase one's desire to read content by 80%. On top of this, 91% of online consumers today prefer visual and interactive content over text-based, static media. 
As blogging moves toward more long-form content, visual elements such as videos, infographics, and of course, images are more important than ever in retaining the reader's attention and improving their overall experience. 
Still not convinced? 
Here are 11 reasons why you should add pictures to your blog posts and how they can benefit you and your business in the long run! 
11 Reasons Why To Include Images In Your Blog Posts
1. Improves the Reading Experience 
Images can bring any piece of written text to life. It helps complement a blog post and paints a clearer picture of the narrative in one's mind. 
The 2018 Social Media Examiner Report highlighted that people retained 65% of information paired with relevant pictures, as opposed to just 10% of information retained that weren't partnered with any accompanying images. 
In addition, Education Consultant, Dr. Lynell Burmark also reiterated how words and concepts are processed more efficiently in our brain when these exact ideas are hooked onto an image. 
These statistics reveal that pictures have the ability to not only improve the overall reading experience but promote information retention as well. 
Take Barkpost's article about how dogs will improve your life. By adding pictures of adorable puppies and dogs at every point, they make the reading experience enjoyable with both the written content and visual treats.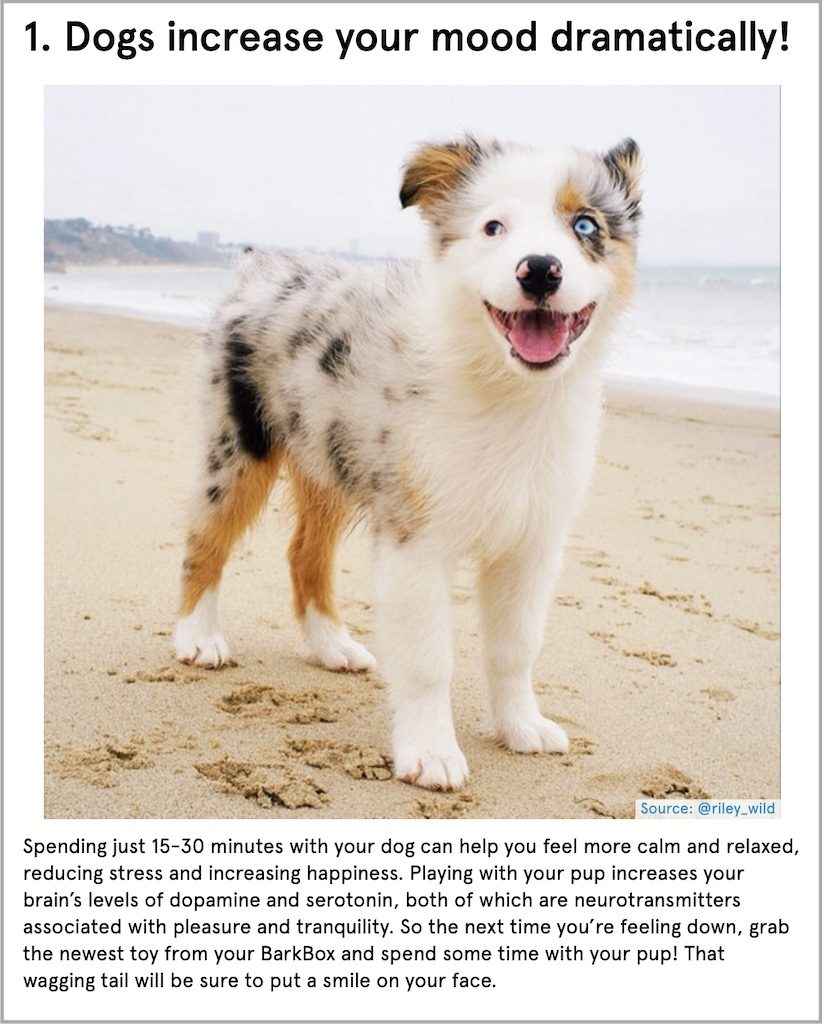 2. They Are Visually Appealing 
Let's be honest: are you more likely to be attracted to a blog post that is just filled with text, or one with vibrant, quality images on them? 
From a more scientific perspective, 90% of the information transmitted to the brain happens to be visual. 
To add to this, the human brain can process images as fast as 13 milliseconds, which is 60,000 times faster than the time we take to process text. 
With that, it is safe to say that images on a blog post are not just appealing to look at, but also act as visual anchors that set the overall mood of the article as well as the website's brand experience. 
MailChimp understands this perfectly and peppers their blog posts with custom illustrations that add relevance and context to the topic they are writing about.
With these illustrations, they set the tone of what the reader can expect in the content – how to enjoy a relaxing vacation without worry, while reinforcing their branding at the same time.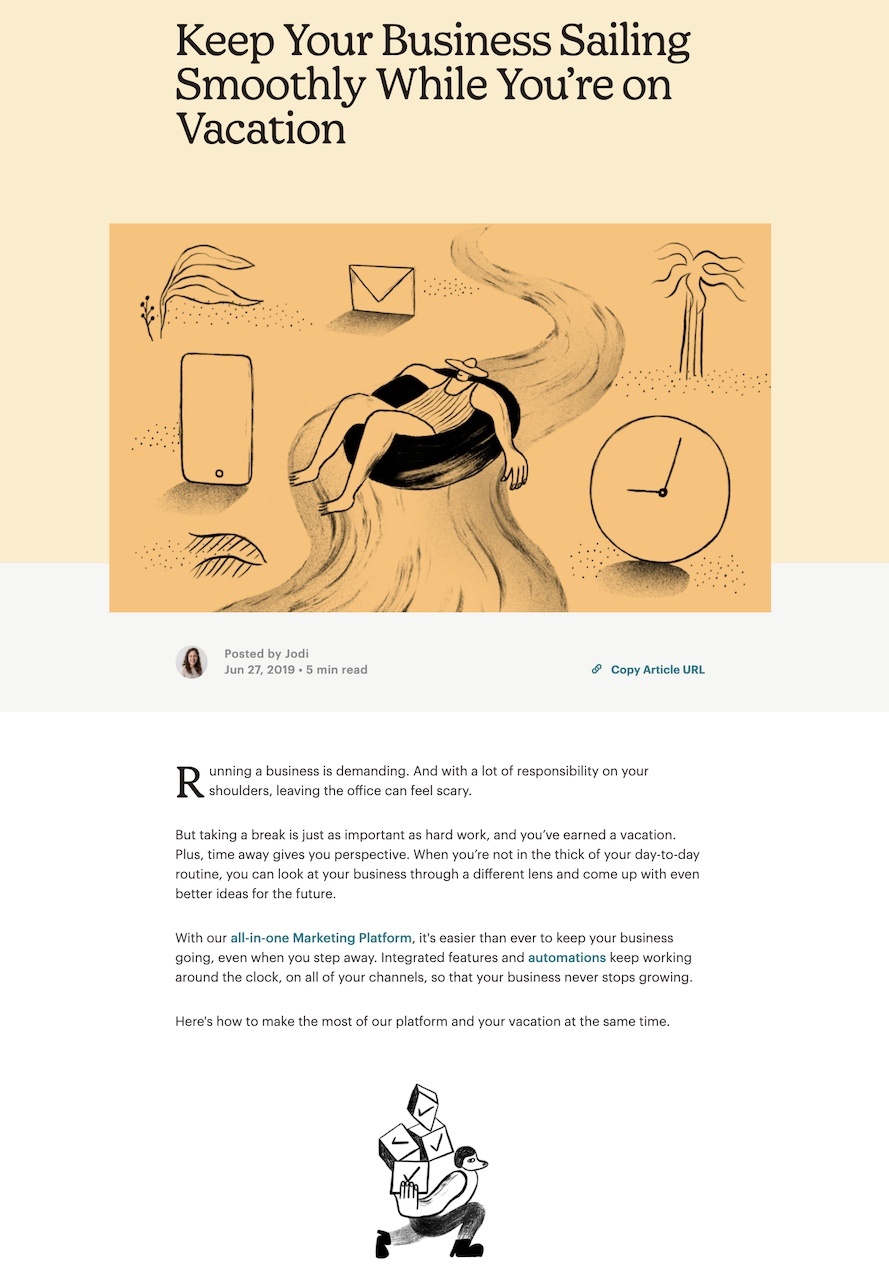 3. Improves Your Blog Post's SEO Rankings
SEO is an incredibly powerful tool when used to market your blog or overall business. Through this, businesses can rank their website for keywords and phrases that are relevant and aligned with their target audience. 
By incorporating highly relevant imagery and illustrations in your blog post, you create a better browsing experience, allowing your readers to stay on your website for a longer period of time to read through your entire article.
This on-page engagement can be referred to as 'dwell time', which is the length of time a person spends on a webpage and is also a key ranking factor. 
As a result, it can help reinforce the relevancy of the blog topic on search engines and send a signal to Google on your reader's intent, leading to higher SEO rankings and website traffic altogether. 
4. Improves Your Chances Of Better Social Shares & Engagement
We live in such a time where social media is king. Anything can be shared with thousands of people with a single click. 
When sharing blog posts on social media, articles that contain images generally perform better and get shared more than those without, especially if they are resources that have been custom-made and highly shareable such as infographics, diagrams, and gifs. 
These image assets can also act as stand-alone tools to further enhance the reach of your content on various social media channels.
Studies reveal that effective visual content generates: 
With all of these engagements coming from different social media platforms, the sharing of images will ultimately drive more traffic to your blog post and website, which can also be the start of growing your audience more organically. 
Andy Crestodina of Orbit Media regularly includes infographics in his posts to improve the chances of his readers sharing them on social media (as well as repurposing them on other platforms for that extra awareness push).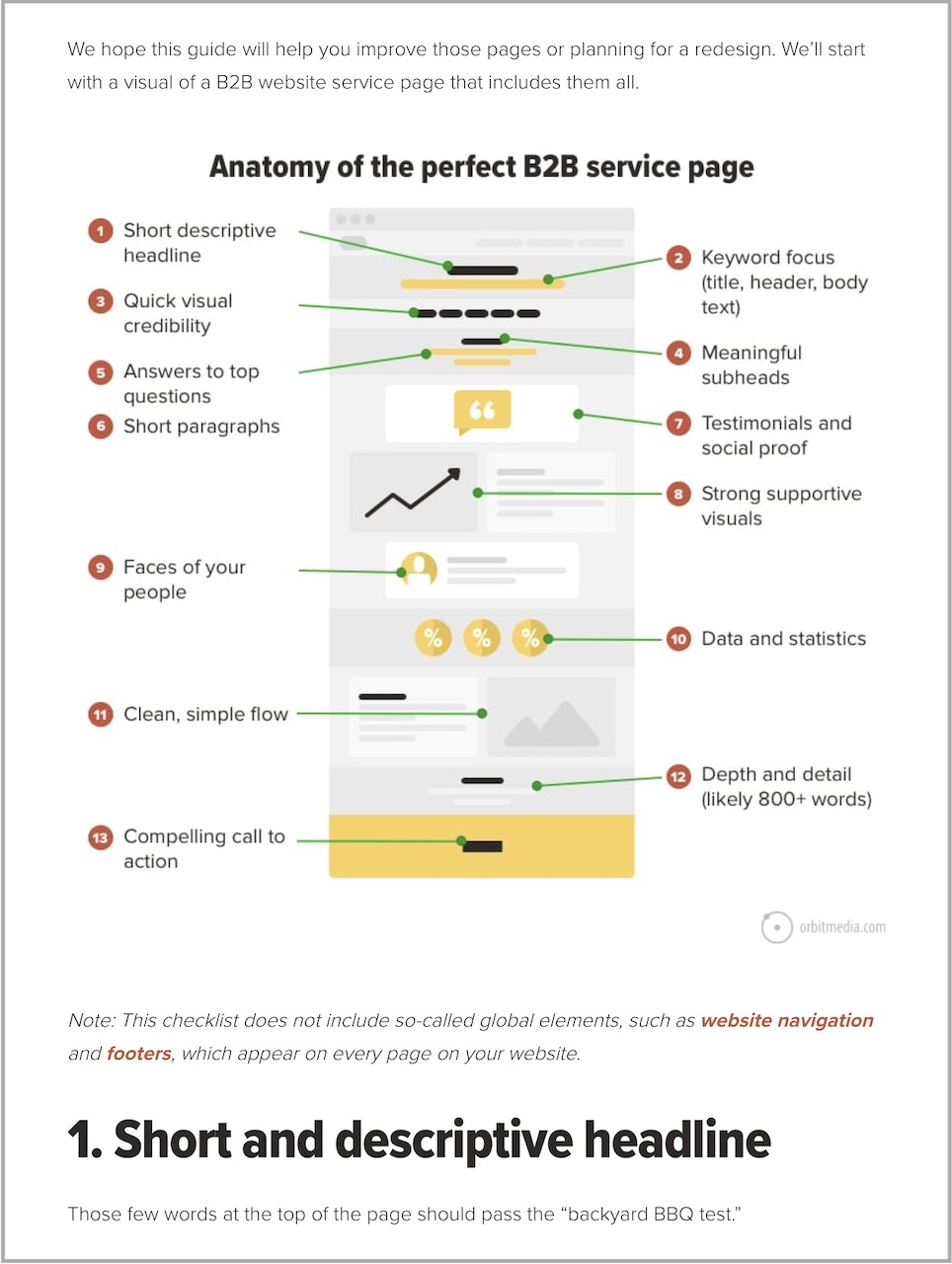 5. Create Better Link-Worthy Articles
Links have always been a ranking factor (and a huge one) to decide how Google ranks your webpage and website as a whole.
Images are an effective way to attract links, especially if they are crafted as illustrations to explain complex concepts or abstract ideas.
That's why pictures and custom graphics such as infographics, comic strips, and diagrams are always well-received – they make an article more valuable.
People only link to articles and resources that they truly believe will help their readers to get a better understanding of a subject.
Since you are creating a custom resource, your image can even be referenced by other blogs and websites, which might just drop you a backlink in return. 
6. You'll Appeal To A More Diverse Audience
As a blogger, you need to understand that not everyone who chances on your blog is a text-based reader. 
As humans, we are visual creatures by nature. Not everyone will learn simply by reading; some people grasp certain concepts much easier with the help of images. 
It is also important to note that there's always the possibility of non-native English speakers coming across your blog. 
Images have the power to act as mediums that cut through the language barrier by immediately adding context to the conversation, making it easier to decipher what you are trying to convey. 
While Carla could always just list down her favorite green foods in text inside her Chlorophyll Rich-Diet article, she took the time to create an image to clearly highlight the green food with their relevant pictures.
This helps readers to understand what exactly each of them looks like and not just their names.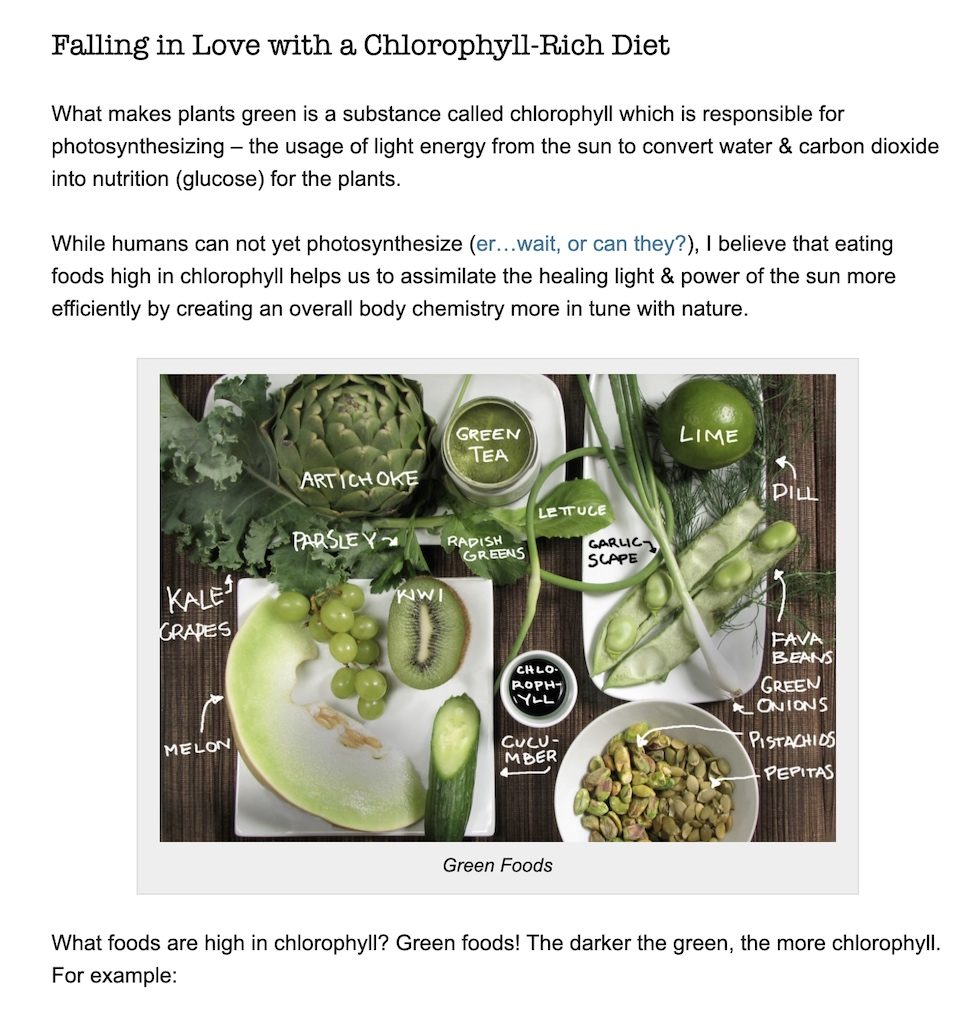 7. Your Images Will Rank On Image Search Engines
Did you know? Simply adding images to your blog post can significantly boost your rankings on various search engines. 
In fact, 32% of marketers collectively agree that images are the most essential type of content in any digital marketing strategy. 
SEO essentially provides search engines with additional information on a particular image, which provides more context to the visual and leads to an increase in search rankings. 
By optimizing key text areas on your images such as the alt texts, titles, and descriptions, this helps to drive more organic traffic to your website, which can attract potential leads. 
For example, just a quick Google image search for the term 'Best Workout Routine' showcases a wealth of search results with articles ranking utilizing their blog post images.
Sometimes ranking on the normal search results could be too competitive, with images you could stand a better chance for your article to see the light of day when it comes to image search.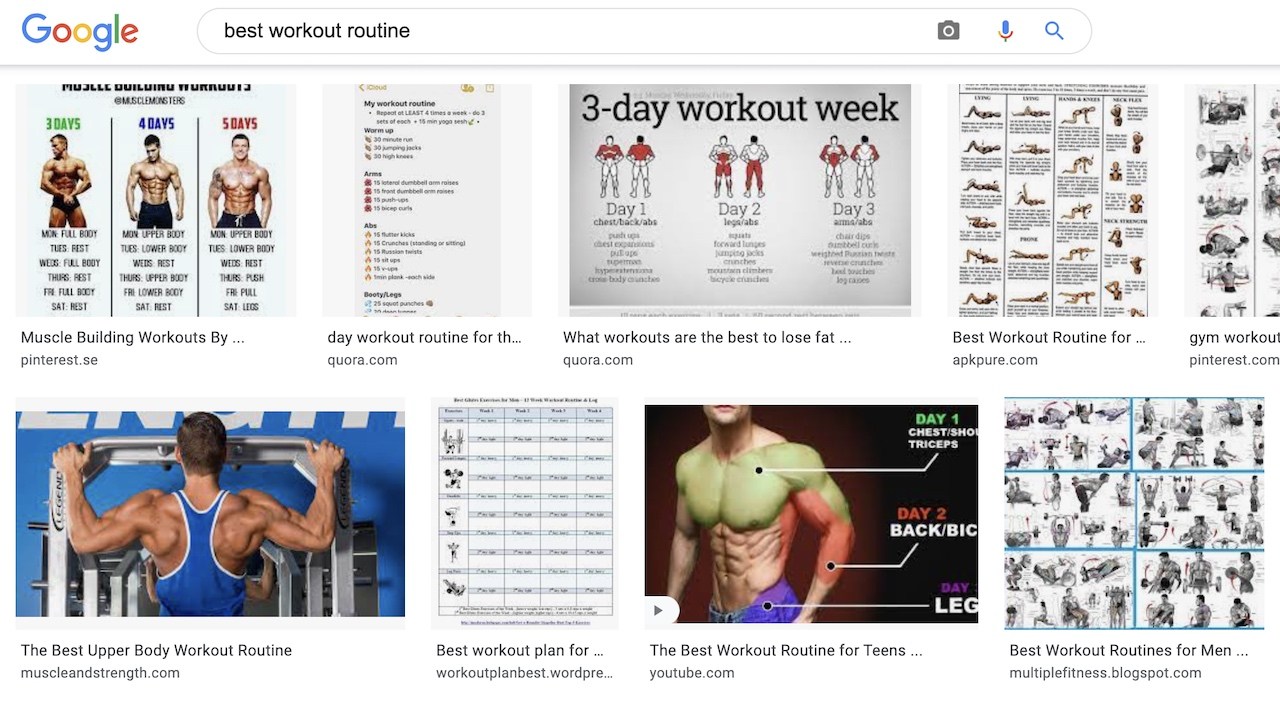 8. Helps To Substantiate Your Claims & Assertions
Let's be real here: anyone can make a bold claim on a blog post. But whether readers will believe you is still in question. 
The right images can give your post more insight and value, which gives you more authority and credibility among your readers.
For example, instead of merely talking about it, readers are more likely to believe a claim that was made if there were screenshots or pictures to support your point – plus they help readers to quickly digest the facts and figures more easily.
But above all, always ensure that the information you are putting across is as factual as possible. 
Aaron Orendorff's guest post on Copy Hackers highlights him mentioning how he has posted on highly influential publications such as Entrepreneur and Success. 
To substantiate his claims, he includes screenshot images of his articles (with his author bio) on the post to add credibility to himself and the post as well.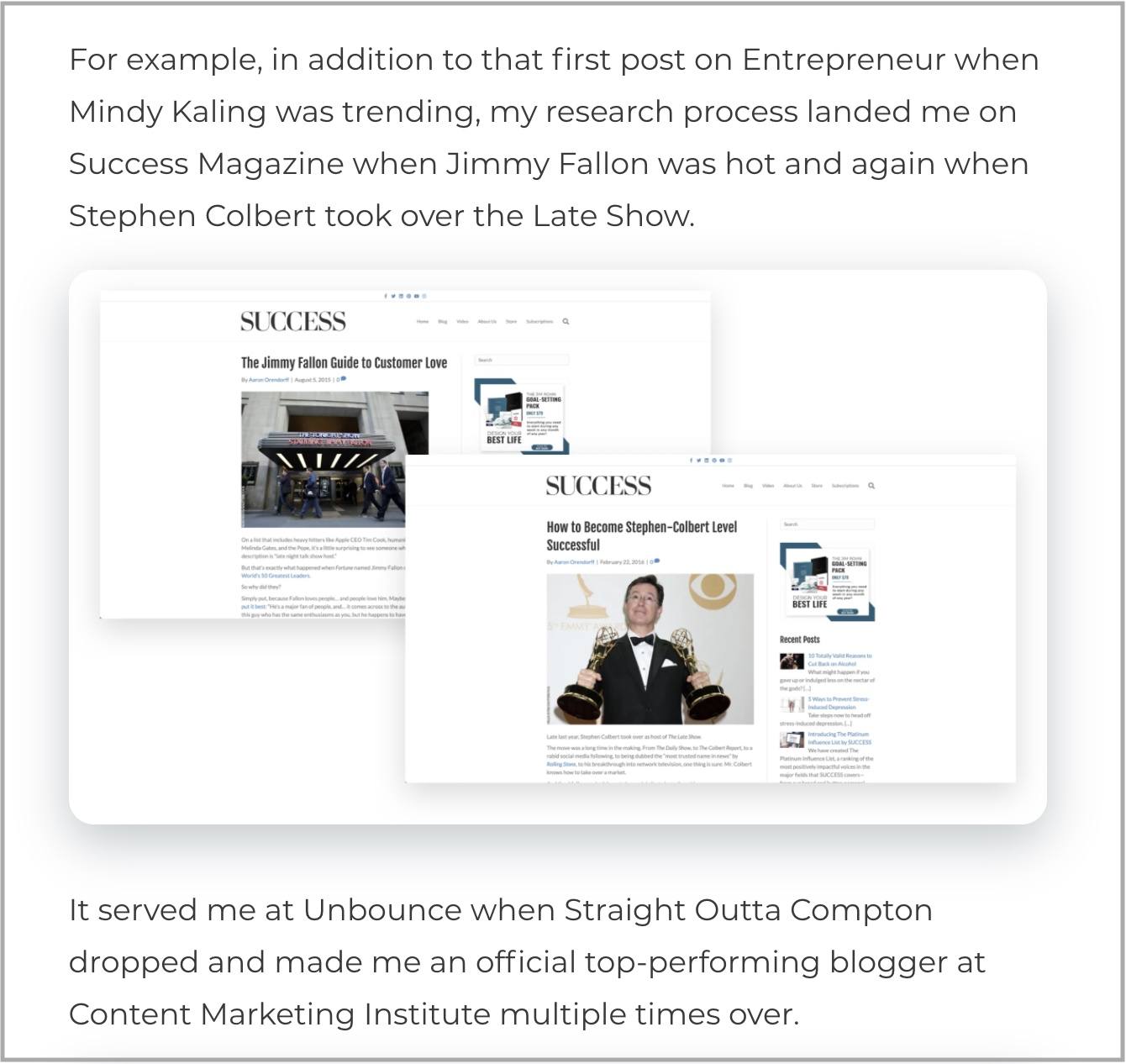 9. Creates Assets You Can Repurpose & Utilize On Your Other Platforms
If you want to create custom illustrations or infographics for other platforms, all you have to do is repurpose your blog post's existing assets and add a new spin to them. 
This can be in the form of a slideshow reel on LinkedIn, a static post for Instagram stories, or even a simple video montage for your YouTube channel. 
Essentially, this pushes out fresh content to your users for more engagement without going through the trouble of finding a new batch of visuals. 
However, always double-check the license agreement of your selected pictures and ensure that you are adhering to all the image usage rights. 
Gary Vee is the king of repurposing content and utilizes this strategy in his blog posts as well. 
By including highly creative content such as cartoons in his articles, he can effectively repurpose them and create content native to other platforms such as Instagram and LinkedIn.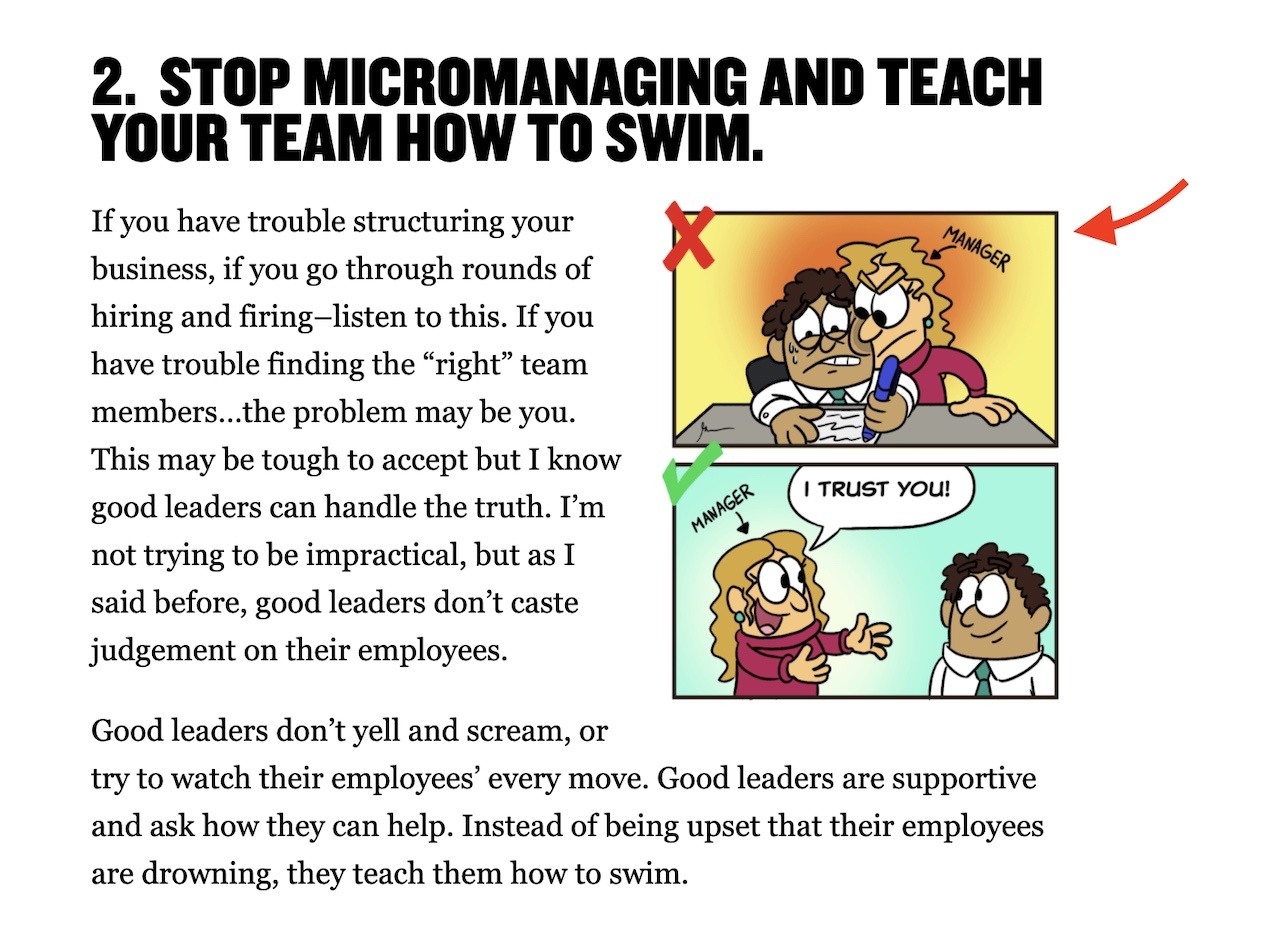 10. Improves Sales Conversion
You may ask: how exactly do blog post images improve sales conversion? 
Studies have shown that visuals play an important role in influencing one's buying behaviors. 
If your blog post is geared towards promoting a specific product or service, this can be especially useful for you. 
By adding high-quality images of your product or even testimonials to your post, it increases the desire and trust levels in your reader through subtle visual elements of persuasion, which can potentially lead to a higher sales conversion rate. 
Be sure to utilize highly relevant shots of your product or service in action that matches what the article is about.
To better drive conversions and interests to their gold and silver products, GoldSilver logically includes images of their products to build interest and drive desire in their readers.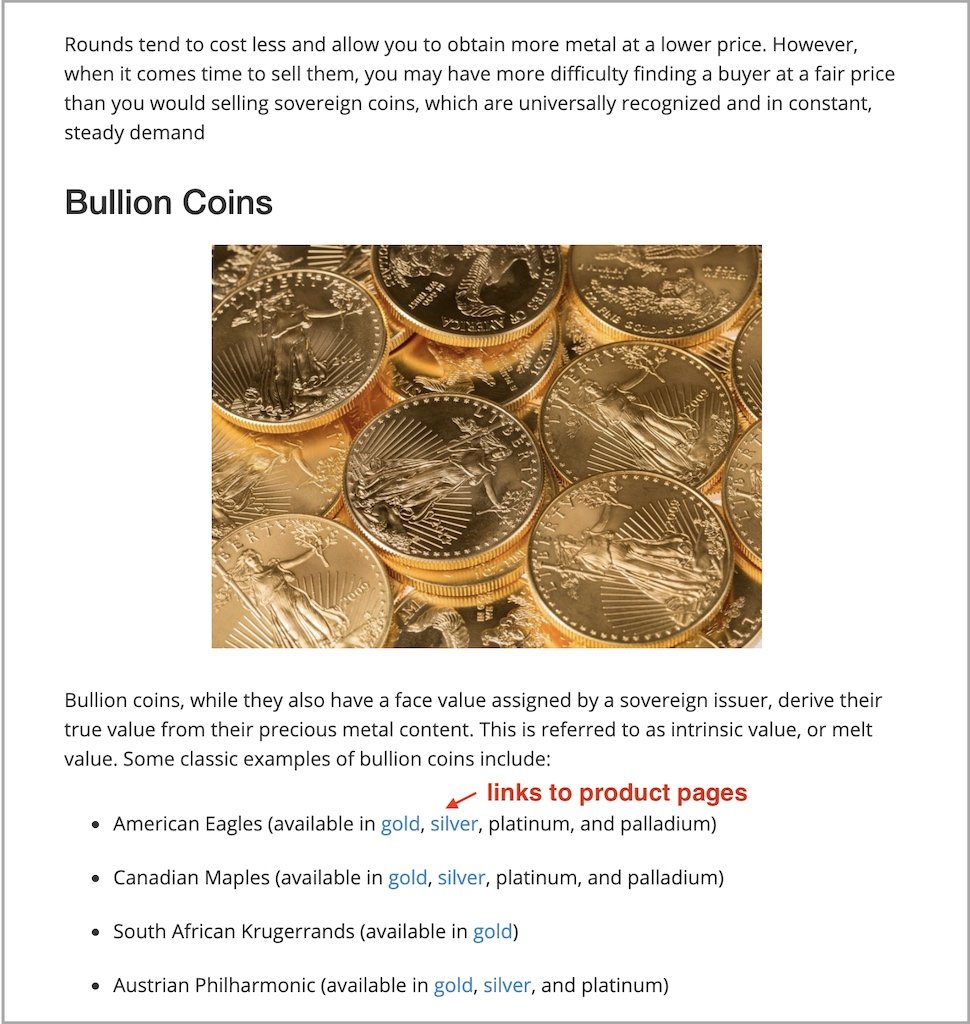 11. Better Guide Your Readers Through Complex Steps
Especially when it comes to instructional material, images can be extremely useful in explaining and guiding your readers through far more difficult steps or ideas. 
In fact, it has been proven that images can decrease confusion and increase satisfaction when it comes to one's ability to decipher complex instructions. 
For instance, if you are writing a tutorial post on how to set up a piece of hardware, adding clear photographs or screenshots can act as visual aids for your readers to comprehend the tutorial steps more efficiently. 
In our B2B Buyer Persona article, it would take me thousands of words to effectively describe how a B2B sales funnel operates – very inefficient for me as well as a big headache for my readers to endure.
By creating a quick diagram image, I help guide my reader through my idea of the B2B sales funnel without losing their attention.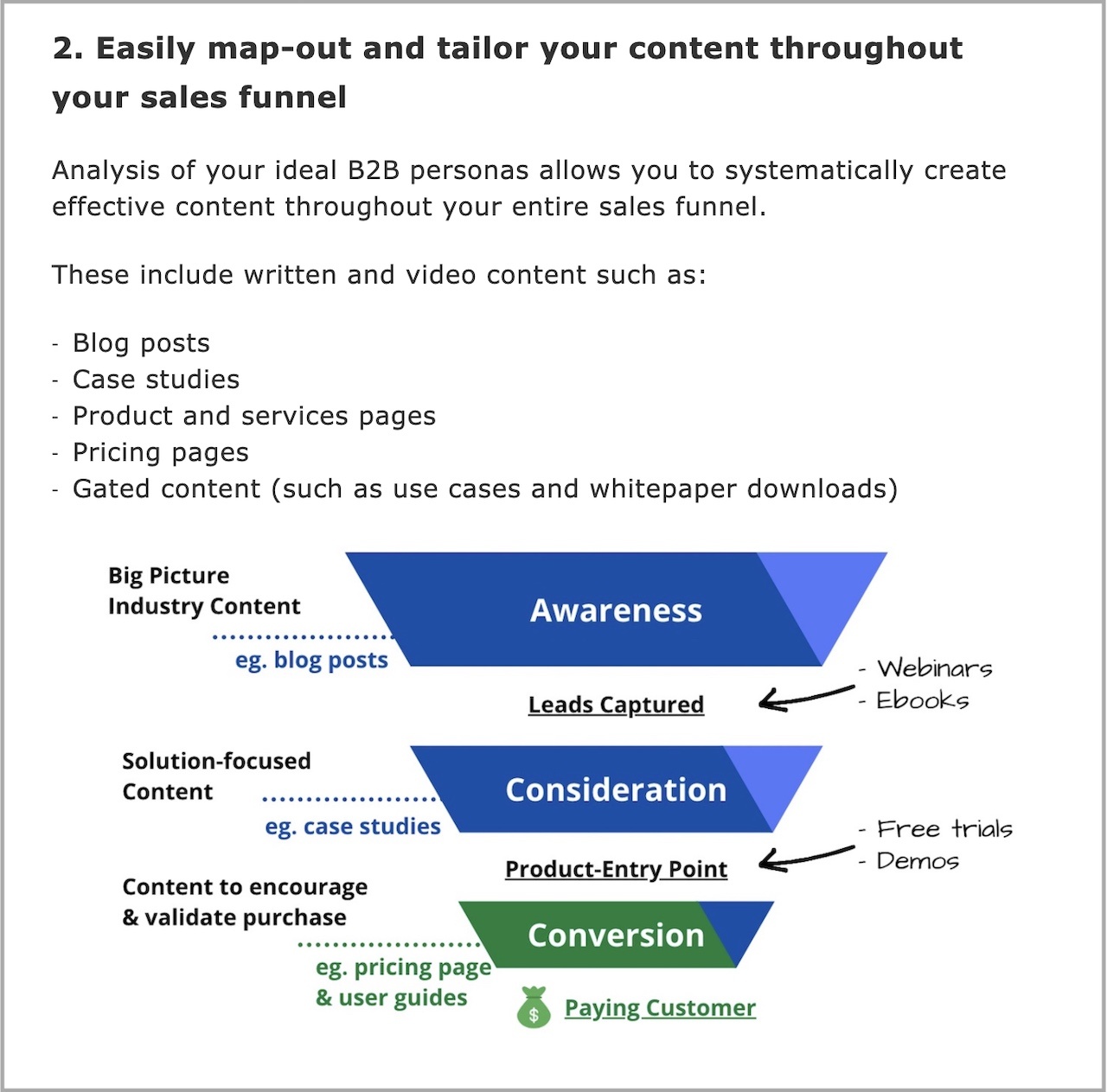 A Picture is Truly Worth a Thousand Words 
By now, you'll know that visuals aren't just flashy accompaniments; they are essential tools that can sharpen your content and reach more audiences beyond borders, which essentially drives more readers to your website at the end of the day. 
It's just as they say, "if you can show your audience who you are, you don't have to waste time telling them over and over". 
Need pictures and images for your blog post but have no idea where to get them?
To get you started, we have gathered the 20 best royalty-free photo and image sites for all your blog post needs.