Blogging As Your Marketing Tool: How It Works & Why To Start
May 4, 2020 | Sean Foo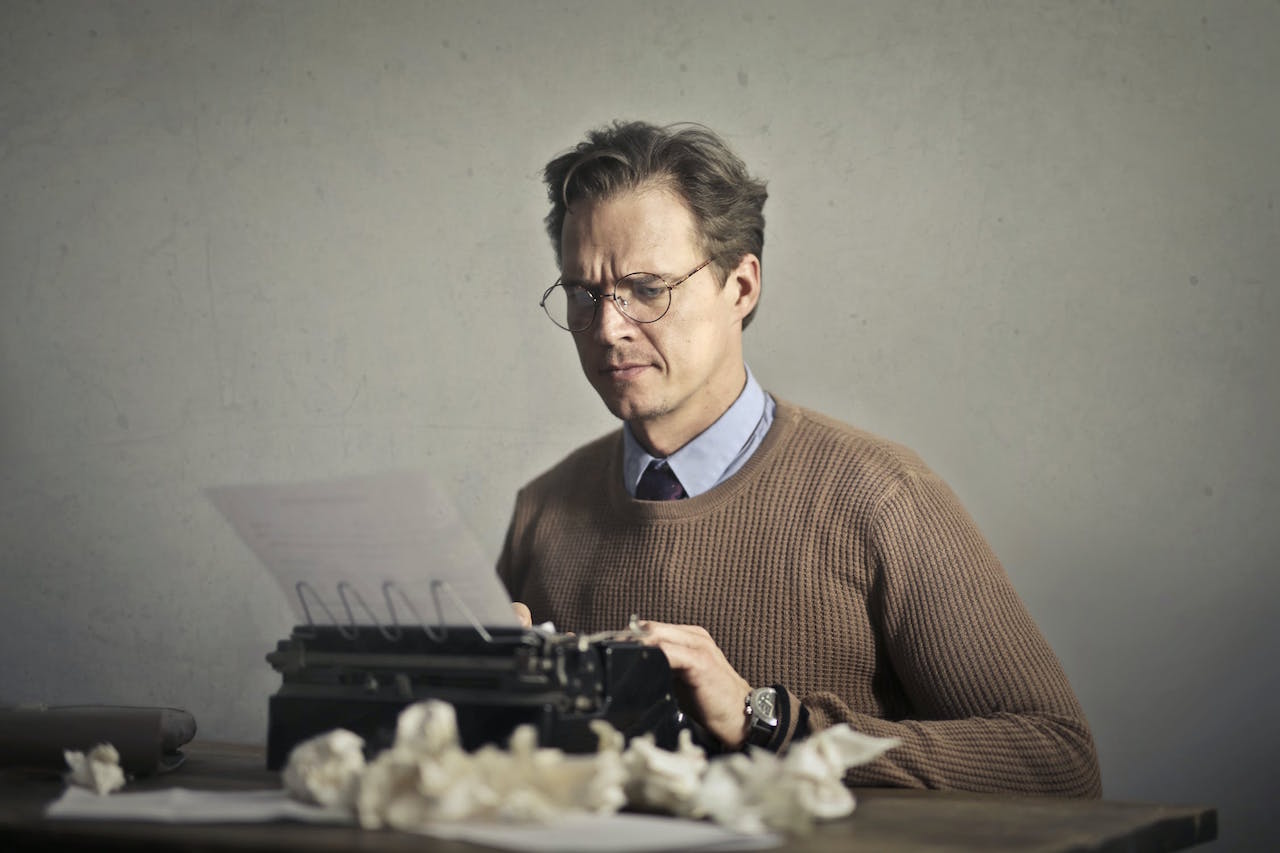 When it comes to building your business's online presence, blogging is hands down one of the best marketing tools available to you.
Blogging is so wide-spread and popular that in WordPress alone, over 70 million posts are published monthly and over 409 million people view more than 20 billion pages a month!
In fact, in 2019, more than 3.5 billion searches are done per day on Google and is growing on an average of 10% a year.
Your potential customers are out there searching for you and with blogging, you can now effectively reach and market to them.
How Blogging Works For Your Business
Capturing attention to your website today is key before any sale or conversion can take place and for that to happen there are only two ways to go about it:
You can buy attention through advertisements (like Google Adwords ads) and drive traffic to your website. 
p.s. This route can be rather expensive, especially if you are in a competitive niche!
Or, you can create a blog, start writing articles, give people the information they are searching for and earn visitors naturally to your blog.
To be honest, this is the better way that will last longer and will cost less in the long run!
The process of blogging to grow your business is super-straightforward actually.
1. You create articles and content that people are searching for
2. They encounter it, visit it and are now aware of your brand and business
3. A portion of those visitors will check out your products and services and become paying customers!
It's that simple!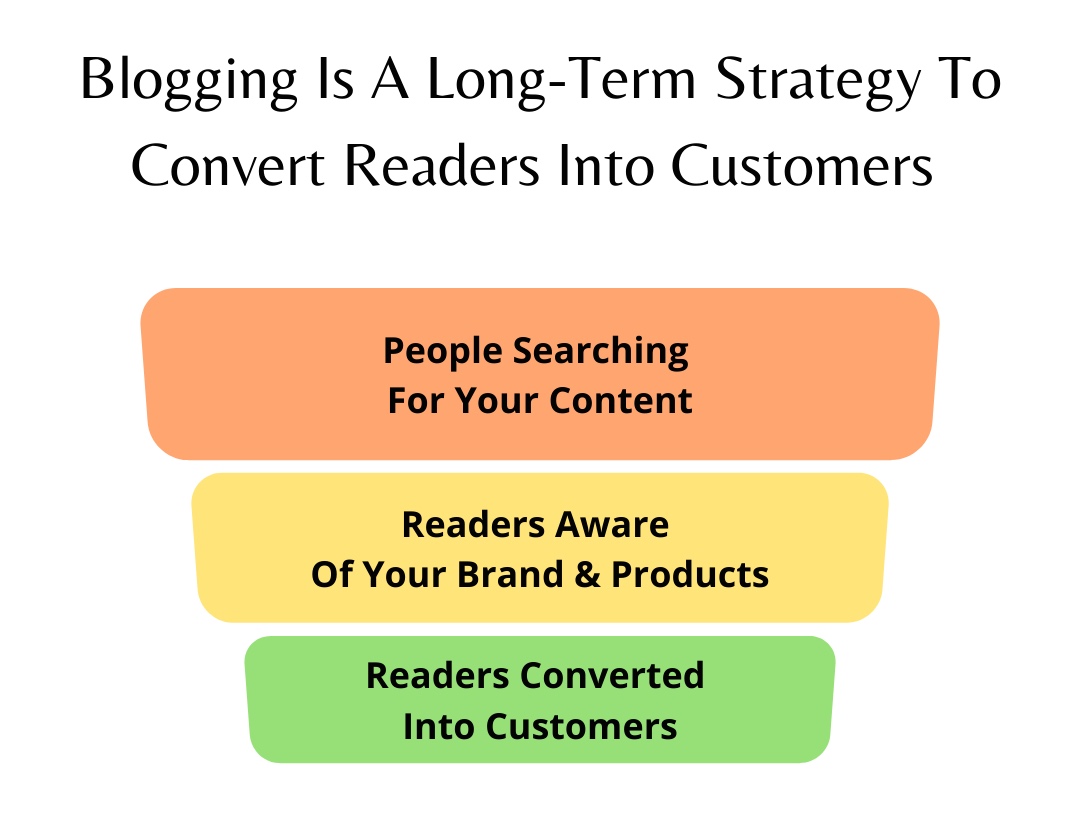 An Effective Business Blog Delivers Results – Leads, Sales & Customer Retention
Unlike a hobbyist blog that is done for fun or interest, your business blog is a marketing channel online that is purposefully created to drive your business results.
This means a blog has to help your business:
Acquire Leads: Getting enquiries from your readers who have an interest in your services or products.
Nurture Sales: Helping turn up the buying temperature of your prospects, making them much easier to convert when they visit your product or sales pages.
Retain Your Customers: Helps to build up brand loyalty with your current customer base. When you add value to their lives, your customers will buy more and stay with you longer.
According to Shopify, building a new audience is one of the biggest challenges that new businesses will face when marketing their products.
Thankfully blogging has been and will be one of the best marketing tools that businesses big and small can embark on to start building an avid readership and customer base.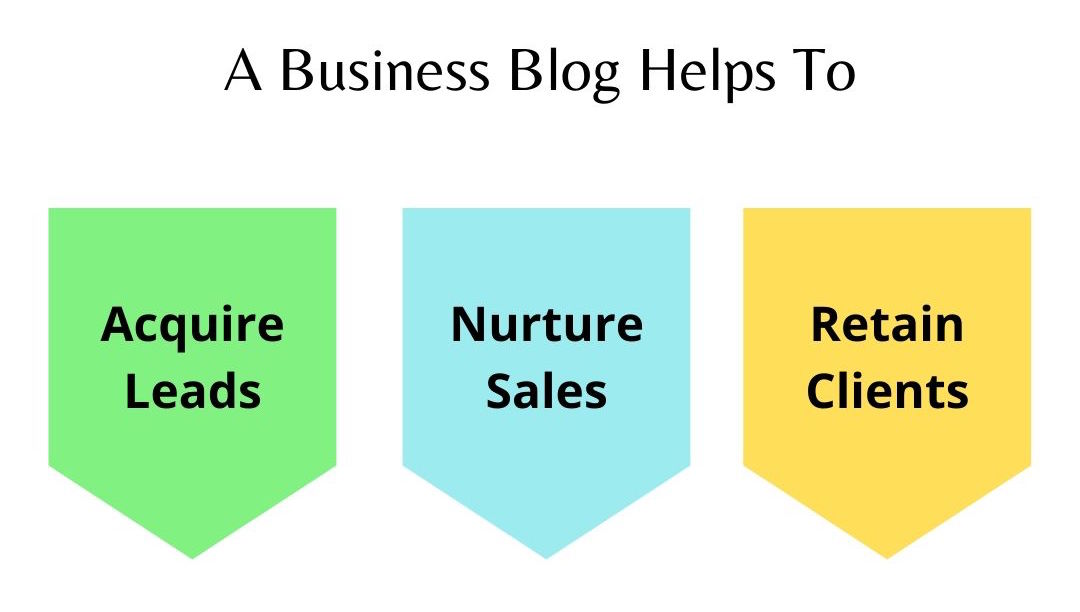 7 Key Reasons Why To Start A Business Blog:
1. Drive More Targeted Traffic To Your Website
2. Improve Your Website's Search Engine Ranking
3. Building A Readership & Relationship With Your Customers
4. Establish Your Brand As An Industry Authority
5. It Is Inexpensive To Start & Easy To Operate
6. Spur Engagement & Interaction Within The Industry
7. Helps Your Nurture Prospects Towards An Easy Sale
1. Drive More Targeted Traffic To Your Website
When you begin business blogging, you start creating resources in the form of articles or blog posts that your prospective customers are searching for.
These could include:
– Ultimate guides completely covering a topic from start to finish
– Short 'How-To' articles covering a common challenge facing your prospects
– A checklist to help readers with actionable steps to accomplish a task
By offering quality content, from tips to industry updates, visitors will have a reason to visit your blog and discover your brand and what solutions you have to offer.
Every blog post you create is an additional opportunity for your website to get discovered on search engines by your ideal customers.
In fact, leads that come from search engines are nine times more likely to close versus leads that come from outbound marketing!
Business blogging doesn't just drive traffic, it delivers your business qualified inbound leads.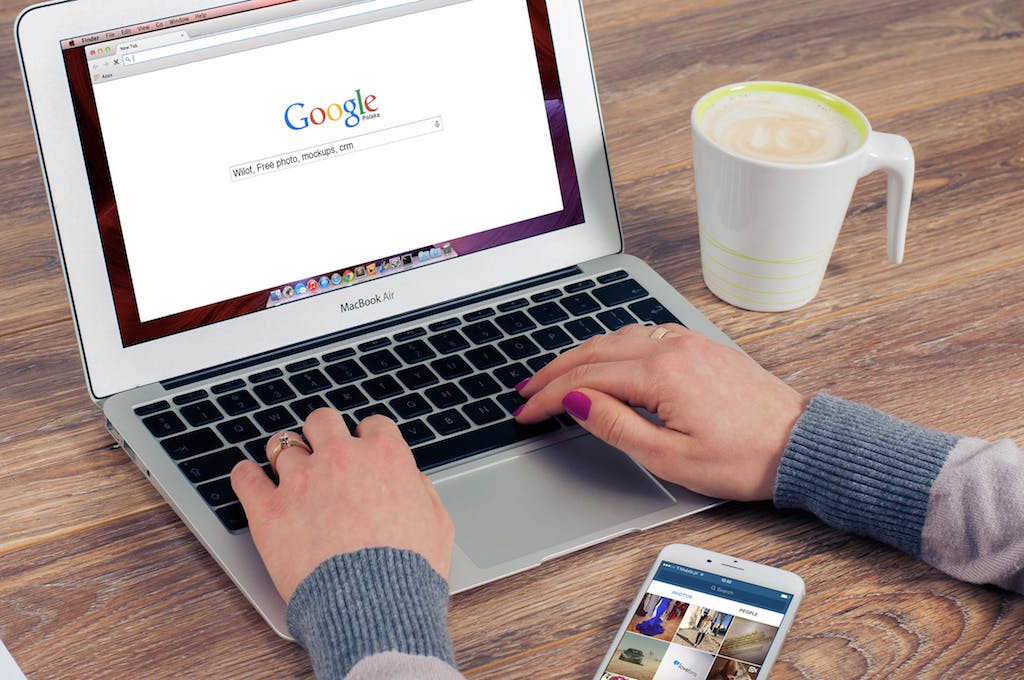 2. Improve Your Website's Search Ranking
Everyone wants to rank well for their 'money keywords'.
These are keywords that your prospects will be typing in when they are actively looking to buy your products or services.
If you are an online surfboard business selling competition shortboards, you likely want to conquer the keyword "Buy Surf Shortboards Online".
For that to happen, your website's credibility as a whole has to rock-solid and there is where blogging can help tremendously.
Every article you create for your blog will be an asset that can attract backlinks, which Google sees as a vote of trust and confidence in your content.
Every quality backlink you build, especially the ones from high-quality content, will not only help that specific article rank higher in search engines, it will also help improve the ranking of your website as a whole.
Over time, this will allow your website to rank for those precious "money keywords" and channel more traffic to your product and service pages.
3. Build A Readership & Relationship With Your Customers
Business blogging doesn't just stop at helping you clinch the first initial sale, it is about constantly giving value to your prospects and existing customers.
In today's competitive landscape, building goodwill and fostering loyalty is key if customer success and retention is important to you (it probably is!).
By constantly delivering quality helpful content that helps your readers in their challenges, your business will benefit from 3 distinct advantages:
1) Building an email subscriber list: This will allow you to stay top-of-mind with your subscribers, helping you to communicate offers and up-sells directly to their inbox!
p.s. The ROI of email marketing is insane: A 4,400% ROI and $44 for every dollar spent!
2) Social shares: Great content gets shared around (no surprise there!). By incorporating social share buttons with every blog post, you allow your readers to share important or impactful articles with their community.
3) Word of mouth: Whether this is face to face or online, word of mouth is very much alive today. Giving great content keeps your brand and solutions at the back of your fan's minds, allowing for recommendations and referrals to their friends.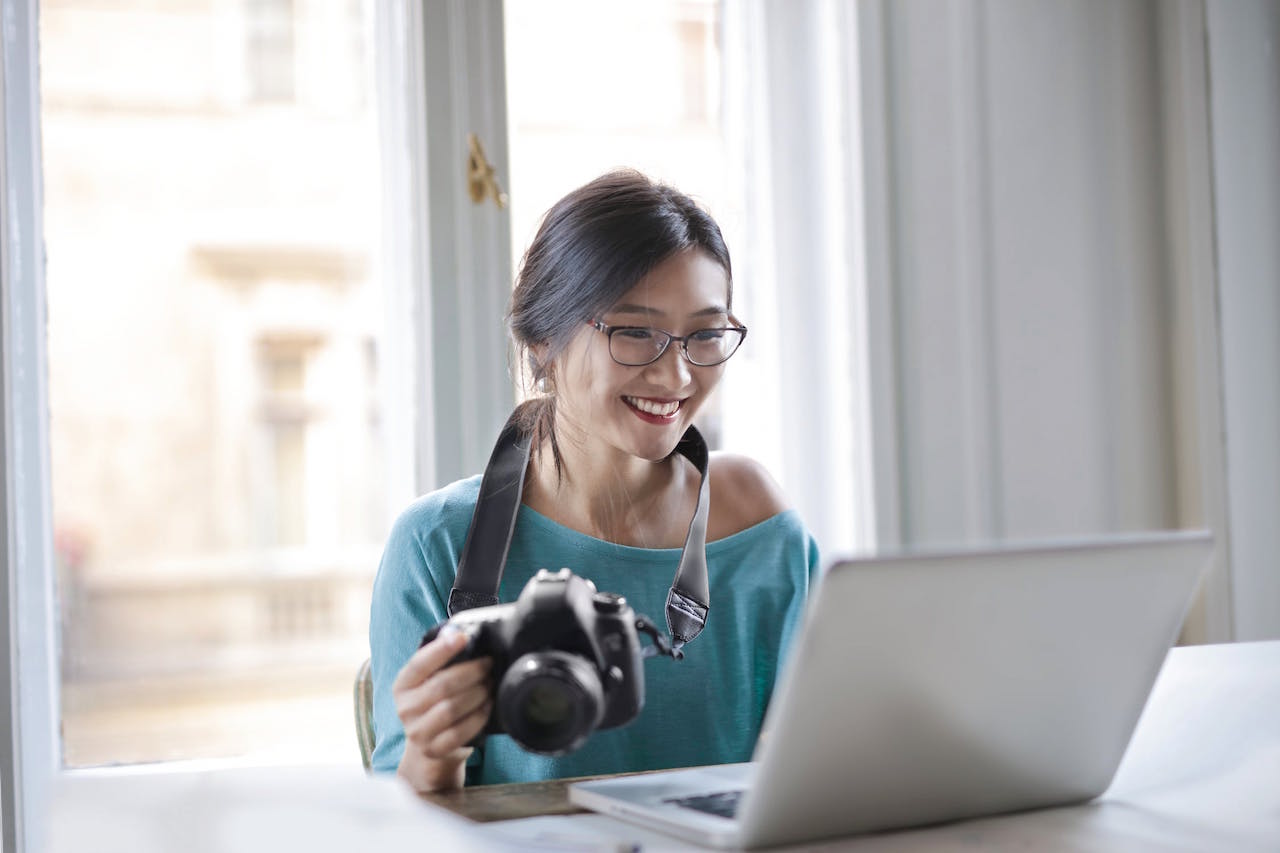 4. Establish Your Brand As An Industry Authority
People do business with experts and brand authority. 
While there are a variety of ways of establishing your credibility on your website from scratch, the most fulfilling and impactful method in the long-run to start your business blog.
It allows you to prove to your readers, by providing actionable insights and value, that your business understands the industry and the pain-points that they regularly encounter.
Those who can teach and teach well, are seen as authority figures.
5. Is Inexpensive To Start & Easy To Operate
While there are many ways to reach your audiences, blogging is hands-down the most cost-effective and quickest marketing tool to start.
Unlike starting a YouTube video channel which requires a steep technical learning curve (shooting and editing videos), plus tens of thousands of dollars of professional equipment, the cost of starting a blog is minimal.
All you need is hosting (which probably won't exceed $20 a month) and a content management system (basically the backend of a website that allows you to upload content, sites powered by WordPress automatically have that).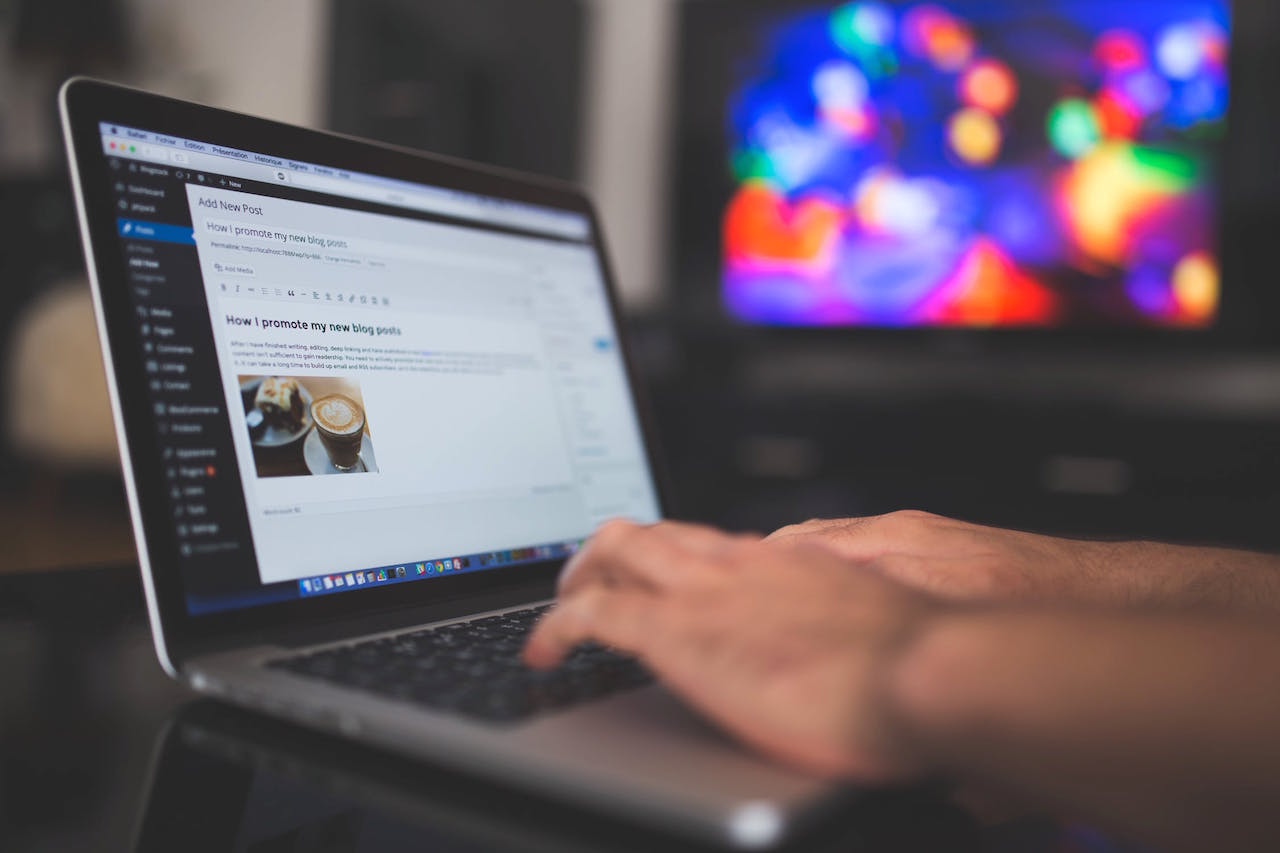 6. Spurs Engagement & Interaction Within The Industry
One of the key benefits of starting a business blog is to spur interaction between your prospects customers and industry players with your brand.
Your readers can leave insightful comments, criticism and opinions on each and every of your article.
This allows you to:
– Address any question or comment a prospective customer might have.
– Gain new topic ideas to create new blog post and content
– Get to know notable influencers, bloggers and key people in your industry.
The more insightful and helpful your blog becomes, the more comments you will have which will inevitably benefit your business in terms of website engagements, helping your website and article to rank better!
7. Helps You Nurture Prospects Towards An Easy Sale
While it might be easy to think that blogging only delivers qualified leads to your website, that's not all!
Buyers today will consume an average of 13 pieces of content (70% of which will be through your website) before making a buying decision.
This means without quality content on your website, you might very well lose the sale to a competitor that has a blog that regularly publishes helpful articles.
Blogging doesn't just create awareness for your brand and website, it helps your prospect convert into a customer in the "consideration" and "decision" phases.
One great way is to create case studies blog posts which will help lay down the case on why your solution or process is superior.
Copyhackers showcased their expertise by featuring a case study on their blog on how they doubled revenue for a client.

The post not only showcased the results they delivered, but also unveiled the process to the reader on how they made it happen.
5 Brands That Are Rocking It With Their Business Blog
1. The Ahrefs SEO Blog
Ahrefs, a company selling an SEO platform that helps grow search traffic, uses their blog as one of their main marketing channels to reach their audience – entrepreneurs, businesses and marketers looking to rank higher on search engines.
Their content strategy revolves creating blog posts that actionable, helping their readers solve everything from best SEO practices and tips to in-depth guides to optimizing your entire website.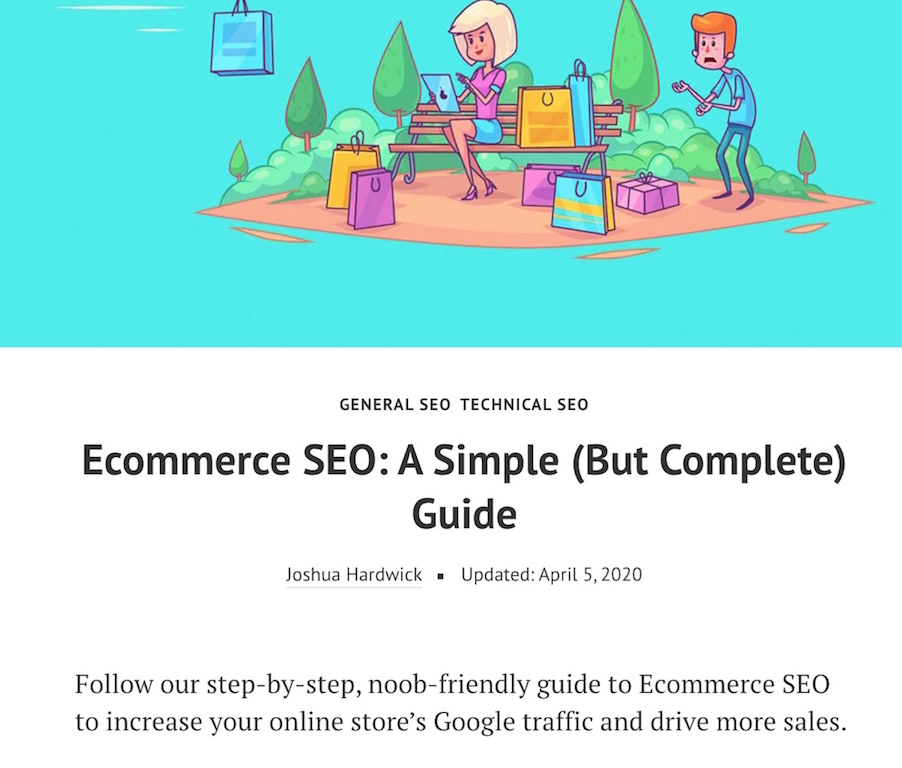 How effective was their blogging effort?
Well, they grew their blog traffic from less than 10,000 visitors to over 200,000 visitors in just 4 years (2014-2018) which coincided with a near exponential growth of their company's annual recurring revenue!
Check out their awesomely informative blog here.
2. Monday.com's Productivity Blog
Monday, a project management and workflow system and tool, has a blog that covers topics that center around productivity, teamwork and project management – exactly the challenges their prospect face in their everyday lives.
In addition, Monday's blog also cleverly touches on trending issues to address unique challenges facing their readers at a current period, such as 2020's coronavirus pandemic, with articles on how to work more efficiently from home.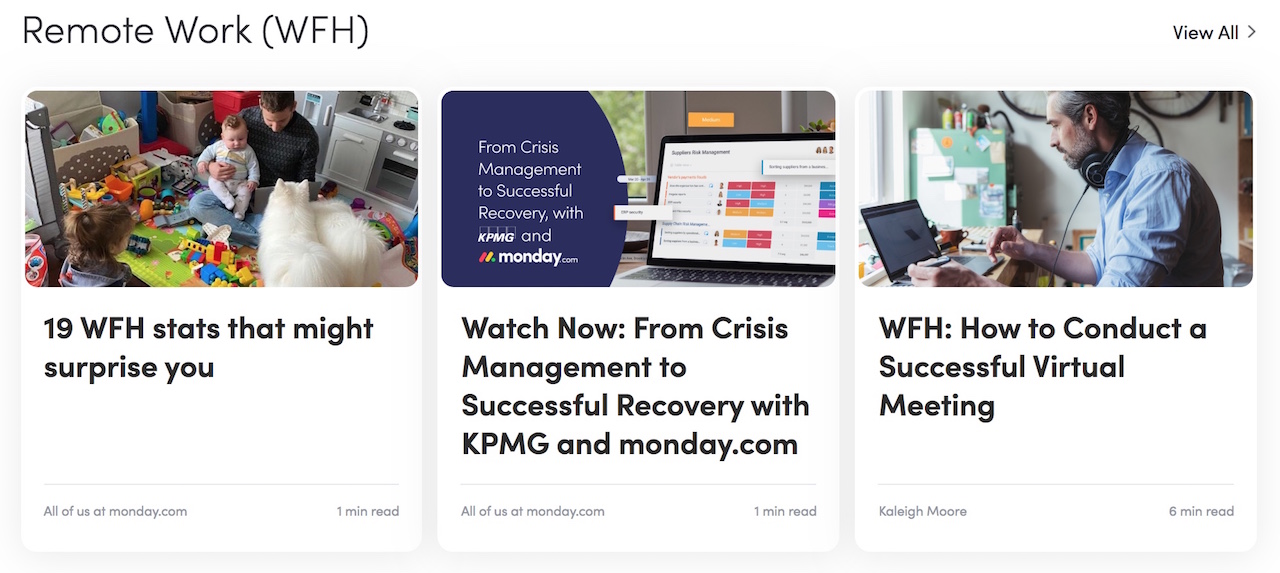 Increasing your traffic is key if you want your business to explode, which is exactly what Monday did to scale their company from $13 million in revenue to $1.9 billion in valuation!
Monday today has an impressive organic traffic count of over 850,000 visitors a month!
3. Shopify's E-commerce Blog
Shopify, the world's biggest e-commerce platform provider, takes their blogging very seriously – after all, they have a mind-blowing monthly organic traffic of over 13 million visitors.
The Shopify blog covers a variety of categories from 'New Business Ideas' to 'Grow Your Sales' and dives deep into each topic with long-form articles that will regularly take 10 minutes or longer to read and digest!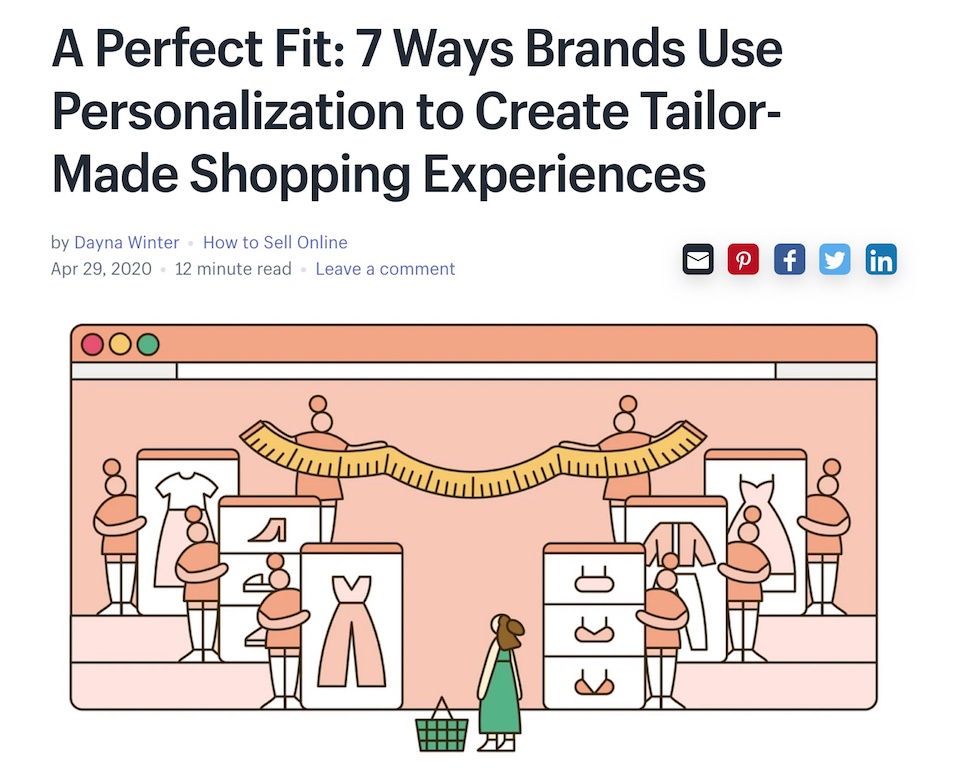 Shopify understands the customers they are talking to – entrepreneurs and that means there is a need to connect with them emotionally.
They do this brilliantly with blog articles that feature stories of business founders, their successes and struggles to motivate and inspire their blog readers.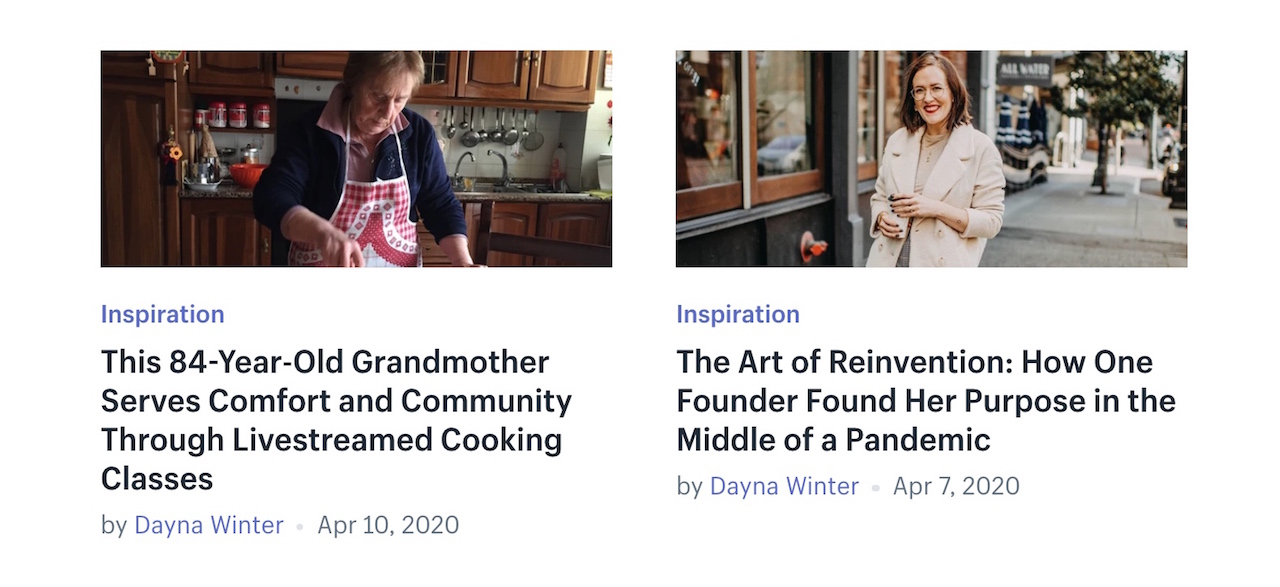 4. Close's Sales Blog
Close's blog has a laser focus content strategy that revolves around sales strategies, tips and actionable 'How To' guides to add value to their readers.
In fact, Close invests a ton into both the quality of content creation and distribution that helps them to drive impressive traffic to their website with every single blog post.
One winning example is this post on "25 proven sales strategies from top entrepreneurs and startups" which is a monster post of over 6,000 words that brings in over 4,000 monthly visitors alone.

It ranks first for the popular keyword "Sales Strategies", a high-value search term, which has a search volume of over 3,000 every single month!
5. The Barkpost Blog
Great blogs aren't just confined to the B2B companies, some of the best B2C companies reach their prospects through blogging as well.
Barkpost (which is the official blog of Barkbox), is a website that is entirely a blog that has a monthly readership of over 500,000!
They attract dog lovers with content that not just give value, but also entertain and answer common questions dog owners will have about their favorite little pooch.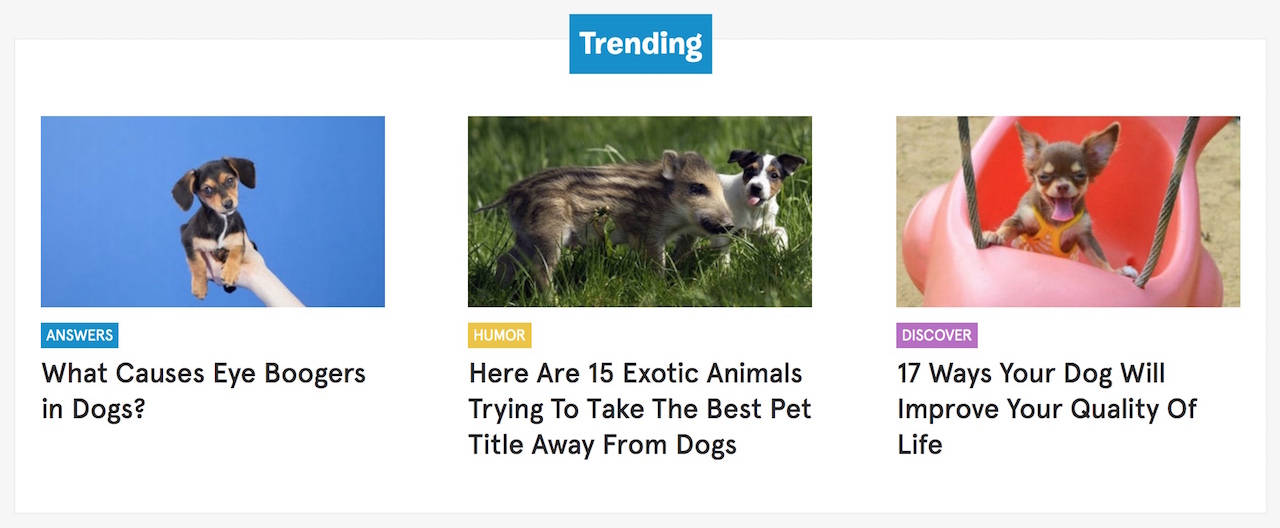 Hire An Agency, Blog Writer Or Do It Yourself? 3 Questions To Answer
1. Do I Have A Content Strategy For My Blog?
A winning business blog always begins with a content strategy that covers everything from establishing your customer persona and content pillars to keyword and topic research.
Blogging is a long-term endeavour that will only reap results 6 months to a year and without a clear strategy, you might be fishing for traffic in the dark.
2. Can I Generate A Constant Stream Of Topics & Ideas To Write About?
While there isn't a need to publish every day, depending on the size of your blog and business, you will still have to publish frequently to maximize your results.
According to HubSpot, to drive organic traffic to your website, you should be posting anywhere from 2 posts a week for smaller blogs to 5 times a week for bigger blogs.
This will require a constant stream of content that targets different keywords that your readers are searching for and thinking of interesting topics that will grab their attention.
3. Do I Have Professional Writers To Write Quality Content?
Writing a good article isn't easy.
Not only do you have to write articles that are helpful and engaging in a tone of voice that matches your target reader.
Your writer (or you yourself) will have to to get all the technical aspects down such as keyword targeting and formatting.
Planning, outlining and crafting an article from scratch could take anywhere from a day to a week, depending on how deep dive you want to go or is required.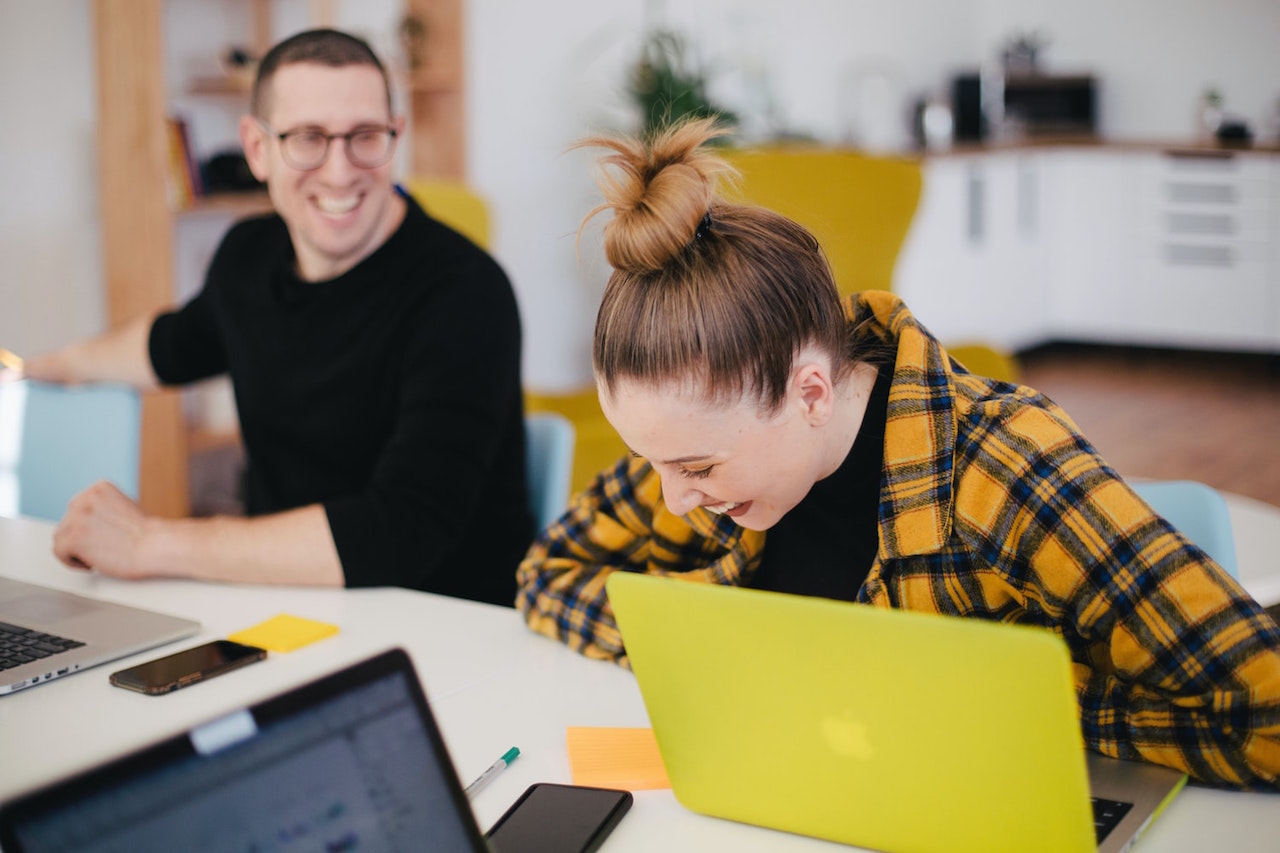 If You Have Sufficient Resources To Hire An Agency:
You will be assured results (if the agency knows what they are doing) as they will tackle everything from strategy to the content creation.
If You Already Have A Strategy And Game Plan For Your Blog:
Then hiring content writers with just the creation will be the way to go.
Remember to always remember to hire for quality!
Let's Start Your Business Blog Today!
Blogging is one of the best marketing channels that every business should embark on, not just for brand awareness, but to actually generate demand for your products and services.
If you're looking to build your blog from scratch or just looking for a kick-ass writer to craft engaging on-point articles – we can help!
Contact us here & let's create a winning blog for your brand today!