How To Build An Effective Blogging Strategy For Your Business
May 12, 2019 | Sean Foo
If your brand doesn't have a blog (or aren't taking it seriously yet), you are missing out big time!
A blog is a valuable tool for brand growth, customer acquisition, and revenue generation only if you have an effective blogging strategy!
With an effective blog, you can boost your inbound leads, establish your brand voice, and help to pave the way for loyalty in the years to come.
After all:
But before we go through a 7 step plan to craft a killer strategy for your blog, we have to dispel the common myths that surround blogging for business.
2 Blogging Myths We Have to Dispel
There are a lot of myths about blogging that can disrupt your strategy if you believe them.
For instance, you might have heard that all you need is a WordPress site and a knack for writing to get started.
However, the truth is that you also need a distribution plan, a dedicated tone of voice, and a team of people working alongside you.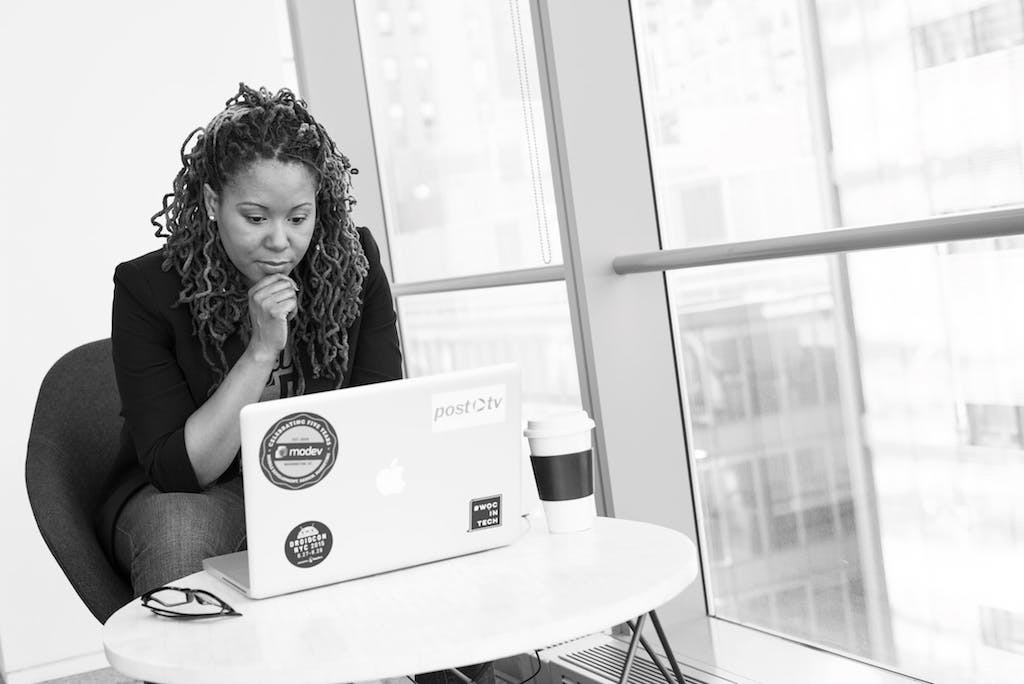 Let's debunk two crucial myths about blogging right now:

Myth 1: Blog creation is more important than distribution
Content is king but what good is it if your audience never reads it?
Creation is just one piece of the blogging puzzle.
If you want to really connect with your marketplace, then you're going to need to promote what you create (waiting for organic reach from SEO is not the solution, especially when you are starting out).
Myth 2: You can create an epic blog by yourself
The other major misconception that companies often have with blogging is that it only takes one person to run your entire content campaign.
The truth is that a truly amazing content strategy requires a lot of time and effort – more than a single person can provide. You need someone to help with:
Keyword and competitor analysis

SEO and content research

Editing and proofreading

Distribution and promotion

Social media and influencer outreach
…and so much more.
Don't make the mistake of thinking blogging is something that you can do in your spare time in between other parts of running your business.
Define Your Blogging Goals to Succeed Faster
Without solid goals for your blog, content creation quickly becomes a chore that will be hard to justify the investment.
So, what do you want to accomplish?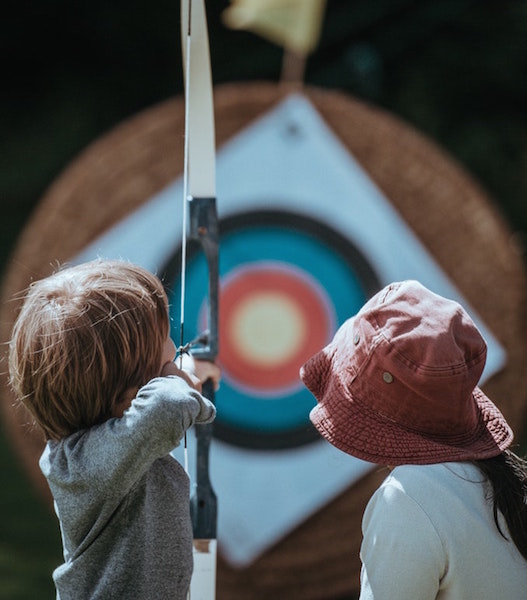 Most businesses (including our clients) start by focusing on two essential targets: SEO lead generation and building their core audience.
SEO lead generation



Simply put, you want your blog articles to rank high on search engines to bring in traffic to your website. You then want a fraction of the traffic to become leads, after all:





SEO leads earned through a blog post have a

14.6% closing rate

, compared to a 1.7% closing rate for standard advertising methods like direct mail.
Building an audience (or your tribe)





While getting leads and sales as a by-product of traffic from your blogging efforts is great, what you truly want is to build an engaged audience that loves your content and want to read more.





This will allow you to constantly give value to your audience when they aren't actively searching for your brand (through email marketing). Making it much easier to sell your products and services in between promoting your new content.
7 Steps for Crafting Your Blogging Strategy
44% of marketers consider "producing quality content" to be the biggest challenge they face.
Sound familiar?
How do you make sure that you overcome the hurdles, and create a blog that works for your brand?
That's where your strategy comes in.
In this guide, we will take you through the seven steps to follow to build a winning blogging strategy.
1. Crafting Your Audience Personas

2. Establishing Your Content Pillars

3. Keyword & Topic Research

4. Deciding on your Distribution Channels

5. Nailing Down On Your Publishing Schedule

6. Establishing Your Content Team & Workflow

7. Setting your Measurement metrics
Step 1: Crafting your audience personas
Who are the ideal customers for your brand?
The best way to get the most out of a blog is to tailor it to the right people, your "customer personas".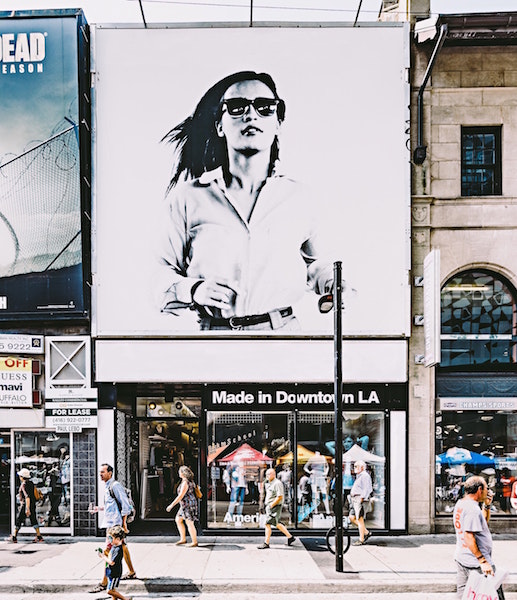 Before you start planning your content, you'll need to figure out how "aware" your audience is of you, their challenges and what you do.

Ask yourself:
By crafting the correct audience persona, you will understand the type of content and topics you will have to cover and not stab in the dark.
Want a roadmap to create the perfect customer persona for your business?
Check out this article where we break down all the key questions you need to ask plus examples of how to craft on-point personas of your target audience.
Step 2: Establishing your content pillars
60% of customers say they feel positively engaged with a brand after they read the content on their blog.
Achieving results like that is easier than you'd think.
However, you do need to know what kind of content to produce to make your customers feel create about your brand.
With your audience personas in mind, and your research laid out in front of you, you can establish content pillars that will continue to nurture and deliver traffic.
These pillars will form the basis of the content that you'll be creating in the future to engage and add value for your audience.
In the blogosphere, there are 3 major kinds of core content every brand and business should start creating.
1) Content that solves the main challenges of your customer:

This kind of content shows customers why they need your product or service.

For instance, if you're selling automation software for cold-email outreach, then your material could be instructional, teaching them about the value of the cold email, how to write one, what they can do to identify the prospects they need etc.
Shopify, the e-commerce platform, does this well by crafting content that is directly of interest to their customers – increasing their bottom line, customer satisfaction and raising money to fund their online store.


2) Inspiring stories and case studies:

Next, you want to show your audience that you understand the experiences they have each day. This means exploring roadmap stories in the "How I Did It" format or case studies.

For instance, Shopify's article: 'How Legacybox Turned Old VHS Tapes Into $20 Million a Year' covers essential details about the path to success building their business – delivering valuable advice and a roadmap for readers to learn from.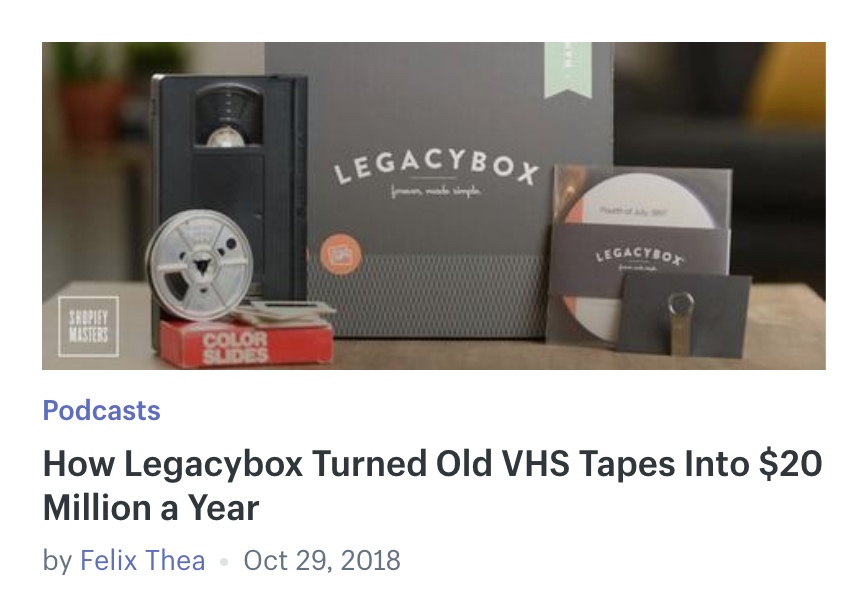 3) Content that introduces new ideas and concepts:

Finally, the third piece of content introduces new channels or ideas to help customers reach their end-goal.

For instance, if your business sells SEO services, then you might be primarily teaching customers how to earn backlinks to improve their rankings, while this 3rd content type covers topics like what content marketing and copywriting is – things that will help them with their SEO strategy eventually.

Shopify does this well by informing readers on upcoming industry trends as well as covering complementary topics, such as UX design, that someone running an online store should know about.

Step 3: Blog post keyword & topic research
Understanding the types of content you need to create is great, but what are the keywords you need to target and the topics to write about?
Without the right research done, you might very well be writing articles (and wasting resources) that will not bring in the quality traffic you need for business results.
With blogging becoming increasingly competitive, there is absolutely very little room for error when it comes to your keyword and topic research in your blogging strategy.
Keyword research
While there are many ways to go about this, our preferred method is to directly use a comprehensive tool like Ahrefs that will help you laser focus your way to profitable keywords you should target.
What we want to find are keywords that fulfill three criteria:
– Low keyword difficulty: Allowing our content to rank easily without the need to build links to them for now.
– Decent amount of search volume: Ensuring we are writing on a topic that people are actively searching about
– High cost per click: Showing the search term has commercial intent, advertisers are paying money to run paid ads for this keyword on Google.

Let's say I am selling surfboards in my online water sports store and I'm looking to create a surf blog to bring in traffic that will eventually buy my products.
A keyword search for the term 'surfboards' will return the following information (which I filtered for low keyword difficulty and a minimum of 100 people searching for it monthly)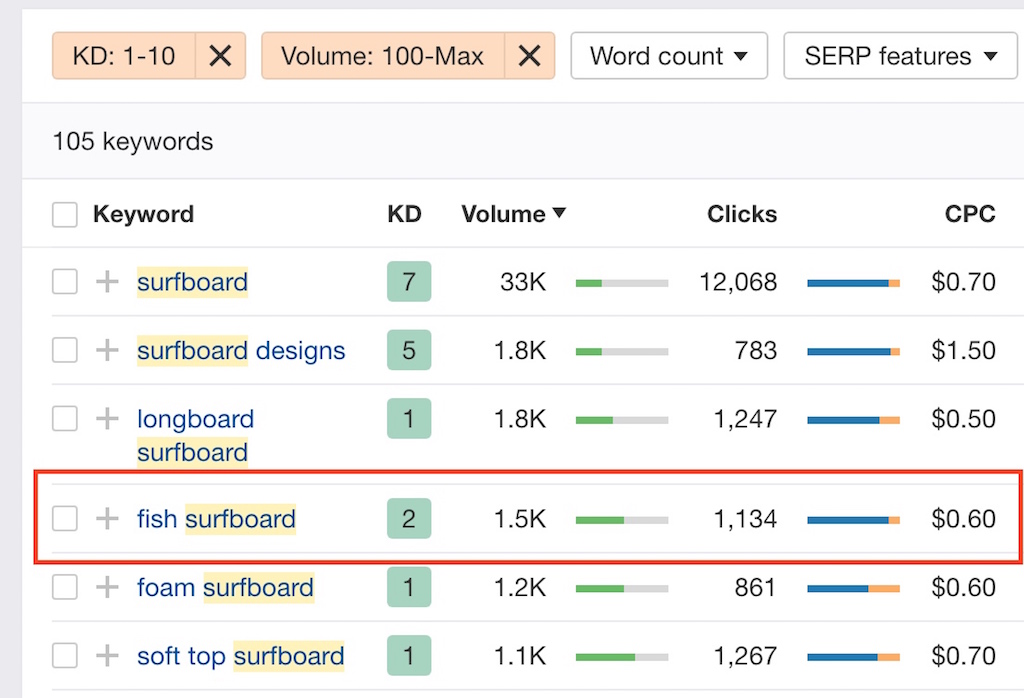 Immediately I get 6 great keyword ideas that have decent search volume, good cost per click (for this niche) as well as a low keyword difficulty that will allow us to rank much easier without backlinks.
So let's go with the keyword 'Fish Surfboard' and proceed to our next step.
Topic research
Topic research is key to understand if a content article can be written for this keyword and if so, what type of article should be craft?
Understanding this is critical to best serve the intention of our readers (and to rank well in Google).
There is no point to write an in-depth article on explaining a topic if your audience just wants to buy it directly or view images of it.
What we need to do is to check the SERP (search engine results page). You can also do it directly through Google directly as well.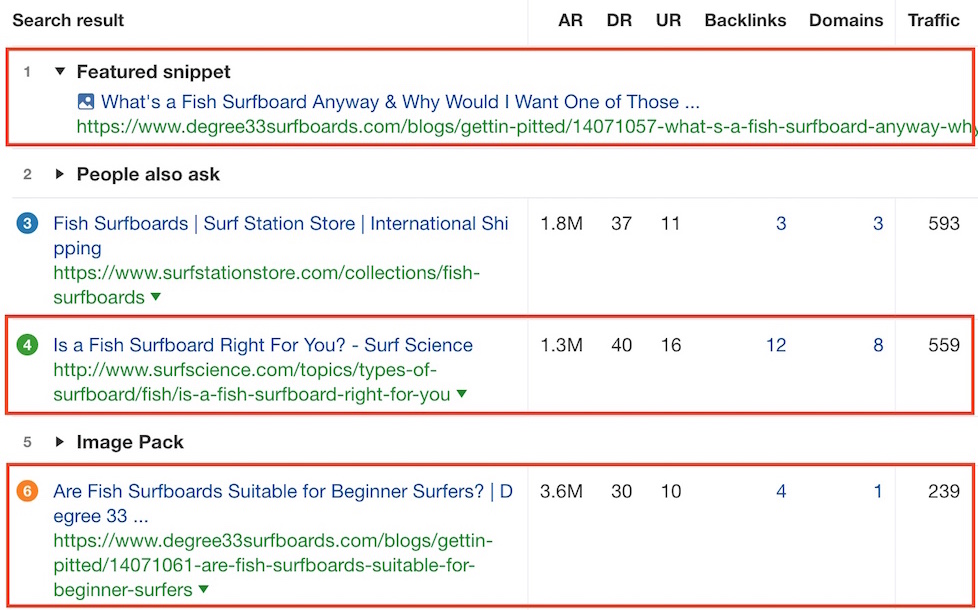 We can immediately see this is an informational type of search where 3 of the top results are articles explaining what is a fish surfboard, why you should want one and if it is suitable for you.
Bingo! We can write an article on this and if we do a good job and it ranks, we can expect to get around 500 or more visitors to the article every single month!
So what type of article should I craft?
It's time to do some competitor spy-work!
Competitor article research
Firstly, plug in your competitor article's url to: https://wordcounter.net/website-word-count to learn about the word count of the blog post.
For the topic on Fish Surfboards, most of our the competitor articles are around 600 – 800 words each and they cover quite a few similar key points such as the type of waves you want to catch and your surfing goals.
A great way to win against them is to create a better resource that is slightly longer 1,000-word article that hits on:
– Defining what a fish surfboard is
– Why and how to choose one
– The best types of fish surfboards out there (pros and cons).
There you have it, three quick steps to conduct your keyword and topic research.
You can now be confident your content will search your audience's search intent, cover the right key points and rank well on Google.
Prefer to use a free tool?
Try Ubersuggest, it does the same thing but is a little more tedious and doesn't have all the same information under one roof.
Step 4: Deciding on your distribution channels
Rand Fishkin of Moz once said:
"'I hit 'publish' for the first time, and everyone just showed up' – said no blogger ever."
In other words, if you want people to come to your blog, you need to go out and find them.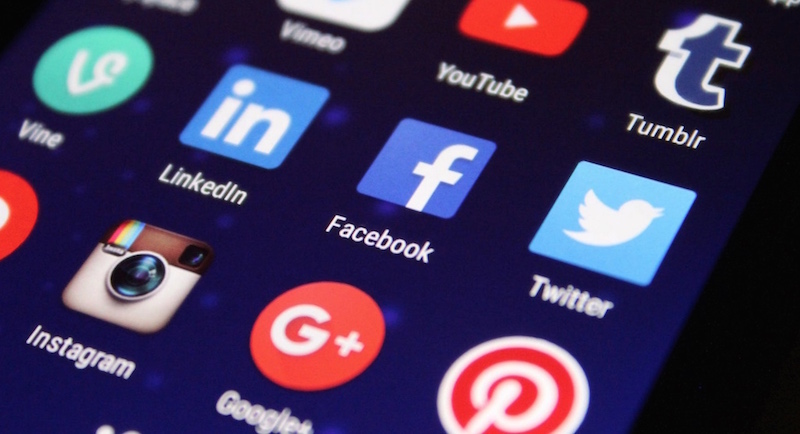 So, how do you get started with choosing the right distribution strategy?
Well, first you need to understand your end goals.
Are you:
– Building a social audience?

Then make sure you know how to stand out on social media! Take quotes and snippets from your blogs and craft them into tailored solutions for each social channel. Use graphics alongside the content that you share to improve your chances of capturing audience attention too!

Platforms like Canva even allow you to place quotes within pictures for a more "shareable" piece of content. According to Buffer, tweets with images get up to 150% more retweets than those without.
– Engaging current email subscribers?

To delight your email subscribers, look at splitting your blog into a string of teaser or instructional emails that you can send out to your community, all while directing them back to the original post.
– Building content resources for people to share?

Look for ways to spread your content out into different types of media. For instance, you might create a slide share of your content using stats from your original post, or transform your blog into a podcast, infographic, or video.
– Looking to connect with influencers?

Through a careful cold-email outreach strategy, you can connect with people who have the power to help your business grow. Share your best content (especially if you featured them or their business in it) and start to build a relationship.
– Find a bigger audience?

Finally, by using tools like Outbrain, you can start to cast a wider net with your blogging strategy, and potentially connect with new audiences.

These content platforms deliver material to publishers all over the net, helping you to find your audience in all the right places, with criteria that include their demographics, location, reading interests and more.

Step 5: Nailing down your publishing schedule
The best blogging strategy is a consistent one.
Before you begin publishing anything, you need to determine how much content you can commit to each week.
By finding your blogging rhythm as early as possible, you not only keep your entire team on track and accountable but also keeps your viewership constantly engaged.
The more you post, the more opportunities you have to connect with your audience.
It was found that companies publishing more than 16 blog posts per month achieved 3.5 times as much traffic as businesses publishing four or fewer posts monthly.
A great tool you can check out is CoSchedule.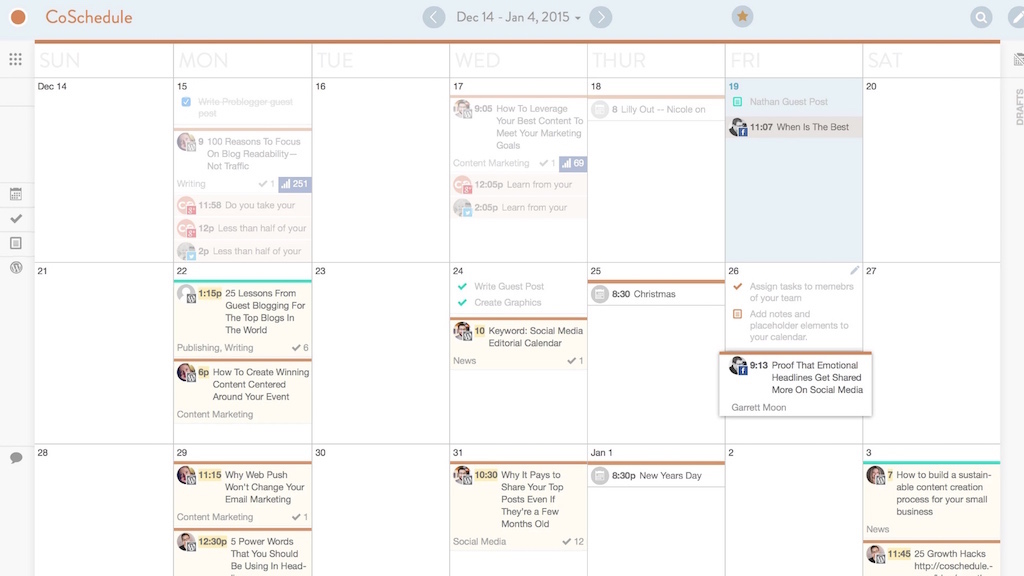 A proper creation and publishing schedule ensures that you can drip out helpful content to readers in a consistent and reliable format, something that CoSchedule helps with.
Ideally, you'll even be able to follow a set pattern that your customers can use to determine when they should be coming back to your website each week to read the latest post.
Step 6: Establishing your content team and workflow
61% of the most effective marketers in the B2B world meet with their team on a daily or weekly basis.
Teamwork makes the dream work. A blog is rarely a one-man operation.
Figure out who's going to be responsible for helping you to accomplish your goals, and make sure you're communicating regularly.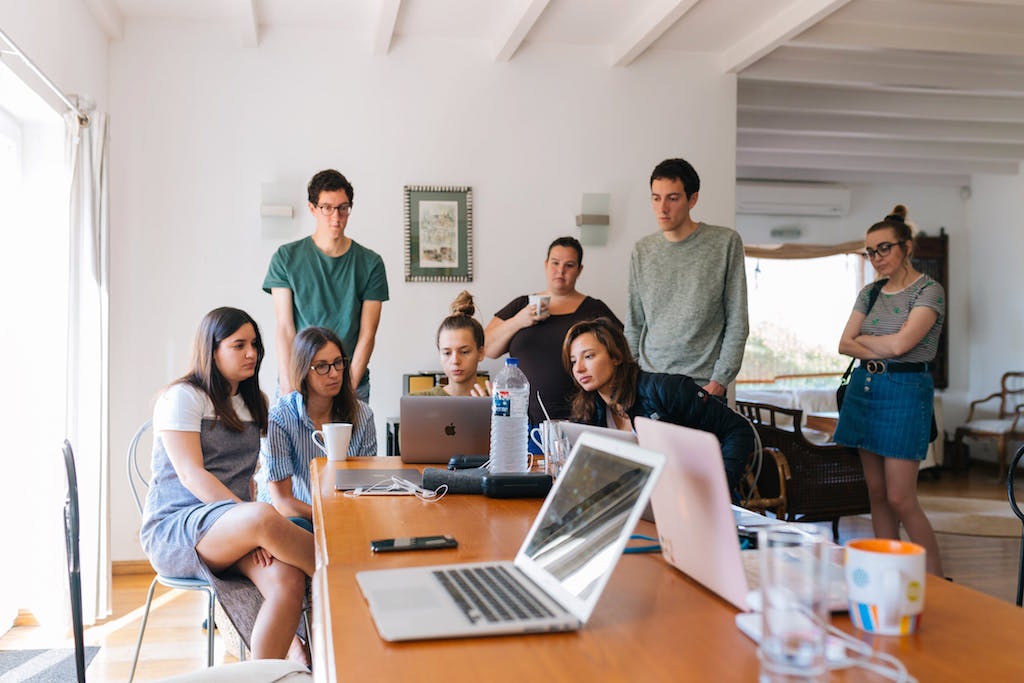 Here are some of the critical roles you'll need to effectively implement within your blog strategy:
Content planners: You'll need a specialist onboard who can manage things like topic planning, keyword research, gathering facts, and even providing examples to your copywriter.


Copywriters: This is the individual responsible for handling things like content creation and editing. The copywriter is the heart and soul of an effective blog, and he or she will be responsible for turning your topic into an engaging piece for your readers.


Designers: Although the words in your blog posts are important, it's important not to underestimate the visuals too. Quality blog posts require custom graphics in everything from your social media adaptations, to your contextual pictures and banners.


Distributors: Finally, this is the person responsible for handling everything from paid ads on Facebook, to investing in PPC, and even reaching out to possible influencers.

You might find that some of your employees have skill sets that overlap.
Depending on how big your business is, you might be able to use one person for multiple roles.
Once you've established the persona that each employee will have in your team, you can begin to determine how your people will function together.
Keeping a content calendar on-hand will help you to avoid unnecessary delays in your publishing and promotion schedule.
Step 7: Setting your measurement metrics
Finally, one of the most critical parts of your blogging strategy is measuring your performance.
What do you want to get out of your campaigns? How can you make sure you're moving in the right direction?
Typically, I advise setting goals over a period of at least 90 days, so you have long enough to see whether your strategy is helping you to make progress.
If you're in the early stages of building your blog, you might need a little longer to see results, such as 6 months.
Some of the most common metrics that people track include backlinks, followers, subscribers, traffic, and more.
However, it's important not to get caught up tracking too many metrics without understanding how they relate to your overall goals.
There are two primary kinds of metrics that you'll measure as part of your content strategy: the tangible and the superficial. Both have a role to play in your long-term campaigns.
Superficial metrics:
These are the metrics that are immediately visible by just looking at your blog post. They show whether your posts are doing well in general, and may include metrics like:
– Bounce Rate
– Time On Page
– Unique Page Views
– Organic Visitors 

Tangible metrics:
These are the metrics that you need to measure when hoping to accomplish your fundamental goals. They include metrics like:
– Number of subscribers
– Backlinks Built
– Social Shares
– Page and Domain Authority
– Conversion Rates (Readers to customers)
Deciding which metrics are crucial to your campaign can be tough.
Ask yourself how each metric will help you to understand your progress.
For instance, if your end goal is to drive organic traffic to your website as a byproduct of organic growth, then you'd need to track things like Domain Authority, backlinks built and SEO rankings.
Focus on Your Blogging Strategy & the Rest Will Follow
Your blog is one of the most valuable marketing tools you can have, but it all hinges down to having a solid strategy.
The content you share needs to relevant, engaging, and carefully timed to reach the ideal audience.
Our blogging strategy gives you step-by-step guidance to follow when you're building your presence online. It ensures that your material will resonate with the people most likely to support and advocate for your brand.
Using the seven steps above, you can discover the true value of blogging, and earn greater ROI from your content efforts.
Want us to craft a winning long-term blogging strategy for you?