B2B Buyer Persona: How To Craft One For Content Marketing Success (& How To Use It!)
October 20, 2020 | Sean Foo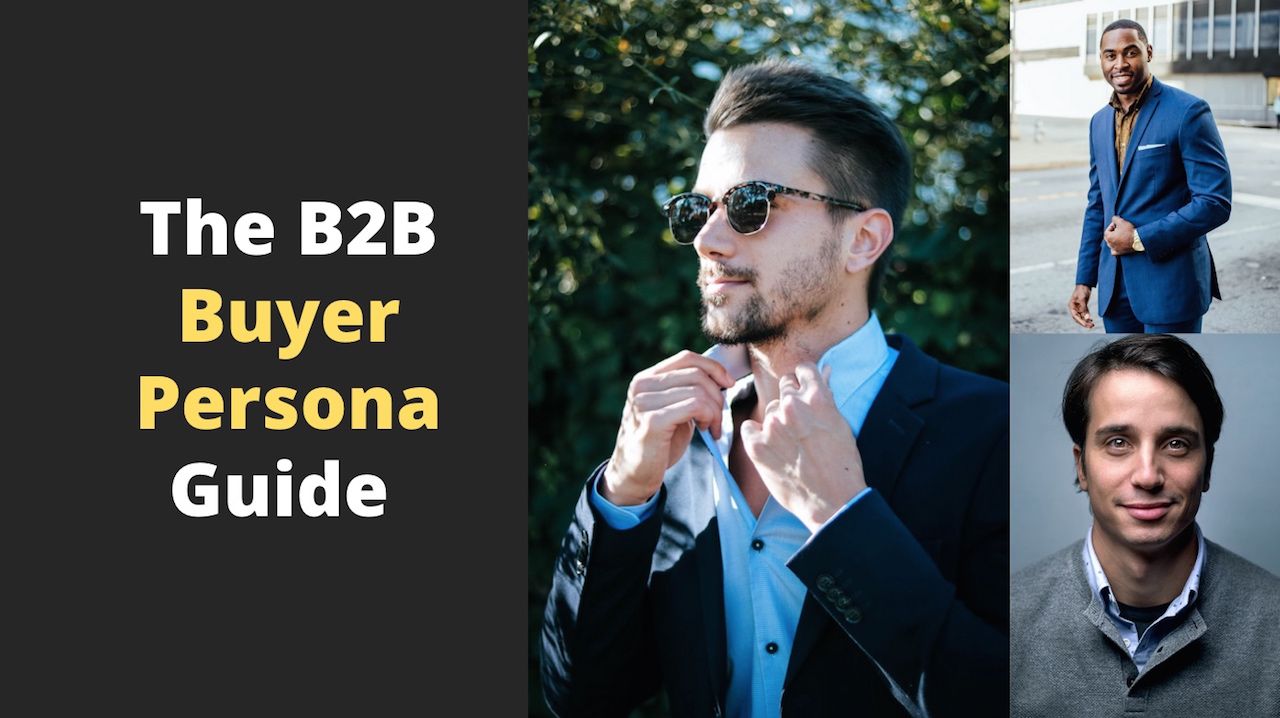 Content marketers today face a big challenge when it comes to marketing towards B2B buyers – it's getting harder with each passing year!
Unlike B2C content marketing, a B2B strategy needs to be laser-focused towards acquiring the highest quality traffic to the content (and sales) funnel and converting those hard-won interest into leads and sales.
In fact, 60% of B2B buyers aren't ready to speak to a sales representative until they have done their own research.
And of those ready to buy, 95% of them look for organizations and brands that provide relevant and valuable content throughout the buyer's journey.
Creating highly targeted content is no longer an option – it's a must in the B2B world.
Thankfully, you can easily win-over your B2B customers if you use the right set of strategies and that means crafting a set of B2B buyer personas for your content marketing plan.
What Is A B2B Buyer Persona?
A buyer persona is a fictional character that you create and flesh-out to represent your ideal customer.
Unlike standard marketing segmentation or customer demographics, it goes much deeper into who your customer actually is and the lives that they lead.
A buyer persona covers everything you need to know about your ideal customer including:
The challenges they face in their company and job role

How they consume information and where they find it

The goals they and their organization desire

Fears and mental obstacles that they face during the buying journey
A well-thought-out B2B buyer persona allows you to effectively craft an effective in-bound sales funnel that maximizes your marketing and sales efforts.
The Benefits Of Well-Defined B2B Buyer Personas
When it comes to B2B sales, especially for bigger purchases, there is an average of 7 decision-makers or stakeholders that will influence the buying decision.
That means your content has to be surgical and precise – not created in broad strokes meant to please everyone.
It has to solve key challenges and hit on specific topics important to these decision-makers.
And to accomplish this, you'll need to craft out a set of B2B buyer personas that will fully define and flesh-out your ideal customers.
With this, you'll be able to:
1. Engage & convince decision-makers that influence the sale
Whether you are selling a B2B marketing service or a technology SaaS solution, there will likely be at least two or three stakeholders in your customer's business that will take a look at the solution.
Let's say you're selling an email marketing productivity platform to an organization.
While it will most probably be the Chief Marketing Officer (CMO) who signs the contract and makes the purchase, his buying decision will be heavily influenced by:
The marketing executive who has to use your platform on a daily basis

The marketing manager who has to manage a team of marketers

The CFO who demands that every purchase be justified
While the CMO would love content about the big picture of your solution, those on the ground using it will have challenges of their own which will be more tactical.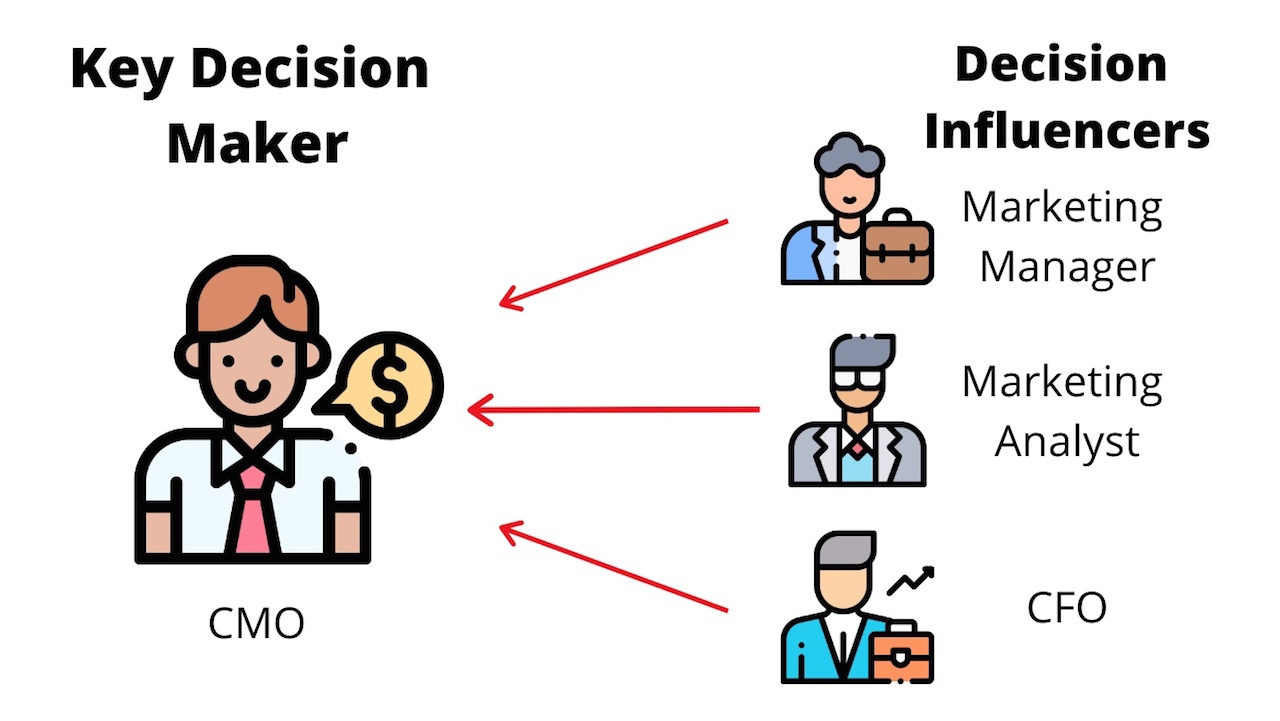 Creating a set of B2B buyer personas allows you to understand the whole range of decision influencers better – allowing you to tailor content that will speak to them, help them and convince them of your solution.
2. Easily map-out and tailor your content throughout your sales funnel
Analysis of your ideal B2B personas allows you to systematically create effective content throughout your entire sales funnel.
These include written and video content such as:
Blog posts

Case studies

Product and services pages

Pricing pages

Gated content (such as use cases and whitepaper downloads)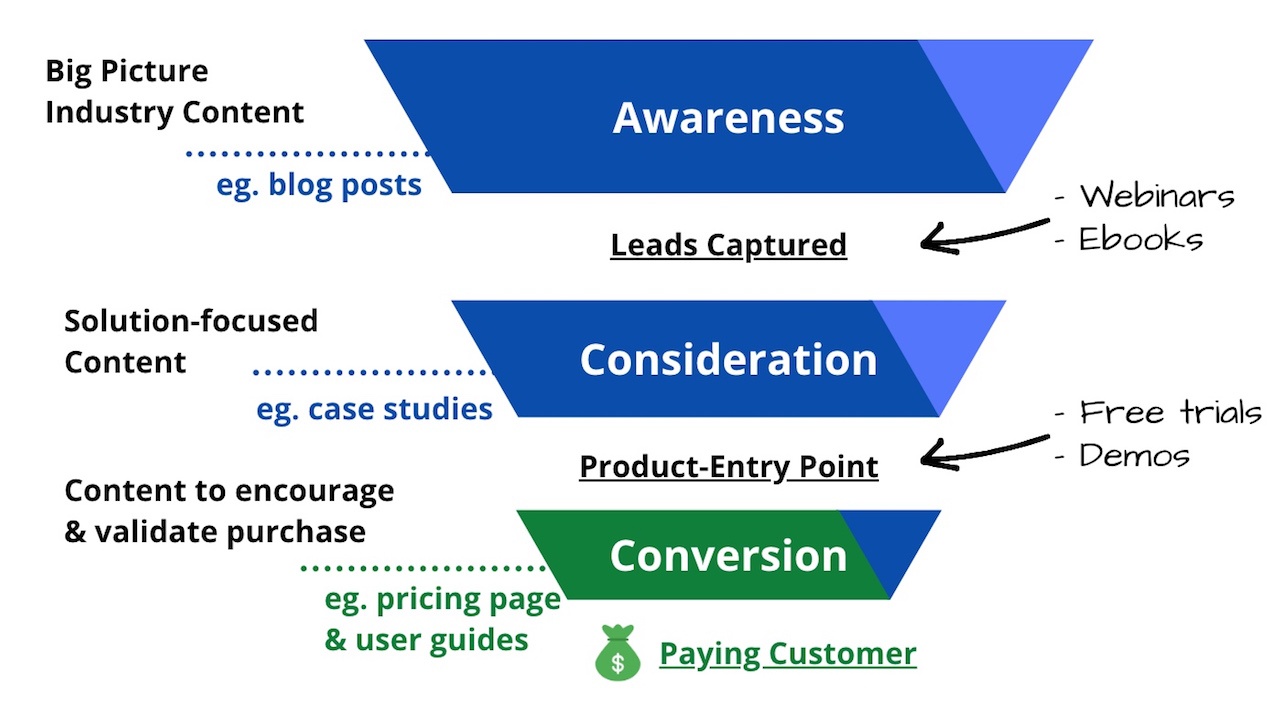 3. Generate the highest quality of Marketing Qualified Leads (MQLs)
While B2C content marketing can afford to cast a broad net to bring on tons of traffic to spread brand awareness, the role of B2B content marketing is all about generating highly qualified leads – MQLs.
Buyer personas allow your marketing team to effectively craft content that builds interest and warms up your prospects to show interest in your product.
That means creating content that is highly relatable to their situations and solving problems unique to them.
Take case studies for example. 
While your solution offering stays largely the same, the content and marketing messaging covered there will be tailored to the intended customer you are trying to convert.
A small business owner probably cares more about how easy your solution is to use while a bigger corporation will be more interested in the ROI of your solution.
Take Vendhq's customer case studies for example.
Each of their customer success stories is tailored to speak to each of their individual customer personas that range from small business fashion brands to small food & beverage brick and mortar stores.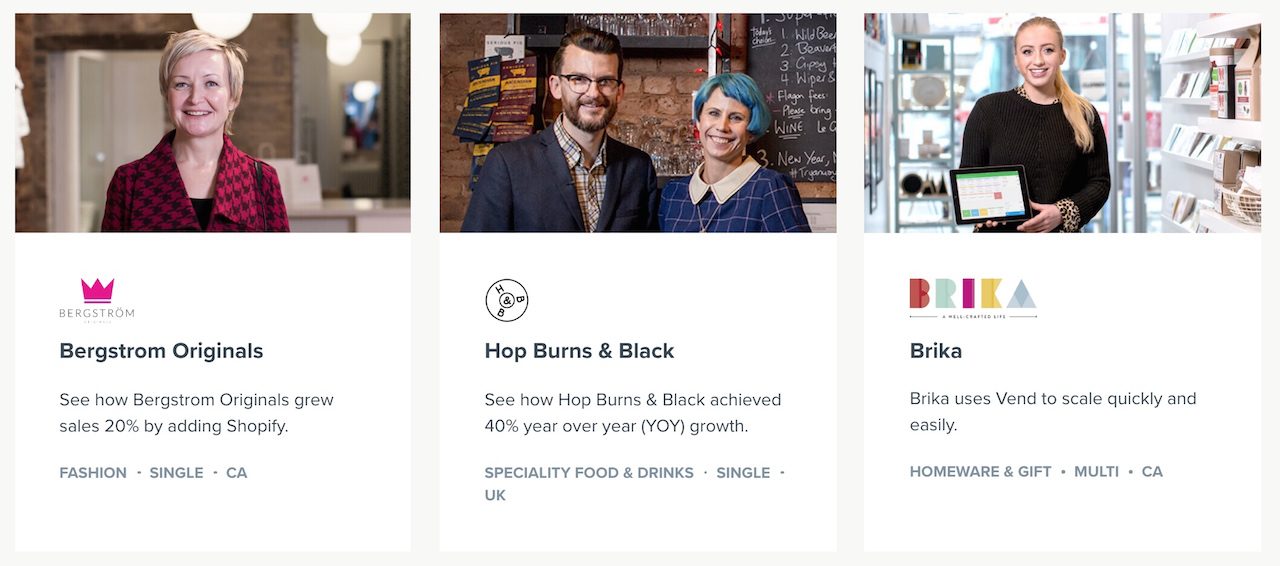 A well-defined buyer persona will allow you to generate the highest number of MQLs from the least amount of traffic.
Forget traffic quantity, it's a quality game here.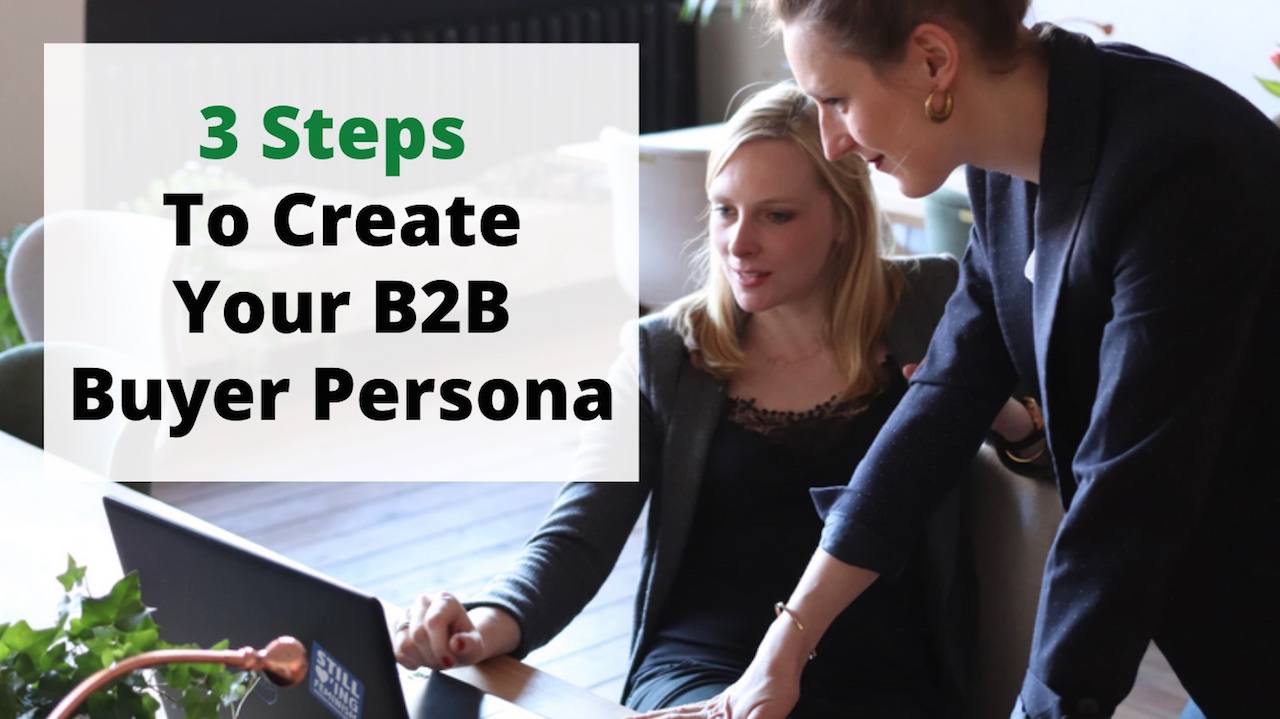 Craft Your B2B Buyer Personas From Scratch: A 3- Step Guide
Don't think of your buyer as a static portrait of a person in a suit.
Instead think of him or her as a dynamic person with hopes and dreams, fears and challenges and big responsibilities in their organization.
Your job is to fully define them and understand what it feels to be in their shoes and experience what they might be going through each and every day.
Step 1: Identify & List Out These 11 Attributes About Your Buyers
Crafting your buyer persona doesn't have to be tedious – it's actually quite simple once you understand the 3 main components of one.
Component 1: Business Demographics
The first component you'll need to understand is how exactly your ideal customer's business works and their role and responsibilities in the firm.
They are:
Buyer demographics

Firmographics

Position & Responsibilities

Content consumption preferences
Component 2: Decision Drivers
What are the factors that will make them highly interested and favorable to your solution?
Understanding this is key not just content marketing success, but also effective product development!
They are:
Goals & Motivations

Success Metrics

Pain Points
Component 3: Challenges & Obstacles
Every persona has challenges and roadblocks that can delay or derail the opportunity to close the sale.
They are:
Daily Obstacles 

Fears & Objections

Competitor Solutions Being Used

Purchase Approval Process
Let's dive deep into each individual attribute.
1) Buyer Demographics
Demographics is simply a broad statistical overview of the group of customers you want to target.
To start, you'll want to paint a snapshot of your ideal buyer and put a face on them.
This allows you to think of them as more as a unique individual with preferences and dislikes, allowing you to better step into their world & lifestyles.
Here are 5 key questions you'll want to ask and list out:
What is my buyer's age?

What is my buyer's gender?

How much does he or she earn in a year?

What type of education has my buyer attained?

Where does my buyer live in/at?
2) Firmographics
Who are the ideal companies and organizations you want to work with and what do they look like?
While you might be selling to a customer persona or decision-maker, understanding the brand and company they work in is equally as important.
This will allow you to tailor your content to better reach and communicate with them while understanding their business as a whole.
Find out:
Their company size

Annual revenue

Company location

Type of industry & niche they operate in

The range of products and services they provide

The kind of customers the business sells to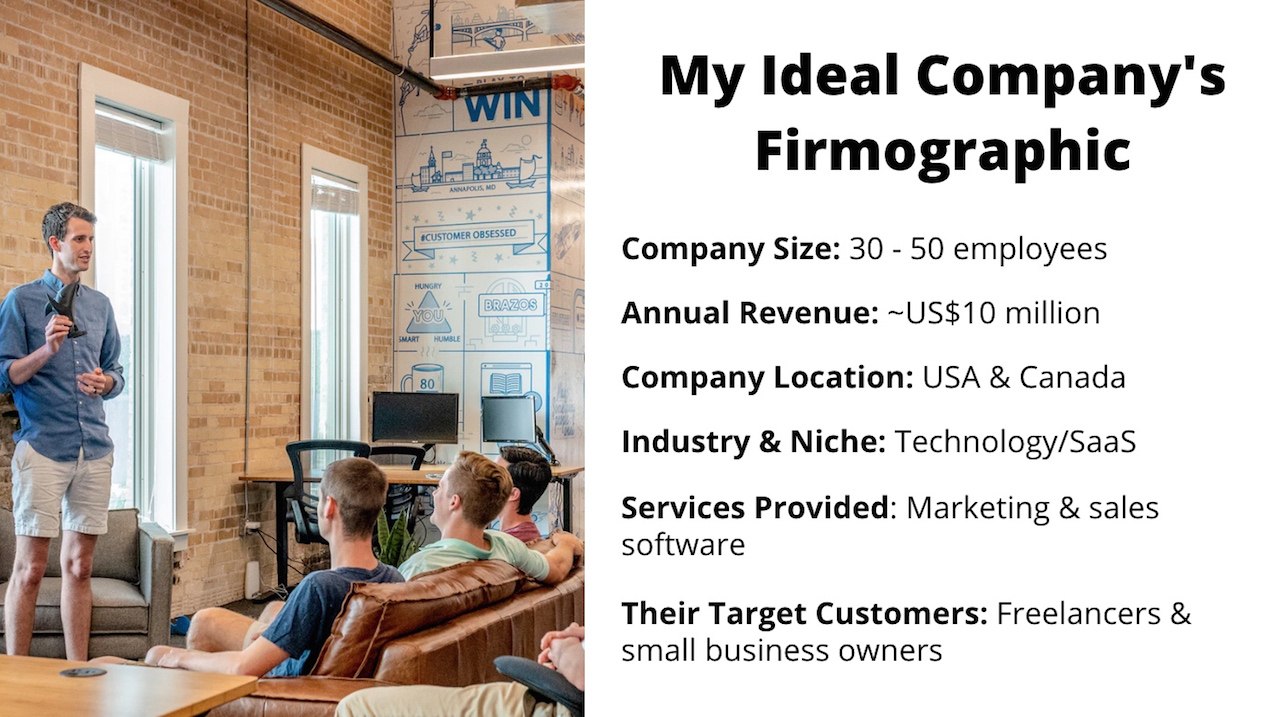 Knowing the information to these questions will allow you to better communicate with your buyer personas and craft content that is highly relevant to their niche, industry and unique business.
3) Position & Responsibilities
What is the role of your buyer persona and how complex is his or her responsibilities in their company?
Here are 5 things you need to note and flesh-out (during your LinkedIn stalking sessions):
Job Title

Technical and professional skills

Background & work history

Role & responsibilities

Where they fit in the organizational hierarchy
The last point requires some extra mentioning – you'll need to really dig deep and discover if they are the final decision maker or if they report to a superior.
Also, you'll want to find out if they are managing a team and the various roles that are reporting to him or her.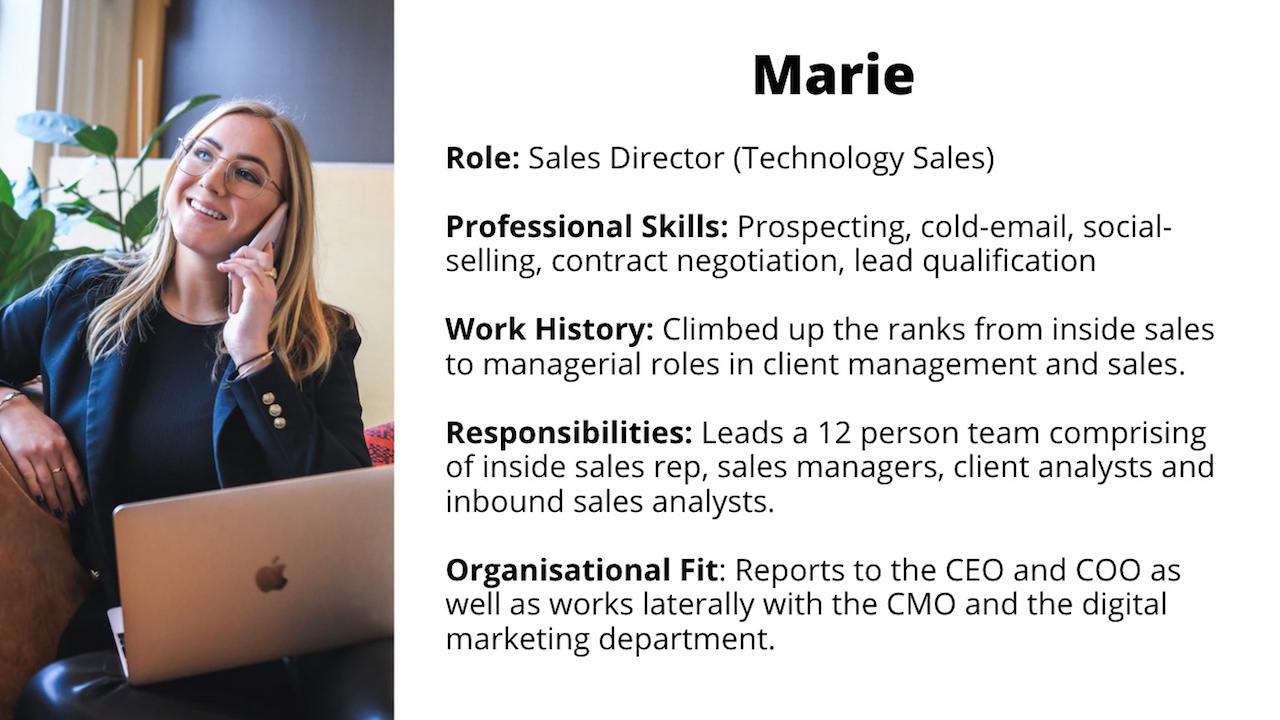 Understanding this information will allow you to effectively map out content that will be highly relevant to them.
Eg. A marketing director will care more about use case, results-oriented content as well as how your product can easily integrate into their organization.
4) Content Consumption Preferences
Every persona searches for and consumes content differently and knowing this preference will determine how best to communicate with them.
Where do they look for information online? – YouTube, Google search or LinkedIn.
Which types of content do they prefer to consume? – Long-form articles vs quick 5 minute instructional videos.
Which tone of voice are they most comfortable with? – Professional & formal vs comedic & humorous. 
Which mainstream or industry blogs do they frequent? – Entrepreneur, Content Marketing Institute, Foundr?
Which influencer's opinion and thought leadership do they value? – Gary Vee, Neil Patel, Bill Gates, Elon Musk?
Know this, you'll be able to tailor content throughout your customer journey to help your readers learn more about your solution and your brand in the way that they prefer to learn.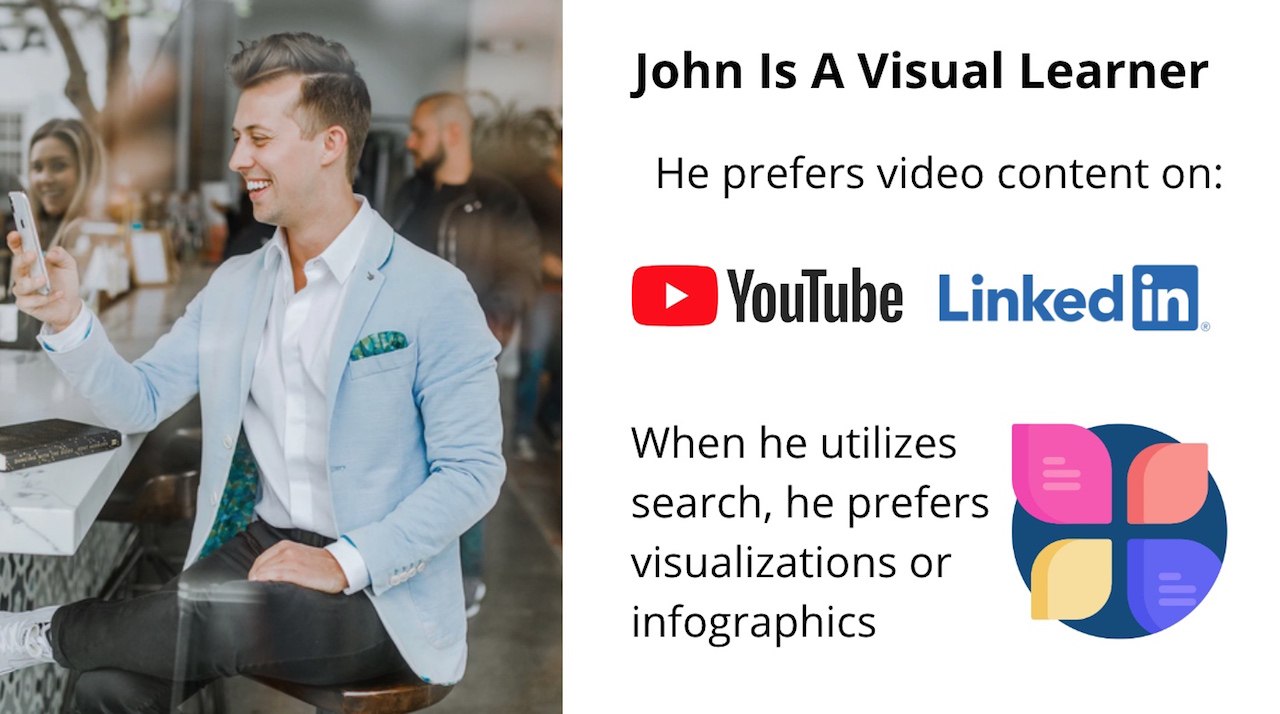 5) Goals & Motivations
Each buyer has their own goals and motivations that drive them to make a decision.
In other words, what does their ideal situation look like? 
What does solving their biggest problems look like?
What big business goals must they achieve to advance in the company?
People are primarily driven by self-interest and it's no different when communicating with your B2B buyer personas.
Understand what they are responsible for achieving, their challenges and tailoring your content plus covering topics highly relevant to those is a key element to crafting a well-defined persona.
Using this information, you'll also be able to tailor the customer journey on your website to suit their needs.
This can be done by creating logical paths on key pages for them to discover your solution and all the necessary information that is relevant to their organizational goals.
6) Success Metrics
When you're creating content, you need to understand what constitutes success in the world of your buyer.
For certain roles, success metrics include revenue earned and sales closed.
While in other roles it could mean a quality hire or time savings.
If you are selling a productivity solution targeting sales managers, you'll need to know one of their big success metrics is the number of meetings or demos booked with prospective clients.
This means creating content such as a "8 Cold Email Templates To Close More Meetings" blog post.
Once you know how success is measured in their role and organization you'll be able to craft content that:
Allows them to solve challenges critical to their specific situations

Helps them look good in front of their superiors

Makes them excel in their day to day work
Take the example of Janice the client manager in a technology firm.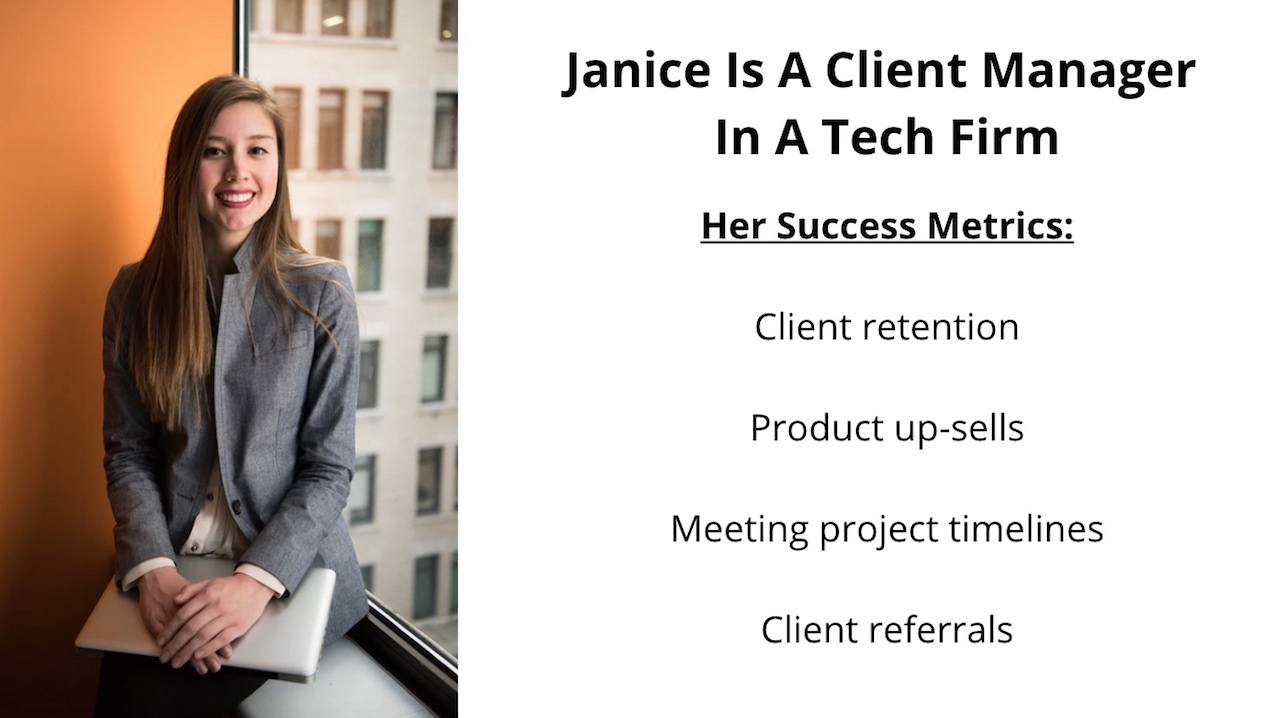 Knowing her pain points, you'll be able to create valuable content that will help her hit her success metrics.
This can be a blog post on '10 Tips For Better Client Retention In 2020' to ebooks such as 'The Ultimate Guide To Mastering The Art Of Client Referrals'.
7) Pain Points
Each and every one of your buyers has their own individual challenges that they face on a daily basis.
Don't get this confused, we aren't talking about the pain points faced by your target organizations or industry as a whole. 
We are talking about the challenges facing your customer personas – the individuals within the company that you are trying to target.
Let's say you are selling a presentation software solution to pitch better to clients.
Think about the individuals that will directly use or benefit from it.
If one of their specific problems is designing engaging presentations, you'll want to create a step-by-step guide on how to create beautiful and interactive presentations – and then tie it into how your solution can make it happen fast and easy.
Close has a keen understanding of the various pain points that are plaguing the prospective buyer (sales executives) that they are trying to sell to.
This allows them to create helpful resources, such as their video call checklist guide, teaching sales executives on how to sell better through video calls during the COVID-19 pandemic.
Knowing the individual pain points also allows them to bring them front and centre to ensure their readers know the importance of the resource and are more likely to download the content (and thus become a lead).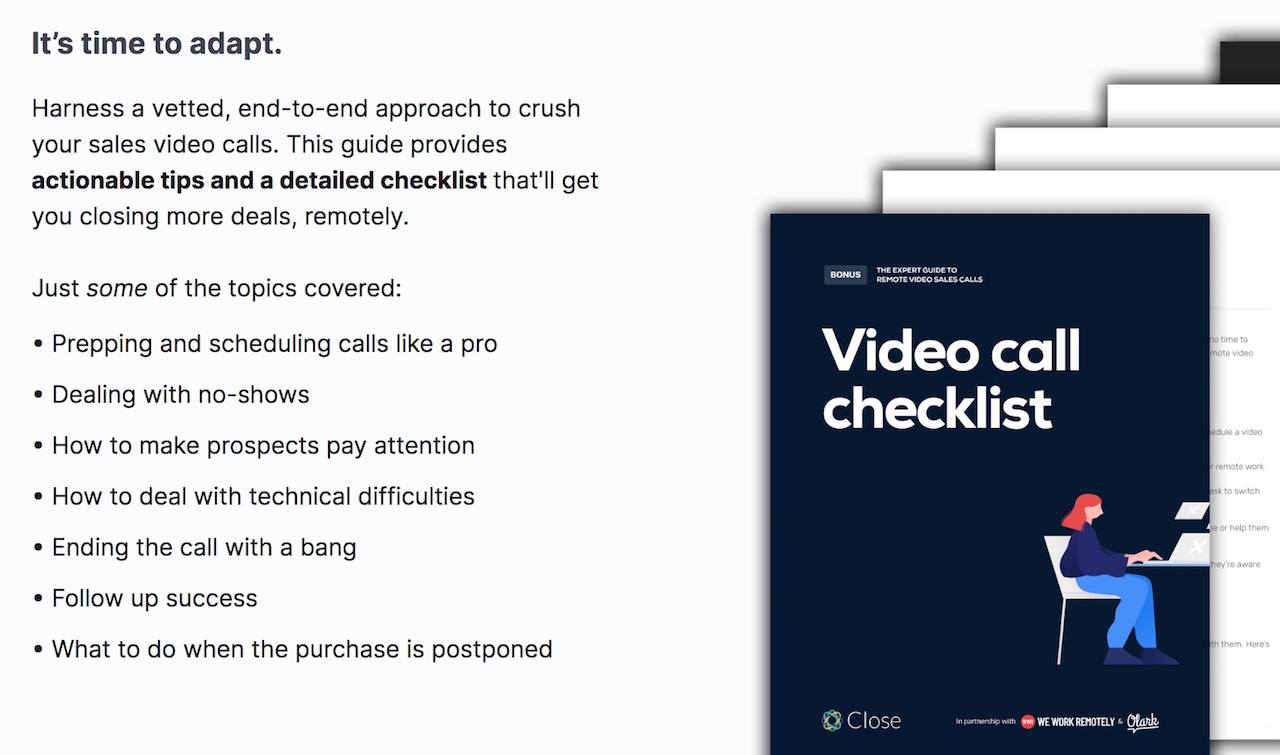 8) Daily Obstacles
What are the obstacles your buyer faces on a daily basis that are causing his pain points?
These can be both personal and professional in nature.
Here are a few questions to ask your ideal customers to flesh this out:
What is exactly causing you to face these challenges A, B & C in your company?

Is there a situation in your organizational structure that is an obstacle?

Is the team that you are managing (or working with) contributing to your pain points?

What is lacking in your operations that is hindering you from reaching your end goals?
Knowing this, you'll be able to identify topics that are important to him and steer the narrative towards a direction that will grab his attention!
9) Fears & Objections 
Everyone has mental blocks and objections to why they can't purchase your solution.
Your job is to be a detective and determine what are the mental barriers that are stopping them from choosing your solution.
This will determine a critical pillar for your content marketing strategy.
Could it be the pricing of your solution?
Then you'll likely need to create specific case studies that focus on the incredible ROI customers enjoy utilizing your product.
Or maybe it is the fear of a steep learning curve necessary to use your platform.
You'll need to create tutorial content to guide your users along and help maximize your platform's benefits.
Ahrefs understands the potential fear of overwhelming prospective customers might have when it comes to the purchase consideration.
So they created an entire resource library of instructional videos to allow prospective customers to wander around aimlessly (as well as helping their new customers gain success using their platform).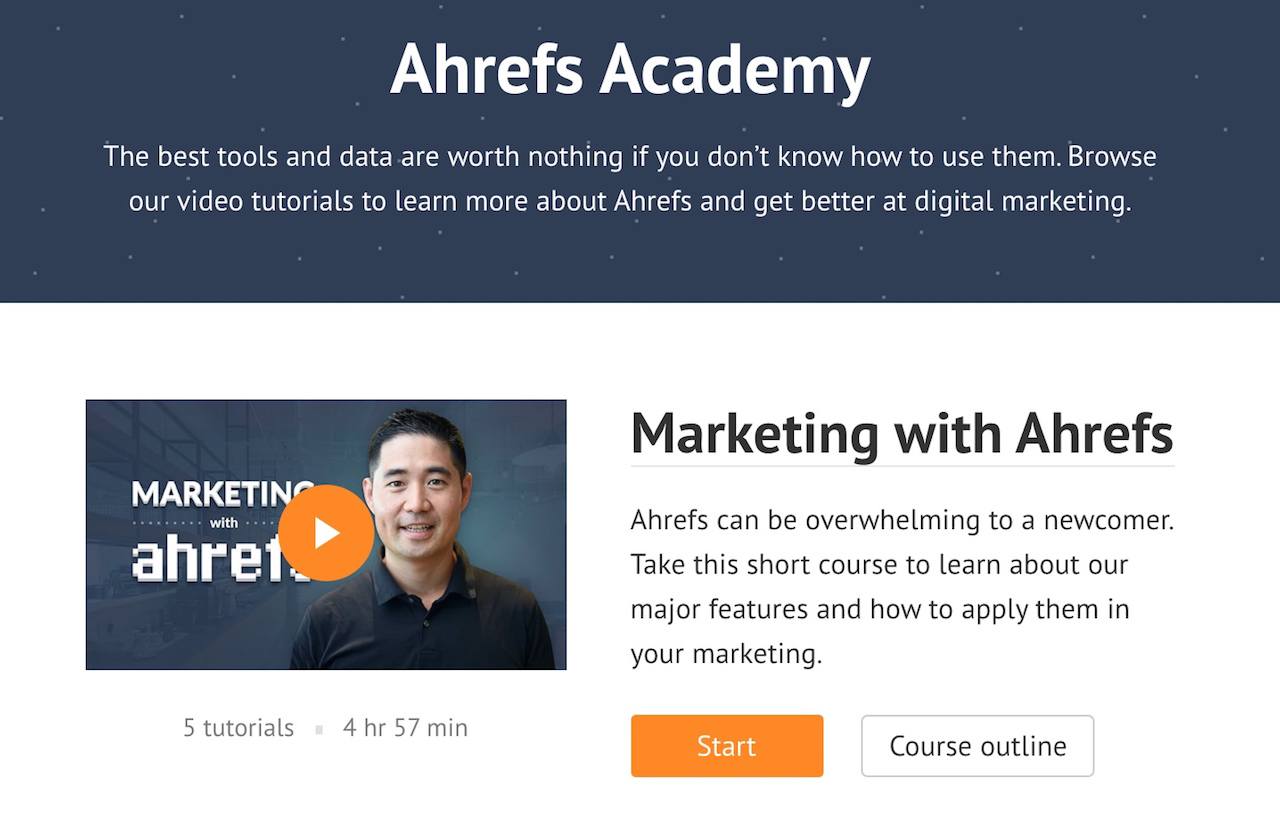 10) Competitor Solutions Being Used
We live in a highly competitive world – and that means your ideal customer probably might already be using a solution to solve their challenges.
This is where competitor research has to be done.
Here are some key questions to consider:
What makes my competitor unique compared to my own?

What are their flaws that are frustrating my ideal customer?

What are they missing from their core features that my solution covers?

How are they communicating and marketing to my ideal customers?

What are their best performing (or well-received) content?
How do you use this information?
Take a page from Asana's playbook.
Knowing the core features of their competitor allows Asana to cleverly craft customer success stories on their blog post that brought up on the drawbacks of their competitor, Trello, while hyping up their own features that helped their customer.
11) Purchase Approval Process 
It is quite rare for only one decision-maker to immediately approve the purchase.
In fact, the more expensive your solution and the bigger the organization you are selling to, there will naturally be a longer sales cycle which will involve more layers of purchase approvals.
Your sales cycle in your buyer's company could very well be:
Taking the users on a demo

Initiating a free or paid-trial

Presenting a proposal for the management decision-makers

Negotiations

Internal budget and legal approval

Purchase approval obtained
The more you can outline the purchasing process in your buyer's company and the steps that are needed to evaluate your solution in order to close the deal, the better you can tailor your content marketing strategy to shorten and smoothen your customer's sales journey.
Thoughtspot cleverly creates in-depth case studies that will help decision-makers see the process of using their solution and the ROI they can potentially enjoy – helping to accelerate the approval process.
Step 2: Conduct Research & Get Answers To The Above Attributes
Now that we know the attributes, it's time to bring out our inner Sherlock Holmes and find the answers we need!
Here are 5 effective ways to get started with your buyer persona investigation.
Throughout the research process, be sure to have a copy of the 11 attributes laid out earlier to ask highly relevant questions to get the answers you desire.
1) Interview Your Existing Customers
Conduct a professional interview with a combination of happy customers and those that aren't entirely satisfied with your solution.
For the happy customers, look for the ones that are paying for your most premium services or products. Learn the reasons why they have signed up and what is important to them.
It could be something as simple as efficient customer support – a key piece of information to play up in your content creation in the future.
For the ones that have left or are about to leave, understand what made them unhappy and why they decided to go with another solution.
It might be something like the lack of tutorials on getting the most out of your features. Definitely something you'd need to handle in your upcoming content strategy revamp.
2) Research Your Buyer Roles With LinkedIn
Thanks to LinkedIn, investigating your ideal buyer has never been easier – especially when it comes to their roles and responsibilities.
Through their search filters (in LinkedIn Sales Navigator) and other nifty tactics, you'll be able to have an in-depth look at the companies you are targeting as well as the exact job titles of your ideal buyer.
You'll be able to sieve out your ideal customer through search filters that include:
Go through their LinkedIn profiles and pay attention to their responsibilities in their current role, the type of content they are engaging with (as well as content they are publishing) as well as the professional groups they are in.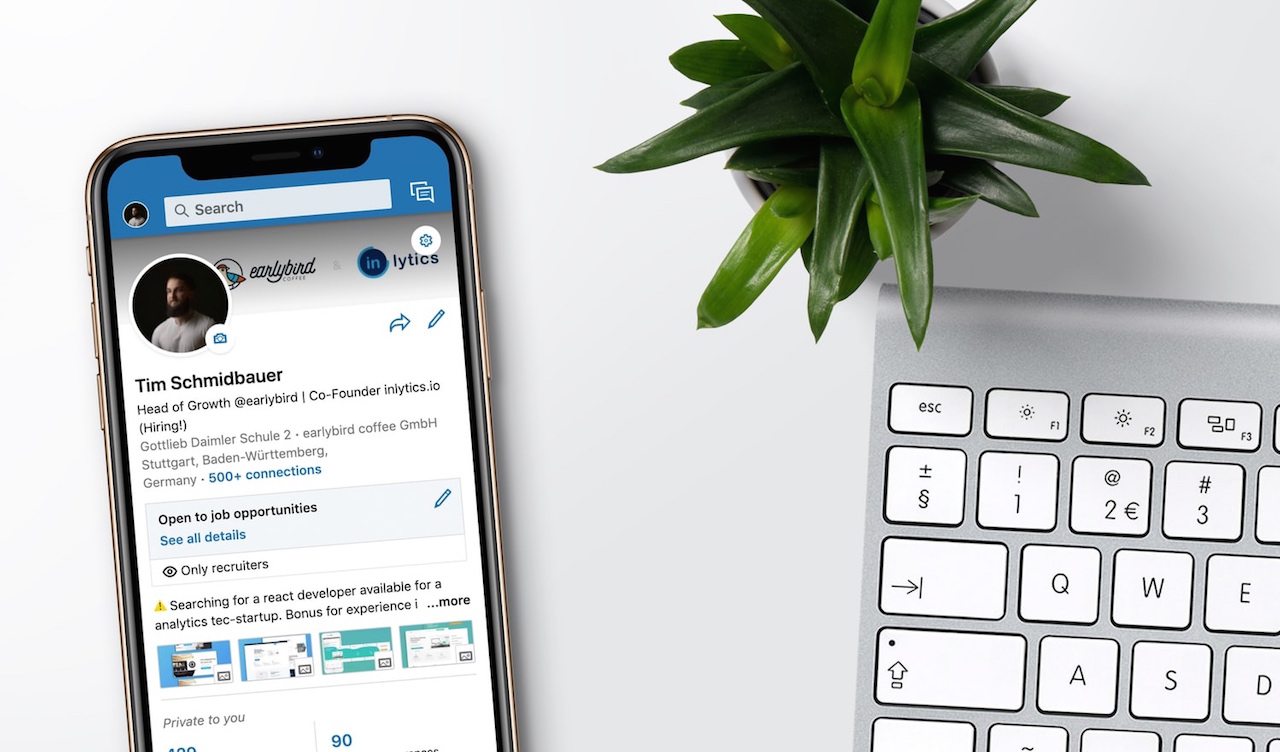 3) Utilize Lead Capture Forms Effectively To Collect Key Information
A great way to understand the demographics of your buyer is to intelligently utilize your lead capture forms from your resources such as gated case studies, ebooks and even your 'contact us' page.
Since the reader will be exchanging their email for a download, this alone shows a higher level of accuracy compared to any guesswork you might do.
Be sure to list down in the fields the key information you'd want to capture.
These can include:
Qlik cleverly uses their gated content (webinar in this case) as a way to better understand the prospective buyers who are showing interest in their content.
They also ensure their forms aren't too long and only the essential information they want are requested.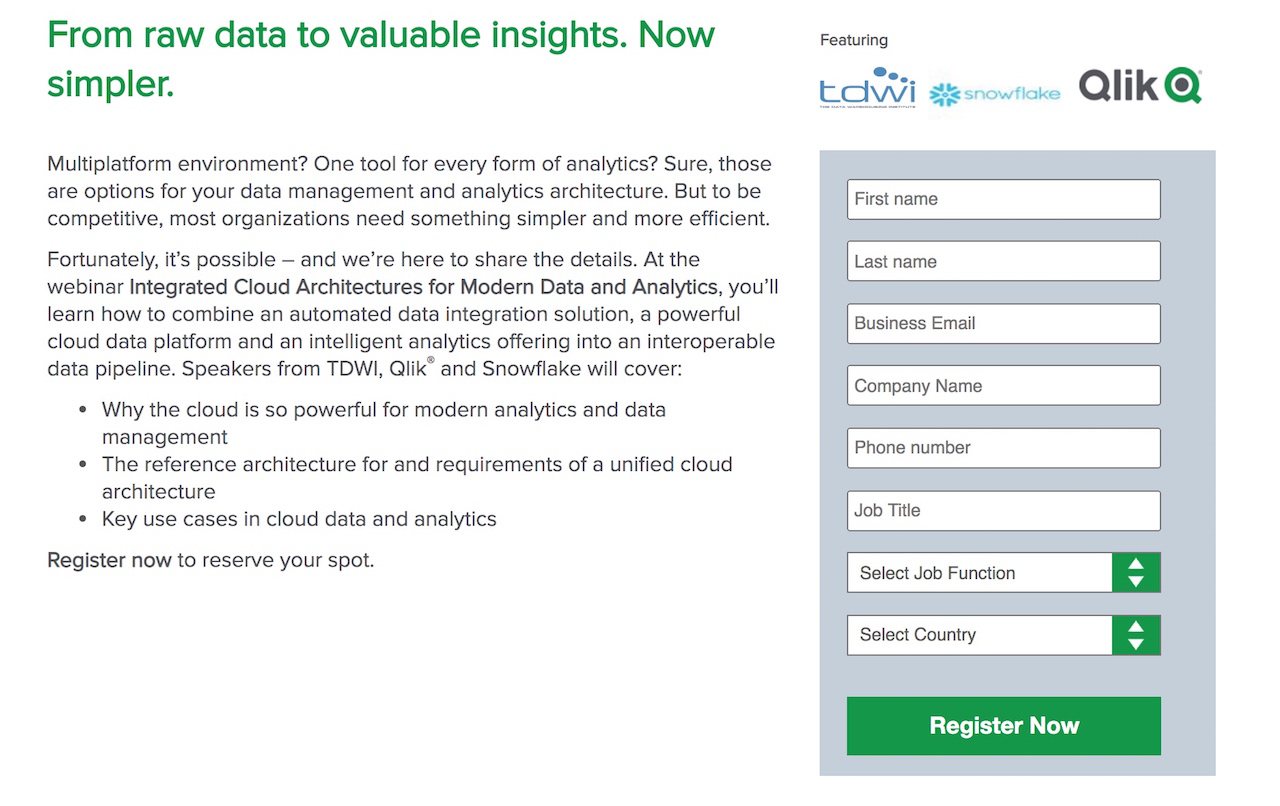 4) Sit Down With Your Sales Representatives
Whether they are an inside sales rep booking appointments or a sales manager tasked with closing the deal, they are the people that have the most time speaking with your customers.
They will know intimately what your prospect likes and hates. They'll immediately be able to spot opportunities in the industry as well as understand the challenges the customer faces every day and wants to solve.
This is perhaps one of the most qualitative data you can gain compared to searching online for answers.
Be sure to guide your sales team through the dialogue process with the 11 attributes above with questions such as:
"What does the customer hate about their current service provider?"
"Which are the easiest (and hardest) type of customers to close?"
"How long is the typical sales cycle and who really makes the purchasing decision?"
5) Research Into Your Competitor's Content
Unless you are selling a time-travel machine or something equally novel, you'll have competitors out in the market that are already marketing to the customer you want.
Thankfully, you can use various tools like Ahrefs to discover the top-performing pages and content of your competitor.
This shows how popular a particular topic, feature or use case is to their audience. You should pay attention to this.
However, you'll need to research their entire sales (and content) funnel and not just on the popular top of the funnel that drives the most traffic.
Let's say I'm selling a team management tool software and one of my competitors is Clickup. 
I'll simply investigate (using Ahrefs) the most popular content on their blog, resources and commercial pages to understand what their customer is most receptive to.
One look at their blog and I can spot three topics that give me valuable insight into the psychology of my ideal customer to better flesh out my buyer persona:
They care about Gantt Charts as a feature

They are using Evernote as a solution and are looking for alternatives

They also use dapulse as a solution
Investigating their solution's features also tells me the top 3 features that are really popular: Notepad, reminders and Gantt charts. So I'll be sure to create content pages or posts around these features if my solution has them.

Step 3: Create 3 – 5 Buyer Personas & Make Them Visual
While the number of buyer personas depends on how wide your offerings are as well as your own marketing resources, a good rule of thumb to start with would be at least 3.
Having fewer than three just won't cut it as realistically, not all three will hit the home run and you'll probably need to tweak and continuously improve them.
Anything above 5 however, would cause more complications than you need, especially if you are just starting out with your content marketing strategy.
Once you have decided on the number, here comes the fun part – you get to dress up and turn your buyer persona into a visualization!
The first that we recommend is Hubspot's 'Make My Persona', it's free and rather easy to use.
All you need to do is to select answers from a pre-made list or key in your own answers after you go through our 11 attribute list.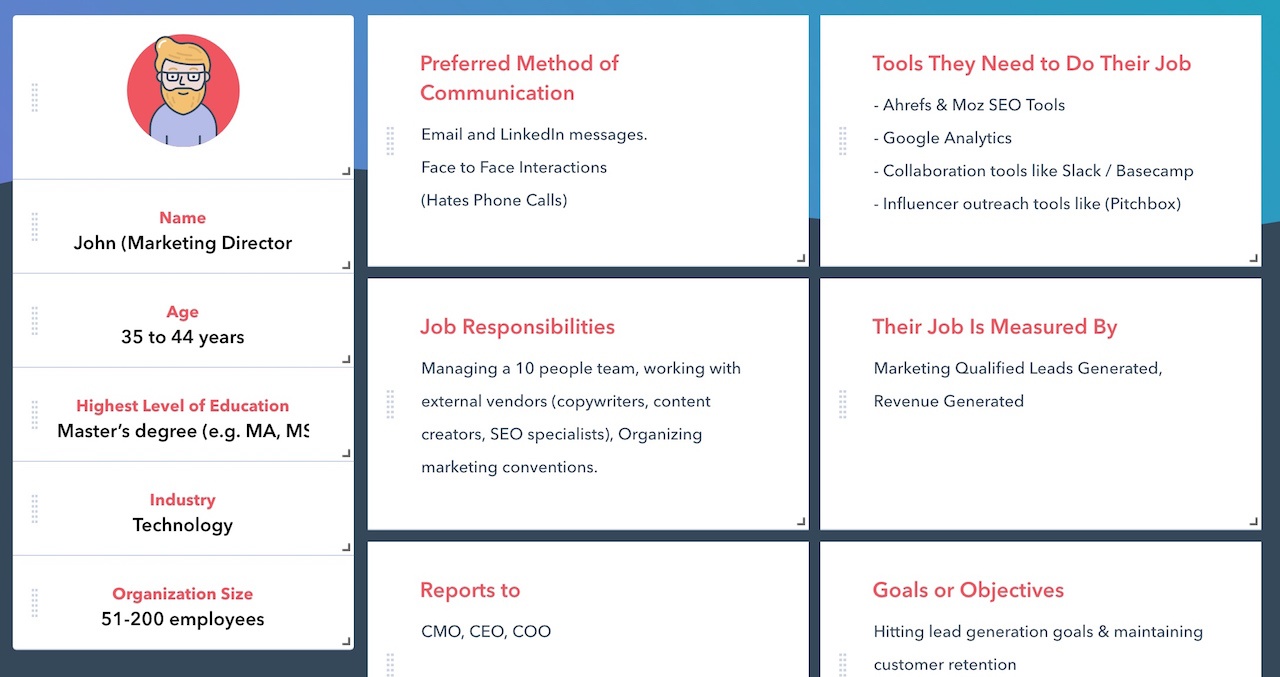 The next persona builder you can use is Xtensio's persona builder. Using this, you'll be able to build and customize your persona's visualization with competitive analysis, bar charts and fill-in-your-own information text blocks.
This will allow you to fully input all 11 persona attributes we went through earlier with ease.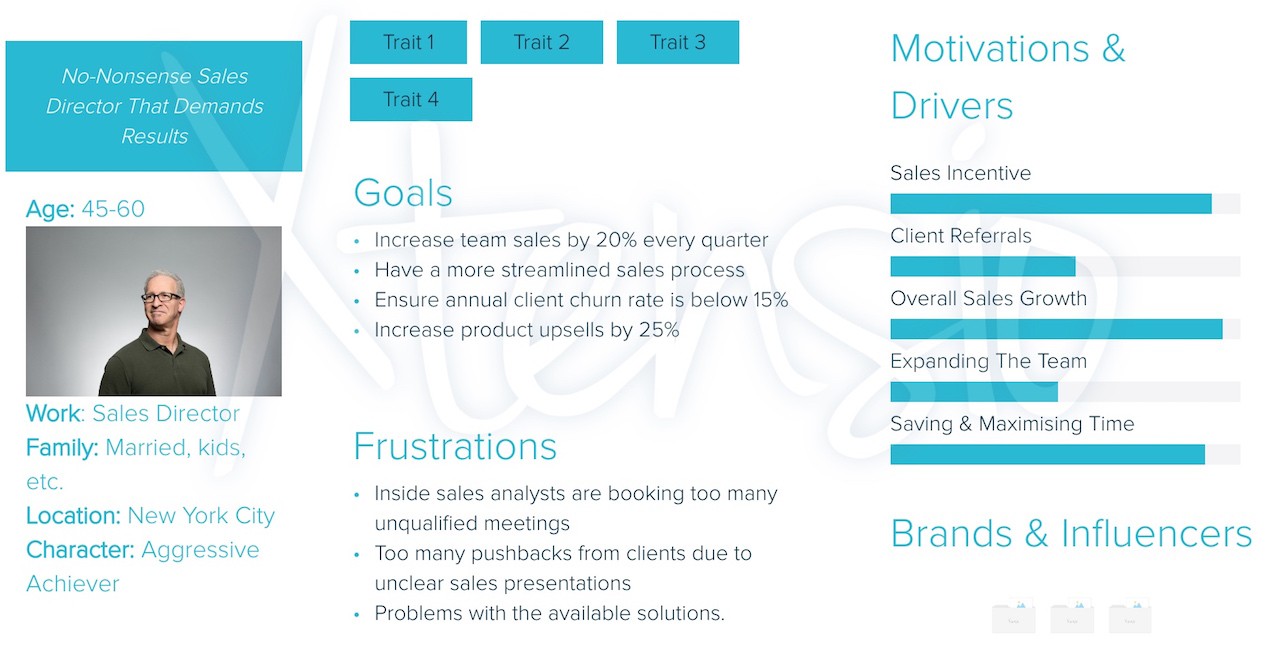 How To Utilize Your Buyer Personas In Your Content Marketing
Now that we have your b2b buyer personas crafted, how do you effectively utilize them in a practical manner that produces tangible results?
Let's go through four of the most direct ways you should utilize your buyer personas in your marketing playbook to generate higher quality leads and sales.
A) Create Customized Content Funnels For Each Persona
The first place to utilize your personas is to create customized content funnels that will lead each one of your ideal customers down a personalized journey.
This will allow you to develop hyper-focused content that will resonate with your ideal customers.
From creating top-level content such as blog posts guides to solve each of their unique challenges to crafting use-cases or case studies that are highly relevant to them, the objective is clear – you want to identify with their desires and needs.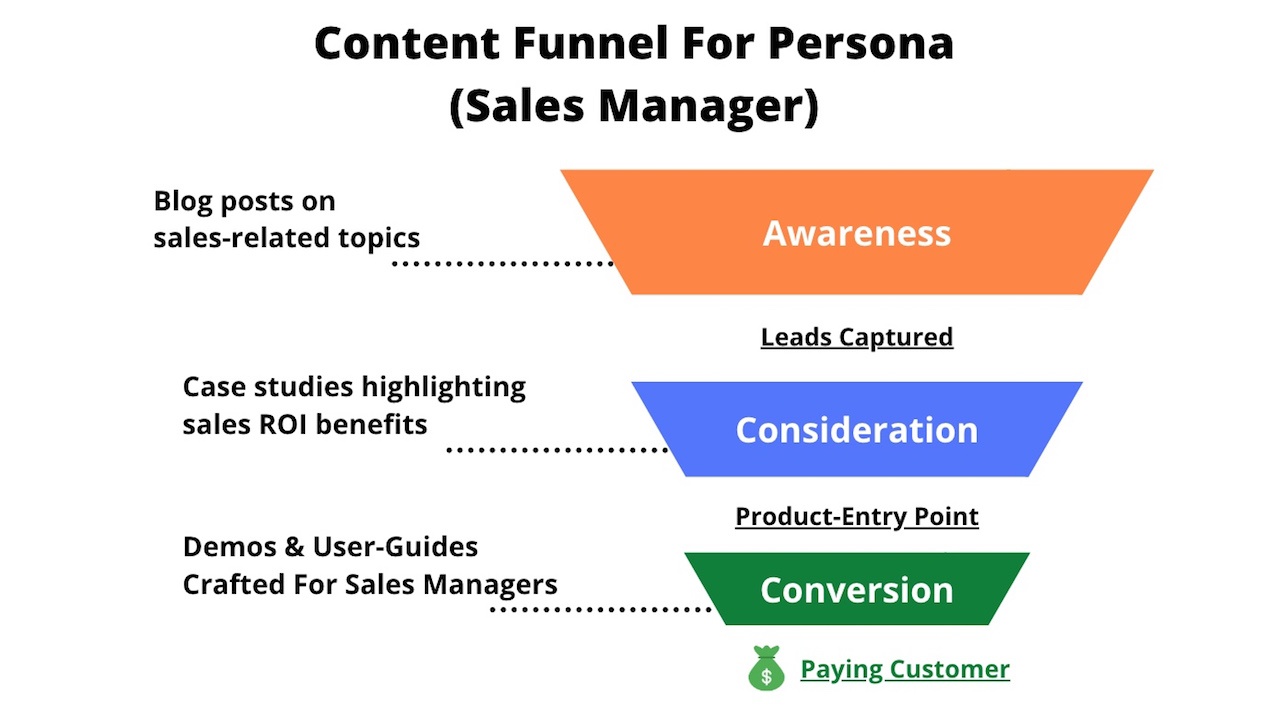 Depending on your resources and the depth of your content funnel, you can customize every aspect of your content materials.
These can range from client testimonials to unique email sequences and the even call-to-action buttons!
Snowflake cleverly creates customized middle of the funnel ebooks to directly tackle key challenges facing the different personas & industries that they are marketing to.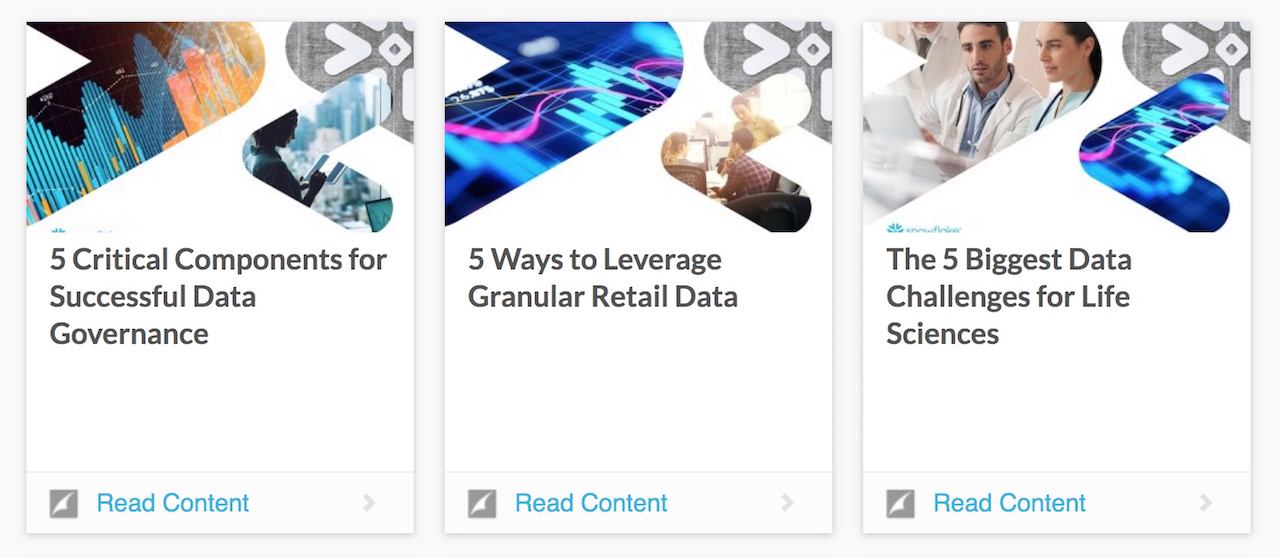 B) Revamp Your Website's Customer Journey Experience
When visitors land on your website, they want to find key information that is highly relevant to them – whether that be use cases, case studies or product feature pages.
The last thing you want to do is to get them to see a general showcase page of your product or service!
Thankfully with your buyer personas ready, you'll be able to point each of your different personas to the key parts of your website with information that resonates with them.
Here are two quick ways you can improve your website's user experience via your buyer personas.
The first is to create a clearer navigation experience on your website (such as the navigation bar) like what VendHq has done.
They allow key customer personas they are targeting to immediately discover why Vend is a clear option for them – saving their ideal customers valuable time hunting around their website and possibly clicking away due to frustration.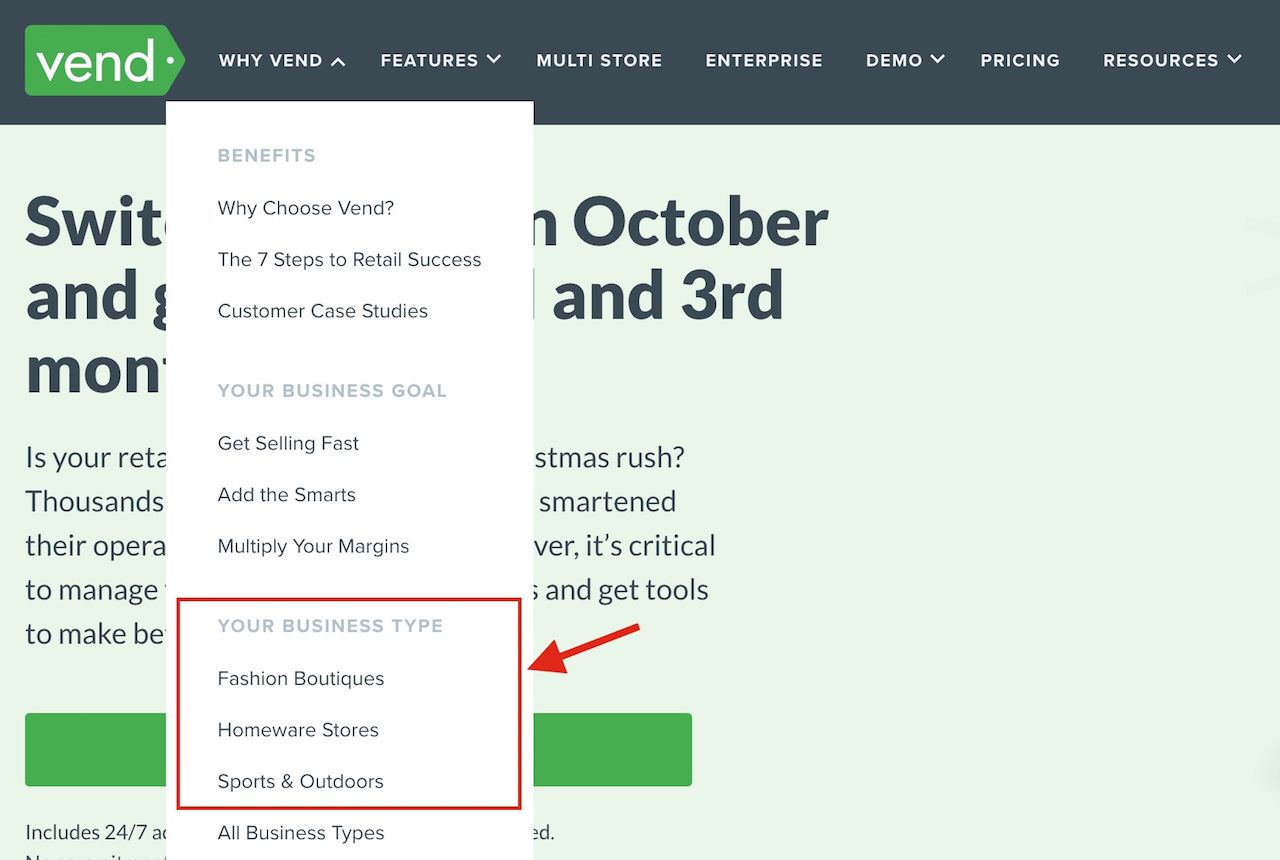 Another great way to improve your ideal prospect's experience on your website is to create dedicated product pages that are specifically tailored to the buyer personas you want to close – like how Monday has done it.
Each of their use case product pages is customized with key information of their platform that is tailored and highly relevant to each of their personas like in the case below, Human Resource teams.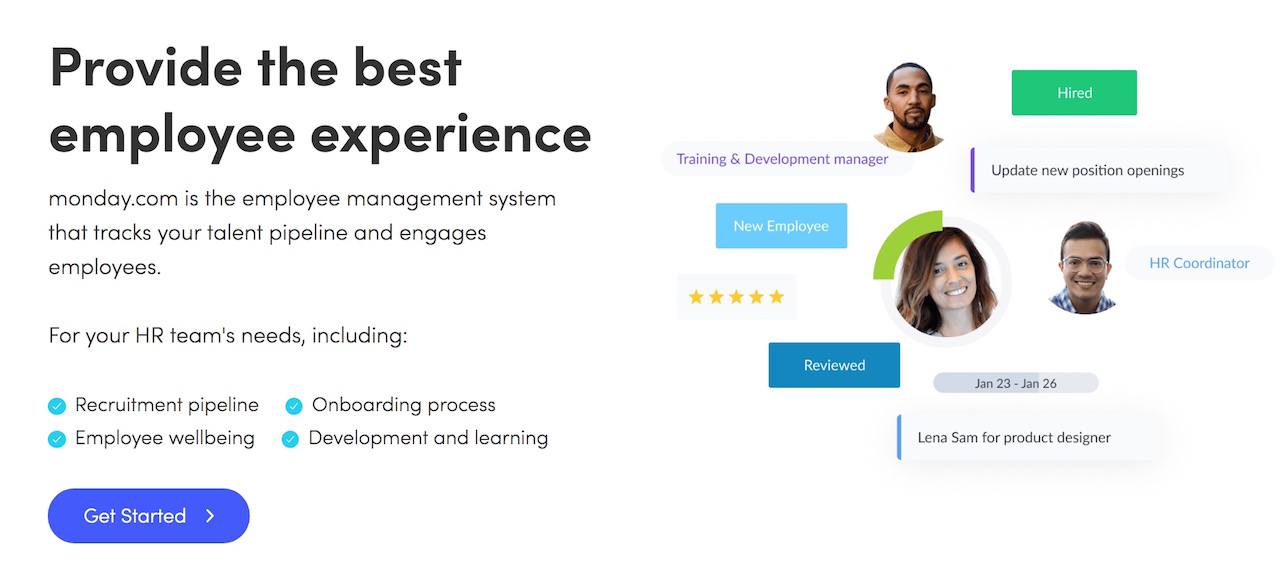 Each of their core features is showcased in a way that solves key challenges that HR executives face in their daily work and operations.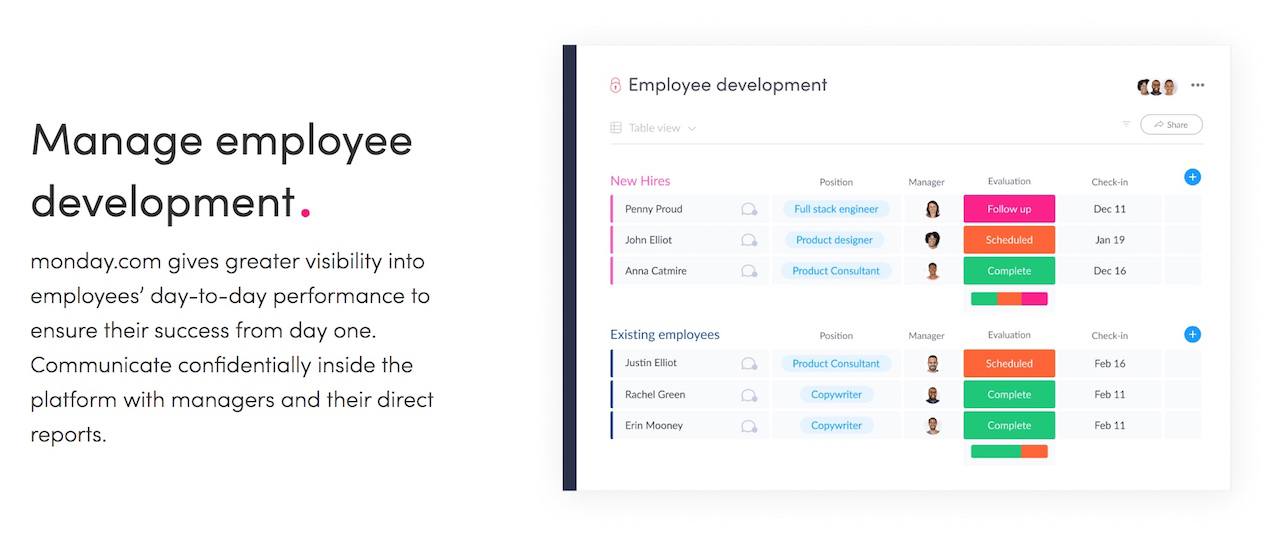 So take the opportunity to relook at your entire website's core pages and navigation. 
Use your buyer personas to customize key resources, information and pages to better resonate with your ideal prospects – which will lead to better conversions!
C) Distribute Your Content In The Right Channels
Understanding your buyers through personas allows you to answer one critical question – where are they consuming content?
While creating content on your website blog or YouTube channel is a good start, you'll need to distribute your content where your ideal prospects are hanging out.
Remember your buyer's 'content consumption preferences' (attribute #4) that we discussed before?
You might find that your ideal customer reads business blogs like Inc, Entrepreneur & Fast Company – that means you'll want to consider creating content for guest-posting on these platforms.
Perhaps the buyer you want is already an existing YouTube audience of an influencer well known in your niche (eg. Neil Patel) – that means you might want to do a video collaboration with the influencer to gain exposure and add value to his/her audience.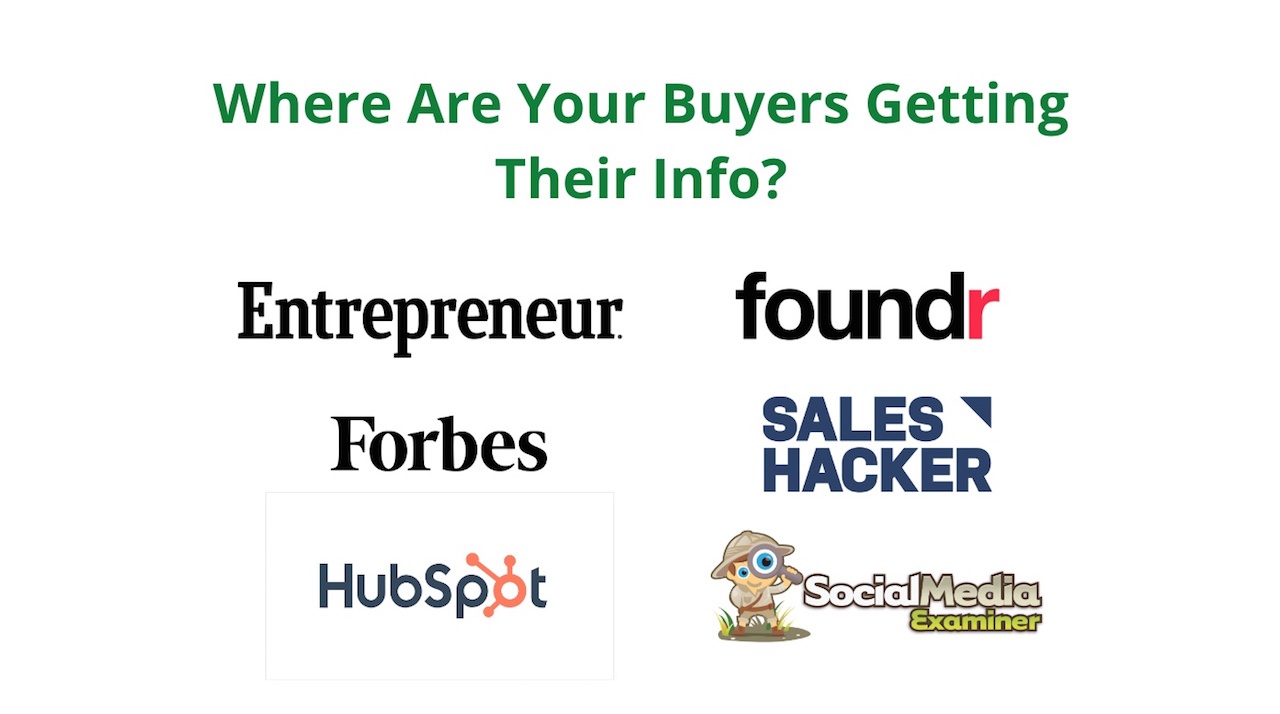 D) Arm Your Inbound Sales Team
Inbound sales specialists are the people on the front-lines trying to convert and close your marketing qualified leads generated from your content and should be the first in line to utilize your buyer personas.
It will allow them to:
Better to qualify leads, saving your organization time and money on prospects that would never close

Cut short the sales process by understanding the stakeholders and decision-makers involved

Preemptively address (or at least be prepared) for potential objections and barriers that might delay or derail the sale.
A great way to start is to present both your buyer persona visualizations and take them through the specific content flow they will have to be aware of where (and how) their inbound leads will be generated.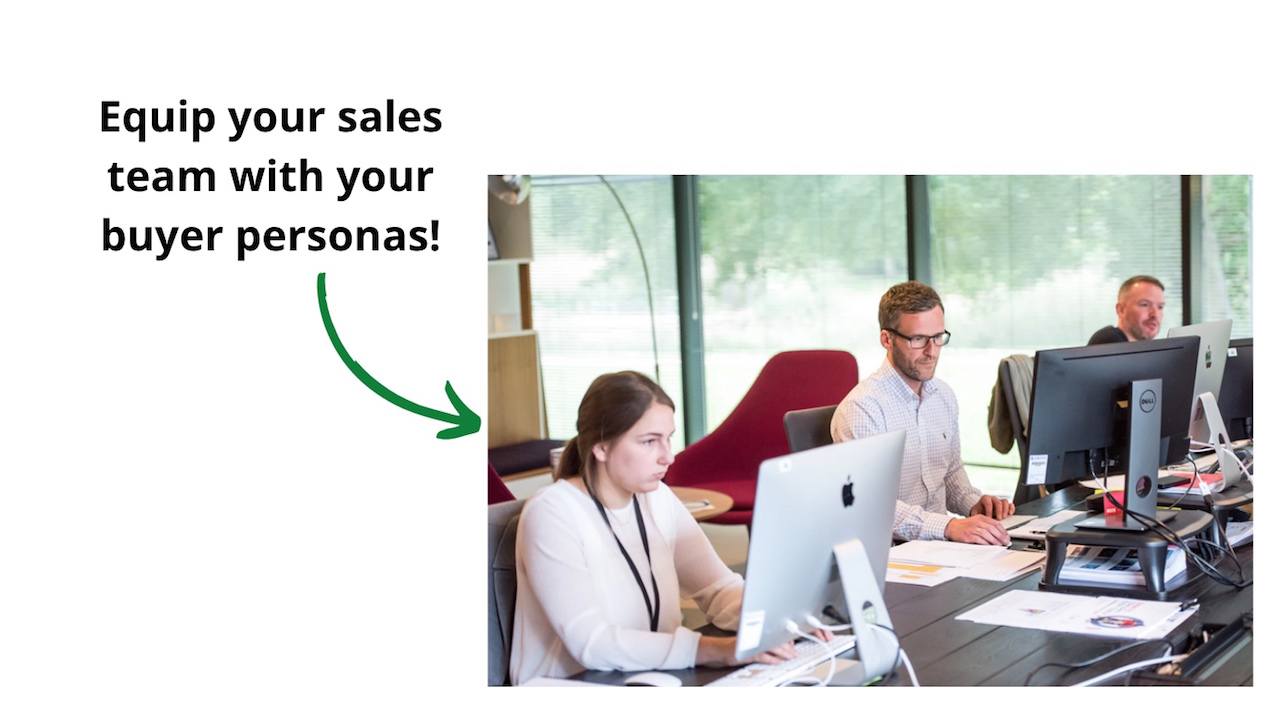 Pro-tip: Work with your inbound sales team to better customize your lead generation forms (such as ebook/webinar sign-up forms) to get the key info they will need to identify which persona type they will be contacting and attempting to convert.
You can even equip your outbound sales team with your content too!
Bonus: Further Maximize Your B2B Buyer Personas Usefulness
Wondering how else you can utilize your buyer personas?
Here are two additional ways to do so that'll immediately add value to your business!
A) Improve Your Outbound Sales Team's Lead Generation
When it comes to B2B sales, lead generation is one of the most critical processes that always needs optimization.
This is where your buyer persona comes in!
Using this, your sales team will be better geared to gather leads online, whether that is done manually on LinkedIn or buying data from providers such as Uplead or Leadiro.
With your buyer persona, your outbound sales team will be able to immediately zoom into the desired company firmographics information as well as the company positions & roles that represent your ideal buyer.
B) Optimize Your Paid Ad Campaigns
Is your marketing team targeting the right audience on LinkedIn, Facebook and Google?
Paid search or social campaigns might have incredible reach, but unless you are targeting the right audience, you might be losing money with every click.
Work with your paid advertising team to optimize the marketing spend with your b2b buyer personas on hand.
This will allow you to effectively have a lower cost per acquisition in your digital marketing efforts as a whole as well as creating highly relevant marketing campaigns that will resonate better with your ideal customers.
Always Be Improving Your B2B Buyer Personas:
Before you celebrate and head off into the sunset – you'll always need to be evolving and improving your buyer personas at least twice a year.
If you feel your content marketing results are stalling (or your sales conversions for that matter), it's probably time to reevaluate your personas.
Some buyers might have changing needs, others might suddenly surface while some might just drop off and stop being your ideal customer.
Here are two quick ways to keep your B2B buyer personas in tip-top condition.
A) Utilize Surveys For Customer Feedback
Ah yes, the good old survey.
While this might seem like a very traditional method, it works well when you ask the right questions.
There are two situations to use surveys – when you onboard a new customer and a touch-base survey once a year at least.
Here are some key onboarding questions you might want to ask:
What is the reason that led you to purchase our product or service?

What is the biggest challenge that you hope to solve using our solution?

Who in your company will be directly using our solution?
For a touch-base survey, you want to be asking questions more related to the customer's experience and if they are experiencing success with your solution.
Here are some key questions:
Which feature of our product do you like the most and why?

Which feature are you unsure about or have not really utilized?

Have we fully solved your challenges? If not, what else do you think needs to be added?
The key here is to get both quality in-depth answers as well as note the frequency of the same comment or request recurring.
If it happens, you better want to pay attention to it – your customer's taste or needs might be evolving right under your nose!
Which survey tools should you use?
If you want to go paid and professional give SurveySparrow, SogoSurvey or SurveyLegend a try.
Make sure that any tool you use allows you to customize your survey form as well as setting up recurring surveys so that you can automate the process.
If you are on a budget, you can simply utilize Google Forms to get the job done as well. 
B) Regularly Communicate With Your Sales & Customer Service Teams
Encourage collaboration and communication between your marketing, sales and customer services departments.
These three departments should freely provide information on:
The challenges in closing a particular client type

The problems or complaints clients have with your solution

Common questions clients have regarding reaching their goals
Just ensure that this dialogue between teams is frequent, scheduled and not just a one-time event!
Let's Put It All Together With One B2B Persona Full Example
Here's an example of the 11 attribute buyer persona in action.
We've removed any fancy design or visualization so that you can focus on the content and understand what a fully fleshed out persona should read like.
Let's say you are selling a CRM (customer relationship management) platform specifically for sales executives and the niche you are targeting for this persona is in the insurance industry.
Attribute 1: Buyer Demographics
Name: Gabriel
Gender: Male
Age: 38
Annual Salary: US$250,000
Highest Education: Bachelor's Degree
Housing: Condominium in the city-centre
Attribute 2: Firmographics
Gabriel works in an insurance company.
Company Size: 200-500 employees
Annual Revenue: $100 – $200 million
Company Location: USA
Industry: Life insurance
Services Provided: Life, term, health and investment policies
Their Target Customers: Working adults working in the city
Attribute 3: Position & Responsibilities
Role: Director of Outbound Sales
Professional Skills: Financial advisory, health advisory, lead generation, prospecting, lead qualification, client engagement, relationship management
Work History: Previously headed other departments of sales, from inside sales to account management. Have a full suite of knowledge of the entire sales process.
Responsibilities: Leads a 35 person team of financial advisors and sales managers while managing a pipeline of over 1,000 leads a month.
Organisational Fit: Reports to the Managing Director, COO and/or the CEO. Works laterally with the Inside Sales Director and the CMO.
Attribute 4: Content Consumption Preferences
Where does he look for information online?
Google search & LinkedIn (The rest of the time, he is at industry and sales conventions)
What type of content does he prefer to consume?
Written content
Which publications or blogs does he frequent?
LinkedIn Sales Blog, Close Sales Blog, Sales Hacker & Fast Company
What type of content does he prefer to consume?
Short form blog articles & thought leadership style content
Attribute 5: Goals & Motivations
In a nutshell, this is what Gabriel wants and what drives him:
"I want to close a higher percentage of my leads and hit both my team and my personal incentive targets. This would mean a higher bonus and possible chance of advancement. At the very least, I want to show that my sales process is effective so that I can expand my financial advisory team to engage more prospects and make a name for myself & the department.
To accomplish that, all my leads will have to be engaged in a timely manner as soon as I get them from the inside sales team. In addition, they will need to fully understand the options available to them and to be in constant contact with my financial advisors. Insurance is a tough industry, so we need to be very efficient."
Attribute 6: Success Metrics
These are Gabriel's success metrics that matter in his company:
Total number of policies sold

Number of leads converted into sales

Client retention

Referrals

Average Size of sale

Number of meetings booked
Attribute 7: Pain Points
These are Gabriel's pain points that are affecting him on a daily basis in his job
Getting his team to close more sales without his presence

Getting his team to engage clients earlier and faster so as to not miss opportunities

Having a way and a system to qualify and rank the seriousness of his prospects

How to cut down on no-shows for sales meetings

How to effectively increase his upsells (no more selling just basic policies)
Attribute 8: Daily Obstacles
These are the daily obstacles Gabriel faces that are causing his pain points
Every financial advisor are setting their own appointments independently without oversight

The right advisor and sales representative might not be tackling a prospect that is more suitable for their style & expertise

No effective follow-up system to prospects still in the consideration stage

No system for satisfied customers to introduce referrals

The pressure to meet weekly targets causing more aggressive sales tactics

Has too many meetings with management executives
Attribute 9: Fears & Objections
These are the mental blocks that'll cause Gabriel to not try or buy your solution:
Hates a steep learning curve & has limited time to learn a new software

Doesn't want to commit to 'paying-to-try

Unsure if his sales team will be receptive to give the solution a try

Doubtful if the platform will be 'sticky' (frequently used)

Not sure if the platform can handle the complexity and the purchasing cycle of insurance sales
Attribute 10: Competitor Solutions Being Used
These are the competitor solutions possibly being used by Gabriel and his team:
Slack (for collaboration)

SalesForce (for CRM)

Freshworks (for deal management)
Attribute 11: Purchase Approval Process
This is the approval process that exists in Gabriel's organization:
Gabriel is taken through a demo

Gabriel's team are given a free-trial for 7-days

His team comes back with feedback to Gabriel

A proposal is given to him

He presents the proposal to the key decision-makers (COO, CFO)

He gets internal budget approval

The solution is approved
Estimated sales cycle to be 30 – 60 days.
And there you have it, a full B2B buyer persona!
While it might seem like quite a bit to craft from scratch, it really isn't too difficult if you take it step-by-step.
Remember to get the rest of your sales and marketing team involved so that you can create a well-defined customer persona that is fleshed out nicely!
Attain Content Marketing Success With A Solid B2B Buyer Persona
Content marketing isn't easy (or cheap) and if you want to succeed in the long-term, you need to accurately define your buyer personas from day 1 and continuously improve them.
If you need help to create one or to handle the content marketing process for your brand – we can help!
Simply contact us here and we'll be in touch!