The 7 Key Pages All Business Websites Must Have (plus how to write them well)
May 30, 2020 | Sean Foo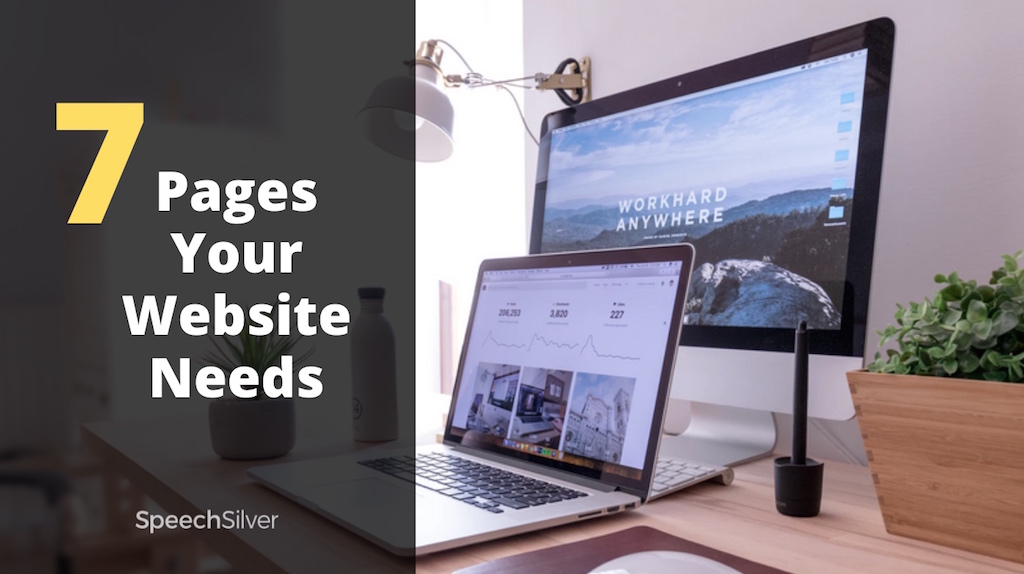 Whether you are a small business or a fast-growing company, your website is your online headquarters where all the action happens – generating leads and closing sales of course!
But in order to do this well, your visitors need to know key compelling information about your brand and what you do including:
What you have to offer

How your products and services can help them

How to contact you

What is your background story & mission
And all these can be showcased in seven critical pages your website must have.
Let's dive in!
The 7 Key Pages Your Business Website Needs 
1. Homepage
2. About Us Page
3. Products & Services Page
4. Opt-in / Lead Generation Page
5. Blog Page
6. FAQ Page
7. Contact Us Page
1. Home Page
Your homepage is the first thing your visitors will see – and that means you'll need to make an awesome first impression!
In addition to ensuring that your audience clearly understands what your business is about and what you have to offer them, your homepage has to be navigation-friendly.
That means your visitor shouldn't be on a treasure hunt when finding information about your business – if they want to learn about your brand's history, it must be crystal clear on where to click.
Xero's beautiful homepage has an intuitive navigation bar that gives clarity to visitors on where to go to find the information they need (be it pricing or product features).
In addition, the headline in their hero section clearly informs visitors on what their business is about, who their service is targeted to and the big benefits their solution delivers.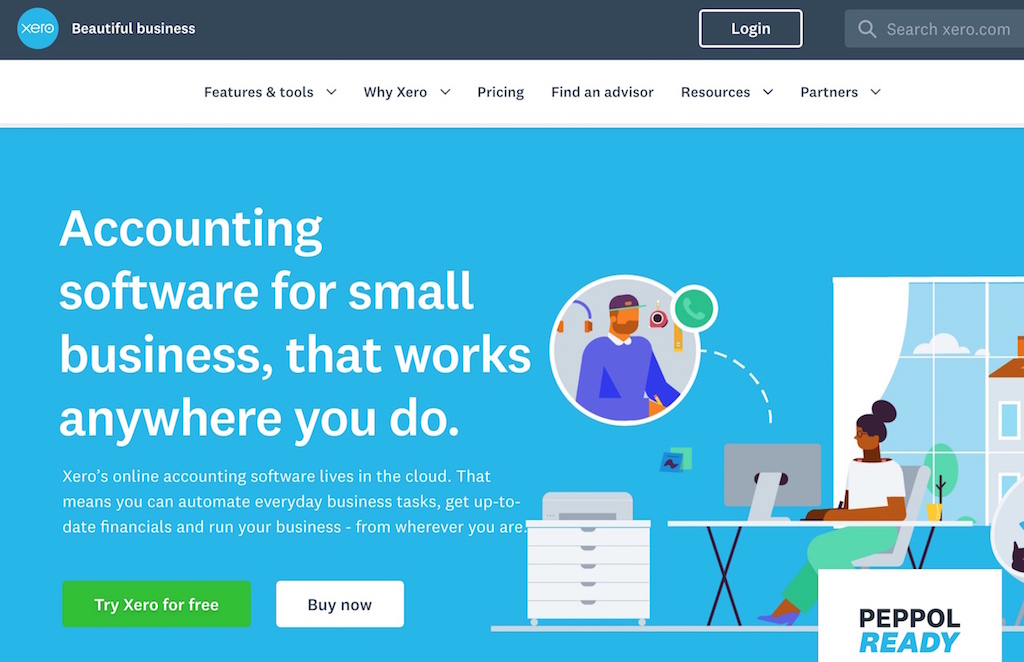 Three elements your Homepage needs:
– A powerful benefit-driven headline to engage with your visitors and get them clear on how you can help them.
– Social proofs: Do include various forms of social proof such as media mentions, customer logos, customer testimonials or endorsements.
– A call to action to capture leads & enquiries: Don't forget this! You want to help make it easy for your prospect to get in touch with you.
Tips to write an effective Homepage:
– Optimize your copy for scanning: That means writing concisely and to the point.
– Write conversationally and personalise your approach by keeping the language and sentences short and simple.
Discover how to write and structure your homepage from scratch.
2. About Us Page
Did you know that over 52% of your website visitors view your About Us page the moment they land on your website?
That makes it one of the most visited pages on any website!
Readers not only want to know what your brand and business stands for, but more importantly your origin story.
While you might be tempted to sound corporate and all 'high and mighty', don't! 
Use this chance to intimately connect with your reader and make them feel as if they know you and understand you and see your brand as part of themselves.
MailChimp's about us page starts off with a compelling story from their founders that highlighted their roots and origins, and mission towards helping small businesses and what inspired them to create a solution that their customers love.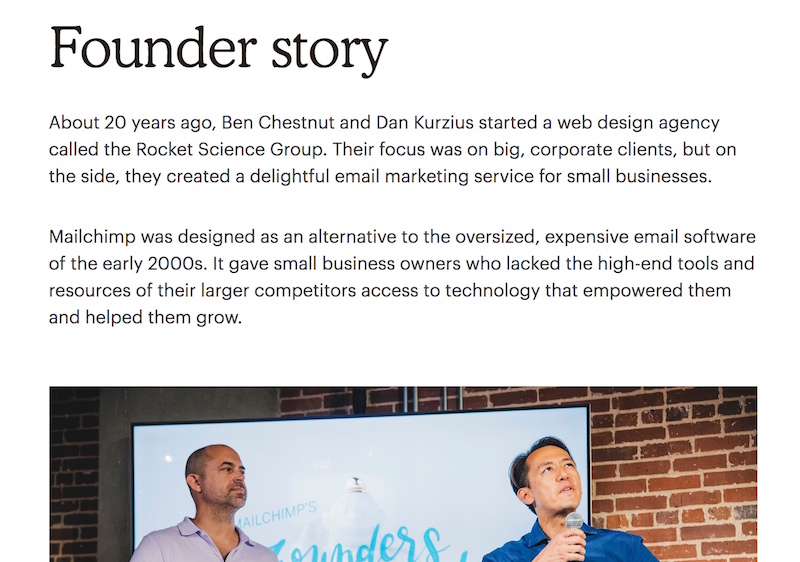 What to include in your About Us page:
– A group photo of your entire team (or at least yourself) to build trust and that human connection with your customers – no one likes to do business with a faceless corporation!
– Showcase your company culture and what you stand for. Does your company organise community events or help out at charities? Let the world know.
Tips to write an effective About Us page:
– Structure your brand story in a way that relates with your reader by identifying with their struggles and how you turned challenge into opportunity.
– Drop the corporate-speak and write in the first person. You reader wants to hear directly from you and that means you'll have to write as if you are talking face-to-face.
Here are 21 more examples of awesome About Us pages you can draw inspiration from.
If you are crafting your About Us page from scratch, you're in luck! Here's a full guide to take you through the process!
3. Products & Services Page
Also known as your 'money pages' these are where the bulk of your conversions will happen –  that means writing compelling sales copy to inspire action.
Whether you are selling products or services, you will have to hit both the emotional buttons and tackle the logical brain of your customers.
That means writing killer descriptions that lead with the benefits and then justify them with the features.
An optimized product or services will give your readers all the information they need to know in order to make a purchasing decision – customer experience is key here you have to put your best foot forward!
Leadpages's product page utilizes fantastic descriptions of their platform that leads with a benefit that addresses a challenge their prospects have, creative freedom, and then justifies them with key features that make it happen.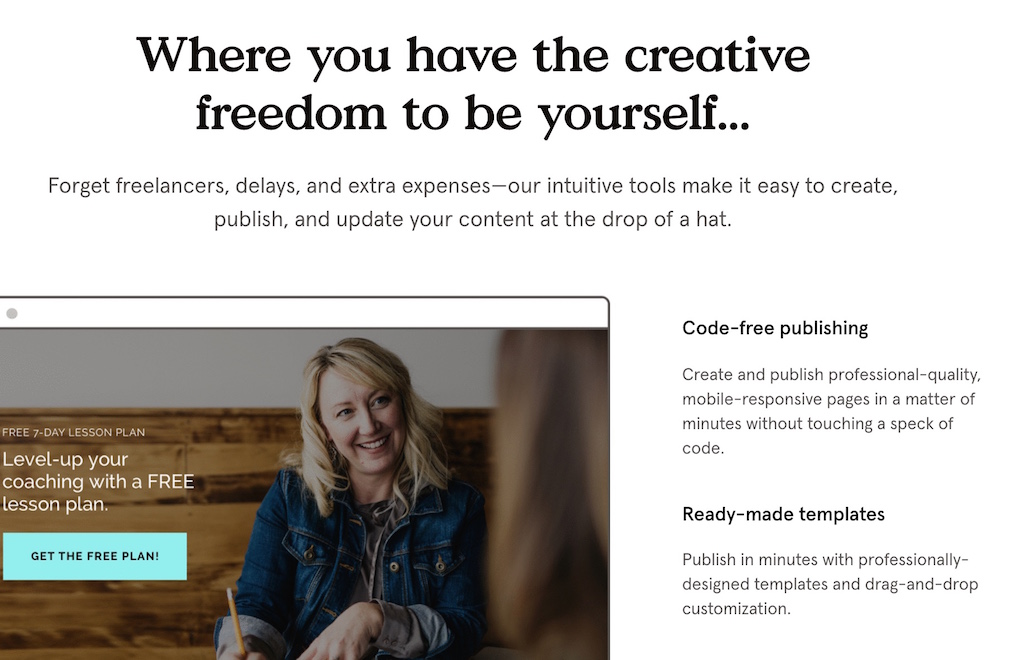 In addition, they also showcased key features of their product that matter of their customers, giving as much information as possible to up the perceived value of their solution.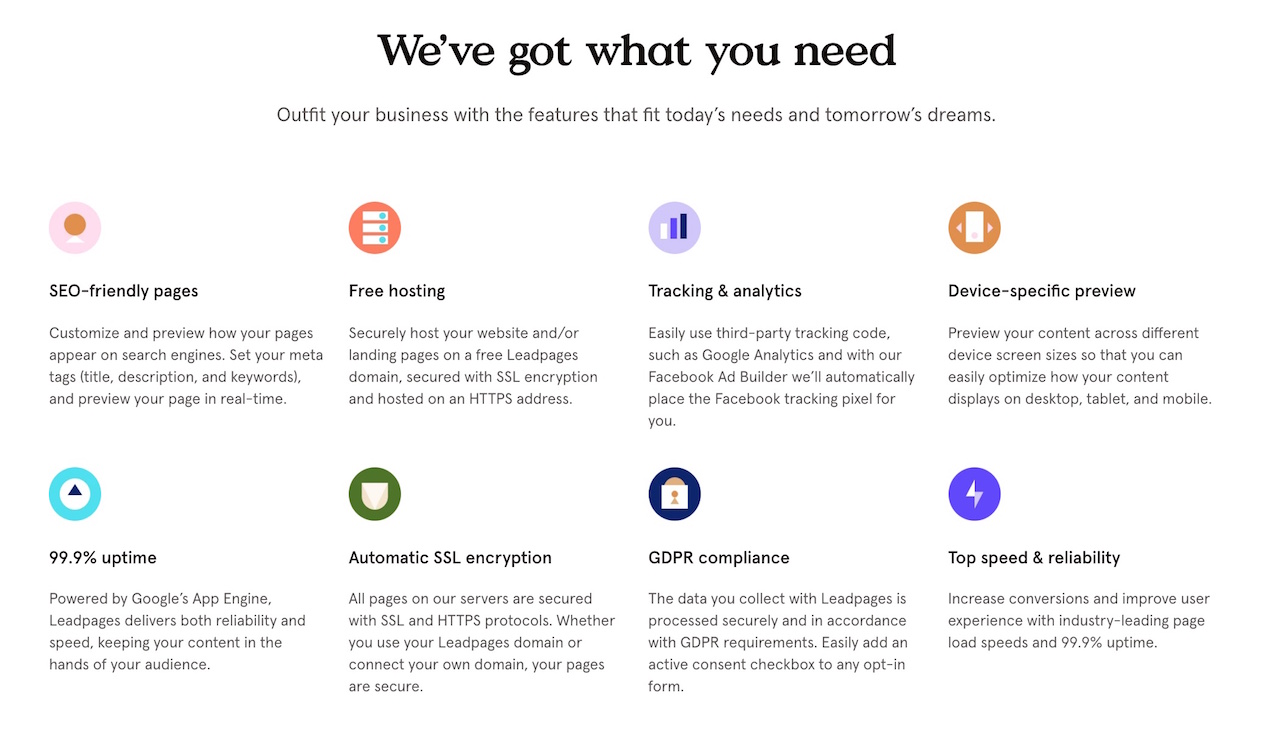 3 key elements to include in your Product / Service page:
– If your solution is more complex, link out to specific information pages with your product or service pages that explain key individual features better instead of bombarding your readers with too much content.
– Use testimonials that your readers can identify with. They should fit the customer persona that you are trying to attract: if you're trying to get a marketing manager to convert, your testimonials should be from other marketing managers of well-known brands!
– Strategically place your call-to-action or lead generation forms on the page to make it easy for your prospect to immediately take action and buy.
Tips to write an effective Product or Service page:
– Pre-empt and address the biggest customer objections in your page's sales copy. These can be competitor comparisons all the way to money-back guarantees or offering a free trial.
– Be specific with your benefits and claims instead of being vague. Highlighting a "53% time-savings in your team's workflow" is more convincing and hits harder than just merely stating "Enjoy higher team productivity".
4. Opt-In or Lead Generation Page
Building relationships with your readers and customers today is key and the best way is through capturing their details (such as an email) and nurturing the relationship with content marketing.
In fact, nearly 50% of buyers today will need to consume three to five pieces of content before buying!
This makes your lead generation page an important tool that is essential for your business website.
Your opt-in offer could be anything from:
A free delivered sample of your product 

A download of your e-book

A free website audit
And the key here is to convince that your freebie or opt-in offer is attractive enough for them to sign-up and exchange their email address for it.
Vend's opt-in page for their 'Selling Everywhere' guide is structured like a landing page, giving the reader an idea of what is in the guide, how they will benefit from it and most importantly a prominent call-to-action email collection form.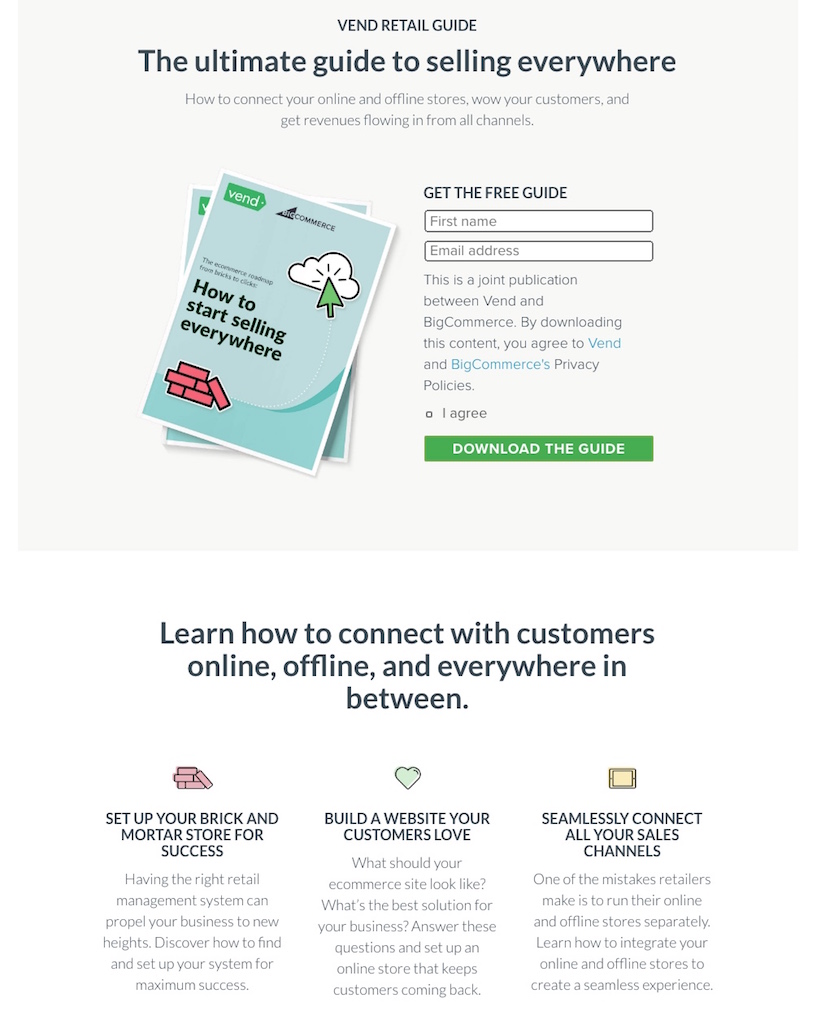 What to include in your Opt-in page:
– Let your reader know what will happen when they sign-up for your offer. Will your ebook be delivered instantly through email through a download link? Will your product be shipped directly to their home address within a week? Be clear and specific.
– If you want to go the extra mile, you can also highlight testimonials of industry influencers who are endorsing your free offer, giving your reader that added boost of confidence to take action.
Tips to write an effective Opt-in page:
– Write in an entirely benefit-driven way that highlights what the reader will learn or get, as well as the end goal of the freebie (eg. increasing their sales, building a faster website, fun entertainment etc).
– Use power verbs and in the active voice, especially in your call to action button to spur more conversions. Think 'Grab Your Free Guide Now!' vs 'Download Here'.
5. Blog Page
If you are looking to drive organic traffic to your website as well as nurture your readers into paying customers, you'll need a blog page.
A blog page allows you a base or headquarters to house all of your brand's content such as:
Informative content articles 

Customer case studies

Webinars and video tutorials
Depending on how big your blog currently is or how you want it to grow it, you need to first define the goals of your blog before you can have an effective blog page:
Are you at the point where converting readers is the priority?

Perhaps you are trying to get your first 10,000 monthly traffic and building awareness of your brand?
A mature and effective blog page will clearly segregate the different content types to match readers at different stages of the buyer's journey.
Shopify's blog page is an example of a great content hub that allows readers to discover and get to the content that they want.
With clear navigation on the various topics (business ideas, founder stories etc), this helps to appeal to the different type of audiences that land on their blog from first time Google search visitors to loyal customers seeking more knowledge.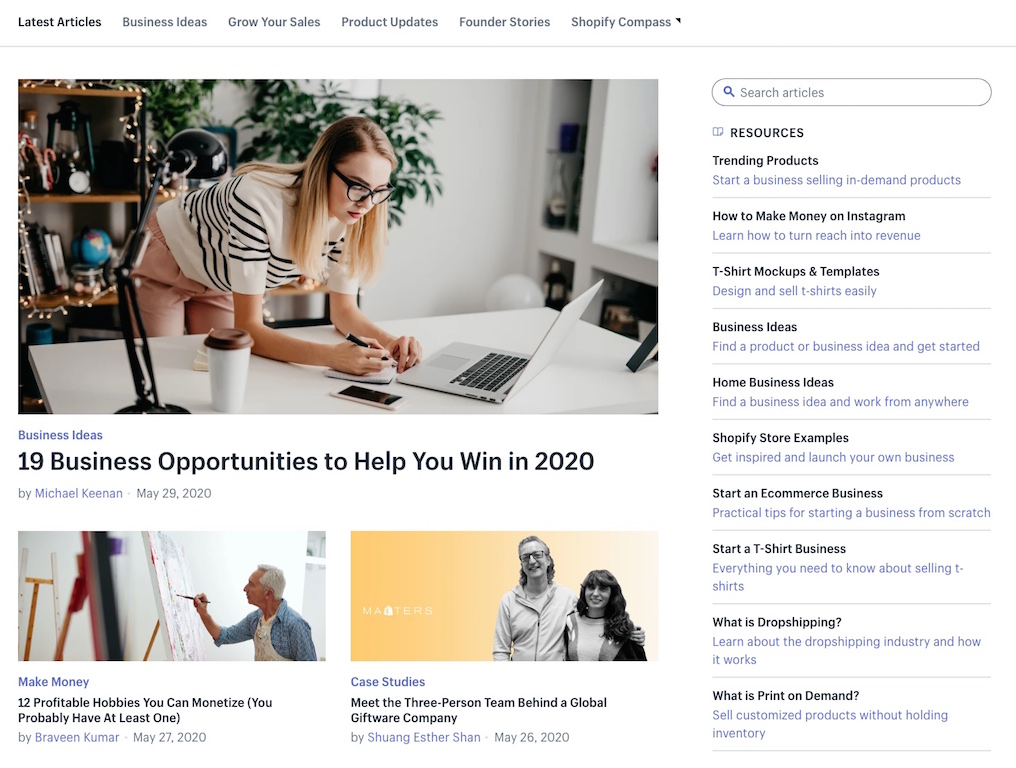 What to include in your Blog page:
– Do take the opportunity to also capture your blog reader's email with a form. Depending on how much value your blog gives, you can simply request it or you might need to entice them with lead magnets.
– When it comes to the content you are showcasing, always aim for a majority to be helpful posts that solve the challenges of your readers or topics that will interest them. Leave your product updates and self-promotion to a minimum or under a separate section.
Tips to write an effective Blog page:
– Good blog pages understand the importance of 'breathability and white space' and only showcases the headlines of your blog article to draw in clicks. So focus on writing powerful benefit-driven headlines that incentivize readers to learn more.
6. FAQ Page
Everyone has questions, especially first-time visitors to your website that are trying to figure out if your solution or your brand is a good fit for them.
Think of your FAQ page as a resource that allows your business to answer all the frequently asked questions about your business, product, service and everything in between.
An effective FAQ page will help your sales and customer support team save a ton of time answering the same old queries.
In fact, to accurately decide the type of questions to include in your FAQ page, sit down with your customer-facing team and get them to talk about the difficulties, challenges and problems your customer is facing with regards to your solution and their situation.
BigCommerce's FAQ page offers a very simple and straightforward solution to customer queries. Whether you are a big company or small enterprise, there is no need for fancy design here, just get to the question and answer it simply with minimal distractions.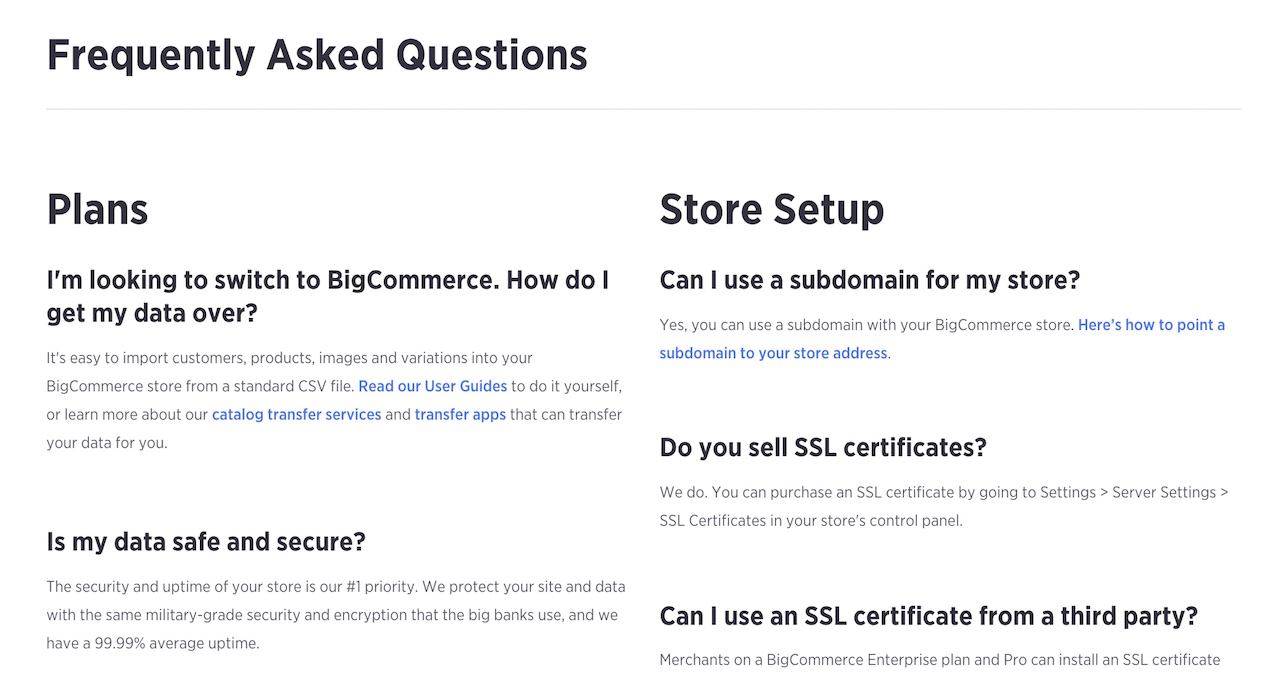 The goal here is to give the customer a great customer support experience and not frustrate them.
What to include in your FAQ page:
– Insert the right relevant links to answers that will need your reader to learn more or head to a specific part of your website to get the full answer or directions they need.
Tips to write a customer-friendly FAQ page:
– Frame your questions in a way that mimics how a customer would be asking or thinking to himself. Avoid statements like "Here is where to get a refund" and use questions like "Where do I request for a refund?".
7. Contact Us Page
Depending on your business, your contact us page can be either as a point to get a lead or to understand more about your customers' needs, wants and how they view your brand.
Let us cover both!
If you are looking to use your contact us page as an alternate way to capture a lead or enquiry, ensure:
You capture all key information you need to quality or disqualify the lead (eg. budget, timeframe, quantity etc).

To get the contact details where your sales team (or you personally) will follow up with. This is most commonly the person's email and phone number.
If you are using your contact us page as a communication channel to build relationships and receive feedback, do give your visitors a variety of options to contact you at.
These can include your email, phone number, physical office address (if you have one) or direct them to your Facebook page where they can also reach you on chat.
GetResponse's contact us page is used as a lead generation or enquiries page where big enterprise clients can contact them to get custom solutions.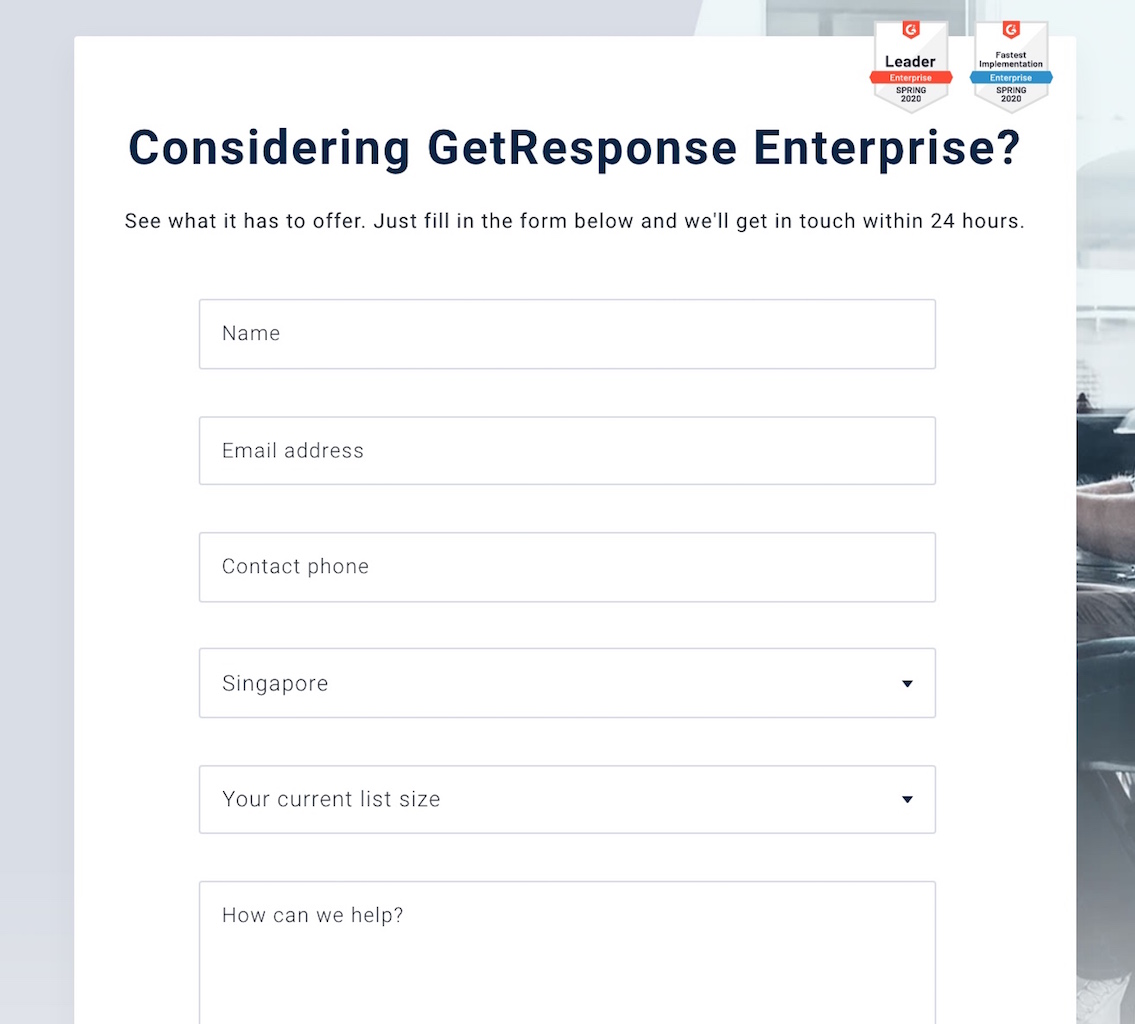 While BarkBox's contact us page is a simple page that directs both customer enquiries and media inquiries to the relevant channels of communication.
With a live chat for pressing customer issues to a dedicated press and public relations email, this is a fine example of a minimalistic contact us page that works.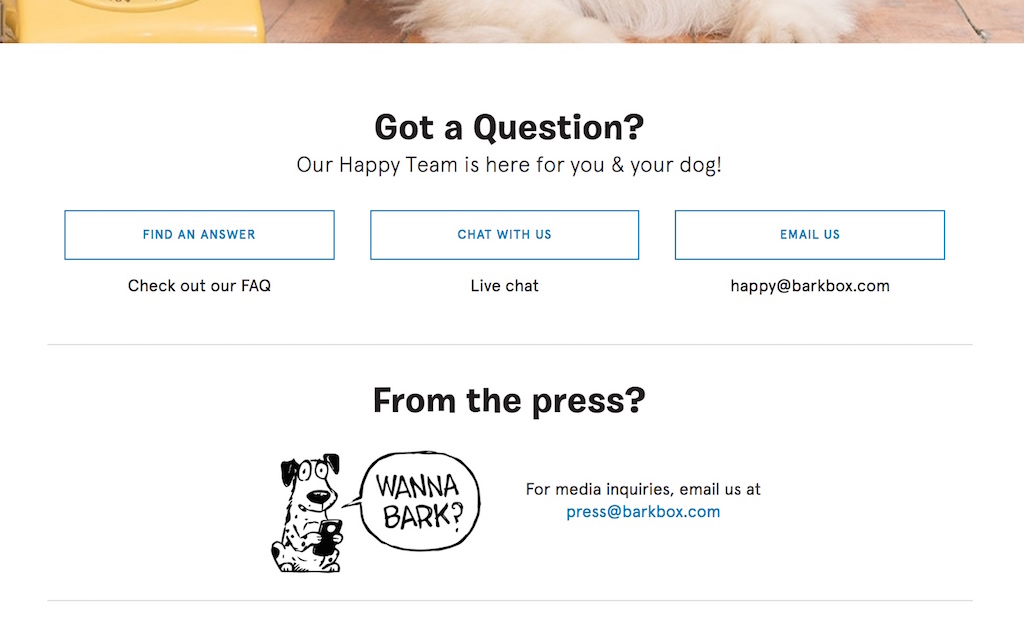 What to include in your Contact Us page:
– Be sure to direct your visitors to the relevant contact channels with clear headings or buttons. You don't want customer support to be handling inquiries from journalists!
Tips to write an effective Contact Us page:
– Keep things simple and concise. You aren't trying to sell anything here, your mission is to point your reader to the best place to contact you for their purpose.
Looking to write your contact us page?
Here's a full guide plus examples on how to do it!
Craft Your Best Website Today 
Your website isn't just your online calling-card, it is the most important marketing and sales tool you have today.
Optimize well and sales will come, do it poorly and you will be closing off valuable opportunities for your business!
Ready to develop your website pages from scratch? 
Then it's time to hire a pro to structure and write your website and take your online presence to the next level!
Contact us here or drop me an email directly at sean@speechsilver.com.