The 8 Social Proofs Every Website Needs – No Matter Your Industry!
January 17, 2019 | Sean Foo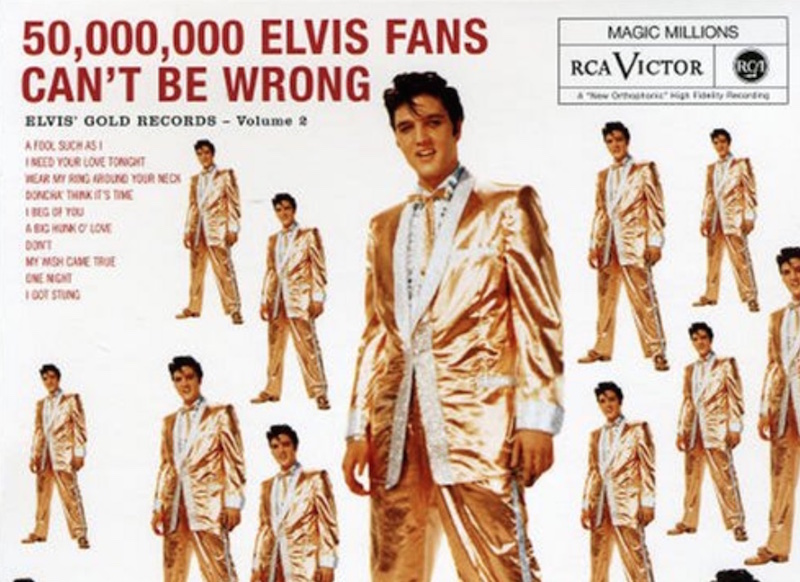 Whether you are an established brand or a spanking new startup, the race is on to not only capture the attention of your audience but also establish credibility to the point that they become a paying customer.
From New York to Singapore, each of us is similar when it comes to our buying habits and the social signals that influence our decisions, from standing in line for our favorite coffee to pre-ordering the latest phone even though it has a month-long waiting list.
Take the example of a popular night-club, chances are you might encounter a long line of party animals waiting for entry. Does that mean the club inside is totally packed?
Not really, the club owners do that on purpose:
To showcase the popularity of the club. Sure, if you are into the clubbing scene, you will probably know if the club is good or not, but to passersby, its this visual cue of a long queue that attracts them.
Social proof has been around for decades and now in the digital format, it is ten times easier to supercharge your sales message and amp up the credibility of your website!
How effective is social proof?
9 out of 10 of buyers who read online reviews claimed that positive online reviews influenced their buying decisions
Almost 63% of consumers have stated they are more likely to buy from a site if it contains product ratings and reviews.
Need we say more? Having relevant social proofs are just as important as the rest of your
At SpeechSilver, we regularly incorporate these following 8 social proofs to the key pages of websites of our copywriting clients to help boost conversions.
1. Customer Testimonials
One of the best ways to showcase credibility is by featuring customer testimonials.
From beauty products to technology gadgets, the customer testimonial is perhaps the best social proof that your product or service is credible, effective and reliable.
In fact, research done by Nielsen states that while 92% of people will trust a recommendation from a friend or peer, a huge 70% of people still trust recommendations from a stranger!
GetResponse, a leader in email automation and marketing uses testimonials on their homepage immediately after their product features for that immediate injection of social proof.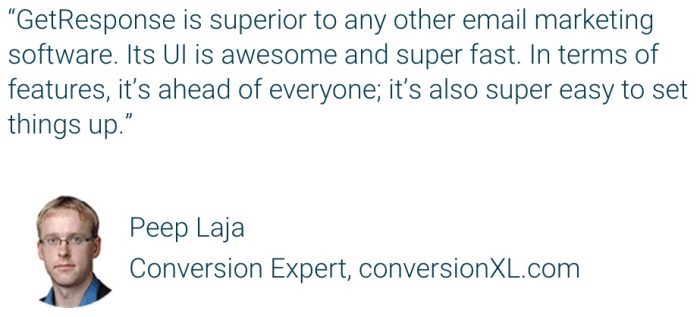 Knowing the competitive space of their industry, GetResponse chooses a simple testimonial that communicates their product's superiority simply and to the point.
Sometimes it is worth it go ultra-specific in your testimonials and Kickofflabs does that perfectly.
By focusing on the tangible results, 35,000 leads & 56.9% conversion rate, together with the overall return on investment, $1.86 return out of $1 spent, Kickofflabs creates a compelling reason why to choose them to run your online contest campaign.

No matter the type of testimonial you decide to go with, it is important to feature relevant testimonials from the customer type you want to attract.
Looking to attract MNC and big corporate clients, showcase a testimonial from your latest Fortune 500 client.
Gunning for a slice of the startup companies pie? Then choose to feature your clients from that space.
2. Media Mentions & Features
A growing number of businesses have been using incredible content or PR to get them featured in the media.
While this is great on its own, it brings to the table a great opportunity to showcase your feature as social proof on your website or landing page!
Media features include articles published on big online blogs, television features (not commercials), newspapers writeups, unsolicited reviews and podcast interviews.
Shopify, an international e-commerce platform, proudly showcases their media mentions from The Wall Street Journal to TechCrunch, showcasing their relevance to a wide group of audience.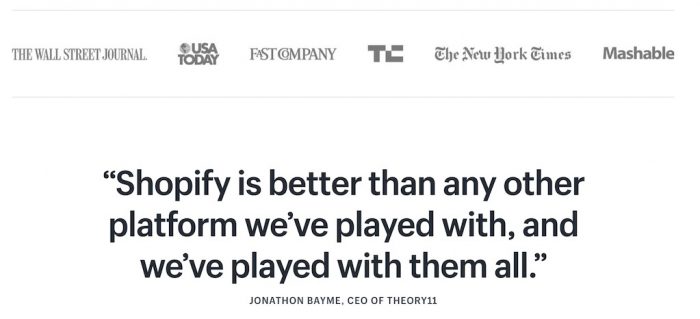 After all, if these big publications all feature Shopify, they have to be a credible and respected business.
International author, American Apparel's ex-Marketing director Ryan Holiday has been featured extensively in major online and offline media outlets and isn't shy to showcase to the world his huge wealth of credibility proof.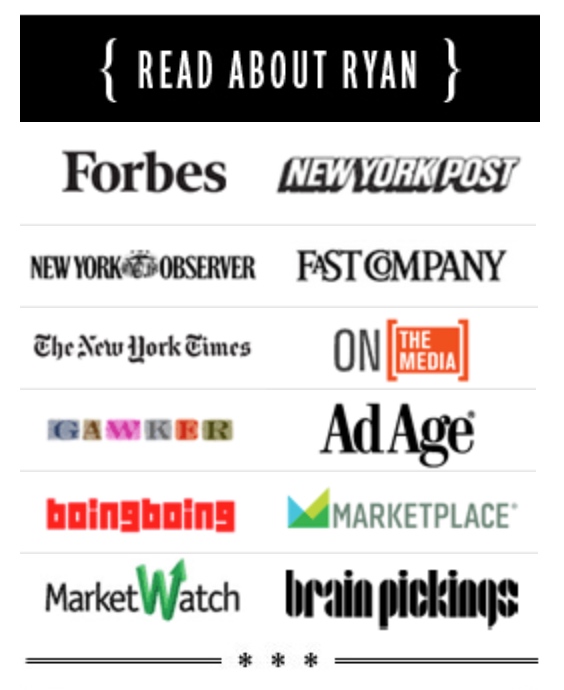 3. Influencer Endorsements
We all love famous people and celebrities big or small and have them endorse your products really helps to point the spotlight on your business and offerings.
Does that mean you need to spend tens of thousands of dollars (or maybe even more) to get an endorsement from a celebrity?
No!
What we are looking for are influencers that experts in the niche or industry you are trying to sell to.
These niche influencers are more powerful and can influence the opinion of your buyers to a much greater extent than any Hollywood movie star can.
Selling a product on motivational speaking? An influencer is Tony Robbins.
Creating a new social media platform? An influencer in the space is Gary Vaynerchuck.
Marketing a new Korean beauty product in Singapore? A key influencer might be Xiaxue.
Best of all, these influencer endorsements can be both paid for or completely free.
If your product or service really adds value and is of superior quality, you can ask for an endorsement and don't be surprised if you get one for free!
Noah Kagan's Sumo, a website traffic tools provider, leverages influencer endorsements from the expert bloggers Pat Flynn & Tommy Griffith to speak better to their target audience: business and bloggers looking to grow their email list.

4. Your Customer Count / Number Of Products Sold
Has your business served over a thousand clients?
Maybe you have sold over 100,000 units of your products and have reached a new sales milestone?
Customer statistics are a great way to showcase the reach of your services and products, but there is a big caveat though.
If you are running a relatively new business with just a handful of customers or paying clients, it might be better to leave out this statistic and focus more on testimonials or customer reviews.
Sumo uses the huge number of users of their tools, showing readers that if over 500,000 websites over 30 countries are their customers, you should too!

Now showcasing your customers and client's doesn't have to be restricted to just selling products or services.
Using the number of your subscribers or readership is also a great way to add social proof if you are looking to persuasively add more readers to your email list like Pat Flynn of Smart Passive Income.
If there are more than 150,000 active members, that means the content should be rather awesome, so why not signup right?

5. Customer & Brand Logos
Also known as borrowed credibility, showcasing the brands that are your clients are a great way to establish social proof.
While most business to business (B2B) websites regularly feature their customer logos on their website, business to consumer (B2C) enterprises can also utilise this tactic to maximise their social proof.
Selling a food product or munchies or personal services to the people down the street?
Why not create a special promotion for corporate orders? You might just get a purchase from a reputable brand & an opportunity to feature it.
Zendesk, a customer service and support software company, proudly showcases the big giants that trusts and use their products – instantly showing credibility and adding confidence to the purchasing decision by their prospects.

6. Ratings & Reviews
When you go shopping for almost anything, chance are you want to see what others have to say or feel about that very product you are about to buy.
Ratings and reviews fulfill this purpose and a great unbiased review on platforms including Facebook and Google are considered authentic.
So if you have a Facebook page, LinkedIn profile or Google listing, it might be time to get your customers to drop a testimonial reviewing your business.
Start Digital, a Perth-based web design agency, cleverly uses Google Reviews to showcase to the world their professionalism, quality of products and awesome reviews from their happy clients.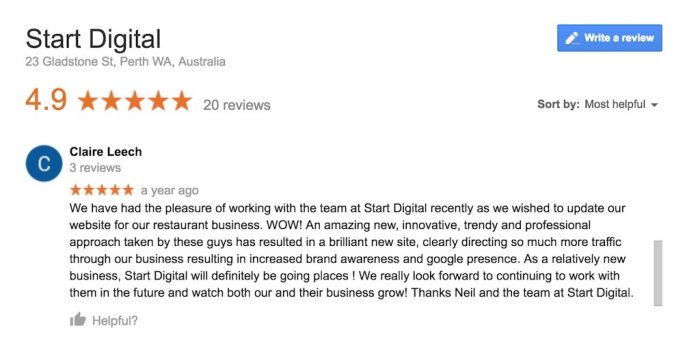 7. Badges, Affiliations & Certifications
Depending on your business type, you might be required to attain certain industry certifications and that is a great advantage you should exploit.
Take the digital marketing space, for example, having badges and affiliations like the example below instantly add credibility to your business.
It shows your prospects you are within the industry circle, you know what you are doing and can be trusted as a professional.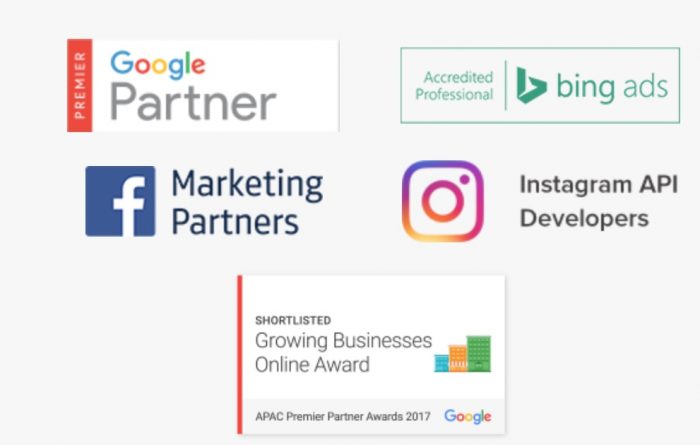 8. Case Studies
When a customer goes to your website, they will be asking themselves 'what can this business exactly do for me?'
While testimonials are reviews are great, some prospects will demand a greater understanding of your product, how it works exactly to solve their problem.
Nothing answers that better than a case study that brings them through a client's experience with your solution and how it benefitted them.
VendHQ, an online global point-of-sales provider, creates video case studies to take the viewer through the entire process flow of how their software will help their business sell better more efficiently.

Conclusion
While having a user-friendly website coupled with strong product copywriting is essential, having the 8 social proofs we covered will help supercharge the credibility of your business.
A great website will have a combination of these social proofs, but as a start, choose 3 to 4 from our list and integrate them to your website and amp up your online presence and start closing more sales!
If you are building your online authority from scratch, here's a guide that will help take you from zero to hero!