9 Effective Ways To Use Case Studies In Your Marketing Today
January 25, 2019 | Sean Foo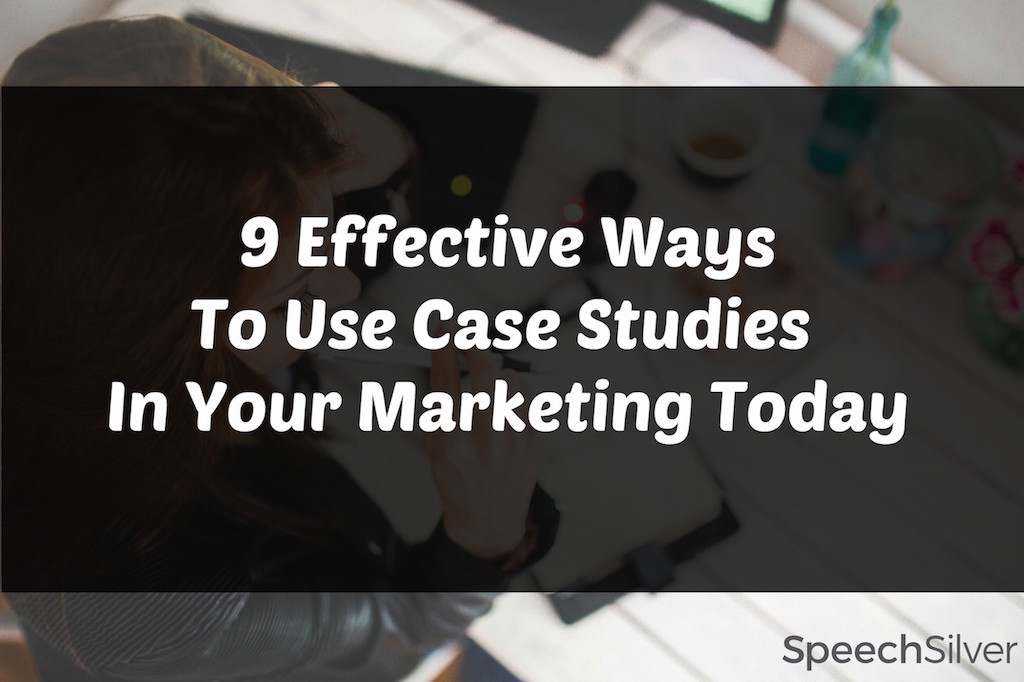 Whether you are a high-growth startup or an established business, knowing how to use case studies correctly will help fast-track your sales to the next level.
In fact, according to the Content Marketing Institute U.K, 63% of marketers agree that case studies are effective marketing tools.
Case studies are powerful tools that help:
– Position your brand as a market authority
– Target a specific niche
– Relate with your prospect
– Explain your process (showing how problems are solved)
– Provide ample social proof
– Function as powerful sales materials during face-to-face meetings
 
If you are new to the idea of case studies, we have another article which will help you discover the 6 reasons why your business needs case studies today.
While creating a case study is important, knowing how to use it is just as critical.
This guide highlights 9 fantastic ways you can supercharge your current marketing with a compelling case study to close more sales.
Feature It On Your Website
 
1) Having It On Your Home Page
Realise that 80% of  your visitors will not go beyond your home page, they will bounce away.
That means featuring your case study on your home page is a golden chance to capture their attention to a real-life example of how a client benefited from your product or service.
There are 4 main ways to accomplish this:
If your case study is strong enough, you can lead your homepage with a case study.

A section with a summary of the case study with a call-to-action (CTA) to view that specific case study more in-depth.

A CTA leading you to its case study page.

A video case study embedded onto your homepage.




 
Examples:
Aweber dedicates a section on their homepage to draw attention to their case studies by combining their testimonial section together with a CTA to view each specific case study.
Because the case study is led by a testimonial, no additional copy is needed, perhaps nothing might be better than a direct quote from a happy customer.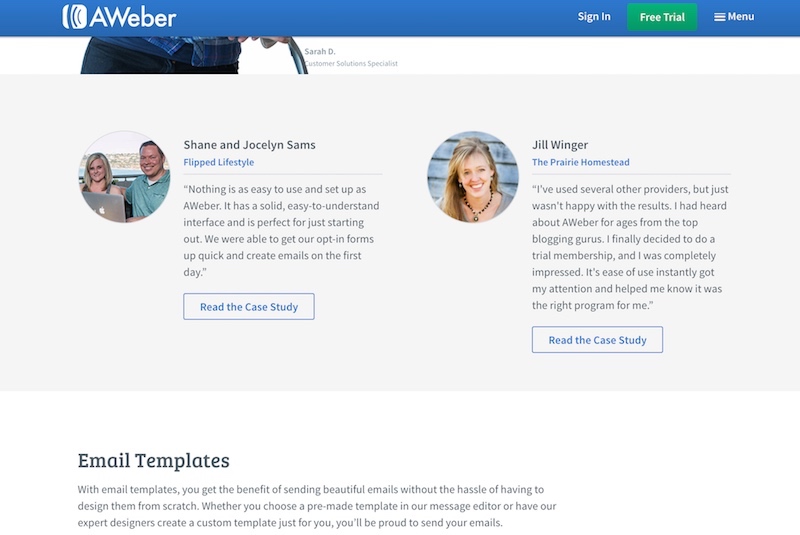 VendHQ takes placing case studies onto their homepage to the next level.
By using video testimonials, they have gone beyond the traditional limit of featuring 1-3 case studies on their homepage without having the user feeling overwhelmed.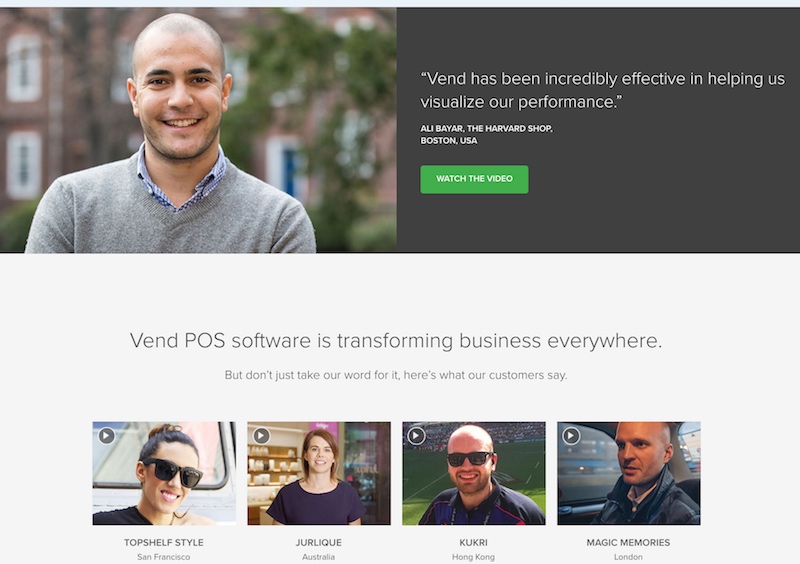 While the formats can be video or text, one thing is for sure: placing case studies on your website is a sure-fire way to capture and direct your visitors' attention.
2) Creating A Dedicated Page For Your Case Studies (A House For Them)
Now whether you decide to create call-to-actions on your homepage or not, creating a dedicated page for your case study is crucial.
As your business grows, having such a dedication page on your website to house and curate your case studies gives you several key advantages:
– Your visitors can access all your case studies at one go, more convenient for them = higher conversions.
– You can start segmenting your case studies into different niches to appeal more to specific customers.
– Massively boost your business's social proof as your case study collection grows.
 
Examples:
LeadQuizzes does a fantastic job with their dedicated case studies page.
Not only do they curate all relevant case studies, they draw attention to key case studies with a benefits and results driven copy to draw visitors to click and discover more.
Remember, your case study highlights your process and how your solution works, but to get them to click.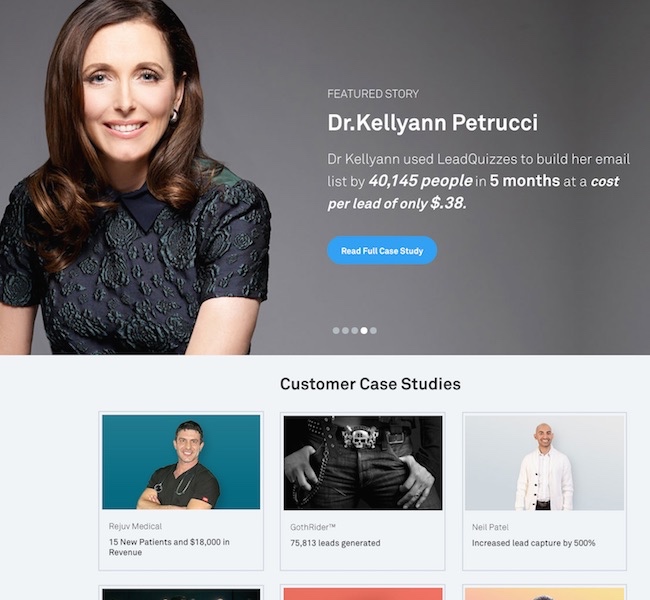 3) Blog About Your Case Study 
Once you have developed your case study, another powerful way to repurpose it is to feature it in your blog.
This is especially if your blog has a strong following and readership audience.
However, unlike featuring case studies on your website, drawing attention to it by labelling it 'Company A: Case Study On Lead Generation" won't do your case study any justice.
Here are some quick pointers to guide you through how to create an effective blogpost centred around your case study:
– Discover a common topic in your case study that your blog readers find valuable. It could be a challenge they are currently facing.
– Angle the blog post to highlight that challenge and how you solved it for the client.
– Lay down the specific steps on how you overcome your customer's challenge and then finally showcase the results.
 
One final note: The blog post should be comprehensive to the point, the reader will have a clear understanding of how to solve the challenge themselves if they want to.
(Don't worry 98% of your readers won't have the time or expertise to solve the problem themselves even if you show them exactly how)
Examples:
The Moz blog which has an impressive readership cleverly creates a blog post that centers around their case study.
Their headline: "How We Gained More Than 100 Links For A Travel Website Via Content Marketing." is effective because it shows tangible results, it is a how-to guide and focuses on a topic most of the readers find is crucial for SEO growth, content marketing.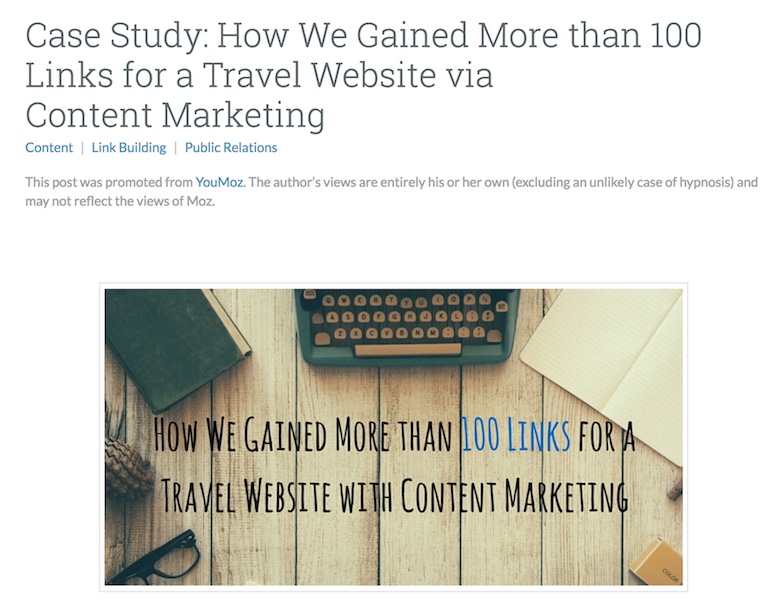 4) Create Videos From Your Case Study
While words have power, videos are in a class of its own.
A video case study helps bring forth something words can never capture, a person's expressions, authenticity and emotions.
If your business has the budget to adapt each case study into a video format, this will take your social proof and marketing to the next level.
Examples:
VendHQ created this video testimonial to shine the spotlight on one of their biggest success stories, the Harvard Shop.
It shows the challenges facing the student-run operation with their three stores, a series of pop-up events and a thriving online store.
Most importantly, it takes the viewer through the process of how VendHQ solves their problems and the end results achieved.
While your case study can be focused around a customer's journey, the power of videos is that you can also craft a powerful case study on the product itself and it's creation.
Like in Keanu Reeves's company, Arch Motorcycle, this video case study was created to explain how each motorcycle is created, the process, their incredible performance and the riding experience.
5) Feature Them On Your Landing Page
From squeeze pages to longer form landing pages, such pages are developed for one purpose and one purpose only:
Get your visitors take a single action.
That could be leaving their email details or to capture a direct sale.
In order to build enough benefits and social proof, case studies come in as the final nail in the coffin, the final bit of proof that gets your customers to leave their details.
After all, one big question lies at the back of anyone's mind when they encounter the offer in the landing pages: 'Has anyone else bought it too?'
Examples:
Sam Ovens does this well with his landing page. He drives traffic from Facebook ads to this landing page and wants his viewers to leave their details for his online training.
With so many providers of such seminars, he utilizes case studies to provide that much needed social proof.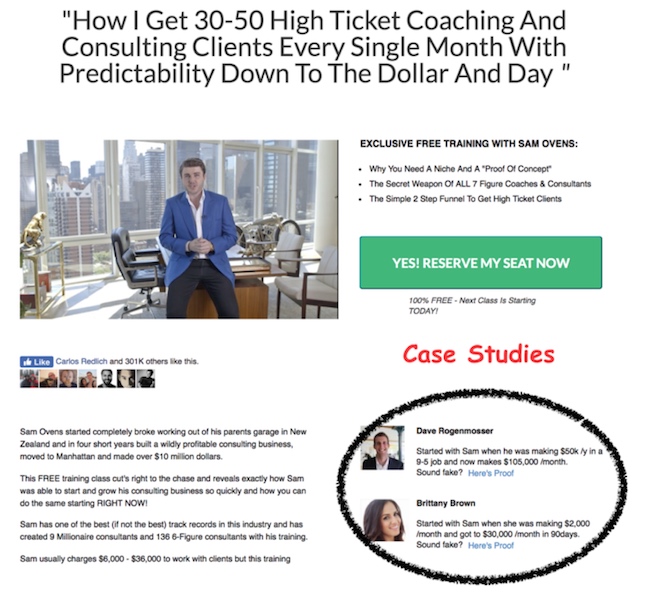 What is smart about these case studies is, by clicking on them, you get a full video testimonial that pops out.
You save precious space on the landing page itself while giving the audience the option of viewing a full case study.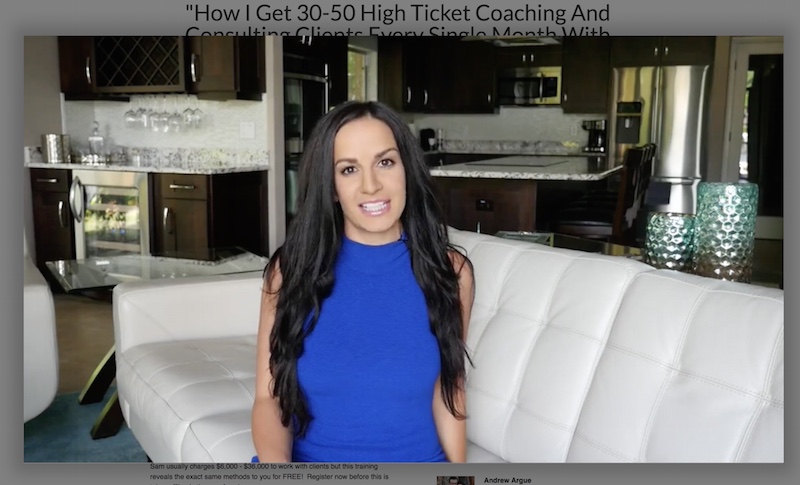 In Your Off-Website Marketing 

6) Integrate It Into Your Email Autoresponders
One of the best things about an email list is you have a ready audience of people who are just waiting and happy to receive your emails, afterall, they opted-in!
While most email autoresponder campaigns focus on adding value by giving advice and quality content in the email, many have forgotten that using a case study is just as powerful.
You can use it in two ways:
– Give value. Use the case study as evidence that your advice is sound and deliver results or…my personal favorite.
– Make a sale. Use the case study as a social proof springboard to selling one of your products/services.
If you have been providing good value in your email marketing, there is absolutely nothing wrong with going directly for the ask…
And with a well crafted and relevant case study, begin to see those conversions sky rocket!
Examples:
This is an email autoresponder from Elliot Hulse's NonJobs business (basically teaching people how to freelance and build a business.)
Elliot uses the case study of one of his successful clients to springboard the reader to eventually signup to his paid $200 live seminar.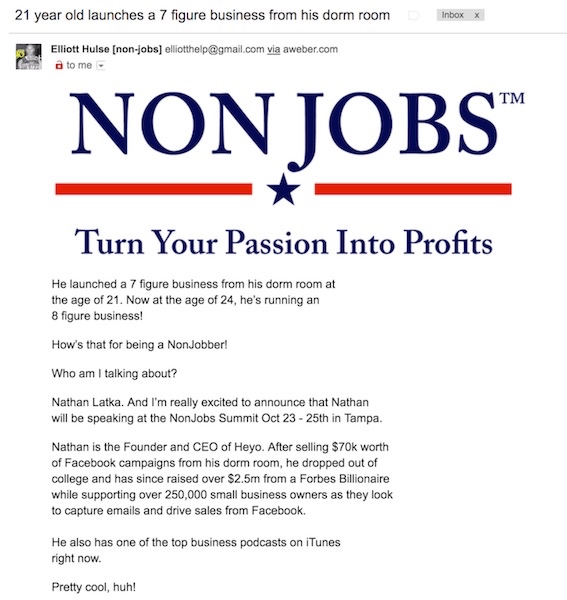 Integrating your case studies into your email autoresponders can pay huge dividends, after all, convincing a list of warm leads is much more effective than driving cold traffic to view them.
7) Use Case Studies In Your Email Outreach

If you are a marketeer, you are probably familiar with email outreach. (A fancy term for cold emailing highly targeted prospects)
During the course of your outreach campaign, you will most probably segment your list by customer type or industry type.
This gives you a ripe opportunity to use case studies to close more deals.
There are two ways to effectively accomplish this:
1. Put this at the last few emails of your outreach email campaign (or drip series)
2. Use a case study emails to re-engage prospects that have gone cold or silent.
Using a case study to re-engage your past clients is a terrific method to remind them you're still in business…
And as social proof that your clients are happy and seeing results!
Examples:
Below is a quick email template you can copy and paste to re-engage with prospects that might have forgotten about your business.
Nothing fancy, but effective and to the point!
Hi [Name],
How's business going?
Just wanted to touch base with you and share some results we have delivered for our client.
Like yourself, Joe's Chemicals was looking to create a content marketing campaign from scratch to better reaching his audience.
We did just that for him and it resulted in beyond $35,000 in sales over 3 months.
Here is how we did it for him, www.linktocasestudy.com, hope you can draw some value from it!
If you need any help driving leads from content marketing, we will be here to help.
-Cheers!
Sean
8) Equip Your Sales Team With Case Studies 
Unless most of your sales are done online or you are running an e-commerce store, you or your team will have to do face to face sales.
This is especially true if you are trying to sell expensive products or services beyond a certain price point.
In fact, for most startups, doing face to face meetings are crucial to get traction and the meeting is about building one thing: credibility.
Nothing is better to build credibility and guide your prospects through a meeting than a case study.
With a case study at every meeting, you accomplish 3 important goals every client meeting should touch on:
1. The type of clients you handle
2. The results that you deliver
3. The process of how you go about delivering your service (for products this is how it works)
So go ahead and PDF or Powerpoint that case study and bring it along for every client meeting you have.
9) On Your Social Media 
If you are reading this, you probably know of the different social media channels that are great to reach out and connect with your audience.
For businesses, it will mainly be Twitter, Facebook, and LinkedIn.
The main thing to keep in mind is to post in such a way that attracts the right audience to click through.
We give you just two pointers to guide you through any post involving a case study.
– Ensure the headline of the post mentions either, the problem that was solved or the results achieved by the customer
– Create a vibrant cover image that showcases that particular happy customer. Real human faces connect more than an image of your awesome product/service.
Examples:
Mint.com cleverly uses their Facebook page as a distribution channel for their awesome case studies.
This post helps to promote Mint's new feature, and perhaps nothing does it better than a customer case study that highlights the challenges, process, and results.
Closing Thoughts
While there are many other ways to use case studies, these 9 ways help to cover the major marketing avenues you will need to cover.
The beauty of a single case study is that it can be repurposed to work on many different marketing platforms.
From Facebook to landing pages to a video testimonial to be promoted on Youtube, the options are only limited by the number of channels out there.