21 About Us Page Examples That Connects & Engages
November 22, 2019 | Sean Foo
Do you know that the first thing 52% of visitors to a website does is to view your 'About Us' page? 
In fact, website visitors that read through your About Us page are 5 times more likely to buy from you and spend 22.5% more on their purchases – and it's no wonder why!
Nailing a strong first impression with your About Us page is critical to get your visitor to connect with your brand and understand the value you have to offer.
What Makes A Compelling About Us Page
A powerful and effective About Us page should showcase:
– A Powerful Brand Story: And not just a random story of beginnings, but one that is filled with personality and a motivation that the reader can identify with.
– A Clear Value Proposition: What makes your brand different and unique versus the hoards of competitors out there? You'll need to let your reader know.

– Effective Social Proof: Building credibility is the cornerstone of doing business today. People do business and buy from brands they trust.
– An Engaging & Visually Pleasing Design: Capturing attention and making the read a pleasant one is just as important for the image and 'feel' of your brand.
The secret to a successful About Us page always stems from understanding what your brand stands for and the persona of your customers – and in this article, we are here to help with that!
Here are 21 examples of About Us pages that are creative and successful to help inspire you.
Simplicity & clarity in their message
When it comes to grabbing attention and letting your reader understand your value, nothing is better than having a clear and concise message that hits on the areas that your customers will identify as being important.
As a team management solution, their About Us page talks directly to project managers by using key terms in their headlines such as 'ownership' and 'accountability'.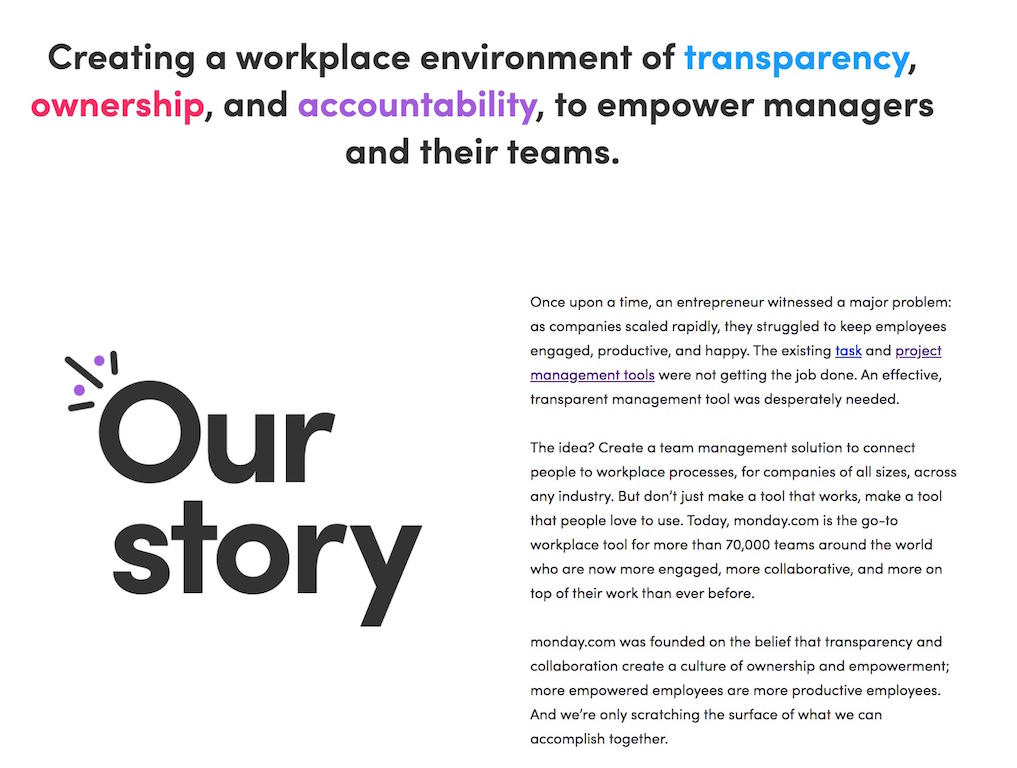 In your About Us page, while we are sure your solution is awesome you can skip talking about the specific product benefits and features and focus more on sharing the values and goals of your brand.
Monday also keeps their page design clean cut with plenty of white-spacing for maximum breathability. 
Being a relatively new entrant in the project management space (compared to brands like Trello & Basecamp), they cleverly spin their customer statistics into social proof that is tangible and significant without losing credibility.

Showing the diversity of their customers
As a long-established e-commerce marketplace, eBay can easily just solely focus on its customer reach and amount of business they do or focus on their management team.
eBay, however, takes a balanced approach of showing their impressive customer and user base while putting faces into them – showing how diverse their users are to both buyers and sellers.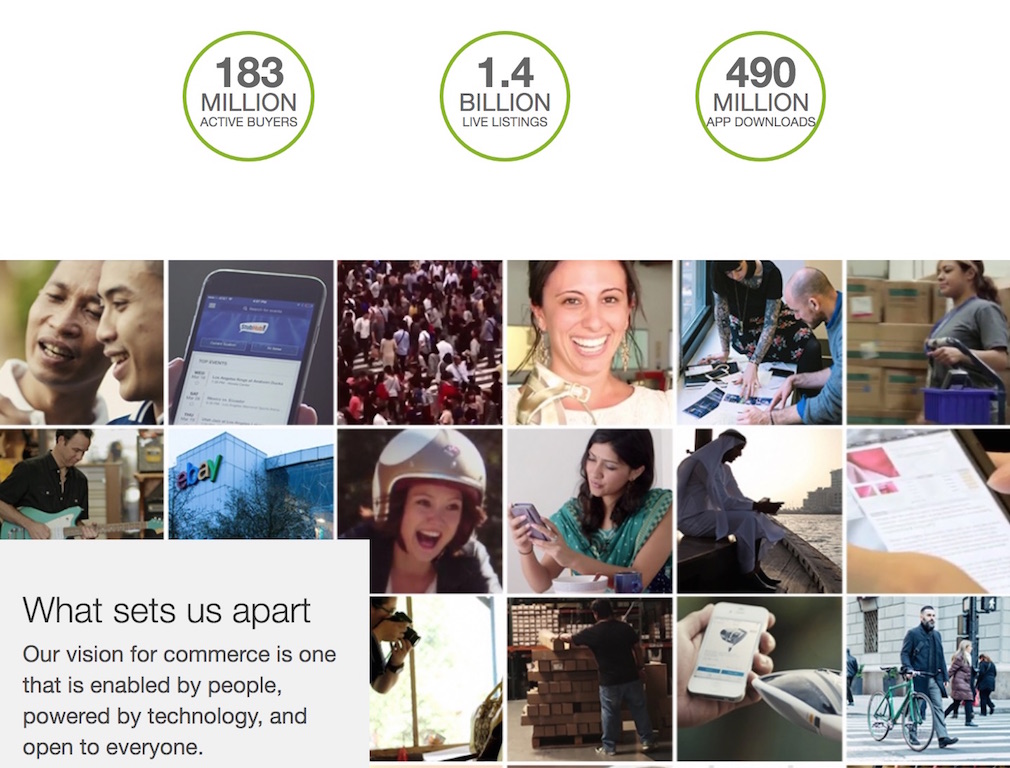 This helps to humanize the entire platform, allowing new audiences to identify with the brand and put a face to the person they might be doing business with on eBay.
While you might be tempted to harp on the cold-hard numbers your business has achieved, consider showcasing real-world pictures of your customers – especially if your solution reaches a diverse audience that transcends cultures.
Focusing on experience & building confidence
Square is a mobile payments company that helps small businesses easily accept credit cards and online payments.
Instead of boring their potential customers (merchants and small business owners) with tons of jargon and complicated terms, they use simple scenarios and messaging that their prospective customers understand and identify with – an easy way to start a business, expanding their operations through making payments more convenient.
If your product or service is rather complex or technical, opt to use words and language that your customer persona understands and cares about by focusing on the big overall benefits.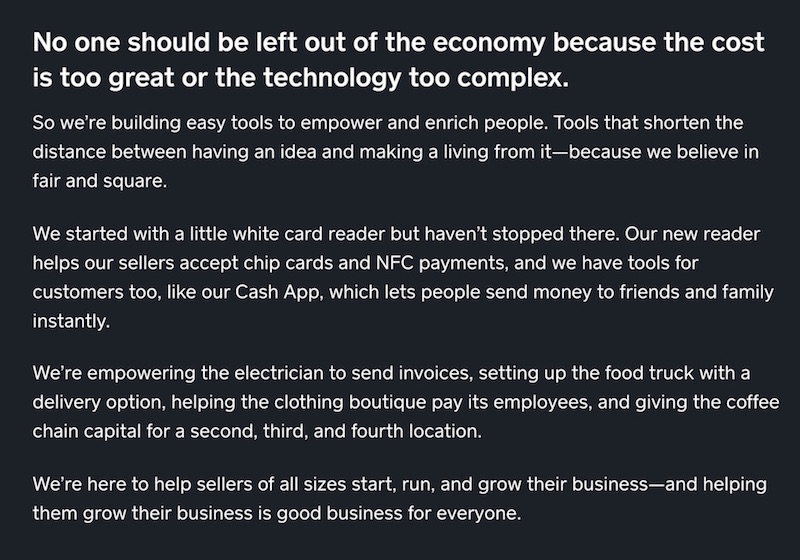 In addition, Square does a fantastic job by choosing the traditional route in this case of showcasing the people involved in creating their solutions with concise write ups of their experience that help inspire trust and confidence in the company's leadership and technical experts.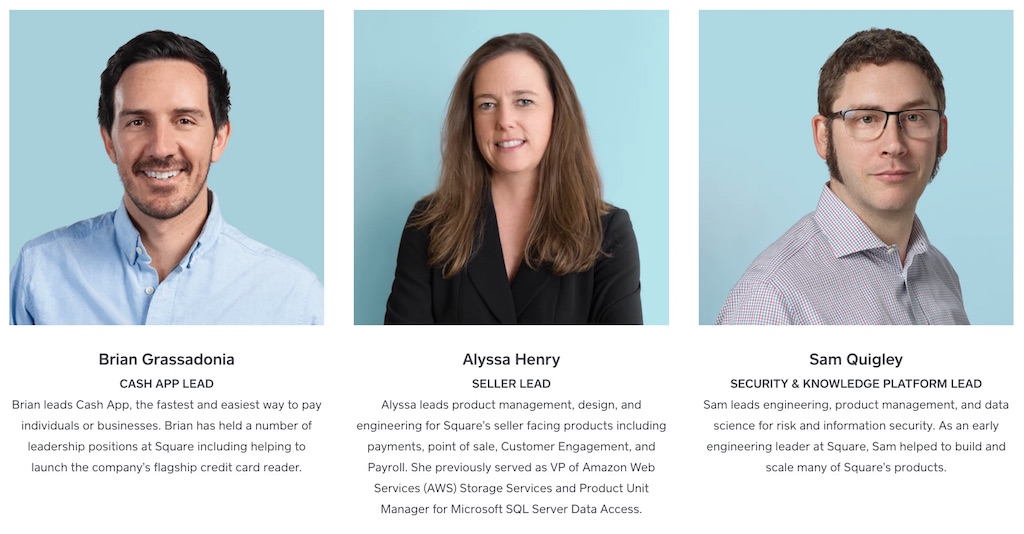 Emphasizing their people & culture
The beauty of Mailchimp's About Us page is the bold approach they took to showcase what is important to them – the people and culture that drives the business.
They neatly start off with their beginnings, highlighting the evolution of the company and talks about the growth and future plans from the perspective of the leadership team before quickly transitioning to the corporate culture they have.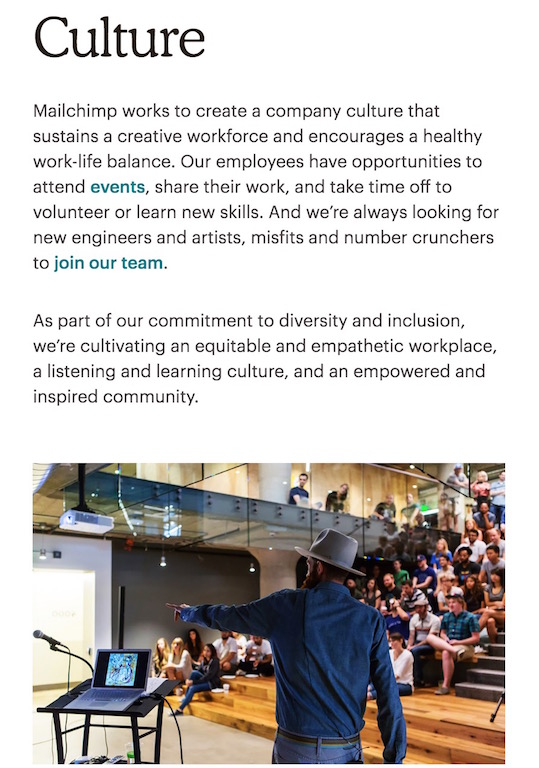 Your About Us Page isn't just limited to writing to your customers, but also people that might want to join your organization.
By highlighting their inclusive work culture, Mailchimp intelligently injects their About Us page with two distinct advantages:
– It humanizes the people behind the brand to their customers, adding a much needed human touch to a business.
– It shows the level of investment the company puts into their employees, indirectly highlighting the quality of their team & services.
If your business has a fun and interesting work culture that helps you stand apart from your competition, it's time to proudly showcase it on your About Us page.
An inspiring story that connects
Warby Parker sells affordable and stylish spectacles and bucks the expectation of expensive glasses that used to haunt consumers – but it is the story of their beginnings that delivers their value proposition in a way that their customers can identify with.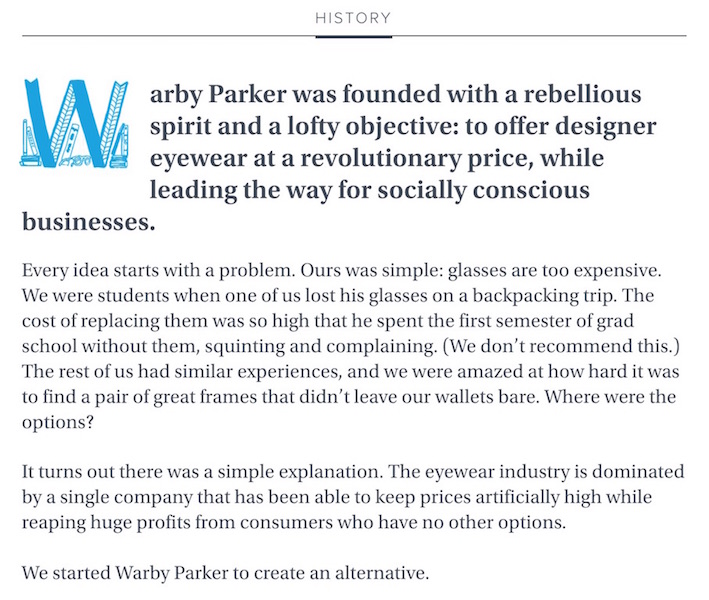 Warby Parker's introduction story in their About Us page goes through the problems that their customers face, allowing them to go 'hey, that's me too!'
By going deeper and explaining why eyewear is expensive 'The eyewear industry is dominated by a single company', it adds value to the reader and creates a 'Us vs the world' dynamic, making people not just understand the brand origins but fall in love with it as well.
Simple and sleek, this About Us story is a winning example of how to connect the reason why you created your business with the pain your customers are going through.
Looking to learn how to write an effective story that connects? We have an article on how to use storytelling that you will enjoy!
Showcasing their core messages through videos
Udemy connects instructors and students together on their learning platform and because of that, they understand the need to attract both teachers and students – both of which are their customers.
While speaking to two customer personas might be challenging on an About Us page, Udemy does this spectacularly well by using Videos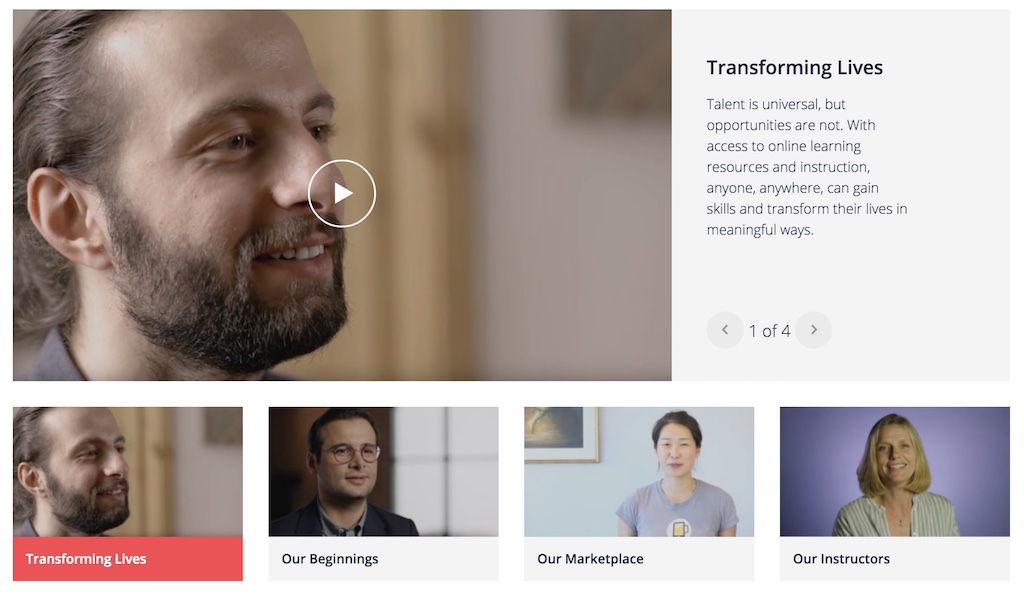 Their videos tell heartfelt stories about their students, instructors and their beginnings. These stories are told through the personal struggles they were facing and how Udemy transformed their lives for the better.
If you are targeting multiple customer personas, having a series of videos on your About Us page is a great way to speak to each of them without breaking up the flow of your entire page.
Not to mention their generous showcase of social proof that lets readers know how extensive their reach is to both enterprise customers and the man on the street.
An interactive visual explanation
As a payment system that rivals PayPal, Stripe cleverly distinguishes themselves from their rival in their About Us page by focusing exclusively on businesses – unlike PayPal that targets both sellers and consumers.
Stripe's About Us page essentially speaks to business owners who are already selling online (or looking to) and makes a compelling pitch on why their brand and solution is superior.
One great way they do this is by using interactive explanations that cut away a lot of the complexity and turns it into a visual treat that shows customers just needing to deal with Stripe which will handle all the messy back-end stuff.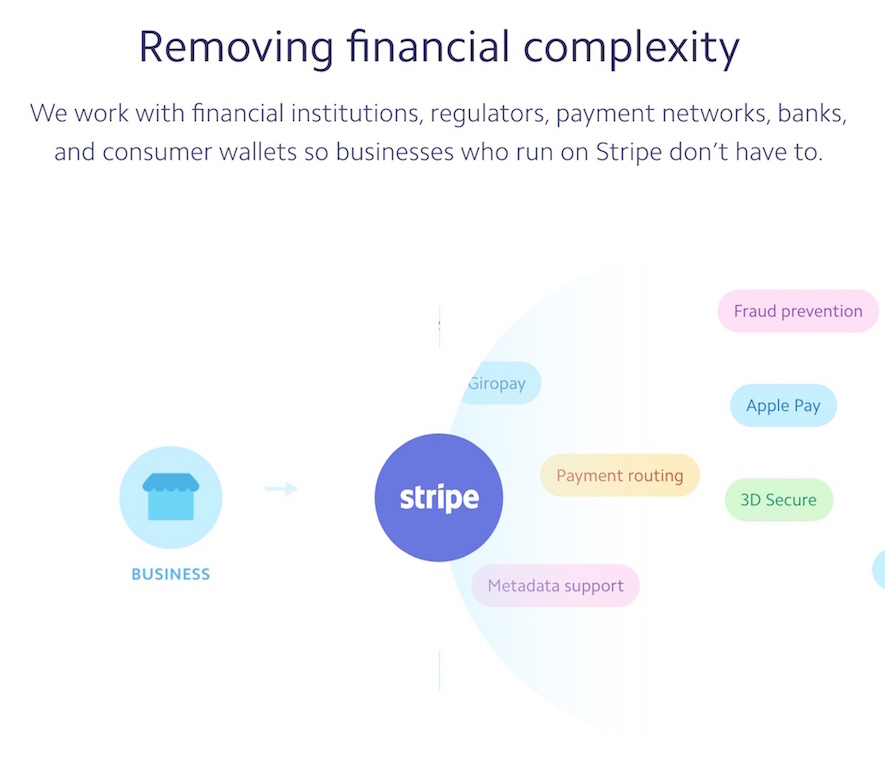 Have something that is complex that you need to explain? Instead of writing one whole chunk of text, consider using a visual alternative instead!
To show credibility in the payment space, Stripe utilizes social proof in the form of big company brands to instill confidence in the eyes of their customers. After all, if the big boys are working with them, perhaps we should too!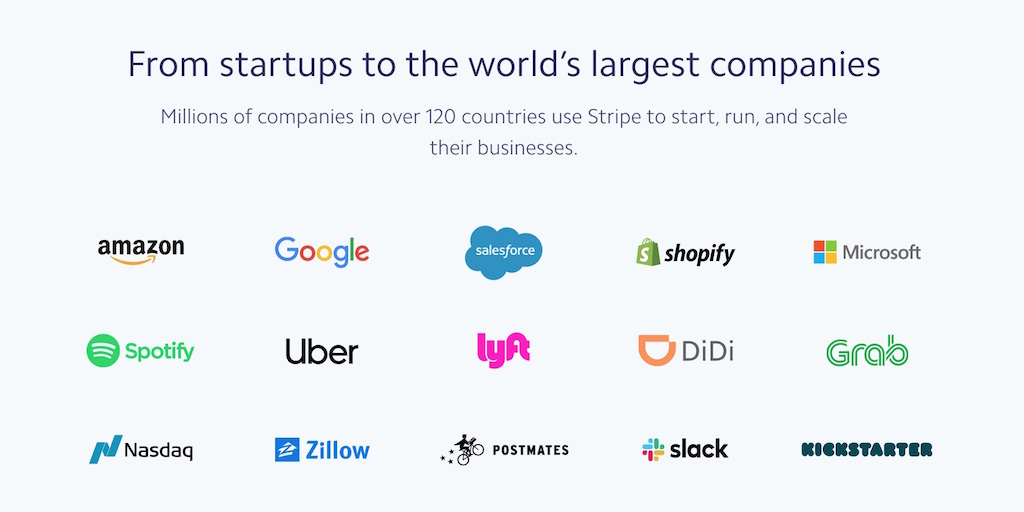 A sincere story narrated by the founders
Hubspot took a sincere approach versus the traditional route of starting off with the company's mission and how they started.
They capture their historic beginnings, what they believed in and why they do what they do through a video of their founder, Brian Hallgan narrating the Hubspot story.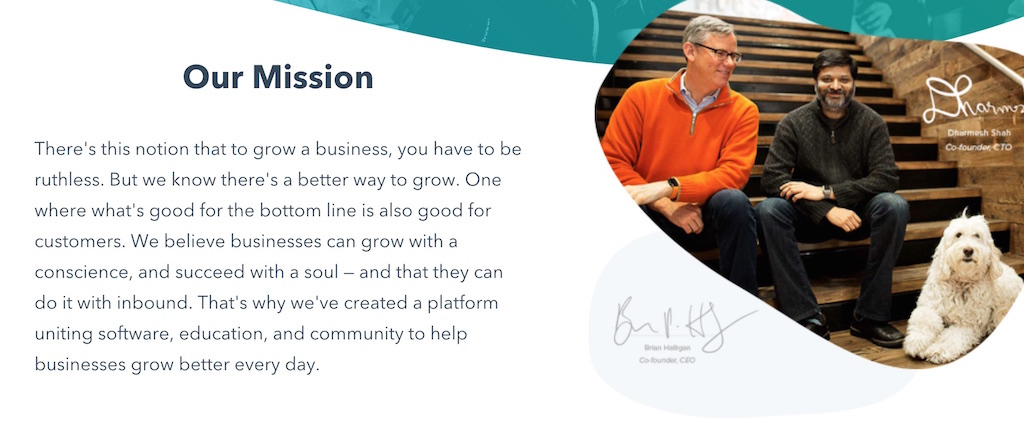 As perhaps the biggest marketing and sales platform coming, Hubspot can seem to be this large intimidating company staffed by thousands of employees making it feel like a big soulless & faceless corporation.
By adopting a humble and down to earth approach to their About Us page, Hubspot makes it able for the reader to bond with the brand through understanding their mission in a one-to-one manner.
With a rich history since their founding in 2005, Hubspot chose to share milestones that are both fun and significant (like Michelle Obama speaking at their conference) in a navigation friendly timeline carousel.
Intelligent storytelling through copywriting
As a freelancer platform connecting graphic designers and clients, 99designs took a storytelling approach that intelligently weaves in key facts, figures and achievements of their company without making it feel too try-hard.
Instead of the classic chunk of writeup followed by an icon or image, they made their entire story flow well with their values and beliefs about the art of design itself.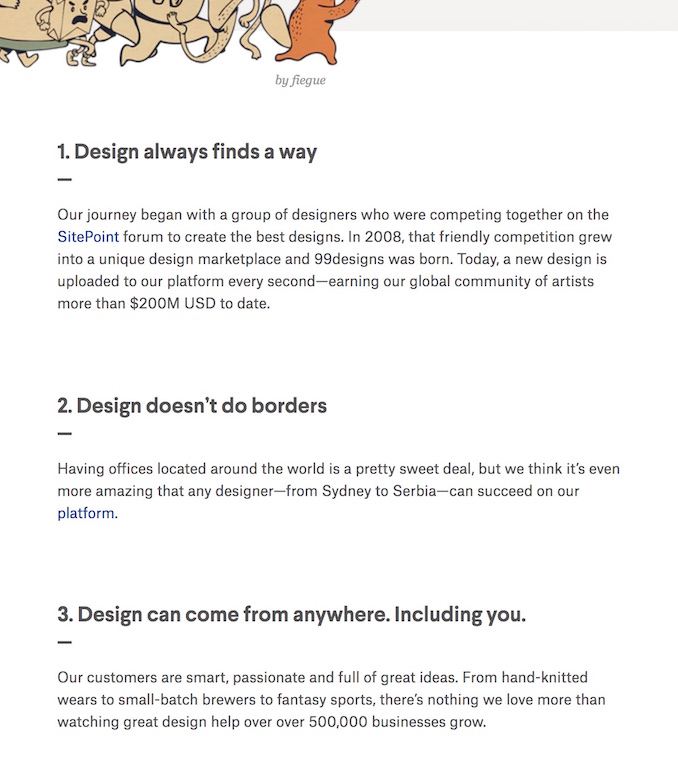 If your business revolves around a service or a discipline (such as copywriting, design, coding, etc), this approach to your About Us page can be a minimalistic and refreshing change to many colorful & often over-designed pages out there.
Hey, if a design company finds value in a simplistic approach, we can too!
Want more awesome samples of killer copywriting? Check out 18 copywriting examples that will inspire you!
Easy navigation to what's Important
This iconic American motorcycle brand takes a very business and investor approach to their About Us page highlighting their strategy and the different units involved in the company (it's a big corporation after all!).
As a listed company, their About Us page talks to three different customer personas including investors who want to know more about their entire business, customers who are buying their bikes and dealers who are distributing the bikes.
To help make that easy, Harley Davidson's About Us page strategically positions multiple call-to-action buttons and links in their key areas 'How We Go To Market', 'What We Do', 'Become A Dealer' & 'Out Leadership' to help make navigation easy.
If you are catering to a slew of audience personas, use your About Us page as a platform to connect the reader to the areas of your website they should be viewing.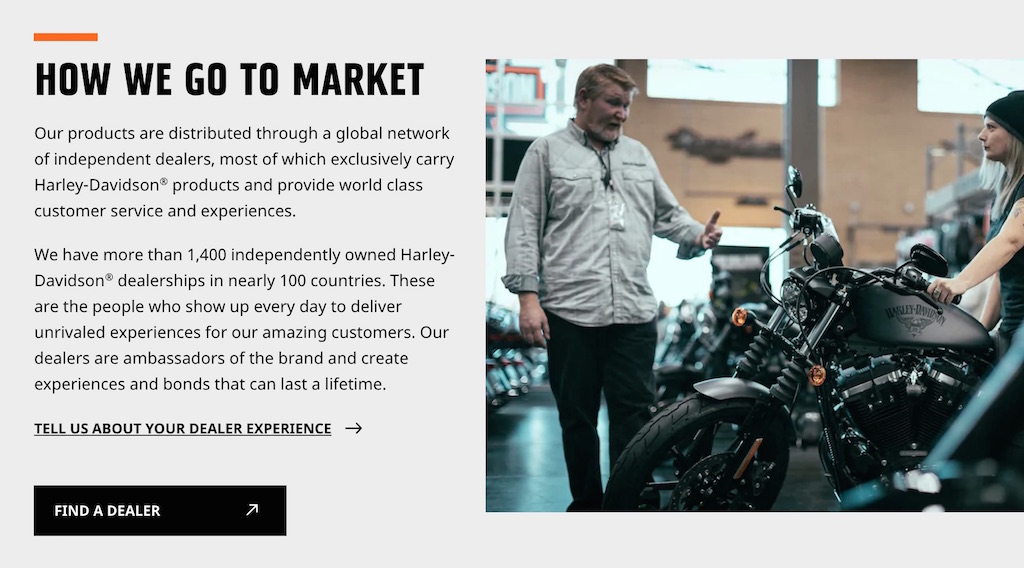 Visual & aural storytelling
Setting the mood is important in your About Us page and Steinway sets the tone with a brilliant combination of visual images, video and music. Their introduction video combines the musical sounds of their piano (it's their product afterall) over a charming voiceover that explains the skill and dedication their brand is all about. 
In addition, throughout the About Us page, carefully selected images are used to instil in audiences the values Steinway wants the reader to leave with – dedicated experts in their field and a brand that can suit both the home or the concert hall.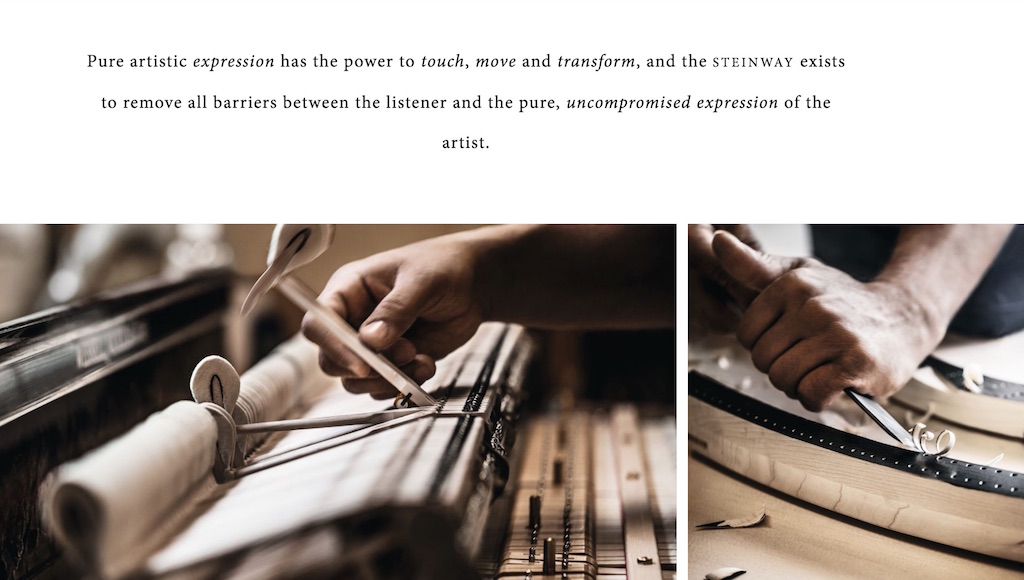 Steinway takes their storytelling approach to the next level by cleverly segmenting their About Us page to the present – 'Steinway Today', the future – 'Steinway Tomorrow' – and the past 'Steinway In History'. 
In each of these segments, they weave a compelling story about how their pianos and brand is a masterpiece today, innovating for the future and has left its mark in history – leaving the reader with a grand sense of how exclusive, historic and special the brand is.
Social proof, especially influencer testimonials are effective in every industry, even in the music & piano business. Steinway features a quote by legendary pianist and composer Rachmaninoff, adding even more credibility to the brand.
Capturing historic milestones
A timeline isn't just used to capture your milestones and historic moments in your company's history, but it can be used to tell a story of your brand's journey, challenges and successes.
SpaceX implements the timeline to great effect, telling a story of progress towards their eventual end goal of landing and colonizing Mars and other planets for humankind to live on.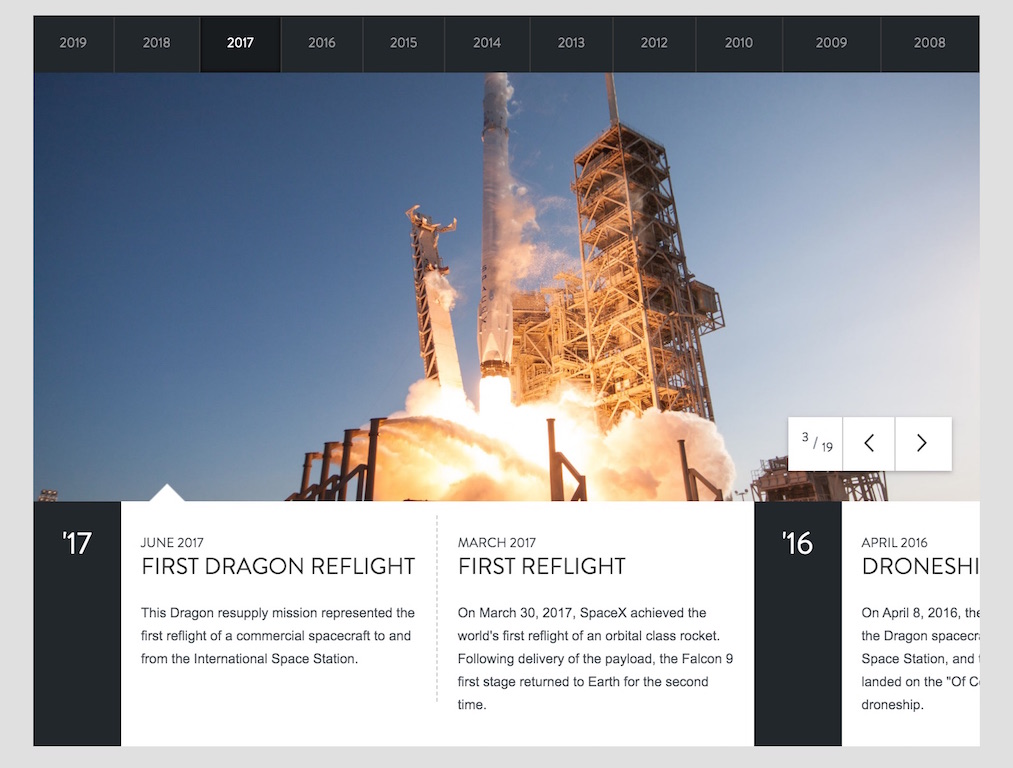 If your company has a rich history, the timeline on your About Us page can be a great way to let your audiences understand its start and growth to the brand it is today.
Showcasing your key solutions
Grammarly's About Us page's design is a sleek and visually pleasing piece of work that makes scrolling through it a treat with their information segmented well – even their rather lengthly paragraphs are manageable to the eyes.
When it comes to showcasing their products and solutions suite, Grammarly chose to use a carousel to present to the reader all of the platforms their solution works on. This not only makes it reader-friendly but allows Grammarly to slowly stack on more products on their solution suite without lengthening the page length.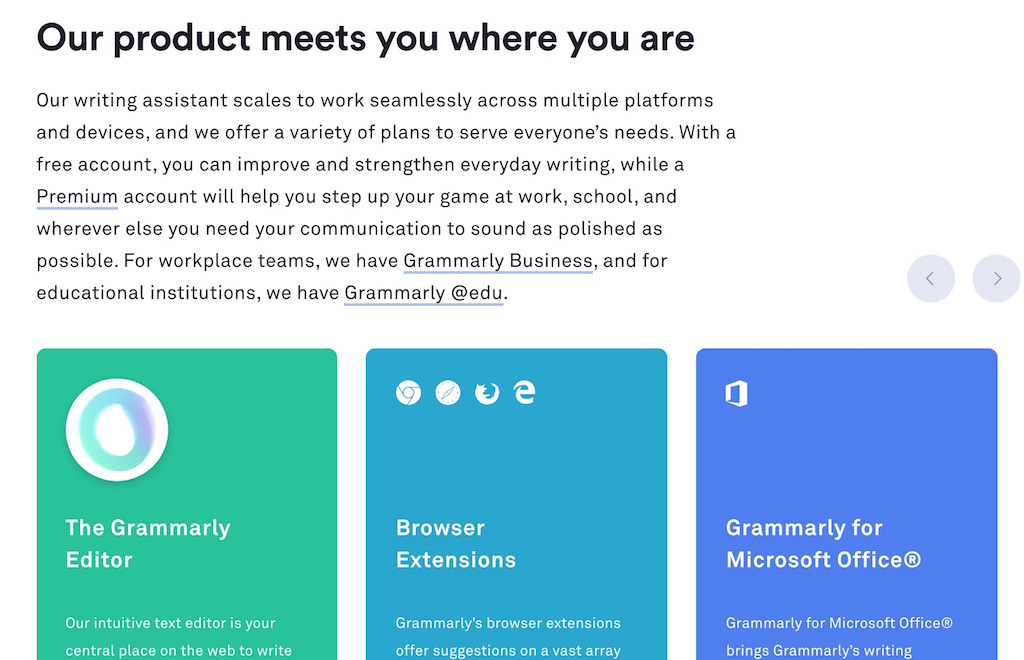 Have a bunch of solutions or products that are core to your brand? 
Instead of cluttering up your About Us page, which is to primarily talk about your brand, you can feature these products in a carousel showcase that is neat and allows for easy navigation without detracting away from the overall story you are trying to tell.
Putting the company culture front & center
While other companies talk about and show their company culture as part of their brand, Classpass's brand is their company culture – they embrace it and proudly show it to their customers.
Apart from a down-to-earth origin story, Classpass creatively weaves in how committed they are to understanding the challenges their customers face and how dedicated they are to finding a solution – and that means getting their team out there to test their solution – by attending fitness classes of course.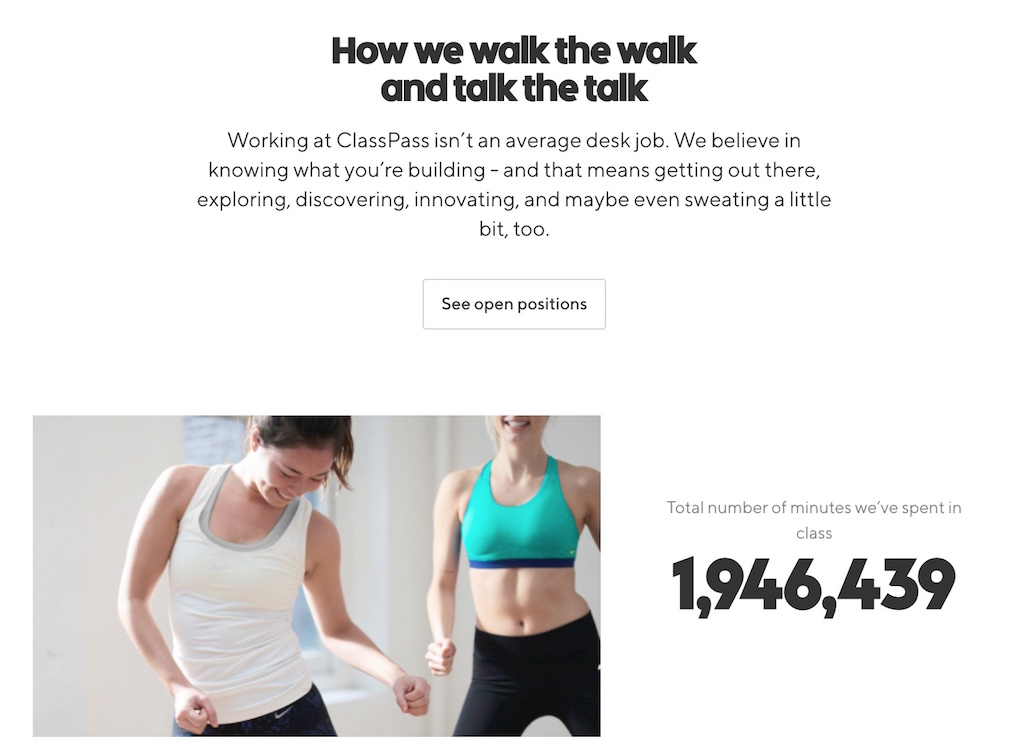 This not only helps to showcase how holistic their solution is and how it is rigorously tested by their own team, but also how close-knit the team is, indirectly showing the strength and commitment of the team to their product, customers and each other.
Highlighting the company's impact
As the world's biggest social media platform with over 2.4 billion users, everyone (including you) probably knows what Facebook is about and how it functions and Facebook knows that.
Amidst all the allegations and problems they have regarding data privacy, they intelligently showcase their core principles and the positive impact their company has made to their users and their communities.
Facebook cleverly uses statistics to create a story around the intangible effects that their platform has created.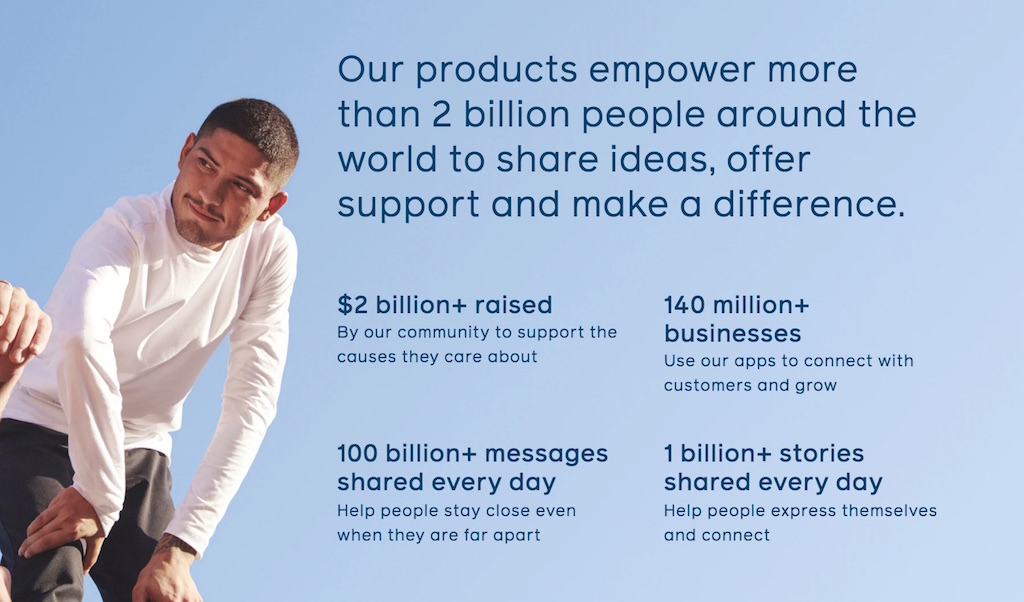 Your brand doesn't have to be an iconic billion-dollar company to put this strategy to good use.
Think about the impact your business has made in your community and your customers and the benefits they have enjoyed and showcase those to your readers! Not only does this help to showcase the strength of your business, your reader will also understand what your brand stands for – after all, actions speak louder than words.
A hub to tell stories & discover more
Amazon's About Us page might seem overwhelming at first with an explosion of information at every turn, but there is a method to their madness.
As a company of their size, it is quite impossible to just craft a simple About Us page without leaving out critical information their audiences desire to understand.
Amazon segments their About Us page into three segments 'Who we are' that covers their work culture, 'Building the future' that touches on their impact on their communities and 'What we do' that covers the products and solutions their brand offers to customers.
However, the most noteworthy thing in their About Us page is that they utilize videos and blog posts as part of a gateway to understanding more about Amazons through personal stories.
If you have incredible and unique stories in your blog and other content resources, don't be afraid to integrate them into your About Us page. Done properly, it won't seem cluttered but actually be a useful hub for your readers to learn what your brand truly embodies.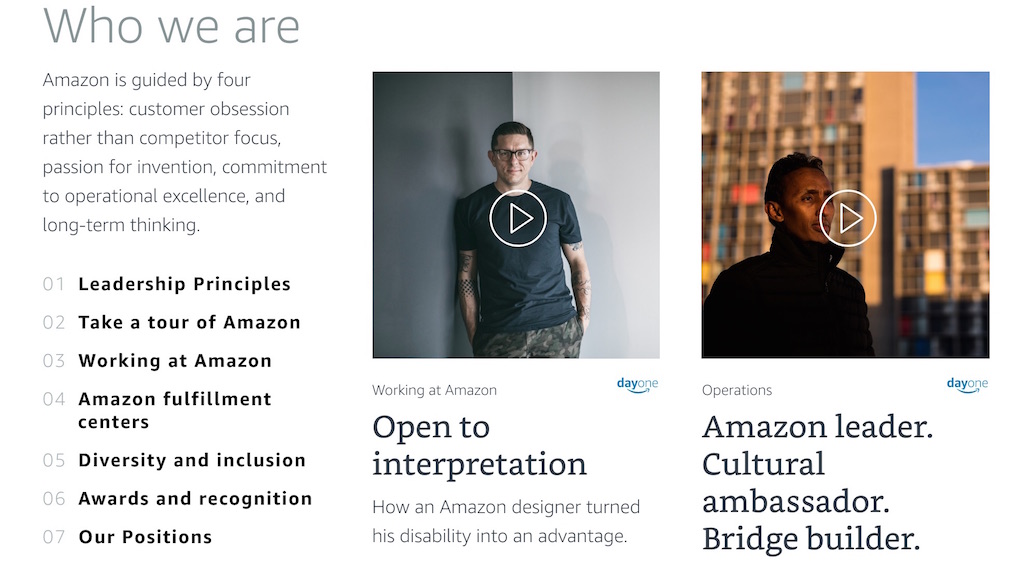 Highlighting data-driven achievements
When it comes to emphasizing the credibility of your company, highlighting your awards and achievements is a great way to showcase your brand's work culture and growth.
Intuit does this well by integrating their hard-earned awards naturally onto their About Us page. Each award is strategically selected to add a 'punch' to what they are trying to portray.
A picture of a diverse workforce is great, but an award for it is even better! 
By using facts and figures in unveiling their revenue, employee count and global office presence, Intuit underlines the tangible results that have been attained over the years, making it an exciting brand to be involved with – whether you are a job seeker, an investor or a potential customer.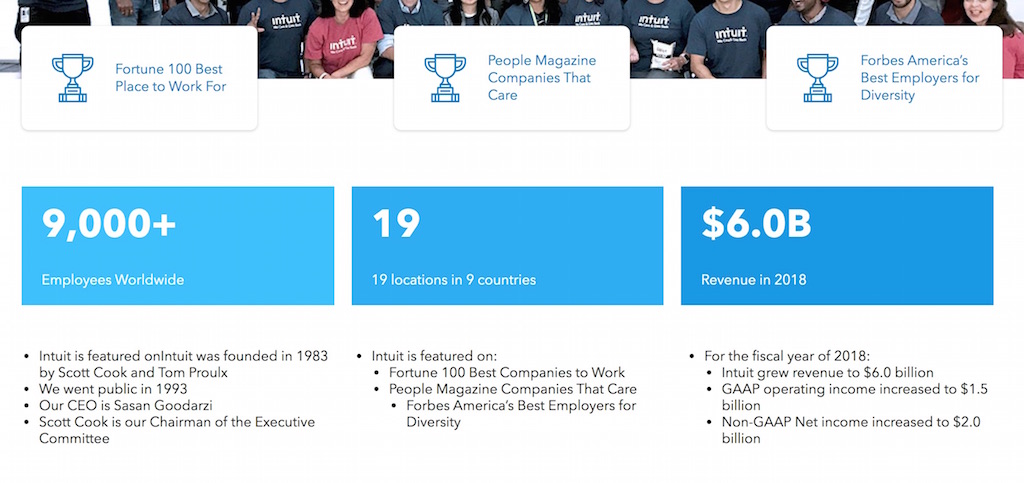 Received recognition from an award or media mention, be proud of it and highlight it on your About Us page!
Showing company values the cool way
Every business has a set of values that sets them different from the competition and allows them to attract the right kind of customers & talent to their doorstep.
While it is possible to just slap down a chunk of text or maybe even statistics to highlight the impact of your company values, Unbounce does this in a very humanistic and personal way.
Unbounce puts faces and associates their team members with reach of the values their company and brand embodies. With full focus placed on the team and how they function together, this is a great example to really showcase what your brand stands for.
Through their About Us page, readers will immediately understand how much emphasize Unbounce places on putting people first – every section (literally) is filled with images of their team working and have fun together!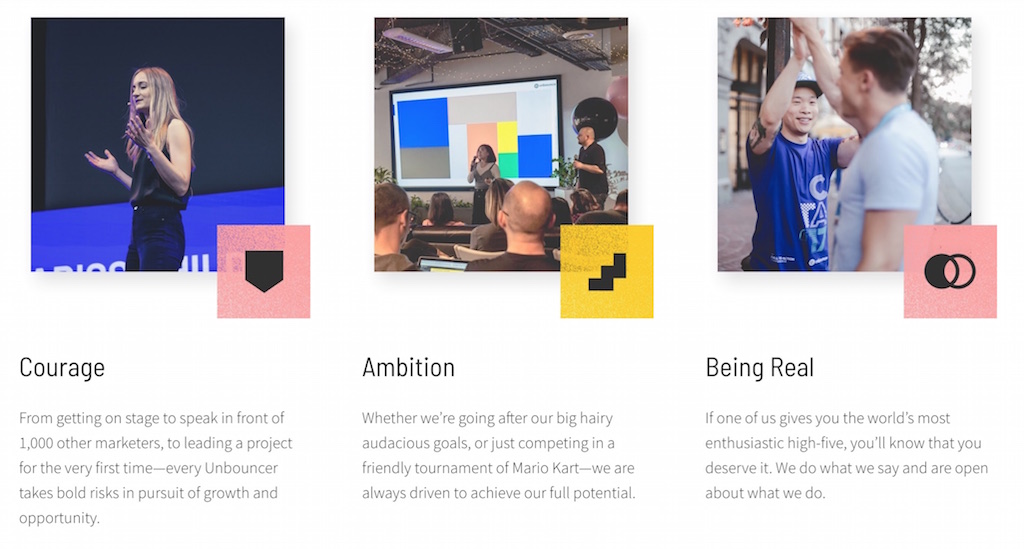 The power of the tribe
A world-renowned speaker and business coach to businesses and corporations, Simon Sinek is known for emphasizing the meaning of purpose and what drives people to do their best – by being working together as a tribe.
His About Us Page does this in spades by focusing on the meaning and the people that make his organization possible and successful.
Framing himself as the tribal leader of his group, his bio highlights his achievements (Bestseller books and Ted Talks) to quickly establish his credibility.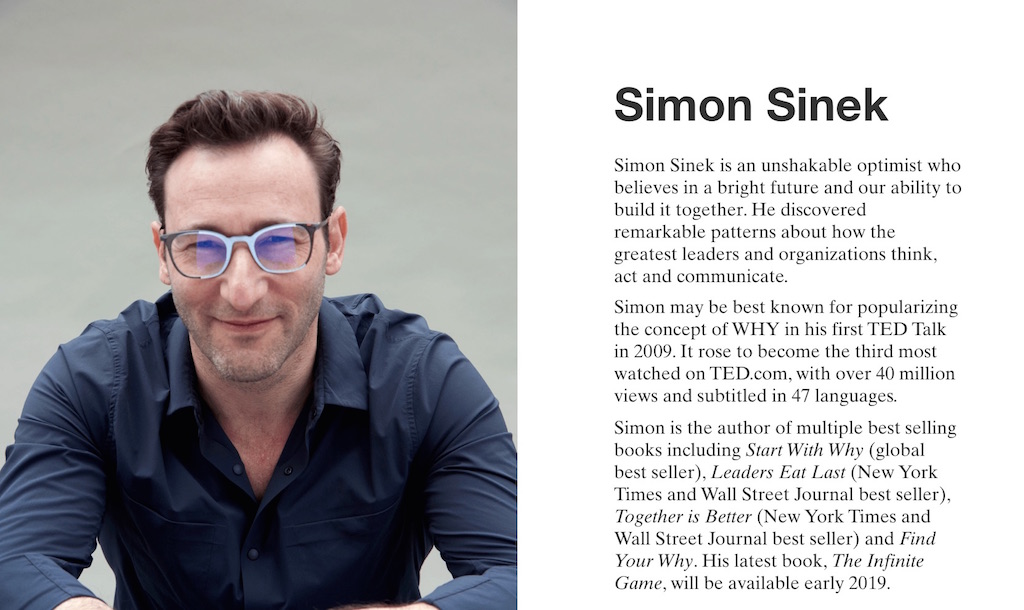 Instead of the standard corporate team-shot, Simon introduces the rest of his team not as mere employees or collaborators, but believers of his ideas and 'teachings' that come together to make a difference in the world.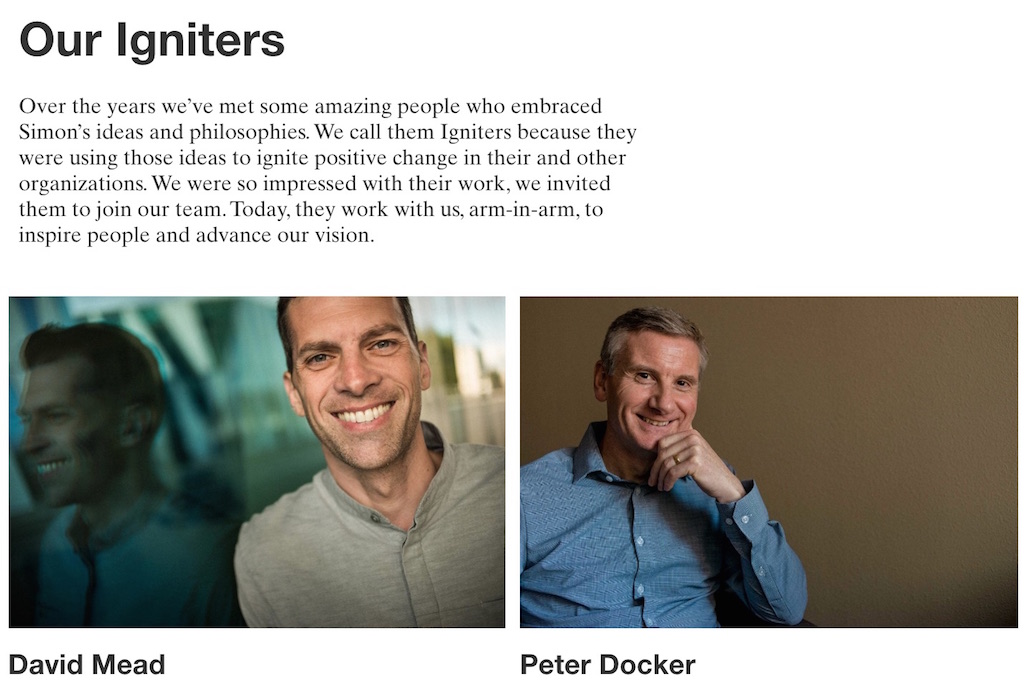 If you are a consultant or a speaker working with other individual professionals, taking on a tribal slant on your About Us page is a powerful strategy that goes beyond attracting just customers – you will draw in believers and evangelists of your brand that will not only be loyal customers, but fans that will spread the word!
The community is your brand
Bird is the 'Uber' for electric scooters, providing mobile transportation last mile rental service for everyday people.
Bird's About Us page is simple and like many tech unicorns of late (eg. WeWork), focuses on the community that they are creating with their solution.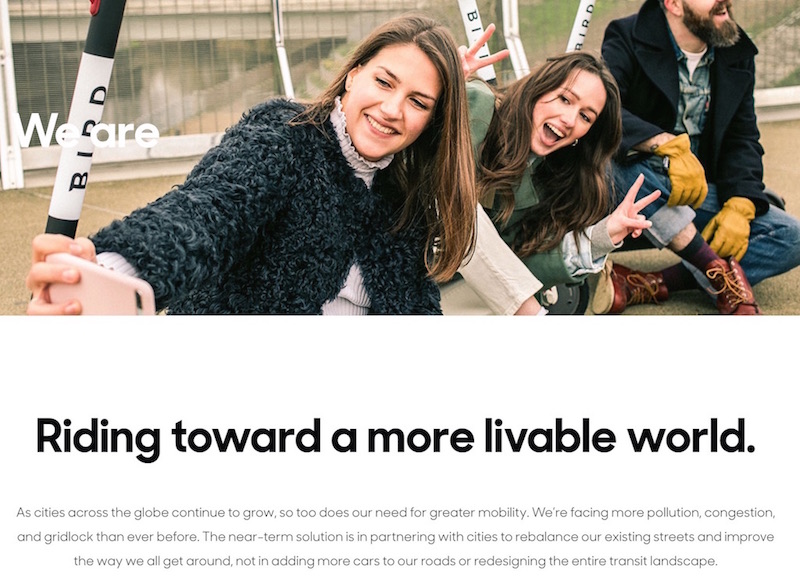 From cheery pictures of their users and a video that tells of a story of 'Freedom from traffic and pollution', Bird's About Us page harnesses the 'Us vs The World' dynamic to transform the company into something bigger.
If your business has an inspiring story that not only solves a problem but also tackles a necessary issue we all face (like climate change), taking this approach is a masterful stroke in storytelling and building your own tribe.
Let your product do the talking
When it comes to your About Us page, sometimes people just want to know what your product does without overloading on information about your company history and the people behind the scenes – this is a rather popular approach with the About Us pages of apps.
Instead of plunging the reader into a world of information, TikTok's end goal is to convert any reader into a user of their app. They accomplish this by directly showing what TikTok, the app itself can do.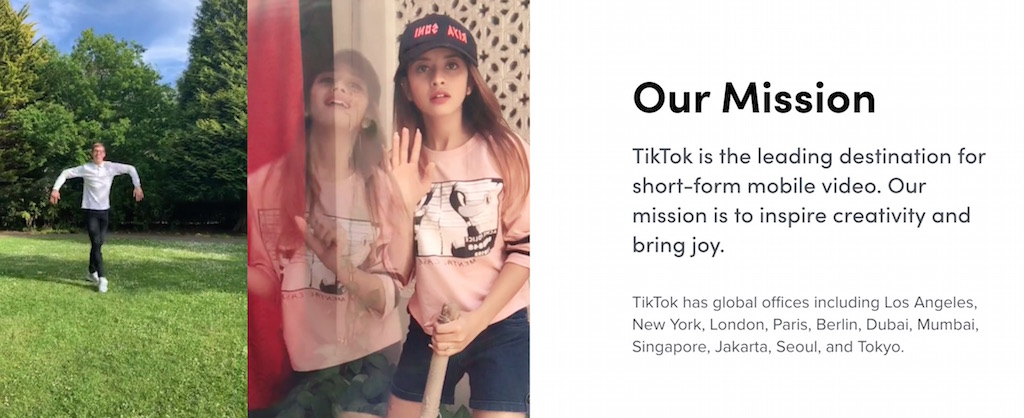 Depending on the nature of your solution, this might or might not work. However, if your product is:
More towards the B2C side and

Highly interactive and

Simpler to explain through images or videos
Skip the lengthy About Us page and let your product do the heavy lifting for you!
Is There A Secret Recipe To A Winning About Us Page?
Not really. 
Unfortunately, there is no one size fits all template that you can use to suddenly create an About Us page that is effective, every business is different. However, there are 5 sets of questions to ask yourself that will help you prepare the building blocks of your page:
1) What is the primary mission of my business? What am I trying to solve?
2) How did I start my company? What was the journey like and the key events along the way?
3) Who are the customers I have served so far? How has my company benefited them and impacted the community?
4) What are my company's guiding values? What type of people do I want to attract to build the team that my business needs?
5) Who are the people in my team? What is unique about my company culture?
Creating an About Us page will take considerable time and effort but that doesn't mean you can't have fun with it.
Get inspired with these 21 examples we have highlighted, ask yourself the 5 sets of questions above and get cracking!
Let's Craft Your Best About Us Page!
You're busy, we know, so let us handle the challenge of crafting an About Us page for your brand.