16 Tips To Create Killer Website Content (Examples Inside!)
April 28, 2020 | Sean Foo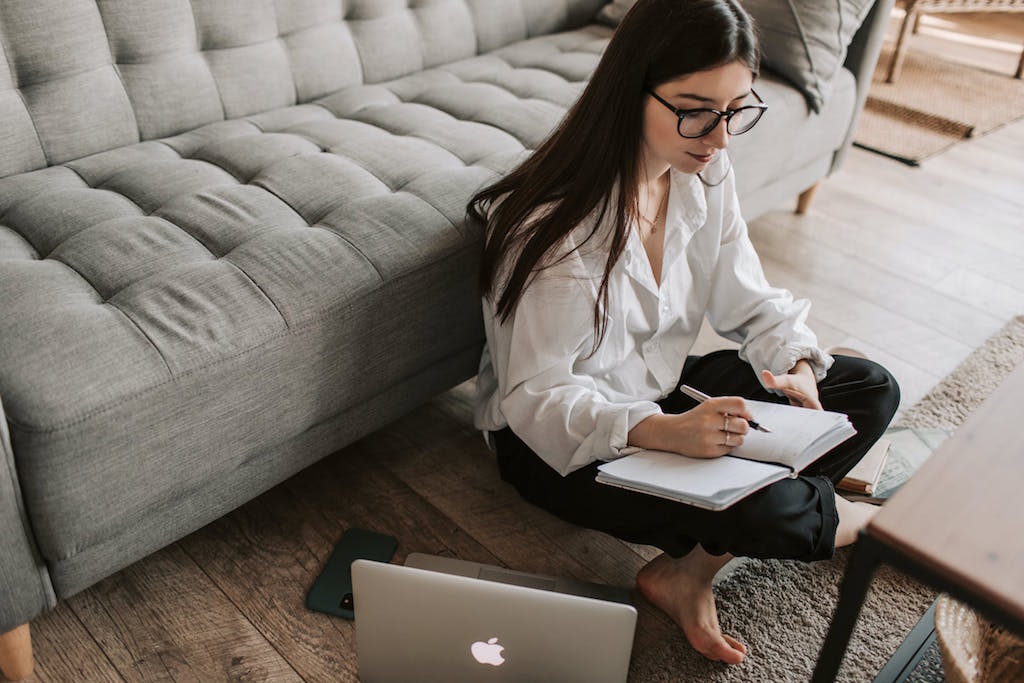 Your website is not just an information hub for your business, it is actually your virtual salesman working tirelessly to turn visitors and prospects into paying customers!
Sure, a fantastic design is important and those new animations are awesome, but at the end of the day, it will be great copywriting that will compel your audience into taking action.
From driving valuable traffic to your website from search engines to building much-needed trust to help boost conversions, effective website content is the key that will deliver your business tangible results – leads and sales.
However, many websites neglect the principles of good web copy and expect to get meaningful results – doesn't work that way!
So here are our best tips, battle-tested through hundreds of web copywriting projects done for our clients, to help you write the best website content your business deserves.
16 Tips & Principles For Writing Killer Web Content:
1. Define Your Specific Audience & Write For Them
2. Craft Content For Each Stage Of The Buyer's Journey
3. Lead With The Big Benefits
4. Write Conversationally
5. Write For What People Are Searching For
6. Build Trust & Credibility Through Social Proof
7. Pre-empt & Address Potential Objections
8. Be Clear, Concise & To The Point
9. Write A Strong & Compelling Call-To-Action
10. Tell Your Origin Story
11. Write With The Best SEO Principles In Mind
12. Keep Your Forms Simple
13. Ensure A Consistent Tone Of Voice
14. Write The Best Homepage Possible
15. Maintain A Clear Navigation Experience
16. Ensure Your Images Add Value To Your Content
1. Define Your Specific Audience & Write For Them
Before you write a single word, are you clear about the audience you are trying to reach and appeal to?
One of the biggest mistakes of businesses writing web copy is to have a poorly defined audience or none at all – all of your efforts will not be effective!
The first step to web copywriting success is to clearly define your customer persona, and that means going beyond just the usual demographics of age, occupation, marital status, location and interests.
A comprehensive and well-defined customer persona will include:
– What are their hopes and dreams?
– What are their biggest challenges?
– What are their end goals and ultimate objective?
– What type of offers are they exposed to daily?
– Who or what influences their buying decisions?
Basecamp does a fantastic job of writing for a clearly defined audience – entrepreneurs, business owners and project managers looking to manage their team remotely in just one place.
They address the fears and concerns (people feeling stressed and scattered work) while homing in on the end goals (a quick transition, a sense of control and work being organised).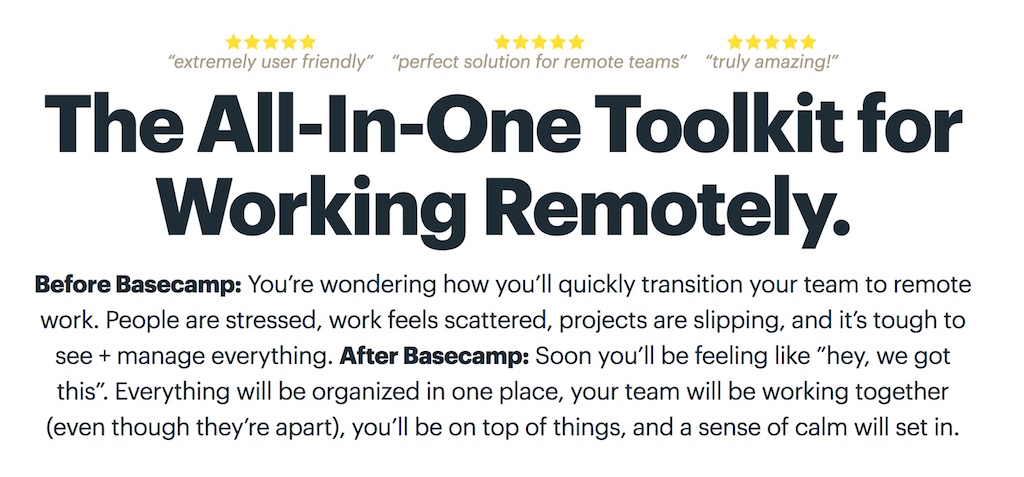 A great way to define an accurate customer persona is to sit down with your sales, customer service and marketing teams.
They are ones who interact the most with your customers and have insights that will be valuable in shaping the profile of your customer.
Better yet, interview a bunch of your customers, especially the ones that are overjoyed with your product or service and get to know what motivated them to make the purchase!
2. Craft Content For Each Stage Of The Buyer's Journey
Every visitor that lands on your website will be in a different stage of the buyer's journey.
Simply put, some people will be shopping around and just looking for information while others will be making a decision if your product is the solution they truly need.
That means you will need to be crafting content to cater to each type of prospect that visits your website.
Like a sales funnel, your customer will be going through the buyer's journey that will take them from just a casual visitor all the way to a piping hot sale.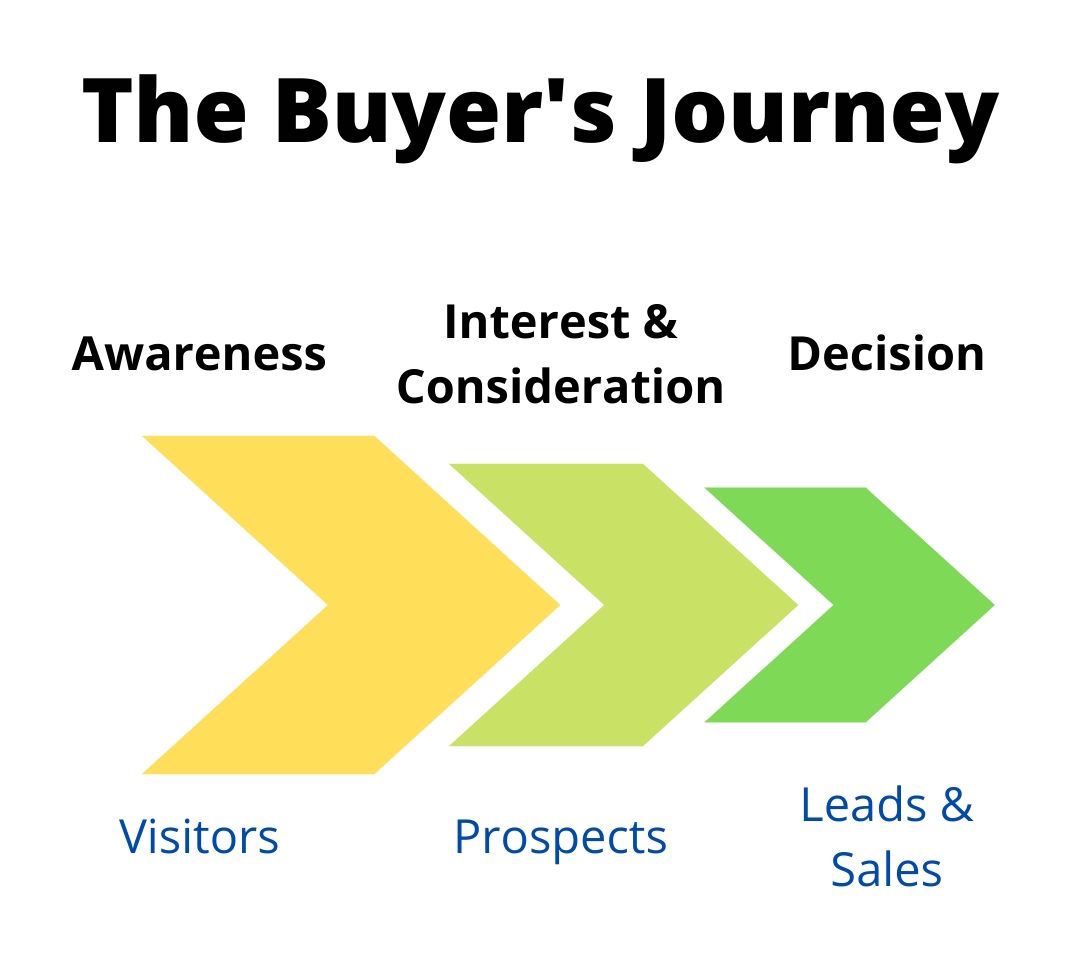 Each of your web pages will be catering to a specific stage of your customer's journey – that means the content will be distinctly different to fulfil the different purposes of providing information to convincing them to make the purchase.
The Awareness Stage:
This is where your visitor understands they have a problem to be solved and visits your website through Google search, social media or word of mouth.
Your web content will have to:
– Focus on the big and ultimate end goal they are seeking
– Be direct and speak directly to their emotions
– Educate them on their problem and the solution present to solve it
This typically covers areas of your website such as your:
– Homepage
– About us page
– Top-level or awareness-building blog posts
The Consideration Stage:
This is where your prospect starts to do comparisons and research of your solution to see if it is a good fit for their needs.
Your web content will have to:
– Go in-depth into the benefits & the features that make it happen
– Provide as much information as possible
– Include a variety of social proof 
This typically covers areas of your website such as your:
– Product pages
– 'How we do it' page
– Informative case studies
– In-depth blog posts or guides
The Decision Stage:
This is the final stage where a prospect converts into a paying customer (or an enquiry depending on your business). They are making a buying decision here.
Your web content will have to:
– Inflame their desire to buy with an enticing offer
– Address any doubts they might have about your solution or brand
– Get them to take action with a persuasive call-to-action
This typically covers areas of your website such as your:
– Testimonials & in-depth benefit-driven case studies
– Dedicated landing pages
– Call-to-action areas in your product and services pages
3. Lead With The Big Benefits
When your visitor lands on your website, homepage or product pages, the first thing they want to understand is simply 'what is in it for me?'
They want to know how does your product, service or business as a whole benefit them and improve their current situation.
This means leading with the big benefits and being direct about how your solution can 'bring them to heaven and escape hell'.
A great way to accomplish this is to think about the biggest problems that are facing your customers and address them head-on with the solution and what it will look like once solved.
Trello's homepage immediately highlights the biggest benefits of their solution that matter to their audience – working more collaboratively and clearing more work.
In addition, they justify the benefits with a quick showcase of the features (boards, lists and cards) that make it happen in the supporting copy.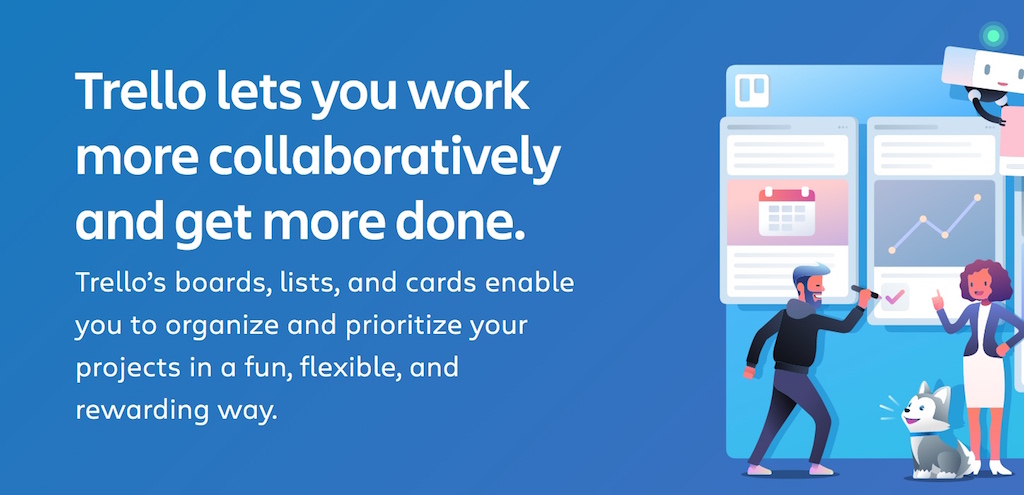 4. Write Conversationally
One of the biggest mistakes made when crafting web content is becoming too robotic and technical and jargon-filled in your writing.
A powerful technique to better connect with your reader is to write conversationally and speak to them as if you are personally explaining to them how your solution works and why they will benefit from it.
Not only will you help humanize your company and be more engaging, but you will also help build trust with your readers and improve conversions – that means more leads and sales!
Here are 5 simple ways you can immediately make your web content more conversational and personal:
– Avoid using jargons and complex words. Keep things simple.
– Use the active voice to spur action such as: 'Empower your entire team' and 'Save more on your monthly bill'.
– Use more personal words such as 'you' and 'we'.
– Keep sentences short and concise.
– Utilize storytelling and use humour to lighten the mood
Barkbox's web content is highly conversational, allowing their audience to intimately experience how the brand and its products will affect their lives.
By using active voice words such as 'chat with us' and 'work with you' together with personal words including 'your' and 'you', Barkbox writes as though they are having a one to one conversation with their reader.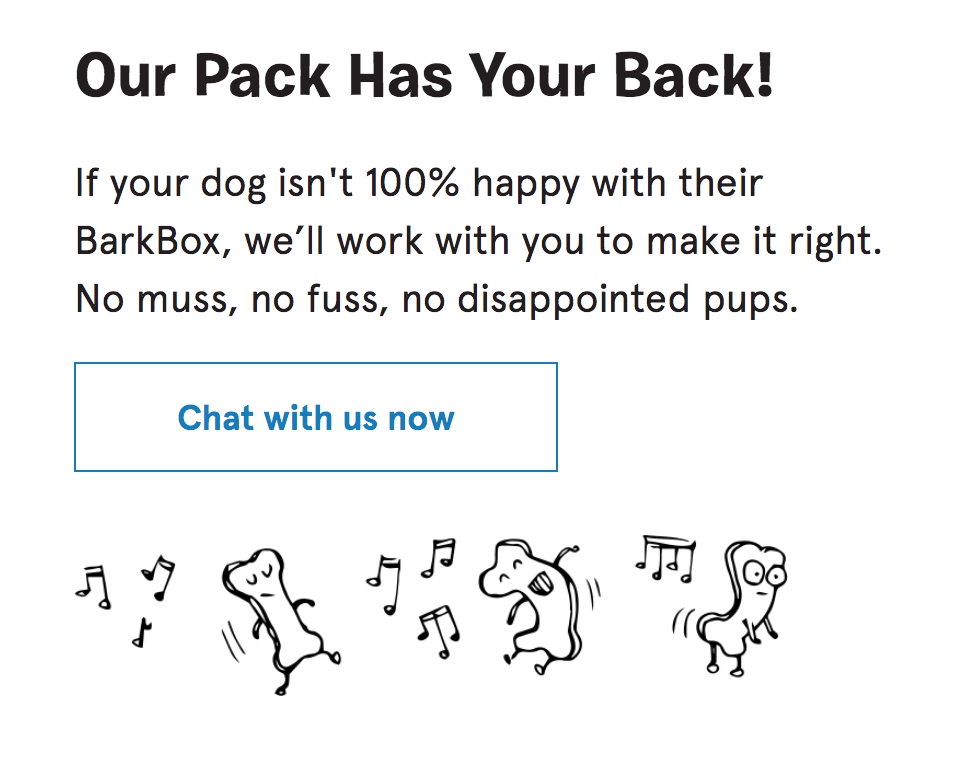 5. Write For What People Are Searching For
People are constantly searching for the products and services that they need on search engines like Google and sooner or later they will land on your website or landing page.
The last thing they want to see if information that they aren't looking for – it's this disconnect that will make them click away to your competitor's website.
You don't want that!
There are 2 things you want to make sure your website delivers to fulfil the search desires of your prospects.
Firstly, the content of your webpage has to match what your audience expects once they click the search results in Google.
Take the search term of 'free email sending service', people who search for that will expect to be introduced to the service itself – makes total sense!

Visitors that click on the link above will be glad that they are greeted with the exact content they originally intended to search for.

This helps to keep your searchers engaged while building trust that your brand can deliver what they were searching for.
Secondly, you will want to create content, especially for your blog content, that have search demand which is simply informational content that your prospective customers are searching for.
Let's say you own an online surfboard shop, it might be tempting to create dozens of articles surrounding your brand's history and the people involved in it – but are people really searching for it?
There are many tools like Ahrefs & Ubersuggest that you can use to determine the best keywords (and thus topics) to base your content on.
By plugging the keyword 'surfboards' into the platform, you will immediately be able to determine the right type of website content you should be writing to get traffic.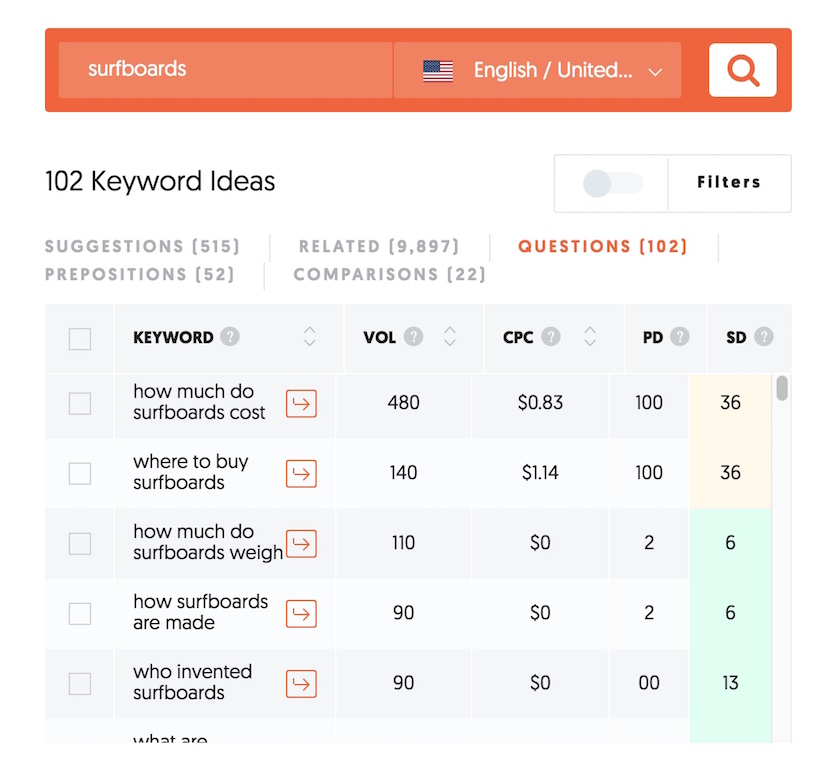 With these insights, now you can immediately tailor your content on your website to the topics people are actually interested in and searching for.
You can create an article on 'The History Of Surfboards – how they are made and who invented them' as well as an in-depth resource such as 'The Ultimate Pricing Guide For Surfboards'.
6. Build Trust & Credibility Through Social Proof
Your website content isn't just written to shine the spotlight on your products and services, a major part of it is to build the trust your visitor has in your company and brand.
Thankfully, there are a variety of ways you can easily accomplish this on your website with various forms of trust-building social proof.
These can include:
An About us Page: That showcases the size, professionalism and credibility of your team.
Case Studies Page: That highlights the results you have delivered for your customers. Like a before & after transformation.
Customer Testimonials: That populate different pages across your website, from your product pages to your homepage to gradually build a sense of credibility and trust in your audience as they browse through your site.
Trust is built gradually, especially when it comes to selling online on your website. 
Vendhq does this fabulously by having trust-building content such as testimonials across their various pages (homepage and service pages) as well as dedicated customer service pages as well as a 'Why Choose Vend?' page that further cement their brand credibility.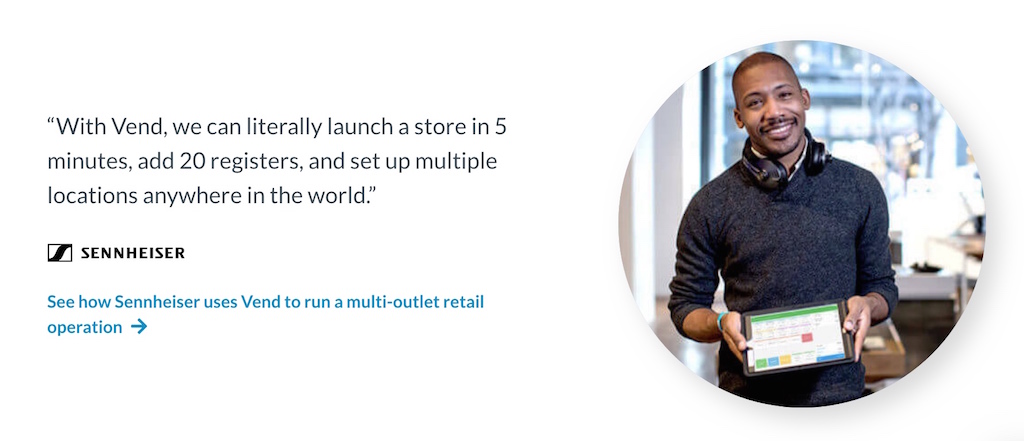 Every page should have some content that establishes the fact in your visitor's mind that 'Yes, you are an authority in your industry, your solution can deliver results and your company is trustworthy.'
Here is a list of the top 8 social proofs your website needs, regardless of your industry!
7. Pre-empt & Address Potential Objections
Whether you are selling software services, a physical product or a consultation experience, every single visitor that comes onto your website has mental blocks and objections floating in their minds.
They could be:
– The product is just too expensive
– Am I getting all the features for this pricing?
– It seems too complicated for me to learn and use
– What if I have questions after purchase? Will they help?
While I'm sure you have a rock-solid product and an equally awesome team, you will need to address these fears in your website content.
But realistically, you can't solve each and every objection around, so just aim for the biggest and most common ones.
Go back to your customer persona and understand what are the biggest misconceptions, fears and problems people face with your industry, niche and solution.
It pays to stalk your competitors and learn if there is a recurring point they all seem to address – if that's so, you probably need to address it as well.
Getresponse understands that one of the biggest fears customers in their niche have is making a purchase and having to endure poor customer support.
They crafted a dedicated web content section to assure customers that they can rely on their customer success team.
This doesn't just address the fear, but instills trust and credibility to the business as a whole!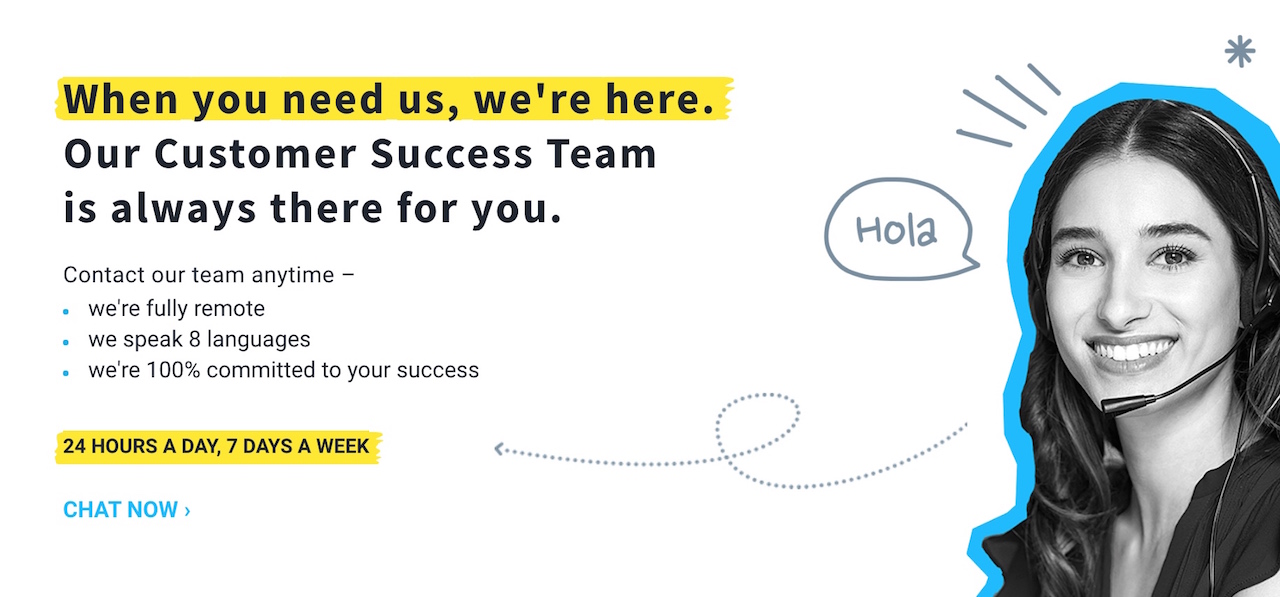 8. Be Clear, Concise & To The Point
Most audiences today scan through web pages first and then only read if their attention is captured and are interested to learn more.
As our attention spans are becoming comparable to that of a goldfish, that means your writing will have to be clear, concise and straight to the point.
Here are 3 quick points to accomplish that:
– Don't use jargon and keep the language simple
– Use as little words as possible to convey the same message (especially when describing your benefits)
– Only highlight the most impactful (and necessary) benefits and features your readers will care about
Unbounce keeps the content on the website, especially their hero section, short and to the point. 
It hits directly on the end goal of what customers want, how they can accomplish it and removing a potential obstacle, all in just one sentence.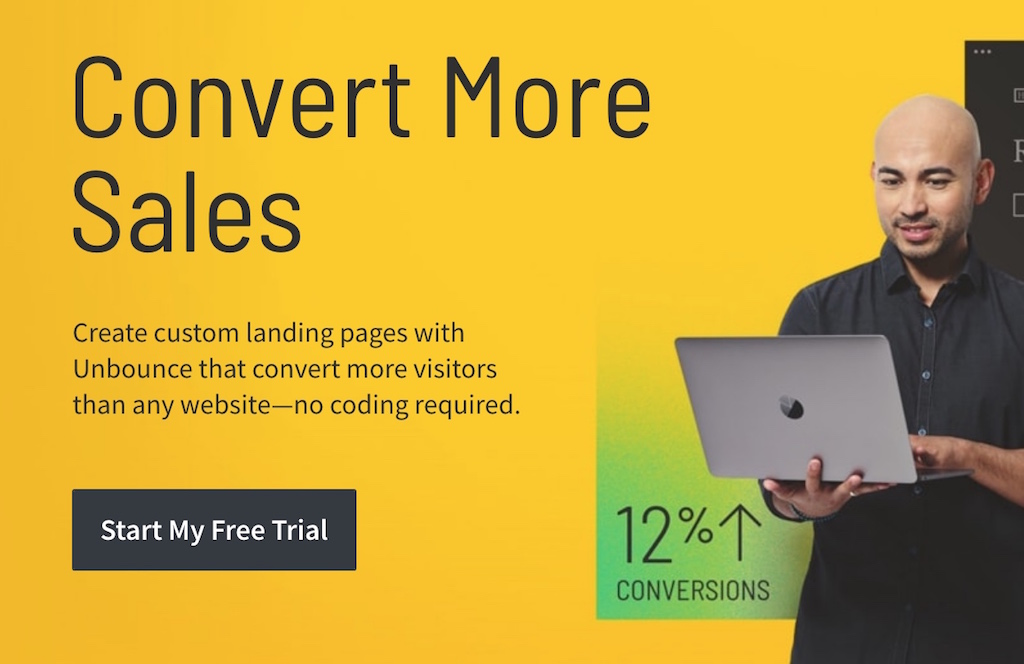 Mailchimp also implements concise copywriting into crafting their benefits & features content, making it quick and easy to understand.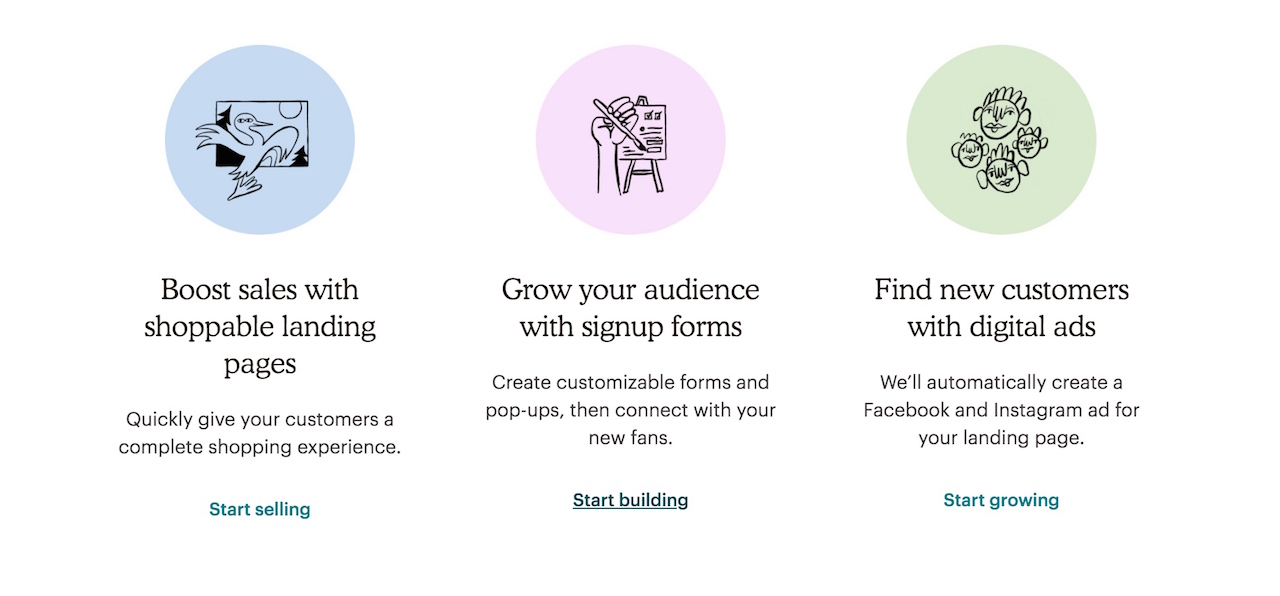 9. Write A Strong & Compelling Call-To-Action
You can have the most fascinating and convincing content plastered all over your website, however, unless you have an effective call-to-action, you won't maximize your conversions.
Your call-to-action has but one purpose – get your reader to take action and leave their details or directly buy your product or service.
Writing an enticing call-to-action doesn't have to be difficult. 
Simply ensure that:
– You remind the reader of the big benefit they will enjoy by taking action.
– Tell them exactly what they are going to get once they take action.
– Use action words that are active such as 'Sign up Now' or 'Get On Board!'.
Leadpages showcases a compelling call-to-action by making it clear what their viewers will get 'A 14-day free trial', removing any doubts and spurring action to sign-up.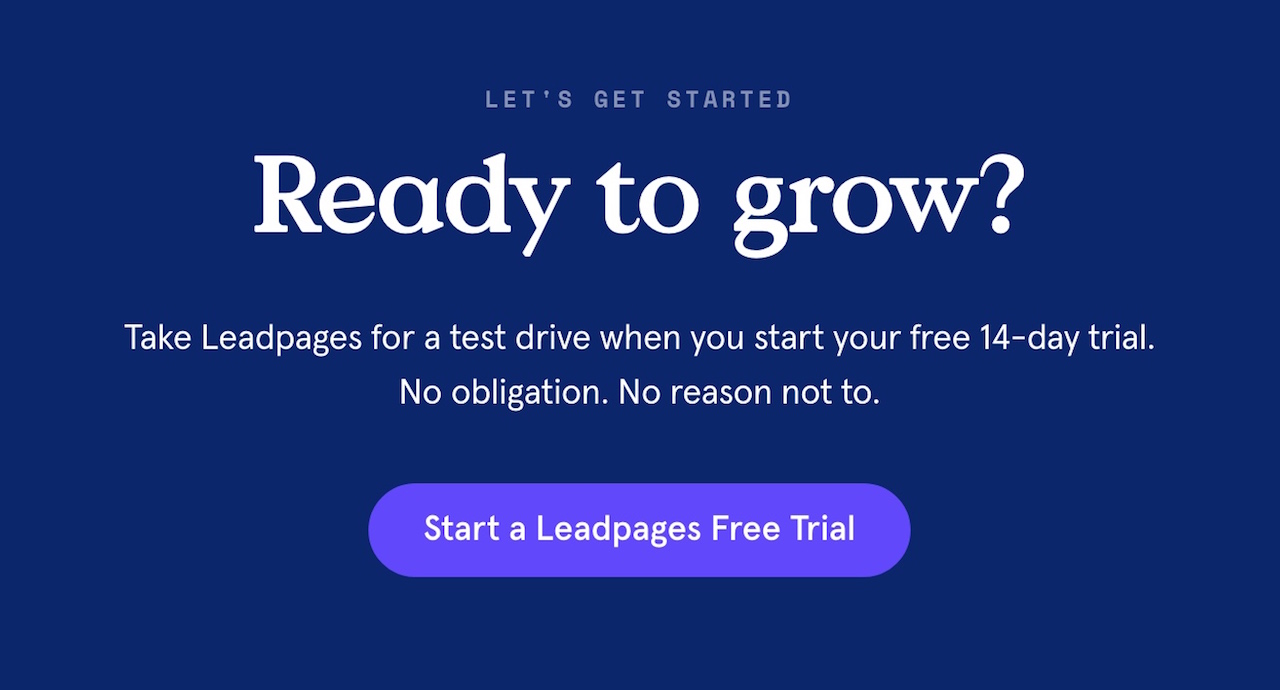 One of the biggest missed opportunity is to just place your call-to-actions in just your homepages and product pages. 
While that is standard good practice, you want to place them in common areas where you get the most traffic. Your prospects might want to buy at any point in time and you want to make it easy for them to convert.
These include your:
– 'How we do it' page
– Blog posts (place them right at the end)
10. Tell Your Origin Story
What do Batman, Superman and a really awesome business have in common? 
An awesome origin story!
Every business has a beginning and if you are looking to connect emotionally with your audience, tell them the origin story of your business.
Not only does it remove the perception of your company as a faceless entity, it actually empowers your brand with one of the most useful elements in marketing – authenticity.
Your origin story can include the trials and tribulations that you went through during your business as well as what motivated you to launch your company.
Warby Parker proudly showcases their origin story in their 'about us' section.
Knowing that businesses selling spectacles are a dime a dozen, they cleverly utilized their founding story to differentiate their brand into one that cares.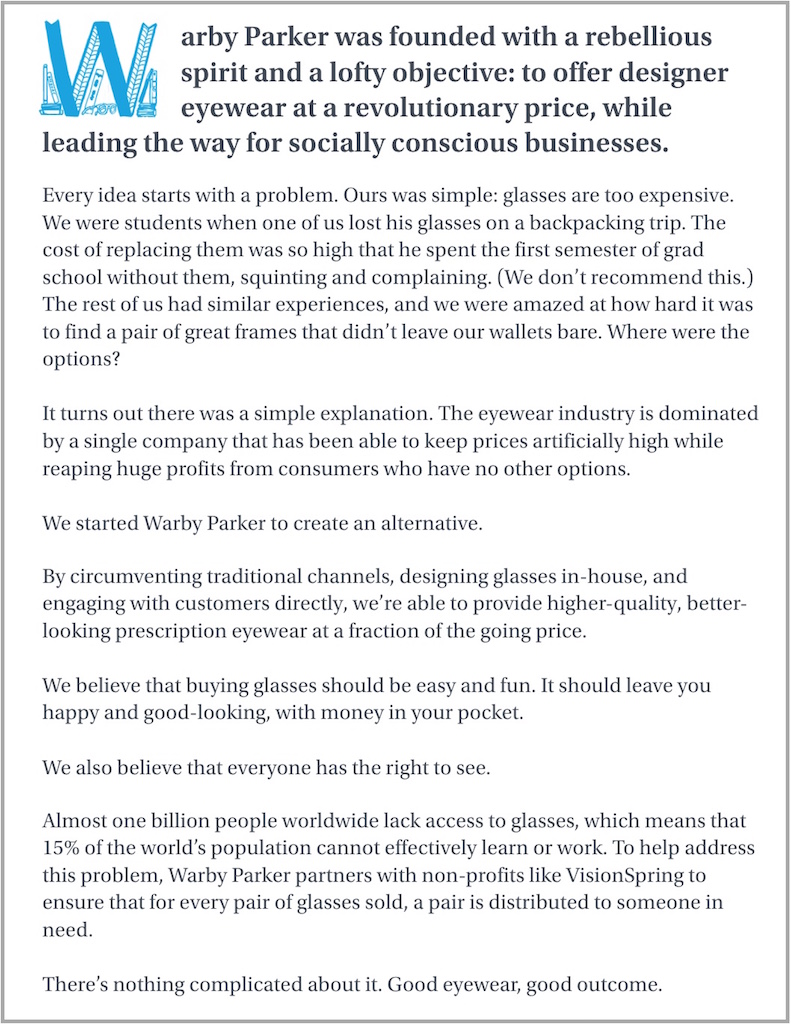 11. Write With The Best SEO Principles In Mind
Effective website content not only helps you convert prospects into customers, it helps bring more visitors to your website from search engines!
To win the search engine game, you will have to craft web content that follows the best SEO principles and avoids the common SEO mistakes that make your website search engine friendly to please the Google Gods.
That means optimizing your content such as:
– Integrating your keyword phrases naturally into your pages
– Handling onsite SEO including title tags, header tags and meta descriptions
– Internal linking to your own website and external linking to credible 3rd-party sources
– Crafting content on your blog that your prospects are actively searching for
– Creating resources that can help build backlinks to improve your website's search rankings
Here are 8 SEO best practices you can follow to ensure your web content is on-point to dominate the search engines!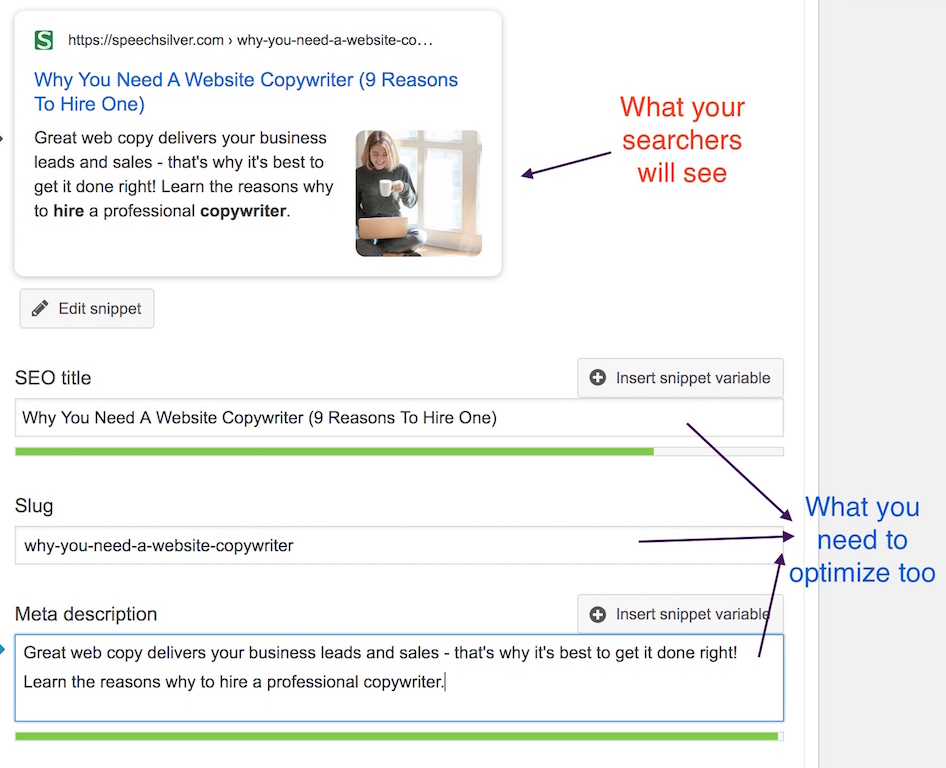 12. Keep Your Forms Simple
One of the best ways to capture your visitors' interest is to include a form on your website.
Whether you are looking to capture enquiries for your consultation service or looking to collect leads for your upcoming product launch – always keep your forms as simple as possible.
From your visitor's name to their email address to their phone number and even their address, you can definitely collect as much information as possible – but that is not ideal for conversions.
The more hoops you make your audience jump through, the less likely they will make the effort to take action.
If you just need a name and an email address, there is no need to collect anything further.
The Hustle, which is a subscription newsletter to your inbox, makes their forms ultra-simple – just an email.
They do not collect what they don't need.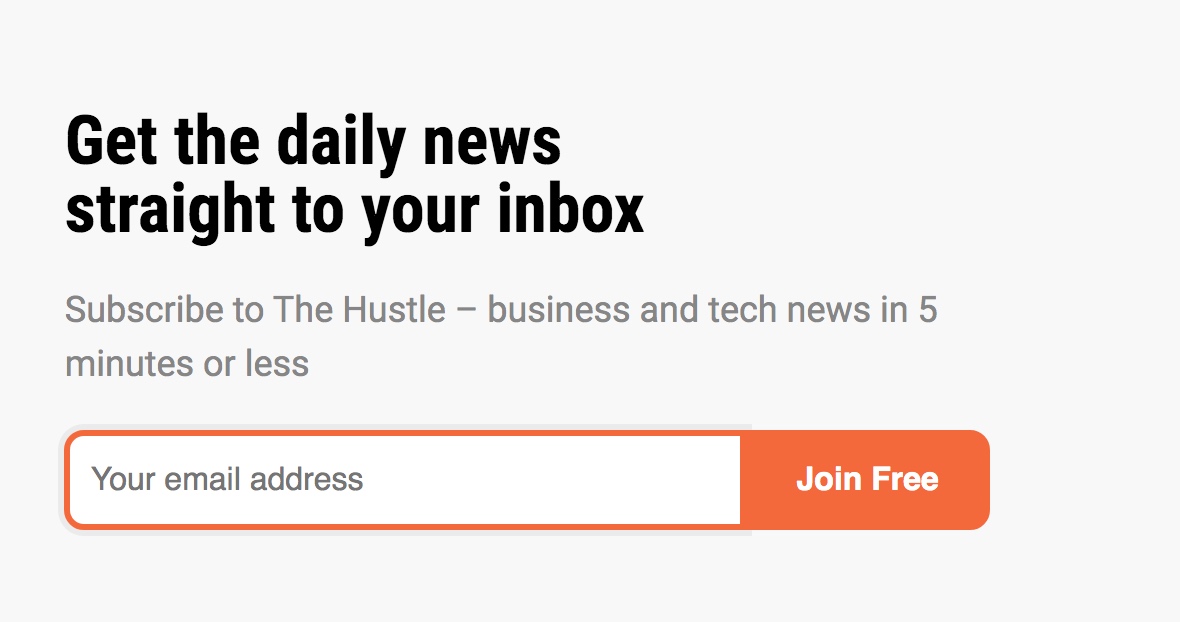 13. Ensure A Consistent Tone Of Voice
When writing your website pages, being consistent with your tone of voice is key to success.
You want your visitors to have a consistent experience with your company and brand throughout your website.
It would be rather jarring if you used a professional and serious tone on your homepage before it becomes jovial and lighthearted on your product page.
Very weird indeed.
Choose a tone of voice. It could be entertaining and fun or sarcastic and witty, but stick to it throughout your website.
Steinway Pianos chose a tone of voice that is professional while using complex and flowery language that is very descriptive.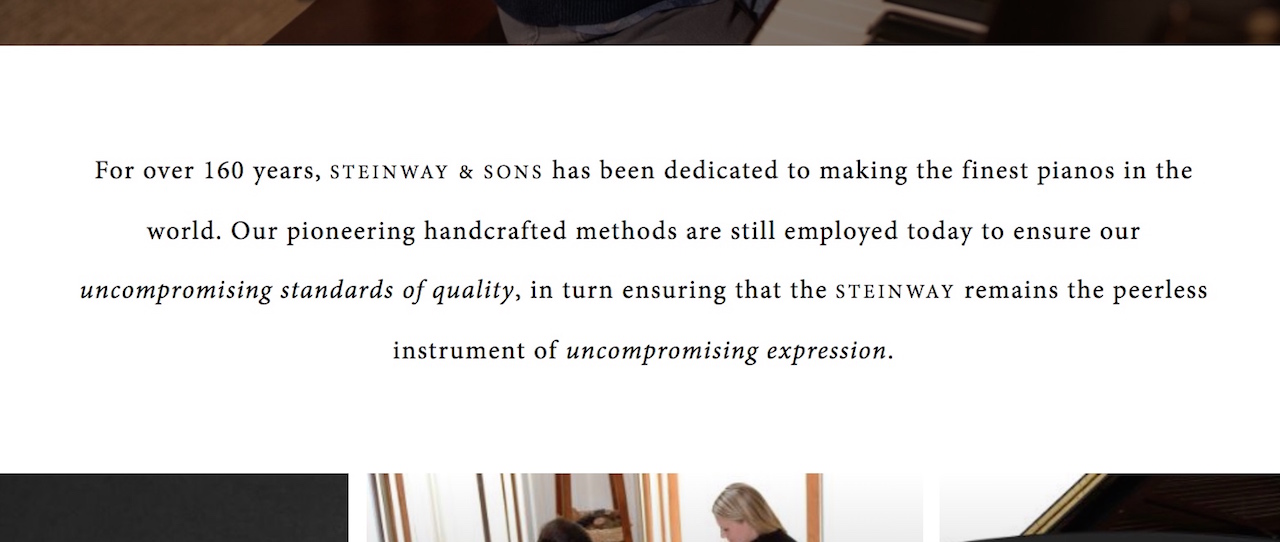 In order to give their visitor a consistent brand experience, they maintain this tone of voice throughout their website.
Including their product pages:

As well as their resource page:

All the way to the different font styles used within the content, they keep everything consistent throughout every web page.
14. Write The Best Homepage Possible
Your homepage will likely be the first page your visitor will see or navigate to once they land on your website.
That means you will have to make a kick-ass impression!
While all of the tips we have gone through is applicable for your homepage, it is rather special because your visitor will use it as a hub to navigate to the rest of your website.
An effective homepage does specifically two things differently than a mediocre page:
– They utilize positioning copy that focuses on crafting an overall image of the business and the brand. It's not just about pushing people to convert.
– They obsess over headlines and subheadings. Visitors to your homepage is in scanning mode and unless you can capture attention fast, you might lose them forever.
Stripe uses positioning copywriting well to position themselves as a credible competitor to the industry leader in the payments space, PayPal.
They include content and information that plays up the image they are trying to sell to the visitor – a trusted and widely-used payment platform for internet businesses.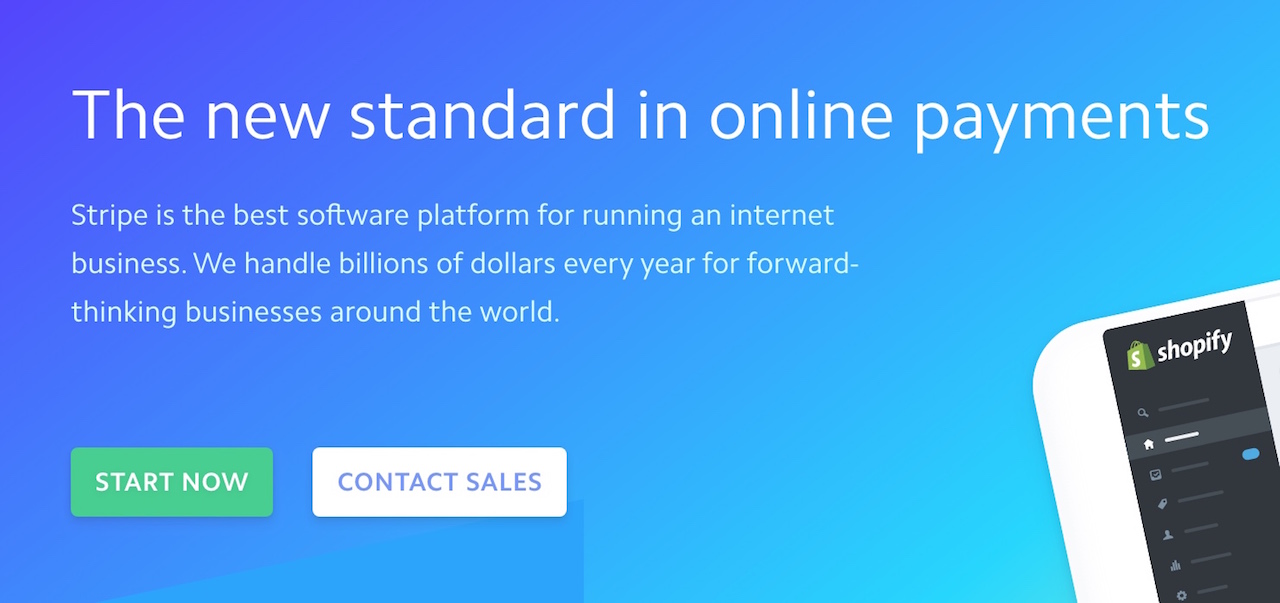 Want more on how to craft an effective homepage?
Here is a guide to get you started with your homepage creation!
15. Maintain A Clear Navigation Experience
Your web content is only as good as how well organized it is which affects how easily your visitor will be able to explore your website.
Firstly, you have to organize your pages into silos or categories.
These categories have to be logically grouped in your navigation bar and the terms used to describe them have to be easily understood – you don't want your visitor to keep guessing.
Vendhq has a clear navigation bar and groups all of the pages logically and writes the description concisely, ensuring a smooth user experience when it comes to navigating around their website.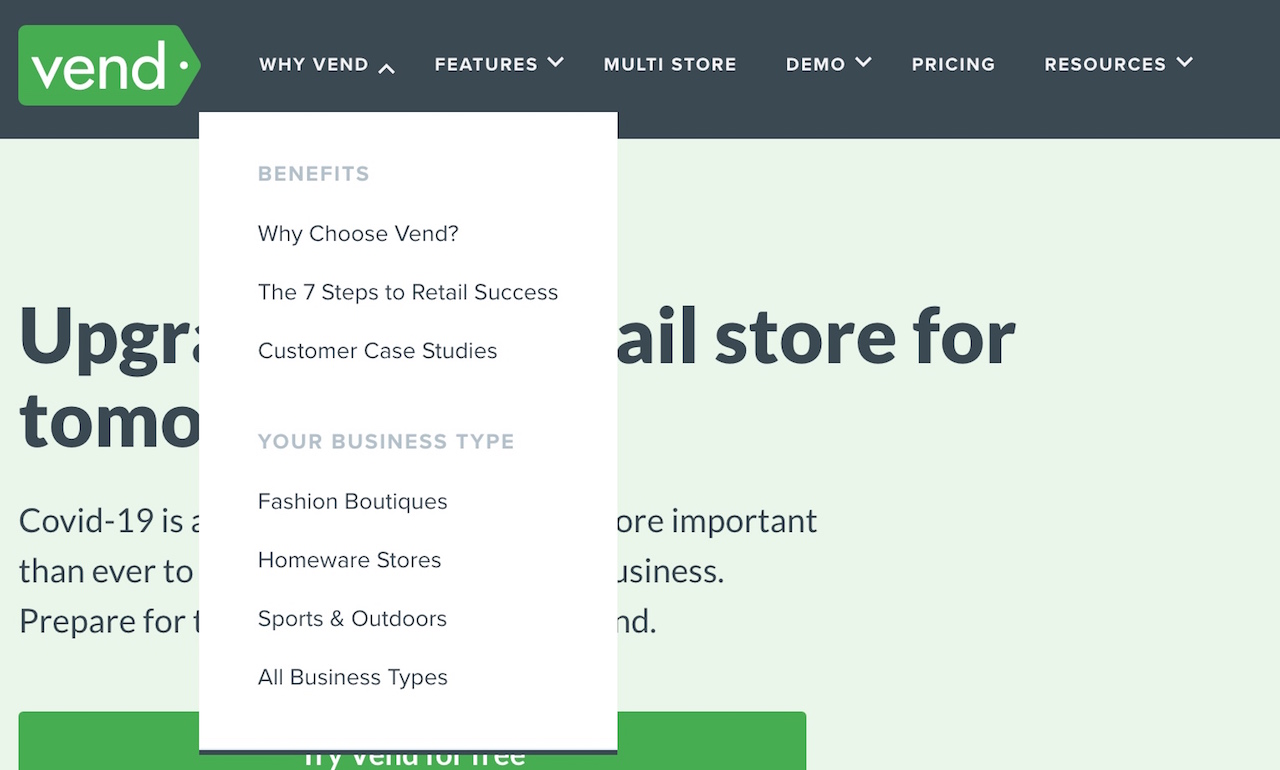 16. Ensure Your Images Add Value To Your Content
A picture tells a thousand words, cliche I know, but you have to keep this in mind as you craft the content for your website.
Your images should complement your content and add value to the understanding of your reader.
Images are best used to:
– Convey an emotion & a feeling to the audience
– Enhance their understanding of a concept or feature
– Showcase key information (like results) visually
If the image confuses the reader from the content, then it isn't doing a good job.
Wix uses customised images that help visually explain what their editor feature does.
The picture adds a huge amount of context to the written content, making it easy for the reader to understand at a glance what they can accomplish.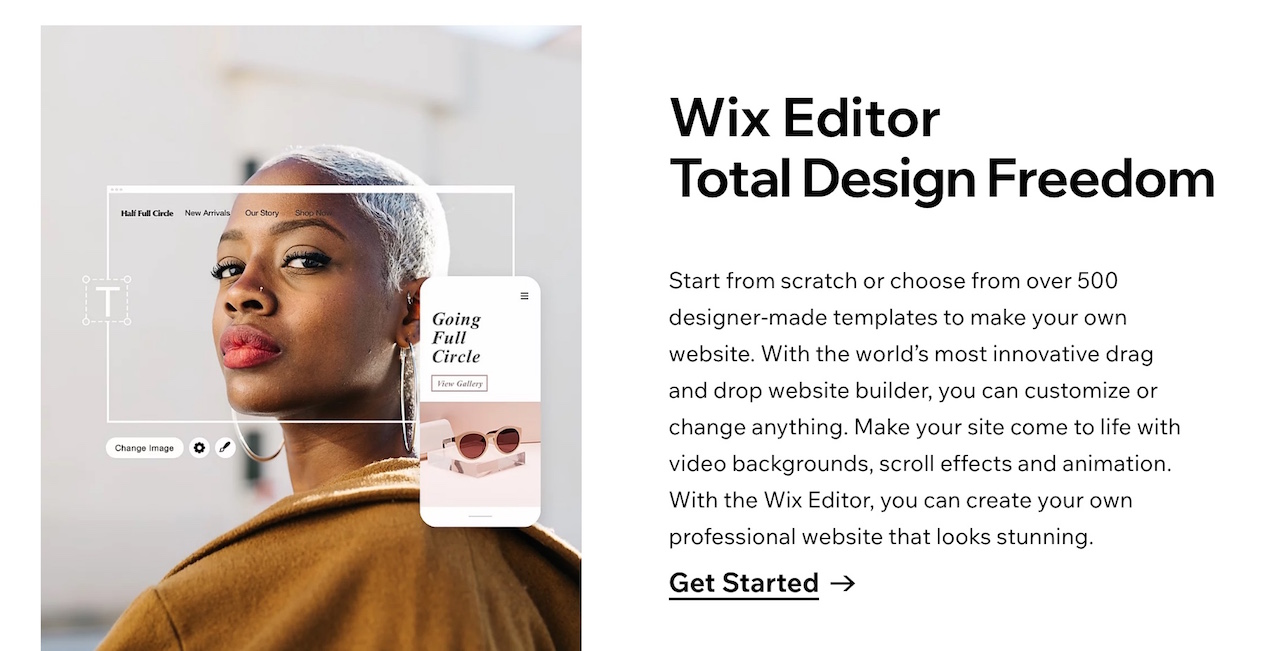 Start Writing Awesome Web Content Today
Writing for your website is a skill that will help you effectively connect with your readers while convincing and converting them.
At the end of the day, awesome copy and web content creation begin with writing with the customer in mind.
If you place user and reader experience at the forefront of your content creation, you will reap the benefits that include higher sales and greater brand loyalty!
Looking for a content specialist to write your website?
Let's work together and create content that converts!