Digital Marketing Audit – Your Checklist To Conversion Success
September 23, 2020 | Sean Foo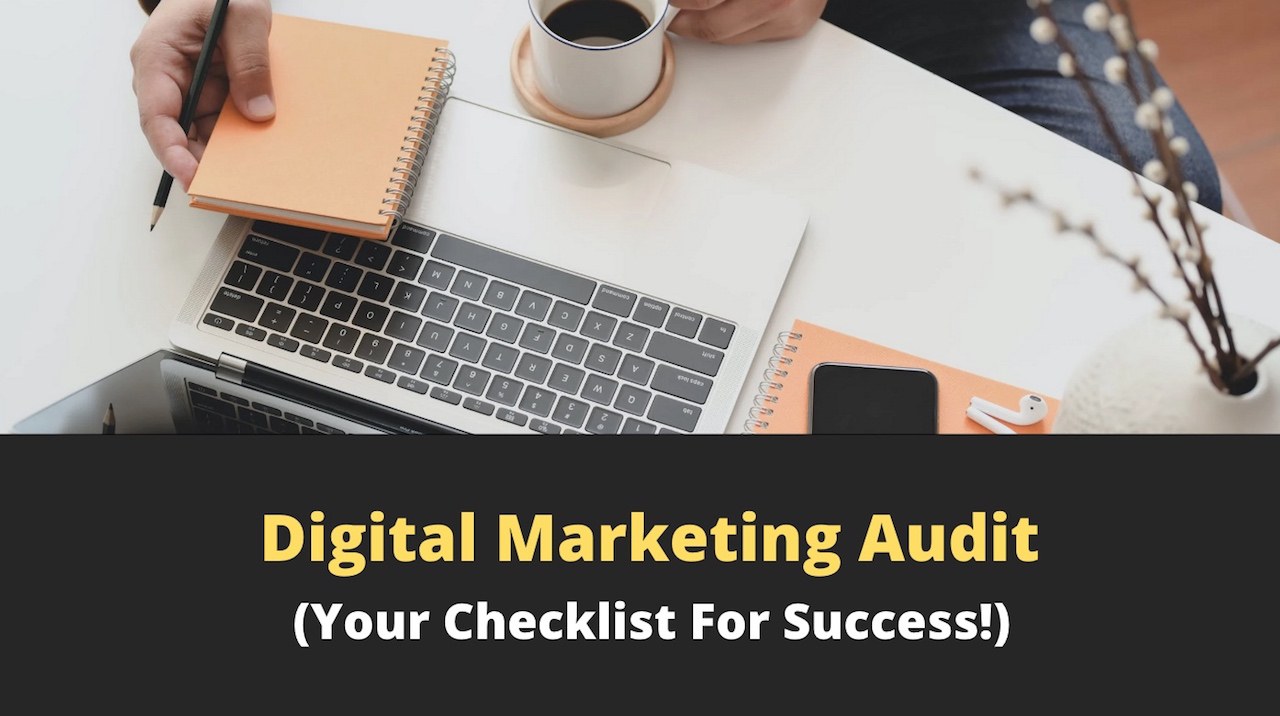 Growing your brand online involves a mixture of digital marketing strategies across various channels that'll help you win attention and new business.
But how effective are your efforts in your digital efforts and could you pinpoint exactly what is working and what isn't?
While we all fall prey to sticking to a single strategy for months (or even years) on end and rely on the 'hope & pray' strategy – that isn't good if you want to drive consistent results.
Thankfully by conducting a digital marketing audit, you'll be able to diagnose any issues in your digital strategy and fix them to better reach your business goals.
Why A Digital Marketing Audit Is Mission-Critical
A digital marketing audit is a comprehensive check-up on every single part of your entire digital strategy.
At the end of the audit, you should be crystal clear about what is going right and wrong plus a highly actionable report that you hand to your marketing team or agency.
Your digital strategy is iterative and should be treated exactly the same as other parts of your business.
Take sales, for example, you don't just stick to a single sales pitch for different types of customers forever. You'll have to adapt, re-strategize and then test out different tactics and strategies to see if it helps you sell better.
The same goes for your digital marketing strategy.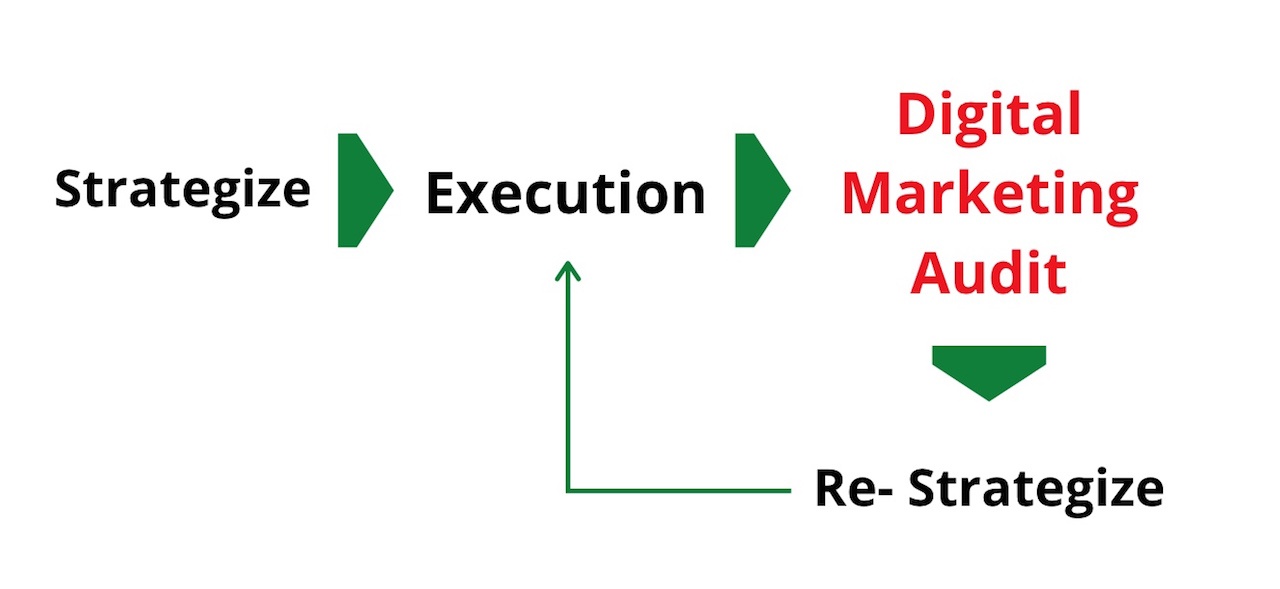 But is a digital marketing audit even necessary?
"I'm sure my strategy will pan out in the long-term" you might be thinking to yourself.
Well, if you are facing any (or multiple) of these issues:
Your website traffic and conversions are dropping

You are not meeting your sales goals

Your social audience isn't growing (or is even decreasing)

Engagement on your content is flatlining and dropping

Your email click-through rate is below the industry average

Your ROI from digital ads has gone negative
Then it's high time to begin your digital audit and gain valuable insights to each of your marketing and adjust your strategy for success.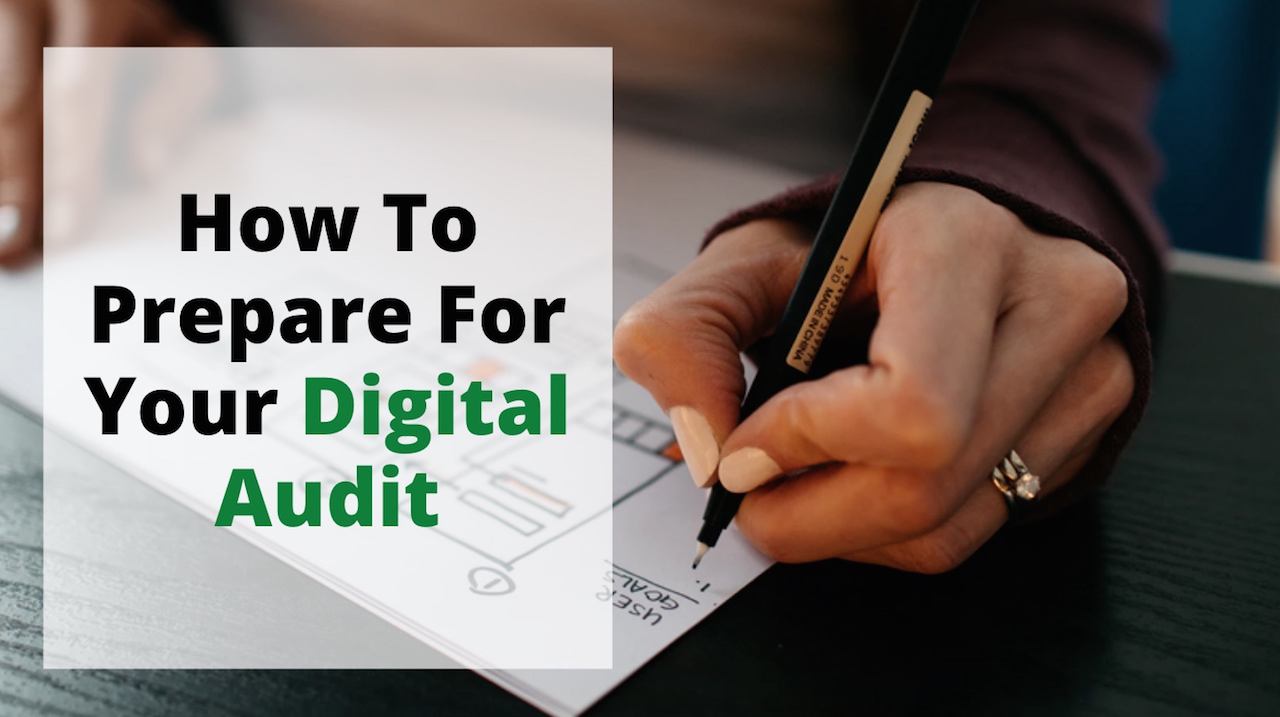 3 Things To Prepare For A Successful Digital Audit
Before we embark on the audit, there are five key things you'll need to prepare in order for your audit results to make sense.
Let's get into them.
1) Your SMART Goals
Every great plan starts out with an end in mind and in this case Specific. Measurable. Actionable. Relevant. Time-bound goals.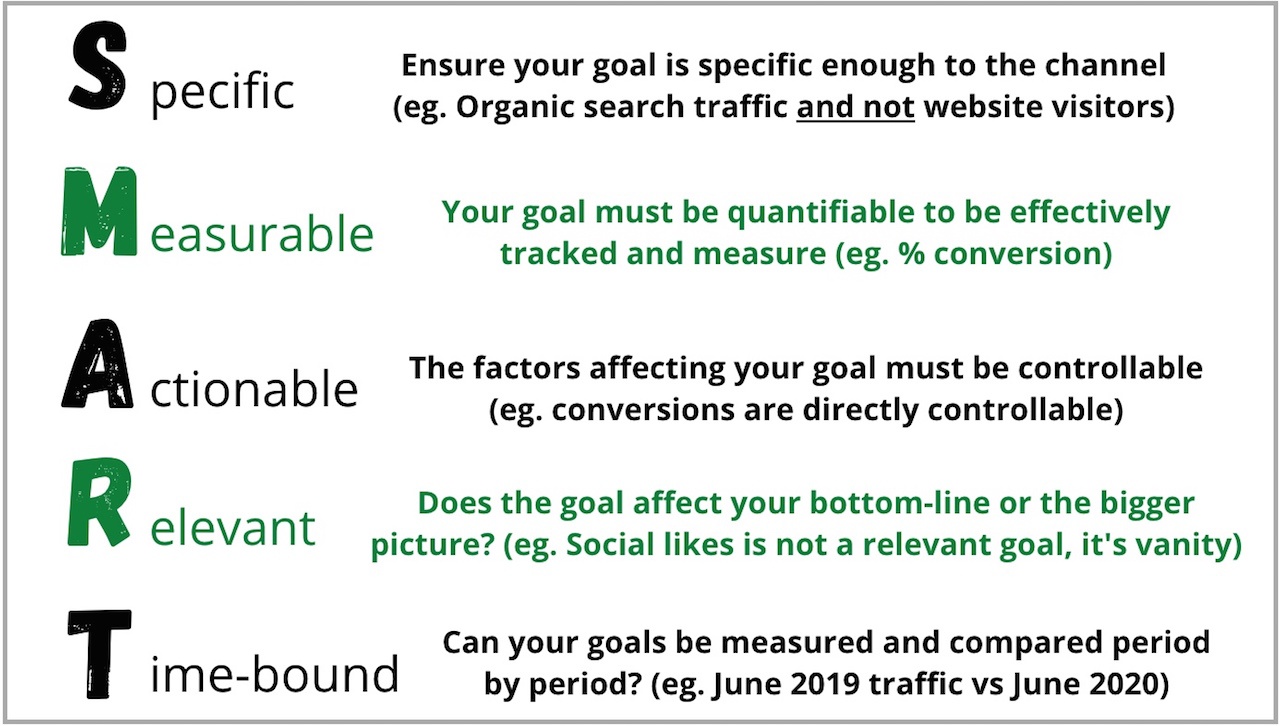 While this might seem rather hyper-focused, it is exactly this level of specificity that will allow you to measure the effectiveness of your marketing results.
Here are three examples of great SMART goals:
Increase website lead generation conversion by 30% within 6 months

Rank for at least 10 commercial keywords on Google in the Top 5 positions

Build & earn 1,000 Facebook fans by the end of the 30-day ad campaign
2) Digital Marketing Channels Utilized
Which platforms are you currently marketing on?
Are you creating written content for Google's search engine or writing opinion pieces on LinkedIn? Perhaps you are creating video content on YouTube and TikTok.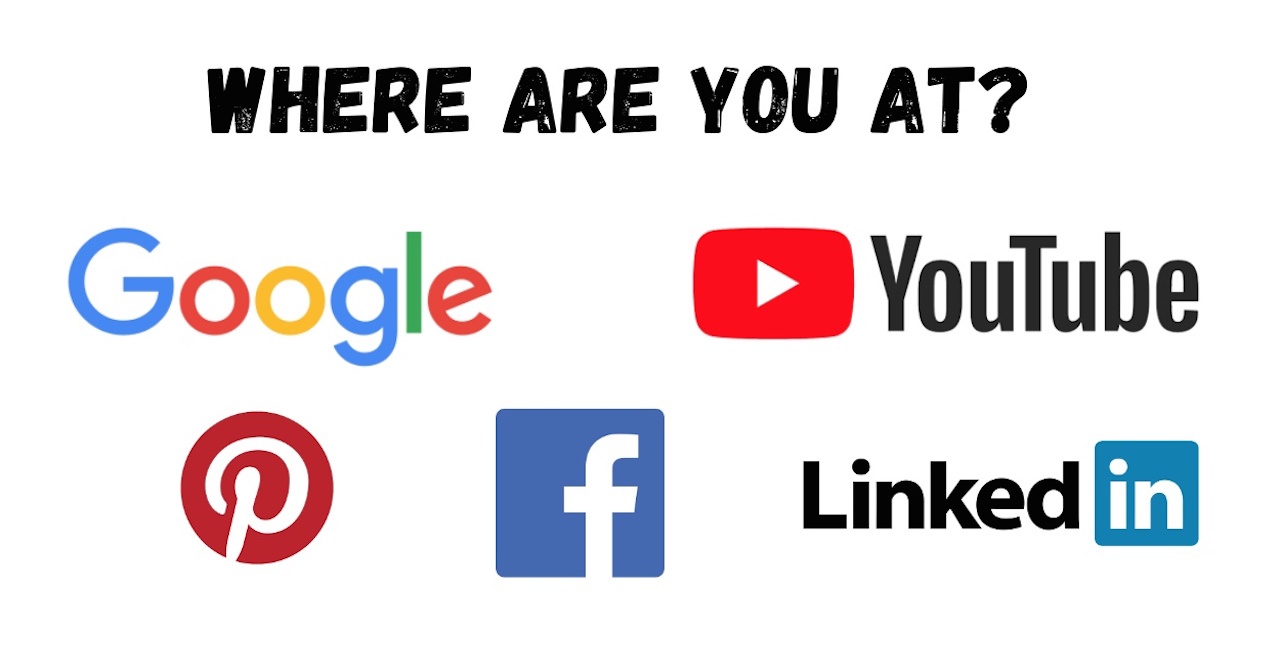 Digital marketing not only can get increasingly expensive, but it is also a huge time sink if you are spreading your message across on different platforms.
Take some time to consolidate and note down all the platforms where you are currently:
Driving traffic to (organic and paid ads)

Publishing content in

Converting attention into leads & sales (eg. your website)
3) Understand Your Digital Marketing Flow & Metrics To Measure
Every digital strategy starts at a certain traffic source, bringing visitors (or attention) through a unique journey which ends at the point of conversion (or sale).
Knowing exactly the digital marketing flow is key to intelligently interpreting the audit results.
Here's an example of an organic digital marketing flow:
– Traffic is earned organically through blogging (ranking for industry terms & keywords)
– Opinion pieces are crafted on LinkedIn to engage followers & new readers through hashtags
– All traffic from Google & LinkedIn is then filtered to the company website
– The website visitors then either do one of two main things:
1) Visit the pricing page and convert
2) Download an ebook at our resources and eventually visit the pricing page and then convert
Here's a simple visualization of a digital marketing workflow you can do for your business.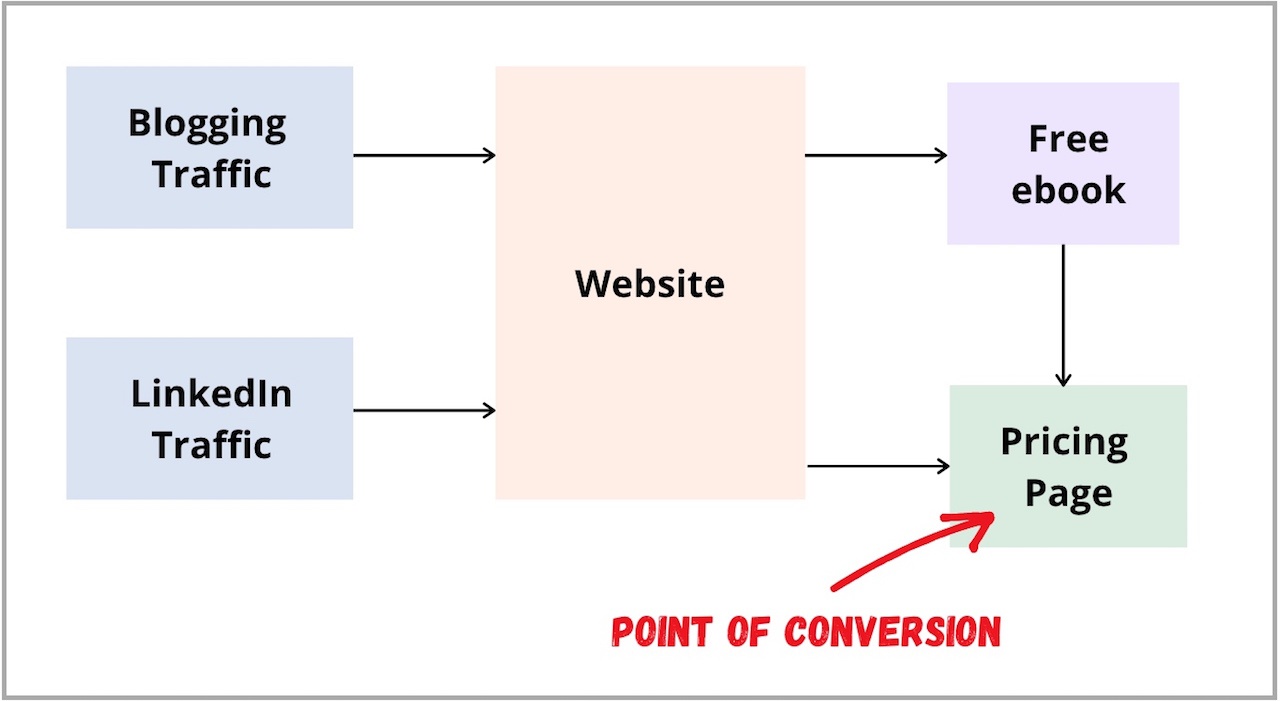 Just from this marketing flow alone, you'll be able to immediately identify various "choke points" that will have to be audited as well as the results-focused metrics to scrutinize and measure that include:
The amount of traffic / unique visits from Google's organic search results (and click-through rate from the article to other parts of the website)

The post views and engagement of your LinkedIn articles & posts (as well as the referral traffic your website gets from LinkedIn)

The dwell time and bounce rate on your website

The number of ebook downloads

The percentage of conversions on the pricing page
Without mapping out this flow, you'd be doing a blind audit which could be a grand waste of time!
Let's use another example.
If you are running paid ads on Google Adwords, your marketing flow will probably be:
– Paid ads are set-up to target commercial keywords on Google
– Traffic from clicks are channelled to your landing page
– The prospects will either then convert or leave your landing page
– Those that leave, will be retargeted through Google banner ads back to another landing page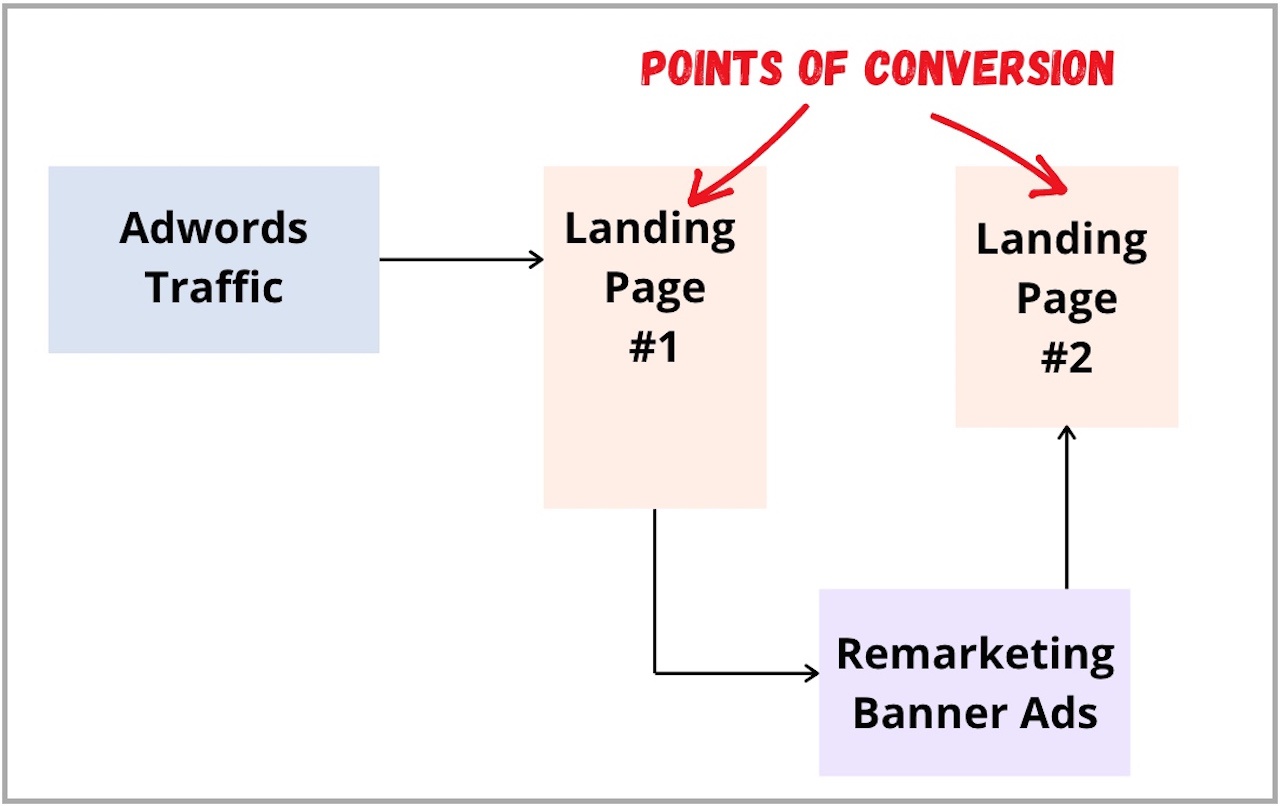 In this example, the metrics you'll probably be measuring are:
The cost-per-click and the clickthrough rate from your AdWords campaign.

The percentage of conversions on the first landing page

The ad impressions & clickthrough rate from your remarketing banners

The percentage conversions on your second landing page

The overall cost-per-acquisition of each customer
The 11-Step Digital Marketing Audit (Your Comprehensive Checklist)
1. Website Audit
2. SEO Audit
3. SEM Audit
4. Social Media Marketing Audit
5. Content Marketing Audit
6. Email Marketing Audit
7. Online Social Proof Audit
8. Landing Page Audit
9. Brand Consistency Audit
10. Content Audit
11. ROI Audit
1. Website Audit
For most businesses online, your website isn't just your digital headquarters – it is most likely your primary point of conversion, where attention gets converted into sales.
A website audit will help you to enhance your user experience, optimize the chances of ranking well in Google as well as understand if your marketing message is converting or not.
While there are 23 essential checks to make for a thorough website audit, here are four critical types of checks you'll need to conduct at the bare minimum:
A) Check If You Have All The Essential Web Pages
When your customer lands on your website, they'll want to learn as much as possible about your brand and solution to make an informed decision.
That means having all the key pages your customer expects your website to have.
These include your:
Here's a list of the rest of the essential pages your website will need.
B) Check How Intuitive & Navigation Friendly Your Website Is
A good website is one where your visitor can easily find the information they want to and take the actions that they desire (especially if it's to buy!).
Check that your website:
Has an intuitive navigation bar that is easy & clear to navigate

Is responsive and fits well on various devices (laptop, tablets, mobile phones)

Has call-to-actions and offers that stand out
VendHQ's navigation bar is an example of a website with great user experience. It locates all the conversion actions they want the prospect to take 'Contact Sales' & 'Free Trial' as well as intuitively list out key pages in a natural manner for visitors to learn more at their own pace.

C) Investigate Which Pages Are Converting The Best (And Worst)
How well are your web pages converting and what can be done to improve them?
All these questions can be answered by simply investigating the pages on your website's Google Analytics (here's how to set it up) for three core metrics:
The conversion rate:

The percentage of visitors that convert into leads/customers

The average time on page:

How long a visitor spends on the page

The bounce rate:

The percentage of visitors that leave the site rather than continuing to view other pages on the same website.
By consolidating all this information, you can draw insights from your website audit and make improvements to each individual page.

These could include:
Beefing up the sales copy or messaging to be more compelling or factual

Improving the design to make it more UX-friendly

Reducing the number of options/links to bring focus towards the CTA (call-to-action)
Wondering how to set up conversion tracking on Google Analytics? Here's a handy guide to get you started.
D) Analyze Your Website's Loading Speed
A slow website doesn't just annoy your visitors waiting for it to load, it is a ranking factor and can actually penalize your Google search rankings if it is severe enough.
Here's how to check if your website is loading like a cheetah or a snail.
Use Google's Pagespeed Insights to understand how fast your webpages are (do it especially for all of your commercial pages and blog posts)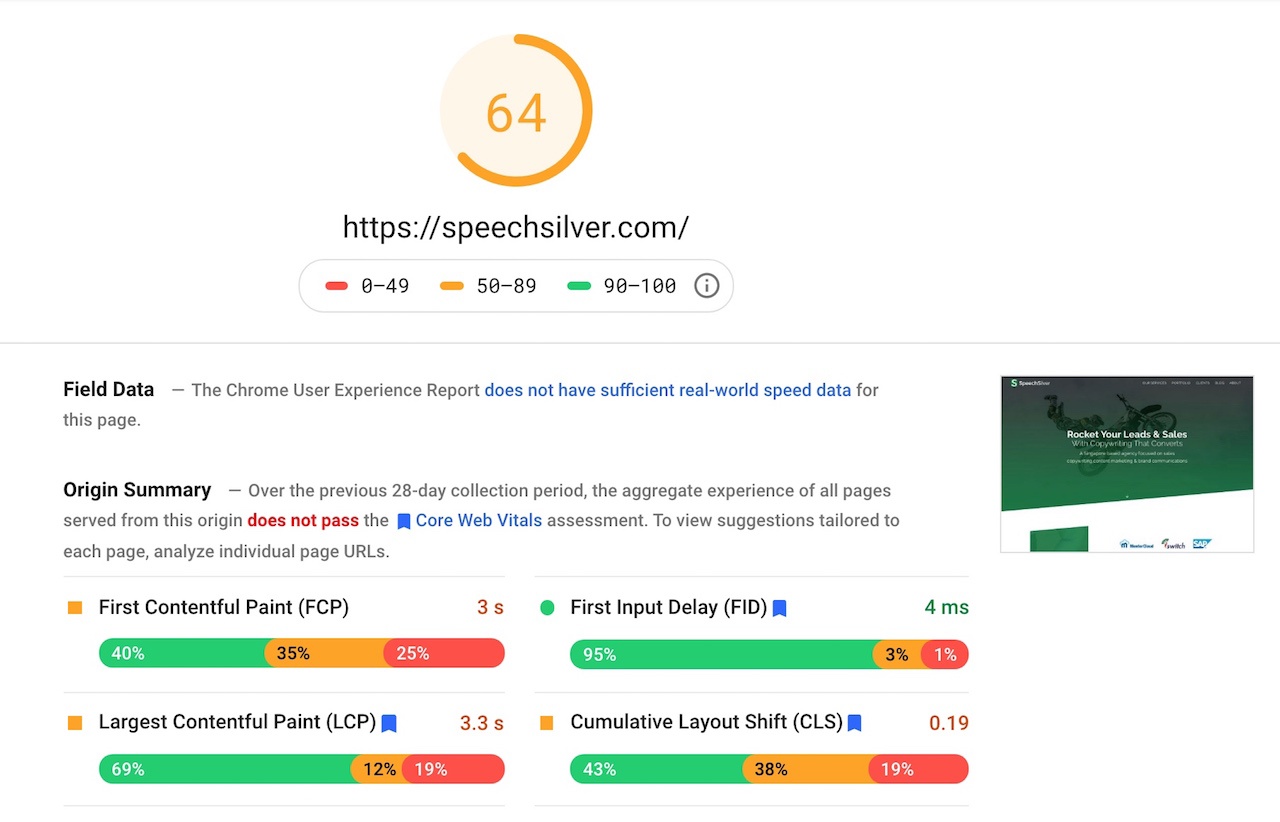 And then conduct a GTMetrix Test to zoom into the issues that are causing your website to perform sluggishly.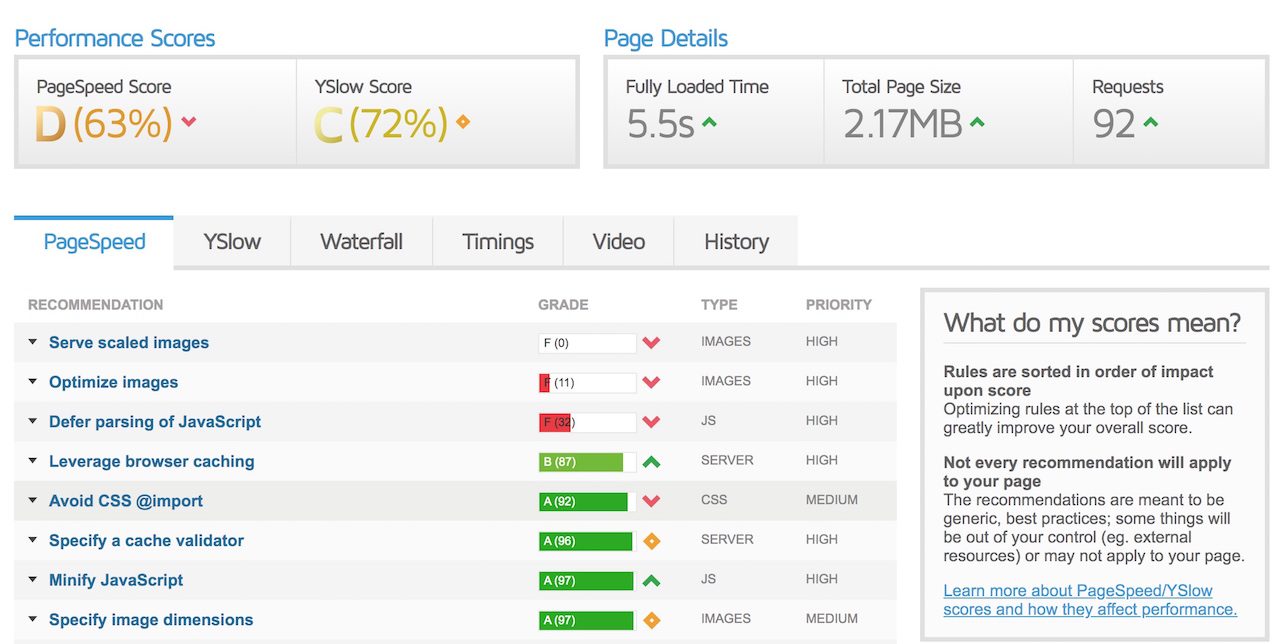 Thankfully, the biggest culprit of slow website loading speeds is utilizing images that are too big – do your best to compress them to 200kb and below – you can do it easily and for free using the Kraken tool.
2. SEO Audit
68% of online experiences start from search engines while over 53% of all website traffic originates from organic search.
If SEO is one of your traffic sources (as it should be), you'll want to conduct an audit here to ensure you are maximizing your chances to consistently grow your organic traffic.
Here are five compulsory checks you must conduct for a successful SEO audit.
A) Ensure There Are No Indexing Issues On Google
Are your website pages (or blog posts) showing up on Google search when you publish them?
Use Google's Search Console (Index > Coverage) to check if your pages are indexed or if there are any errors that are preventing them from being listed.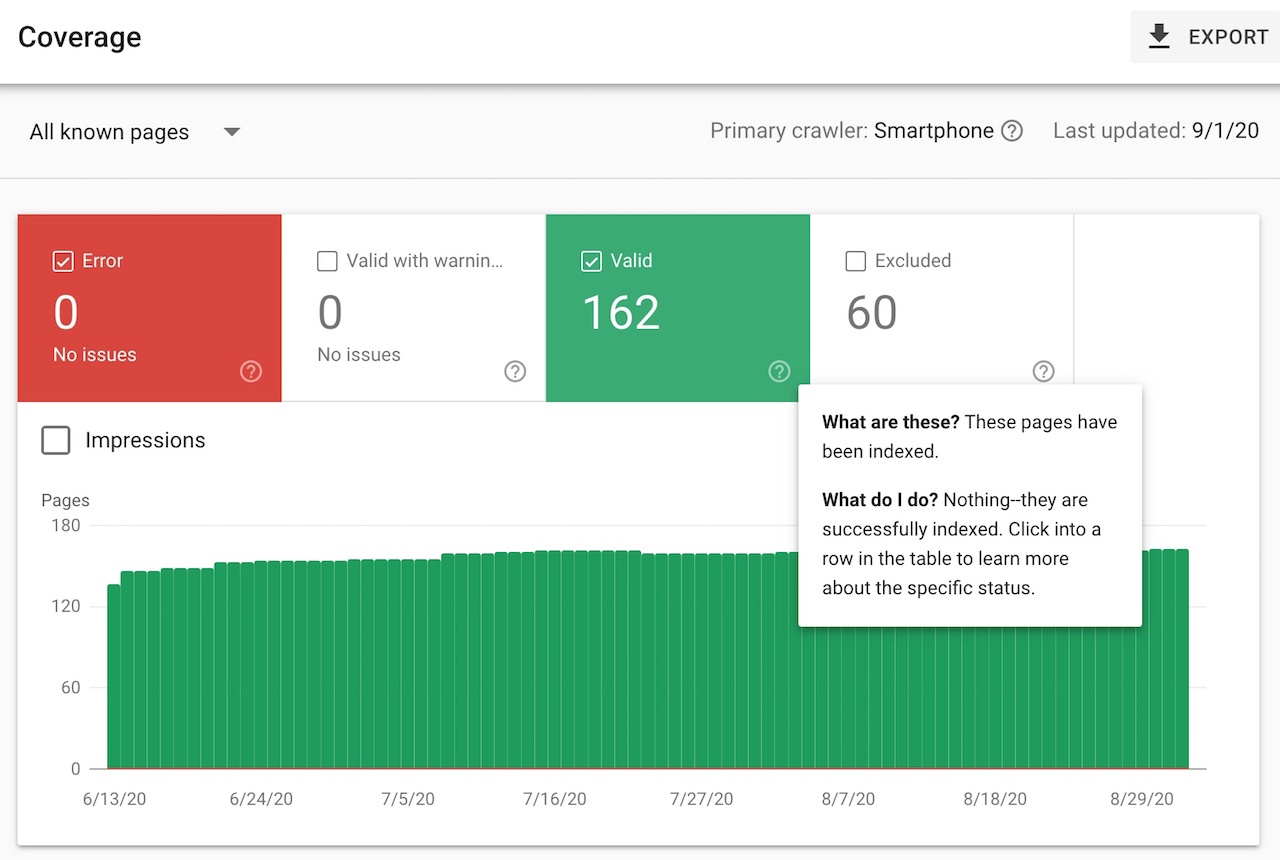 If you don't have Search Console set-up yet, you can use the good old fashioned search operator:
"Site:website-domain"
So for this very website, I just got to plug-in "site:speechsilver.com" and I'll get the number of pages that are indexed.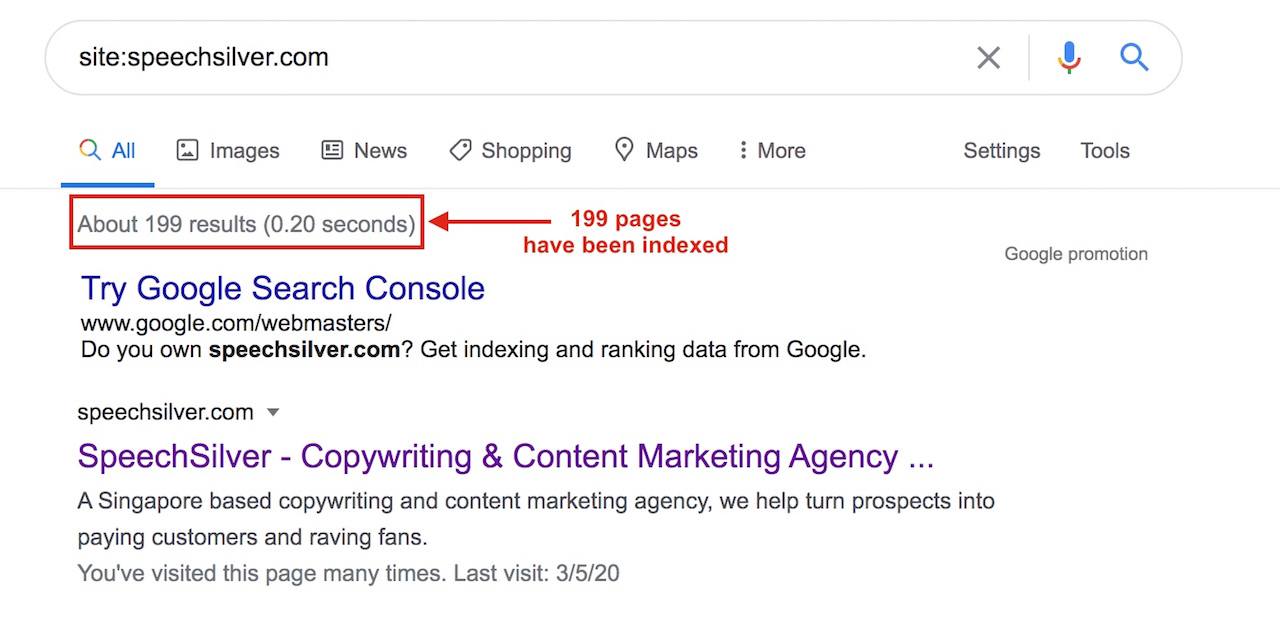 If you need to check if a specific page or blog post has been indexed or not, you can use the same search operator and add in the term you want to search for.
So if I want to check if my article on writing press releases has been index, I'll just plug in the search term "site:speechsilver.com press release" into Google, conduct a search and I'll get: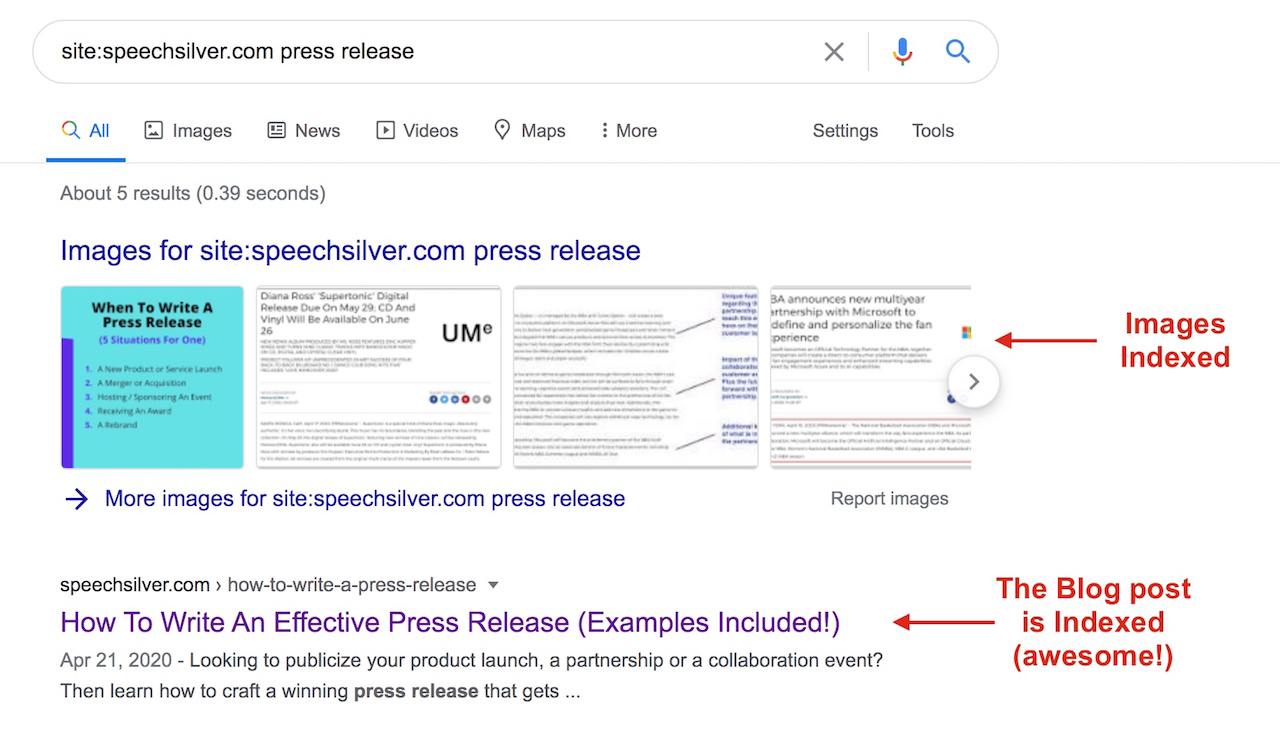 If your page or post is indexed, it should show up in the search results.
But it isn't, here are 5 reasons why your pages aren't getting indexed and how to fix it.
B) Analyze Your Organic Traffic
One of the key SEO checks you must conduct is understanding where your organic traffic is coming from and how it is performing over time.
You'll need to have your Google Analytics set-up for this step (so get it handled!)
Firstly, check how much organic visitors you are getting (in Google Analytics, just go to Acquisition > All Traffic > Channels > Click on the organic search group):

Ideally, you'll want to see your Google Traffic trending up.
There are two other things you need to do to get a good snapshot of your traffic.
Depending on your business, you'll probably want traffic to come from a specific country compared to the rest of the world.
Understanding where your traffic comes from is key to evaluating if your content is targeting the right audience.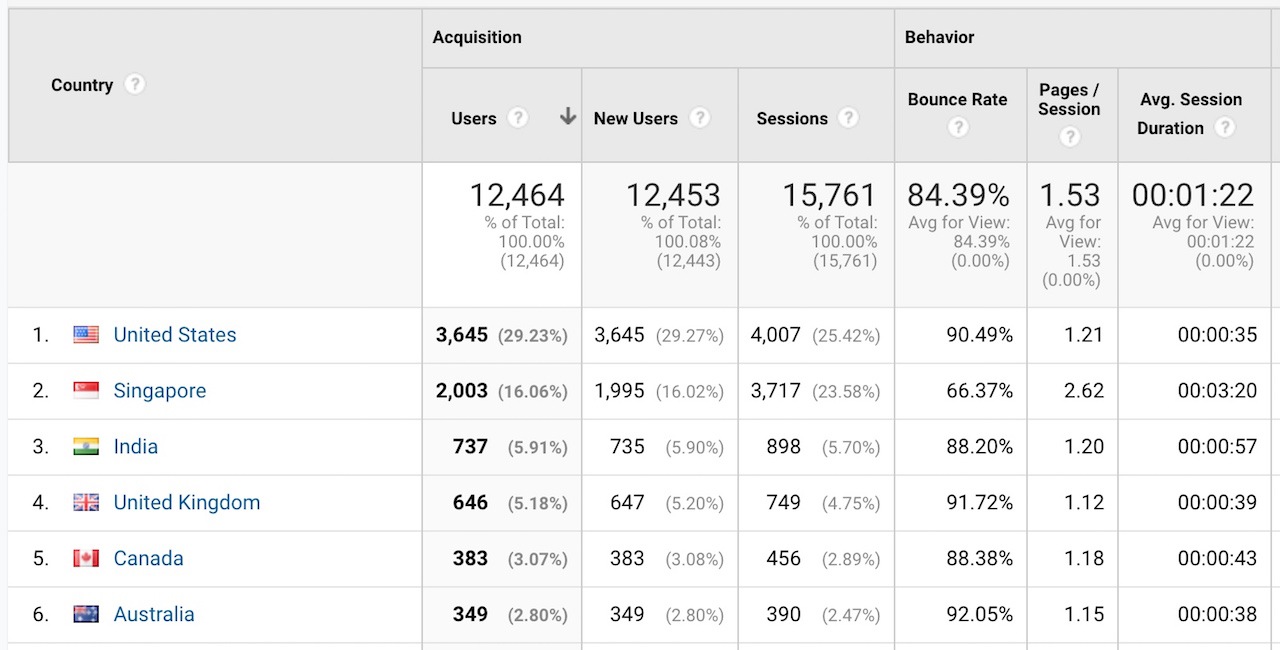 You can check this in Google Analytics by heading to Audience > Geo > Location.
The next key metric to check in this SEO audit is which pages are performing the best.
Simply in Google Analytics, head to Behavior > Overview > Sort by Unique Pageviews.
In this case, I can see that my blog posts on 'Copywriting Examples' and 'Viral Marketing Examples' are the top viewed.
This allows me to investigate further on the content and keywords of these posts to see what is working right and how I might replicate this success.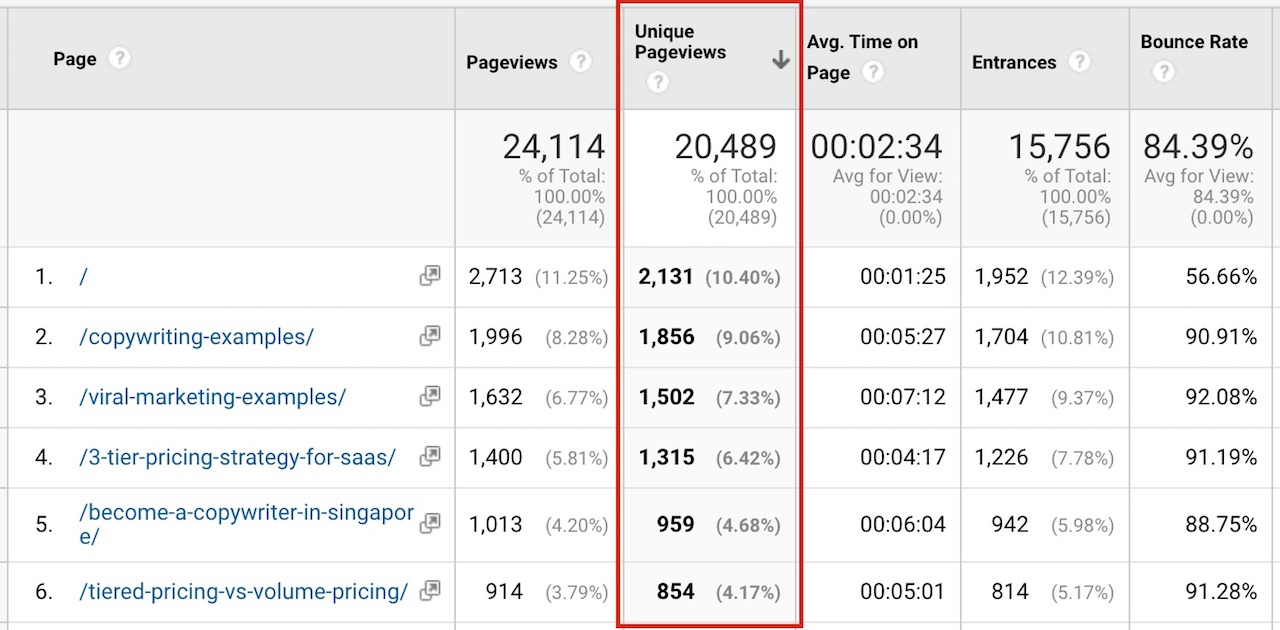 C) Check The Rankings Of Your Essential Keywords
If you have embarked on SEO, you probably desire to rank for two main types of keywords:
Commercial keywords:

These are the keywords that have high consideration or buying intent (your customers will likely search for these just before buying)

Informational keywords:

These are keywords that your customers search to find a solution (or answers) to their challenges – issues that are relevant to your brand or solution.
At the bare minimum, you should be consistently tracking them at least once a month.
For easy tracking of keywords, we recommend using either SEMrush or Ahrefs, SEO tools to get the job done. In this case, I've used Ahrefs.
Simply plug in your domain name into Ahrefs's site explorer to get a list of commercial and informational keywords that your website is currently ranking for (for this example, I analyzed Monday.com's website).
Then simply tabulate the results into a simple table below that you can add to or update every time you do an audit.

In fact, you can take it one step further by checking for high-volume keywords that you are currently ranking for that are within striking distance of being in the top few spots.
Ranking there will dramatically increase your traffic plus, you are already doing something right, so you'll just either need to beef up the content, do a rewrite or build more backlinks to it.
Using Ahrefs, just filter for keywords in position "5-20" that has a volume of 1000 or more.
And voila! You now have a bank of keywords you can start to aim to rank better for.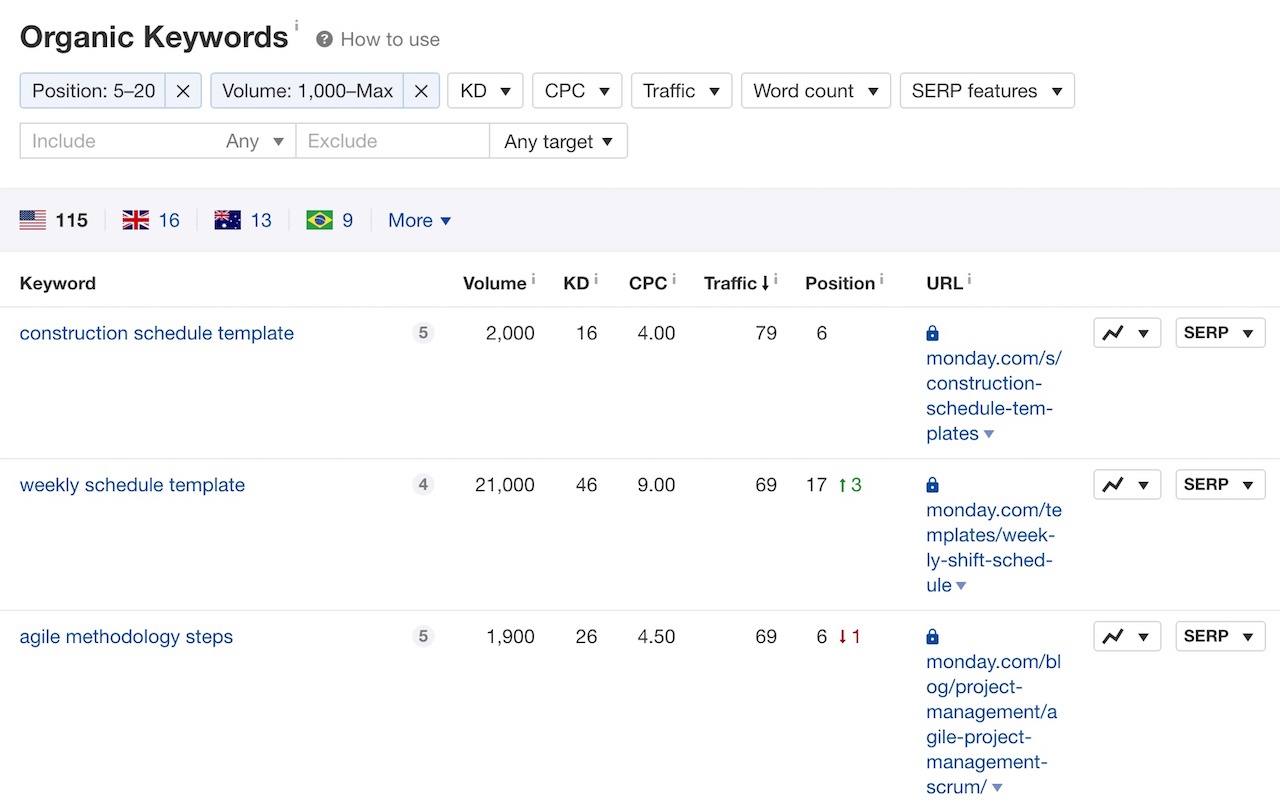 D) Do A Backlink Analysis
Backlinks are one of the main ranking factors in Google.
Simply put, the more high-quality backlinks you have (also known as your backlink profile), the stronger your domain authority or domain rating (DA or DR) will be – that means easier rankings for both informational and commercial keywords!
Once again, Ahrefs's referring domains chart will allow you to check on the overall trend of your backlink growth – you want it to be going up.

The next backlink check to do is to learn where your backlinks are coming from.
You want to understand three core things:
The source of your backlinks (Their DA/DR)

How relevant the backlinks are to your industry and niche

Whether the backlinks direct traffic to your website
If they come from suspicious, spammy or highly irrelevant sources, you might need to take heed and disavow them carefully. 
Need more guidance? Here's a quick guide to conducting a backlink audit.
E) Check Your Website's On-Page SEO
Every page and blog post has to be optimized with these 3 SEO tags:
Title Tag – This is the title of your page or post that searchers will see on Google's search engine results page.
Meta Description – This is a quick description that allows readers to get a snapshot of what your page or post is about.
URL Slug – This helps to identify the specific page or post on your website.
Here's an example of my own blog post and how it is optimized using the Yoast-Plugin (for WordPress).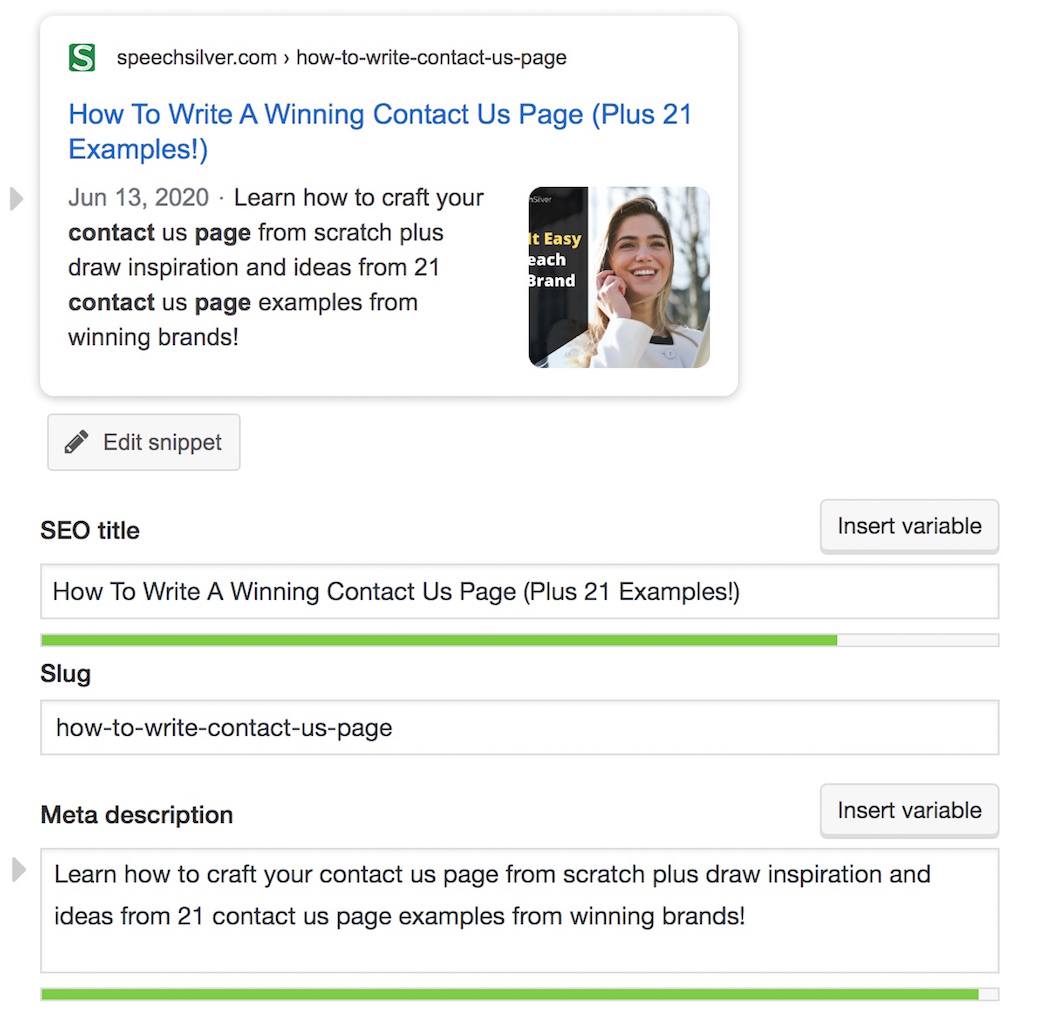 Ensure that in your description and title, both the keywords that you want to rank for are included and written in a compelling manner that makes the reader want to find out more.
Need a comprehensive SEO audit guide? Here's our recommendation to get started!
3. SEM Audit
While SEO provides results, it does so slowly and sometimes you need instant results in a pay-to-play environment – that's where search engine marching (SEM) comes in.
Search results from SEM might be guaranteed but it is at a cost, whether you are paying by the click or per impressions, and unless optimized, could spiral out of control to the point that your return on investment is negative!
Here's five quick audit steps you can take to ensure your SEM campaigns are fighting fit.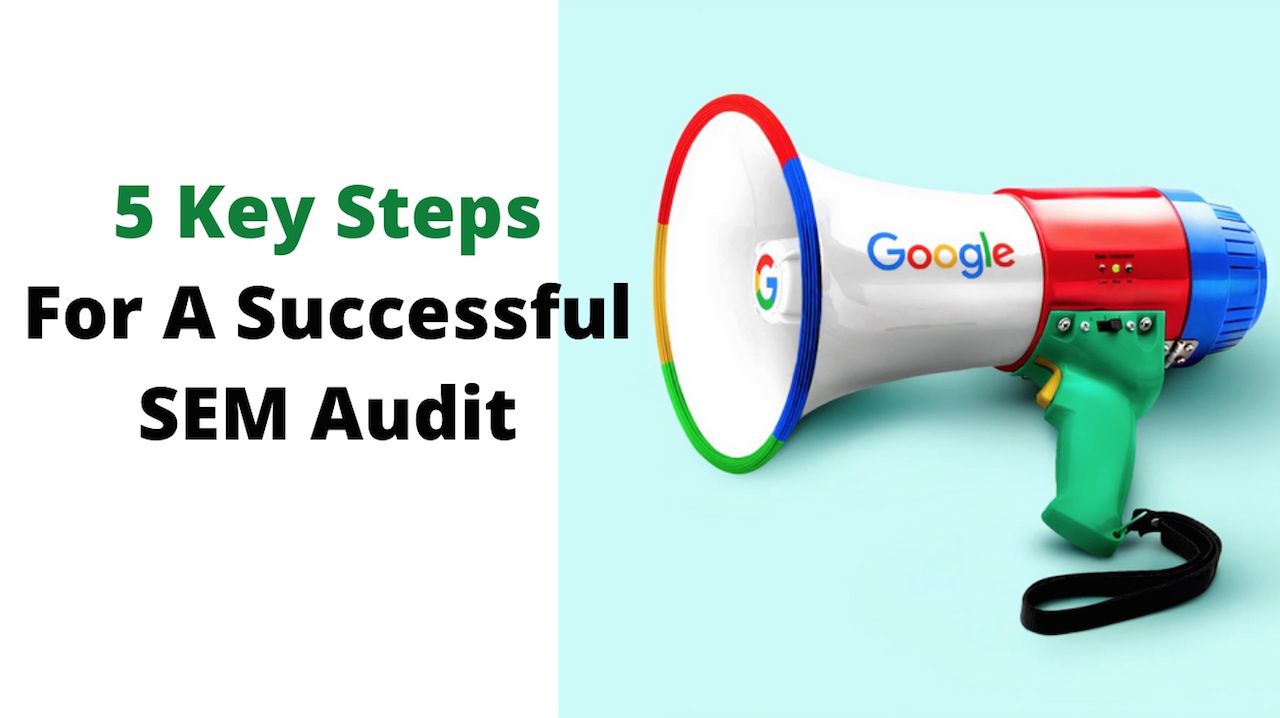 A) Audit Your Campaigns
At the end of the day, you want your campaigns to convert and convert well – that means pro-actively auditing them every week or so.
The first step is to check your:
Quality Score Metric:
This is the combined relevancy score that Google gives to your ads and is a good indicator of whether your ads and landing pages are relevant as well as your clickthrough rate.
Identify which ad campaigns have a low-quality score.
Conversion Rates:
Having a high click-through rate is great but is those paid traffic converting into leads and sales – we're talking about tangible results.
If your ads aren't converting, it is most probably something wrong with your audience targeting or your sales message on your landing page.
Your Remarketing Performance:
If you have been remarketing your ads to prospects that have left your website or landing pages, you'll want to track how effective the results are.
Check how high your conversion rates are and consider segmenting your audience by creating different ads on the different pages your visitors went to.
Eg. A finance remarketing ad to visitors that viewed your financial solutions page on your website and left.
B) Analyze Your Ad Schedules
Every business and ad campaign is different – mainly due to the different buying habits that your customers will have.
If you are enjoying the best conversions (as well as traffic quality) on Thursday and Friday mornings, you'll want your ads to appear at that timing and even outbid any competitors to rank higher on the SEM results.
The key here is to ride on your winners and drop the timings that aren't converting well (or at all).
Here's a guide to optimizing your ad schedules for maximum conversions.
C) Investigate Your Bidding Strategy
Your bidding strategy should reflect your campaign goals.
While there are many bidding strategies such as manual CPC bidding, target impression share bidding and maximize conversions bidding, not all will be ideal for your business goals.
Here are 5 things to check for:
Your ad budget

Your goals (conversions or brand awareness)

A list of

negative keywords

(to prevent budget leakage)

The country or location where you want your leads to come from

Your ad conversion rate
All these are key factors that will weigh heavily on the type of bidding strategy you should opt for.
Here's a great playbook on how to optimize your Ad bidding strategy.
D) Scrutinize Your PPC Ads
One of the most important aspects of your PPC campaign is the ad itself!
How compelling is it to your prospects? Is it appealing enough for them to take action and click-through to your landing page?
Here are 9 questions you need to ask about your PPC ads:
1. Does your ad reflect the viewer's objective? (Does it lead them to their end goal)
2. Are they showcasing the core features and benefits your prospects are looking for?
3. Do they pre-emptively address any objections or hesitations your prospects have regarding your solution/product/industry?
4. Is your ad relevant to the decision making cycle of your buyer? (Don't show an awareness ad to someone looking to make a purchase!)
5. Are you integrating social proof into your ad copy? (These could be statistics, quick brand mentions, ratings etc)
6. Is your headline compelling and memorable? (Does it capture attention and draw in visitors?)
7. Does your call-to-action come with an offer to drive action? (Don't just ask them to buy now, offer a discount, big benefit or even use techniques such as FOMO)
8. Does your display URL contain the keyword you are trying to rank for? (Ensure that your keyword appears there to add more relevance to what your visitors are searching for).
9. Does your ad deliver the promise it states when your visitor clicks through to your landing page? (We want to ensure that both your ads and landing pages have the same offers & search intent)
Here's a great guide on how to write PPC ad copy that converts!
E) Check The Relevance Of Your Landing Pages
One of the biggest sins, as we stated earlier, is not keeping your promises that you advertised on your landing page.
Not only will it drive down your quality score (due to poor relevance), it will potentially tank your conversion rates and break the trust of your visitor – not to mention cause confusion and even frustration.
We don't want that!
Here's a great example of a landing page that has high relevance to the PPC ad.
Petplate promises a 50% discount off the first box to get readers intrigued plus drive action.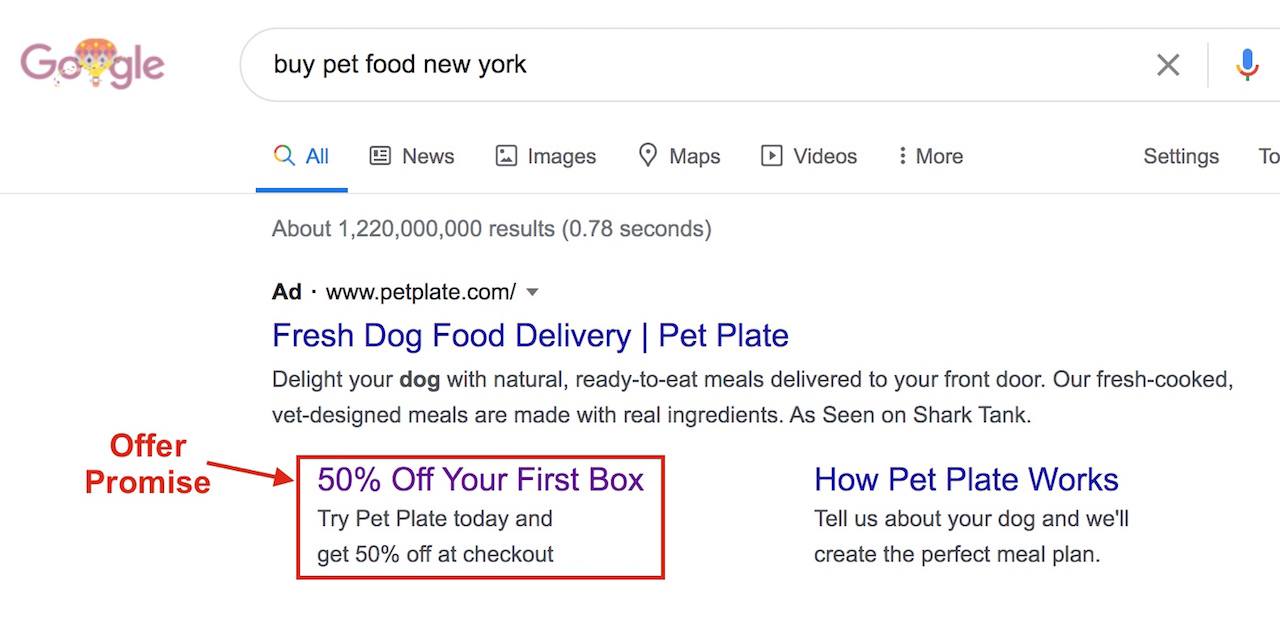 The promise is kept by utilizing a bar on top to remind visitors that they will still enjoy the 50% discount after all.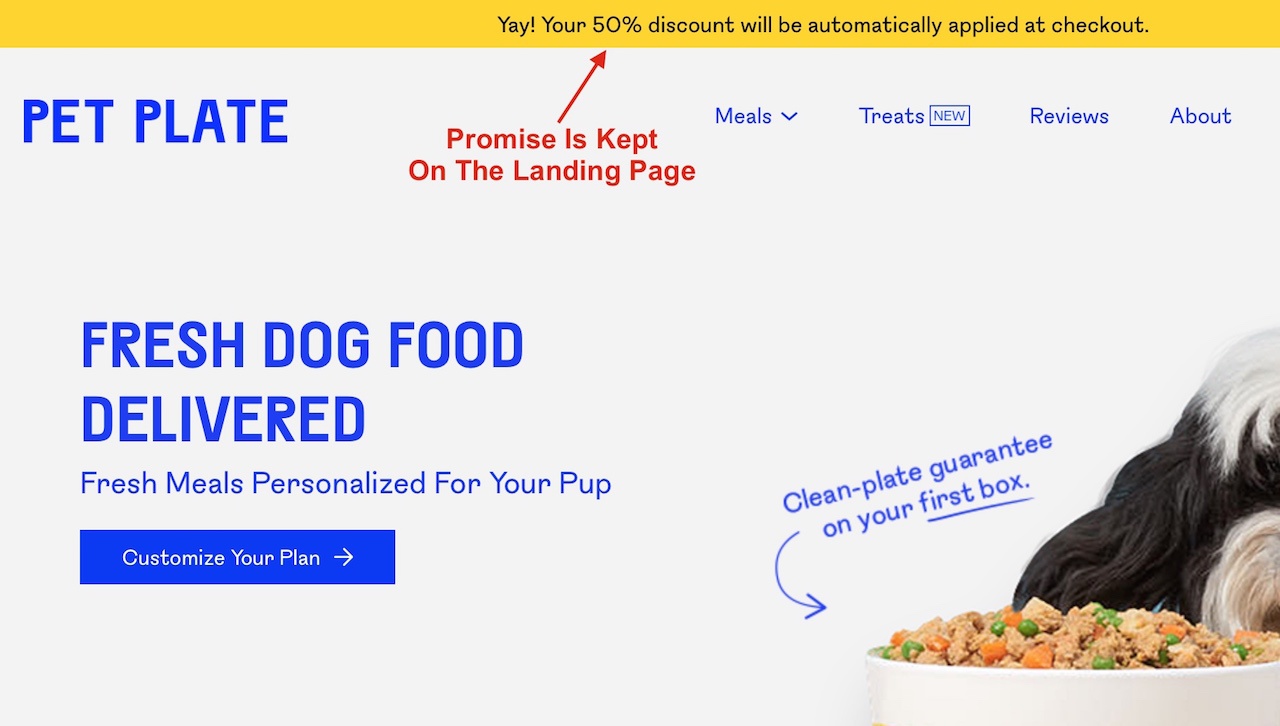 4. Social Media Audit
So you have implemented your social media strategy and results are starting to roll in – but how effective are they and what insights can you glean from it?
In this section, we will take you through a simple 5 step social media audit that helps you grow the audience that you want as well as getting the commercial results you desire.
A) List Down All Of Your Social Media Accounts
Take stock of all your social media profiles (or channels) that you are actively marketing on.
For this audit exercise, we will be ignoring the ones that you knowingly just something up but have no strategy to grow it!
Here's a quick list of some of the most popular social media websites for businesses:
Facebook

Instagram

YouTube

Twitter

LinkedIn

TikTok

Pinterest

Twitch
B) Evaluate & Analyze Each Channel's Performance
How well is your content performing and are you growing your audience sustainably over time?
While it is rather simple to just view superficial metrics such as raw subscriber count, number of views and impressions, you'll need to dig below the surface to really discover which social media channel performs the best for your brand
Hootsuite has come out with a list of 19 social media metrics you should take note of but here are the six more critical ones that will help you decide if a channel is working well for your brand or under-performing.
(Awareness) Metric #1: Audience Growth Rate
This is simply how fast you are growing your subscriber or follower base. 
Obviously a higher number will be better but you'll need to benchmark it against something meaningful such as your competitor's own growth rate.
(Awareness) Metric #2: Post / Content Reach Rate
Your content reach rate is how many people have seen your post or video since it has gone live.
Now this metric is a little tricky because on YouTube, not only will your videos reach your own subscribers, it can also reach new audiences organically.
However for platforms like Facebook, if this is not a paid ad, simply divide your post reach by your follower count to get your content reach rate.
(Engagement) Metric #3: Average Engagement Rate
Your average engagement rate tells you how many likes, shares and comments your post has garnered in comparison to your follower base –  a higher engagement rate shows that your content has struck a chord with your subscribers and audience.
Simply sum up the total number of likes, comments and shares and divide them by your followers to get your average engagement rate.
(Engagement) Metric #4: Content Sharing Rate
Your content sharing rate tells you the ratio of share per content/post to the number of followers you have. A higher content sharing rate shows that your content is of good value enough for your subscribers to promote it to their network – giving it a type of social endorsement.
Simply divide your post shares by the number of followers you have.
(Conversion) Metric #5: Click-through Rate
Your click-through rate denotes the number of visitors that click on a link on your post/video versus the total number of visits or views that piece of content has. This could be a link to a sales landing page, newsletter sign-up or a webinar.
Simply take the total number of clicks and divide it by the views or impressions your post has.
(Conversion) Metric #6: Conversion Rate
Your conversion rate is the number of visitors who take an action on a page that they have clicked on from your particular post or content versus the content's total visitors or views.
This means if your post has 1000 views and 100 people clicked-through to your sales landing page and only 1 person bought your product – your conversion rate is 1%.
A higher conversion rate indicates your content is relevant to your offer (as well as your landing page is doing a good job itself).
C) Track Down Your Best Performing Content
Every one of your social channels will have outlier content – content that performs so well it puts the rest to shame!
What you want to do is to track down and identify the best performing content and determine what is delivering those amazing results – views and engagement.
You can easily track down your best performing content with either Hootsuite or Sprout Social.
D) Understand Your Audience
Now that you have identified your best performing content, it's time to do some manually digging that goes beyond just checking the demographics of your audience.
Simply head to the comments section of your post or video and take a look at comments, especially the ones that have the most likes or upvotes.
While there will be troll comments around, you'll also want to take note of negative comments as well as the positive.
Take Valuetainment's YouTube video on "How to Stop Procrastinating as an Entrepreneur" which has garnered over 100,000 views.
A quick look into the top-rated comments shows that there is a demand for people receptive to learning more about books and resources on how to stop procrastination and being more efficient in business.
Definitely a topic idea for a future video!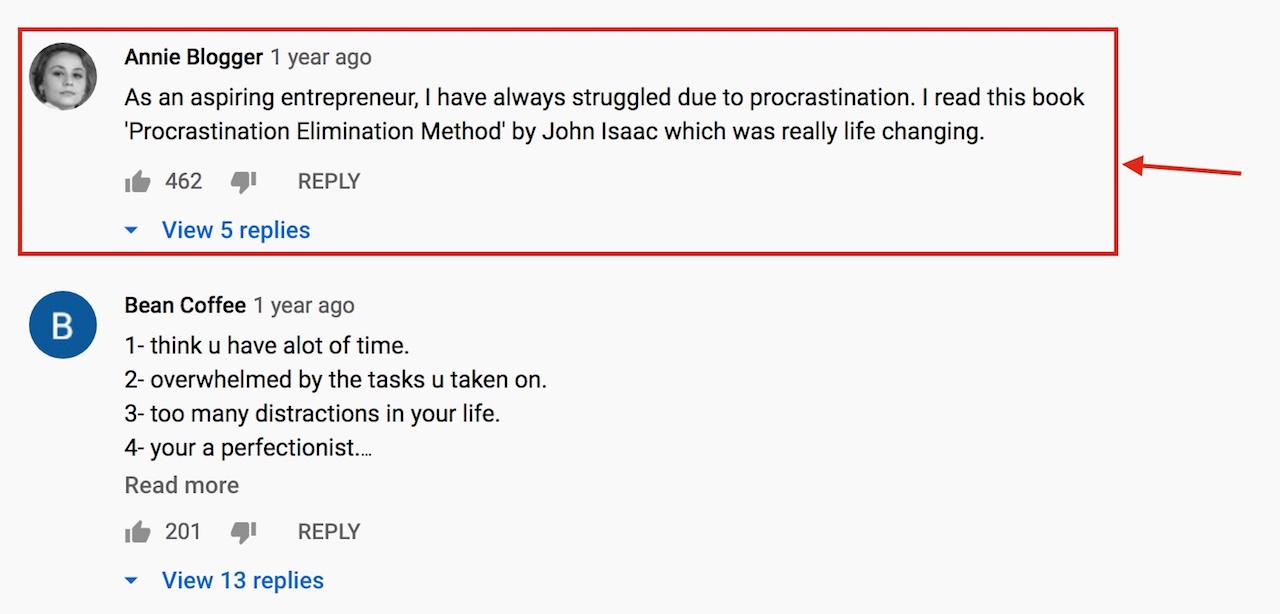 5. Content Marketing Audit
We all know generally the incredible benefits content marketing can deliver, but wow well is your content performing?
Is it helping you reach your business goals?
Like most things in life – 80% of your results will come from 20% of your content and at the heart of any good content marketing audit is to identify your best performing content, double your efforts there and to identify what else might be lacking.
In this content marketing audit, we will be going through your blogging content, social content as well as email content.
A) Gather All Of Your Content Assets
The first step is to consolidate all of the content that you have in your marketing arsenal.
These are specifically content that is utilized to:
Drive organic or referral traffic to your website

Increase brand exposure through social shares & views

Convert visitors into leads
Not exactly sure? Here are some examples in each category for a clearer picture
Content that drives organic (as well as referral traffic) to your website includes articles on your website's blog.
Brand exposure content includes YouTube videos and LinkedIn thought leadership.
Content that converts visitors into leads includes gated ebooks and case studies.
B) Identify Your Content Winners
While identifying your content winners might seem tedious, thankfully there are many tools out there that make the process much easier.
For your blog posts, simply head to Google Analytics and head to Behavior > Site Content > All Pages and sort by comparison view.
This will allow you to view the best performing blog posts you have.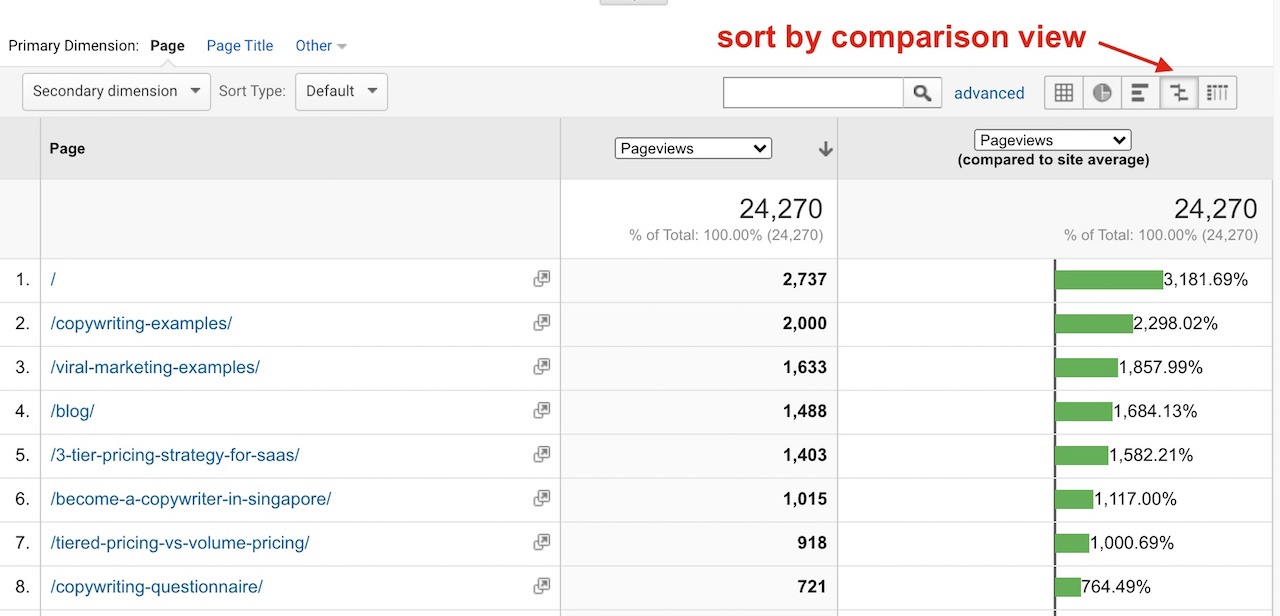 For my own blog, my top-performing blog post content that drives me the most traffic are my posts on copywriting examples and viral marketing examples with the top post bringing in 2,298% more traffic compared to the average page!
If you have a YouTube channel, finding your content winners is easy, just simply go to your videos > sort by most popular.
You can also enter your YouTube analytics dashboard to learn more about the videos with the most engagement (such as comments and likes) as well as which videos are being the most well-received content (those with a high like to dislikes ratio).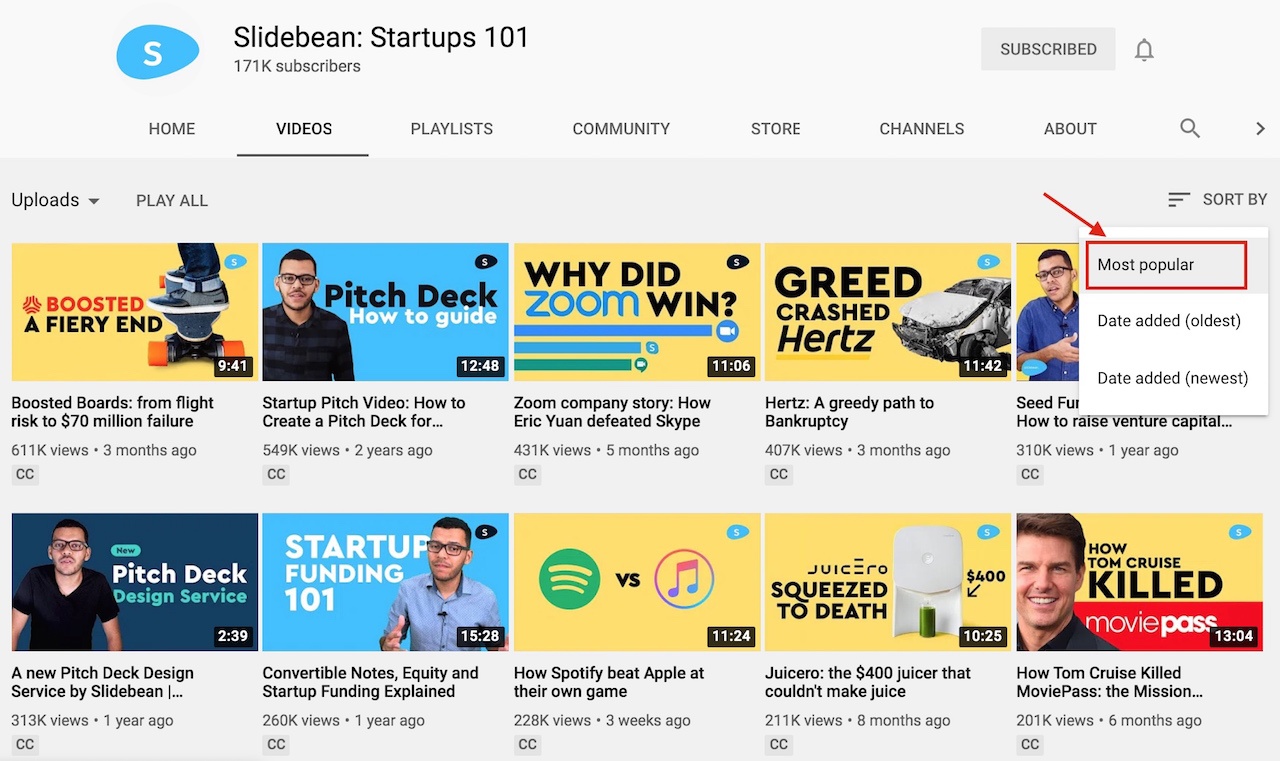 Now, if you are smart to incorporate social share buttons on your blog posts, you'll also want to track the best posts that are being shared.
You can use Buzzsumo to discover which of your content has the most engagement and are being shared socially across various networks (from LinkedIn to Facebook).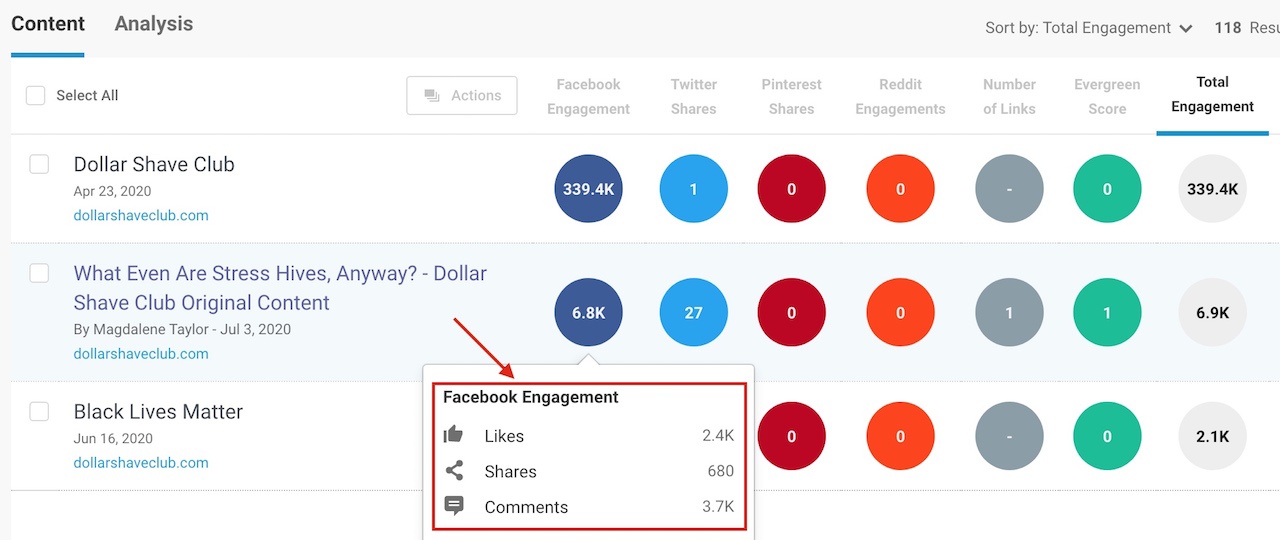 When it comes to content that converts on your website, simply head to Google analytics > Conversions > Overview to discover which content is converting the most (eg. driving the most email subscribers, leads or direct sales).
C) Scale Up Your Content Winners
Now that you know which content is driving you awesome results, the next step is to maximize your content's effectiveness.
Here are three quick things you can do with your content winners:
– Link These Blog Posts To Your Commercial Pages For Conversion
Rankings and traffic don't last forever – competitors get wiser, Google's algorithms might change and when you have the good fortune of traffic, you'll need to convert it!
The fastest way is to place a call-to-action link or even a banner to direct traffic to your commercial pages for conversion.
Even at a 1% conversion rate on an article that brings in 3,000 targeted traffic a month, you are looking at 30 new leads a month!
– Feature Relevant Content On These Blog Posts
One of the best ways to increase dwell time on your website (and the odds of better brand awareness and retention) is to let your readers read more of your content.
This can be done by increasing your internal linking to other relevant articles and feature your best converting content (other content winners) right below the blog posts or on the sidebar depending on how your UX is set up.
– Uncover Valuable Keyword Opportunities
Your content winners themselves contain a world of insight that you can tap to make the post rank higher for even more keywords or create more independent articles that will likely be content winners as well!
Using Ahrefs's site explorer, you can analyze the keywords that a blog post is ranking for – which is what we did to analyze Monday's Guide To Agile Planning blog post (that is driving them around 500 visitors a month).
We filtered down to keywords that the post is ranking for but in the 10th – 20th position. 
This shows that their content needs to be beefed up for those keywords with new in-depth sections or completely new articles will have to be written to tackle these opportunities.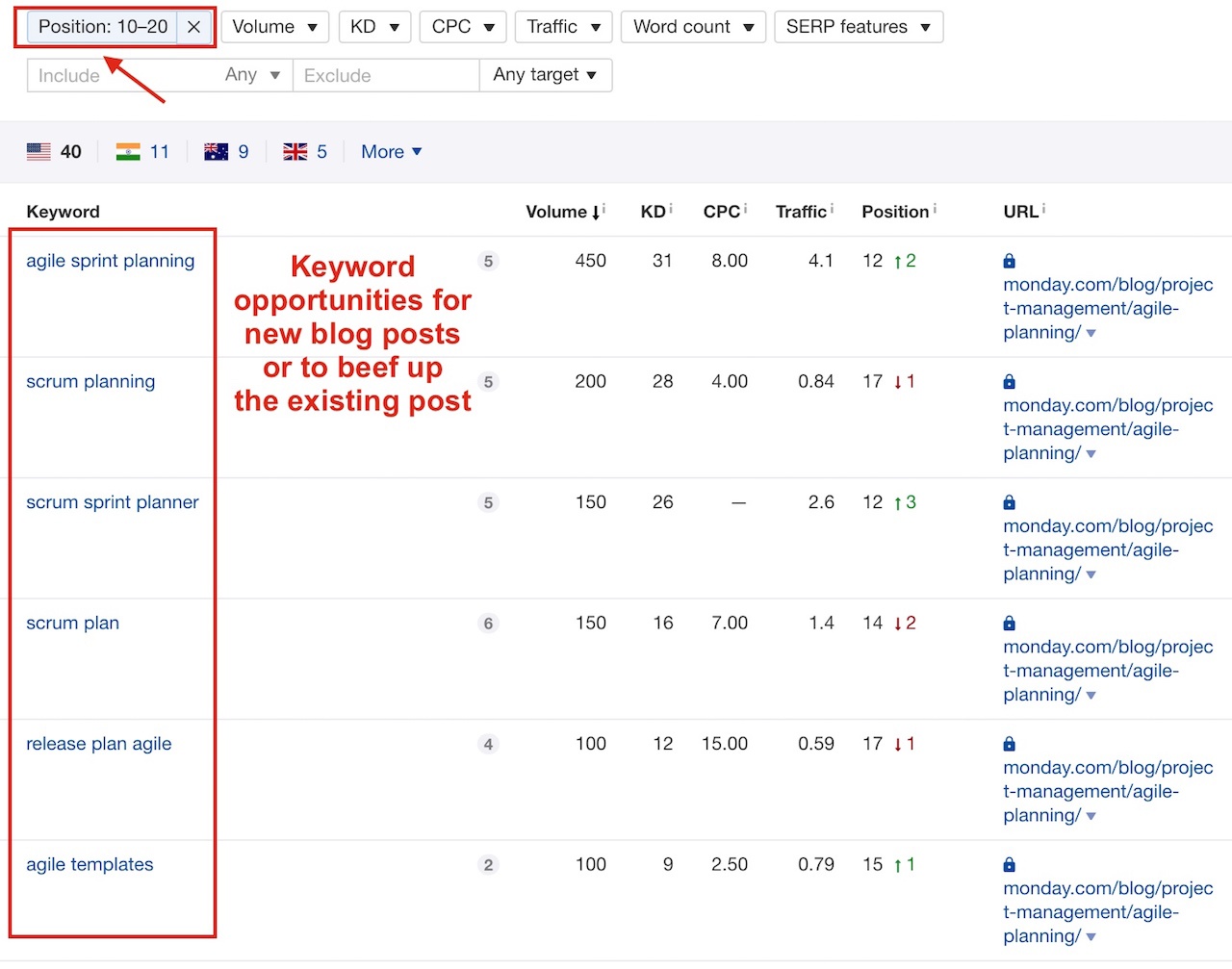 So don't just dismiss your content winners and call it a day, investigate it more to unveil more relevant keywords you can easily rank for.
D) Identify Content Gaps
One of the quickest (and most powerful ways) to discover new winning content to write is by analyzing the competition and discovering the keywords their blog content is ranking for.
Take for example Monday's blog that writes about productivity, collaboration and project management.
Instead of doing a standard keyword research, it's faster (and smarter) to just investigate the blog of a direct competitor, Asana's blog, in this case, to learn about the keywords that are driving them traffic.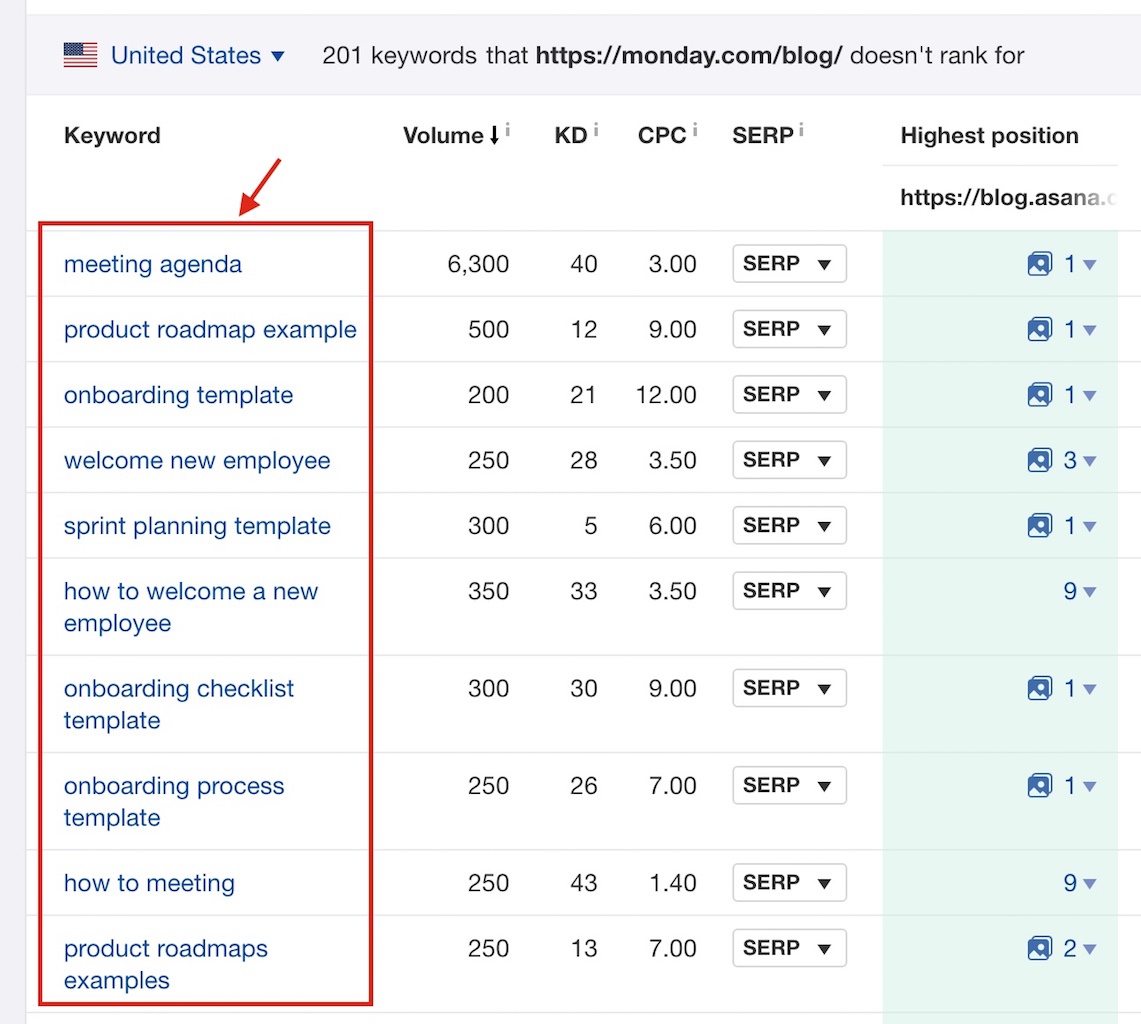 From this analysis, we can immediately see a wealth of keyword opportunities that Monday's blog is missing out on.
Using this information, Monday can start creating articles on their blog to tackle these topics to compete with Asana for valuable traffic.
This analysis can be conducted by using Ahrefs's content gap tool.
6. Email Marketing Audit
Owning your own audience and marketing to them on email is perhaps one of the best channels you can utilize.
After all, it has the potential to deliver 4,400% ROI and $44 for every dollar spent as well as having the most conversions than the rest of the other marketing channels.
And it's no surprise – after all, the relationship between your brand and your audience has already been built.
But in order to enjoy or maximize these benefits, you'll need to ensure your email campaigns are in tip-top condition and that means conducting an email marketing audit.
Let's get started!
A) Analyze Your Open Rates & Click-through-rates (CTR)
Three of the most important metrics of any email campaign and individual emails will be your:
Open rate:

The percentage of recipients that have opened your email

Click-through rate:

The percentage of readers that clicked on your call-to-action link that took them to a landing page or post on your website.

Unsubscribe rate:

The percentage of subscribers that leave your mailing list by clicking on the unsubscribe link on that particular email.
Whether you are using an in-house email delivery solution or 3rd-party providers such as MailChimp, you'll need to extract these three metrics.
Ideally, you'd want those open and click-through rate metrics for your individual emails as well for the entire campaign/sequence.
Here's an example:

Understanding these metrics can immediately allow you to pin-point which email campaigns aren't performing and which emails will need to be analyzed even further.
B) Check Your Subject Lines & Pre-header copy
If your emails are delivering a low open rate, it's simply because your subject lines aren't compelling enough.
When someone gets your email in their inbox, this is what they will see:

And if the headlines and pre-header copy doesn't get them hooked or curious enough, they won't open the email.
So identify the emails that have the lowest open-rates and use this guide to analyze and perfect those headline writing skills for your emails.
C) Scrutinize Your Email Copy & Design
There are two key reasons why you aren't getting the click-through rates you think you deserve in your campaigns and those are either:
Having a poor design that isn't user-friendly or intuitive to your reader

Not having an effective narrative and email copy that compels readers to take action
The Hustle is a newsletter that crafts incredible email copy (with over 1 million subscribers) that has compelling copy that mixes in conversational writing together with persuasive copy to get their readership to take action and click on their links.
Here's a great example below: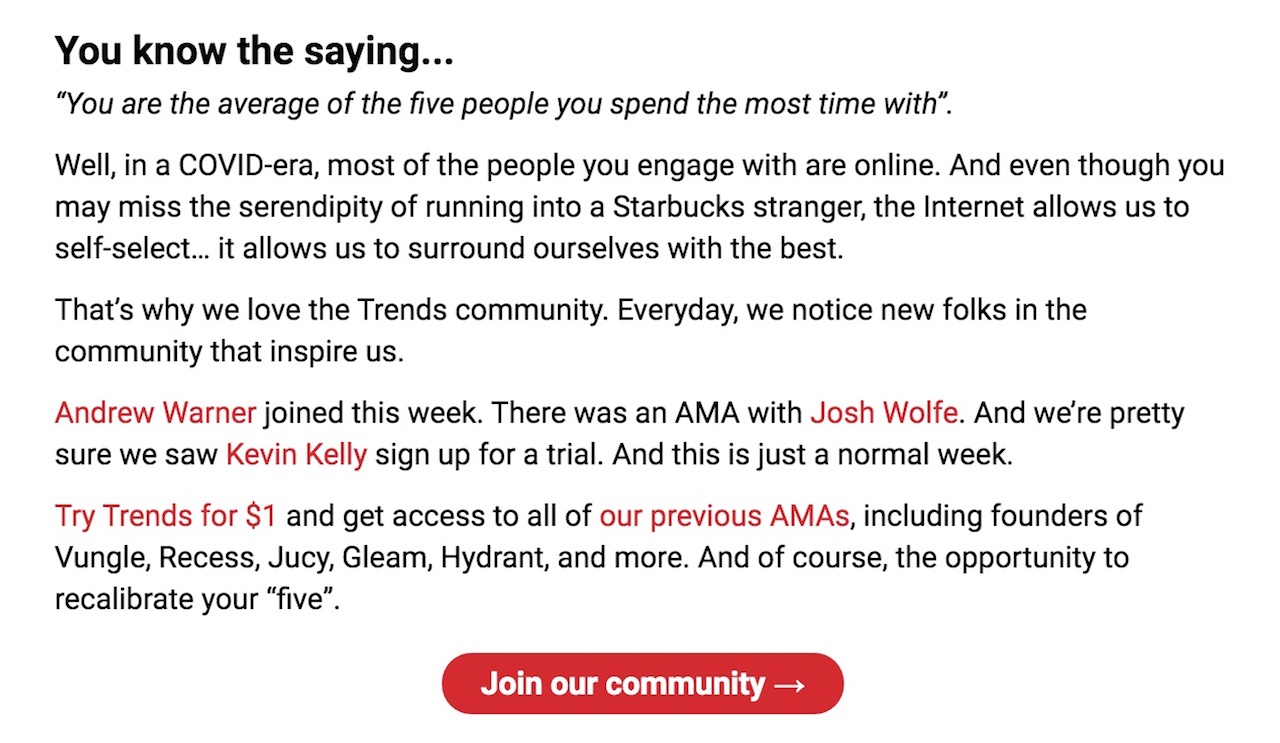 Need more guidance? Here's a handy guide of tips and tricks to get the job done!
D) Analyze Your Email Sequence Strategy
Whether you are an e-commerce company or a company selling services or the next innovative product, do you have the necessary email sequences to convert your subscribers into paying customers?
And more just critical – are they done and organized into a sequence that maximizes conversions.
Here are 5 of the most common email sequences you probably should have:
On-boarding sequence:

When your prospects first become users or customers

Customer success sequence:

When you showcase to them tutorials and content to ensure they get the most out of your solution.

Event sequence:

When you are having a physical or digital event (such as a webinar)

Marketing sequence:

When you are pushing a product or service for sales to your current subscribers

Upsell sequence:

When you are trying to sell an add-on or another product to a customer that recently bought something
The key here is to understand the goals and objectives of each sequence and analyze each email message in them.
Here's how to get it done effectively.
7. Social Proof Audit
Whether your base of operations is your website, Facebook page or through an email list, you will have to build trust with your audience if you expect any conversions.
Thankfully, this can be done reliably with various forms of social proof – in fact:
With ample social proof, you will be able to swiftly build trust and get your readers to move from prospects to paying customers – but only if you utilize them effectively!
Here are 3 steps to take to audit your social proof arsenal.
A) Consolidate All The Social Proofs You Have
There are broadly 8 types of social proof that you can gather for your business, these are:
1. Customer Testimonials
2. Media Mentions & Features
3. Influencers Endorsement
4. Your Customer Count / Products Sold
5. Customer & Brand Logos
6. Online Ratings & Reviews (eg. Google Reviews)
7. Badges, Affiliations & Certifications
8. Case Studies
Take the time to go through all your marketing collaterals (from landing pages to social media posts and website pages) and take stock of all the social proof you have.
B) Determine If They Are Being Used Correctly & Optimally
Now that you have all your social proofs in front of you – are you using them to their full effectiveness?
There are 3 main things to consider when deciding if a social proof is being utilized intelligently or if it is just slapped on randomly to fill space.
Does Your Social Proof Reflect The Kind Of Customer You Are Trying To Close?
If you are selling to small business owners, you don't want your testimonials to reflect big corporate brands or your logos to be primarily featuring Fortune 500 companies – You want to feature other small business owners as your customers.
Does Your Testimonials / Endorsements / Reviews Showcase Results That Matter?
There could be a hundred things great about your solution, but only a few that are highly relevant and important to your ideal customer.
Here's an example, if you are selling an email marketing software, you probably want to hype up all the increased revenue and subscriber growth your customer has enjoyed instead of how fast or easy the deployment is.
Are Your Social Proof Well Adapted To Your Marketing Platform?
One of the biggest sins of social proof is randomly featuring a piece of social proof anywhere and everywhere – it has to make sense for the platform!
Take case studies for example, having a long-form case study video or blog post on your website is absolutely fine, but to use it on a Facebook ad, you will need to use short snippets of it and transform it into an engaging format.
Here's a great example of social proof done right by Slack.
As a productivity and collaboration app, they are clear about the clients they are gunning to attract (big enterprise clients) and their social proof on their website reflects that (logos & a testimonial from a giant corporation).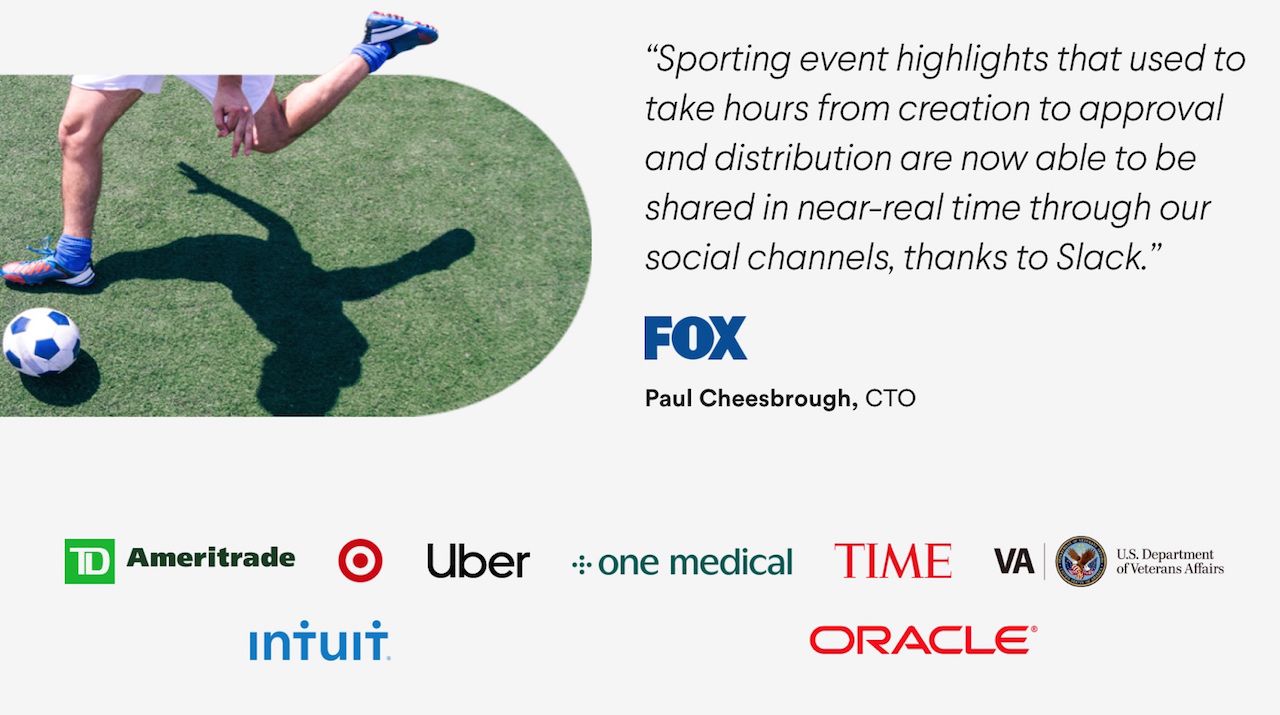 With a strong social media presence on Facebook, Slack also cleverly repurposes their customer case studies for the platform – quick witty copy (plus figures on how big the challenge & their customer is) to get readers to click through and read the main case study on their website.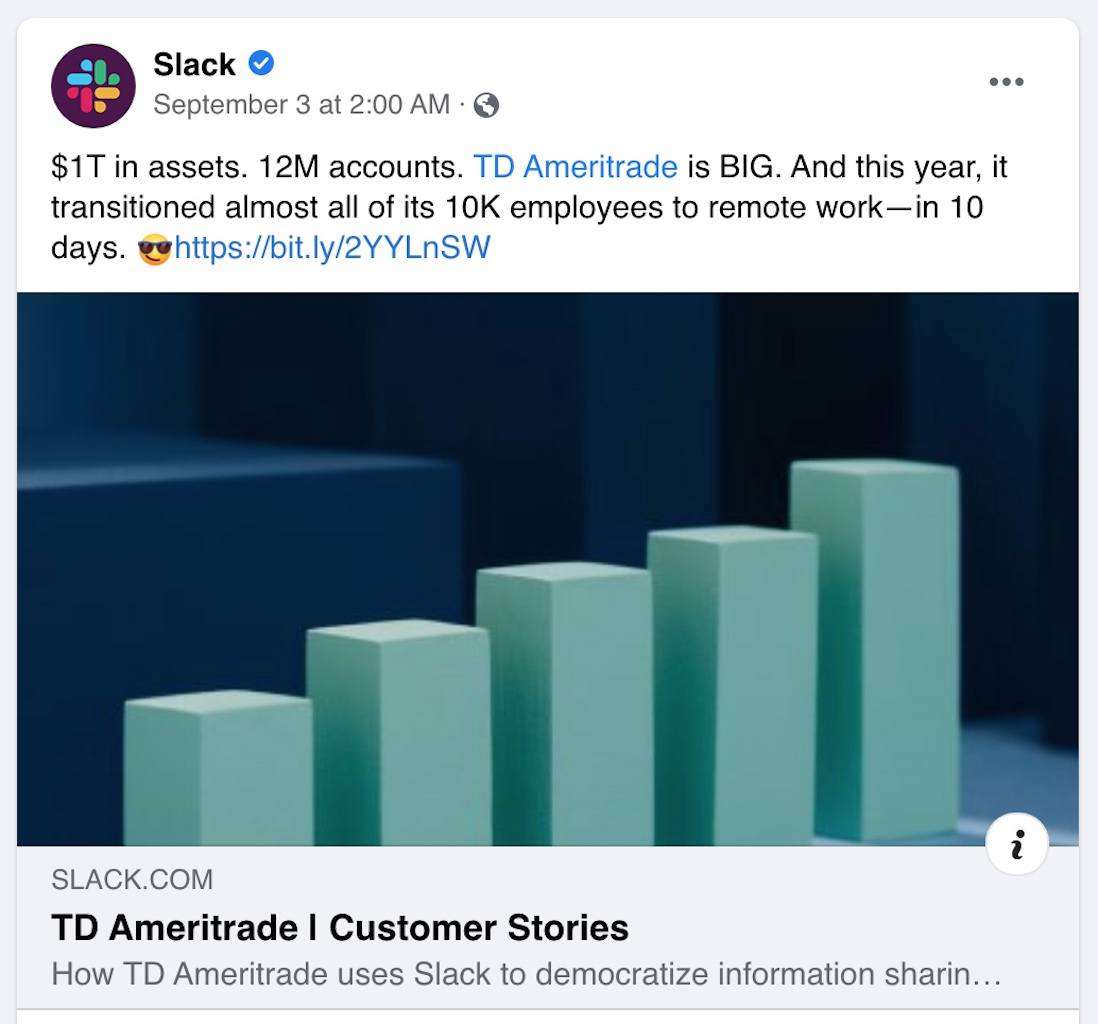 C) Identify Social Proof Gaps
With the social proof audit, you now know the types of social proofs you are still lacking and you can take steps to get them from the right client or transform them into different formats.
Just make sure you also do competitive research and also learn the types of social proof your competitors are utilizing!
Here's how to effectively acquire case studies from your customers as well as getting testimonials for your website.
8. Landing Page Audit
Whether you are embarking on a social media or Google Adwords campaign, the majority of your traffic would probably be directed towards a landing page – that's where the conversion happens!
In this audit, we'll be going through the top 5 elements of your landing page to audit to ensure your potential for conversions is maximized.
A) Check Your Value Proposition Or Offer
In this short-attention-span world, your landing page's value proposition needs to immediately stand out and grab the attention of your readers quickly.
A solid value proposition or offer will have the following traits:
– It conveys the value of your solution clearly
– It hits on the main challenge or pains your ideal prospect is experiencing
– The benefit is justified by features
– It avoids fluff words such as 'best' and 'cutting-edge' and uses simple language
– It uses the active voice for a conversational tone of voice
Leadpages's landing page showcases a clear value proposition – trying their platform for free for 14 days.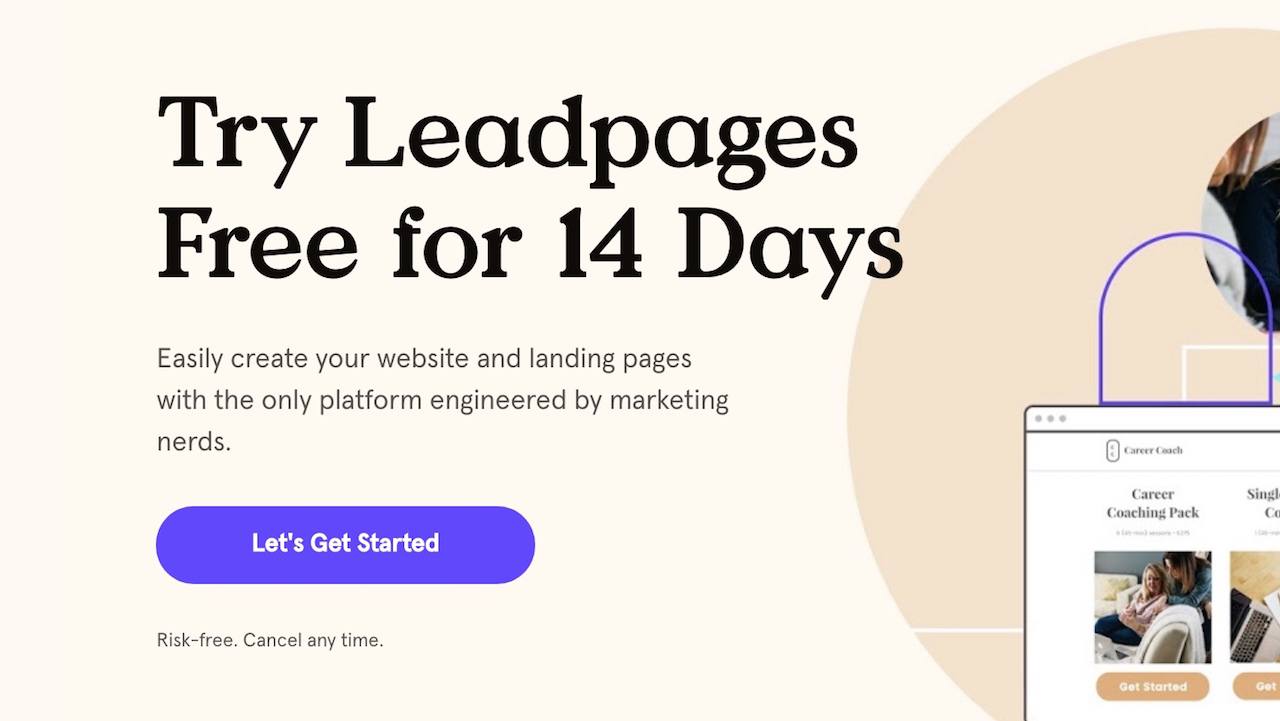 B) Check For Relevant Social Proof
As we went through in the previous section, social proof is key in building trust with your audience – but only if you utilize the right types of proof that matter to your prospect.
When analyzing your social proof, ask yourself these questions:
Are my customer logos recognizable by the customers I want to attract

Are my customer testimonials relatable to my prospects (same position, same challenges etc)

Are my case studies highlighting the results and big benefits that matter to my readers?

Am I using the right influencers (that my customers trust and look up to) for my brand endorsements?
Today, random social proof doesn't cut it anymore, you'll need ones that are targeted and highly relevant. 
Monday's landing page utilizes both customer count plus their customer logos to attract the types of customers they really want – big brands and corporations.

C) Check Your Visual Hierarchy
While the sales copy on your landing page is important, so is ensuring that your design captures attention and takes your reader through a journey customized for their understanding.
People don't just slowly scroll through your landing page, they scan through it quickly and they jump around to different points of the page – your job is to arrange the information on your website in a way that is easy to understand and digest.
Here are 6 checks you'll need to do to accomplish that:
1. Do you layout your page elements in an F or Z shaped format to match modern reading habits? (Alternatively, you can center all elements as well)
2. Are your most important elements bigger in size (such as the font size of your headlines and subheadings)
3. Do you provide adequate white space to separate your page elements to draw attention to the elements and prevent confusion or reading fatigue.
4. Do you utilize colors to draw attention to headlines, call-to-actions and even unique features of your product or service.
5. Do you pack in key information and elements into a space to give it more importance?
6. Do you strategically utilize bolded words in a sentence to attract attention to certain benefits, features or narrative?
Basecamp's page utilizes a clear and engaging visual hierarchy – using size, colors, bolded words, packed information as well as white space to draw the reader's attention without letting them feel overwhelmed.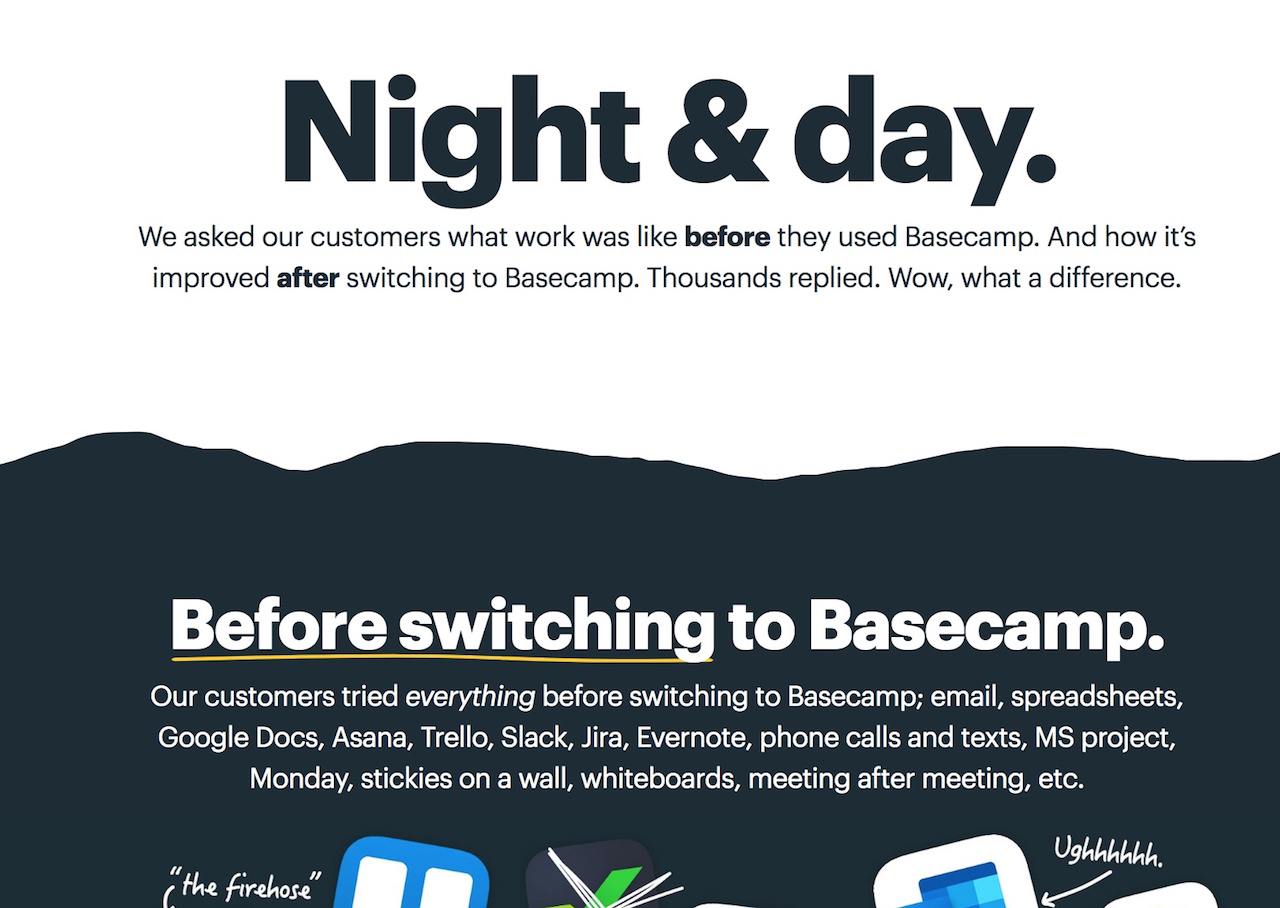 D) Have An Effective Call To Action
Your call-to-action (CTA) is one of the most important elements on your landing page you have to get right – and that means making it:
Obvious & Stands out (good contrasting)

Clear messaging (how specific and actionable is it?)

Tie-in A Benefit (or reduce risk to action)

Provide action feedback (CTA button changes color while hovering or "clicks" when pressed)
HubSpot's Call-To-Action is simple and brings together all of the above traits. It is obvious to locate as well as ties in the big benefit of getting started for free.

E) Optimize Your Sign-up Form
Depending on your business type, your enquiry or sign-up form will be different, however, one basic rule applies – you'll need to make it as simple as possible and sprinkle in persuasive elements to get your prospect to sign-up.
GetResponse's sign-up form on their landing page combines the best of two worlds by featuring a simple-sign-up form on the left and showcasing all the benefits of the free trial on the right.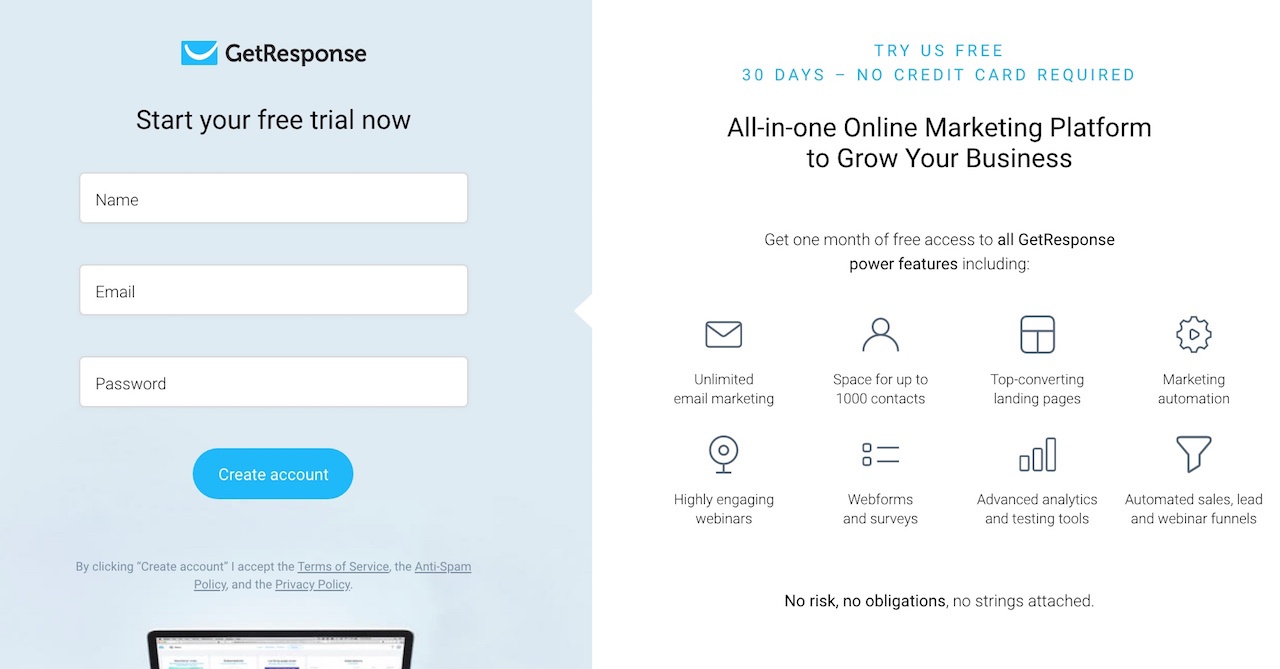 Need a master guide to optimizing the rest your landing page? Check out this post by Klientboost to get you started.
9. Brand Consistency Audit
Ever noticed that throughout the marketing materials of companies and businesses, there seems to be a similar theme or color scheme going?
This is what is called brand consistency and you have to ensure that all your marketing materials, from your landing pages and website to your social media platforms, follow it in order to be distinctive and memorable.
Here are 6 elements to take note of during your brand consistency audit.
Your Logo
While this might be rather obvious, your logo has to be consistent throughout your platforms – especially in social media channels such as YouTube where avatar pictures are also customizable.
Depending on your logo type, you might be able to just use the mascot or the logo symbol on different platforms, but if it is just a wordmark, you'll have to use it throughout.
Your Brand Slogan
Every brand has a slogan, such as Coca-Cola's 'Taste The Feeling', which should be showcased throughout the marketing materials. This helps visitors to associate the slogan with the brand and vice versa.
Your Tone Of Voice
Is your brand energetic and jovial? Or is it more serious and professional sounding? 
Having a consistent tone of voice from your social media posts to your blog content is key to ensure there isn't a disconnect or any confusion for visitors and prospective customers. You'll want them to have a seamless experience in your messaging's tone.
Your Brand Colors
Every brand has a color theme that matches their logo, style and brand values while evoking a particular set of emotions to those who view it.
While blue builds trust, the color red represents passion but also risk – it is important not to mix-up your brand colors across your different channels without a good reason.
Your Typography
As much as possible, you should also try to control your typography and font styles across your different publishing platforms.
Your Image Illustration Style
Do you use mainly illustrations and cartoons or do you utilize more humanistic and realistic images to get the message across?
Keep this constant throughout your marketing channels, be it on a Facebook post or your website pricing page.
A great example of brand consistency is Steinway Pianos, they ensure their logo use and tone of voice (classy and professional)  is consistent throughout their marketing channels, from their Facebook page to their website.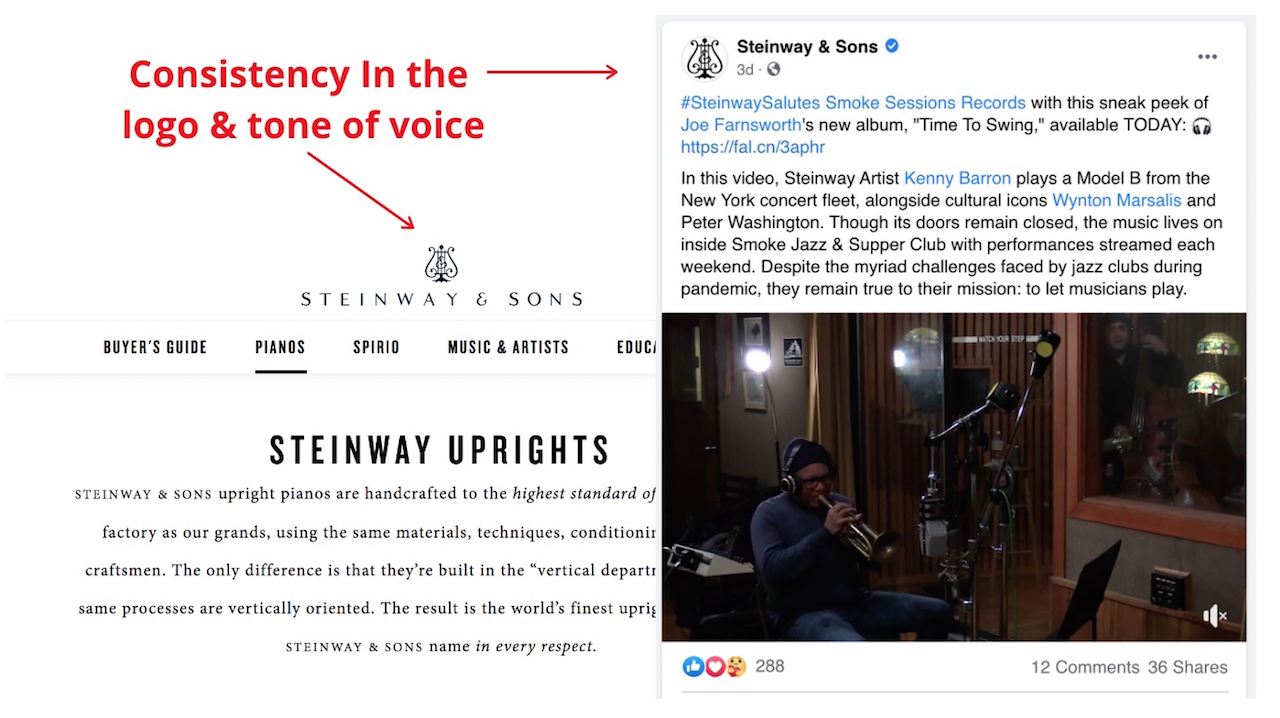 A great way to turn this into marketing protocol (useful for both internal teams and external agencies) is to develop a brand style guide.
10. Copywriting Audit
Whether you are marketing to your prospects on your website, landing page or email sequence, it will be your sales message that will push a prospect to convert into a customer.
Thankfully great copywriting leaves clues and these traits are applicable to crafting great sales messages that engage your readers and truly speak to their desires.
Here are four things to check for a successful copywriting.
A) Audit Your Customer Persona
Who exactly are you selling to? And we aren't just talking about basic demographics such as:
– Sales executives with 5 years of experience or more
– Earning over $100k a year
– Has at least a bachelor's degree
– Living and working in the United States
– Enjoys competitive sports
All those are too superficial – you'll need to dive much deeper into who the customer is, what his motivations and needs as well as the challenges he's facing.
You'll need to flesh out an entire customer persona (especially if you are in the B2B space) to be able to craft copy that grabs attention, builds trust and compels the reader into action.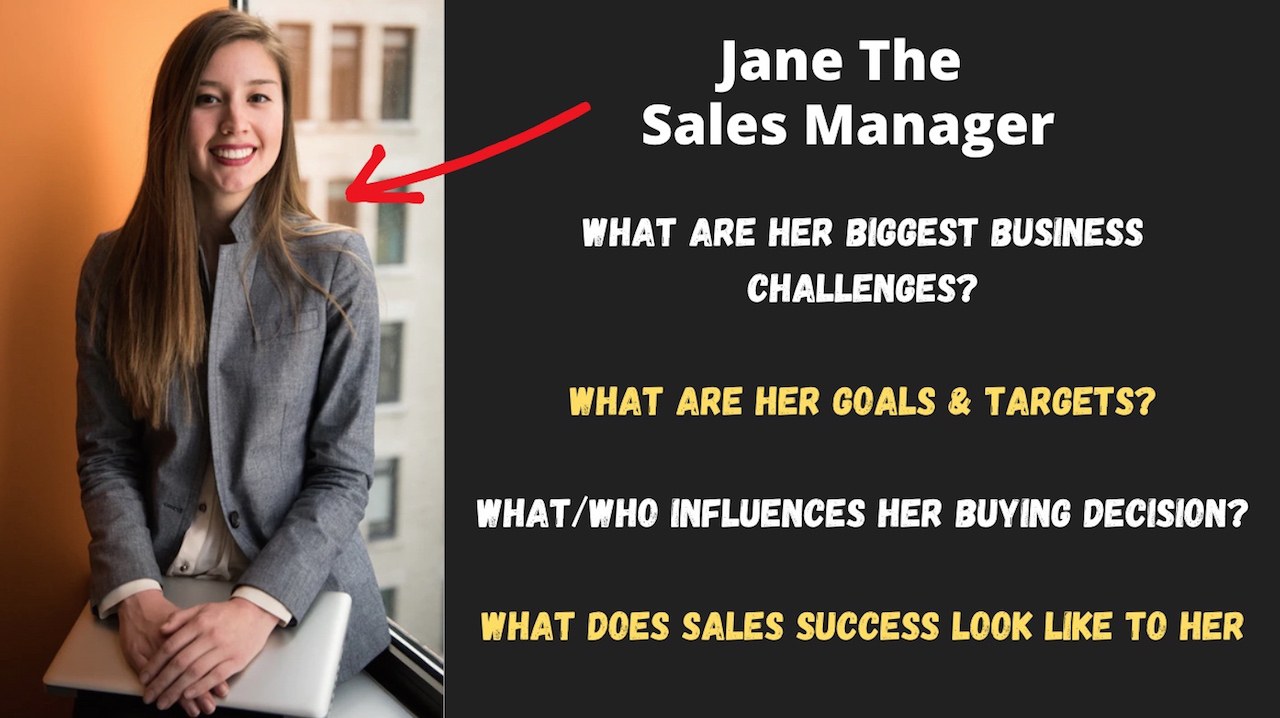 B) Check Your Headlines
Your headline is the most important element of your sales copy – it is not only a hook to grab attention, it will determine if the rest of your messaging will be read or ignored.
Here are 5 quick questions to ask yourself to determine if your headline is a winner or needs to be redone:
1. Does my headline either highlight a major challenge my customer is facing or showcases the big benefit they desire?
2. Does my headline tap into an emotion (Fear, Joy, Accomplishment etc) of my reader?
3. Does my headline answer or at the very least tap into a conversation that exists in their minds?
4. Does my headline compel or intrigue me enough to read on to find out more?
5. Is my headline clear and concise – delivering maximum value without any unnecessary fluff or jargon?
If the answer is yes to four or more, then you have a strong headline you can be proud of!
C) Scrutinize Your Value Proposition
A value proposition is simply what makes your solution so compelling that it just pushes the rest of the competition aside.
It is a straightforward one-liner that captures the essence of the uniqueness of your solution.
A great example is Basecamp's Headline in their hero section of the homepage.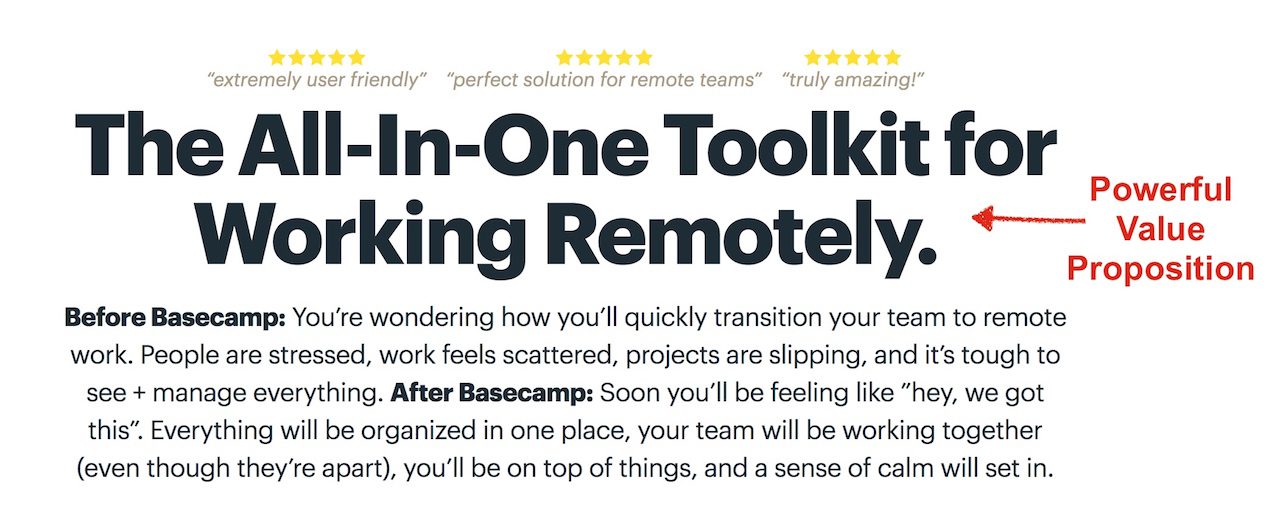 It covers the five core traits of a successfully written value proposition:
Being Unmistakable: It is visually prominent and the first thing any visitor sees on the website.
Being Desirable: The value proposition itself is a solution to the big problem of project management, too many tools around.
Being Unique: It showcases itself as an all-in-one toolkit
Being Specific: It addresses one clear market/segment, organizations that are working remotely.
Being Simple: The value proposition is clear, concise and very memorable
Run through these five criteria to see if your value proposition (which might also be your headline) is well-written.
D) Check Your Offer & Call-To-Action
Your offer and call-to-action is the final section your visitor will read before the conversion happens – that means unless it is compelling, all your hard work earlier will be wasted.
We don't want that!
Here are 5 things to check if your offer plus call-to-action is effective or not:
Are your CTAs located strategically around your website?
Eg. In the hero section, after testimonials, before the end of the page.
Does your CTAs have one & only one singular goal?
Eg. Driving sign-ups to your trial
Are your CTA forms as brief as possible?
Eg. Asking for just an email and no other unnecessary information
Does your CTA remove any last-minute objections/fears?
Eg. Giving a free trial to remove the fear of up-front money commitment.
Does your offer / CTA section give a final reminder of the big benefit?
Eg. Reinforcing the end goal your reader would like to experience.
Close's CTA section does a terrific job in convincing their readers to give their solution a try – in fact, it fulfils all 5 traits of a compelling and impactful offer and CTA!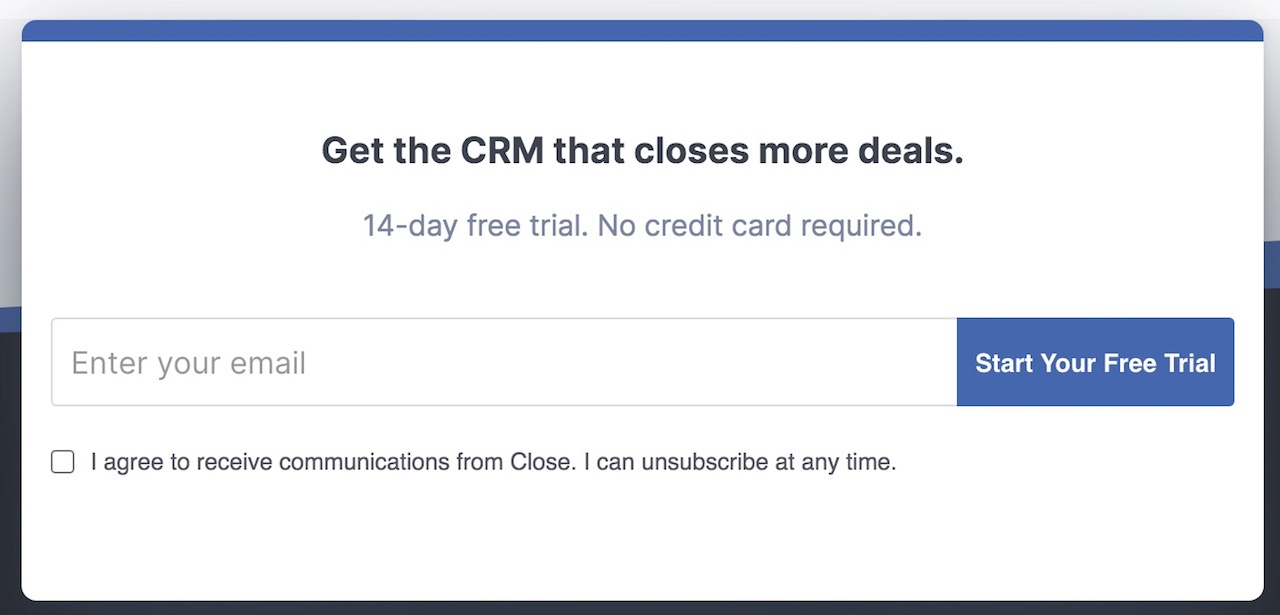 11. ROI Audit
At the end of the day, you want your digital marketing efforts to produce more value than the money you have invested in it – and that means conducting a proper digital marketing ROI audit.
Here are six core metrics you need to track to ensure your marketing campaigns are driving your results and profit:
A) Your Cost Per Lead
Every lead earned (through content marketing) or acquired (through paid marketing) has a dollar value on it and this has to be tracked to understand how much money you are burning through.
This allows you to understand the runway of cash you have to keep your marketing campaign going for lead generation – will your budget last for the next 3, 6 or 12 months?
In addition, if your cost per lead is substantially more than your profit, that means you are actually losing money running your campaign.
Unless you are embarking on a pure brand awareness campaign or executing a "loss-leader" strategy, your profit earned should be more than the lead's cost.
Regardless of any case, you want to keep your cost per lead to be as low as possible.
B) Your Cost Per Acquisition
Not all leads you have gathered will result in a successfully closed sale – your cost per acquisition takes into consideration only the leads that have turned into a sale.
Simply take your marketing cost and divide it by the number of new customers acquired.
If your SEM campaign drove you 30 new customers at a cost of $6000, your cost per acquisition is $2,000.
Knowing this number will allow you to adjust your marketing strategy and even your offer pricing in order to either boost your profit margin or increase your user base.
C) Channel Conversion Rate
Which are the best-performing channels that are driving you the most traffic back to your website (or point of sale like a landing page)?
From YouTube and Google Search to LinkedIn and guest posting, different channels will bring with them different quality and quantity of traffic.
Simply head to Google Analytics > Conversions > Goals > Overview to check and track your website's conversions.
Your conversion metrics by channel will unveil to you insights on how exactly you should invest your marketing dollars to.
For example, if 30% of your traffic comes from your organic searches through your blog and has a 3% conversion rate while 70% of your traffic from paid search only has a 2% conversion rate – it would be a smart move to increase your blogging efforts and channel more resources that way.
Here's an example of a simple spreadsheet set-up to track your overall conversions by channel:

Pro-tip: Combine this with the cost per acquisition for each channel and you will get an even clearer picture of which marketing channel to double down in.
D) Your Average Order Value
If you are in e-commerce or selling products (and services) with different price tags, this is one metric you should be keeping an eye out on.
One big reason why your cost per acquisition may seem high is simply that you aren't selling enough volume or higher priced products.
It's just that simple sometimes!
Knowing this metric allows you to bundle in products together, upsell additional services or improve user experience on your checkout page in order to make it more intuitive to add in suggested products.
E) Your Average Customer Lifetime Value
What is the average amount your average customer spends over the entire lifetime of their relationship with your company or brand?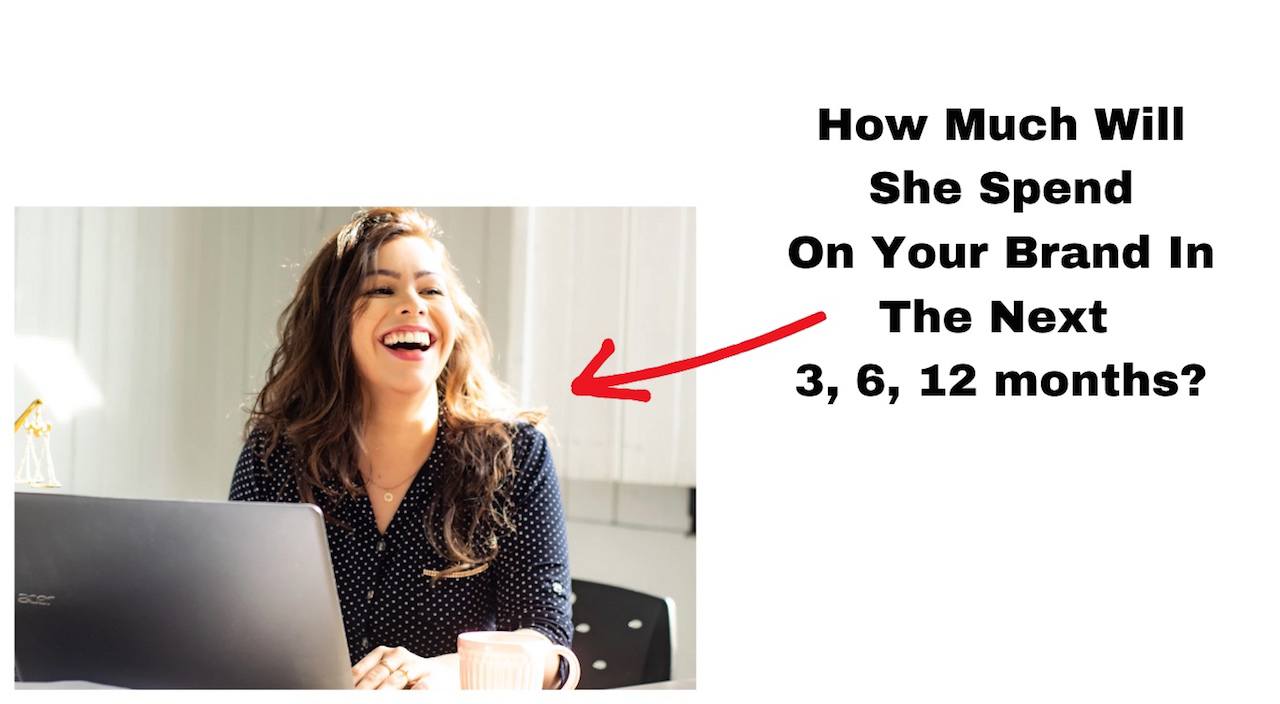 While it might seem high to spend $200 to bring in a single new customer, it is definitely worth it if they spend $100 a month for the next nine months.
That's a customer lifetime value of $900 and justifies taking the short-term "loss" of $100 in month one.
How does this influence your digital strategy?
If your customers have a lower lifetime value, you'll want to ensure every conversion brings you a profit and to only target channels with a proven ROI.
If your customers have a high lifetime value, you can aggressively upfront your marketing cost and bid higher (especially in Google Adwords) to capture more traffic and gain higher exposure to potential customers.
Get Started On Your Digital Audit Today!
Embarking on your digital strategy is exciting but ensuring you are heading in the right direction is just as important as well.
Your digital marketing audit is a necessary part of ensuring you reach the right audience and convert that hard-won attention into real business results.
Need help on your digital audit or looking to embark on content marketing for your brand? 
Drop me a contact at sean@speechsilver.com and I'll be in touch!