The Top 10 Viral Marketing Examples – Key Lessons included!
June 12, 2019 | Sean Foo
When it comes to spreading brand awareness, every marketer wants to reach the widest audience possible, and that means creating content that can go viral.
Viral marketing is the creation and distribution of content (a video, a social media update, a blog post etc) that spreads quickly and achieves a reach that is wildly successful.
We are talking about tens or even hundreds of millions of views!
While luck and timing definitely plays a significant role, proper planning and understanding what drives your audience is also key in making this marketing miracle happen.
A Viral Marketing Success Stirs The Emotions
Advertisements and campaigns don't go viral just because they are well-produced – people spread them, from word of mouth to social media shares, because their emotions were engaged.
In fact, a research conducted found that viral online content shared three core elements that are the ability to:
Evoke a wide range of emotions (from awe to laughter)

Bring out positive feelings such as joy, anticipation and trust

Contain an element of surprise
Creating your own viral success won't be easy but a great first step would be to learn from the best campaigns that resonated with their audiences.
We present to you the top 10 viral marketing examples and why they are just so awesome!
1. Canadian Tire "Wheels" Campaign
At the heart of every viral marketing success is the ability to engage the audience's emotions through powerful storytelling.
With over 200 million views and 3.8 million shares across social media, the ad surpassed all of 2017's Superbowl commercials reach combined!
All without any influencer help or big-star power – just a simple and powerfully human story that transcends language, race and age.
The success of the ad boiled down to the simple but yet emotional encounter of two boys in completely different circumstances – one is disabled and the other is full-bodied and how their stories came together.
This ad was part of Canadian Tire's Olympic campaign and was first aired during the 2016 Rio Olympics and blended perfectly messages of inclusion, community and the importance of starting it young.
Key Lessons
– Canadian Tires Wheels campaign shows how impactful a simple story can help connect people together, helping the brand reach viewers across communities that might have been otherwise unreachable.
– The ad followed 3 power storytelling principles that are:
Having Authenticity: Cleansheets could have chosen to use child actors or celebrities but that would have taken away from the audience relating to the story.
They cast real children in real situations where they could behave in a natural way everyone can identify with.
Injecting Confrontation & Tension: While a commercial should end on a high note or have a sweet ending, the journey towards that end is what separates an average ad with one that is unforgettable.
When the able-bodied boy locks eyes with the boy in a wheel-chair – it is a moment of confrontation that creates empathy in the audience.
Tension is created in the next scene when the basketball appears on the wheel-chair boy's front porch and brings up simple but highly emotional questions.
Who put it there? What happens when he goes to return it and encounter a game that he can't participate in due to his disability?
A Powerful Revelation: The big payoff finally comes when the boy encounters a game that is inviting him in, where every kid is on wheels, turning the basketball game into one where the wheel-chair boy can join in.
– When you are trying to evoke emotions – whether it be empathy, courage or awe, following a time-tested story structure helps to ensure you can create a narrative that has a well-defined start, a tension-filled middle and a pay-off that is satisfying.
– This campaign highlights how the right use of story can help make a campaign (and the brand) go viral for all the right reasons. Instead of sticking to what you directly sell, think about how your products affect the lives of people and the stories behind them.
2. Coca-Cola "Small World Machines" Campaign
Launched in 2013, Coca-Cola's "Small World Machines" campaign sought out to bring together two groups of people who were used to living with conflict – the people of Pakistan and India.
Leo Burnett came up with the concept of connecting the people of these two countries, 325 miles apart through digital communications on their vending machines. This creative campaign looked not just to spread happiness but to also promote cultural understanding between people across every border.
People from both countries worked together to perform tasks such as tracing peace signs and smiley faces with their counterparts across the border – before rewarding them with a free can of coke to enjoy the experience together!
With over 3.5 million views on Youtube, this campaign also helped Coca-cola grow their Facebook fans by over 1.6 million!
In addition, their Twitter followers count also exploded with more than 34,000 new followers as well as famous Indian and Pakistani influencers and figures tweeting positive reviews about Coca-Cola's initiative to bring the two countries closer together.
Other Awesome Campaign Results:
– The campaign was witnessed by more than 10,000 attendees in the live event (with over 10,000 cans of soda given out as well!)
– More than 58 million earned media impressions were gained
– Beyond 4,860 unique mentions on online outlets such as websites, blogs and forums
– Over 18 Million Facebook and Twitter followers were reached
– 55% of total reach came from India and Pakistan – showing this campaign truly went global
Key Lessons
– Be aware of global issues and how your brand might be able to make a difference – no matter how small. Coca-Cola knew that just an advertisement won't be able to solve big geopolitical conflicts, but connecting their people together is something possible.
– An ad doesn't need to be a static event where professionals film and the public watches a week later. By having a live audience and active participants, Coca-Cola intelligently uses the power of human experience and live interaction to create a buzz and word of mouth marketing to drive valuable awareness.
– Embracing new technology can set your campaign apart and spur interaction. While video chat is nothing new, this campaign added the element of touch that required the participants to touch each other's hand, through a screen', to complete the task – giving a good mix of curiosity and satisfaction at the end.
– Understanding cultural differences is crucial. Localizing your campaign is very important together with navigating around any cultural sensitivities. With national tensions high between the two nations, the campaign chooses to connect with viewers through the story of shared experience, smiles and co-operation – something that everyone across the globe can understand and identify with emotionally.
3. Volvo "The Epic Split" Campaign
When it comes to an equal mix of star-power, breathtaking visuals and incredible soundtrack that inspires a sense of awe, Volvo's Epic Split campaign comes to mind!
Reaching almost 100 million views on Youtube, this is a perfect example of masterful storytelling of machine and man as well as mastery in one's craft.
This ad was part of 6 videos and cost around $4 million to produce and raked in $170 million worth of revenue for Volvo and it's quite easy to see why – having Hollywood actor Jean Claude Van Damme doing a full leg split hanging between two Volvo trucks driving in reverse! (Yes you read it right)
Bucking the usual trend of automobile advertisements showing the raw power or the design of its vehicles, Volvo took a creative turn to highlight their vehicle's perfection & precision through storytelling.
The video script copy not only complements the video but talks about the journey of BOTH Volvo and Jean Claude Van Damme towards their quest for perfection.
"I've had my ups and downs.
My fair share of bumpy roads and heavy winds.
That's what made me what I am today.
Now I stand here before you.
What you see is a body crafted to perfection.
A pair of legs engineered to defy the laws of physics.
And a mindset to master the most epic of splits."
The copy here showcases the hero's journey of both Van Damme and Volvo, explaining the sacrifices needed to develop their skill before a powerful display of Volvo's technical precision and Van Damme's mastery of his lower body.
Two epic splits were done in this ad, one by Van Damme, the other by the two Volvo trucks.
Key Lessons
– Only use celebrities and influencers that relate well with your brand and the story you want to tell. When it comes to viral marketing, there is very little room for mistakes, Forsman & Bodenfors selected a martial artist and movie icon that people knew and matched the message they want to showcase: mastery and dedication to one's craft.
– While many advertisements of the time were focused on single vehicles driving forward, Volvo's ad decided to break the trend and conventions by having two trucks drive in reverse while pulling off the stunt. This showcases something new and fresh to audiences who probably never saw it coming.
– The marketing campaign knew their audience well, truck drivers and companies, and understood they had to do something different to catch attention. They knew vehicle performance was important to their core audience but they had to do it in a creative way that relays the information without anyone having to flip open a magazine to view any vehicle specs.
4. Dollar Shave Club "Our Blades Are F***ing Great" Campaign
Having an ad go viral doesn't require you to spend millions of dollars to produce something blockbuster.
In fact, Dollar Shave Club spent only $4,500 on a video that has over 26 million views, launching their sales into the stratosphere and eventually paved the way to their Billion Dollar exit buyout from Unilever.
With a minimalist concept packed with humor, Dollar Shave Club was a startup delivering razors in a subscription service that delivered great value while keeping the cost bare-bones.
While other big shaving competitors like Gillette focused on big-budget commercials that featured the amazing technologies of their latest shaving breakthrough, Dollar Shave Club threw their founder Michael Dublin in the spotlight instead and filmed everything in a warehouse.
His comedic and yet serious monologue on how awesome his company is and why you should hop on board has now entered the viral marketing hall of legends.
And the results were spectacular – over 12,000 people signed up for the service within 48 hours after the video's debut on Youtube.
Key Lessons
– Humor works wonders. While most shaving brands then took themselves and their product very seriously, Dollar Shave Club opted to make the ad light, silly and humorous. With self-deprecating jokes, they didn't take themselves seriously – taking a risk that paid off.
– Knowing they didn't have much of a brand name back then, Dollar Shave Club focused on their brand and value proposition. Their opening of 'For a dollar a month, we send high-quality razors right to your door' making it crystal clear what they do. This is especially important if you're relatively new without a huge brand recognition yet.
– People's attention span is short – you'll need to make every second count. If any part your content isn't crucial, it has to be ruthlessly cut. Dollar Shave Club's original script was beyond four pages and eventually was whittled down to just contain the brand messaging.
– Sometimes it pays to go all out on the humor & sprinkle in some profanity. While conventional advertising shy away from practices like this, if you know your audience well and figure out what resonates with them (a no-bullshit attitude and risk-taking attitude in this case), it's better to go all out to identify with your core audience then trying to please everyone.
5. Nike "Possibilities" Campaign
Challenging your audience is something that Nike has always done well in their ads, from their iconic Michael Jordan ad that redefines failure to their smash hit 'Possibilities' campaign in 2013.
Bringing together sporting greats including Serena Williams and Le Bron James, this viral success challenged audiences to be the best they can be and take on the greatest athletes in the world.
Drawing over 1.3 million Youtube views in under 24 hours, this ad is a piece of genius that combines star power and the everyday Joe into an ad that is slick, cool and highly shareable.
Not surprisingly shortly after, Nike cemented their position as the top brand that senior advertising executives most wanted to work with.
Key Lessons
– For a campaign to go viral, your audience will have to feel a strong emotion after watching it and that begins with them identifying with the ad. Making your viewer the star of the show is one immediate way to let them experience the emotions that you are trying to instill. Nike's Possibilities campaign features everyday people mixed in with the superstars, allowing audiences to live vicariously through them.
– Appealing to the masses is tricky, you will need to be inclusive but yet retain the core of your brand. Known for being a sports brand, Nike has always been on a quest to convert both hardcore sports fans as well as casual viewers who just love working out. By using Hollywood stars such as Bradley Cooper's voiceover and Chris Pines, they extend their reach to the mainstream and by escalating the challenges (from the school arena to the street court to challenging LeBron), they cater to both the casual player, to the hardcore sporting fan.
– In the pursuit of virality, always push out your campaign through your existing marketing challenges. Nike cleverly integrated their Possibilities campaign with their 18 million strong Nike+ digital ecosystem through activations such as running challenges where participants are encouraged to share their achievements through Twitter using Nike's slogan #JustDoIt as the hashtag.
6. The ALS Ice Bucket Challenge
You have definitely heard about it and probably even done it – it's the ALS Ice Bucket Challenge of course!
Launched in 2014, this challenge that went viral was started online in an effort to raise awareness and raise funds for those suffering from Amyotrophic Lateral Sclerosis (ALS) disease.
The challenge was simple – film yourself having a bucket of ice water poured over your head and then nominating three or more people to do the same. As a response, your nominated person will have 24 hours to either have to comply or donate money to the cause.
How financially successful was this? Well, in just under a year, the Ice Bucket Challenge raised over $11.4 million, more than 10x the amount raised in 2013!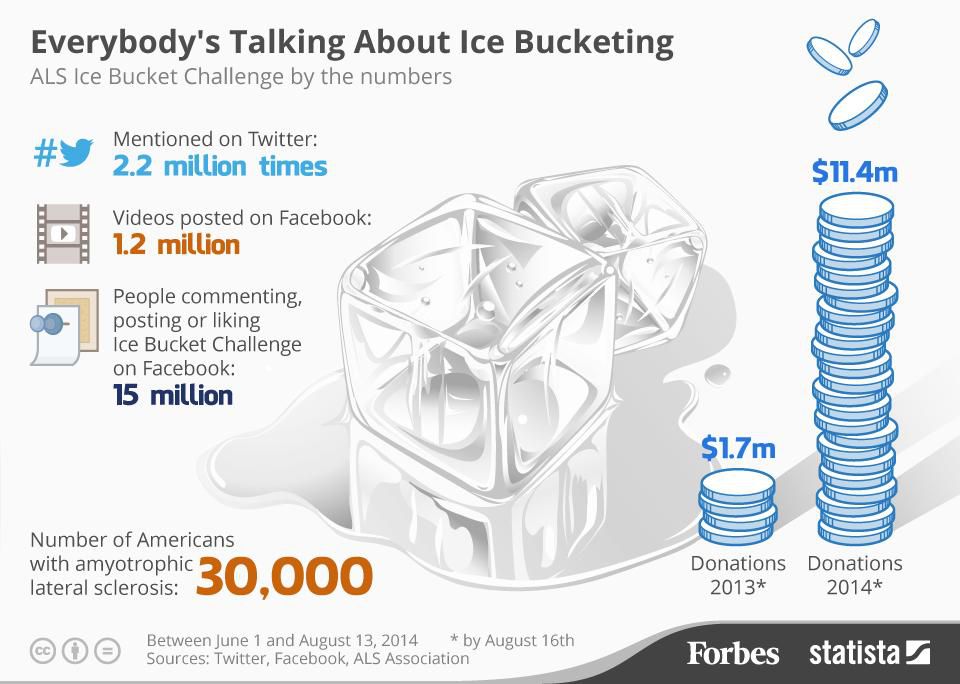 It was so successful that over 17 million people worldwide participated in it including celebrities such as Bill Gates, Tom Cruise, Henry Cavill, Mark Zuckerberg, Chris Pratt and Oprah took part.
Even Donald Trump risked his hair to take part in it!
Key Lessons
– Virality is a by-product of your audience's willingness to spread the word – that means making it as easy as possible to do so! The bucket challenge is rather unique because instead of it being an advertisement video, it is actually a set of instructions for readers viewers to follow. Thankfully the instructions were simple and clear – allowing the participant to quickly understand and execute the challenge.
– Time is a key factor to viral success, leave it too long without enough shares, the momentum itself will stop dead at its tracks! By implementing a 24-hour time limit, participants were motivated to spread the campaign far and wide as quickly as possible. By using time constraints wisely, you can also help inspire action from your audience.
– When your campaign allows influencers to easily participant, you probably will have a much better time allowing your initiative to go viral with incredible reach with minimal cost! Celebrities would willingly create videos, make hefty contributions and spread the word to their followers, creating a coverage that stretches around the world. You can do this as well by incorporating influencers in your campaign to reach audiences that were otherwise closed off to you.
– While many commercial campaigns go viral from people's willingness to share the content, don't just rely on that. By adding a call to action that creates a viral loop like the Ice Bucket Challenge's get three other people to spread the word, you will naturally keep your campaign alive and maximize your possible reach.
7. Amazon "Alexa Loses Her Voice" Campaign
Superbowl 2018 saw many winners when it came to creative advertising but none came close to Amazon's Alexa Loses Her Voice campaign.Earning over 1.5 Billion media impressions while contributing to a 300% increase in sales of Amazon's Echo devices year on year, the video beat out other ads from Nike, Apple and Samsung with over 50.1 million YouTube views.
Using a star-studded cast, from the celebrity chef Gordan Ramsay to Hollywood Actor Anthony Hopkins, Alexa's voice was replaced with their voices turning everyday interactions into a hilarious affair with their users.
Key Lessons
– Amazon's campaign proves that just launching an ad alone isn't enough – interact and tap into your existing userbase to drum up the hype and fuel anticipation for an epic release. The campaign began with a two-week user experience that involved over a million Alexa users discovering Alexa was losing her voice when they tried interacting with her on the device, leaving existing users wondering what went wrong – making the eventual payoff explosive with tons of social shares.
– Quality is great, but so is quantity. In order to increase your chances to go viral with your campaign, create more shareable content. Each additional content you create is an additional opportunity to increase your reach. The agency created over 200 pieces of social content for the campaign, giving audiences ample ammunition to distribute and share a variety of content that best resonated with them.
– Tailoring your content to be highly relatable with your intended audience is key. With literally millions of questions that could have been chosen, the ad focused on the most commonly asked topics (food, music, directions and making a call) to ensure it resonates with as many real-life users and potential customers as possible.
8. Old Spice "The Man Your Man Could Smell Like" Campaign
Using their now famous brand character, The Old Spice Man (portrayed by Isaiah Mustafa), Old Spice's 2010 campaign broke all expectations of how viral a body wash and deodorant commercial can go.
While they were selling to male customers, the ad cleverly targeted both female and male audiences – giving different messages to each.
To the females: This is how your man should look like (and smell like).
To the males: Your first step to male perfection begins with Old Spice Bodywash.
With over 56 million YouTube views, this viral success filled with humor and unexpected turns is one of the best examples of creativity done right in just 32 seconds!
The business results were just as spectacular as the video:
– The campaign increased sales by 27% over since months since the launch
– Website traffic went up by 300% while Facebook fan interaction rose by 800%!
– They grew their Twitter following by 2,700%
Key Lessons
– Following up with your campaign is crucial to keep the fires of virality going – respond directly where the action is to keep the viral momentum up. To keep the buzz alive, Wieden + Kennedy followed up their success with a series of over 200 short videos featuring the Old Spice Man responding to comments on social media – these videos were immediately uploaded where the comments where, from Facebook to Twitter, making it more personal.
This alone contributed heavily to a 107% increase in sales in the following month!
– Influencer marketing is more important now than ever – they have a loyaly and dedicated audience that follows their every word (an audience that you want to tap on). The Old Spice responses targeted the tweets of celebrities such as Alyssa Milano, Ellen Degeneres and Justine Bateman to gain exposure to their audience. By converting key influencers into supports, they benefited from the network effect, spreading their message even further!
– Surprise your viewers with real personalized interaction that takes effort. Sincerity is a powerful tool to utilize when it comes to helping your campaign go viral. Back then, not many companies were willing (or even aware) of interacting with their customers through the power of personalization. Old Spice did just that with customized videos and that won over their trust.
9. GoPro "Fireman Saves Kitten" Video
With over 41 million Youtube views and 55,000 comments, GoPro's heroic video of a fireman saving a kitten from a burning house shows how an act of bravery can inspire viral success.
Firemen have also been the icons of saving lives and it is rare to see one in action saving an unconscious kitten from dying. Totally unscripted, this is a perfect example of user-generated content where the stars align to capture a genuine moment of human bravery and kindness.
Key Lessons
– Instead of just hiring professional stuntmen and athletes to promote their camera brand, GoPro also embraces content curation from their users with more than 6,000 videos shot with people mentioning the company with GoPro in its title or hashtag. User-generated content can be one of your viral breakthroughs if you allow it to happen. Encourage your users to share the use of your product and you might suddenly stumble upon a viral success like the fireman video.
– GoPro followed up their viral marketing success by giving their user-generated content further exposure by going from releasing a few a week on their YouTube channel to as many as four a day! Sometimes sieving out quality will require you to increase the volume of content and ideas, when you are in a slump, turn on the user-generated content pipe and see if anything jumps out and resonates with you and your community.
10. Dove "Real Beauty Sketches" Campaign
While many viral successes leveraged on what their product can do, Dove's Real Beauty Sketches spread an empowering message about true beauty in women.
This 3-minute short film was viewed more than 114 million times and bagged the highest honor in the Cannes Lions International Festival, the Titanium Grand Prix.
Featuring an FBI-trained sketch artist, the film focused on changing how women viewed themselves, helping to spread an empowering message that focuses on their customers more than what Dove is directly selling.
Empathy is a powerful emotion that Dove's Real Beauty Sketches invokes in their viewers. Everyone, male or female knows someone close in their lives who have a less than flattering self-image, making this message resonate around the world and across different cultures.
Key Lessons
– It pays big to truly understand your customer, that means going beyond their direct needs but also what affects their lives. Dove championed a social issue and used empowerment in an amazing way that looked to enhance the image of every woman in society, women that are our mothers, sisters and wives. And as a result, Dove enhanced their own image as a brand that cares.
– When your content transcends all cultures and language, go the extra mile to make it understandable for your global audience in their native languages. Dove translated and uploaded the video in 25 different languages to reach their audience in over 110 countries.
– While the storytelling was great, the campaign recorded 3.74 million shares on their video – all thanks to their rollout strategy. While Youtube was the main channel for their distribution and seeding strategy, public relations also served as a powerful channel to spread the word. These included initial placements in key media outlets including popular blogs such as Mashable & Huffington Post.
Going Viral is Hard but oh So Worth It
Creating content that goes viral is perhaps the biggest challenge any marketer or agency can face.
From the massive brand exposure to reaching new audiences that lead to direct sales, going viral isn't simple but the effects can transform a business and take it to the next level.
Going viral is normally a byproduct of following key principles in the creative process and checking all your bases when it comes to the promotion.
While the lessons we shared in the above viral marketing examples can definitely increase your changes, the trick is to consistently create great content – and eventually, you will experience viral success!
Looking for More Works of Creativity?
Dive deeper into our list of incredible copywriting examples as we break down the creative works of iconic brands from Rolex to Snapchat!