The Content Development Guide: A 9-Step Process For Success
August 20, 2020 | Sean Foo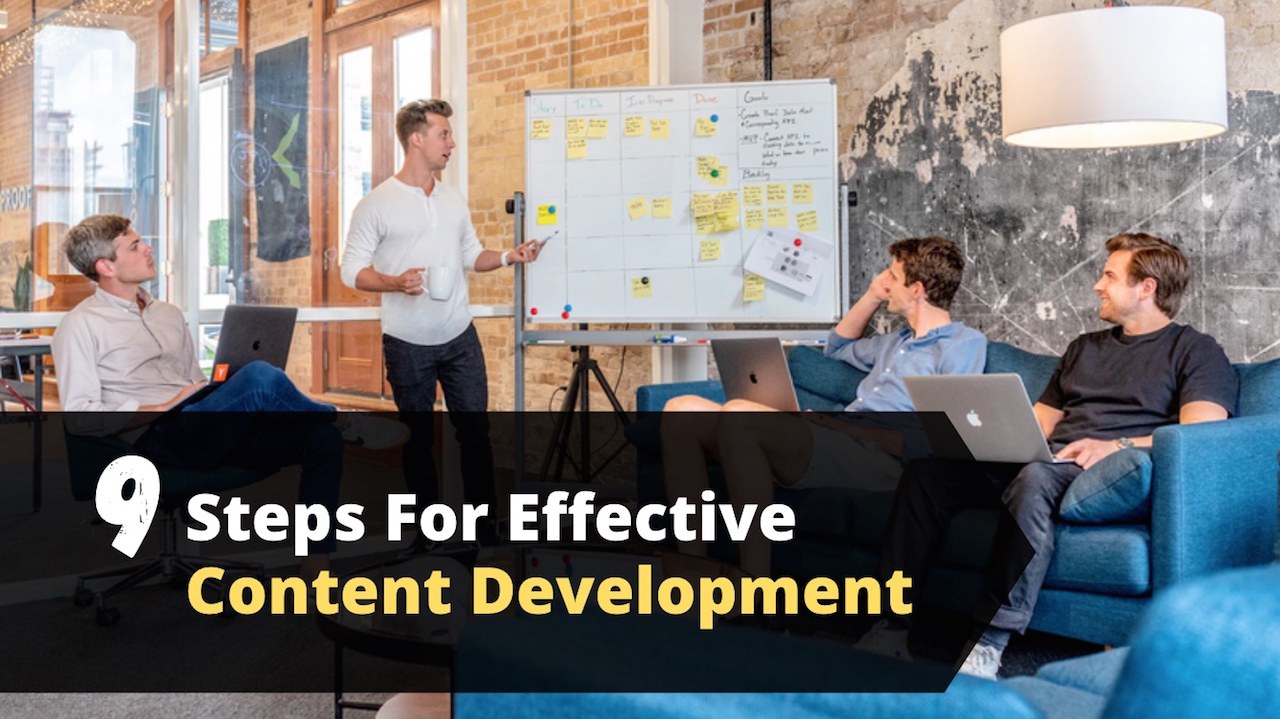 Effective marketing today is all about giving your visitors value and helping them make a purchasing decision by educating them – it is no longer about selling to them directly.
That means your business and brand will have to embrace content marketing and bring your prospects through a journey that solves their challenges while building up trust in your brand (and products).
And at the heart of this is developing content that your customers are searching for and truly desire – not cranking out corporate pieces that satisfy your own ego!
With an effective content development process, you will be able to hit customer satisfaction home-runs.
Powerful content allows you to rank for keywords on Google that your customers are searching for, driving targeted traffic to your website, allowing you to convert them into qualified leads.
But beyond that, quality content development allows you to control the direction of the sale and lead your readers down a rabbit hole of content. 
A journey that will lead them to the 'aha!' moment – this solution is suited for me!
Let's dive deep into the world of content development and how you can build your own content creation strategy in just 9 simple steps.
What Exactly Is Content Development?
Content development is the process of creating content, from scratch, for your platforms such as your website, YouTube channel or even Instagram.
For this article, we will be focusing on developing content for your website and these can include a variety of content include:
Blog posts and articles

Videos

Case studies

E-Books

Infographics
All these are different content types that you want to create to educate your audience, allowing them to gain value while building up your brand awareness (and usefulness).
An effective content development structure will include:
While all these individual steps can be handled by different people, smart organizations will either outsource a bunch of these steps to agencies or build an in-house team.
At SpeechSilver, we focus on developing long-form blog posts that drive organic traffic – traffic that results in quality inbound leads.
We truly believe every business should be blogging as part of their marketing strategy and we are excited to reveal our very own content development process to get you started!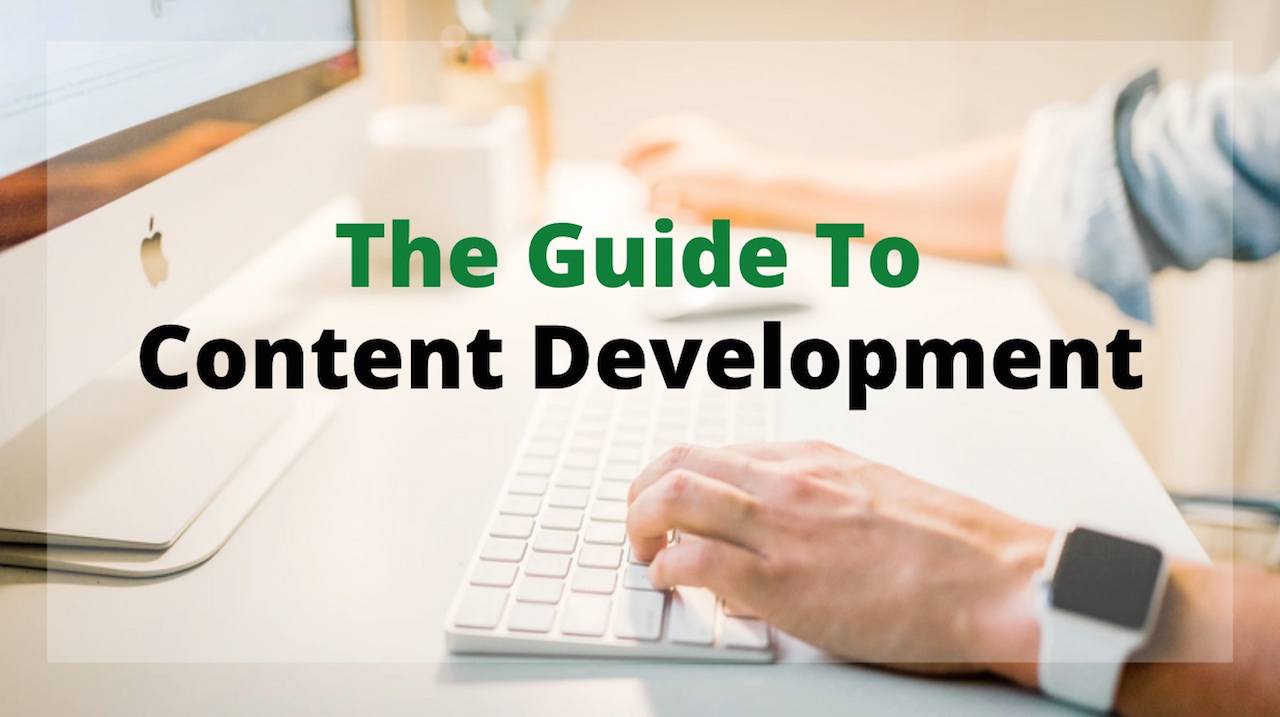 Our Proven 9-Step Content Development Process
1. Define Your Goals
2. Flesh Out Your Audience Persona
3. Craft Your Content Strategy
4. Keyword & Blog Topic Research
5. Set-up Your Content Calendar
6. Write Your Content To Perfection
7. Optimize For Search Engines
8. Promote Your Content
9. Repurpose Your Content
1. Define Your Goals
Before you write a single word (or shoot any videos), what are the goals for your content?
Having a clear idea of what you want to achieve is key on the type and format of content you'll need to create.
Are you looking to help current customers succeed with your solution?
Then creating tutorial content articles or videos is what you'll need to develop.
Maybe you are trying to convince your visitors to convert into paying customers?
Creating customer case studies will be the type of content you'll want to develop,
Perhaps you are looking to reach new audiences and fill up the top of your sales funnel?
Then writing blog posts covering broader and popular topics will be the way to go!
2. Flesh Out Your Audience Persona
Who exactly are you trying to reach?
And when we ask that question, we aren't talking about general demographics such as "Males residing in the United States between 18-25 years old that enjoy skateboarding, extreme sports and world travel".
That's too broad and won't help you develop content that is really useful to your audience – that means you'll get untargeted traffic, poorer conversions and crappy leads (if any at all).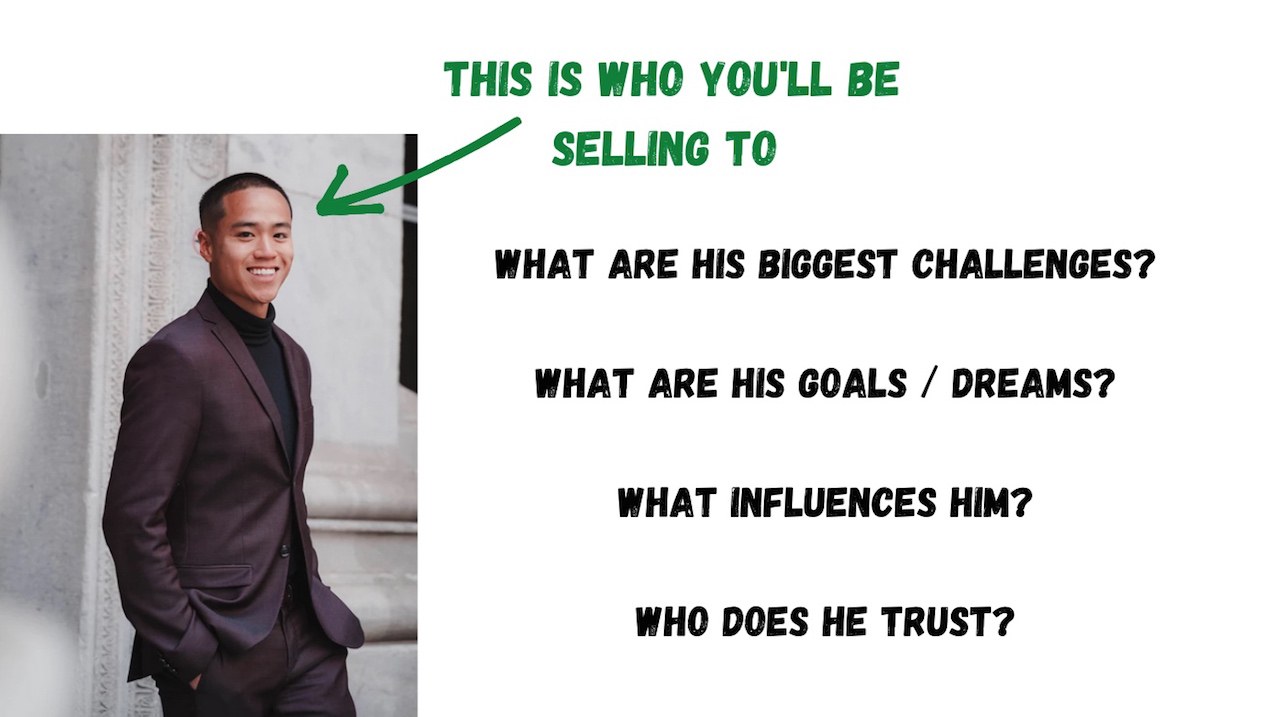 Here's how to craft your audience persona.
Let's say you are trying to sell an email marketing software, a solid customer persona will look like:
John – Entrepreneur who has been in business for 2-5 years grossing between $100k – $250k annually.
Industry: He is in the apparel and fashion line selling his own brand of biker jackets and t-shirts.
Challenges: 
– He already has been building an audience on his YouTube channel and website but is new to email marketing and finds it complex.
– He doesn't understand the right type of email content to distribute to his audience that will build interest in his product resulting in higher sales.
– He doesn't have much design or coding knowledge and hates any type of complexity on his platforms.
His Current Situation (His Hell):
"I am unable to effectively monetize his audience (subscribers/email list) effectively due to not having enough time to set up his email marketing process. I don't fully understand the strategy to do so and want to get it done fast and get something going first instead of shooting for perfection."
His Ideal Destination (His Heaven):
"I want to take just a few hours to set up my email marketing and create my campaigns in under an hour a day. I also want to understand how my subscribers are interacting with my email and I want to accurately pinpoint and track which of my products are performing well over email versus normal sales on my website."
Immediately you have a powerful snapshot into the life and motivations of your ideal customer – understanding his pains, motivations and what he truly wants.
A powerful customer persona allows you to brainstorm topics and the types of content you'll need to create to attract prospects like John, get them hooked and eventually convert them into paying customers.
Just from the persona we wrote above, we can create content such as "How To Write Engaging Emails To Close More Sales" and "The 4 Hour Work Week To Building Your First Email Campaign".
3. Craft Your Content Strategy
The strategy phase is where you will be laying out the content pillars of your blog (or video channel).
Essentially this will be your content playbook where you will draw inspiration from when you are thinking and formulating your content ideas.
Depending on your industry & customer persona you might be creating a combination of content that includes:
Long-form blog posts in excess of 2,500 words

Highly informative infographics filled with data charts

20-page e-book guides
All these will be determined by a content strategy that feeds your sales funnel – you'll want tangible results from your efforts right?
A sales funnel (or you content funnel) will mainly have 3 main stages:
1) Awareness & Inbound Traffic Stage:
This is where you are getting the most amount of qualified traffic and attention to your website through broad awareness topics your ideal customers are searching for.
Using back our email marketing service example, content here could be long-form blog posts (that your prospects are searching for on Google) such as:
"Email Marketing 101 Guide: How To Get Started Under 24 Hours"
"How To Build A Stronger Digital Brand & Get More Email Subscribers"
MailChimp fills up the top of their sales or content funnel with marketing topics that their prospects are searching for on a daily basis.
These aren't meant to directly convert readers into customers – it is to build familiarity and awareness with the brand through useful content.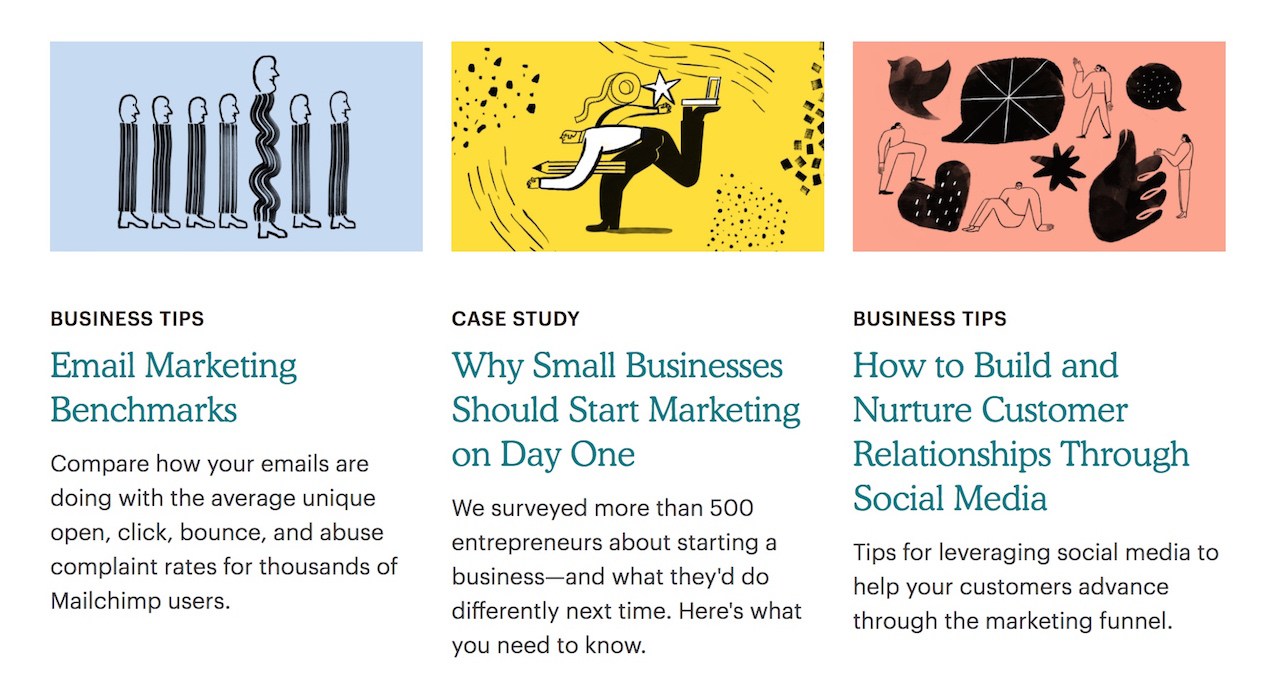 2) Nurturing Stage:
At this point, your content will be adding value to your current readers, sucking them deeper into your brand with surgical content that really helps tackle specific issues.
Content examples here can include downloadable ebooks and resources that tackle a single problem such as:
"100 Email Sales Templates For Your Ecommerce Store"
"The Ultimate Beginner's Guide To Designing A High Converting Newsletter"
Close, a sales CRM platform, nurtures their readers with comprehensive ebooks that dive deep into a single topic that matters to their readers.
These guides are highly tactical and go into all the nooks and crannies that aren't really possible to be covered in a concise blog post.
What they do is to get their reader's email in exchange for the ebook – allowing them to directly nurture the relationship with their subscribers over time.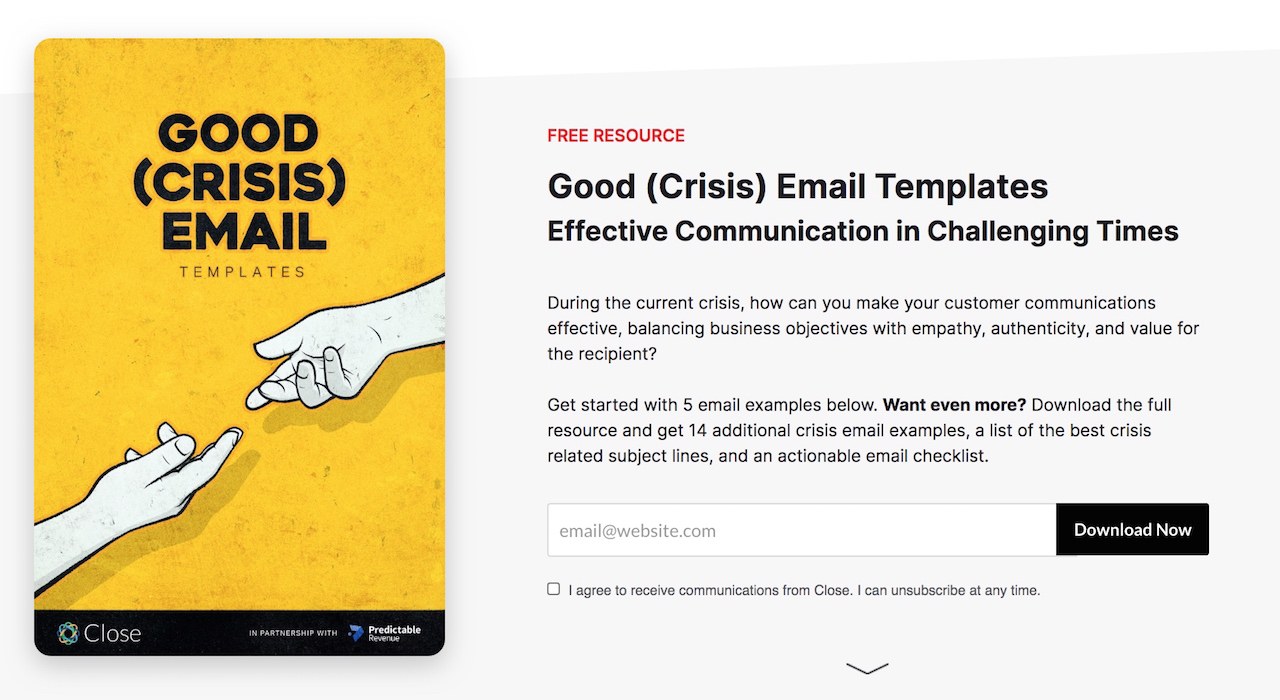 3) Conversion Stage:
At this point, all content developed here is to really cash in on the goodwill you have built so far with your readers. 
The content here is to give them the final push to become a paying customer, enquiry or user.
Ideally, these can be content such as case studies or customer success stories in the form of blog posts and videos that gives away value in addition to persuading readers to convert such as:
"How TripleJoy Shoes Increased Their Revenue by 50% With Targeted Emails"
"Zero to 100,000 Subscribers, How DoubleKings Built Their Audience With XYZ In Just 6 Months"
VendHQ utilizes customer case studies to convince prospects in the decision phase that their solution is credible and works.
When it comes to content meant to convert, it is critical to place a call-to-action here to make it easy for your prospect (who is now eager to buy) to make the purchase.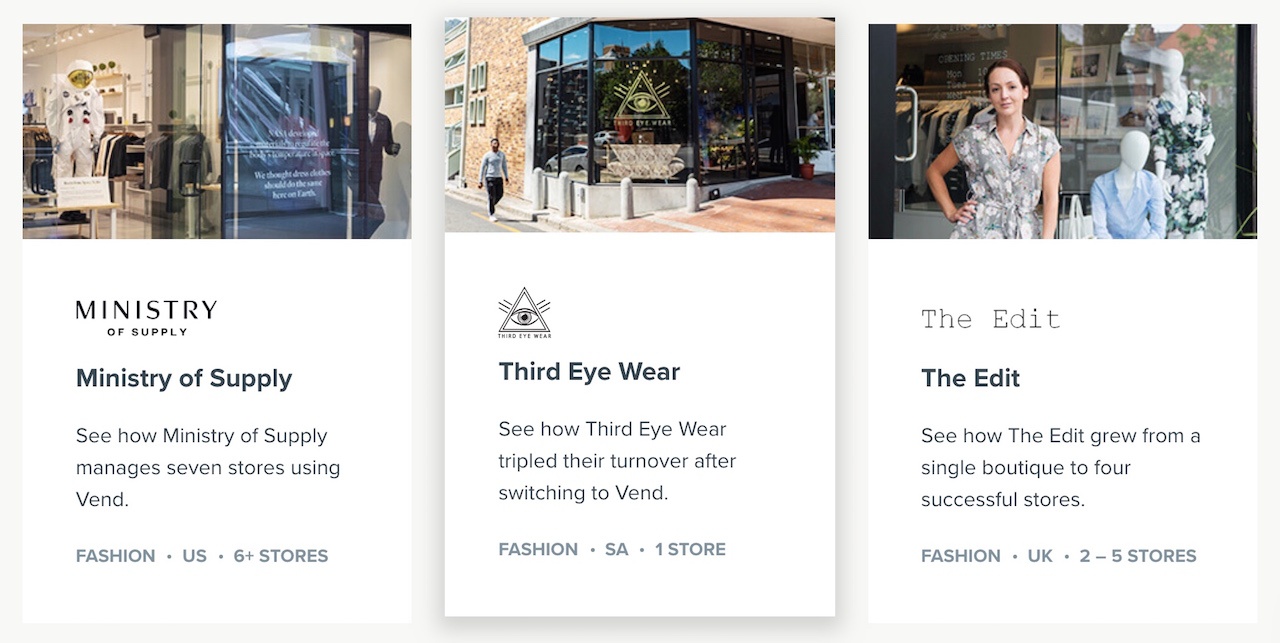 4. Content & Blog Topic Research
When it comes to developing effective content (especially for top of the funnel content), you can't just write topics that you feel are necessary – you'll need to conduct research to ensure your efforts will pay off.
Three main questions need to be answered when determining the keywords (and topics) you are looking to write for:
A. Are your customers actively searching for it online?
B. Is it possible (or worth it) to outrank the competition for that topic?
C. How do I write something better & win?
Thankfully you can accomplish all three with some research.
We use Ahrefs (an SEO tool) to conduct this.
Let's say we might want to write a blog post around the topic of 'Webinar'.
We plug in the keyword 'Webinar' into Ahref's keyword explorer to get keyword ideas and almost immediately, we get ideas for topics.

When it comes to developing content that is easy to rank, you'll want to select one that has lower KD (keyword difficulty) as well as with decent search volume and commercial value (CPC: cost per click).
And 'Evergreen webinar' fits the bill!
Further research will reveal that the type of content that is ranking and in this case it is a 'how-to' guide on creating an evergreen webinar.

In order to write a piece that wins the competition, you'll have to do a little more digging.
Here's an outline by a competitor article that shows the various sub-topics they cover in the article.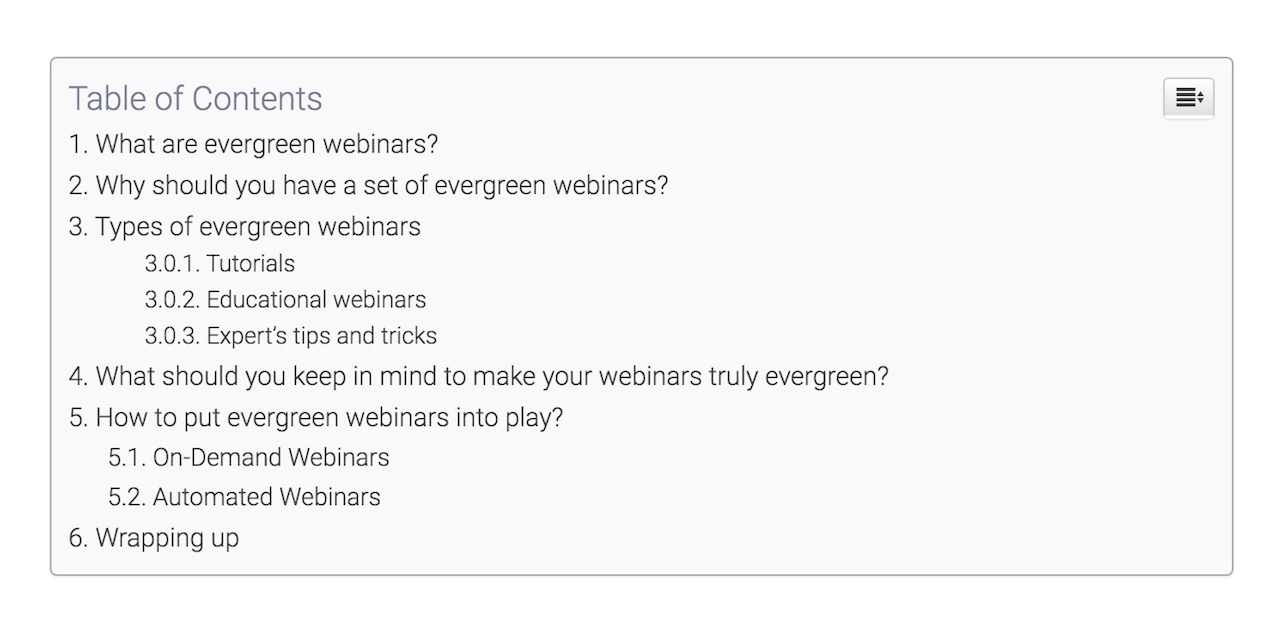 So how do you make an article better other than writing it longer and giving more examples?
By answering questions that people are asking but aren't being answered of course!
Just plug in the keyword 'evergreen webinar' into Google and you'll get a bunch of 'people also ask' suggestions.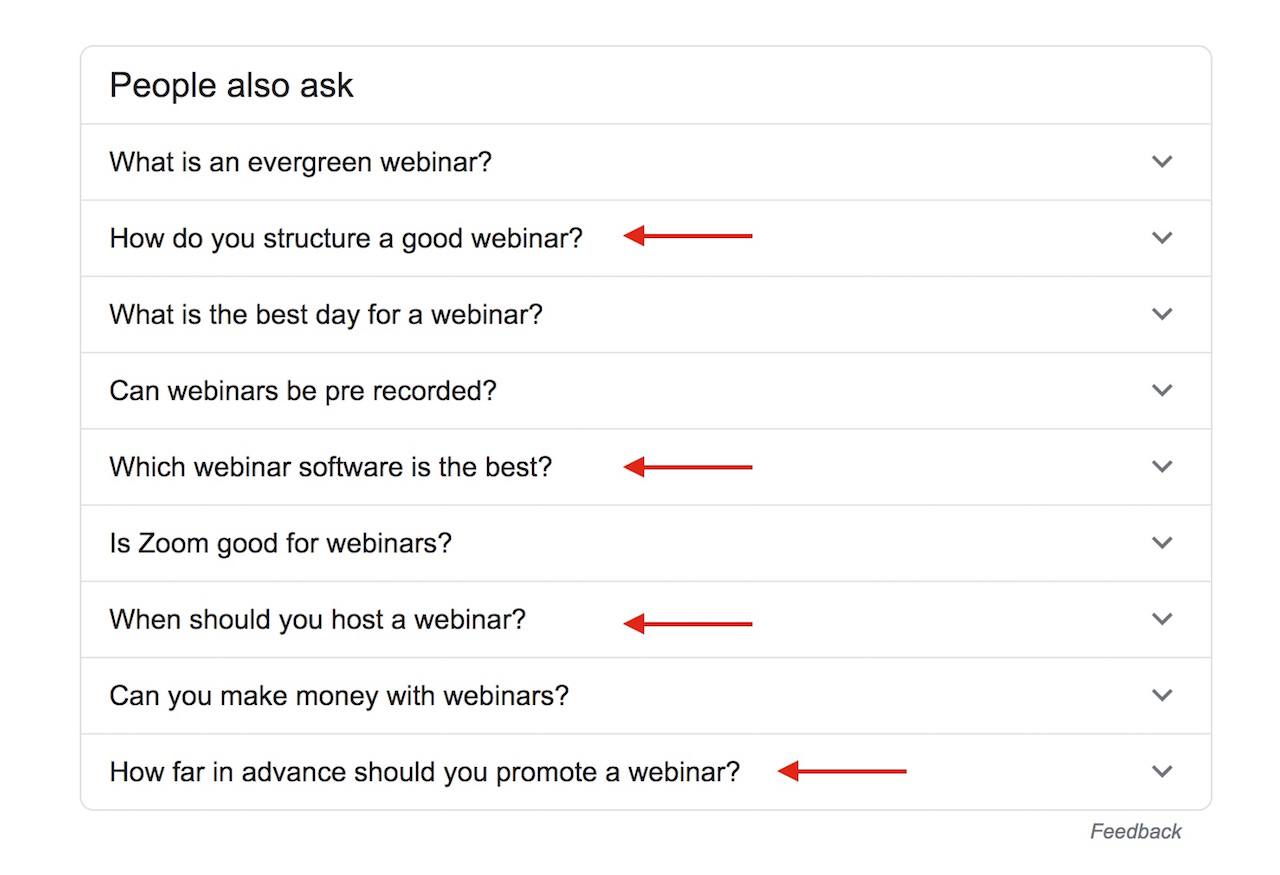 Immediately, you can identify four highly relevant sub-topics that you can cover that the competition has neglected!
5. Set-up Your Content Calendar
A content calendar is basically a playbook of how much content you will be creating and publishing in a given month.
It will include the specific content you will be publishing in order to prevent any content gaps, hit core milestones for your content plan and more importantly, helps you keep track of your entire content team's progress.
And if you are starting out (or even if you are rather seasoned), it doesn't have to be complex.
Just simply plug-in the content you would like to publish (in this case, we use Trello for our content calendar) on a particular date and voila, you now have an effective content calendar!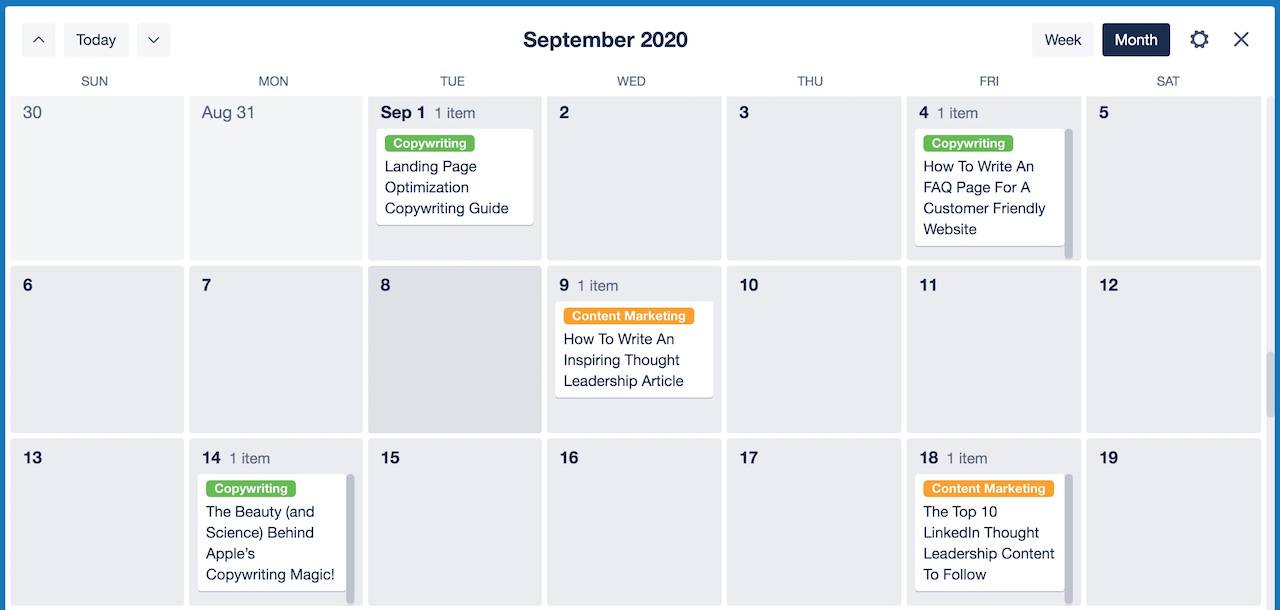 6. Writing Your Content To Perfection
Now that the research and preparation are all done, it's time to get down in the mud and start writing!
While it is widely recognised that long-form content typically out-performs shorter content in both Google search: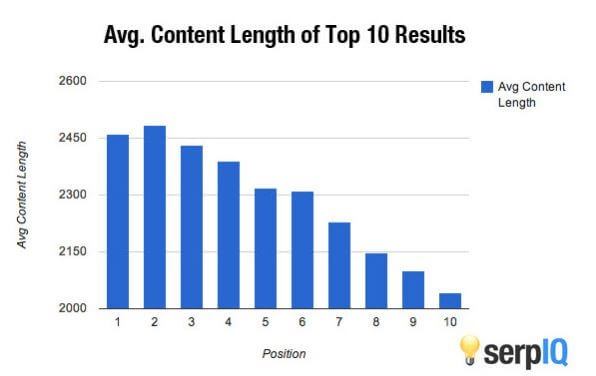 (Source)
And social shares: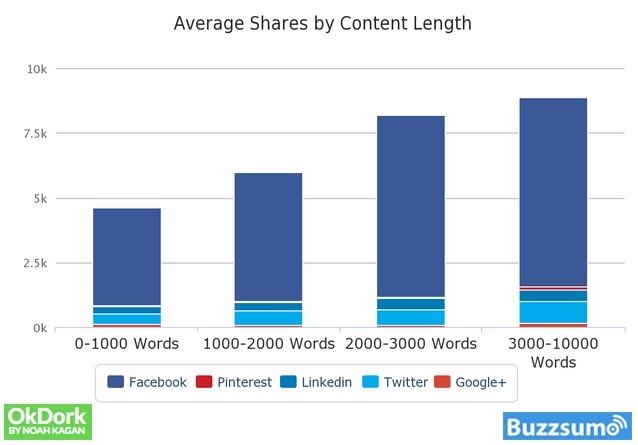 (Source: Study conducted by Buzzsumo)
Remember that you are writing first and foremost to humans and user engagement (such as dwell time on your blog post) is the most important for both your Google rankings and readers' satisfaction.
It has to fully answer any question your reader is asking, add exceptional value to the topic and make it valuable enough for them to finish reading it and even share or link to it.
Your content should only be as long as it has to – and if it has to become an in-depth 3,000-word post, then do it!
Here's a handy guide on how to effectively write an engaging blog post.
7. Optimize Your Content
When it comes to optimizing your content, there are two things you'll need to ensure that your content is optimized for search engine as well as for your reader.
Optimizing your blog post for search engines doesn't have to be complex, here are 2 things you'll need to do:
A) Ensure Your Content Covers All Relevant Topics Through LSI Keywords
Google doesn't just scan your blog post for the main keyword you are trying to rank for, it analyzes for other relevant keyword phrases that are connected to your main topic.
If 'How To Bake A Chocolate Cake" is your main topic keyword, LSI keywords will include "Baking Ingredients", "Types Of Chocolate Cake" and "Baking Instructions."
To do this effectively, you'll need to do in-depth keyword research properly.
B) Optimize Your Title Tags & Meta Description
This is what Google will use to identify what your topic is about and also entice human searchers to click onto your article to read it.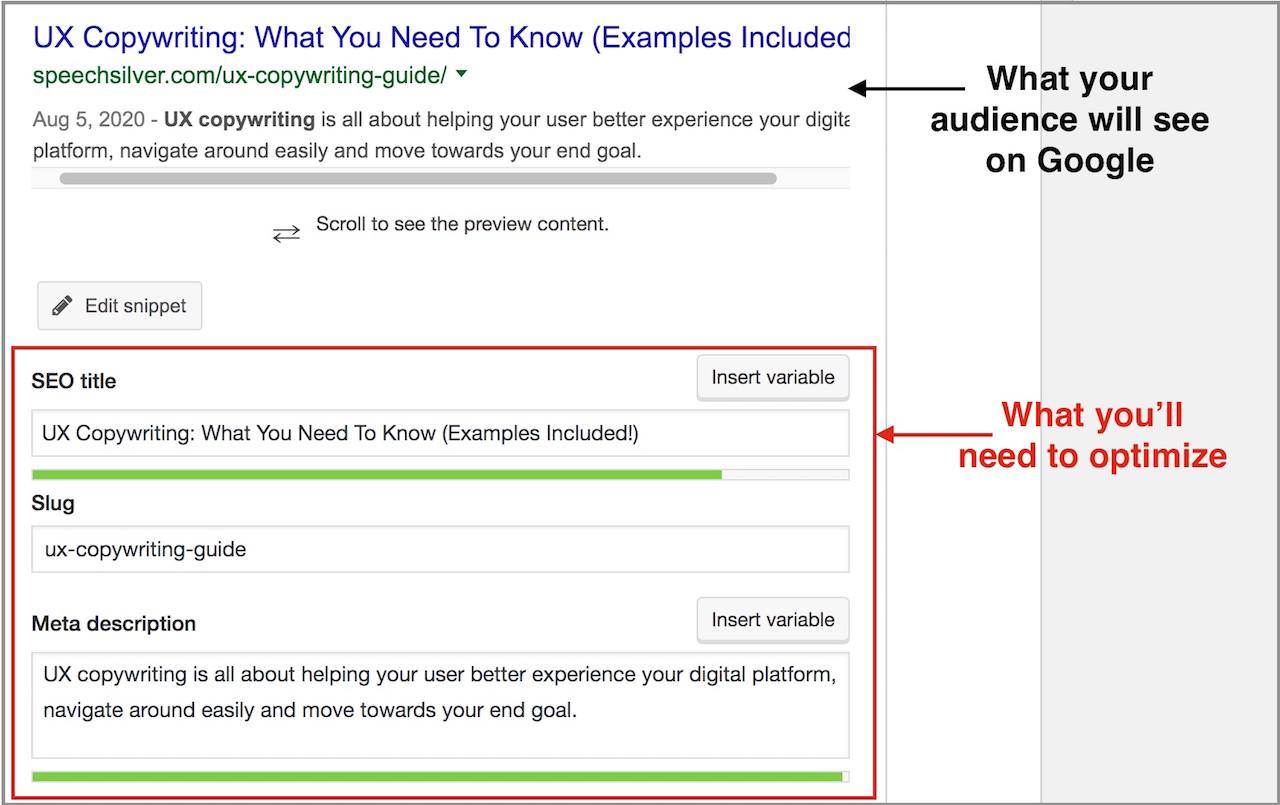 By strategically inserting keywords and writing compelling copy in your meta description, you'll be able to entice clicks on your article search result from readers plus allow Google to rank you better.
Need more instruction? 
Here's how to write an effective title tag, how to craft a compelling meta description and how to write the ideal URL slug.
8. Promote Your Content
Hold up, your job isn't done yet, you'll need to promote your content.
While there are literally hundreds of ways to get your content exposure, let's quickly go through three ways you should default to.
A) Build Backlinks To Your Article
This is mostly done through email outreach to bloggers and research on the websites already linking to your competitor's article on the same topic.
Quality backlinks will allow your article to rank higher on the Google search results – that means more monthly visitors!
B) Promote It Through Facebook Ads
Sometimes you just have to pay to play – especially if you want to reach new audiences predictable.
C) Promote It To Your Audience
If you have an email subscriber list or even a YouTube audience, shoot them an email and promote your content to your loyal fans!
This is perhaps the quickest way to get traffic to your content & even naturally get backlinks.
9. Repurpose Your Content
Don't let your hard work go to waste with just that one piece of content – repurpose it into other smaller pieces of content.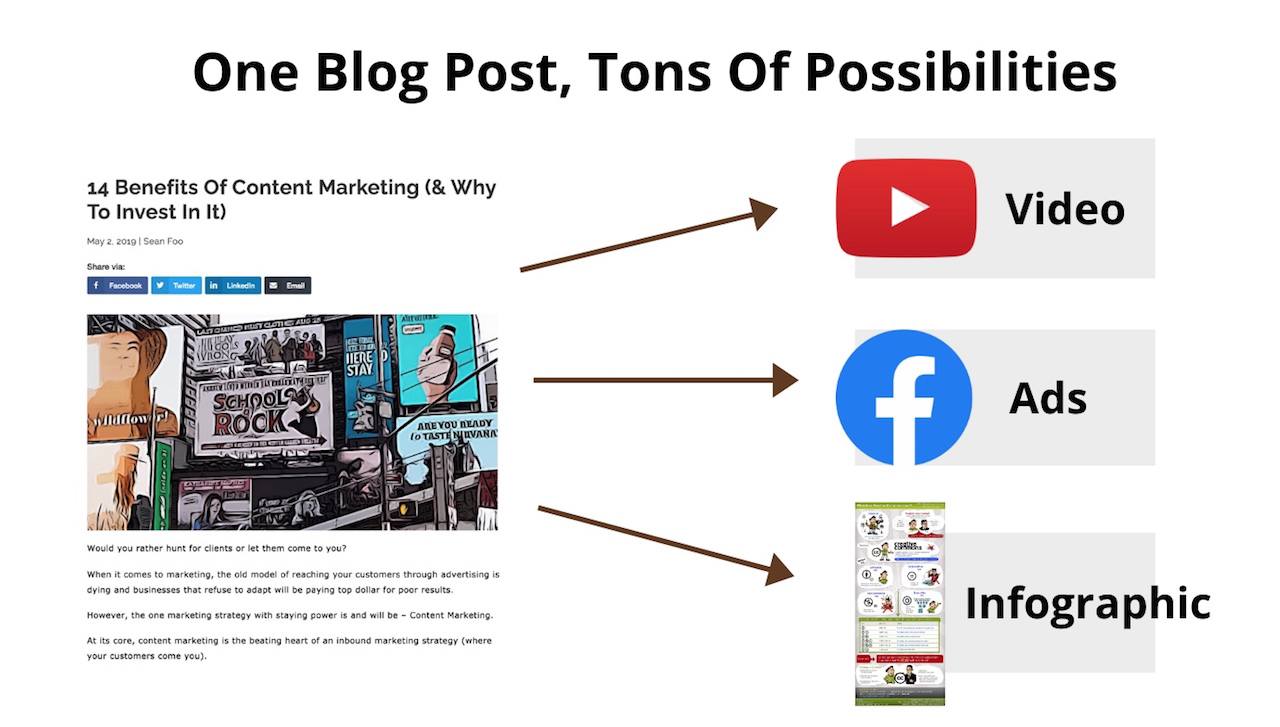 If you wrote a long-form article on 'How To Develop Content' (aka this article), you can chop it up into key bits of information and create:
– A 5-minute video on how to develop content (essentially the same thing but on video)
– An infographic on the 9 steps to create content
– A LinkedIn post on the importance of developing content
– An Instagram carousel post on key content creation strategies
Here's Gary Vaynerchuk's guide on how to take one piece of core content and turn it into an army of content pieces you can distribute to the world!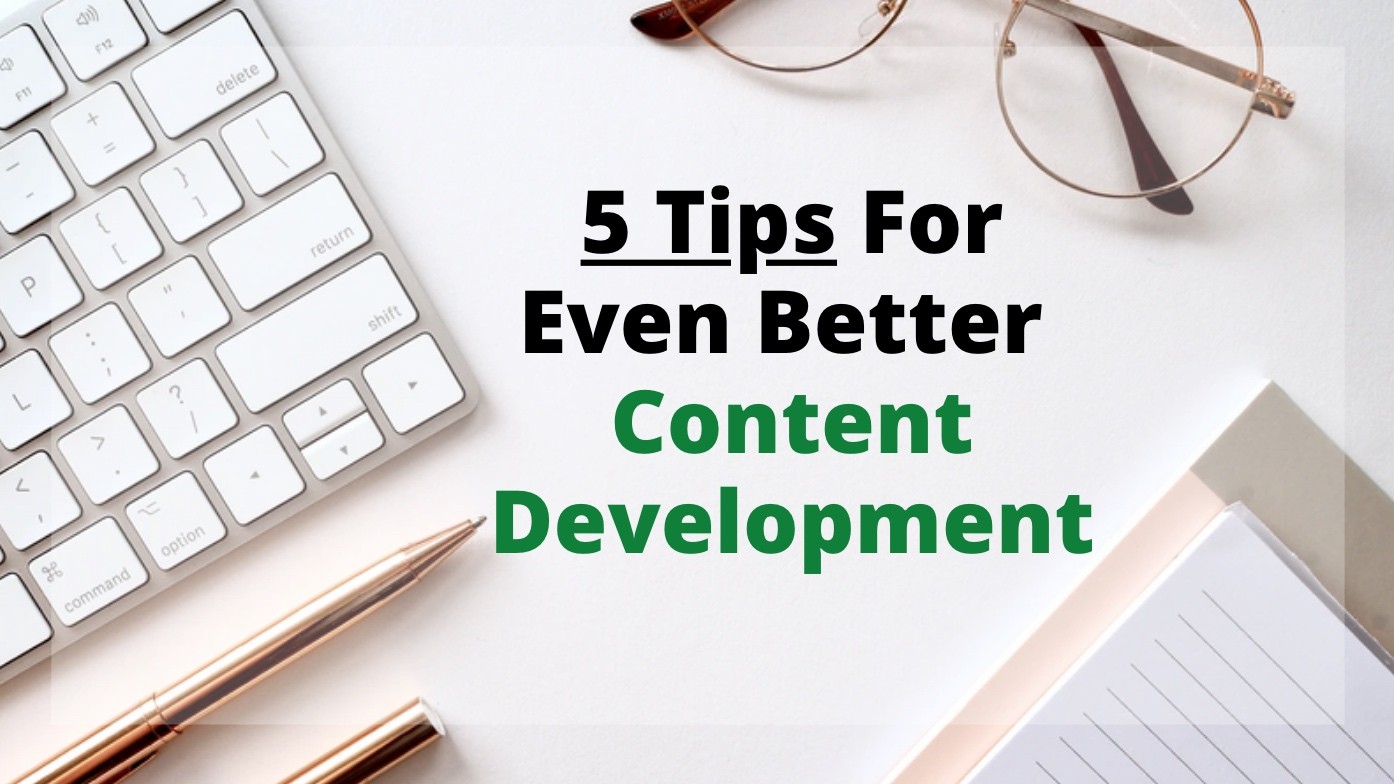 Supercharge Your Content Development With These 5 Tips!
Tip #1. Hire Quality Writers & Content Creators
You can't solo your business to success – the same applies thing for your blog!
There will be various creatives that will be involved in creating content for your business that include:
Writers

Editors

Graphic designers

Content strategists
Always hire for quality, there are big downsides on penny-pinching behavior that greatly reduce the effectiveness of your content marketing efforts.
Here are the core skills you'll need to identify in your content writer before you hire them.
Tip #2. Create An Efficient & Effective Workflow
Everyone in your team has a task to complete and as the conductor, you'll have to ensure everyone works together effectively – that means having a simple approval process.
Here's the approval process for my own blog, as you can see, an effective approval process doesn't have to be complex!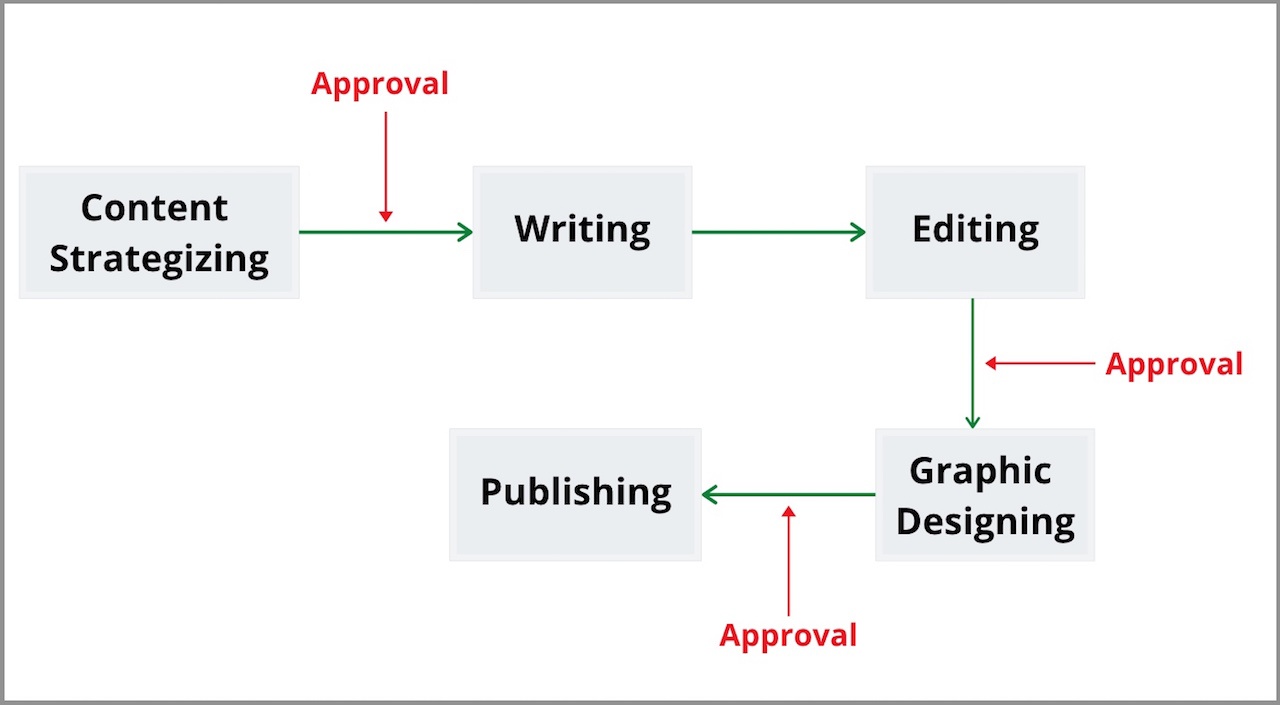 Having a solid approval process will help ensure that your content gets created on time.
This is especially important when you will have different content types such as video, blog posts, LinkedIn articles and when they are all interconnected together.
Tip #3. Publish Consistently
The power is in the repetition.
An effective blog that drives targeted traffic will require you to consistently publish content without fail every single week.
So how much content should you create?
According to Hubspot, it'll depend on your goals & honestly the resources you have to dedicate to your content creation.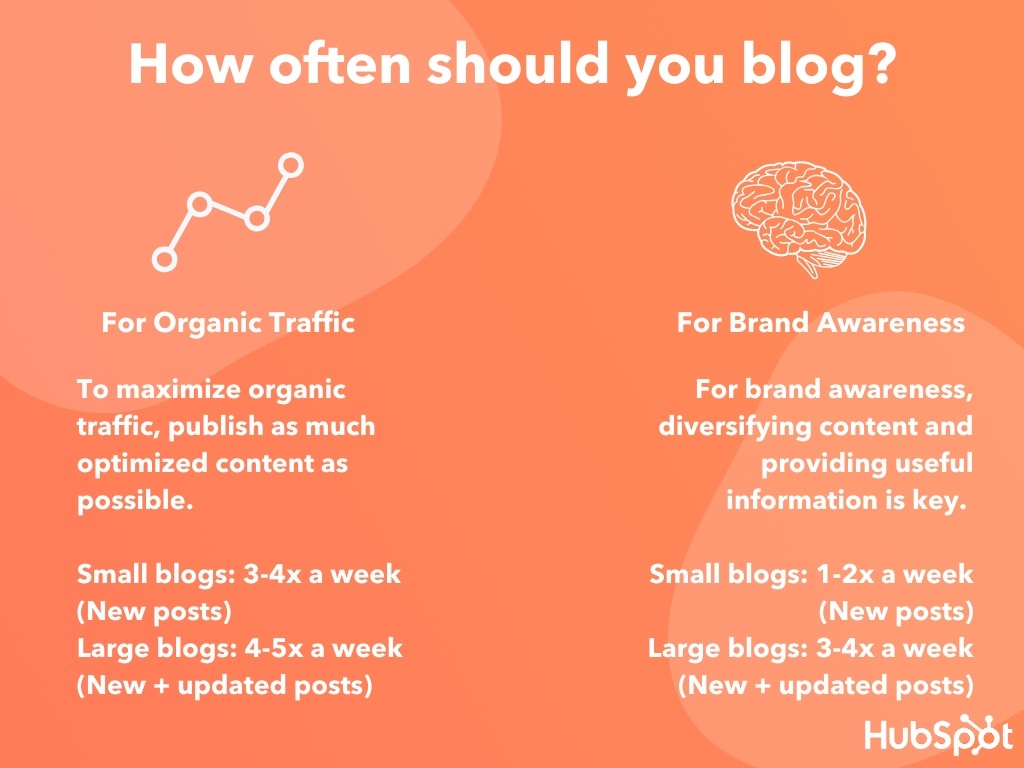 Personally, I focus on quality above all and that allows me and the team to create 4-6 pieces of content for our blog every month.
That averages to 1-2 pieces a week which is a good sustainable amount for us in the long run.
Tip #4. Measure & Track Your Results
What gets measured & tracked gets improved.
Even with all the keyword research tools and amazing graphics and writing points, sometimes your content just won't deliver the results you want.
This is where measuring your content performance is key to understand where you need to pivot or when a change of strategy is needed.
Depending on your goals, there are different types of content marketing metrics you'll need to be monitoring.
Launching a brand awareness content campaign? Tracking your page views and traffic sources are key.
Gunning for conversions? Then your conversion rate, dwell time and page depth will be additional metrics to add on.
Here are 21 content marketing metrics to track for maximum ROI!
Tip #5. Build Your Content Promotion Channel
As you develop your content, always be trying to build your own audience.
If you are creating videos, you want to be getting more subscribers, like what Pat Flynn (a popular blogger) does with his YouTube channel.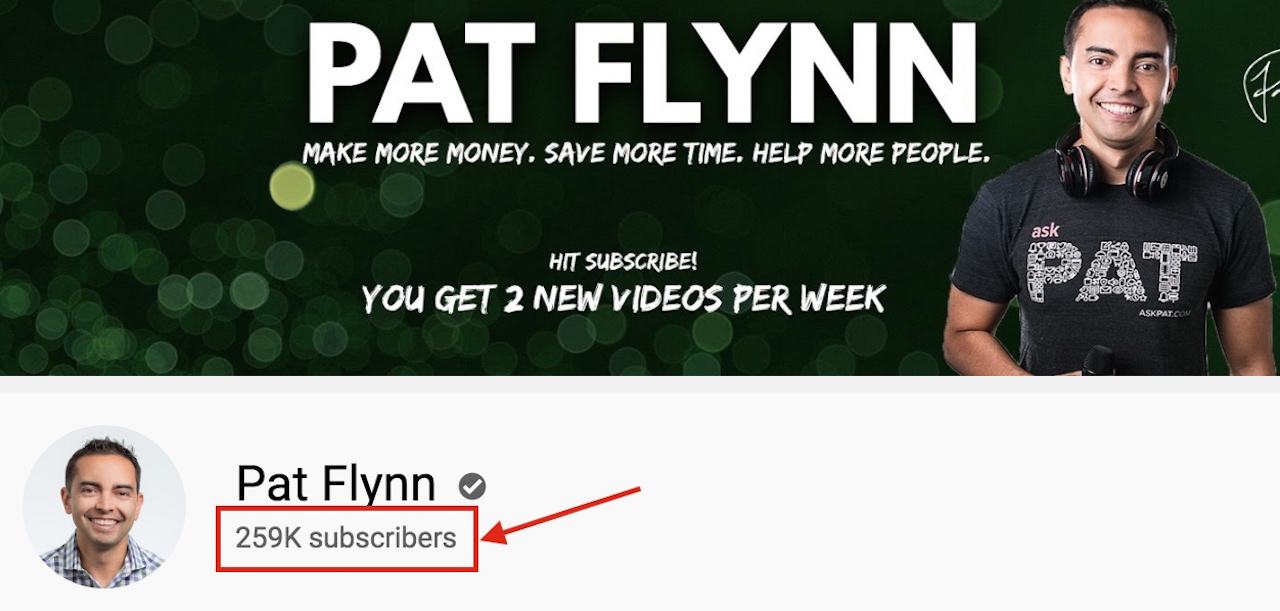 This means every piece of content he creates will have near-guaranteed exposure to over 259,000 people.
What can do you for your own blog?
Well, you need to incentivize the current visitors to your website and blog to join your email list.
Here are 8 onsite strategies you can use to start building your own audience.
But the fastest way to do so is to just tie in a benefit to getting on your email list, like how Noah Kagan does on his blog.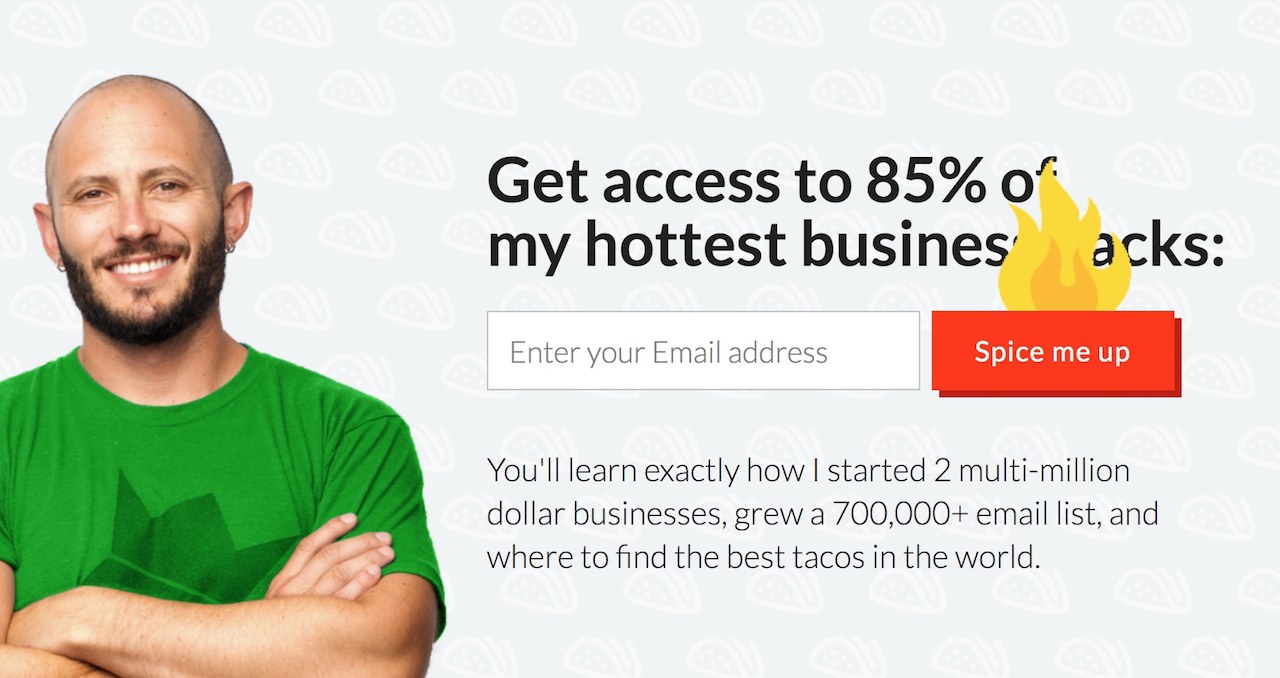 Time To Start Creating!
Content development might sound intimidating but it doesn't have to be.
In fact, once you nail down this process, it will easily become part and parcel of your business and can even be enjoyable!
Ready to start your content development?
Here are 12 amazing content examples to inspire you!
Interested in having this done for you?
We can help. Just drop us a message today and let's grow your organic traffic together.