Homepage Vs Landing Page: Which To Choose & When To Use
March 13, 2020 | Sean Foo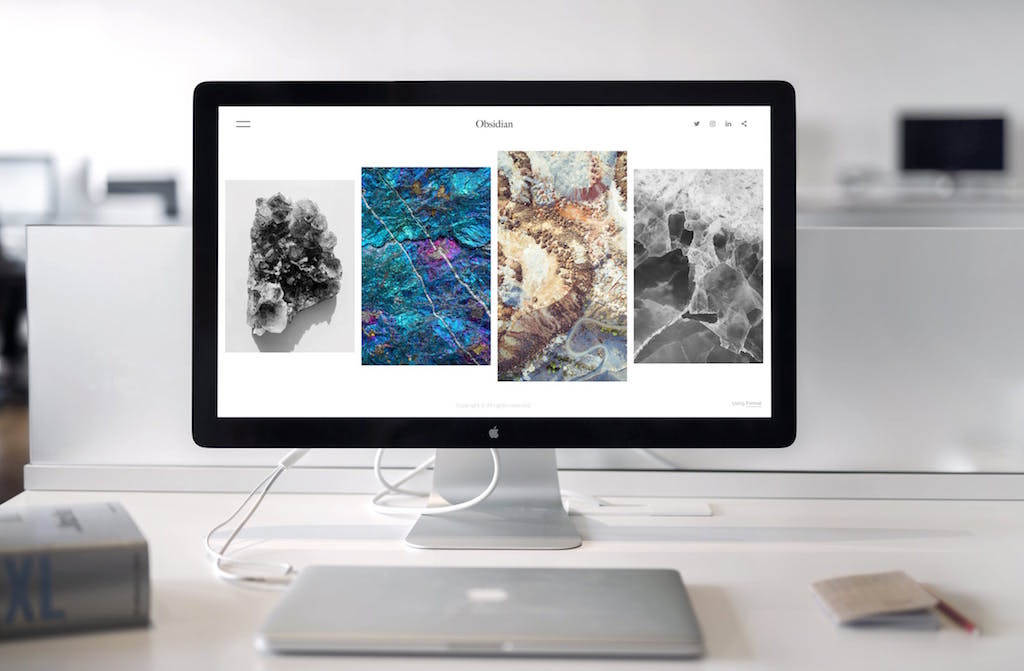 Landing pages and homepages aren't the same things – even though many people seem to use those terms loosely.
They have different objectives and if either is used wrongly, you will sink your marketing efforts – whether it is traffic coming from paid ads or organic SEO.
But before we go any further, we first have to understand the objectives of each that really set them apart.
The Objectives Of Homepages & Landing Pages
The purpose of a homepage:
Homepages are meant to direct a visitor to key information around your website that will provide them with information to learn more about your brand and what you have to offer.
Your homepage is your business's first impression and is meant to inspire a reader to navigate to another page.
The purpose of a landing page:
Landing pages are meant to provide all the information needed for a reader to take one well-defined action. This can be buying your product, leaving an email or enquiry.
A landing page can also be called a 'money page' where it is focused on getting a response from the reader and most of the time it is tied into an ad campaign where the end goal is sales.
Apart from the objectives, there are 5 main differences between homepages and landing pages and it is important to note them which will help you maximize the effectiveness of each type.
The Key Differences Between Homepages & Landing Pages
While we already know landing pages are about getting your reader to take a desired action (conversions) and homepages is about first impressions & navigation, let's go through the specifics of what makes them different.
Homepages (What You Need To Know)
1. A Homepage's Traffic Comes From Many Sources
Your homepage essentially the front desk of your website presence, your visitors can come from a variety of sources; organic SEO, your Facebook or Instagram page and even from word of mouth.
A homepage is meant to channel all these traffic into the content and information that they want to find. This could be anything from:
– New visitors looking to understand more about your company: which means heading to your About Us page
– Prospects looking to learn more about your services after hearing about your results online: they will head to your services page.
– Your blogpost readers looking to learn more about your company as a whole: they head to your homepage itself to get a top-down view of what your company offers.
That means your homepage will have to account for all the different desires and end goals you visitors will have and that means strategic planning of every element of the page from the copywriting to the page design and customer testimonial.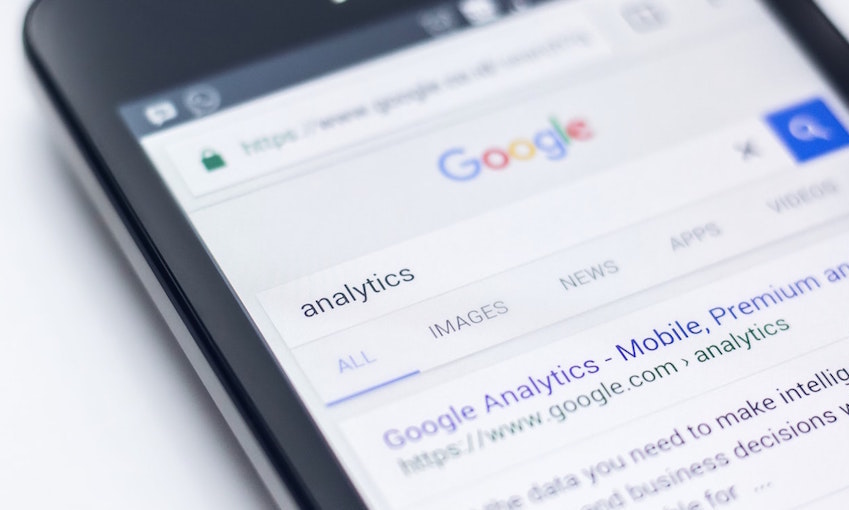 2. Homepages Showcases The Business & Brand As A Whole
A successful homepage will provide the viewer with a snapshot of the entire business as a whole and ensures the reader will have a good grasp of the brand.
Within the page's content, an effective homepage will showcase:
– The main selling point of the business/brand
– The different products or services on offer
– The credibility of the company (testimonial & social proof)
– The company's content HQ (blog / videos / ebooks)
– A lead generation form (for enquiries, emails & even direct sales)
Monday's homepage combines many of these elements together to not only make space but also allow viewers to have a fresh experience browsing the page.
By combining a testimonial together with an animation of how the feature works, Monday cleverly transforms their homepage into an information hub that showcases multiple parts of the business at once!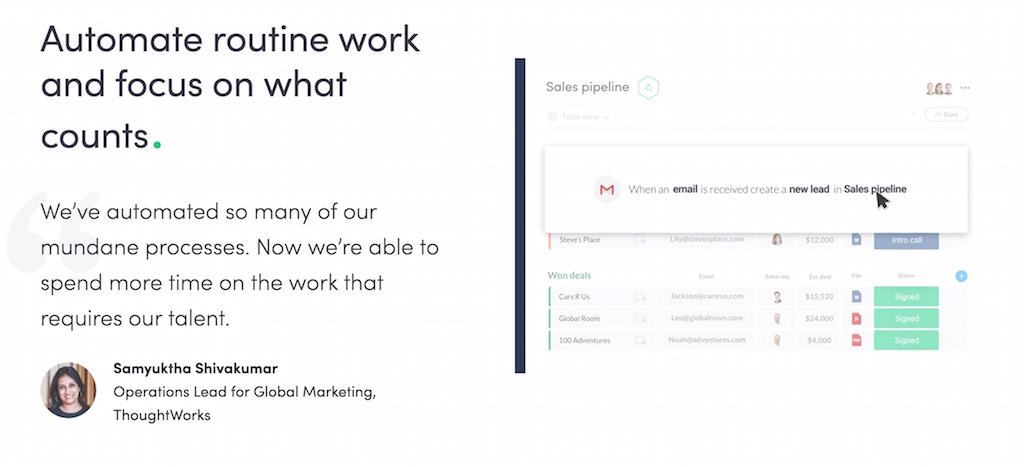 3. Homepages Use Positioning Copy
When it comes to copywriting it is key to note that homepages is about positioning and creating a powerful first impression – it is not about pushing people to convert or capture the sale.
It is more about ensuring visitors understand that this is a credible company that can deliver on what they promise.
Steinway Pianos uses positioning copy not to directly sell their pianos, but to showcase the rich heritage of their brand and the care and quality they put into their products and brand.
This is especially important if you are selling exclusive products or solutions which are expensive – you want to create a premium image with your copywriting and not be too salesy about it.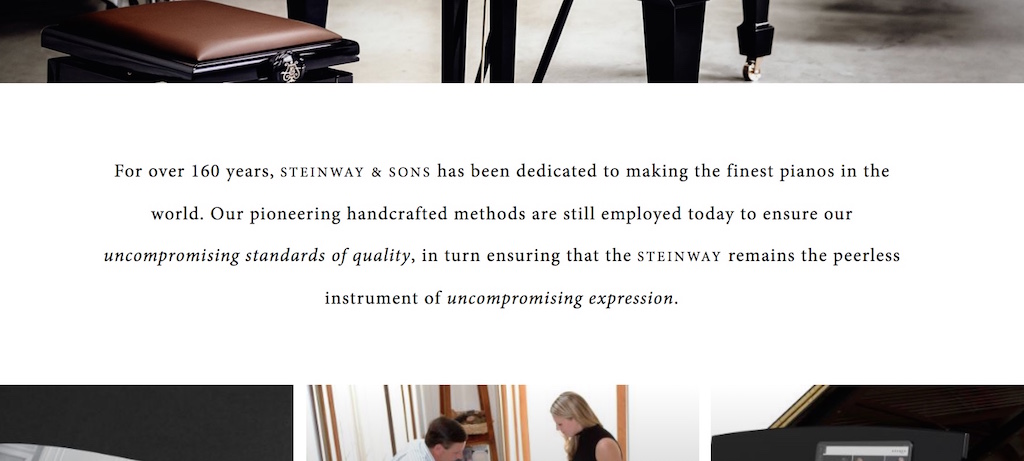 4. Navigation & Strategic Linking Is Key
While a landing page is about driving one single action, a homepage will have to account for many desires – and that means there will be a need for linking, a lot of linking!
It might be obvious to fill in your top navigation bar with the right links (your services, about us page, blog page etc), linking has to be more strategic than just that.
Vend's navigation bar clearly segments the different categories of information that have to offer for their customers.
In their "Help & Resources" drop-down bar, they make it easy for viewers to get to the various resources available for a user-friendly experience.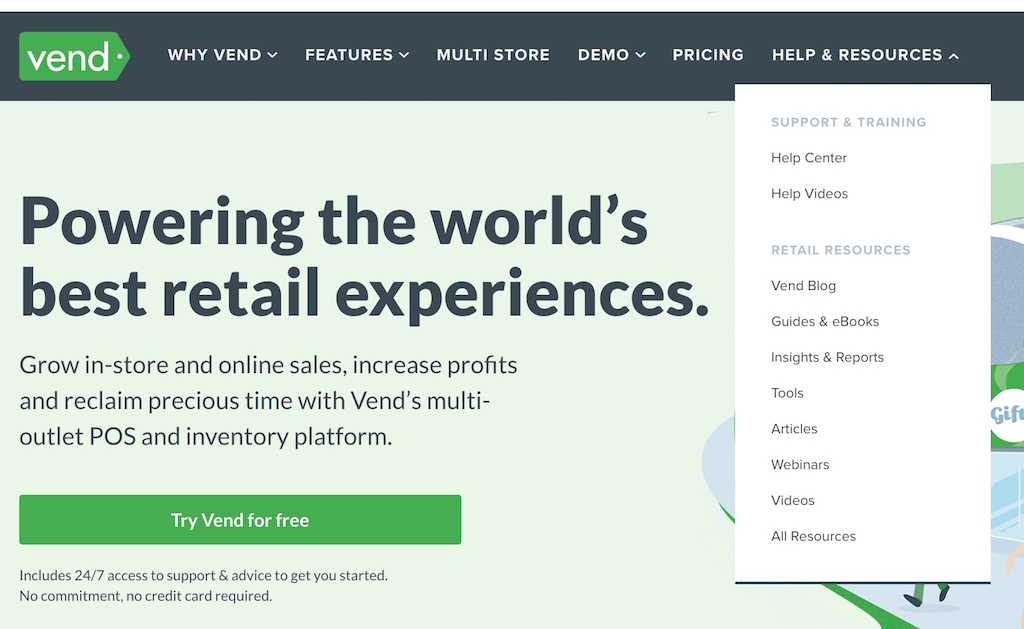 5. Homepages Use Broad-based Social Proof
Whether it is a landing page or homepage, building trust is important before your prospect will take the next action – whether that be converting into a sale or navigating deeper into your website. 
And this is done through social-proof, but the kind of social proof for homepages will be broad-based that will cater to a wide range of your visitors.
Zendesk uses a variety of customer brand logos that encompasses Saas, unicorn startups, big retail chains and Fortune 500 companies in order to cast a wide-enough net of social proof for their visitors.

What Landing Pages Are About
1. Landing Pages Target A Specific Customer Persona
Landing pages are created to mainly drive conversions and is usually the final step of an ad campaign.
The targeting of a specific customer persona can go as deep as selling to:
"A new entrepreneur with less than 3 years experience and a team of 5 and below looking to outsource his or her accounting and payroll needs affordably."
That will mean visitors on your landing page will be actively looking for cues and information to understand if your solution fits their exact solution – which means everything on your landing page has to be hyper-focused, from the messaging to the customer testimonials.
Zoho's landing page features two highly targeted video testimonials that features the exact type of customers they are looking for – small business teams and companies where productivity is key due to tighter manpower sizes.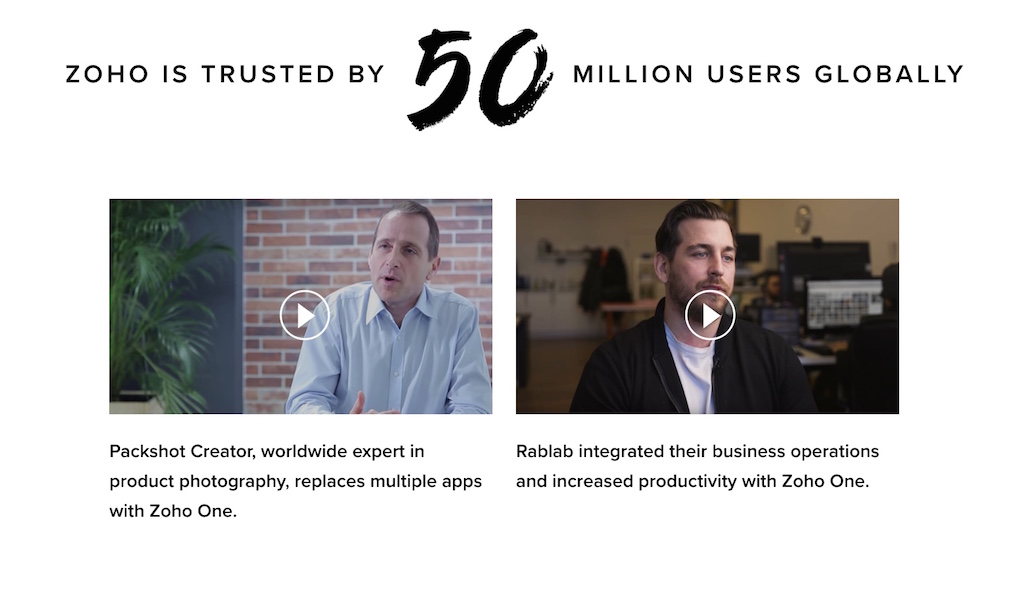 2. Landing Pages Connect With Their Ads
Consistency between your ads and landing pages is key. A landing page has to draw an instant connection between the ad that your visitor originally clicked on and the landing page that they were directed to.
That will mean:
– Using the same keywords that they searched on or the keywords that captured their attention.
– Ensure the promise on the ad is delivered in the landing page as well.
– Simple and direct language is used to reduce any confusion or 'thinking time'.
The last thing you want is your visitor to be scratching their head thinking if you can help fulfill their needs or not!
Take Woodpecker's landing page ad on Google, the landing page that gets clicked through immediately identifies with the ad ensuring there is no disconnect from what the user sees and what he expects.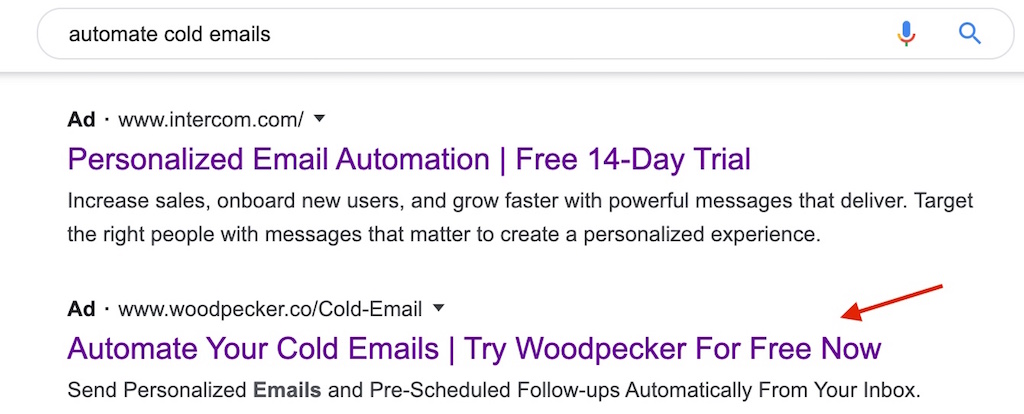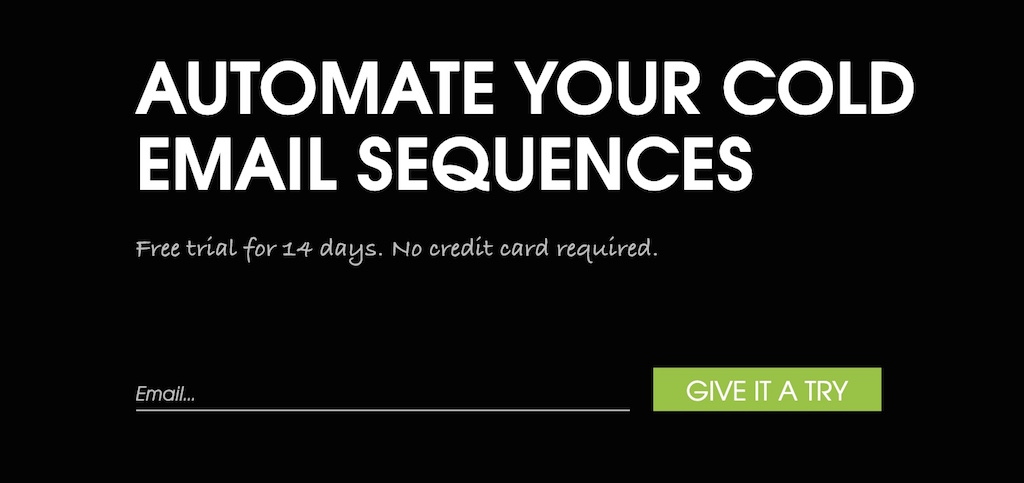 3. Landing Pages Uses Benefit-driven & Value-based Copywriting
While homepage copywriting is about positioning, landing page copy is all about building enough value in your reader's mind until they convert and sign-up for whatever you are offering.
And this is done through sales copywriting that is highly benefit-driven, but this has to be done concisely and quickly.
A great way to do this is by highlighting the big benefit and justifying through the features, this will quickly bring focus to what is important to the reader and get them to read on the rest of your copy.
The customer messaging platform, Intercom, utilizes benefit-driven and value-based copy to directly capture the attention of their visitors.
By highlighting the big benefits that their customers want, Intercom's landing page quickly informs visitors that their product is relevant and only justifies through features after this attention is captured.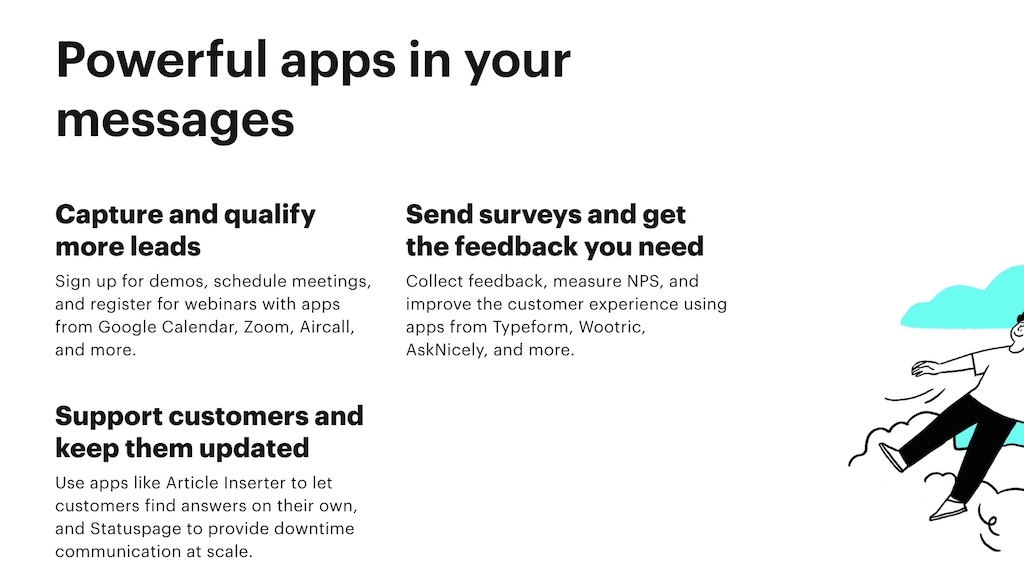 4. Landing Pages Are Distraction-Free & To Drive One Single Action
The purpose of a landing page is to drive action, it is to capture the sale, it is to convert – nothing more and nothing less.
Unlike a homepage that hosts many links that helps navigation, landing pages strips away any distractions – it informs the reader of what is necessary and brings them to a decision point – the call-to-action & an attractive button to click.
Zoho's landing page's call-to-action is simple, direct and leads the reader to one singular action – Starting the free trial.
The more complicated your call-to-action, the more you risk confusing your customers and them clicking away and wasting your ad dollars!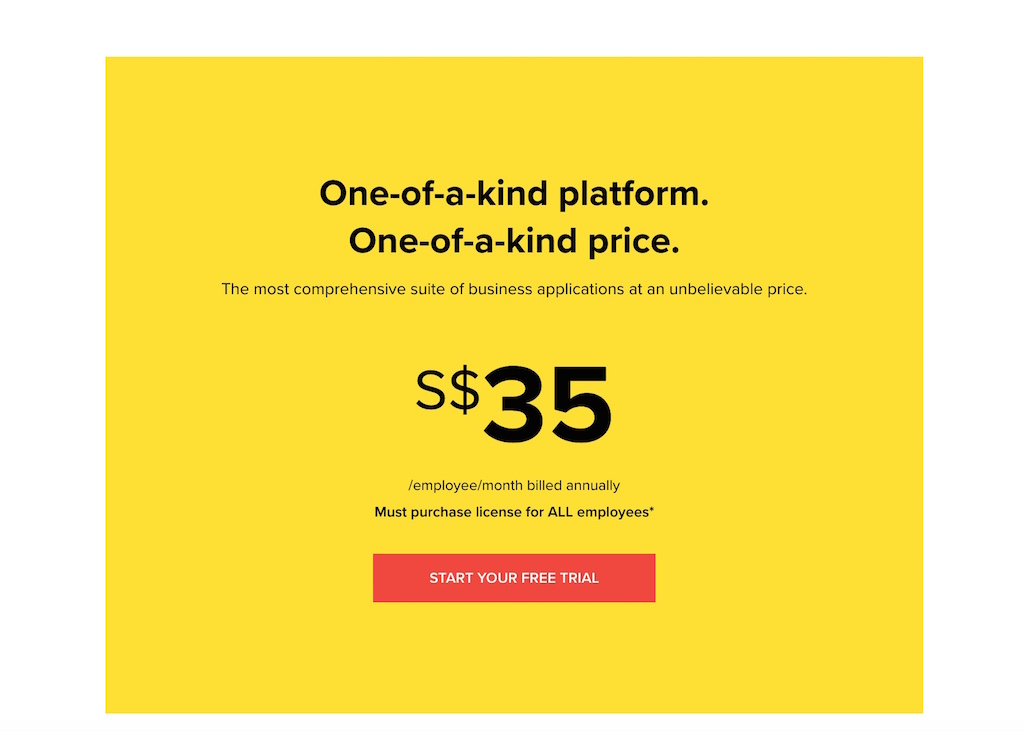 5. Landing Pages Uses Highly Targeted Social Proof
Social proof helps to build trust and it might be tempting to throw as much as possible onto your landing page – but is it the right type of social proof?
If you are selling to big corporations, then having big brand logos of your customers is great social proof you should highlight but it is not very useful if you are trying to target small businesses or startup owners.
Whether it is influencer endorsements, customer testimonials, media awards or review ratings, it is important that you match your social proof to your customer persona.
Xero, an online accounting software, uses the power of targeted social proof through customer reviews to convince the audience they are looking to capture – small business owners and freelancers.

When To Use A Homepage Or A Landing Page
Thinking whether to use a homepage or landing page? 
Here are some situations where using one is better than the other!
3 Situations To Use A Homepage:
– When you are selling multiple services or products and want to showcase all the different offerings to your visitors.
– When you have a lot of business information to showcase (such as your company history and business processes) and you are looking to build a brand.
– When there is a lot of "depth" to your business (you have a blog, customer testimonial pages, resources, pricing pages) and your customer will need to navigate to that information for the best understanding of your offerings.
3 Situations To Use A Landing Page:
– When you are launching a new product or service: Landing pages are a great way to test the response in a highly measurable way.
– When you are looking to target a specific customer type to a specific product or service through targeted ads on Google or Facebook. Landing pages allow you to laser focus your message to one specific customer persona.
– When you are looking to collect email/subscribers in exchange for something of value (it can be an ebook or discount coupon etc). Landing pages allow your visitor to stay focused and convert without the risk of being distracted.
Looking To Craft Your Best Homepage (or Landing Page)?
We can help! Drop us a message and we'll be in touch!