How To Write An Effective Press Release (Examples Included!)
April 21, 2020 | Sean Foo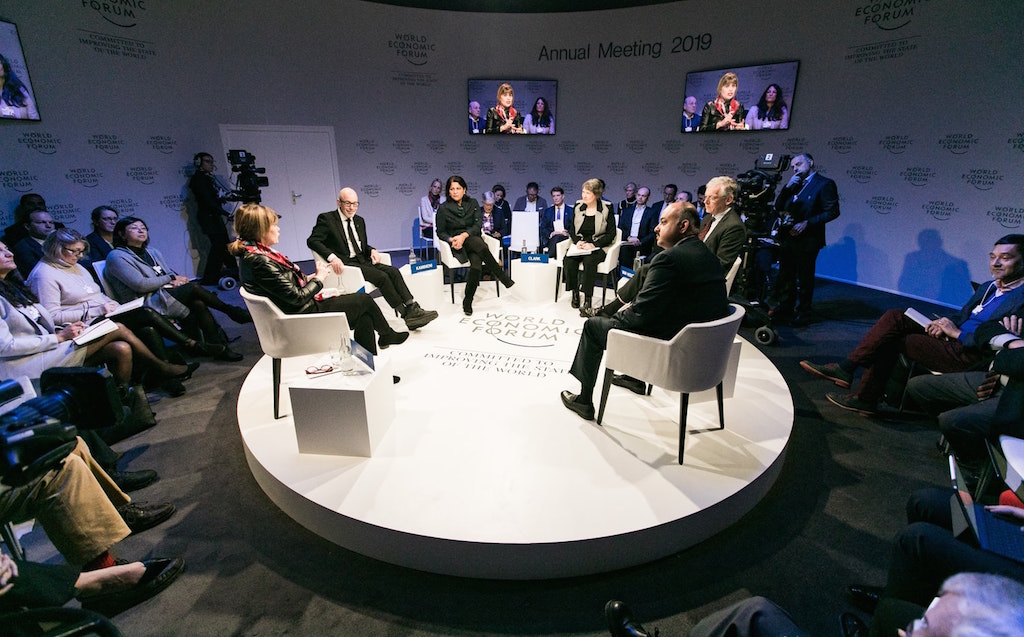 Whether your company is launching a new service or embarking on an exciting collaboration, a press release is one of the best (and easiest) ways to get the word out and get your news story published far and wide!
If you are marketer, an entrepreneur or part of the corporate communications team, this post will show you exactly how to craft a winning press release that will deliver you results.
What Is A Press Release & Why You Would Send One
A press release is a piece of content that is created to inform the media (and by extension the public) about a company's or organization's happenings and developments.
When anything significant happens in a company that is newsworthy, a press release is created and then distributed to key members of the press such as journalists.
There are 4 key reasons why a press release is required:
1. Help Build Awareness & Capture Attention:

 
Journalists and media publications have big networks and reach that can be leveraged on to reach audiences that matter.
Whether you are launching a new product or sponsoring a charity event, a press release helps get the word out and generate buzz around your latest development.
2. Builds Valuable Relationships With Journalists:
Building relationships with members of the media can pay off in the long-term with partnerships and access to outlets that could prove otherwise difficult.
Press releases help journalists hit their quota of providing stories. In fact, there are many websites such as Help A Reporter Out that are focused on journalists finding the latest scoops to report on.
3. Handle A Public Relations Crisis & Building Your Company Image:
Whether it is an unfounded rumor or speculation about your company's health, press releases are a great way to manage the image and outlook of your company.
Important for both big corporations and startups, your company images determines everything from investor confidence to the morale of your employees.
4. Drive Traffic To Your Website & Improve Your SEO
From ranking on keywords to building backlinks naturally, a press release (when released simultaneously on your own website) can help you earn organic traffic as well as help your overall website rise in Google's search rankings.
The Ultimate Guide To Writing Press Releases
Table of contents:
5 Situations To Write & Send A Press Release
6 Key Elements Every Press Release Should Have
8 Steps To Writing A Press Release From Scratch
How To Distribute A Press Release
10 Examples Of Press Releases That Work
5 Situations To Write & Send A Press Release
While there is a multitude of situations to create and distribute a press release, here are 5 different 'newsworthy' situations where a press release is necessary.
That means news and events that journalists will find value in reporting and broadcasting to their audiences in general.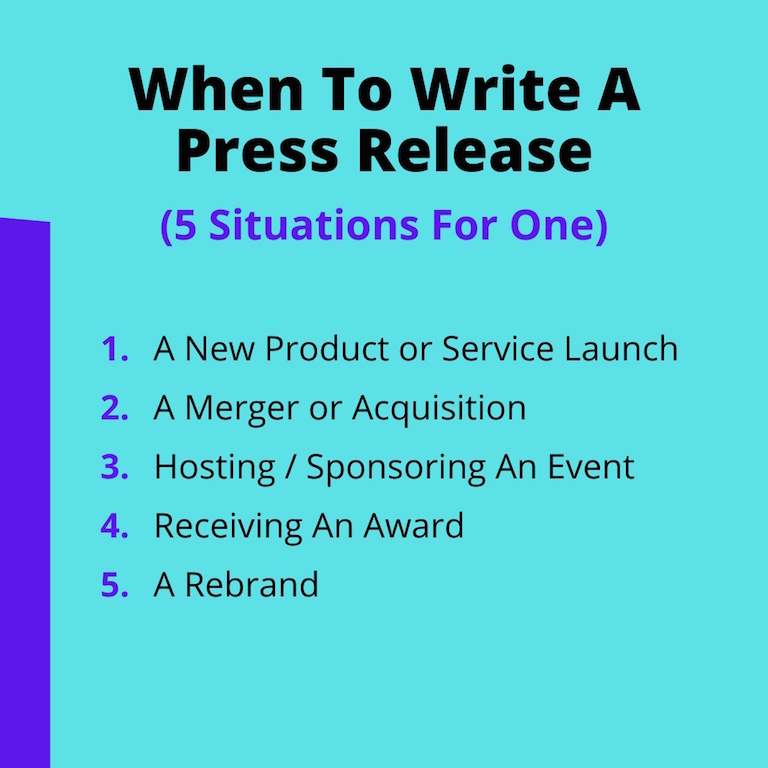 1) A New Product Or Service Launch
The most obvious type of press release that you would write would be one that announces the launch of a new product or service your company is releasing.
A press release here, if distributed properly, will help to spread the word and bring traffic or awareness to your launch which is very helpful in generating the initial buzz.
Like the press release below, the new launch of Diana Ross's 'Supertonic' clearly highlights 3 pieces of key information:
– Logistical information on the release date
– The actual products being released: CD, Digital & Vinyl
– An exciting fact to build hype and intrigue around the new album release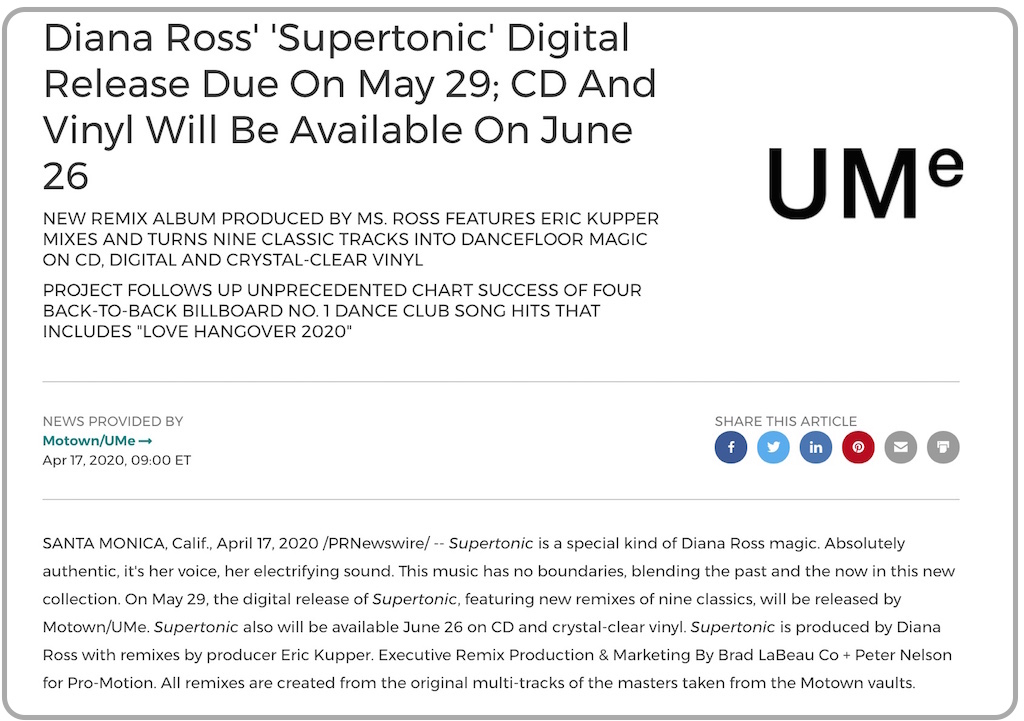 2) A Merger or Acquisition
Whether your company is being merged, acquired or your business is the one buying another firm, this is a prime opportunity for a press release to inform the media, your customers and the public.
The United Technologies and Raytheon merger press release covers the core information within the first 3 points:
– The result of the merger & what the combined company will become
– The unique benefit this merger will provide to their customers
– What will be the focus of the new combined company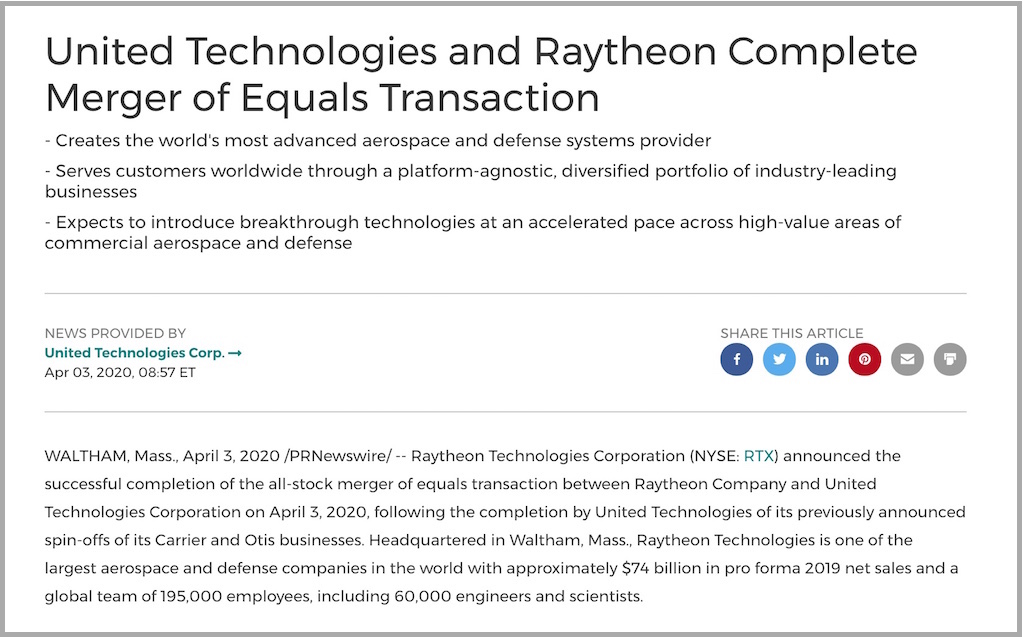 3) Hosting Or Sponsoring An Event
If your company is hosting, sponsoring or collaborating as part of an event, this is a newsworthy event that is perfect for a press release.
Like the press release iSwitch (an electricity retailer) distributed for their involvement in the 'Changing Course Exhibit', the headline accomplishes two things:
– Highlighting their involvement as a strategic partner
– What the event is about: raising awareness around climate change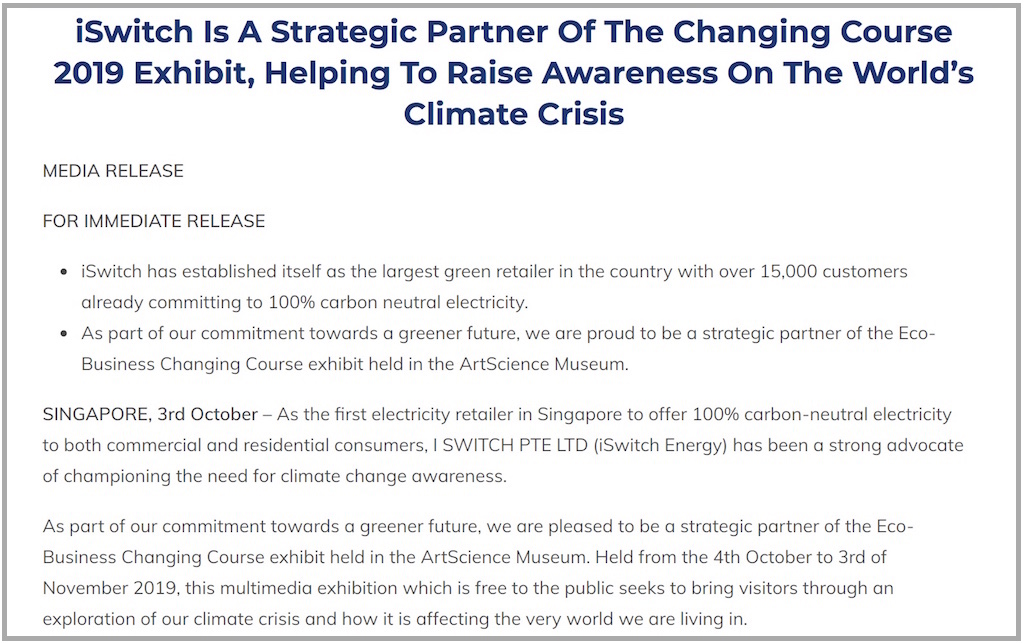 4) Receiving An Award
Has your company won an award or some special recognition that helps to increase your brand image?
Then it is time to capitalize on this and send out a press release!
Like Utopia Global's press release below, a good awards press release will cover four main points:
– What type of award or recognition has your company won?
– Who gave the award to your company?
– What is the significance of the award?
– Description of the criteria for the award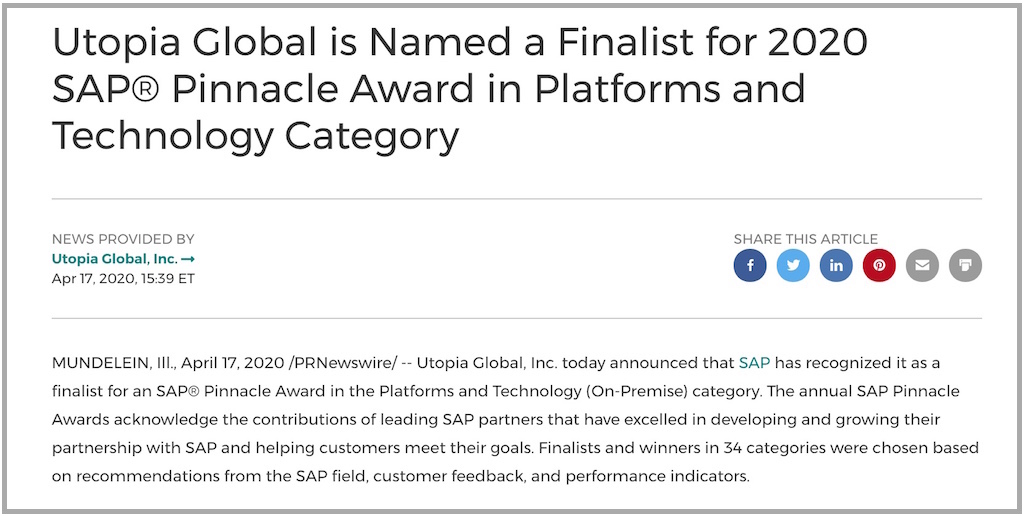 5) A Rebrand
Whether it is a merging of companies or a new company direction that spurs the rebrand, this is a newsworthy moment that isn't just reserved for big corporations, but for startups and smaller enterprises to showcase a significant milestone.
A press release centred around a rebrand should contain:
– The motivation behind the rebrand
– What the rebrand signifies
– What changes will happen as a consequence of the rebrand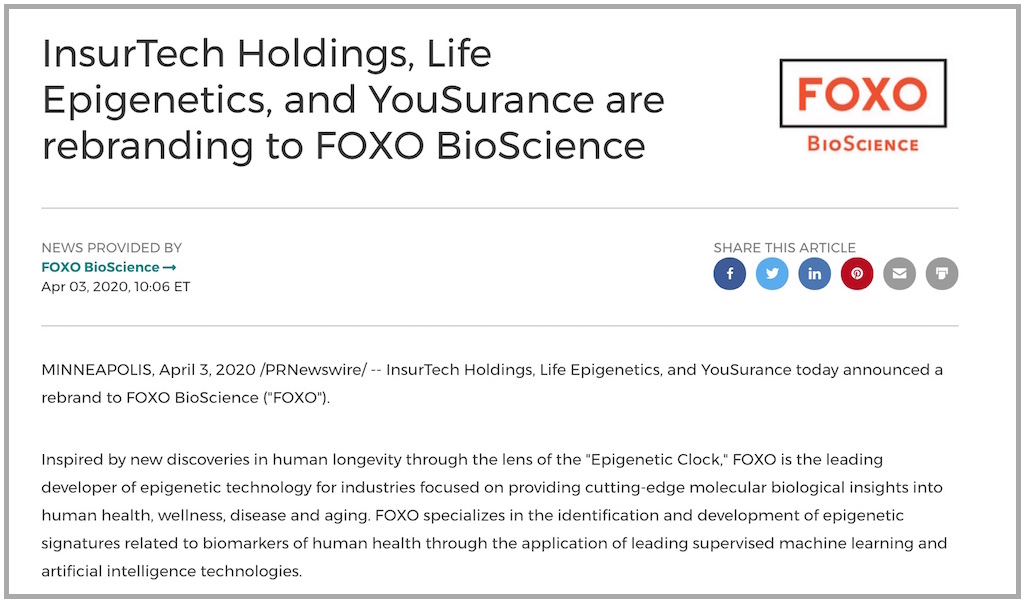 6 Key Elements Every Press Release Should Have
Every good dish has a list of ingredients and every good press release has key elements that make them effective.
In this section, we will go through all the critical components of a winning press release that you must know and include in your writing!
1) The Headline
Compelling to journalists with sufficient newsworthy information to distribute it out, your headline has to be concise, persuasive and objective at the same time!
2) Date Of Release
When do you want your press release to be distributed by the media outlets? It's either normally immediately or at a later date.
If you desire an immediate release, the words "FOR IMMEDIATE RELEASE" should appear near the top of your press release document.
However, if you want a delayed release on it, then just write down the words "Embargoes For Release Until Monday, December 3, 2020, at 10 p.m., Singapore Time" or whichever date you desire.
3) Summary Bullet Points
Great press releases will have the entire narrative and key information condensed into three or four bullet points just before the body of the content.
It helps journalists and readers to quickly determine the importance and highlights of the press release. It helps make their lives easier and that means a higher chance of your release being picked up and distributed.
4) Informational Details
Your paragraphs should contain key information regarding what your press release about including:
– Introduction on what the press release is about.
– Key facts, figures and information on the details of the event being shared
– More supporting information that members of the press should know about (eg. significance, social proof, goals, impacts etc).
5) The Boilerplate
A summary of your organisation. This is where you want to portray your company in the best light possible.
It is called a boilerplate as it is usually the same content and copy that will go into every press release that you publish.
6) Press Contact Information
Last but not least, you will want to leave your contact information for journalists that are looking to write about your event or follow up with your company.
And it is doesn't have to be complex:
For more enquiries, please follow-up with our contact below:
Sean Foo, Marketing Manager
+65 911 9191 989
8 Steps To Writing A Press Release From Scratch
Now that you know the main elements of a press release, it's time to write it!
In this step-by-step guide, you will learn how to craft your very first (or 100th) press release to promote and bring awareness to your event.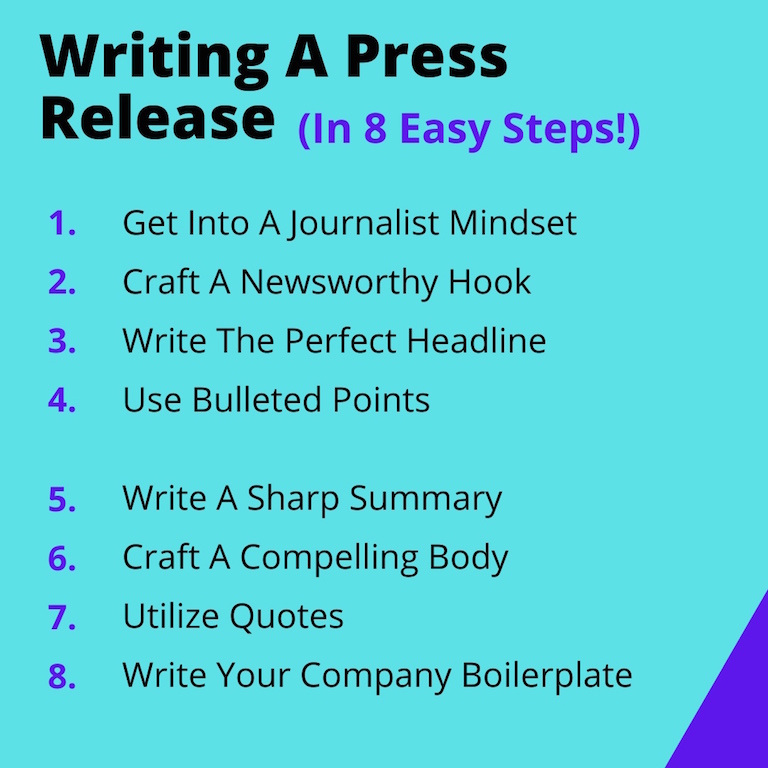 1) Get Into The Journalist / Reporter Mindset
The first thing to do is to wear the hat of a journalist and start thinking about one key question "How do I get them to eagerly & easily distribute my press release?"
In short, you will have to write a story that is not just newsworthy but also pitch-worthy too!
That means your press release must:
Be short and concise: 
Journalists are busy people and your job is to help them figure out if your press release is something that interests them. Making it straight to the point will help increase the odds of it getting picked up and distributed.
Make the information easy to find: 
The worst thing you can do is to bury the news hook or lead under a mountain of words, jargon or fluff. Always aim to put the purpose of your press release front and center.
Don't overhype the event: 
While I'm sure your new product launch or award makes your company the best in the world, stick to the facts and present it in a confident light but drop the pride and hype.
2) Develop A Newsworthy Hook
Every company probably has a story they would like to share to the world – but is it newsworthy? 
Newsworthy simply means the press release has enough value for the journalist to pick it up because it not only is compelling to them personally but also because the journalist will feel it has enough value to gain traction when it is shared.
Here is how to identify or angle your hook:
Pressing Global Or Trending Issues:
Does your event have anything to do with popular or pressing issues such as artificial intelligence, climate change or the recent COVID-19 pandemic? 
Play up that angle to better capture attention.
Exclusive Research Or Interview:
Does your event center around unique data, in-house research or an interview with a personality or a well-known celebrity? 
Focus on that!
Involving Big Brands:
This is especially effective in press releases involving collaborations as well as mergers and acquisitions. If your company is involved with deals with big brands (i.e. Apple, McDonald's, Target etc), highlight and build around it. 
This is one sure-fire way to capture the eyeballs of news-hungry journalists.
3) Craft The Perfect Press Release Headline
Your headline is the first thing that is seen and if it isn't clear or compelling enough, your entire press release will very well be deleted!
While this might seem like a tall-order, your headline has to grab the attention of not just the journalists, but industry players and the general audience that would be viewing your press-release.
Here are 2 quick tips to up your odds of a winning press release headline:
– Inject your newsworthy angle that we covered earlier + the story lead (what your press release is covering).
– Use action verbs and keep it as concise as possible!
If it takes more than 3 to 4 seconds to read and understand your headline, it's time to re-write it!
The headline below works as an attention grabber as it will pique the interest of the journalist to read on further to learn more about what is meant by the key takeaway.

4) Use The Power Of Bulleted Points
No matter how awesome or groundbreaking your press release is, I am sure it can be compressed into three bullet points that contain the three most important information that can carry the day.
A great way to help busy journalists is to include those three bullet point sentences immediately after your headline, feeding them exactly what they need to know without having to read anything else.
Medopad's rebranding press release shows a good example of how bulleted points allows you to summarise your entire story into a few key sentences that will help journalist quickly decide if your piece is newsworthy.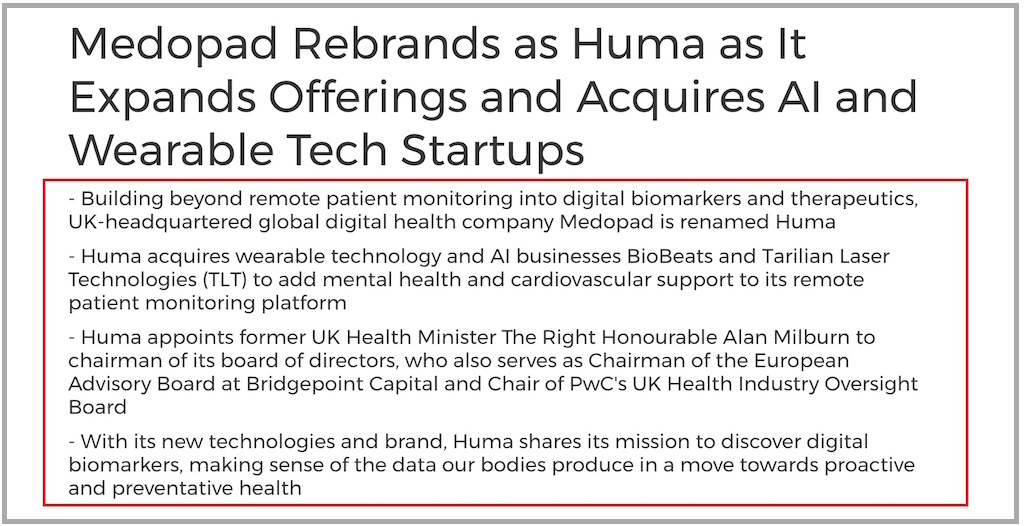 5) Write A Sharp Summary Paragraph
Also known as the lead of your press release, a powerful first paragraph has to fulfil three things in the mind of the journalists:
– Why should I care about this event?
– What exactly is happening?
– When is this event happening?
– Who (or which companies) are involved in this event?
– Where is this event happening?
In addition to reiterating your newsworthy hook, the most critical information should appear in your lead summary paragraph!
The summary paragraph of Microsoft partnership with the NBA's press release is a fine example of all of the 5 Ws being answered in a manner that is straight to the point while stoking interest.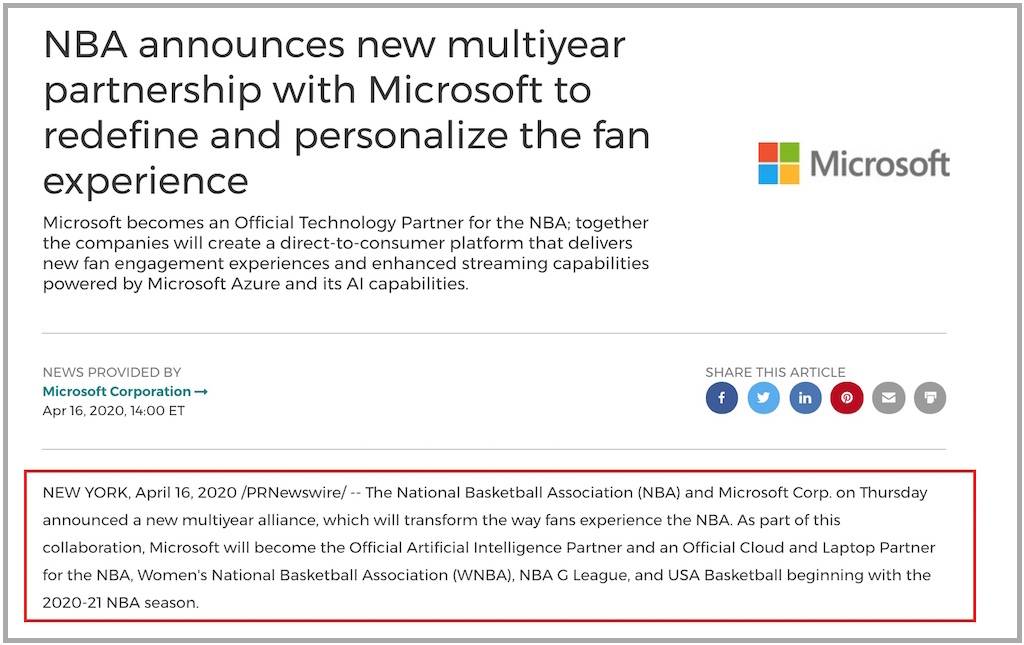 6) Craft A Compelling & Informative Body
How many paragraphs or sections are needed you might ask.
Well, as many that is needed to get the key information across without resorting to fluff! 
p.s. We recommend just 3 – 4 paragraphs for maximum effectiveness.
With the summary paragraph (lead) covering the most important information, your next few paragraphs are there to support these information and to add color to the event.
These can include arguments, controversy, evidence, background and impacts just to name a few. Remember to stay ultra objective and to substantiate any claims you make with facts and figures to ensure the credibility of not just your event, but of your brand as well.
Using the same press release example, Microsoft's partnership press release concisely packs all the necessary information journalists would desire into just 3 paragraphs.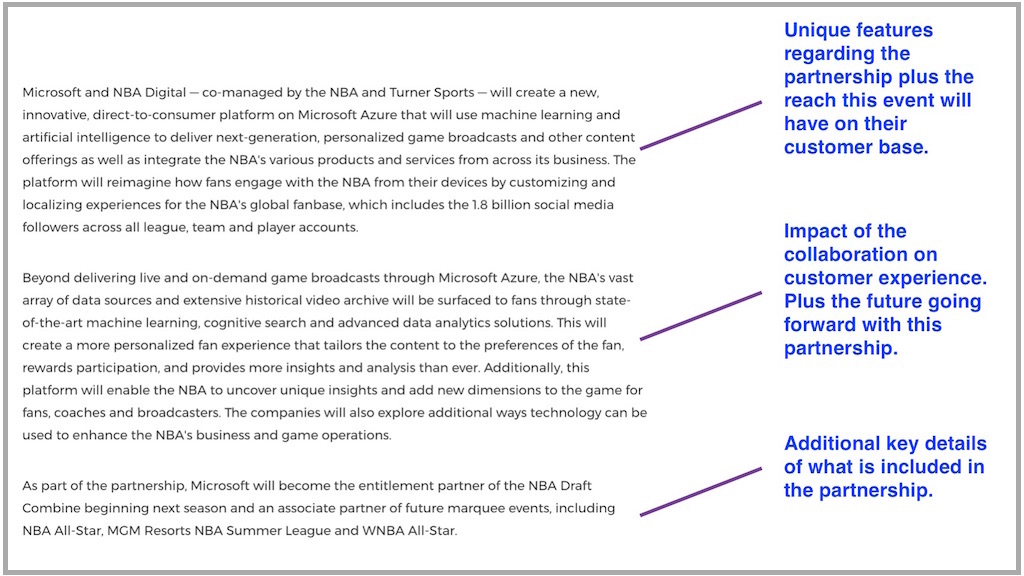 7) Utilize Quotes
The best quotes are value-adding ones from key executives from your company (or companies mentioned in the release) or from prominent industry figures (or even celebrities) that directly addresses the event.
A big temptation is to inject multiple quotes into your press release in a bid to give it a 'personal touch', that is overkill! 
Just one or two good quotes will do.
Microsoft's partnership with the NBA's press release utilizes two quotes from their top executives on their thoughts about working together and how it will impact their fans and customers.

8) Craft Your Company's Boilerplate Info
A boilerplate is information about your company or organization and is found right at the end of the press release.
A good boilerplate will contain information including:
– Your company or organization's name
– What your company does
– Year of founding
– How many employees you have (if it is a big company)
– Notable merits and achievements
– Company's latest advancement or growth plans
The key here is to be objective but also portray your company in the best professional light possible.
NBA's boilerplate below is a great example of hitting all of the above information we highlighted earlier as well as featuring their corporate social responsibility activities.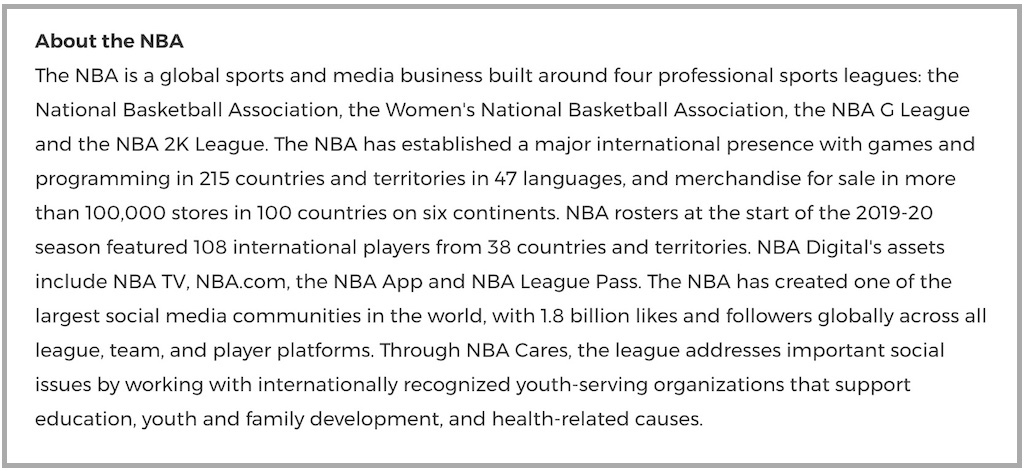 How To Distribute A Press Release
Now that we have your press release well written, it's time to distribute it piping-hot to the world!
But how exactly do we do it, and do it well?
Here are 3 avenues of distribution you can immediately tap on:
1) Release It Through A Syndication Service (CISION)
Services such as PR Newswire will allow you to distribute your press release to thousands of media outlets including news agencies and television networks. 
However, this option is not free and can get rather costly over time. It costs anywhere from $350 to $805 to distribute a single press release and that is on top of a $195 annual membership fee!
2) Outreach & Pitch Your Press Release To Reporters & Editors
Depending on your industry, there are always specific news outlets that focus on it with specific editors and journalists that handle reporting in that sector.
By doing personalized outreach to these individuals, you will not only be able to distribute your press release, but you will also be able to build valuable relationships that will help your communications team for years to come!
3) Release It On Your Website & Share It On Your Social Platforms
Hosting your own press release on your website is a must – after all, you would most definitely want to reap the benefits of SEO (ranking for keywords and gathering backlinks)!
If you have a big social following on platforms such as Twitter or an active email list, you can easily distribute your press release to an audience that you own for further reach at near zero-cost!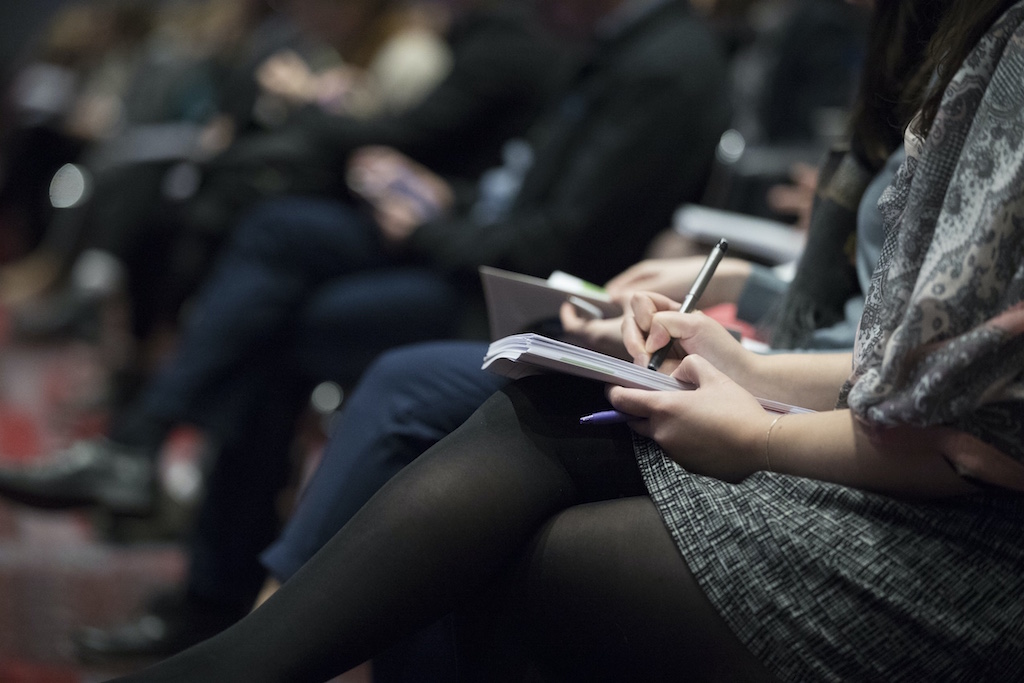 10 Examples Of Press Releases From Various Industries
While the above guide will help you craft a winning press release, here are 10 more examples of well-crafted releases that you can explore and gain inspiration from.
Product Launch Examples:
InXpress Develops New In-House Global Shipping Platform
7-Eleven Brings Everything You Need to Your Doorstep… Even Beer & Wine
Mergers, Acquisitions or Collaborations:
United Technologies and Raytheon Complete Merger of Equals Transaction
FaZe Clan Teams Up With The NFL For 2020 "Draft-A-Thon" And Exclusive Merchandise Collaboration
Events & Exhibitions:
From Secret Agent to Icon: The Royal Mint Launches Its James Bond Collection With a First – a 7 Kilo Gold Coin
Aga Khan Museum celebrates the creativity and artistic contributions of newcomers with a season focused on stories of immigration
Receiving An Award & New Hires:
Spireon Wins 2020 Excellence in Customer Service Award
Affinity Creative Group Bolsters Brand Strategy Capabilities with New Hire, Bob Kersten
A Rebrand:
Medopad Rebrands as Huma as It Expands Offerings and Acquires AI and Wearable Tech Startups
Rammer Rebrands as Symbl.ai: The Industry's First Developer Platform for Conversational Intelligence
Your Best Press Release Begins Here!
Whether you are part of a communications team or a hands-on founder looking to crank out your first press release, our guide will give you a road-map step by step to crafting a press release that delivers you results.
But if you are strapped for time or just want it done well – we can help!
Contact us here and let's get writing!