127 Mission Statement Examples From Companies Changing The World
June 18, 2020 | Sean Foo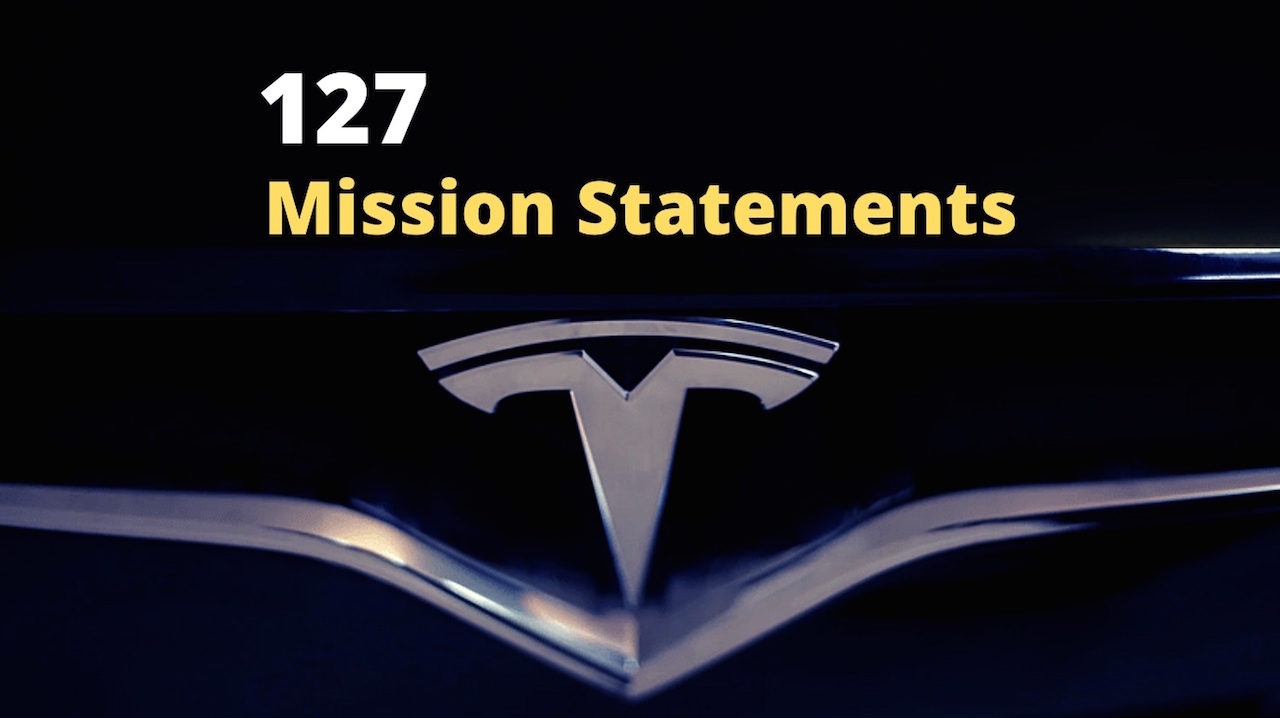 Mission statements distil what a company does, how, and why.
When written well, they can inspire customers and employees to be loyal to you!
Nowadays, however, many mission statements are stuffed with corporate-speak like "provide value", which feels hollow at best and repels at worst. 
The best company missions state clearly what the company does, and why.
They have 1 main focus, have at most 16 – 20 words, and state promises the company actually lives up to.
To give you an idea of how they look like, here are 127 great mission statement examples from companies that are changing the world!
Technology
SpaceX designs, manufactures and launches advanced rockets and spacecraft.

To accelerate the world's transition to sustainable energy.

To help people see data in new ways, discover insights, unlock endless possibilities.

To bringing the best user experience to its customers through its innovative hardware, software, and services.

To empower every person and every organization on the planet to achieve more.

To organize the world's information and make it universally accessible and useful.

We engineer solutions for our customers' greatest challenges with reliable, cloud to edge computing, inspired by Moore's Law.

Every person has the right to participate fully in the global economy, and that we have an obligation to empower people to exercise this right and improve financial health.

Fill the world with emotion, through the power of creativity and technology.

To lead in the creation, development, and manufacture of the industry's most advanced information technologies, including computer systems, software, networking systems, storage devices, and microelectronics.

Social Media
Give people the power to build community and bring the world closer together.

To give everyone the power to create and share ideas and information instantly without barriers.

To capture and share the world's moments.

To inspire creativity and bring joy.

Connect the world's professionals to make them more productive and successful.
Social Networking
We believe that reinventing the camera represents our greatest opportunity to improve the way people live and communicate.
To provide a secure means of communication that works everywhere on the planet.

Behind every product decision is our desire to let people communicate anywhere in the world without barriers.

To bring people, information and services closer together.

Tinder makes being single more fun and rewarding by connecting people who may not have otherwise met in real life.
On Reddit, users can be themselves, learn about the world around them, and be entertained by the content created and shared by our global community.

To bring everyone the inspiration to create a life they love.

To empower creators to make their best work and get it in front of the audience they deserve.

To share and grow the world's knowledge.

To deepen readers' understanding of the world and to empower writers to share their best work and biggest ideas.
Video Streaming
To give everyone a voice and show them the world.

We believe that video is the best way to capture and share life's incredible variety. This is why at Dailymotion we aim to offer the best video experience.

To provide the best shared social video experience created by our growing community where creators and communities can interact safely.
Saas & Platforms
Slack brings all your communication together in one place. It's real-time messaging, archiving and search for modern teams.

We believe businesses can grow with a conscience, and succeed with a soul — and that they can do it with inbound.

To empowers companies to connect with their customers in a whole new way.

To move the Web forward while also giving Web designers and developers the best tools and services in the world.

Empower the underdog.

Make video communications frictionless.

To design a more enlightened way of working.

To build the best products to help our customers build their brands and grow their businesses on social media.

Empowering everyone to create beautiful designs without friction
E-Commerce
To be Earth's most customer-centric company.

To provide the best customer service possible. Deliver WOW through service.

To provide a global online marketplace where practically anyone can trade practically anything, enabling economic opportunity around the world.

To make it easy to do business anywhere.

To be the world's commerce operating system, increasing consumer buying power while driving more business to merchants through price and discovery.

To make commerce better for everyone.

To provide everyone access to the most affordable and convenient shopping experience on the planet.
News & Media
To deliver information on the people, ideas and technologies changing the world to our community of affluent business decision makers.

To help its readers, viewers, and attendees succeed big in business through unrivalled access and best-in-class storytelling.

Staying true to our mission, we continue to adapt and innovate, making sure our products are relevant and appealing to the busy consumer who needs to know — but also wants to be inspired by — what's going on in the world.

To create and distribute industry-leading content across a variety of platforms to audiences around the world.

To enrich people's lives with programmes and services that inform, educate and entertain.

Comcast creates incredible technology and entertainment that connects millions of people to the moments and experiences that matter most.

To captivate and connect people with stories they love by creating amazing experiences.

To entertain, inform and inspire people around the globe through the power of unparalleled storytelling.
Telecom
We deliver the promise of the digital world to our customers.

To connect the UK and build an exciting digital future that works for everyone.

To connect people with their world, everywhere they live and work, and do it better than anyone else.
Entertainment
To unlock the potential of human creativity—by giving a million creative artists the opportunity to live off their art and billions of fans the opportunity to enjoy and be inspired by it.

To entertain the world.
Food & Beverages
To be our customers' favourite place and way to eat – with inspired people who delight each customer with unmatched quality, service, cleanliness and value every time.

Delight every customer, so they want to tell their friends – with great value through fresh, delicious, made-to-order sandwiches, and an exceptional experience.

At Domino's, we've always been about bringing people closer, connecting them through the world's best bonding food: Pizza.

To take pride in making the perfect pizza, provide courteous and helpful service at all times and strive to have every customer say that they plan to be back.

To inspire and nurture the human spirit – one person, one cup and one neighbourhood at a time.

Refresh the world. Make a difference.

Create more smiles with every sip and every bite.

Good Food, Good Life.

Bringing sweet moments of Hershey happiness to the world every day.
Food Delivery
Uber Eats is the easy way to get the food you love delivered.
To transform the way customers eat.
Retail
To save people money so they can live better.

To continually provide our members with quality goods and services at the lowest possible prices.

To help all families discover the joy of everyday life.

Offering customers fashion and quality at the best price.

Give customers what they want, and get it to them faster than anyone else.
Footwear & Sports
Bring inspiration and innovation to every athlete* in the world. *If you have a body, you are an athlete.

Forever faster.

To put the body in motion with the most advanced footwear technology on the planet.

Bring profound comfort, fun and innovation to the world's feet.

To give people the opportunity to express themselves through their Converse shoe.
Clothing & Accessories
To make all athletes better through passion, design, and the relentless pursuit of innovation.

Provide the best gear for our athletes and the modern day explorer, support the preservation of the outdoors, and inspire a global movement of exploration.

To inspire individuals to live life on the bright side.

To offer designer eyewear at a revolutionary price, while leading the way for socially conscious businesses.

Pioneering innovative eyewear.
Luxury
To represent the most refined qualities of Western "Art de Vivre" around the world.

To be the Ultimate House of Luxury, defining style and creating desire, now and forever.

To continually create clothes and accessories that aspire to a kind of perfection that transcends fashion.

Pioneer of a philosophy of action that transcends fashion

To be the world's most respected and successful designer, manufacturer and retailer of the finest jewellery.
Cosmetics
Cosmetic innovation for all.

To create an inviting beauty shopping experience and inspire fearlessness in our community.

Helping young people overcome body image issues and fulfil their potential by building positive body confidence and self-esteem.
Travel
To live in the world where one day you can feel like you're home anywhere & not in a home, but truly home, where you belong.
The mission of Southwest Airlines is dedication to the highest quality of customer service delivered with a sense of warmth, friendliness, individual pride, and company spirit.

Help people around the world plan and have the perfect trip
To make it easier for everyone to experience the world.

To connect people with great local businesses.

To be the traveller's first and independent source of information for finding the ideal hotel.
Automobile & Bikes
To drive human progress through freedom of movement.

To offer attractive, safe and environmentally sound vehicles which can compete in an increasingly tough market and set world standards in their respective class.

We build cars, symbols of Italian excellence the world over, and we do so to win on both road and track.

To become the world's leading provider of premium products and premium services for individual mobility.

To deliver better power for a changing world.

We fulfil dreams of personal freedom.
Toys
Inspire and develop builders of tomorrow.

To inspire the limitless potential in every girl.
Finance
To be the best financial services company in the world.
We commit people, capital and ideas to help our clients, shareholders and the communities we serve to grow.
Non-Profit
Guided by the belief that every life has equal value, the Bill & Melinda Gates Foundation works to help all people lead healthy, productive lives.

To stop the degradation of the planet's natural environment and to build a future in which humans live in harmony with nature.

To preach the gospel of Jesus Christ and to meet human needs in his name without discrimination.

To provide lifesaving medical care to those most in need.

The American Red Cross prevents and alleviates human suffering in the face of emergencies by mobilizing the power of volunteers and the generosity of donors.​

To empower and engage people around the world to collect and develop educational content under a free license or in the public domain, and to disseminate it effectively and globally.

charity: water is a nonprofit organization bringing clean and safe drinking water to people in developing countries.

Together, we create life-changing wishes for children with critical illnesses.

To undertake research and action focused on preventing and ending grave abuses of these rights.

To empower people to choose how they live as they age.

We provide service to others, promote integrity, and advance world understanding, goodwill, and peace through our fellowship of business, professional, and community leaders.

To feed America's hungry through a nationwide network of member food banks and engage our country in the fight to end hunger.
Others
To create better everyday life for the many people.

Spread ideas.

To help bring creative projects to life.

To bring the world together through live experiences.

To help people grow and achieve their goals through real-life, human connections.

Create a world where people work to make a life, not just a living.

We will provide branded products and services of superior quality and value that improve the lives of the world's consumers.
Unify Your Company With A Compelling Mission Statement
Now that you've browsed through the list, we hope you have an idea of what a compelling mission statement looks like.
Aim for simplicity and focus on the purpose of why your business exists and how it aims to help your customers and change the world!