The Top 5G Technology Blogs & Websites To Follow (2021)
March 18, 2021 | Sean Foo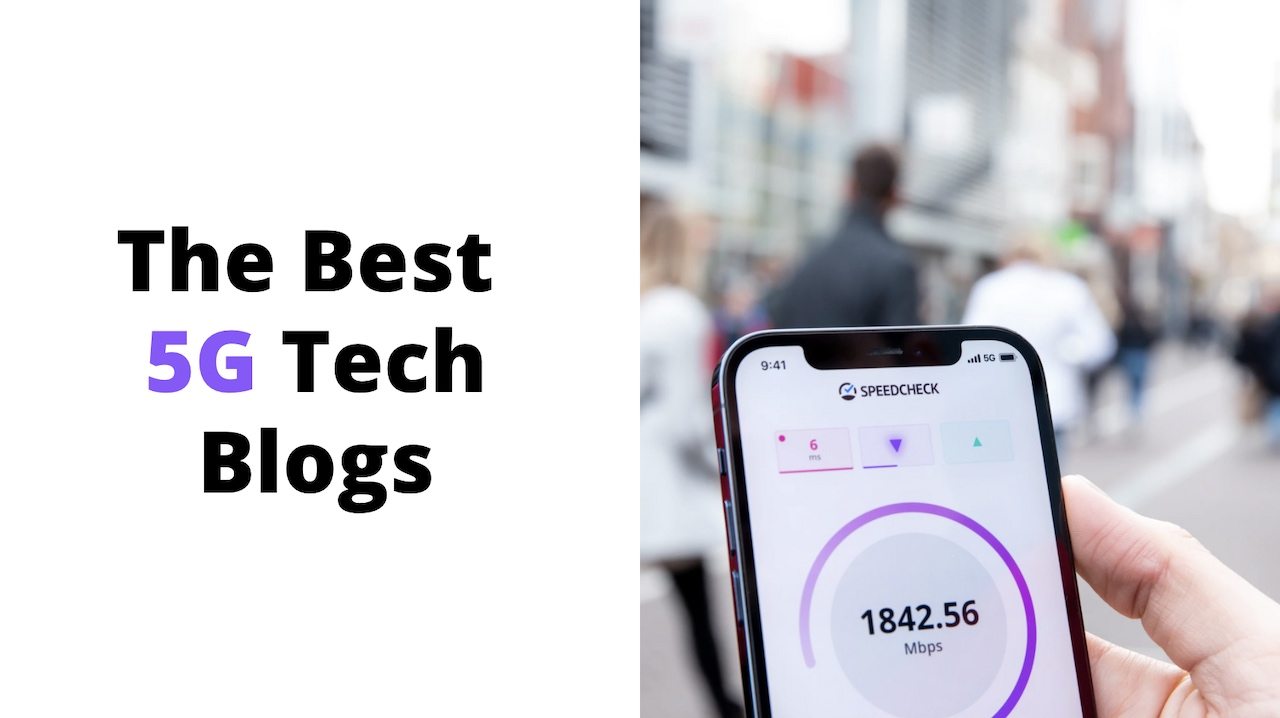 Ready for a world where we are all more connected than ever? Welcome to the future, where 5G has taken over! 
With data transfer rates that are faster than the blink of an eye, high bandwidth, and bigger opportunities for connectivity, there's no doubt that 5G is network technology's next big upgrade.
In a 5G fuelled future, entire supply chains and industries will be transformed dramatically. From healthcare to smart energy solutions and even cloud-connected traffic control, the possibilities of having applications that live up to their potential are endless.
Read our top picks of 5G blogs and resources to get yourself up to speed with all things 5G – from how it works to the latest updates, as well as how different industries are utilizing it and racing towards the full development of next-gen solutions.
Founded in 2011, The Verge is a multimedia effort that seeks to analyze the ways technology will change life in the future for a large mainstream audience.
Through its blog, The Verge covers tech news about hardware, apps, and more. From tech giants like Apple and Google to smaller startups, Verge updates readers about the latest in what matters in tech daily.
Explore 5G consumer-centric content such as why 5G alone won't be enough to justify buying an iPhone this year and interesting tidbits like how 5G boxes are invading homes in Houston. 
Feel like you need a crash course on 5G before diving into the deeper content? Here's everything you need to know about it – from what it is to its problems.
The Verge also has a YouTube channel and podcasts if that's more up your alley.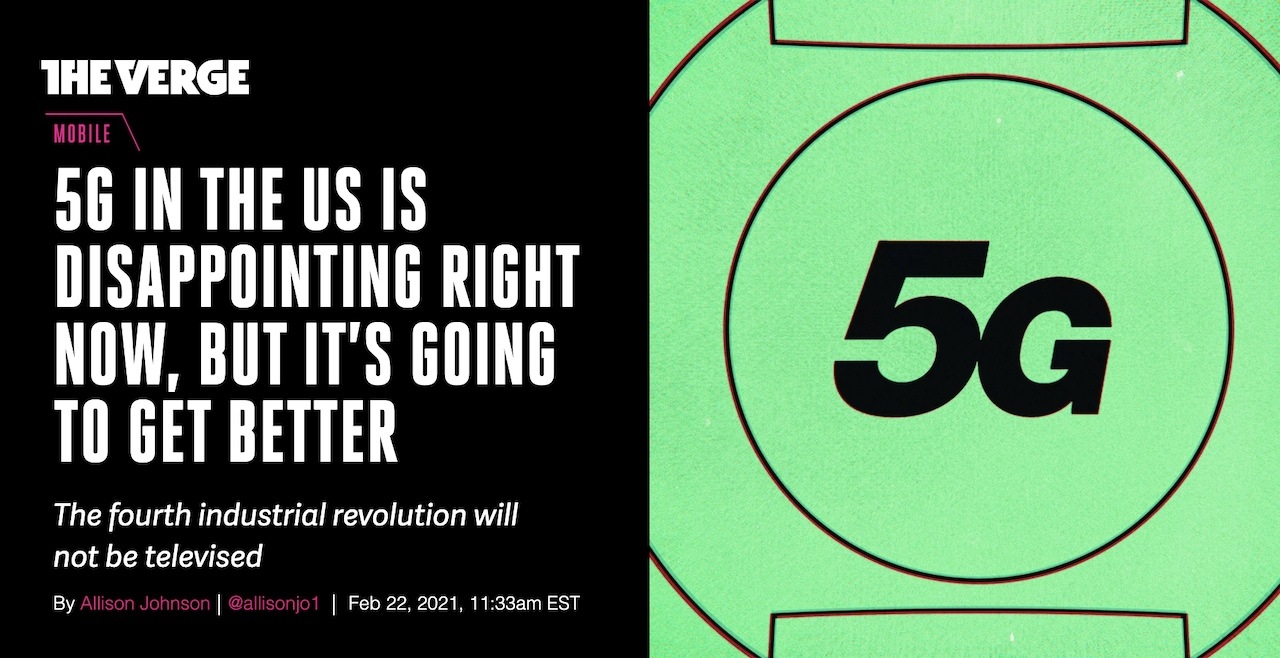 Known for covering the latest and the hottest topics in the start-up world, TechCrunch is on the cutting edge of technology & disruption and regularly hosts events to gather the world's entrepreneurial community together.
In fact, if you're a fan of the HBO series Silicon Valley, you might even remember seeing TechCrunch's event TechCrunch Disrupt on your TV screen!
When it comes to reporting on 5G, TechCrunch investigates the latest happenings on both the industry and individual company level. 
You'll gain insight into how key companies are innovating ahead using 5G and how telecom giants are advancing their 5G technologies to win the battle for connectivity. 
Expect to find content such as current and upcoming trends in Latin America's mobile growth and find out why 5G couldn't help with smartphone sales in 2020 on their blog.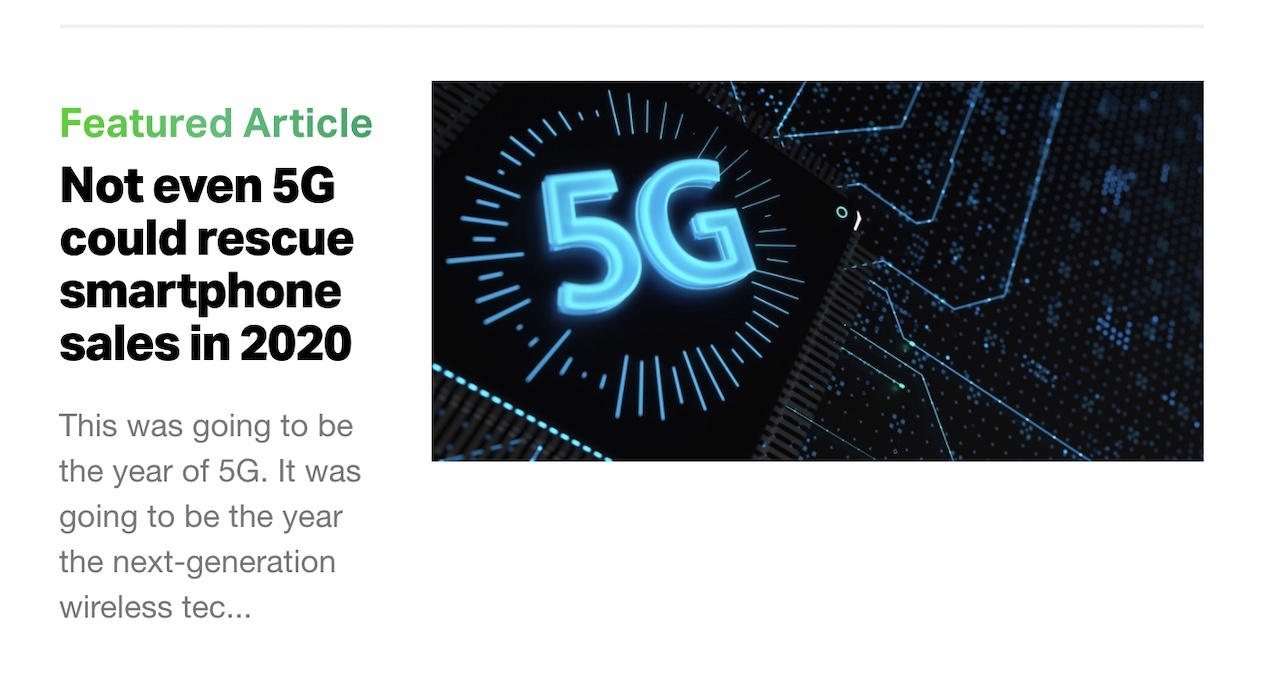 As one of the biggest consultancies in the world, Deloitte covers a plethora of topics and industries, especially on technologies that will revolutionize the world and the way we work.
Their 5G driven blog content includes the latest insights, perspectives, and analysis from their team of professional analysts and industry insiders about how the future of wireless connectivity will unfold.
Dig into interesting bits of content such as why 5G is not hazardous to your health as they bust the radiation risk myth and how 5G can help government officials to make better decisions that drive useful innovations in the future.
Plus, ever so often, Deloitte will develop in-depth reports for various sectors such as their 5G Connectivity and Mobile Trends Survey for their industries that you should check out!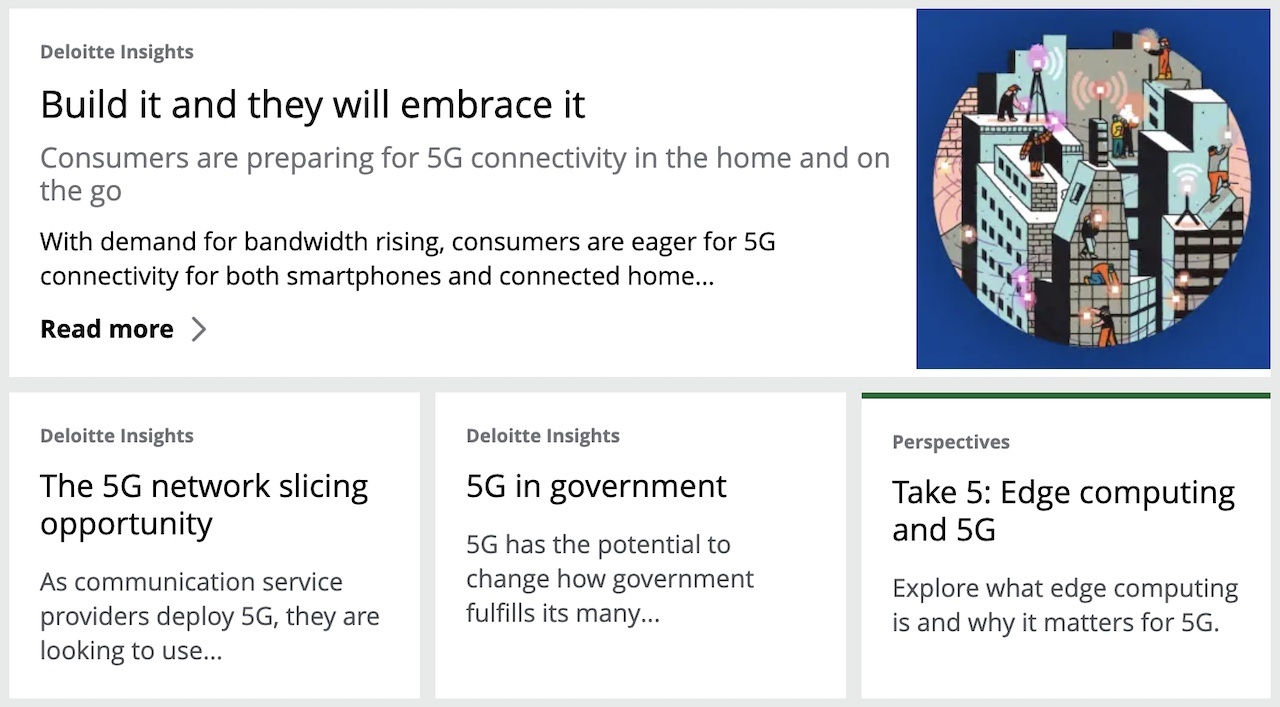 Similar to Deloitte, KPMG is another global consultancy leader that covers the telecommunications industries and its technology advances.
With a goal to drive sustainable change, KPMG believes that the deployment of 5G can revolutionize communication between people, people, and machines, as well as machines themselves. 
From in-depth blog posts to e-books and video conversations, KPMG seeks to lead the conversation on 5G on all levels – from the casual reader to business and thought leaders innovating in the field.
Get started on their blog by discovering the benefits of 5G for business globally and learn why 4G thinking won't work in a 5G world.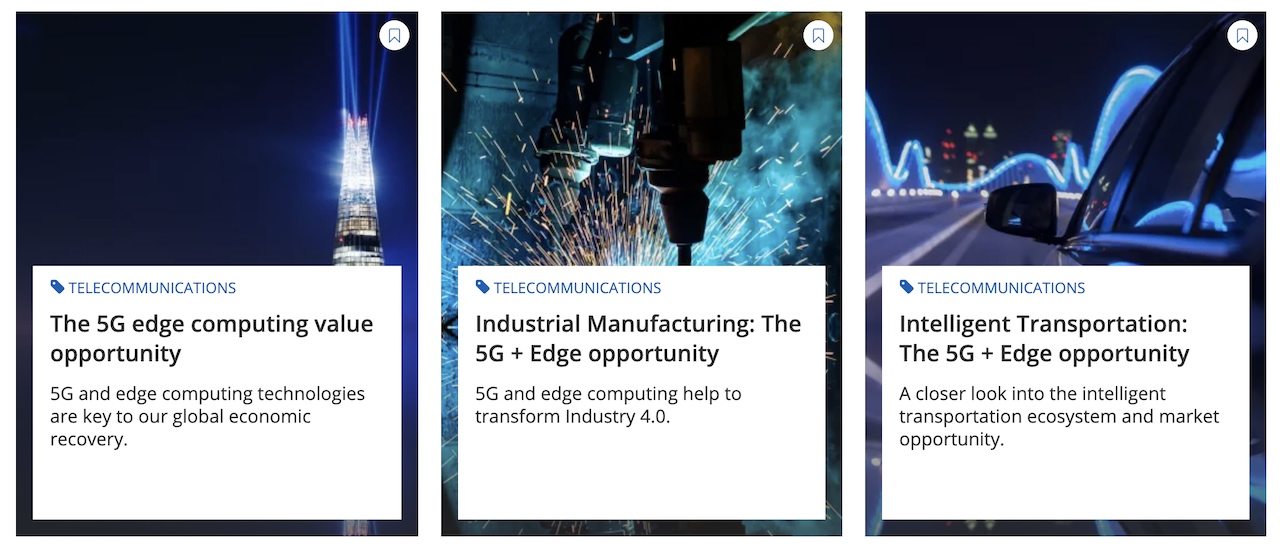 Politico prides itself on being a global nonpartisan politics and policy news organization that connects the dots between global power centers.
When it comes to 5G, Politico goes deep into how the technology is affecting countries as well as how nations and politicians are taking steps to embrace the technology and in some cases, even slow down its adoption.
You'll understand how 5G fits into the bigger geopolitical picture and how telecom giants and countries are trying to ink out the best deal for themselves.
Read the latest global 5G news through a political lens with some of our favorite articles such as How Trump won over Europe on 5G and how 5G is helping to spearhead Europe's Green Deal.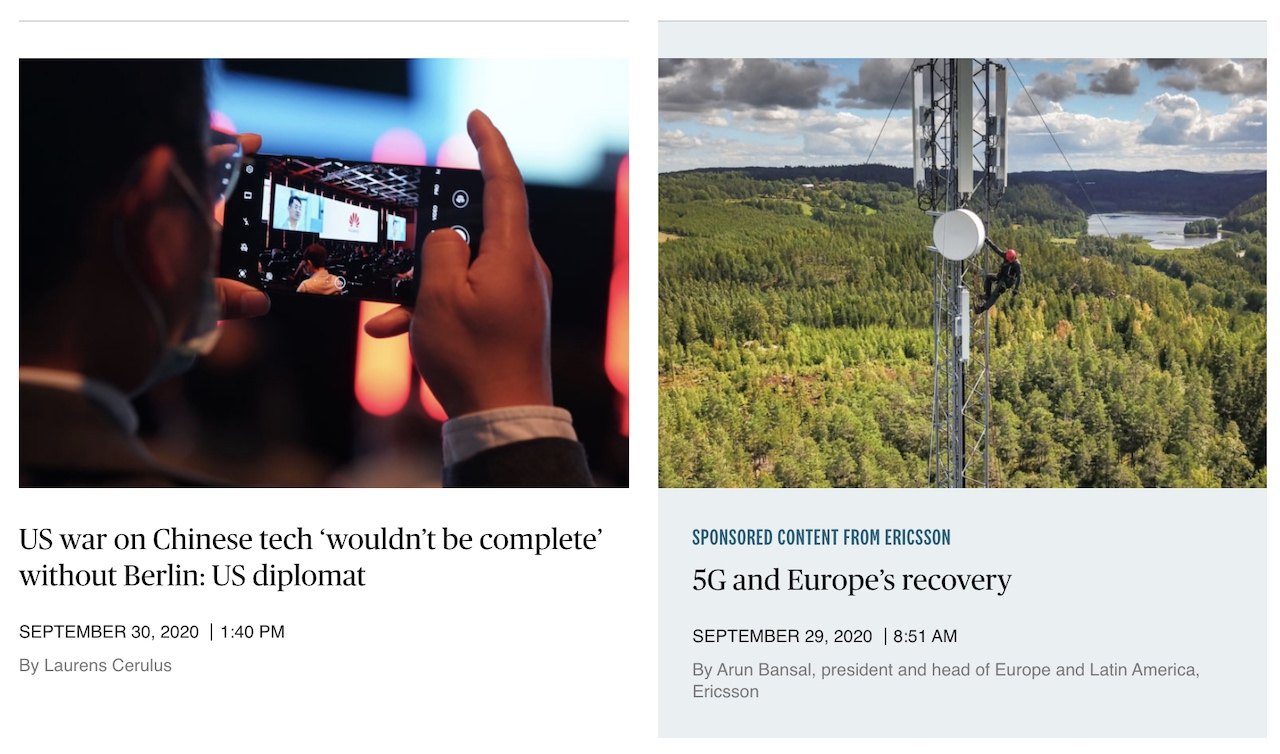 A household name in Singapore, Singtel is a key service provider for telecommunications services for businesses and consumers.
In 2020, Singtel launched Singapore's first 5G non-standalone network. The network taps into 3.5GHz spectrum and Ericsson's advanced Massive MIMO (multiple-input multiple-output) technology to provide ultra-fast speeds and low latency.
Ever since Singtel offered enterprises early access to 5G for trials, it has worked with over 20 enterprises and start-ups across areas such as virtual reality, robotics, artificial intelligence, and drones.  
To educate readers with the latest business and tech trends in 5G, Singtel's blog covers a range of content that also expands to cloud computing, IoT, digitalization, and cybersecurity.
Ready to get started?
Find out if your business is ready for 5G and how 5G will bring about a new omnichannel experience and change the way we shop in both online and brick-and-mortar stores.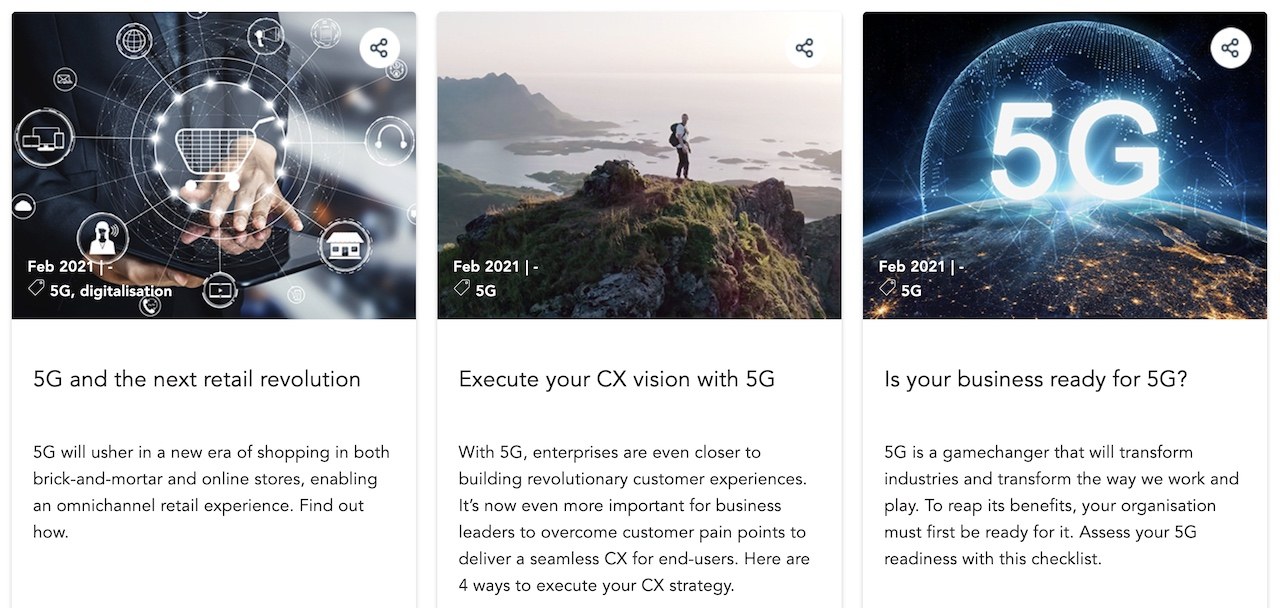 Headquartered in Stockholm, Ericsson is a multinational networking and telecommunications company. It is the first company to launch live commercial 5G networks on four continents. Also, its core solutions support 2.5 billion subscribers from 2G to 5G worldwide.
Apart from offering a suite of 5G solutions for businesses, Ericsson also discusses 5G in-depth via blog articles.
Dive deep into their insights and discover how 5G will transform sports event experiences, plus, catch a glimpse of what a 5G enabled workplace will look like in the near future.
If you are new to 5G or want a refresher on what it is and how it will revolutionize the world, be sure to check out Ericsson's 101 page that will enlighten you from start to finish.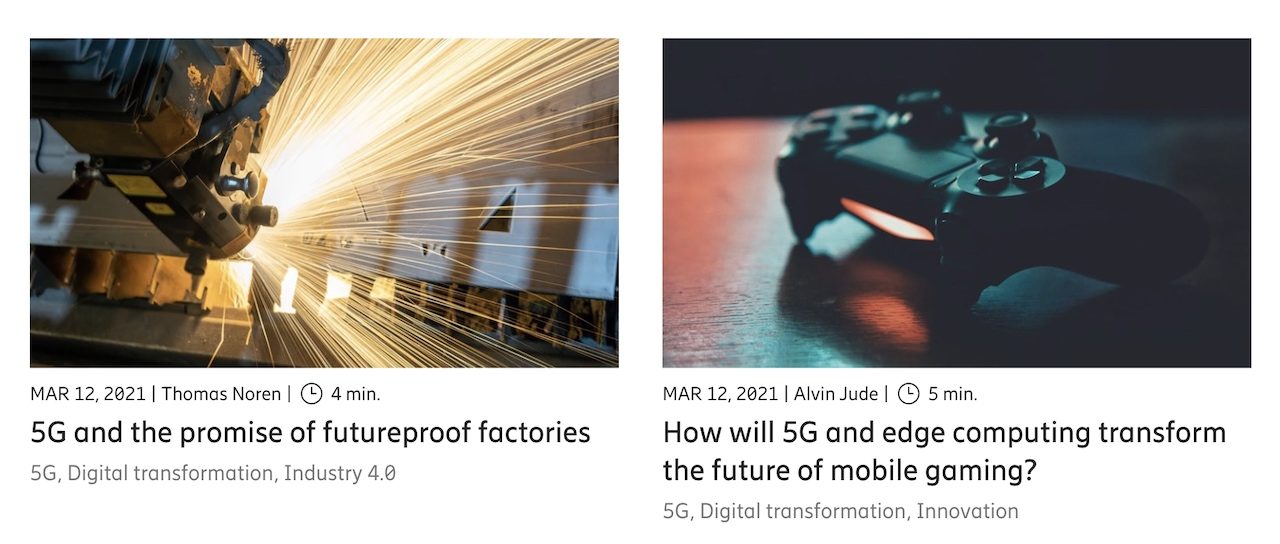 Huawei is not only one of the leading smartphone brands globally, but they also provide information and communications technology (ICT) infrastructure such as telecom networks and cloud services.
As one of the world's leaders in the development of 5G technology, the carrier works with international telcos such as the Saudi operator Integrated Telecom Company (ITC) to develop their 5G infrastructure.
Through its blog, Huawei aims to cement its thought leadership in the 5G space covering a myriad of topics from actionable guides to their 5G innovations and advances.
Unsure of where to start? Get started with these articles:
Vodafone helps companies with digital transformation by offering its expertise in connectivity, global scale, and leading IoT platforms.
While Vodafone is supporting its subscribers on its 4G network, it has also started rolling out 5G to a growing number of locations in Australia, the UK, and Europe.
When it comes to 5G thought leadership, Vodafone has both a blog as well as a dedicated resource page where you can enjoy discovering the applications of 5G around the world.
Start gaining a clearer understanding of the impact of 5G across different industries such as healthcare and even road safety solutions through the content on its blog.
Cisco offers a range of telecommunications equipment and is at the forefront of 5G tech development.
Cisco's ONE architecture is an automated, cloud-to-client, software-defined network for 5G. It enables enterprise and service providers to have more seamless deployments.
If you still have questions regarding 5G, Cisco has a helpful resource page that will take you through what the technology can offer as well as covering big topics in an interactive manner such as "5G vs Wi-Fi 6" as well as industry examples to monetizing 5G.
Be sure to also check out their blog for updated news regarding 5G from their panel of industry experts.
Get started and explore the advantages of new wireless technologies and find out if it's possible to have both openness and security in a 5G world, among other topics on its blog.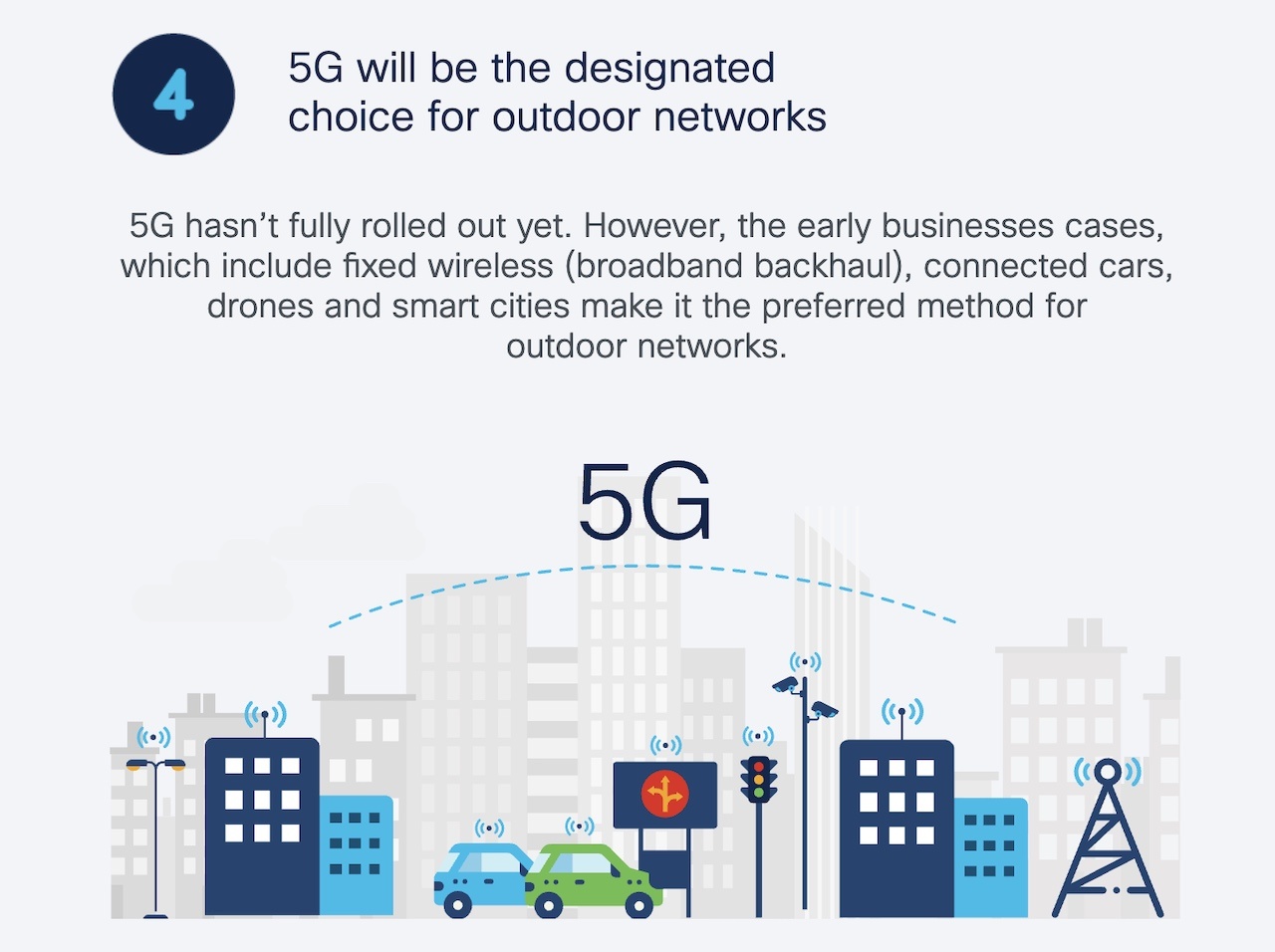 Most of us look at Nokia fondly and associate it with the older handphone models we used to have, in an era before smartphones took over. 
But did you know that it has been keeping up with the times and evolving – especially in 5G research and development!
It most recently pushed 5G into Ecuador and also got selected by A1 Austria to provide 5G coverage across the country for the next few years. 
To efficiently deploy and operate 5G networks with 5G services, Nokia educates readers about the benefits of 5G through blog articles such as modernizing port operations and the future of enterprise with 5G.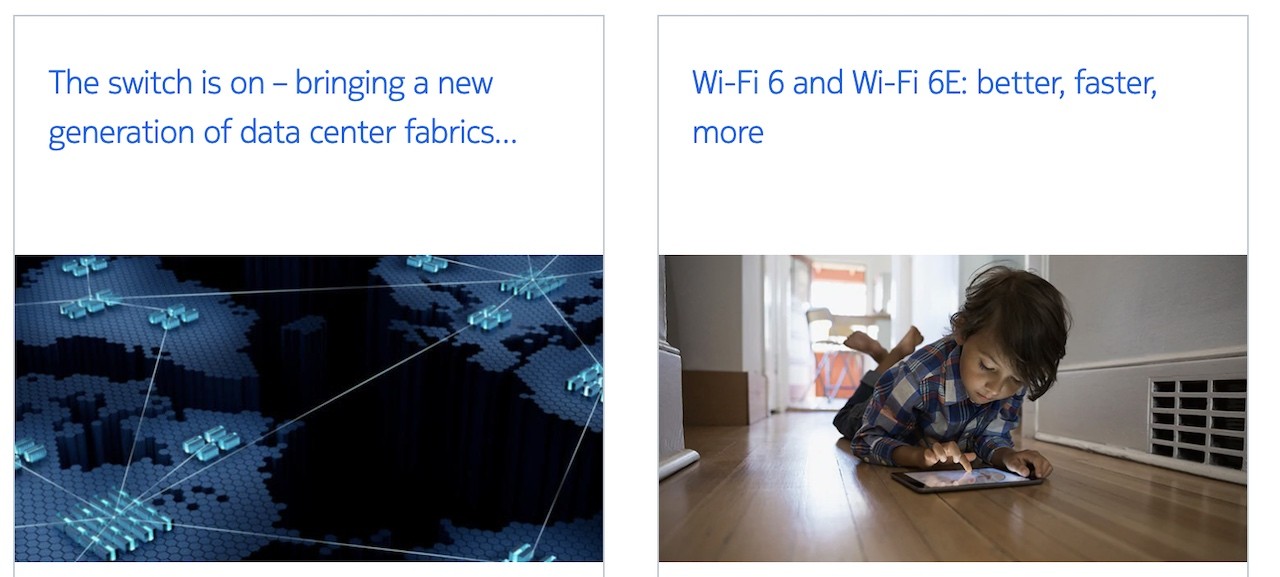 Samsung does more than just create smartphones, they have been researching and developing the groundwork for 5G for over 10 years. 
To stay relevant in the face of the evolving consumer tech landscape, Samsung has a range of products and services that are related to 5G. This includes the Galaxy 5G collection which consists of 5G-capable devices that can tap into Singapore's 5G network.
Be sure to read this page to learn how Samsung is taking 5G to the next level for the everyday consumer. 
Samsung's blog also features their latest developments and 5G breakthroughs for industries and society at large, so give it a read to stay up to date!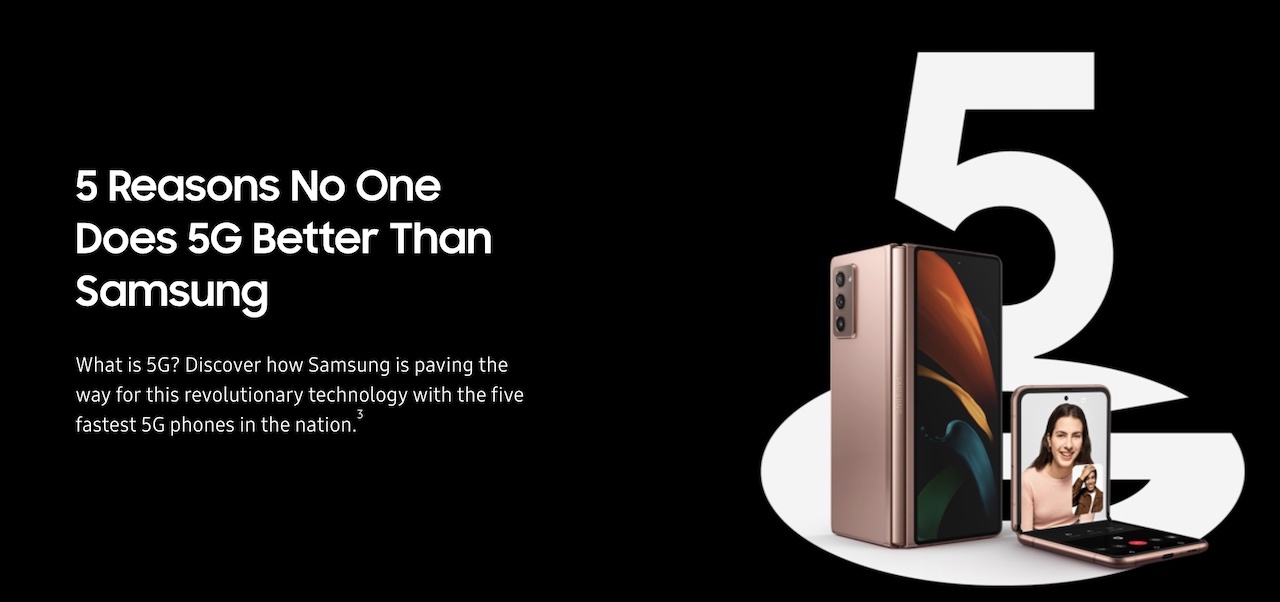 With an impressive offering of internet and data centers that power digital leaders including Google Cloud, Sennheiser, and Oracle, Equinix creates instant physical and virtual connections to a global ecosystem of almost 10,000 companies.
Equinix supports the advancement of 5G with its 5G and Edge Proof of Concept Center (POCC). 
The POCC provides a 5G and edge "sandbox" environment which allows cloud platforms, mobile network operators, technology vendors, and enterprises to connect with the biggest edge data center platform to test and speed up complex 5G and edge deployment. 
Some noteworthy 5G-related content on their blog covers the potential impact 5G will have in the future and how it will affect industries such as service delivery.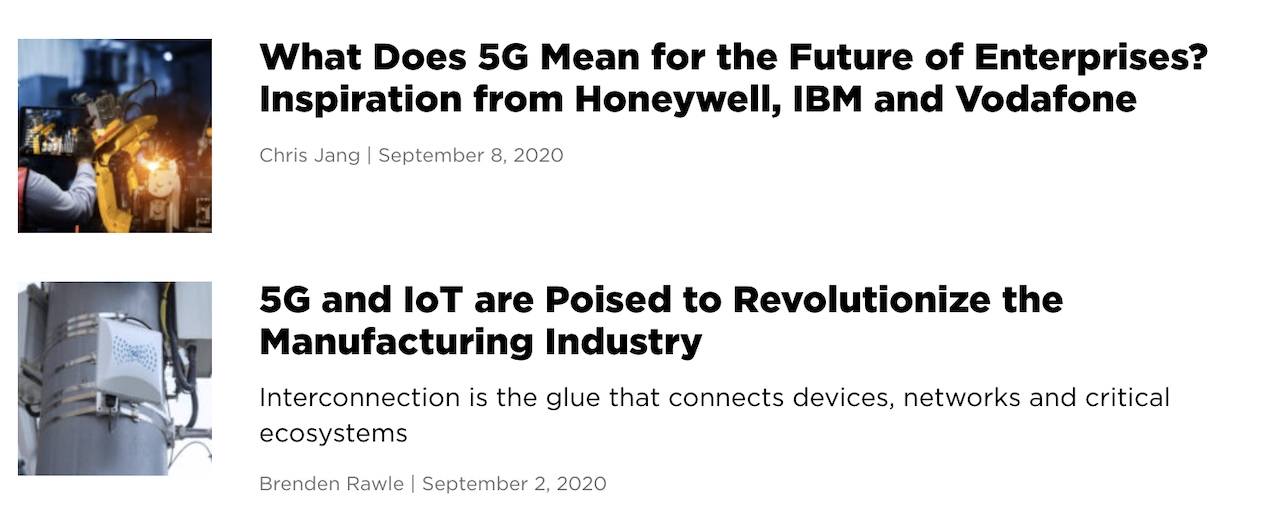 Established in 1985, Qualcomm creates software, semiconductors, and wireless technology services. 
It prides itself on inventing breakthrough technologies that impact the way we connect, communicate and compute. That means research and development into the future of telecommunications – 5G.
Qualcomm has been producing integrated 5G-enabled chipsets, such as the Snapdragon X65m which can power smartphones with support for 5G networks.
Watch this video to find out how 5G will advance for the next decade and learn about the key technology inventions that will drive the 5G expansion on their blog.
If you desire a more structured way to learn about 5G or other technologies such as Wi-Fi or LTE, be sure to check out their Qualcomm Wireless Academy.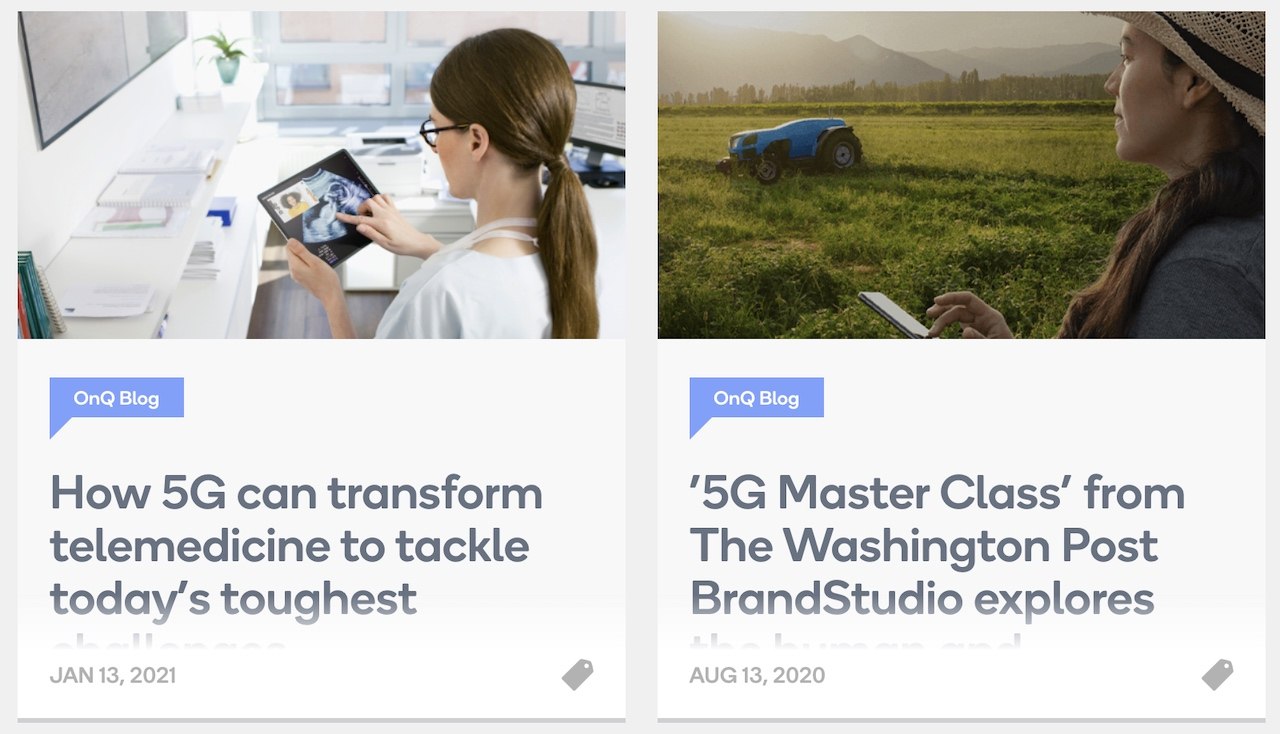 EXFO offers a range of software, equipment, and services that play a part in accelerating digital transformations and 5G deployments.
From 5G-specific challenges such as the 5G launch to new concepts including cloud transition and fiber, EXFO's solutions are designed to help consumers and enterprises overcome them. 
Through its blog, it addresses 5G benefits for consumers and carriers and discusses topics such as private 5G networks for connected industries.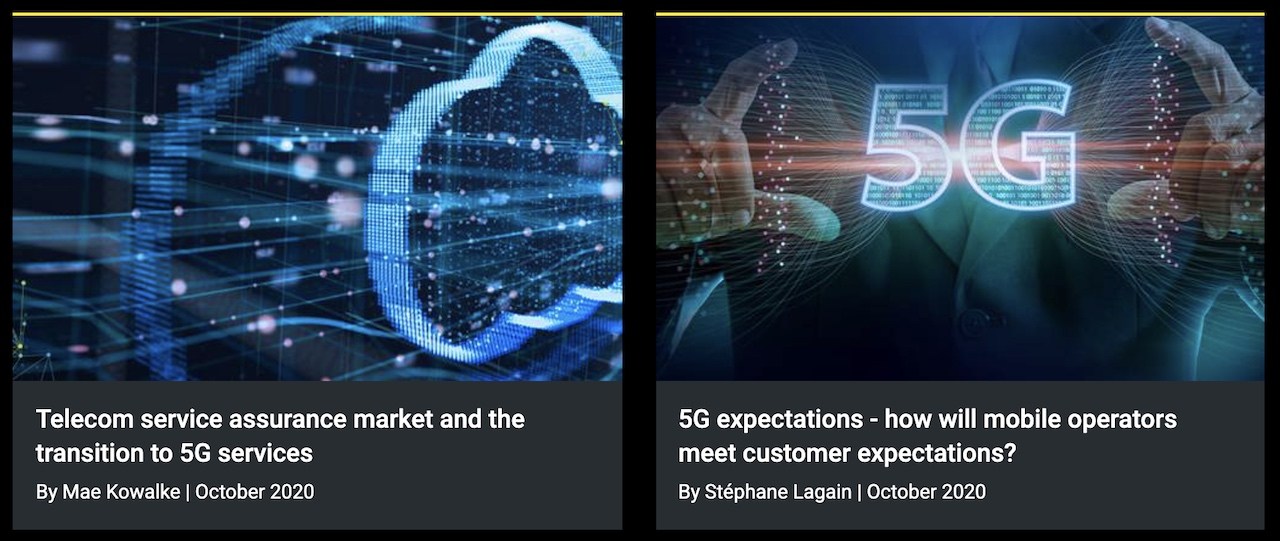 TATA Communications runs the largest wholly-owned subsea fiber network and its network carries around 30% of the world's internet routes!
It recently formed a partnership with Google Cloud to drive cloud transformation in India. Services that will be provided by TATA Communication include infrastructure modernization, multi-cloud deployments, data center transformation, and more.
TATA Communications's blog focuses on thought leadership on future tech, borderless growth, and how 5G will revolutionize productivity & efficiency.
Get started on their content with these articles: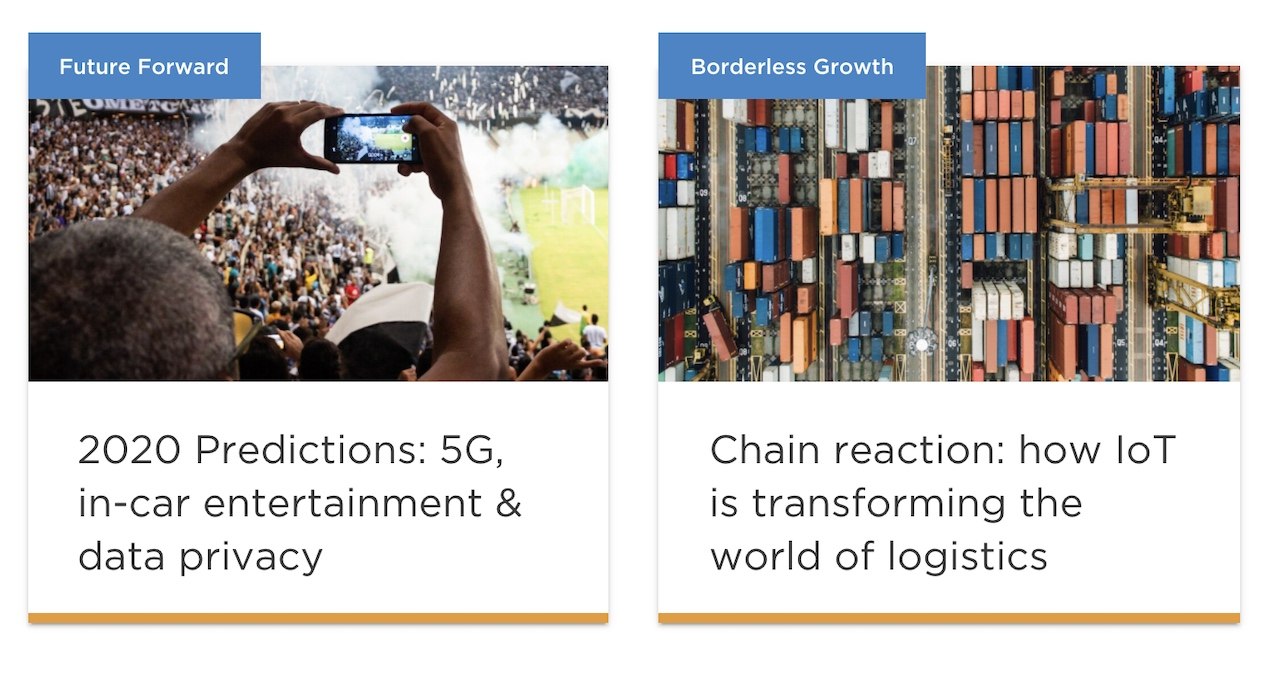 As one of the biggest telecom companies in the USA, Verizon is in full swing into providing the 5G coverage and solutions for both businesses and consumers alike.
They have an amazingly creative and informative page that explains 5G in a highly interactive and visual way that you have to check out!
As both thought leaders and practitioners in the field of 5G, Verizon shares insights into how 5G will change the way we live and how they are helping to make this a reality.
Be sure to read some of these articles that we absolutely love: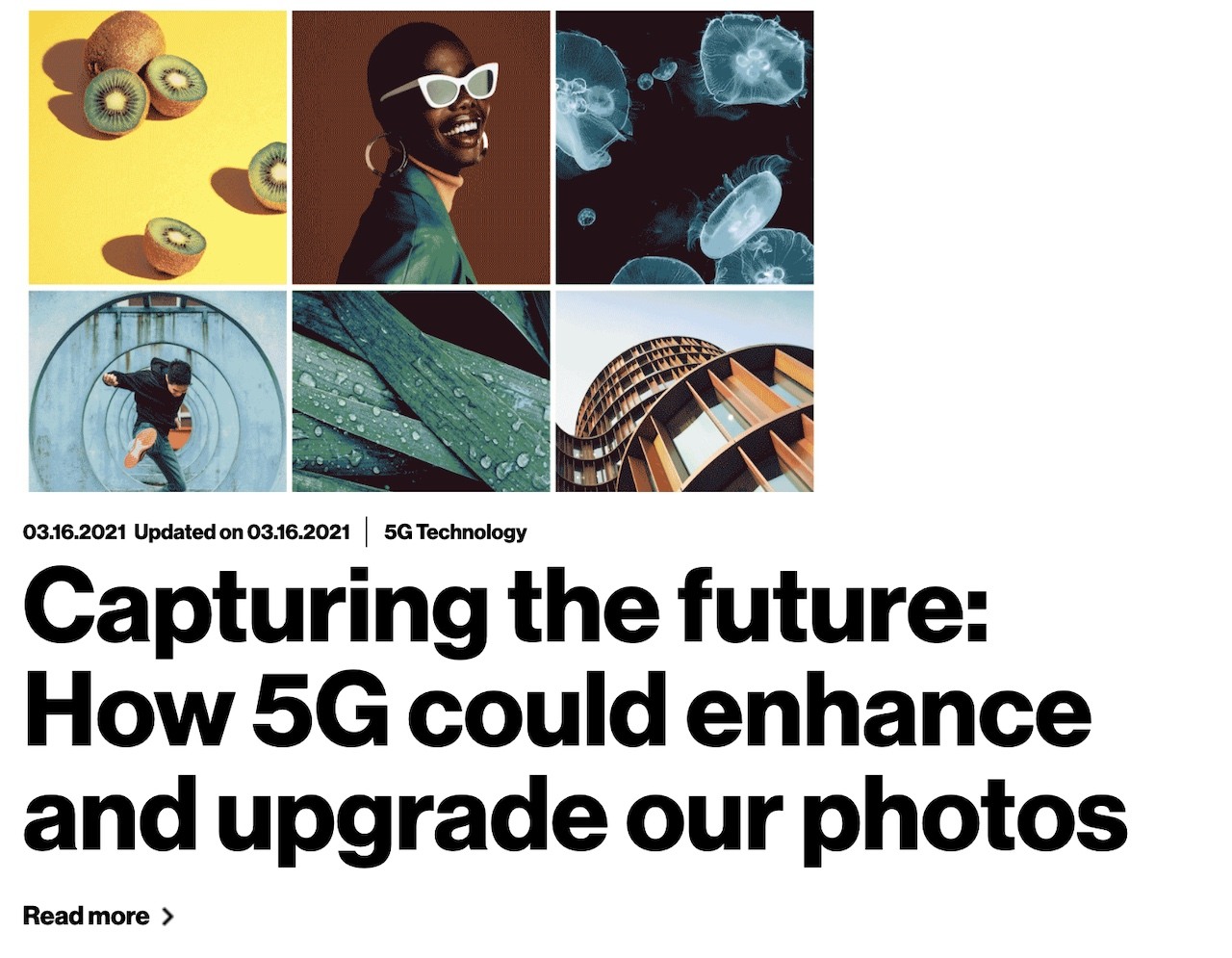 Prepare for A Future Powered By 5G
We hope that the above curation of 5G blogs will help you kick-start your journey into 5G and understand how fascinating and groundbreaking this technology will become.
Did we miss out on any amazing 5G technology blogs?
Drop me an email at sean@speechsilver.com and if it's good, we'll be sure to include it!
And if you are looking to create tech or B2B content for your brand, we can help!
Drop us a note here and we'll be in touch!