The Top 20 Business Intelligence Blogs To Read For A Data-Driven Transformation
January 24, 2021 | Sean Foo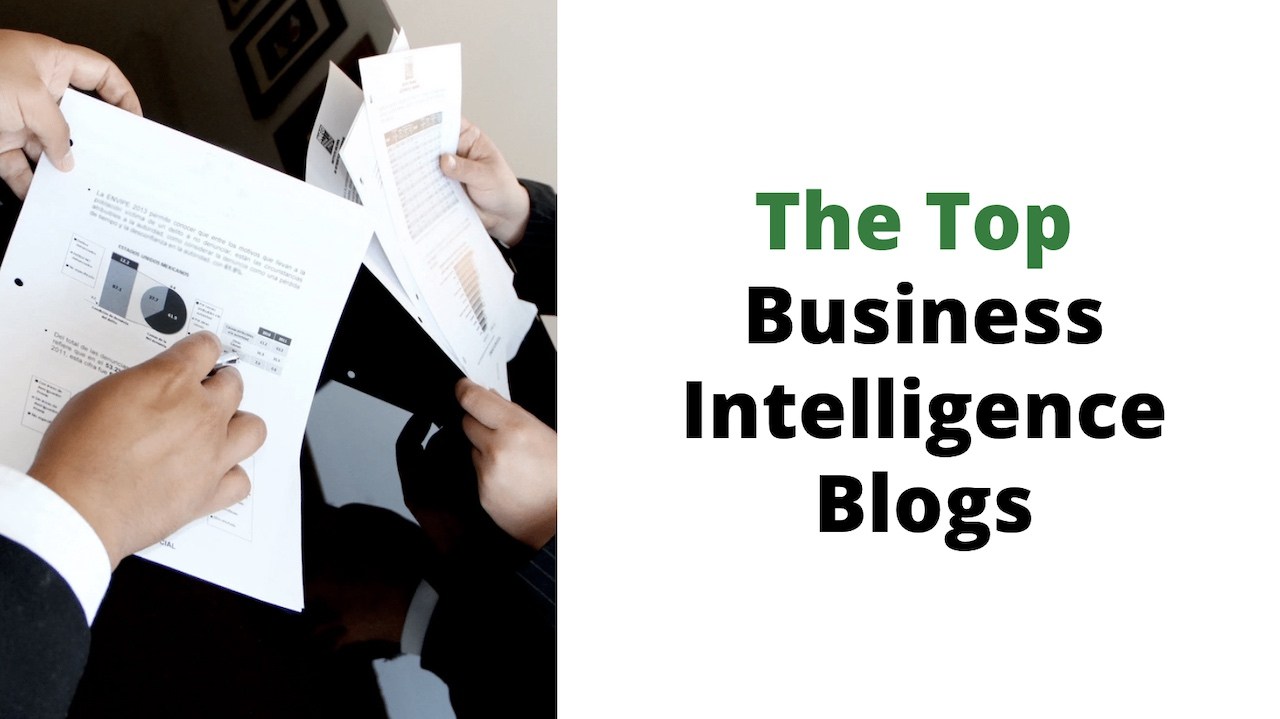 From developing innovative products to transforming an organization's productivity, the effective use of data through business intelligence (BI) is fast becoming the key for companies to stay competitive.
However, staying up to date with the latest trends, happenings and shifts in technology can get overwhelming.
Thankfully, we have compiled our top list of business intelligence blogs to help you gain insight into the world of BI with unique perspectives from independent research organizations, industry leaders and innovative companies.
Whether you are looking to transform your company into a data-driven organization or a current practitioner of BI, here are 20 blogs you'll want to bookmark!
Independent Publications
Some of the best content and thought leadership comes not from the biggest BI companies in the industry, but independent research and advisory firms.
They provide an objective view of the state of business intelligence, backed up with in-depth research and interviews from industry leaders.
As one of the leading thought leaders in business intelligence, whatever Gartner publishes, the industry listens.
Their Smarter With Gartner blog regularly publishes 25 articles and infographics every month and only requires readers to spend, on average, 3 minutes to read an article – perfect for busy business leaders.
Not only does the blog cover business intelligence, they cover a spectrum of key industries from IT and sales to supply chain and finance. 
What's more, for beginners, they have an IT glossary that anyone can search through to demystify any industry term that they come across or just to know the 'right' definition for it.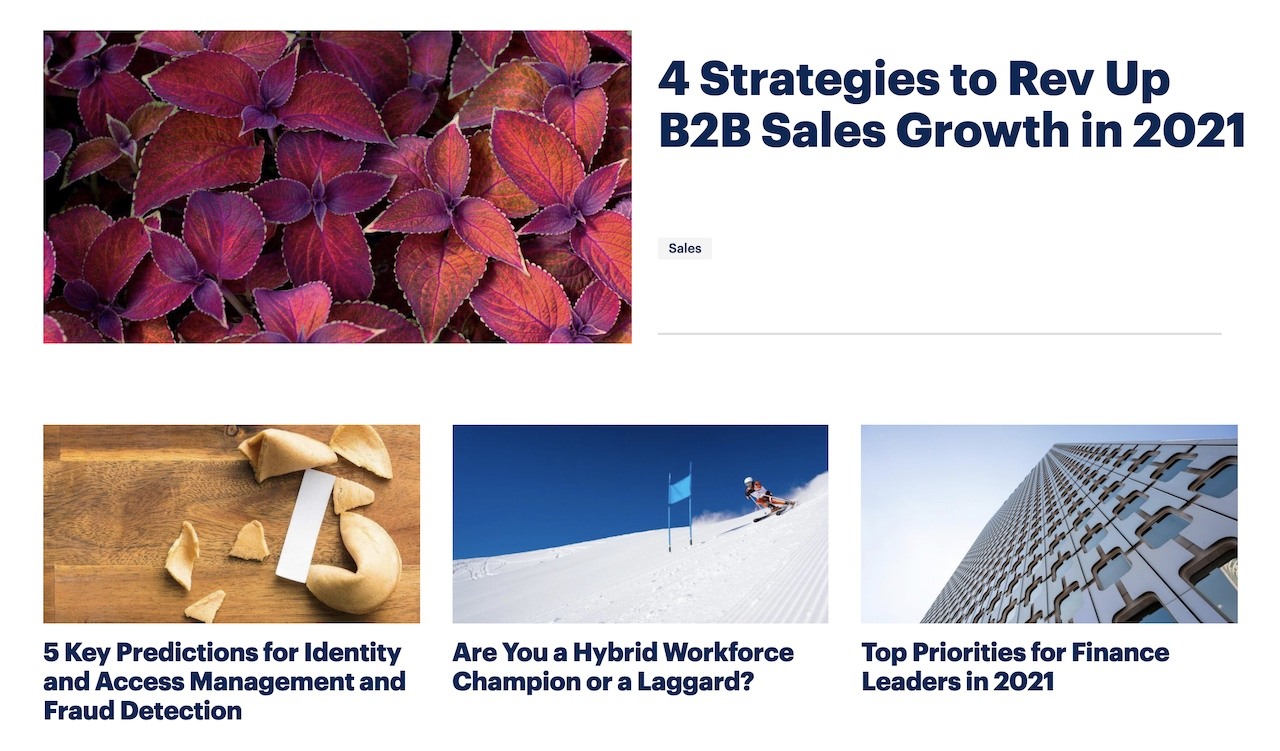 Here are some posts to get you started:
Why Data and Analytics Are Key to Digital Transformation
Gartner Top 10 Trends in Data and Analytics for 2020
p.s. With their ratings & reviews site, you can also learn more about the current BI platforms in the market and see what people are saying about them.
Ran by the Business Application Research Center (BARC), BI-Survey is a resource site and blog that is purely dedicated to business intelligence.
While other blogs might feature the thoughts and opinions of industry leaders, BI-Survey's articles and pages are researched using thousands upon thousands of survey responses spread across BI practitioners and data professionals.
Their blog covers a wide range of BI topics – from helping companies build a data-driven culture to comparison guides on the current analytics tool in the market.
And all these articles are heavily backed by up data from their extensive market surveys across the realm of BI.
But that's not all!
They have a comprehensive resource guide that breaks down all key elements of BI that every data professional should know into bite-size chunks such as "The Business Benefits of BI" and "The Current Deployment Landscape Of BI Tools"

With a readership including enterprise CIOs and management-level tech executives, CIO is where data professionals head to gain insight into the latest industry trends and strategies to develop their own knowledge base.
Unsurprisingly, they have a dedicated category for business intelligence on their blog covering everything from BI tool comparisons to how world events like COVID-19 are impacting the use of BI solutions.
If you are new to this blog, you'll want to definitely check out their CIO Think Tank section which changes regularly. Here, they sit down with notable IT leaders to discuss various opportunities, challenges and topics regarding technology.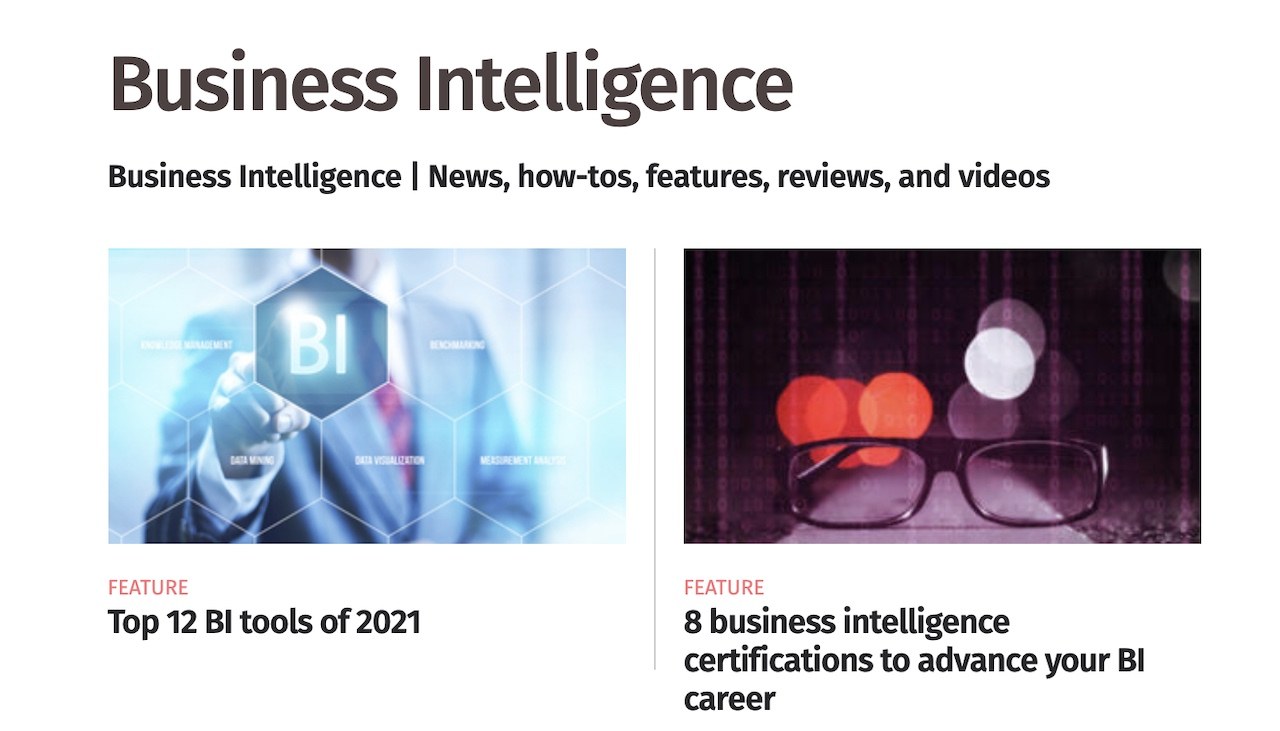 While not exclusively a business intelligence blog, MIT Technology Review features some of the latest article that weave tech with everyday events.
From the latest advancements in artificial intelligence and the rise of business intelligence to how pandemics and elections are affecting tech, their blog is a curation of how data & tech is affecting the world & vice-versa.
What makes Technology Review stand out is their monthly magazine that showcases articles around a single theme (such as innovation, food, power etc) 
They also have a range of free newsletters that send curated content straight to your inbox every week on big topics such as Artificial Intelligence, Space and the Future Economy.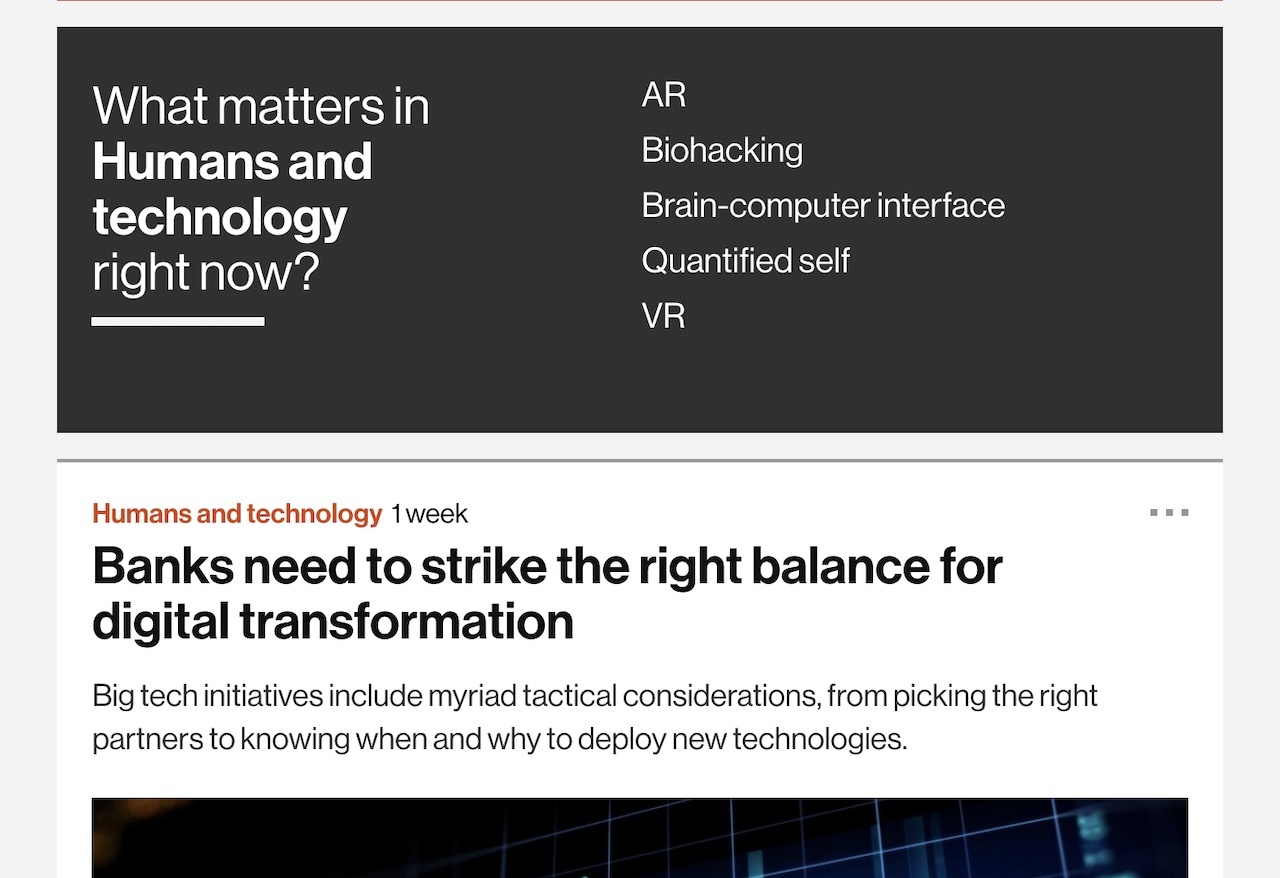 Forrester is a leading market research company that focuses primarily on technology and how it affects various industries and companies.
Their BI blog provides insight on a wide range of BI topics – from a helicopter overview of the industry to actionable tips and use cases of how companies are effectively using BI to transform their organizations.
While their general blog covers everything from general business insights that include marketing, digital transformation and how to better understand your customers.
If you are new to the blog, you'll definitely want to check out their yearly prediction page where they showcase their best insights and research on what's to come in business, the economy and tech.

When it comes to data-driven insights, the MIT Sloan's Ideas Made To Matter blog is one publication every business leader should read.
Developed by the MIT Sloan School of Management, the blog is a wonderful resource for executives in the data and analytics field to learn the current happenings in their industry and beyond.
With deep research backed by data and an academic approach to crucial business issues, the articles inject a fresh air of perspective into the world of BI and data analytics.

Some articles you should definitely check out:
How COVID-19 is disrupting data analytics strategies
How to build a data-driven company
How to build a data analytics dream team
As a publisher of educational content for IT professionals and experts, this blog dives deep into the concepts of the utilization and management of data.
From free online events to live webinars and white papers, this blog is a resource heaven for BI practitioners who want to get technical and learn from the ideas of veteran industry contributors.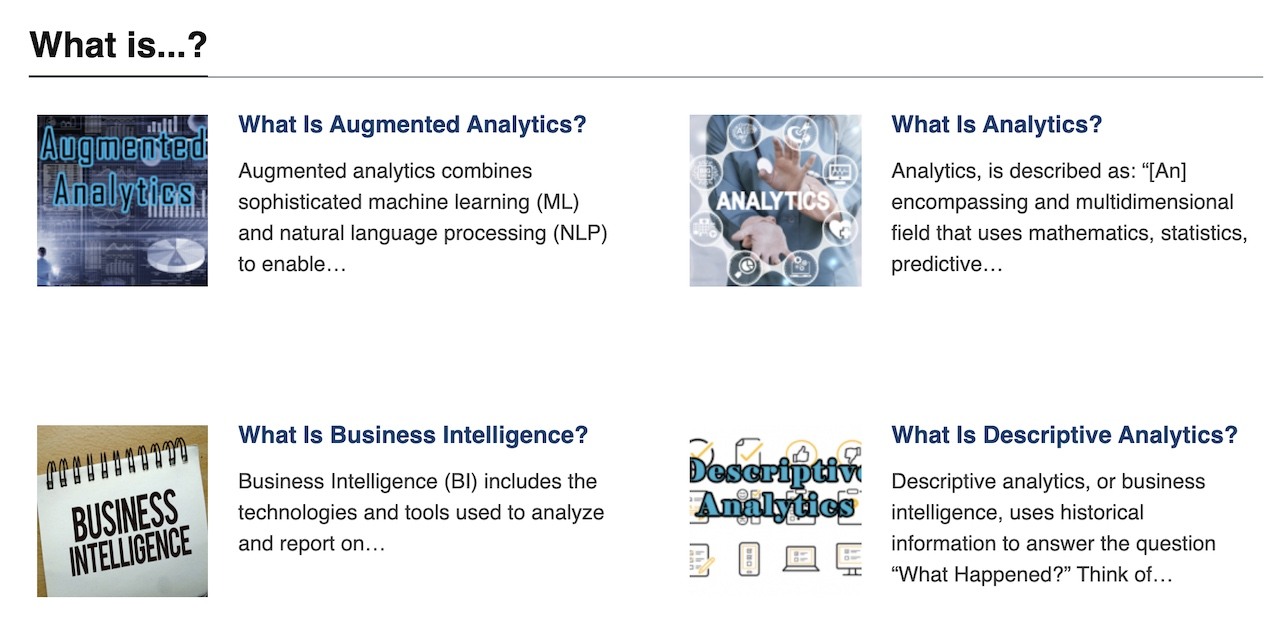 Check out two of their BI posts to get started:
A Brief History of Business Intelligence
Building a Business Intelligence Team with Confidence and Transparency
Business Intelligence Companies
From the big BI giants to the disruptors of business intelligence, sometimes the best insights come from companies that are actively changing the world.
Here's our pick of the best blogs from BI companies that are helping businesses innovate ahead through the power of data.
Founded in 2003, Tableau has grown from being just a science project at Stanford to be the predominant BI solution provider in the world.
With a community of over one million members and with a customer base that boasts many of the Fortune 500s, Tableau has first-hand knowledge of how corporations are using BI and what the future holds for the technology.
Their blog covers broad topics on how to create a data culture, the latest BI trends as well as how big brands are using BI in their organizations.
True to their efforts to provide quality content, the brand has a resource section packed full with training videos, blueprint guides and tutorials on how to build your very own visualizations.
Be sure to read their introductory article on business intelligence to get not just a comprehensive breakdown and how it works, but pretty helpful visualizations to help you see the big picture.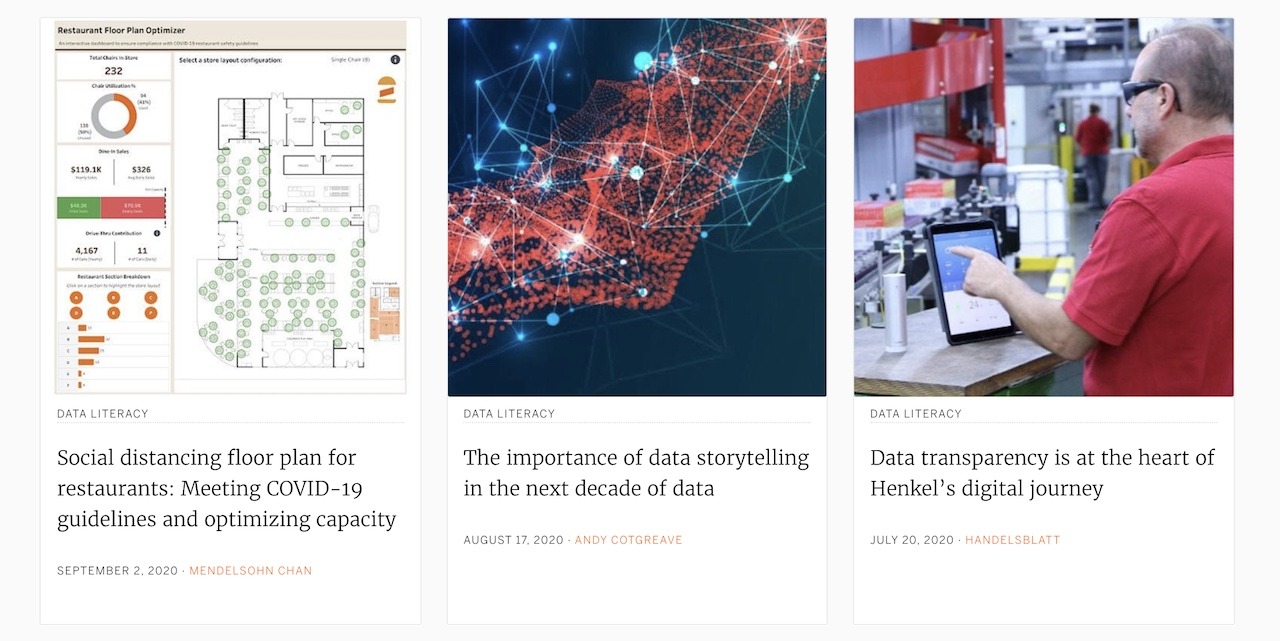 Sisense provides an end-to-end BI platform that caters to a variety of industries – from healthcare to retail.
That means they have an enormous amount of practical information and insights to share that are actionable and highly relevant to business executives looking to make better sense of data.
One great aspect of their blog is the breadth of topics they cover that speaks to business leaders, data practitioners and BI professionals.
Each blog post is actionable in nature and teaches readers how to implement data, BI or other analytic solutions into their organization.
But that's not all! 
For the junior BI executive (or anyone actually), they have an impressive glossary section that provides a world of education by itself, breaking down complex terms into bite-sized digestible chunks.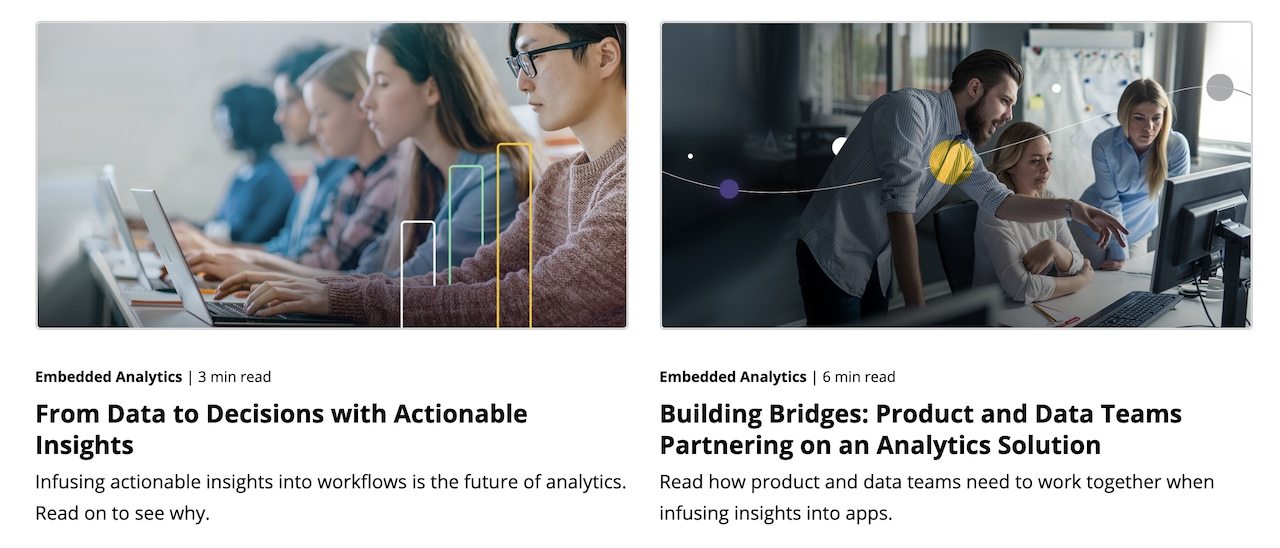 Here are two of their most popular posts to get you started:
5 Techniques to Take Your Data Analysis Methodology to Another Level
Data Science vs. Data Analytics — What's the Difference?
With a sleek and impressive design, the Qlik blog is a knowledge hub that covers a world of topics surrounding business intelligence – from its augmented intelligence technology to how various industries are utilizing it.
As a leader for the 10th year straight in Gartner's Magic Quadrant for Analytics & BI, Qlik is on a mission to transform businesses and society with data. And their content resources reflect their dedication.
Are you a CIO, CDO or just someone looking to learn more about the cutting edge of BI?
Then be sure to check out their Executive Insights Center where you'll be led to key articles recommended by the leadership of Qlik themselves!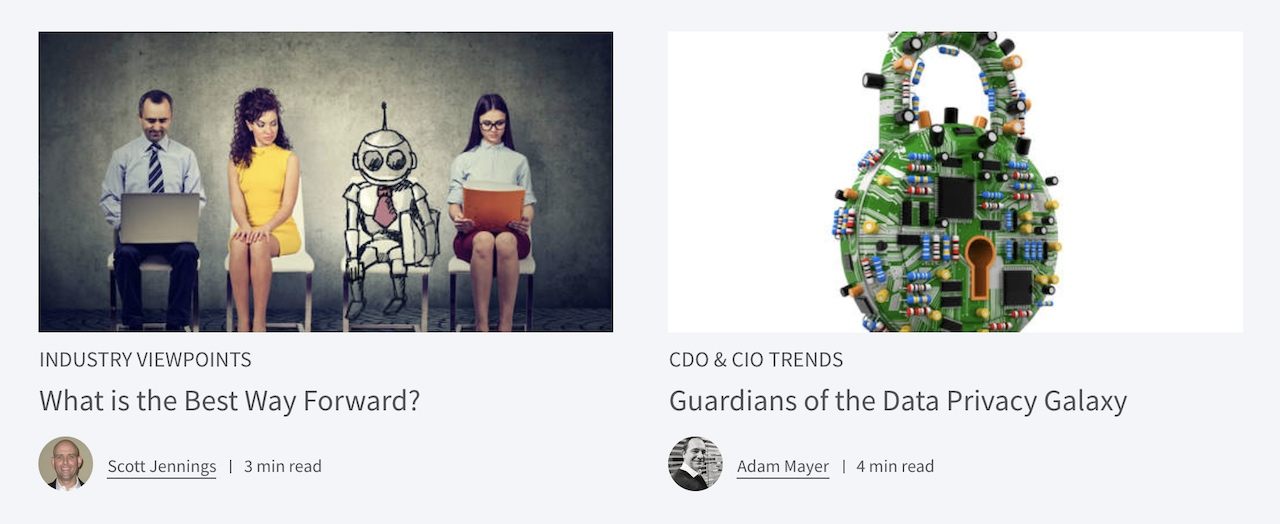 Here are two great posts to start with:
Essential Steps To Making Better Data-Informed Decisions
10 Eye-opening Stats About the Growth of Big Data
As one of the leading self-service BI tools around, Klipfolio takes their content seriously by not just creating articles surrounding BI itself, but they tackle topics to help solve challenges that their customers face everyday beyond just data.
From helping SaaS companies better track their metrics to assisting HR departments with their employee performance reviews, the Klipfolio blog is perfect if you want more than just BI-related content.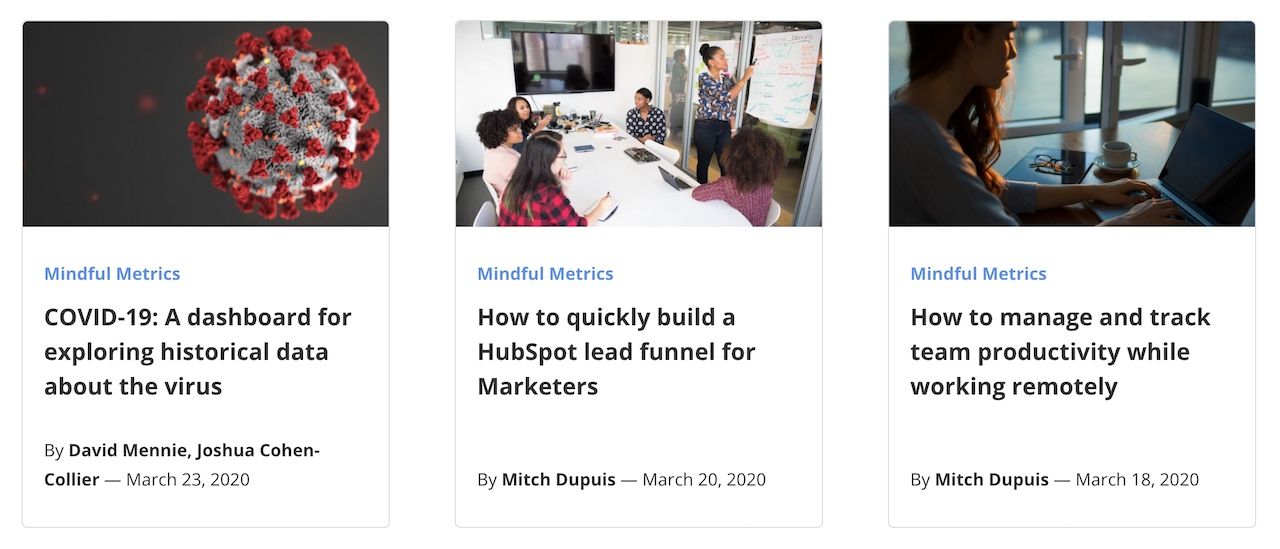 However, when it comes to BI-related content, they dive deep into the specifics of how successful companies are specifically using data to stay competitive. Plus the sprinkling of some customer success stories of course!
Here's one such story that we particularly love: Three Ways Unito Uses Data As Rocket Fuel.
ThoughtSpot is one of the top contenders in the BI space that has pioneered the search analytics space where you can simply gain insights into your data by asking search based questions – like how you use Google.
Their blog is split into 4 "mini-blogs", that is rather innovative, with each catering to a specific audience: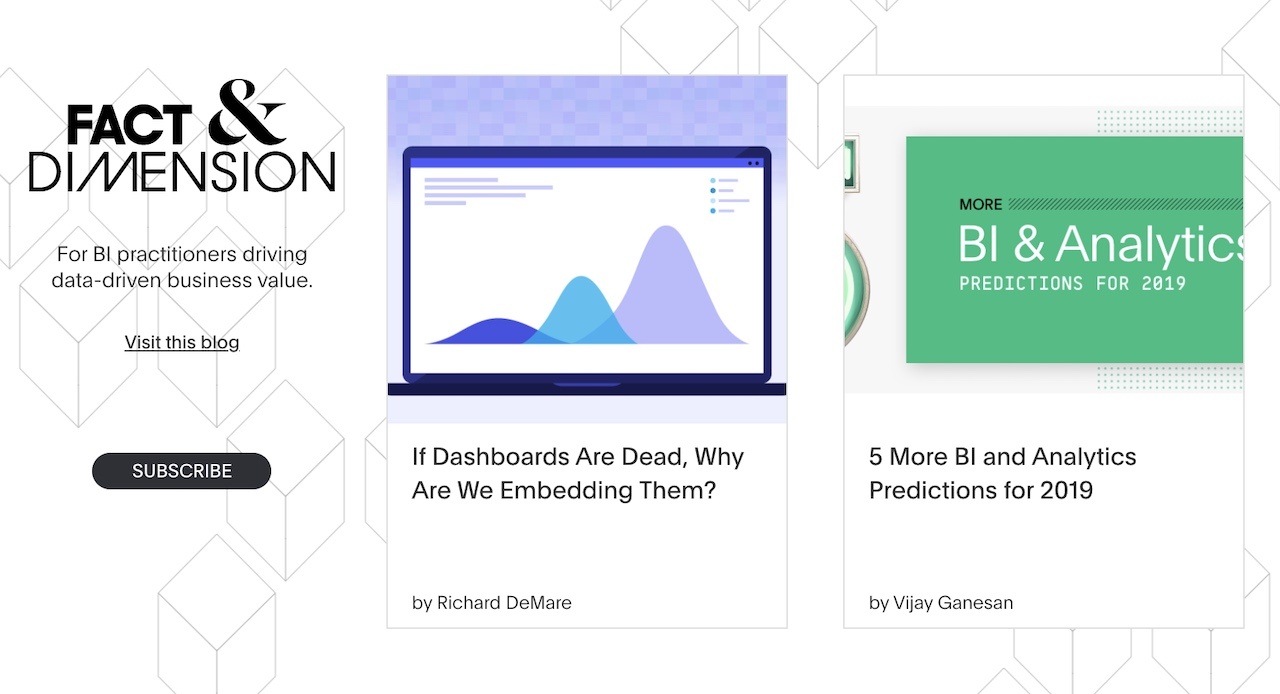 Wondering where to start? Here's two that you should definitely take a read:
Top 5 Concerns for a CDO (Chief Data Officer)
5 Things I Wish I'd Known about Business Intelligence
Unlike current BI providers that focus more on the self-service aspect of business intelligence, Unscrambl powers their solution with conversational analytics.
That means getting insights by simply asking questions to your data like how you would in a normal conversation!
Their blog helps educate readers on how their technology works as well as covers use cases of BI for a variety of industries – from Fintech to manufacturing.

Check out these blog posts to learn more about the future of business intelligence and how it applies to your business:
Natural Language Queries vs Conversational Analytics
The Future of Business Intelligence: Augmented Analytics-driven by AI
Domo is a company that developed a fully mobile, cloud-based platform that enables everything from data integration to business intelligence.
What we love about their blog is how they connect current happenings in the world, such as connecting the COVID-19 pandemic to the world of data and commercial enterprise.
For BI practitioners that want a deep dive into all of their content, you can effectively browse through all of their content (from ebooks to videos to articles) over here. You'll be pleased to find a treasure trove of tips and strategies to use data to better your organization.
Here's one story about data and sports that you should check out: The Man Behind Moneyball: The Billy Beane Story.
But wait, there's more!
Domo has a novel video series 'Curiosity' that goes through how data will be powering a post-COVID world through discussion panels with leading data & strategy experts in successful organizations.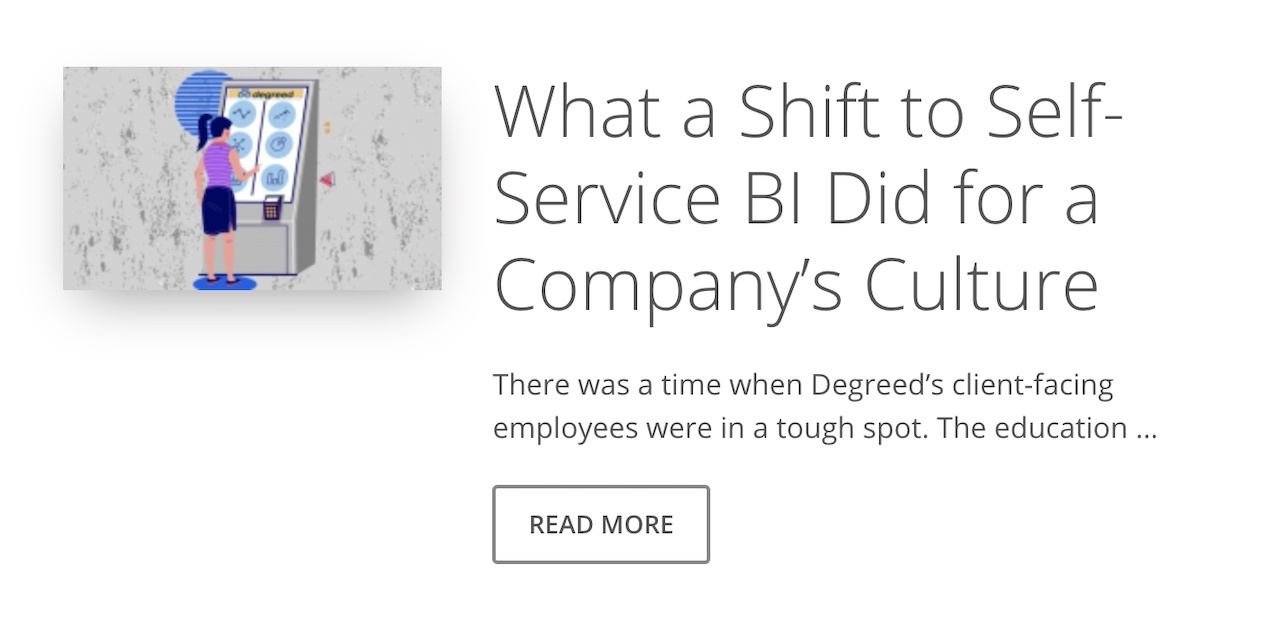 With a mission to transform data into intelligence globally, SAS institute's blog covers an enormous range of topics from the beginner level to the advanced practitioner.
From machine learning to artificial intelligence and data visualization, the SAS blog goes through key concepts of topics revolving around business intelligence that you should check out.

Here are two of our favorites:
Don't be misled: How to interpret data in infographics
8 trends to watch for analytics in 2021
As one of the earliest business intelligence and analytics companies (founded in 2003), Yellowfin brings together a wealth of insights on their blog.
Covering a wide spectrum of BI topics from analytics to data storytelling – something which isn't very well covered in other publications.
If you are more of a video person, they have a host of webinar sessions that teaches you key concepts such as how to tell stories with data in an instructional and step-by-step manner.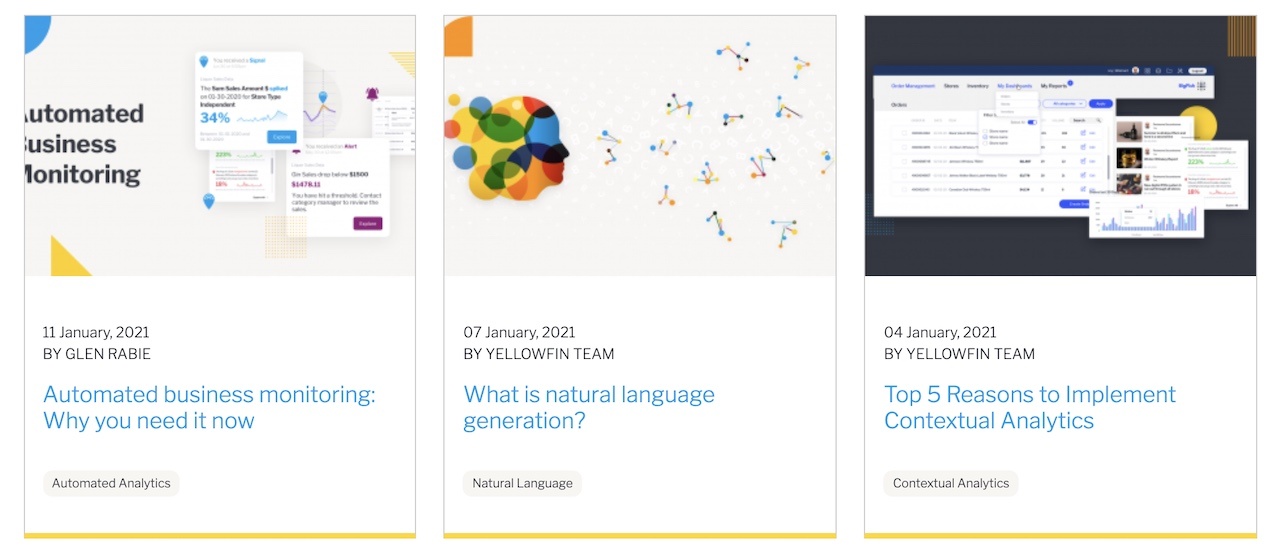 Here are three posts you should read to level up your BI game:
Show me the data. The importance of Data Storytelling in an uncertain world
How to create a data culture through data storytelling
The importance of Collaborative BI in a more 'remote'​ working world
Part of Google Cloud today, Looker is a BI tool and big data analytics platform that brings the industry unique insights with their blog.
Because of their incredible network and ability to analyze data across Google Cloud & other cloud environments, they have access to top executives and data professionals in the industry.
That means many of their insights published on their blog are fresh, highly relevant and never seen before content – especially the stories on how companies are effectively utilizing BI to transform their organization.
Here are two posts to read up on:
How Cisco built a data-driven culture at scale
Chartio is a company that primarily focuses on making data understandable through charts – powered by their self-service BI solution.
Starting with visual SQL charts, the company has moved on to create a full business intelligence platform with a focus on dashboards and visualizations.
Unlike the majority of BI blogs, their 'Off the Charts blog' concentrates the conversation around data analytics and data governance, giving readers a more concentrated view of this section of the industry.
If you are new to their blog, you'll definitely want to read their Interview Articles where they have deep data conversations with executives from inspirational companies including Uber, The New York Times and Airbnb.

Here are two selected posts for your reading enjoyment:
How to Create a Data Culture without a Data Team
A Step-by-Step Guide to BI Reporting
The Datapine blog doesn't just cover topics and concepts on business intelligence, it is actually extremely broad-based and goes beyond just tech.
Because their BI solution is being used by so many industries, from logistics to retail, their content aims to tackle a variety of challenges their customers are facing that goes beyond data analytics.
If you are a beginner to BI, there's something for you too!
They have a master article on KPIs that you should check out, after all, you don't know what your KPIs are (or what even is a KPI), then even the best BI platform can't help you!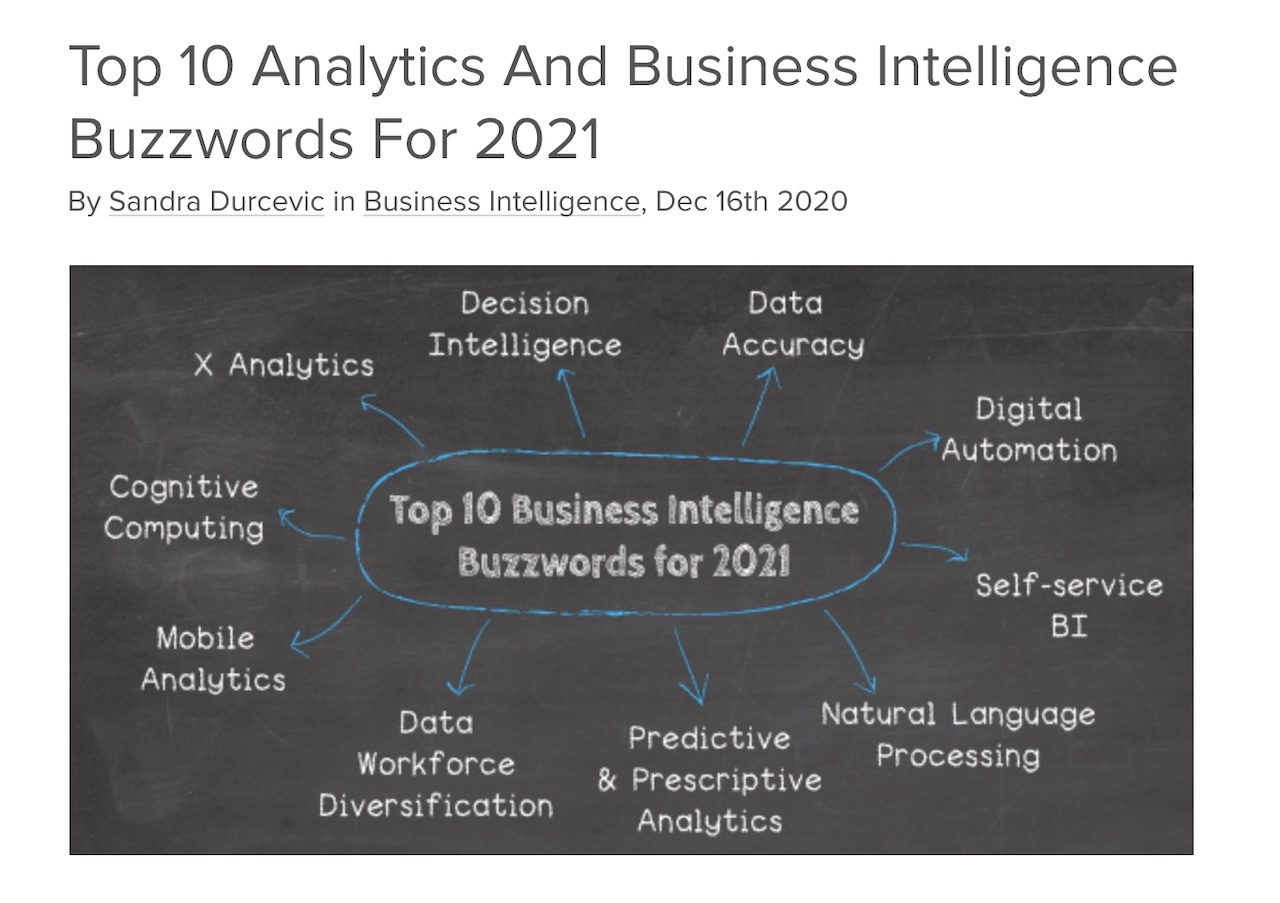 Here are two of their most popular posts to check out:
Your Modern Business Guide To Data Analysis Methods And Techniques
Misleading Statistics Examples – Discover The Potential For Misuse of Statistics & Data In The Digital Age
When it comes to business intelligence and big data knowledge, IBM has perhaps the most compelling contact backed up with unique insights and research with their Journey To AI blog.
There's even their Making Data Simple podcast available there that discusses how organizations can understand and use data better.
From data professionals to BI experts and even the casual reader, this blog is a treat for anyone and everyone truly looking to understand how data impacts the world.
For the business intelligence crowd, they have neatly organized all of their BI articles into their 'Organize: Business-ready Analytics' section that you should check out. 
Covering everything from monetizing your data to best BI practices, there's something for everyone to level-up their knowledge.

Here are two articles that we recommend to start off with:
How trusted AI helps you gain a competitive advantage
The rise of decision intelligence: AI that optimizes decision-making
To be honest, you probably didn't expect this, but the casual BI community (over 65,000 members strong) on Reddit is a great place to get water cooler conversations and a ground-level look into business intelligence.
Not only will you learn about the most popular challenges facing people working with data, but you'll also unlock a treasure trove of daily problems they face.
It's a great source for inspiration if you are creating BI content and a hilarious place to see memes revolving around data-driven frustrations.
Is There Another BI Blog Out There?
Let us know if you have a business intelligence blog or resource that we should include on this list.
Simply email me directly at sean@speechsilver.com and I'll check it out and put it on this list (if it's worthy enough of course)!
And if you are looking to develop BI or tech content for your business, contact us here and we'll be in touch!