The Ultimate Guide To Writing Landing Page Copy That Converts
January 19, 2019 | Sean Foo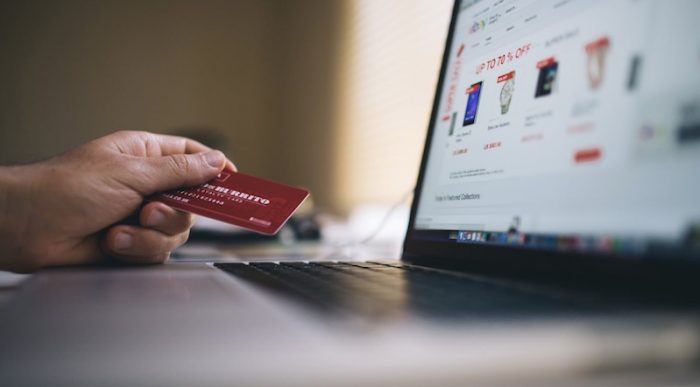 Here's a secret, at least 30% of my business comes from helping businesses big and small write up their landing page copy.
Yup, not content marketing, not your standard website copy but landing page copy.
You might be thinking…what's so great about landing pages and why must they be well-written?
Well, lets firstly establish some important facts. If you are looking to create a landing page, 90% of the time its because it is part of a larger digital marketing strategy.
That means:
You probably have a monthly marketing budget of thousands of dollars (or more) you are about to spend.




 

You will be driving paid traffic to the landing page in hopes that the reader will take action and buy/sign-up/download your product or service.




 

You want a predictable return on your investment. eg. For every $1 put into this marketing, $2 of revenue is earned.




 
Your landing page is the first thing your prospect will see the moment they click your ad. Within the 10 seconds, they will decide if your product or solution is a good fit for them.
If it is, they will read on more, if not, they will just disappear for good…never to return!
Serious businesses know this and that is why a lot of attention is paid to the quality of their landing page copy.
Businesses don't just come to us and ask for a write-up…
What our clients pay for and expect is:
A well angled and unique selling position that brands their product as the ideal solution and their business as a market authority.




 

A memorable story that connects with their prospect, allowing them to stand head and shoulders above the competition.




 

A compelling offer that makes the prospect eager to place an order, even when the product isn't out yet!




 
A well written & compelling landing page copy not only helps boost your conversions leading to increased sales or signups, it also helps maximise your marketing and ad-spend dollars!
There might be nothing more painful than throwing tens of thousands of dollars into marketing your awesome killer product before realising that the sales aren't converting and you burning a huge hole in your marketing budget.
A well-written landing is a journey that guides your reader through your product.
The journey not only educates them about the benefits or features of your solution, but also speaks to them on how it helps solve their personal challenges while building trust in your brand and business.
Your Landing Page Has To Accomplish 3 Essential Objectives
1. Capture & Hold Their Attention
Capturing and holding a reader's might sound simple, but it is actually quite a challenging task to accomplish.
Everyone nowadays (myself included) has the attention span of a fly. If we read an article or view a video, it only takes 5 seconds or less before we either get hooked and finish it to the end or immediately close it and swipe to the next piece of content.
In order to attract and hold your reader's attention, your landing page will have to possess a strong headline with a compelling value proposition.
The key here is simply to get them to know your landing page holds value and be keen to read on.
2. Convince The Reader & Build Trust
This is where most marketers or sales copy tend to drop the ball.
Many businesses tend to either go on a features showcase about their product and listing every single reason about why it is so awesome or swan dive solely into the benefits of the solution.
While these are essential components that you must touch on, it just building blocks of a bigger picture…and you need a bigger picture to build trust and convince your prospect your solution is effective, credible and made just for them.
We are talking about letting them know they have a challenge in their life that needs to be confronted and that by solving it, life will improve tremendously.
It is about forming strong emotional connections with your prospects by letting them identify with your business and the story of how the product came to be.
It centers around why they should go for your brand and not another solution what is just another mouse-click away.
3. Make Them Take Action Immediately!
In sales, you need to be closing the deal at the end of the meeting or all your previous efforts in the sales pitch are essentially wasted.
The same goes for the final section of your landing page. You need to close the sale with your reader.
A.B.C. Always Be Closing.
Now, getting your prospect to buy or signup isn't about just slapping a Call-To-Action 'Buy Now Button'. That might have worked 10 years ago, but not today. It goes deeper than that.
It is about making your customer not just comfortable enough to pull out their credit cards, but also urgent enough to immediately place the order within the next 5 minutes.
It is a proven fact that once your reader leaves your landing page, the chances of a sale happening has dropped by more than 50%.
You want them to take action to buy now. Not tomorrow, not an hour later, but now!
The Anatomy Of A High Converting Landing Page – A Formula For Success
From the AIDA (attention-interest-desire-action) format to starting the landing page with a client testimonials, there is a multitude of ways that you can go about it.
Each strategy might work a little better or a little worse for each individual scenario, but let me share with you the format that we use in SpeechSilver for our clients.
A time-tested formula that is effective no matter the industry you are in or the product you are selling:
Showcasing The Value Proposition

The Perfect Life

Benefits & Features Showcase

Addressing Fears & Objections

Presenting The Perfect Offer
If you follow this format to the letter, there is a phenomenal chance that your landing page will become a conversion machine that turns traffic into sales and sign-ups!
1) Showcasing The Value Proposition
The value proposition on your landing page is the first thing your prospect is going to see.
It is also known as the master headline and quick description of your landing page and is usually no more than a one-liner to a few sentences that:
a) Tells your prospect exactly how they can benefit
b) Leave some room to wonder if the product is really that great
c) Showcase quick credibility to build some trust
Russell Brunson, the founder of ClickFunnels, uses this exact formula for marketing his highly popular DotComSecrets book online.
He immediately captures the reader's attention with the claim of a FREE Book that helps to grow your company online.
Something that helps to grow your business and it is free? Is this even real?
But before you dismiss it as yet another empty claim from another marketer, he throws in a powerful testimonial from a BIG authority figure, Tony Robbins (the international motivational and business guru).
This causes people to pause and think "Wait a minute, this might be legit…let me read on."
Mission accomplished!
The value proposition's main goal is to compel the prospect to read on.
MailChimp, the world's biggest email automation platform, essentially uses the same exact formula but in a slightly more classy way which is less 'in-your-face'.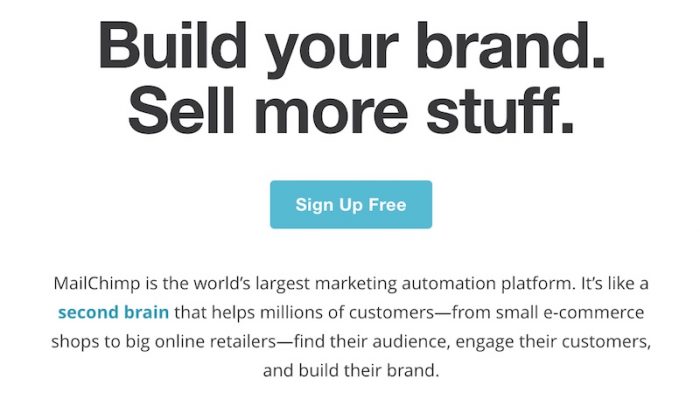 The value proposition is as clear as day: 'Build your brand and sell more stuff' and leaves no doubt to the big benefit the prospect can enjoy from MailChimp.
While you might be tempted to explain how this is done, don't.
The justification can come later in the landing page copy, the point here is to compel your reader with a strong enough reason to read on.
MailChimp does this in spades by injecting doses of credibility in their quick description mentioning being the world's largest platform as well as the millions of customers they serve.
Excellent weaving of social proof into their value proposition.
2) The Perfect Life
Now that you have gotten your prospect's attention, the next step is to immediately get their interest by projecting the end goal they desire.
Every one of your prospects has a challenge they are currently facing, that is exactly why they are looking through your landing page.
Either you caught their attention advertising on social media or they did a search on Google to find a solution.
They know they have a problem and that is what the next part of your copy has to address.
When it comes to gaming, perhaps no one knows their audiences better than PlayStation.

While it is very obvious gamers are looking for awesome graphics and an incredible experience, spelling it out would just seem quite silly.
Cutting edge graphics is just a feature and not the perfect life they seek. We have to dig deeper – why do gamers spend hours and thousands of dollars to buy these gaming consoles?
It's because they want to escape reality and experience something not possible in the real world. PlayStation nails it on the head with the sentence 'Exclusive games take you on incredible journeys.'
Quickbooks is a popular accounting software and it's easy to see why.
When business owners go around looking for accounting software, the main reason isn't just to quickly send invoices or to store their sales record…
The ultimate aim is to track the financial health of their business, after all the complex calculations are done, how is the business going?
Quickbooks presents the 'Perfect Life' to their readers, showing them exactly what they want to hear.
3) Benefits & Features Showcase
Some sales copy choose to focus only on their product benefits thinking 'It is what the customer seeks, after all, they won't care about the components or what it takes to deliver that benefit.'
Other marketers choose to only list down every single feature without a hint of benefit (this happens A LOT in tech products), this leaves your prospect scratching their heads wondering what is in it for them.
The best landing pages for almost every product comes equipped with a benefits and features showcase. You need both to close the sale.
Benefits are needed to quickly emotionally connect with your prospect, letting them know the payout of your solution. It is an enticement, showing them your product knows what they want and can offer it.
But benefits alone aren't enough, especially in 2017. You need to justify them.
"Send 100 times more email than before with incredible open rates of 70% and above!"
Now while this benefit sounds really incredibly powerful, you might be wondering…'Is this real? How can it be possible?'
Let's say now I rewrite the product description with a few features inside.
"Send 100 times more email than before with incredible open rates of 70% and above! – Powered by our mailmerge technology with auto-customisation capability, send your best email today!"
Suddenly the benefit claim becomes much more credible and justified. Most importantly of all, you start to believe and trust the product, and that is the point!
Campaign Monitor quickly communicates their benefit of result driven emails to their prospects before justifying with a feature, beautiful email templates, that accomplishes that benefit.

It is important to note that both benefits and features work in tandem to support each other.
Just mentioning the benefit of an 'Award-winning customer support' will sound like an empty boast while only writing own the feature of around the clock global support will leave the reader wondering 'so what?'.
By cleverly using both benefits and features, you are setting up a powerful combination that not only makes your product look desirable but credible as well.
4) Addressing Fears & Objections
Copywriting for landing pages is an online sales pitch, and in any pitch you will have to address the objections your prospects have for not buying.
From:
"I can't afford it at this price"
"Can I pay for this service in instalments and not one big lump sum?"
"I'm not sure if I will have the time to set this system up"
"Is this company credible? Do people even trust them?"
No matter what you are selling, every prospect your page encounters will have his or her own fears and objections that is preventing you from making that sale.
The key here is to identify the most common objections you will face. Now this can be done using a variety of methods including:
Consolidating all the objections and questions asked during your real life sales meetings.

Looking through discussion forums such as Reddit and Quora to understand the difficulties of your average customer.

Scanning through customer reviews of your competitors (and your own of course!) on Amazon reviews, Google reviews as well as Facebook comments.
Once you have discovered the most popular objections of your customers you can then take effective measures to address them directly on your landing page.
One of the biggest issues in the Saas and technology software space is having prospects to make a purchase online and this runs into quite a bit of trust issues.
Basecamp solves this credibility issue with two powerful social proofs that flow nicely together: a huge number of customers coupled with actual client testimonials.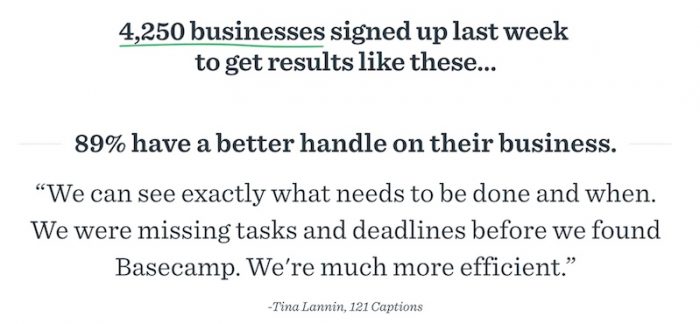 Another potential objection facing products such as software and online services is the issue of:
"I'm not so sure if this product is a good fit for me. I'll probably wait it out, shop around and come back later.'
This is perhaps one of the biggest objections that blocks a potential sale but is one of the easiest fixes that can be implemented on your landing page.
Basecamp does a fantastic job addressing this concern by offering prospects a free 30-day trial which more than enough for anyone to fully understand if the product works for their unique situation – risk-free, without paying!

By understanding and pre-emptively addressing your customers fears and objections, you show them that your product is truly for them.
5) Presenting The Perfect Offer
After you have established that your business is credible, that your product is awesomely packed with benefits and effectively banished away the biggest objections, the next step is to show them what is on offer.
This final step consists simply of:
A clear summary of what your product can do for them.

A compelling call-to-action to get them to buy / sign-up now.
When it comes to presenting the perfect offer, Basecamp does this well in spades.
By quickly summarising the big benefits of their product through powerful bullets, any prospect viewing this will immediately be reminded of how the product can help their businesses and puts things back into perspective.

The call-to-action here is also clear and compelling. Basecamp tells the reader to try their product for 30 days absolutely free – no risk needed.
And as a nice touch to make the process even easier, they included an option to sign up with their Google account (which is getting rather common nowadays).
Conclusion
When it comes to digital marketing campaigns, it is your landing that will determine if you will see a return, conversions and sales.
A well-written landing page brings your customer on a journey that is focused on them.
It tells them what they need to know and shows them what they need to see.
It educates them and qualifies them at the same time.
Best of all, this entire journey is within your control!