8 Awesome Branded Content Examples To Learn From
February 19, 2020 | Sean Foo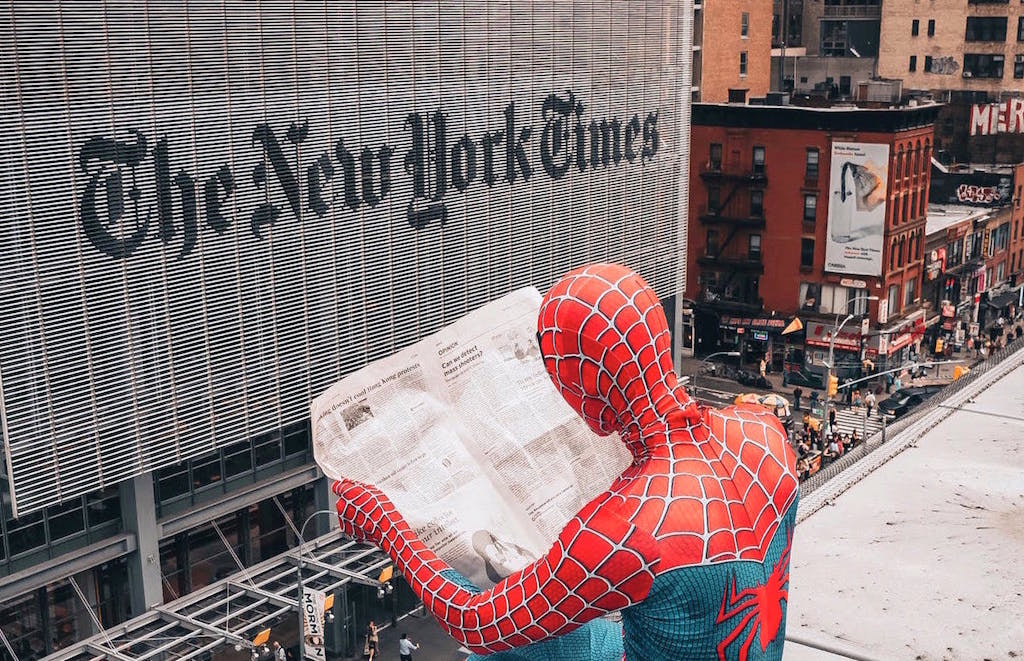 As traditional advertising declines, more companies and businesses are embracing branded content and for good reason – it cuts through the noise and adds value to audiences in an engaging and natural way!
From a YouTube video series to industry-niche blogs and even music videos, brands are getting more creative in their branded content development to achieve their end goal – massive brand exposure, awareness and engagement.
Here is our list of the top 9 branded content examples, why they rock and the lessons you can take away to make your own campaign a smashing success!
1. Red Bull: Jason Paul Goes Back In Time
Original YouTube Videos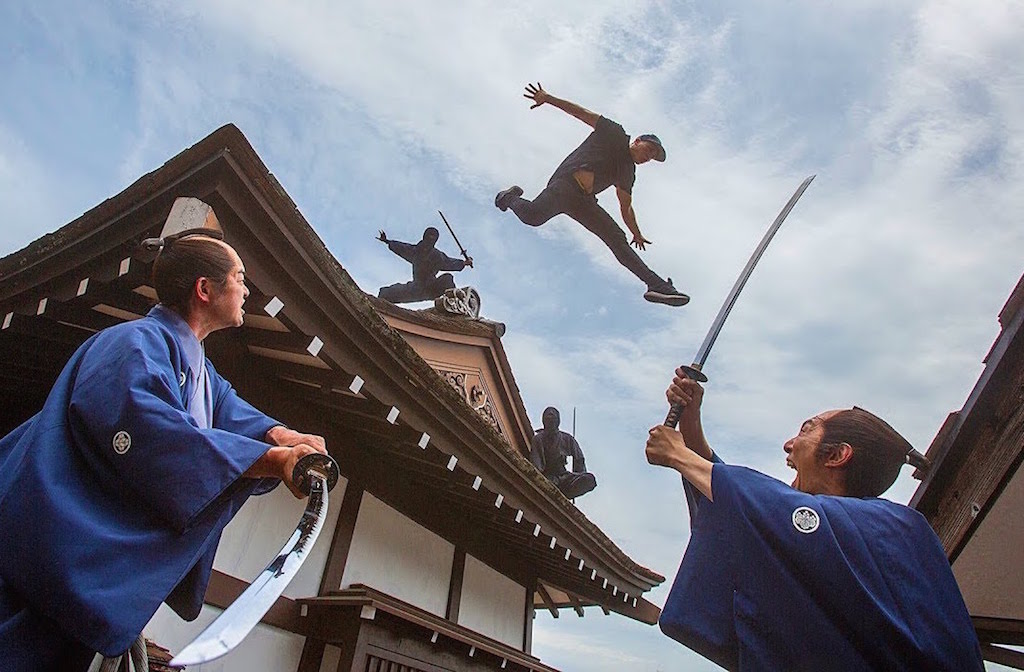 Successful branded content not only tells a compelling story but also links your brand to a feeling and set of values you want your audience to take in.
Redbull is a master at this when it comes to their videos for their very own YouTube Channel (that is closing on to 10 million subscribers).
With over 25 million views, Red Bull's video "Jason Paul Goes Back in Time" showcases one of the world's best free runners, Jason Paul, dashing through ancient Japan, avoiding capture by samurais and ninjas through amazing parkour and athletic stunts.
With quality production and a captivating narrative, the video captures the entire essence of the Red Bull brand – adventure, freestyle sports, rebel youth culture and overcoming impossible challenges.
With almost zero brand associations, the content here is so entertaining and jaw-dropping that audiences will be near compelled to find out more about the creators of the video which is Red Bull – exactly what successful branded content is supposed to accomplish.
Big Takeaway:
While creating engaging content that is of quality is important, you have to tailor it and weave in a narrative or story that reflects the brand values that you want your audience to leave with.
At the end of the viewing, the viewer has to leave with a feeling and understand what the brand is about and what they would associate it with.
Everything from the setting, the story, the script and the people involved represent your brand and smart companies producing branded content will carefully control this.
2. Netflix: Orange Is The New Black 
Online Interactive Article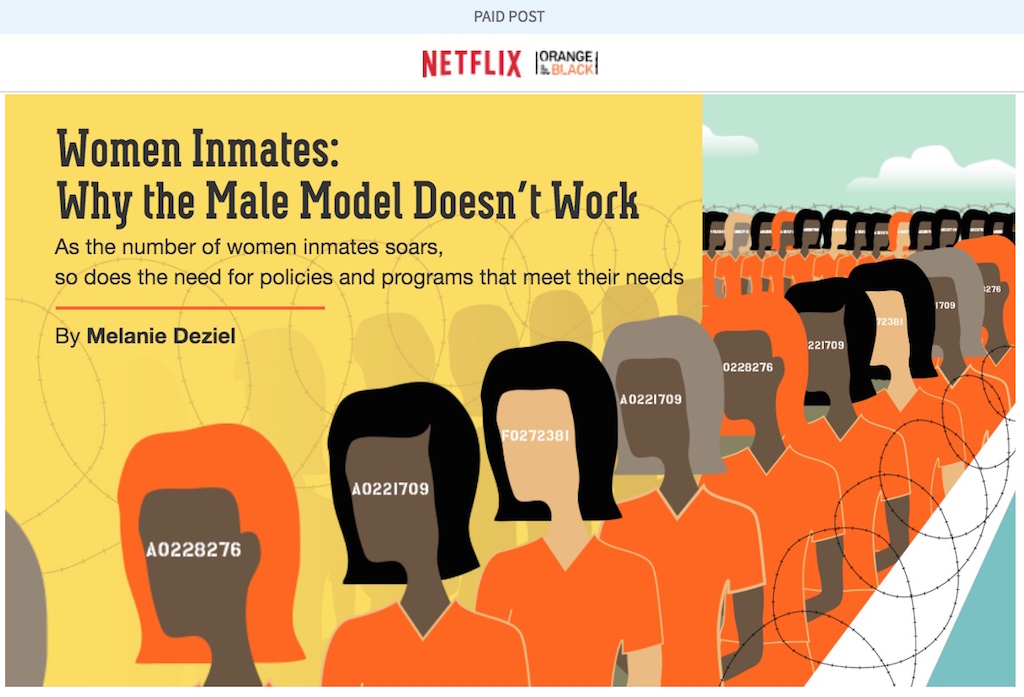 When it comes to promoting a new TV series on their streaming platform, Netflix went beyond the usual pre-roll advertisements on YouTube and partnered with the New York Times in creating a long-form and interactive article for one of their hit shows, Orange Is The New Black – a series about female inmates and their struggles in and outside of prison.
Staying true to the journalistic approach of the platform (the New York Times is a newspaper after all), the article touches on real social issues that will intrigue readers and spur them to discover more.
Its long-form approach filled with deep research from experts and video interviews from inmates themselves gives the reader a glimpse into the lives of female inmates and a deeper understanding (and empathy) of what they are going through – inflaming the reader's desire to learn more about the documentary series Netflix is subtly promoting at the end.
Coupled with beautifully interactive images that change and morph as the reader scrolls plus gorgeous infographics, this allows readers to dive deep into the content from start to the end easily.
Big Takeaway:
Partnerships are a great way to distribute your branded content – you get to tap into an existing audience of the platform (in this case, the readers of the New York Times), however, this will mean your content will have to be as native as possible to the current audience.
The message or story you want to push out has to feel as natural as possible and in this case, a journalistic approach with deep research works best.
3. Dove: Real Beauty Sketches
Video Campaign Gone Viral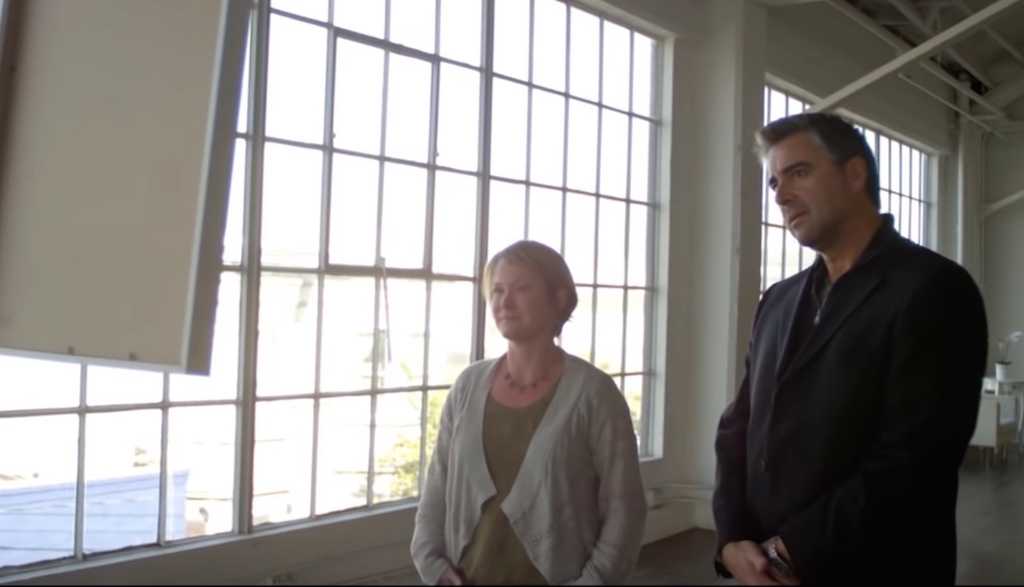 Branded content is all about reaching as many people as possible while making the biggest impact possible for audiences to remember the brand – and Dove did it in spades with their "Real Beauty Sketches" campaign that garnered 50 million views in just 12 days!
Instead of yet another shower commercial with Dove being used by a drop-dead gorgeous model, the brand decided to create a piece of content that is not just impactful to everyday people struggling to feel beautiful but to also spur engagement with their audience by asking them to share their stories of what makes them unique.
By championing a social cause that highlights that everyone is beautiful in their own right plus with a compelling narrative within the video, Dove's branded content hits home with a global audience with a message that is empowering.
Big Takeaway:
While linking your brand to a set of values is good, you can take it one step above by identifying social causes or challenges that can transcend borders and cultures.
This will not only allow your campaign to go international (and potentially viral), it also links your brand to a cause that will boost its recognition and spur engagement socially as well.
Just make sure the social cause is a complement to your core values and reflects well on your brand!
4. GE Reports
Industry Blog Done Right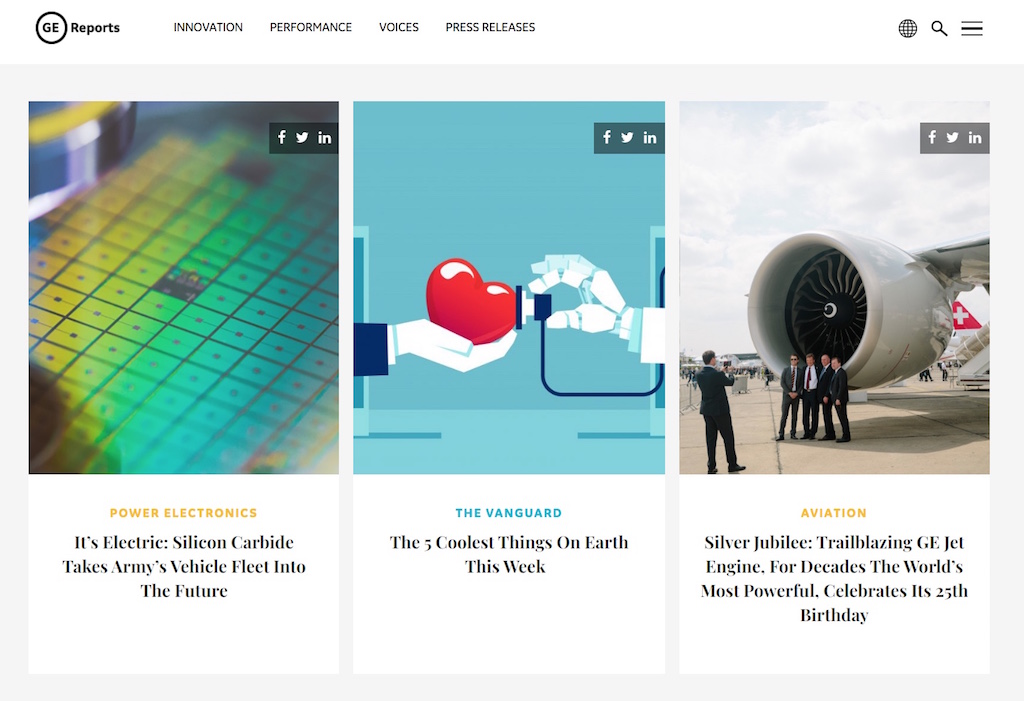 Focusing on reporting the latest insights and breakthroughs in the technology, aviation, innovation and energy space, GE Reports is a branded content blogging success.
From the latest news in solar energy to artificial intelligence and the history of electricity, GE Reports provides readers with consistent industry content that is both verifiable and aggregated making it a hub for anyone and everyone in innovation.
One great thing about blogging compared to other mediums is the power of the search engine (Google). While other branded content done in video format has to be pushed out via social media channels, GE Reports content can be actively searched for months or even years and brings in traffic long after it is published.
While you might be thinking – isn't this blog a form of content marketing and not branded content?
Well, it's not!
GE Reports doesn't explicitly target their market audience with content crafted to solve a set of their problems. They are simply publishing content that is meant for the entire technology & innovation industry at large – they are gunning for eyeballs and brand awareness, not conversion.
In addition, many of their blog posts such as their article: "Lettuce See the Future: LED Lighting Helps Farming Go High-Tech In Japan" has been viewed over a million times and has spurred over 2,200 engagements in the form of comments on Reddit on its futurology subreddit.
Big Takeaway:
There are many mediums of branded content that you can consider and it really depends on your industry and your resources you have on hand – great content that is impactful can go viral regardless of its medium,.
Blogging is great for an industry where huge amounts of volume is required. While definitely not as interactive as video, it allows brands to leverage on the power of SEO and go for quantity at a lower cost.
5. The New York Times: The Displaced
Branded Content Using Virtual Reality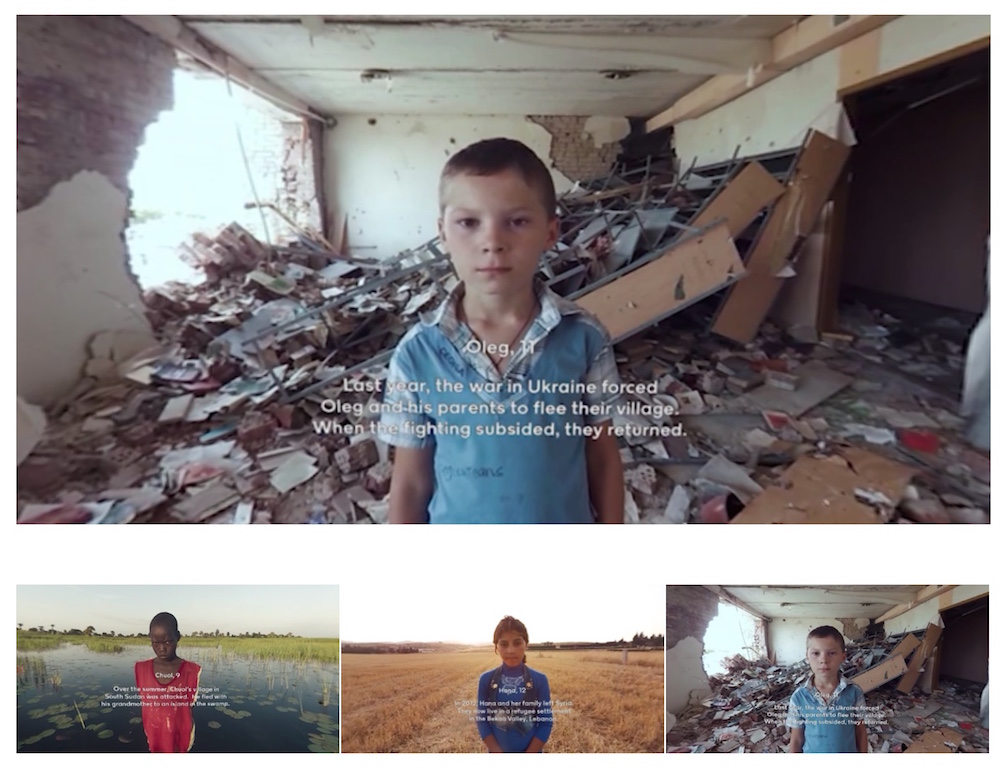 The New York Times is in the news reporting business and with tons of competitive publications, part of their strategy is marketing their T Brand Studio that creates stories for brands.
And what better way to do it than to create branded content themselves to showcase what they can do while creating more brand awareness with viewers new and old!
By using visual storytelling through the lens of virtual reality in their short film 'The Displaced', The New York Times allows audiences to experience what it is like to be that of children that are struggling to survive after losing their homes by war and persecution.
In addition to the film, which won the Lions Entertainment Grand Prix award, the New York Times also partnered with Google to distribute almost a million Google Cardboard Virtual reality headsets to readers of their print copy.
Big Takeaway:
Even in branded content itself, standing out is always key – and a great way to do it is to leverage new technology like VR.
Explore different types of possibilities for your branded content and always seek to surprise your audience not just with the content, but the way you deliver it as well!
6. BMW + National Geographic: Behind The Shot
A Branded Content Collaboration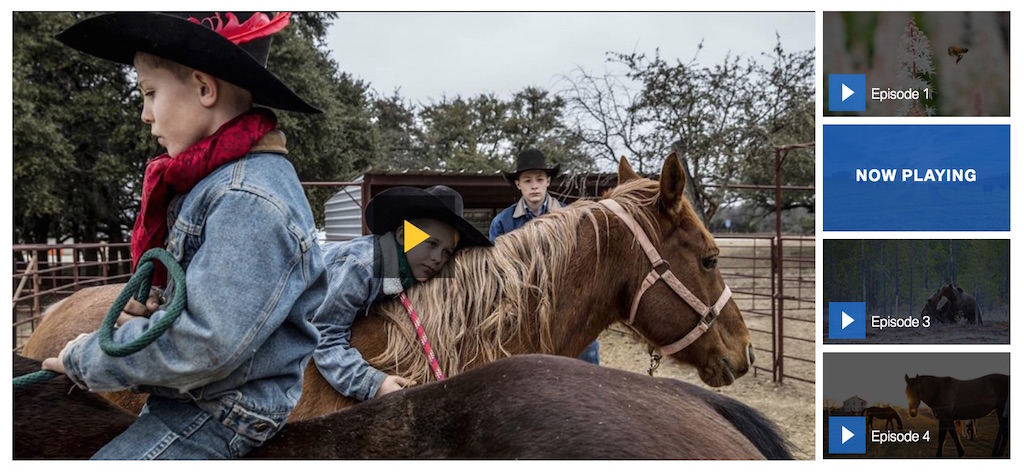 When it comes to branded content collaboration, the brands working together not only have to come together and tell a story, the values also have to align.
Behind The Shot is a series of videos that capture and tell heartfelt stories of the wild and the human spirit captured by National Geographic's photographers while being transported by BMW's X3 vehicle.
BMW's brand association here is very light with the photographers just loading up onto the X3 vehicle.
The delivery is polished and the narration on-point by a team of award-winning photographers, transporting viewers into a world of the American wild-west.
Big Takeaway:
Branded content is an investment in your brand and you owe it to your business to present the very best and that might mean hiring the best and using the best resources available to make a great impression.
Plus you can also showcase your award-winning team that made it happen to add more authenticity to your production.
7. Hulu: The Looming Tower
An Interactive Video & Visual Experience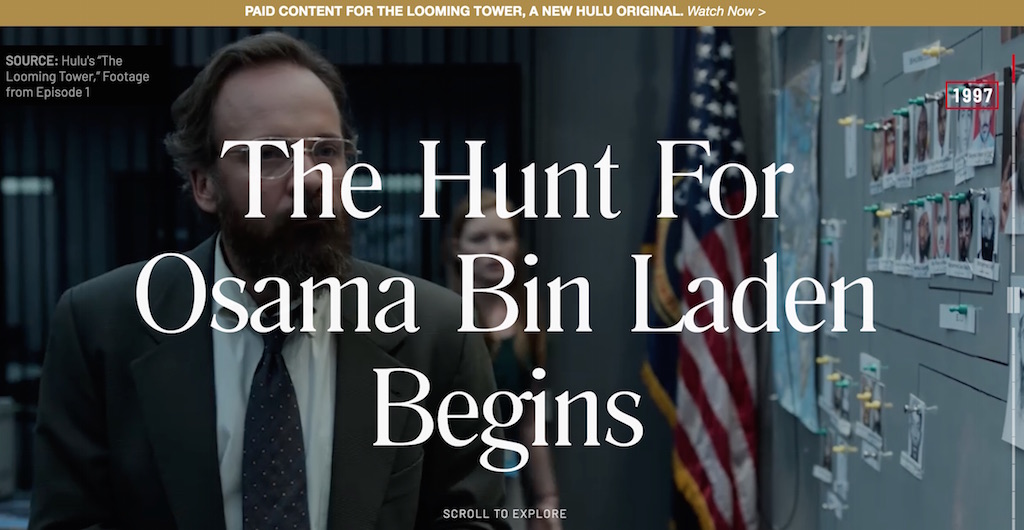 Promoting a new show can get tricky especially when it covers a sensitive topic such as the 9/11 attacks – however, Hulu's branded content for "The Looming Tower" on CNN's website hits this out of the park well and does it tastefully.
True to the CNN platform, the content is not just journalistic but structured like a classified briefing as though the viewer is part of the FBI task force brought together to solve the mission.
From revealing key de-classified information to interactive charts and infographics that come to life as you scroll, viewers are in for a visual treat that makes it easy to digest and understand.
Mixing together historical videos with in-film footage from their own TV series, Hulu brings to life the event leading up to and after 9/11 where the viewer can fully understand the impact of this monumental event.
Big Takeaway:
While branded content heavily advocates not directly promoting your product or your brand, you can, however, weave it in if it makes sense and adds value to the viewer's experience.
If it feels natural to the context of the content and it adds much more value to the story then you can consider adding it in tastefully.
8. Lyft: Marvel Runaways
A TV Series Branded Content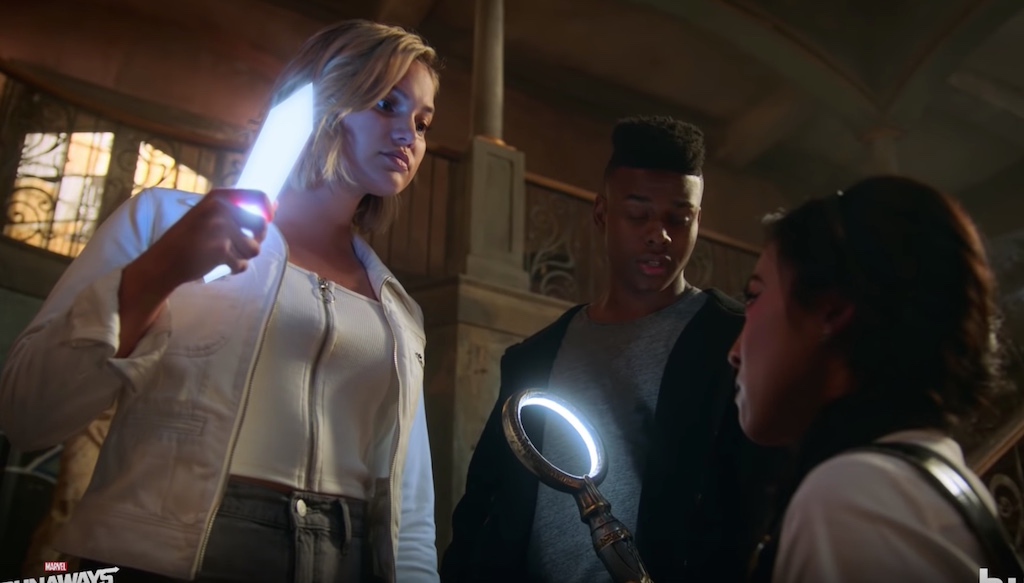 When it comes branded content, sometimes it pays to hop onto a powerful franchise such as Marvel that is known to draw audiences no matter what they release to reach audiences that you would like to target – in this case, young millennials and Gen Z.
Marvel Runaways is a TV series on Hulu whose story revolves around teenagers whose parents are supervillains and how they are dealing with the reality of their heritage and new-found powers.
Sponsoring the series, Lyft's only brand presence in the series is helping the main characters move around the city using their cabs and service.
Highly subtle but effective, Lyft effectively associates their brand which the superhero universe that frames their brand as convenient, hip, cool and contemporary – values that resonate with the audience they want to attract.
Big Takeaway:
When it comes to branded content, associations should not be too blatant or "in your face". 
Powerful branded content will be compelling enough for the viewer to want to learn more about the content as well the brand behind the content – this is where powerful engagement will come from!
Branded Content Is Powerful – If Done Right!
Branded content is one of the best strategies for brands to gain massive awareness and engagements, however, it has to be done correctly.
Smart brands will create content that is natural, leverage on platforms intelligently and focus on quality above all – like how the 8 examples we have covered have done!
Want to learn more about branded content? Here are two articles we crafted just for you:
Learn what branded content really is – an all you need to know guide!
Content marketing is not branded content – here is a guide to know which to use for your business and brand.
Looking to launch your own branded content campaign?
We can help! Drop us a message and we'll be in touch!