How To Write A Brochure That Sells Better!
April 16, 2020 | Sean Foo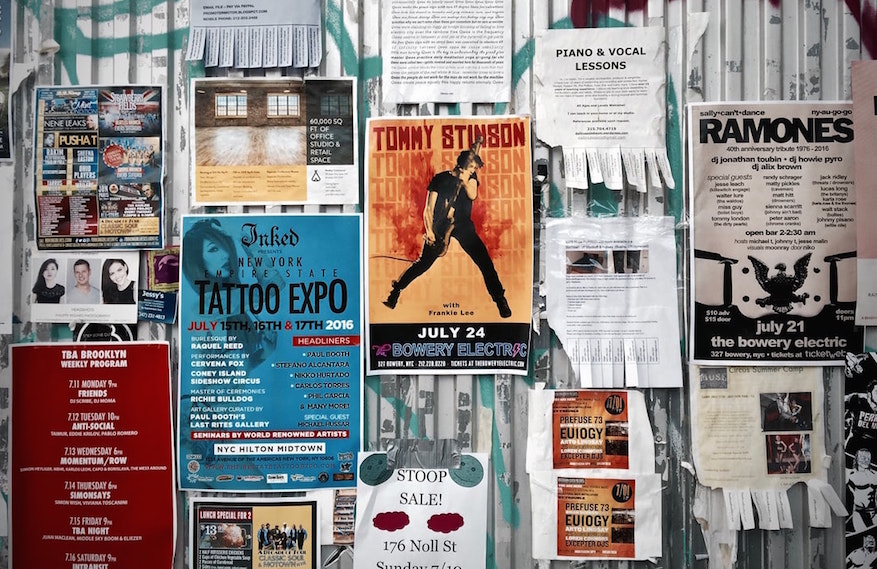 Writing a brochure, both physical and digital, is more than just throwing up an offer with some fancy headlines and hoping your reader buys.
Crafting a brochure that is effective will require you to dig deep into your customer's brain, deep research and clarity on the goals you want to accomplish.
While we know what a brochure is, let us define what an excellent brochure does:
"An awesome brochure captures the attention of your reader, gives them compelling information in a way that they understand and finally gives them the kick or incentive to take action"
It's as simple as that!
In this guide, we will take you through everything you need to know to craft a brochure (both physical and digital) that convinces and converts your reader into eager customers, which include:
– The 10 questions to ask to gather critical information necessary for your brochure
– An effective structure to plan and craft your brochure
– Copywriting hacks to supercharge your sales message for greater conversions
Preparing Your Brochure: 10 Big Questions You Must Answer
Two of the biggest sins you can make is to write irrelevant stuff or 'fluff' on your brochure and the other is to take the wrong angle to sell your product or service.
By fully answering and gathering the information for the 10 questions below, you will be able to craft the right offer, position your solution well and talk in a persuasive way that your audience can identify with and take action on it!
Q1. What is the big benefit of your product or service you are looking to market?
Q2. What are the supporting features that will make the benefit happen?
Q3. What challenges or problems does your solution solve?
Q4. Who is your target audience and what matters the most to them?
Q5. What are the common objections your customer might have to your solution?
Q6. What is the pricing of your product or service?
Q7. How will your product or service be delivered to your customer?
Q8. How knowledgeable is your customer about your product or service?
Q9. What is the final action you want your reader to take? (Call? Scan a code?)
Q10. What is your business's general contact information?
A great way to do this is to go through these questions with your marketing and sales team and then write down your answers – you will be using this in order to write your brochure and position your sales message.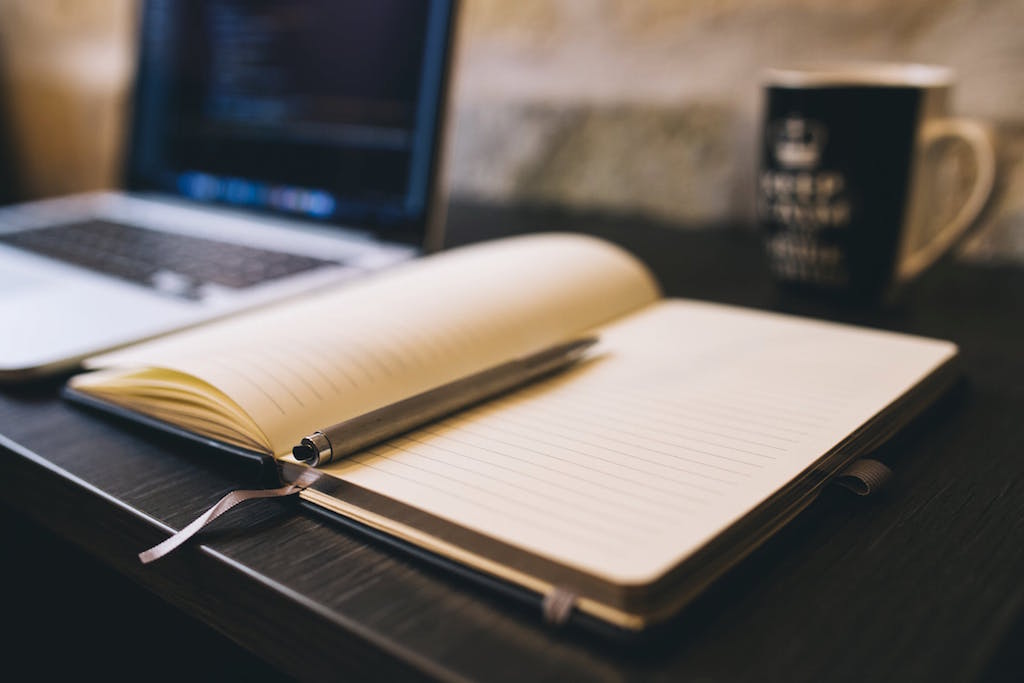 How To Structure Your Brochure: 5 Elements You Will Need
A winning brochure requires you to have a winning strategy and this is where this structure comes in.
Let's get started!
1) An Attention-Grabbing Headline
Grabbing attention is key and that means your headline has to be on-point and what is on offer.
It should either be an awesome big benefit that will change your reader's life – something that saves them from their personal hell and delivers them to heaven, or exactly what you are trying to sell.
Avoid any fancy jargon here – make it straight to the point.
Here are some examples that work:
"2 For 2 Pizzas For Only $22"
"Enjoy 5% Annual Returns On Your Cash – Risk-Free!"
"Family Helicopter Tour Of The Statue of Liberty"
Need more headline inspiration? Here are 27 templates to get you started!
2) Powerful Social Proof To Build Credibility
Maybe you have the best product or service, maybe your offer really is the best out there in the city but unless you have some element of social proof, your reader might just not believe that you have to say!
Yes, social proof is that important and depending on your industry and the customers you are trying to target, you will need to select the right type of social proof for it to be effective.
Here is a list of social proofs that your brochure might need:
p.s. While it might feel tempting to plaster down every type of social proof, don't go overkill. Just choose and go with the one that is the most compelling and relevant to your audience.
If you are targeting big brand companies, your client logos will work like a charm.
Targeting individuals? Reviews and testimonials could be your best bet.
3) Showcasing The Big Benefit (What Is In It For Me?)
People, like your reader, only care about what is in for them and that is the exact mindset you need to have when you are writing up your brochure.
Always lead with the biggest benefit you have but frame it in a way that is fun & easily digestible.
Sounds hard? It doesn't have to be so!
"Worn by the Queen herself, view the crown jewels while sipping on sparkling crystal champagne"
"Spin & party with the world's #1 DJ, Steve Aoki, as he premieres his new top hit!"
While these might sound rather clickbaity or rather salesy, you are writing a brochure that requires direct response tactics – either your reader will take action or throw your brochure into the trash (or delete it if it is digital).
So don't hold back!
4) Presenting The Offer In An Irresistible Way
Whether you are selling a spa package, a luxury holiday for two in Paris or a jungle adventure in Kenya, you will need to present what you have on offer in a way that is enticing and compelling.
A powerful offer will highlight:
The product or service they are getting clearly

How much it will cost

Fun and enticing information that will make it stand out.
It is that simple, you don't need to get too complicated!
Here are some examples of this in action:
"Enjoy A 7 Day Trial For Only $7 – No Credit Card Needed!"
"Grab Your Front Row Seats At Only $250, PLUS backstage access to Aerosmith himself!"
"For only $5,000, test-drive all weekend the latest Ferrari Models on our exclusive all-weather racing track!"
5) A Straight Forward Call-To-Action
The last thing you want to do is to confuse your reader on how to take action. 
You want your call-to-action to be precise and clear. Your reader needs to know exactly what has to be done to enjoy the offer you presented earlier – whether that is to scan a QR code, call your sales team or to visit your website for more details.
Here are some good examples:
"Scan The QR Code Below & Get Started!"
"Call 88-88-88888 To Claim Your Spot Today – Limited Seats Available!"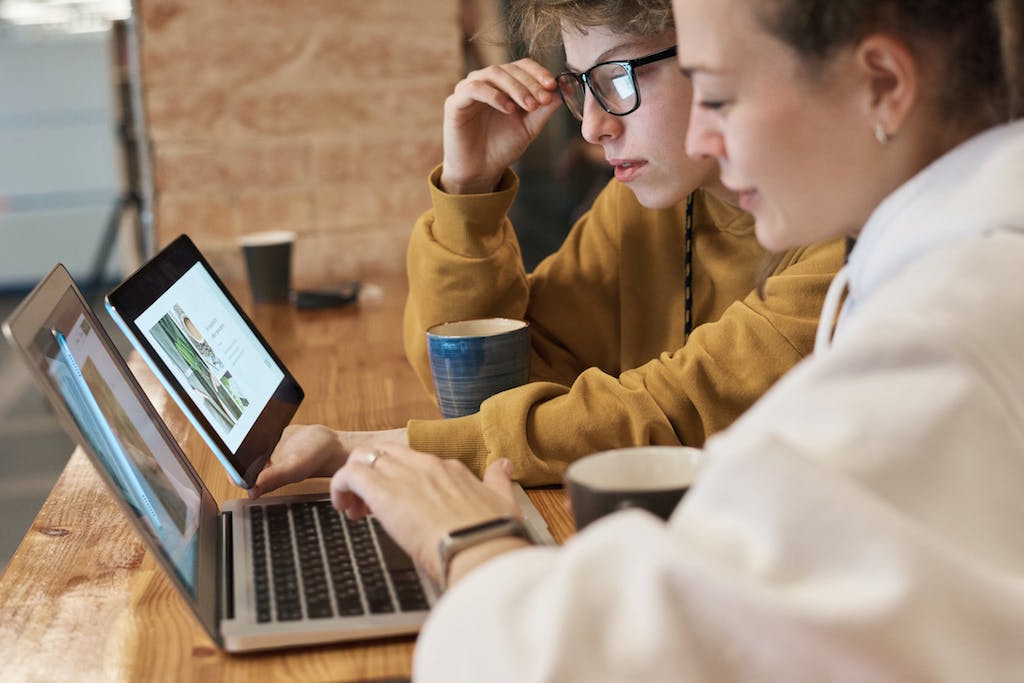 6 Copywriting Hacks To Supercharge Your Brochure's Conversions
Now that we got a winning brochure structure nailed down, it's time to ensure your brochure's copy is on-point and effective to maximise your leads and sales!
1) Focus & Polish Your Headline & Headings
As said by the legendary ad-man David Ogilvy: "When you have written your headline, you have spent eighty cents out of your dollar."
If your headline doesn't capture the attention of your audience, your brochure is finished!
A great headline will not only focus on the biggest benefit that your customer desires, it has to communicate in a way that is snappy and sometimes it also requires a creative edge.
So once you have written down your headline, write down 5 more options. Then choose the top 3 headlines you think is great, then polish it down even further.
2) Clarity Is King: Make Your Message Clear & Concise
A brochure is not a website or a landing page, that means you have to avoid any long copy and to keep every message and sentence as clear and concise as possible.
If you can explain the benefit of your solution or the concept of what you have to offer in fewer words and in a more straightforward manner, do so!
One of the biggest sins you can make when writing your brochure is to use overly complicated words, write simply and clearly. 
The longer it takes for your reader to process and understand the information, the lower your conversions will get and the faster your brochure will end up in the trash.
3) Bring Out The Power Of Bulleted Lists
When it comes to showcasing your benefits or unique product features, one of the best ways to showcase it is through the power of bulleted lists.
A bulleted list allows you to capture the attention of your reader instantly and allows you to write your copy in a snappy and concise manner.
Here is a great example of a bulleted list of restaurant selling a gourmet experience:
6-course dinner featuring the world's most expensive wagyu steak!

Free-flow sparkling champagne all night long!

Dine with A-list Hollywood celebrities including Leonardo Di Caprio & Brad Pitt!
4) Speak The Language Of Your Audience
Every type of audience has a different kind of tone of voice they identify with and language they respond to.
Talking to a crowd of digital marketers? 
Then talking in a formal tone with jargons such as 'conversions' and 'click-through rate' will get them familiar with that you are talking about.
Selling a new shoe to a crowd of hip Millennials? 
Then it's best to use a highly informal tone with slangs such as 'kicks' and 'feet whips' sprinkled in.
If you know and speak their language, your audience will identify you as part of their tribe and that itself will help skyrocket your brochure's effectiveness.
5) Use Compelling Power Words
Good copywriting is used not just to convince your reader to buy nor is it just words to simply describe what is on offer – it is a powerful tool to drive action when done right.
And you can do that by utilizing power words or more specifically, power verbs.
Let's take these two sentences:
Build a successful website for your business. → Build is a simple but weaker verb.
Craft a successful website for your business. → Craft is a stronger verb. It showcases experience and tailored attention to detail.
Using power verbs will allow you to paint a more detailed picture in your readers' minds and help fire up their imagination. 
This will help inspire and compel them to act! 
Want more power verbs? Here is a list of 249 of them to use on your brochure!
6) Leave The Explanations For The Back Of The Brochure
Depending on your product or service on offer, there will likely be details that need to be explained – leave that for the back of the brochure.
Keep the explanation as concise as possible and only touch on the key points that you need to showcase.
Better still, if your brochure is foldable into four pages, you can leave some of the details into the inner pages and make your front cover distraction-free and blow up your headline to capture attention better!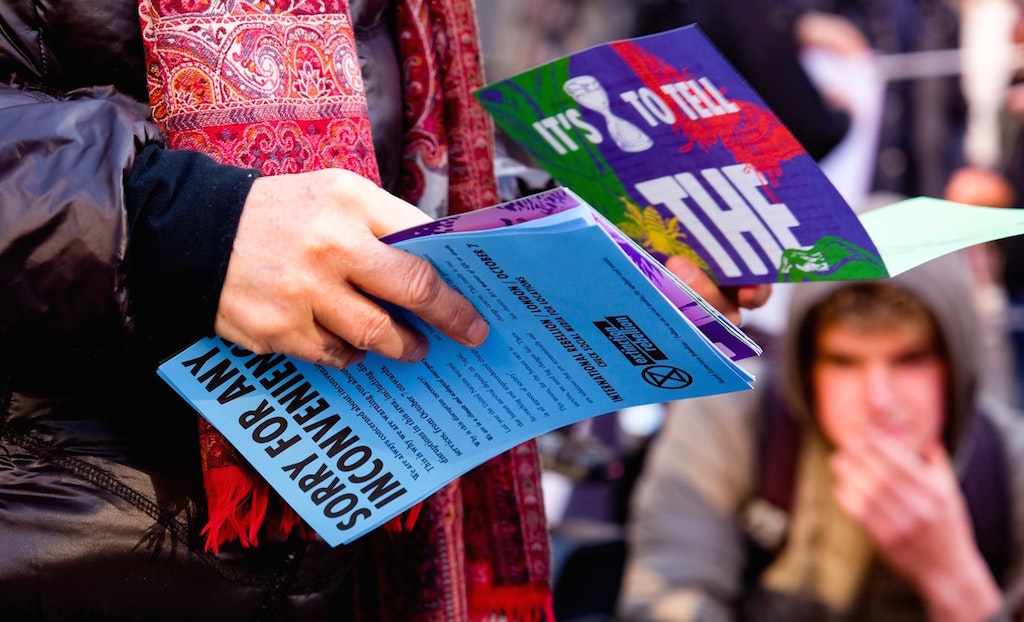 Examples Of Effective & On-Point Brochures
Depending on your industry, there will be many ways you can design and write up your brochure and here are two of the best brochures we have come across!
Upad – online housing agent
This brochure works very well due to it being very clear with what it delivers while building tons of credibility with social proof reviews.
One great thing about this brochure is the prominent 20 Pound offer they give to get the reader to take action and call their number to get started.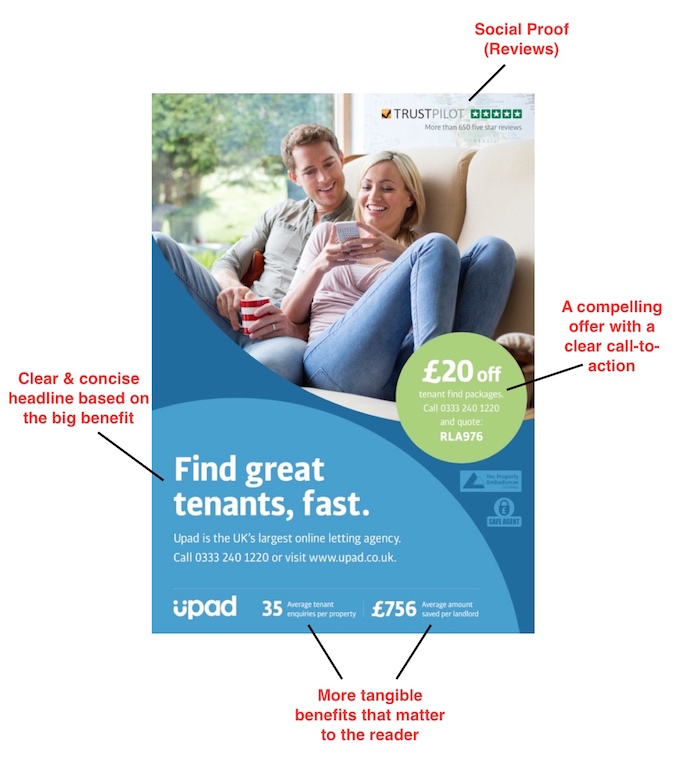 Trustpilot – Customer Review Platform
If your brochure is the fold-out type (meaning you have 4 pages to work with), you can take all the same winning elements that we went through and split them across the four pages.
In Trustpilot's brochure case, they did a fantastic job in capturing attention with a winning headline and a few of the big benefits their customers look out for in the first page.
Notice that this is a targeted brochure that speaks to training and education businesses.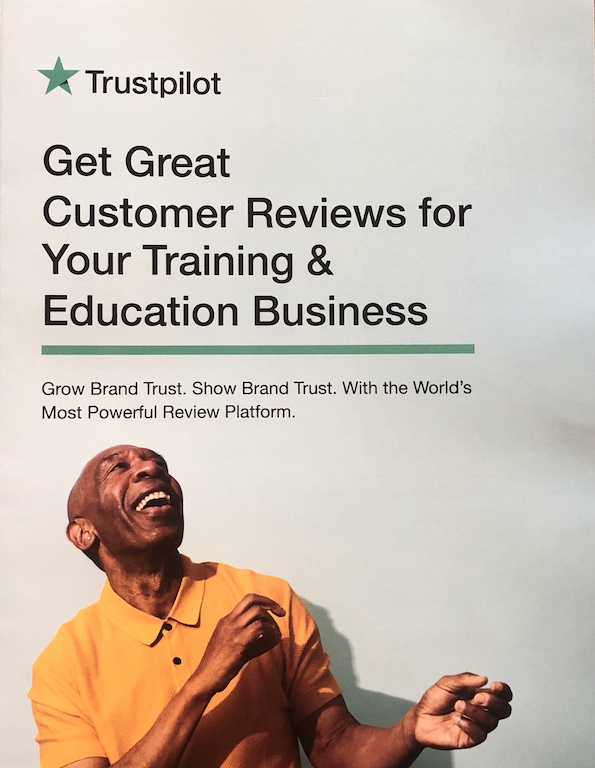 In the inner pages, they go on to showcase how their platform works and they still focus on first highlighting the benefits their reader will experience before justifying it with the features that make it happen.
Notice their subheadings – Get Reviews, Get Sold, Get Seen & Get Better.
These are snappy headings that are instantly understandable and leaves no room for confusion, exactly what your reader wants.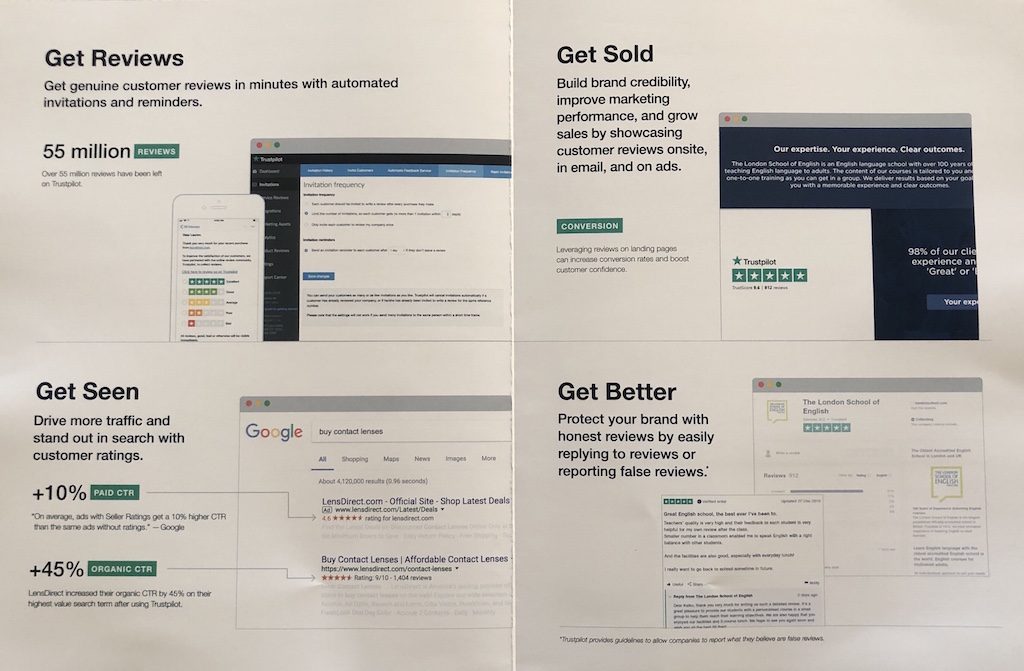 Finally, in the back page, Trustpilot excellently ends it with targeted testimonials from decision-makers and positions that are likely the same people reading the brochure as well as a review from SimilarTech, an authority website.
Additionally, their Call-To-Action section gives a specific and compelling offer of "Try it for free" and specific instructions to get started by providing a phone number, email and website address.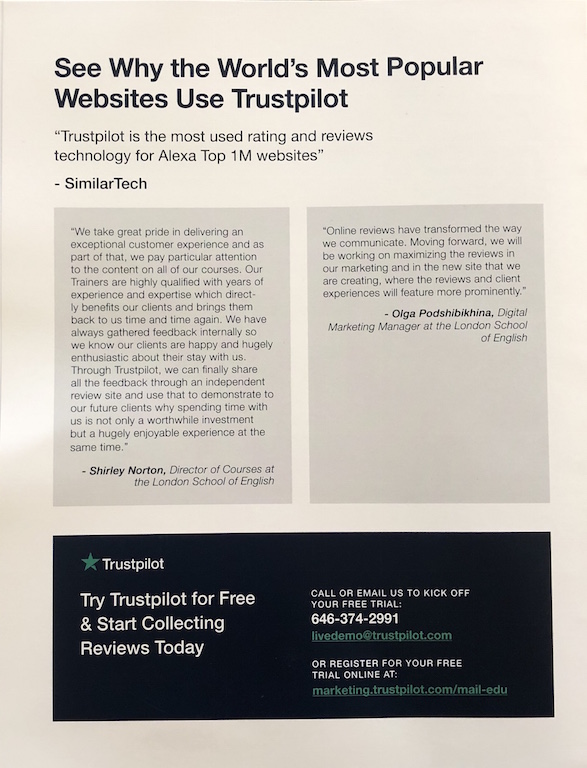 Let's Craft Your Best Brochure Together!
Strapped for time to write and structure your brochure?
We can help! 
Contact us today and let us craft a brochure that maximises your conversions – that means more leads and sales!