How to Write Effective Advertisements that Win Conversions (Checklist Included!)
July 27, 2020 | Sean Foo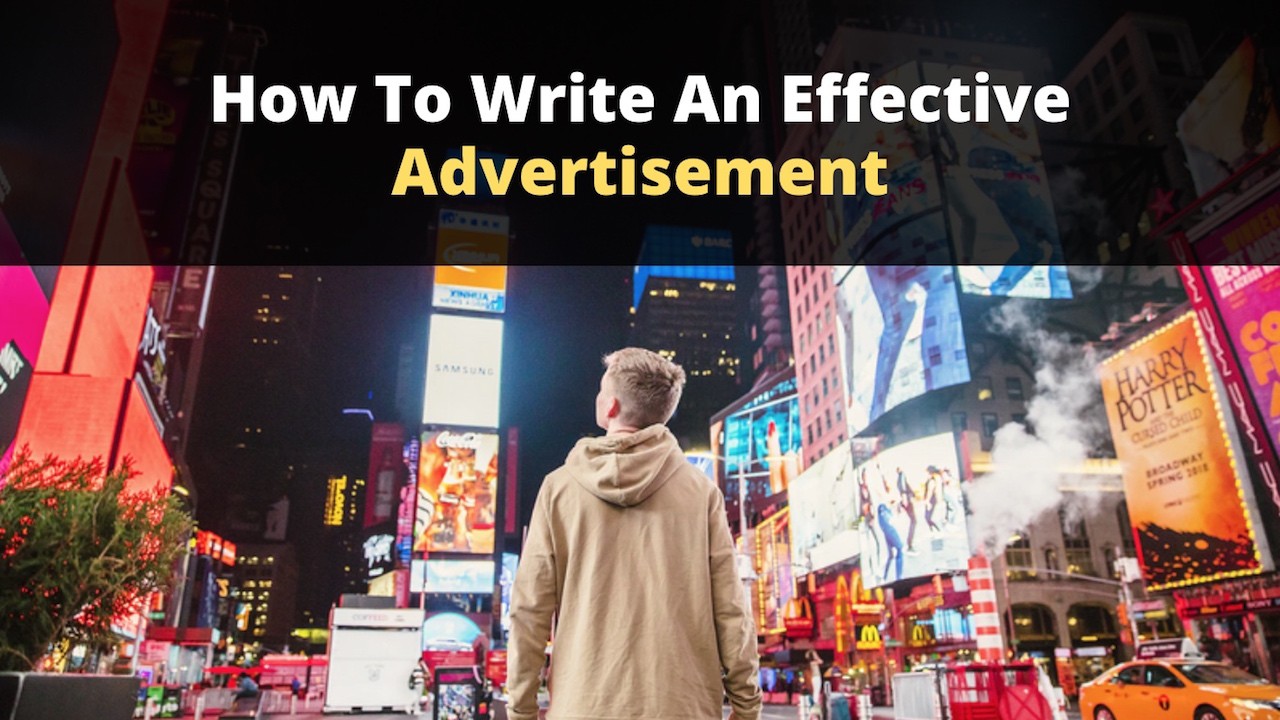 Great ads drive traffic to your store or website.
They also can lead to conversions and sales!
While there are more than a hundred ways to advertise – be it on magazines, billboards, Facebook etc, there are common principles that underlie every successful ad.
In this article, you will learn the principles of great advertisements and how to use them.
Particularly, for Google Adwords and Facebook Ads.
We've also included a checklist at the bottom for you to follow when crafting your ad – what more can you ask!
Ready to learn how to craft winning ads?
Let's dive in.
What Makes Great Ads Tick?
Before we explore how to craft your winning ad, we need to know how ads work.
What makes some ads win, while others flop?
It's whether they contain the key elements of a successful ad!
Advertisements drive action by doing the following:
Catch the audience's Attention (A)

Create Interest (I)

Stir Desire (D)

Drive Action (A)
This follows the AIDA formula for persuasion.
That's why successful advertisements generally have 3 key elements:
Headlines to catch Attention

Benefits to create Interest and stir Desire

Call-to-Action (CTA) to drive Action
A lack of clear headline, benefit, or Call-to-Action leads to weak conversions.
(We'll explore how to write each clearly later.)
In a competitive market, a compelling offer is also necessary.
A compelling offer helps you stand out from your competitors, so your audience chooses you.
Any other parts of an advertisement that does not serve a purpose should be eliminated.
These can be excessive words or irrelevant images.
Doing so keeps the audience focused on the built-in sales process of the advertisement, so they are more likely to take your desired action.
With these said, how do you craft an effective advertisement?
1. Research Your Audience and Competitors
To sell to your audience, you need to know what appeals to them first.
What problems are they trying to solve, and how do they feel about these problems?
Knowing these helps you craft a customer's persona, to figure which benefit(s) to present to them and how.
You also want your targeted audience to be as narrow as possible.
What's their age range?

What's their gender?

Where do they live?

What do they work as?
Etc.
The narrower the scope, the better your ad will convert.
This doesn't mean that you cannot advertise to a large group of people though…
This means you should split the group up into smaller groups, and market to each small group separately.
For instance, if you wish to expand your clothing retail chain to Nevada, Arizona, and California…
…you should prepare a separate ad for each state, each town you wish to expand to.
The more specific your targeting, the more personalized your ad will feel to your customers.
Which in turn, increases your click-through and conversion rates.
To know where you stand in the market, you need to research your competitors too.
How does their offering differ from yours?
What can make customers prefer you over them?
Knowing these helps you craft a compelling offer that sways potential customers to your offering instead.
As a bonus, your competitors' ads can tell you what headlines, benefits, and CTAs already work.
So you can decide whether to build on the same ideas or create something unique.
2. Craft a Clear, Specific Headline
The headline is (usually) the first thing people see when they see your ad.
It determines whether people bother looking through the rest of your ad!
As the Father of Advertising David Ogilvy said,
"When you have written your headline, you have spent eighty cents out of your dollar."
How do you craft headlines that grab readers' eyes then?
Your headline needs to show how you can solve your audience's problems.
Bannersnack does this with a concise headline sharing the few steps needed to design graphics with them.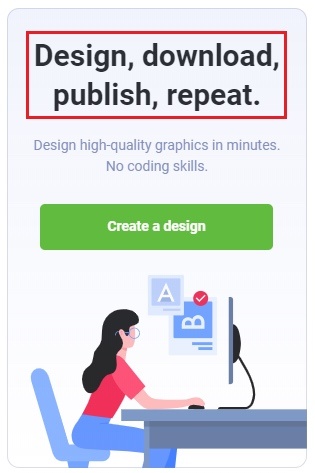 The conciseness conveys how easy it is for people to design their own graphics, which catches the audience's attention!
Being specific with numbers helps too.
This can be the price, discount (e.g. "15% Off!"), or any other relevant figures.
Wordstream offers more brilliant tips on crafting ad headlines.
3. Share Benefits Instead Of Features
It doesn't matter how many "cool" functions your software has…
…if your audience does not see how the functions tie in with their needs!
Your audience would care however if those functions can save them time and money.
Knowing which benefits to present requires you to put yourself in your customers' shoes, and figure what needs they are trying to fulfil.
If you're selling spectacles, for instance, your customers may be seeking a clearer vision.
Clearer vision would then be the main benefit you present in your message.
Also, use simple, concise language to present your key benefits.
This is not just fulfilling a 90 character limit for description like with Google Adwords, but also to keep your audience from guessing what you're offering.
The more your audience has to think, the more likely they will scroll away!
This Facebook sidebar ad shows how you can present your benefits.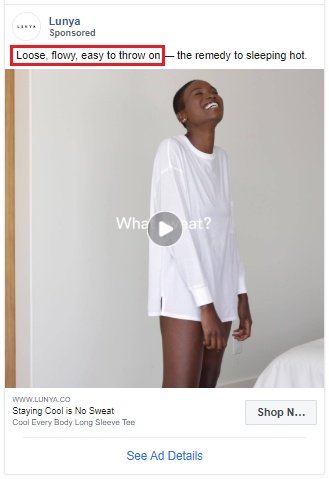 Lunya sells sleepwear for women, but they don't state so in their ad.
Instead, they state what their audience cares more about – feeling cool and comfortable during sleep.
Lunya also phrases the benefits short and sweet, so the benefits will easily catch the audience's attention and create interest even if they're just scrolling through their feed.
4. Provide a Compelling Offer
Sometimes, simply providing the benefits is not enough.
Your market's competition is too cut-throat. 
And you need to drive results – fast.
That's where offers come in.
Offers are add-ons to your product's or service's benefits, to sweeten the deal for your audience!
They can be:
Discounts

Free shipping

Free delivery

Bonus gift
They need to be relevant to your product or service though.
A property lawyer offering a "free gift" to lure clients sounds desperate and oddly inappropriate.
A "free 30-min consultation" would be more appropriate instead.
Offers are also great at increasing the audience's urgency to make them act.
This can be done by making the offer time-limited.
Including a "3 days left!" in your message increases your audience's urgency to act.
Using the word "Now" also helps!
An example can be found by searching "health insurance" on Google.

To stand out from their competition, FWD Expat Health Insurance offers a 5% off offer.
(The discount could've been higher though to make FWD stand out more.)
They also create a sense of urgency by making their offer time-limited with "ends in 4 days".
5. Have a Clear Call-To-Action (CTA)
You've caught your audience's attention, created interest, and stirred their desire.
They feel hot, bothered, and ready to take up your offer now.
What should they do next?
Having a clear Call-To-Action tells them what to do, so they don't need to think.
It can be to:
Download your guide

Call your number

Visit your website

Book a consultation
Crafting your CTA requires you to be clear about your ad's objective.
This allows you to align your CTA with your ad message.
The ad below shows how aligning your CTA to your message can be done.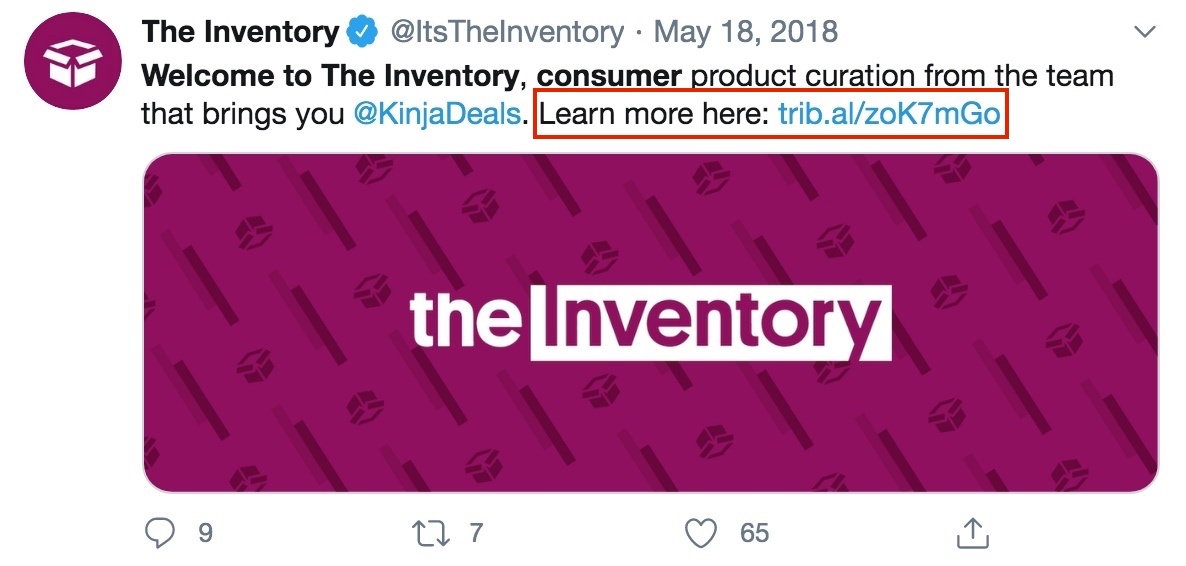 Through their Twitter post, The Inventory aims to promote their website.
To let the audience know what to do next, they include a "Learn more here" CTA followed by a link for the audience to click on.
This way, the audience knows what to do and where to click should they be interested.
Learn more about crafting effective CTAs here.
6. Split-Test with Variations of Your Headline, Message, and CTA
Crafting a single headline, message, and CTA is not enough to help you succeed.
The best performing advertisers craft and test variations of each to maximise their conversions!
Before you decide on a "final version" for your ad, come up with at least 3 variations of each – headline, benefit, offer, and CTA.
Test variations of each element, one element at a time. If you're testing headline variations, stick to the same benefit, offer, and CTA for your test ads.
Eventually, you'll find the best variant of each element to use.
Specific Tips for Google Adwords
Google Adwords is a powerful way for you to capture bottom-of-funnel hot leads.
For keywords with high buying intent (i.e. people search the keywords to buy something), paid ads get twice the clicks compared to organic results!
Not to also mention the 330% ROI it can generate…
How do you apply the 6-steps for Google Adwords then?
To keep it simple, here's a format you can use: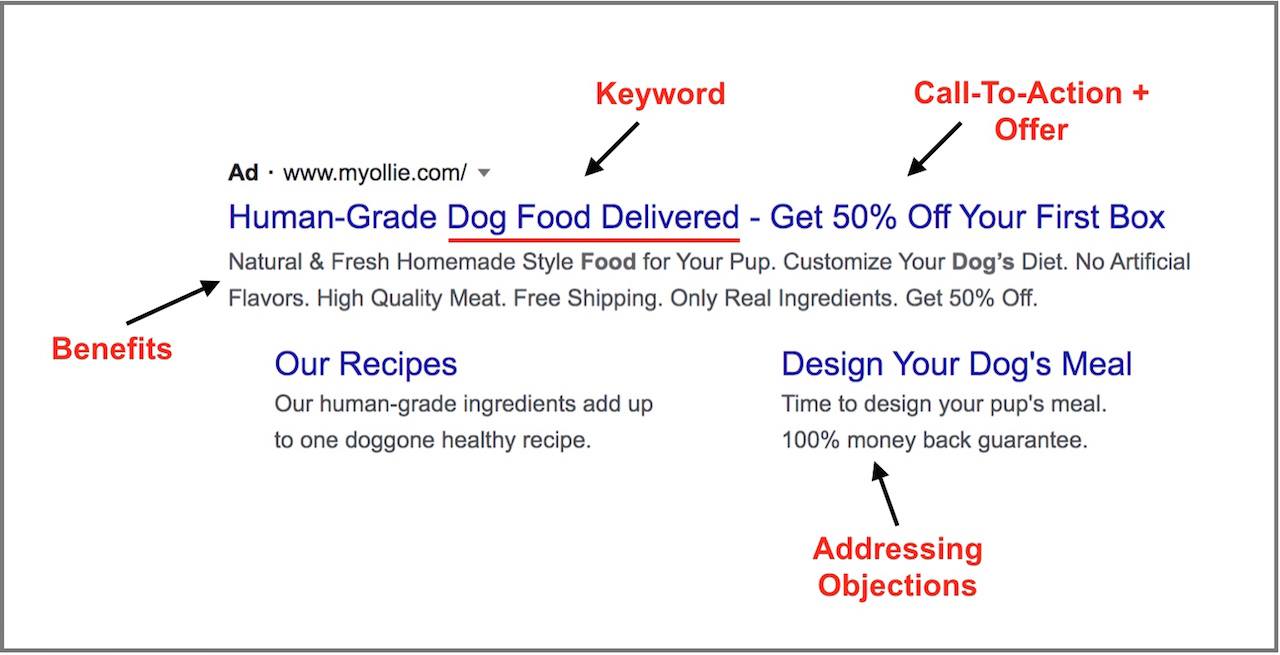 When your audience is doing a search, they are looking for results with the keyword they used.
This means your headlines (and even the URL) should include the keyword used.
Your benefits should be kept to-the-point, as you're working with a 90 character limit for your message.
If your ad appeals to your audience, your audience wants to know what to do next. 
So include a clear Call-To-Action (ideally with a compelling offer) to tell them exactly what to do!
When you set-up your ads, Adwords will ask you to include variations of headline and message to test.
This allows it to automatically do the split-testing for you, and show the ad with the highest click-through rate more often.
To learn more about Google Adwords, Unbounce provides detailed tips here.
Key Tips for Facebook Ads
Facebook Ads is another powerful way to reach your audience.
It is great for reaching consumers at the top or middle of your sales funnel (i.e. with varying levels of awareness of their problems).
Facebook Ads influences 52% of consumers' online and offline purchases, according to a 2015 study.
 With the number of internet users rising globally, you can bet Facebook's influence will rise too.
So how do you apply the 6-steps for Facebook Ads?
The power of Facebook Ads lies in how granular you can target your audience. This means researching your audience is crucial.
However, we'll cover more on the headlines and message aspect. You can learn more about audience targeting in Neil Patel's guide.
The peculiar thing about Facebook Ads is that the headline and ad text switch roles with each other.
When scrolling through their feed, people will see the ad text first before the headline.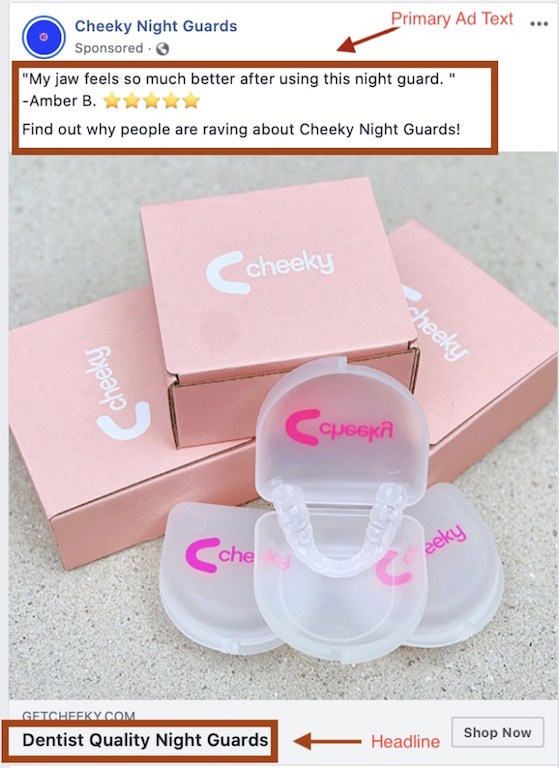 This means your ad text will serve as your headline – to catch your audience's attention. 
It will also serve as your benefit and offer.
Fortunately, rocking Facebook Ads isn't too hard still.
Based on a study of 752,626 Facebook Ads, the best practices are as follows:
Keep your ad text around 19 words

Be clear about your offer

Five-word headlines work the best

When unsure, stick to "Learn More" as CTA
In fact, "Learn More" would be a better CTA for the ad above.
People aren't browsing Facebook to buy things. They're there to chill and connect with friends.
"Learn More" would have pressured the audience less, making them more likely to click (and potentially shop on the site).
Bonus Tip: Boost Conversion Rates with Message Matching
If you want your ads to convert, you may want to fix your landing page too.
By using what's called "message match" on your landing page, your conversion rate can increase by up to 212%!
So what is "message match"?
Simple.
It means to match your landing page's headline, message, and CTA to that of your Ad!
Take ExpressVPN's Ad for example.

It offers a "risk-free" 30-days free trial.
When you click on it, the landing page uses the same wordings too.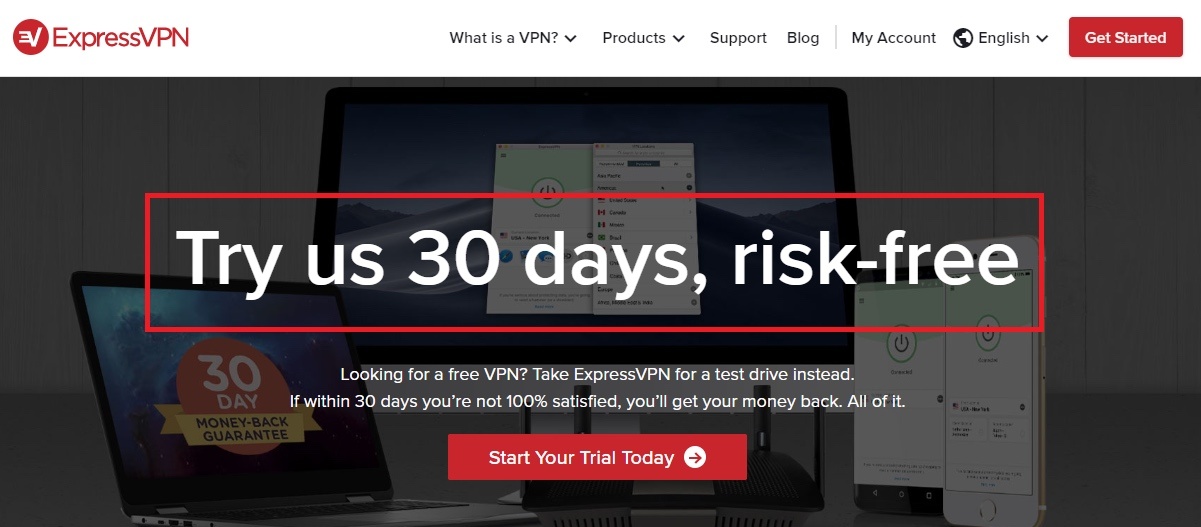 This helps the audience know they've reached the right place.
If ExpressVPN offered a 15-days free trial on their landing page instead, their audience would feel cheated and click away.
People want to get what they're promised.
Message matching helps you deliver on your ad promise, in the way they want.
In fact, ideally, you should use a different landing page for each combination of headline, message, and CTA variations you use.
This ensures that your audience always feels they've landed on the right page, thereby increasing your conversion rate!
Your 7-Step Checklist for Crafting Effective Advertisements
Now that you know what makes an advertisement effective, let's summarize with a checklist.
When you craft an ad, remember to:
1. Research on your audience and competitors
2. Have a clear, specific headline
3. Share benefits instead of features
4. Craft an offer that helps you stand out from your competitors
5. Provide a clear Call-to-Action (CTA)
6. Prepare at least 3 variations of your headline, benefits, and CTA each, for split-testing
7. Ensure your landing page(s) use the same headline, message, and CTA as your ads
Following all 7 steps ensures you give your ads the best shot at success.
Let's get cracking!