How To Write Customer Stories That Wins Hearts & Clients (A 6-Step Guide)
April 24, 2021 | Sean Foo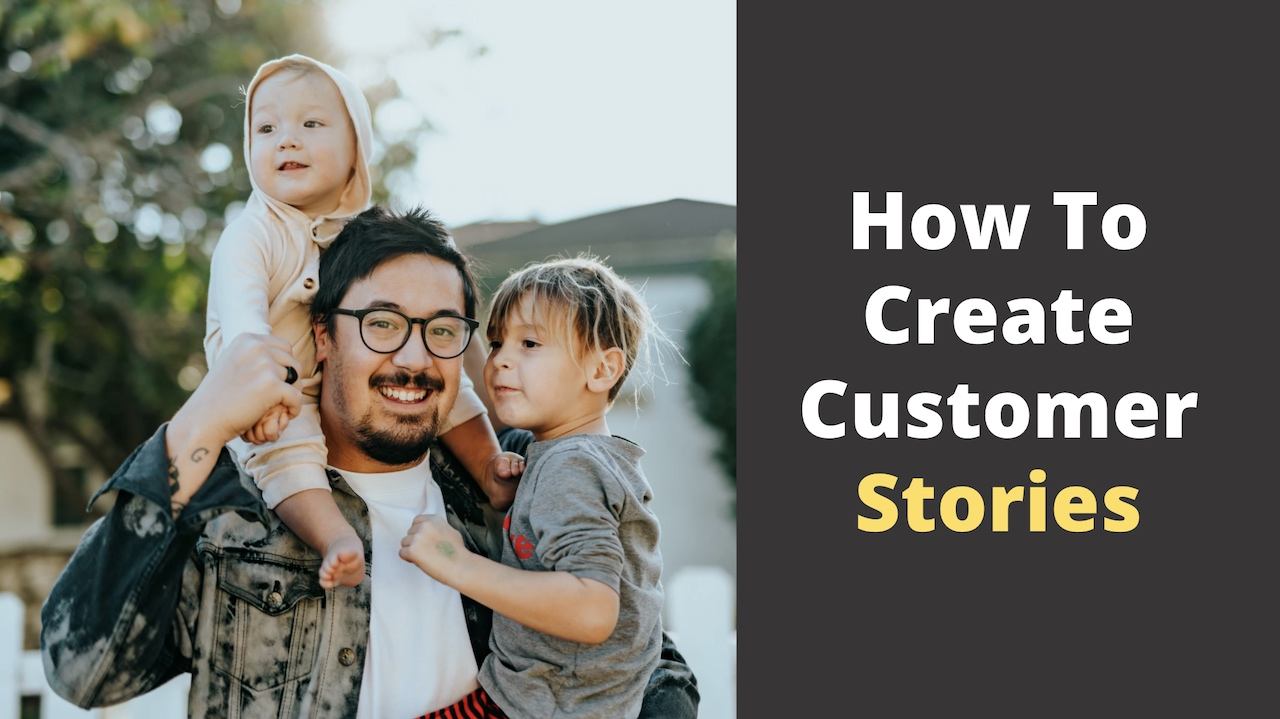 The Big Picture: Connecting your audience with your products isn't easy. However, with customer stories, you'll be able to combine three powerful ingredients – a relatable story, valuable insights, and social proof to truly speak to your customers.
As marketers, when we hear the term case studies, we probably think of them as lead conversion tools – the final pieces of content that convert prospects into paying customers.
However, audiences are getting more resistant to the conventional case study where they are used to seeing the same old mechanical set-up:
– How the customer is facing problems and challenges in their business or life
– How the solution is helping them solve the challenges
– The end result and benefits the customer is now enjoying after implementing the solution
Now don't get me wrong, this time-tested layout of the typical case study has value and is essential when we create customer stories.
But in our rush to swiftly demonstrate value and build trust with our audiences, we are missing out on a key component of effective sales – an authentic connection.
The Issue With Case Studies: Are We Truly Connecting With Our Audiences? 
Most case studies today are self-serving, meaning they do more for the business than the audience.
Sure, your product might have helped your customer triple their earnings.
Or maybe your service helped them identify time-saving opportunities in their business.
While a well-written case study does inspire confidence in your solutions, building the genuine desire to buy goes beyond just convincing your reader with logic and facts.
Your reader might logically understand the benefits of your solution, but it lacks an engaging story and emotional hook that your reader can resonate or find relevance with. 
There isn't valuable insight your readers can glean from, ironically, lowering the perception of your brand as being helpful or relatable.
Thankfully, with customer stories, we can put the focus back on our audience and deliver value and insights that serve both our business and prospects.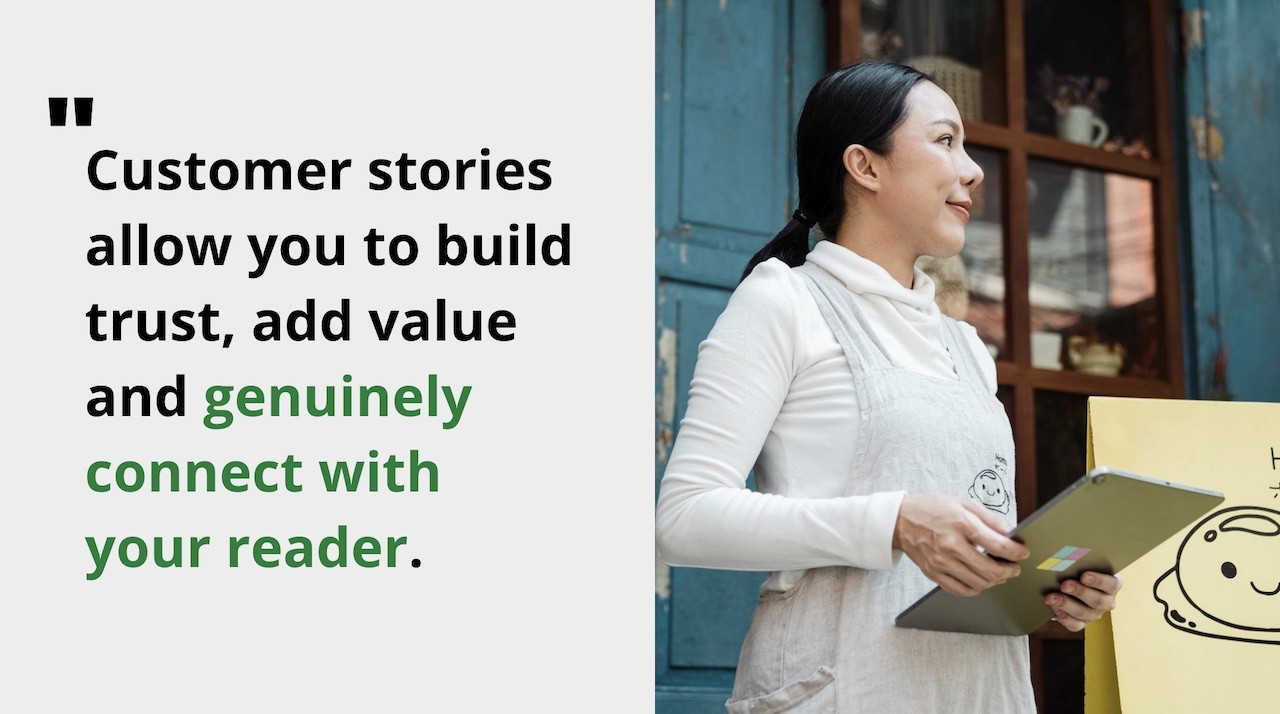 What's A Customer Story & Why It Is The Future Of Brand Storytelling
A customer story brings the reader through the journey of a customer's challenges, passion and successes while also highlighting how your product or service has helped them through this journey.
It is a deep dive into the nitty-gritty details of how they went from point A to point B, sharing lessons learned, dropping valuable nuggets of information and advice to the reader.
Customer stories are not just limited to blog posts or landing pages but also can be showcased on videos, pictures, and audio podcasts.
A customer story is about the journey & using the journey to inspire and educate your reader.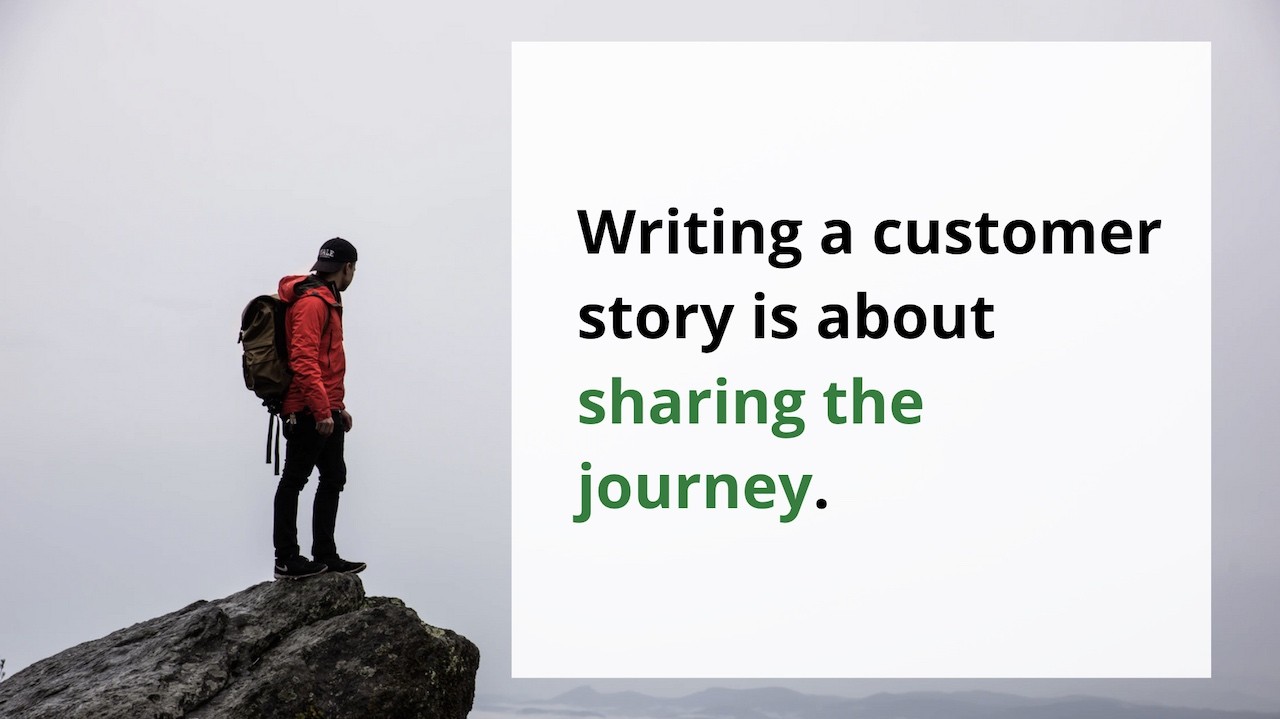 Here's the ultimate test to see if your customer story meets the mark, ask yourself when you read your content:
"If we remove all mentions of your solution and brand, will the story still add value to your reader? 
Will they learn something new, useful or insightful that will benefit them?"
You want your reader to go either "Hey, I am facing the same issue, I didn't know it can be solved in this way!" 
Or "Wow, this is a smart approach, I should take notes and give it a try!".
Remember, a customer story is primarily about the customer, their struggles, and their dreams. Your customer is the star of the story, not your solution.
As Sweetgreen's Co-founder Nate Ru puts it "Stories are the way humans exchange concepts and ideas. We want to create intimacy as we scale, and stories are the key."
Sweetgreen brilliantly showcases their excellent customer stories (on their community impact page) that educate readers about the health challenges facing their customers and communities.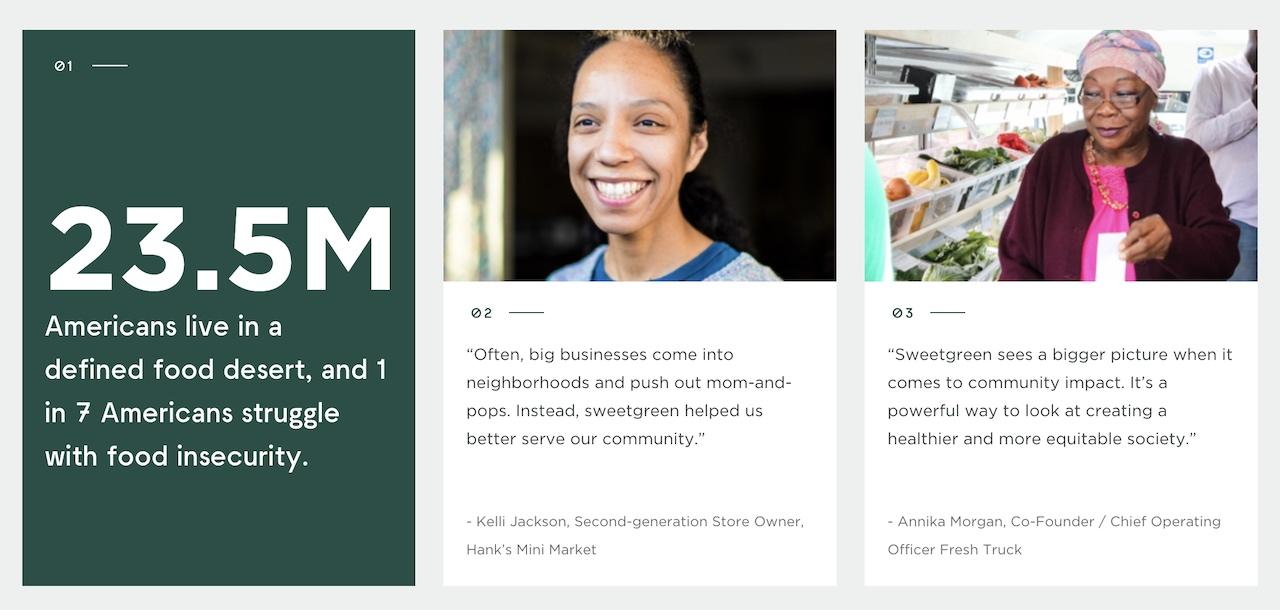 Tesla uses the power of customer stories to immerse their readers into the world and minds of their customers.
They dive deep into the lives and backgrounds of their customers – their struggles, fears, motivations, and sheer delight of owning a Tesla.
The story highlights what drove them to select a Tesla and how their Teslas fits perfectly into their lives. A powerful first-hand account of life with a Tesla, how it blends into the family's daily grind, and how they went from a new car owner to happy brand ambassadors for Tesla.
A story that prioritizes their customers shows the company's values and fosters trust – and people do business with brands that they trust.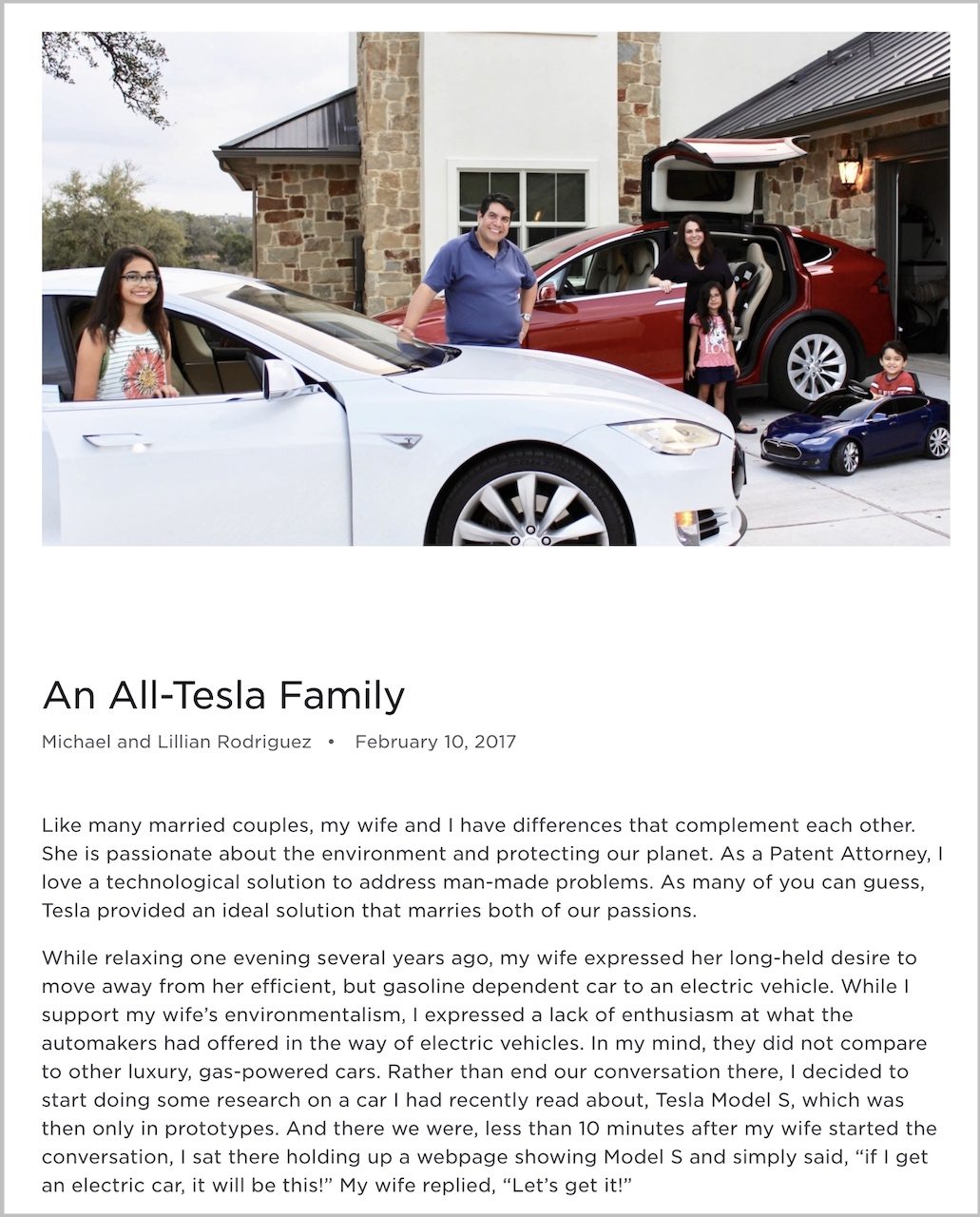 By crafting a compelling customer story, you'll connect with your audience better, add valuable insights that'll benefit them, and shorten the sales process – that means more conversions!
7 Steps To Creating A Customer Story That Resonates 
Writing a compelling customer story doesn't have to be difficult, but it will take some effort and careful pre-planning.
Whether you are selling a SaaS solution or a new wonderful blend of coffee beans, the steps are universal and can be applied across industries and content types (video, blog posts, etc).
Let's dive in!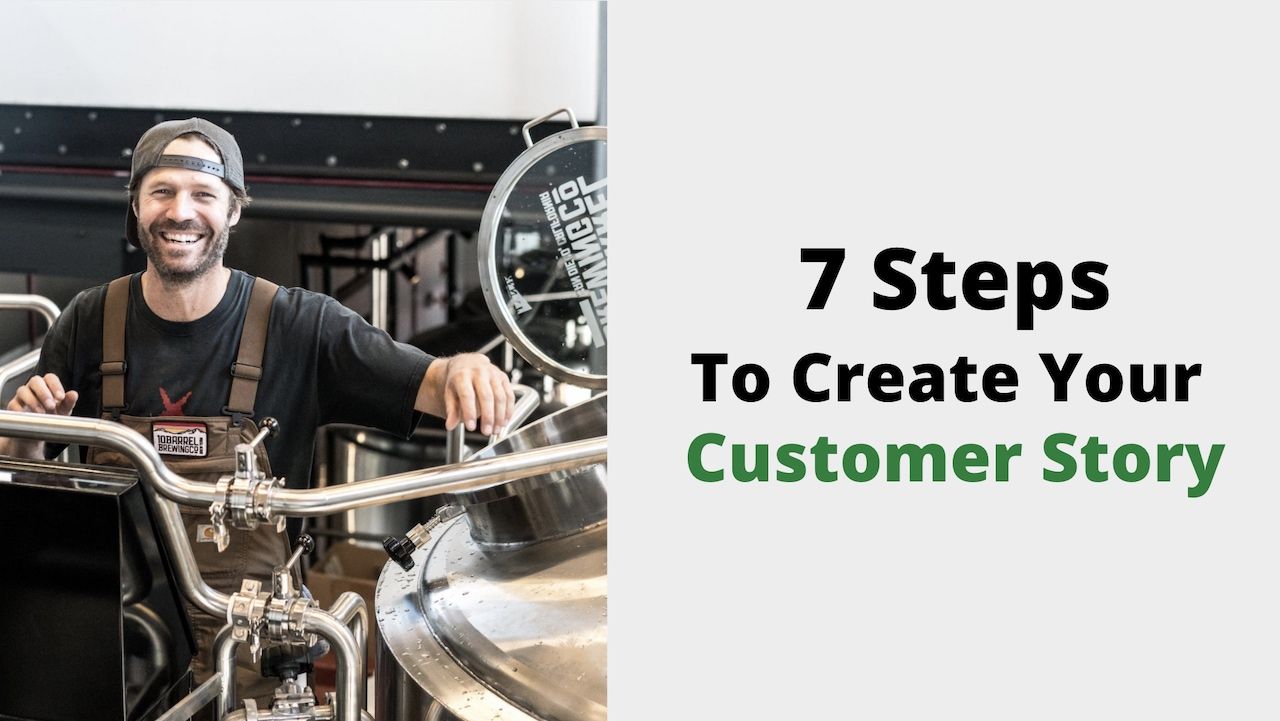 1. Pick The Right Customer
A great customer story starts by selecting the right client from your line-up of successes.
While you can have a pre-planned agenda of only selecting clients for a certain industry such as financial services or real estate, we recommend casting a broader net and paying attention to the uniqueness of the problems they face.
There could be a treasure trove of amazing stories that you can uncover that might otherwise be overlooked.
However, you want to ensure that you keep these 3 pointers in mind:
Has your product or service delivered decisive results for them? The happier your customer is about your solution, the more information they will share, and the better the story will be.
Select the right contact person to interview. While interviewing the company owner is helpful, you'll ideally want to speak to the person who has selected and is using your solution daily.
Do they fit the prospects you are trying to attract? This is where you need to pick and choose the people you want to interview – crafting a customer story centered around a big multinational brand won't have much relatability to a small business owner (if those are your ideal customers).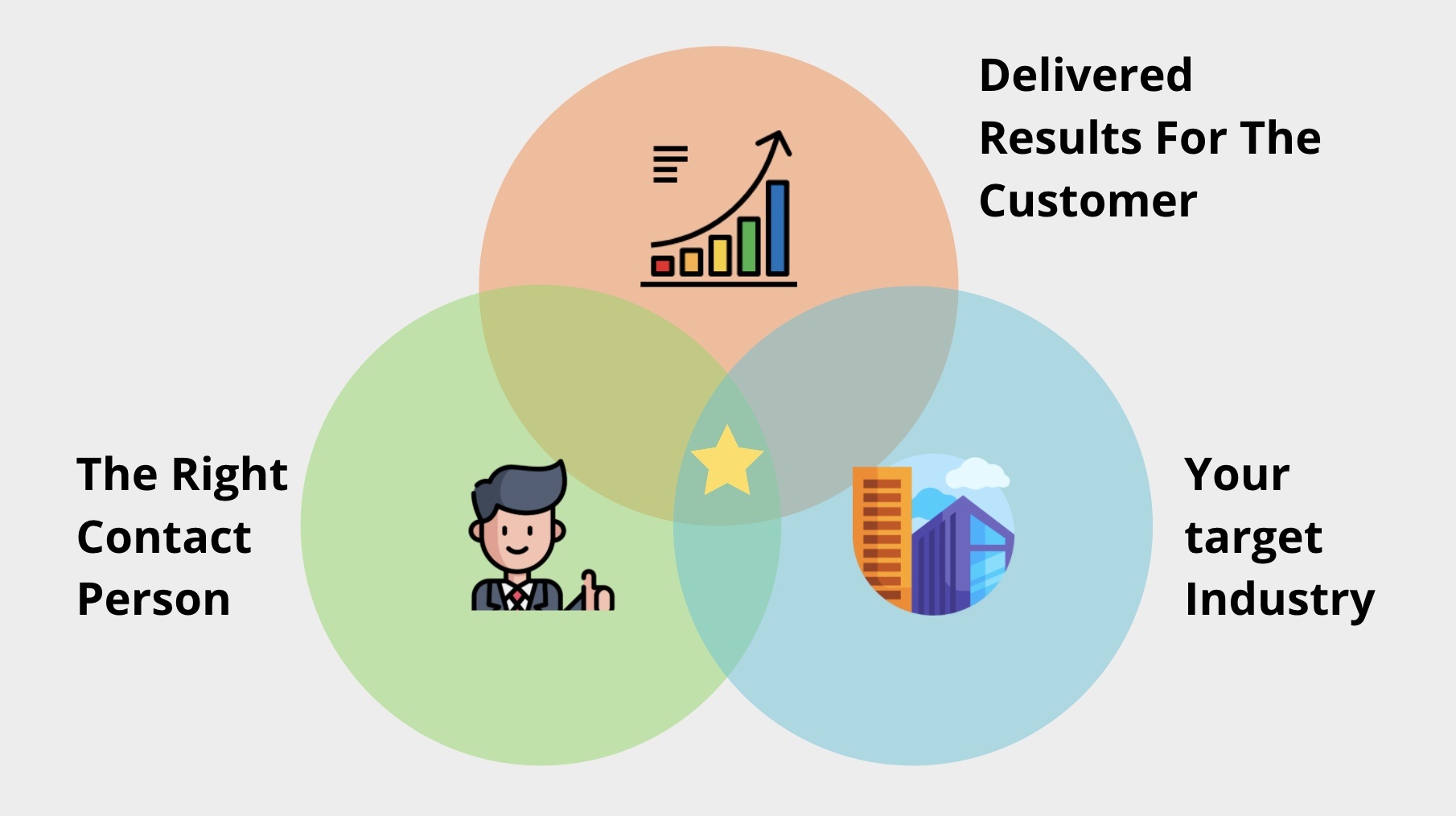 When it comes to reaching the customer, normally we recommend you do the email approach. Other than being less intrusive, you can play the numbers game and stock up on your interviewee list for the next step.
Oh by the way, it's always best for either the founder, CEO, or some big shot in your business to send the message – you make them feel more important and it's more sincere.
It's a near guarantee (and a nice lil secret) that will improve your interview acceptance rate!
Here is an email template you can use & customize:
Headline: Hey [Name], tell us your story!
Hi [Name],
This is [Your Name] at [Company]. 
It's awesome to have you as a customer and we hope you are continuing to enjoy the great [Core benefit of your solution] from our solution!
I was wondering if you might be interested in participating in a quick customer interview? 
We find that your project is a great fit and would tell a great story to our community. We'd love to promote your brand by showcasing the results to our audience and the world.
Plus we'll also backlink to your website and give a shoutout on social media!
Would you be free for an interview with my team? It'll take around 30 minutes and we can do it over a video call.
Thank you so much for your support again and looking forward to hearing from you!
Sincerely yours,
[Email Signature]
The key is to keep the email short and to the point. You can hash out the details later once they respond.
Oh yea, do ensure that you conduct your research and only send this email to the right customers as highlighted earlier!
2. Learn About Your Customer's Journey & Ask The Right Questions
Learning about your customer's story means taking charge of the conversation and leading them down the right questioning path.
The key in the interview is to uncover the complexity of the challenge, how it affected your customer and how your product or service eventually helped them reach success?
Here are 16 questions to ask your customer to better guide them through the process.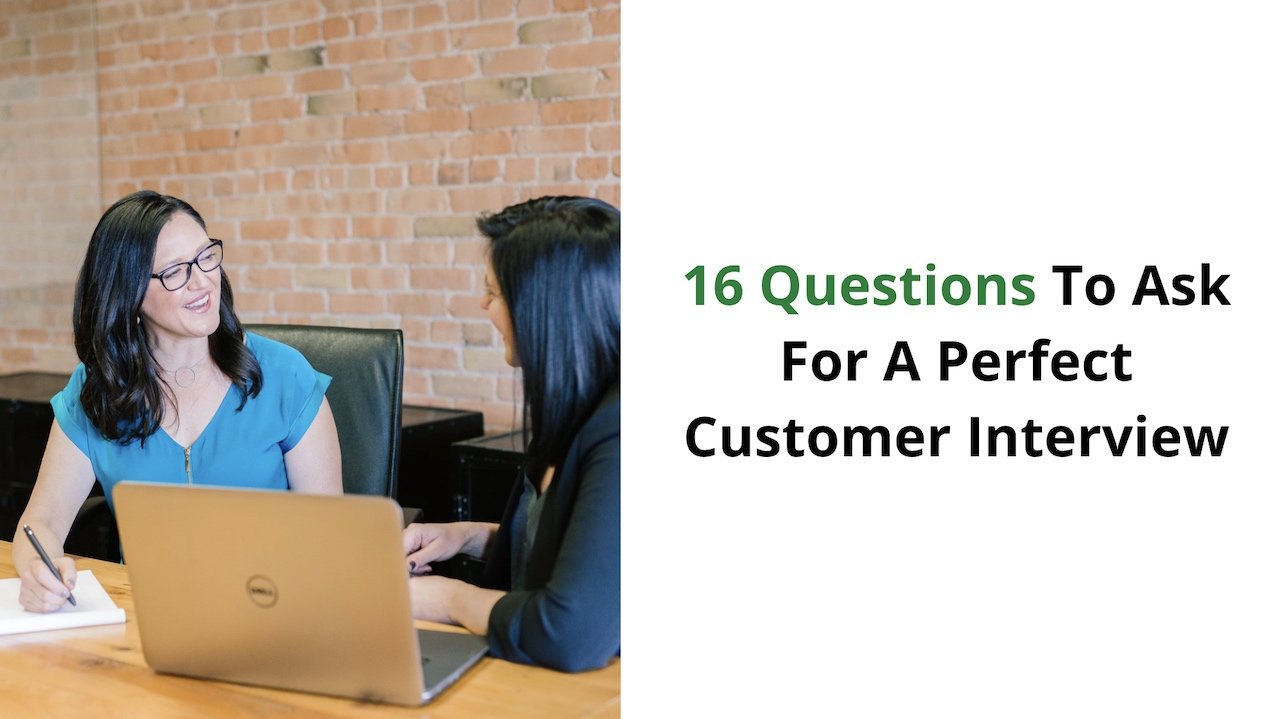 Setting The Stage
This is where you learn more about your interviewee's role, company, and industry.
1) What is your role in the company and what do you do?
2) Tell me more about your company. What are its short-term and long-term goals?
3) How are things in your industry? Is it getting tougher and more competitive?
Defining The Challenge
These next few questions will help you flesh out the main heart of your customer story – their challenge.
4) What is the biggest challenge facing your company that you were trying to solve?
5) What were the stumbling blocks, problems, and issues that are present?
6) What would it mean if you managed to solve the challenge for your customers and/or company?
Uncovering The Hook
This is where you try to extract nuggets of wisdom from the customer. 
You want to find out something unique & uncover any complexity – it could be about their culture, their processes, or their approach to problem-solving that could add value to your customer story readers.
7) Were there any unique challenges you faced and how did you overcome them?
8) Compared to your competitors, were you facing any constraints such as manpower, budget, expertise, etc?
9) What was the execution plan and were there any complications or issues you faced while executing it?
10) What were you particularly proud of during your journey to accomplishing your goal?
Learn More About Your Product's Role
Discovering how your product or service fits into their story & challenge is a crucial step.
After all,  a customer story will have elements of self-promotion for your brand and you'll want to frame it in the best way possible.
11) Why did you choose our solution and how did you find us?
12) What were the issues of your previous solution/vendor and what was the breaking point?
13) How did our solution help you through your execution plan? Which areas did we help out the most?
14) What was your experience with our product and our team?
15) If you had to choose, what was one key feature of our solution that you absolutely love and can't live without?
16) What are the results you have enjoyed? Could you quantify them for me?
Remember to customize these questions to our situation. It is important to engage your interviewee in an honest and candid conversation.
Seek to understand their perspective and view the world from their lens – it'll help bring out the best and most authentic responses, making your customer story that much better!
3. Develop Your Story's Theme & Establish The Narrative
Now that you have the raw information needed from the interview, the challenge here (perhaps the biggest challenge) is to develop the theme for your story and its narrative.
Essentially, you want to establish the overarching theme – what is this story really about, and its central idea.
As well as the narrative – a collection of the characters, plot, and sequence of connected events in the story.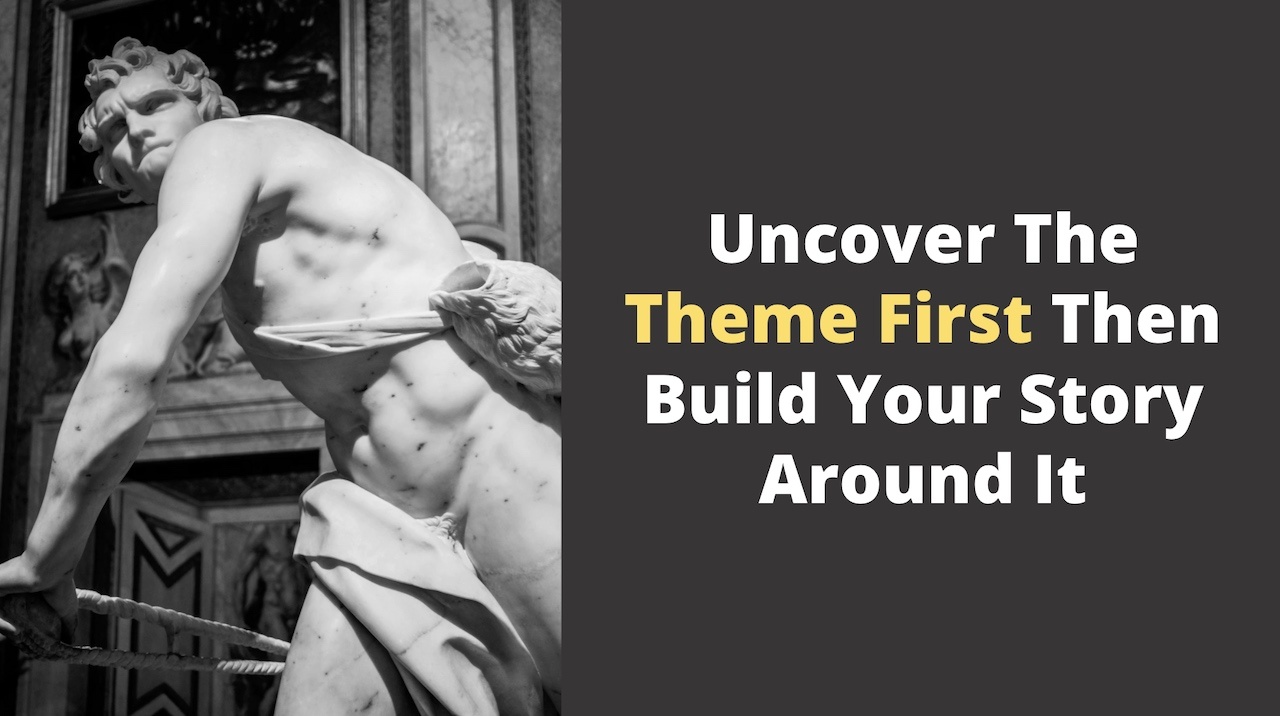 We all know the story of David vs Goliath, where a young boy faced down a big Philistine giant in single combat – and won.
The theme here can be 'How an underdog overcomes enormous odds' or 'Why not to underestimate your opponent no matter how unlikely they might seem.'
While the story's narrative will be the sequence of events that led to the final confrontation between David and Goliath – from their two armies facing each other and the calling out of combatants to the battle itself.
The same applies to your customer story – you need to zoom into a focal point in your customer's interview.
Ask yourself, what is the big takeaway message and learning point my reader can take away from this? 
What inspiration can they gather after reading this story?
The theme could be:
'Fighting against bigger opponents and winning through ingenuity'
'The importance & benefits of a happier workforce'
'Unlocking unseen revenue streams hidden in plain sight'
'How to one-man army an entire company'
Close uses customer stories to educate and add value to their readers first – they understand that by accomplishing this, the sale will come.
In this particular customer story, they focus on teaching readers how to automate their sales processes to close more deals. Working less & earning more – that is the theme, that is the big takeaway.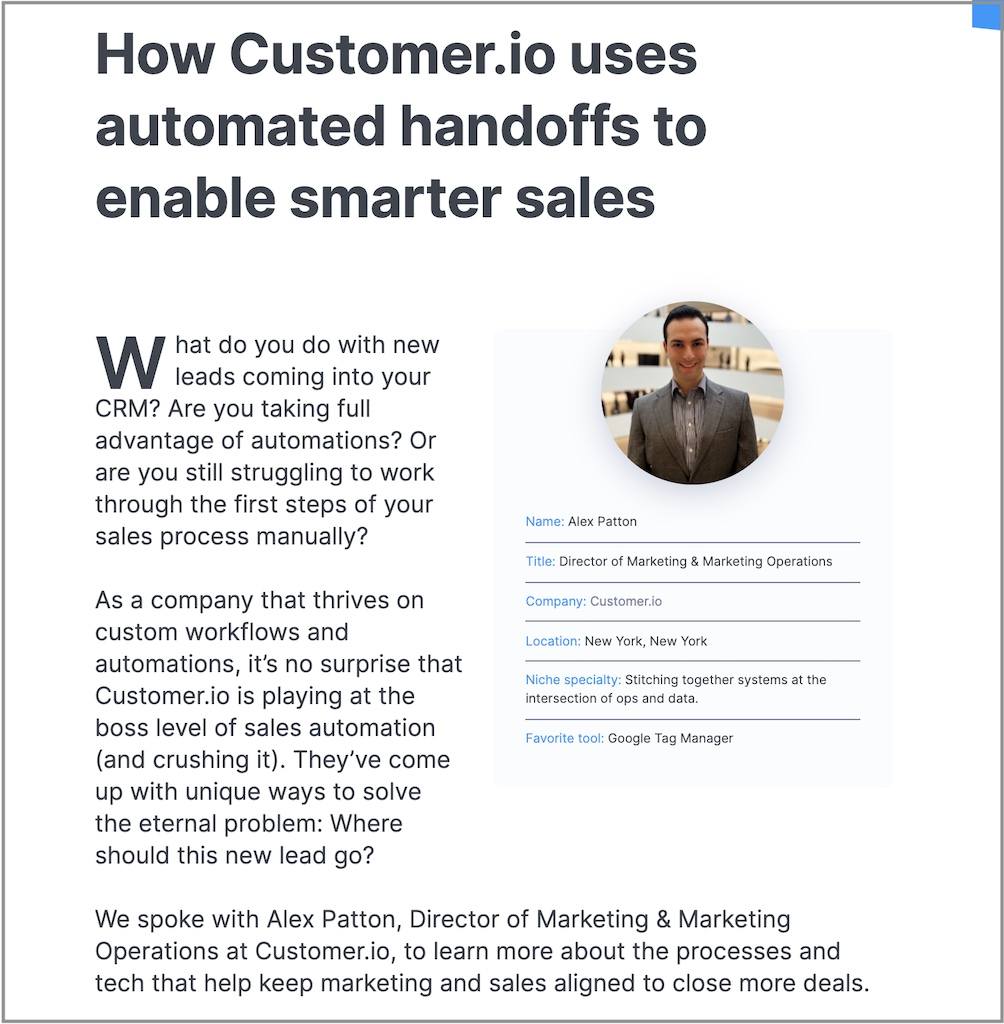 4. Clearly Articulate Your Customer's Struggles
Your customer's struggles will likely be the same issues your readers might be encountering in one form or another.
The key here is to showcase all of your customer's unique struggles but at the same time highlighting various aspects that you know are commonly faced by your audience to make the story more relatable.
A great way to do this is by extracting the key points of the struggle or challenge and make it highly digestible to your reader.
Instead of the usual chunks of paragraphs, Close uses bullets and even a diagram to articulate clearly the struggles their customer was facing.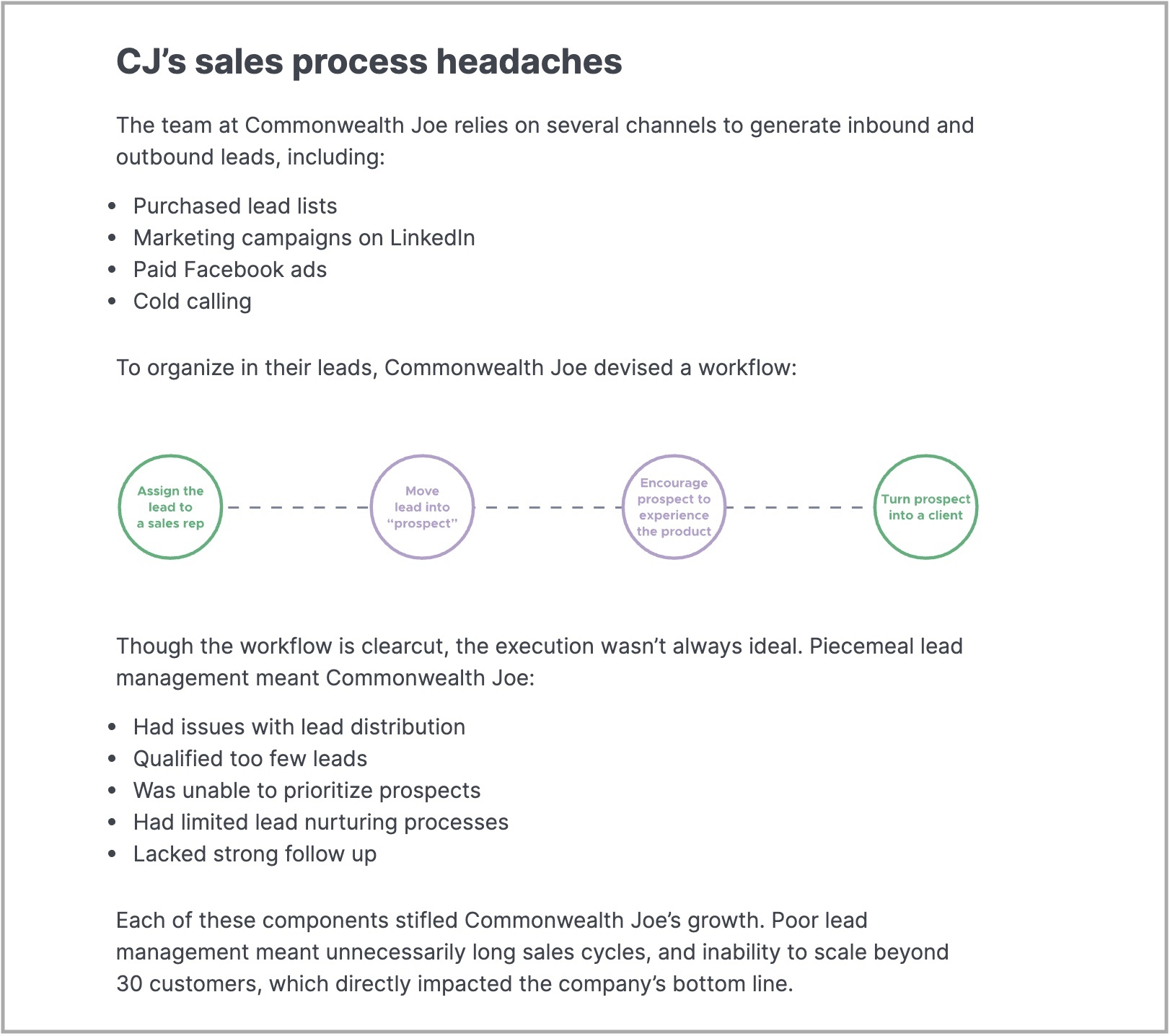 Another alternative to the traditional way of presenting your customer's challenge is to lay it out in a very systematic format that covers:
What exactly is the challenge facing them (is it internal or external?)

The stakes involved and how big of a threat it is

What is needed (in the perspective of the customer) to be done to get through this challenge.
The key here is to highlight the challenges they are facing. It could include:
Vend does this marvelously in each of their customer stories. 
They clearly lay out the big challenge facing their customer – creating a unique in-store experience to attract customers into their store.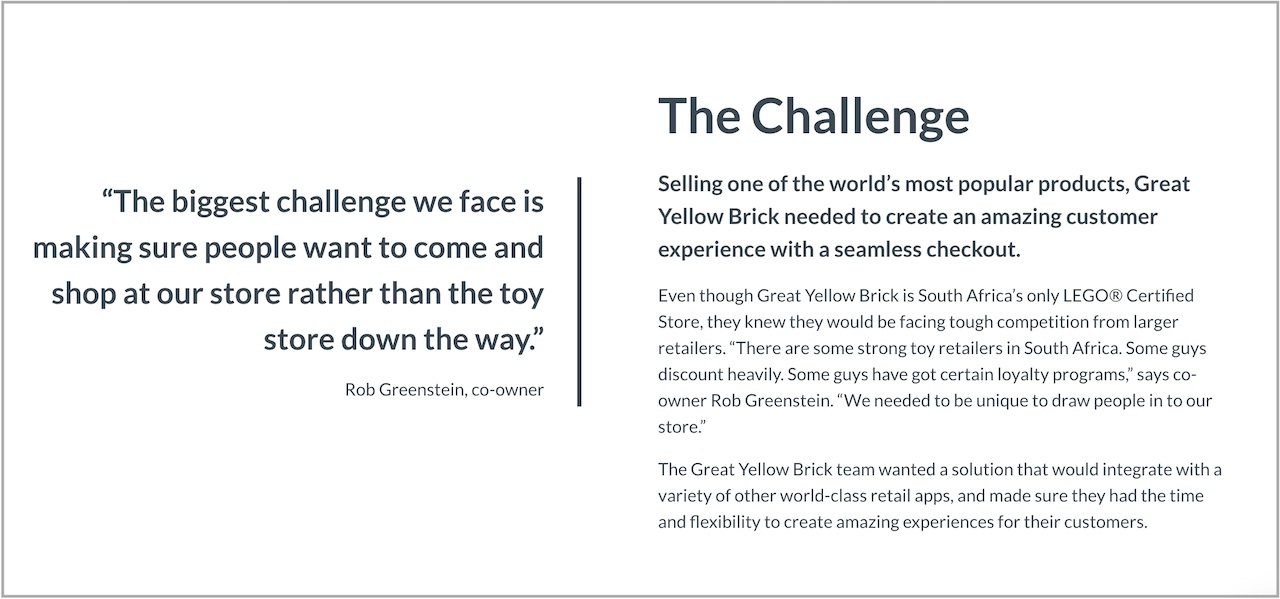 By intelligently including a quote by the store owner that highlights the challenge in their own words, readers can better relate to the story in a more human way.
5. Highlight Their Buying Process & Using Your Solution
How did your customer find your product and what convinced them to buy?
Was it easy to use your product?
How did the process of working with your team or solution feel like?
These are questions that should be answered in a personal way in the customer story. Not only do the answers shed light on how using your product is going to be, but they also provide powerful social proof straight from your successful customers.
Monday incorporates these key information into their customer stories. 
Each story highlights how the particular customer found the solution and the actual process of using the solution and the key realizations of why their product is awesome.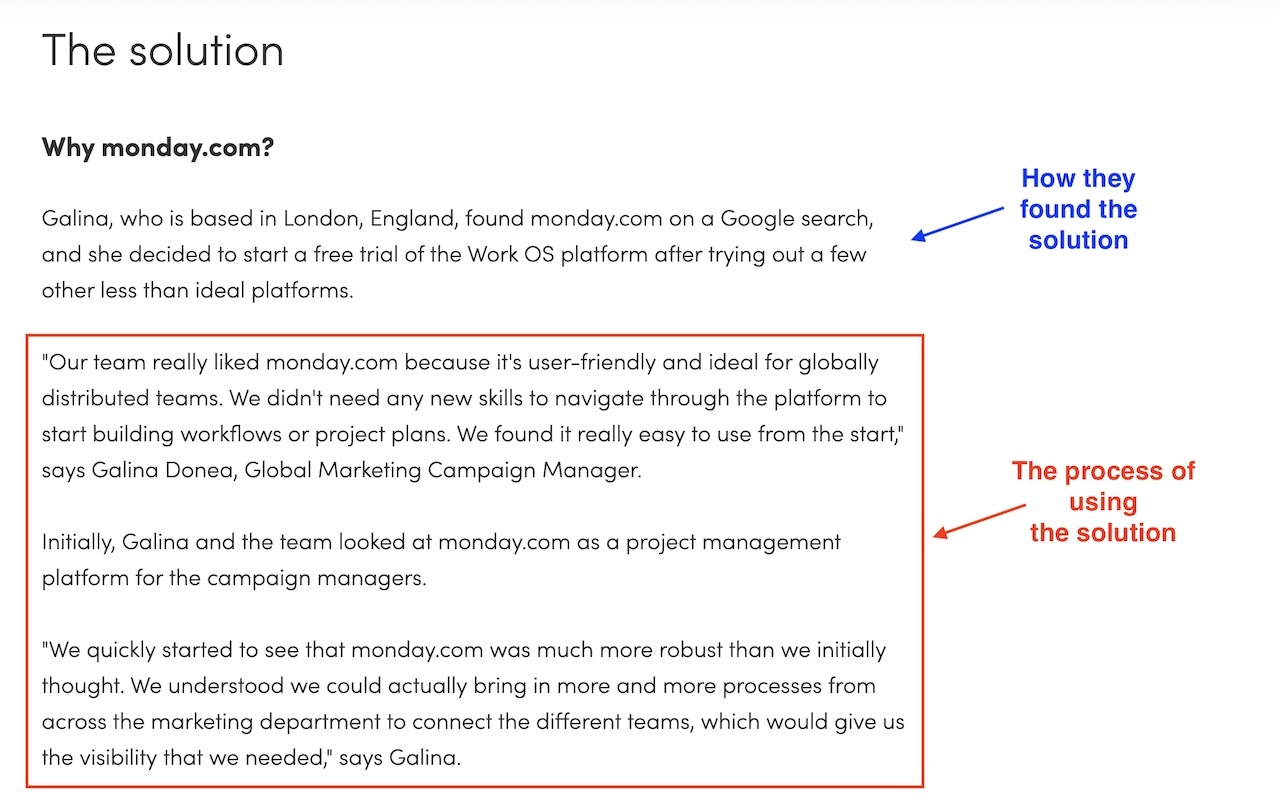 Remember, your readers are probably considering your product (and brand) as a viable option and they are reading your customer story to assuage their doubts – two of which are if your solution is credible and how difficult it might be to get started.
6. Proudly Showcase The Results Enjoyed
A great customer story has a happy ending and in most cases, it would be the client reaching their end destination.
There are two ways you can effectively play this.
The first is to showcase the results right at the start, like how Vend does it for their customer success stories.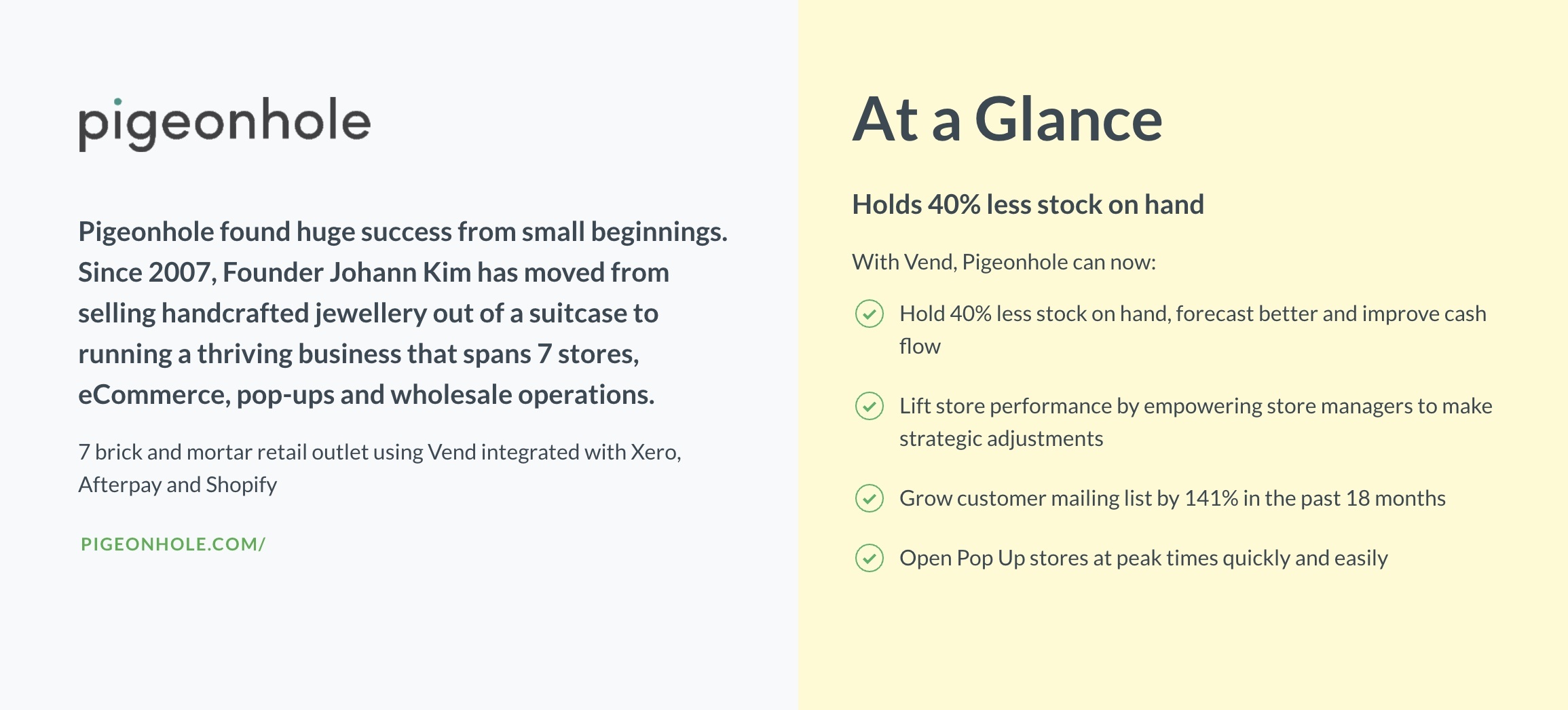 They quantify the benefits and display them succinctly in bullets to make it quick and easy for readers to digest.
Or you can adopt the approach of integrating the results into your story's narrative – like how Github does with their customer stories.
This allows for a more natural flow and can make the results sound more personable – especially if it comes from a quote.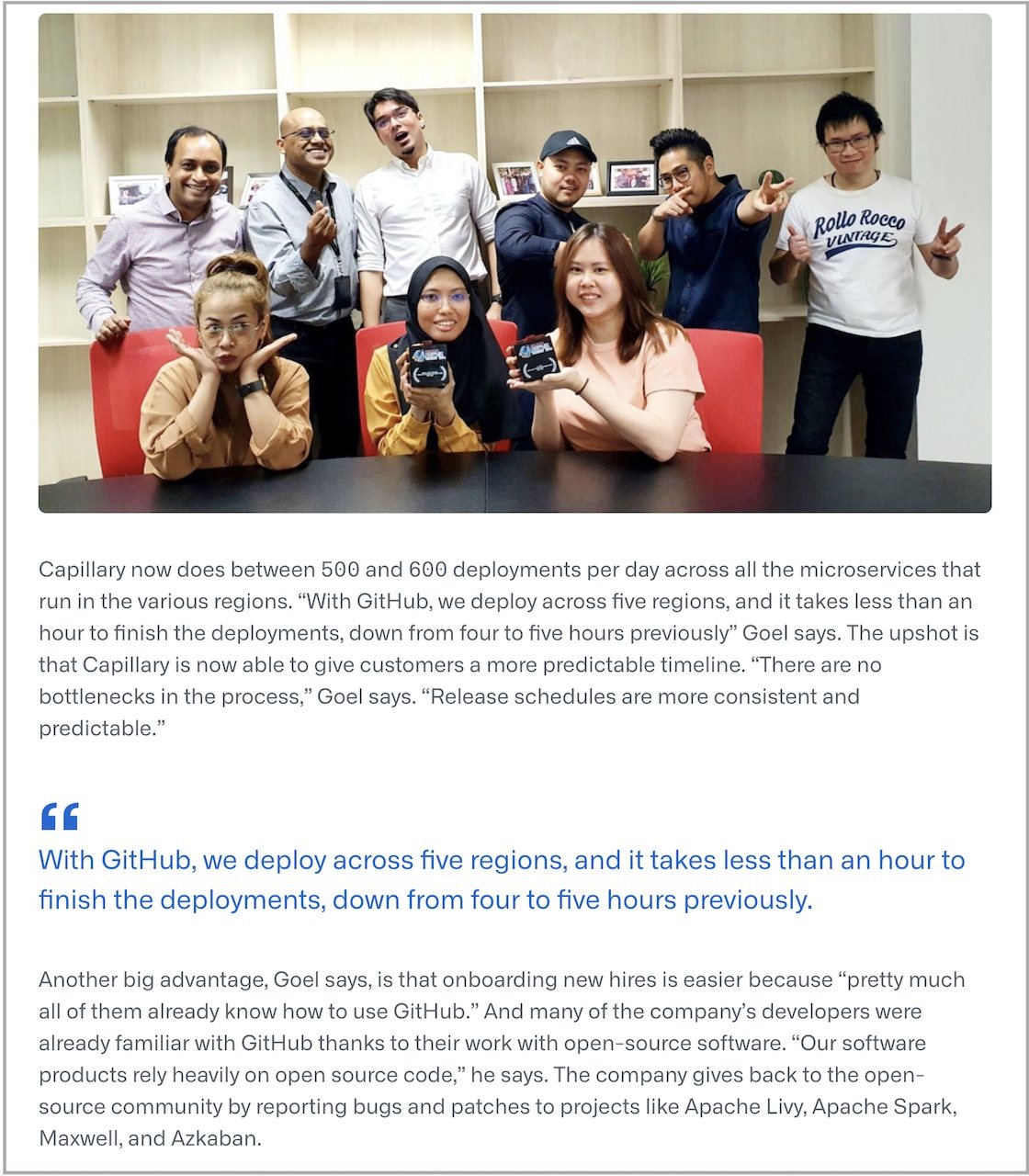 Whichever you choose, there are three things you need to keep in mind when showcasing the results
A) Be hyperspecific and quantify the results if possible. That means to use numbers!
B) Attach a bigger impact to the benefits enjoyed. For example, a 50% increase in sales could translate into plans to help expand the business to other cities.
C) Capture the emotions felt by your customer – especially powerful when you can do it through videos
7. Evaluate Your Customer Story With A Critical Eye
One of the biggest temptations (or risks) of writing a customer story is the tendency for it to slowly morph into a self-serving generic case study.
A case study where your customer is used primarily as the pawn to solely blow your horn. Don't do that.
Put yourself in the shoes of the reader and always ask yourself the following questions:
– Am I learning something I can use from this customer story?
– Does it highlight a problem or situation that I am facing or will probably face?
– Are the results impressive and specific enough?
– Do I feel a range of emotions while reading this story? (From the fears shared by the customer to a taste of victory when they succeed)
– Am I informed about the customer's journey, their struggle, and the strategies they use to reach success?
– Am I clear about how the product was used to help reach the customer's goals?
And if you can, ask another customer to evaluate and read your story. An objective 3rd party view is priceless.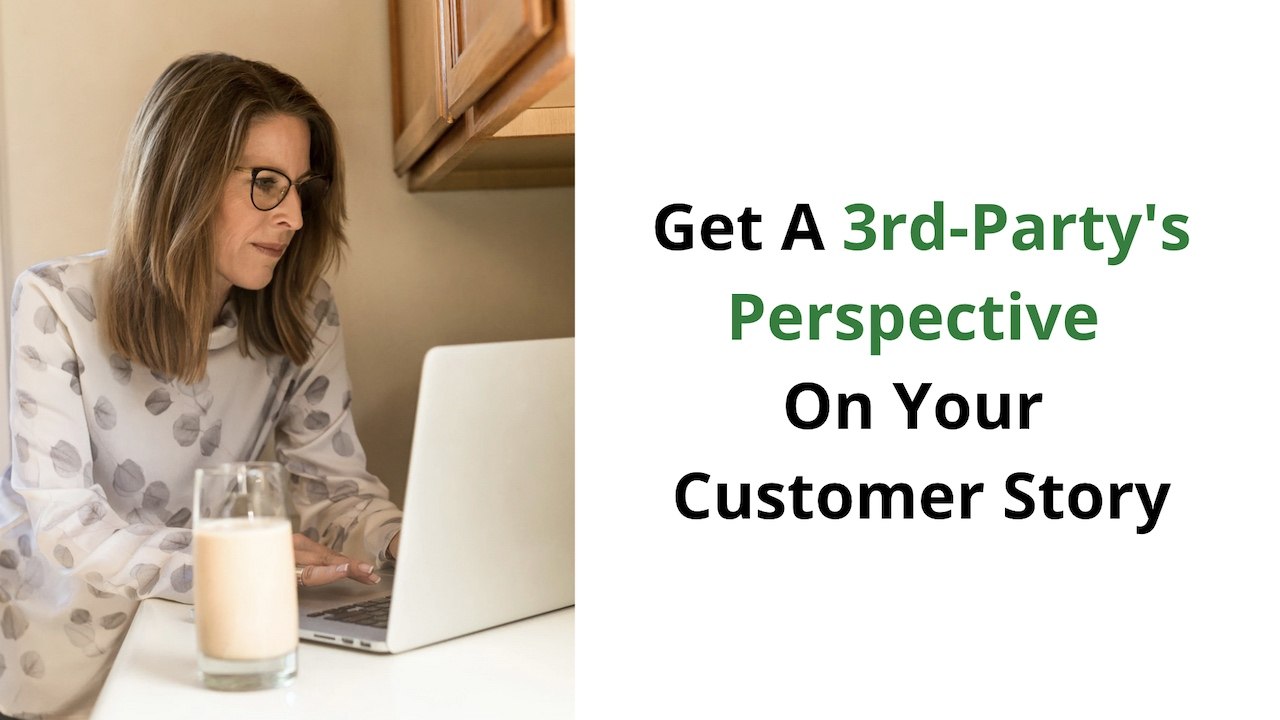 Breathe Life Into Your Customer Stories
While the structure and narrative of your customer story are important, it is also crucial for you to 'dress' up your story to be appealing to your readers.
Whether you decide to host it on your blog or a PDF document, you need to bring your customer stories to life through a mixture of design, copywriting, and clever presentation that will capture attention and inject in a 'WOW' factor.
Here are five strategies that you can use to make it happen.
A) Write Captivating Headlines
When it comes to writing headlines for your customer story, you'll want to make sure it is attention-grabbing, adds value while being enticing enough for your prospect to click and learn more.
Sounds like a tall order? It doesn't have to be so!
Here are some guidelines to check as you craft your headlines:
Does it highlight the benefit the client has experienced from your solution?

Does it hint at a story that has valuable insights to share?

Is it relevant to a common challenge my audience (or industry faces?)
Take this example of headlines from Spotify's advertising customer stories. They entice readers (advertisers in this case) to want to click through and learn more by sprinkling hints of success and the journey.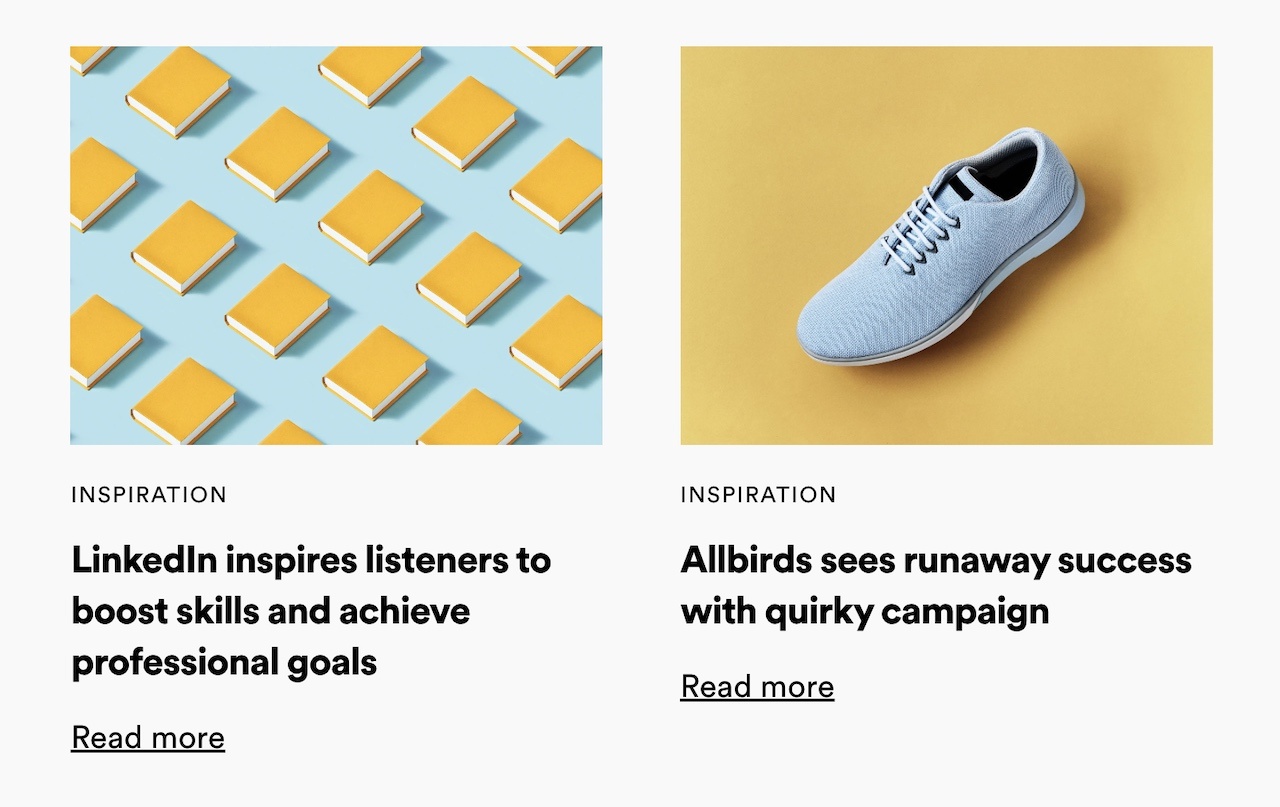 Alternatively, you can go bold and proudly display the results of your customer story in your headline like how Zendesk does it.
You can add more context to what the customer story is about in the description copy below as a quick mini-hook to get readers to learn more.
B) Design Your Story For Visual Appeal
Design is very important. 
Good customer stories become great when they are presented in the right manner and are visually appealing to the reader.
Apart from the usuals (customer logos, showcasing results prominently, ample white spacing), you'll want to make the reading experience a visual treat.
Slack, for example, uses a well-designed templated style for each of their customer stories.
The spacing is on point, important details are highlighted, attention is directed to where they are needed and on-brand visuals are used.
But what we love is the side-bar on the left that shows readers how the customer uses Slack (the integrations) in their business – plus a handy call-to-action bar for readers to take action at any point during the browsing experience.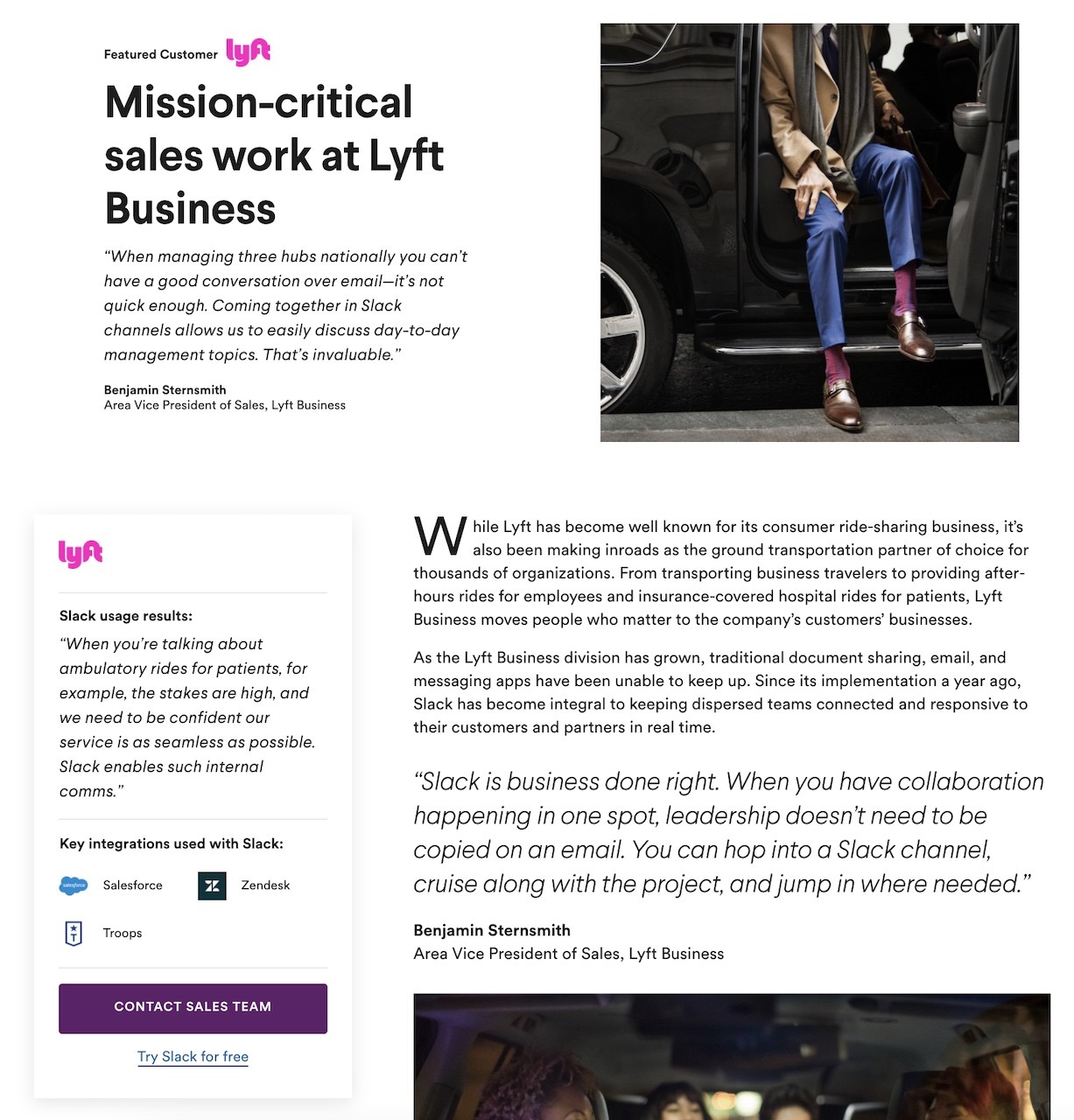 C) Showcase Customer Quotes
Customer quotes bring your story to life – there are few things more authentic than hearing (or reading in this case) the actual words from your customer's mouth.
However, you'll want to ensure they stand out from the rest of the content text – especially the quotes that are insightful or highly valuable.
You can use quotes, like Zendesk, to act as visual breaks between long chunks of text.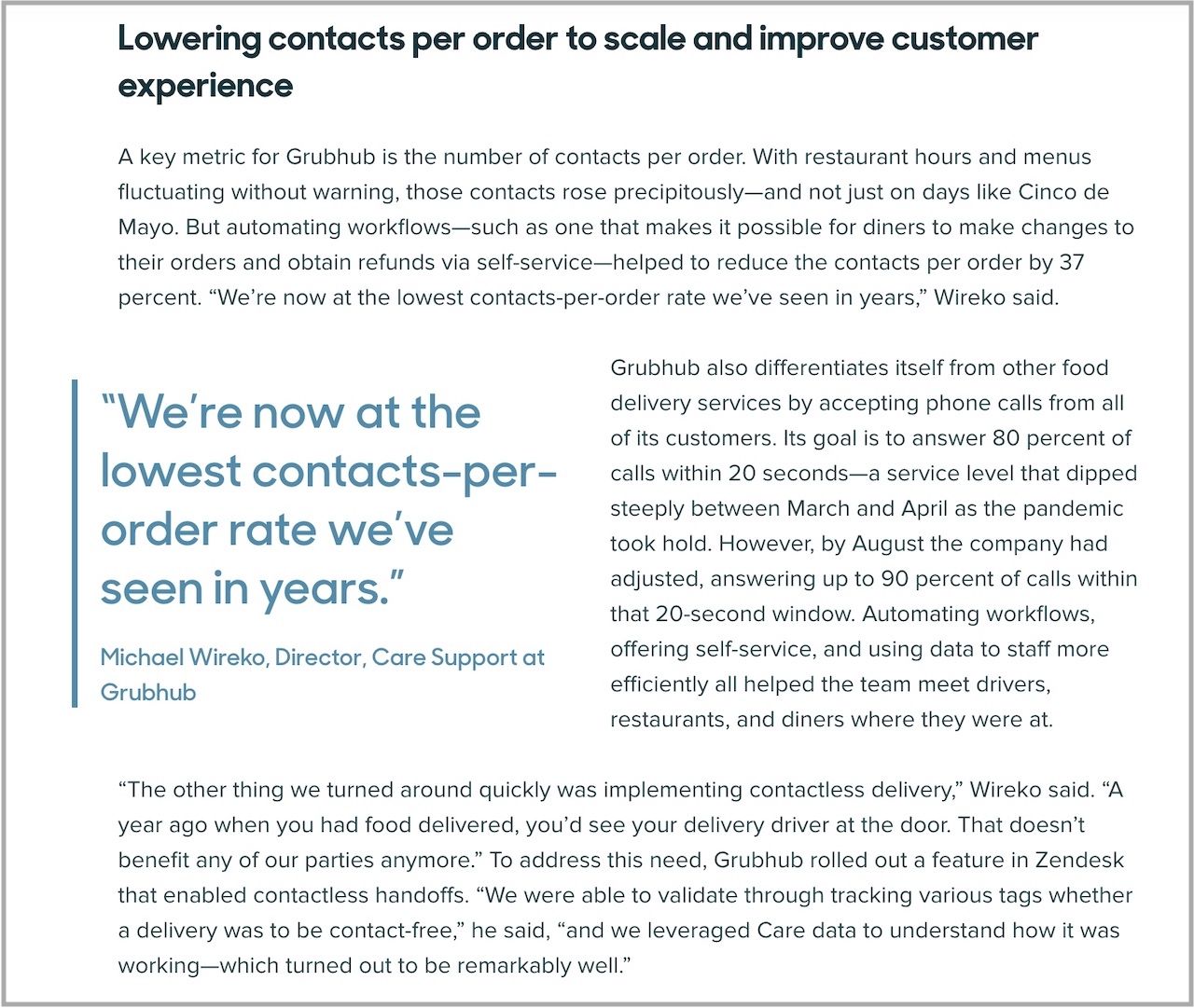 No matter how you use them, you have to be selective about the quotes that you choose to showcase from your interview efforts.
Ideally, you should have a quote that covers critical parts of your customer story's narrative that includes:
The big struggle or challenge they are facing

The process or big insight they discovered to solve their challenge

How easy or helpful your solution is to solve the challenge

The end result after utilizing your product or service
D) Include Video Testimonials
There is something special about video customer stories that simply connect with your prospect.
Not only is it easier to take viewers through the story, but it is also much more authentic when hearing and watching it in living color from your customer.
Depending on your budget, you could film a professional customer story feature that you could integrate into your written content – like how Salesforce does for many of their customer stories.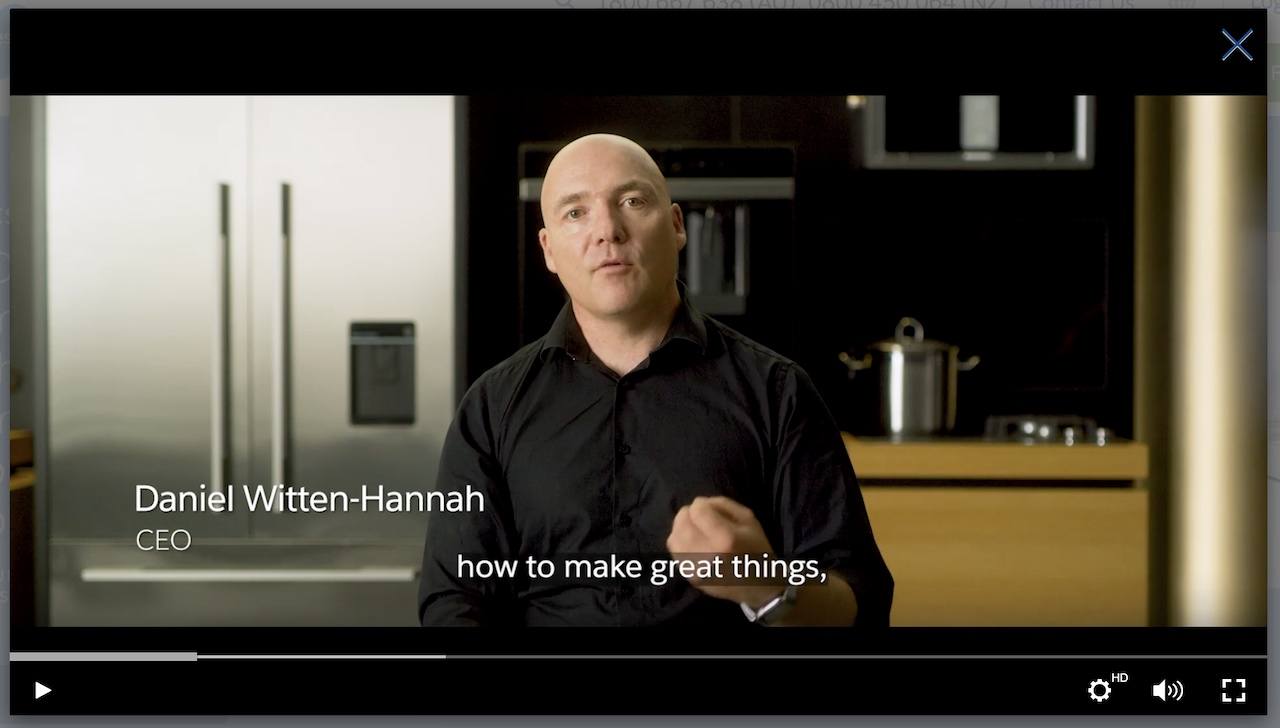 Compelling Stories Can Go Beyond Your Customers
Powerful storytelling doesn't just need to be reserved for your customers, they can extend to the rest of your company's stakeholders that includes your vendors & suppliers!
Sweetgreen does this superbly by crafting real thoughtful mini-stories that humanize their vendors, highlighting the hopes and dreams of their food suppliers and how the brand started working together with them.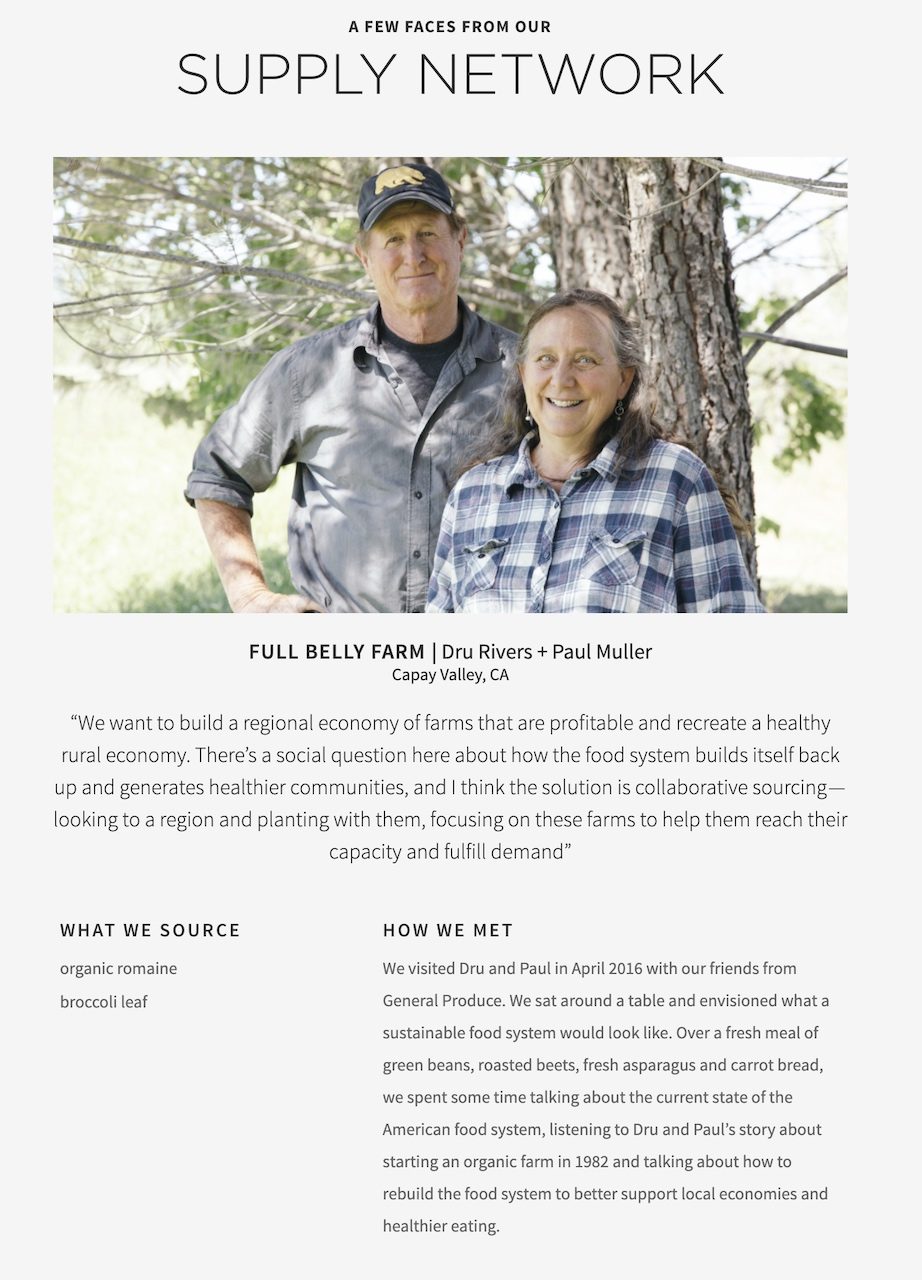 So consider using the power of compelling storytelling to bring attention to your trusted vendors & partners – they'll appreciate it and your audience will appreciate the transparency as well.
Get Started On Your Customer Story Today!
As much as it would be great to aim for conversions through a straightforward case study, a customer story is much more superior.
It teaches your reader, adds value to their situation, and unlocks insights that a conventional case study could never deliver.
As a result, it helps to elevate both your brand and solutions at the same time – that means more leads and sales at the end of the day!
So look through your client list and follow our guide and start writing your best customer story!
Need help to craft your customer story?
Drop us a message here and we'll be in touch!