Topic Clusters: How To Power Up Your Content & SEO Strategy (7-Step Guide)
March 27, 2021 | Sean Foo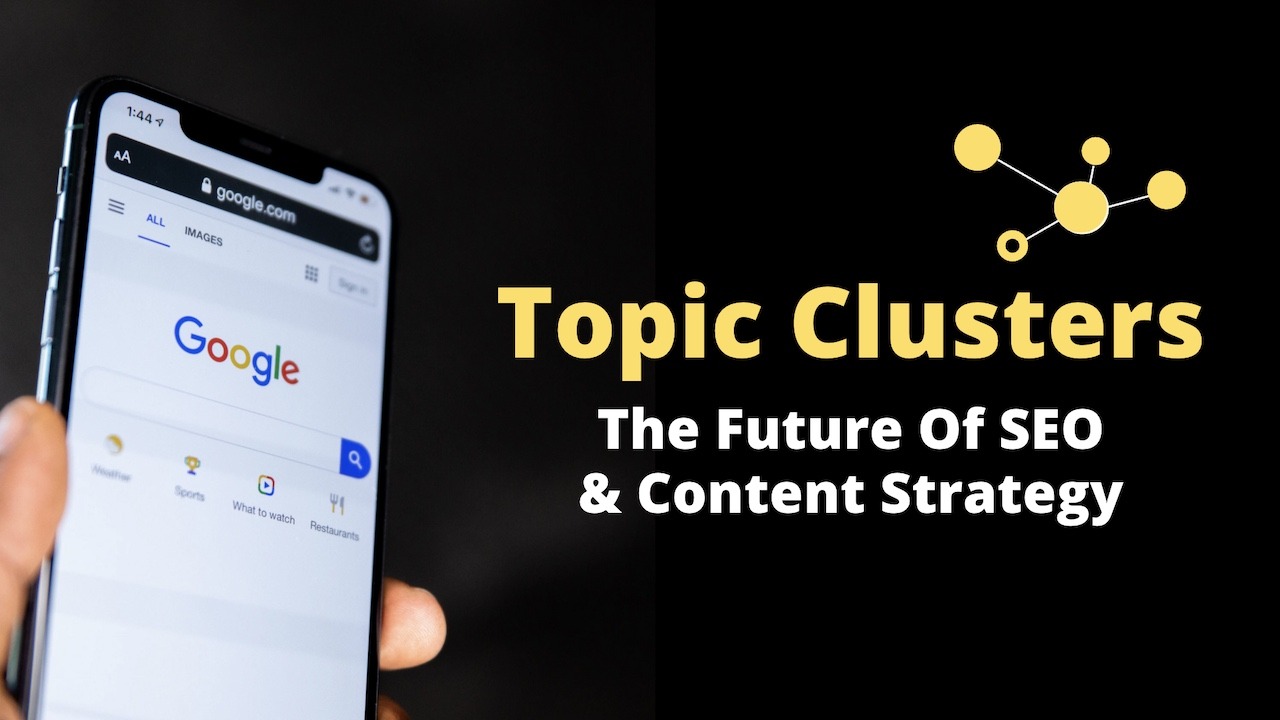 The Big Picture: Learn how to use the power of topic clusters to create effective content that will rank higher in Google – especially for competitive topics that everyone is fighting for.
Creating compelling content that ranks is getting tougher.
The competition is getting smarter, blog posts are getting longer and articles are getting sharper, making it necessary for you to evolve the way you are creating content.
Getting to the coveted top spot or even just on Google's first page results requires you to go beyond just on-page optimization or building links.
Thankfully, there is one strategy – topic clusters, that have the potential to catapult your blogging and SEO efforts to the next level!
In this guide, we will take you through everything you need to know about topic clusters and how to effectively utilize them to reach your content marketing goals.
Topic Clusters – What Are They?
A topic cluster is a group of web pages and blog posts that are highly related and interlinked together.
The topic cluster is built around one central piece of content called the pillar content that targets a broad topic. 
The rest of the pages (or blog posts) tackle topics that are more specific but are related to the pillar content.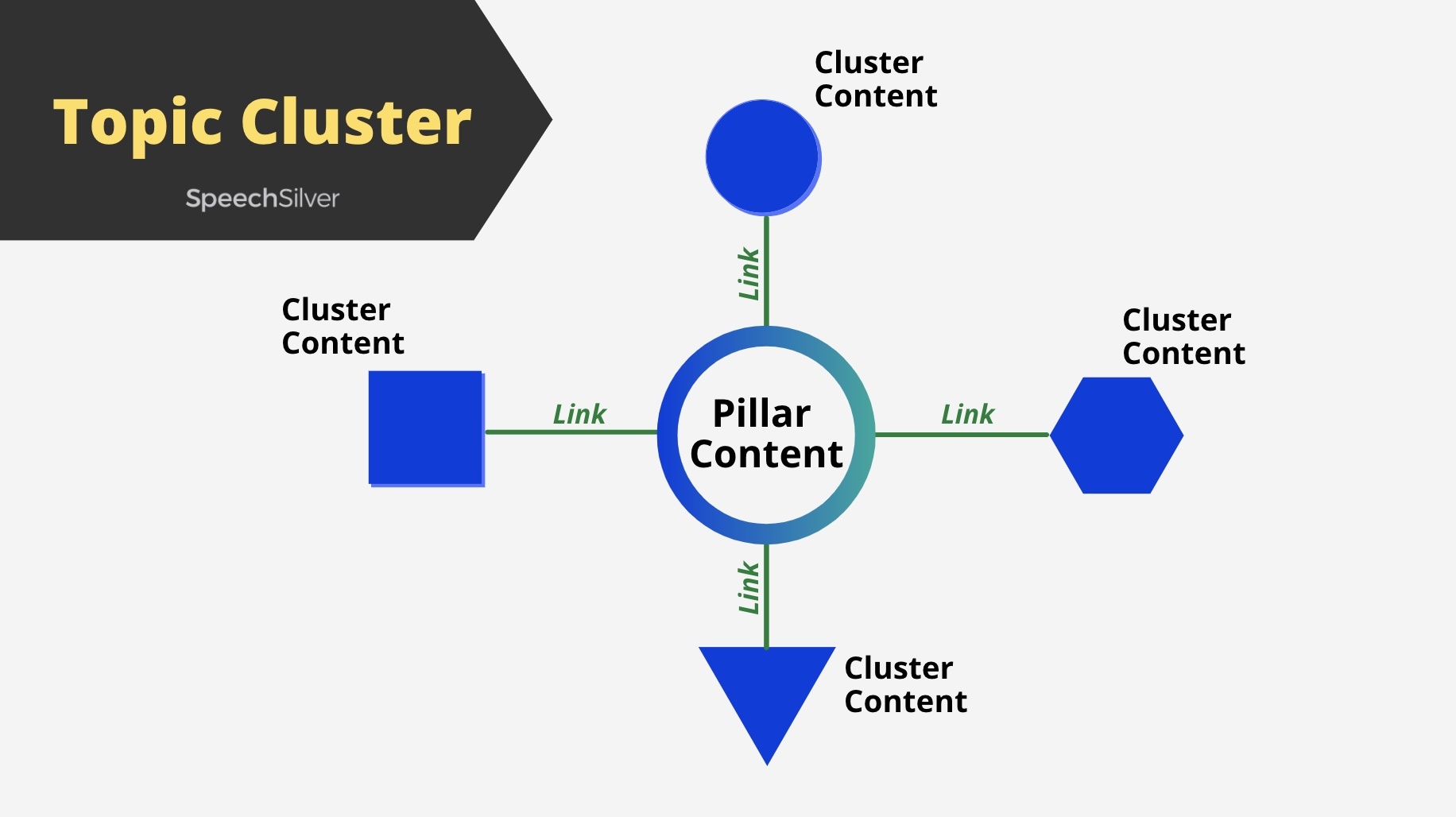 Let's say you are a pet shop that sells dog food, toys, and training gear. One broad topic you might want to tackle might be 'dog training'.
Your pillar topic of 'dog training' has a search volume of 83,000/month – an extremely competitive topic and keyword.
Using the content cluster strategy, you can find various sub-topics (and keywords) under the pillar topic such as:
Best Dog Training Books (2,300 searches/month)

Guard Dog Training (1,700 searches/month)

Dog Training Hand Signals (600 searches/month)
Articles and resource pages can then be created on these topics and hyperlinked back to the pillar content that covers the broader 'dog training' topic.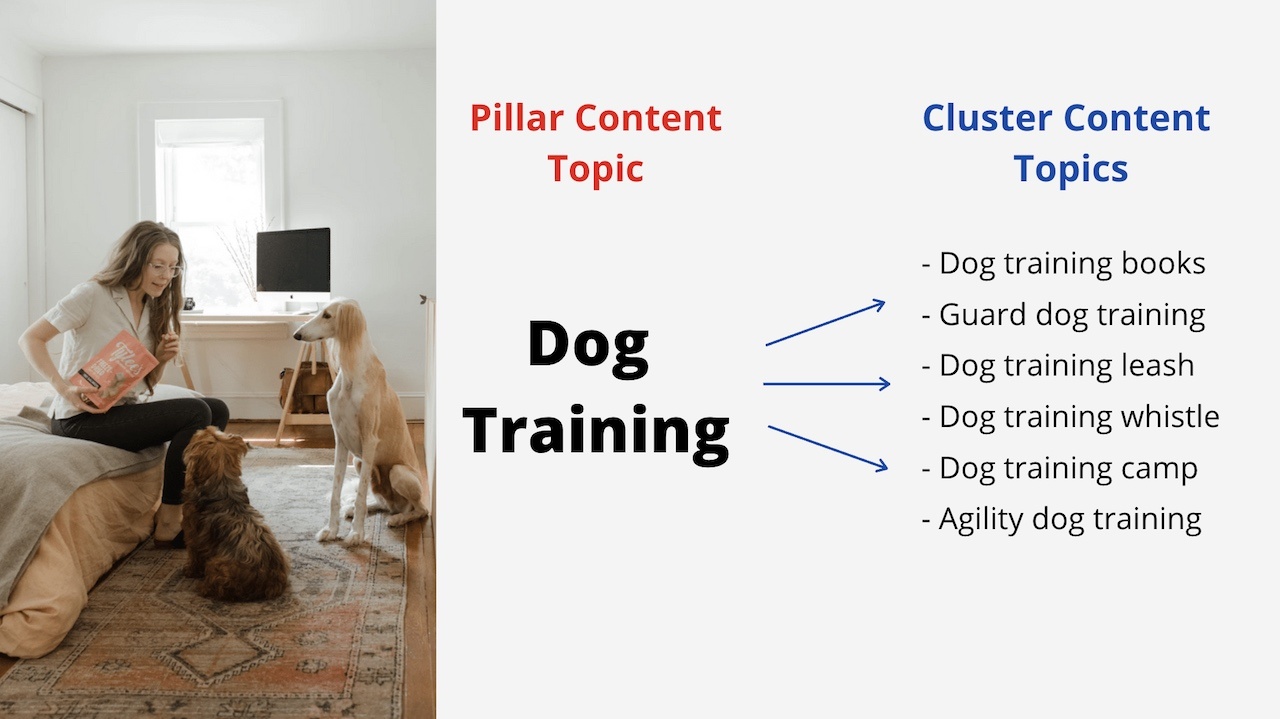 If you have been writing on popular topics with a big search volume and not see your articles being ranked, it's probably time to adopt the topic cluster strategy.
It's rather impractical to write for a single big-topic and expect it to rank off the bat when:
Thankfully with the topic cluster strategy, you can take a systematic approach to rank for the big topic you desire – while also capturing valuable traffic on sub-topics and keywords on the way up.
Why Google Loves Topic Clusters & How It Benefits Your Website
In short, topic clusters help you build relevancy, credibility & content depth for your content, helping them to rank higher on the search results.
While we already know that the keywords, content quality, backlinks, and domain authority are ranking factors on Google, there is another big factor that has to be considered – semantic search.
Thanks to Google's RankBrain machine learning capabilities, searches today don't just take into account merely the keywords, they also understand:
The search intent of the user

The meaning and relationship between the words in search terms

The context of the search
That means if you search for the broad term 'How To Invest My Money', Google probably establishes that you are looking for avenues to invest your money in and is more likely to prioritize the search results to show you resources that are comprehensive guides.
Through semantic search, Google understands that this is probably a beginner search query and only showcases beginner guides: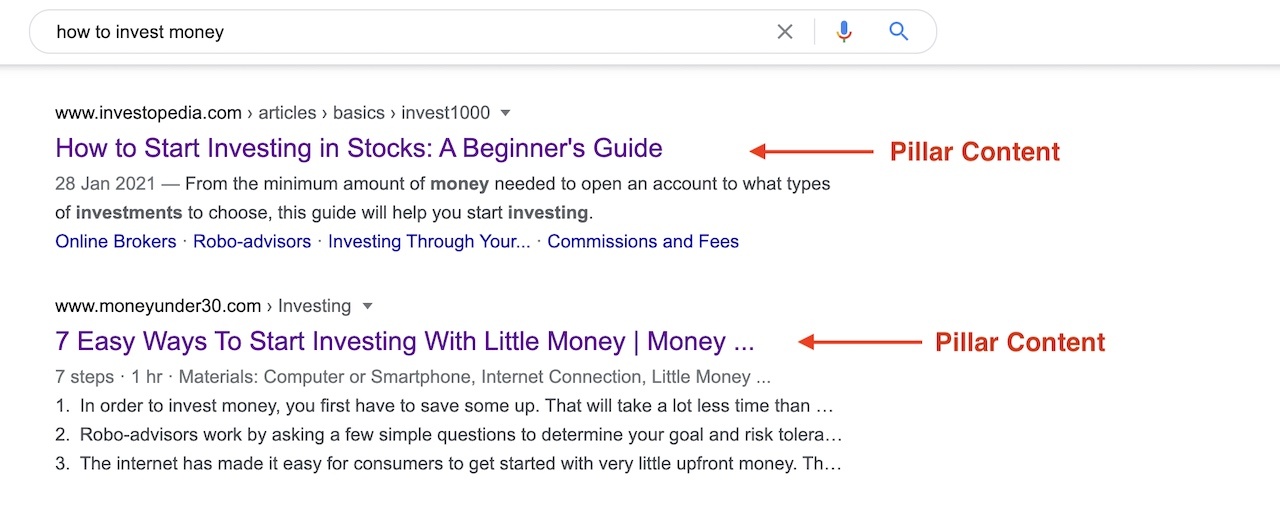 The articles ranking on the top aren't just standalone articles with a one-off topic, they are pillar content with various related cluster sub-topics inside. They allow users to learn everything necessary in the main topic –  it is a valuable resource.
Take the article '7 Easy Ways To Start Investing With Little Money', the cluster topics in this pillar content cover a breadth of smaller sub-topics all related to the bigger picture of how to invest money.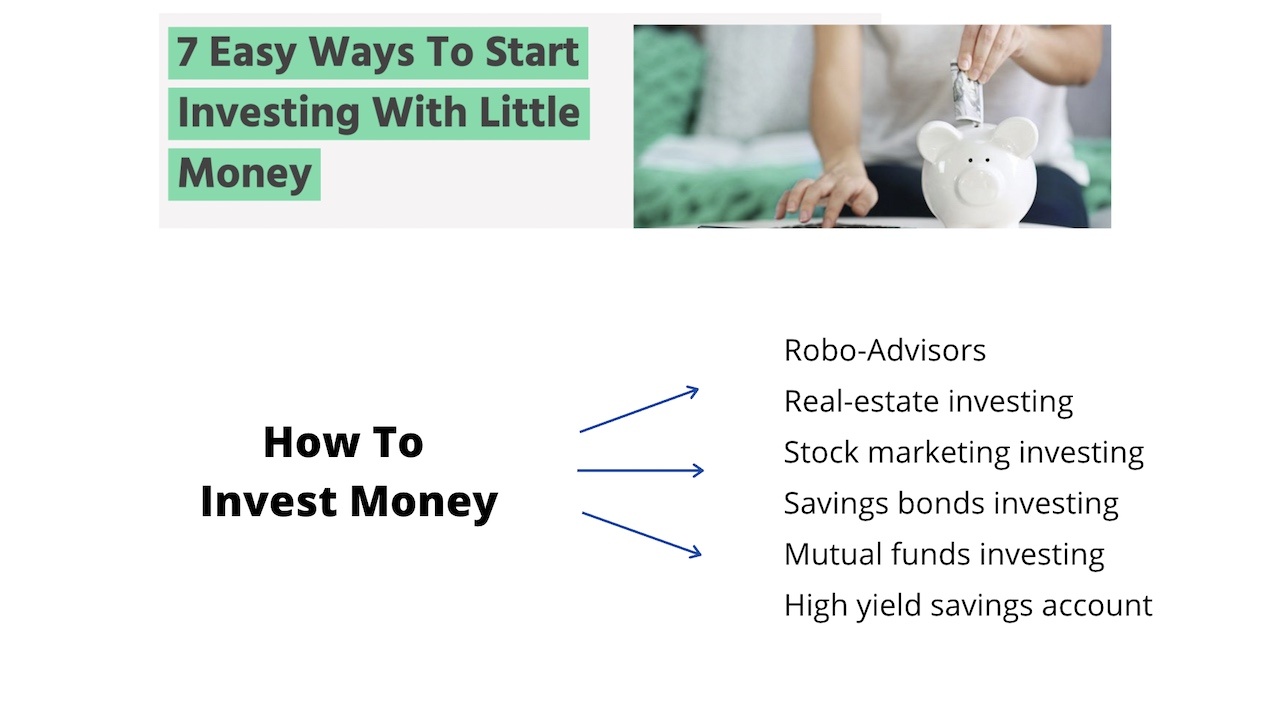 By using the topic cluster strategy, an article can help Google's latent-semantic-indexing algorithm better understand what the entire article is about, making them more relevant to the search intent of users.
And Google likes that.
By utilizing the topic cluster strategy, Google will better determine that the article or page is highly valuable, filled with depth (allowing readers to explore more), and is a credible piece of content – especially when all the other subtopics are all ranking well.
By firstly ranking on the smaller sub-topics first, the topic cluster strategy allows you to gradually build authority around the bigger topic that you ultimately want to rank for.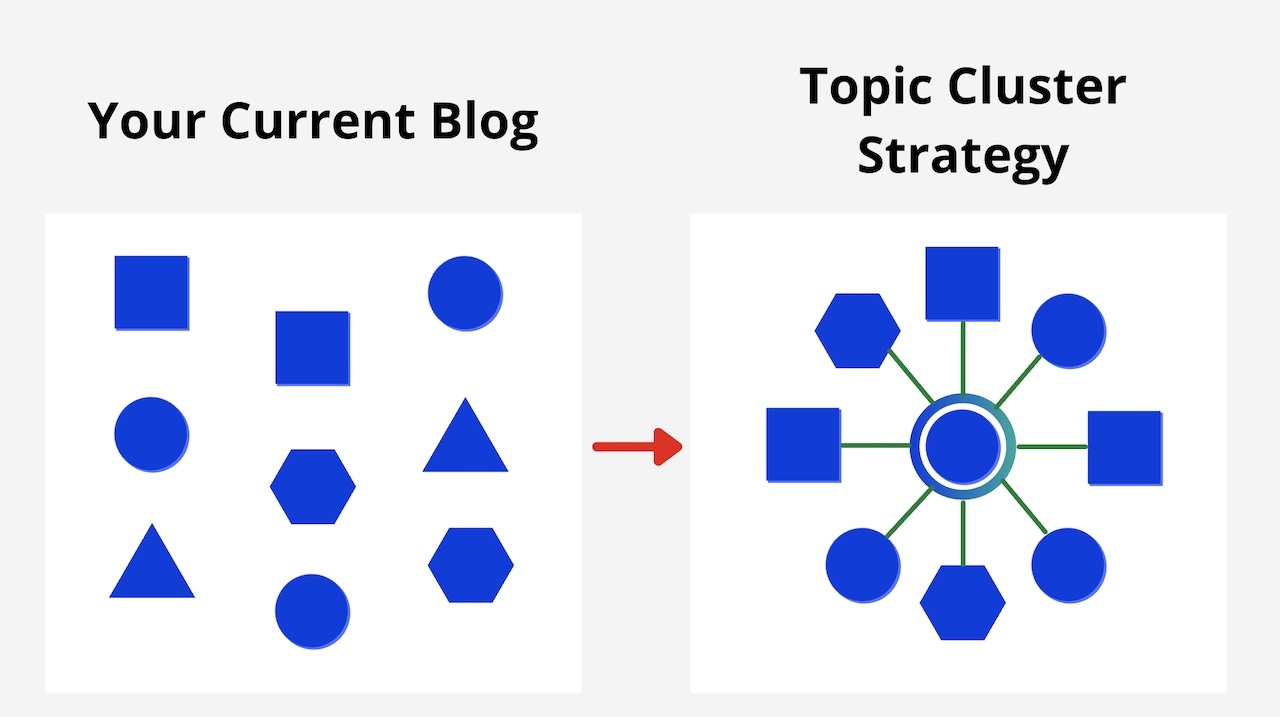 Topic Clusters In Action: 2 Real-World Examples
While the theory of topic clusters is a good start, there's nothing better than some real-world examples of successful topic clusters that are driving incredible traffic and results for their websites.
Shopify's pillar article on starting your very own online business is a perfect example of using topic clusters to rank for a valuable search term amidst fierce competition.
Shopify created this topic cluster to target topics and search terms centered around starting an online business.
With an end goal in mind to eventually rank for the big search term 'How To Start An Online Business' that has 16,000 searches/month, Shopify started by creating articles on smaller relevant topics such as 'How To Start A T-Shirt Business' and 'Starting A Subscription Business'.
Both topics have significantly smaller search volumes – but are much easier to rank for.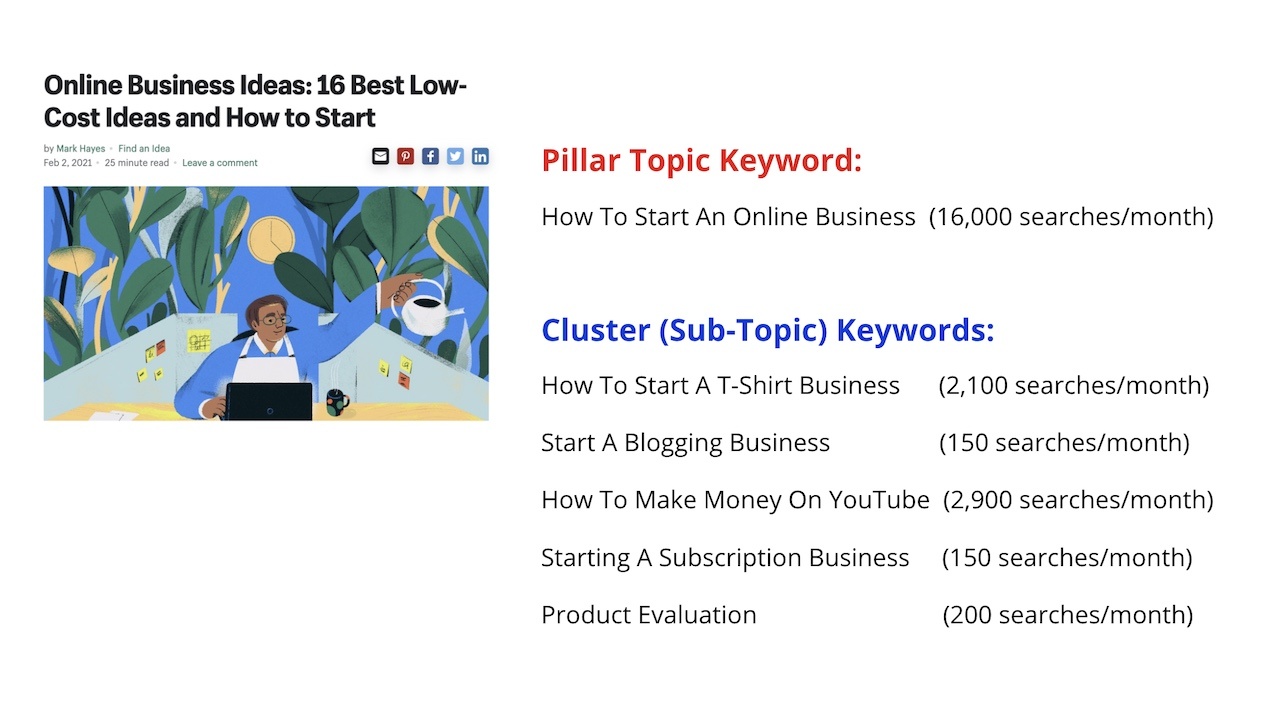 By creating and publishing the articles for the smaller cluster topics first, Shopify intelligently ranks first for the smaller keywords to build authority, before they create their pillar content. 
This allows the smaller ranking content to lend credibility to the bigger pillar article when it is finally published.
When it comes to strategically linking to the cluster topics within the pillar article, Shopify does it at the end of every section/business idea to make it clear to readers that these are related guides that can help them reach their goals for each business idea.
Through strategic placements of these internal links, the article not only makes it easier for the reader to easily navigate to the resource, but it also adds more depth and relevancy in the eyes of Google.
Translating to higher rankings!
As you can see from Shopify's example, this cluster took a significant amount of preparation and deliberate planning to rank well for the pillar topic keyword as well as the smaller cluster keywords as well.
But the results are well worth it. When executed correctly, even your cluster content topics will appear on the search results.

With the topic cluster strategy, when one article ranks well, especially when it's the pillar content, the rest of the cluster succeeds, ranks higher on Google, and gains exposure as well.
Matt Ramsey's article on 'How To Sing Better' is a great pillar content article that uses the topic cluster strategy to effectively rank and draw in a whopping 18,400 traffic every month.

This topic cluster is a series of blog posts that are interconnected together with the pillar article targeting the broader term 'How To Sing' and its cluster topics focused on narrower topics such as 'Vocal Exercises' and 'Breathing For Singing'.
One key thing to note is that the topics in your cluster have to be relevant and add value to the reader to accomplish their end goal – in this case, learning how to sing.
The smaller cluster topics cover specific key lessons that readers need to know, such as voice pitching, which gives the reader more resources to reach their end goal.
As a result, the reader clicks through, navigates around, and stays on the website, showing to Google that the articles serve the search intent – making the pillar article and other interlinked posts more likely to rank higher.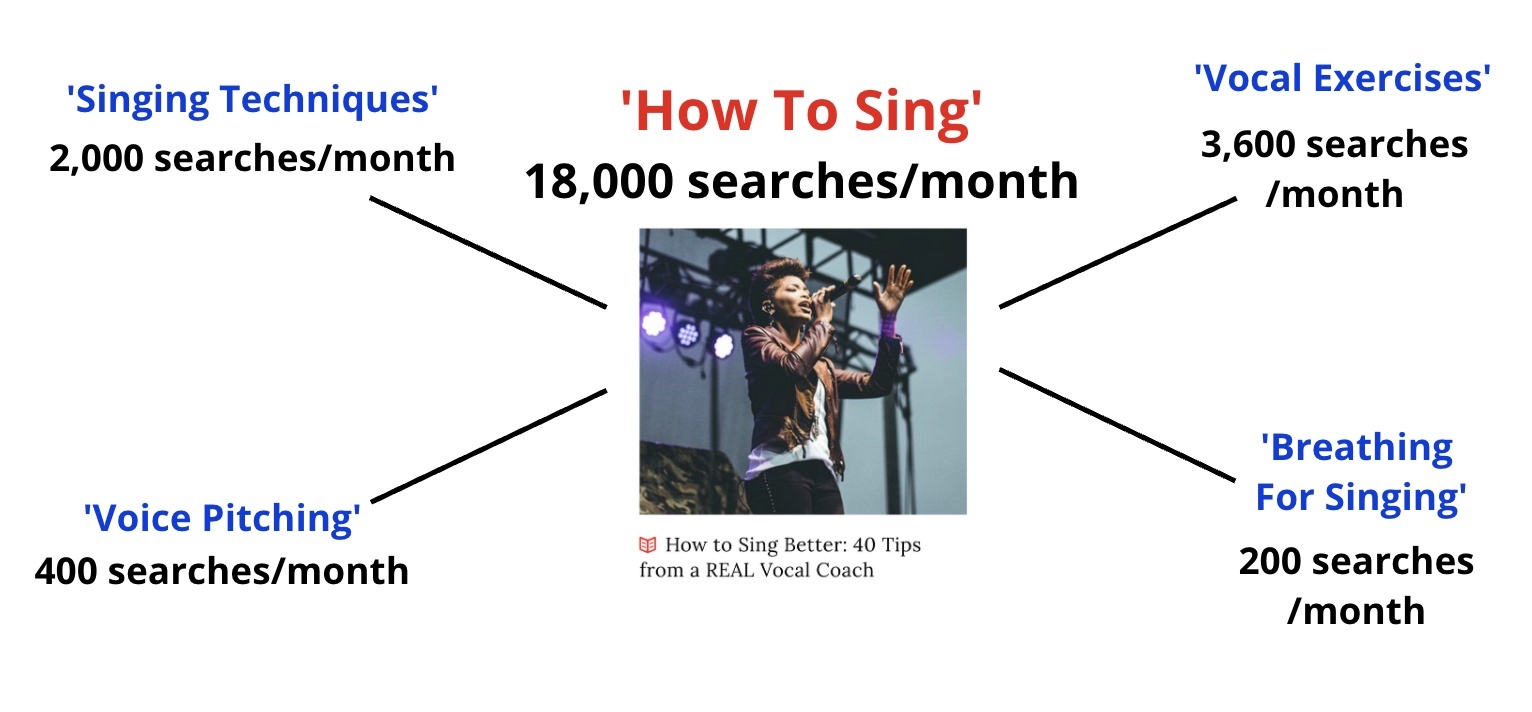 Unlike the Shopify example earlier which placed all the cluster topic links in clearly defined sections at the end of each section in the pillar article, Ramsey weaves the cluster topics naturally into the content itself.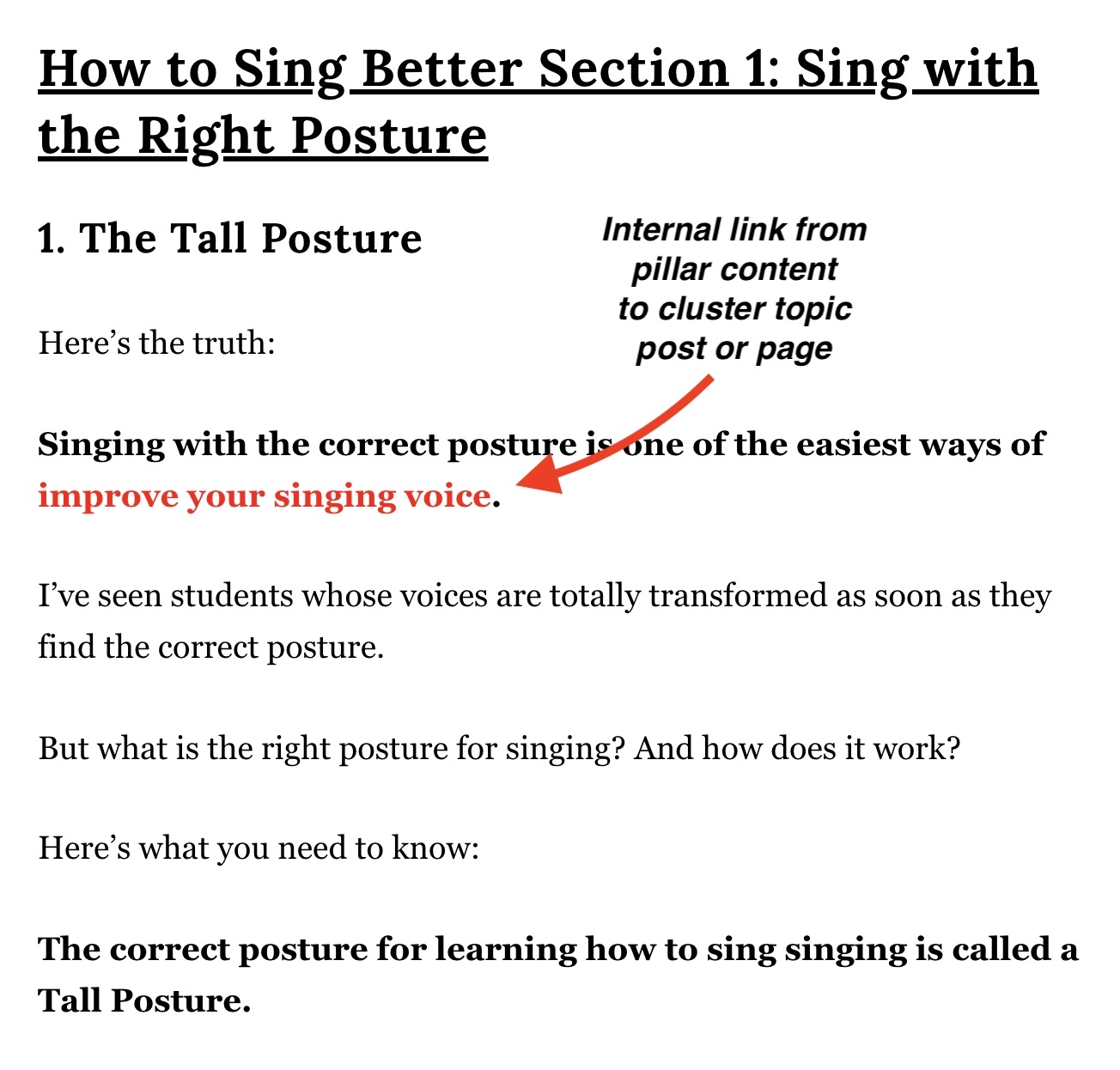 Done correctly, the topic cluster strategy can help catapult your search ranking to the highly coveted featured snippet.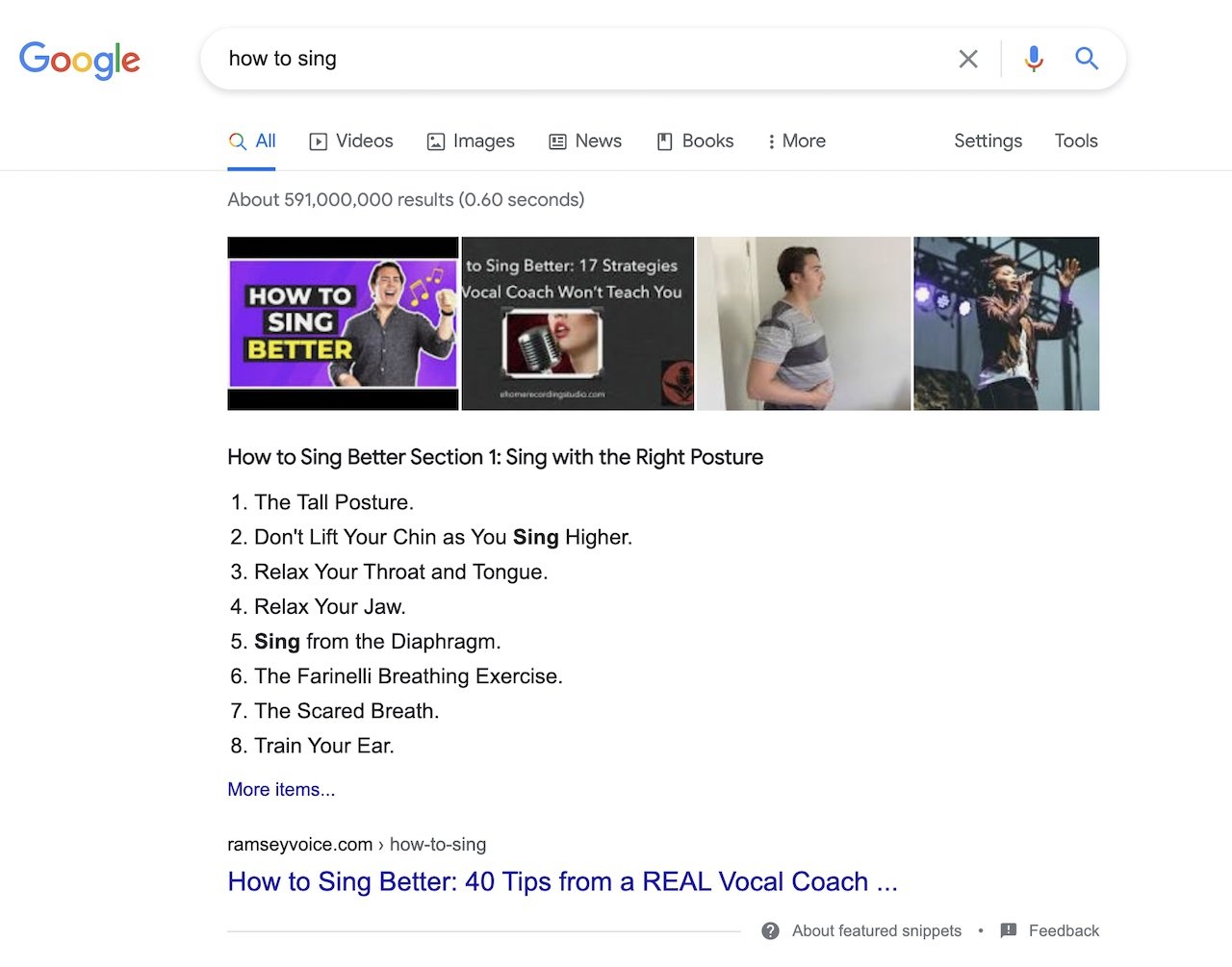 How To Create Your Topic Cluster: A 7-Step Guide
Creating a topic cluster doesn't have to be hard, we have created a straightforward step-by-step guide that we follow when creating clusters for our clients.
It'll allow you to revamp the entire way you see content creation and tackle topics in a more meaningful and streamlined way.
Let's get started!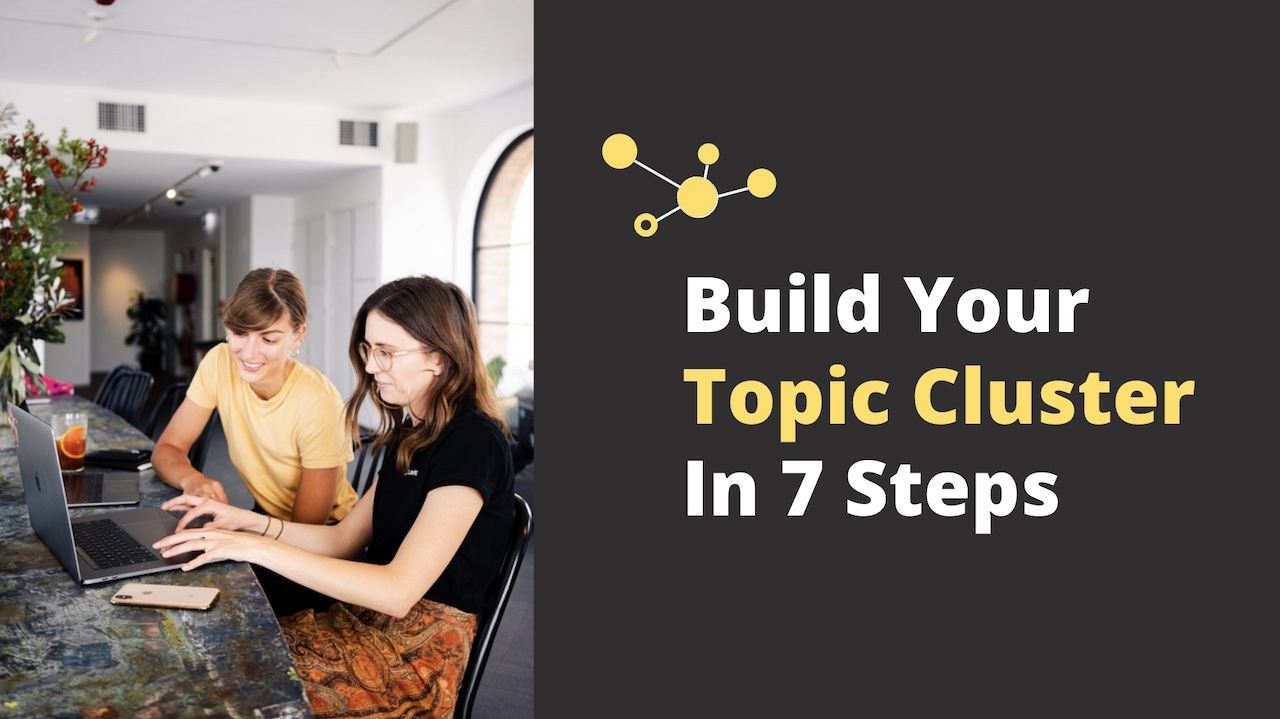 Step 1. Decide On Your Pillar Content Topic
The first step is to pick the main topic – a central idea where your entire cluster and subtopics will be based around.
A great way to do this is to utilize your audience personas and find the intersection of a topic that:
Address a clear and present challenge (or problem) that your target audience faces

Has a decently big search volume (that means a broad topic)

Is relevant to your brand and business
You want to make sure that your overarching topic's theme runs across all of the cluster subtopics. While each of the cluster content needs to be standalone, it also has to contribute to the bigger picture of your pillar topic.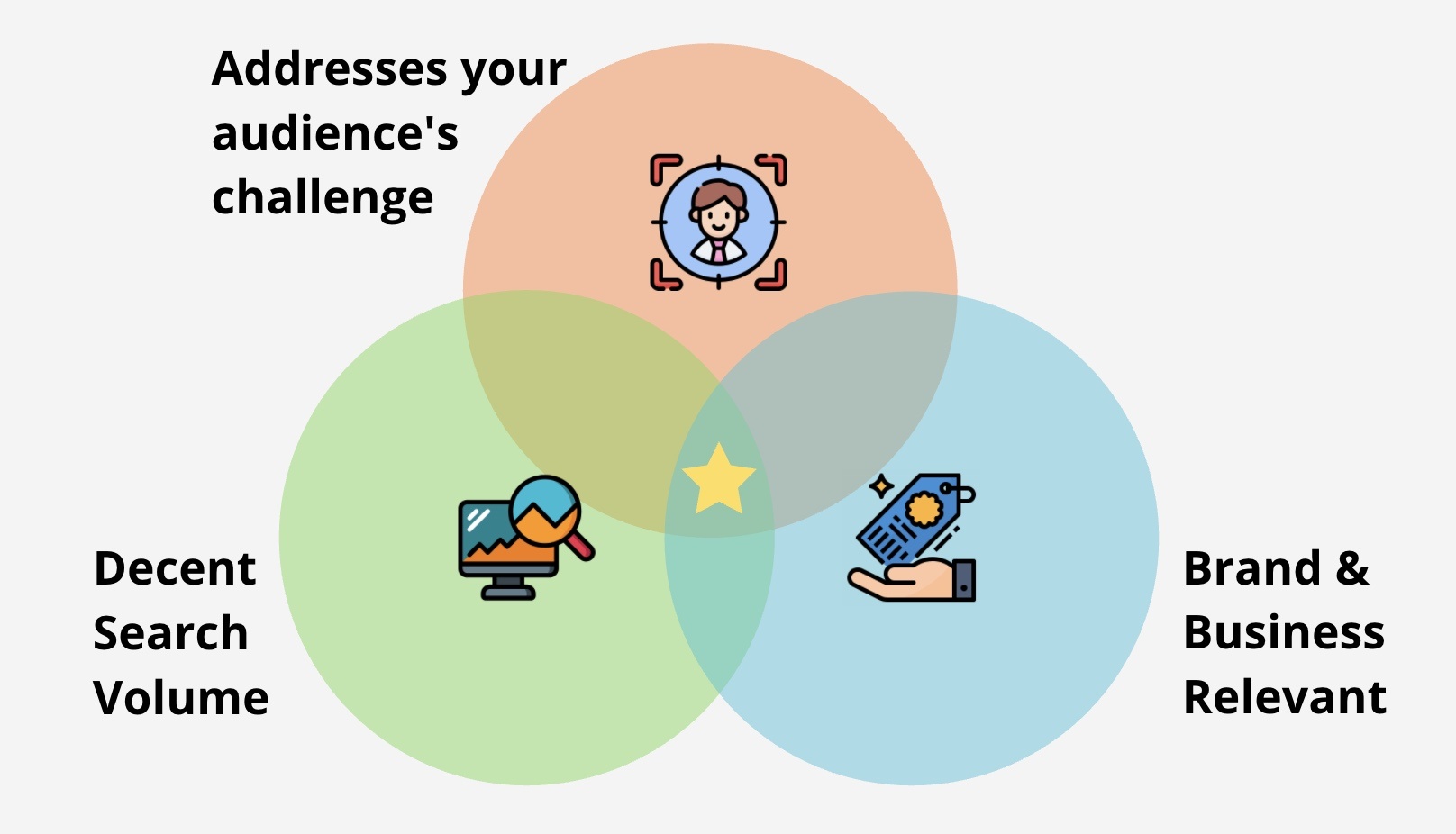 For example, if you are a digital agency, your ideation could start with the services that you might be offering:
Search engine optimization

Facebook advertising

Instagram management

Email marketing

Visual design & illustration
Then you could dive into the challenges that your audience face that probably will be generating leads, reducing their advertising cost, and how to SEO their website.
Knowing this, you could make content around helping your readers with their DIY SEO efforts by guiding them through formulating their SEO strategy.
The pillar topic (and keyword) in this case will be "SEO Strategy".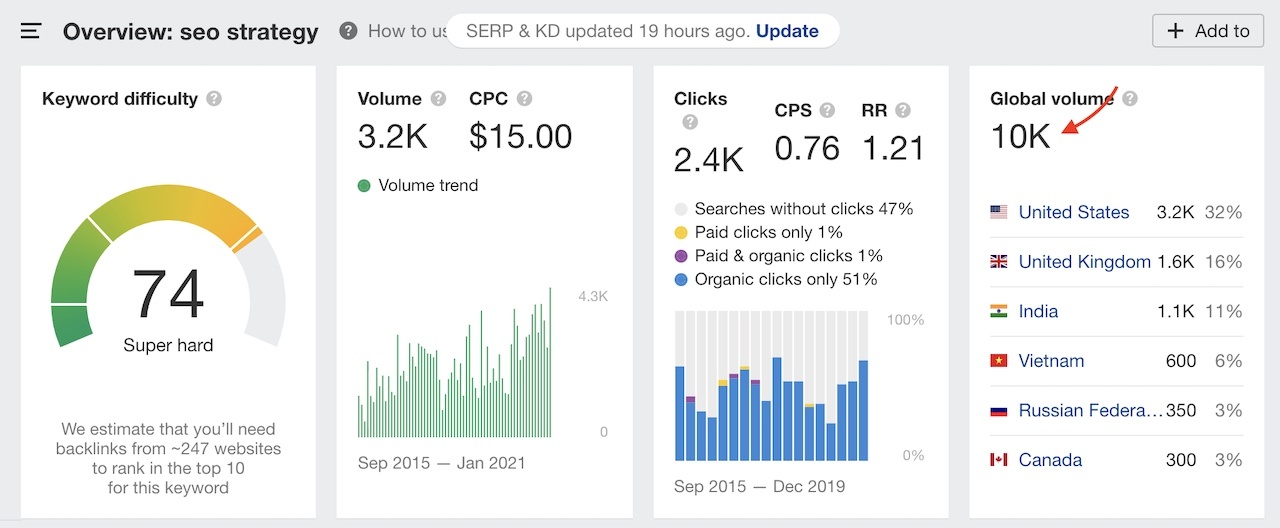 It is a keyword that fulfills all three criteria we laid out above:
It has a decent search volume (10,000 monthly searches)

It addresses a very common problem that audiences (especially prospective customers) will care about

It is relevant to the brand and services of the digital agency
Within the main pillar topic of 'SEO Strategy', you can then brainstorm various subtopics on components of a comprehensive SEO strategy that could include:
Blogging on your website

Building links to your content

Guest posting on publications

Establishing a 'Google My Business' profile

On-page optimization
Each of these subtopics has sufficient depth to be a stand-alone content piece and readers will have to read them to understand the individual components of a successful SEO strategy.
When it comes to deciding on your pillar content topic, you want to also make sure that your subtopics are also valuable subjects that your readers are searching for, and even without your pillar content, they add value to your audience and solve the problem at hand.
Step 2. Define Your Cluster With In-Depth Keyword Research
One of the most critical steps when it comes to fleshing out your cluster topics is keyword research.
Remember when we mentioned that the topic cluster strategy requires deliberate planning? This is part of it.
You want to ensure that the cluster topic keyword (or keyword phrase) has a validated audience searching for them – while brainstorming subtopic ideas on a notepad with a pen is important, it simply isn't enough!
One great keyword research tool that we use is Ahrefs – it allows us to effectively identify topics that are related to our pillar keyword.
Let's say I'm running a real estate brokerage company helping customers buy and sell their homes.
One topic cluster I would like to focus on would be 'How To Buy A House' with 42,000 searches every month.
However, what are the exact subtopics I should cover within this content cluster & link to in the pillar article?
Use Ahrefs Keyword Explorer To Get Keyword Ideas
Using Ahrefs, I can immediately see quite a few relevant questions that have a validated audience searching for them that should be answered in my cluster:
'How long does it take to buy a house' (6,400 searches/month)

'How to buy a house with bad credit' (3,600 searches/month)

'How to buy a house with no money' (3,100 searches/month)

By using the Ahrefs Keyword Explorer, you can immediately get a list of potential cluster pages you might want to create by looking at the parent topic column – it highlights relevant subtopic keywords you might want to take a look at.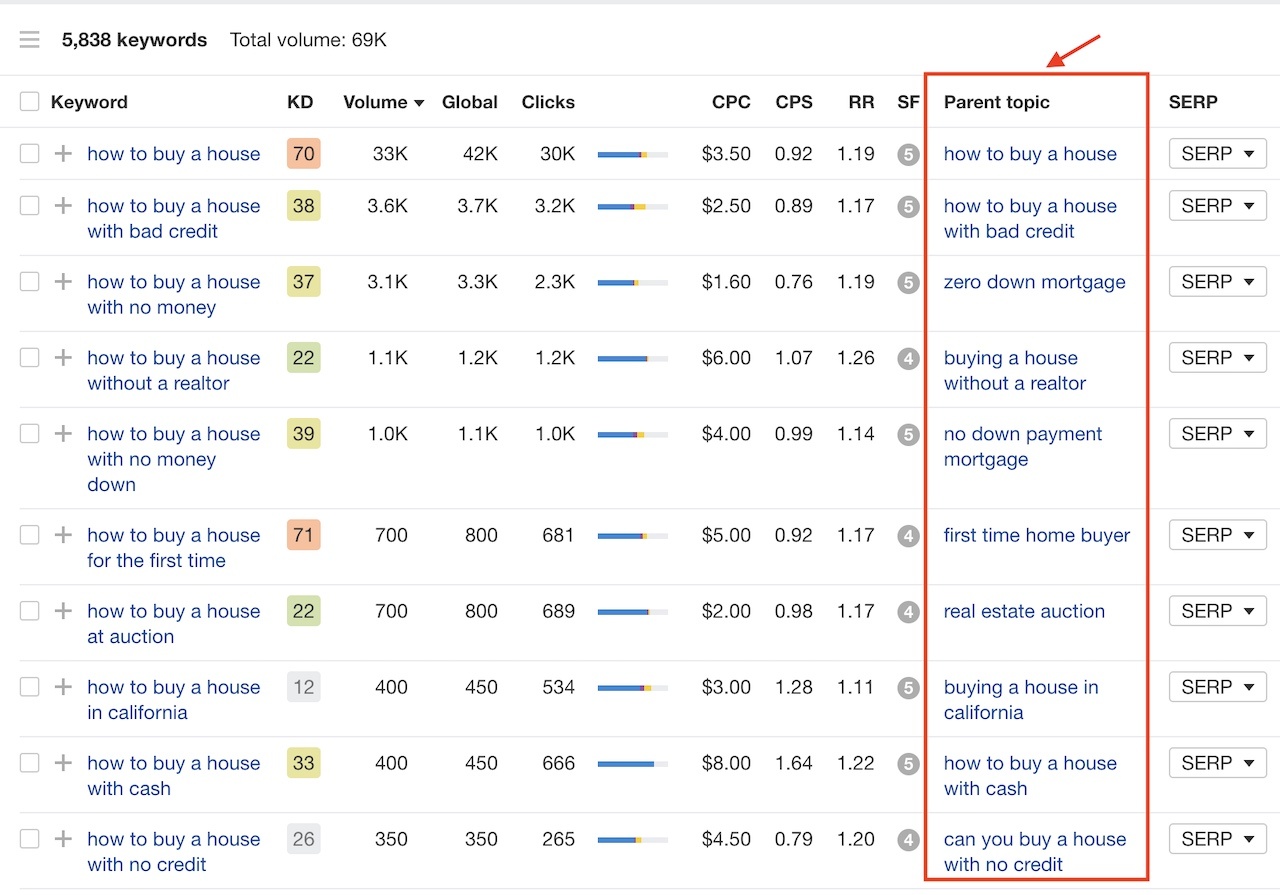 /
Investigate The Top Ranking Competitor Content
The next step is to investigate the top ranking on the Google search results for your pillar content keyword (in this case it's 'How To Buy A House') and investigate the cluster topics within your competitor's pillar article.
By analyzing the top-ranking article's cluster content's keywords, immediately you can get a list of subtopics that you have to cover.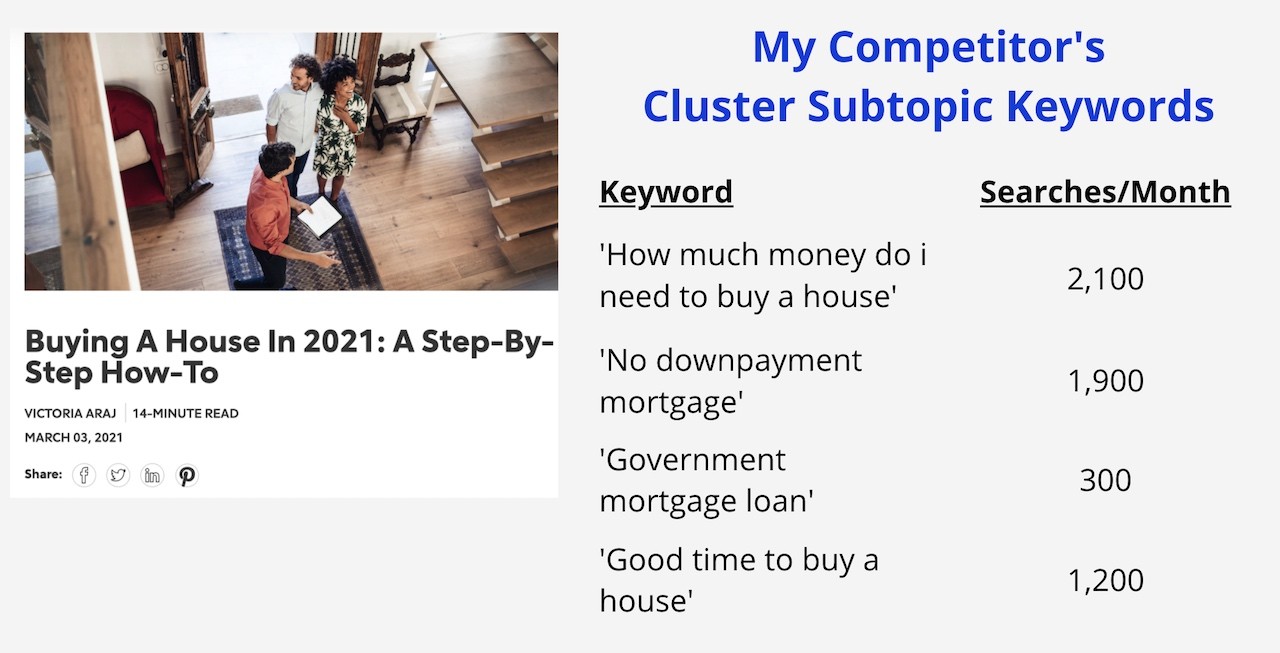 However, let's go one step further. 
Are there any other cluster topics we should cover?
By simply plugging the search term into Google's search bar, you can find a section of the most commonly asked questions associated with this topic – the People Also Ask.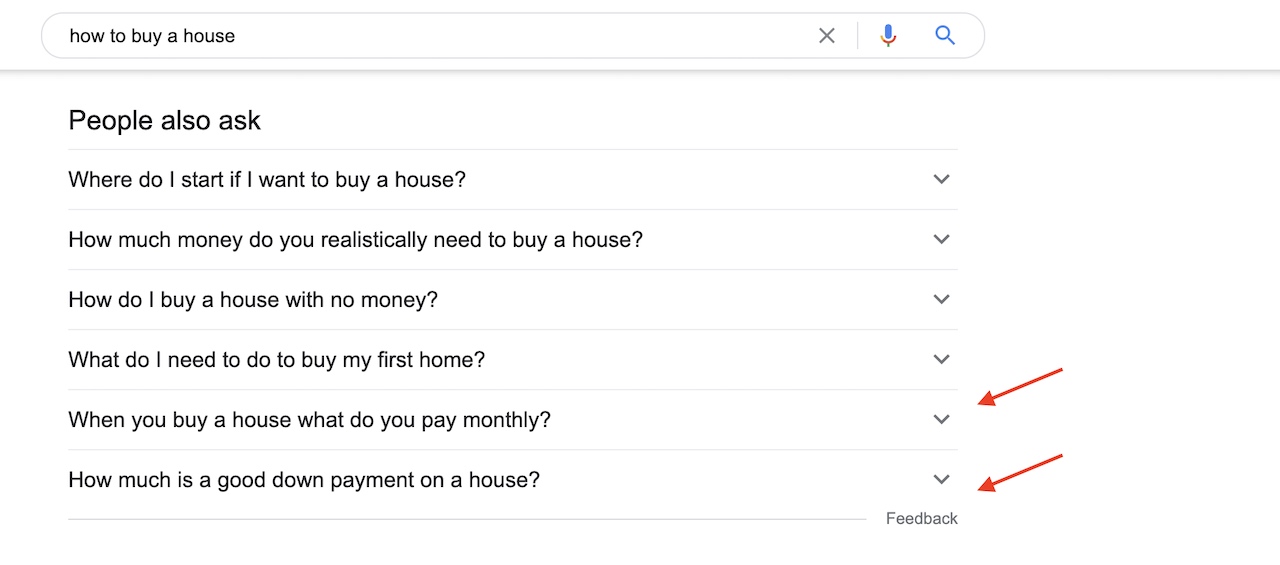 From here, we can tell that people are wondering about their monthly house payment as well as the down payment necessary to buy a home.
This will help inspire us with content ideas to tackle these subtopics for our cluster, such as creating a downpayment calculator tool or an article taking through readers on how to budget their monthly mortgage payments.
Head To Quora & Find The Most Commonly Asked & Answered Questions
Sometimes good cluster topics are best found in forums and Q&A sites like Quora.
Simply type in your question, in this case, 'How to buy a home' and look for the related questions. These will give you an idea of the main concerns and challenges people are facing, so much so that they have to ask a question to get advice and opinions.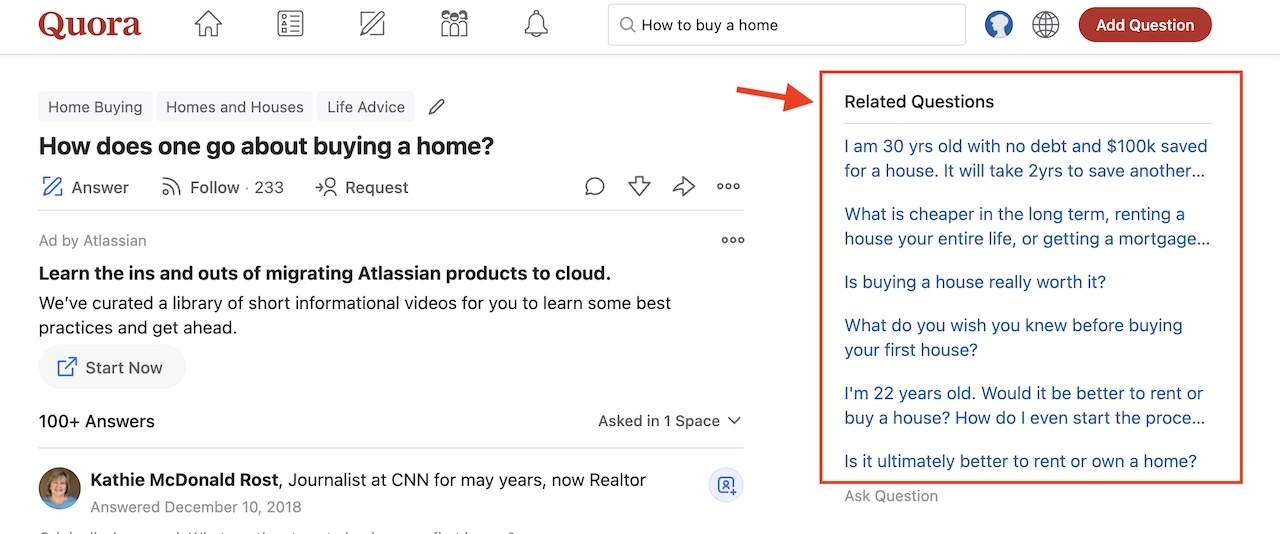 What you want to do is to find out if the question topic is really popular. Just check if that question has attracted lots of answers (which means high engagement and people find value in answering them) as well as how much interaction (views, upvotes, and comments) the answers attract.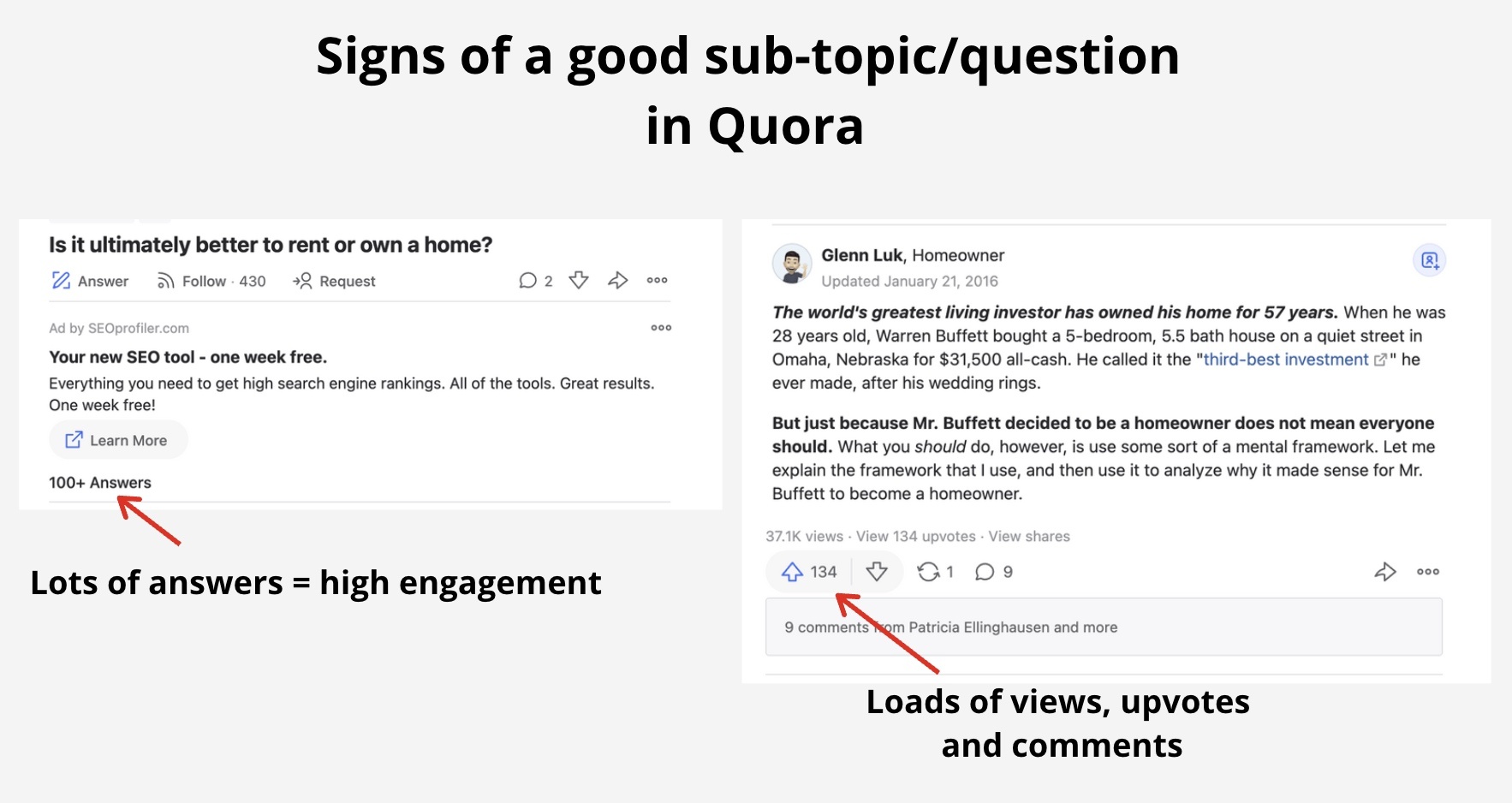 Topics from Quora are a great way to make your content cluster more comprehensive as well as making your pillar content more unique with content that your competitors probably didn't cover.
Step 3. Map Out Your Topic Hierarchy & Cluster Structure
Now that you have your cluster topic keywords settled, how do you decide which topics to cover?
How will you organize your pillar content and weave in the cluster topics into the article?
It's simple and it all starts with being organized!
You want to group them up and then evaluate the topics/keywords by four criteria:
1. Keyword difficulty
2. Search volume
3. Narrative relevancy (to the main pillar topic)

Ideally, you will want your cluster topics to be relevant to the narrative (or story) of your master topic as well as being easier to rank for (lower keyword difficulty) while still having a healthy search volume.
Don't worry, it's easier than it looks!
Here's an example to illustrate this.
Let's assume I'm running a financial advisory company and one of the biggest problems my customers face is their inability to save money – and I want to help them build their savings by creating a guide for the beginner saver.
The master topic keyword will be simply 'How To Save Money' – a highly competitive keyword with 68,000 searches a month.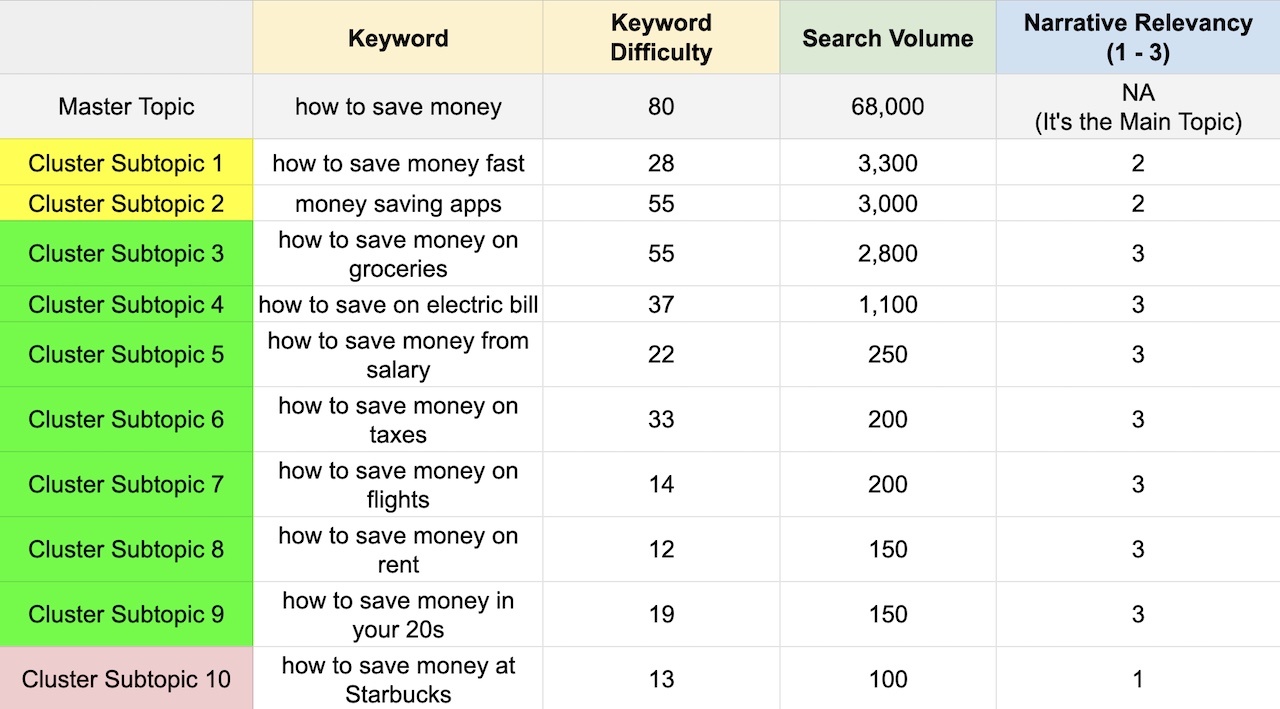 Doing my keyword research from step 2 gets me the following keywords, which I then list down sorted mainly by search volume in this case.
Doing more filtering, I narrow 7 subtopics (highlighted in green) that I will be including into the cluster as they are directly related to the narrative of how to actively save money.
These 7 subtopics can be easily turned into stand-alone articles that can add value by themselves, but also reinforces the pillar content while being highly relevant.
The other subtopics such as 'money saving apps' or 'how to save money at Starbucks' would be optional additions that I could include if I have the time and resources to create content for them.
While this might seem like juggling many variables at once, with practice it'll get easier and faster – I promise!
Step 4. Decide On The Content Types For Your Topics
Now what we know the main topics and subtopics of our cluster, what type of content should we create?
Not everything needs to be a blog post or article. 
In fact, many other alternatives might be better that will give your reader a better way to digest the info.
These could come in the form of:
– An Explainer Infographic: This also allows you to create an asset you can freely share on social platforms such as LinkedIn, Facebook, and even Instagram.
– An Interactive Webpage: This allows you to give your reader an interactive experience that better explains a concept – like how Verizon does with their content pillar page on 'What Is 5G'.
– A YouTube Video: This is particularly effective if you are trying to explain a complex subject in a highly engaging way (if you have the budget to do so).
WordStream's pillar article on landing pages links to a subtopic in their cluster which isn't another long-form blog post but a recorded podcast episode.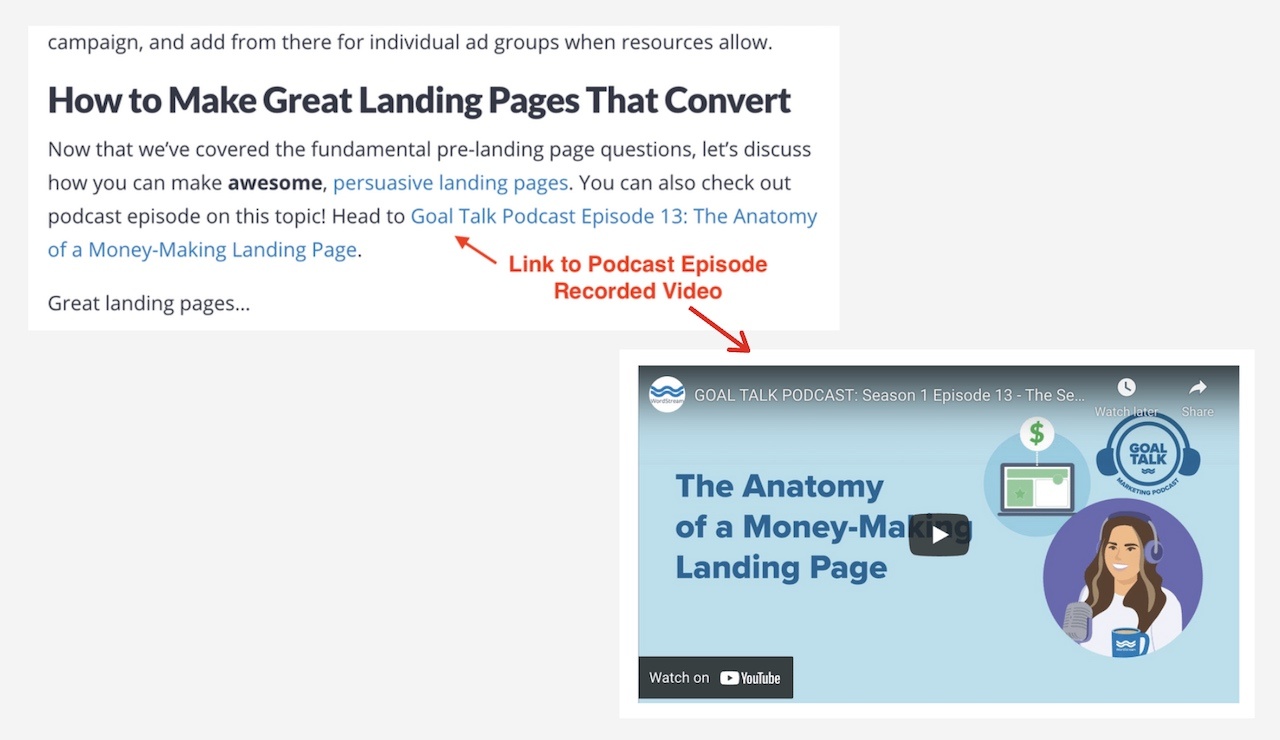 The key here is to always put your audience's user experience at the forefront.
Ask yourself, what type of content will add the most value to my audience for this topic – and then create that.
Step 5. Set Your Timeline & Content Publication Dates
Creating your topic cluster requires careful scheduling that could very well take weeks or months in advance to execute.
That means you'll need to establish an efficient content workflow for your entire content team to effectively produce all of your cluster topics and publish them in sequence for the best SEO results possible.
Here are 4 considerations to keep in mind as you firm up your work-flow:
1) Determine the time of producing one piece of content: Ideally, all the pieces of content should be produced concurrently. This allows the efficient linking of ideas through collaboration between content creators or teams.
2) Determine the resource & content creators needed for each piece of content: From video editors to copywriters and blog writers, creating content for your topic clusters might require different expertise that you should prepare upfront.
3) Streamline your approval process: Content approval, especially in bigger companies can slow down the launch of your entire clusters. Do your best to involve only key decision-makers to give approval on your content.
4) Fix your content publication calendar & stick to it: As a rule of thumb, always publish your cluster subtopics first, then interlink between each other. Once that is done, then publish your pillar content – it makes linking to the rest of the cluster topics much easier since the content is now live!
To get started, you can simply use Google Sheets to draft up a calendar for your cluster. It just has to be functional and get the job done for now.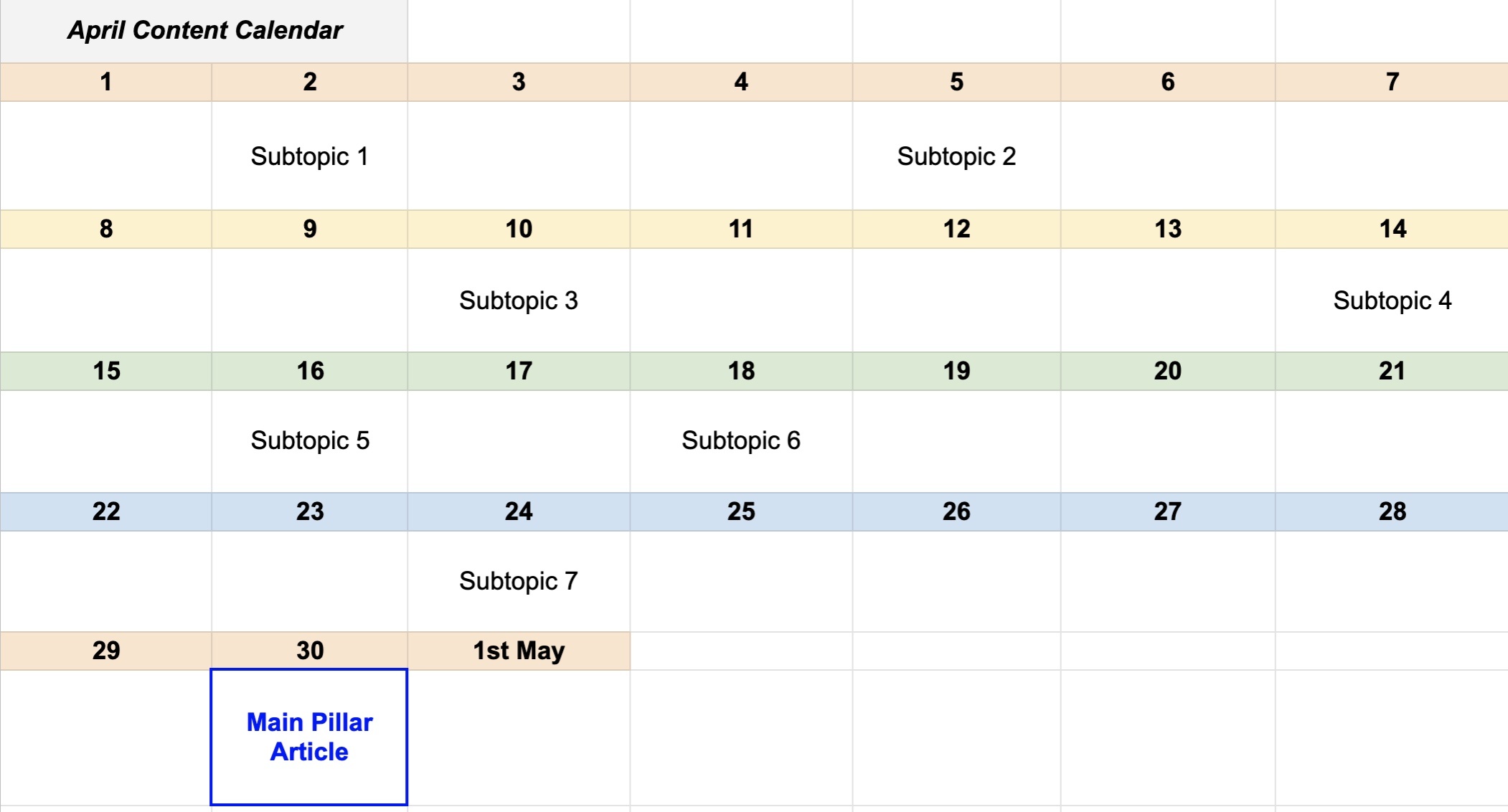 Need a more professional project management tool to organize your publication schedule?
Here are some tools that we have used before that you should check out:
Remember to choose the tool that makes things the most simple for you. It's much better to work on the content itself than fiddle around and waste time on a tool.
Step 6. Create Your Pillar & Cluster Content
Finally, it's time for content creation itself – hopefully, for you, it's the fun part!
The first step is to outline your pillar content – you'll want to use it as a roadmap to guide you through how to angle the rest of your cluster subtopics to fit your pillar piece.
Do take note: For your pillar content, you want to cover the topic in broad strokes. Your mission here is to give the user an overview of the topic. 
You still want to add value but not cram in too much information to overwhelm your reader. That is the job for the rest of your cluster subtopics.
Take the pillar content on 'online business idea' by Shopify we covered earlier. Instead of diving too deep into each business idea, they followed a simple formula of:
A) Setting the stage for the point/idea. Giving the reader an overview of what it is about
B) Highlighting its importance and why it matters to the reader. In this case, it's about the benefits
C) Directing them to the rest of the cluster subtopics to learn more through dedicated in-depth content pieces.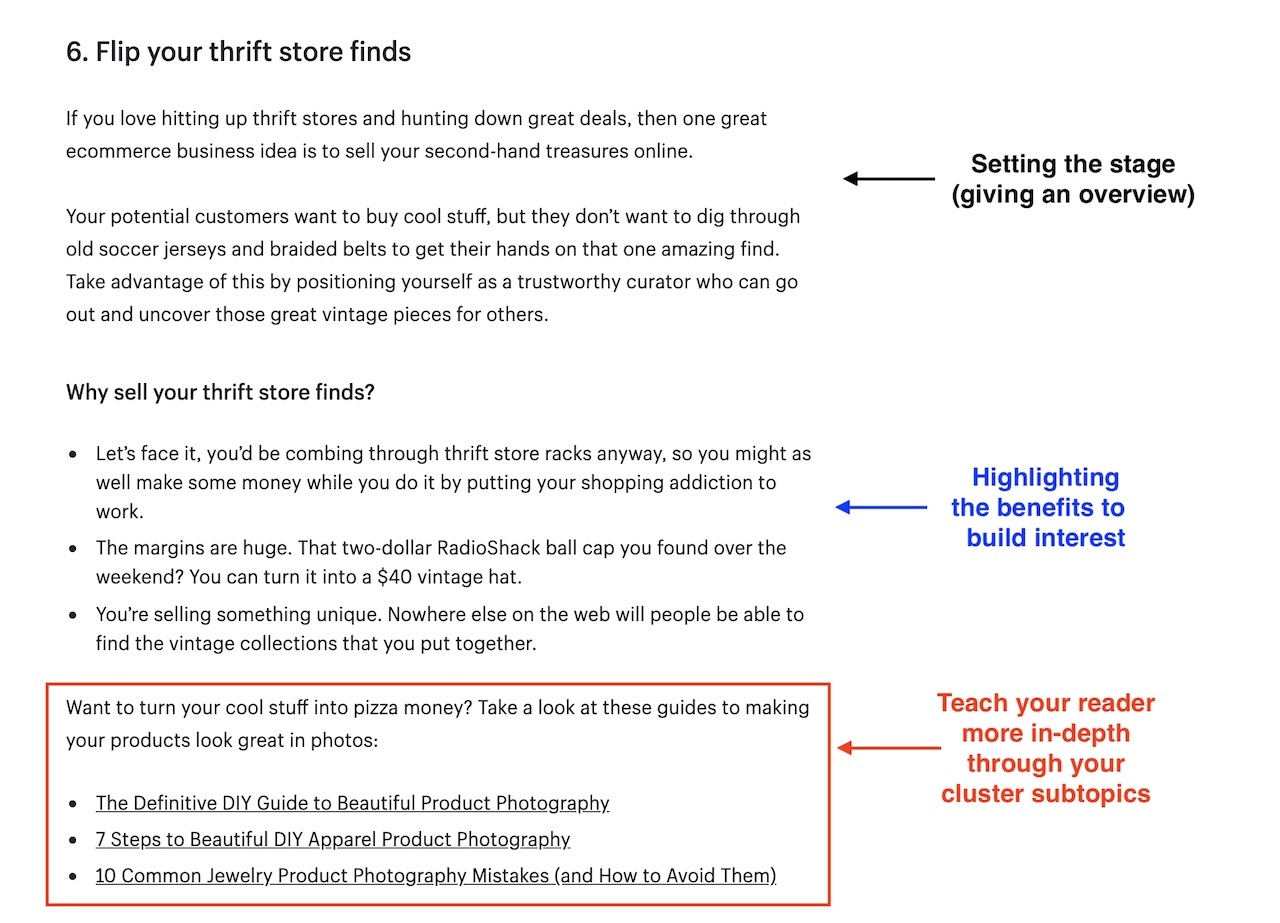 Once that is done, proceed to write your cluster content (be it blog posts, video, or webpage).
The key here is to dive deep into the specific content on hand – do not cover anything in deep detail related to the main pillar content or other cluster topics.
For example, if you are creating a cluster on teaching newbies how to invest and one of your keywords (and topic) is 'Investing In Bonds'.
You'll want to go through key points including:
An overview of bond investing

Why investing in bonds is important

How to invest in bonds & get started

The risks and rewards of bond investing
But in no way should you cover stock or real estate investing in any great detail. You can write a paragraph or two, but nothing comprehensive about those.
A topic on bond investing should cover only bond investing.
All you need to do is to follow the basics of outlining your content well, conducting original research, and creating long-form content if needed.
Be Sure To Handle On-Page Optimization Too
While we are almost done here – be sure not to forget to optimize key on-page areas of your cluster subtopic page with the keyword phrase you want to rank for.
These include: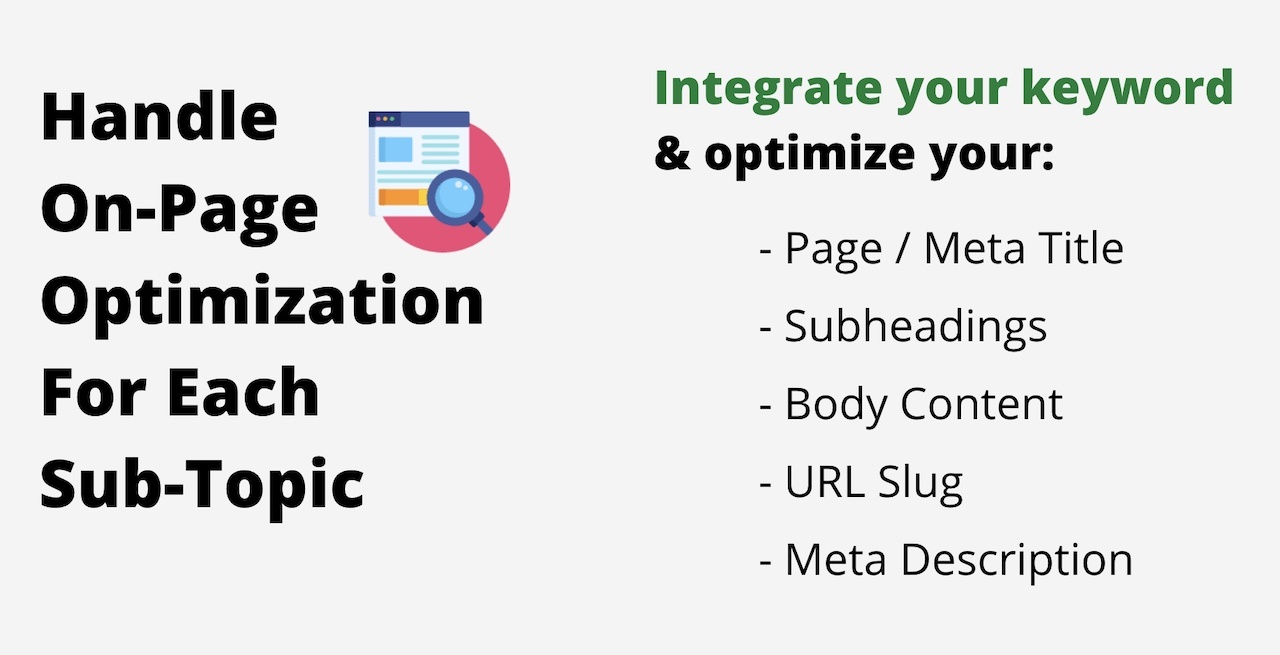 Need a road-map on the content development process? 
Then be sure to check out our full guide to successful content creation here.
Step 7. Add Internal Links Between Your Pillar Content & Cluster Topics
At this point, this might seem obvious, but it is worth dedicating an entire section to make sure you internally link your pillar content to your cluster topics and vice versa.
Links are like bridges. It allows your readers to journey deeper into your content cluster as well as helps Google to establish:
Higher relevance between your pillar content and cluster topics

The proper relationship between the pages or posts

A path for their crawlers to better discover and index your pages
That means overall higher rankings for your entire content cluster (pillar pages and subtopics).
Check out Neil Patel's internal linking guide to learn even more.
In addition, according to Moz, both internal and external links can pass link equity or link juice, especially since each piece of content in the cluster is relevant and part of the bigger picture.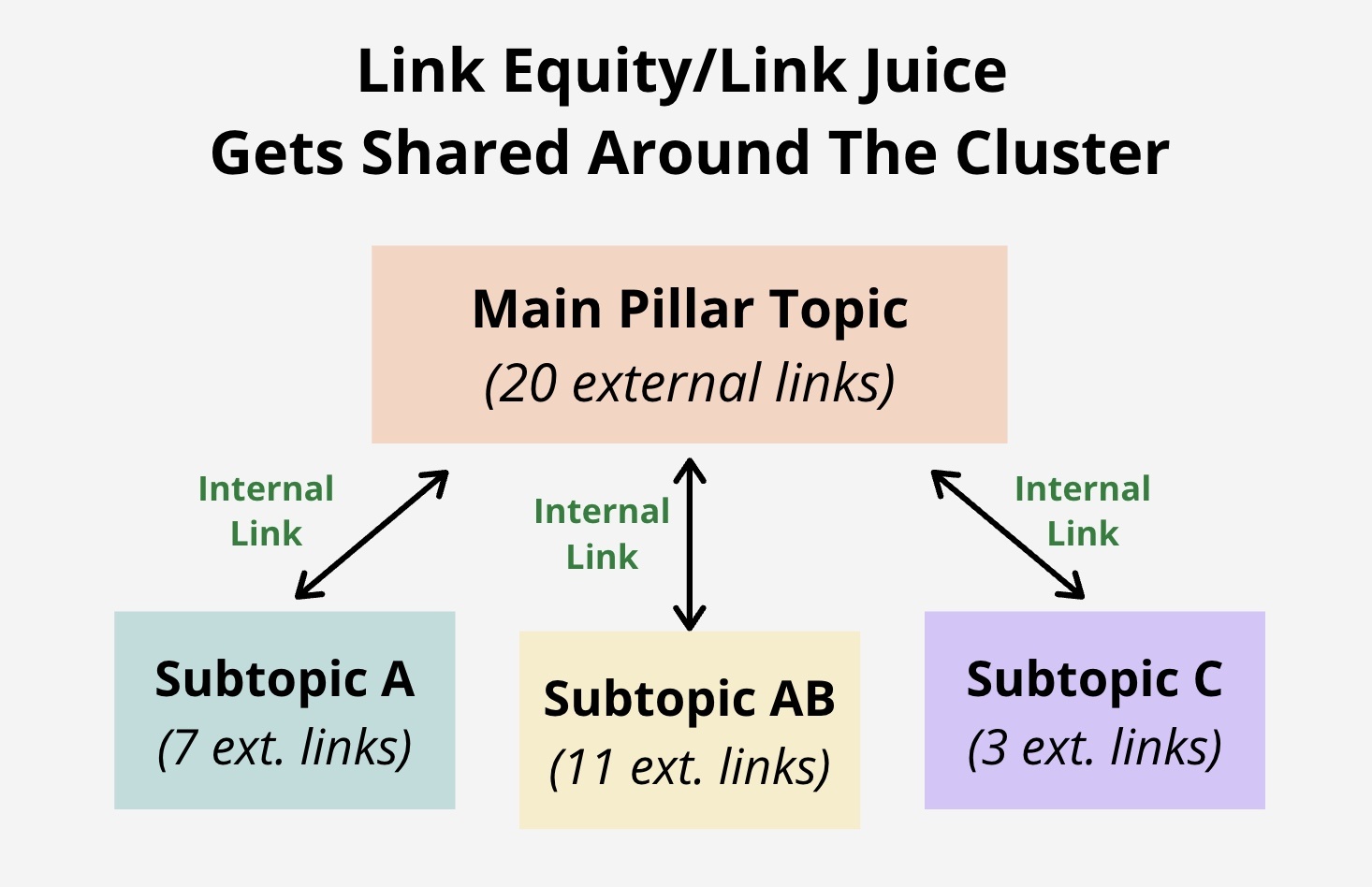 So in essence, every time part of the cluster, be it the pillar article or individual subtopic page, earns an external link, it passes some link equity to the other pages it's linked to.
While it is highly debatable how significant the shared link equity is, it undoubtedly reinforces the authority of your entire cluster as a whole, maximizing the odds of better rankings.
Take Your Topic Cluster Strategy To The Next Level
Now that you know how to create your topic clusters, here are 3 ways to maximize the potential of your cluster content.
Bonus Step 1: Repurpose The Topic Cluster Into Social Content
The great thing about topic clusters is that you can create spin-off content to distribute throughout your social platforms.
Gary Vaynerchuck famously created an incredible presentation on how to repurpose your posts natively into other pieces of content that fits the platform you want to distribute them in (such as LinkedIn & Instagram)
Like how he turned his blog post on B2B Marketing Strategies into an engaging LinkedIn presentation to share the piece of content in a format that is native to the platform to extend his reach.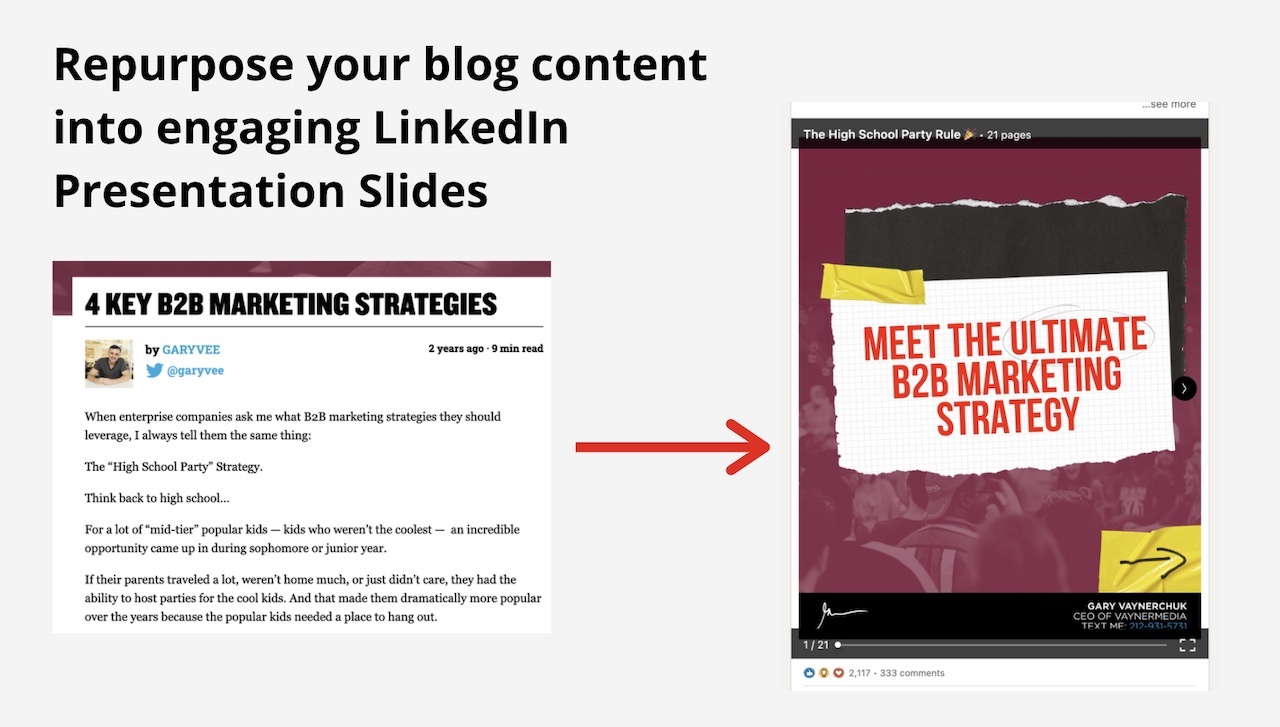 You can do the same for your content. Simply list down the social platforms you are currently in (or looking to build a following in) and multiply it by the number of content articles you have in your cluster.
So if you have a topic cluster of 6 pieces of content and you are present in LinkedIn & Instagram, you can make 12 pieces of native content for your social platforms, just from that one cluster!
Bonus Step 2: Create A Microsite Dedicated For Your Topic Cluster
Sometimes the topic cluster you want to cover simply has:
Many content types (besides the humble blog posts) needed to cover it

A huge amount of commercial search value

The potential to spin-off into a whole separate revenue stream or business
Qlik (a business intelligence company), for example, chose to tackle the entire topic cluster of 'Data Literacy' (a key commercial search term for their industry) by creating a dedicated microsite separate from their main website blog.
And it makes total sense. To adequately cover this cluster, they will have to go beyond just a series of interconnected blog posts, they will need to make other resources such as an online assessment tool.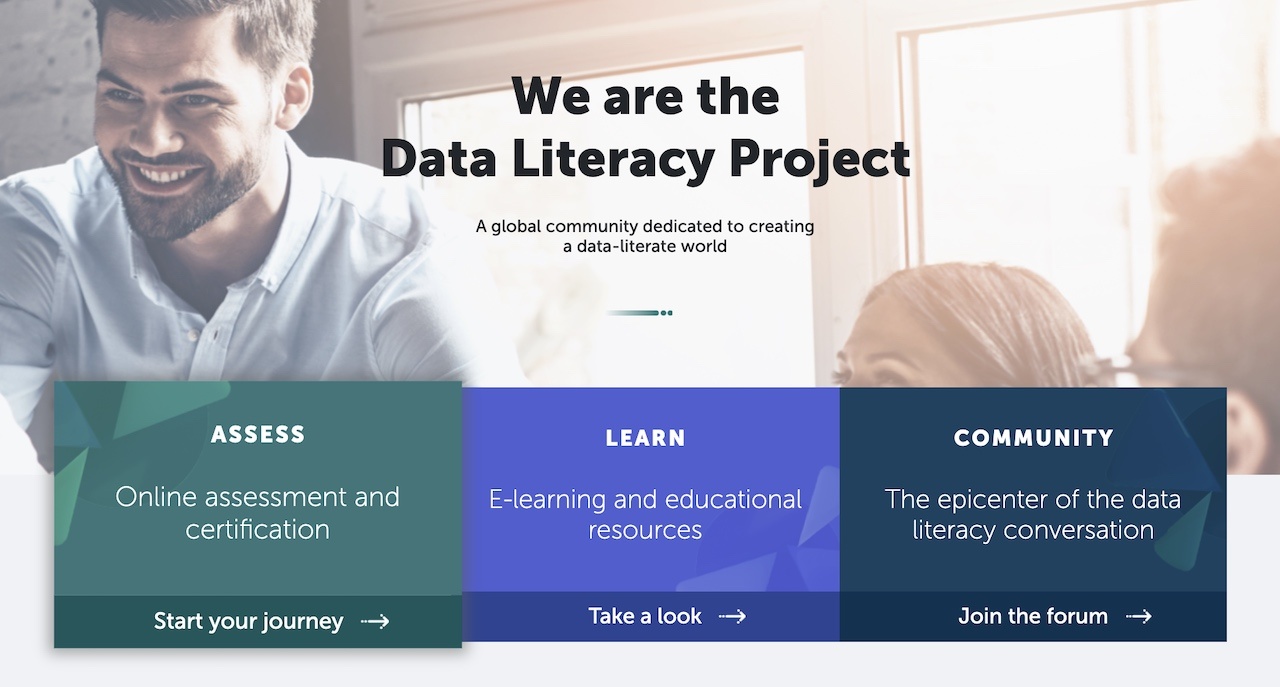 In addition to covering a topic cluster, a microsite also provides awesome benefits such as generating targeted leads, better SEO targeting for niche keywords, and setting up the stage to launch a new product or service.
If you have a commercially valuable cluster plus you have the resources & time, consider creating a microsite for your topic cluster.
For all you know, it could eventually evolve into its standalone business unit!
Bonus Step 3: Start Building External Backlinks To Your Cluster Topics
We all know that links are a significant ranking factor for Google, and it is doubly important for content clusters since they are all internally linked like a spider-web.
By building backlinks to your pillar article as well as individual cluster subtopics, you'll be boosting the entire cluster as a group!
From guest posting to email outreach, check out Backlinko's link-building guide to help kickstart your backlinking efforts.
Harness The Power Of Topic Clusters Today
The topic cluster strategy is a framework that not only benefits your readers, it is also one of the surest and long-lasting ways to build authority around a topic.
It provides a structure where all your content jig-saw pieces can fit nicely together to weave a compelling story – while still allowing for standalone success.
So be sure to use topic clusters for that next batch of content you are planning to develop!
Need guidance establishing your business blog? Or maybe you need help with a content cluster?
Contact us here and we'll be in touch.