10 Powerful Reasons Why Blogging Is Important For Your Business & Brand
May 24, 2021 | Sean Foo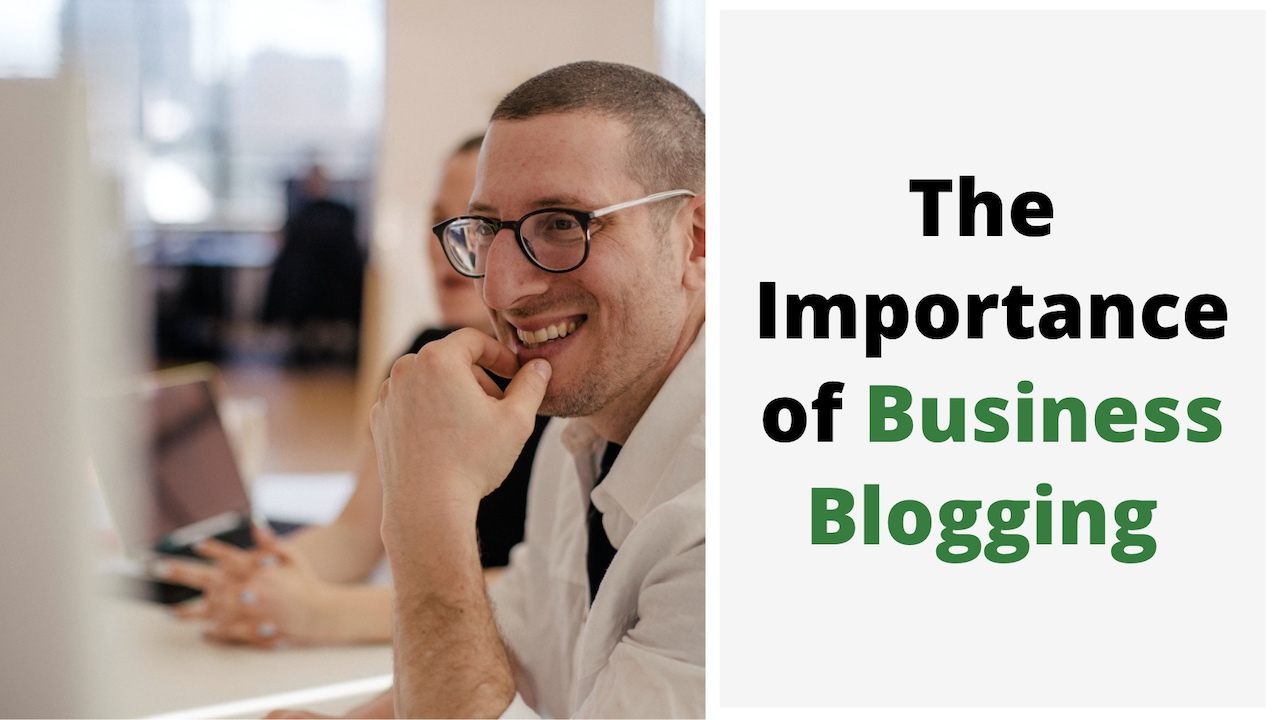 Traditional advertising is fading faster than we can imagine. Not only is it expensive, but you are also not reaching your audiences in a trackable and effective way. 
While social media marketing is effective and widely utilized, smart brands are also tapping on a sustainable method to reach their target audience. 
One that delivers compounding benefits that don't just disappear once your ad money runs dry.
We are talking about blogging of course!
It is one of the best platforms that any business can embark on to consistently attract new customers, grow a following, and emerge as an industry leader in their field.
Many iconic brands, both B2B and B2C, have built & grown their businesses through this effective inbound strategy – by creating valuable and meaningful content tailored to their audiences. 
What Is Business Blogging? 
Business blogging is a content marketing strategy that centers around writing and publishing articles that your readers are searching for!
It is about creating content that resonates with your readers by solving key problems they face and providing insights that they need.
Compared to other marketing channels like social, the majority of organic traffic earned comes from people intentionally searching for the topics you are writing about – that means obtaining a higher quality audience that is easier to convert into customers.
In fact, some businesses even prefer blogging as their go-to content marketing strategy as a blog is inexpensive to start, requires fewer resources to create, and is highly scalable.
Whether you are an established brand or a startup looking to aggressively scale, blogging is a powerful tool that delivers compounding benefits that go beyond just lead generation.
10 Reasons Why Blogging Can Drive Growth For Your Business Online
1. Drive Targeted Traffic & Leads To Your Website
Blogging is an excellent way for your business to drive traffic to your website, create a demand for your products or services through value-rich content, and generate qualified new leads.  
In fact, organizations that blog generate 67% more leads than those that don't. 
Every time you publish a new blog post, it is one more indexed page on your website – you have more fishing hooks in the sea.
This increases the opportunity for your brand to show up in front of your audiences on search engines, such as Google when they search for keywords that you have targeted for your business.
Traffic is the lifeblood of any website and the more quality traffic you get, the more potential customers you'll have – increasing the likelihood of enquiries, bookings, and most importantly, sales. 
Shopify, an eCommerce platform, utilizes their blog to draw in key types of organic traffic they desire, one of which is people looking for business ideas and inspiration to get started.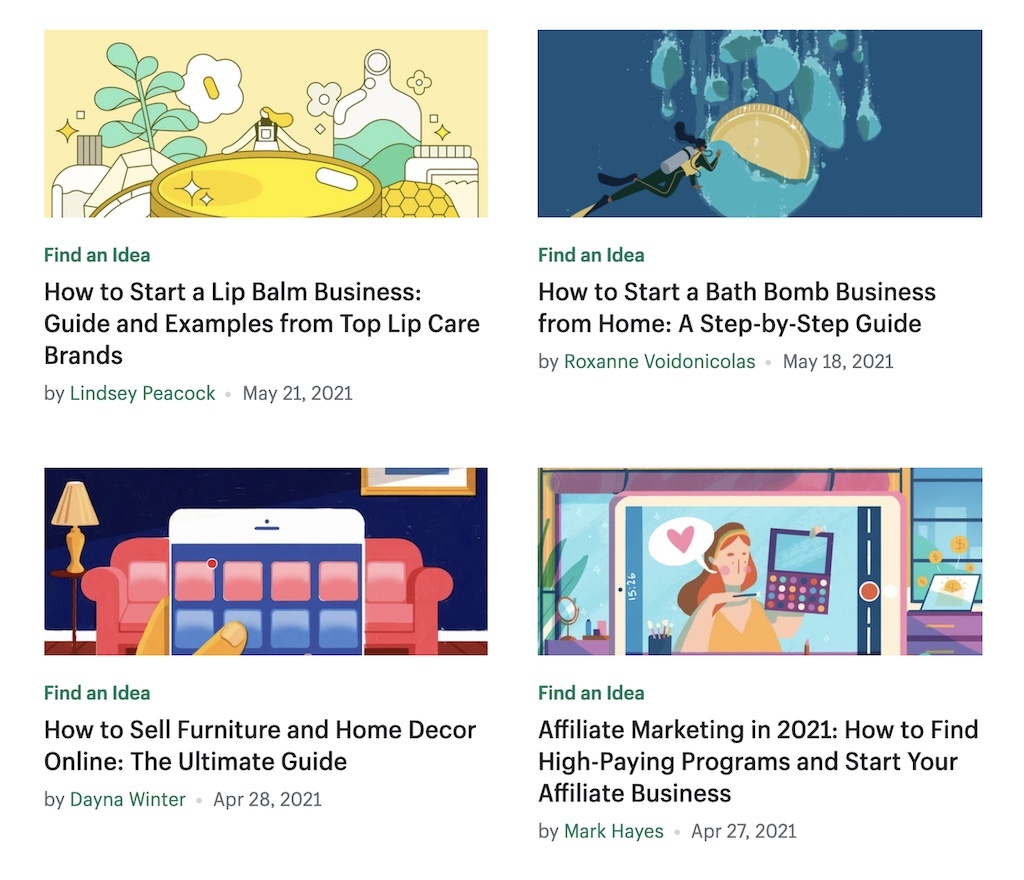 2. Helps To Convert Your Website Visitors Into Paying Customers
Blogging provides your audiences with valuable content that will give them answers to their pain points & challenges in their lives (or business). 
This offers the opportunity for you to educate them on how your products or services can solve their problems.
In addition, by using real stories, you'll be able to better connect with your audience, allowing your readers to better connect with your brand through the posts rather than being sold to.
Since you've helped them with your information, prospects are more likely to enter your sales funnel trusting what you have to offer and ultimately become paying customers when they are ready. 
By integrating a call-to-action (or multiple ones) within each blog post, it'll provide convenience to potential customers. 
This allows you to drive traffic to points of conversions, such as sale landing pages, pricing pages, and product pages, more naturally than other types of advertising. 
The Honest Company subtly weaves in highly relevant product links within the content of their blog posts to divert their hard-won attention towards driving sales.

3. Accelerates Your SEO & Social Marketing Efforts
Another one of the benefits of blogging for your brand is getting ranked in search engines for keywords that matter to your business.
By writing content for both broad topics and long-tail keywords, you will be creating content assets that will help you attract backlinks naturally.
This will help increase your domain authority and boost the search rankings of your entire website and blog posts as a whole.
But that's not all. Blogging also benefits your social media marketing efforts.
Every blog post you create is also content that you can adapt for your social media channels that include Instagram, Linkedin, and YouTube.
By blogging, you will be creating a bank of content that you can promote, share and create adaptations to reach even more audiences.
4. Helps Your Brand Build Thought Leadership
No matter what industry your business is in, branding is crucial for your success. 
When establishing your blog, one of the best techniques to differentiate your brand is by approaching your content with a thought leadership strategy. 
There are a multitude of social issues that your brand can advocate and stand for without spending massively on advertising. This could be addressing gender issues or even racial inequality.
Exercising thought leadership through your blog helps you position your brand as a trusted expert on a particular set of topics or issues in your industry.
For example, you can cover topics on how your industry can help with climate change by innovating their business processes or how employee burnout is real, and how to solve it.
With a business blog, you can take the opportunity to showcase how innovative and socially aware your brand is while putting you in front of audiences that care about the same causes – further increasing trust and influence for your brand. 
Slack, for example, uses its blog to champion ideas and provide thought leadership in the space of productivity and employee engagement.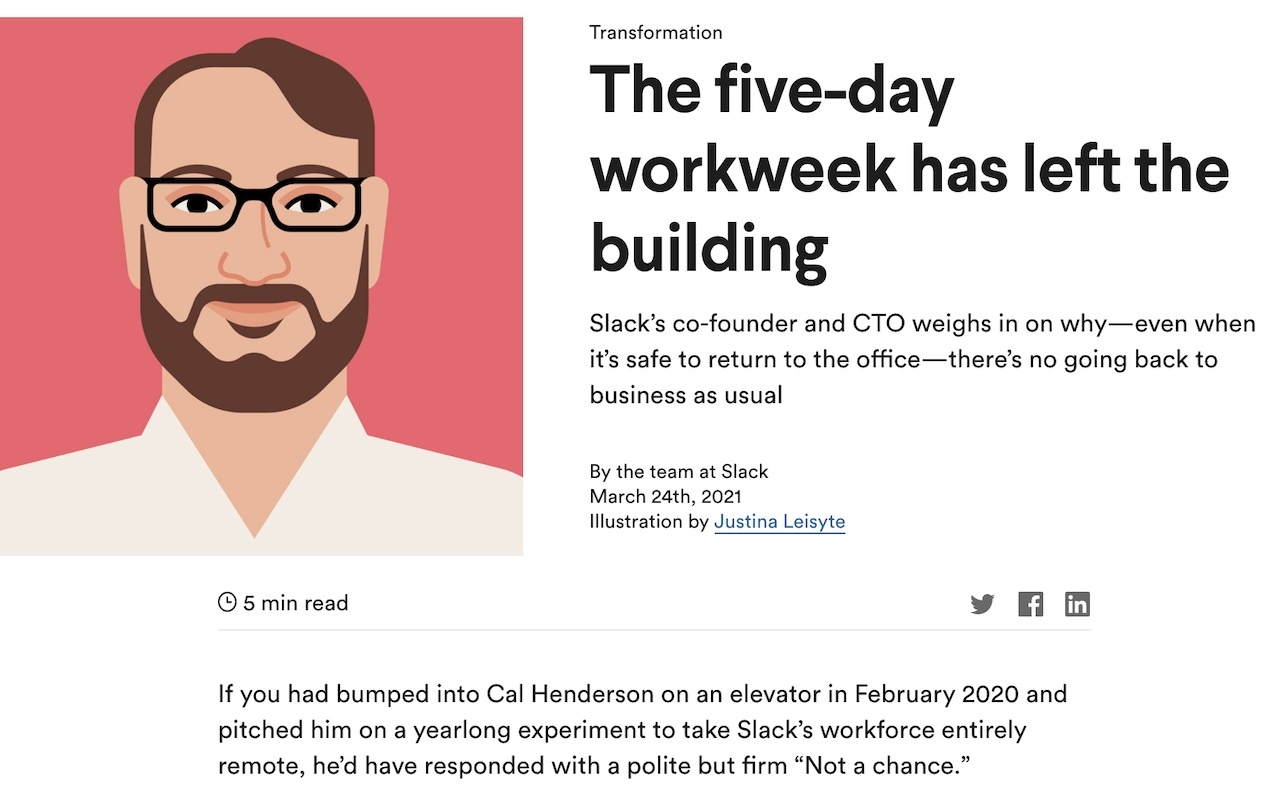 5. Better Facilitate Customer Success & Build Genuine Relationships
Have you ever experienced a time where an FAQ page wasn't enough to answer your queries or help you fix a problem?
Instead, you probably search high and low for in-depth articles or detailed instructional guides to find an answer.
Through blogging, you can create articles and tutorials that address the common challenges your customers face with your products or services. 
But that's not all a business blog allows you to do.
You can start to build genuine relationships with your audience and establish social proof by posting customer stories, business happenings, and even employee interviews to showcase your company culture.
This helps to humanize your brand to your customers. People buy from other people, not some faceless corporate entity.
Tesla's blog proudly puts up customer stories on how their products are changing lives and what their customers feel about their purchase, helping to foster stronger bonds with their audiences while forging a genuine connection with the brand.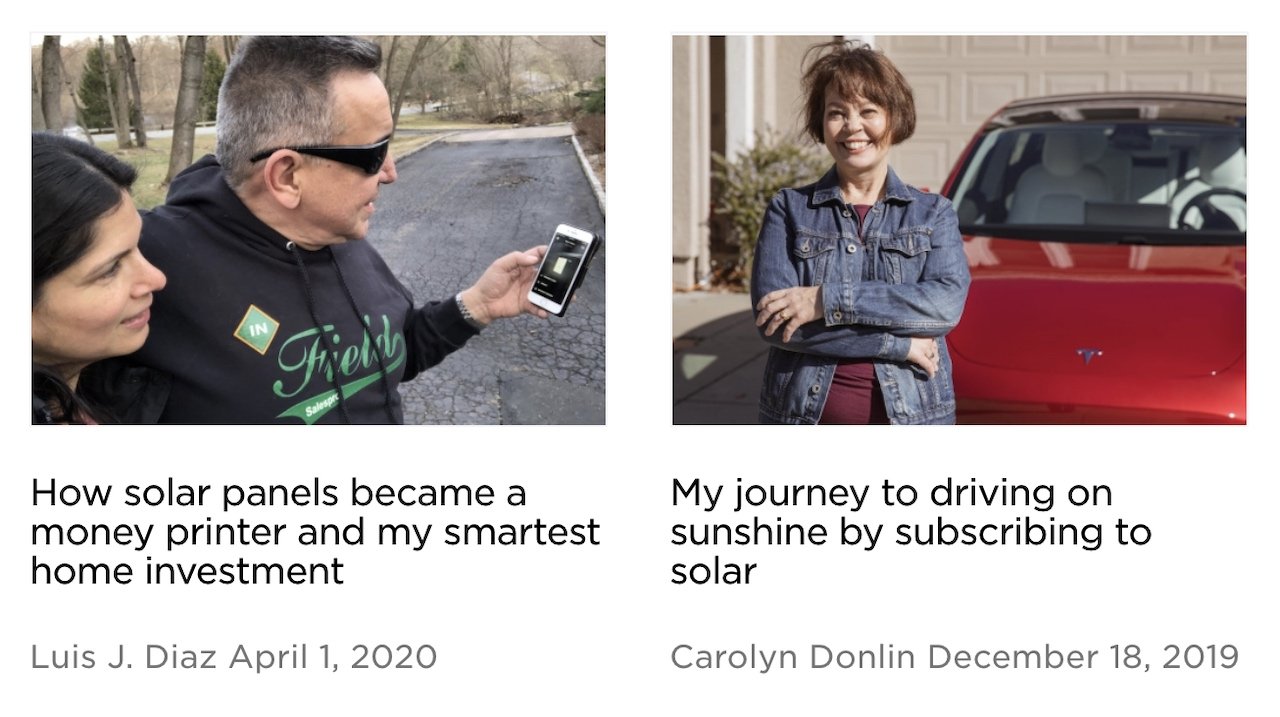 6. Equips Your Sales Team To Better Close Deals
Sales enablement is becoming increasingly crucial and your blog is a perfect tool to better equip your sales team with the content they need to better close the sale.
Throughout the sales process, your salespeople will encounter questions that require in-depth explanation where they won't have the full information stored in their memory – this is where your blog can come in!
Blogging and content creation helps you to better equip your sales team with the necessary information to engage with prospects better, start sales conversations and shorten the sales cycle.
Your blog isn't just a repository of content for your marketers or your readers; it is also an inventory of answers for your employees to use. 
It'll help you train new salespeople and ensure that your information is kept consistent across all team members. 
Furthermore, you can also cover topics specific to different types of clients and create targeted case studies – equipping your sales team with the right customer success content that pertains to the client they are facing.
7. Drive Massive Brand Awareness Beyond Your Niche
The importance of blogging to drive brand awareness beyond your niche is vital for B2C businesses. 
This is especially true when you are selling a product or service where almost anyone can benefit and become a paying customer.
For example, a bank selling credit cards could market to virtually everyone with a stable job while a health insurance plan is necessary across every age group.
With blogging, you can cast a wide net and capture as much attention as possible with the help of popular search phrases and keywords. 
By consistently blogging about mainstream (or trending) topics that the larger demographic cares about, you can capture a mass of traffic and attention back to your website that you can then convert.
For businesses in the B2B space, blogging allows you to target a new industry or customer persona by creating topics that matter to them.
If you are selling a data analytics tool and want to close more clients in the financial industry, you can start creating topics on how banks or insurance companies can benefit from data.
With the right content, you can get onto the radar of any customer that you want, regardless of the industry they are in.
Square, an eCommerce payments provider, writes on broad topics across industries on their blog to break into various niches that their solution can help – from cafes and restaurants to clothing and even barbers!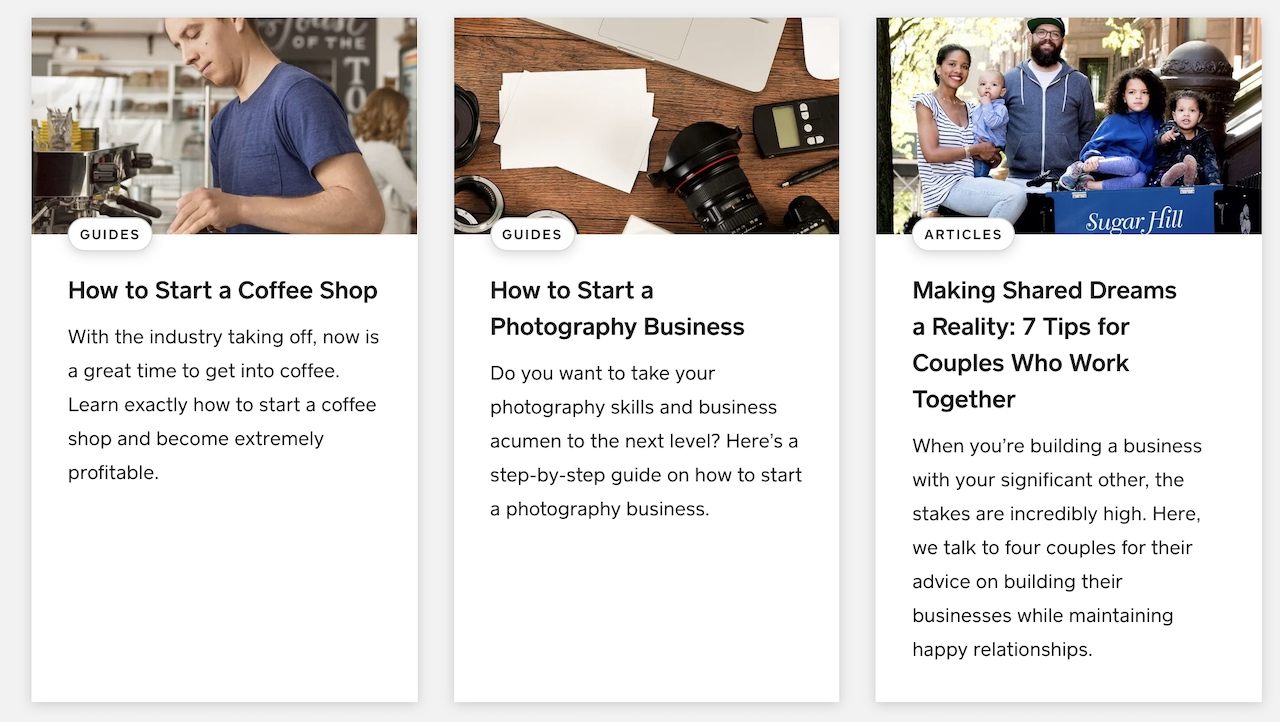 8. Better Explain & Showcase What Your Products & Services Can Do
While sales and product pages are great, they are typically written and designed for scanning.
They don't go in-depth and explain what your products or services can do, the specific features, and use cases. 
By blogging about specific features and showcasing the strengths of your products or services, you'll help your prospects discover and learn more about how your offerings can benefit them. 
You can do this by integrating aspects of your products and services into the narrative (or story) of your blog posts – after all, people learn and relate better to stories.
Blogging allows you to take your prospects through a journey to discover how each individual feature of your solution can benefit them.
Monday's blog regularly posts about their latest product updates and how their customers can get the most out of them.

9. Start Building Your Loyal Subscriber Base
After you've fostered goodwill by providing value with your content, you can encourage readers to sign-up for your mailing list or even become a follower on your other channels. 
Most readers will become subscribers to receive more value from you if your existing content has been genuinely helpful.
With an effective email marketing strategy to complement your blog, you can increase the number of touchpoints you have with your prospect and start building powerful personal relationships with your subscribers.
This allows you to stay top-of-mind and groom them into your customers with more value-rich content and promotional offers. 
If you didn't know, email marketing yields massive ROI. 
In fact, it can go up to $44 for every dollar spent, making their ROI an awe-inspiring 4,400%!
10. Build Valuable Networks With Industry Influencers
Lastly, the benefits of blogging don't just apply to building your customer base, but it is also valuable in helping you network with relevant key opinion leaders in your industry. 
Your content will allow you to connect, engage and build a trusted relationship with influencers in your niche – opening doors for future collaboration, free shoutouts, and publicity about your products or services.
This ambassadorship means tapping into a targeted audience base to increase your reach and establish trusted branding for your business.
You can reach out to these influencers with your blog through various tactics, such as creating expert-roundup posts, giving you the perfect excuse to start a conversation and network with them!
Reach out to them through social media or email and leave them a link to your post. They'll probably be more than happy to be featured!
Ahrefs uses their blog to build valuable relationships with experts within their field (SEO & content marketing) by inviting experts to guest post on their blog – a win-win proposition for both the expert who gains exposure and Ahrefs that gains a piece of quality content that drives traffic.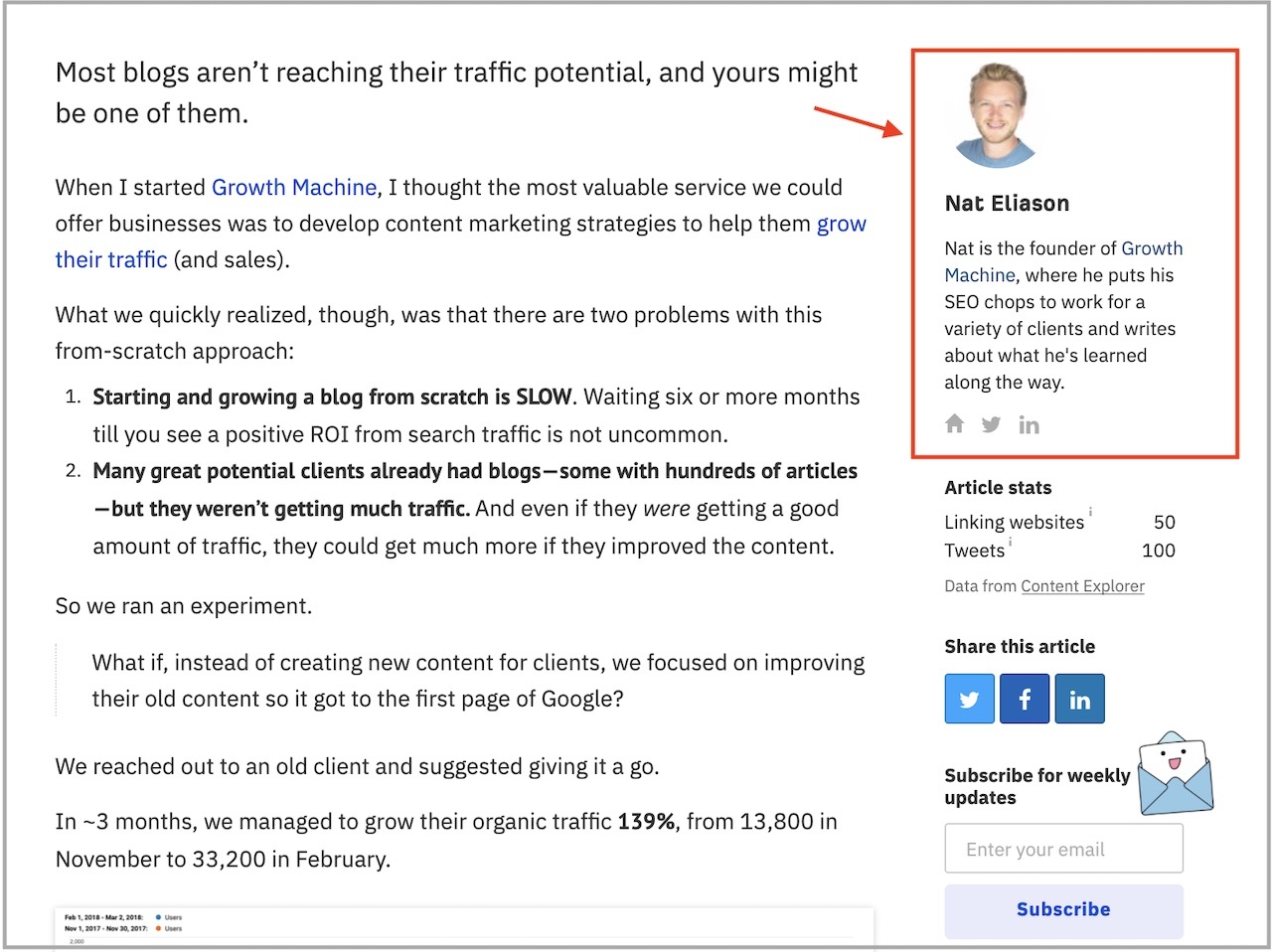 3 Amazing Brands Using Blogs To Drive Business Growth
Now that you know the benefits of business blogging for your brand, let's take a look at three business blogs that are shining examples of businesses built from the power of blogging.
1. Close
Close's impressive B2B blog is amazingly staffed by only a two-person marketing team.
Since the start of 2013 when the brand first launched, the founders made a conscious decision to create massive amounts of content to build their customer base, after all, they couldn't out-advertise their competition, it was too costly.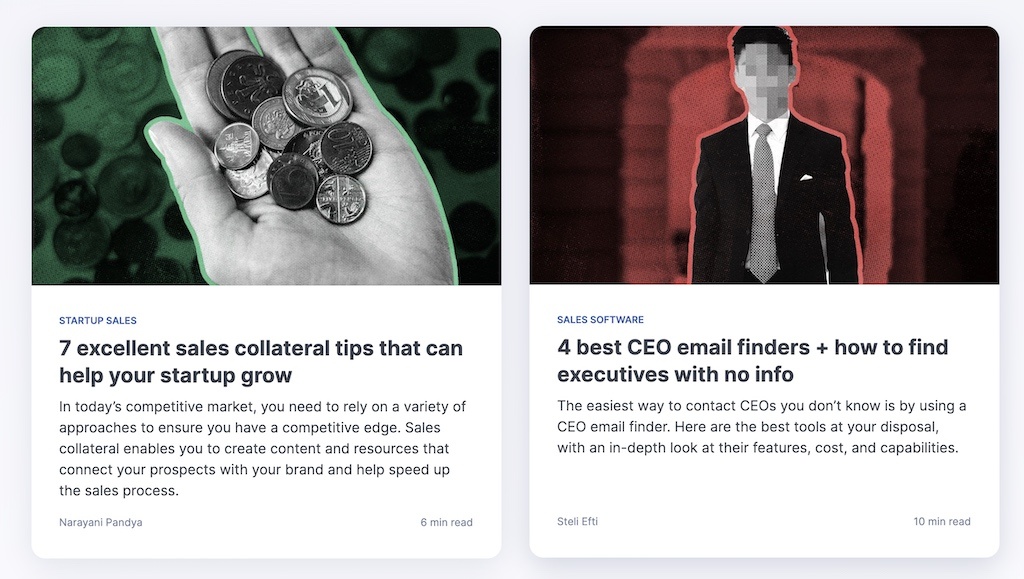 With their business blog as the bedrock of their content marketing efforts, they manage to generate 60% of their leads from content, the majority of which originated from their blog.

Today, their blog generates an impressive 180k monthly organic traffic, ranking for over 100,000 keywords.
2. BarkPost
Most B2C brands that target the everyday consumer focus on social media – and they should! It's a powerful marketing channel that allows for their content to get shared and amplified.
However, blogging is a powerful avenue that shouldn't be ignored – and that is exactly what Barkbox, a dog treats subscription service, did.
The brand created a dedicated blog on a separate domain – Barkpost!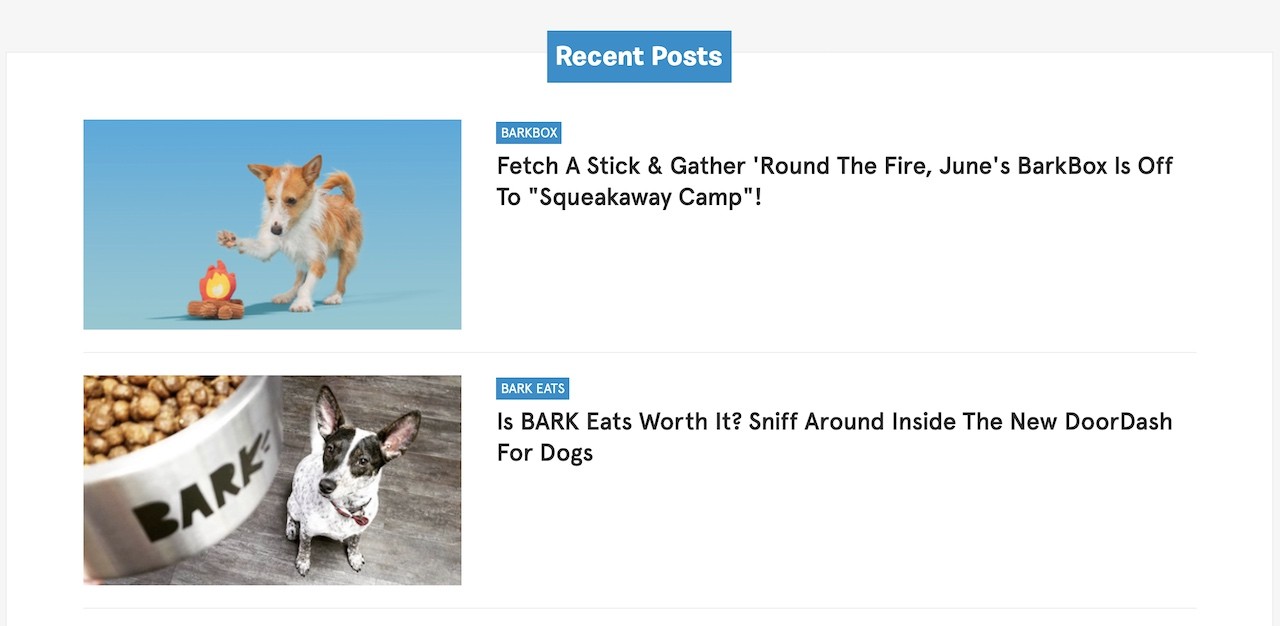 This awesome blog regularly publishes helpful tips, funny dog news, and wholesome content surrounding those friendly canines. They add value to dog owners in taking better care of their dogs while fostering a stronger intangible connection with the brand.
And when the time is ripe, they directly promote their subscription service through an article with a call-to-action within the post.

Their blog generates an amazing monthly traffic of nearly 500k today!
3. HubSpot
Perhaps the champion of business blogging rightfully goes to HubSpot.
Their B2B business blog covers…well almost everything related to business and marketing, and we are being serious. 
With tens of thousands of articles and content published, the HubSpot blog is an impressive example of a billion-dollar listed company built in part from the power of their business blog.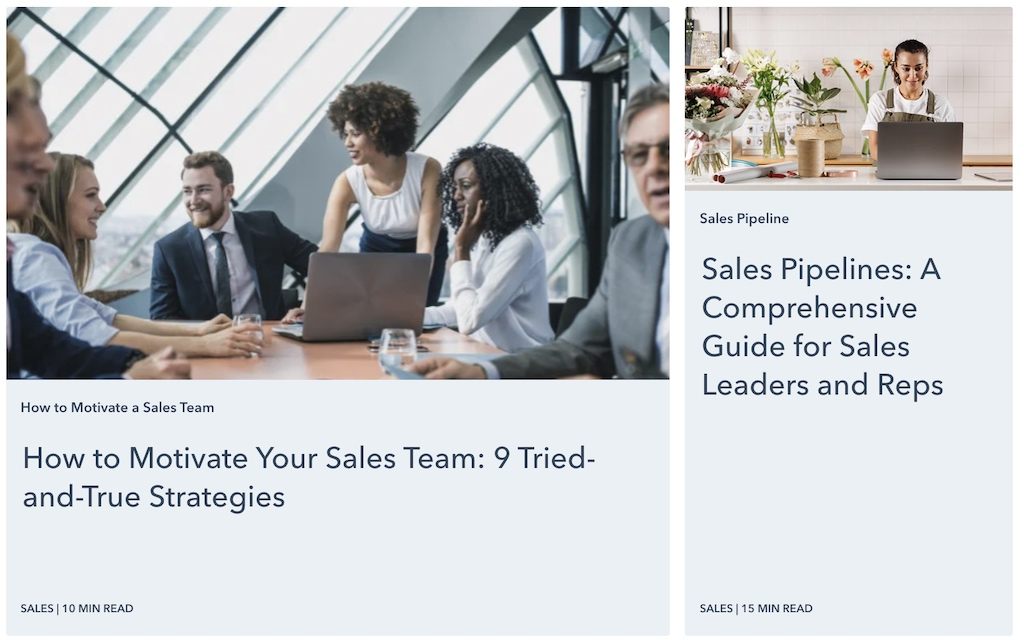 With the massive amounts of organic traffic generated, they can channel them into a myriad of avenues, from free trials of their various products to exchanging an email to download valuable content resources.
Once you gain enough traction and monthly traffic on your blog, the sky's the limit on how you can best monetize those targeted visitors.

Today, their blog generates almost 18 million visitors a month and ranking for a whopping 4 million keywords!
Ready To Build Your Business Blog?
The future of marketing lies in content and with a business blog, you'll be able to rise above the competition.
You can establish your brand's authority and online presence, all while meeting the needs of your current and future customers. 
So if you're looking to start a blog to reap the benefits of content marketing or looking to build one from scratch, we can help!
Contact us here, and we'll be happy to help!