Content Hubs: How To Ace The Content Marketing Game (With Examples)
July 12, 2021 | Sean Foo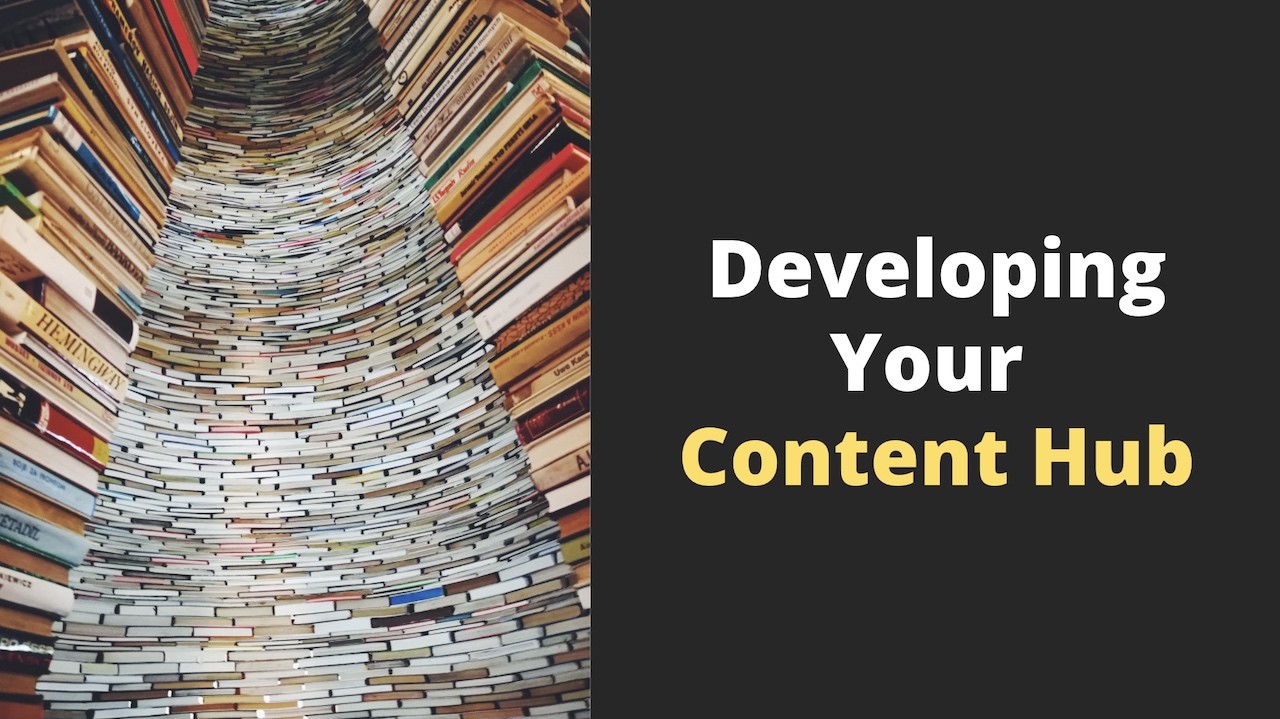 The Big Picture: Learn how to develop content hubs for your website to help you better rank for competitive terms, develop content your readers really want & generate quality leads that drive business results.
If you're reading this, you probably have embarked on content marketing and are seeing some results.
However, if you are trying to build lasting authority and rank for highly competitive keywords, just having a blog and simply cranking out articles isn't nearly enough.
No matter the niche or industry you are in, it is likely to be filled with entrenched competitors armed with well-established blogs dominating the key terms that you desire.
So how do you break out of the shadows and beat the big boys at their own game?
You'll need to be laser-focused and build massive authority around a topic. 
That means creating in-depth content organized around a central topic that is valuable to your readers while being easy to navigate around.
You'll need to develop a content hub! 
And in this article, we'll take you through everything you need to know about them and more importantly, how to develop one for your brand to drive massive ROI through content.
What Is A Content Hub & Why Developing One Is Necessary
Think of a content hub as a location (or the headquarters) where your audience can find carefully curated content on a specific topic.
By consuming the content in the content hub, readers will fully understand everything that they need to know about the broad topic and all of the related sub-topics.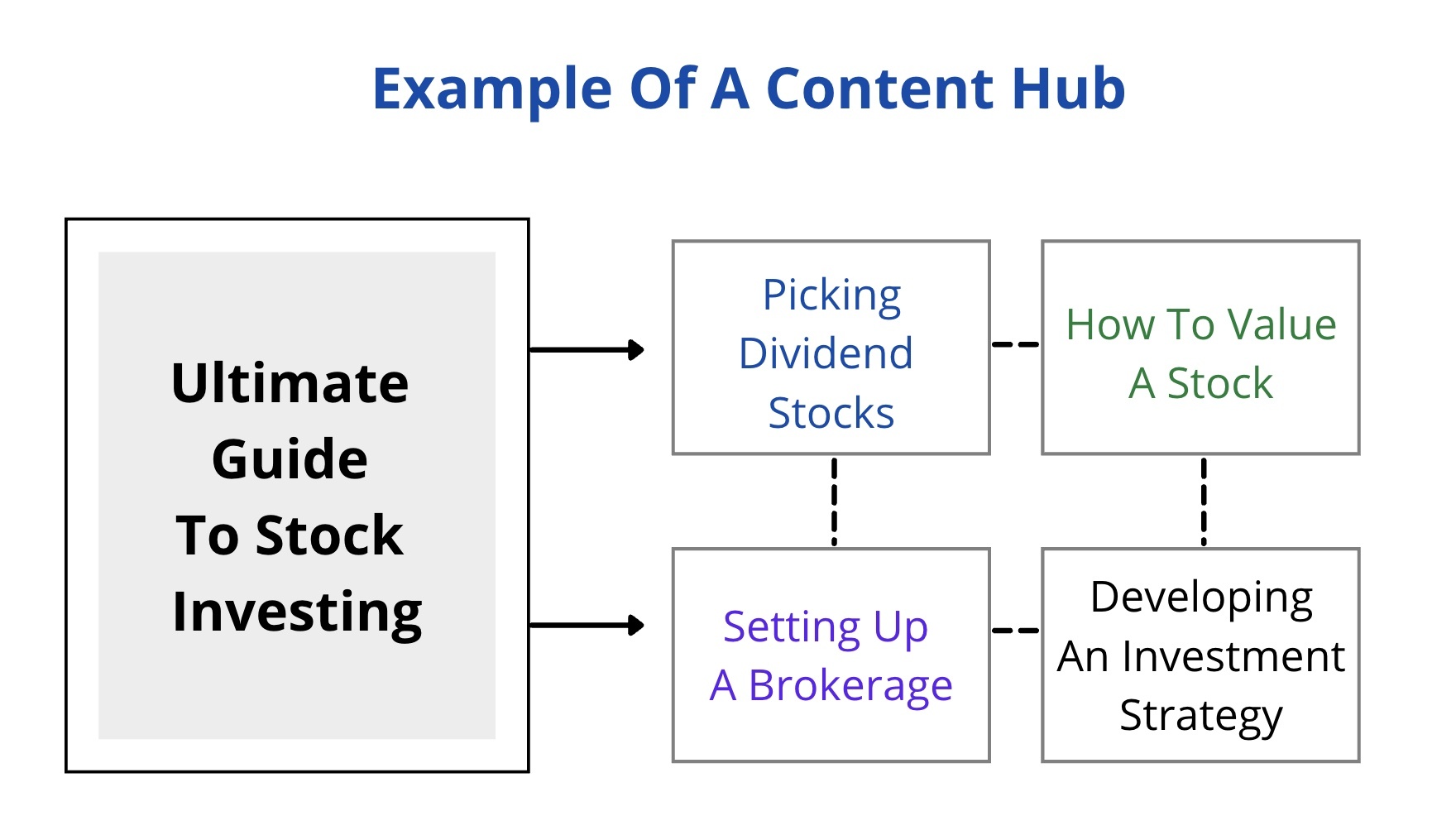 Take the above content hub for example. 
The content here is arranged in the format of a topic cluster where one central piece of content – the 'Ultimate Guide To Stock Investing' article is the central location where visitors can learn everything about investing in the stock market.
A content hub can be simply a set of blog posts that are linked to a bigger umbrella article.
Or it can be more involved such as an entire dedicated microsite, subdomain, or resource center where visitors can access and find the type of content they desire on a particular topic or niche.
So why are content hubs so necessary today?
It's rather simple actually – we aren't blogging in 2010 anymore and the competition has never been more ferocious.
Your competitors have:
A more established blog with hundreds (if not thousands) of pieces of content.

Built a ton of high-quality links.

A stronger domain authority (allowing their content to naturally rank higher than yours).

An established readership that will share their content around on social media.
To compete, you'll need to focus on a topic and build it up with relevant & related content for it to rise above the competition.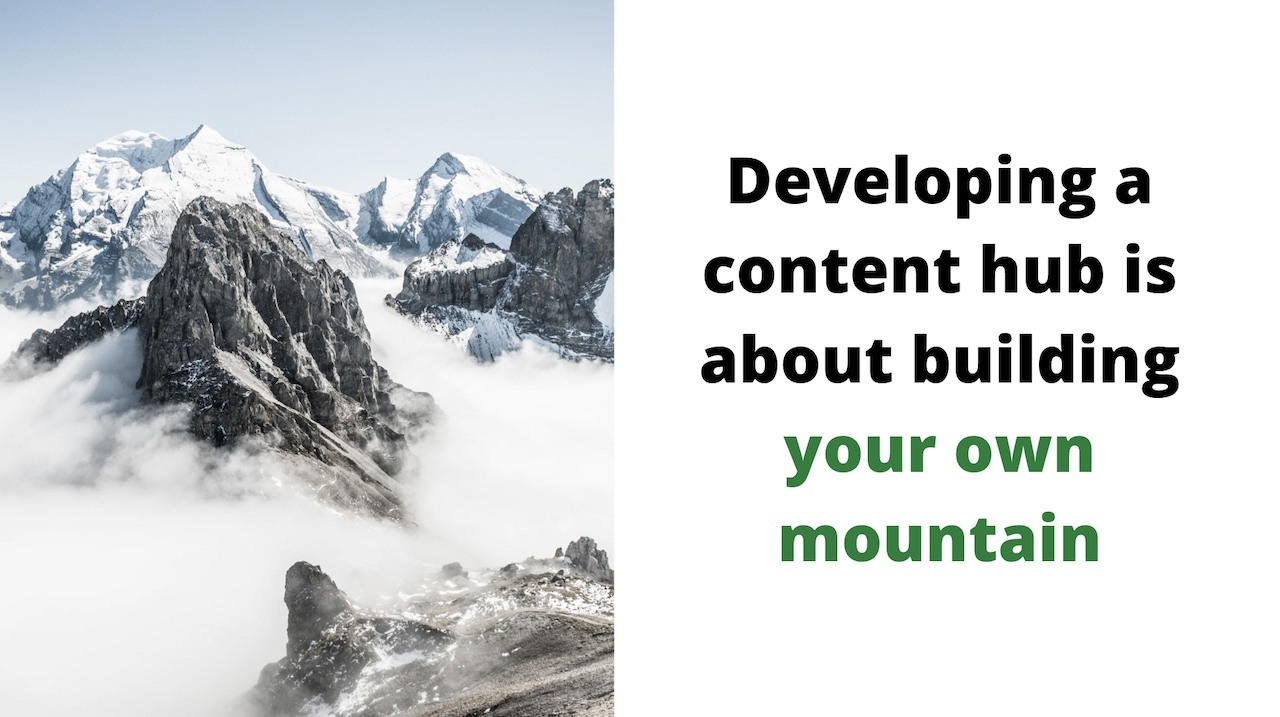 By having a content hub mentality, you'll focus your efforts on building true authority on a single topic or subject – backed up by a strong base of content.
7 Benefits Of Content Hubs You Must Know
1. Build Authority Around A Topic (And In Your Industry)
Publishing content around a topic, especially if it is related to your industry, allows you to build thought leadership with your audience.
Even when you are a small brand, content hubs allow you to build much-needed authority within segments in your niche.
For example, the broad term & topic 'SEO' is probably too competitive for you to build meaningful authority around it, especially if you are new to the game.
However, you could build a content hub around a less competitive topic such as 'SEO Audits' or 'Keyword Research' and establish authority there first before you set your sights on the bigger (more popular) search term.
Casper's blog, for example, establishes authority around sleeping better with their content hub that covers topics revolving around how to get better rest.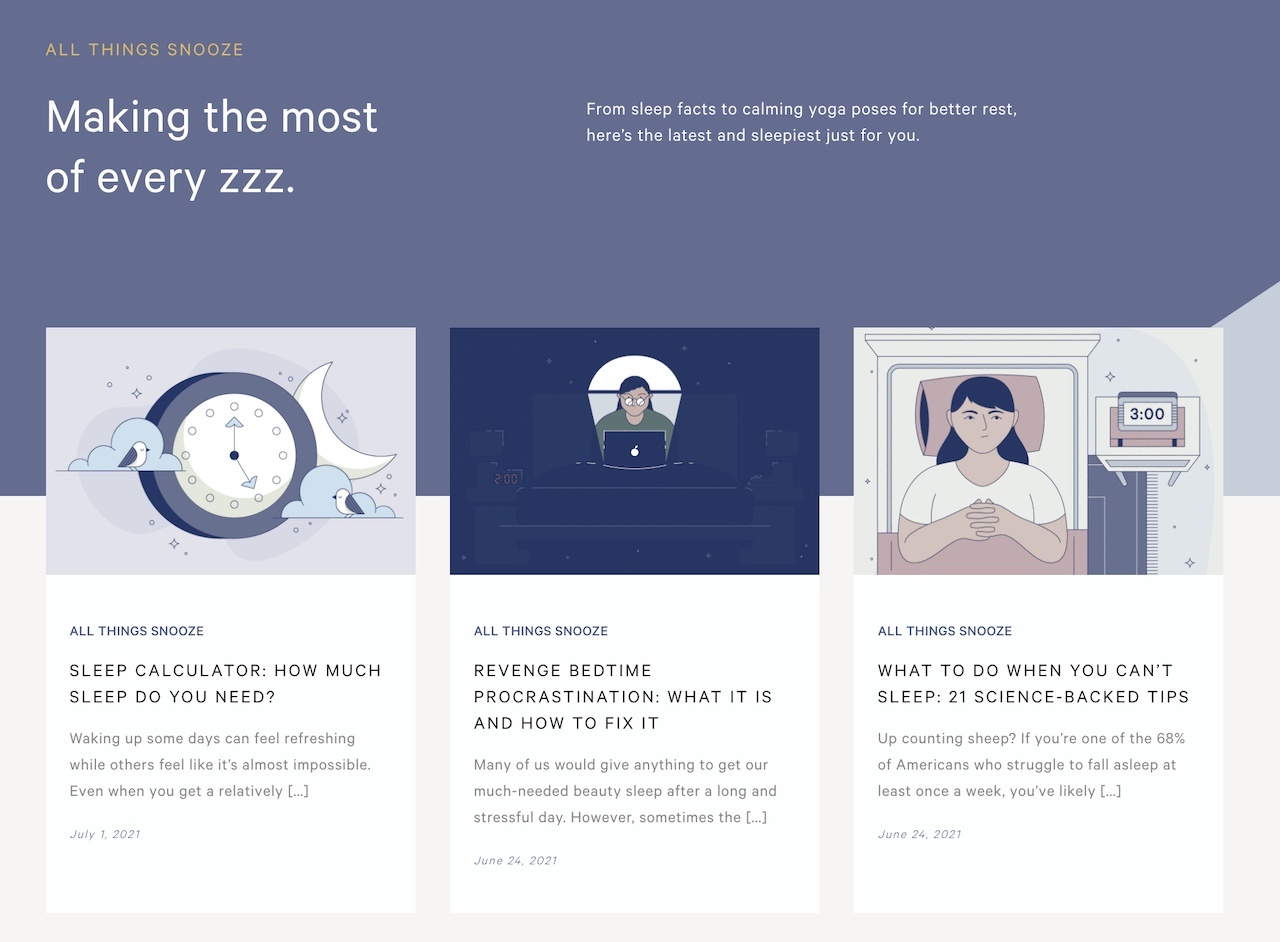 2. Drive More Traffic
When you develop content around a topic, you'll be increasing your online presence and reach, driving valuable traffic back to your website.
A content hub serves up three amazing traffic benefits:
You'll rank for multiple long-tail keywords that drive traffic.

Your pages will get indexed faster in Google thanks to the content hub's naturally more organized structure.

You'll

build EAT

(Expertise, Authoritativeness, Trustworthiness) for your content, allowing it to rank higher on the search results.
3. Generate Qualified Leads
While it is tempting to want to rank for those big broad keywords that drive thousands or tens of thousands of monthly visitors to your website, they rarely translate into direct business.
Through the content hub strategy, you'll be naturally writing content across a series of related long-tail keywords. 
This means it is likely you will be covering content across the marketing funnel, especially middle and bottom-of-the-funnel content that drives qualified leads.
4. Improves Your Website's SEO
When you develop a well-organized content hub with volumes of valuable content, your content will naturally start to attract backlinks organically.
This will help your website to increase its domain authority, allowing all of your content (and key website money pages) to rank higher on search engines.
Thanks to internal linking, the links earned from your long-tail content will pass their link juice to the main parent topic, allowing you a competitive shot to rank for the broader term & drive even more traffic.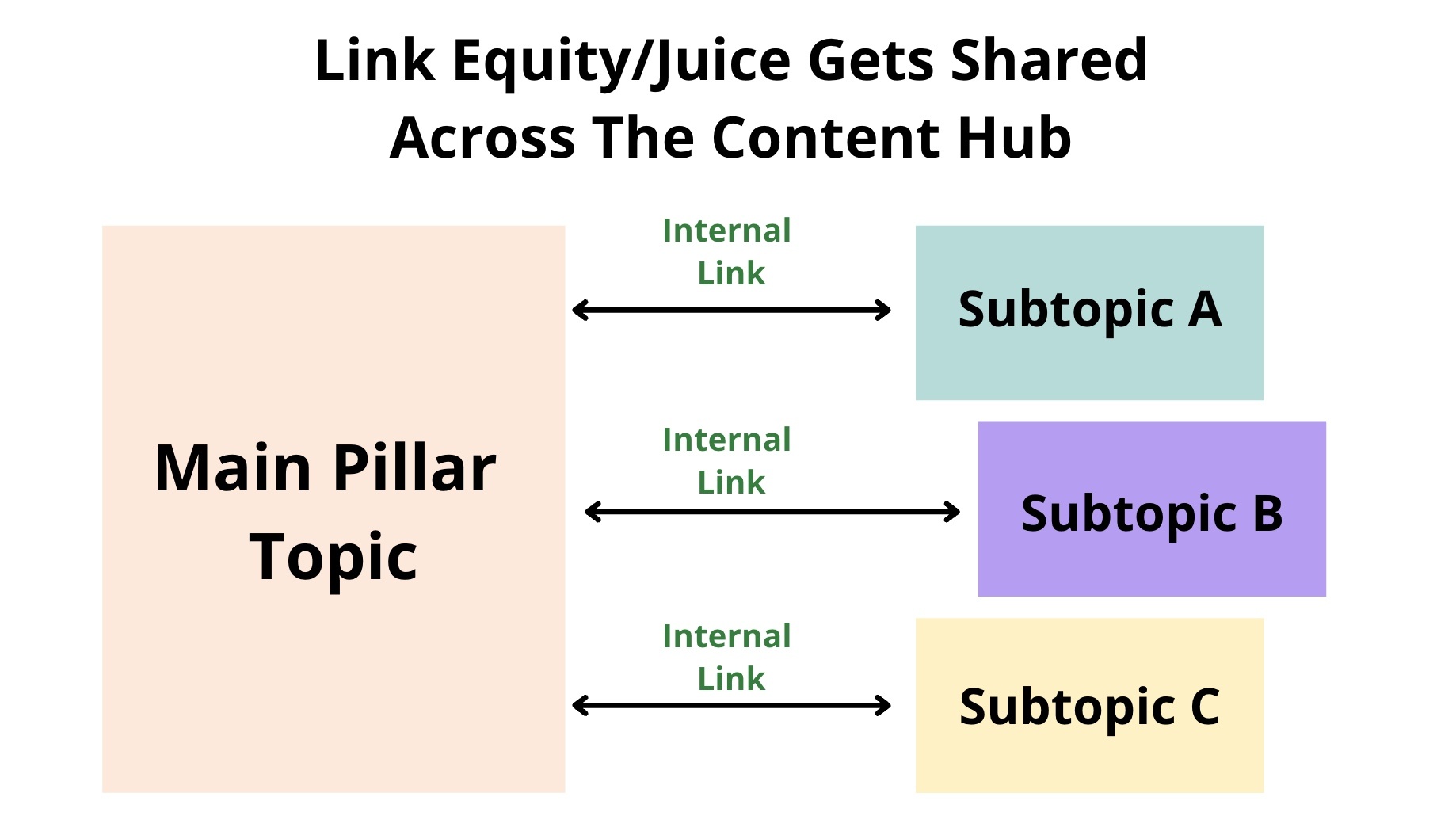 5. Greater Engagement With Your Readers
The problem with writing scattered and unrelated content is you run the risk of losing the attention of your readers. 
That means they might consume your content and just bounce away, potentially never to return. You don't want that!
Content hubs allow you to create a rabbit hole where your reader can dive deeper into highly related topics across various content types – from blog posts to infographics and bite-sized videos.
This enhanced user experience helps to foster higher engagement with your readers, from browsing through the rest of your website to converting into subscribers or even customers.
A higher engagement rate will result in higher organic search rankings, plus the potential for driving more business within your website.
6. Enhances Your Brand
What differentiates your brand from the rest of your competitors?
A content hub doesn't just drive tangible results for your business, it helps to build the intangibles of your brand. 
It shows visitors and prospects that your brand adds value by solving challenges and answering questions that matter to them. This allows you to build relationships with your readers and establish trust in your brand.
7. Easier Content Marketing ROI Measurement
One of the biggest challenges of content marketing is accurately measuring the results and attributing if the traffic generated translates into business results or not.
By using a content hub with a proper organizational structure, you'll be able to accurately measure the metrics and understand how your content is performing.
This will help you to understand the type of content that resonates with your reader, allowing you to refine your strategy and create the types of content that will predictably drive results.
The 5 Types Of Content Hubs
1. Topic Clusters (The Hub & Spoke Model)
Topic cluster content hubs come in the format of a pillar page (or blog post) covering a big overall topic that is interlinked with posts diving deep into highly related subtopics.
The beauty of the topic cluster model is that it is the fastest way for any business blog to create mini-content hubs and start building authority on a topic without changing the structure of the website.
The content published here are ideally evergreen content that will last the test of time (and with that I mean years).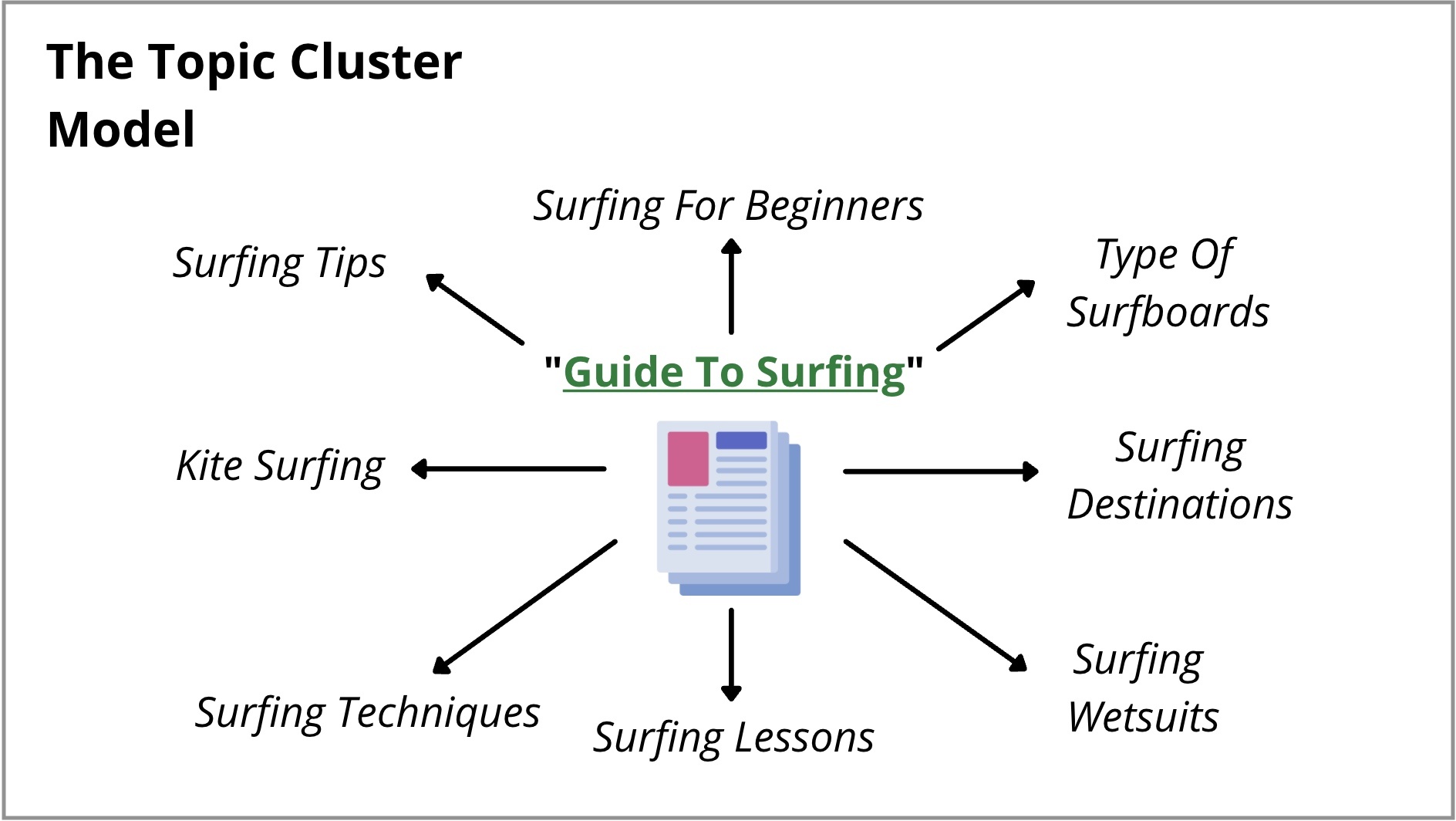 Bigcommerce, an online retail SaaS platform solution, uses the topic cluster method for their ultimate guide on how to start an online business.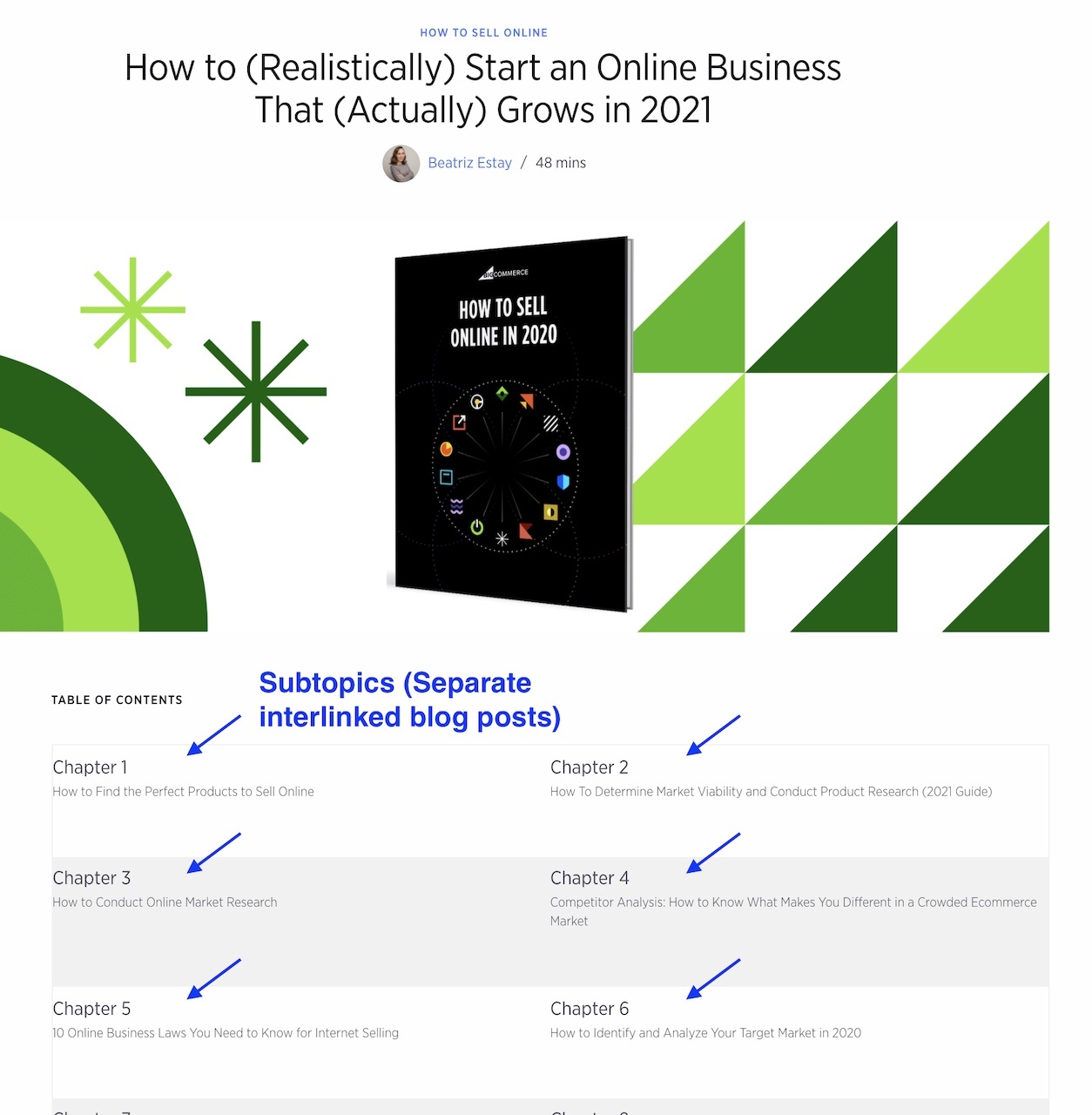 This is a very competitive topic that has high traffic as well as immense commercial value for them. 
By creating a content hub, through one pillar page interlinked with separate blog posts that cover highly related subtopics, they manage to build enough authority to rank for multiple valuable keywords with the pillar page alone driving nearly 18,000 monthly visitors to their website.

2. The Content Library
The content library model is how business blogs should operate today.
There is a main content library hub page where visitors can find the category that really interests them and easily navigate through to browse through individual articles within that category.
For example, if you are selling SEO services, your content library categories (or subtopics) can be:
SEO for beginners

Keyword Research

Blog Writing For SEO

Conversion Optimization

Technical SEO
Each of these categories will have its own index page which will host all of the relevant articles for visitors to read.
This makes browsing a breeze for your readers and provides a logical flow to your SEO, allowing any links earned in individual articles to easily flow towards your domain.
Monday's blog is essentially a content library that allows visitors to easily navigate to the types of content that they want.
This is a great approach to use when your content strategy involves developing lots of content across various topics and subtopics.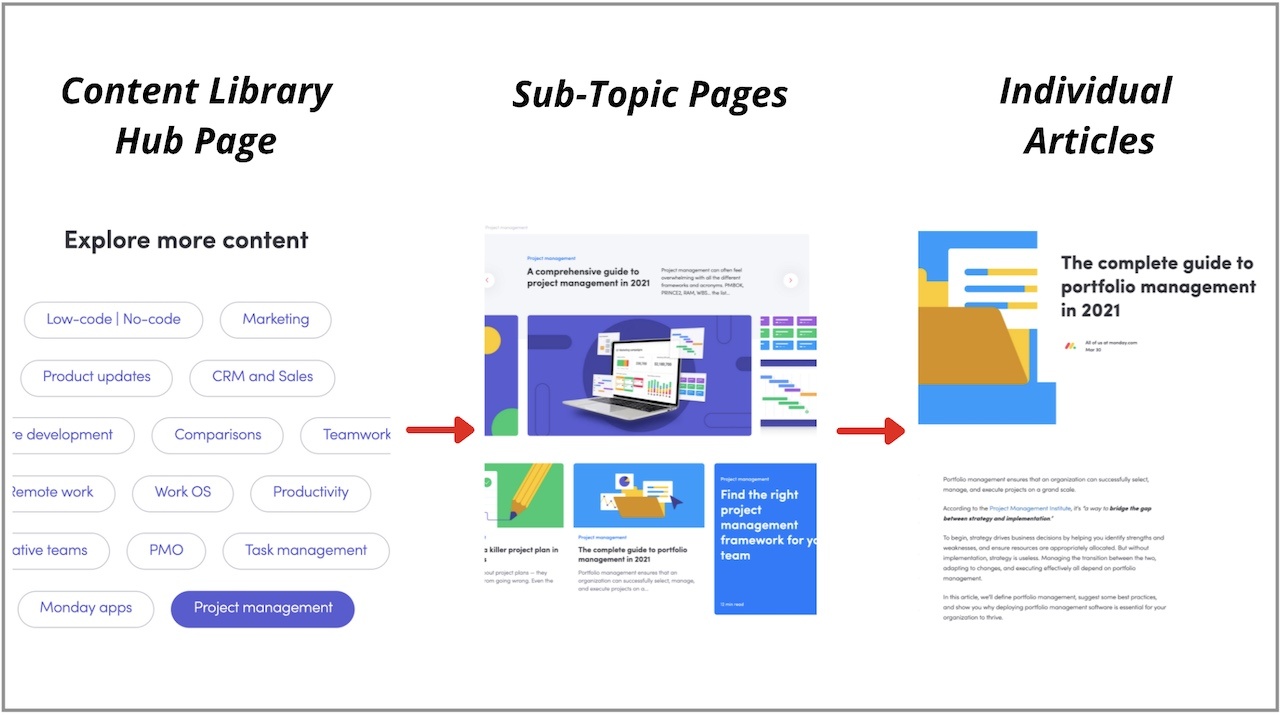 Note that a topic cluster can exist within a content library.
It will just be a longer pillar article that splits into deeper subtopic posts.
3. Topic Gateway (Dedicated Page / Microsite)
A topic gateway is a dedicated page (or even microsite) where a single topic is being covered from all angles with different formats of content.
It's essentially taking the blog category page to the next level and being very serious about it.
Think of it as a highly customized and bespoke category page or microsite.
For example, if you have audiences new to SEO looking to learn more and your blog has hundreds (or thousands) of articles all SEO-related, it's easy for your readers to feel lost.
What if you have a significant group of readers hungry to learn more about the basics of SEO?
They won't have the patience to go treasure hunting amongst your thousands of blog posts to dig out the content they really desire.
The hub and spoke method or even the content library method won't work well – there's just too much content around.
With the topic gateway strategy, you can effectively develop a resource page (or microsite) with carefully curated content that can contain a variety of content types & across different formats.
Using the example above, you can create a microsite or page that showcases carefully curated content such as:
A series of beginner SEO blog posts and topic clusters

A collection of checklists and infographics touching on beginner keyword research

YouTube videos on how to technical SEO your website from scratch

Personal stories on how businesses are using SEO to grow their revenue

Weekly podcast updates on quick SEO beginner tips to create better content
Qlik, a business intelligence SaaS company, created a dedicated microsite topic gateway to tackle an important topic/keyword – data literacy.
Their topic gateway microsite, The Data Literacy Project, focuses on teaching visitors everything they need to know about data literacy and implementing it in their organizations.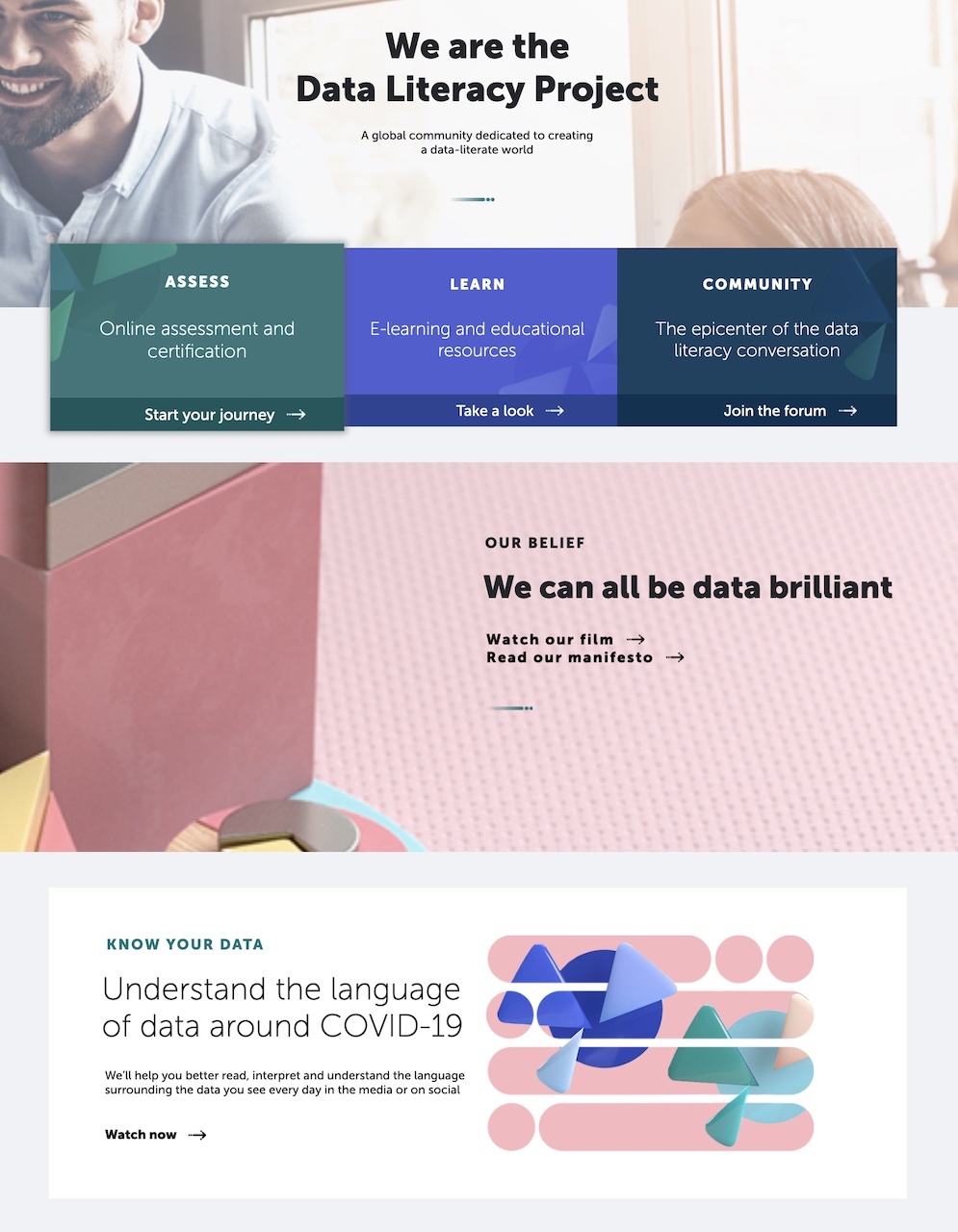 Their content includes free blog posts, paid educational resources, a community forum, video films, and even an online assessment for visitors to take.
4. The Content Database
The content-database is perfect if you have a vast library of content that can be categorized (or classified) via topics, factors, characteristics.
Remember those tags that you see on a blog post such as "Business", "Sales" & "Marketing".
A great way to visualize this is to see it as a directory of content. Users that want to view all content for a particular topic or classification, can simply pull up all relevant content to read with a content database.
Klook's travel blog is a great example of a content database in action. It allows travelers to quickly dive deeper into the content of their favorite travel destinations.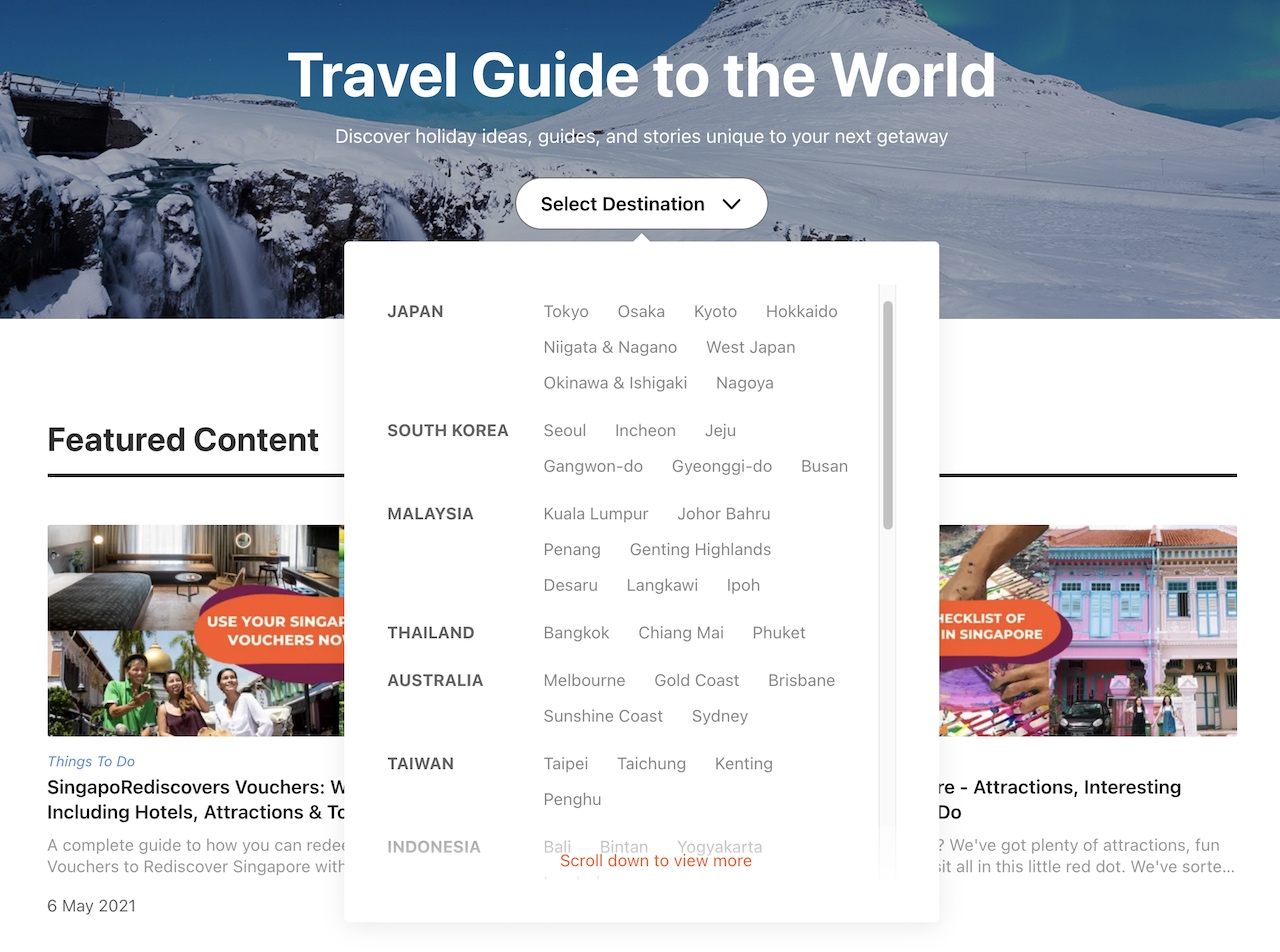 5. The Content Encyclopedia & Glossary
One of the rising trends of content marketing is brands creating their encyclopedia and glossary that defines key industry terms.
This content hub is focused on answering directly the question of informational searches on Google and then showcasing more relevant content to the reader to keep them onsite and warm up this cold traffic.
Gartner, for example, created an entire content glossary of business terms to help their readers clearly understand the definitions of commonly used terms in the industry and then feeding them highly related content for greater brand awareness and on-site engagement.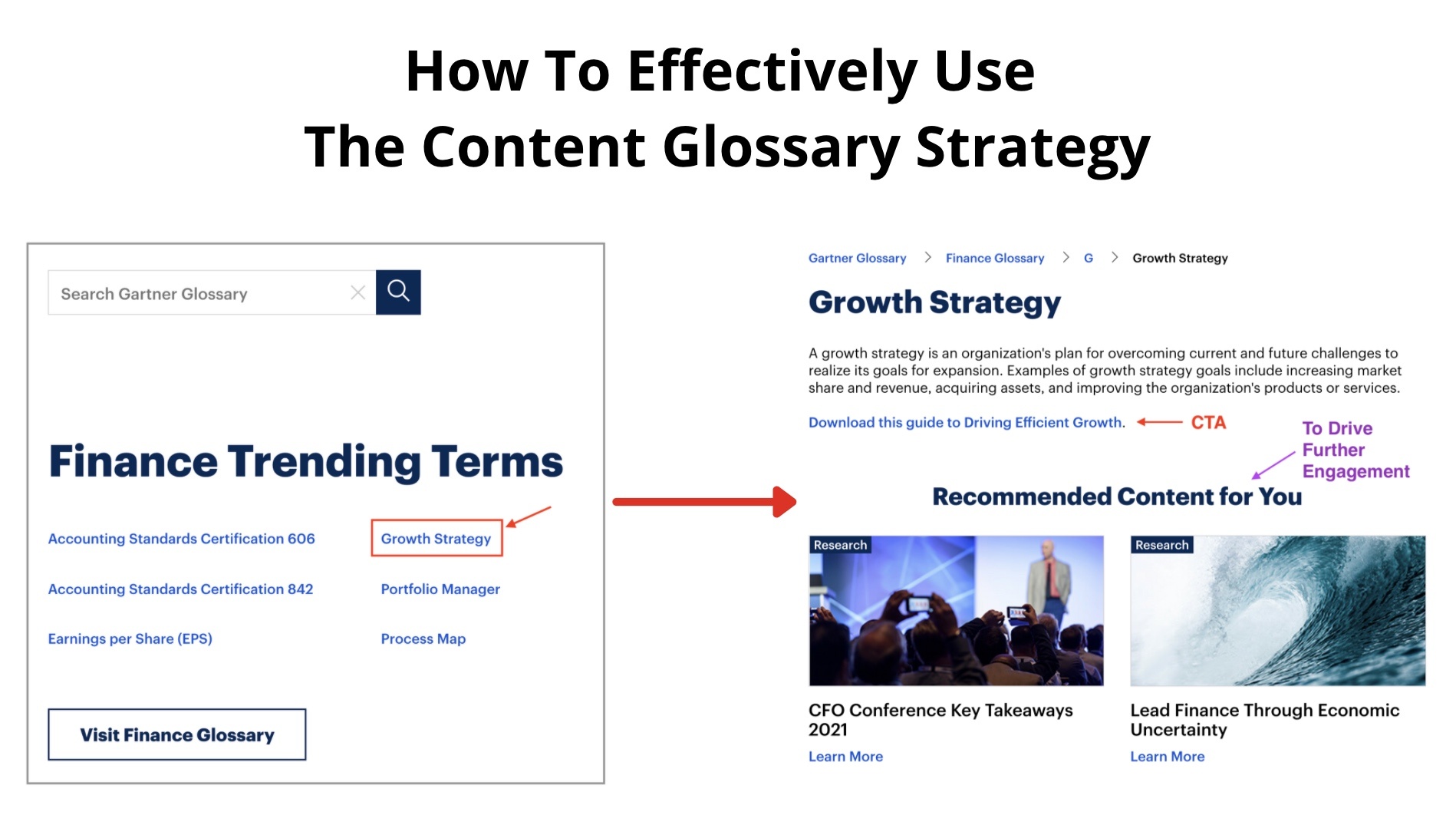 How To Develop Your Content Hub (The 8-Step Guide)
Building a content hub might seem complicated, but it really isn't.
You just have to understand your goals, what your readers want, and what types of content your company can reasonably & consistently create.
Here's our 8-step guide to help you develop your content hub from the ground up!
1. Determine Your Content Goals
Every successful endeavor has a clear purpose and set of goals to accomplish.
Yes, while your content hub's primary purpose in your reader's perspective is to inform and educate them, what are you trying to accomplish for your business with it?
Are you trying to rank for a highly competitive search term that will drive business results?
Are you looking to better organize your content to allow existing readers to better find the content they need to solve their problems?
Is lead generation necessary at this point in time for your business?
You will need to clearly define your content hub's mission and what it is supposed to accomplish.
Here's an example of a delivery company that ships fresh coffee beans straight to their customer's house.
"I would like to be the premier content hub on how to roast the perfect cup of coffee for beginners. 
This content hub will include recipes, instructional videos, and detailed walkthroughs on the different types of coffee beans around.
The end goal of the content is to get them to check out our range of coffee beans and make a purchase directly on our website as quickly as possible with little hassle."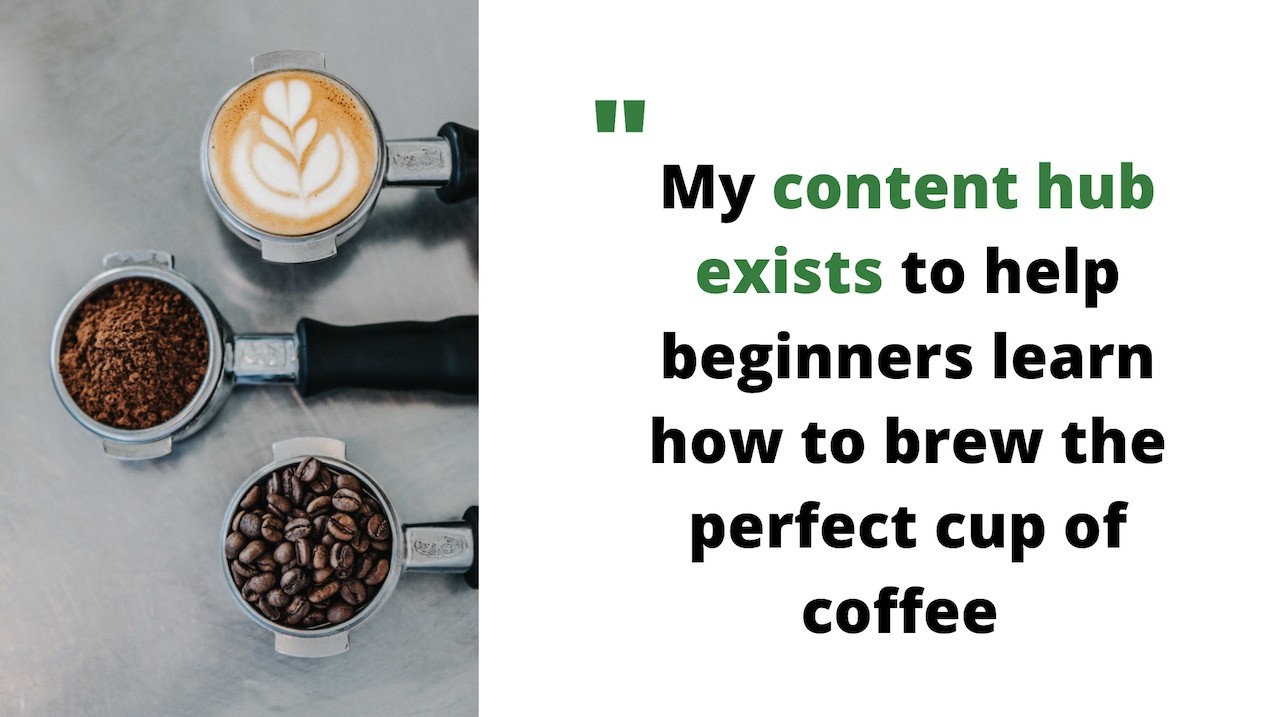 By knowing your goals, you'd immediately know the right type of content hub you'd need to develop. 
And in this coffee example, the best type of content hub will be a topic gateway within the website itself with various topic clusters (hub and spoke) inside. 
In addition, I will have to create content that showcases the various types of coffee beans available with call-to-actions that allow direct purchase of the beans.
2. Brainstorm The Key Topics For The Hub Pages
Now that you know what your content hub stands for, the next step is to brainstorm the various topics that you can include.
You'd want to sit down and think about the entire umbrella of big topics your content hub will cover. Each big topic should be wide enough to contain many subtopics but not too wide until your reader gets too far deep into the rabbit hole.
For our coffee example, we will start by brainstorming the various challenges that our ideal reader (and customer) will face & questions they might have:
What types of coffee beans should I choose?

What kind of coffee machine do I need?

What are the methods of brewing coffee?

How much does it cost to brew my own coffee?
These can be search terms, phrases, and questions they will likely type into Google. So make a list of these to better determine the keywords your content hub will need to rank for.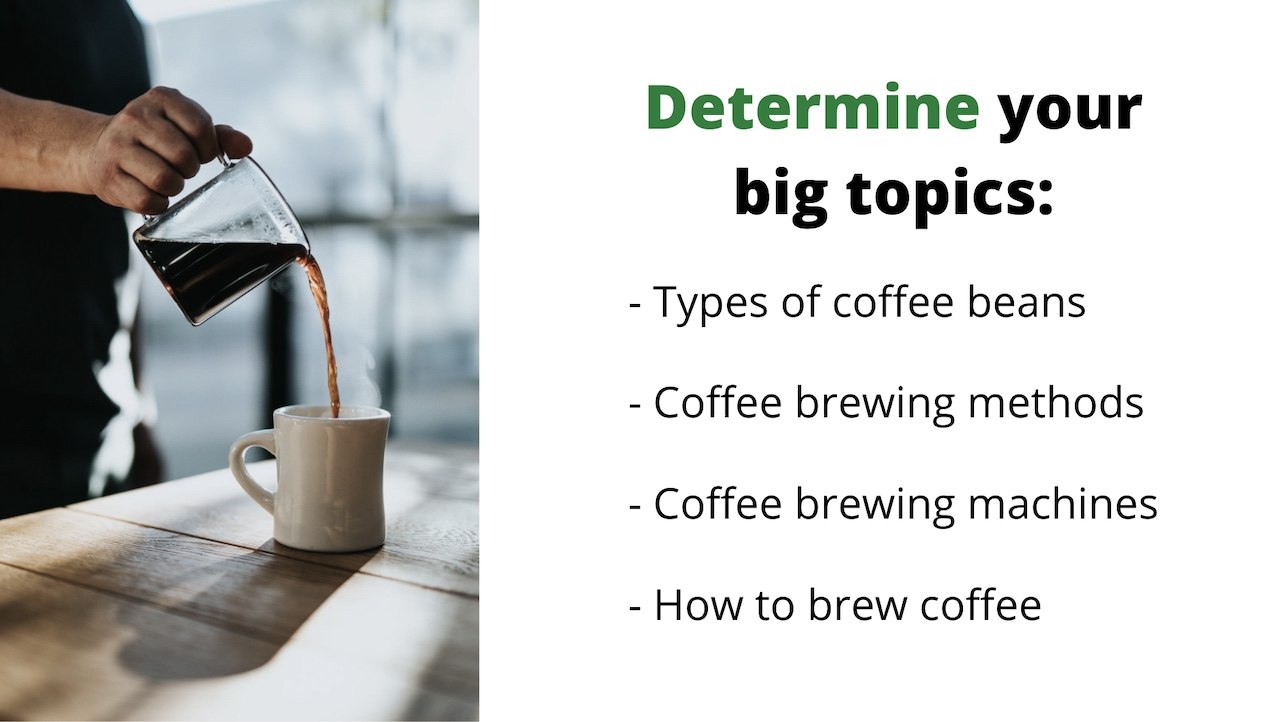 3. Conduct Keyword Research & Uncover Sub-Topics
A content hub requires you to consistently generate highly relevant and related content that your readers will enjoy.
While you might have a sense of what your readers would like to consume, it is important to come out with a list of subtopics that people are actively searching for in Google or asking online.
Here are three good ways to start.
The first is to use keyword tools such as Ahrefs or Semrush to look for keyword and subtopic ideas related to your big topics that you brainstormed earlier.
The key here is to determine the keyword difficulty as well as the search volume for the topic to see if it should go on your content creation list.
For example, under the big topic of coffee brewing methods, a worthy topic to tackle and build upon can be 'How To Make Cold Brew Coffee".

As you can see, this is a topic that isn't too competitive and has ample search volume. 
Upon further investigation, you will be able to find out more subtopics under this for you to develop content about.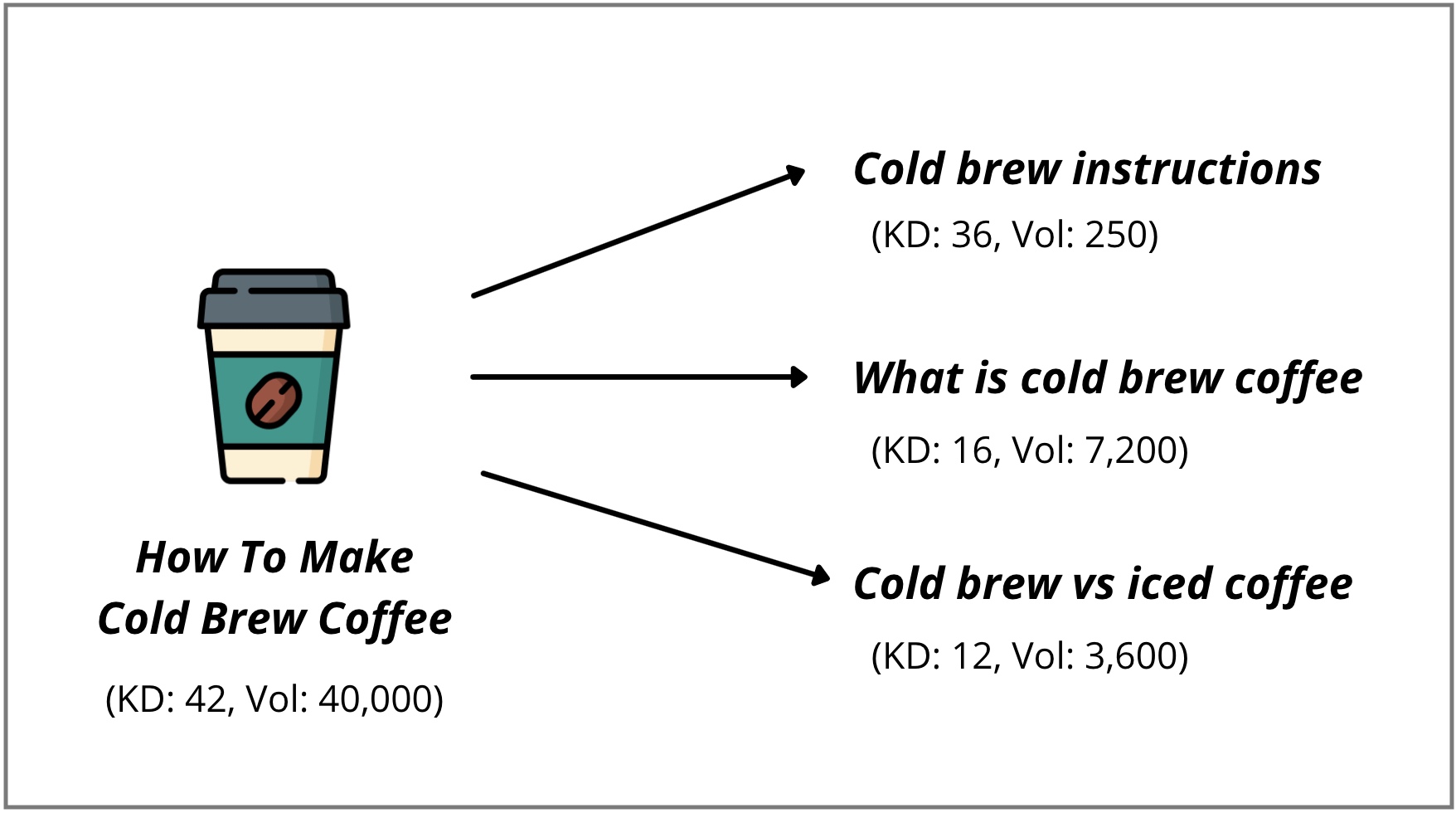 For example, you could create a shareable infographic on the differences between cold brew vs iced coffee as well as a YouTube video and a blog post giving step-by-step instructions on how to make a cup of cold brew.
The second way you can find awesome topics for your content hub is to be a fly on the wall and see the questions being asked in online communities and which ones resonate the most with the community.
For example, the coffee subreddit on Reddit has an active community that helps each other answer questions related to coffee.
By looking at the most popular and top-rated posts, you'll be able to sieve out worthy topics you can create – such as 'how to use a coffee press?'.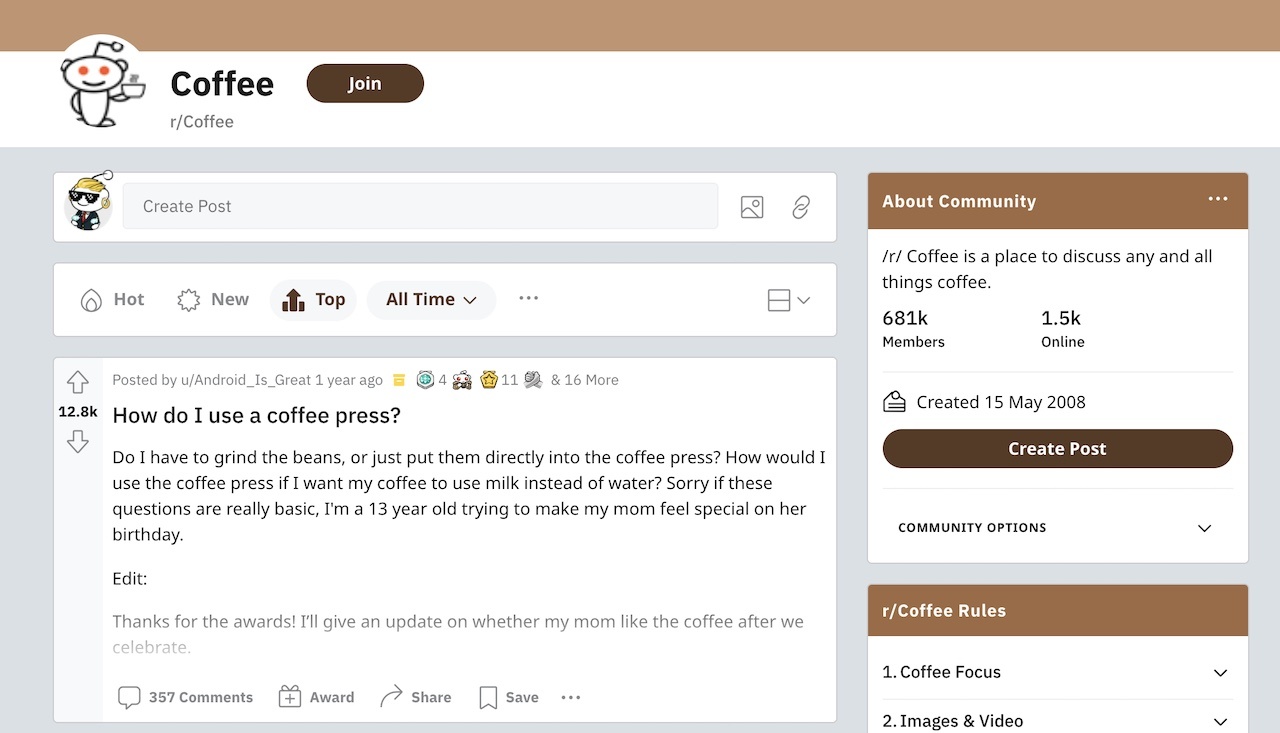 There are many other social networking sites, forums, and communities such as Quora that you can find topics to create.
The third way is to ask your sales/customer success team….etc
4. Determine Your Content Types & Formats
While blog posts are the staple of many content hubs, there is a myriad of other content that adds value to your readers – and it's your job to decide which to include.
However, the true challenge is to determine how much content you can create consistently and if your team has the right capabilities to deliver content of quality.
These include content types and formats such as:
Blog posts (articles)

Whitepapers

Webinars (Live & recorded)

Podcasts

Tools

YouTube instructional videos

Case studies

Instagram posts & more
Ask yourself three key questions when deciding on the type of content that best fits your content hub and the buyer journey:
A. Do I have a full content production team that can go beyond written content?
This is especially important when you are considering developing videos, podcasts, and tools. They will require expertise from videographers to programmers.
B. What type of content formats does my reader desire for the specific funnel location?
If you are appealing to B2C audiences, short snappy videos and blog posts with lots of visuals are likely to be much better than long-form articles or whitepapers – leave that to the B2B crowd.
C. Which type of content best explains the concept or lays out the information?
If a quick 500-word blog post can convey the information holistically, it will be pointless to create a 10-minute video to get the point across, especially if budget is a concern.
Ahrefs, for example, exclusively uses YouTube videos as the preferred content format for their ahrefsacademy classes.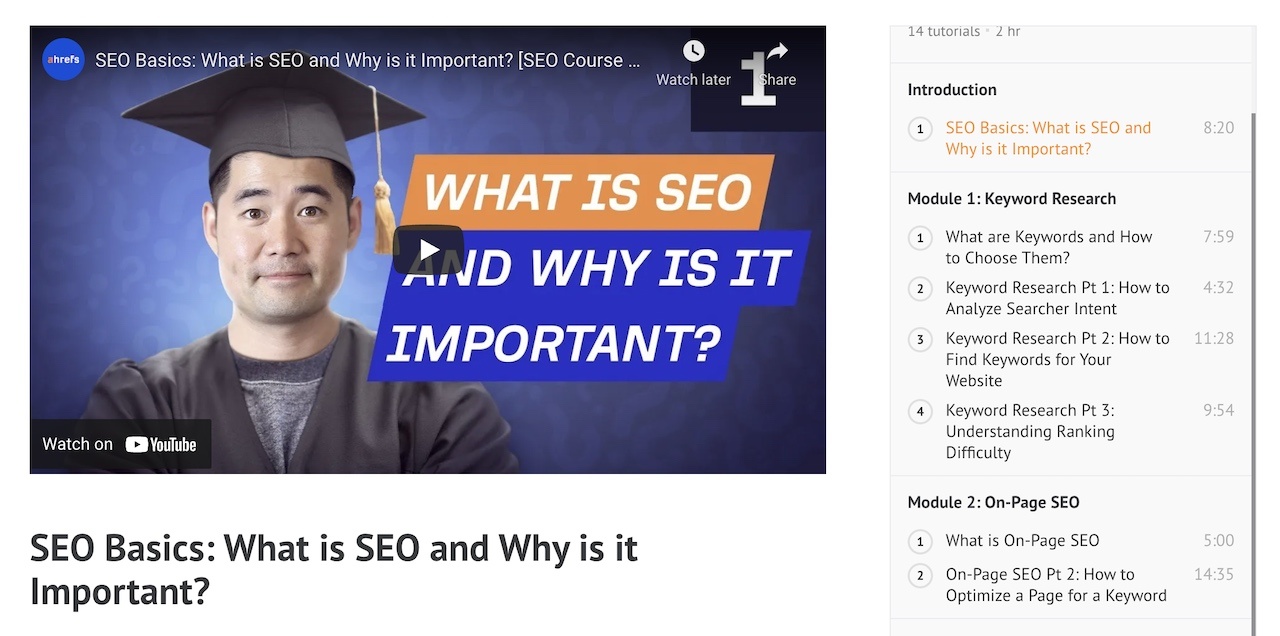 Developing a successful content hub still means following the rules of effective content marketing – a key pillar of which is to produce lots of content for your readers.
5. Implement Your Content Hub With User Experience As A Focus
At this point, you should know whether your content hub will be a standard blog with topic clusters sprinkled in or a dedicated microsite geared towards dominating a key topic.
Whichever the case, you always want the design to be focused on providing the best user experience possible.
Together with the usual wireframing and user journey, ask yourself these three questions:
Navigation: 
Can my reader easily access and find the content that they desire?
Taking Action: 
Are my call-to-actions prominently displayed to allow my readers to take the next conversion step? (Be it a direct sale or just convert into a subscriber)
Website Structure:
Is my microsite or blog's structure as flat as possible? Is my furthest content more than 3 layers deep?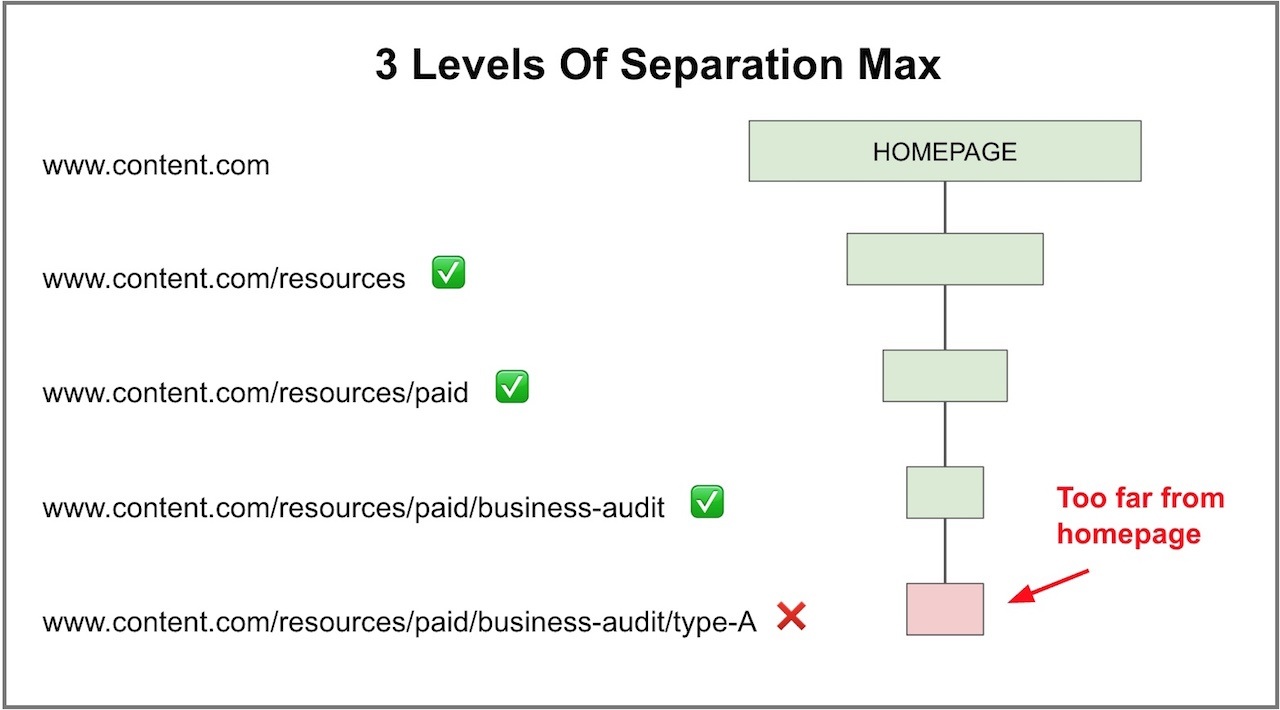 The key here is to ensure your content is within easy reach for your audience while being easily indexable by Google.
6. Create A Content Publication & Internal Linking Plan
Publishing the content hub is the next logical step, however, it pays to have a content publication & internal linking plan.
If you are starting your content hub from scratch, this is much easier as you can start publishing content for the subtopics first and then publish the pillar or main topic pages and insert the relevant internal links.
This also allows you to reap better SEO benefits by ranking first on less competitive keywords before you publish the pillar article.
Here is a quick sequence that I recommend for smooth publication and internal linking:
A: Decide on one key topic or pillar page to work on first
B: Create and publish the subtopics related to the bigger key topic or page
C: Publish the big topic's pillar article or page
D: Start internal linking the subtopic posts with the big topic page and vice-versa
E: Link internally between relevant subtopic pages as well
F: Proceed to the next topic cluster and repeat steps B to E
While you can have your own sequence, I found that this is the most logical way to approach it that will help you save time as well as helping with your content review and approval process.
Use it as your protocol.
7. Add In Your Call To Actions (CTAs) & Conversion Events
This is where you add in the points of conversion throughout your content hub to drive tangible business results.
It is important to note that your CTAs have to match the customer journey and the content being delivered to your reader.
For example, if this is a bottom-of-the-funnel content such as a webinar or solution brief, the call-to-action should be to book a demo or a sales consultation.
However, if the content is real early in the customer journey such as a blog post or tool, getting them to sign-up for your email list is the winning move.
Close's content hub resource page, which showcases content in the top and middle of the funnel, uses the right CTA to capture the email of their readers.
This allows them to nurture the relationship through email marketing.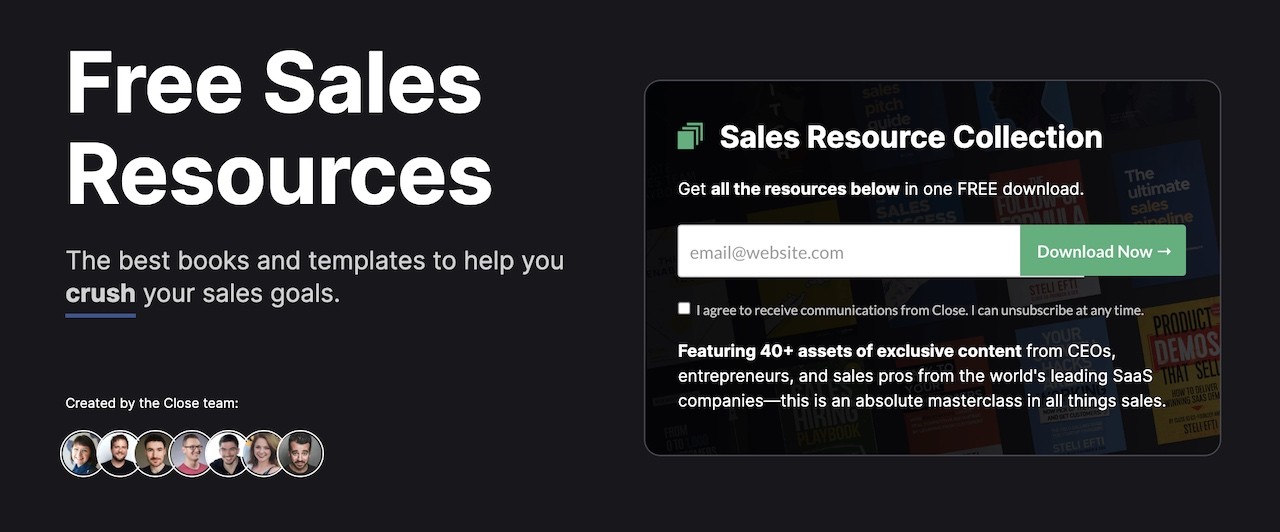 8. Promote Your Content Hub Through Guest Posting
While it should be obvious to promote your content hub on social media, outreach, and in your email list, there is one avenue to tackle, especially if your content hub is relatively new.
This will be through guest posting.
Guest posting allows you to accomplish five key things that are beneficial to your content hub:
A. You'll be able to build quality backlinks to key pages of your content hub that you want to build authority on
B. You'll be able to drive targeted referral traffic from key publications related to your industry & where your ideal audience hangs out at
C. You'll build EAT (Expertise, Authoritativeness, Trustworthiness) for your content hub, especially when you are posting in key industry sites or globally recognized publications such as Entrepreneur, Forbes, and Success.
Guest posting is a powerful long-term strategy and should be one of the first strategies that content marketers should embark on the moment the content hub is up and running.
Here are two guides to guest posting that I recommend for you to check out if you are new to this:
Brian Dean's guest posting guide as well as Aaron Orendorff's unorthodox approach to guest posting.
Joanna Wiebe of Copyhackers, for example, regularly guest posts on industry sites (centered around content marketing) to drive targeted referral traffic back to her content hub of free copywriting resources.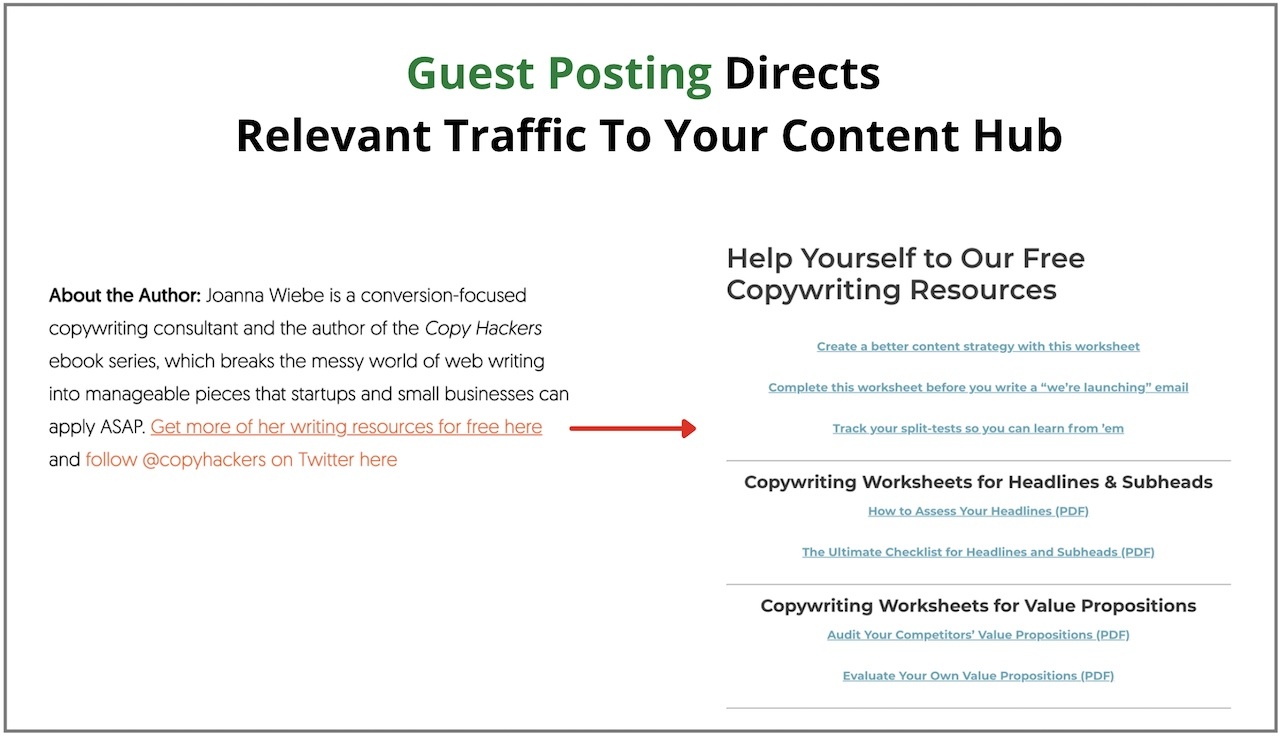 7 Inspiring Examples Of Content Hubs & Key Takeaways
BarkBox's content hub, the BarkPost blog, is a dedicated blog that produces content for dog owners and lovers.
From blog posts to slideshows, the content hub showcases bite-sized content on all things dogs – from interesting facts and tidbits to humorous pictures to food guides.
This microsite is a perfect example of how you can effectively separate your content hub from your main website and build a following and readership from just pure content.
This allows BarkBox (the actual business itself), to strategically insert CTA links to their products and dog treats subscription service naturally throughout the content.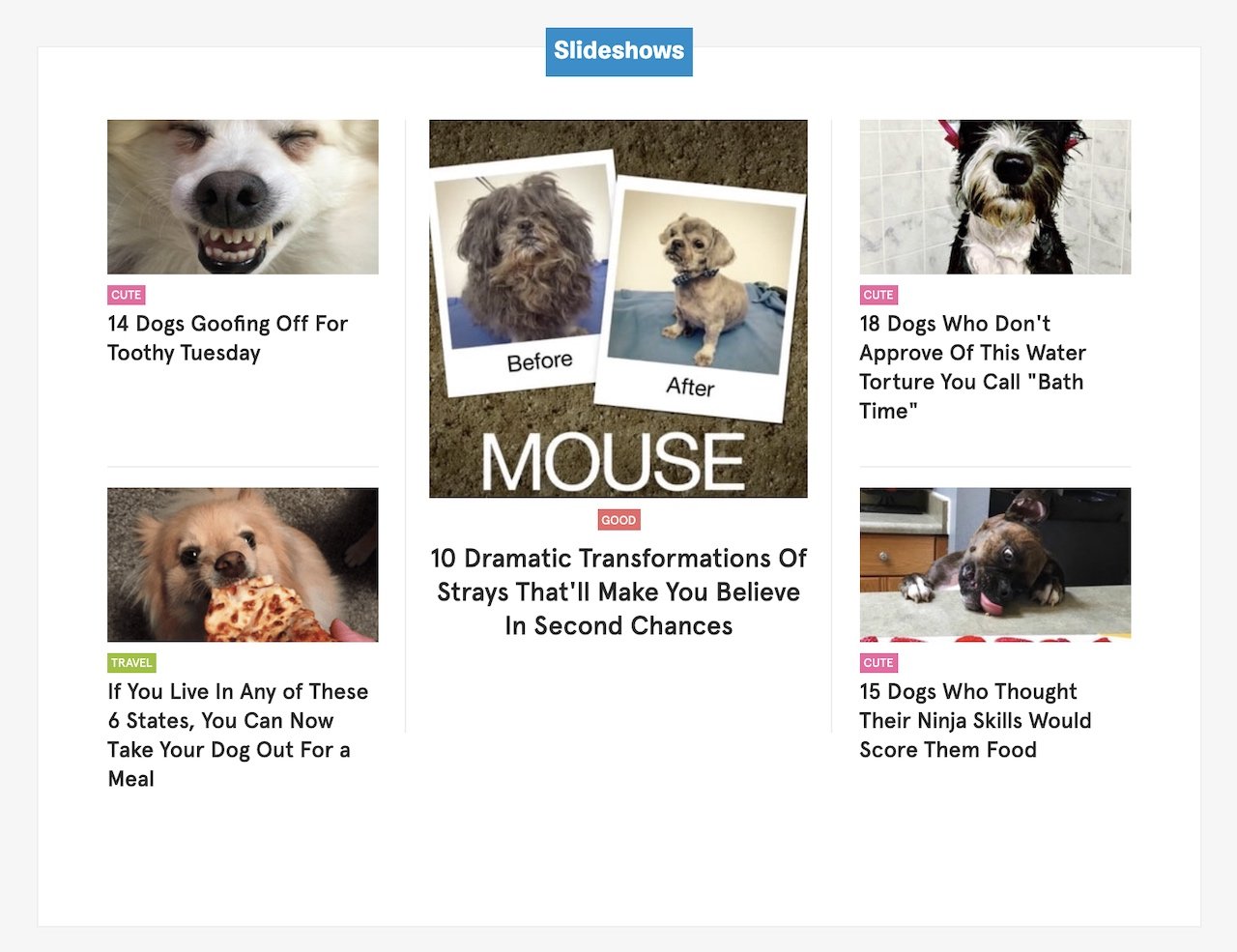 The Shopify Compass content hub is a good example of a topic gateway in action.
As an eCommerce SaaS platform, Shopify created a content hub that serves as a headquarters primarily to help new business owners learn how to sell online better.
The hub acts as a gateway to various business content including:
The great thing about Shopify Compass is the production quality of their videos and how they can be accessed by anyone without a subscription.
This helps to build trust and value in their prospects in a non-pushy way and increases the odds of visitors embarking on a free trial down the road.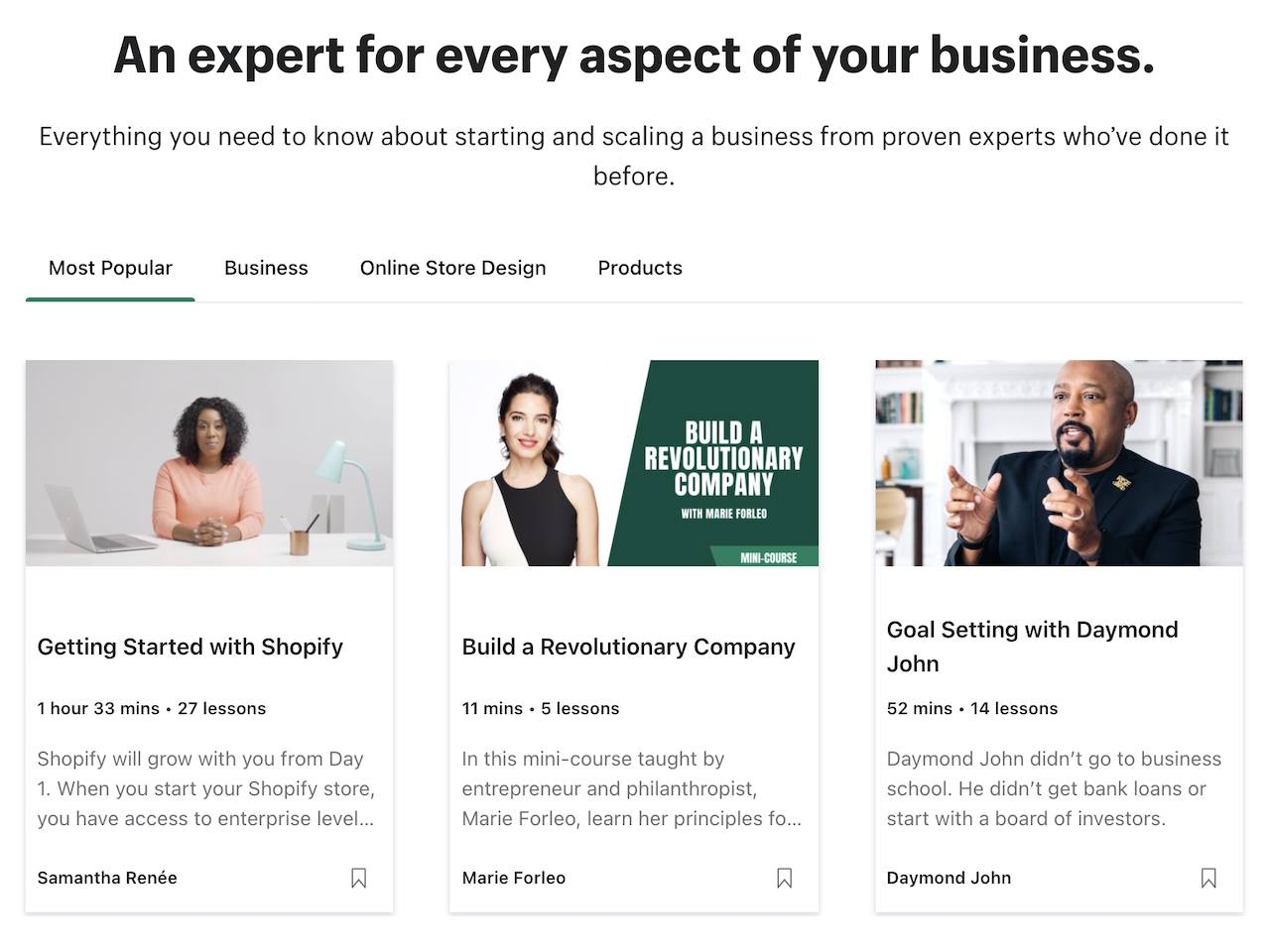 As one best-branded content in 2015, GE Reports is a content hub that brings readers into the world of technology, energy, and aviation.
Designed as a content library, GE Reports is a deceptively simple blog that shares with readers about the latest happenings in their field, establishing themselves as thought leaders in their space.
From insightful interviews with industry veterans to well-researched original content that dives deep into topics that affect the future of the energy world, GE Reports focuses on blog posts & infographics, keeping their content format simple and effective.
Navigating through the blog is also simple, with just five categories to explore, it is hard for readers to get lost while maximizing the SEO benefits.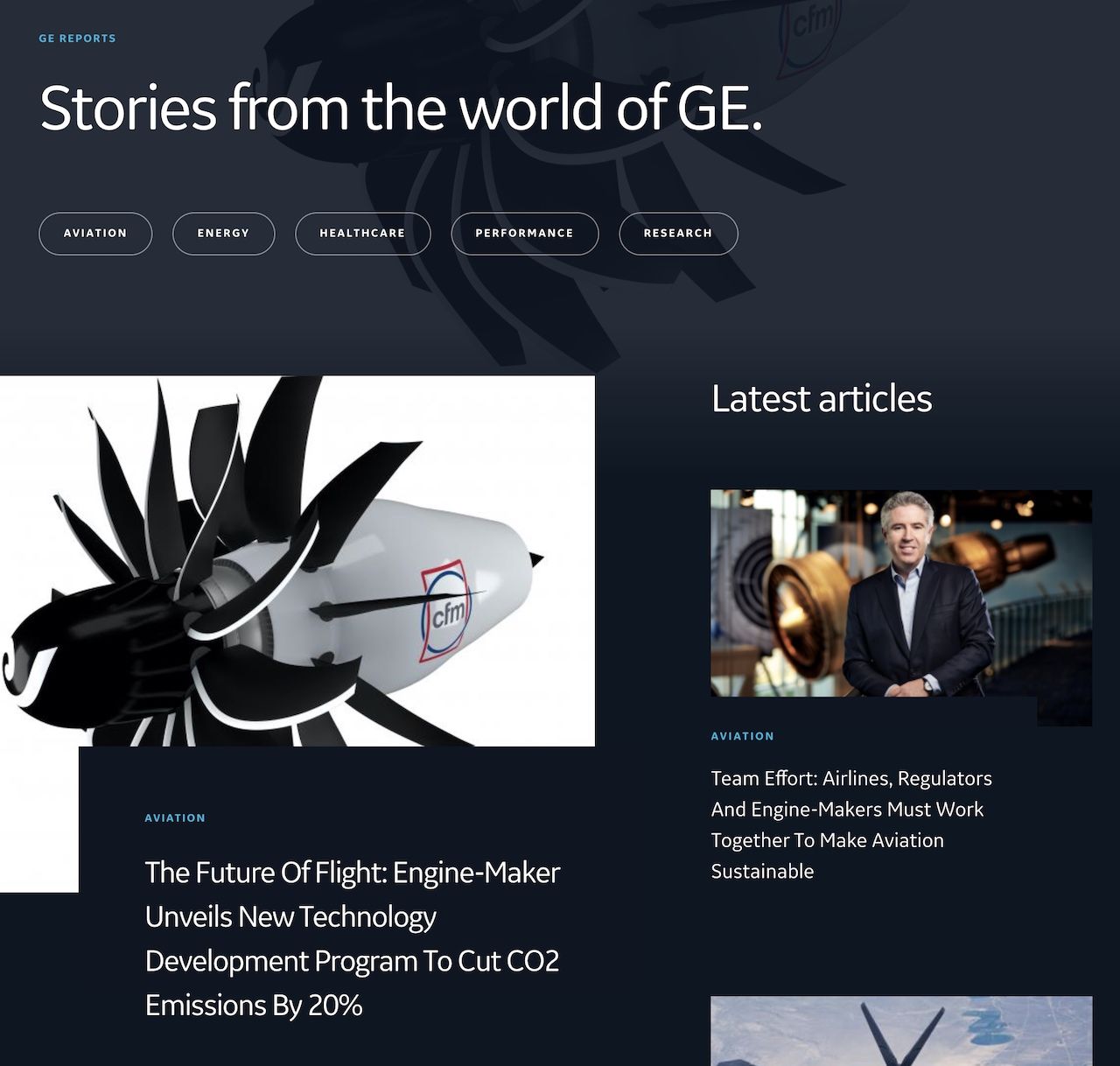 Haircare is big and whether you are bald or rocking those luscious locks, you'd probably want to know more about how to look your best with your hairstyle.
Because haircare is so personal, Unilever's content hub delivers beauty advice and tips in a hybrid content database and content gateway format.
While the gateway aspect allows readers to immediately understand the variety of content that they have, from instructional videos to blog articles, the database aspect allows readers to pinpoint the exact information that is relevant to them through their hairstyle finder.
By implementing this feature, readers can narrow down the content that truly matters to them by selecting the right categories that are specific to their hair needs or current hairstyle.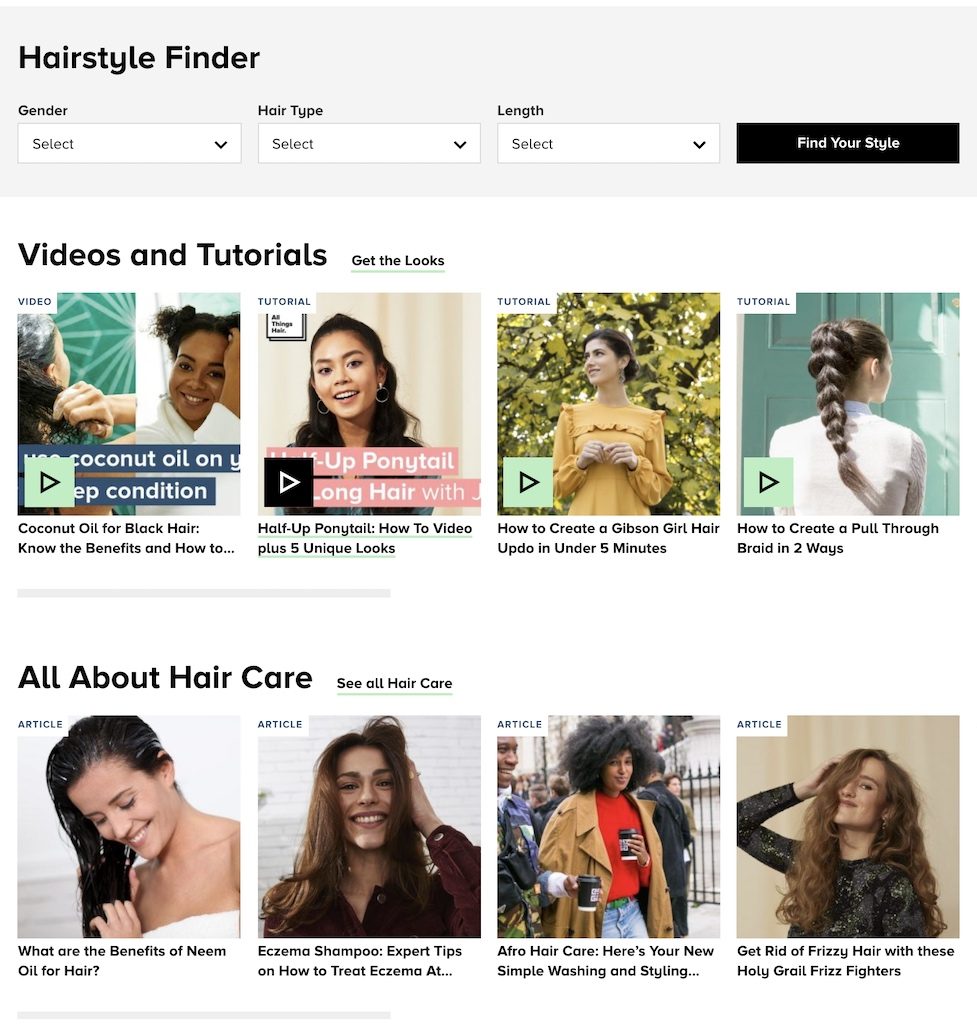 If you are new to the world of SEO, things can get overwhelming pretty fast! 
Plus, you pretty much have no idea if the content you are reading is good for beginners or if they are an advanced tactic for current practitioners.
Thankfully with the topic cluster strategy, Ahrefs created a mini-content hub that helps guide readers through all the core aspects of SEO in one single pillar post.
Split into different chapters (individual blog posts), readers can easily navigate through key lessons and concepts they must know as a beginner and how it links into the bigger picture of SEO.
This is the perfect example of how any blog can immediately create mini-content hubs without any drastic change or investment into the website structure.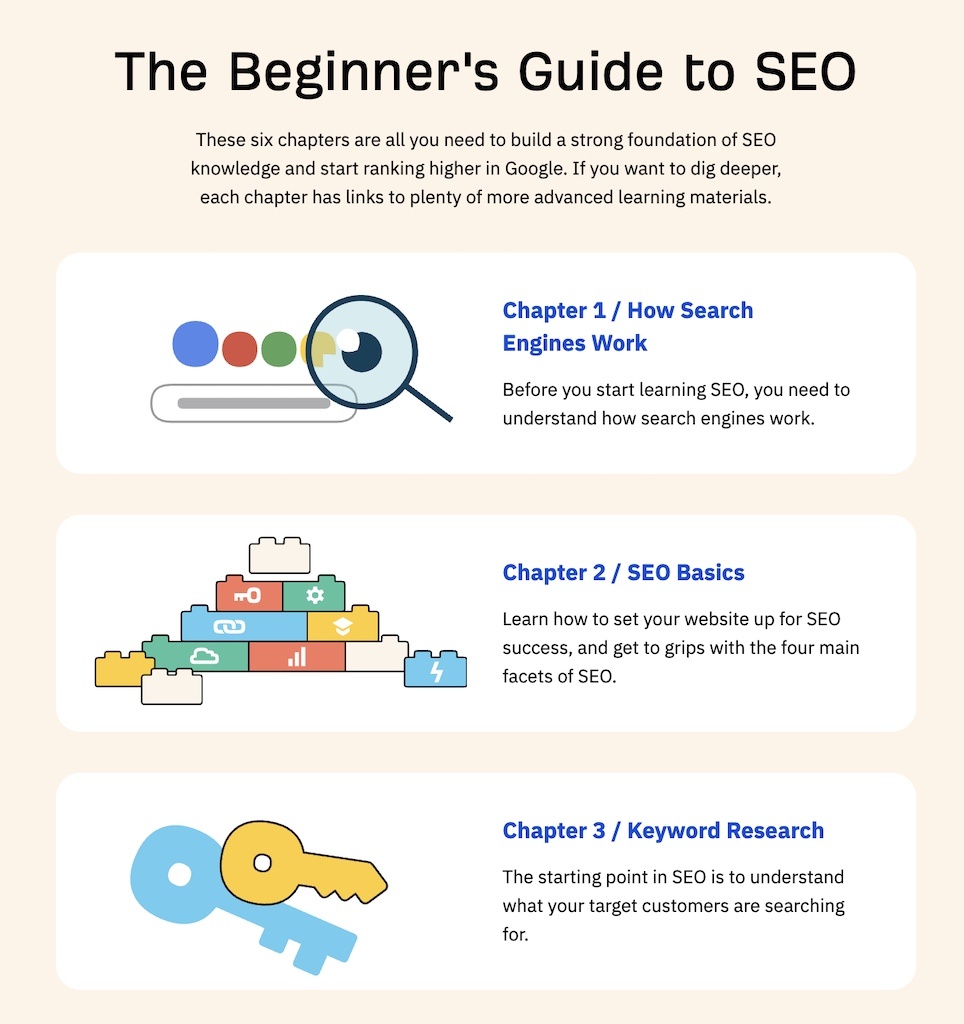 5G is a groundbreaking technology that will transform the world as we know it, however, explaining it can get pretty difficult in a single sitting.
This is where Ericsson's 5G content hub comes into play. Their topic gateway introduces readers to the world of 5G and how it will affect our lives. 
This is done by integrating different formats of content, from downloadable booklets to explainer videos.
As a business, if you have a concept, idea, or technology that needs in-depth explaining, creating a content hub to educate your readers is a great way to increase their knowledge without trying to come off as salesy at the same time.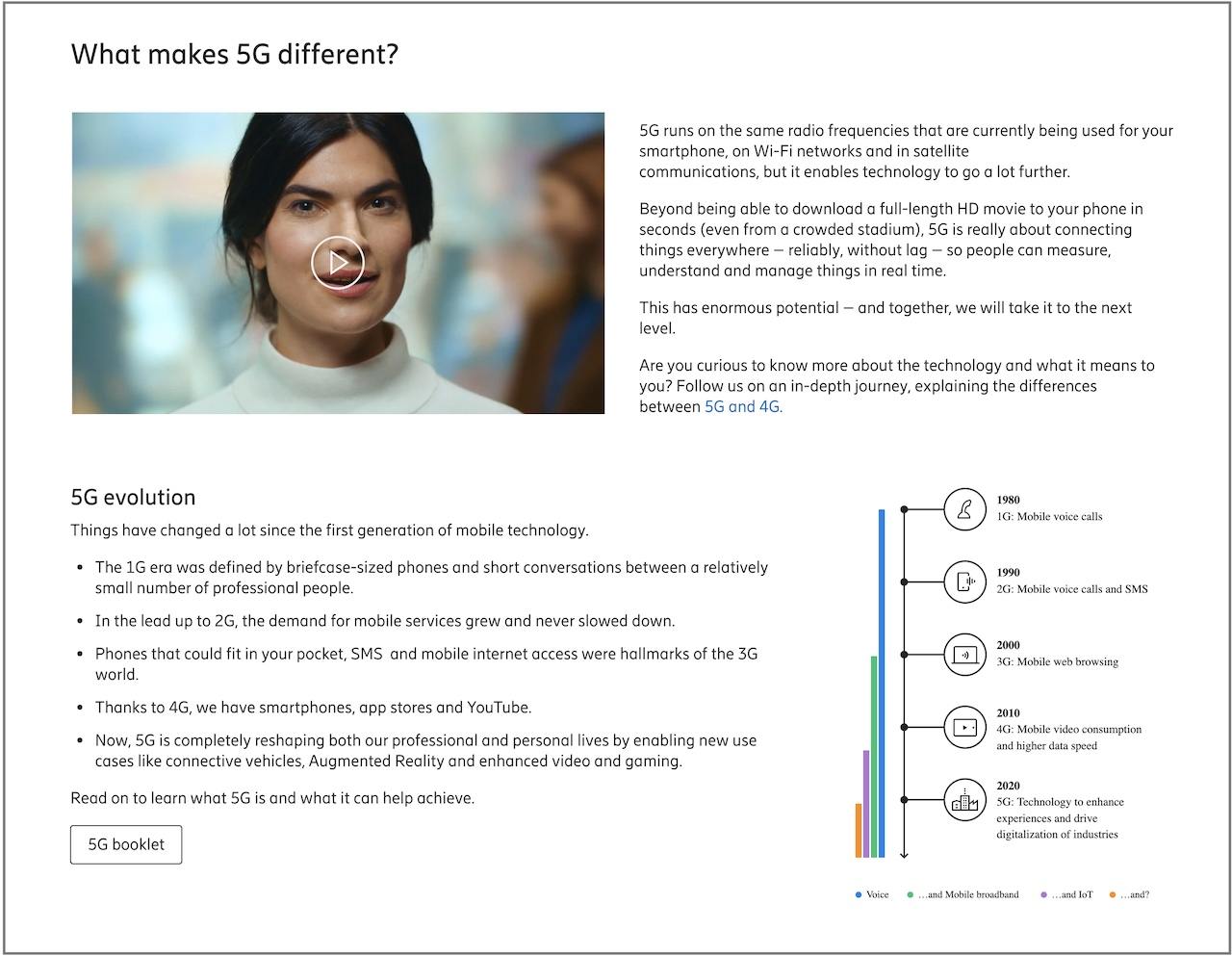 When it comes to cloud computing, databases, and technology, there is a myriad of terminology that many users (and experts for that matter) don't fully grasp.
IBM tackles this through their content encyclopedia hub.
Their Cloud Learn Hub not only defines each term but also allows readers to dive deeper into the topic and increase their knowledge.
Each term expands into a full article on the topic filled with instructional and informative videos as well as infographics.
This is one example of how you can add value to your readers and keep them engaged with your content by going beyond just simply answering questions and defining terms.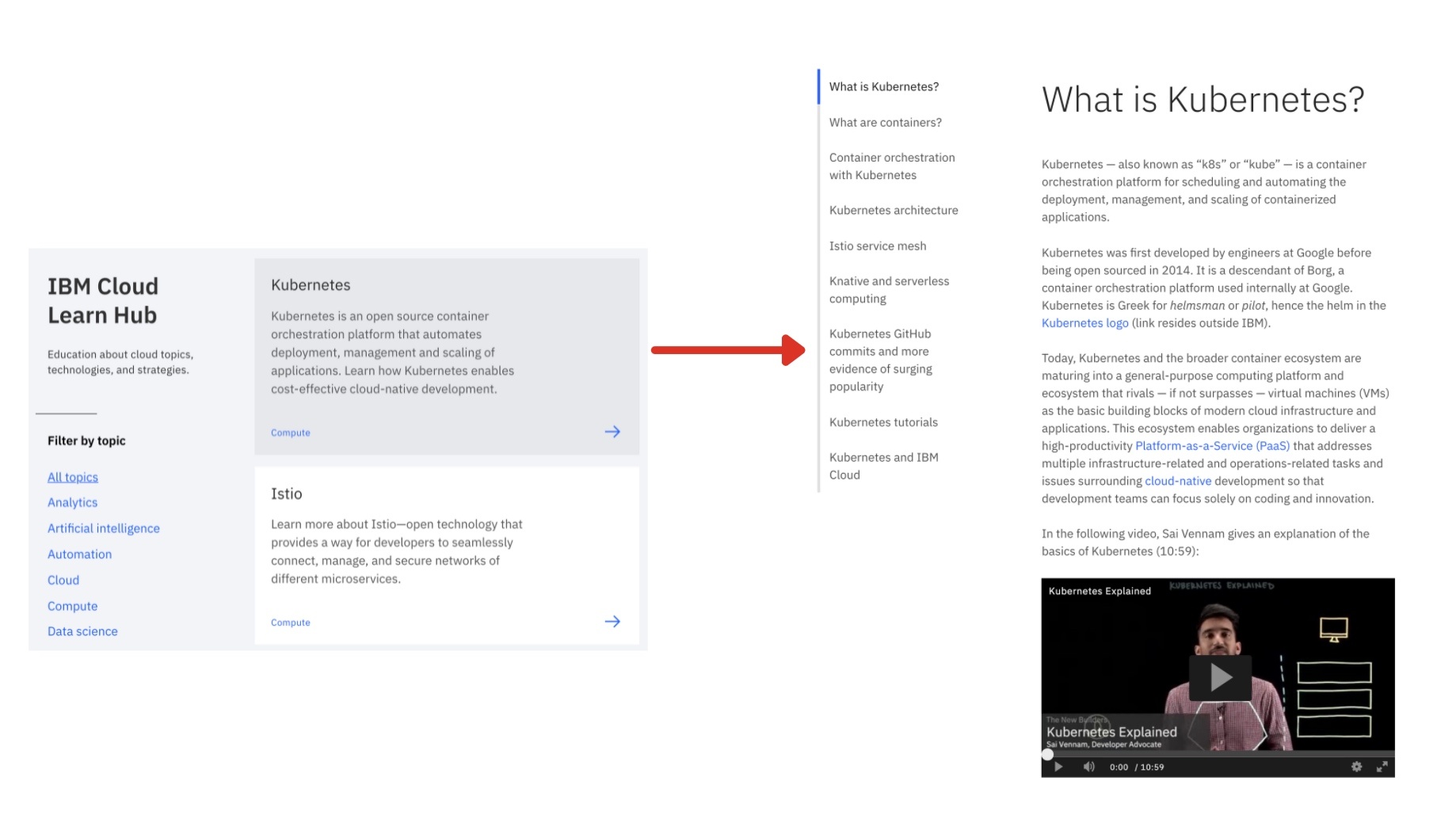 Develop Your Content Hub & Start Building Authority Today
Content hubs are fast becoming necessary to thrive in a content landscape where tons of content are being churned out by your competitors every single day.
Thankfully, most brands dipping their toes into content marketing don't really have a plan and their efforts are just scattershot.
Don't be like them!
Start identifying key topics that your ideal customers are searching for that also drive commercial value to your business and start dominating them.
By utilizing the content hub strategy, you'll drive more targeted traffic, engage your readers better, and enjoy the compounding benefits of SEO for a long time to come.
Looking to develop your content hub from scratch?
We can help.
Drop us a message here and we'll be in touch.