How To Craft Your Content Marketing Mission Statement (A 5-Step Guide Plus Examples!)
June 5, 2021 | Sean Foo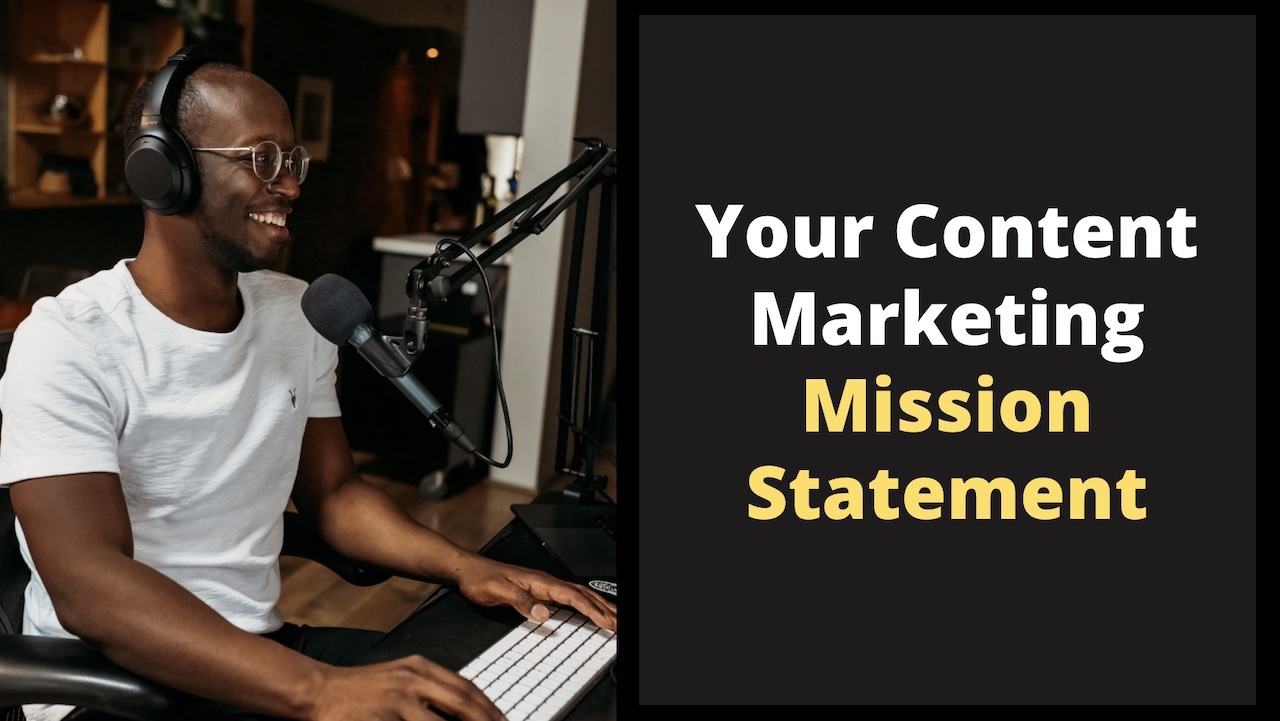 Why do some content strategies succeed spectacularly while others fail and just sputter out?
Creating content to generate leads should be pretty straightforward right?
It seems that all you need to do is to consistently publish on your blog, sprinkle in an ebook or two, crank out monthly guest posts and film videos that look cool.
But are you creating the right type of content that your audience cares about?
Is it valuable enough for them to care and invest their time to consume it?
Creating relevant content that targets the right audience isn't easy, but highly necessary. 
This is where having a well-defined content marketing mission statement comes in.
It is the guiding principle for your entire content marketing efforts and will help ensure every piece of content you create is highly relevant to your audience.
What's A Content Marketing Mission Statement & Why You Need One
A content marketing mission statement helps you clarify what type of content you will create, who exactly it is catered towards, and why it's important to them.
First conceived by Joe Pulizzi of Content Marketing Institute back in 2012, this mission statement is becoming the bedrock on where effective content marketing strategies are built on.
By developing and defining your content marketing mission statement, you'll be able to:
Determine the topics and stories that your audience cares about

Adapt your content to the right format & publish it to the best platform that suits your audience

Better weave in your solutions into your content in a natural & value-added manner
Not sure if that topic is good to write about? Refer to your content mission statement.
Unsure if you should accept a guest post from a contributor? Check if it aligns with your mission statement.
Surprisingly, many companies, big and small, have either a poorly defined mission statement or none at all!
And for the ones that do, they are either too vague or self-focused, leading to content that appeals to no one.
"Why does your content even exist?"
"What is its primary purpose?"
If you have trouble answering these two questions with absolute certainty and conviction, it's time to relook at your mission statement.
And this should be your #1 priority before creating any more content for your blog, YouTube channel, LinkedIn page, or any other content platform.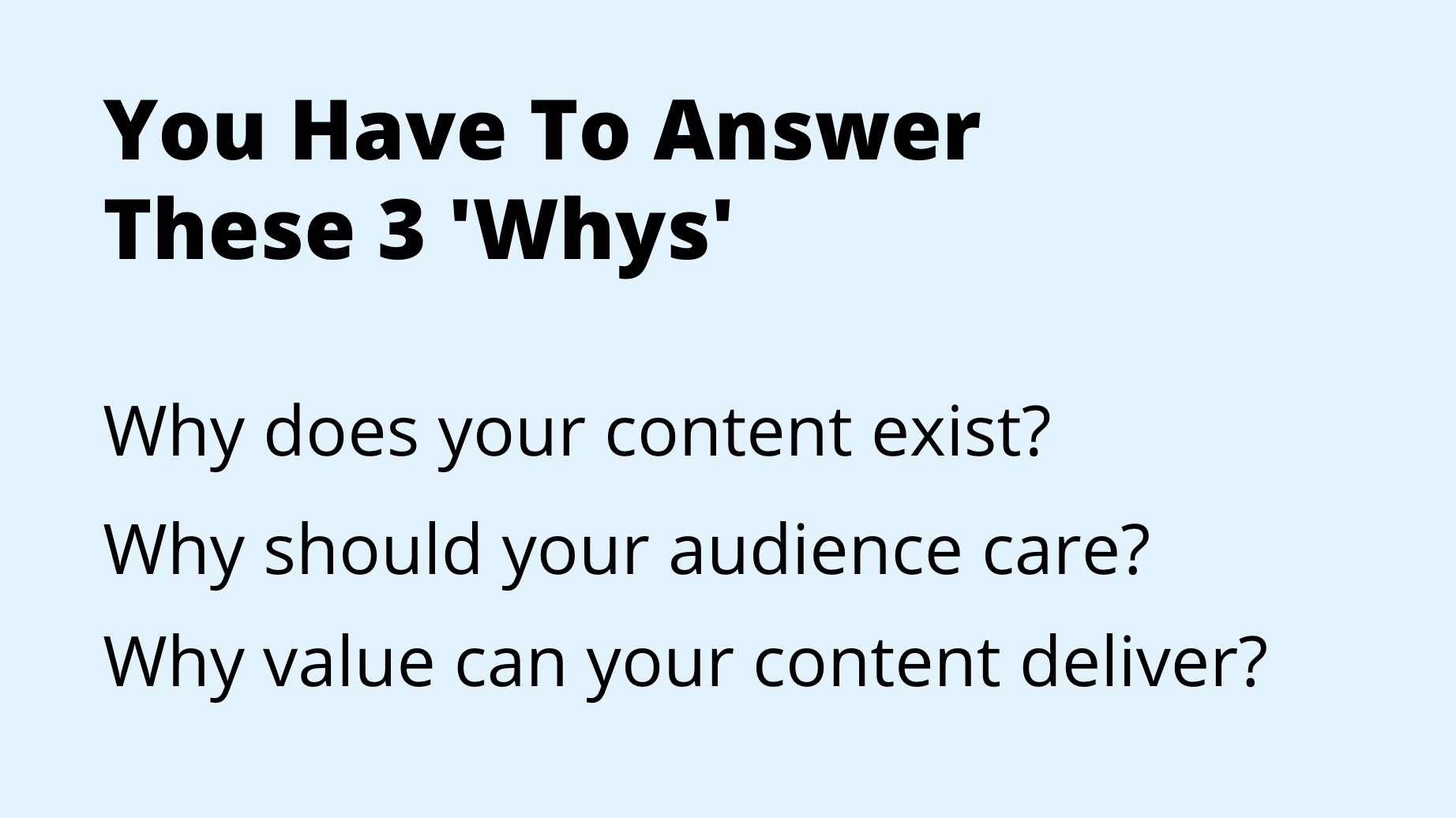 Here is our very own content marketing mission statement:
"SpeechSilver's blog provides B2B brands and marketers with actionable advice on content marketing and copywriting to help them grow their business blog and drive more leads."
With this simple sentence, we understand the kind of content we need to create consistently.
This can be instructional videos, long-form blog posts, newsletters, social media content, and even podcast sessions.
Anything that goes against this statement will not be considered and won't make it into our publication calendar.
The Formula For A Winning Content Marketing Mission Statement
Defining your mission statement doesn't have to be complicated and can be broken down into five components (3 of which are must-haves).
Here they are:
The ideal audience you are creating content for

The information you are providing

The benefits your content delivers

The big end goal that your readers care about

Where your audience are located
Here's a template that you can refer to and use when developing your mission statement: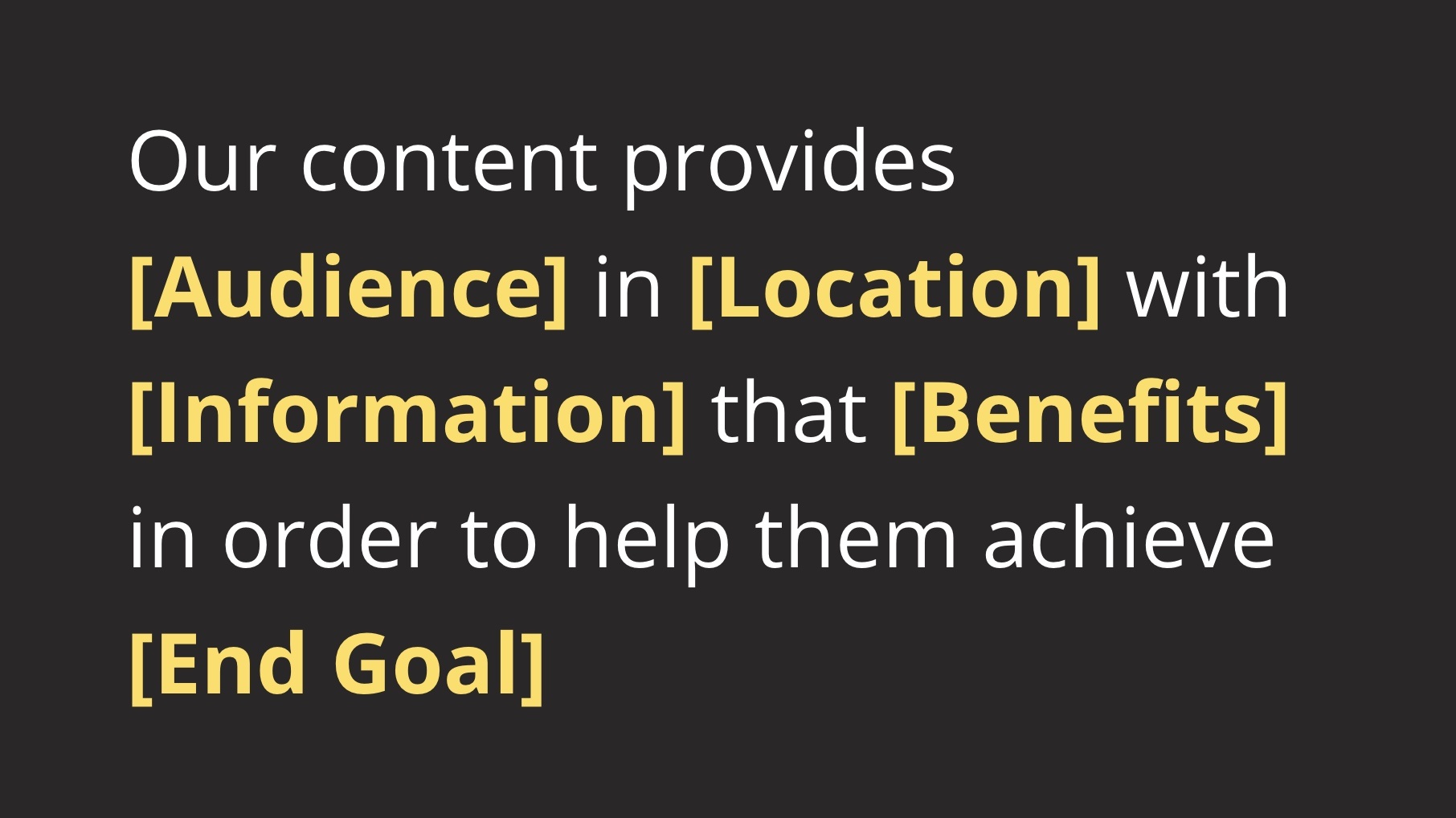 Pretty straightforward!
So for example, if you are running an online pet food delivery service, your content marketing mission statement could be:
"Our content provides dog owners in New York with insights & tips that help them better train and feed their dogs for a healthier lifestyle."
Just with this statement, a world of targeted content ideas and topics will surface.
It could include:
An instructional video on how to prepare meals for a young puppy

A series of interviews with dog owners on the favorite treats their dogs love

A long-form article on common dog ailments to watch out for how to prevent them

A series of Instagram stories of your team visiting awesome dog parks around New York City
See how useful a content marketing mission statement can be?
Now let's dive deep into how you can effectively craft and define your own mission statement.
Craft Your Content Marketing Mission Statement In 5 Steps
1. Define The Audience You Are Writing For
While you might be selling to a niche audience, the audience you'd want to define for your content marketing efforts has to be broader.
A good way to do this is to go one or two steps broader from the people you are selling to.
So let's say my potential clients are B2B SaaS companies looking to grow their content marketing…
One step broader would be B2B companies in technology looking to grow their content marketing.
Two steps broader would be B2B companies looking to grow their content marketing.
While I will be definitely creating content around content marketing for B2B SaaS companies, I will also be creating content that allows general B2B companies to also benefit from our insights and advice.
This is very important if your niche is really small in order to make content marketing work for you.
Why do we do this?
Because of the peripheral benefits that we can get – that will, in turn, help us better attract our ideal customers.
These include:
Greater exposure that can lead to more backlinks

Increased traffic to your website

More subscribers to your social channels
Let's say you are selling freshly plucked Chinese tea leaves for home delivery. You can define your audience as either 'Chinese Tea Drinkers' or 'Tea Lovers' to capture a broader base of attention.
However, you will also be creating content for your ideal customers, people who brew Chinese tea the old-fashioned way.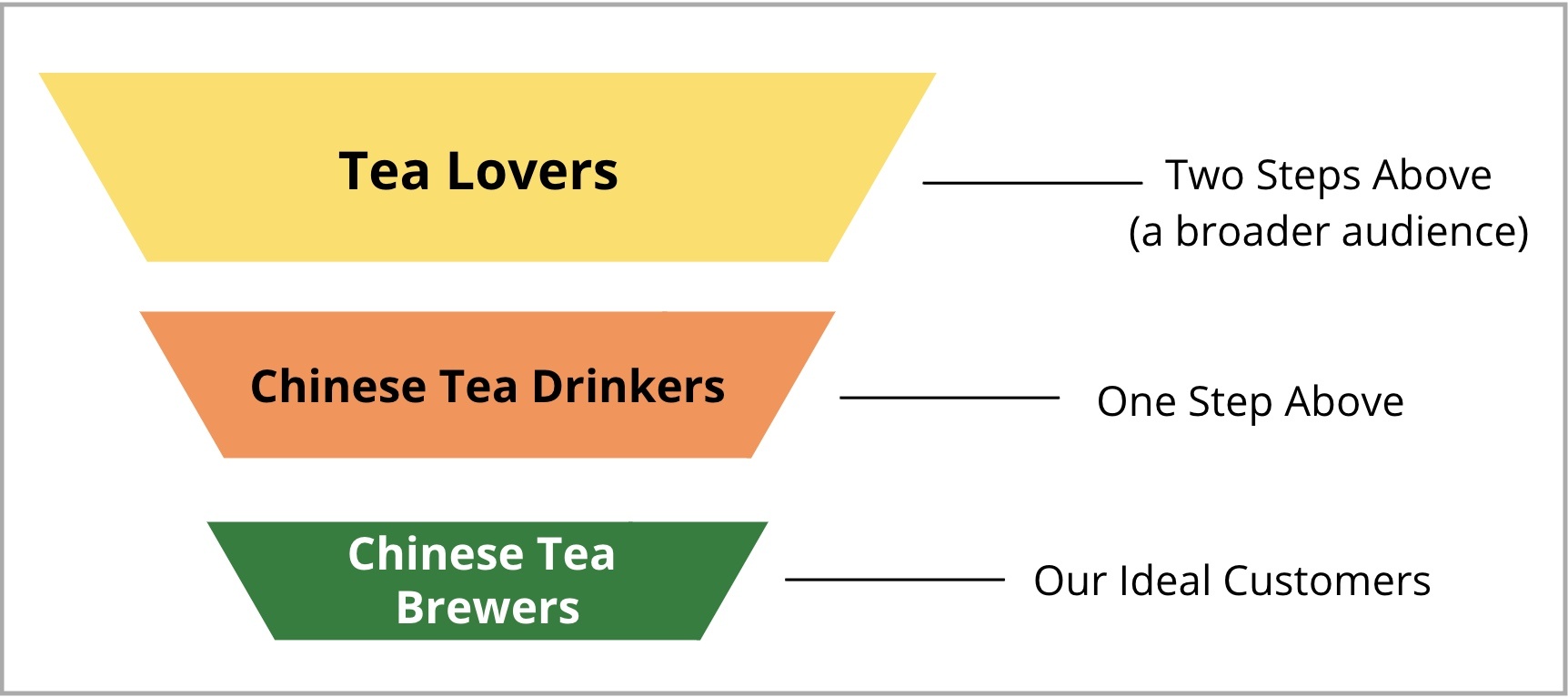 2. Decide On The Information You Are Providing
Once you have defined your audience, you need to decide on the topics you'll be covering as well as the types & formats of how the content will be delivered.
While it might be tempting for you to just throw the word 'content' as a placeholder to encapsulate the information you will be producing, don't.
You want to be more specific. 
It'll help you differentiate your content to your audience as well as act as a constant reminder of the types of content you will be producing.
Will blogging be your main content marketing avenue?
Or do you have the budget and team to produce quality educational videos on YouTube?
Be practical and ask yourself: "What can we teach and produce in a realistic & sustainable way that our audience wants."
Here are some of the most common types of content out there:
Insights

Research

Actionable guides

Advice

Tips

Stories

Resource

Strategies

Tactics
Oh yea, don't be afraid of combining two or even three into your mission statement.
Plus, these can be delivered in a variety of formats that include:
Long-form blog posts

Videos

Live Streams

Infographics

Podcasts

Interviews

Books
3. Determine The Immediate Benefits Your Audience Will Takeaway
How helpful is your content?
What can your audience take away from reading (or consuming) it that will benefit them?
While this might seem rather obvious, your content has to add value to your audience to win their attention, build their trust and establish your credibility within your chosen industry or niche.
Here are three questions to ask yourself when determining the benefits of your mission statement:
"How will my audience benefit from my content?"
"After consuming my content, what will they immediately be able to do?"
"Am I simply regurgitating information or giving actionable advice and unique insights?"
Filmora's content mission statement for their YouTube blog resource is a great example of highlighting the benefits your reader will enjoy from your content.
They make it very clear that readers will be able to learn practical YouTube creation skills (such as video editing) from their instructional 'how-to' content.

4. Showcase The End Goal That Your Content Will Help Your Reader Accomplish
Benefits are awesome, but they are there to facilitate your audience to reach their ultimate end goal.
For example, while earning more money is a benefit (or takeaway), the end goal could be different – it might be to buy a home or to pursue financial freedom, or even just to book that dream holiday…
If my content centers around giving advice to launch and grow eCommerce stores, my approach towards the end goal of helping my audience build a sustainable income will be drastically different than helping them scale to $100 million.
You get the idea.
What is the end goal or 'heaven' that your audience wants to accomplish at the end of the day?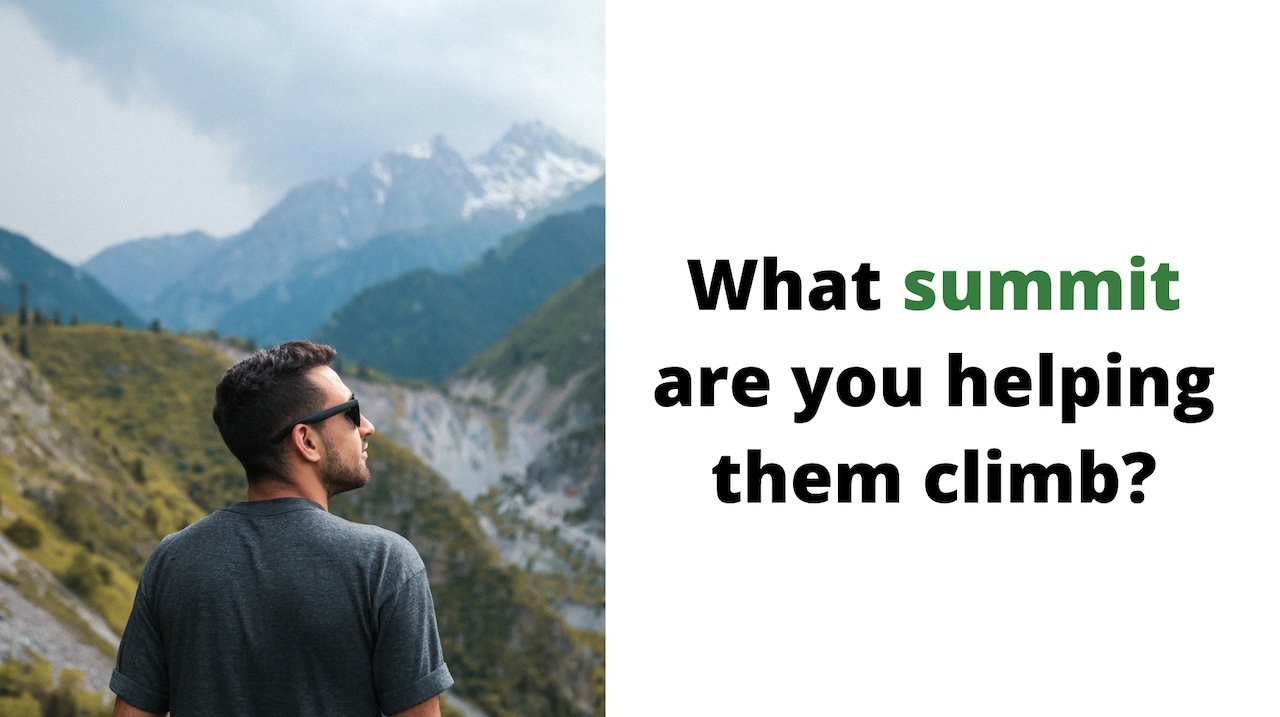 To answer this question, you'll need to effectively dive deep into your customer personas – here are two guides to get it done:
The end goal of your content marketing mission statement will greatly affect the way you will approach your content creation.
5. Specify The Location Of Your Audience
While the location of your audience is often left out in many mission statements, it is rather valuable in helping you clarify the kinds of local content you can create or the platforms you should be on.
Local content is powerful, especially if you are marketing towards a regional audience such as a city or a state.
By specifying the location of your audience in your mission statement, you'll be able to identify local content opportunities that will truly resonate with your local audience.
Running a fresh-food delivery business?
Why not create a series of articles around healthy eating habits in the local schools or the city's workplaces.
Selling legal services in your local state?
You could create a video series defining and explaining the local laws in your particular state and how it is unique and different from federal laws.
Even if you are selling to an international audience, it is always good to specify the location of your audience – the content ideation benefits you gain will be well worth it!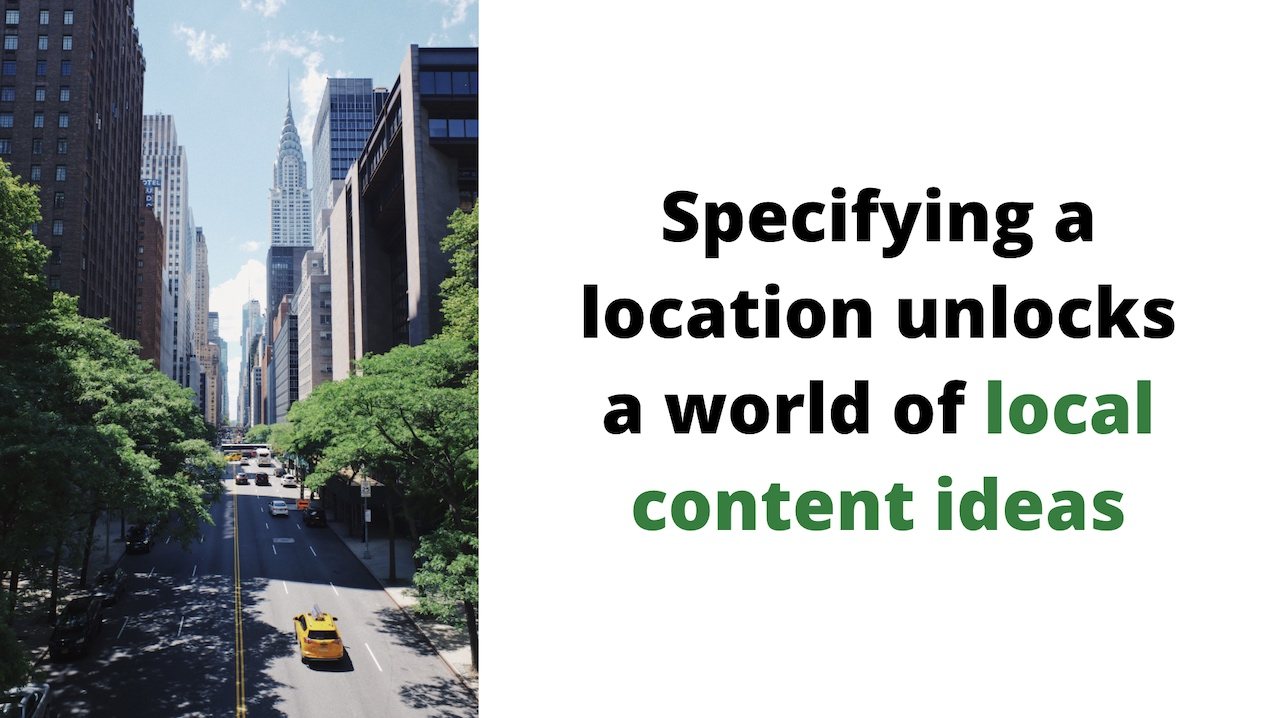 Put Your Content Marketing Mission Statement To The Test
Now that you have defined your content marketing mission statement, it's time to test if it is strong, robust, and specific enough to guide your content creation efforts.
Here are two quick tests you can do:
1) Does The Mission Statement Allow You To Easily Filter Topics & Content Ideas?
When you have a solid mission statement, you should be able to approve or reject every keyword or topic suggestion that comes your way.
It should help to speed up your content review & approval process.
If a proposed topic or idea doesn't fit your audience, information type, or contributes to the end goal, it's a no.
2) Does Your Mission Statement Align With Your Business Product Or Service?
While providing content is important, you'd also want to develop content that you can naturally weave in your solution or at least complements it.
I blog about B2B content marketing strategies, such as this very article you're reading. It aligns with two of my core agency services – content marketing & blog writing.
That's a greenlight!
A video channel with content about raising healthy dogs through better diets and regular exercise aligns with a business selling dog food.
Creating content is good, but you'll want more than just brand awareness – you'll want leads and sales.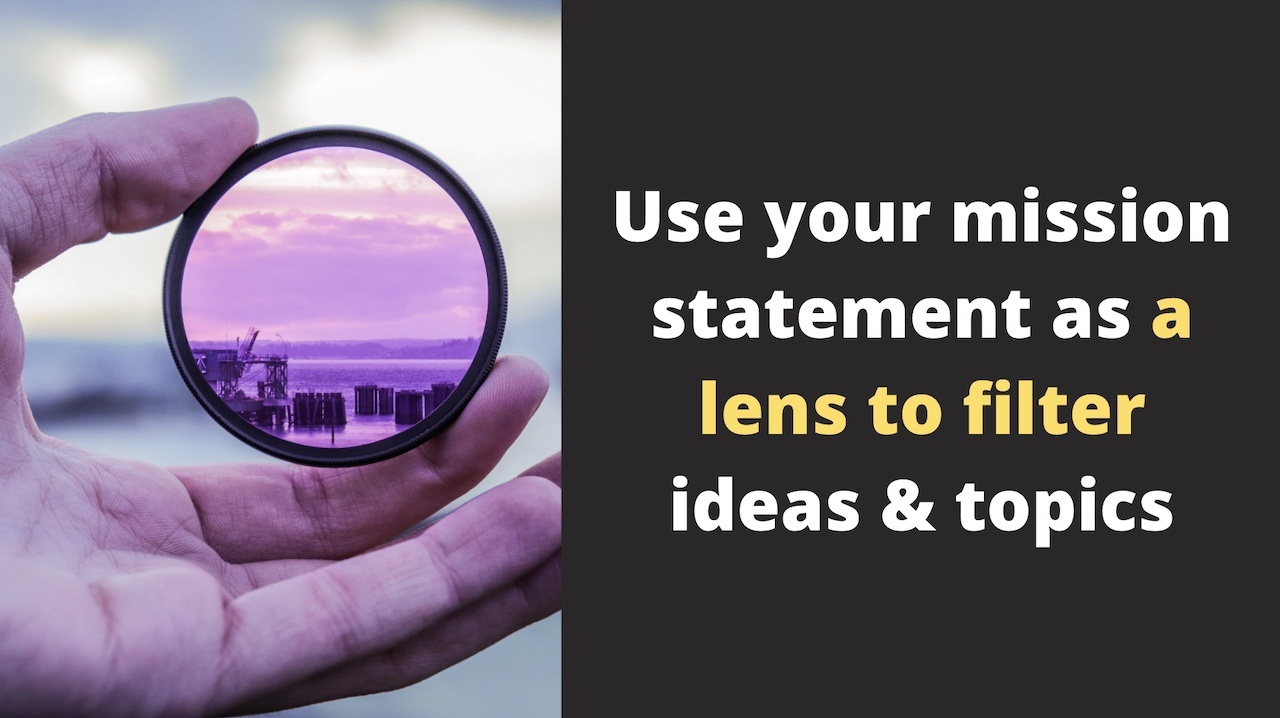 Share Your Content Marketing Mission Statement (5 Places To Publish)
Your mission statement shouldn't only be circulated within your internal team, you should showcase it prominently to the whole world.
Here are five places to publish it for maximum effect.
1) At The Top Of Your Blog (Or Resource Page)
When someone stumbles upon your blog, do they know what to expect?
Take this opportunity to showcase your content marketing mission statement there. 
If yours is too long, you can simply use the combination of [Information] + [Benefits] + [End Goal] to highlight to your reader the tangible benefits they will get.
Exactly like how BigCommerce does on their main blog page.

2) In Your Social Media Channel Bios
While you can go creative with your social media bios or 'about' description – it pays to inform your viewers what your channel has to offer.
In this case, WWE showcases the information their channel publishes. This not only makes it clear what this channel is all about, but it also entices viewers who want more of their content to subscribe to the channel.
A double-win!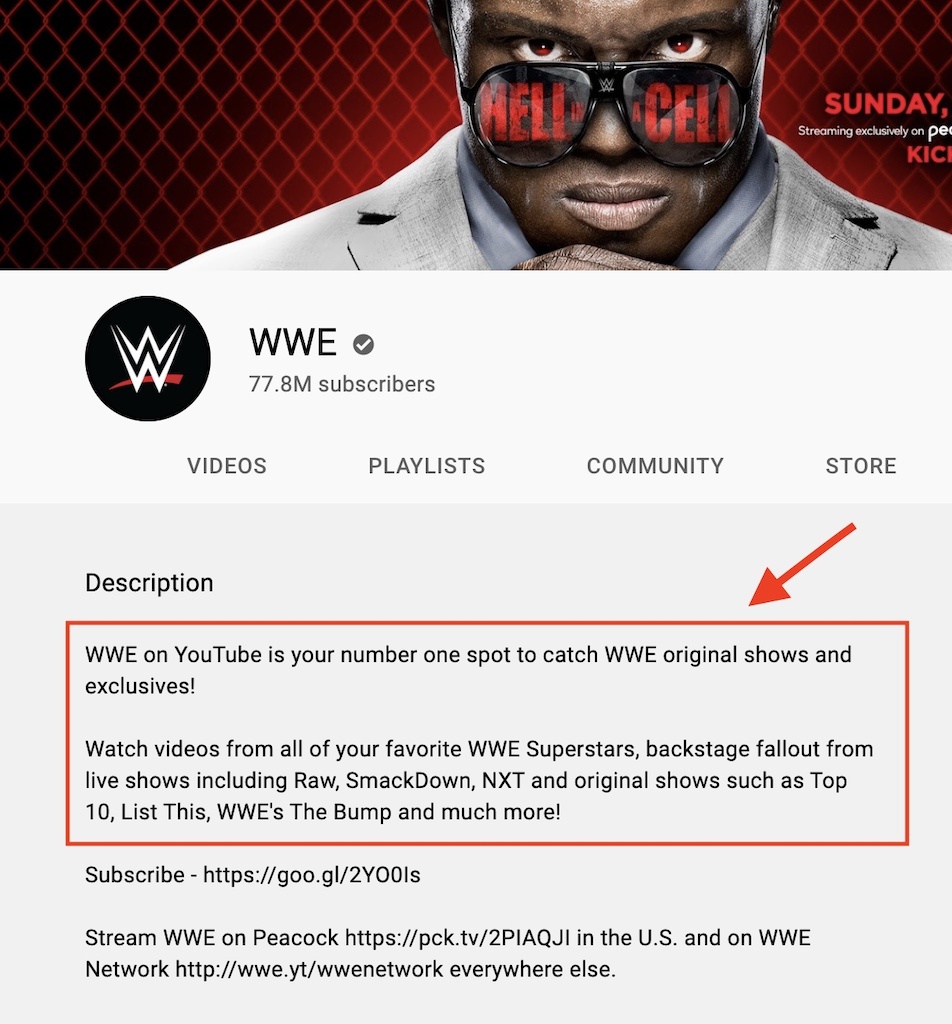 3) In Your Email Capture Call-To-Actions (CTA)
An effective CTA that captures subscribers promises value that the audience cares about.
This is where you can utilize your mission statement.
One of the best combinations is to utilize the [Audience] and [Information] portion of your mission statement and weave it into your CTA description.
A great example is that of Buffer's newsletter CTA on their resource page.

Take the initiative and be clear about whom this newsletter is for and be clear about what they will expect to receive once they subscribe.
4) In Your Meta Description
Ahh yes, good ol' search engine optimization. 
Your blog or resource page is like any other core pages or posts on your website – you'll need to optimize it with a meta description.
But unlike your money pages or individual blog posts where careful keyword placement is needed, you can use your content mission statement here.
Just like how Neil Patel includes what his blog's content mission is. 
It tells searchers on Google exactly what the type of content being published there (tips, trends, and strategy) as well as highlighting the end goal that his audience cares about – building a successful online business.

5) In Your Company's About Us Page
While your about us page is usually meant to introduce your company and give your visitors an overview of what you do, it is actually a great place to showcase your content mission statement as well.
If your company, like Foundr, is a publication (magazine, blog, resource center) that publishes and distributes content as the business itself – you owe it to your brand and audience to showcase your content marketing mission statement on your 'About Us' page.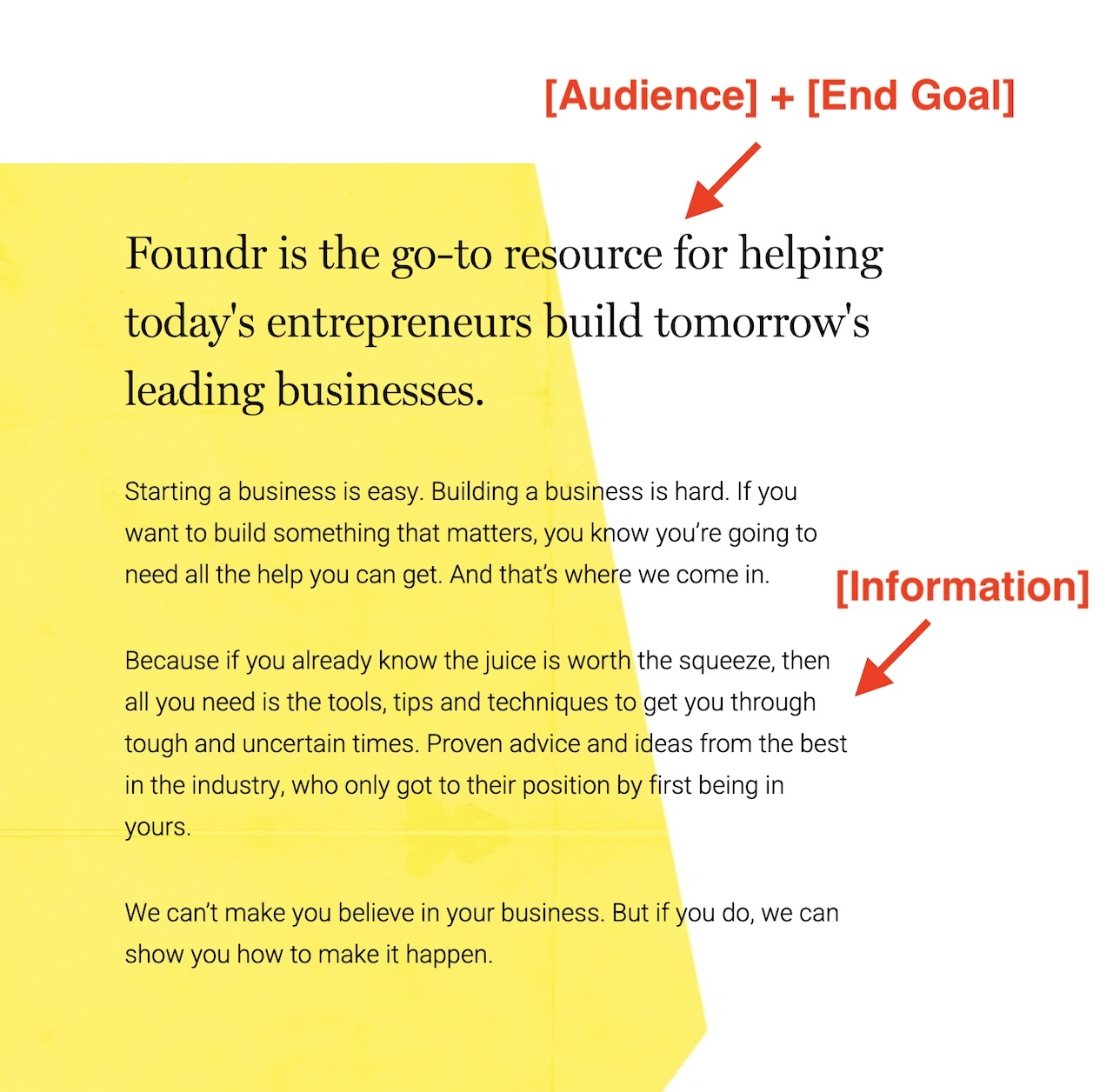 A great way to do this is to spread your entire mission statement across a narrative and use it to tell a story of why your business exists.
And even if you are running a non-publication business, it is still highly beneficial to showcase your mission statement as well.
It'll inform your readers about the value you are producing for your customers that goes beyond your product or solution.
15 Content Marketing Mission Statements Examples To Help Inspire You
Now that I've got your wheels turning on how to develop and utilize your mission statement, there's nothing better than to learn from some of the best brands out there.
The best mission statements are those that: 
Make it clear for whom the content is for

Mention the benefits of consuming it

Highlight the end goal they aspire to help audiences achieve
Let's dive in!
1. Shopify
"Starting up starts here. We're here to help. Get free education, tips, and inspiration to help you start and grow a successful business."
Shopify is a cloud-based eCommerce platform for business owners.
2. Close
"Startup sales tips and advice from Close, the CRM of choice for startups & SMBs. Master B2B selling & close more deals!"
Close is a SaaS CRM tool for sales executives.
3. Ahrefs
"We help you get better at SEO and marketing: detailed tutorials, case studies and opinion pieces from marketing practitioners and industry experts alike"
Ahrefs is an SEO tool that helps marketers rank higher & gain more traffic.
4. Squarespace
"Making It features stories and solutions for the modern entrepreneur. Learn how to create a website, start an online store, or become inspired through makers and Squarespace users."
Squarespace is an online website builder.
5. Harvard Business Review
"Find new ideas and classic advice on strategy, innovation and leadership, for global leaders from the world's best business and management experts."
Harvard Business Review is an online magazine centered around business.
6. Entrepreneur
"Advice, insight, profiles and guides for established and aspiring entrepreneurs worldwide."
Entrepreneur is an online magazine centered around business & entrepreneurship.
7. Klook
"Discover holiday ideas, guides, and stories unique to your next getaway."
Klook is a travel deals site.
8. ThoughtSpot
"For CDOs and aspiring CDOs looking to make a big business impact with data."
ThoughtSpot is a business intelligence tool that analyzes data to derive actionable insights.
9. Wistia
"The Wistia blog provides tips and inspiration for video content marketers and creators. Start exploring!"
Wistia is a video hosting platform.
10. Redbull
"Experience the world of Red Bull like you have never seen it before, with the best action sports clips and original series on YouTube."
Redbull is an iconic energy drink company.
11. ConvertKit
"Tradecraft isn't an email marketing blog. Instead, we teach you everything we know, diving deep into every topic you need to help you earn a living online."
Convertkit is an email marketing platform.
12. Copyhackers
"The home of conversion copywriting. Become the most profitable person in the room with copywriting articles, case studies, examples and templates."
Copyhackers is a copywriting school & blog.
13. GE Digital
"Read the latest blogs on digital transformation, industrial IoT trends, and the state of industry from GE, analysts, customers, and partners."
GE Digital is a tech online magazine & content publication site.
14. Moz
"The industry's top wizards, doctors, and other experts offer their best advice, research, how-tos, and insights—all in the name of helping you level-up your SEO and online marketing skills."
Moz is an SEO tool for online marketers.
15. Content Marketing Institute
"Get how-to marketing advice for your content strategy, including brand content as well as B2C and B2B content marketing samples, case studies."
Content Marketing Institute is an online publication & business looking to advance the practice of content marketing.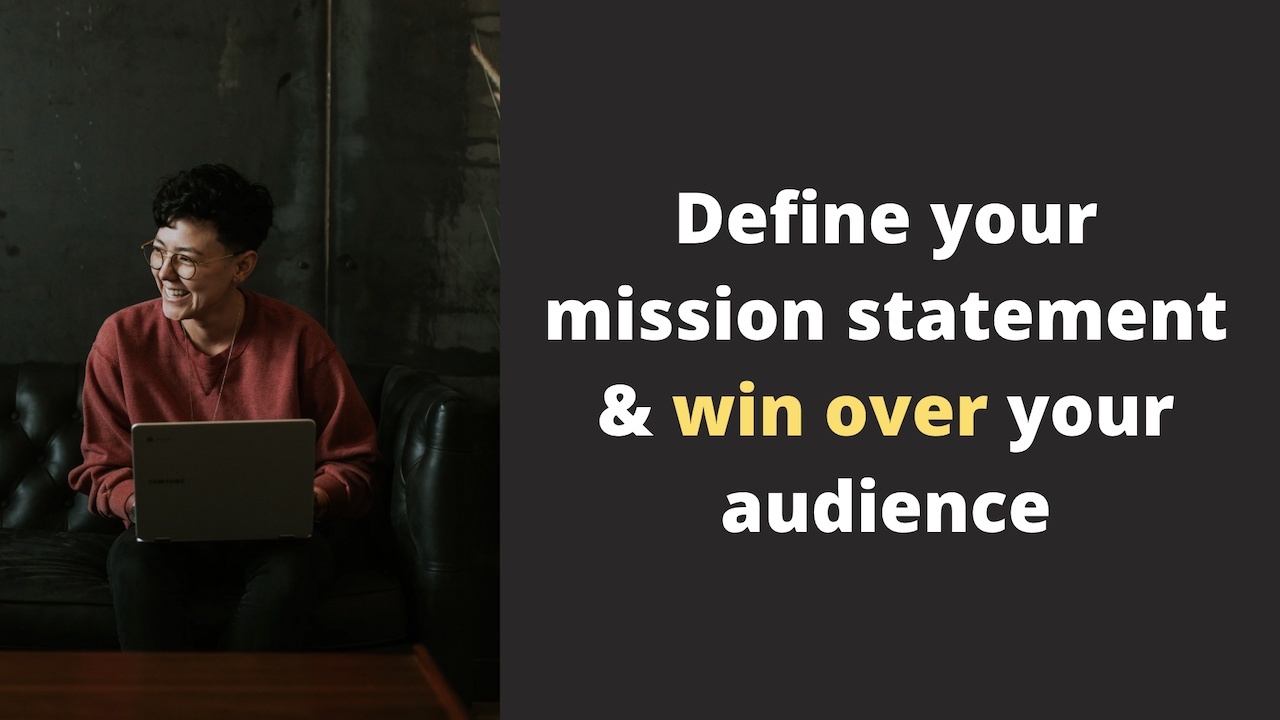 Lead Your Content Efforts With Your Mission Statement
Many marketing teams today spend an inordinate amount of time worrying about the channels they should be on or the format of the content, but strangely enough, not much thought is given to the underlying content itself.
In fact, according to a 2020 content marketing survey conducted by Marketing Profs & Content Marketing Institute, 79% of the least successful respondents have no documented content marketing strategy.
You don't want to be in that position!
Thankfully, with your content marketing mission statement, you'll be able to effectively:
Develop a cohesive content strategy across all of your channels & platforms

Identify topics that matter to your audience

Align your content with your business objectives

Get your content marketing team on the same page

Better define &

track the right content marketing metrics that matter
Your mission statement answers the 'why' when it comes to your content and should be the very first thing you develop before you write any blog post, develop any infographic, or film any video.
It's that important!
So go forth and start defining your content marketing mission statement and before long, you'll be creating content that your audience will truly love.
Looking to develop awesome content that resonates with your readers?
We can help! 
Contact us here today or simply email me at sean@speechsilver.com and we'll be in touch.