The 8 Types of Modern Copywriting You Must Know
July 18, 2020 | Sean Foo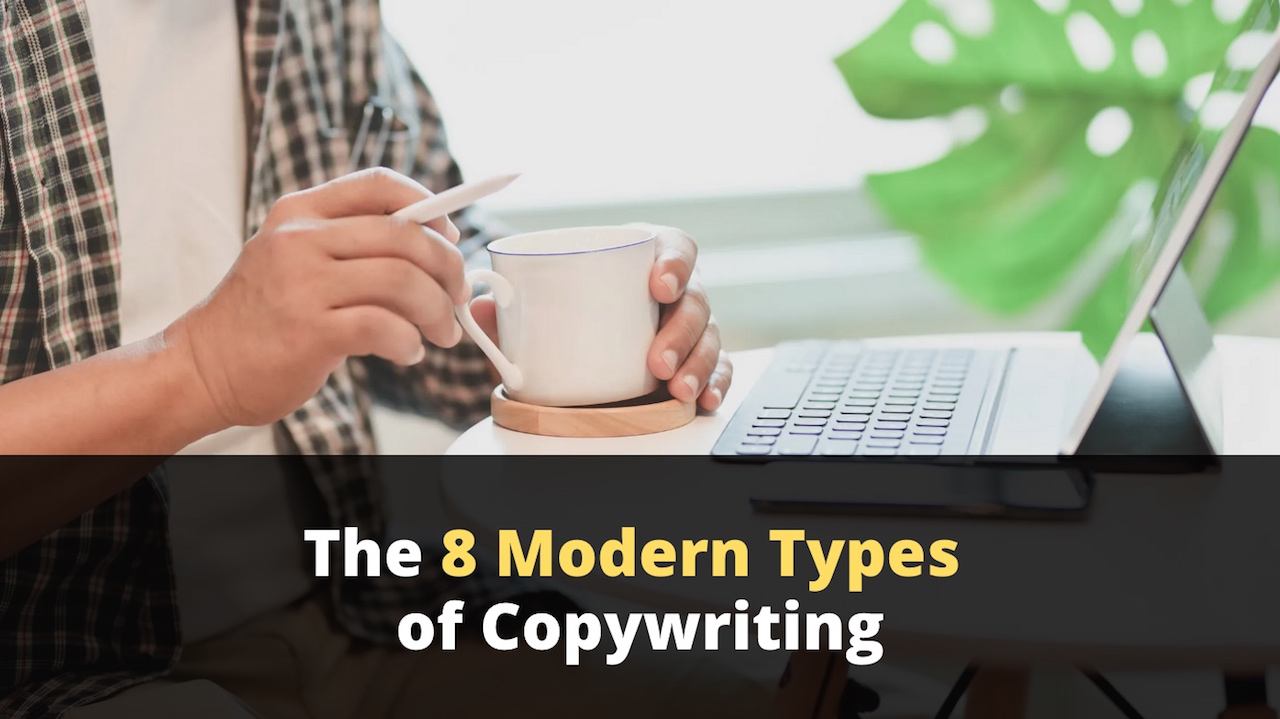 Copywriting is writing that drives action, be it for consumers to sign-up for newsletters, free trials, or to buy from you.
It comes in many forms – video scripts, blog posts, physical pamphlets etc.
As a business owner, hiring a copywriter can help you grow your business!
Hiring the right one can be tricky however, as there are many types of copywriting and most copywriters are only good at one or two.
Knowing the type you need helps you ask the right questions to find your ideal hire!
So without further ado, here are the 8 types of modern copywriting you need to know.
1. SEO Copywriting
Want to get discovered by your audience?
SEO copywriting helps you get ranked on search engines, so your audience can find you!
Where it used to be the realm of spammy, keyword-stuffed articles, recent Google algorithm updates have largely destroyed the old practice.
Now for articles to rank, they have to offer genuine value to end-users while weaving in the keywords – a challenging feat to achieve!
SEO copywriting takes the form of:
Blog posts

Articles (on external online publications)

Web copy (home page, about page etc.)

Product descriptions
It aims to help your website rank for keywords which people search with buying intent, so you drive targeted, organic traffic to your "virtual salesman".
It does so by:
Having prior research into which keywords to target – long-tail or short-tail

Evaluating gaps in currently ranked content

Crafting content in a way that fills the gaps, while remaining loved by Google
An example of SEO copywriting would be this article you're reading. 
As someone interested in copywriting, you might have searched for "types of copywriting". The search results then got you here!
SEO copywriting tends to be blended with other types of copywriting, be it marketing, technical, or thought leadership. 
After all, all types of copywriting benefits from getting ranked and seen on search engines.
So when searching for copywriters, ensure they have at least a basic expertise of SEO. 
Look for articles they wrote that managed to rank, and ask about their writing process.
Monday's blog uses SEO copywriting in the content of their blog posts.
While the articles definitely do help their existing customers, the posts are SEO-optimized with keywords intelligently integrated into the piece.
This helps their content be found on search engines, driving traffic to their website.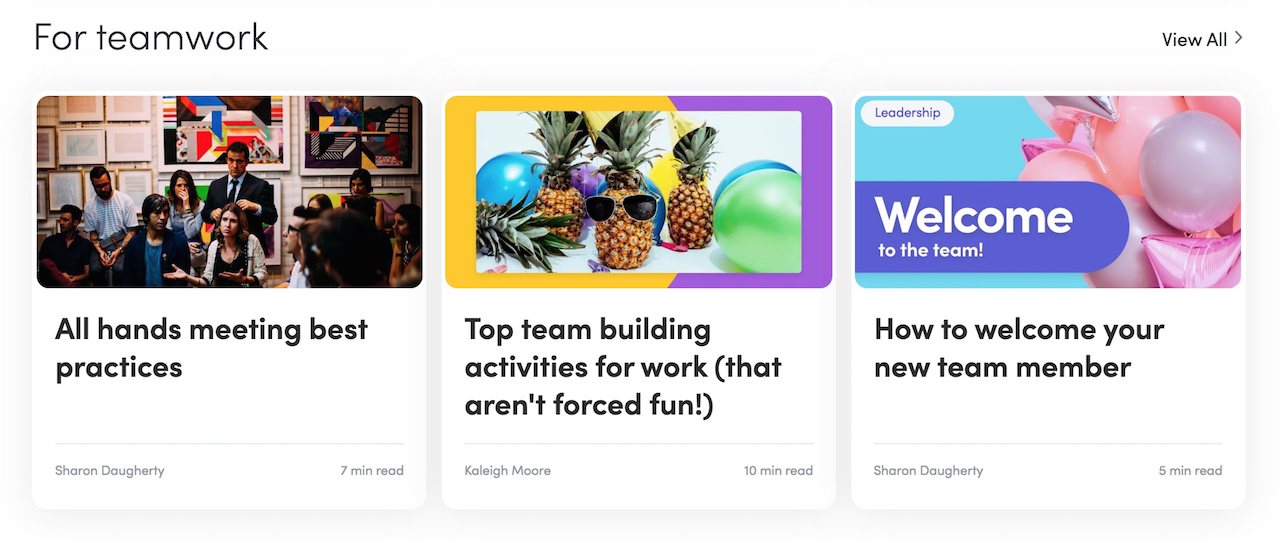 2. Creative or Brand Copywriting
How do you feel when Coca-Cola comes to mind?
Do you taste the cold, fizzy sweetness flowing down your parched throat, leaving you refreshed, happy, and satisfied?
Creative or brand copywriting aims to get you remembered, by associating strong feelings to your brand.
It can be familiar happiness like McDonald's…
High-class exclusivity like Louis Vuitton…
Relaxed, exciting entertainment like Netflix…
Or any other feelings suitable for your business (and brand).
It can take the form of:
To build an overall cohesive identity for your brand.
An example is Tiffany's launch of their new jewellery collection "Tiffany T1".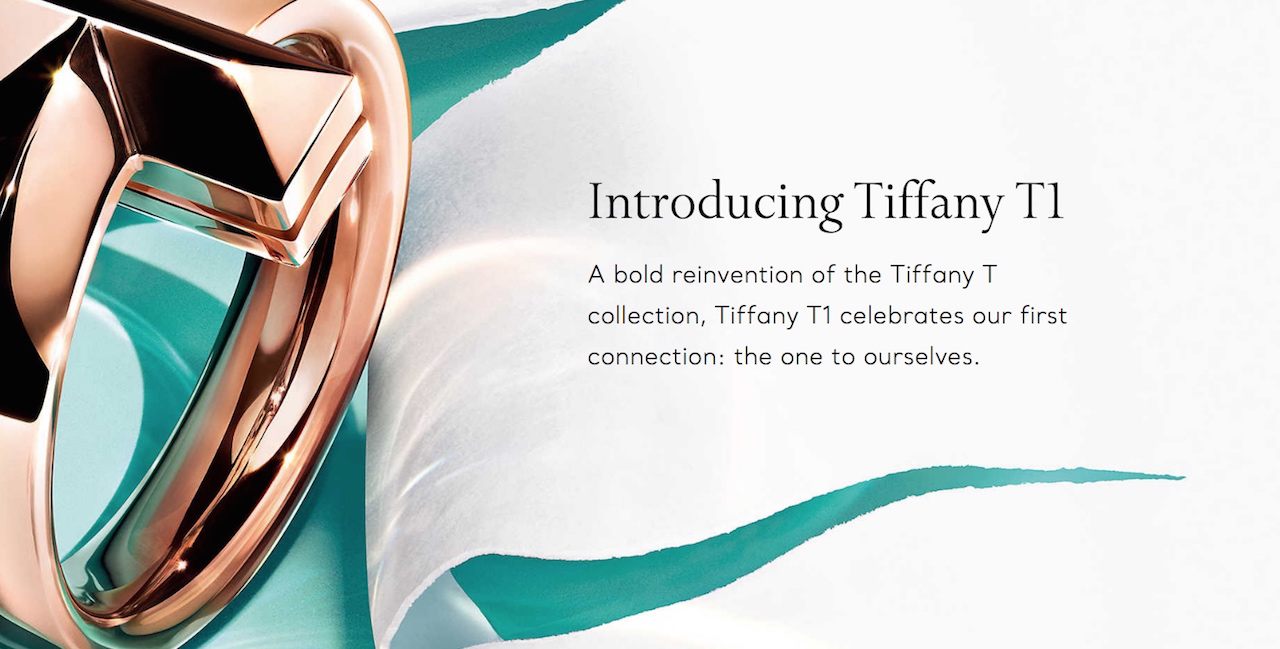 Tiffany brands its new collection with the concept of boldness and self-expression.
Unlike usual copywriting, Tiffany goes beyond explicitly explaining benefits (e.g. "This ring makes you look good.") and brands itself with the concept of boldness and self-expression instead.
Tiffany sells its collection in an indirect, subtle way to portray its brand as high-class.
This makes consumers covet an association with Tiffany's brand, increasing Tiffany's long-term sales!
Creative copywriting is suitable when your business is established, and you want to increase sales in the long run.
To look for a creative copywriter, look for one that specifically states himself or herself as so. A general copywriter may not be able to write catchy taglines as well.
3. Social Media Copywriting
Seen your favourite brand recently posting on Facebook, Twitter, or Instagram?
Perhaps they shared some interesting pictures, videos, or valuable content.
Social Media copywriting aims to engage the audience through entertaining or valuable posts, so they remember the brand!
As opposed to creative copywriting, social media copywriting focuses on the content's distribution rather than the content itself.
Social Media copywriting adapts the content, so it can fit the mood of different platforms.
Facebook is fun, yet slightly serious and long-form…
Twitter is snappy and excitable…
While Instagram feels like a music-blaring party going on 24/7.
(For completeness sake, LinkedIn is like a casual session of professional networking. 
Though it is usually not considered under "social media copywriting", as it has less of a "fun", "casual" vibe compared to typical social media.)
An example is Home Depot's Facebook post sharing a DIY project.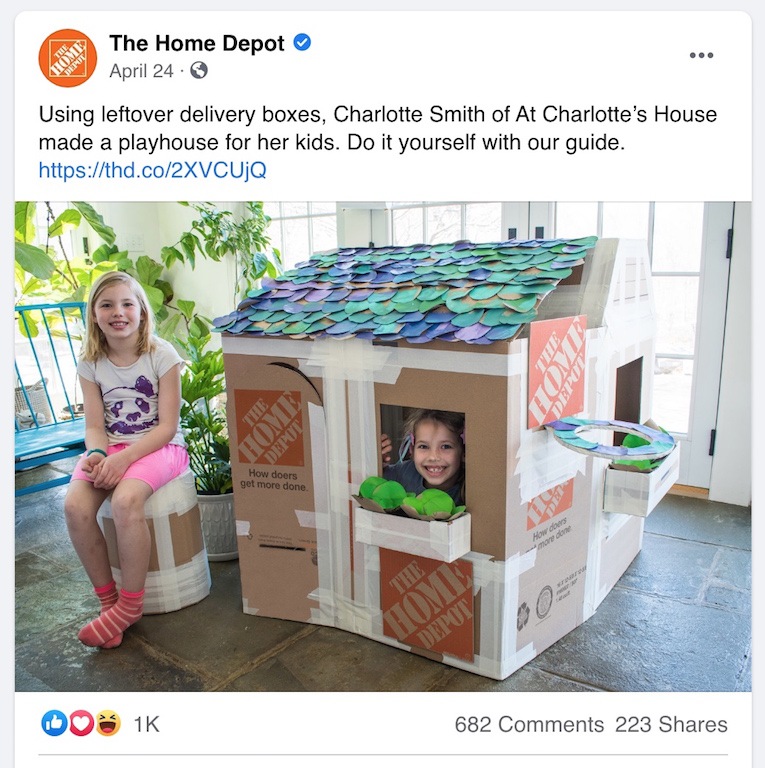 Home Depot engages its audience by sharing a fun, DIY project with its audience.
By having something that helps them bond with their kids, Home Depot associates family bonding with itself in the audience's mind!
To tailor the post to Facebook, notice how Home Depot added a caption that clearly captures the benefits.
If Home Depot wanted to post on Twitter though, the caption might be shorter. With more frequent postings too.
Social Media copywriting is suitable when you've built sufficient content on your website, and are ready to drive traffic towards it.
It's also suited if you're a consumer brand, and want consumers to visit your retail outlets more often.
To choose a suitable social media copywriter, look specifically for those that state "social media" in their title.
It helps if they're millennials or younger too!
4. Marketing Copywriting
Got an amazing product or service?
Marketing copywriting converts its features into easy-to-understand benefits that resonate with your audience!
This type of copywriting is the most flexible in its forms.
It can be in the form of content marketing, seeking to build trust by educating the audience (though not to the extent of technical copywriting).
It can be articles or advertorials posted on online publications for similar purposes.
It can also be website copywriting, which presents a credible, professional front through carefully-selected appeals, and impeccable tone, grammar, and spelling.
But in essence, it converts your audience's awareness into interest!
This article can be an example of marketing copywriting for instance, as it builds interest by showcasing the benefits of different types of copywriting.
Another example is Slack's home page.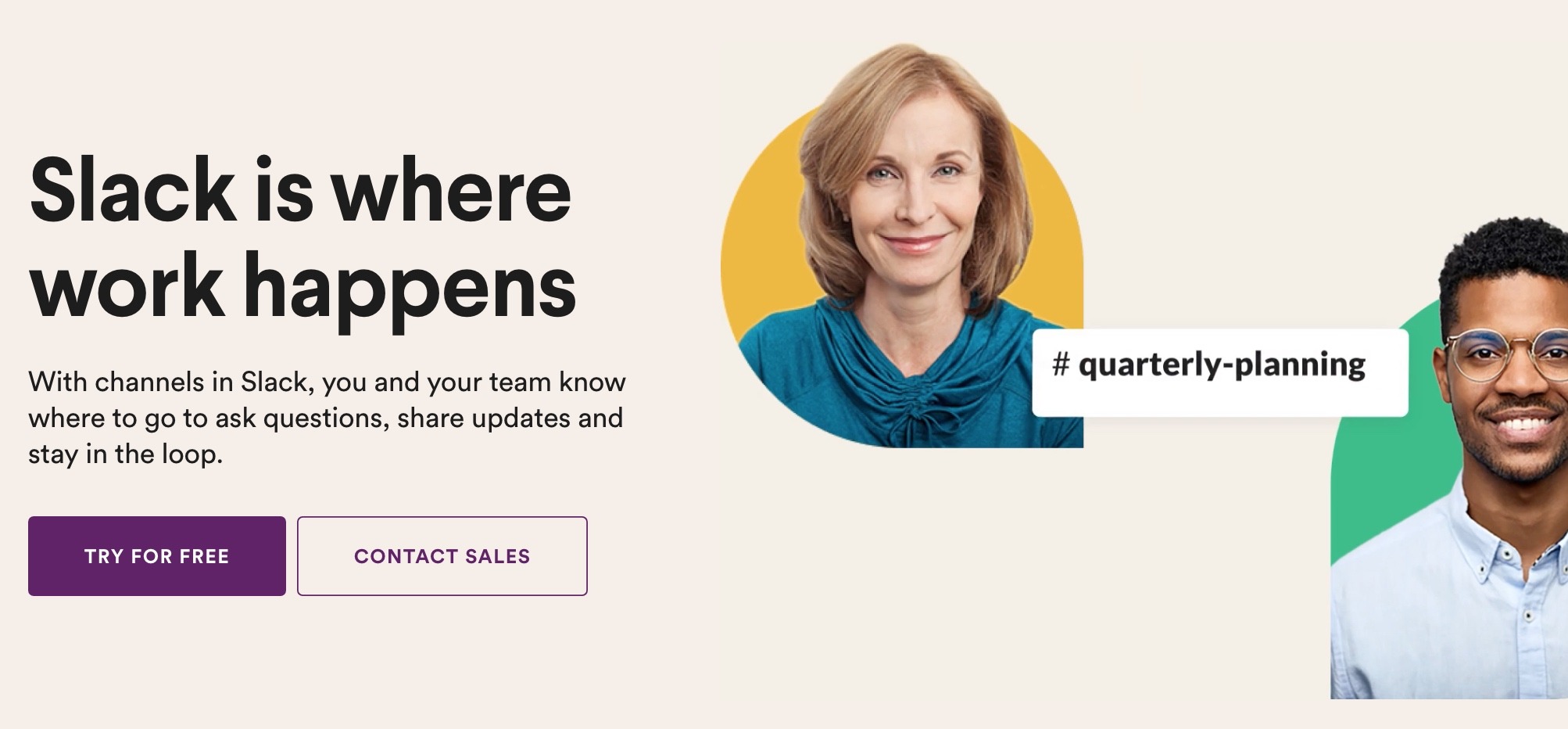 Slack's home page clearly shows what Slack is about.
It has a neat layout, clear headlines, and shows what Slack is about – helping teams stay in the loop!
If you're starting out in online marketing, start with marketing copywriting. It helps you build a credible, attractive website for you to drive traffic to.
It also helps your website be more substantial, by filling it with helpful content.
Choosing a marketing copywriter isn't hard – a general one would do. 
As long as the copywriter has sufficient experience, and is able to answer your questions, he or she would likely do a good job for you. 
5. Public Relations Copywriting
Whereas marketing copywriting tells the world how good you are, public relations copywriting aims to get others to share about you instead!
Public Relations (PR) copywriting is about writing things that seem newsworthy, so journalists and reporters will pick it up and spread it across media channels.
These "earned publicity" is seen as more credible, especially when it seems unbiased and is published on reputable outlets. This helps you earn your audience's attention and trust rapidly!
PR copywriting takes the form of:
Sustainability reports

Statements
And it aims to put your company's image in a good light.
It can be to:
Boost your company's reputation through "feel good" Corporate Social Responsibility projects

Spread publicity about new product releases

Repair your company's reputation should anything happens
An example is Apple's 2019 Environmental Responsibility Report, which details their efforts at taking care of the environment.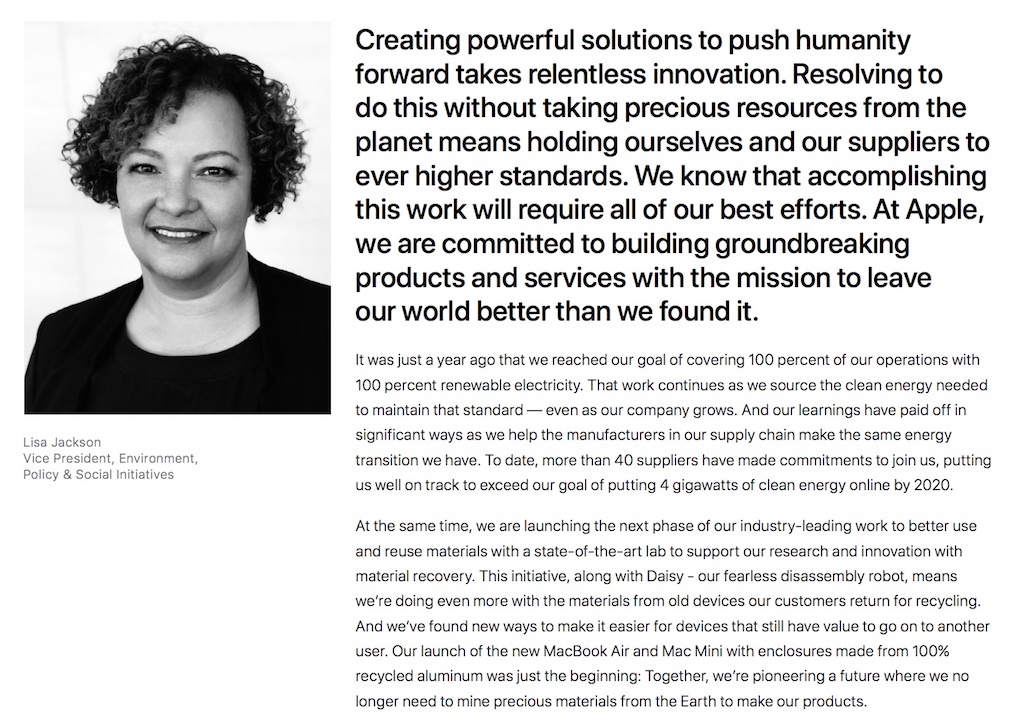 Apple showcases their efforts at reducing their environmental impact.
By showcasing details of their environmental efforts, Apple gains a boost to its public image through a flurry of articles by industry watchers.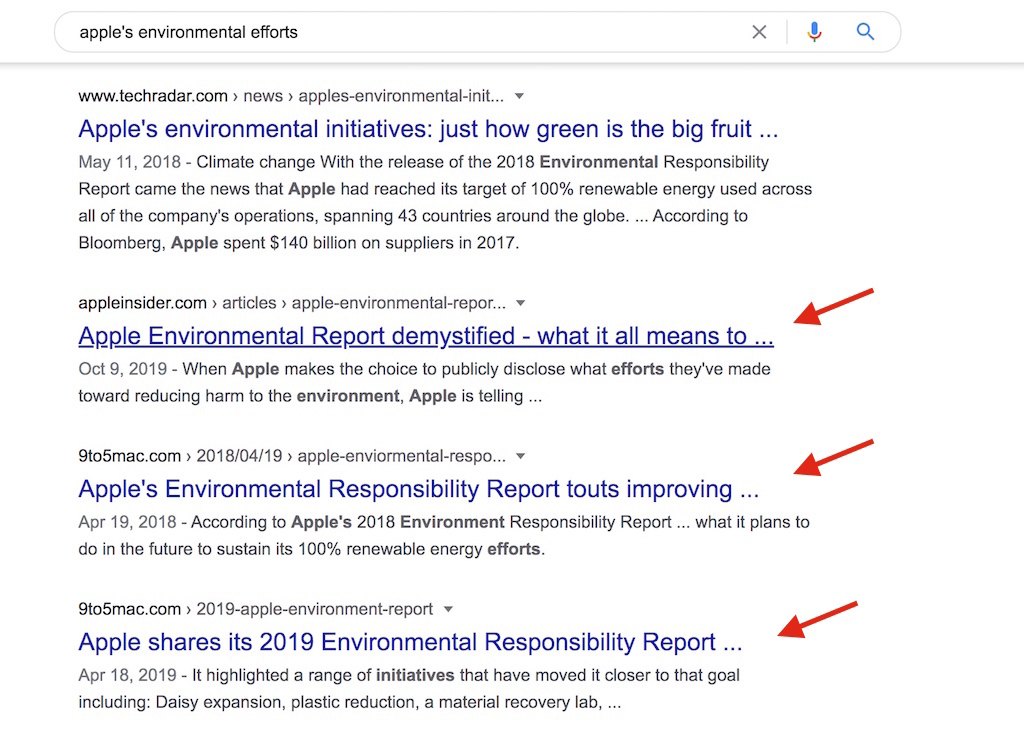 They rank for key terms on Google search.
Like with creative copywriting, PR copywriting is best sought when your business is established.
This is where your business image starts mattering more than individual content or sales letter.
To find PR copywriters, search for those that specifically mention "Public Relations" in their title.
6. Technical Copywriting
To educate is to sell.
When your audience is facing problems, giving them helpful insights builds their trust in you. This makes them more open to your offers!
Technical copywriting does this by going in-depth. Without overwhelming them with details and jargons, it guides complete newbies to amateurs, & amateurs to experts.
This is done through:
…and is more detailed than other types of copywriting.
An example is this in-depth guide by innoarchitech on Machine Learning.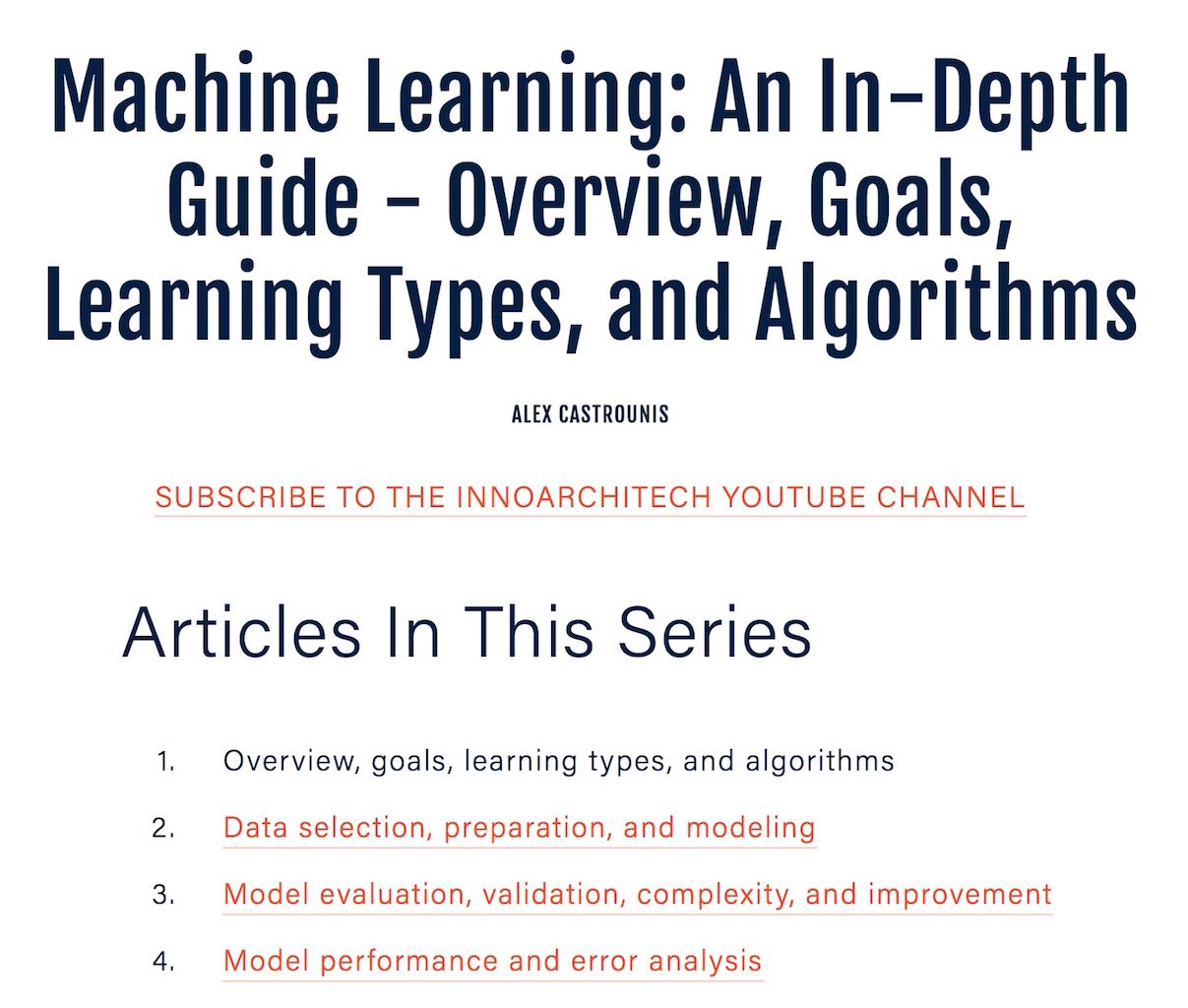 Innoarchitech's in-depth guide positions them as a trusted authority on Machine Learning.
Machine Learning is a complex topic.
However, this guide manages to gently guide readers through with tasteful use of analogies.
Technical copywriting is necessary when your product or service is not easily understood by others.
If you sell industrial machines, for instance, you need it to help customers understand the nuts & bolts, and how to operate the machines.
This requires not just technical expertise. The writer also needs clear explanation skills, coupled with occasional wits…
…a rare combination indeed, given how most copywriters are art graduates with little patience for systematic details!
To write technical pieces, one has to have prior related experience or be willing to do tons of research beforehand.
So look for potential hires' past credentials, and see if they've written similar work before.
7. Thought Leadership Copywriting
If you want to be seen as an authority in your industry, you'll need thought leadership copywriting!
Thought leadership copywriting aims to give insights to the audience, to create in them a strong impression.
Unlike technical copywriting, thought leadership deals with big picture ideas like the industry's future, or a better way to go about current industry practices.
It's meant for a more sophisticated audience like CEOs, Executives, or even consumers who already know the basics.
It comes in the form of:
An example is this social commentary on gender inequality by Sallie Krawcheck.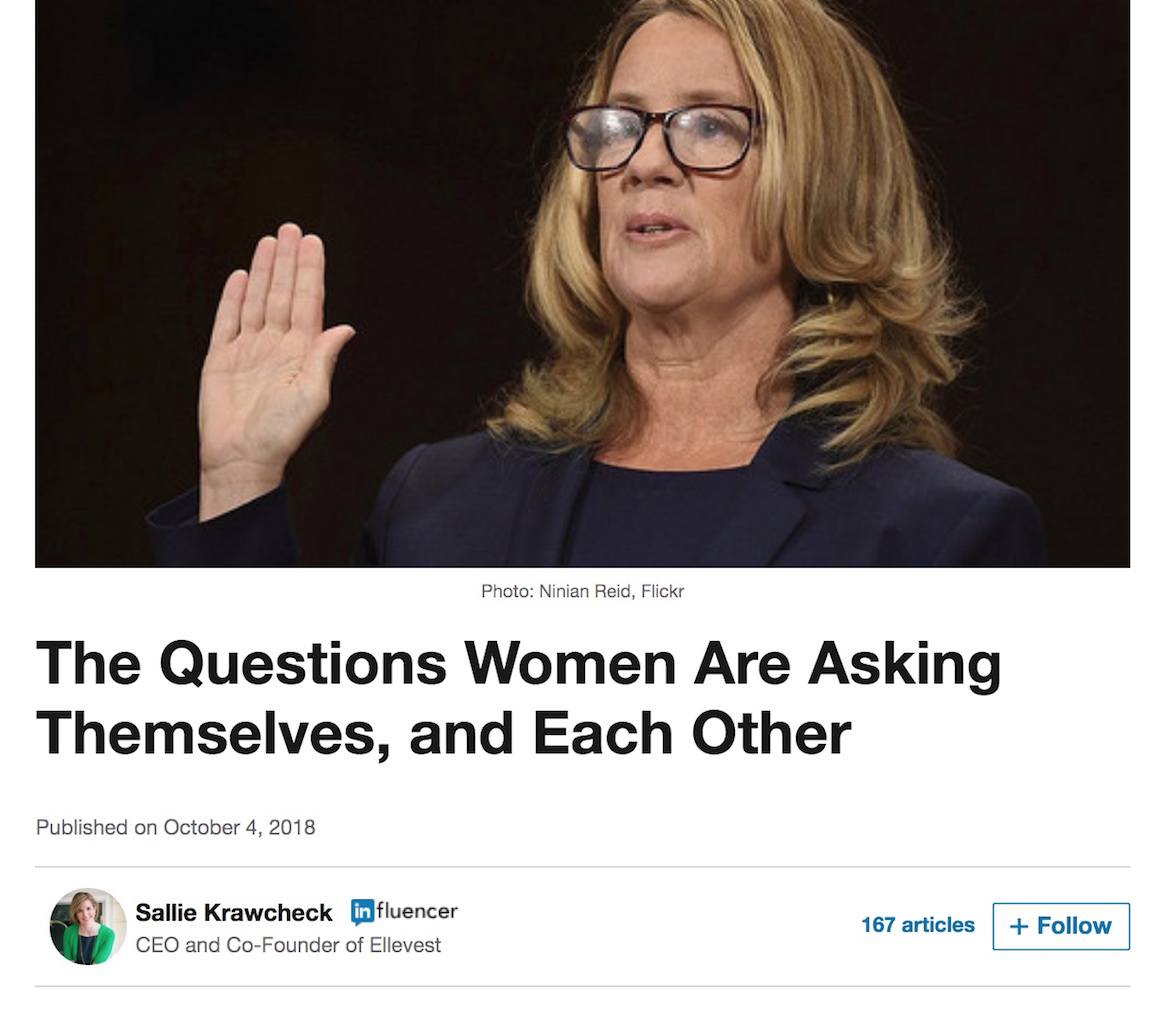 Sallie Krawcheck carries out Thought Leadership by voicing out concerns that plague women at work.
Sallie Krawcheck is the Co-Founder of Ellevest, an investment platform built to help women get ahead.
In her article, she shares her pain and observations of how hard women have to struggle to be recognized at work – which resonated with her audience, garnering her over 3,000 likes and reactions!
This builds both her profile, and that of her business.
Thought leadership is well-suited for B2B businesses, as 59% of decision-makers rely on it to vet the organization.
Given the level of insight required…
…such writing is best written by yourself, a fellow industry veteran, or a copywriter that's willing to listen and pen your insights in an easily-digestible manner.
8. Direct-Response Copywriting
Direct-response copywriting brings to fruition the fruit of all your prior marketing efforts.
When your sales funnel has built enough trust and desire in your prospects, direct-response copy converts them into tangible results – sign-ups for your newsletter, free trials, and sales!
People are naturally skittish when it comes to money, and even personal information like e-mails nowadays.
They may see the benefits of your products or service, understand how these can fulfil their needs, yet remain hesitant to make the leap.
Direct-response copy helps them overcome this fear by employing logical & emotional triggers, so they finally take action!
It does so by having:
Powerful headlines to capture attention

Benefit-driven copy to build desire

An enticing offer prospects can't refuse
An example of this is Renegade Strong's landing page.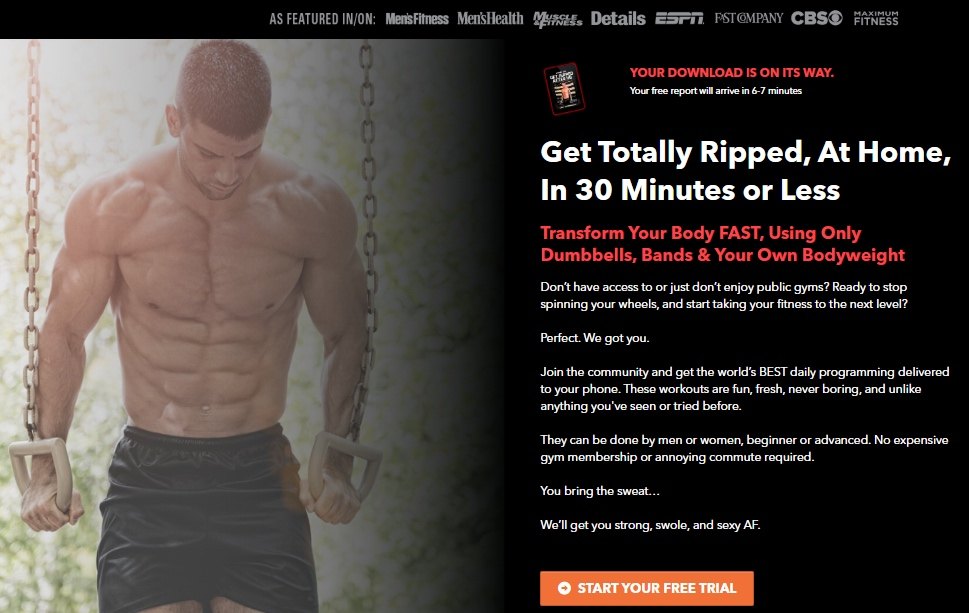 Renegade Strong's landing page aims to get the audience to sign up for a free trial.
For fitness enthusiasts, the headline grips at them from the get-go. The benefit-driven copy keeps them entranced, and glides their eyeballs to the very end…
…where a flashy, orange CTA awaits them, acting as the only barrier between them and their dreams!
Guess what they would feel like doing?
If you need to generate sales fast, direct-response copy is the way to go.
Look for specialised "direct-response" copywriter to get the best results!
Different Types of Copywriting Belong to Key Stages of the Sales Funnel
If you haven't noticed, different types of copywriting belong to the critical stages of a buyer's journey!
SEO copywriting gets you discovered so that your audience is aware of you.
Creative and Social Media copywriting gets you remembered by your audience until they need your products or service.
Marketing copywriting builds interest by showcasing benefits….
…while Technical and Thought Leadership copywriting builds trust while stirring desire, by showing them a clearer path towards fulfilling their needs.
Finally, Direct-Response copywriting pulls the right triggers, so they finally take action!
Knowing which part of the sales funnel you need to fix helps you know which type of copywriting you need.
Before building your sales funnel though, make sure you have a well-written web copy for you to drive visitors to!
Want to diagnose which part of the sales funnel you need to fix?
Or need any type of copywriting done?
We can help!
Contact us here or drop us an email at sean@speechsilver.com, and we'll get in touch!