Web Copywriting: What Is It & How To Write For Success (Winning Examples Included)
August 9, 2020 | Sean Foo
Web copywriting is any writing done for the web – be it landing pages, home pages, product pages or blog articles.
Great web copywriting pulls readers, engages them, and guides them to take action – like making a purchase or submitting a form.
This gets you more sign-ups, leads, and sales!
To write successfully for the web, you need to recognize how web copywriting differs from writing for print.
So let's jump in and explore the difference.
Writing for the Web vs Writing for Print
When writing for the web, you need to care not just about flawless grammar and substance.
You need to make it smooth for web browsing too.
According to studies by Sun Microsystems and Stanford University,
People read 25% slower on screen than on print

79% of internet users scan the page, rather than read all the words and sentence
This means your text cannot be chunky.
You'll Have To Capture Attention Fast
The average attention span of a web user is about eight seconds.
It's easy for web users to switch tabs and browse Facebook again…
This means you have to catch your audience's attention – fast.
You Have To Drive Action
While users may read magazines & newspapers just to pass time…
They are likely looking for solutions for their problems while reading your web copy!
Do them a favour and make your web copy compelling, so both you and your reader get closer to each of your goals.
You'll Need To Incorporate SEO Keywords Into Your Copy
Web copy is rarely written just for human eyes…
They need to appease search engine bots as well!
Web copy needs to incorporate key phrases that people search for, so your audience is more likely to find your article on search engines.
Ensure Smooth Navigation For Intuitive User Experience
Keep your page layout simple.
Your web copy needs to help users understand what you're saying at a glance.
Understand The 2 Types Of Web Copywriting Pages
To understand web copywriting, there are two main types of pages you have to know.
Content pages seek to educate users and build trust, while commercial pages move users towards the sale.
Let's explore more for each type.
Your Commercial Pages & Their Purpose
Commercial pages are those that are closely linked to your sales and revenue.
Think:
Home page

Pricing page

Product/Service page

Contact Us page
These are the pages users visit to learn more about your business, products, and services.
Take Basecamp's how-it-works page, the copywriting here is more persuasive and lays out a compelling argument on why their solution is superior by showcasing all the benefits (and the features) that matter to the reader.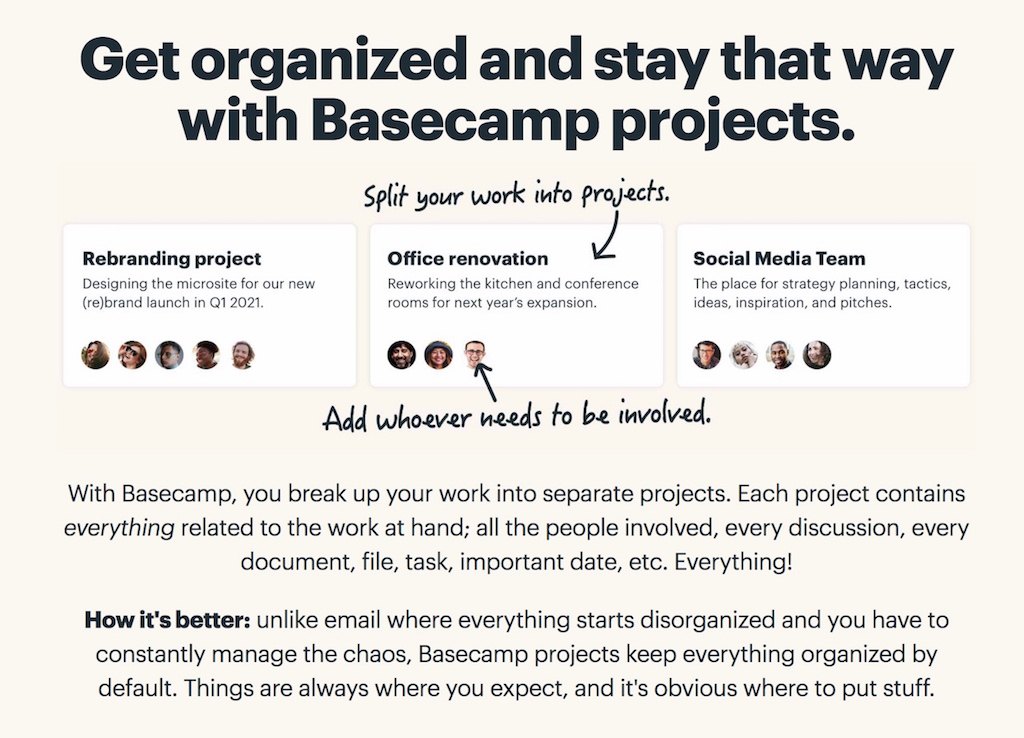 The end goal is to convince the reader (or get them closer) into buying your product and solution.
To write great commercial web pages, here are 3 tips to remember:
Tip 1: Leverage Social Proof To Build Trust
When people feel uncertain about what to do, they look at what others do for clues.
Likewise, when people feel unsure about whether to engage your services, they look for hints that show others have done so before.
Social proof comes in many forms, like:
Testimonials

Customer counts

Ratings & Reviews
But they all serve the same purpose:
To show your offering is tried-and-tested, so others are more likely to trust you.
Tip 2: Pre-Empt & Address Potential Objections
When users come across your offering, they will have a natural resistance against it.
They might have been burned before, and fear making a wrong buying decision again.
In their mind, they might be thinking:
Doesn't this seem too expensive?

But my current provider seems good enough…

Is it going to be worth it?
And these objections will lose you the sale!
Bringing up these objections and addressing them will ease their fears.
This makes it easier for you to win them over.
Tip 3: Have A Compelling Call-To-Action
You might have written the perfect web copy, having provided social proof and addressed potential objections…
But they mean nothing if users don't know what to do once they're interested!
A call-to-action invites them to act – to take a leap of faith and get closer to their goals.
The action could be:
Sign-ups for your email newsletter

Trying out the free trial for your services

Subscribing to your services
Which also gets you your sign-ups, leads, and sales.
Compelling CTAs use verbs like "get", "request", and "buy" to command users to take action.
Learn more about writing compelling CTAs here.
WPForms' pricing page shows how all 3 tips can be used.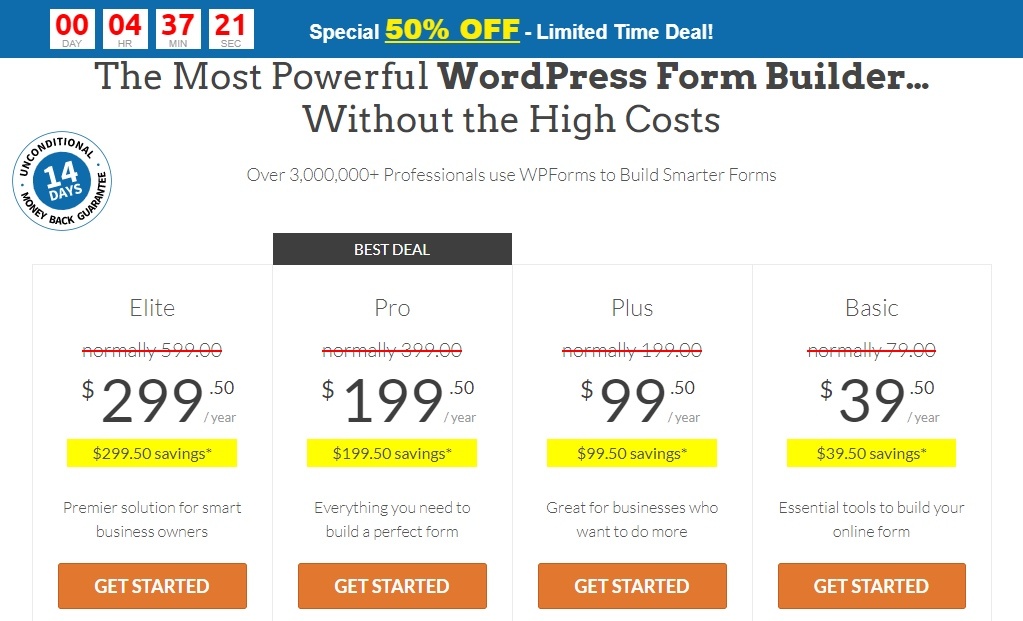 To provide social proof to users, WPForms showcase how "Over 3,000,000+ Professionals" use their services to help users feel they're not alone in making the leap.
WPForms also pre-empted that users might be concerned about whether WPForms would be a great fit for them.
So they added an unconditional 14 days money-back guarantee to assure users they would not lose their money if they didn't like the service.
A count-down timer at the top to add to the feeling of urgency, so users won't "think about it" that long, click away and never return again.
Should users find any option worthwhile and their eyes wander down…
The CTA "GET STARTED" tells users exactly what to do – don't delay, and start now!
Your Content Pages & Their Purpose
Content pages are those that educate your readers and help them solve their problems.
Think:
A great example is Close's blog that focuses on adding value through informative articles, helping their readers become better in the field of sales.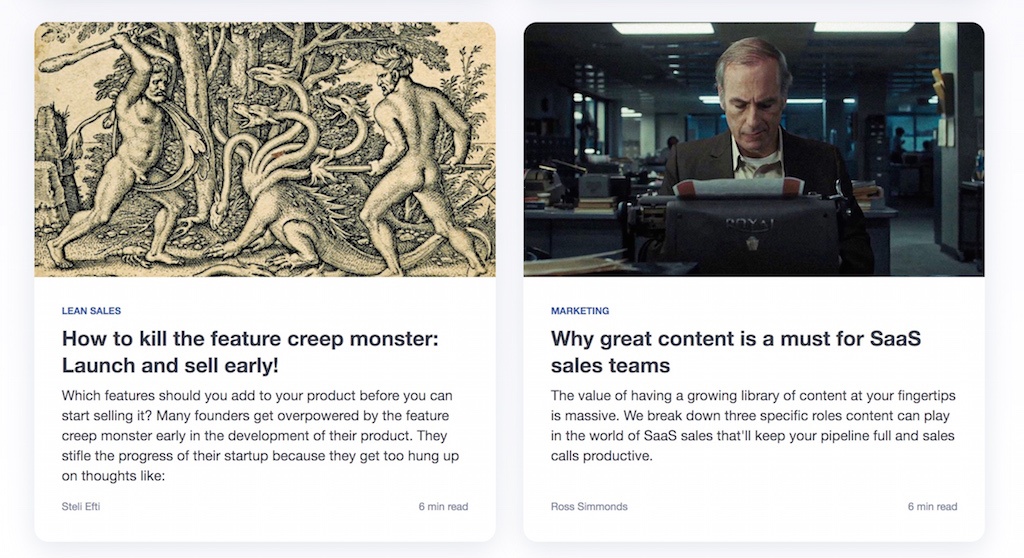 The content written here is informational, in-depth and more importantly – highly researched that adds value and solves their challenges in an actionable way.
To write great content pages, here are 3 tips to follow:
Tip 1: SEO Keyword & Topic Research
Before you start writing your content, you need to find suitable high-volume keywords to rank for.
These keywords need to be what your target audience search for, and be relevant to your content.
Searching up what content is ranking for your topic allows you to explore which angles have been covered…
…and which new angles you can cover for your content to add unique value.
Topic research also tells you how you can phrase your ideas, so your intended audience gets what you are saying.
Keyword and topic research tells you what kind of content to write, and how you should write each content piece.
To learn more, Backlinko offers a guide.
Tip 2: Write For A Specific Persona
When you are writing your content, do you really know who you're writing to?
Do you know:
What needs do they have?

What are their experiences so far?

What do they expect from your content?
Crafting a specific user persona helps you answer these questions.
A user persona is a representation of your target audience, showcasing their pain points, background, needs, and goals.
It allows you to tailor your content for them.
Knowing for instance that your audience is a busy office lady who seeks to de-stress by going out on holidays allows you to craft your content such that:
Your audience can learn how to book tickets stress-free

Your audience can explore which destinations they may want to visit

The tone matches the personality of your audience
This way, your content is more likely to appeal to your audience.
Learn more about crafting a user persona through an empathy map here.
Tip 3: Use The Slippery Slide To Get Readers Hooked
What's the purpose of the first sentence?
To get you to read the next.
And so on.
Until you finish reading the entire content!
People like reading short sentences and paragraphs.
(Like the above sentence. Which can also be considered a paragraph.)
Reading them feels effortless, and keeps you going.
Using the slippery slide throughout your content keeps users engaged, so they absorb all the ideas you want to share.
Backlinko's blog post shows how all 3 tips can be used.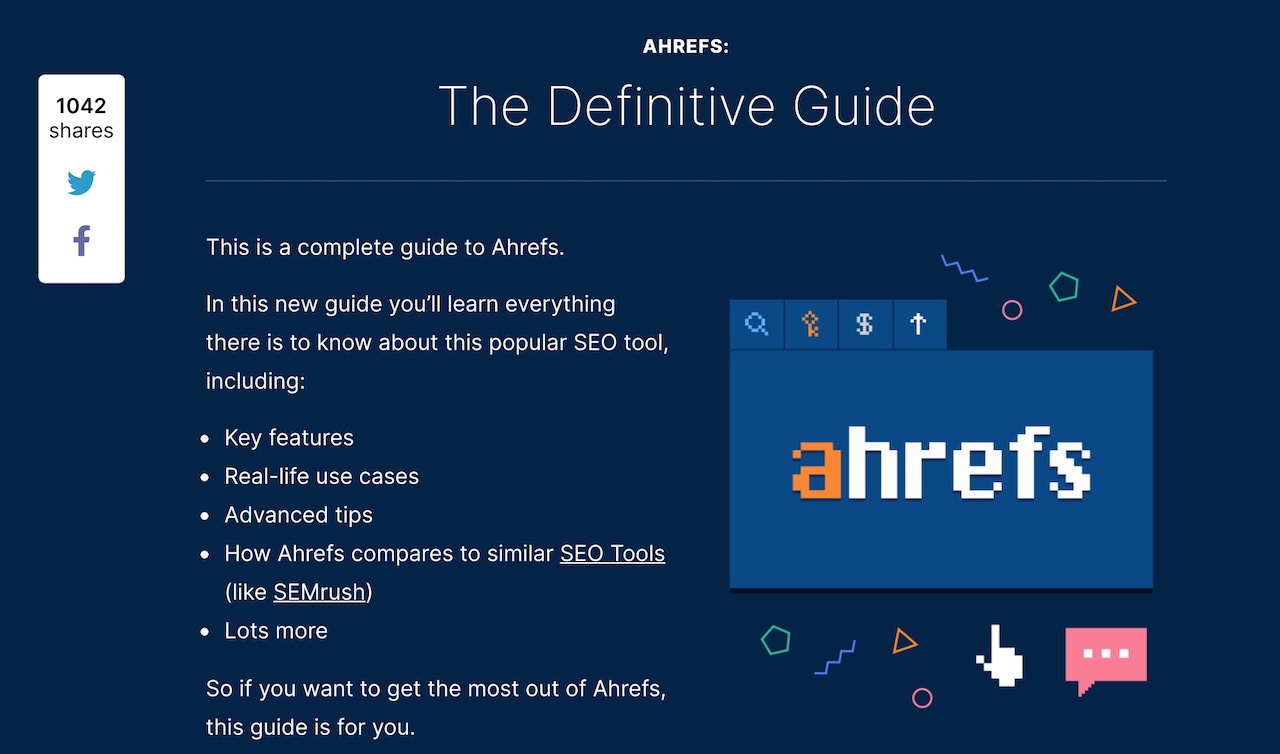 True to what it teaches, Backlinko excels at SEO.
This blog post ranks first for "ahrefs guide" keyword (even higher than Ahrefs' own guides!)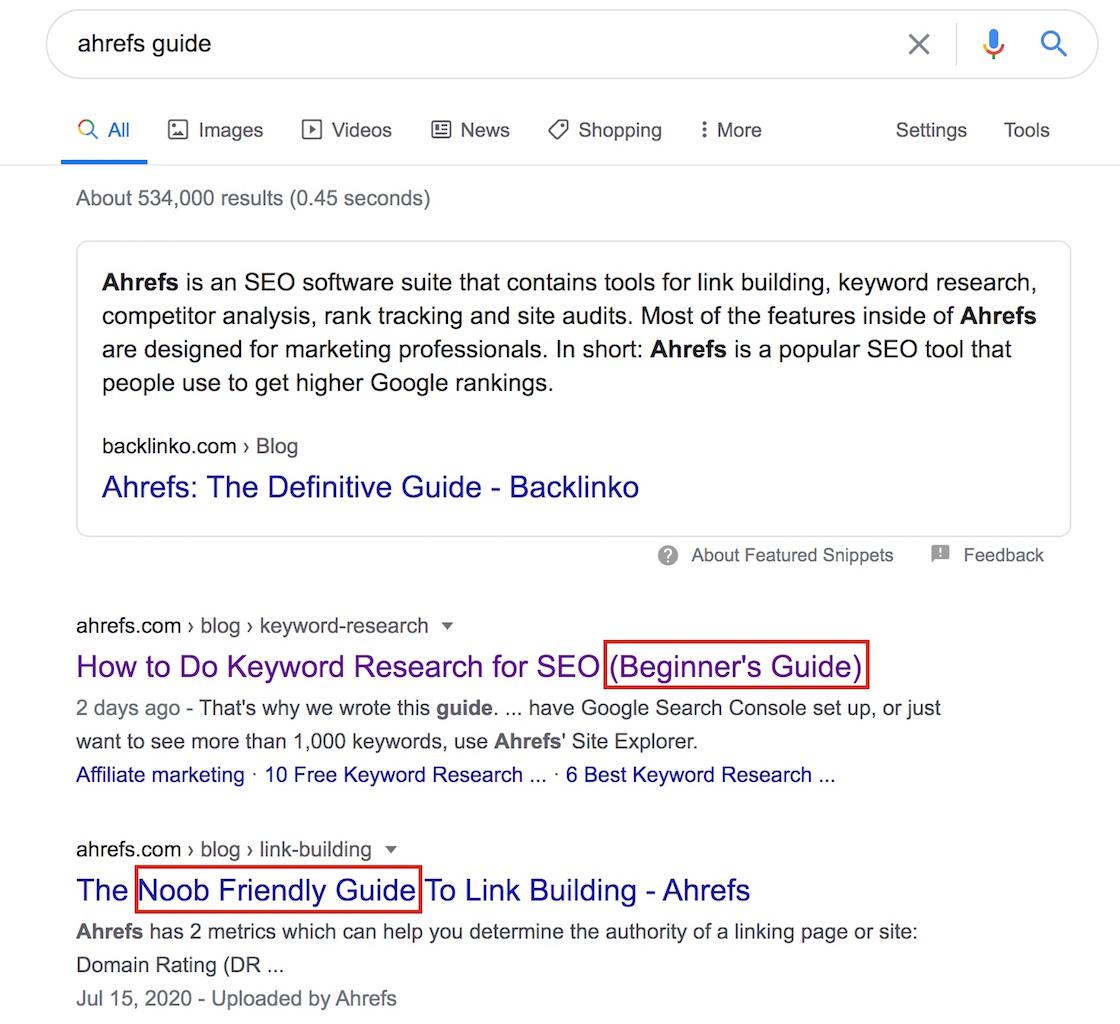 And probably for many other keywords too.
The article is tailored for beginner marketers who want to learn keyword research, as are the other ranking articles.
(Notice the terms "Beginner's Guide" and "Noob Friendly Guide"?)
Which is why Backlinko's blog post uses little jargons, shares in an approachable manner, and includes many images to help readers see what they talk about.
Notice how the blog post crafts its intro too.
Short sentences are used.
Which makes readers read the next.
Then the post touches immediately on what users can expect from it:
Ahrefs' "

key features

"

"

Real-life use cases

"

"

How Ahrefs compares to similar SEO tools

"
Which assures readers the blog post is what they seek, so they keep reading.
These allow Backlinko's blog post to fulfil its goals – educate users, for them to build trust in Backlinko's brand.
5 Web Copywriting Best Practices to Maximize Conversions
Now you've seen what commercial and content pages are about.
How do you write yours to get stellar results?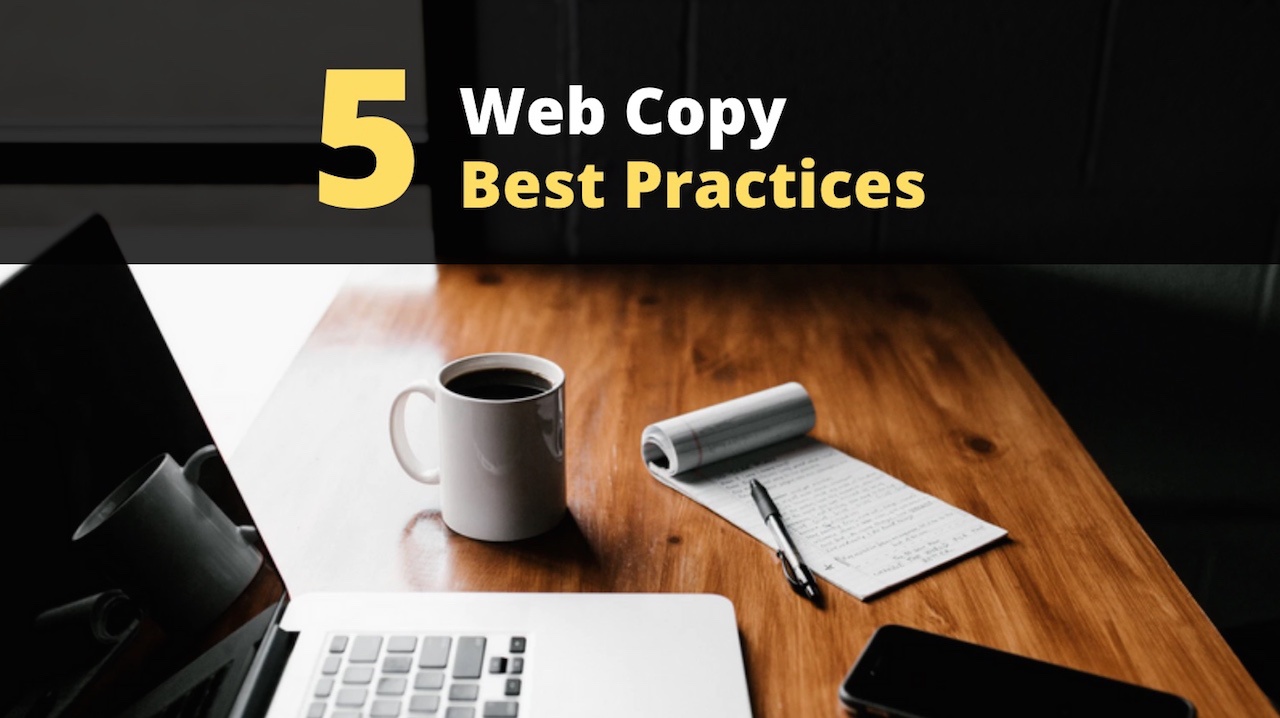 1. Be Clear and Concise
People have short attention spans.
Get to the point with short sentences and paragraphs – not just for a slippery slide effect, but to catch users' attention!
Simple words help people understand better than complex ones.
Avoid using more words where one would do.
"Yelled loudly" vs "yelled"

"Jumping up and down" vs "jumping"

"Reverted back" vs "reverted"
2. Match Your Tone of Voice to the Brand's Image & Values
Your brand tone conveys the character and values of your business.
Done right, your web copy can turn into a powerful persuasion machine!
Your brand tone can be professional, fun-loving, or hip.
It is what connects you with your audience.
For your brand to build trust and familiarity with your audience though, you need to stay consistent.
Imagine – what if your serious friend became fun-loving one day, and chaotic the next?
Wouldn't you find it weird, and hesitate to trust what he says?
Knowing the appropriate tone for your brand and sticking with it helps you build trust and rapport with your audience.
Learn more about choosing the right tone for your brand here.
3. Write Conversationally & In The Active Voice
People crave human interaction.
They want to feel like they're talking to someone.
Writing conversationally does this for your readers!
It helps your readers feel they're starting to know, like, and trust you.
Which allows you to offer your products or services after.
To do so, write like you're talking to one reader at a time.
Treat your writing as though both of you are in a café chatting away.
Notice how her expression changes as ideas come up her mind…
…and how you address those ideas as they arise!
While conversational language is powerful, it can be full of grammatical errors, run-on sentences, and lazy words.
To counter this, use tighter language while writing.
One way to do so is to use active voice – where the subject does an action.
E.g. "You get to improve your health in 30 days."
"You" is the subject here, who is doing an action:
Getting to improve your health.
Active voice makes your writing feel more intimate, so use it more!
4. Craft Powerful & Impactful Headlines & Sub-Headings
Headlines make or break the first impression.
They are what determines whether readers read on.
According to Copyblogger, 80% of users will read your headline but only 20% will read your article.
In fact, tests by Upworthy have shown traffic can increase up to 500% depending on just the headline itself.
Great headlines are specific, clear on benefits, and follows a proven structure.
After hooking readers in, readers may scroll through your sub-headings to see what your content is about.
Good sub-headers reveal just enough to keep readers interested to read on.
Want to craft great headlines? 
Here's a guide to help you to do and another one on crafting catchy sub-headings.
5. Write for Scanning / Skimming
Remember how 79% of internet users scan the page, rather than read all the words and sentence?
Readers usually read pages in an "F-shaped" pattern, according to Nielsen group.
Let's face it – your readers can jump to another webpage at any time, and leave your content.
Why would they bother reading your every word?
So to make them bother…
Write in a clear, concise manner.

Have specific headlines and sub-headers.

Break ideas down to bullet points (like how this section is done)
Also, consider adding plenty of white space to your writing – spacing between paragraphs, images, and blocks.
These make it easy for readers to skim and understand what you write.
Check out more tips on writing killer web content here. 
3 Examples of Great Web Copywriting
We've seen how to write great web copy.
What does great web copy look like? Let's dive deep into three wonderful examples.
1) A Hero Section Done Well
The hero section of a website is the prominent section at the top of your home page.
It showcases your value proposition with an image, headlines, and some accompanying copy!
It acts as a guide for visitors, telling them instantly what your business is about and what they can benefit from it (or the solution on offer).
A well-written hero section hooks visitors' interest and invites them to learn more about your site.
Incomee's home page provides an example.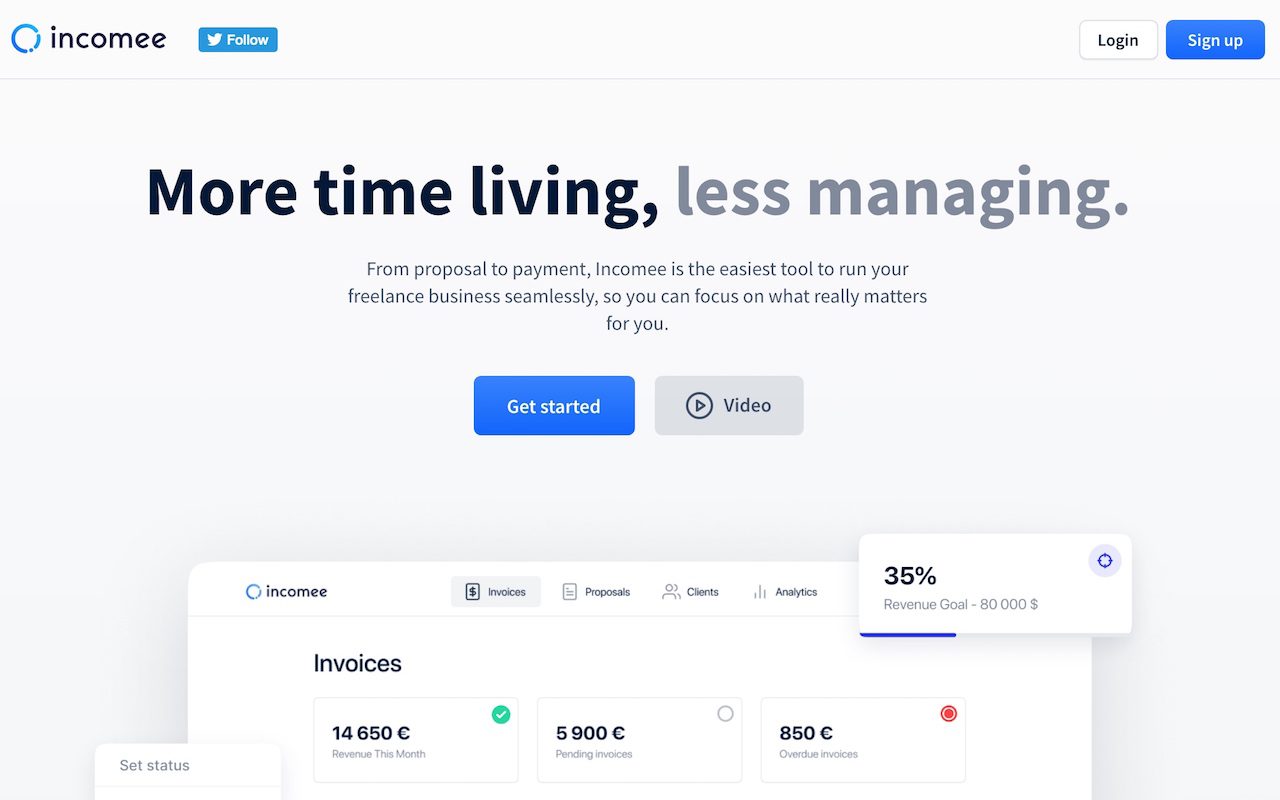 The headline states Incomee's value proposition – more time enjoying life, as less time is spent managing finances.
The accompanying sub-texts explains the headline further, by sharing how Incomee saves users' time –  a real pain their customers are suffering from.
The texts are written in clear, simple language. 
Readers can understand what Incomee does at a glance without having to think much!
Should users be interested, the Call-To-Action commands them to click on it with a strong verb "get" and concise phrasing to maximise the verb's impact.
To aid the text, the accompanying image gives users further ideas on how Incomee helps them save time.
2) A Well-Crafted Website Pricing Page
The pricing section of a website showcases your available services and the pricing for each.
When your prospects visit your pricing section, they are either:
Looking to browse your prices to see if it fits their budget

Are serious about making a purchase
A well-written pricing section gives the reader enough information (and emotional appeals) to pick an option, pull the trigger, and buy from you.
Freshbook's pricing page shows an example.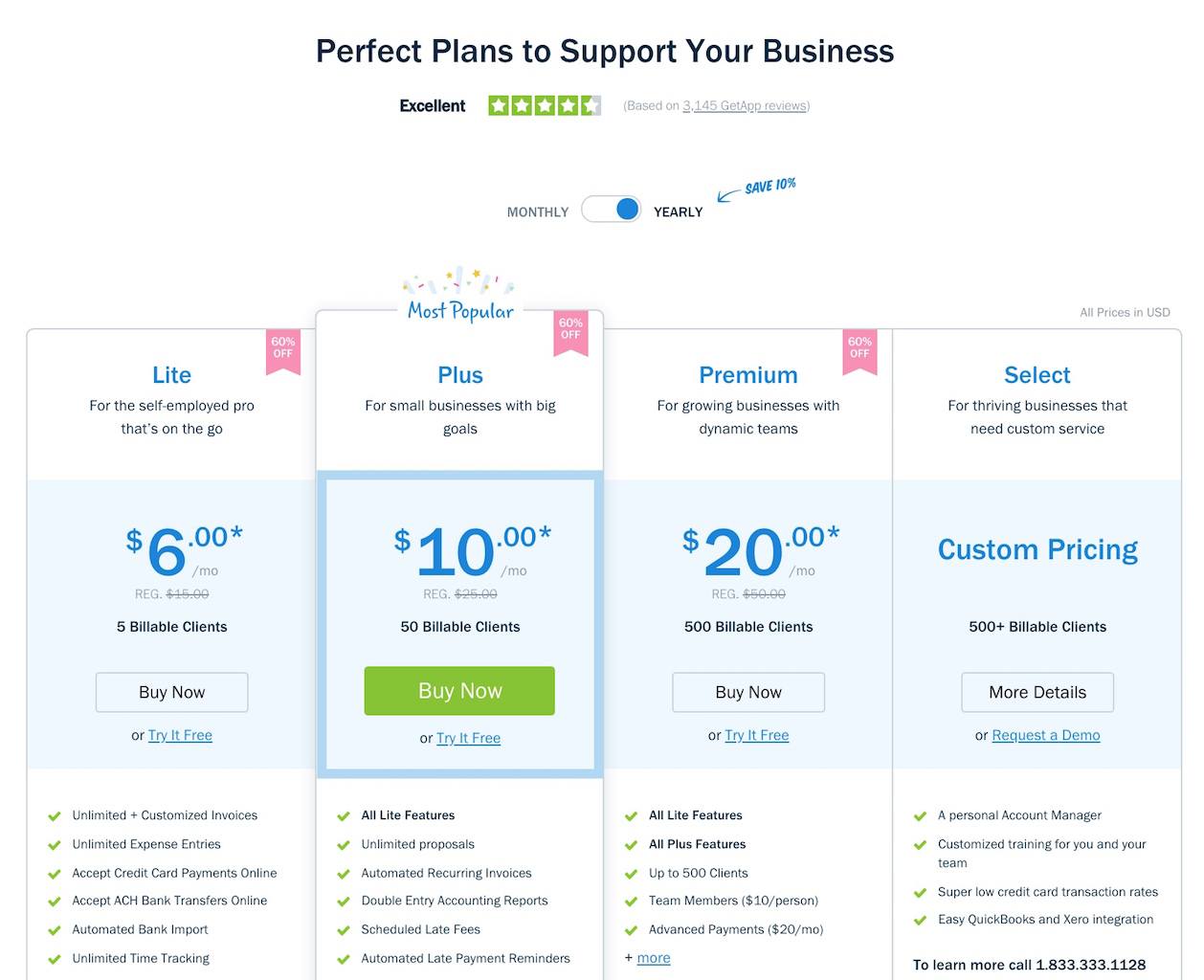 To make things easier, all the features are laid out side-by-side for them to compare.
For each option, the suited customer type is also mentioned (E.g. Lite is "For the self-employed pro that's on the go").
Readers can immediately relate their situations to the description – this helps them identify which is suitable, further reducing any decision fatigue.
The pricing page also highlights the middle-priced option as "most popular"– so should readers still have trouble deciding what to pick, they can just pick the recommended choice.
The way Freshbook lays its options is called a "3 Tier Pricing" strategy.
This is where the middle-priced option is made the most attractive as users compare it with the higher and lower-priced options.
Users, however, can still go for the cheaper option for affordability, or the more expensive option for quality.
3) A Compelling Offer & Call-To-Action
An offer section can appear in a landing page or pricing page.
It shows "what you get in exchange for your money" in a simpler format as compared to a pricing section!
It assumes readers already know what you offer, and just need a final push.
The offer section in Basceamp's pricing page is a fantastic example of how to do this right.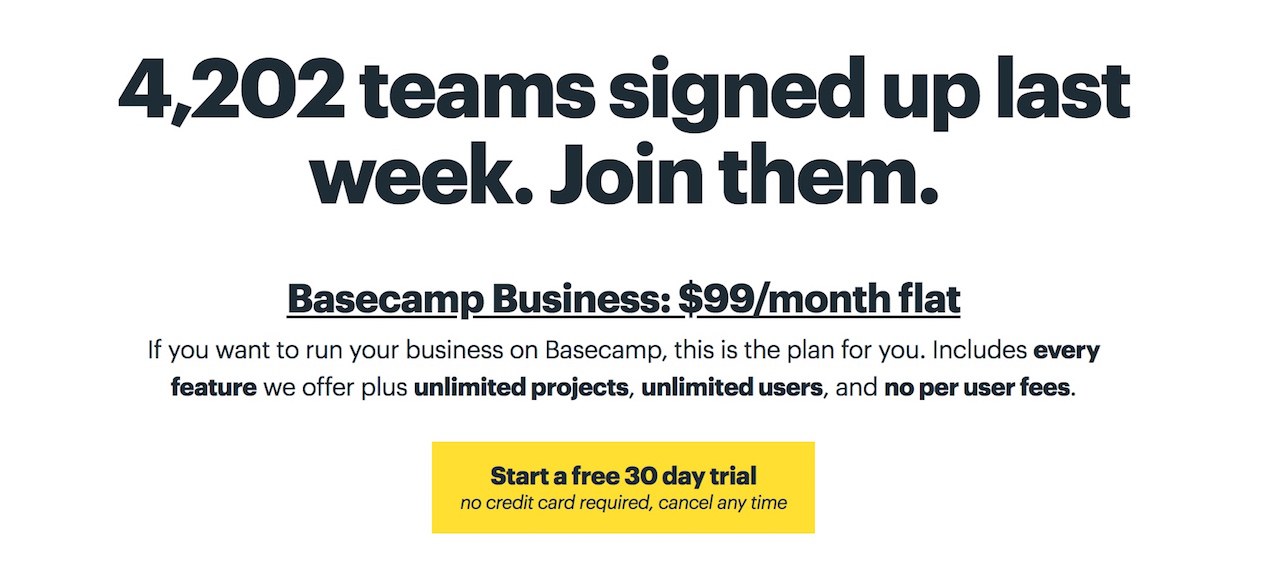 They utilized the power of social proof by highlighting over 4,200 customers that just signed up – establishing trust from the start.
Next up, they placed the offer up-front to the reader: $99 a month and justified the price tag with the support copy below – showcasing all the various benefits such as unlimited users and projects.
But it is the call-to-action button that is world-class.
Now only do they make it easy to join – a 30-day free trial, they eliminate any possible risk by requiring no credit card (a common fear of most Saas customers) and remind readers that they can cancel at any time!
Make Your Website Work Harder For You
Your website is your virtual salesman working 24/7 for you.
Web copywriting helps your salesman work harder…
…to get you more sign-ups, leads, and sales.
For your website to generate you most results, your key pages need to be written well.
These key pages include your homepage, about page, blog, and contact page.
Following the tips in this article can help you improve your web copy.
But if you want to save time and effort, hiring a website copywriter is your best option.
After all, writing brilliant web copy doesn't come easy, it takes plenty of experience to get good at it.
Want some help with your web copy? We can help!
Contact us at sean@speechsilver.com.