Bottom Of The Funnel Content: 9 Ways To Convert Prospects Into Customers
October 4, 2021 | Sean Foo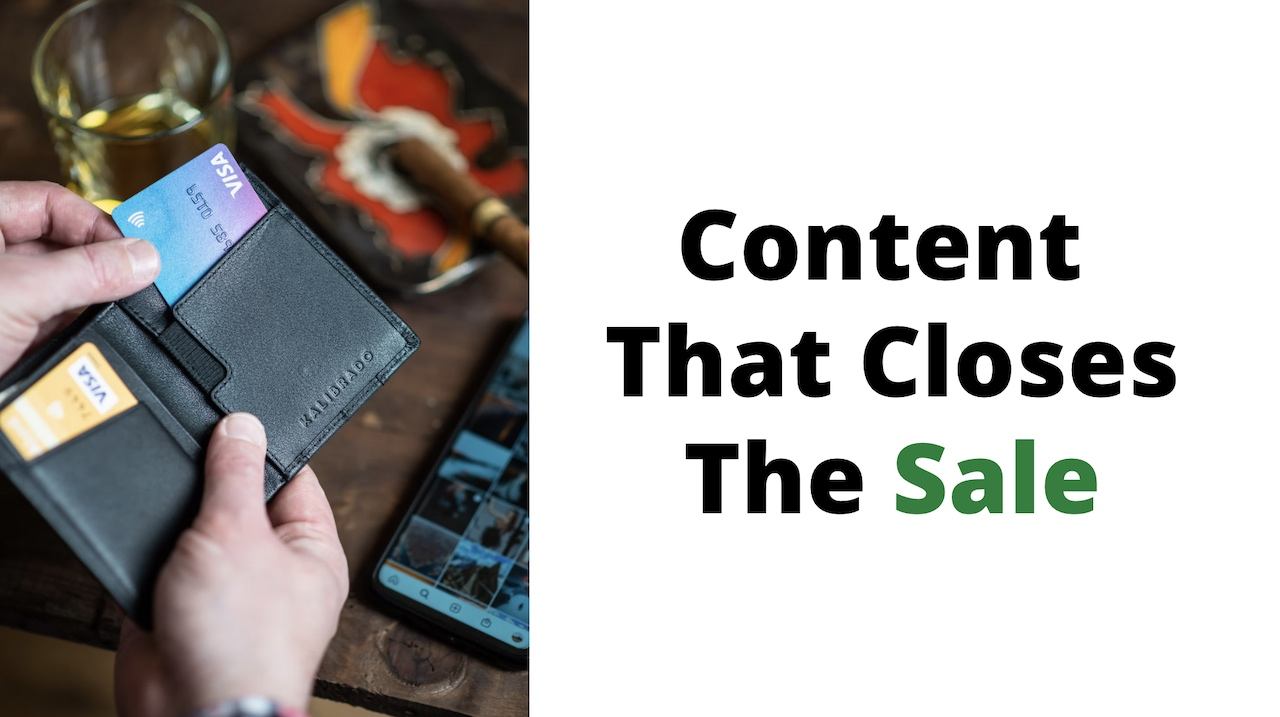 Traffic is the lifeblood of any website. Without a steady stream of visitors discovering your brand through your content, there can be no chance of driving business results online.
But if you only focus on building an audience and neglect the bottom of the funnel, you'll soon wonder why your conversion numbers are so horrible despite having your top of the funnel brimming with readers.
Drumming up awareness is a critical first step, but not enough.
You'll need to develop content at the bottom of the funnel to give your audience that final push to get them off the fence and convert them into paying customers.
Your prospects have doubts, questions and require additional assurances before they feel comfortable enough to shell out money – and this is where conversion content comes in to close the deal!
What Is Bottom Of The Funnel Content & What Your Prospect Desires From It
Your bottom of the funnel (BOFU) content has one central mission – to persuade and inspire enough confidence in your prospect to get them to convert and buy.
It is content that is created specifically for potential buyers who are already aware of their problem and aware of your solution but aren't 100% sold that your product is worth paying for just yet.
They still need that final push.
To accomplish this, you'll have to create effective decision-making content that addresses five main thoughts swirling around in your prospect's mind:
A. Is this solution a good fit for my situation?
B. Does the solution deliver results while being cost-effective?
C. Is there a better alternative out there?
D. How complex is the solution for me?
E. Can I trust the company?
Even if your prospect has sampled your solution or embarked on a free trial, closing the sale requires you to address all their concerns by positioning your product as the best logical solution.
BOFU content is about selling, convincing, and persuasion.
But they have to be done strategically and utilizing different content types that resonate best with each given situation.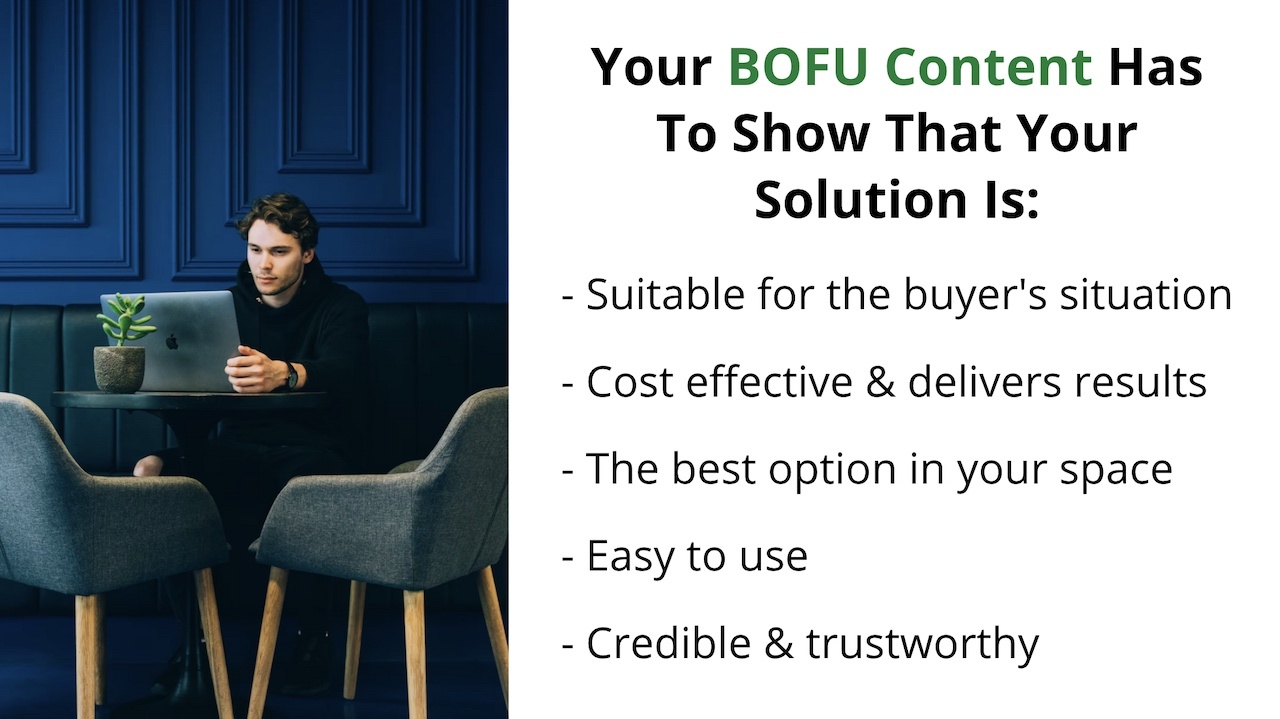 Your Goals Evolve When It Comes To BOFU Content
Content at the top of the funnel mainly focuses on solving specific challenges that matter to your audience.
The goals here are mainly to:
Rank for keywords on search engines

Drive brand awareness and targeted traffic

Generate leads
When it comes to the middle of the funnel content, which includes webinars and email marketing campaigns, you would be looking to:
Qualify the leads you've gathered

Nurture leads that are a good fit for your solution
While the top and middle of the funnel will be mainly educational content where hard selling is conventionally avoided, these rules don't apply to your BOFU content.
When someone is seriously viewing your solution as a viable option for their needs, the key here is to tailor the right persuasive content to inform, persuade and empower the reader to make an informed and confident decision.
In fact, when it comes to B2B purchases, there is an average of 7 decision-makers your BOFU content will have to convince in order to close the sale.
That's why you'll need to create a range of bottom-of-the-funnel content and use them cohesively to maximize the chance of a conversion.
Thankfully, we have them all compiled here for you to get you started with your BOFU content arsenal!
9 Bottom Of The Funnel Content Types To Implement
1. Pricing Page
Your pricing page should do more than just highlight how much your product or service costs – it has to showcase how much value your prospect will be getting.
There are two underlying questions that your potential customer is thinking when they land on your pricing page:
A. What exactly am I getting for my money?"
B. Which option should I choose?"
This is where you need to structure your pricing page in a way that answers these questions.
Your pricing page has to:
Clearly define the differences between each plan or option

Explain in simple words which option is best for each customer type (eg. Startups, Small Businesses, Enterprises)

Show your pricing without any ambiguity

Include a call-to-action to buy
Remember, the content here has to be structured to persuade both logically and emotionally.
Price page examples:
Trello's pricing page is a great example of carefully crafted BOFU content meant to convert.
It follows the four elements mentioned above as well as highlights the preferred plan that is packaged and optimized for most prospects.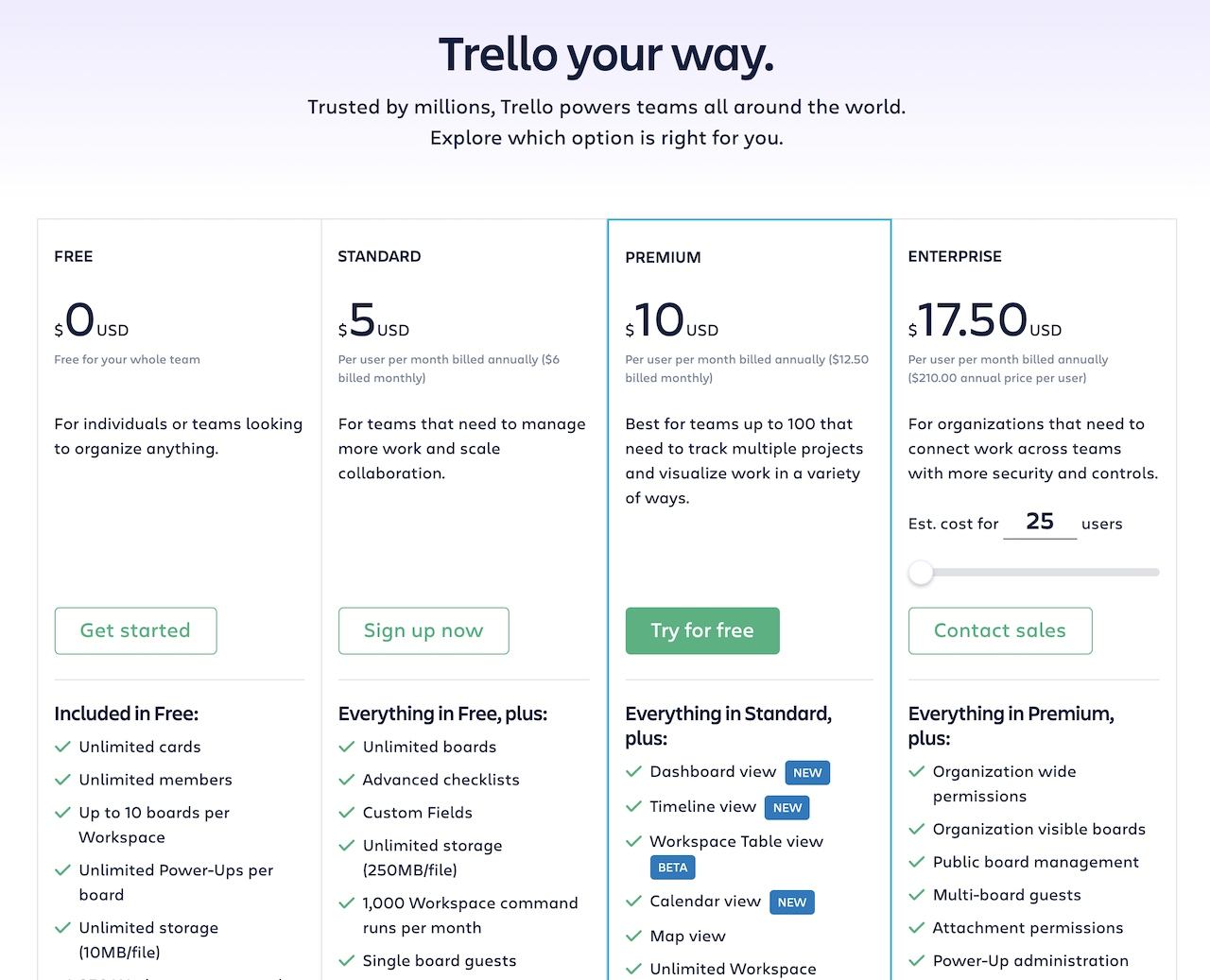 To give their prospects as much information as possible, Trello neatly arranges all of their features into a handy comparison table, allowing readers to comprehensively compare each plan for better decision making.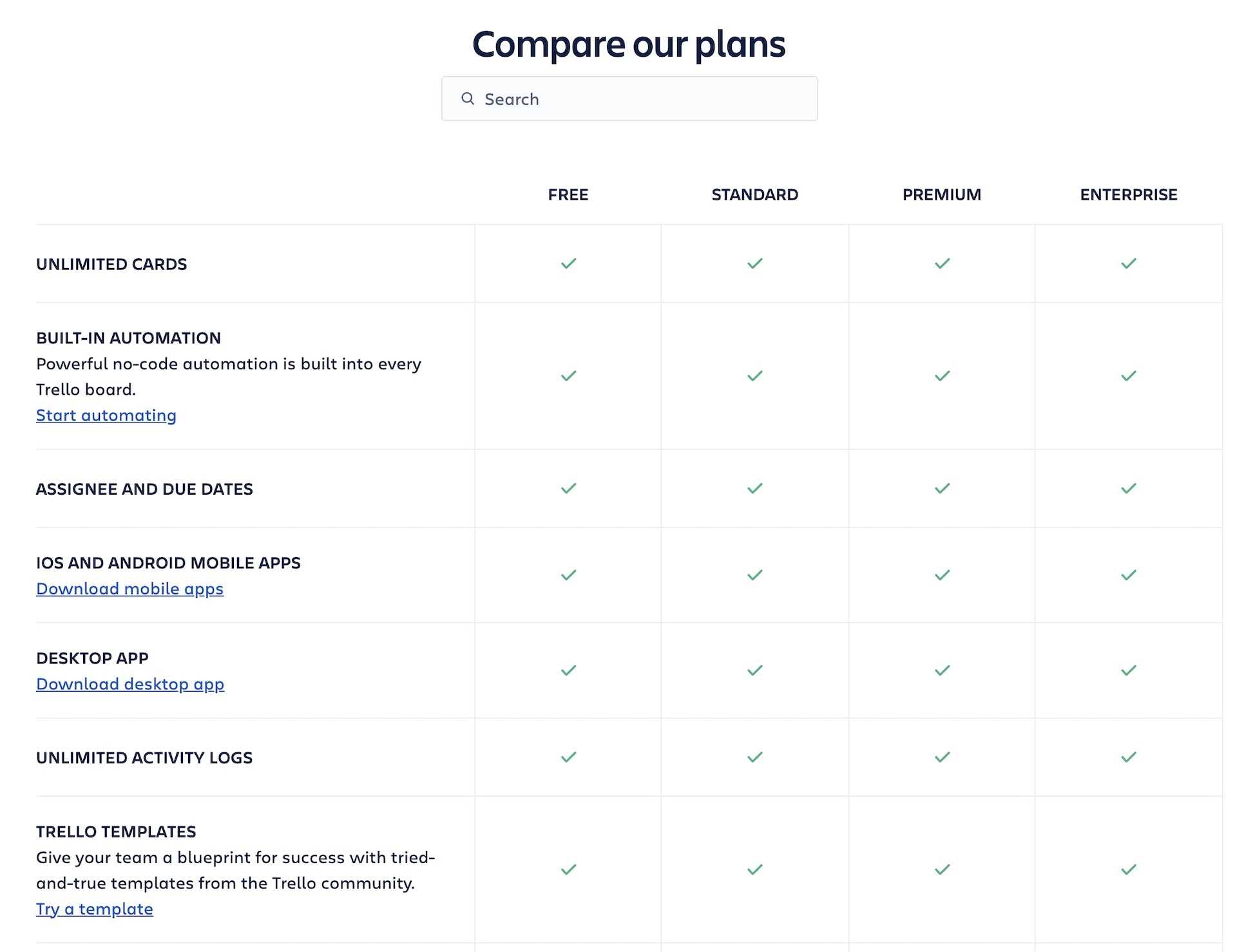 If you have a single plan or product option to offer, you can follow Basecamp pricing page's example that expertly does a head-to-head features comparison of their paid plan vs the free option.
By also adding a quick description to each plan, they clearly inform prospects that a paid plan is necessary if you are running a business, the free option is for freelancers and personal projects.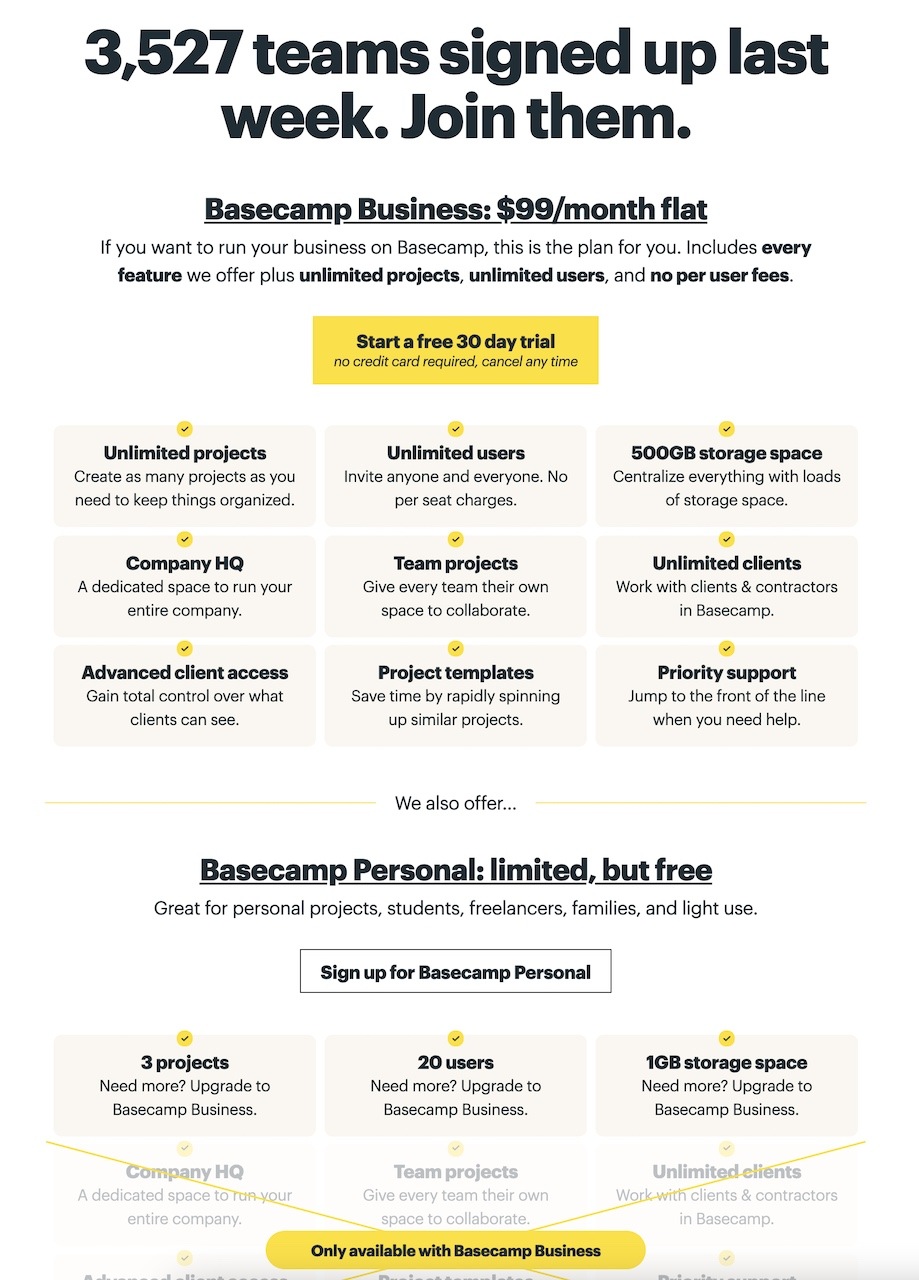 Where to distribute & place your pricing page:
Create a dedicated page that should be located throughout your website pages & navigation bar

Include a link to the page in your promotional emails to your leads
2. Product & Competitor Comparison Page
When your prospect reaches the decision stage of the buying process, they are most likely aware of the available options and are wondering if your solution is the right fit for them.
This is where you will need to come in and present the information your prospects are looking for, in a compelling way that showcases your product as the right choice packed with the most value they are looking for.
By showcasing your unique value proposition, you'll immediately qualify (and disqualify) your prospects, allowing only those that are truly a good fit to remain and convert into customers.
Additionally, you'll also be able to rank for valuable comparison keywords such as [Your Brand] vs [Competitor Brand] on Google Search.
Keywords that your competitors are actively creating comparison pages for and spending ad dollars to rank for.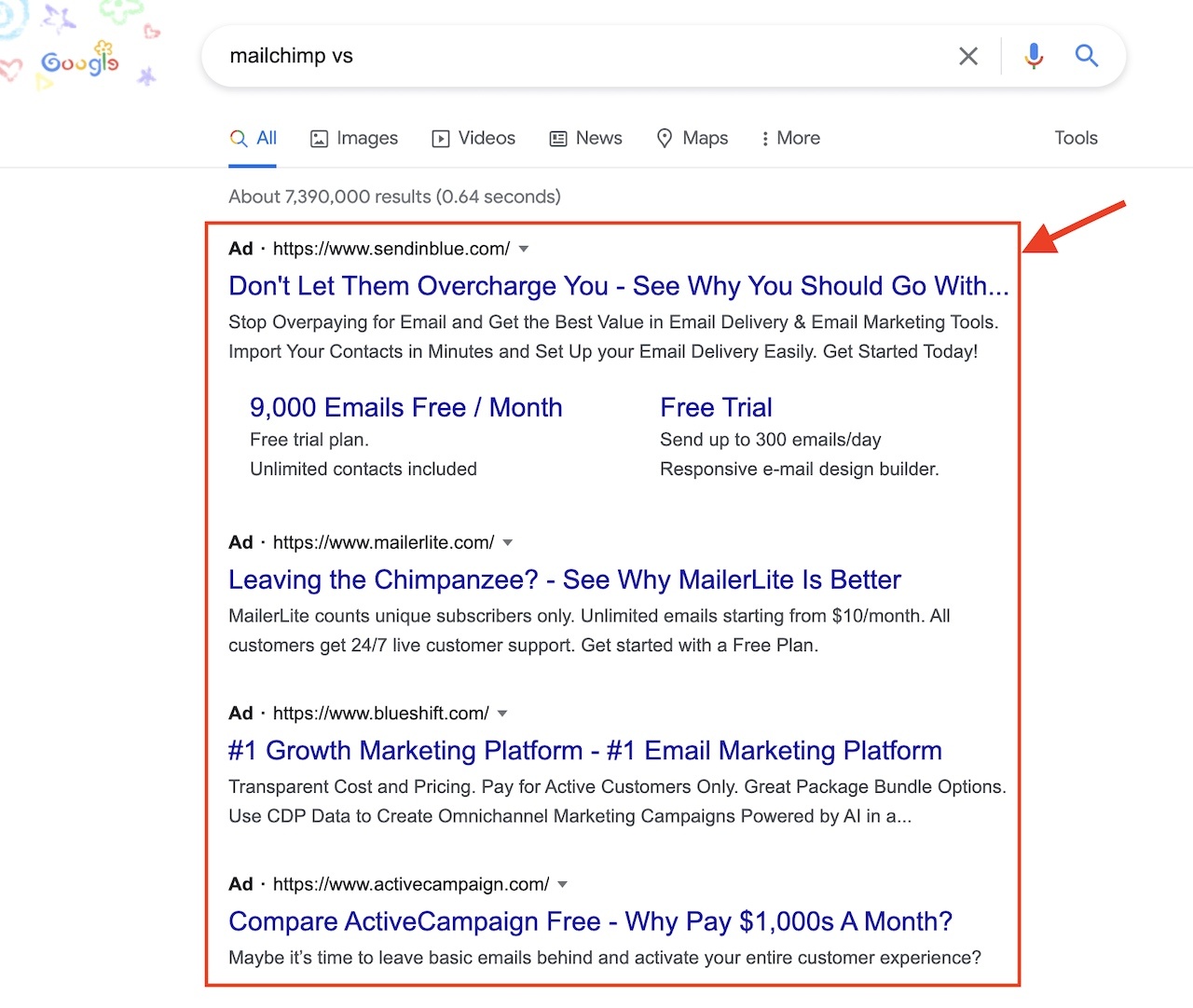 Here's what to include in your product comparison page strategy:
Prepare a selection of your most popular competitor products or services

Decide on the points of comparison between your solution and the competitors that your ideal customer cares about

State why your product is a better fit and clearly highlight the differences that matter

Utilise a comparison table to make it easier for your prospect to make comparisons

Showcase your unique value proposition (or features) that make you stand out from the competitor
The key here is to be as objective as possible and give a fair review – however, you want to put your best foot forward and show why your product is the best option.
Product Comparison examples:
Email marketing is a highly competitive space and to help customers better decide on which is the best option, ActiveCampaign created a collection of competitor product comparison pages.
They make sure that they frame their product in the best light possible by showcasing key features that matter while prominently highlighting the price difference & additional features.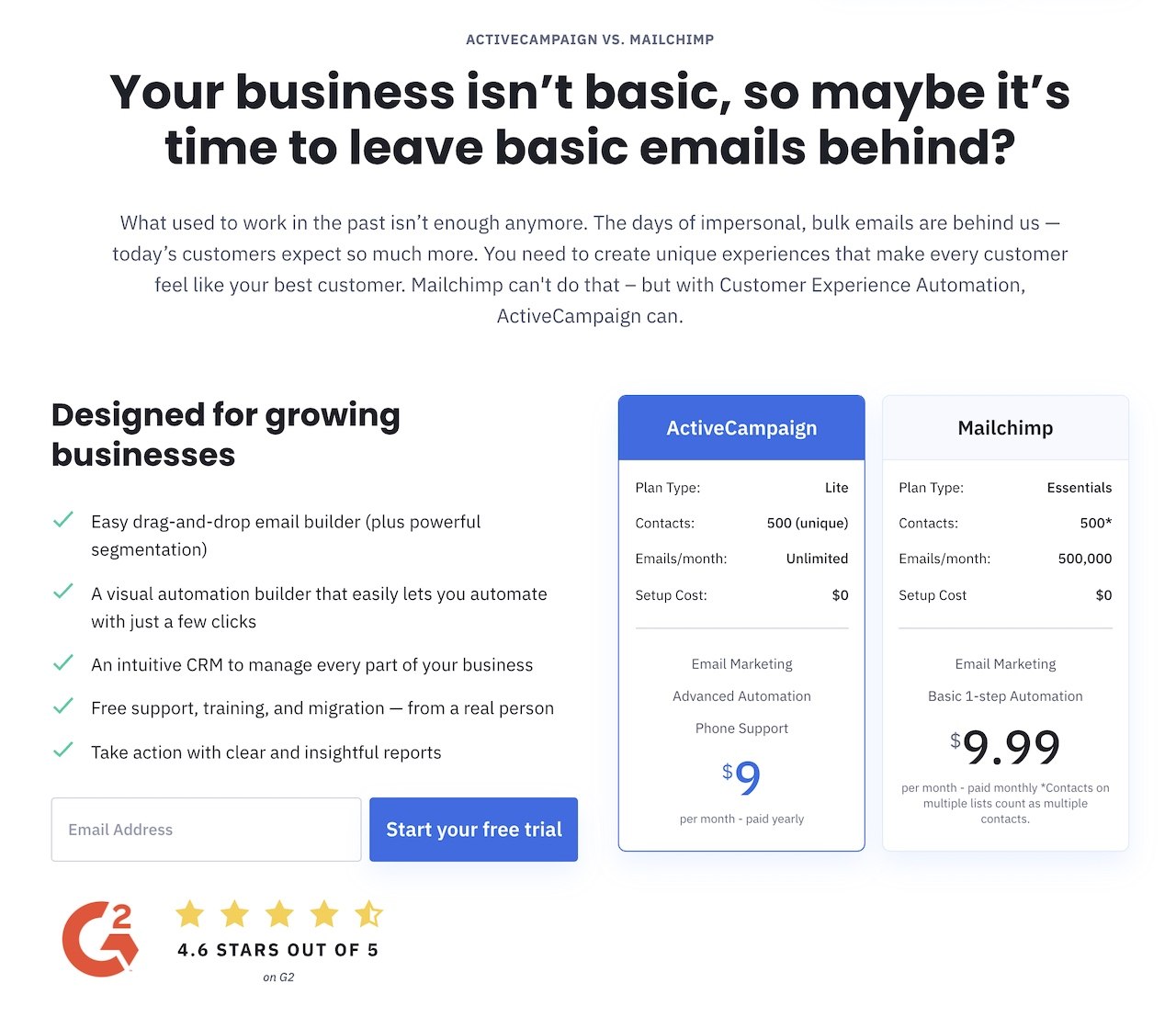 Additionally, ActiveCampaign uses comparison tables to highlight and reinforce how much more value the prospect will get with them in comparison to ActiveCampaign.
While creating a dedicated landing page style for your competitor comparison page is the time-tested format, you can also create blog posts to educate your reader like how MailChimp does when comparing their platform to HubSpot.
While seemingly rather wordy, this allows you to take your reader into a deeper dive into how your solution is better by fleshing out different contexts and scenarios where a landing page style just can't.
Where to distribute & place your competitor comparison pages:
Create a dedicated section or sub-folder where you can locate a collection of comparison pages against your most popular competitors

Consider running Google ads on them targeting your competitor branded keywords
3. Case Studies
Case studies are powerful weapons in your conversion content arsenal.
In fact, 13% of marketers highlight case studies as one of their primary forms of media in their overall content strategy.
Used in conjunction with your buyer personas, a well-crafted case study can answer so many questions while building much-needed confidence that the best sales page can't.
A case study walks your prospect through a logical progression of how a customer, one that resembles them, has benefited from your product and importantly, what prompted the customer to get your solution in the first place.
Shortlist a selection of your most successful customers that matches your ideal buyer personas

Follow the time-tested 'Challenge', 'Solution', and 'Results' format. Where you let your reader understand the challenge your customer was facing before your solution, how your solution helped them, and finally the tangible results your customer enjoyed after implementing your solution.

Interview your customer and collect memorable quotes that you can integrate into your case study

Write a compelling headline that touches on your customer type, the challenge faced and the results attained. Here's an example: "How [XYZ Product] helped a family restaurant enjoy a 50% increase in sales during the pandemic"
What's more, with a comprehensive case study, you can repurpose the content and chop it up into mini-case studies that you can seed into your social platforms including Instagram, YouTube, and LinkedIn.
Case study example:
Shopify Plus's collection of case studies follow a winning formula that makes it easy to understand by showcasing the key facts and information any prospect looking to make a buying decision would desire.
Not only are their headlines on point, but they also highlight the exact features that their customers use to showcase to their readers which features of their solution can add value to their situation.
In addition, they also front-load the results their customer enjoyed in bullet points, showcasing only tangible results that will matter to the prospect reading.
Remember the need to collect customer quotes that we mentioned earlier?
Shopify cleverly integrates them into their case studies, choosing to showcase the powerful and joyful emotions of their customer experience throughout the process of selecting and implementing Shopify's solution.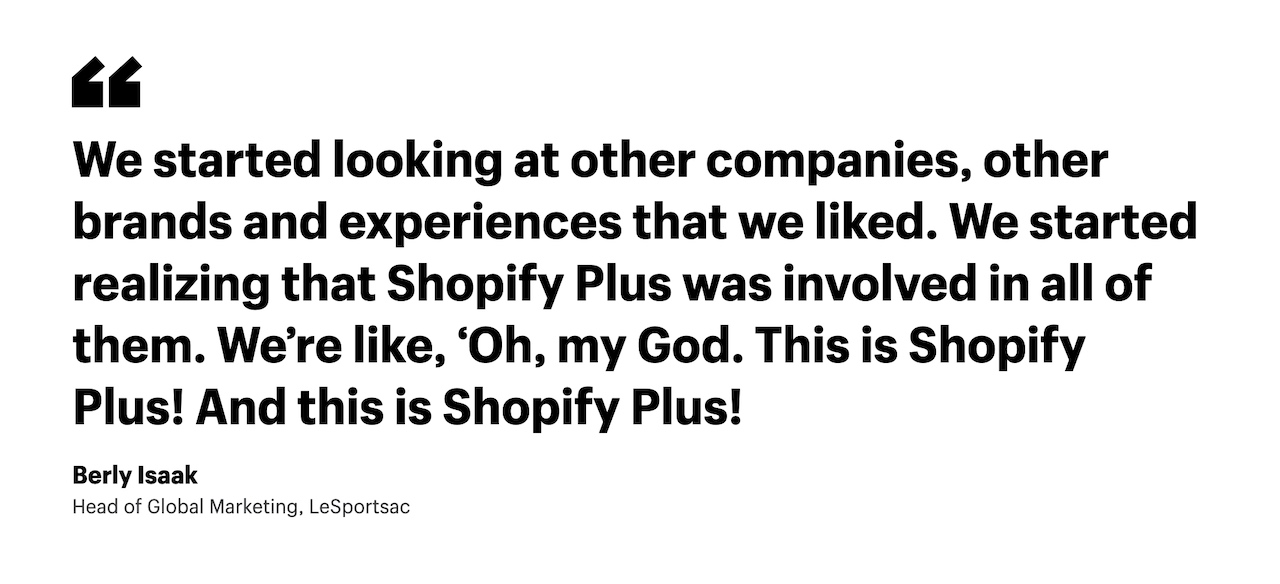 Where to distribute & place your case studies:
Create a dedicated case study subfolder where you can locate all of your case studies together easily with a category filter for each browsing.

Be sure to locate links to them in your pricing, product features, and benefits pages to make the case studies accessible to your prospects.

If you have industry-focused solution pages, you can cherry-pick the relevant case studies and showcase them there as well.
4. Customer Success Stories
Case studies are effective, but you can take this up a notch higher with customer success stories.
What's the difference you might ask?
A customer success story is essentially a case study that specifically follows the journey of a customer's challenges, passion, and successes in addition to highlighting how your product has helped them.
It not only informs your reader about the effectiveness of your solution, but also inspires and educates your prospect – it adds value and sells all at the same time.
Here are three additional things you must do to transform your case study into a customer success story:
A. Uncover a powerful hook by asking the right questions to your customer
You want to find if there are any unique things about your customer (culture, processes, struggles, etc) that could add value to your prospects
B. Develop your success story's theme
What is the big takeaway message that your prospect can learn and get inspired with?
From the classic 'never giving up' to a lesson of 'calculated risk-taking', you need to develop your story's overarching theme.
C. Craft a narrative around the theme
This is where you need to piece together the sequence of events that leads to the big lesson learned.
To accomplish this, you will need to ensure the story flows in a logical order where you can also fit in elements of your product and showcase the results your customer enjoyed.
Customer success stories example:
Instead of the basic case study format, ConvertKit, an email marketing SaaS company, chose to create a collection of customer stories that speak to both the emotional and logical brains of their prospects.
They focus on the journey of their creators, creatives who are their ideal buyers, and tell their story instead of just showcasing the results delivered by their solution.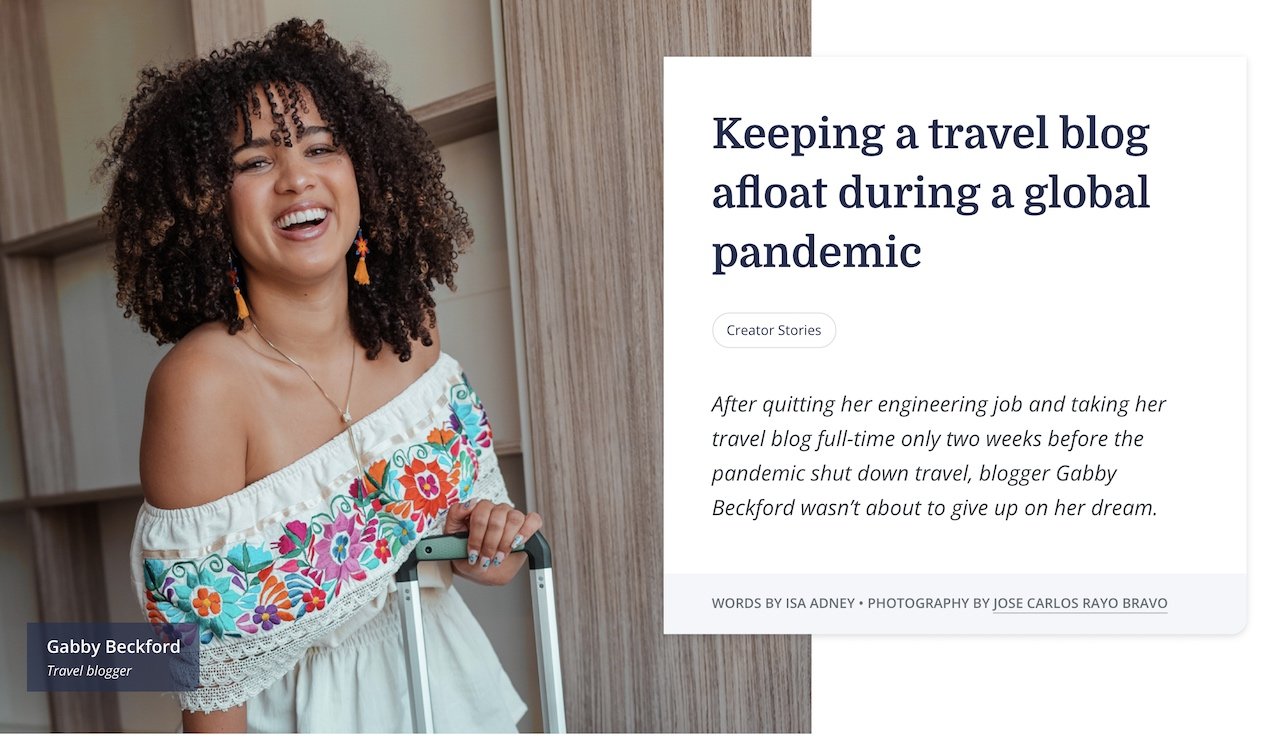 They tell the story of her journey of becoming a blogger, her work ethic and struggles to keep her blog afloat during the pandemic.
This helps connect readers with both the customer and the brand, making it extra effective when they start peppering the customer story with elements of their solution and how it has helped the customer reach success.
To accomplish this balance, they masterfully weaved in their solution within the story itself with Gabby (the customer) explaining the need for the solution and the results enjoyed, through quotes.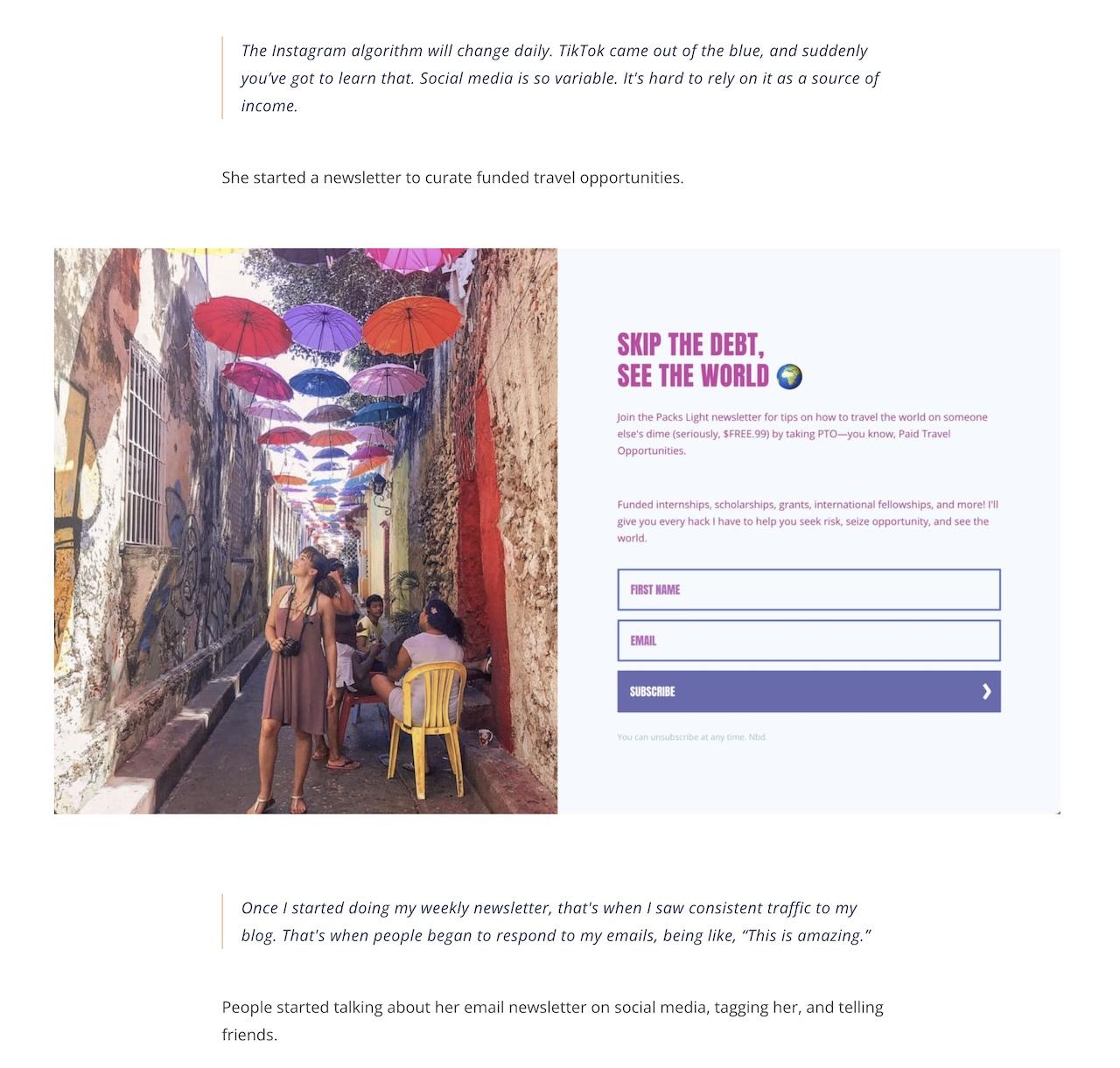 Customer stories aren't just utilized for tech companies, you can use them in other industries just as easily.
iSwitch, an electricity retailer in Singapore uses customer stories to connect with their prospects by adding the human element.
They don't just dive into the savings their customer experienced but tell their story of beginnings and success – something other bakeries would be interested in.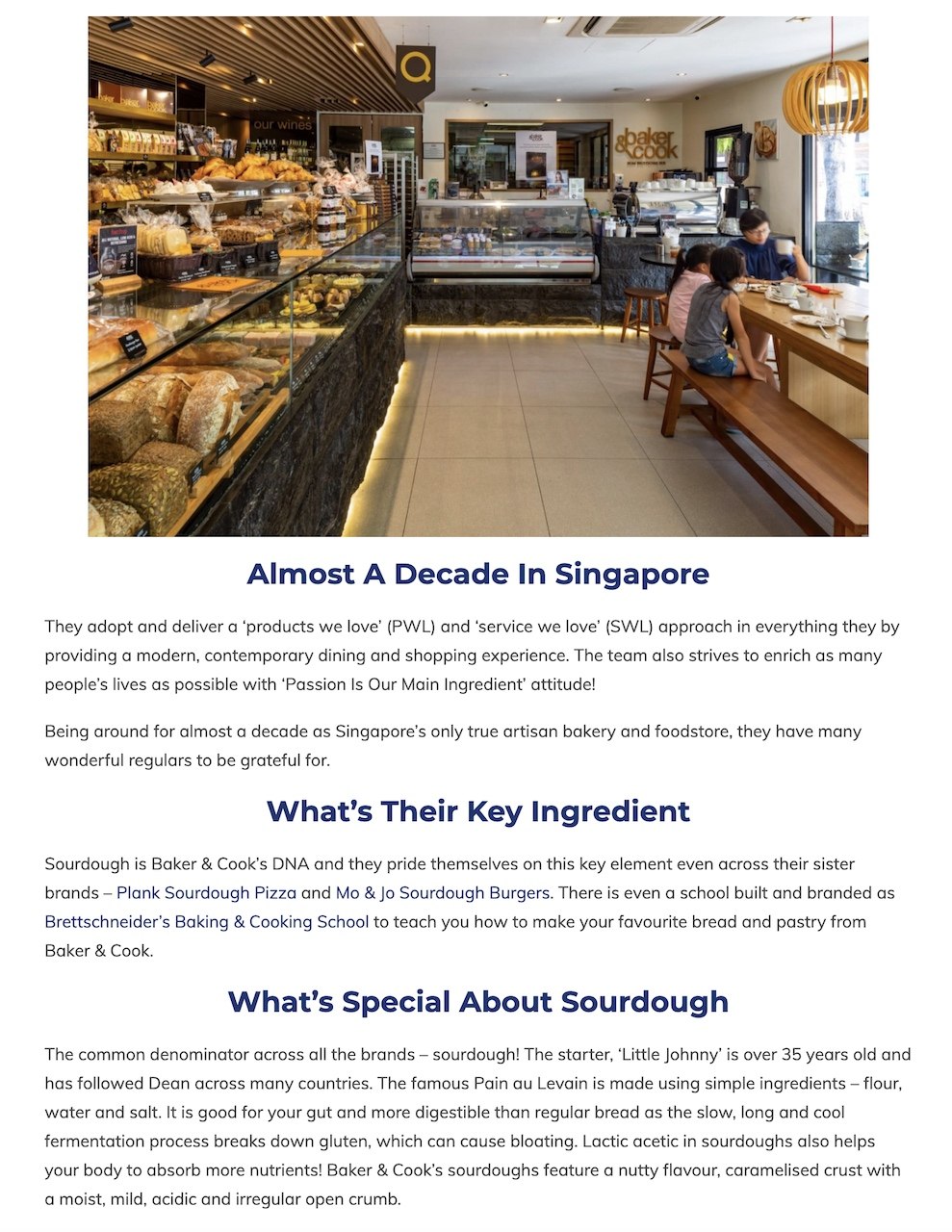 Where to distribute & place your customer success stories:
The distribution strategy here will be the same as your case studies.
Create a dedicated case study subfolder to locate all of your case studies together easily with a category filter for each browsing.

Be sure to locate links to them in your pricing, product features, and benefits pages to make the stories accessible to your prospects.

You can also convert them into mini-video stories that you can incorporate into your various solution (or industry) pages and even blog posts.
5. Customer Testimonials
Social proof is one of the most powerful conversion elements you can have on your website.
After all, 92% of people trust recommendations and word of mouth from friends and peers over any other type of advertising.
In fact, in the United States alone, over 93% of adults read reviews before making an online purchase, further highlighting the importance of customer testimonials.
The key here is to get bite-sized testimonials that you can showcase on key pages including your pricing page, features page, and product comparison pages.
There are two main ways you can get customer testimonials:
A. Manual ask and interview style
This involves you reaching out to your best customers through email, phone, LinkedIn, etc for a quick conversation to get their feedback and obtain a testimonial from them.
You'll just want to have a quick conversation and ask your customer to leave a quick review. Be sure to make the process easy by giving them a shortlist of questions to help guide your reader through the testimonial writing process.
This can include questions such as:
What challenges did you face before getting our solution?

What made you decide to select our product or service?

What was the process like when using our solution?

What did you like most about our product or service?

What results did you enjoy from our solution?

What was the biggest challenge solved?

Who would you best recommend our solution to?
Be sure to target customers that best fit your ideal buyer persona. If you are looking to close more clients in banking and finance, you'll want to showcase testimonials from your current customers in the financial industry.
B. Automated outreach for reviews
If you are selling a SaaS software product, there are a multitude of review sites such as G2, Capterra, and Gartner that you can ask your customers to review on those platforms.
You'll be able to accumulate a consolidated rating as well, normally out of 5 stars, that you can showcase as further social proof throughout your website.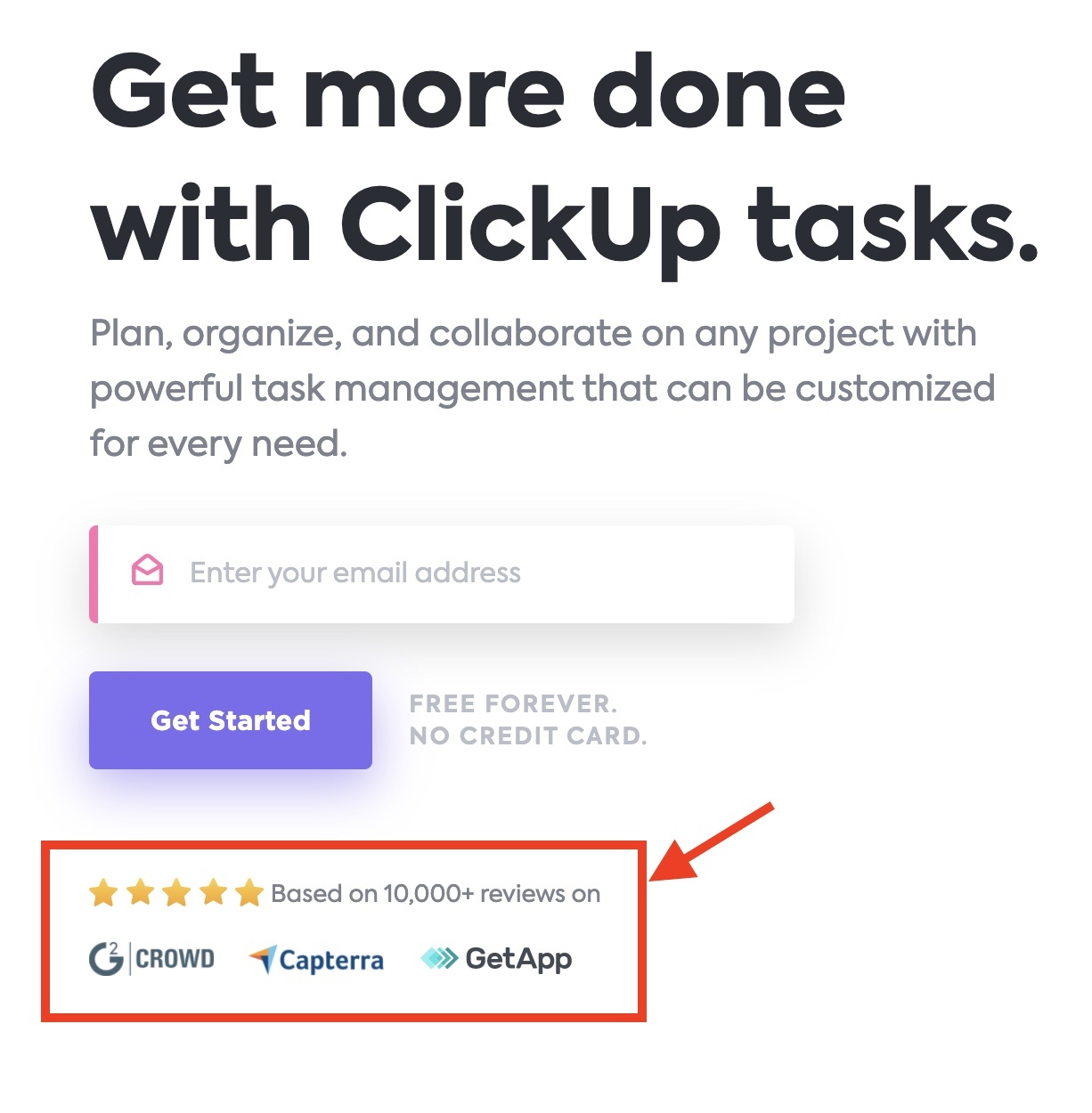 You can even offer incentives to your customers to leave a review, however, it has to be done tastefully with measures to limit inaccurate testimonials to prevent backlash or disappointments from future customers.
Customer testimonials example:
While testimonials are mostly used as standalone elements between key sections on a webpage, Pitchbox cleverly integrates them into their product features section in a natural way.
The testimonial here is a direct endorsement of what customers love about that specific feature.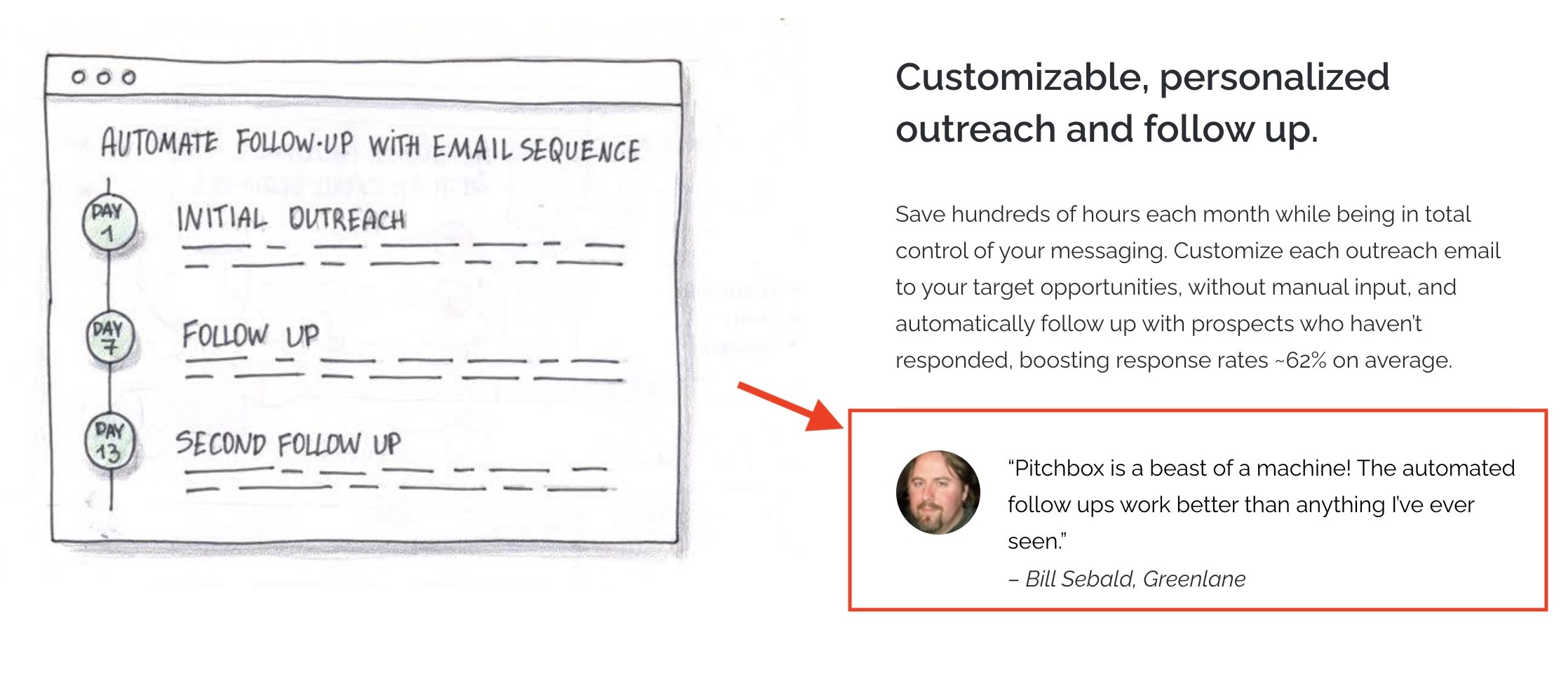 Slack, on the other hand, uses testimonials in the traditional time-tested manner.
The testimonial is used as direct social proof as well as an introduction to the specific customer story as well – making the testimonial a form of teaser.
What's more, the testimonial is used in conjunction with another type of social proof, customer logos. This helps to reinforce the trustworthiness of their product from a big picture perspective and in a personal and relatable way – through the testimonial.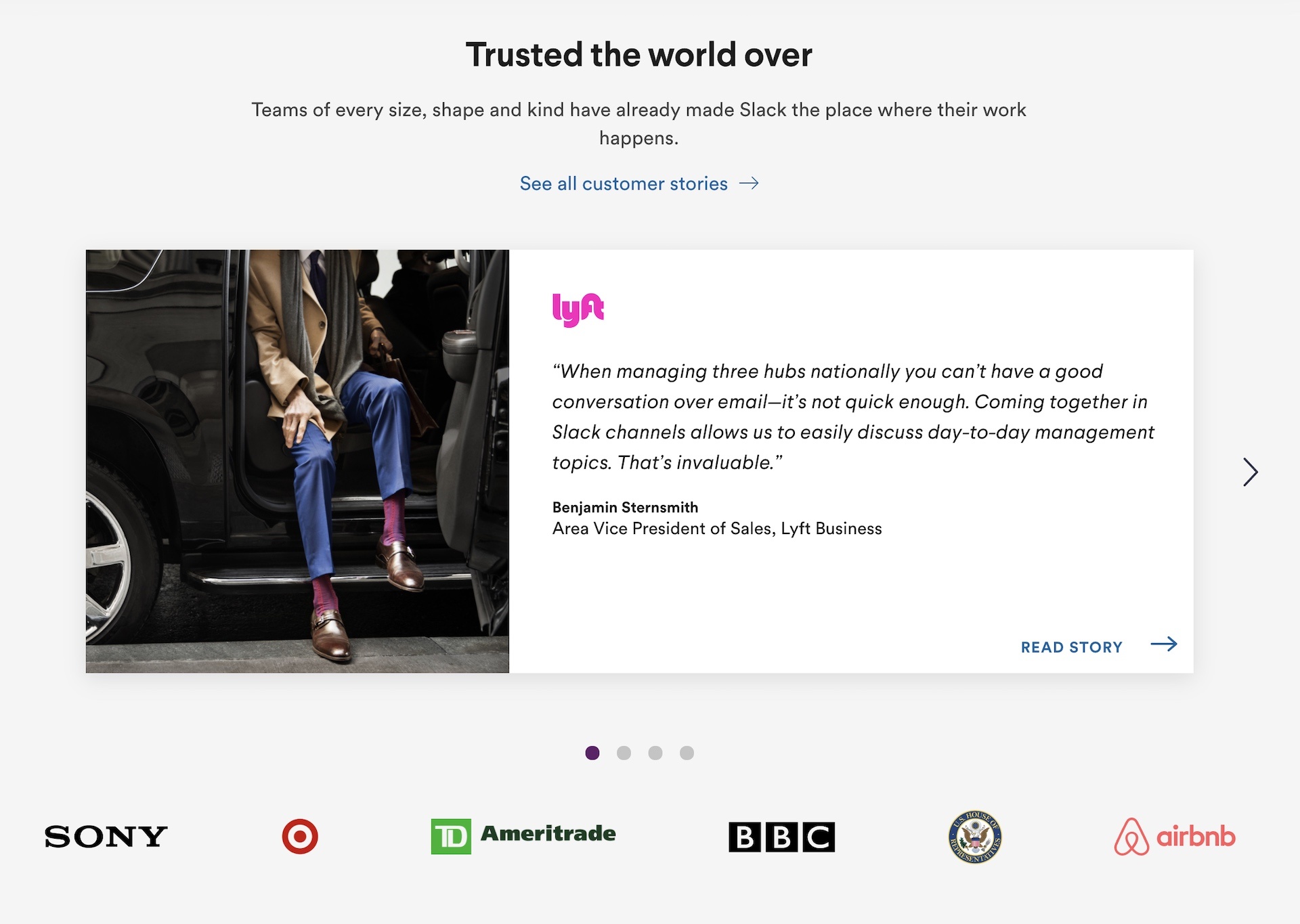 Where to distribute & place your testimonials & reviews:
You can freely use them throughout your website, especially at key points of conversion including your pricing page and free-trial page.

Be sure to maximize its effectiveness by using it with other forms of social proof such as media mentions, brand logos, and review ratings.

You can also use testimonials as an introduction or 'teasers' to a bigger case study or customer story.
6. Brand Alternative Page
When your prospect is in the buying mode, chances are, they will be shopping around for alternative solutions to see which brand best suits their needs.
At the same time, when people are deciding on your competitor's solutions, they will be doing the same thing as well.
This is where you can create a brand alternative page eg. 'Trello alternatives' or 'Shopify alternatives', to sway their decision and go for your brand instead.
Unlike the competitor and product comparison pages we covered earlier, this is where you paint a broad picture of why your brand is the superior choice as well as showcase the features or benefits you can provide that your competitors can't.
Be sure that your brand alternative page:
Goes through features that you can deliver (that the competition can't)

Showcase as much social proof as possible, especially in comparison to your competitors

Be as objective as possible (not every prospect is a good fit, use this opportunity to disqualify the ones that you don't want)
Brand alternative page example:
Ahrefs does a fantastic job with their brand alternative page.
By consolidating the results of Facebook group polls conducted by industry influencers, they showcase social proofs of their target audience where they usually hang out at.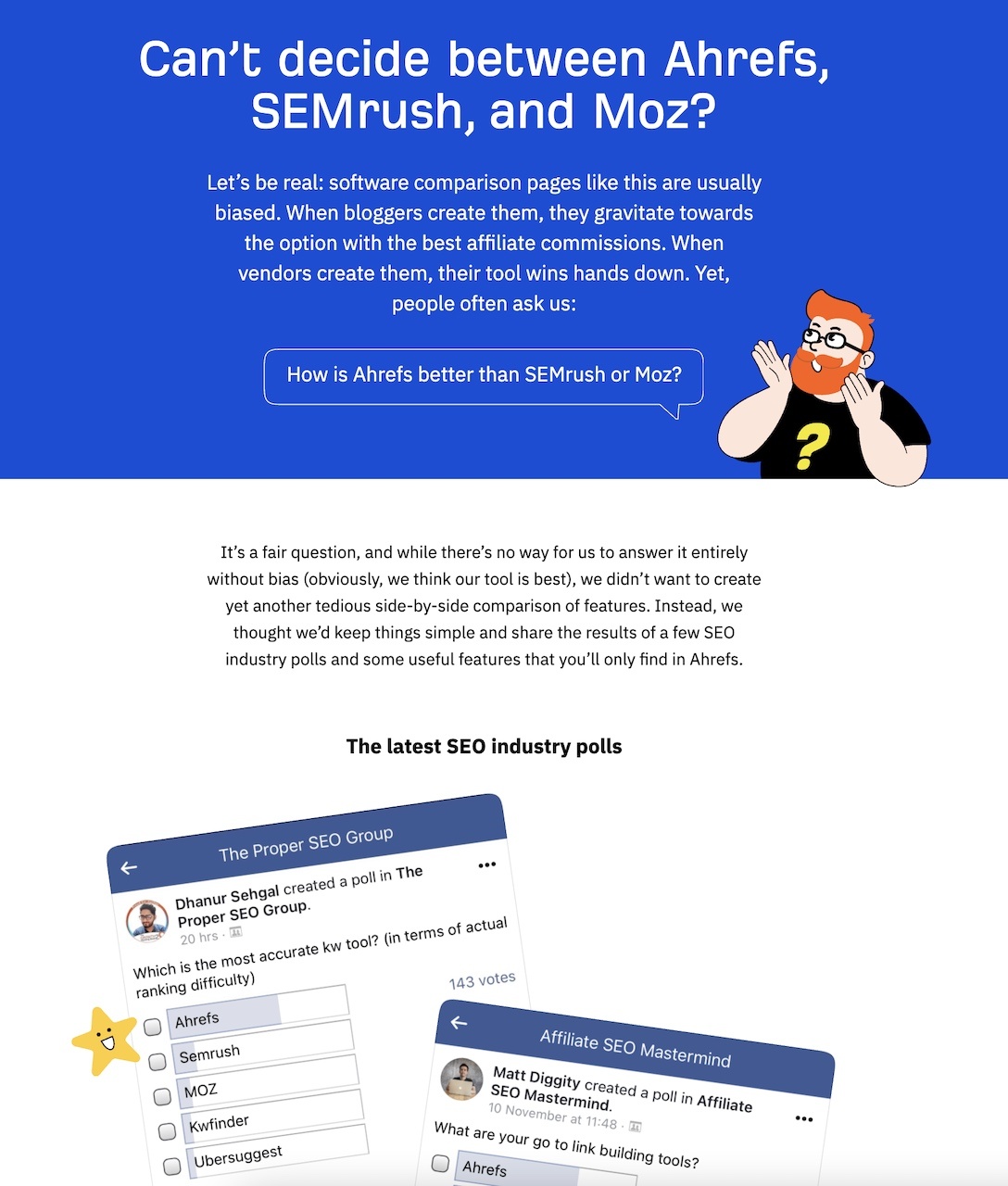 In addition, instead of comparison and tables, they focused on showcasing what Ahrefs can do that the competition can't – in other words, their unique features.
This isn't a comparison of which product is cheaper or how many more 'credits' that they provide, but unique capabilities only available to Ahrefs.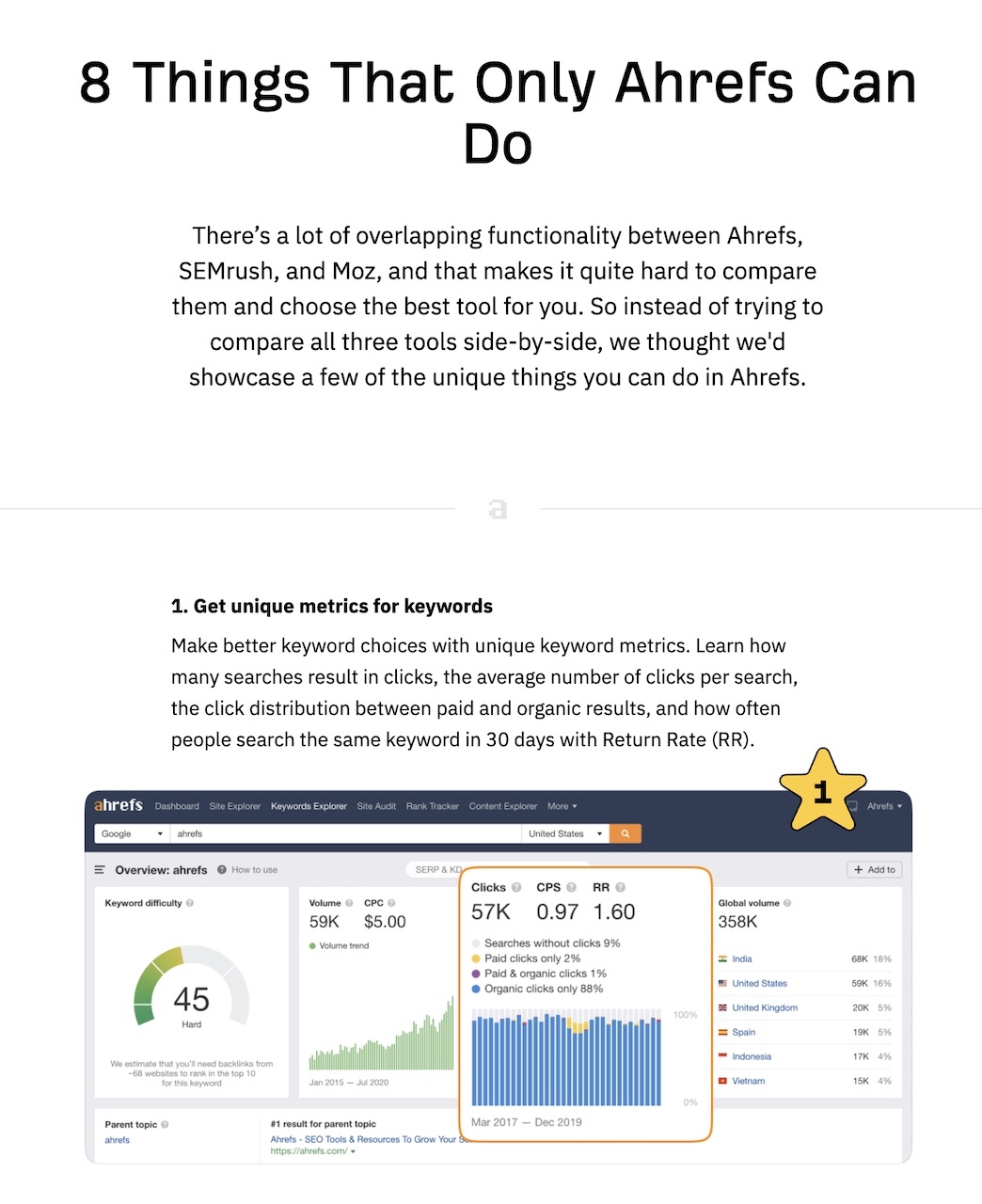 Where to distribute & place brand alternative page:
Your brand alternative page should be optimized for SEO.

You should also locate it on your features page where customers can gain a quick understanding of why your product is the optimal choice.
7. Influencer Reviews
Every industry and niche has its respective thought leaders and influencers and having them give an endorsement to your product or service is a powerful conversion tool.
While you can go down the route of getting a standard testimonial from them, it is much better to obtain a full review of your product.
It will help immerse your viewer into their world and see first-hand how your solution is actively making their life better or solving a challenge of theirs.
Barkbox, for example, used influencer reviews to not only tap onto an influencer's audience but also as a type of conversion content to get prospects to go: 'Hey, if it's good enough for this lifestyle influencer and her puppy, it might be good enough for me!'.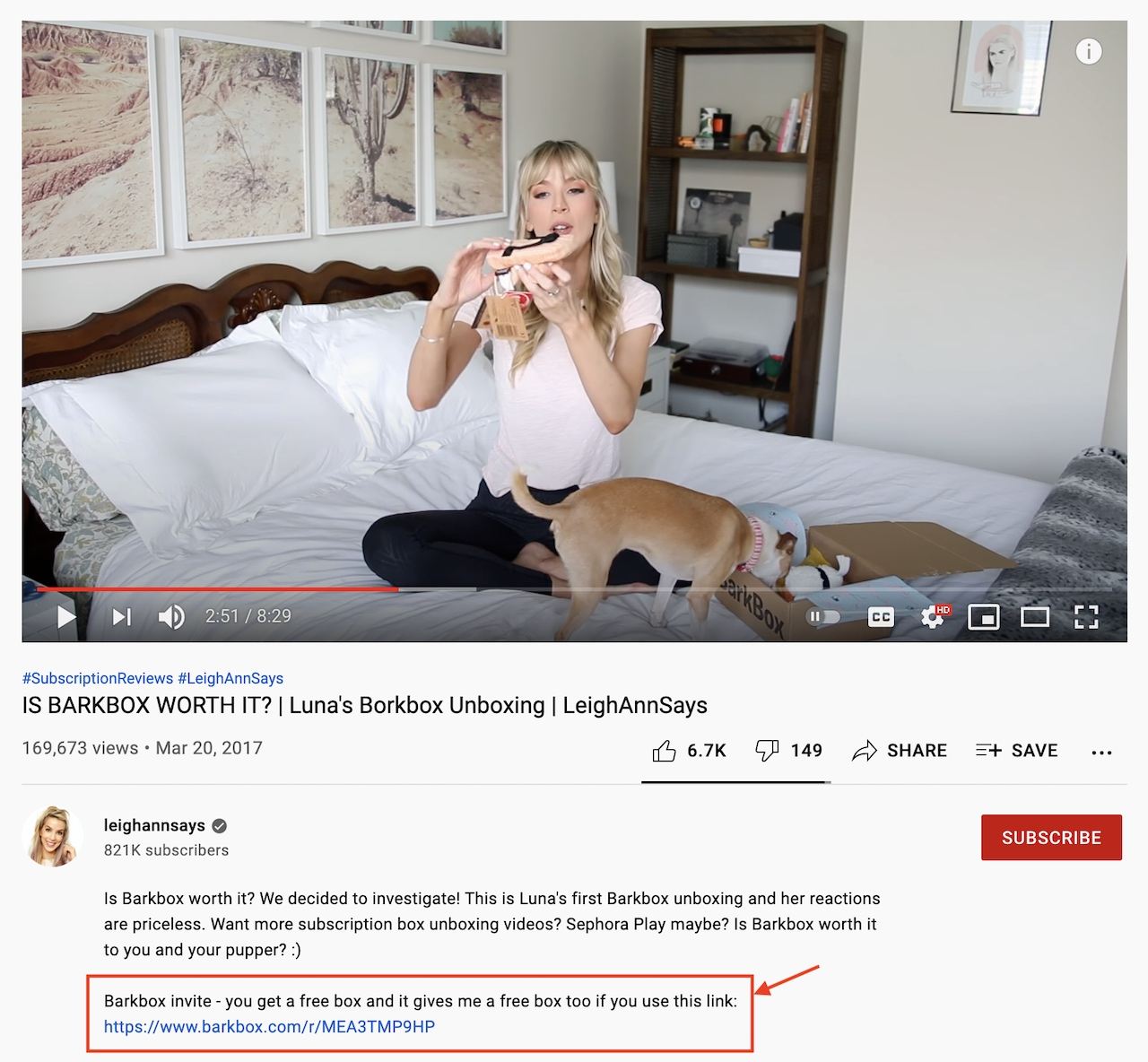 Just be sure to follow these five tips when selecting the influencer, especially if you are looking to sponsor them or give them a free product to review:
Ensure your influencer is well-known and regarded in your industry

Determine if their fan base is active, engaged, and highly relevant to your niche

The influencer lines up with your company's values and brand image

Prepare a discount or a promotion for the influencer's audience if possible

Make sure the review is authentic and non-forced, viewers can sense if a review is authentic or not.
Where to distribute & place your influencer reviews:
Similar to customer testimonials you can:
Showcase it on your website by embedding the video on your happy customers section or link to it if it is a written blog post.

Be sure to repurpose the influencer review by taking snippets that you can use as visual testimonials and even write a case study about it if the product fits the situation.
8. Product Tour or Guided Demo
Not every solution is easy to use, especially if you are in the tech or SaaS space.
Even though your product might be extremely helpful and ticks off all the boxes of what your prospect would want – implementing it can be a big stumbling block that could derail the sale if left unaddressed.
This is where your product demo comes in!
A demo or product tour allows you to tailor a solution experience for your prospect, taking them through key steps to implement your solution as well as how it works.
Not only does it add clarity to the process, but it also inspires trust in your brand.
However, because it is rather tough to give a 1-on-1 demo to every prospect, creating a demo page or video is an evergreen solution that will require just a one-time effort that will consistently yield results.
Here's what to include in your product demo:
Explain what your product is about clearly and concisely

Take your prospect through a step-by-step process of how your solution works

Highlight all of the key features of your product (and link to resources there)

Pre-empt and answer any questions your prospect might have

Use other content mediums such as videos or animated gifs to highlight processes visually to aid understanding
A product tour or guided demo doesn't just belong to the bottom funnel but also helps in the middle of the funnel as well to build desire and interest in the solution.
Product demo page example:
Zapier's demo page is a perfect example of how necessary one is when your product isn't exactly easy to understand.
Including a video explanation, with a human doing the tour, is a good starting point to relate to the prospect and bring them through what the solution can do.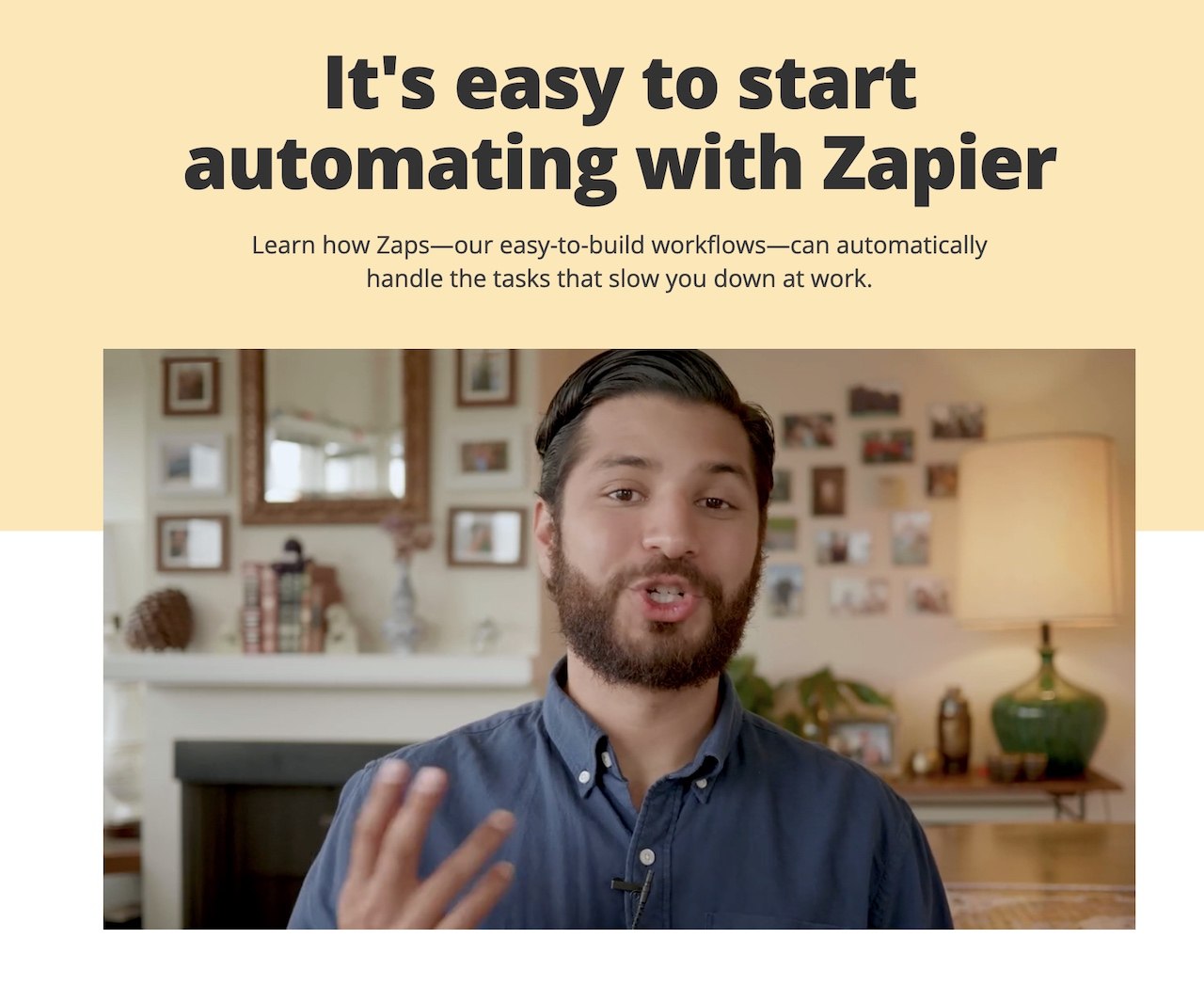 The demo follows a logical sequence of the basics of getting started to additional advanced features, with more detailed explanations through quick 2-3 minute video explanations. 
Throughout the product demo page, they showcase the various integrations that are most commonly used that their prospects would most likely be interested in.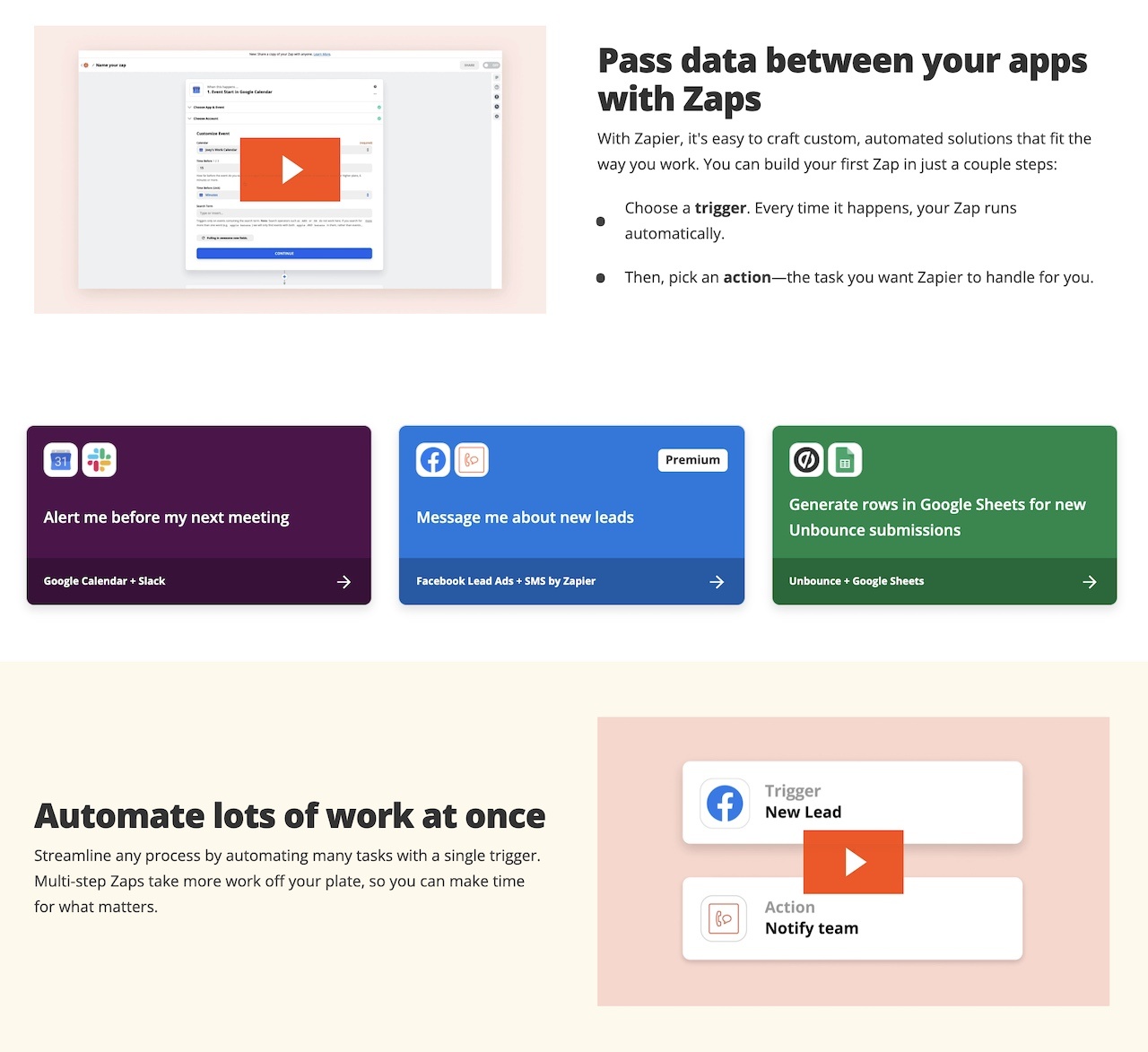 Where to distribute & place product demo or tour:
Be sure to locate it on your product benefits & features pages as a start

If your solution is complex, you can locate it in your middle of the funnel content such as solution briefs and use cases

Don't hesitate to include them in your marketing emails to your subscribers
9. Product Tutorial Guides & Webinars
Tutorial guides and webinars aren't just exclusively content for the middle of the funnel, they are effective in BOFU if you leverage them well.
Not only will you be able to teach valuable lessons to your audience about a topic, but you can also showcase your product in action.
This is especially true for more technically savvy prospects that would require to see your solution being used to its full potential beyond just words of persuasion
Build a program or tackle a topic that centers around a big challenge your ideal prospects face

Integrate sections where your product is used and value adds to the solving of the challenge (be sure to highlight the benefits such as time saved)

Add a Q&A section to them where you address your live audience's questions to add value to future audiences viewing it

Add in discount codes or special offers to reward your audience and to spur action from your prospects
Product tutorial guides & webinar example:
Ahrefs has an academy full of tutorial guides that cover big topics that both audiences and prospects alike desire to learn.
And at the center of each lesson, they proudly showcase how their SEO platform can help make it a reality.
Broken down in bite-sized video lessons, they allow the prospects to learn at their own pace and understand how Ahrefs's solution delivers value in each specific scenario.
Every lesson doesn't just teach and unveil new knowledge to the viewer, it is a subtle showcase of how competent and useful their platform is.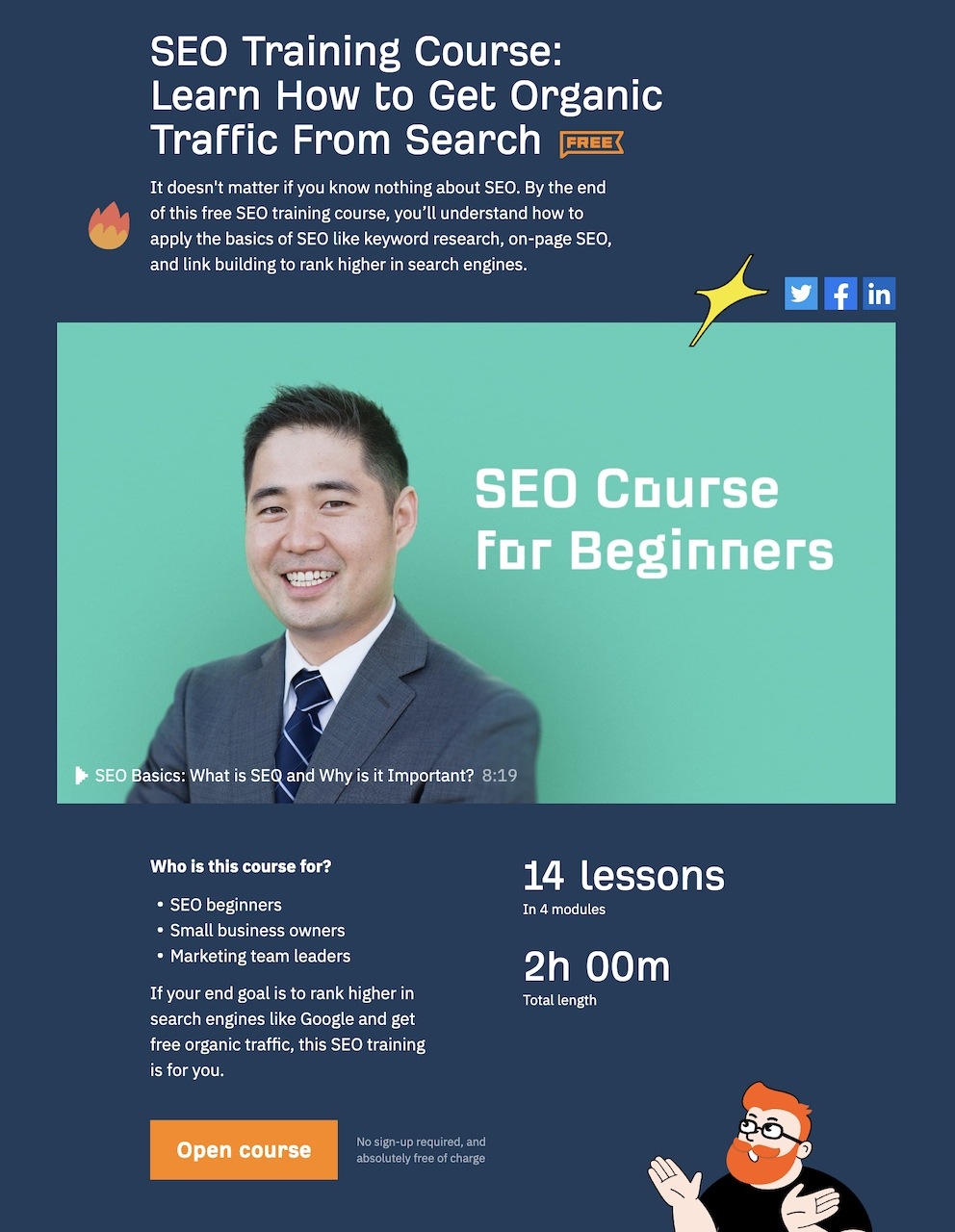 Oh yea, don't be afraid of creating webinars or tutorial guides that are locked behind a product subscription or free trial.
Once you have demonstrated value with your solution, content, and other webinars, you can drive conversions using this avenue as well.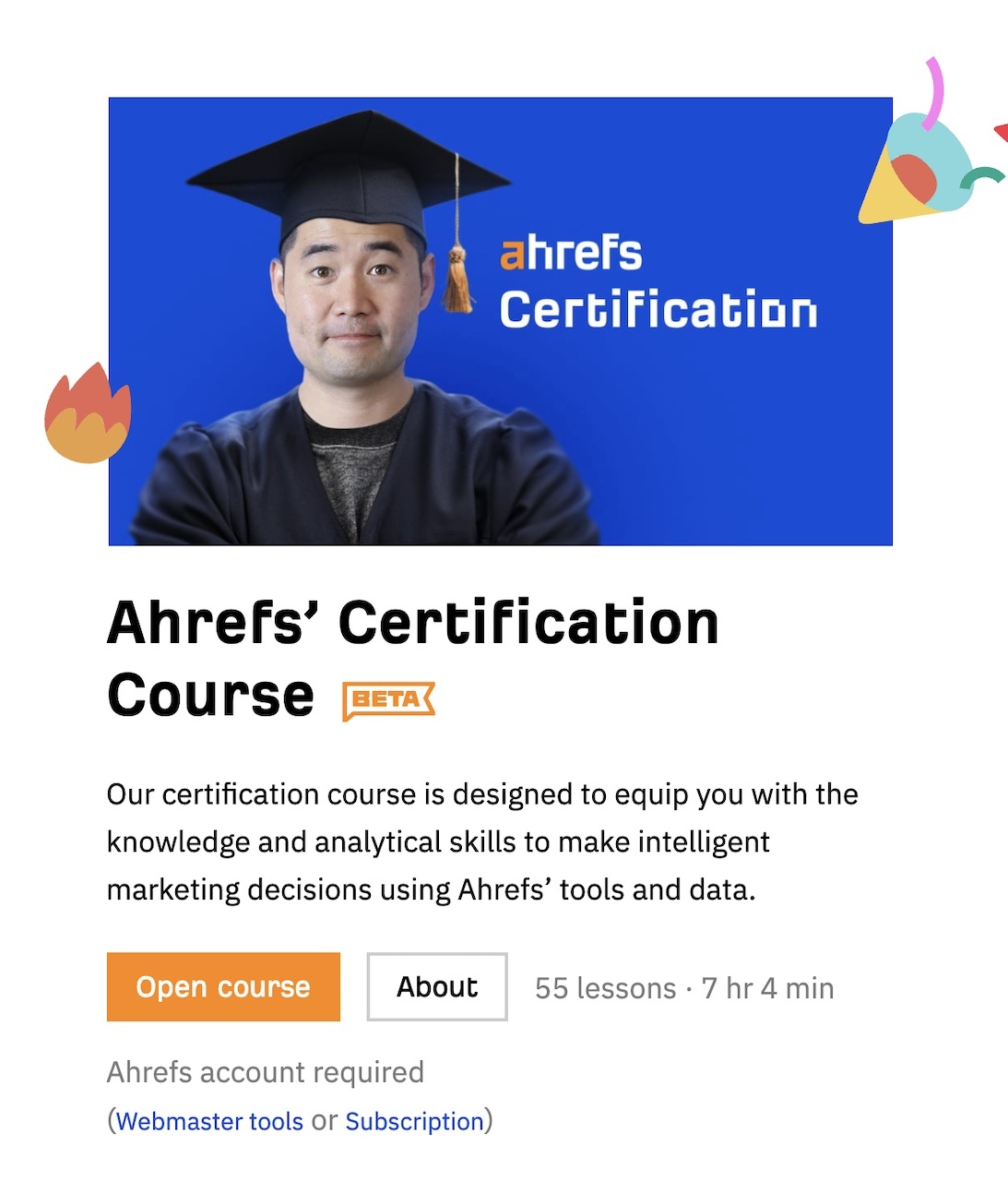 Where to distribute & place your product tutorial guides & webinars:
Creating a dedicated subfolder or section to house these content is a must

Distributing them is rather easy. You can do it through email marketing or showcase them during the free-trial platform itself to get your users to attend.
5 Best Practices To Optimize Your BOFU Content With 
Now that you know the types of bottom-funnel content, you'll still need to put your best foot forward to maximize your conversions.
Remember, the end goal is to get your prospects to convert and pay for your product or service.
Here are 5 things you can do to ensure all your bases are covered.
1. Include Compelling CTAs With Your Best Offer
It is essential to include CTAs with every piece of BOFU content – you'll need to guide your prospect to convert after all!
But be sure to also give your best offer possible – be it an initial free trial or perhaps a discount for a year-long subscription.
Here's how to craft effective CTAs that convert.
2. Pre-emptively Address The Biggest Doubts & Objections
This can be done in a variety of ways depending on the type of BOFU content piece.
If it is a pricing page, you'll want to include a FAQ section to help address each individual query.
If it is a case study or customer success story, you can bring forth or specifically mention key issues and doubts within the narrative itself.
Here are 5 key customer objections that you want to address and banish away!
3. Target Only The Most Important Buyer Personas
It is tempting to try to address many buyer personas at once, but it will make your content become unfocused and backfire.
If you are creating case studies, you can target individual buyer personas without a hitch.
However, for pricing pages that are more universal, you'll want to focus on your top 2-3 buyer personas to cast a wide enough net while still being tailored enough to each one.
Here's how to craft your B2B buyer persona from scratch.
In a B2C business? Here's a guide to developing your B2C buyer persona too!
4. Invest In Compelling Copywriting To Boost Conversions
Great content informs and great copywriting sells – and on your BOFU content, you'll need to be selling!
You want to ensure that every part of your marketing message is optimized – from the headlines to using the right tone of voice and presenting an irresistible offer.
Here's a full copywriting guide to writing awesome sales copy that converts to begin.
5. Measure The Right KPIs
Your BOFU content will not and must not stay static. You'll have to improve on them consistently to better serve your audience to boost those conversions!
But to accomplish that, you need to measure the right KPIs, which will include:
Wondering which other metrics you should track? Here's a full list of content marketing metrics you should track and why they matter.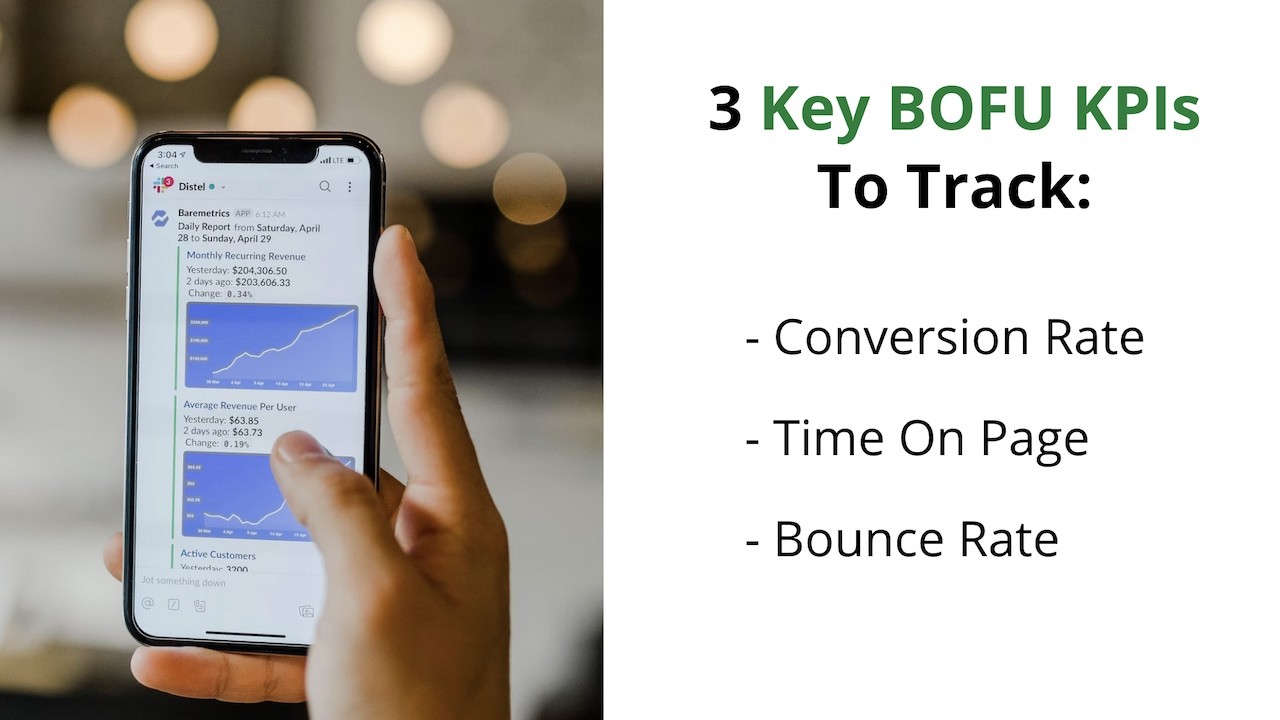 Close More Sales With Bottom Of The Funnel Content Today
Your BOFU content is just as critical as the rest of your content funnel and should be an integral part of your overall content strategy.
Without a well-stocked arsenal of BOFU content, you will be wasting lots of your effort in driving quality traffic and leads to your website.
With these 9 BOFU content types, you'll be well set up for almost every conversion situation possible, allowing you to maximize your conversions and boost your overall ROI for your content marketing efforts!
Need more inspiration?
Dive deeper into content across the entire funnel with this collection of 18 winning content marketing examples.
If you need help in developing your BOFU content or want to craft a content strategy from scratch, we can help!
Drop us a note here and we'll be in contact!