SaaS Content Marketing Strategy: The 12-Step Guide To Leap Past The Competition
September 10, 2021 | Sean Foo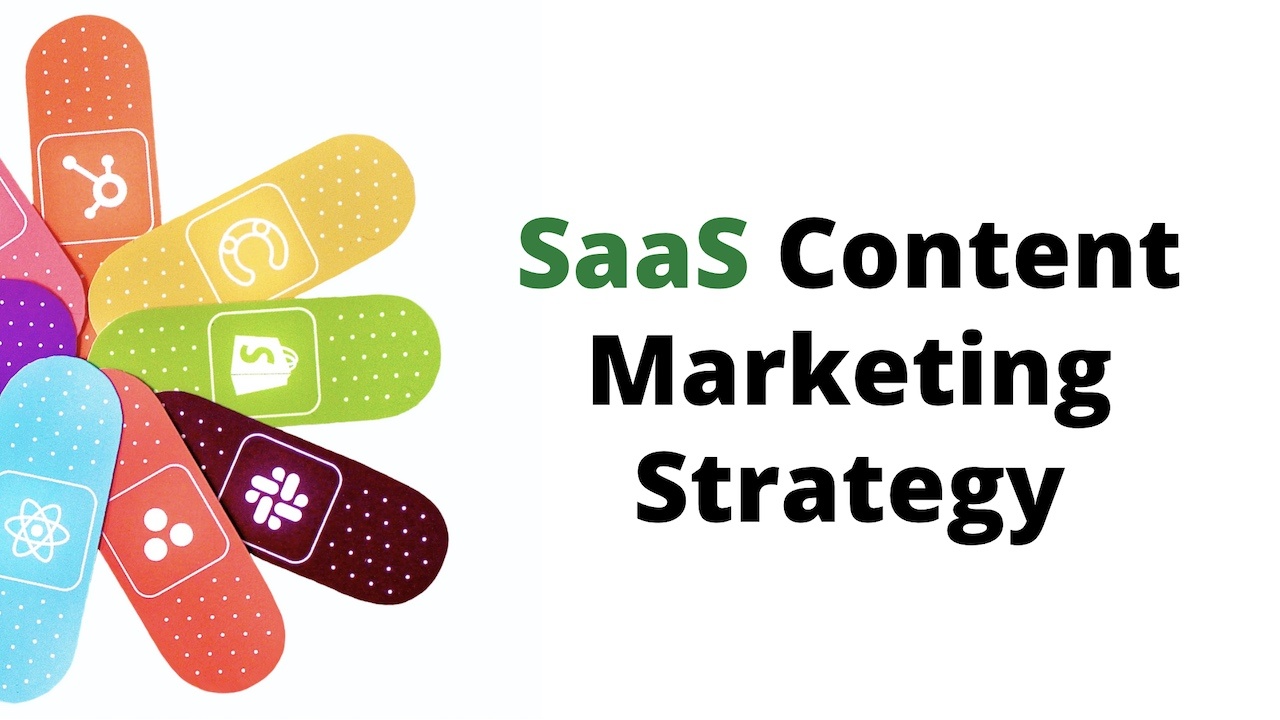 When it comes to growing their customer base, SaaS companies are facing unique challenges that include variable sales cycles and retaining customers for as long as possible.
The marketing game for any SaaS company is geared towards acquiring long-term customers continually. 
It's about building an effective pipeline that generates high-quality leads and creating an ecosystem that nurtures prospects and converts them organically.
This isn't easy and can only be accomplished at scale through the power of content marketing.
At the heart of every successful SaaS company is a well-oiled content marketing machine that utilizes the power of information to add value to readers, prospects, and customers at every stage of the sales cycle.
Groove, for example, grew their startup from just $100,000 in monthly revenue to over $5 million a year through just content marketing alone!
In an environment where there are dozens (or even hundreds) of competitors no matter the SaaS niche that you are operating in, your content marketing efforts cannot be a hit or miss.
Content marketing takes significant upfront investment and time to work. I'm talking about months to gain traction and years to get the ball rolling towards sustainable growth.
You'll need to get it right from the start with a solid content strategy.
However, building a content strategy for SaaS is unlike any other B2B or B2C company due to the nature of the business itself.
Here's why.
5 Key Challenges In SaaS Content Marketing
There are some immutable laws of SaaS marketing such as giving away a free trial for prospects to test out the product and having killer sales support to foster trust and reliability.
The same applies to the content marketing side of the equation. 
All SaaS companies face these challenges that must be addressed in your content strategy:
1. Engaging The Right Audience 
SaaS companies, especially the ones in the self-service arena, market their product as one of low relative price with low complexity to individual decision-makers.
Buying decisions can be made within a matter of weeks or even days.
However, on the other hand, are the big enterprise accounts that typically require 6 to 18 months of engagement for a deal to be closed.
Are you selling to the small-business space or targeting big corporations?
This will greatly affect the type of content you will need to create as well as how it will fit into your sales cycle.
Take Shopify for example. Their general product, a SaaS eCommerce platform, is marketed to new eCommerce players and existing business owners new to selling online.
The content here tackles business topics on how to get started, reach profitability and effectively market your product to the world.
Conversely, Shopify Plus, their enterprise-level platform caters to big businesses and corporations looking to scale their online sales channels and to dominate the market.
The content, in this case, features a mixture of in-depth tactical guides, thought leadership pieces, and big industry trends.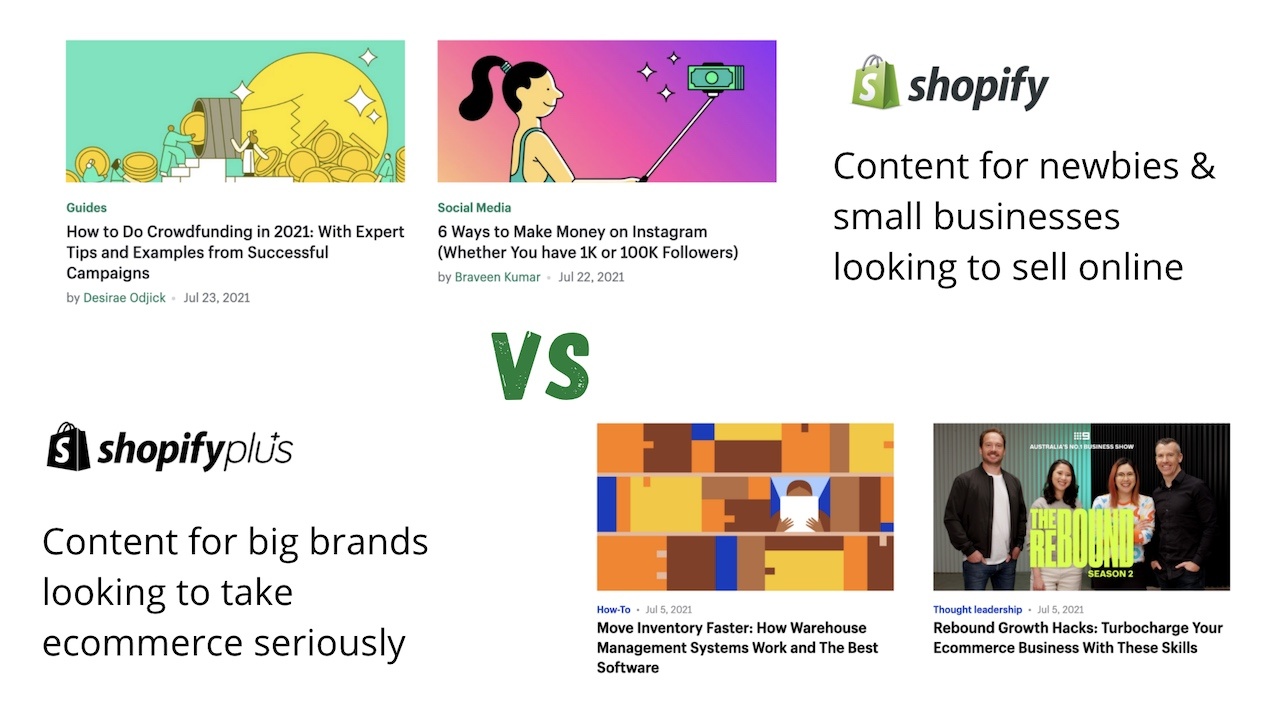 SaaS companies will have to correctly target the right audience and define what matters to them or risk wasting valuable time and resources down the wrong rabbit hole.
2. Ranking On Google Search
When it comes to the best digital marketing channels for SaaS companies, especially those in B2B, SEO is hands down the best traffic source that:
Delivers quality and targeted traffic that translates into leads

Allows companies to easily scale up their marketing efforts

Brings sustainable ROI that compounds over time
In fact, organic search accounts for up to 77% of the traffic of top-tier SaaS companies such as Cloudera.
When it comes to lead generation, the numbers also weigh heavily in the favor of SEO with companies like Atlassian highlighting that search traffic translated to over half of their sales.
This means that SaaS companies will have to target the right keywords through content marketing strategies such as blogging to effectively drive traffic to their website and fill up their marketing funnel.
Trello, for example, is ranking #1 on the keyword 'Limiting Beliefs' through this article on their blog.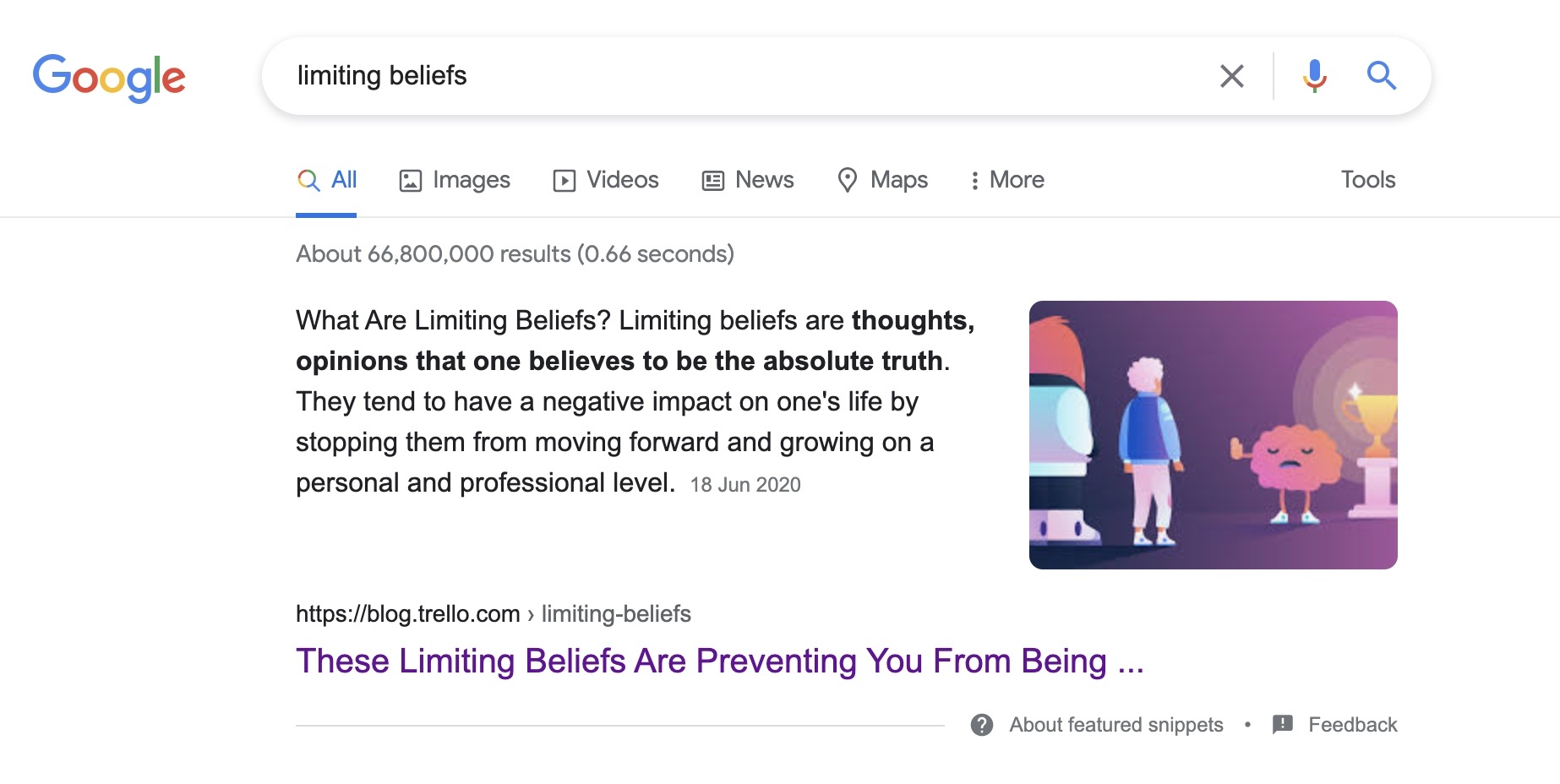 This is an example of top-of-the-funnel content that is primarily used to drive brand awareness. This article alone brings them over 1,400 monthly visitors to their website.
3. Building A Readership That Comes Back
Remember when I mentioned that the SaaS sales cycle can be anywhere from a few days to months?
One of the biggest content marketing challenges facing SaaS companies is the need to build a readership that comes back time and time again to gain insight and value from your content.
This is essential to help shorten the sales cycle and keep top of mind with your prospects and paying customers.
Spending money on content for readers to consume once and never return is not a sustainable recipe for success.
Smart companies strategically build an email readership list through their content and use email marketing to keep their readers engaged and in a loop that makes them stay on their website.
Developing a content strategy to build your readership should be the primary goal of your top-of-the-funnel content marketing. 
After all, the ROI of email marketing is $38 for every $1 spent and email is still 40 times more effective in reaching your target audience.
4. Converting Hard-Won Attention Into Business Results
Attention and traffic are great, but converting them into tangible business results is key for SaaS companies.
Unless you can increase your user or customer base consistently from your traffic, it's easy to pour your marketing dollars into a black hole.
Every SaaS marketer will need to map out the points of conversion in their customer buying journey and develop bottom-of-the-funnel conversion content to get prospects off the fence and sign-up for a free trial.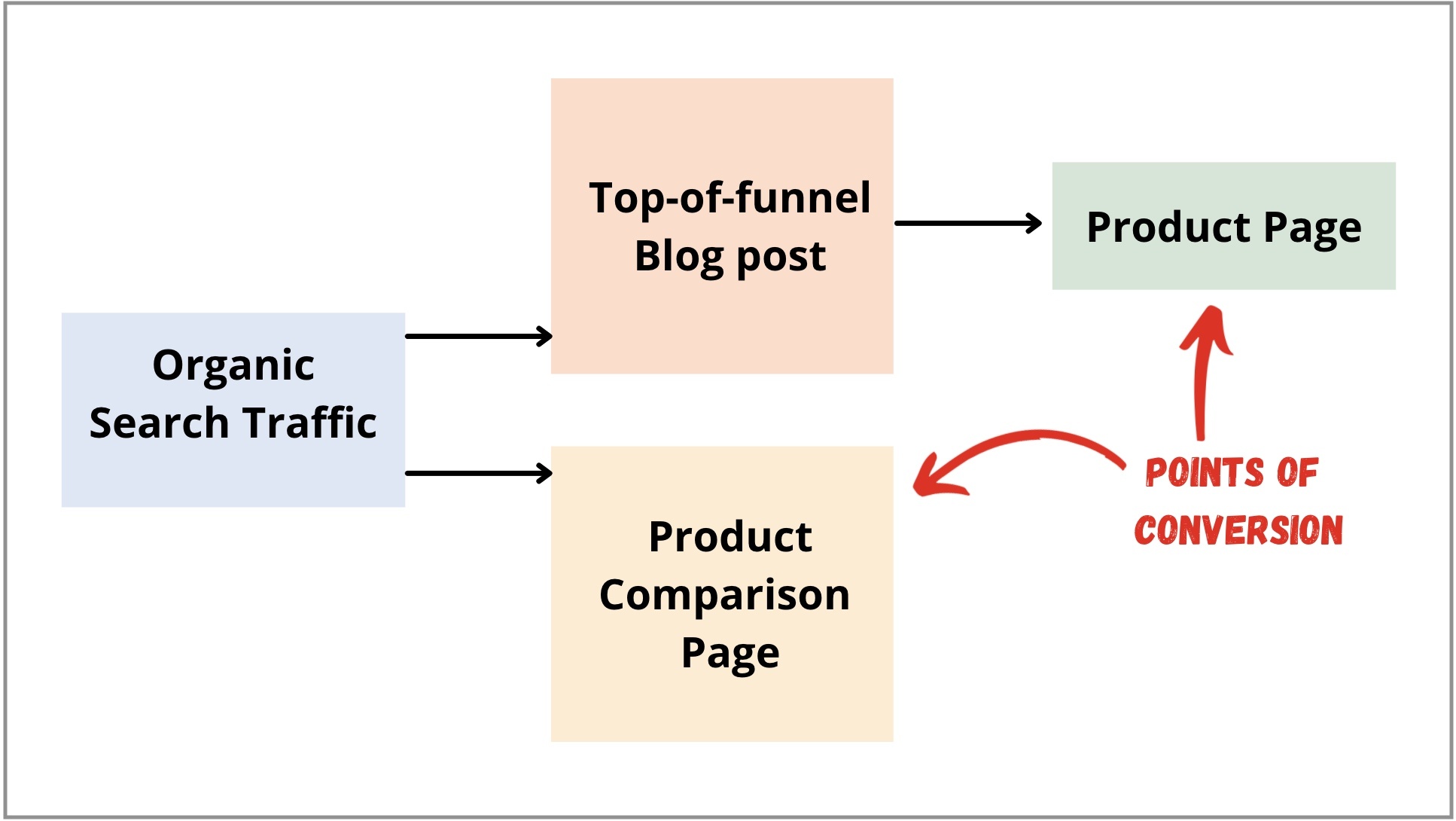 For example, if you are targeting prospects in the financial sector for your SaaS product, you can create a series of industry-specific (finance in this case) e-book use cases that highlights the most important feature and the benefits it brings to users in the industry.
These use cases can be located in key areas of your website such as the product features page as well as within top-of-the-funnel content (such as how-to-guides) for finance professionals.
Snowflake, a SaaS data warehouse company, creates in-depth industry-specific bottom-of-the-funnel content and locates it on their solution pages where conversion is most likely to happen.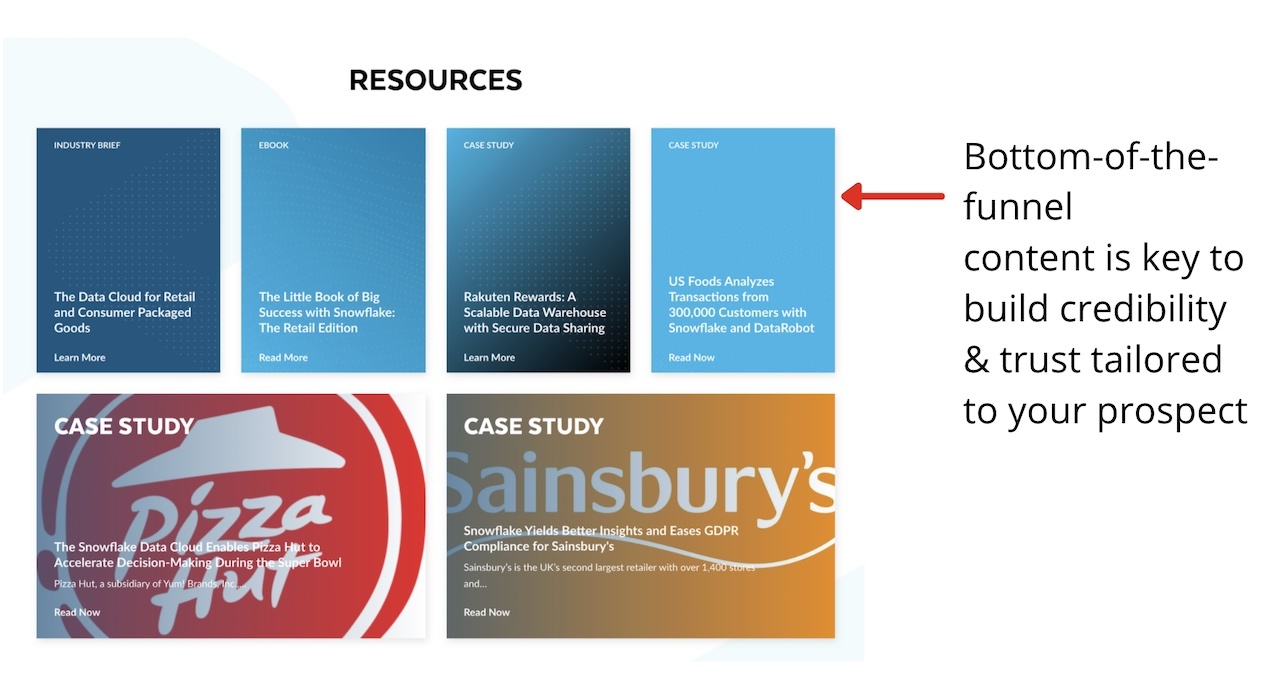 This helps to better educate prospects who aren't convinced yet and showing them that Snowflake is a solution tailored to their needs.
5. Getting Customers To Stay On
For SaaS companies, increasing their annual recurring revenue (ARR) means ensuring customers stay on after their free trial or first month.
But for customers to stick around, customers will have to:
Believe they are getting exceptional value in exchange for their money's worth

Fully trust and rely on the capabilities of your product

Like, believe, and have a personal connection with your brand
Thankfully, with content marketing, SaaS companies will be able to tackle all of these three points in a highly scalable and effective way.
Mailchimp, for example, helps their customers get the most out of their platform by providing in-depth tutorials and guides.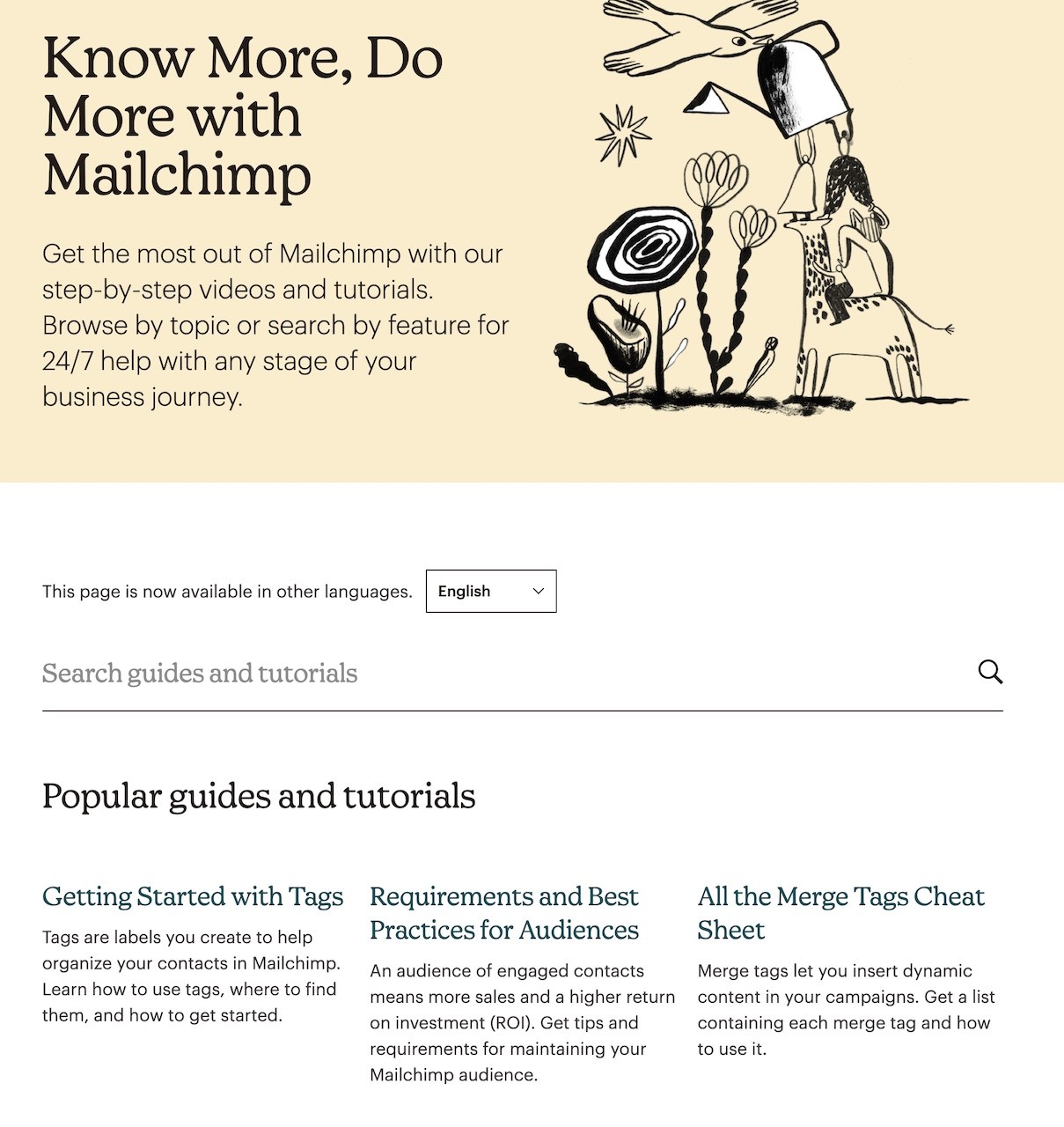 This helps customers to maximize their results from their software, earn more from email marketing, making them more likely to stay on with Mailchimp.
Your content strategy mustn't just revolve around acquiring new customers but also sustain your current loyal users.
How To Create Your SaaS Content Marketing Strategy In 12 Steps
Developing a winning SaaS content strategy, first and foremost, requires you to place yourself in the shoes of your ideal customer.
It is about creating engaging content that draws in quality visitors, tailoring a content journey that adds value at every step of the way while building much-needed trust to drive real business results.
1. Develop Your Audience & Buyer Personas
2. Map Out Your Customer Journey & Sales Funnel
3. Determine Your Commercial Money Keywords
4. Identify Topics For Your Top Funnel Content
5. Develop Your Conversion Content (Middle & Bottom) Arsenal
6. Plan Out Your Customer Retention Content
7. Define Your Content Marketing Goals 
8. Fix Your Publishing Schedule
9. Define Your Content Distribution Strategy
10. Determine The Relevant CTAs For Points Of Conversion
11. Develop Your Email Marketing Plan To Nurture Leads To Sales
12. Measure Your Content Performance & Implement Changes
1. Develop Your Your Audience & Buyer Personas
Who Are You Creating Content For?
One of the key challenges in SaaS content marketing is writing the right content targeting decision-makers that influence the sale.
Depending on your SaaS product, your personas could be different depending on the product you are selling – specifically, if you are targeting small businesses or big enterprises.
Enterprise SaaS requires you to take into consideration not just the decision-maker, but the people around him who will influence his buying decision.
For example, if you are selling cybersecurity software for big companies, while the Chief Technology Officer (CTO) will sign-off on the purchase, his decision will be influenced by:
The IT analyst who will be using your software daily

The data team who are concerned about data security and safety

The hardware engineers who maintain the IT infrastructure of the company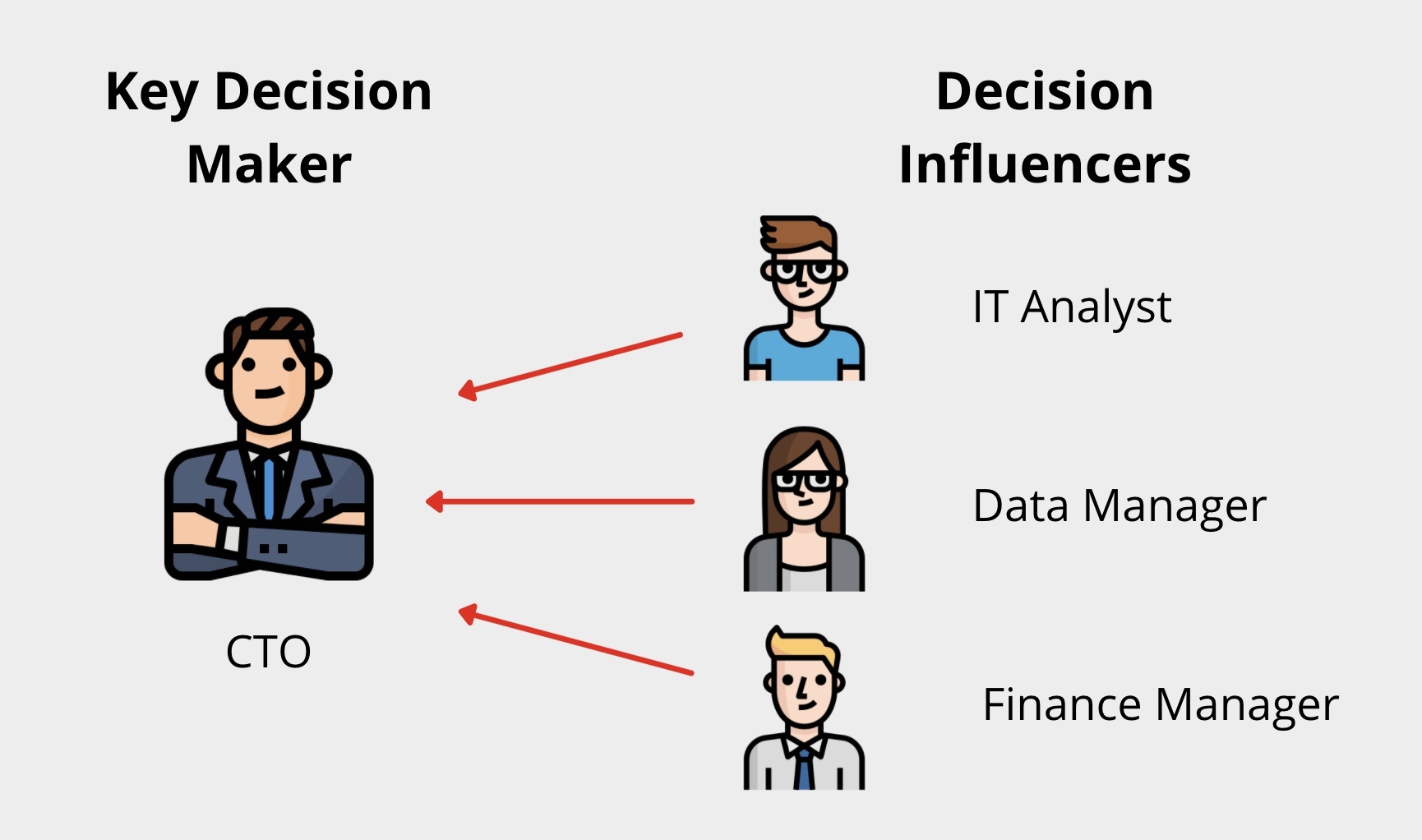 This means that you'll need to develop detailed personas to understand the challenges and issues that matter the most to them and address them in your content.
On the other hand, if you are selling to small businesses, the decision will likely be made by fewer decision-makers or the founder itself, however, that doesn't mean that you only need a single persona.
Far from it!
For example, if your SaaS product is an eCommerce platform service, you could have two very different buyer personas.
One could be a family-run coffee business looking to sell their packaged products online for the first time and everything seems confusing, especially how to market themselves digitally.
The other persona, however, might be a five-year business that is looking to scale up their eCommerce capabilities while managing their costs and keeping existing customers happy.
It's easy to see that the content that appeals to each of them will be vastly different.
Convertkit's blog, for example, creates distinctly different content that appeals to their set of customer personas, from musicians and podcasters to authors.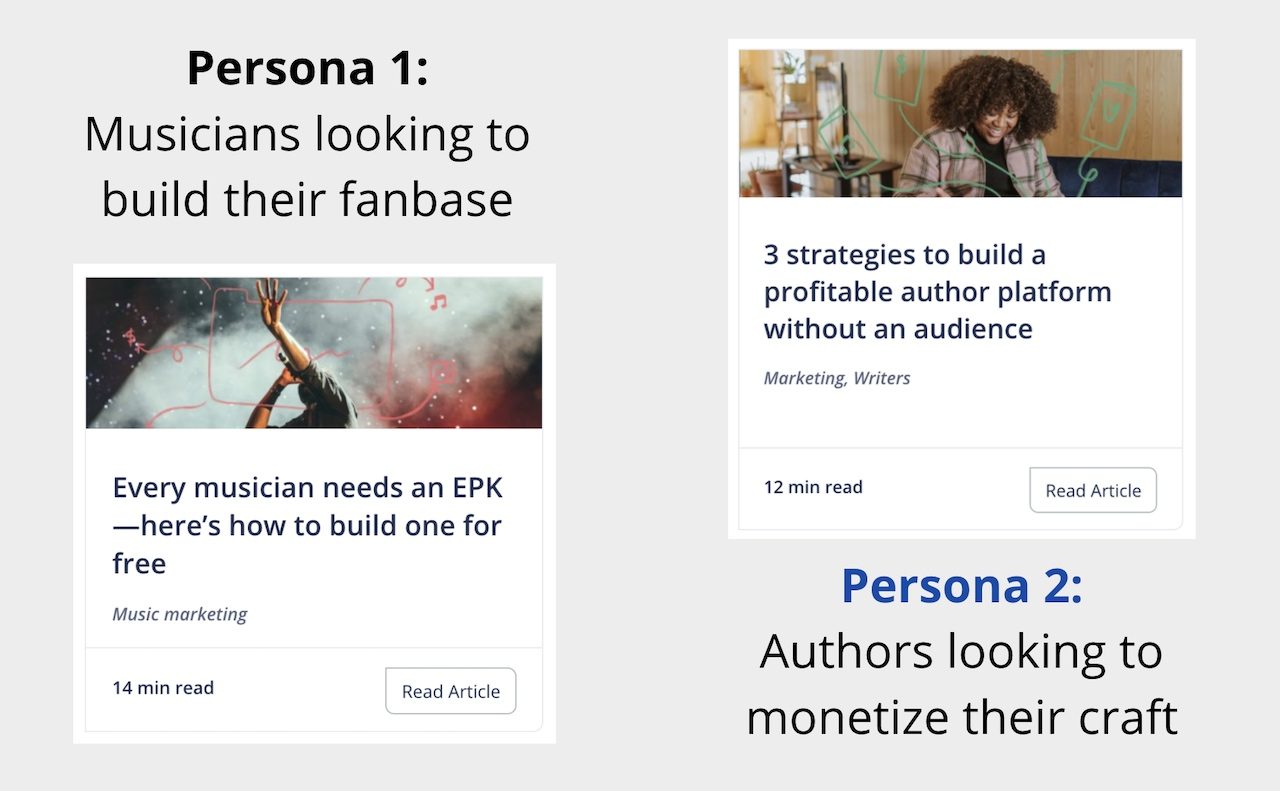 When it comes to developing personas, here are 8 questions to run through to help you flesh out an accurate representation of the person(s) you are truly writing for.
8 Questions To Better Define Your Buyer & Audience Persona
I) What are my buyer demographics?
This includes their age, gender, income level, education level and the industry they are in.
II) What are the firmographics of the company my ideal customer works for (or owns)?
This will include the company size, location, annual revenue and industry niche.
III) What are his or her position & responsibilities?
Think along the lines of their job title, roles & responsibilities, especially where they fit in the overall organization (are they a manager, executive or a decision-maker).
IV) What are their content consumption preferences?
Where do they look for information and which publications do they frequent?
V) What are your buyer's ultimate goals & motivations?
In short, what business goals must they achieve to benefit their position in the company?
VI) How do they measure success?
It could be revenue earned or cost savings for their department or company.
VII) What are the daily business challenges they face?
These aren't just the obvious obstacles in their industry, but the challenges they face in their specific roles. 
For example, a marketing manager will face a different set of challenges compared to a content creator in the same company.
VIII) Are they currently using any of our competitors' solutions?
This is key to understanding the solutions you are effectively competing against, not just head to head when it comes to product features, but also in content marketing as well.
By developing a set of buyer personas, you'll be able to start identifying topics and issues that matter to them.
This allows you to understand how tactical or strategic your content will have to be as well as what your content distribution strategy will have to be.
Develop better buyer personas with our guides:
B2B Buyer Persona: How To Craft One For Content Marketing Success 
Crafting B2C Buyer Personas For More Engaging Content
How To Write A Content Marketing Mission Statement (With Examples!)
2. Map Out Your Customer's Journey
Uncover Pain Points To Determine The Types Of Content To Create
An effective content strategy covers not just the right types of content you should be creating, but where you should place those content as well.
That is why it is crucial to map out your audience's content journey which directly correlates to your marketing funnel.
For example, if you offer free trials (which you should) or product demos, you'll quickly realize the need to create case studies to increase the likelihood of conversion.
As well as how necessary it is to create customer success guides to help increase your customer retention efforts.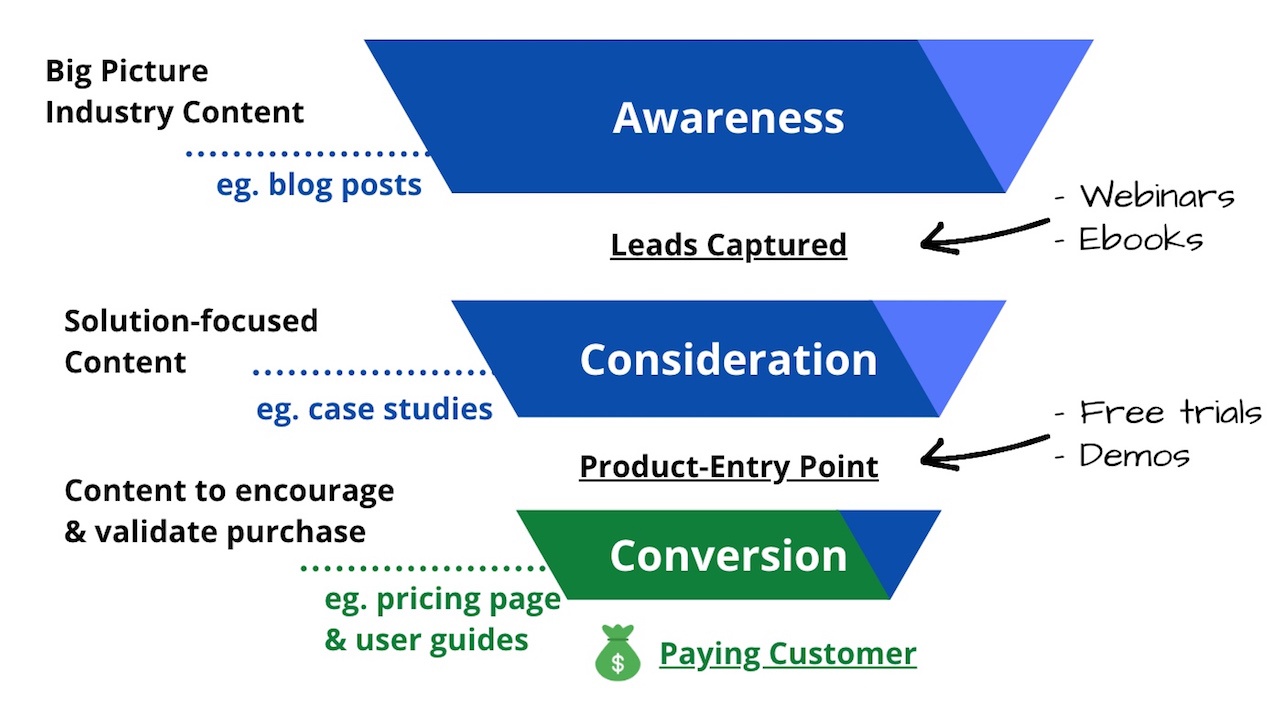 While every SaaS company is unique, the content funnel is universal. This allows you to quickly understand the different types of content and where they fit.
For example…
To Build Awareness – You'll Need Content That Attracts:
Top of funnel blog posts

YouTube videos

LinkedIn infographics
To Enhance Consideration – You'll Need Content That Engages:
Ebooks, white papers & solution briefs

In-depth guides

Webinars & online courses
To Drive Conversions – You'll Require Content That Convinces:
Case studies & customer stories

Competitor comparison pages

Testimonial videos
By going through the customer journey on your website, you'll gain insight into the psychology of potential customers and areas where you can optimize with content.
The path of your customer might include:
A. Becoming aware of your brand through a blog post
B. Clicking through to your website's about us page to learn more
C. Navigating to your product page to learn more
D. Signing up for a free trial to test out your service
E. Going through your customer stories before converting to a paid customer
F. Attending a series of webinars to maximize their service subscription
G. Deciding to renew or abandon their subscription
By going through this exercise, you'll quickly uncover areas where there could be a sharp drop in conversion rates or high bounce rates.
For example, if your pricing page has a low conversion rate, you could start incorporating different types of content types such as:
Influencer testimonials

Links to customer stories

A new call-to-action that minimizes risk
Slack's pricing page, for example, showcases links to their customer stories to give prospects that final credibility push towards the sale.
3. Determine Your Money Keyword Phrases
Determine the keyword phrases that have high commercial intent
Every SaaS solution has its money keyword phrases which are transactional and commercial in nature.
Simply put, when someone keys in that phrase into Google's search bar, they are actively looking for a solution with the intention to buy soon.
For SaaS, this would likely be to drive free-trial sign-ups or paid subscriptions.
For example, Monday, a SaaS work management platform might have commercial keywords that include:
Project management tool

Project management software

Client management software

Collaboration software
However, this is just half of a money keyword phrase. 
The other half is where intent comes in. 
These words within the keyword phrase give it a high buying intent, such as:
Free-trial

Pricing

Comparison

Buy (or purchase)
So a true money keyword phrase with high commercial intent would be 'Project management tool pricing', 'Collaboration software free trial' and 'Purchase client management software'.
Ok, the words of intent are pretty straightforward…
But how do we determine these commercial keywords?
These commercial keywords aren't just solely necessary for conversions, they will also be the guiding force for a significant portion of your white papers, solution briefs, webinars and especially your pillar pages.
Here are 3 ways to uncover your commercial keywords from scratch.
A. Brainstorm & Investigate Your Product
The process of discovering your commercial keywords should start from the product that you are selling.
Your commercial keywords are commonly tied to your product features, benefits and solution offerings.
Here are a few questions to ask yourself:
What end goal does my product deliver to my customers?

What are the tangible benefits that it delivers?

What are the key features of my products that help deliver the benefits?

How do my customers use my product?

What industries, business types or customer niches will use my product?
Let's say I am selling a SaaS SEO tool product and I'm trying to uncover my commercial keywords.
By brainstorming my product, immediately I would be able to uncover quite a few of them, especially along with the features & tangible benefits.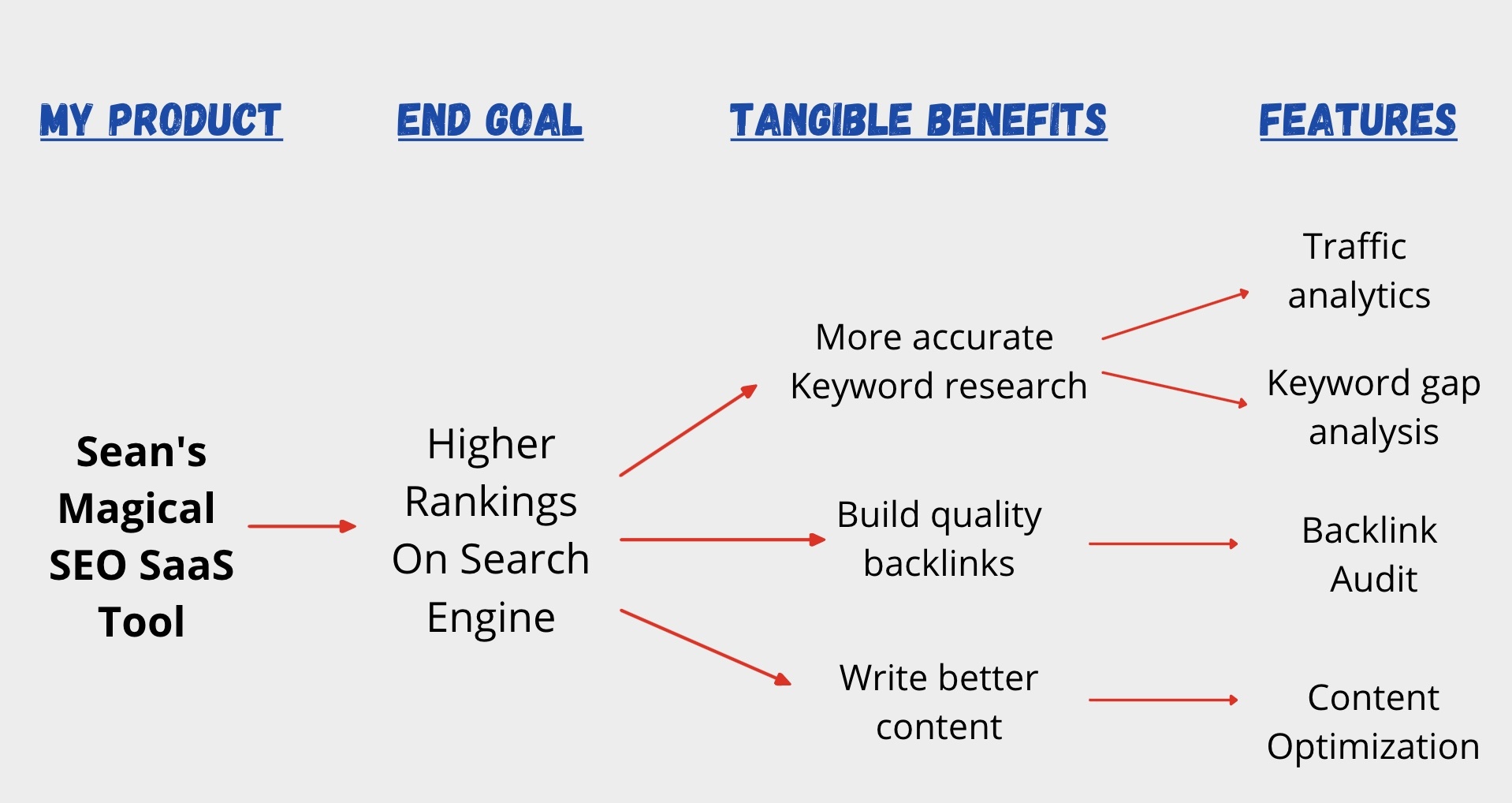 I can easily see that my commercial keywords could include 'keyword research tool', 'backlink audit tool', 'content optimization platform'.
B. Use Keyword Research Tools
With keyword tools such as Ahrefs, Moz or SEMrush, you'll be able to start uncovering potential keywords with high commercial intent.
For example, I use Ahrefs and to begin this process, I simply plug in the keyword that best describes what my product is about.
If I run an email marketing SaaS company, like Mailchimp, I'll put in the keyword that best fits what I believe my product is about into Ahrefs' Keyword Explorer – in this case, it's 'email marketing tool'.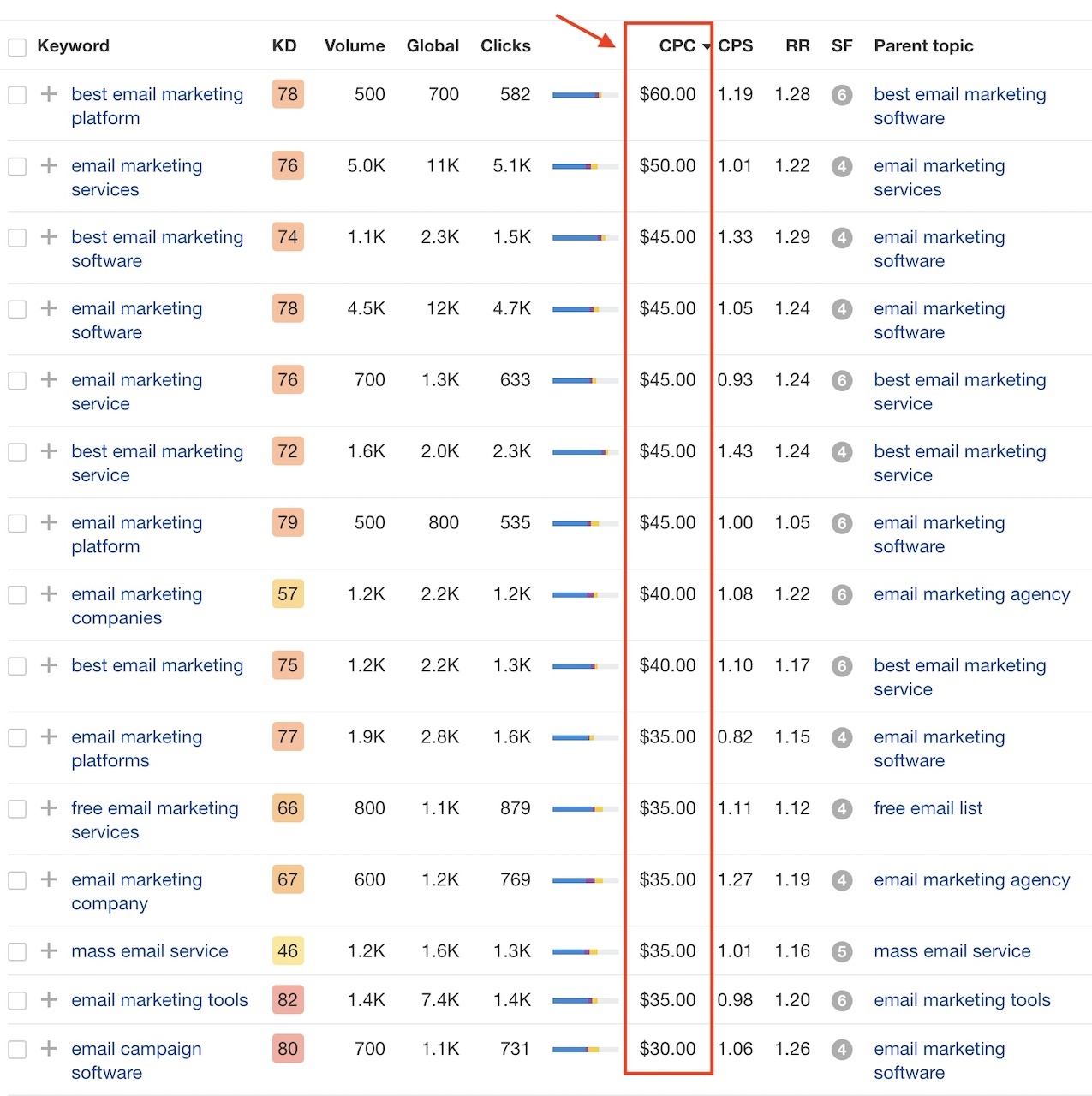 By filtering according to CPC (Cost Per Click) as well as volume (to ensure sufficient people are searching for the term), I get to see a whole list of keywords that could potentially be my commercial keywords.
These include – 'email marketing software', 'email marketing service', 'email marketing platform', 'email campaign software' and 'mass email services'.
All of which can form the basis of my money keyword phrases that will affect everything from my paid search strategy to the product or features pages I will have to create for my website.
Note that it is important to filter by CPC because it showcases how much advertisers are willing to pay for the particular keyword to capture search traffic. A higher amount means a greater possibility this is a keyword with commercial intent.
C. Manual Google Research
Google search itself is a useful tool to get more insights into commercial keywords that you might miss out on.
Firstly, type in the keyword you want to investigate – let's select 'email marketing software'.
There are two things you want to check.
Firstly, you want to check that on the top of the SERP (search engine results page) if there are any Ads being run against that keyword.
If you see a ton of ads being run by your competitors, you know without a doubt that the keyword you have is a commercial keyword that is worthy to be targeted and fought over.
In this case, you can see that the keyword is fiercely fought after with a ton of competitors looking to rank for it so much that they are willing to pay to advertise for it.
The next commercial keyword discovery step that you can take is to scroll down the SERP and take a look at the related searches.
This will show you terms related to your search and can help you discover commercial keywords that your ideal customer might be searching for.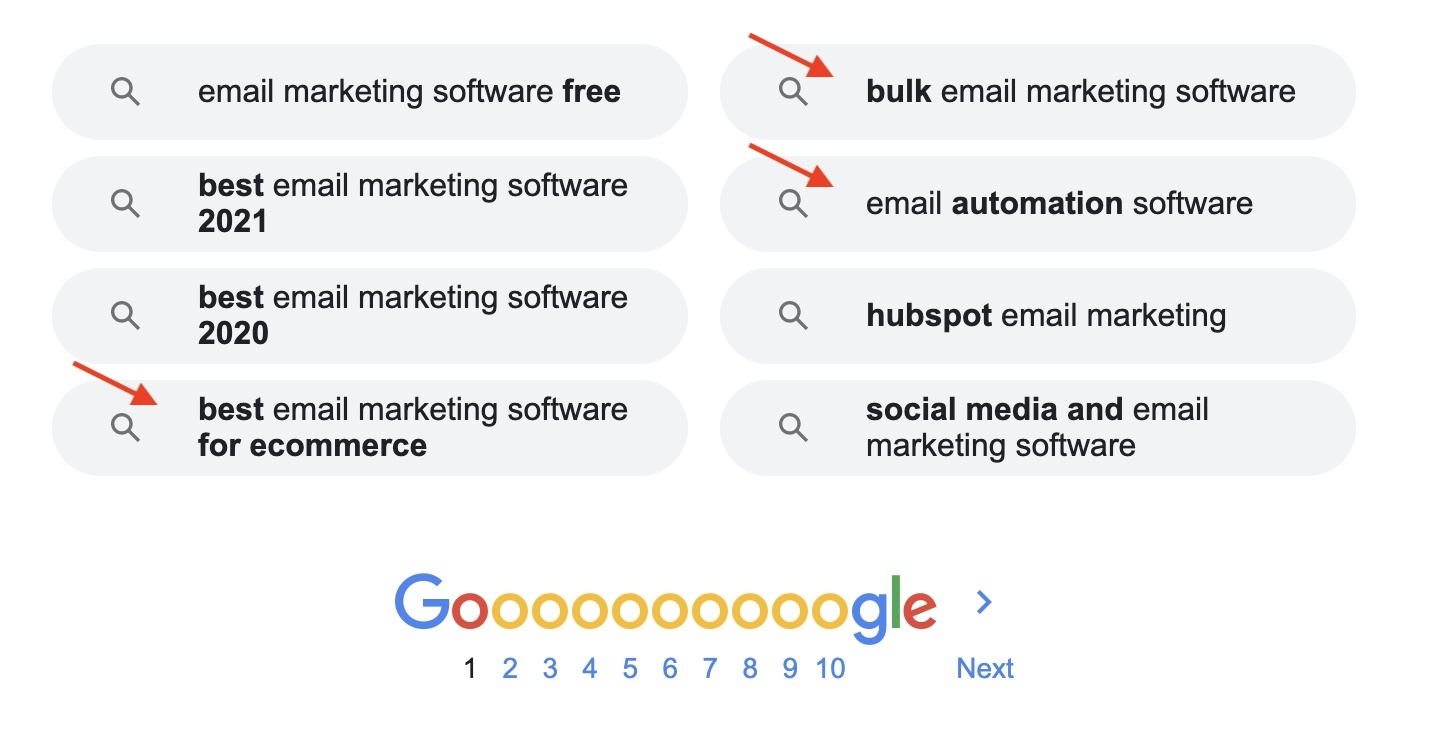 4. Identify Topics For Your Top Funnel Content
Brainstorm the topics to drive targeted traffic to your website
No conversions can happen without traffic – it is the lifeblood of your content marketing efforts and should be the very first thing your strategy has to address.
In fact, research has uncovered that your prospects will typically engage with 11 pieces of content before they are ready to make a purchase or at least sign-up for a free trial.
But what type of content should you create to drive quality inbound traffic and how do you do it?
This is where your buyer personas come in together with keyword research.
For top of the funnel SaaS content, it mainly boils down to three main types:
Content that solves pressing challenges they are facing in their business that matter.

Content that helps readers get to their end goals better with unique insights that can't be found elsewhere. (This involves original researched content)

Content that provides readers with critical updates and trends about the industry or niche that they are interested in and that your business is in.
Essentially, we are talking about content that introduces readers to your brand, is related to your solution (or product) while adding actionable value.
Let's focus on the first two categories – content that solves a challenge and guides readers towards their ultimate end goal.
Utilizing your buyer personas, you'll want to focus on the pains & challenges they are facing daily in their business and lives as they progress towards their end goal.
Essentially, you'll want to dive deep into:
Elements in their business or lives, that if solved, will lead them closer to their goal or deliver a tangible benefit

The goals, objectives and milestones they have to accomplish on their journey to success.

Concepts that your readers are unclear about or should know to better their situation
Wix, a website builder SaaS company, creates broad high-level content to drive top of the funnel traffic to their website.
Take their two posts below, for example, it is unlikely anyone looking to start a business or create a webinar would be immediately ready to sign-up with Wix as a customer to build their website.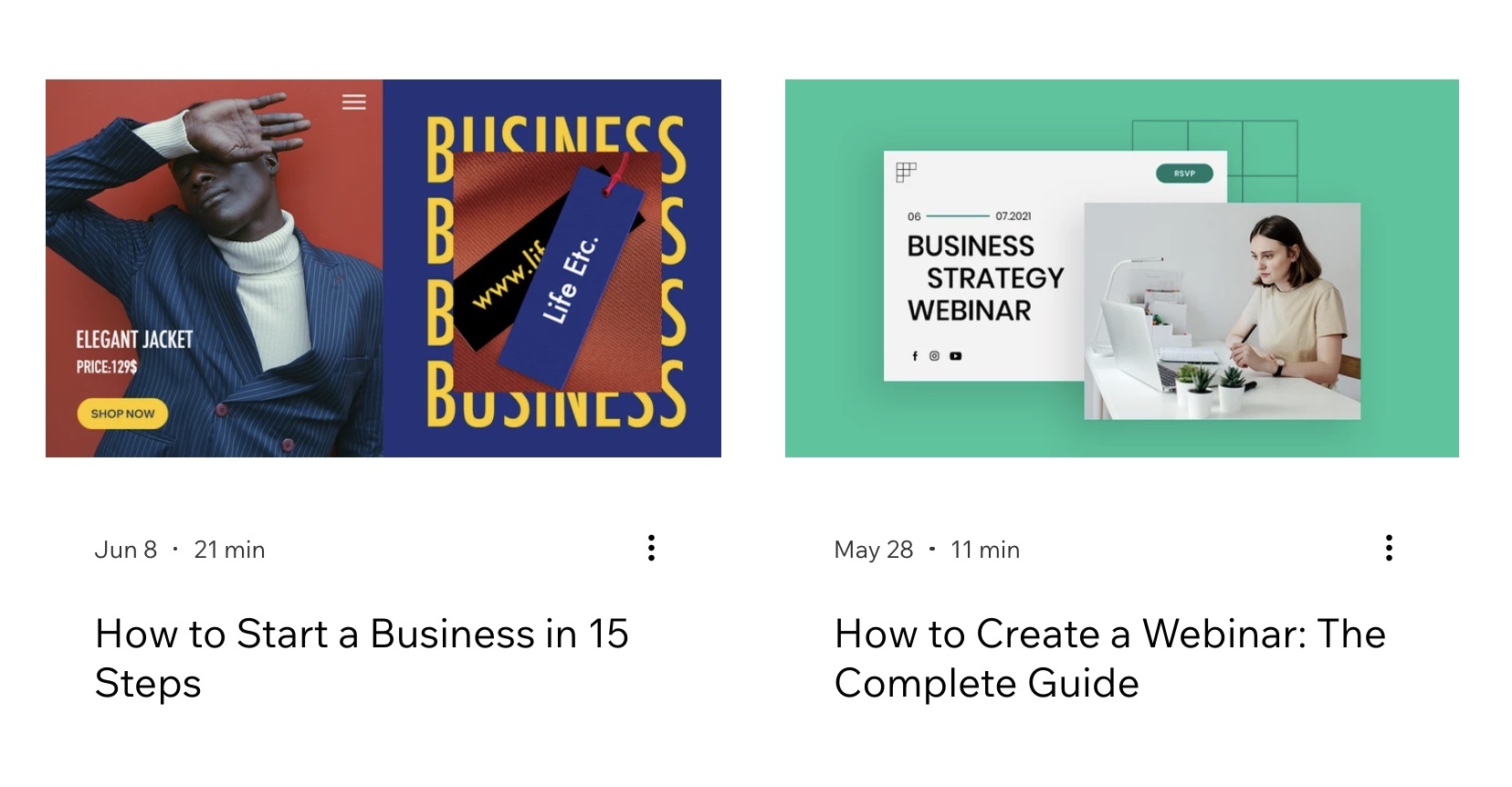 However, it introduces the brand and gets into the minds of their prospects. When the time comes for them to start a business website, they will remember Wix and be more inclined to explore the offerings.
Convertkit, a SaaS product that helps creators to grow their business through their email marketing platform, also creates top of the funnel content that isn't directly related to their business but is something that their ideal customers care deeply about.
For example, their in-depth Instagram guide in the format of a content hub is a great example of top-funnel content that is massively helpful to the prospects that are targeting.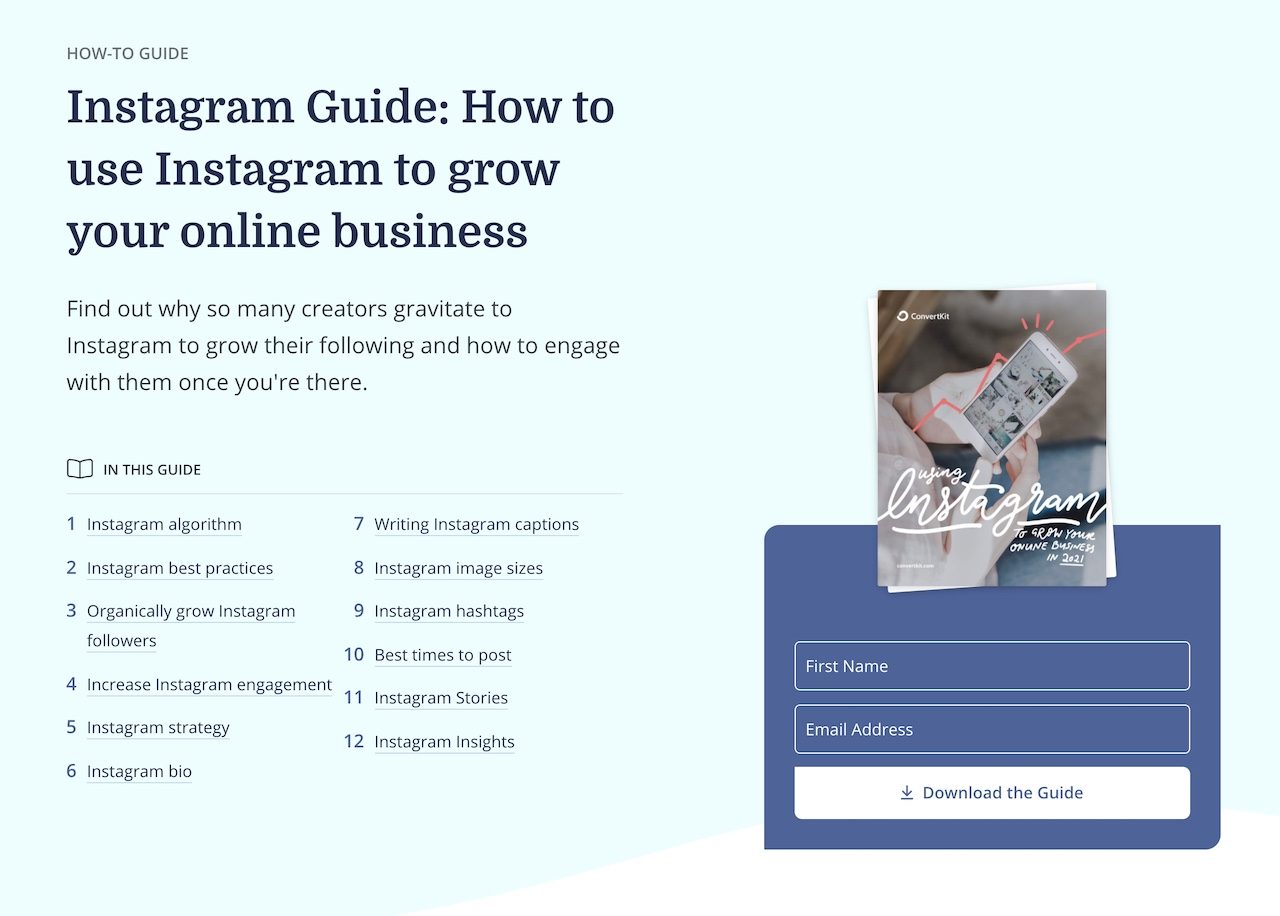 In fact, it is such a valuable topic that they have consolidated the various posts around it into a handy guide that can be downloaded in exchange for their email – allowing Convertkit to start a 1-on-1 nurturing relationship with their audience.
Conduct Keyword Research To Find Your Validated Audience
Now that you have identified your ideal customer's challenges and pain points, it's time to find the right keywords & topics that you should be creating content on.
Let's say my ideal customers are sales executives and sales managers and one of their biggest challenges is coming up with an effective sales strategy for their team.
Using Ahrefs, I plug in the root topic keyword 'Sales Strategy' into their keywords explorer and I head to matching terms to gain some keyword ideas.
Immediately, I'll get various suggested keywords that I can use to generate topic ideas that I can write on.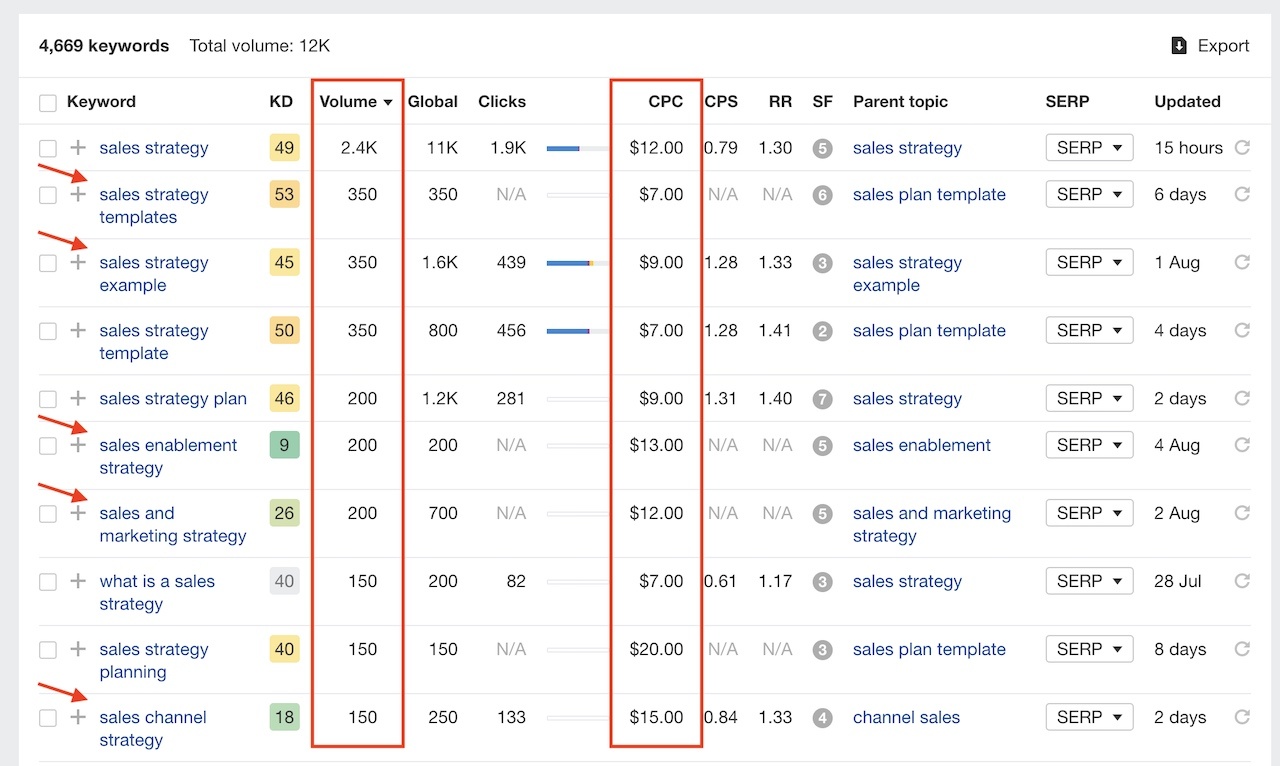 For example, almost immediately, I know that there is a validated audience searching (as showcased by the volume column) for these keywords that have commercial value (as showcased by the CPC value column) as well.
Knowing this I can start to create articles for each keyword, for example:
Keyword – Sales Strategy Templates
"The Top 10 Sales Strategy Templates Every Salesperson Should Copy"
Keyword – Sales Enablement Strategy
"The Master Guide To Sales Enablement Strategy"
Keyword – Sales Channel Strategy
"How To Develop A Winning Sales Channel Strategy From Scratch"
The key here is to find topics that have a big enough search volume, that have commercial value (ideally) with a low enough keyword difficulty (KD) so that you can easily rank for them and start drawing in quality targeted traffic.
Strategies to help you develop better top of the funnel content:
Content Hubs: How To Ace The Content Marketing Game
Topic Clusters: How To Power Up Your Content & SEO Strategy
5. Develop Your Consideration & Conversion Content
Map out the types of content that help consideration, builds desire & fosters trust
Driving targeted traffic is important, but without the right content to guide your visitors to a conversion, you allow that hard-won attention to slip past your fingers.
We don't want that!
Your content strategy will have to address two more critical content categories.
They are the middle-of-the-funnel (consideration) content that brings your product or solution into the conversation with your readers, as well as bottom-of-the-funnel (conversion) content that helps nudge prospects to a buying decision.
How to develop your consideration content
While it is easy to just frame consideration content as webinars, templates, ebooks and reports, those are the formats and not exactly what consideration content is about.
Consideration is about educating your audience about what your product can do that will directly benefit them and their current circumstances.
Powerful mid-funnel content combines the power of education and persuasion.
Ahrefs' article on influencer marketing is a perfect example of consideration content as a blog post.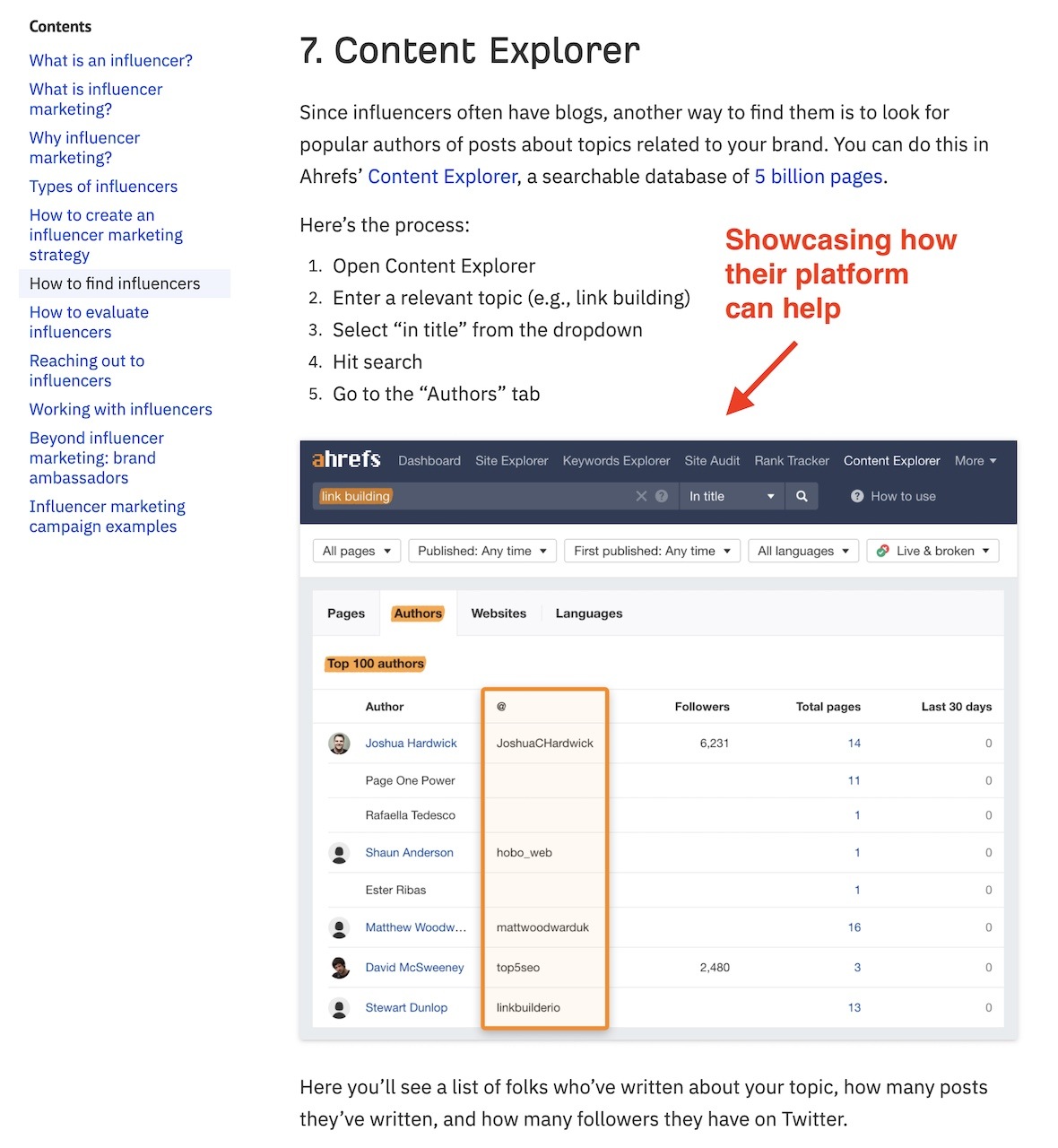 The article itself is a standalone resource where readers can learn all they need to know about the topic and Ahrefs cleverly integrates their platform as an option on how to find influencers – one of the key takeaways the audiences are seeking.
If you are selling high-ticket SaaS products, you'll have to up your game when it comes to your consideration content.
Solution briefs and use-cases are a powerful way to demonstrate the industry expertise of your solution to how it can help the unique challenges of specific niches.
ThoughtSpot, for example, creates a whole series of solution briefs in the form of ebooks that bring readers through how exactly their business intelligence solution can help their particular industry and solve a specific pressing problem.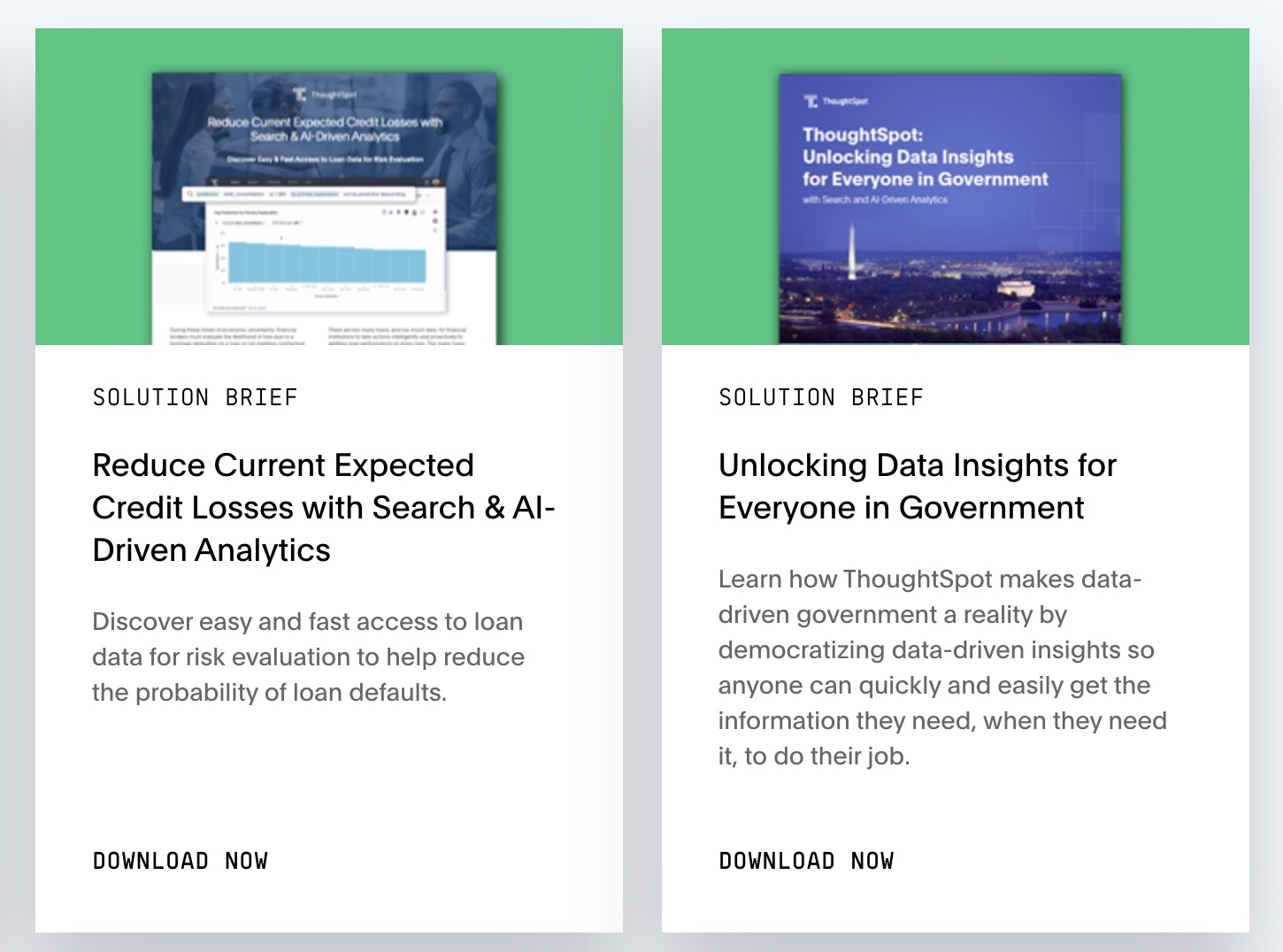 Sometimes, consideration content doesn't have to be a written document, blog post or a guide, it can be a tool that immediately delivers a result your prospect is looking for while showcasing the value of your product.
The Ahrefs domain rating tool is a clever mix of both the top & middle of the funnel content.
It targets a validated audience searching for the keyword 'check domain authority' that has a high commercial CPC value at the same time.

Their domain rating tool is a great example of consideration content at work. It allows users to gain the immediate benefit of discovering their domain rating (or authority) in an instant while showcasing a few important details:
The interface of their solution (partially at least)

The number of linking websites & backlinks (key details to pique interest)

An offer of a free trial to gain access to the whole platform to check out those key details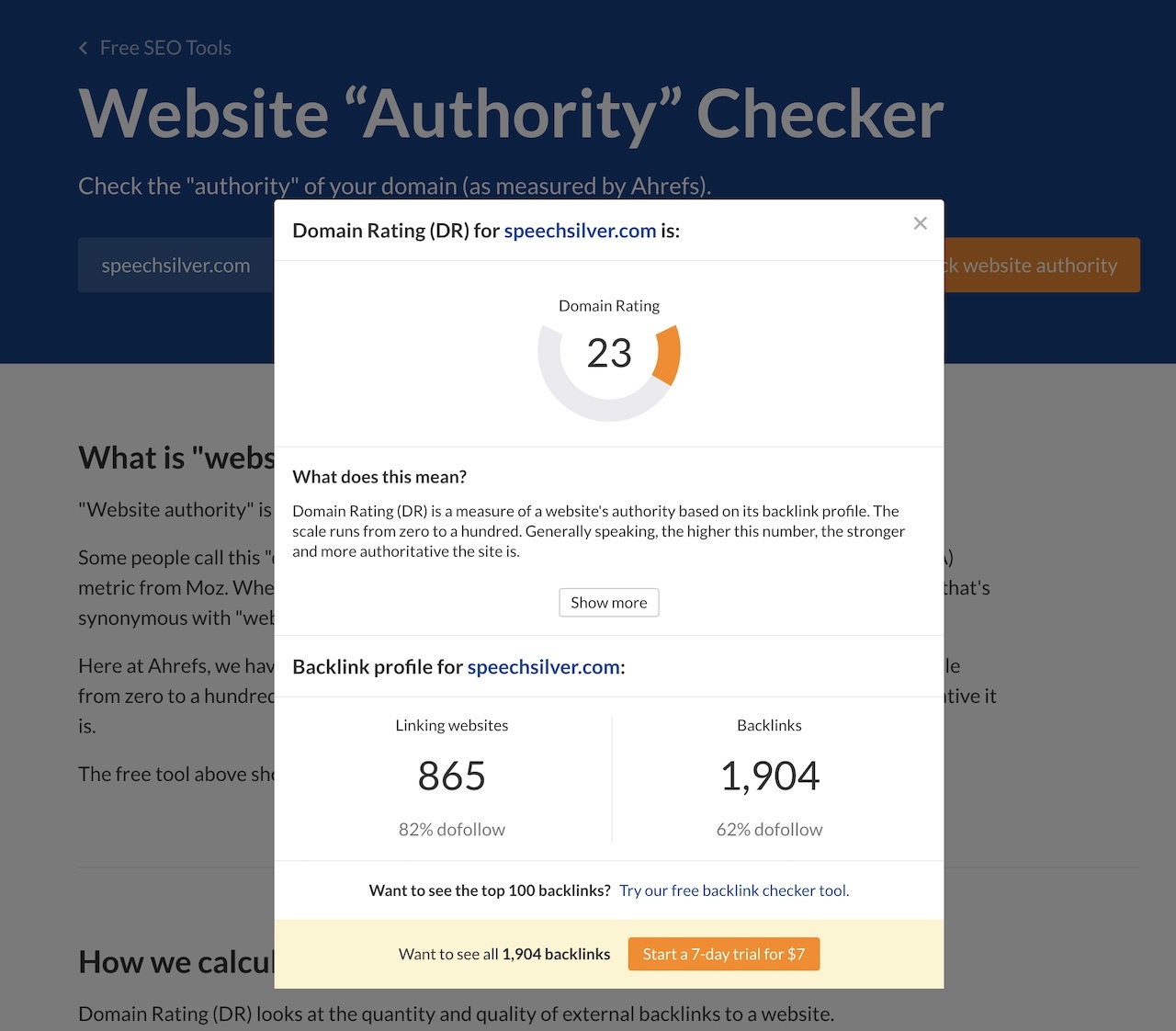 This single tool brings in over 30,000 monthly visitors and exposes their brand to new audiences every day that will experience first-hand what their product can do.
Here are some formats of consideration content for SaaS companies:
Conversion Content Is Essential In Your Content Strategy
While consideration content warms up your readers to the true value of your solution and how it is meant for them, it is conversion content that makes that final push towards a conversion.
These include:
Customer reviews & testimonials

Customer stories & case studies

Product or competitor comparison pages

Your pricing page (yes this is content too)
Customer stories are powerful to not only showcase the benefits of your solution, it humanizes your brand as well as your customer.
Through a combination of sharing the key lessons learned, the specific integrations their customer uses as well as taking the reader through the challenges faced & how they were resolved, Slack's customer stories build immense trust and competence all at once.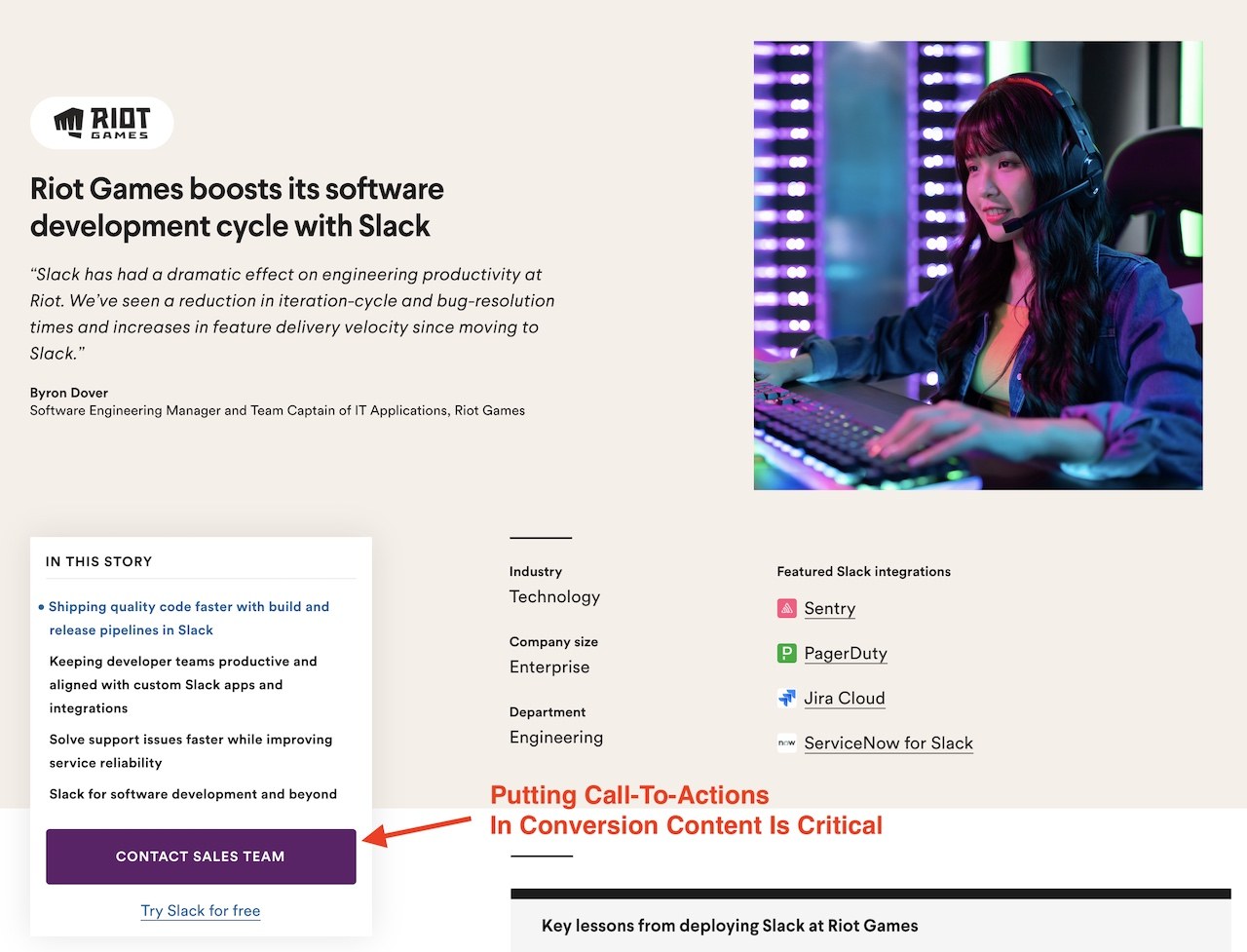 Pro-tip: When it comes to conversion content, always integrate in a call-to-action to capture the sale. Readers here are primed & ready to buy.
A key aspect of conversion content is to reduce 'buyer friction' and this is best demonstrated when it comes to the content on pricing pages.
While it is highly recommended to structure your pricing page, especially for SaaS offerings, with the 3-tier pricing strategy, a big part of the content here is also to swat away any last-minute doubts that might derail the sale.
Leadpages's pricing page is a perfect example of how to do this well.
They effectively preempt potential customer objections, fears and doubts that might halt them from making the purchase with a quick FAQ section.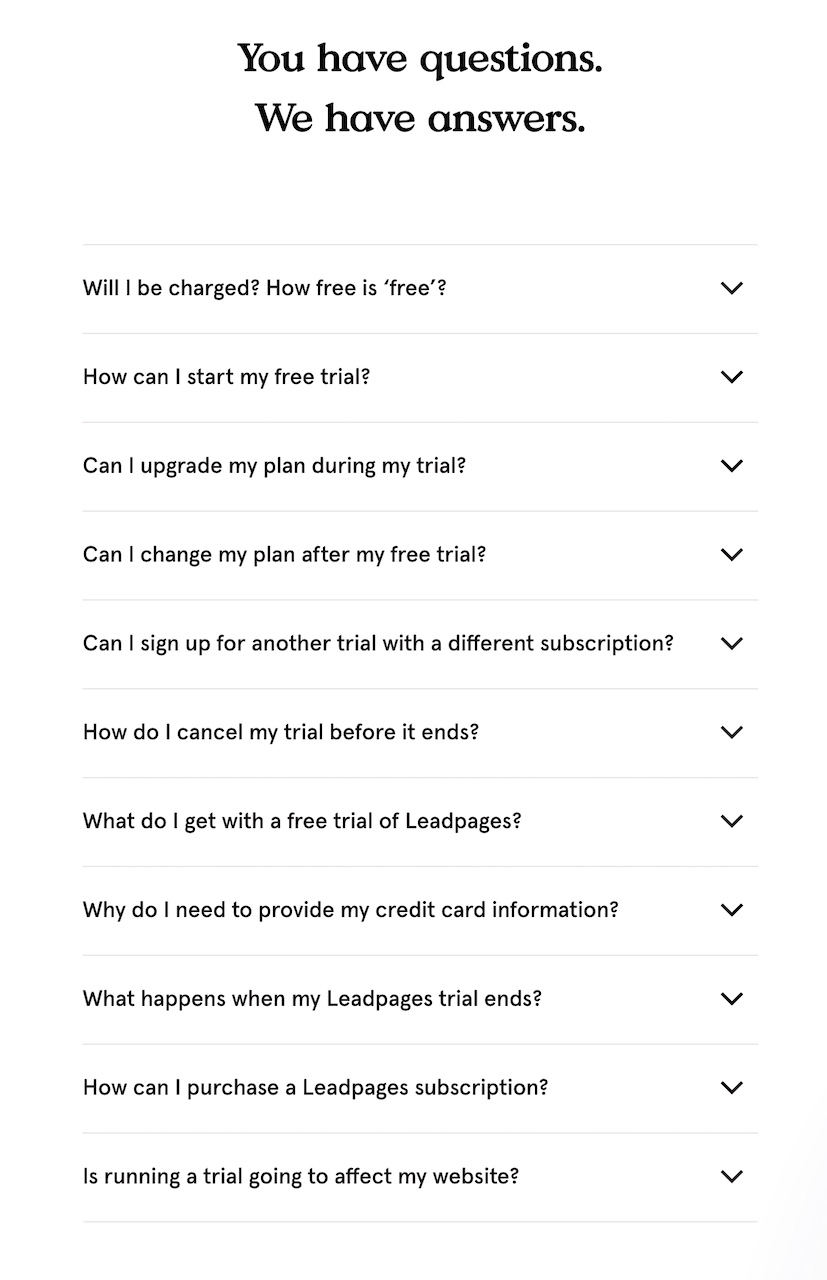 When it comes to determining the types of conversion content that will fit your strategy, be sure to place yourself in the shoes of your reader.
They are prospects that are thinking:
Can this solution help me and can I get a tangible ROI from buying it?

Is there a better alternative out there?

Have they helped anyone similar to me that I know of?

What if I don't like the product, is there an 'out' I can take?

Is this product worth the price?
Every conversion content that you create has to effectively answer all of the above questions to maximize its conversion potential.
6. Plan Out Your Customer Retention Content
What type of content must you create to maximize customer success & loyalty?
Converting your prospects into customers is but the first step – in fact, that is the easy part of content marketing!
As a SaaS company, recurring revenue is of utmost importance and to achieve that, you need to consistently add value to your customers.
The best SaaS companies understand this and have developed a playbook to keep their customers engaged and happy to come back for more.
To plan out your customer retention content, you'll need to ask yourself 3 key questions:
How can my customers maximize the use of my solution to reach their goals?

What horizons can I unlock for my customers through my product?

How can I get my customers involved in the process & build brand loyalty?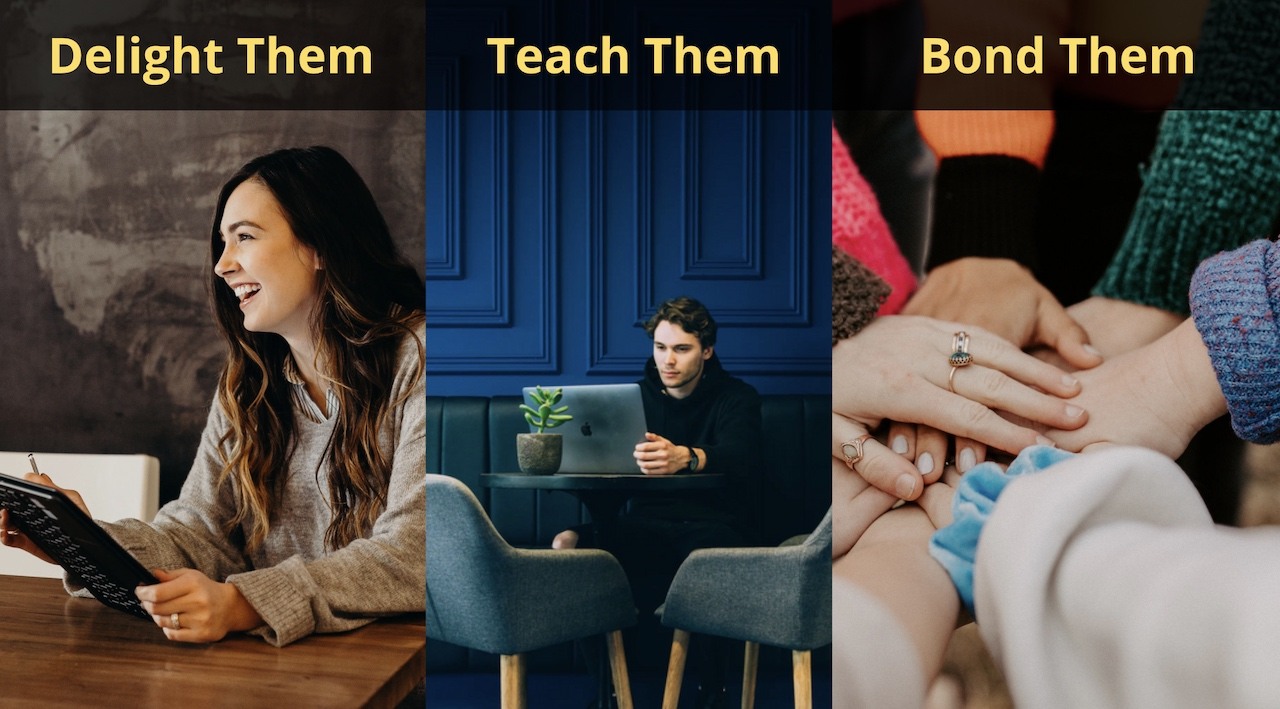 Customer retention content falls into three main categories that should be tackled in tandem to forge those bonds of loyalty while providing value simultaneously.
A. Prioritize Customer Success To Delight Them
Customers buy your product for a whole host of reasons, but the primary objective is to achieve success by solving their challenges.
While you might be an expert in your solution, you have to assume they aren't.
You'll need to develop content that equips them with all the necessary knowledge, in an easy step-by-step way to use your product or platform to reach their goals.
Do not be afraid to go granular and hyper-detailed, you want to ensure that your customers have the best experience with minimal hassle when using your solution.
SEMrush, an online SEO tool, creates their knowledge base content to guide users through how to navigate through their platform.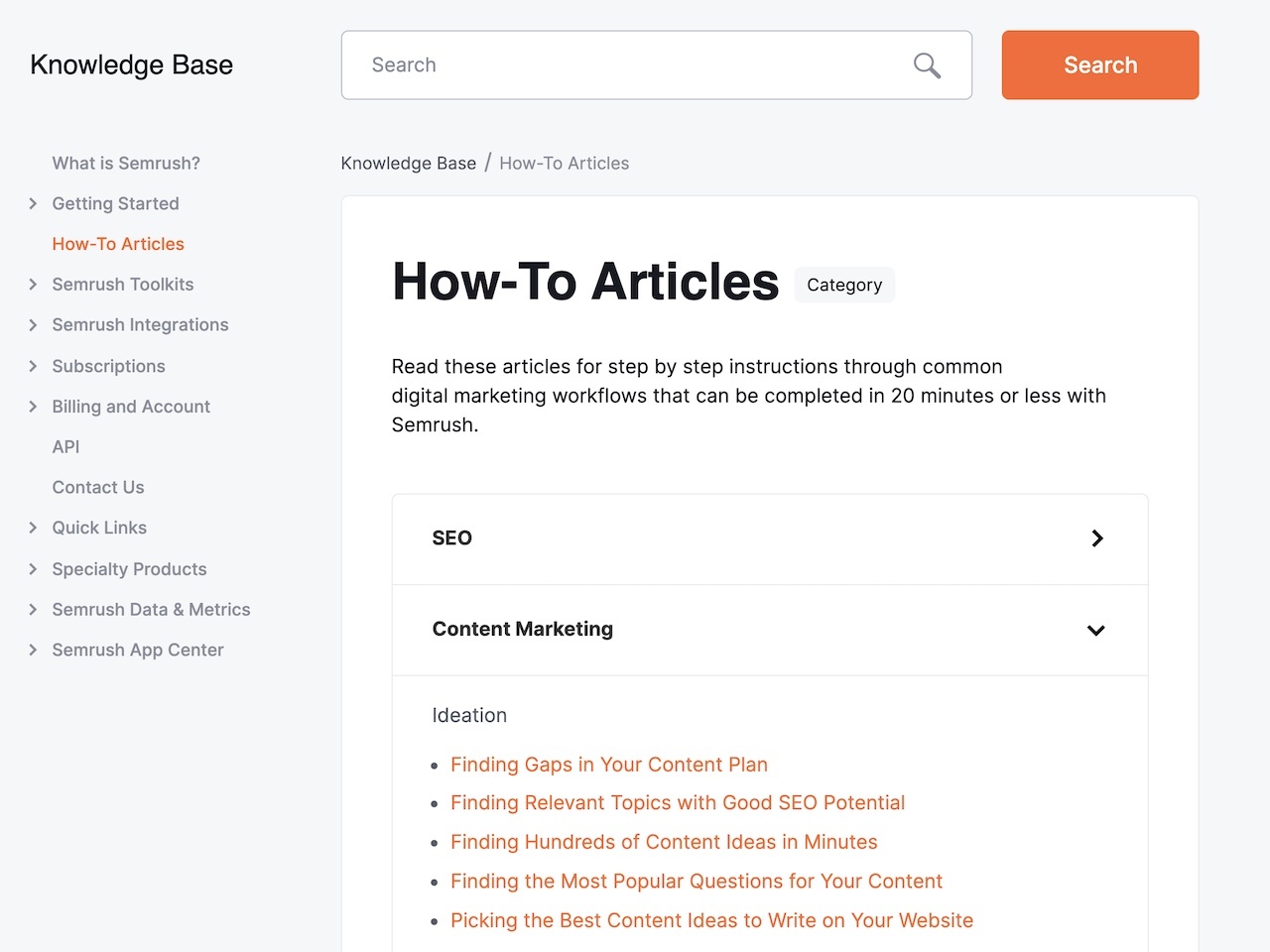 They dive deep into specific topics with their step-by-step 'How-To' articles which assumes the reader is a beginner and hand-holds them through the process with instructional content and guides.
In fact, they also created a quick start guide to help educate and onboard their new sign-ups, both paid and on the free trial.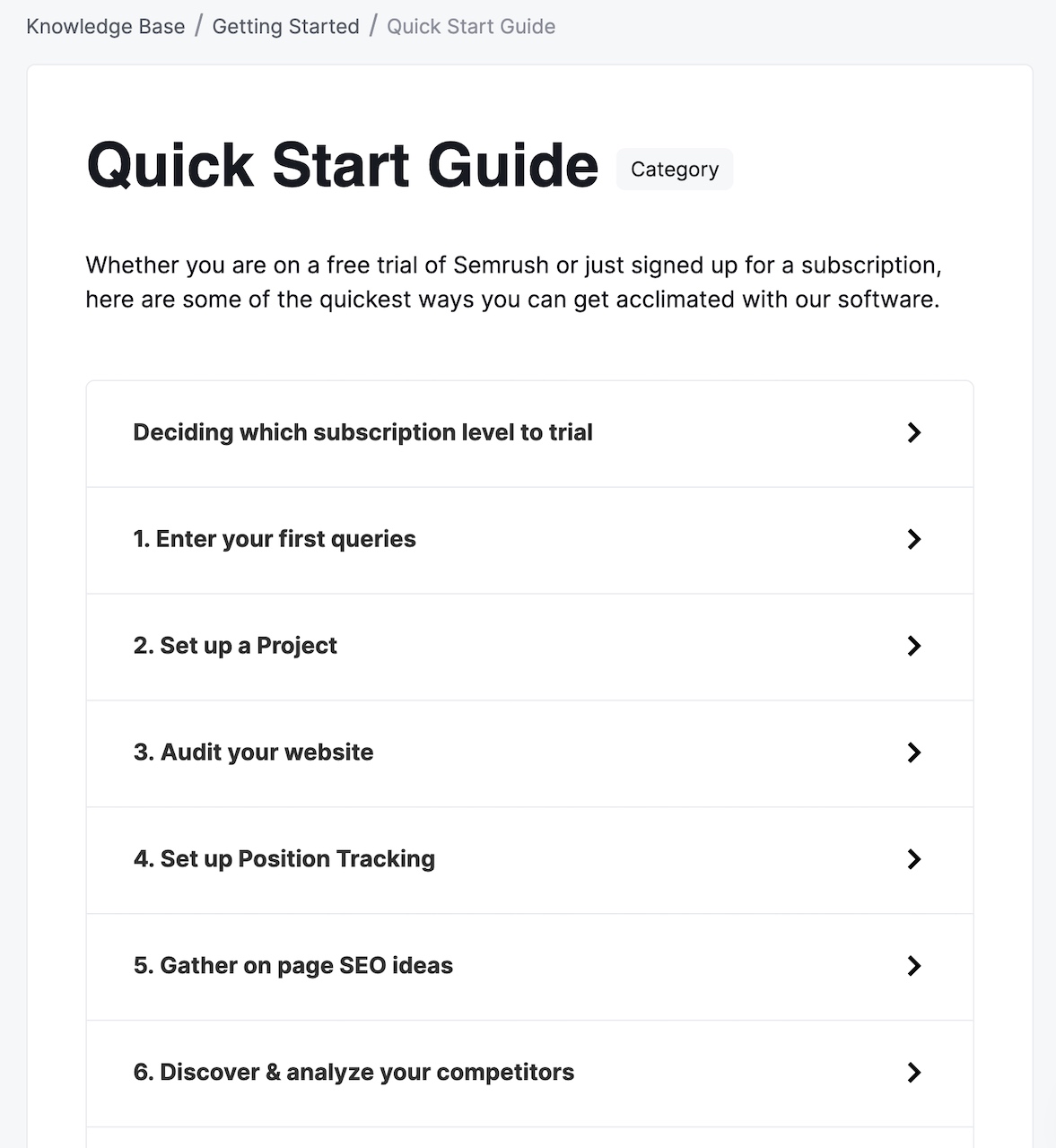 It helps to quickly kickstart the process of getting results through their solution and helps build trust and competence of their solution to their customers.
This is an ongoing process, especially when you update your solution or release new features that your customers might not be aware of yet.
B. Unlock Their Horizons By Teaching Them Something Valuable
Now you have ensured that your reader can effectively use your platform, what's next?
This is where your content needs to add value – but not just in something they already know they desire or a problem that they are keenly aware they need to solve.
You need to unlock new horizons, showcase new insights and bring forth new possibilities they never knew existed.
You'll need to teach them something valuable – preferably in a fun and engaging way.
Wistia, for example, creates documentaries as well as video series to unlock new ideas and share possibilities with their audiences (especially their customers).
This helps to both build brand advocacy and provides new valuable perspectives to users.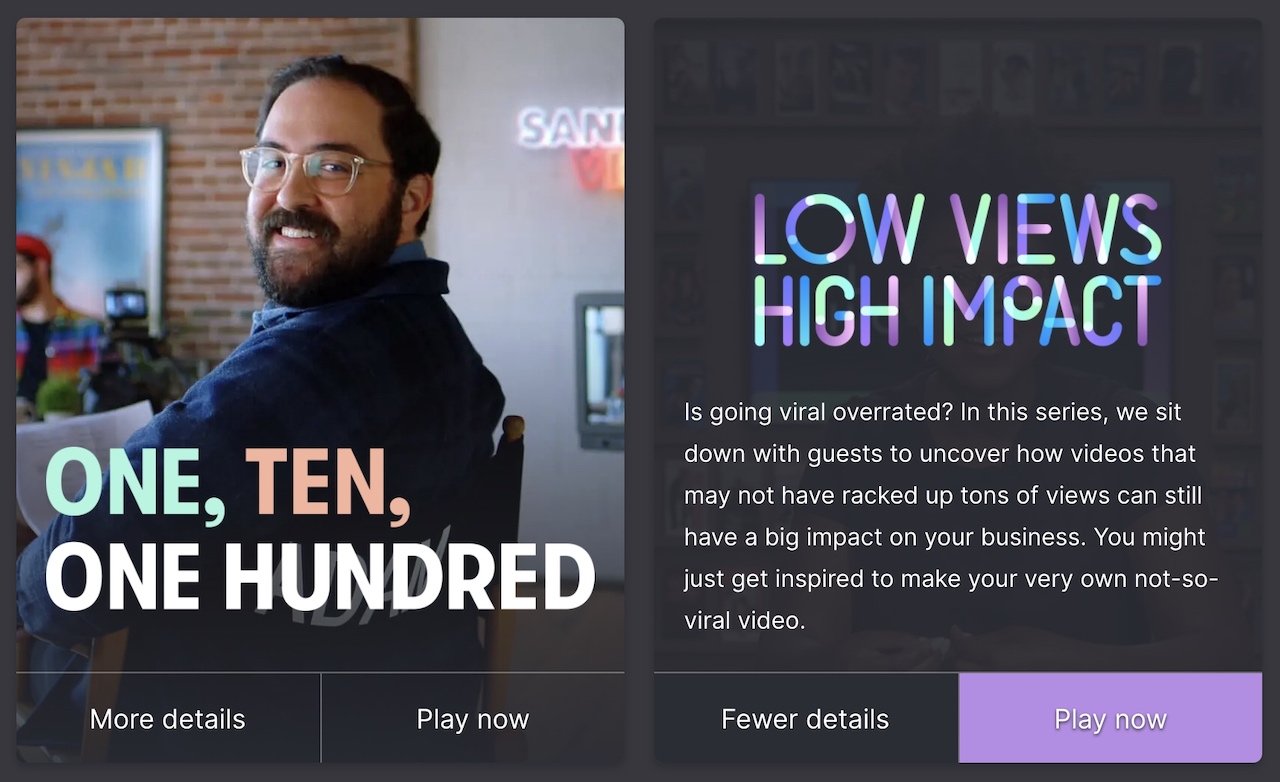 Customer retention doesn't have to be a big-budget production, you can do the same just as effectively through simple written content as well.
Close regularly develops 'playbooks' where they teach their existing customers (as well as general audiences) key lessons on how to level up and become better sales executives and managers.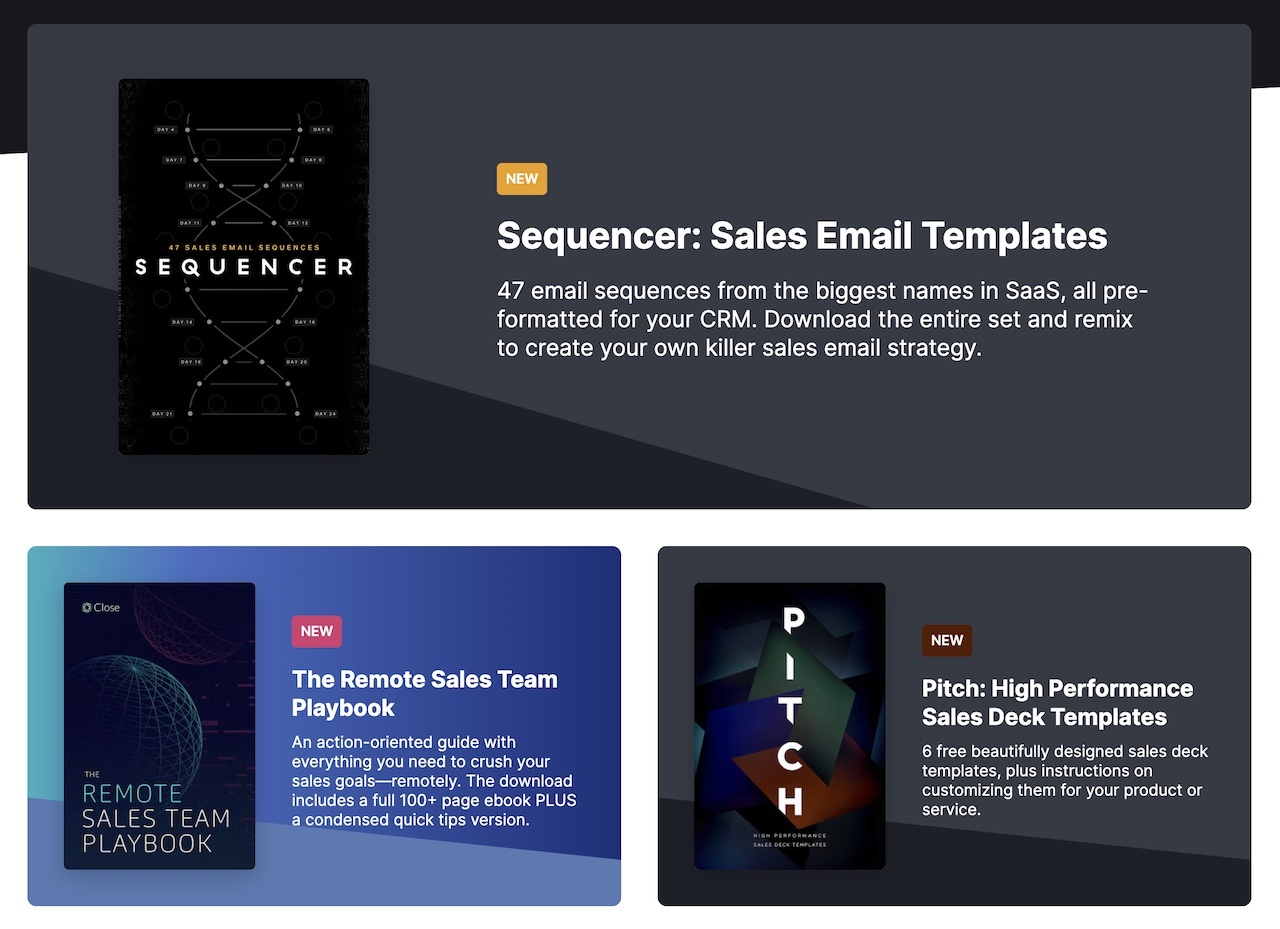 They keep their topics fresh and regularly update them with exclusive content that include:
Insights from industry & sales experts

Actionable guides covering the changing landscape (such as the rise of remote sales due to the COVID-19 pandemic)

Templates and checklists for sales managers to help guide their sales reps better
C. Develop Your Own Tribe & Bond Your Customers Together
Sure, creating guides and instructional content is valuable, but let's face it – nothing is better than person to person interaction and that is where developing your own community is key to helping customer retention.
Not only do your customers create user-generated content that others can engage and interact with, they are potentially great seed ideas for bigger topics that you can build on as well.
Shopify, for example, bonds together their customers by developing their own community through a forum discussion board.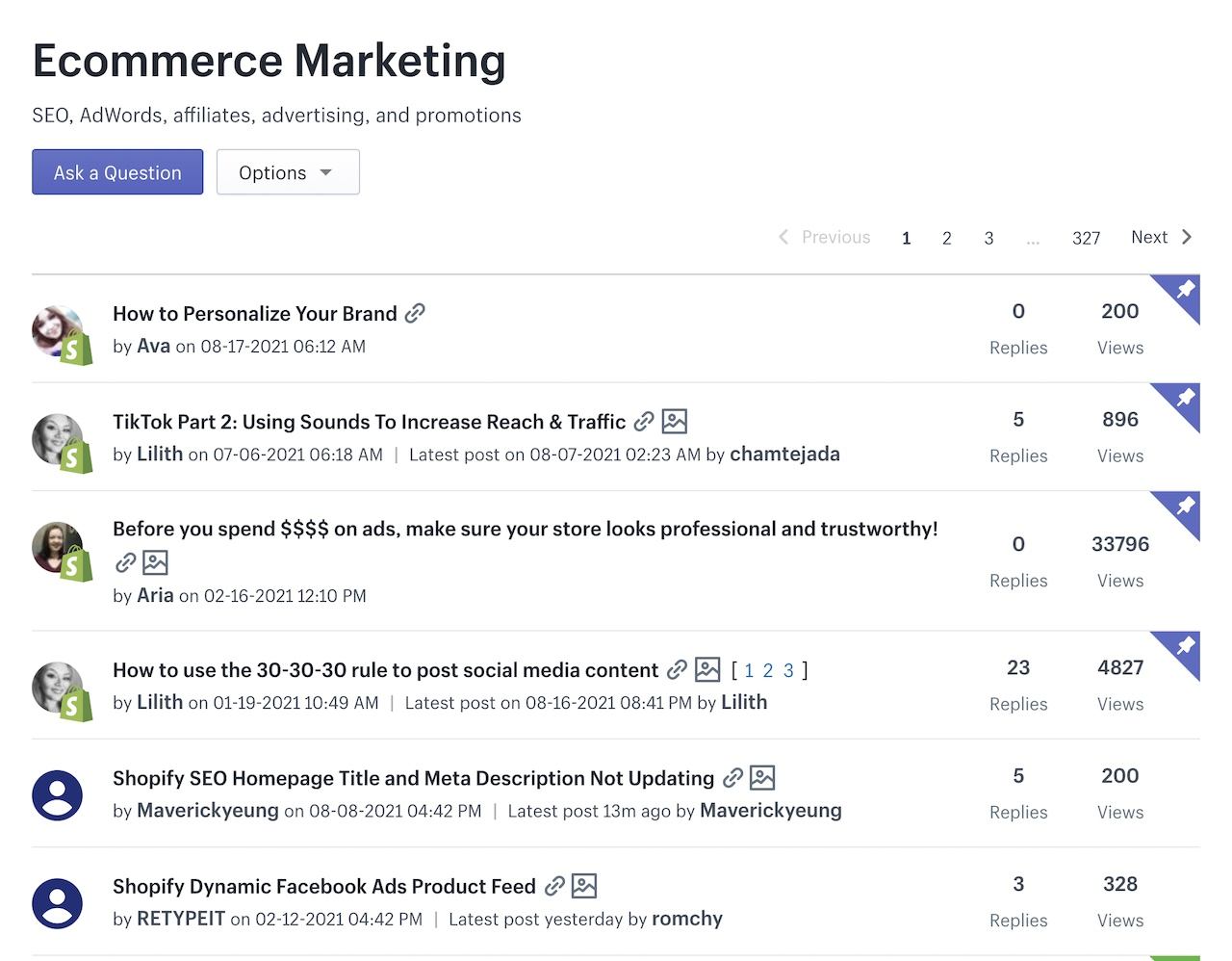 It allows their staff to communicate directly (and individually) to their customers in a virtual town-hall setting where other users can just chime in or benefit from the exchange.
Remember, to foster customer loyalty, a big part is ensuring that your customers are succeeding in their goals and maximizing the value of what your product has to offer.
While it is tempting to showcase your awesome office culture, leave it till the end of your list and focus on what your customers want & need.
7. Define Your Content Marketing Goals
What are your immediate objectives for your content?
While the end goal for SaaS companies is to drive more business and increase the bottom line, you need to understand where you are in your content marketing journey.
If you just started, you'd probably be looking to drive traffic to your website first and foremost.
In this case, your goals will be your traffic growth and developing core metrics for your website such as:
Increasing the number of backlinks for your website

Increasing your domain authority

Ranking for keywords that matter
Your KPIs here will be rather tactical.
However, as you accelerate your content marketing efforts and have your basics covered, you'll want to be tracking key metrics that are essential for SaaS companies.
Here are some examples of how your content marketing metrics will change as your goals evolve:
Getting In New Customers
The metrics to track here will include:
Free trial registrations

Demo requests (especially if you are selling a big-ticket item)

Customer acquisition costs

Lead conversion rate
When it comes to winning new customers, you'll want to continue to focus on the top of the funnel content but make an aggressive push towards conversion content such as case studies and competitor comparison pages.
Retaining Your Customers
The main metrics here to focus on will be:
For customer retention, you'll want to ensure you are losing fewer customers as the months go by as well as ideally increasing the commitment and business from your current client base.
8. Fix Your Publishing Schedule
How often are you going to publish your content? (Plus how to make it happen)
Now that you know the keywords you are going to target and the types of content you need to create, the next big step is to draw out a publishing plan.
How much content must you publish to gain traction?
Will 1 blog post a week be enough?
Should you create an ebook or a case study every single month?
Ideally, you should be publishing as much high-quality content as possible to develop traction and start driving organic traffic to your website. In fact, HubSpot recommends publishing 3 to 4 times a week!
However, if you are just starting out and your content team is small, you'll have to prioritize your content creation.
For smaller SaaS blogs, you can start off with just 1 blog post a week and develop middle and bottom of the funnel content at least once a quarter.
As you grow towards a more established content team or you are working with an agency, writing 3 blog posts a week and developing conversion content (such as solution briefs and case studies) should be done at least once a month.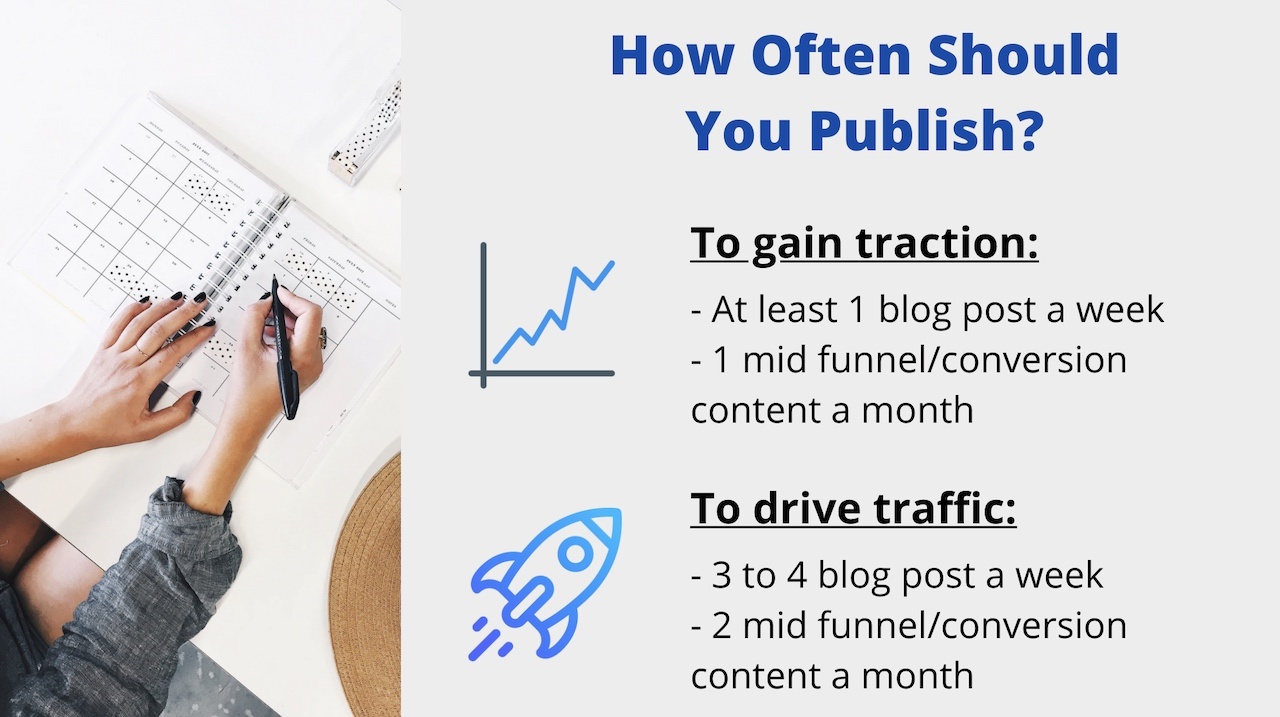 But remember, when it comes to content creation – quality is still king.
So in order to build your content publishing schedule on solid ground, you'll need to set up your content development process:
A. Assemble Your Content Creation Team
Much like how Nick Fury assembled the Avengers, you'll need to form your rock-star content creation team – or at least start with the bare minimum.
If you are starting a blog for your SaaS company, here's what you'll need at the very least:
A content manager

A content strategist

The

content writer

and editor

The content designer

The SEO specialist
While 5 roles might seem like a lot, you can overlap duties if you are starting out small – the content manager can double up as the content strategist as well.
However, as your content production needs grow, these roles will have to be dedicated to specific individuals.
B. Create Your Content Calendar
The next step is to develop your content calendar.
With one, you'll be able to streamline all of your content production needs and ensure you are hitting your content milestones.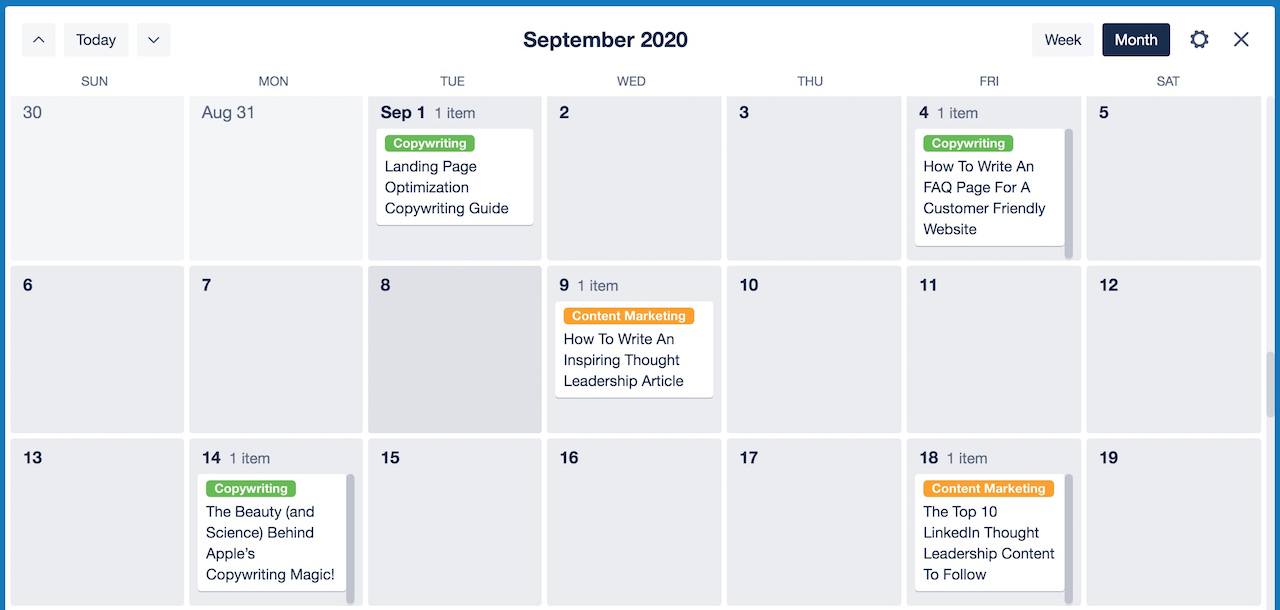 Plus, a content calendar will allow your entire team to be on the same page, making it much easier to collaborate.
You can easily develop your content calendar using apps such as Trello, Basecamp or Clickup.
C. Set Up Your Content Review & Approval Process
Finally, in order to hit your publishing goals while maintaining a high content quality, you'll need a content review and approval process.
It'll help you swiftly fix any mistakes, ensure your content is effective and native to your platform and determine if your content is valuable enough to your audience.
Here's how to develop your review and approval process from scratch.
With these three pillars set-up plus your content marketing budget, you'll be able to determine how many pieces of content you can develop and publish every month to build traction.
9. Define Your Content Distribution Strategy
Where will you publish your content?
Content creation is important, but so is having a distribution strategy that goes beyond just publishing blog articles on your website or uploading videos on YouTube.
There are three content distribution channels that every SaaS company has to be aware of and utilize to gain the most exposure and traction for their content marketing efforts.
They are owned media channels, paid media channels and earned media channels, each of which is rather different.
Owned Media Channels
For most SaaS companies, owned media channels will be the primary distribution channel and for the most part, is the easiest to control and start.
These include your website (blog and pages), social media channels such as LinkedIn and Youtube as well as your email newsletter.
While you will be able to eventually drive organic traffic to your owned media channels, SEO will take months to gain traction – that's why to widen your reach to your target audience, you'll need to tap onto the other two distribution channels.
Paid Media Channels
Sometimes in marketing, you'll need to pay to play – and that goes for bringing in your ideal customers to your content.
This is by far the most immediate way you can reach your ideal customer while being able to control the message.
These includes:
Paid media channels require you to have effective search engine and social media marketing knowledge as well as a healthy budget to keep the momentum up.
Often, tens of thousands of dollars at a minimum, every single month.
Thankfully, if that is a challenge, you can still build traction and distribute your content effectively through earned media channels.
Earned Media Channels
This channel is where your content is hosted and shared by third parties, such as industry or niche websites, without you paying any money for it.
However, you will be paying in terms of time, effort and building relationships.
Earned content distribution channels include product reviews, forum posting, media mentions and most importantly guest posting.
In fact, Groove grew its brand and reached more than a million people solely through guest posting!
Here's why guest posting helps you tap into an existing audience to spread your brand awareness while adding value to them.
This is then translated back to them visiting your website (called referral traffic) and you then have the chance to convert them to customers of your solution.
That's not even counting the serious SEO benefits you will get from the backlinks earned in the post itself.
Steli Efti of Close, a sales communication SaaS company, regularly posts on 3rd party websites where his ideal customers visit.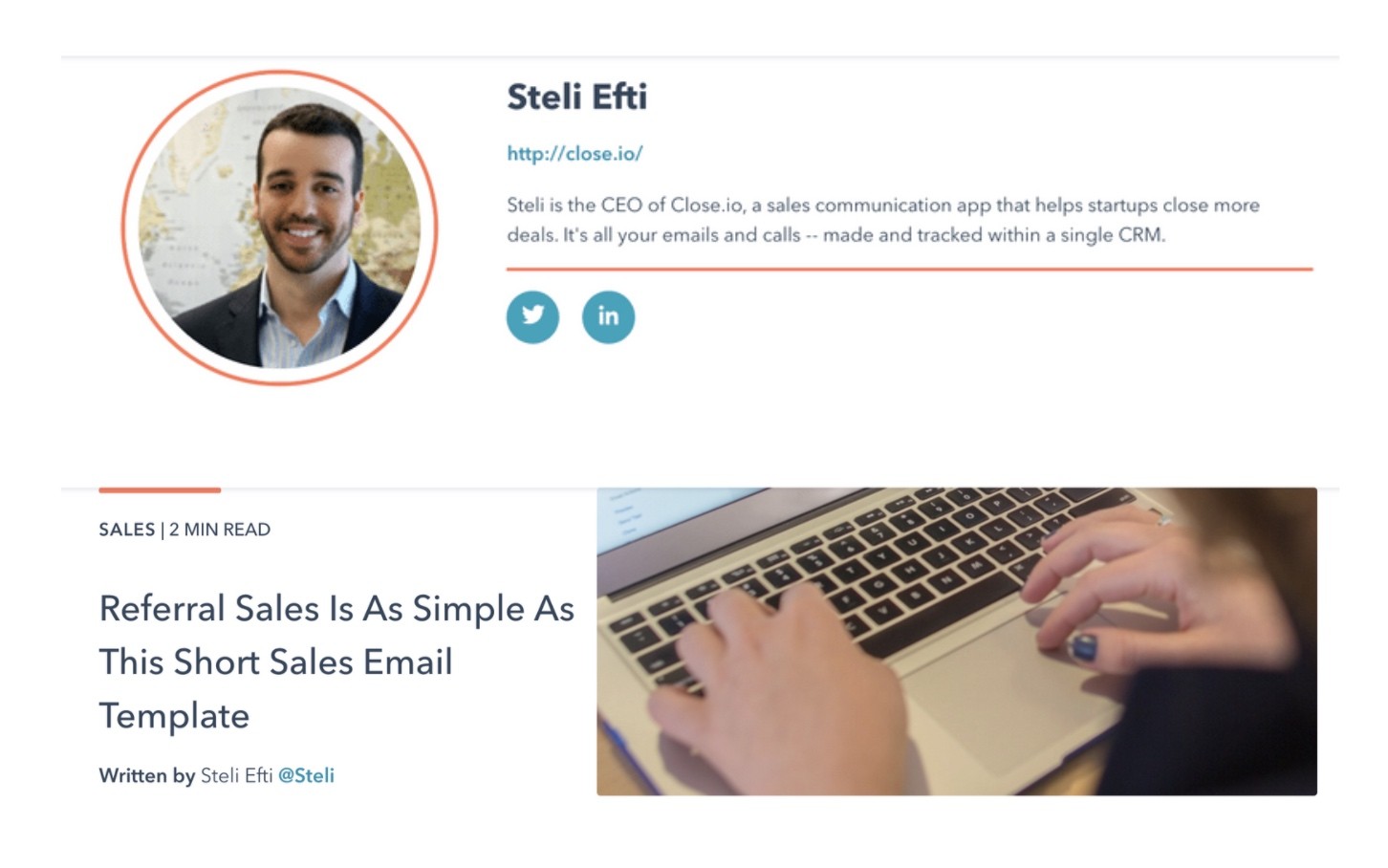 This allows him to spread brand awareness, add value through the sales-related content he delivers as well as get a backlink that helps to further build the domain authority of Close's website.
Here's how to get started with guest posting the time-tested way and the unorthodox way – psst, both works!
10. Determine The Relevant CTAs For Points Of Conversion
What action do you want to drive and where do you locate them?
A key aspect of content strategy is to determine the right call-to-actions to use and where exactly to place them at.
When it comes to SaaS, there are generally a few key types of CTAs that you should be aware of and understand where to place them:
The Free Trial or Money Conversion CTA

The Expression Of Interest CTA (Demos etc)

The Lead Generation CTA
While there are definitely more nuanced CTAs, they all filter down into mainly these three categories.
Let's quickly touch on each and discuss their purpose and where they should be featured on your website.
The Free Trial (or Money Conversion CTA)
For most SaaS companies, the free trial is the final step of commitment for the majority of your prospects – they sign-up for it and down the road, if they love your solution (plus some constant reminder on your end), they become a paying customer.
Your free trial should be placed across various parts of your website to capture the conversion whenever possible.
However, it is mission-critical to showcase them in these 4 places at the very least:
Your homepage

Your pricing page

Your case studies page (and within individual case studies)

Your use cases (or industry use) pages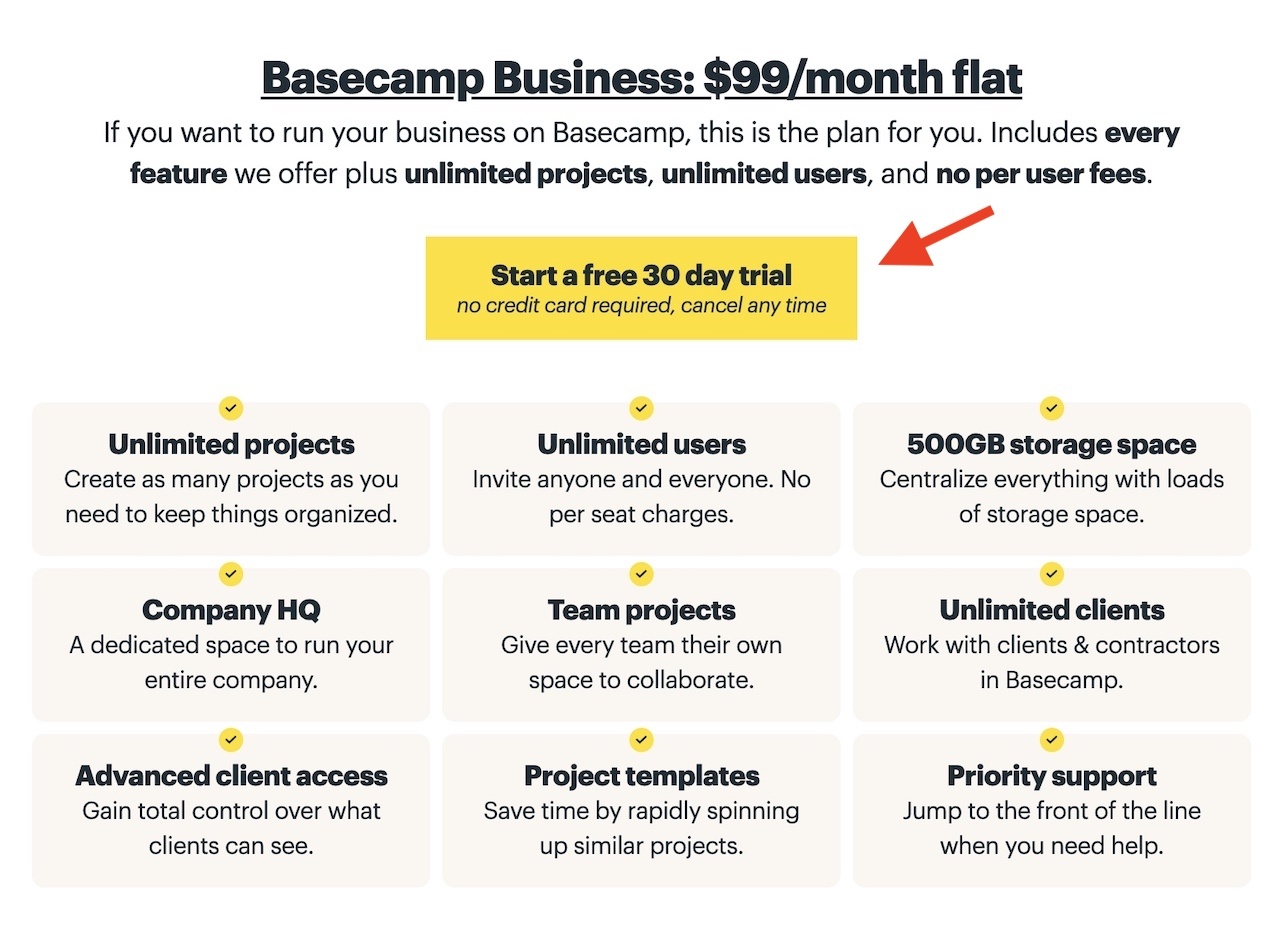 Basecamp showcases their free-trial CTA in key pages, such as their pricing page, and knocks away objections at the same time to increase the conversions.
The final point of conversion can cause some prospects certain hesitation – even if it's a free trial.
Most of it will come in the form of requiring a credit card to sign-up, auto-renew fears as well as the ability to easily cancel – of all which should be addressed to maximize the odds of them signing up.
If your solution is good, they will become a paying customer. Your goal here is to simply get the free-trial conversion.
You can also effectively integrate your free-trial CTA at the footer of every page – like how Close does, allowing you to capture the conversion in a non-intrusive way while making it convenient for your prospects to sign-up.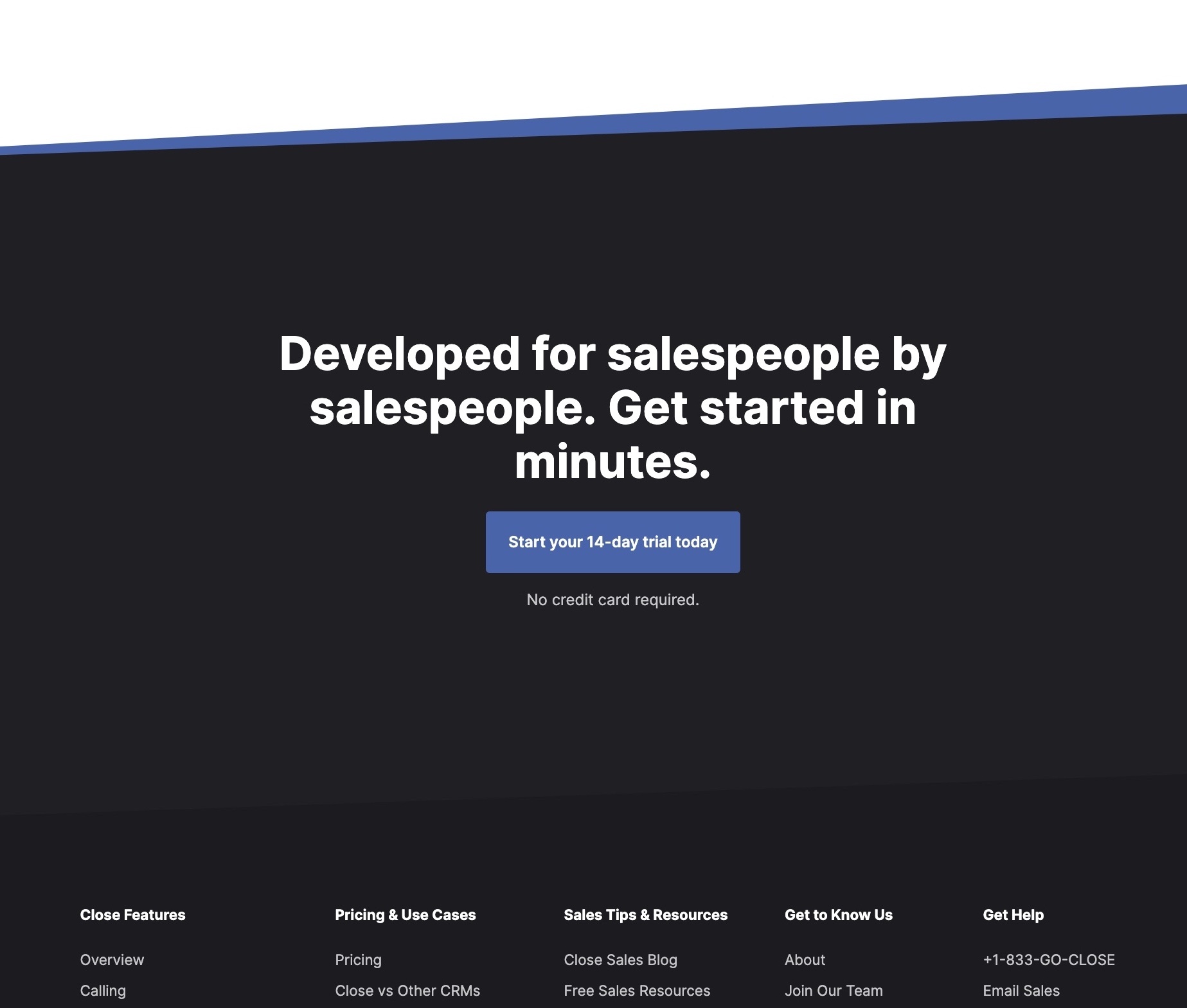 The Expression Of Interest CTA
The expression of interest CTA normally comes when your visitor is not quite a prospect but is warmer than a lead.
They have an interest in understanding more about your product in action but haven't passed the threshold of seeing enough value to actually pay for it.
It's your job to convince them through further content marketing as well as the strength of your product itself to convert this group of 'fence-sitters'.
In this case, your CTA will come in the forms of getting your readers to:
Attend a webinar (live or recorded)

Watch a product demo

Download a product use case or solution brief
But where should you place it?
The key here is to locate them at places where a more detailed explanation is needed, especially when you have to convince readers that your solution can help their specific industry, niche or unique situation.
This means locating it at:
Your main product or service showcase pages

Your product individual key features pages

Your industry solutions pages
This is doubly true when you are selling a high-ticket product.
Snowflake, for example, locates their expression of interest CTA at their industry pages knowing that it will take more convincing for readers first before they will commit further and convert into a paying customer (or a free trial).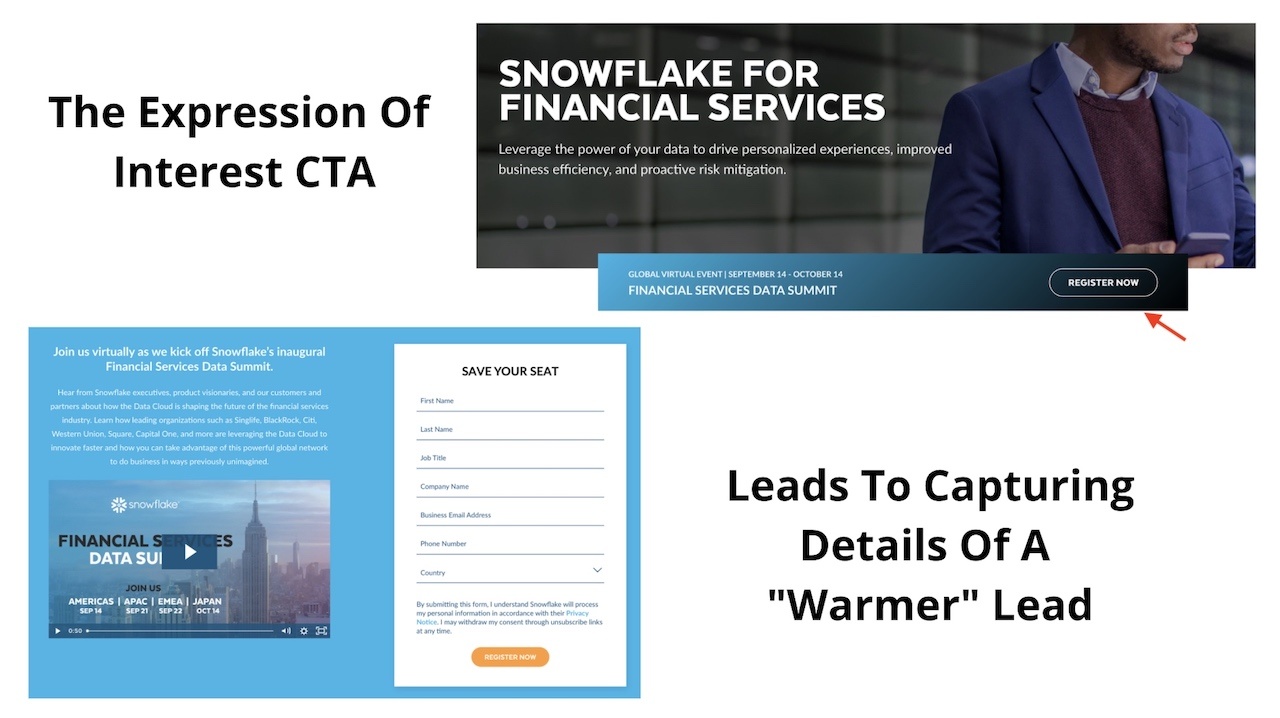 The Lead Generation CTA
While we can hope for our traffic to convert directly into a free trial, realistically, the majority of your visitors will be only somewhat interested or just be slightly curious about your brand and offering.
It's very normal, after all, it normally takes 3 to 5 positive encounters with your brand's content in order for a visitor to turn into a prospect.
That is why it is mission-critical to capture as much of your cold traffic as possible into your marketing funnel so that you can nurture them down the line to 'warm them up'.
For SaaS, this entails getting your readers to subscribe to your newsletter.
This means integrating a direct lead generation CTA into your main blog page as well as each individual blog post to maximize the odds of growing your subscriber base.
Shopify, for example, places their lead generation CTA at their main page that houses their blog posts as well as at the side of every post.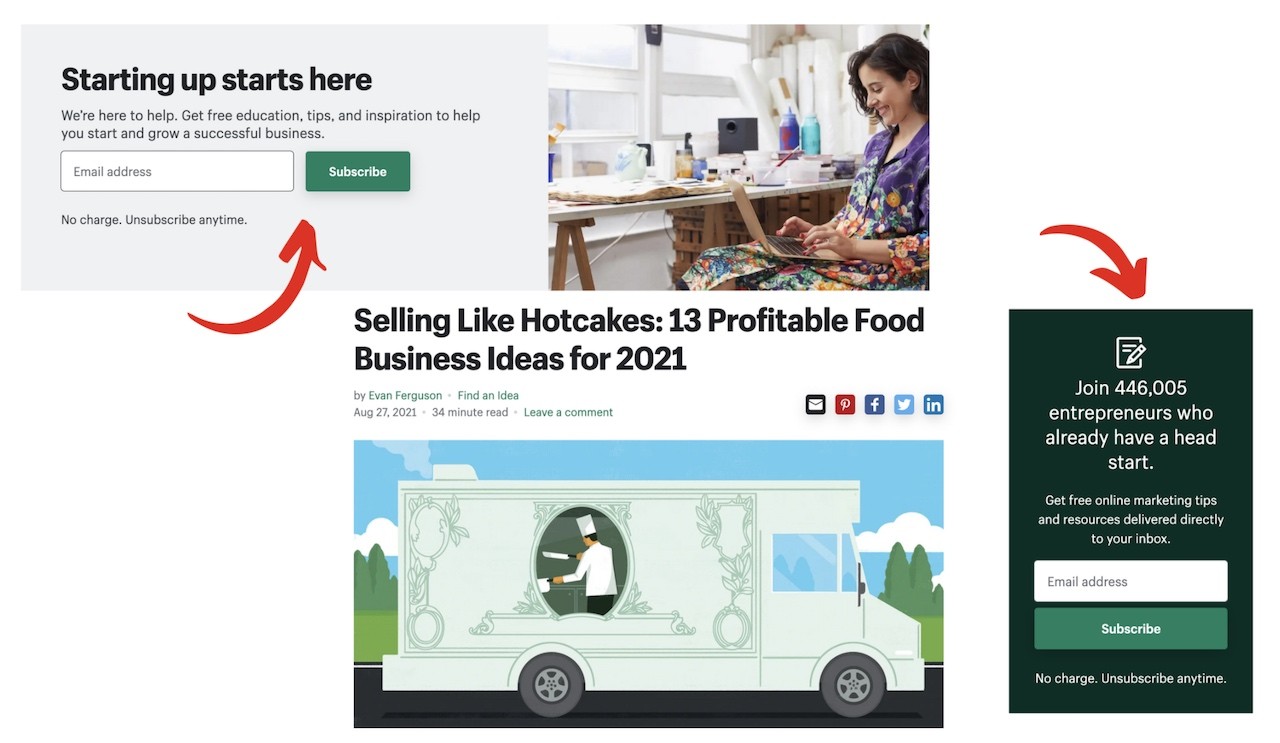 11. Develop Your Email Marketing Plan To Nurture Leads
Nurture leads into customers and customers into advocates
Now that the majority of your content strategy is settled, you have targeted traffic coming in and you are effectively capturing them into your email list…what's next?
You'll need to nurture them with good ol' fashion email marketing.
Time and again, email marketing has proven itself to be a reliable avenue for SaaS marketers to drive conversions, after all, email delivers $42 for every $1, that's an incredible 4,200% ROI!
In fact:
To accomplish this, there are a few basic email sequences & strategies you can use to engage your subscribers, warm them up and build enough interest for them to hop onto a free trial.
Here are 6 types of email campaigns and sequences every SaaS company should include in their email marketing arsenal.
A. New Subscriber Welcome Sequence
When a prospect signs up for your email list, take this opportunity to bring them through a journey of what to expect from your brand – both product and content-wise.
A good way to do this is to match the intent of the subscriber.
If they exchanged for a particular e-book say based entirely on sales, for example, you'll want your welcome sequence to be geared towards sales-related content as well as showcase how your product can help sales-based scenarios.
B. Free-Trial Onboarding Sequence
When someone signs up for your free trial, it's rather important to assume that they are total newbies to your product and need some hand-holding.
This is where you email them helpful information on how to start as well as link them to the relevant content (such as blog posts or videos) on your site to allow them to get the most out of your solution.
C. Weekly Content & Product Updates Newsletter
You are constantly improving and adding new features to your SaaS solution right?
Take the opportunity to showcase these awesome new additions in your weekly (or monthly) content newsletter to remind your subscribers your solution is getting better.
It helps your brand and product stay top of mind with your audience.
D. The Webinar Invitation
Do you have an important webinar that is coming up?
Use this chance to push your subscribers deeper into your sales funnel with this sequence.
E. The Reactivation Email Sequence
Just because a customer doesn't renew their subscription doesn't mean you stop trying to retain them, within reason of course.
With a reactivation email sequence, you will be able to attract back a portion of your old customers – especially if you have improved on your product and have proved its worth.
F. The Customer Stories Email Sequence
Everyone loves a good success story, especially when they can learn something from it.
By occasionally emailing success stories to both your subscribers and customers, you'll be able to reinforce the value of your brand through tangible results-driven.
This not only helps convince prospects to give it a try but also adds value to your current customers who might gain insight from how others are effectively using your solution.
Ahrefs, for example, sends weekly email digests to their subscribers on what's new on their blog. 
It's straight to the point without any fanciful design.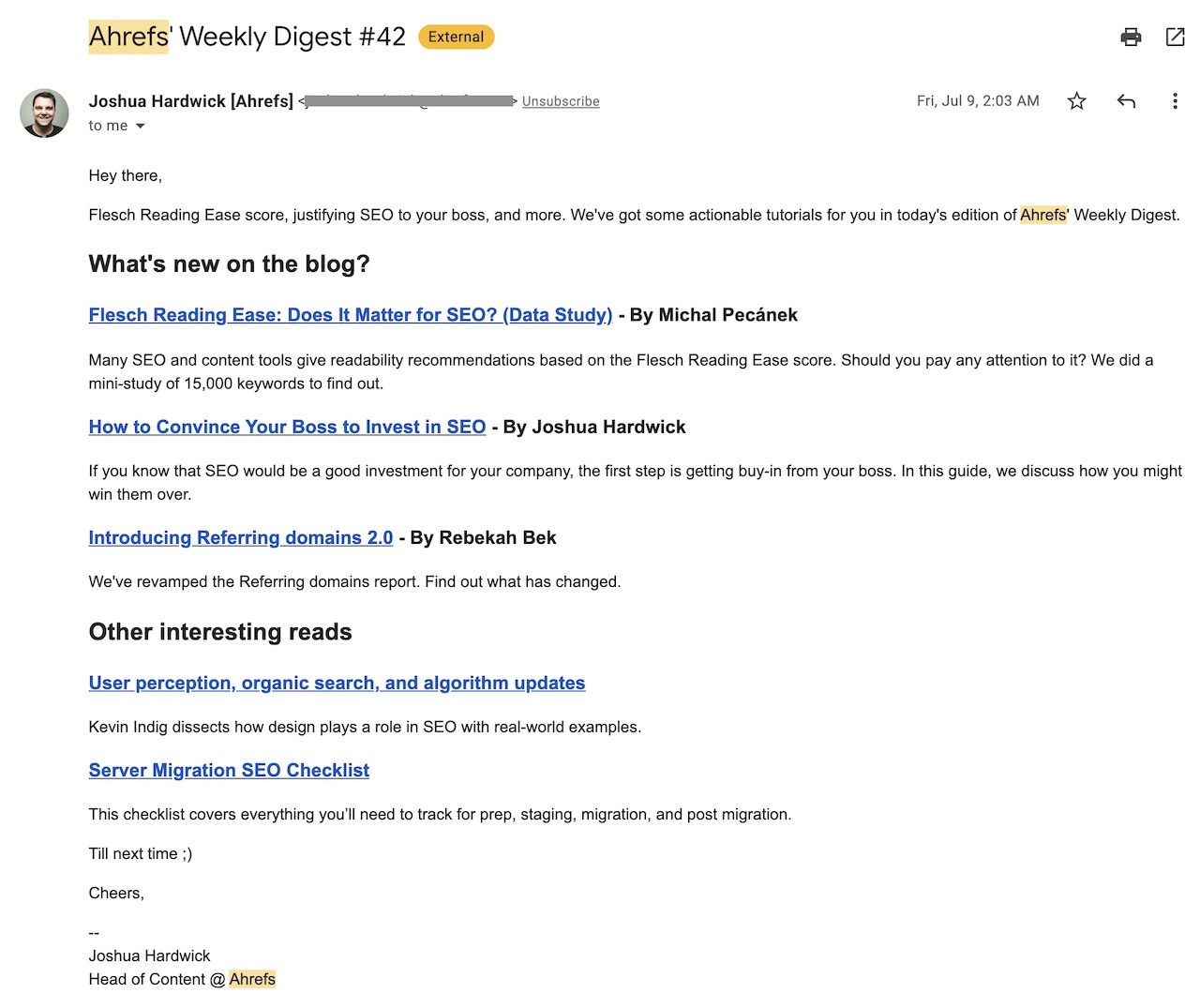 Additionally, they also consistently use email to update their current customers on what is new with their platform and how to use it more effectively through either an instructional blog post or video, in this case.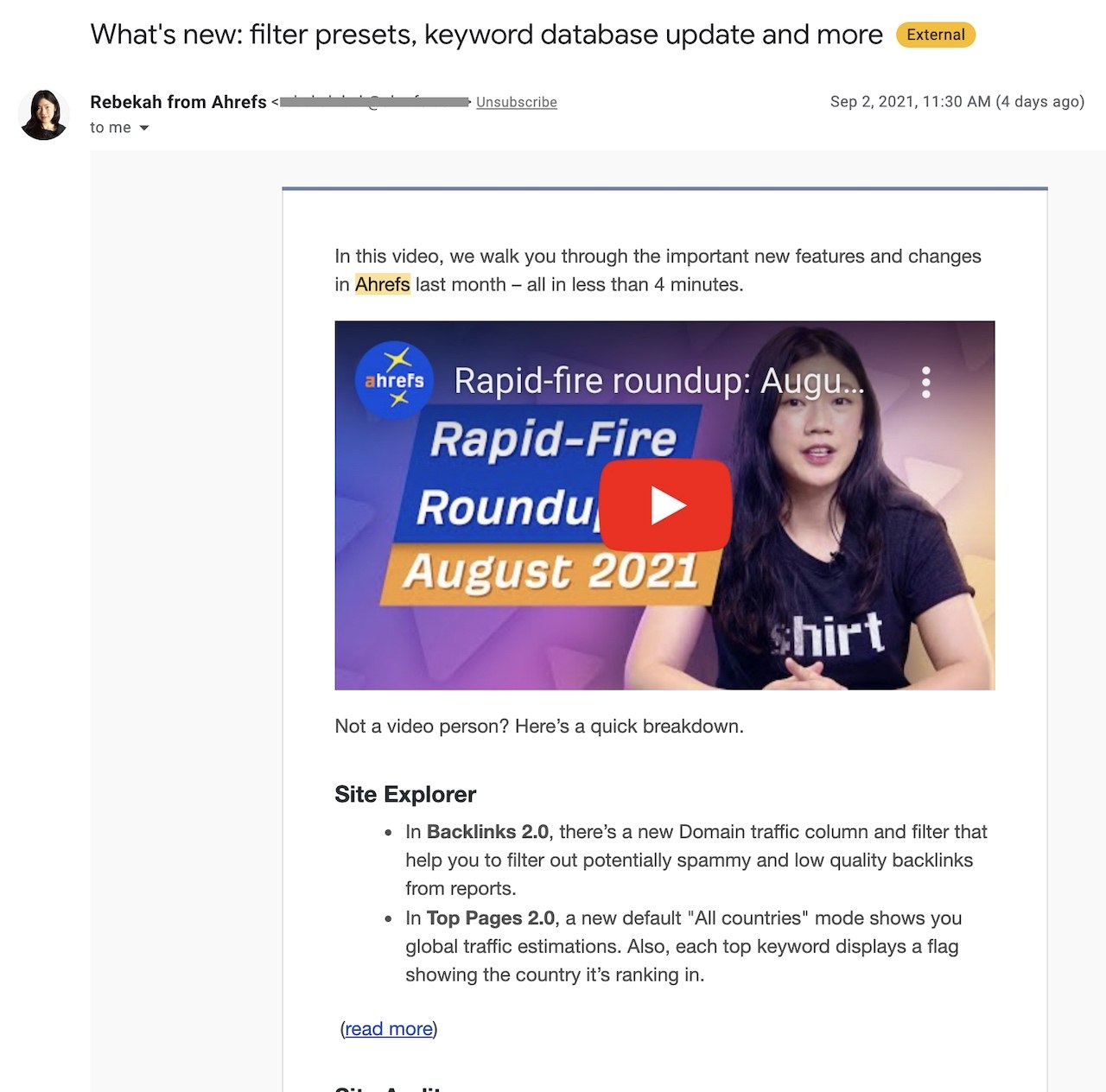 Resources:
Be sure to check out Pat Flynn's resource library on how to start with email marketing – he is a genius at it and most SaaS companies should really heed his advice.
12. Measure Your Content Performance & Implement Changes
Nurture leads into customers and customers into advocates
Last but not least, you need to ensure your content marketing strategy is working and optimized.
This means measuring your key metrics through your Google Analytics dashboard as well as the overall business KPIs you have set.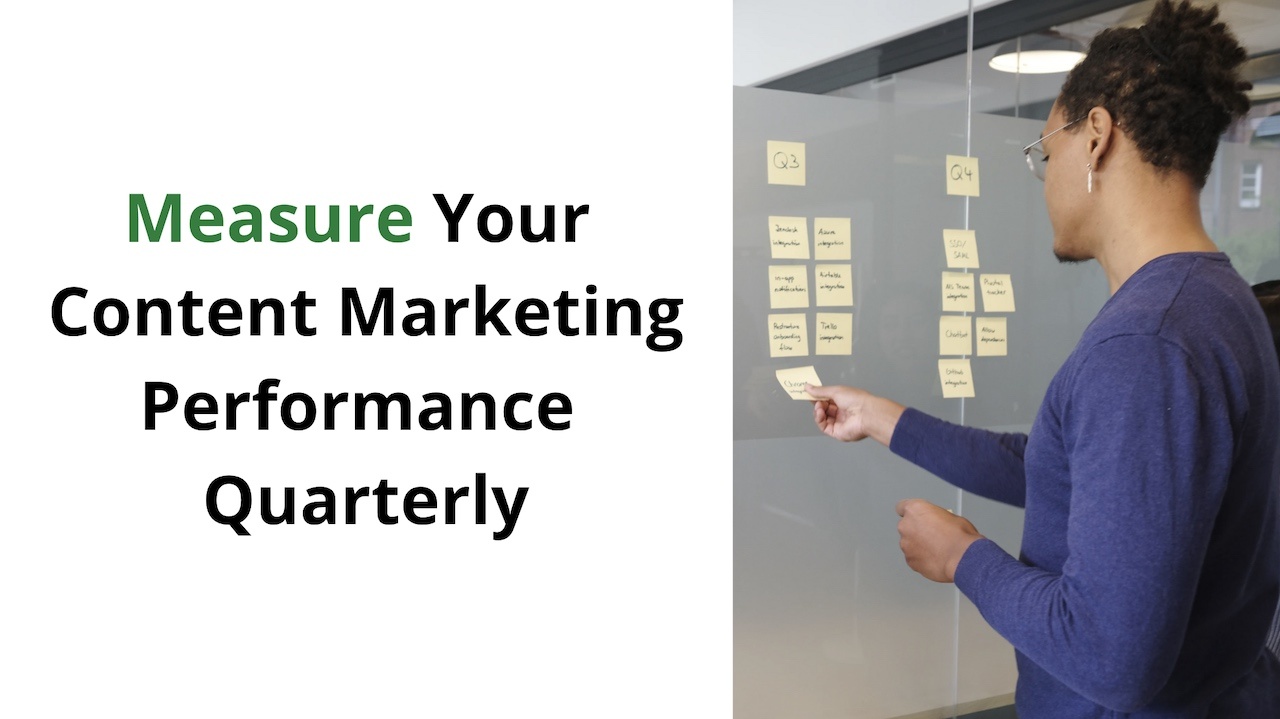 If you are just starting out, you'll want to start tracking the superficial metrics first to understand if your content is driving traffic and building up your website's authority.
These include:
Organic traffic

Domain authority (or rating)

Backlinks growth

Organic keywords & ranking
Once you start getting traction, you'll have to dive deeper into metrics that measure how engaging your content is so that you can diagnose what's working and what isn't.
The metrics here will include your posts and pages' dwell time, bounce rate as well as pages per session.
Finally, all these will have to translate back into business results such as:
The free-trials growth rate

Your customer retention rate

Your annual recurring revenue
The key here is to identify which parts of your content marketing needs optimization – it could be any segment across your content funnel or even your distribution strategy.
Be sure to conduct split tests, especially if you are getting decent results. You don't want to suffer a sudden loss in traffic that might translate into a drop in business.
Start reviewing, tracking & measuring your content performance with our guides:
21 Content Marketing Metrics To Track For Maximum ROI
Digital Marketing Audit – Your Checklist To Conversion Success
Website Audit Checklist – 23 Steps To Optimize For Conversions
How To Review Your Website Content – A 6 Step Guide & Checklist
Craft A Winning SaaS Content Strategy Today
Content marketing is a continuous journey that will evolve just like how your SaaS offerings will.
With a solid content strategy, you'll be able to create and distribute content that drives real business results: free-trial sign-ups, paying customers and repeat business.
Need more inspiration?
Here are 18 examples of effective content marketing from some of the world's best SaaS companies to help you unlock more insight and content ideas.
If you are looking for help to develop your content marketing strategy and campaigns – we can help!
Just drop us a note here and we'll be in touch.