15 Blogging Best Practices To Reach Your Content Marketing Goals
June 23, 2021 | Sean Foo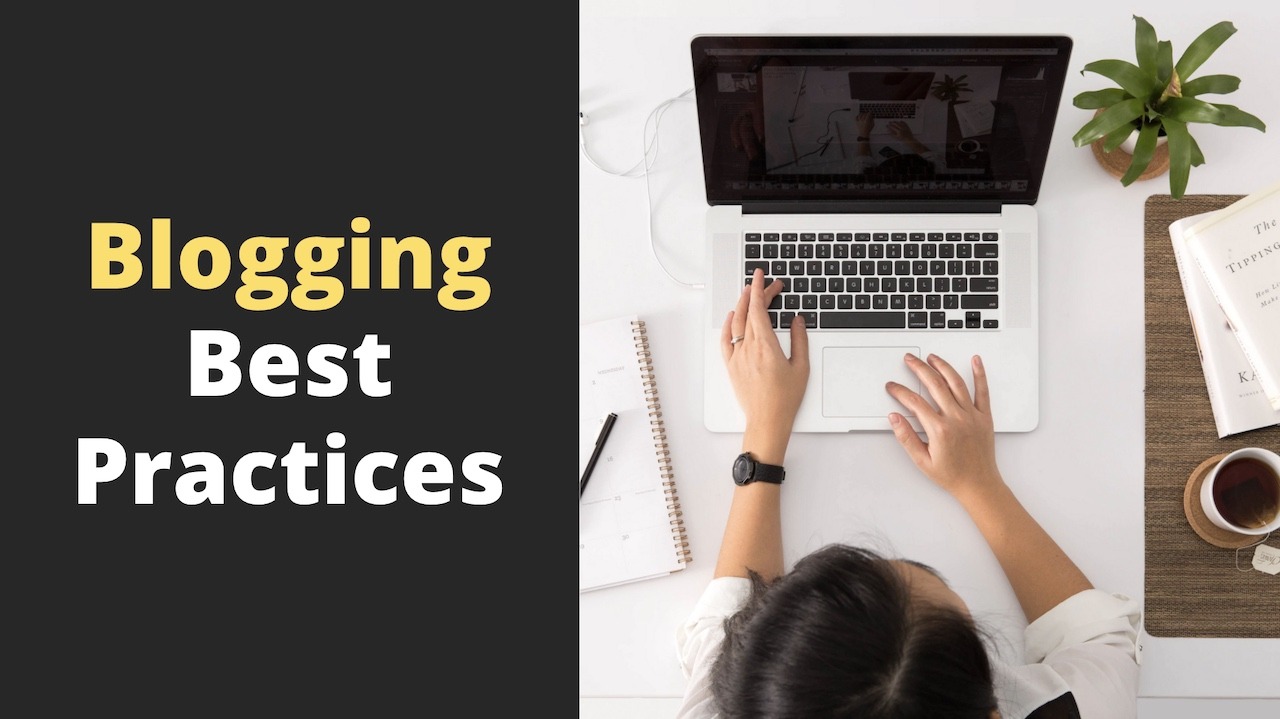 Blogging is one of the most effective content marketing tools and is essential in helping brands generate qualified leads and build authority in their industry.
However, it is easy to get complacent when creating and publishing your content, especially when you are establishing your blog or looking to scale it up.
From packed content calendars to handling your team of content writers, it is easy to skim on quality and become lax on your standards. A word of advice – don't!
Business blogging has never been more competitive and that means unless you put your best foot forward with every single post, your content will likely not engage with your audience, rank poorly on search engines and disappear into the ether.
You definitely don't want that.
That's why we have created this checklist of best practices to help you better drive consistent results for your business blog, from driving targeted traffic to bringing in leads for your sales team.
But first, what makes a successful blog? 
6 Traits Of A Successful Blog
Brands like Groove have single-handedly scaled their business to $5 million annually through the power of blogging – and while the road to their success might seem mysterious and arcane, it really isn't.
Success leaves clues and it's our job to identify them and to learn the lessons hidden in plain view.
From HubSpot's business blog to BarkBox's blog for dog owners, every successful blog that has built an avid readership has the six following traits: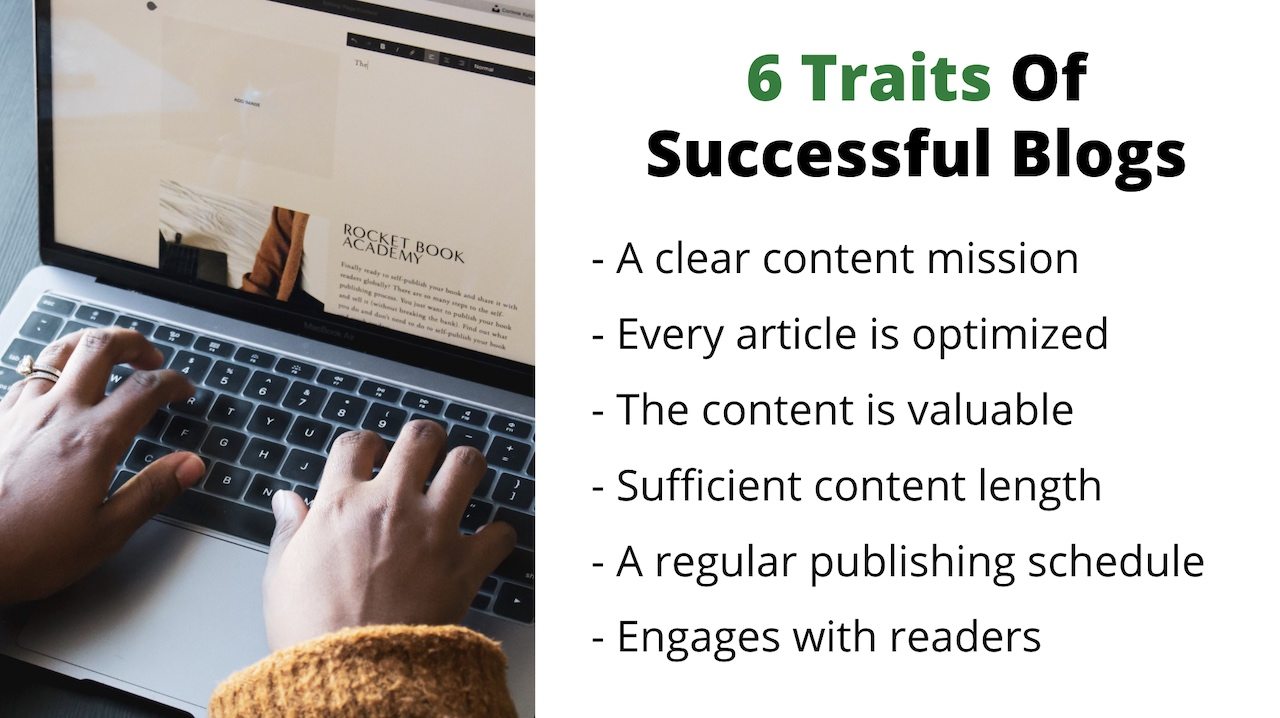 I) They Have A Clear Content Mission
Why does your content exist & why should your audience care?
If you are writing to everyone, you are resonating with no one.
Every blog has a primary purpose and follows a clear content mission statement that clarifies the type of content that you will create and who it is intended for.
Successful blogs have crystal clear clarity on their content mission and focus their efforts on creating content that adheres to the mission statement and nothing else.
II) Every Article Is Optimized
Whether it's for search engines or the human reader, each article on the blog is well optimized.
From utilizing the right keywords to having the right formatting and design, each blog post is visually appealing for readers while being easy for search engines to understand what your content is about.
III) The Content Is Valuable 
Blogs that knock it out of the park understand that quality is paramount.
Articles weren't written simply to beef up the content library – they were written with intent.
Each topic dives deep into a subject that readers care about and helps them solve the key challenge at hand with actionable advice.
IV) The Length Of Content Is Sufficient 
You probably have heard that long-form content outperforms shorter content, resulting in higher engagement and search rankings.
However, it is not always true.
Successful blogs understand that user experience trumps all and most online users are looking for concise content as opposed to lengthy explanations when it is not necessary.
If a topic can be covered in just 1,000 words, a 3,000-word article wouldn't be necessary. Make sure you find a balance between both and ensure that the length of your content is just right. 
V) A Regular Publishing Schedule
Following a content schedule and publishing articles consistently will not just help you build viewership, but also improve your ranking in the algorithm.
After all, freshness is a ranking factor for Google and from a logical perspective, it is necessary for many search queries and topics that could get outdated in a matter of months.
If you have a loyal audience that frequents your site often, uploading fresh new content regularly will also encourage them to visit your blog as part of their daily routine. 
VI) They Persuade Readers To Transition From Passive To Active 
Successful blogs build a connection with their readership and they do this by persuading their readers to engage with their content.
This can be as simple as asking readers to start a conversation by leaving a comment or getting in touch with the content creation.
By doing so, blogs not only start building one on one relationships with their readers, but they also boost engagement signals on their websites such as increased dwell time, allowing their posts to rank higher on the search results.
15 Best Practices To Follow For Business Blogging Success
1. Prepare The Keywords You Want To Rank For
When writing your blog post, the very first step is to prepare the keywords you want your article to rank for.
This is where keyword research comes in. A good way to do this is by using a keyword research tool such as Ahrefs, Semrush, or Moz.
Be sure to analyze through the keyword difficulty, monthly volume, organic click-through rate, and cost-per-click to determine the right keyword you want to target.
For most of your blog posts, you'd want to choose a long-tail keyword to tackle that is easier to rank for.

While you can also go for main term keywords, they are ultra-competitive and require you to utilize the topic cluster strategy.
That means writing & publishing articles for smaller long-tail keywords relating to the main term keyword before writing a blog post for the more competitive and general keyword.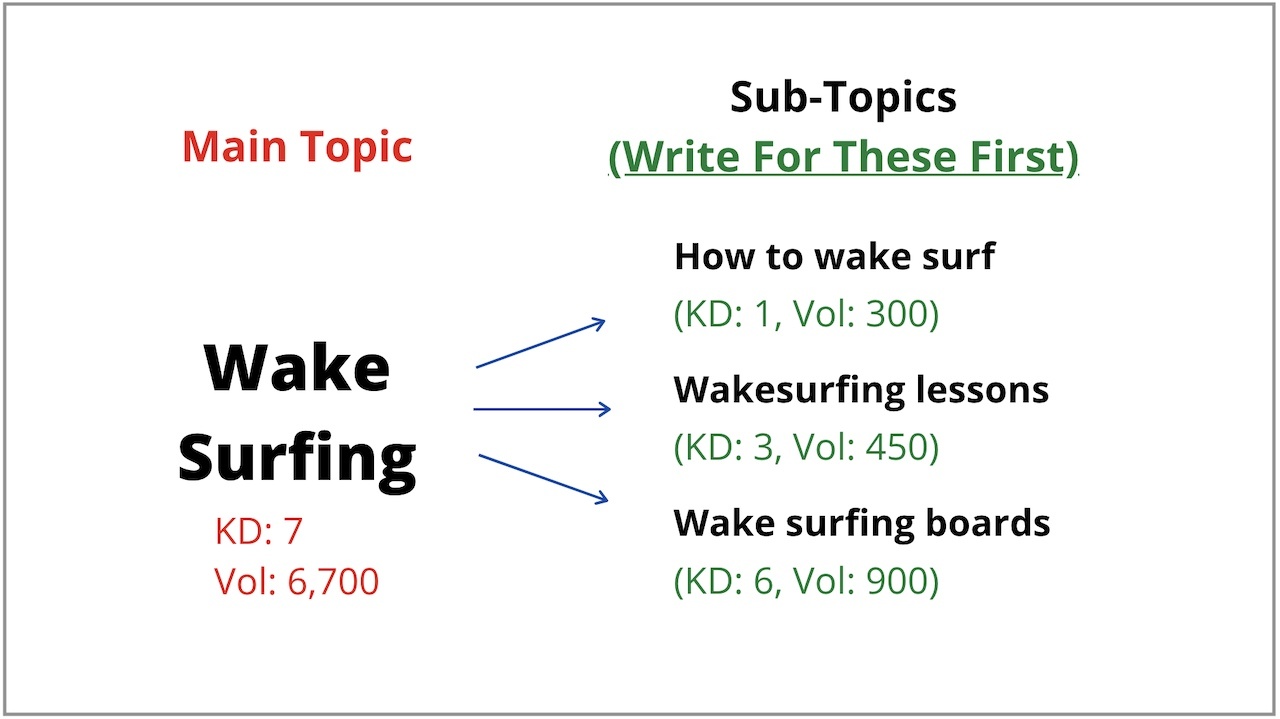 Pro-Tip: There is no need to keyword stuff your article with the search terms you want to rank for. You want to focus on writing for your reader and making your content valuable and compelling.
You should naturally integrate your keyword within headlines, subheadings, and the body. Google will understand the context of your article, you don't have to worry.
2. Effectively Outline Your Blog Post Before You Write A Single Word 
While some writers work best when they let their minds take the lead, sometimes a little structure is the best way to write a well-thought. 
Before you start cracking on your next post, take the time to plan an outline, which will act as the solid foundation of your article. 
In your outline, you can include the various keywords you want to rank for, the subheadings you want to use, resources and websites to refer to, and other relevant information you wish to include. 
It doesn't have to be complex, here's a simple outline that I use to get started and better structure my article flow.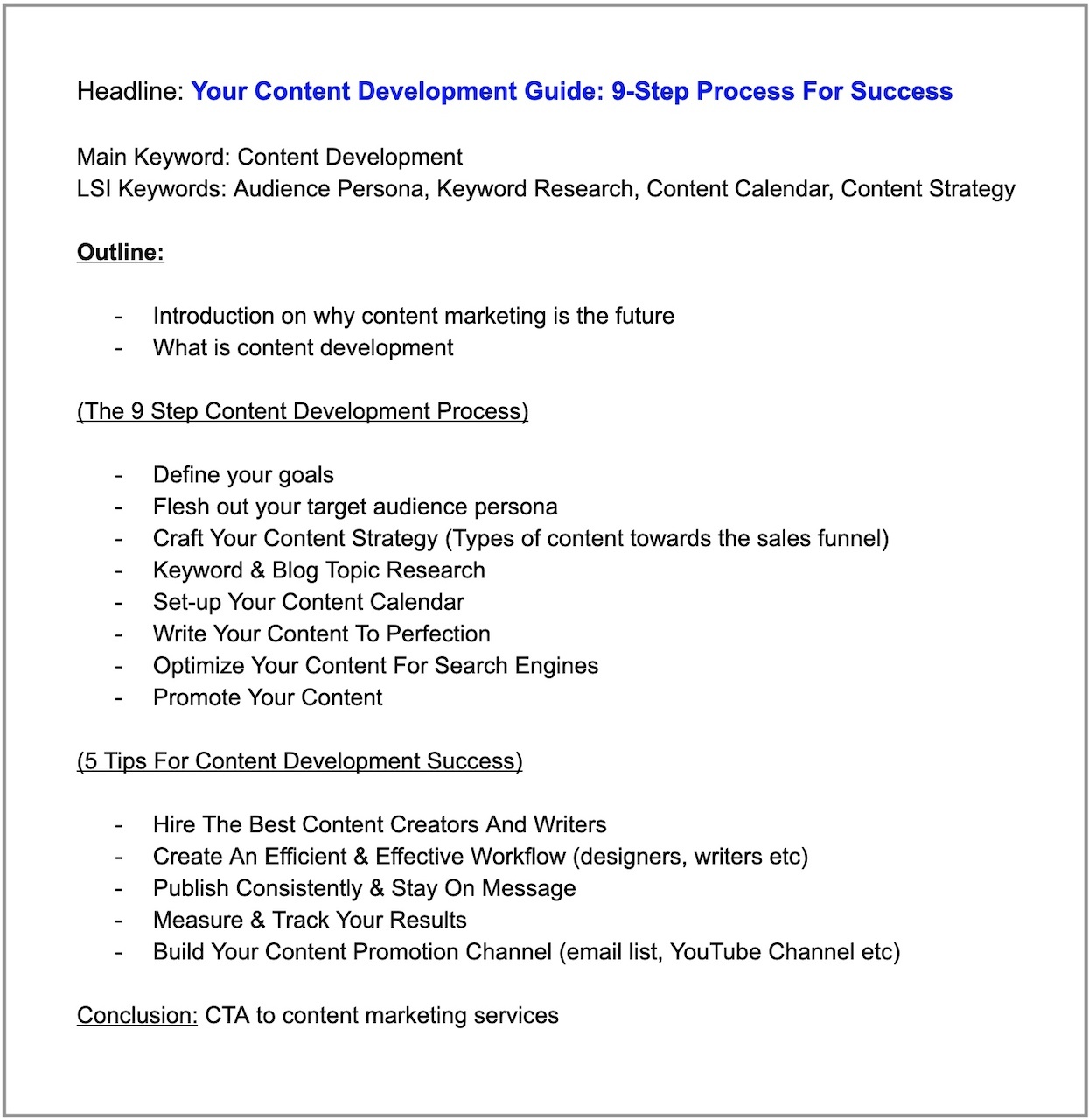 Your outlines aren't just good for your content creation efforts. 
You can integrate them within your blog post itself to better allow your reader to understand what your content covers in a glance while allowing them to easily navigate to specific sections.
3. Craft Enticing Headlines That Draws In Clicks
No matter how valuable your content is or how beautifully you have written it, if no one clicks through to read it, all your efforts will be wasted!
This is why crafting compelling headlines matters so much. 
While there are hundreds of ways to write a good headline, the awesome ones usually follow a pattern. Here are some elements of a powerful headline for you to experiment with:
A. They use trigger words to stir emotions
These are words that hit on the emotions to get your reader to take action.
B. They use adjectives to add depth and color
Adjectives make your headlines more interesting, add clarity and breathe life into your description.
C. They make it specific by using numbers
Specificity is powerful, especially if your article is about a roadmap or a checklist of steps to reach a specific end goal.
D. They promise a benefit
What do the readers gain from consuming your content? Tell them in your headline and make it clear.
E. They are contrarian & challenge the reader's beliefs
Taking an opposing stance to the pre-dominant or established way of thinking. You'll immediately stand out and spark curiosity.
This is an example of a headline for one of my blog posts. Depending on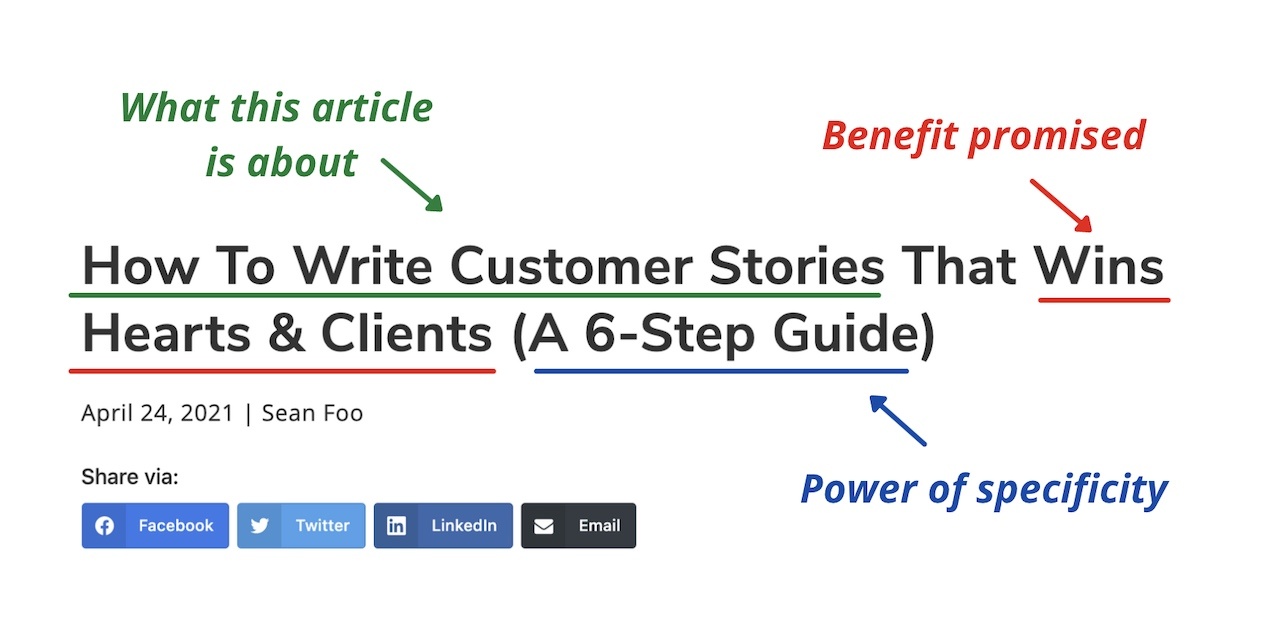 Writing effective headlines will get easier and more fun as you practice, but here are 3 rules to remember when crafting them:
I) Keep your headline length below 65 characters
If it goes above that, you risk your headline getting truncated in the Google search results display. You can check your headline preview with this tool here.
II) Stay away from clickbait headlines
Clickbait headlines aren't just bad for your brand, it ruins your audience engagement on your website which will inevitably lead to lower rankings on search engines.
Tell your reader what your article is about and give them what they were looking for.
III) The keyword you want to rank for has to be in the headline
Your headline has to contain the ranking keyword you desire for search engines to understand what the article is about – so do incorporate it inside naturally.
4. Focus On One Angle & Stick With It 
In any form of written work, focusing on one single angle can guide you towards what you need to write and keep you focused on the topic at hand. 
Not only does it sharpen your writing, but it keeps readers engaged at the same time. If you find yourself straying too far away from your main topic, always go back to your angle. 
From your introduction to the meat of the content to the conclusion, you need to be consistently reinforcing one single idea (or angle) to your reader.
Here are 3 deadly sins you don't want to be committing within your content that will make your reader lose focus on the point you are trying to make:
You digress too much and sprinkle in too many personal anecdotes or analogies

You try to be too objective and take the opposing view in a false attempt to stay 'neutral'

You ramble too long in your introductions (a very common mistake)
For example, if you are writing about the best dog food to buy for puppies, don't suddenly introduce food options for fully grown dogs or launch into a long-winded story about your very own puppy and the food that he enjoys.
Stay objective and stick to your main narrative. 
The last thing you want is to leave your readers dazed and confused while sapping away their patience.
5. Provide Tactical & Actionable Advice
Useful advice means actionable advice. 
While your content's purpose is to inform, your readers have a challenge and problems that they need solving with regards to the topic you are writing about.
Here are 5 questions to ask yourself as you craft your content to make it more tactical and actionable:
"Are there a sequence of steps I can guide my reader through to their end goal?"
"Are there key real-life examples I can feature in my blog post to illustrate my point?"
"Which specific challenges or problems might need more detailed explanations?
"How can my audience apply this piece of knowledge directly to their business right now?"
"Are there tools, techniques, and resources I can provide to get the result they want?"
By going through this thought process, you'll be able to develop content that is truly helpful that readers can immediately use to better their situation.
This helps to build trust and engagement with your audience.
In our post, Apple's Copywriting Magic: The Beauty (and Science) Behind It, we don't just go through the theory behind Apple's sales copy, we give actionable copywriting advice on how readers can incorporate these tactics into their own copy.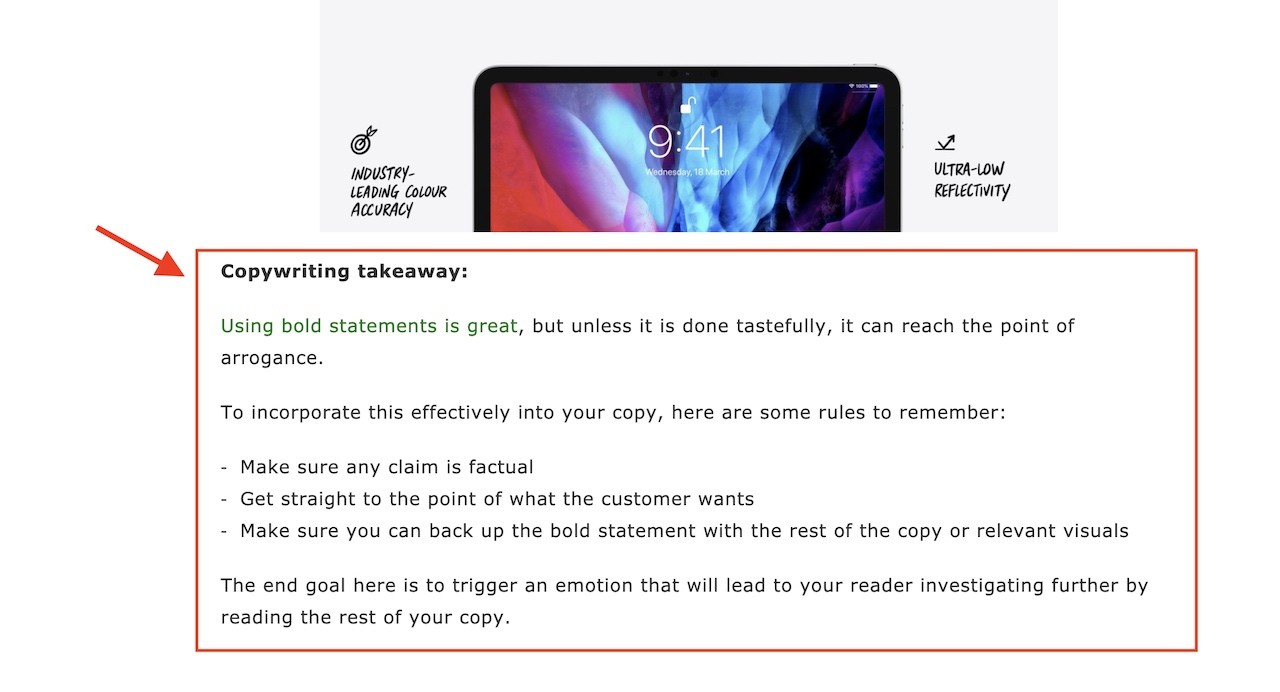 6. Write Conversationally & In The Active Voice
When I first started writing, my articles sounded rather stiff – as though it was written by either a robot or for a university thesis.
Thankfully, my skills have grown but much of the content out there, especially in business blogs, sounds too mechanical.
When you are writing, you want to sound as personable and as conversational as possible. The more relatable, easily understood, and approachable your writing is, the easier it will be for your reader to fully understand your narrative as well as be more engaged.
Take these two sentences for example:
"By optimizing for conversions, more conversions will happen on the website."
Versus
"When you optimize your website for conversions, you will enjoy more conversions!"
The latter sentence here is written in the active voice and talks directly to your reader, making it a more personable and intimate experience.
7. Optimize Your Meta Description & URL
Your meta descriptions aren't just simple content blurbs to fill in, it fulfills the important purpose of describing what your article is about and has to offer.

It adds depth to your article's headline and helps your readers to quickly decide if your content is relevant to them.
Here are three quick tips to writing meta descriptions that bring in clicks:
Be as accurate as possible. Tell the reader what to expect and weave in key benefits to entice them to read.

Incorporate your keyword here but do it naturally without any keyword stuffing.

As much as possible,

keep your meta description below 160 characters

to prevent Google from truncating it away.
Bonus tip: When it comes to your blog post's URL, do make it as simple as possible with the keyword you are trying to rank for.
Complicated or lengthy URLs aren't ideal for both your users or Google.
8. Utilize Images & Illustrations Effectively
While writing awesome content is incredibly important, so is maximizing the reading experience of your audience – that's where images and illustrations come in.
Not only are the majority of online consumers today visual learners, but images and illustrations also provide a whole host of benefits that include:
Explaining a concept or taking your reader through a process better

Breaking up long sections of text to better retain your reader's attention

Allowing you to rank on image search engines

Improving your chances of social shares & engagement for custom illustrations like infographics
From customized blog cover images to screenshots and animated gifs, here are 15 ways to effectively utilize images & illustrations in your blog posts for better engagement.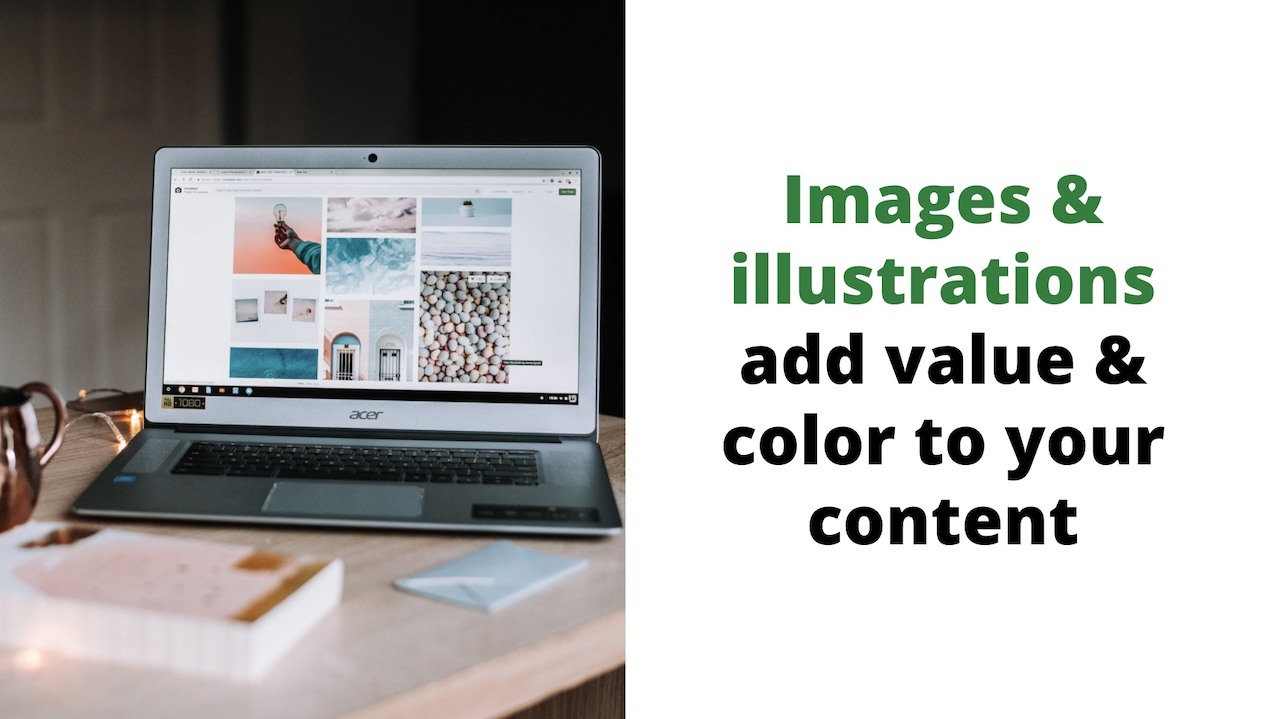 9. Substantiate Your Claims & Link Externally
Whether you are trying to showcase a relevant statistic to substantiate your point or featuring an example, linking to the resource is key.
It adds credibility and authenticates the proof you are showcasing, especially when numbers and data-driven arguments are necessary to convince your readers.
Additionally, there will be times when you want to direct your reader to relevant sources that could help them understand more about a certain sub-topic that you don't personally have a guide for yet.
Linking externally is a great way to:
Add value to your readers while building trust & authority.

Get on the radar of the site you are linking to (trigger the power of reciprocity for them to potentially give you a link back in the future).

Potentially

positively influence your rankings in search engines

.
At the end of the day, your content exists to help your reader, and linking out to credible sources helps them to gain a better understanding of the topic you're writing about. 
As Google's John Mueller states:
"Linking to other websites is a great way to provide value to your users. Often, links help users to find out more, to check out your sources, and to better understand how your content is relevant to the questions that they have."
Here are three things to keep in mind when you are linking out to other websites:
1. Ensure that what you link to is highly relevant to what you are discussing.
2. Opt to link to credible websites that are non-spammy and ideally, authority sites in the subject you are linking to.
3. Make sure your anchor text matches the content or subject of the page or post you are externally linking to.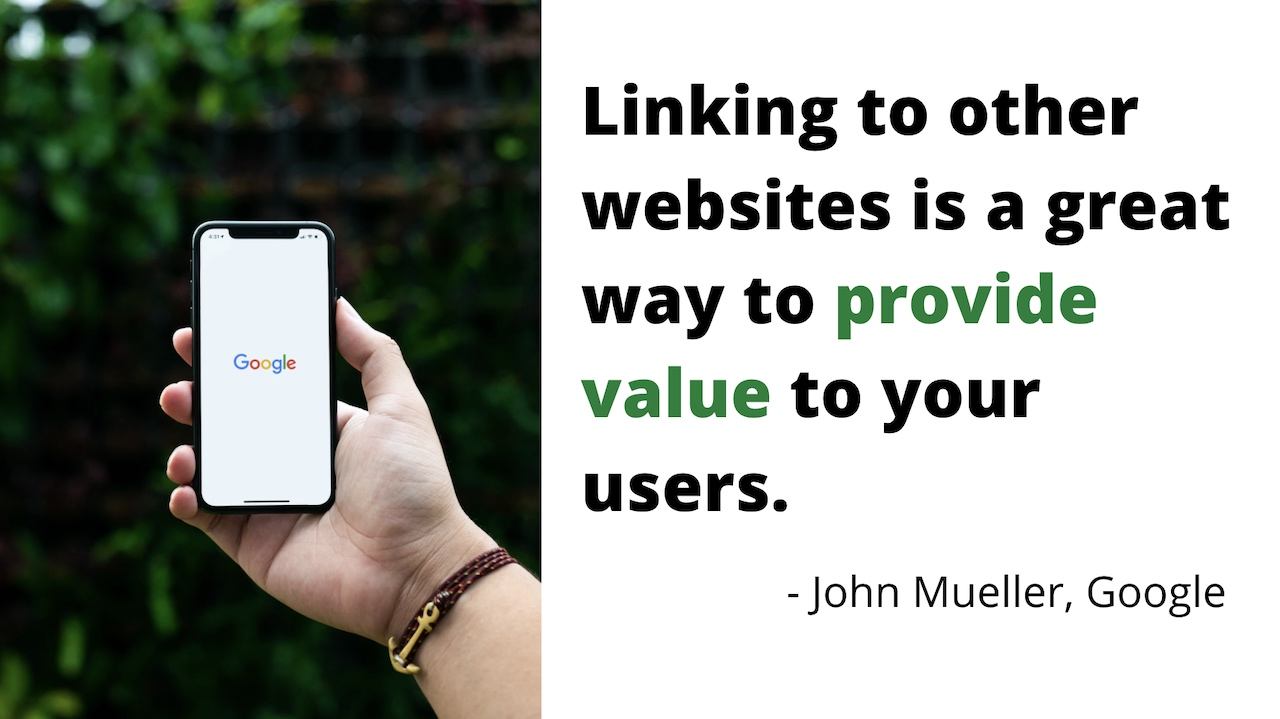 10. Link Internally Keep Readers On Your Site
Blog posts are notorious for having the highest bounce rates of all website pages and there is a good reason for that.
When readers land on your blog posts from Google, they likely came to find information to solve their problem and once they are done, they are outta there!
You don't want that! The more traffic that bounced away from your posts are missed opportunities to generate leads or build your subscriber base.
Thankfully, you can keep your readers on your website by interlinking your posts (or pages) together.
Be sure to look out for concepts, ideas, and processes that you can go deeper with your reader and interlink with the other content on your blog.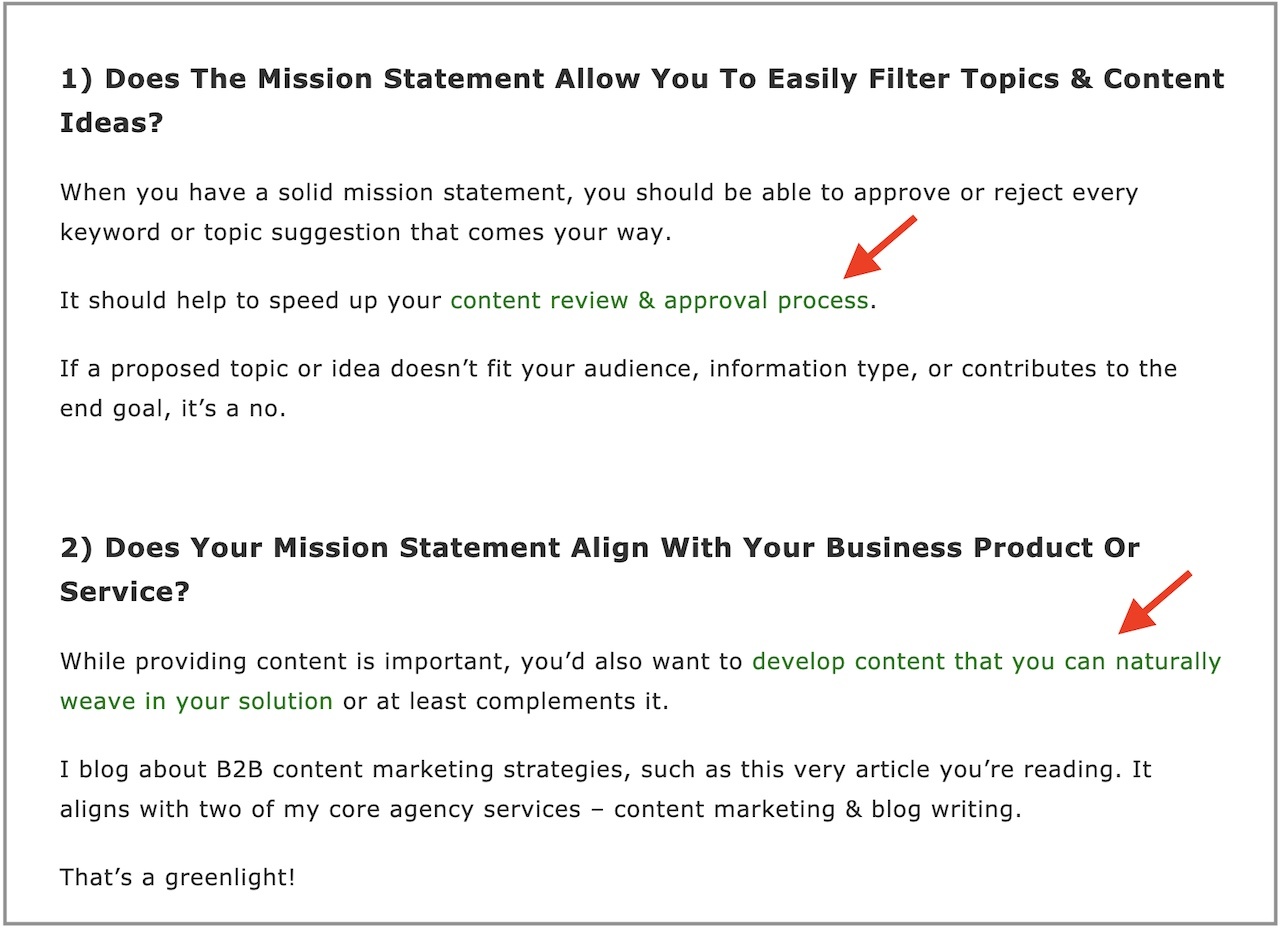 Not only will you help them gain better insight into a topic, but it also brings a multitude of SEO benefits that include:
Passing SEO link juice from between posts and pages.

Decreases your bounce rate & increases the time spent on your website (which helps your overall site rankings).

Helps Google's crawler bots better navigate your posts and pages for better indexing.
11. Ensure Reader-Friendly Formatting
How easy is it for you to read a chunk of text lumped together like the example below?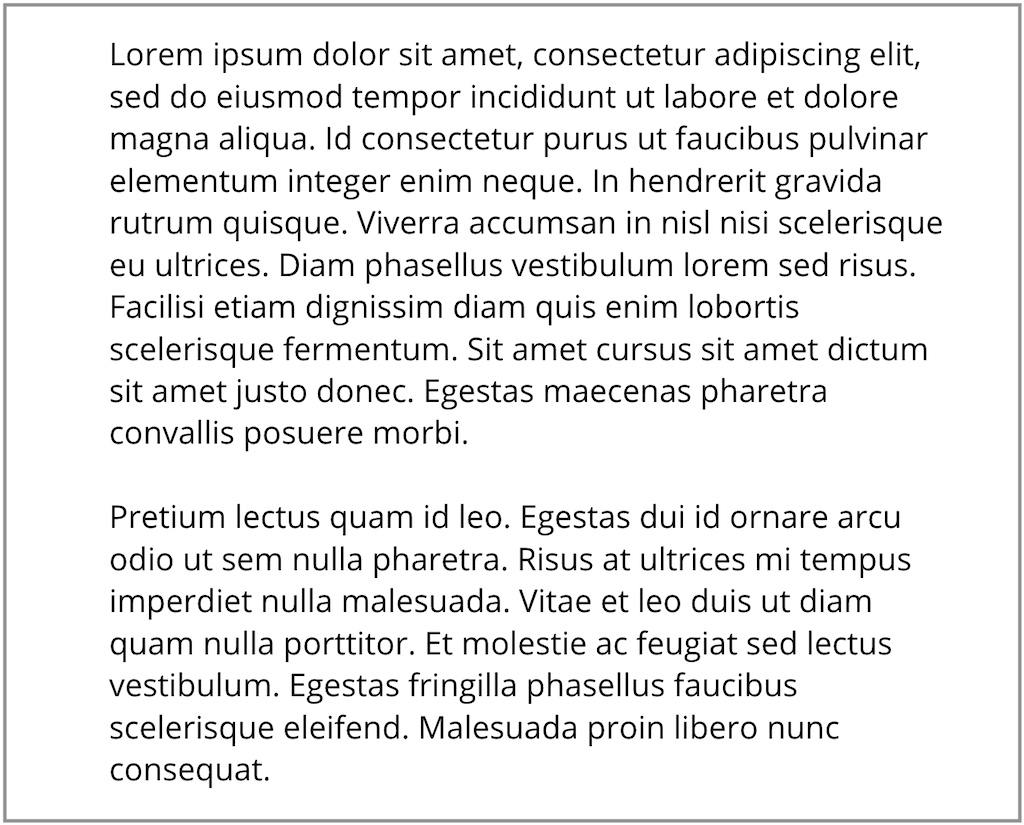 If I stumbled upon a blog post like that, my attention would inevitably wander away (probably within 5 seconds!)
An essential part of best practices in blogging is to ensure that your content is well-formatted to hold your reader's attention so that they can read your content till the end.
Here are 5 things you can do to ensure reader-friendly formatting:
Utilize headings (H1, H2, H3 tags, etc)

Use images & illustrations where appropriate

Incorporate bullet-points to break up chunky pieces of text

Use different fonts & sizes to add variation

Write shorter paragraphs (no longer than 2-3 sentences a paragraph)
By taking the effort to polish your article's formatting, you can suddenly transform a bulky piece of nightmarish text into a post that is a joy to read.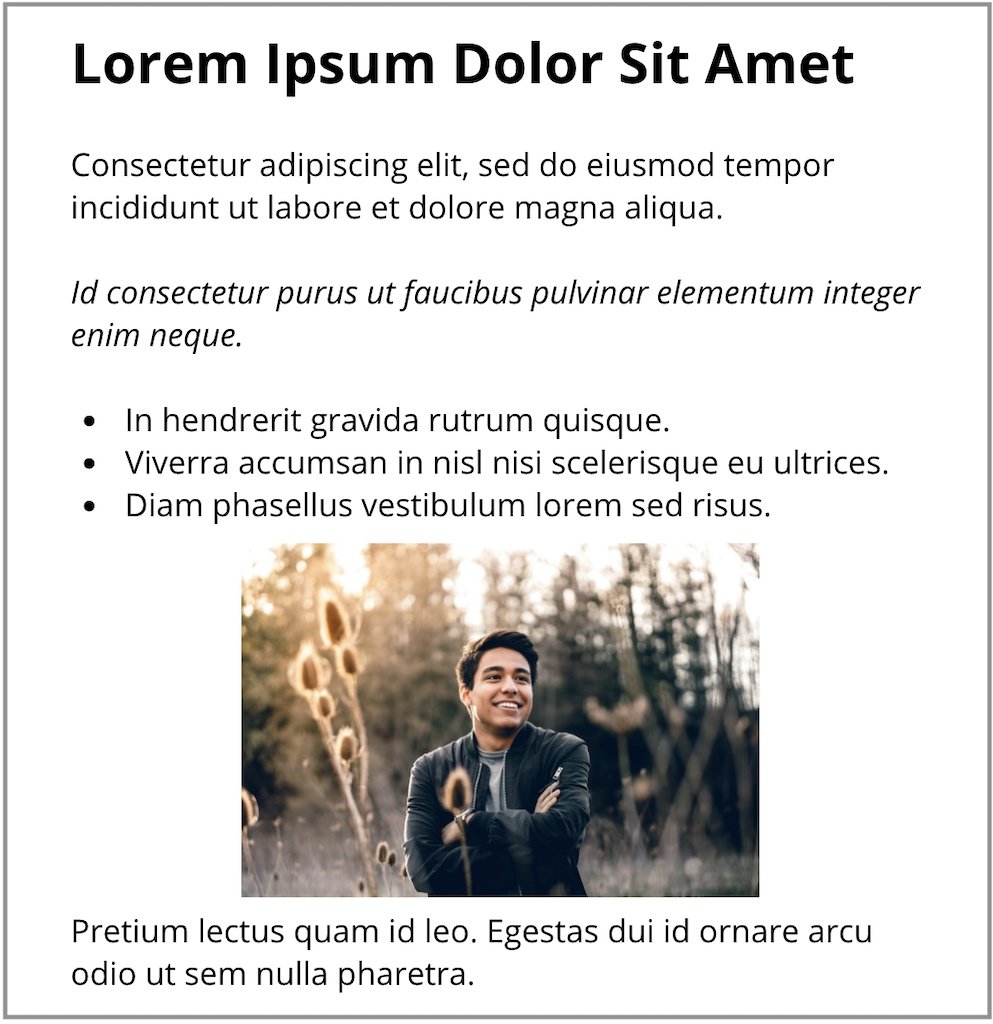 12. Check For & Correct Any Grammar & Spelling Mistakes
There is a reason why copy editors exist. They help proofread your article, polish sentences, and most importantly, ensure your grammar, syntax, and spelling are on point.
While this step is rather basic, I gotta mention this. Poor grammar and spelling mistakes not only take away from the reading experience, but it is also a reflection of your company's professionalism and dedication to quality.
Thankfully, this can be solved rather easily, and for free too!
With tools such as ProWritingAid & Grammarly (which I personally use), you can effectively scan through your work, spot errors, and effectively correct them with suggestions!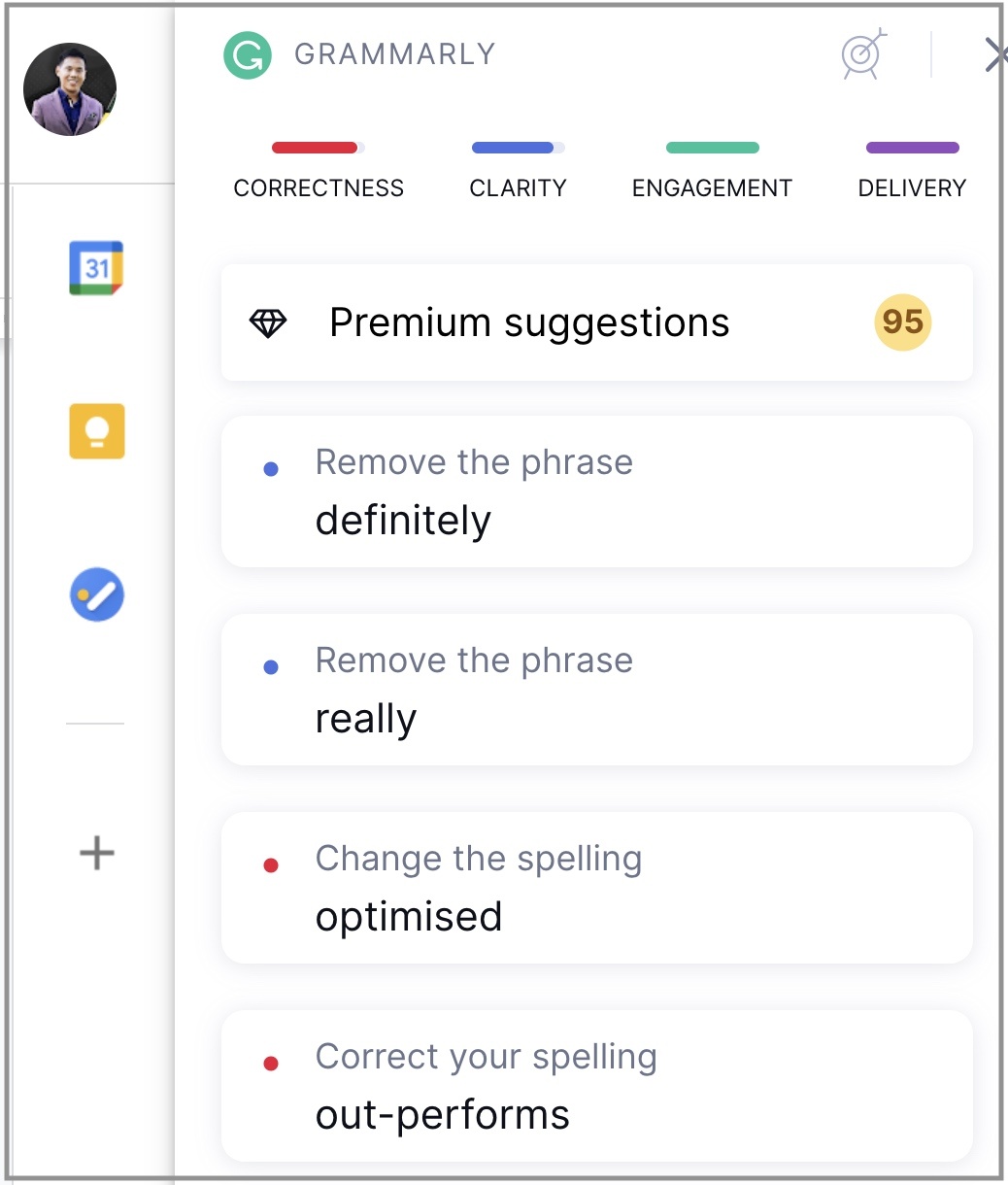 Best of all, you'll be able to do it directly off your online working sheets such as Google Docs!
13. Add Your Call-To-Actions (CTAs) Within Your Blog Post
Sure, the content that you create are meant to add value to your reader and help them solve their problems.
But let's be frank here, you'd want your content to eventually drive commercial benefit back to your business.
This includes:
Signing up for a free trial of your service or product

Downloading an ebook, pdf, or some other resource in exchange for their email

Becoming a lead by filling out an enquiry form

Becoming a subscriber to your email list
What you want to do is to strategically incorporate CTAs around your blog posts, especially towards the end of the content to direct their attention to where you want them to go.
The blog posts at Close incorporate various CTAs at the end of their content. One to direct readers to a resource that is relevant to the article itself and a general CTA at the end of every post to build their email subscribers.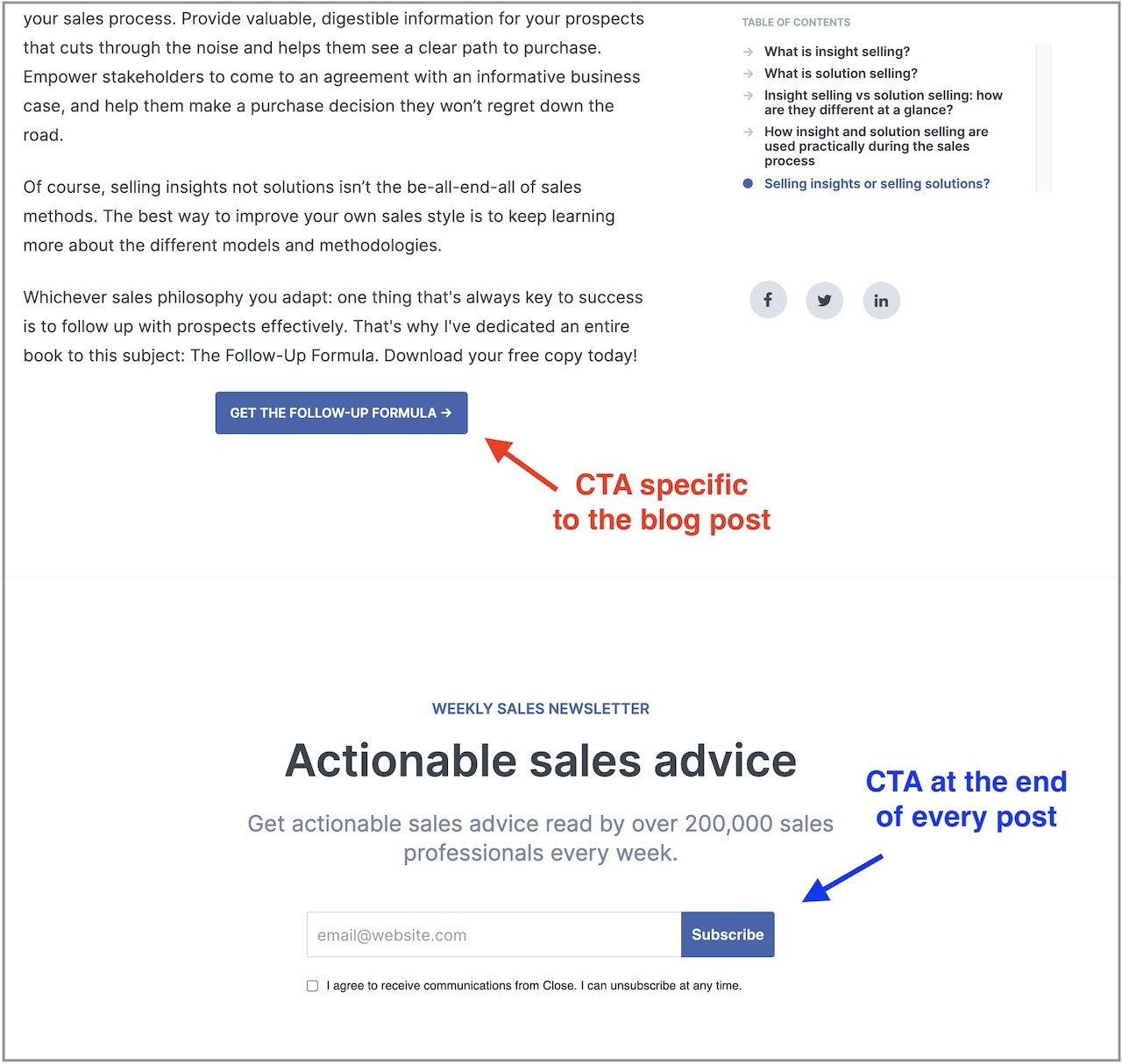 Building your email list is an essential part of blogging for businesses, it is the first step to cultivating a customer base and bringing them deeper into your sales funnel.
14. Stick To Your Publishing Schedule & Build Discipline
According to HubSpot, businesses blogging for organic traffic should aim for a minimum of 3 blog posts a week to gain traction and reap the full benefits of content marketing.
That is where a content calendar comes into play.
While some people still question the effectiveness of developing a publishing schedule, having a content calendar and sticking to it provides a world of benefits and minimal drawbacks.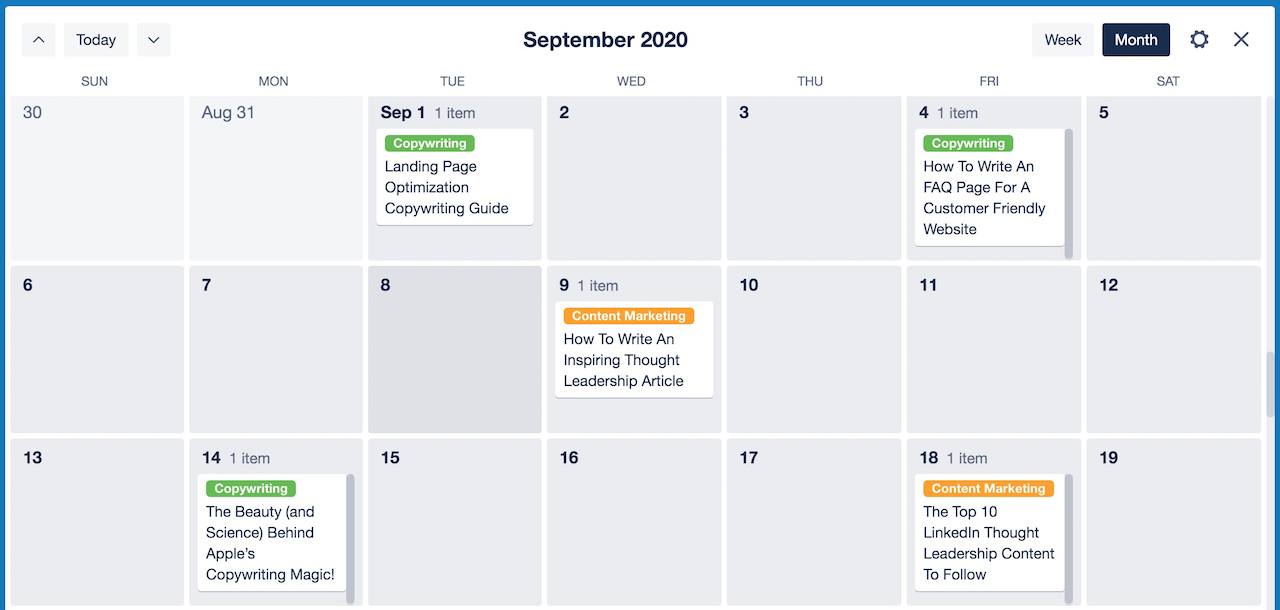 Apart from keeping your content and workflows more organized, it also saves you more time in the long run and allows you to visually analyze your content as well. 
Here are a few tools you can use to develop your content calendar: Trello, CoSchedule or Buffer are good options to try out.
However, you can just as easily accomplish the same thing (with a little bit more effort) through Google Sheets.
15. Promote Your Posts On Your Distribution Channels
People are not always going to find their way to your blog organically. To drive readers to your website, you will need to promote your posts on various distribution channels. 
Depending on your customers and your industry, you might be on different social media platforms such as LinkedIn, Twitter, or Facebook.
Every time you publish an article, distribute your content through your best-performing channels and encourage engagement with your readers.
Not only will you stay top of mind with your audience (while adding value to their lives), you will start establishing much-needed trust when the time comes for you to promote your products and services.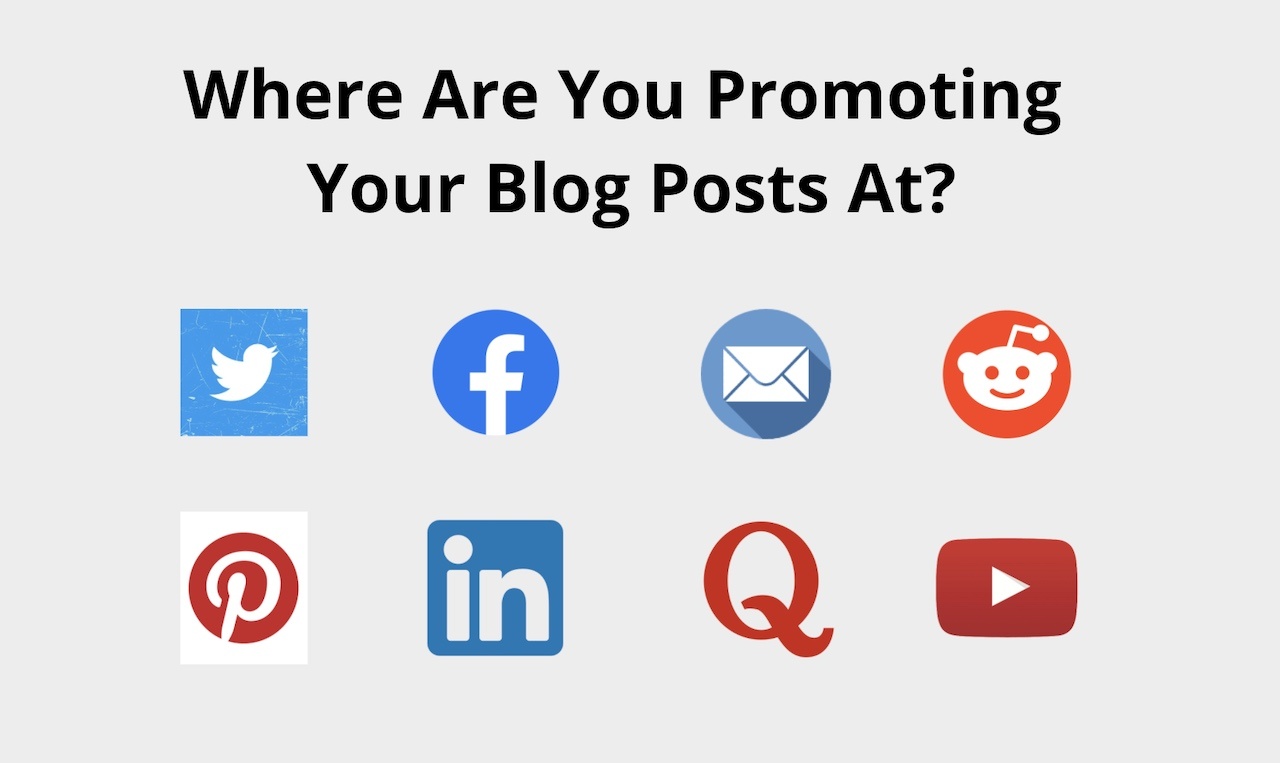 Need more direction on promoting your blog posts? Here are 107 tactics to give a try and 20 places to share your content at!
Great Blogging Practices Lead To Successful Business Blogs
Successful blogs take years to build and that means consistently publishing posts of the highest quality to better add value to your readers.
To help you build discipline and develop these blogging habits even further, have a read at our curated guides to effective content development and building an efficient content review and approval process. 
Need a hand with your company blog or content marketing strategies? 
We are here to help. Drop us a note here or you can get in touch with me directly at sean@speechsilver.com.