18 Inspiring SaaS Content Marketing Examples To Learn From
June 10, 2021 | Sean Foo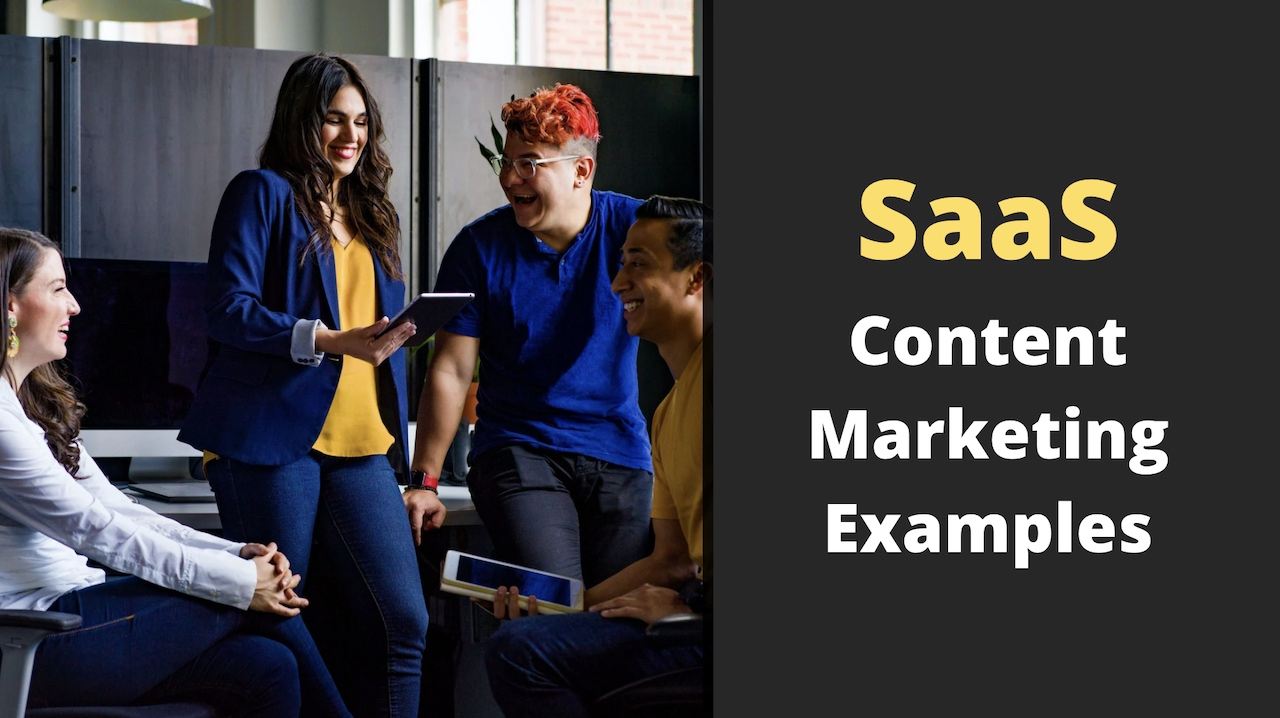 SaaS companies run one of the most lucrative business models around – each individual customer represents a long-term revenue stream that can last from months to years!
In fact, the top 10 largest SaaS companies have a total market value of over $1 Trillion, and that number's growing!
However, with this reality comes fierce competition and the need to consistently attract, grow and retain customers.
And in order to continuously build their customer base while reducing customer churn, the best SaaS companies have evolved into masters of utilizing content marketing to drive growth.
To effectively practice content marketing, marketing teams will have to consider the entire customer journey and use content to:
Build awareness & attract prospects

Convert prospects into free trials

Nurture prospects into paying customers

Retain customers & transform them into brand advocates
Whether you are running a SaaS company or looking to optimize your content strategy, it's time to get inspired & learn from some of the best companies using content marketing to become leaders in their category & niche.
Let's dive right in!
Content That Builds Awareness & Brings In Traffic
Traffic is the lifeblood of content marketing. Without visitors to your website, there can be no prospects, no leads to nurture, and no conversions.
In order to drive traffic to their websites, SaaS companies rely on content marketing that involves creating top-of-the-funnel content from long-form blog posts to instructional YouTube videos.
Here are some SaaS brands that are leaders in creating content that brings in traffic while being highly valuable to their audience.
1. HootSuite
The Importance Of A Customer Persona
Blogs are a staple of content marketing and you'll need one if you ever want to drive traffic from search engines back to your website.
HootSuite's blog features highly instructional long-form content, many of which exceed 3,000 words!
The majority of their top-of-the-funnel content comes from 'How-To' guides that teach readers everything from developing their social media strategy to the nuts and bolts of building their social media presence – from Instagram to Facebook and YouTube.
By knowing the challenges of their target audience, they are able to develop a laser focus on creating content that drives targeted traffic to their blog.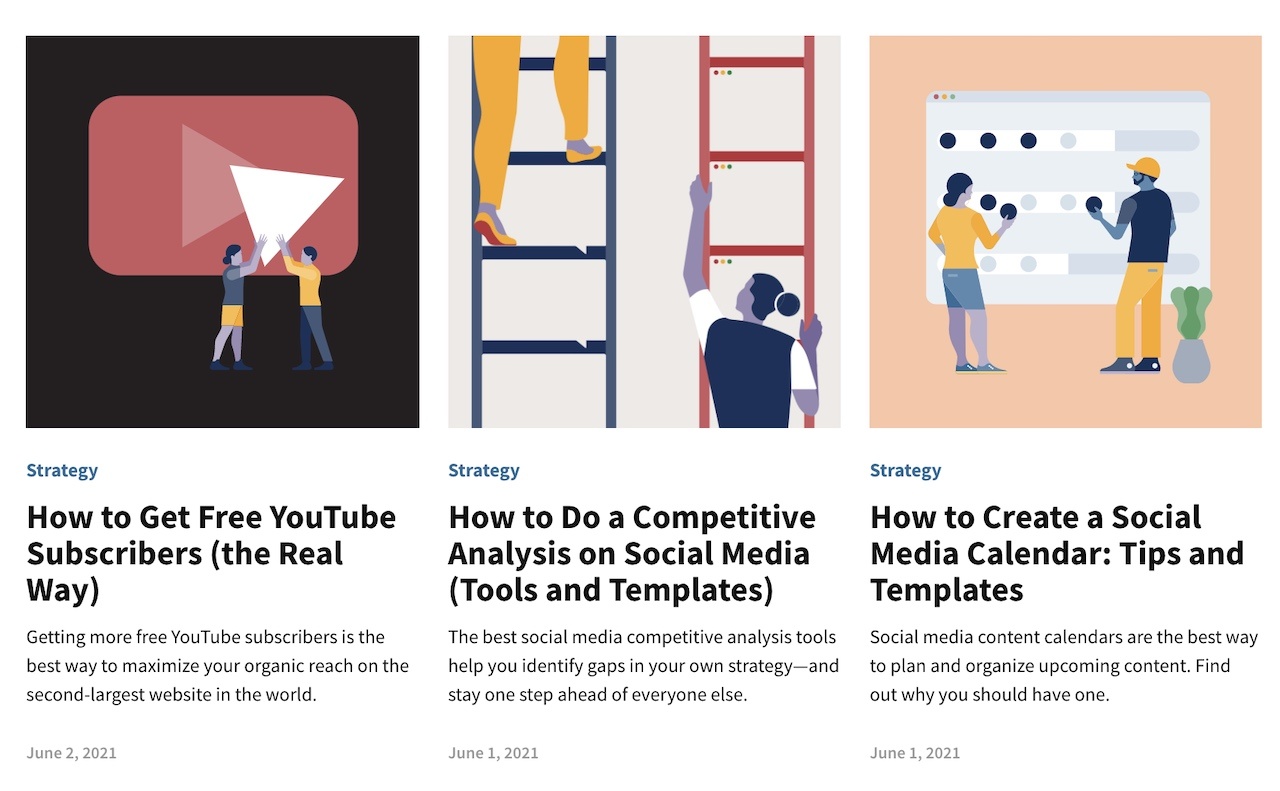 Content Takeaway:
How well do you know the audience you are trying to reach? 
Defining your target audience is one of the most important first steps in your content marketing strategy.
Fleshing out key details about your ideal customer, such as their challenges, fears, and motivations, will allow you to develop valuable content that they will be actively searching for on Google.
Here are two in-depth guides to help you build your customer persona from scratch – read this if you are in the B2B space and check this article out if you are in B2C.
2. Groove
Sharing Personal Struggles To Connect With Your Audience
Through the power of content marketing and only content marketing, Groove grew their startup from $100,000 in monthly revenue into a $5 million per year business.
With over 250,000 reading their content every month, Groove has built a highly celebrated blog by focusing on developing content that their market really wants – not vanity topics that fit the mold of their industry.
This content strategy pivot made Groove embark on an amazing content marketing journey that saw them focus exclusively on crafting helpful content in the format of a story that mirrored the challenges their target audience were facing.
Instead of the standard 'How To' instructional guides and the 'Top Lessons Learned' blog posts that already flood the space, their content were told in a narrative that was authentic, personal, and fresh.
This meant being vulnerable enough to share their own entrepreneurial journey, numbers, successes, and failures.
This became the backbone of their top-of-the-funnel content for a long time, content articles that focused more on the real-world challenges faced by their readers and not just keyword rankings on Google.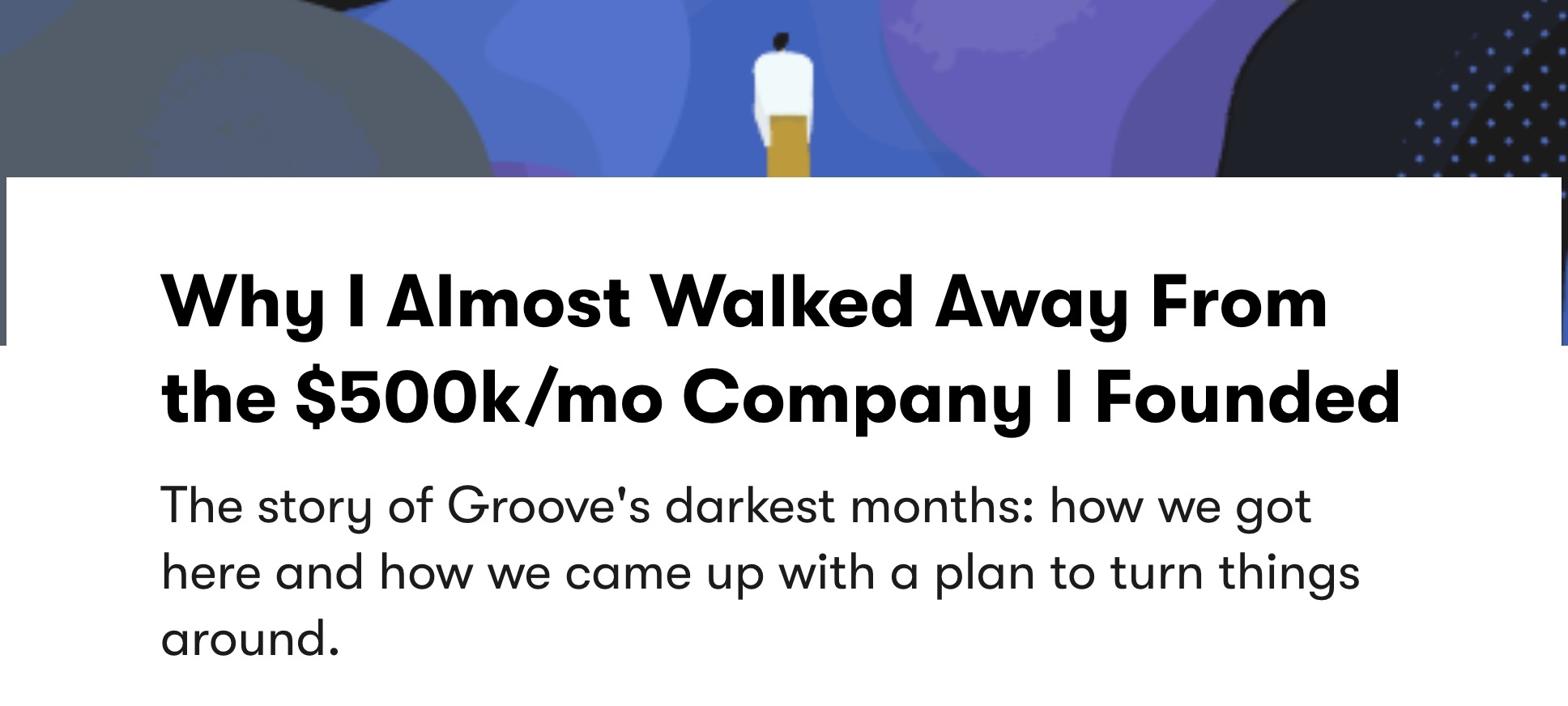 Content Takeaway: 
To stay on top of the content game today, well-researched pieces are expected and fast becoming the norm. 
But by being authentic and infusing your own experiences into the mix, you'll be able to stand out and craft content that really resonates with your audience.
Be bold, tell compelling stories, and be transparent with your audience – just make sure the topics are issues and challenges they care about!
3. Moz
Creating Content Hubs
While well-written blog posts are effective in drawing in traffic, sometimes there are topics that are too big to cover in a single article.
This is especially so in the SEO world where every topic is interconnected with each other and going in-depth into each subtopic is a deep dive unto itself.
You'll need to transcend beyond crafting individual & isolated blog posts.
Moz understands this well and uses the content hub strategy to create an ultimate guide around a gigantic topic & commonly asked question – 'How to get started with SEO'?
A content hub is simply a curated collection of content that is woven together to address and add value to a bigger topic.
Their Beginner's Guide To SEO is split up into chapters, each of which is a standalone guide that covers individual topics such as keyword research and on-site optimization.
This approach not only helps them to guide their readers better through a big subject in an organized manner, Moz also reaps additional benefits including better overall Google rankings, higher conversion & better brand authority around a subject.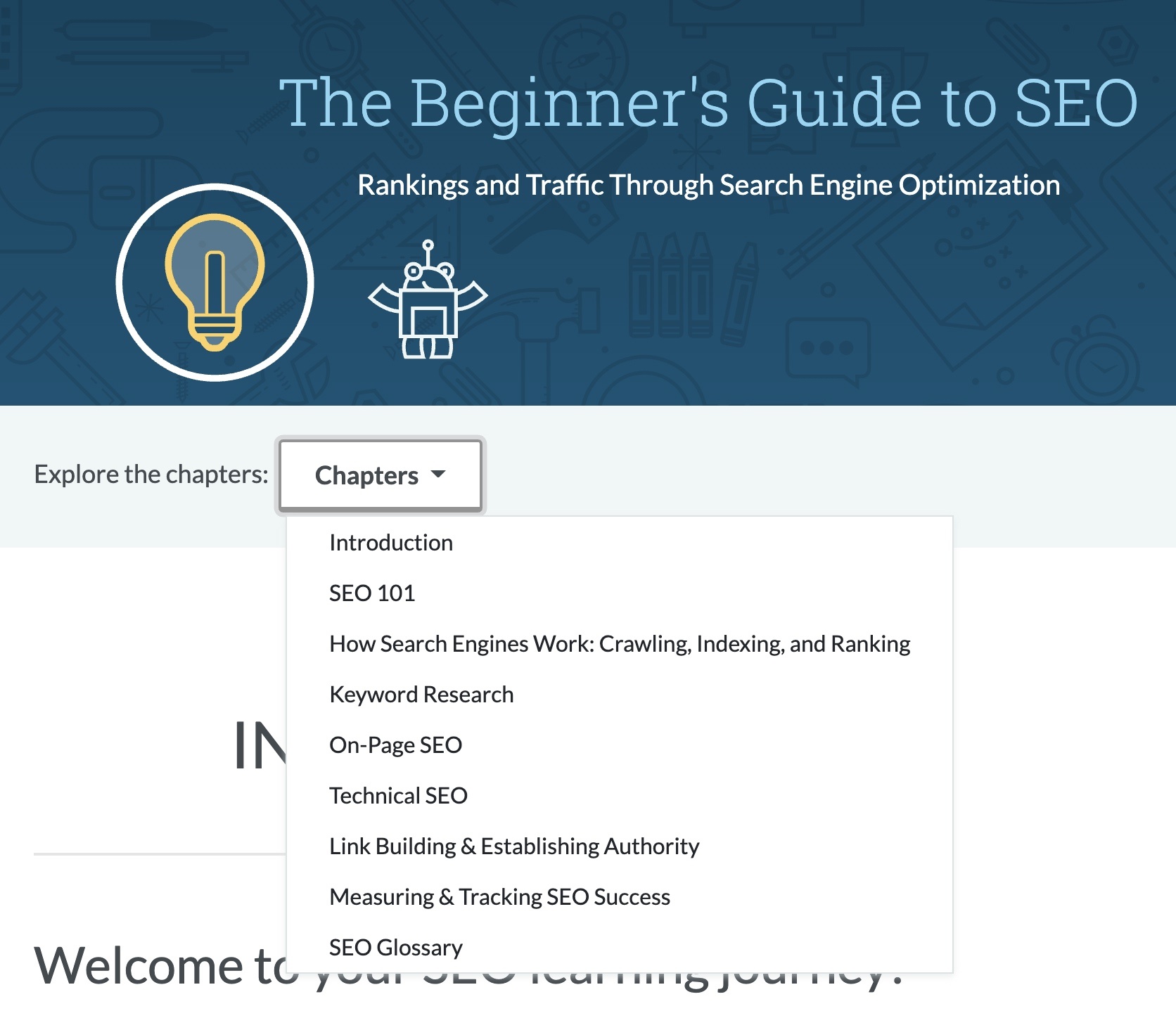 Content Takeaway: 
When you are creating content, it is important to be mindful of how big and broad a particular topic can be.
While it has been proven that long-form content generally works, it is not set in stone – you'll also need to consider the attention span.
It is pointless to craft a 10,000-word blog post when you can cover the same topic in half the amount.
Instead, you can learn to use content hubs and the topic cluster strategy to break up your content into more digestible pieces.
4. Ahrefs
Blogs Aren't The Only Channel To Drive Traffic
92% of companies produce blog posts compared to other types of content – but this is only one avenue of driving traffic to your website.
Video is fast becoming the most commonly used format of content marketing and brings with it several advantages such as:
The ability to be more descriptive and interactive with your audience

Being more engaging due to having audio and richer visual elements

Infusing personality and character much more easily into each video
While Ahrefs has one of the most successful blogs in the SEO industry, they cleverly diversified into creating instructional YouTube videos to widen their organic reach.
If you are like most people, you would just as naturally search YouTube for a topic you'd want to learn about, just as you would with a Google search.
Ahrefs creates snappy videos on their YouTube Channel (around 10 minutes in length) to cover key topics that their ideal audience would ask – diving straight into the topic with actionable advice.
Their video content has a simple goal – after watching it, viewers will know how to take action on the topic to improve their SEO challenge and understand how Ahrefs's solution fits into helping solve that particular problem.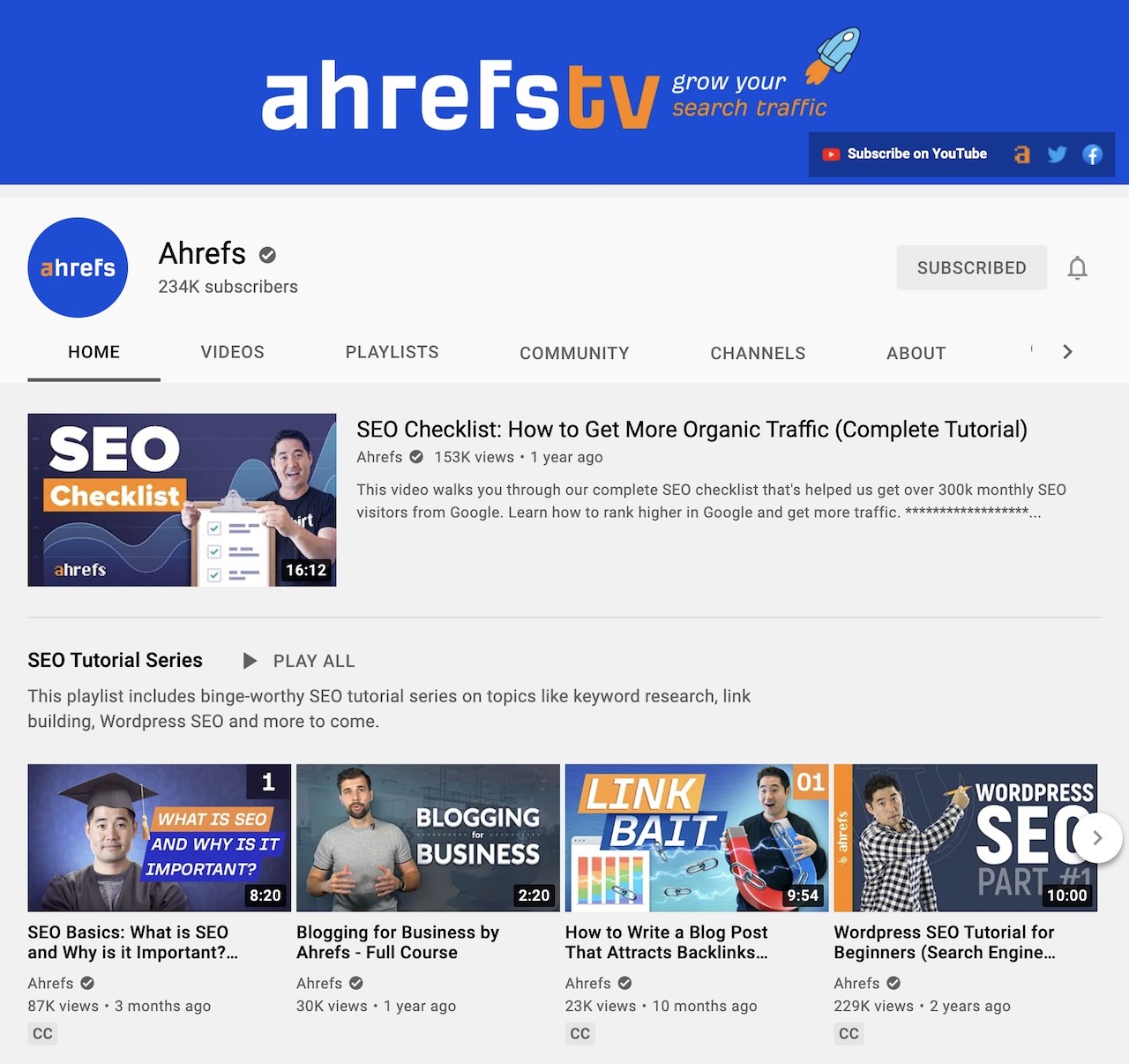 Content Takeaway: 
Blogging is a staple when it comes to content marketing for SaaS companies, however, it is also wise to explore other platforms that allow you to reach more audiences.
From YouTube to LinkedIn and even Instagram, there is a world of traffic that you can drive to your website. The world of marketing isn't just restricted to Google search.
But before you embark on it, ask yourself two simple questions:
Have I established my primary content platform & is it getting good traction yet?

Do I have the resources (time, money & expertise) to do content videos?
If both answers are yes, then it's time to dive in!
Content That Engages & Converts
Once you have grabbed your audience's attention and got them aware of your products and services, the next step is to nurture this desire, build it up and then convert them into paying customers.
The best SaaS companies do this in a variety of ways and not just one. Every prospect is unique and might have a different (and sometimes non-logical) path to conversion.
This means developing various conversion-focused content in your website and beyond to build trust and establish your solution as the best choice.
5. Vend
Case Studies Are Effective Conversion Content
Customer testimonials are good, but case studies are even better to build trust and credibility in your brand.
Vend has an entire content library of case studies that encompass all of their clients neatly categorized according to their industry type.
They follow a time-tested structure of:
Presenting the challenge facing their client prior to using Vend

The unique way Vend was used to solve their business challenge (and which features helped)

The tangible and quantifiable results the client enjoys using Vend
Case studies are powerful content tools that should be continually developed as you create other types of content.
It helps you to forge a connection with your reader and allows them to logically understand how your solution has helped others before, what it is like working with your product, and the results they can expect to enjoy.
This is basic trust-building but oh so essential.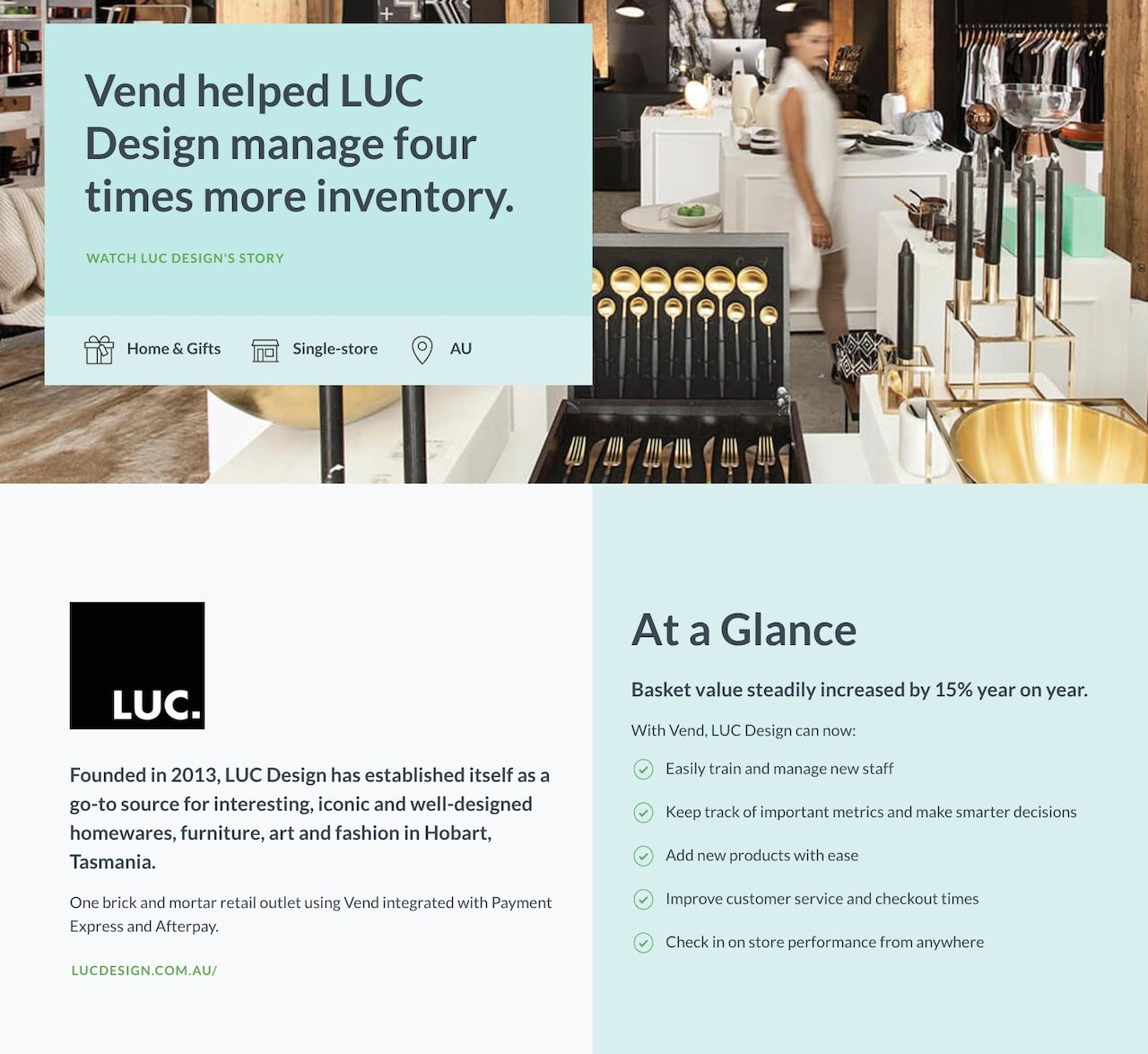 Content Takeaway:
When a prospect is at a crossroads and about to make a buying decision, having a well-crafted set of customer stories is key in building trust.
There are two additional things that Vend did when developing their case studies, that you should emulate, to help increase those conversions.
Firstly, they included testimonial writeups at each key point of the case study; the challenge, the solution, and the results.
Secondly, they ended the page with a CTA to capture the conversion while the trust is high. Gotta strike while the iron's hot!
6. ThoughtSpot
Create Solution Briefs To Tailor Your Messaging
While you might have an ideal customer that your solution is perfectly built for, chances are, you are also marketing to a wider target audience.
That means your product and services pages will probably be written in general terms and painted in broad strokes – which is great for SEO, but not ideal for each specific reader from different industries.
How do you solve this? 
By creating industry-specific content on how your solution can help your prospects – also known as 'solution briefs'.
ThoughtSpot is a business intelligence solution that can be used across various sectors, from finance to manufacturing.
And in order to engage different customers across different industries, ThoughtSpot created a whole collection of solution briefs that showcased how their platform can tackle and solve the unique challenges of each specific industry.
Their content doesn't just give a birds-eye view of how their solution can help the industry as a whole, it goes deep into specific challenges that decision-makers face and how their product is tailored to help solve them.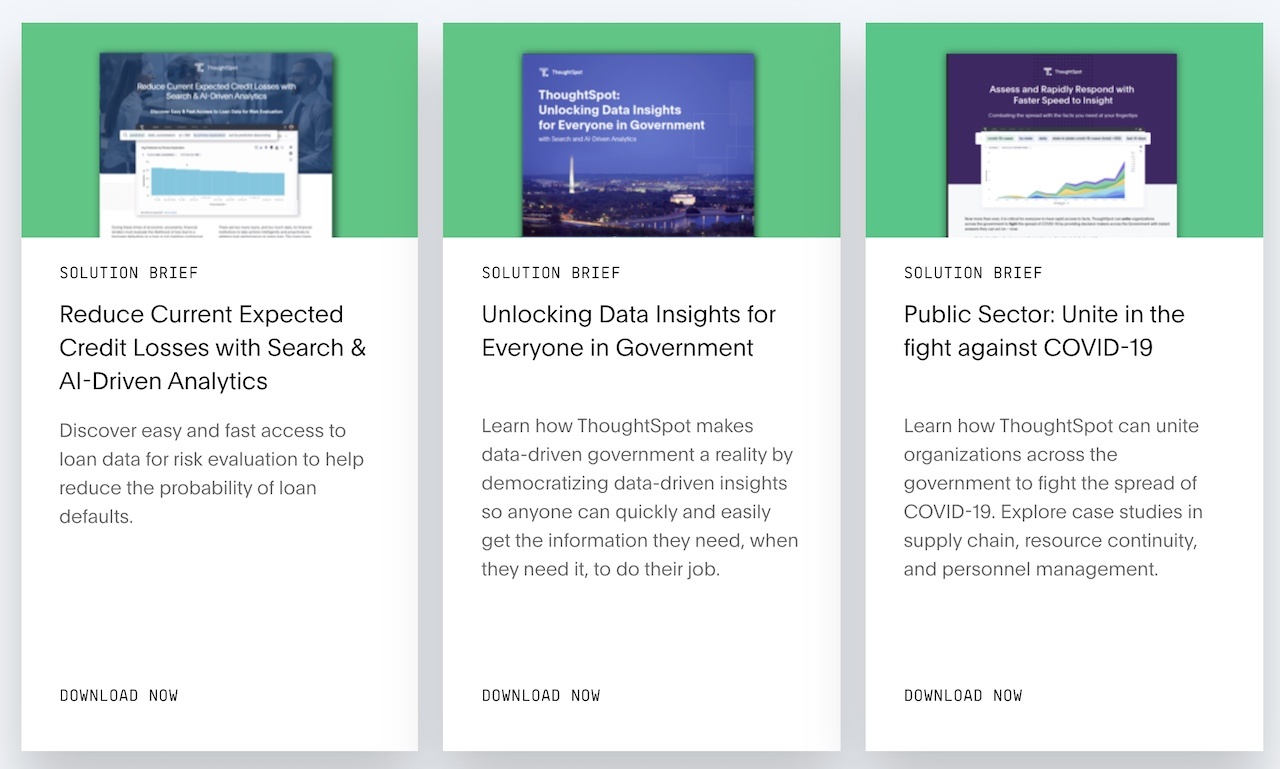 Content Takeaway:
When it comes to creating consideration content, solution briefs are effective pieces of content that you can develop.
Think of it as a more in-depth solution 'use-case' that you can weave a narrative around how your solution can help.
Plus, take the extra step and weave in a relevant customer story at the end of each solution brief to really amp up the credibility of your product or service.
7. Squarespace
The Power Of Influencer Endorsements
Every industry has its own icons and influencers that people look up to. 
For SEO, it could be Rand Fishkin or Neil Patel, for technology it might be Elon Musk or Bill Gates.
Squarespace, a website builder, understands the power of connecting their brand with an icon that is both easily recognizable and passionate about their product.
By featuring the award-winning actress Winona Ryder as a customer story, who actually used the Squarespace platform to build her own photography website, Squarespace is utilizing her celebrity power in a highly relevant and relatable way.
Done as both a mini-interview of her experience with Squarespace and a showcase of her website, Squarespace shines the spotlight on Winona as a passionate photographer who believes in their product.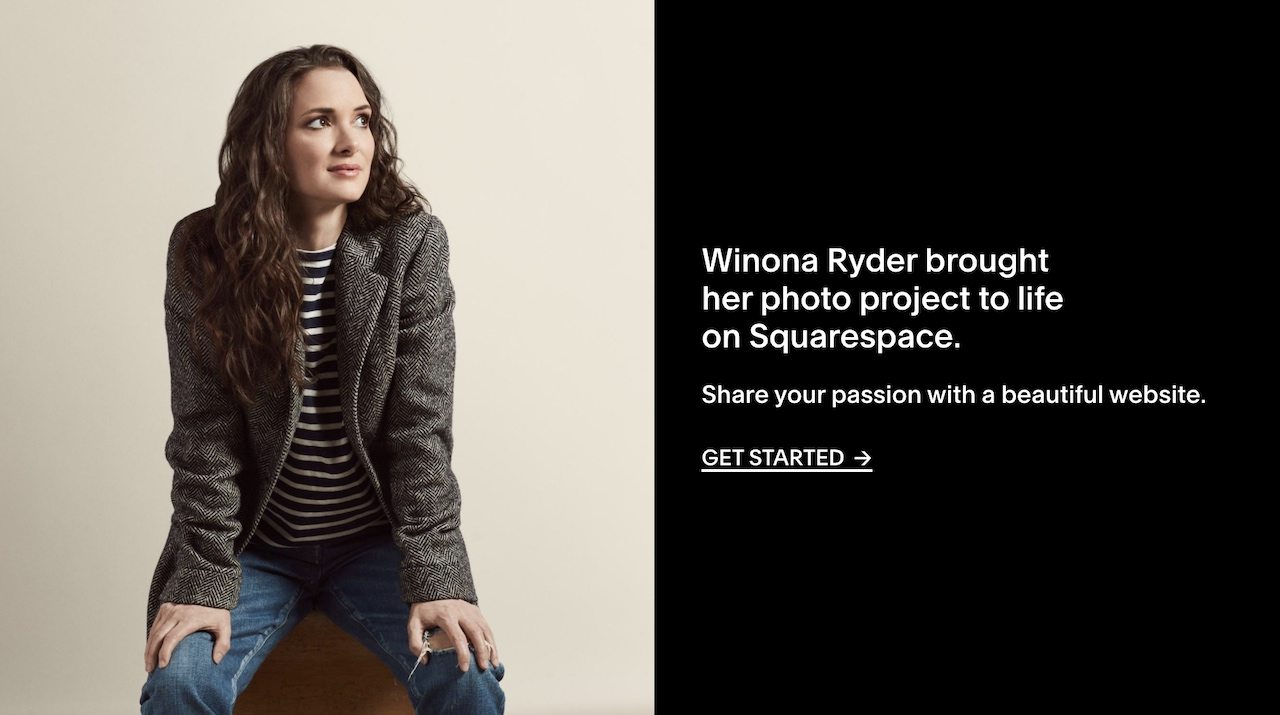 Content Takeaway:
Influencer endorsements can truly be a game-changer when it comes to trust and credibility building.
It's one of the eight social proofs every website needs.
But there is a caveat – they have to be authentic, relatable to your audience, and be recognizable enough. 
Your audience can swiftly identify if an endorsement is genuinely given and if the influencer is a true believer of your brand or not.
8. ConvertKit
Building A Personal Connection With Customer Stories
Every customer has their own personal struggles they are facing and are looking for inspiration and insights on how to get through to the other side.
They are looking to connect with other people like themselves. They are looking to learn from the journeys of others.
How the solution or product helps to achieve this is the icing on the cake – the story comes first.
And this is where customer stories come in.
ConvertKit, an email marketing platform, is operating in a highly competitive market, and to stand out from the pack, they focused on creating content for their ideal customer – online creators looking to build a business.
To help forge an authentic connection with their audience (and also subtly convince prospects of their solution), ConvertKit developed a dedicated content series of 'Creator Stories' to share the journeys of their customers.
Each story shares the struggles, failures, breakthroughs, and marketing strategies each customer has gone through before finding their eventual success.
The key here is to really add value to your reader while immersing them into the world of the customer story you are writing about.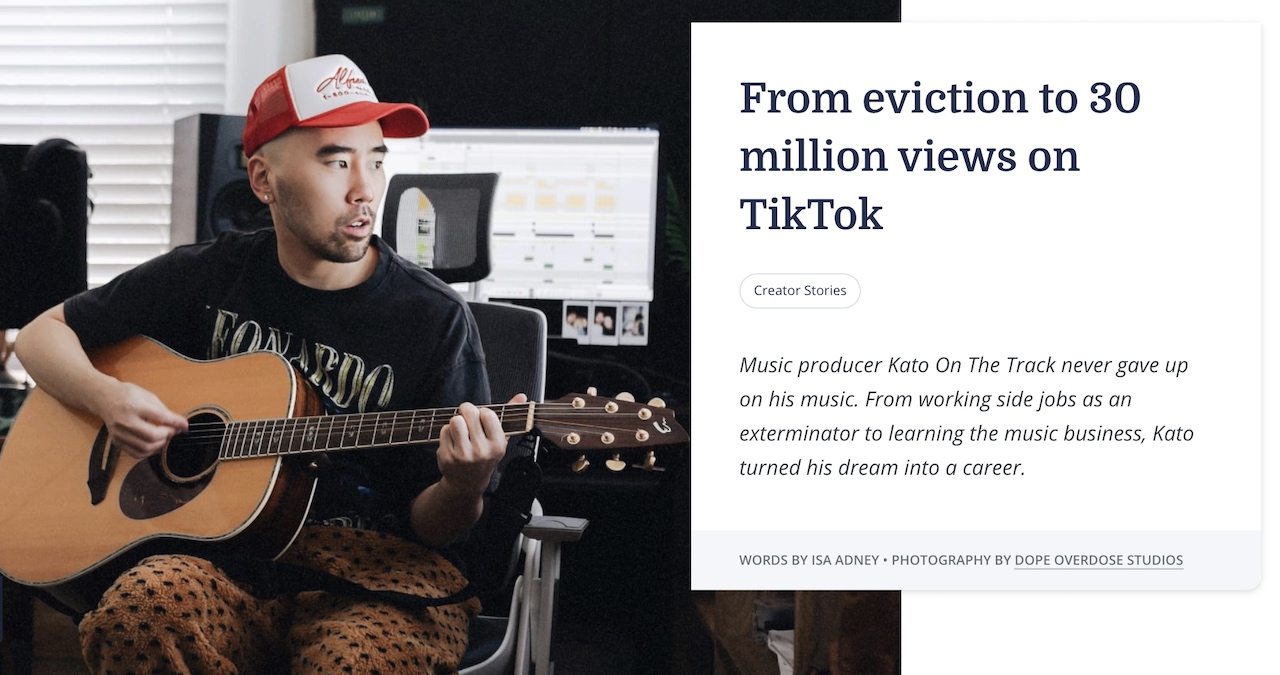 Content Takeaway:
Developing impactful customer stories doesn't have to be difficult. The key is always remembering to add value to your customer and giving them key lessons and insights they can use to better their situation.
Here are two questions to ask yourself when developing one:
"Is my reader taking away actionable insights that can benefit them?"
"If all mentions of my solution or brand are removed, is this story still compelling and relevant to them?"
Customer Success & Retention Content
Content marketing doesn't end just because you close a customer, in fact, this is where you'll have to work hard to retain their business and continually give them a reason to stay on.
To continuously win their customers' loyalty day after day, the best SaaS companies consistently create content that focuses on helping customers better reach their goals with your solution.
9. Close
A Playbook For Every Situation
As a CRM software platform, Close's users are sales executives and that means having customers with a whole host of never-ending challenges.
From the individual salesman trying to craft a good sales pitch to the sales manager trying to lead this team more effectively, the journey of self-development doesn't end just because you subscribe to a CRM solution.
Close understands this and consistently puts out content 'playbooks' that teach their existing customers (as well as prospects) how to improve their skillset and abilities as sales executives.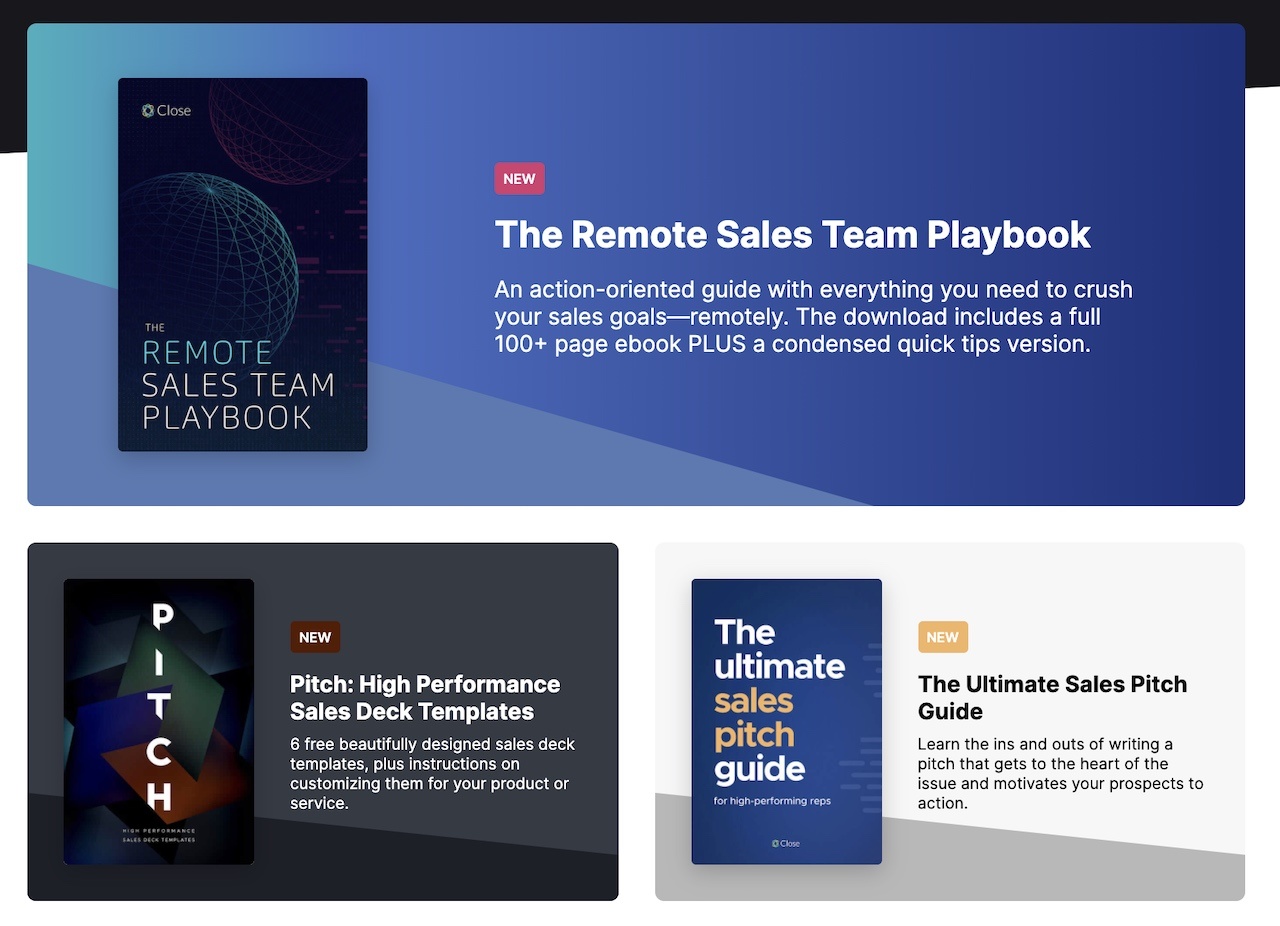 Content Takeaway:
Creating your own 'playbooks' or guides allows you to please both your current and prospective customers.
However, the key here is to dive deep and determine what type of daily challenges and struggles they face whether they are a customer or not.
These can be timeless issues, such as communication skills in sales, or new challenges arising from unexpected events – such as remote working from the pandemic situation.
10. Shopify
On-Demand Business Courses
Building and growing an online business goes beyond just an online store platform subscription.
To improve the odds of success for their customers, Shopify provides a world of resources to learn from, from full in-depth courses to webinars conducted by leading iconic business leaders.
These include core lessons such as getting started on the Shopify platform to the small individual steps needed to build a truly successful company from the ground up.
What's great about their customer success content is their dedication to providing new courses and workshops every single month, what's more, users of their platform can track their progress online too!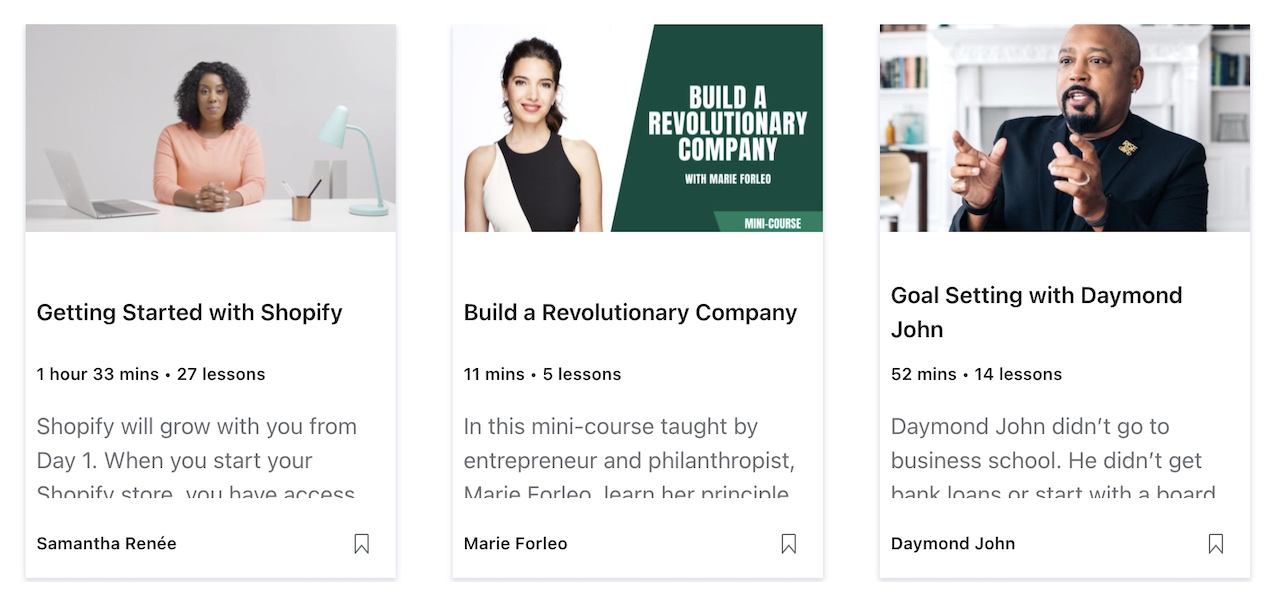 Content Takeaway:
Continually creating customer success content is critical to keeping your clients happy and to keep your brand top of mind.
One great way to do this is to interview or work with industry experts in your niche and extract insights from them to share with your audience & customers.
You can do this by creating structured or formal classes like how Shopify does it, or you start small and launch a YouTube channel and start interviewing people that impact your industry.
11. Canva
Product Video Tutorials – Classroom Style
When customers sign-up for your solution (or buy your product), it's your job to ensure they have the best experience, the tools, and knowledge to reach their goal.
Canva, a graphic design platform for beginners and pros, equips their students with simple and straightforward video tutorials on how to navigate and use their solution through their online Design School.
But that's not all!
They also hold regular free events and time-limited virtual learning workshops hosted by their designers on how to take your Canva designs to the next level as well as the latest design trends to know.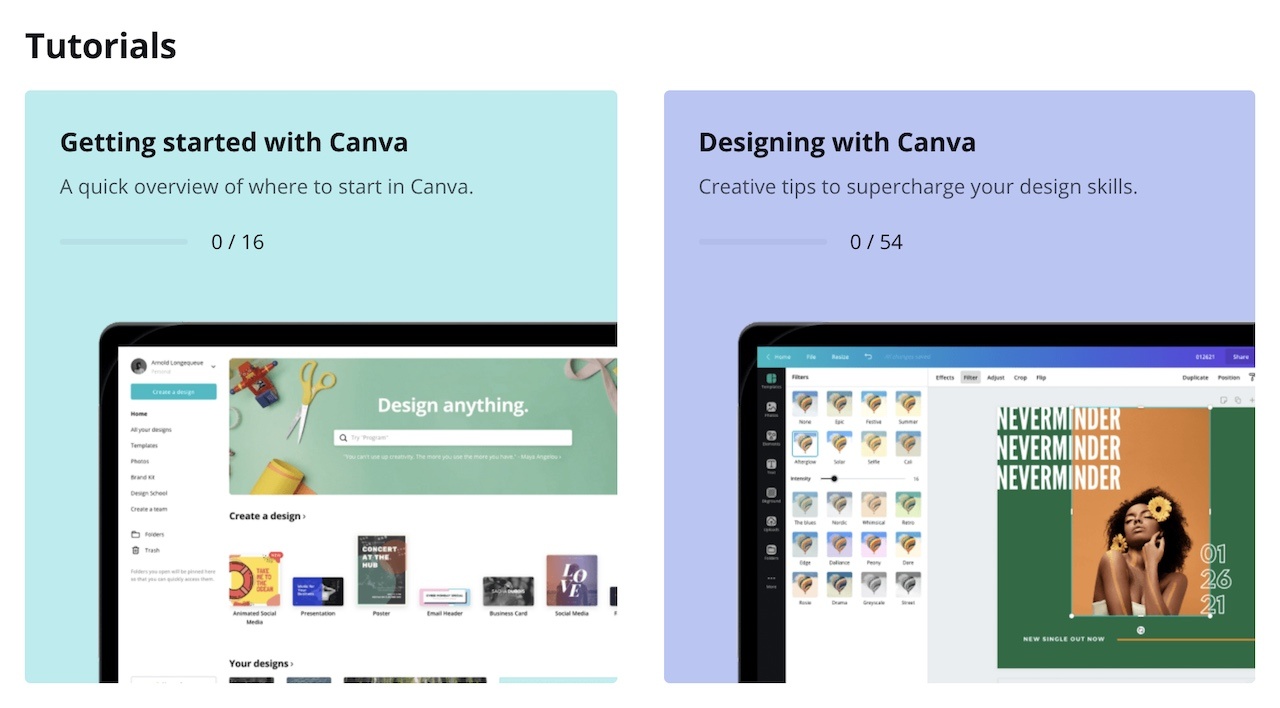 Content Takeaway:
A good rule of thumb is to always assume your customers aren't experts at using your platform and will require hand-holding at different levels.
If your solution is complex or has many layers to it, a great way to continually add value to your customer experience is by creating instructional content that are actionable – be it videos or blog posts.
This will allow your customers to learn at their own pace and get the most out of your solution.
Community Building
Providing resources such as content guides and workshops are useful, but it engages your customers in isolation – they have no way to interact with each other and forge a real community built around your brand.
Forward-thinking brands understand this and use a variety of methods and platforms to link up their users together. This allows customers to:
Learn from each other's successes and failures

Get help from the community & third-party opinions

Network with each other for professional and business opportunities
Here are some examples of how you can embark on community building and build a community.
12. Ahrefs
Building A Community On Facebook
The world of SEO and content marketing sees constant change – that means the need for answers to questions that might suddenly pop up.
Ahrefs, an SEO tool, helps to solve this challenge by linking up their users through a Facebook group to enable peer-to-peer learning.
Users (who have to be customers) can join the 'Ahrefs Insider' Group and start asking questions to the community and networking with other SEO professionals.
What's more, Ahrefs admins can use this platform to solicit feedback on their new product features as well as make news announcements to their community on the latest news.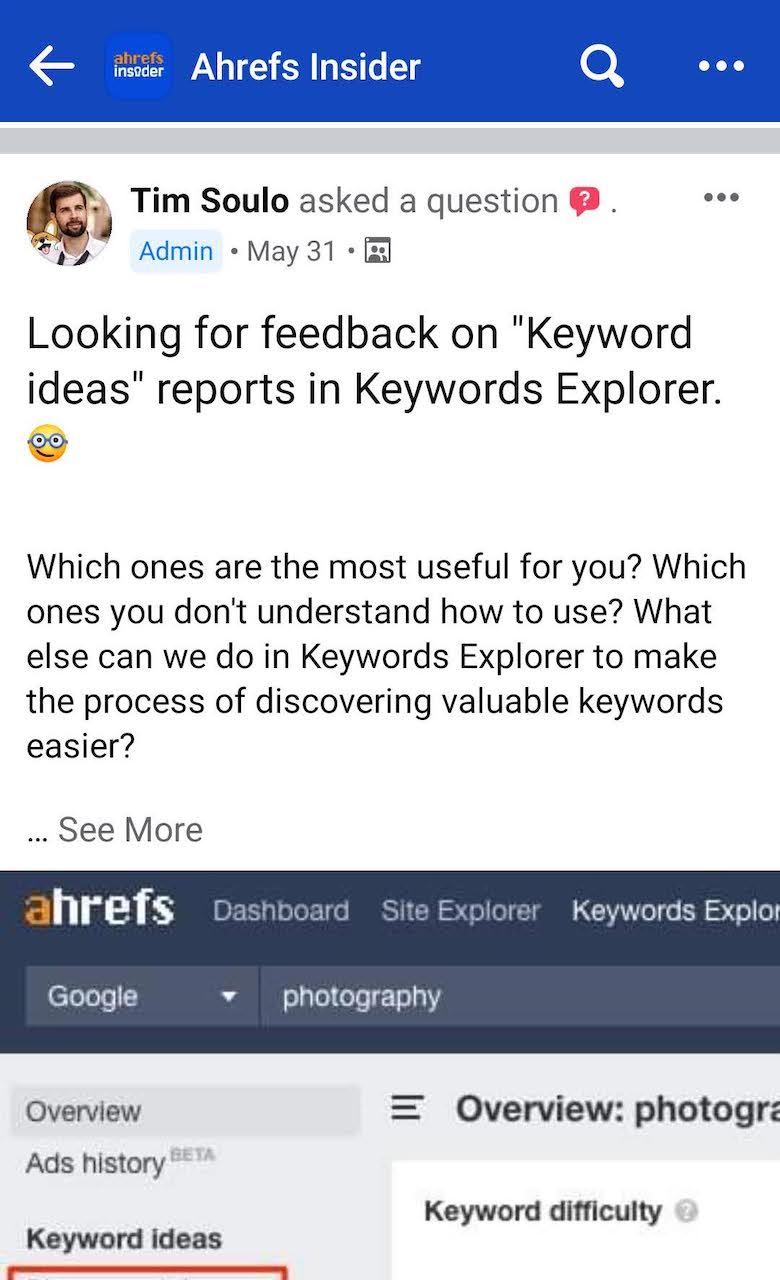 Content Takeaway:
Building a community is a great way to engage your customers without you and your team doing the heavy lifting 24/7.
In fact, you can do this for free by using social media platforms like Facebook and LinkedIn where logging in is seamless and updates can appear directly on their newsfeed.
However, it is important to lay down some ground rules to ensure your community is respectful, courteous, helpful and non-spammy – that means no selfish self-promotion!
13. Dropbox
Build Your Very Own On-site Forum
Dropbox, the cloud file hosting service, has been around forever, and with that comes a big user base of individuals and companies.
To better engage their customers and improve their user experience, Dropbox created its very own community forum where Dropbox users can learn, share and get help from each other.
With a search bar and dedicated threads, the forum also allows their customer support team to engage their community as a whole. 
When an admin answers a question, especially if it is a popular one, everyone gets to learn at the same time.
Content Takeaway:
While building a forum to develop your community might seem like a straightforward idea, it is a very costly endeavor and should only be attempted if you have the resources.
And we mean a lot of resources – you'll probably have to develop it on a separate domain site and divert resources to maintain and monitor the community there.
But if you can pull this off, this self-contained forum is more beneficial than a social media group, as you'll be able to reap tremendous SEO benefits from the multitude of questions and posts that will rank on Google.
Content That Establishes Authority
Being known as an authority in your industry isn't easy, but with enough planning and a good strategy, it can be done.
In essence, there are two ways to use content marketing to establish authority, be seen as a leader in your space as well reach new audiences.
The first is by being featured on publications that your customers respect and the other is to get your customers themselves to do the work for you (yes, seriously).
Let's explore how!
14. Groove
Guest Posting On Major Industry Sites
Creating content for your blog is essential, but in order to reach new audiences as well as build authority in your industry, you'll need to go further.
You'll need to embark on guest posting.
As a company that sells customer service software for small businesses, Groove understood the importance of tapping into the audiences of major marketing sites like Copyblogger, Shopify, and Buffer.
Strategic guest posting allowed them to reach more than 1 million new readers (and growing) that translated to both referral traffic back to their own website as well as trial signups for their product.
But perhaps the most important benefit is the industry authority it lends to Groove. 
Their one single guest post on Buffer has been shared more than 10,000 times – increasing the brand awareness of Groove on an authority site exponentially.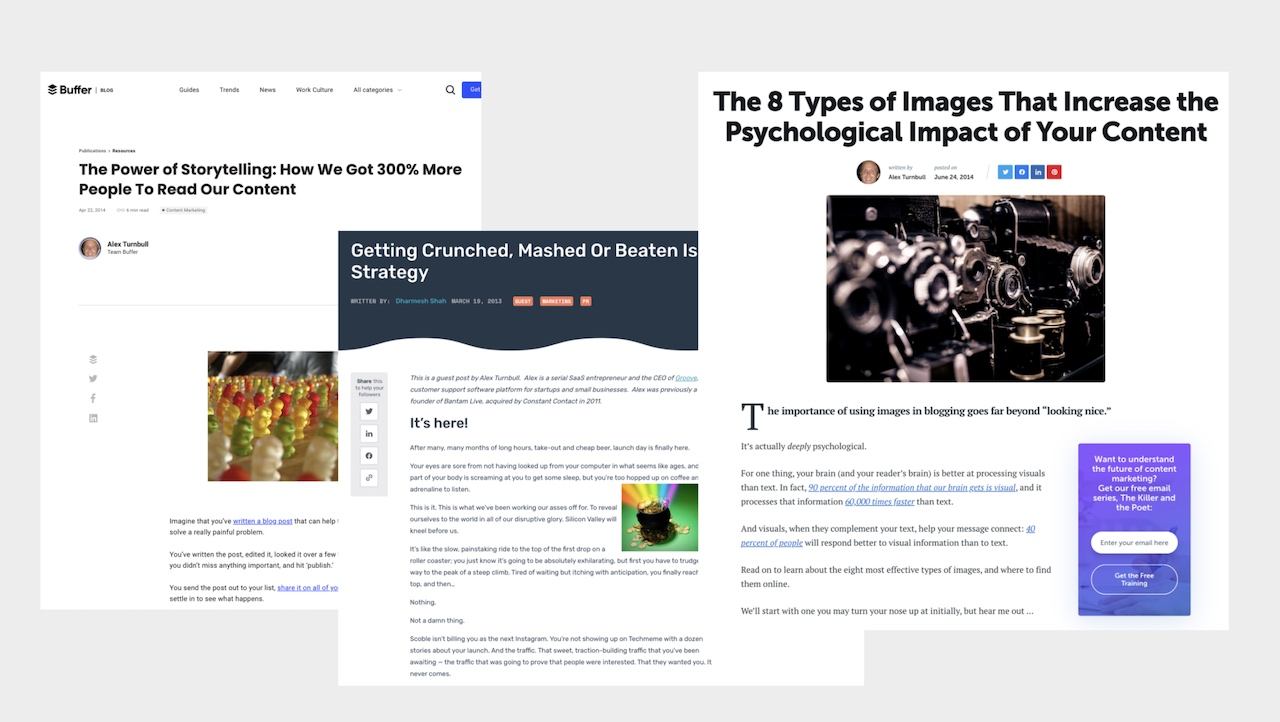 Content Takeaway:
Guest blogging is ground-breaking if done right.
The key here is to map out where your ideal audience are getting their content from (ie. where they are hanging out) and the authoritative sites in your industry.
A great guest posting opportunity will allow you to tap into an established audience while earning your website a valuable authoritative backlink.
Be sure to dive deep into these guest posting master guides if this is your first time. It will help guide you from crafting a compelling pitch to brainstorming topics that will get accepted:
15. HubSpot
Free Certifications To Establish Authority En-Masse
HubSpot is a content marketing behemoth that draws in millions of visitors every single month to their website just from their blog alone.
At this point, how does one take their content efforts to the next level and establish even more authority?
HubSpot does this by developing certifications around their products and popular skills such as content marketing, SEO, and digital advertising. In addition, these certifications are free, lowering the barrier of entry further.
By providing "industry-recognized" badges to the participant's LinkedIn profile after course completion, HubSpot effectively utilizes the social network of their course 'graduates' to drive even more brand awareness.
And when the time comes for course participants to choose a marketing or sales tool, HubSpot will firmly be an authoritative choice.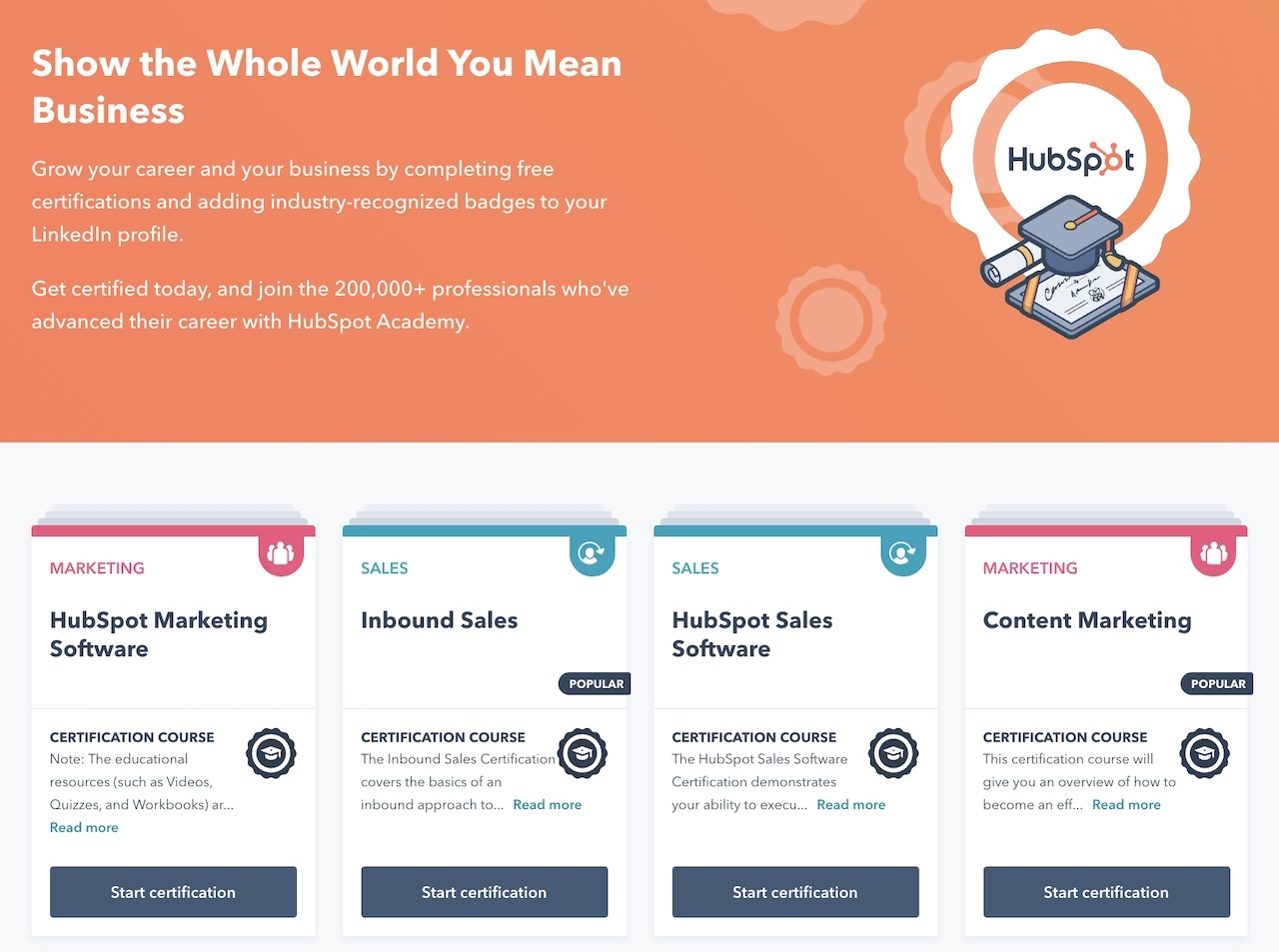 Content Takeaway:
Developing your own certifications is one of the hardest steps when it comes to establishing authority and is mostly done by industry leaders looking to cement their pole position.
Thankfully, you can do this for your brand by developing your course content (with certifications too) on platforms such as Udemy & Skillshare.
A great way to begin is to appoint a teacher affiliated with your company to sign-up as an instructor and start teaching.
Content That Builds Brand Advocacy
While content marketing such as instructional guides, business courses, and guest posting are the backbone strategies of most SaaS businesses, the truly innovative ones are going one step further.
They are creating branded content. Content that connects deeply with a feeling & set of values shared amongst their audience, customers, and community.
It goes beyond simply helping them with their challenges, it is about building true brand believers.
16. MailChimp
Films That Tell Stories & Share Dreams
Films are powerful vehicles for storytelling, they transport their audience into another reality and plant ideas that grow over time.
MailChimp understands this and creates shows that link their brand to the ideas and values of business, entrepreneurship, and creating change.
Through a variety of short films and documentaries, they dive deep into the human psyche of struggle, adversity, innovation, and success.
From stories about small businesses to social entrepreneurship and career exploration, MailChimp's narratives run deep.
They connect with the audience by bringing them through a journey of what it means to build, run and grow a business.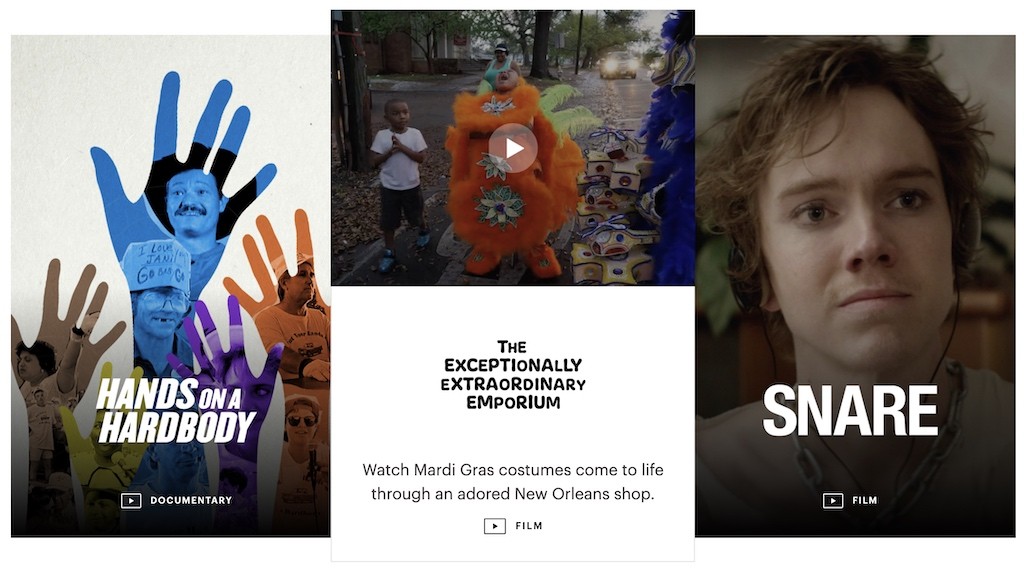 Content Takeaway:
Branded content is perhaps the final step in a comprehensive content strategy. You will notice that the companies attempting this are established leaders in their respective niches and categories.
Films and documentaries are about building brand awareness and that doesn't directly translate into new business won.
Before you decide to embark on creating your own films, ask yourself realistically:
Do I have a team of compelling storytellers?

Do I have the budget (it'd better be big) to spend on an initiative that won't drive ROI in the short term, if ever.

Is my business well-renowned and an authority in my space?
If the answer is no to any of the above, it would be better to continue to stick to content marketing for the time being.
17. Wistia
Original Series To Inform & Inspire
As a video marketing and hosting platform, Wistia is on a mission to help businesses grow faster through the power of videos.
They reflect this through their content by creating original video series that informs and inspires their audience to take their business to the next level via video marketing – directly related to what Wistia is selling.
From sitting down with guests including industry experts and customers, they share strategies and tactics with viewers through the lens of storytelling in a lighthearted manner.
They go through how companies are winning with video marketing and the story behind their campaigns – adding insightful and actionable value to their audience in a captivating way.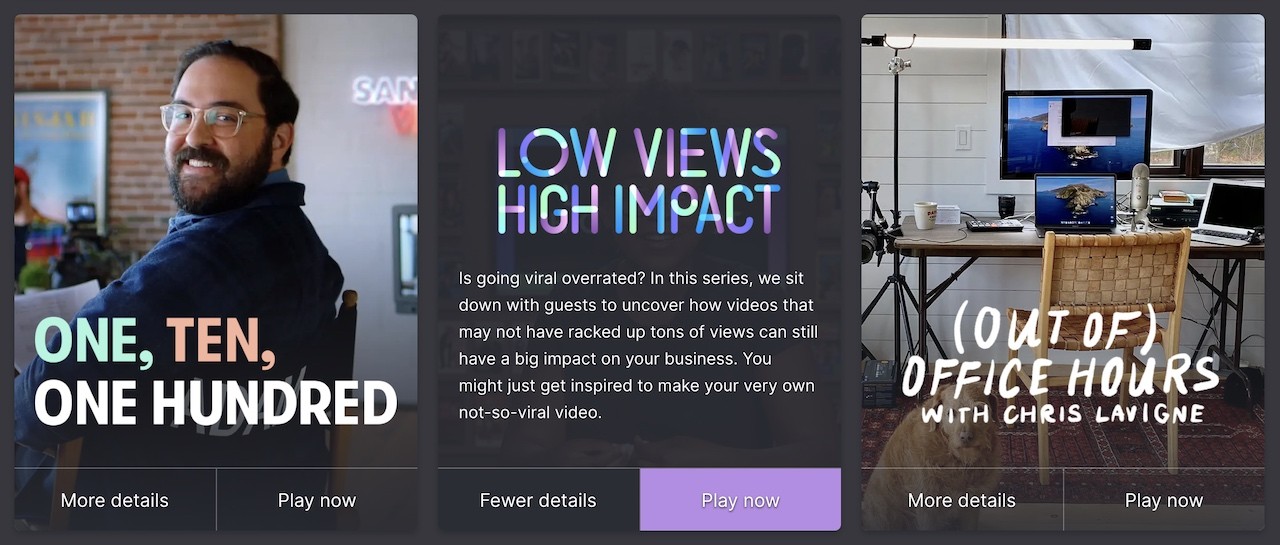 Content Takeaway:
Creating your very own original series doesn't need to cost you much – in fact, you can take a page out of Gary Vee's playbook and document your process.
You can simply document and create a video series on the process of your business and how you are making an impact on your customers and the industry.
It can be about:
How your product and platform was created

The different responsibilities within your organization

The brainstorming process and turning a new idea into a real product
Take Bobby White, for example, he is a jewelry designer in London who showcases how he makes intricate pieces for his celebrity clients through documenting the process on his YouTube channel.
18. Intercom
Podcasts & Conversations On Business Strategies
Intercom helps businesses build customer relationships through their messaging platform – think live chats, bots, and product tours.
While this might seem like a clear-cut decision to solely focus on topics surrounding sales, customer support, and chatbots, Intercom brilliantly focuses on building its podcast series centered around business strategies and scaling businesses.
From in-depth interviews with business leaders covering topics from digital transformation to leadership, Intercom goes deep into giving their audience unique business insights that can't be found anywhere else.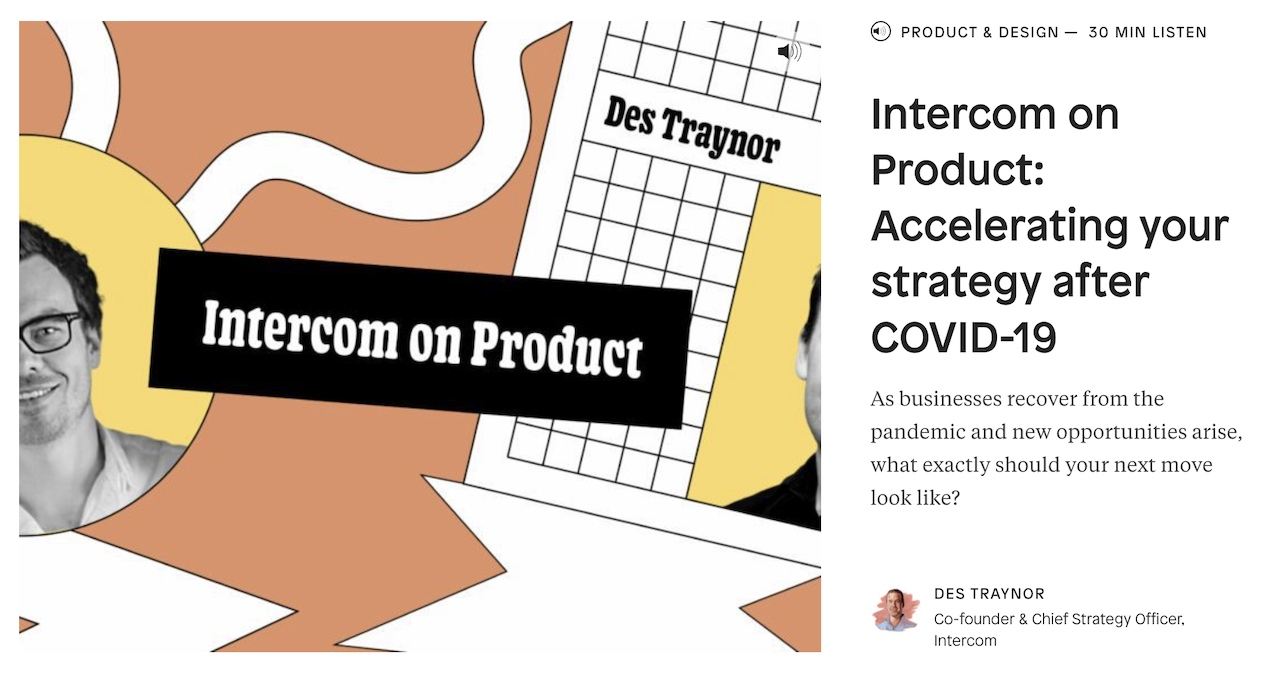 Content Takeaway:
Podcasts are fast becoming the future of content marketing and allowing your audience to consume your information at their leisure.
If you are looking to launch your own branded content and want to do it on a budget without compromising on the message, podcasts are the way to go.
It will allow you to:
Engage your listeners in a way that places their convenience first

Test ideas and gain traction fast in an arena with lower competition

Build a loyal listenership at a fraction of the cost compared to video

Launch quickly without much technical knowledge (all you need is a microphone and recording software!)
Where Will Your Content Marketing Take You Next?
Whether you already have an established video channel or looking to build your business blog from scratch, it is always important to plan ahead.
The competition in content marketing will only accelerate and while your messaging might stay the same, the mediums and formats will evolve.
The key is to craft a robust content marketing mission and develop a sustainable strategy that will help you reap the benefits long-term.
Done right, you'll no doubt start building valuable brand awareness, drive leads to your business, and start developing authority in your industry!
Need help with your content marketing?
We can help.
Drop us a note here and we'll be in contact.